Finn boliger i Solkysten på Airbnb
Oppdag hele hjem og private rom som passer perfekt for enhver tur.
Ferieutleiefavoritter i Solkysten
Flere ferieutleie i Solkysten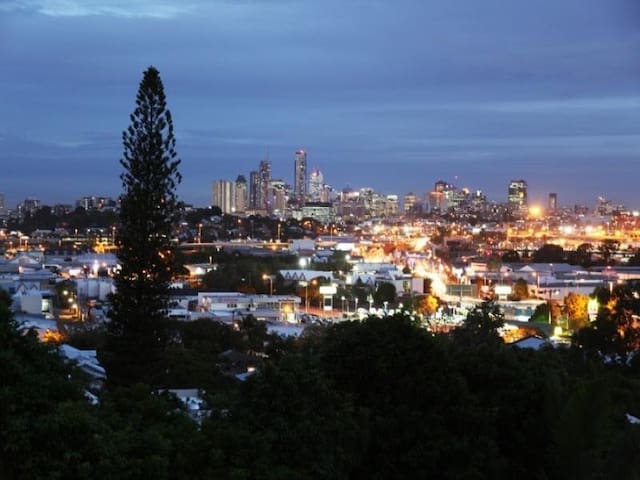 335kr NOK
Close City/Airport, own bathroom
---
Ferieutleiested

· Solkysten
Welcome! ABOUT YOUR ROOM and the house: * Your own keys so you can come and go as you please * Double (ensemble) bed, very comfy according to previous visitors! * Own bathroom (with bath) and separate toilet * Free WIFI and local telephone calls * NETFLIX and 'Fetch TV' access * Brisbane city and hill views * Large balcony with outdoor setting for watching the world go by! * Share Kitchen and living area * Washing and drying facilities * Wardrobe, full length mirrored sliding doors * Includes all linens, blankets, towels and pillows * Breakfast cereal, bread, juice, coffee/tea, milk) and basic cooking supplies (herbs, sauces, oils) available for use free of charge * Secure intercom apartment access * Off-street and Visitor car parking available ABOUT THE NEIGHBORHOOD: * Located in Albion, 5 kms (3.1 miles) north of Brisbane Central Business District, an 8 min (3 stops) train ride or 15 min bus ride to Brisbane Central. Regular services with choice of 4 train lines and 4 bus routes. Also close to airport. * The apartment is a short stroll to Albion village with some great restaurants, funky cafes, the Albion & Breakfast Creek Hotels and the usual fast food/take away food shops (See Guidebook for more details). * Bakery, wine/liquor and 24 hr Convenience store; 5 mins * Very safe and friendly neighborhood, very quiet at night (but the birds can get a bit noisy in the mornings!) TRANSPORTATION: * Brisbane City Council local buses go directly to Brisbane CBD from the street just outside the door, or at the bottom of the hill. Buses run every 10-15 mins at peak hour; Trains run from Albion train station every 5-10 mins (Tickets to the City and any inner city location (Zone 1) cost $3.35 peak; $2.68 off-peak) *Brisbane's AirTrain service from the International and Domestic airport terminals normally depart every 15 minutes in peak periods and every 30 minutes in non-peak, Monday to Friday. All services on Saturday & Sunday operate every 30 minutes. Travel time from Albion station to Brisbane airport is approx. 15 minutes. (Note that the first train from the airport departs at 5:04am (6:04 am on Sat & Sun) and the last train departs at 10:04pm). Train tickets are $17 each. *Taxi cab (10-15 mins) from the airport is $30-$35 or, depending on your arrival times, I can come and pick you up! Feel free to message me with any questions! Apartment is located on the first floor, up a small flight (~10 steps) of stairs.

les mer
Paul
Beautiful apartment, incredible view, wonderful location, superb communication, generous hospitality. Stay with Carolyn, just do it.
Debbie
I can see why Carolyn is a Super Host... she's super friendly, welcoming, easy to get on with, knows her local area really well (including all the best coffee places!) and very inclusive (cooked me dinner on my first night which was very welcome after a long day at the office!). Her place is smart, clean, tidy, easily accessible to public transport and a delightful base. Very comfy bed, beautiful towels, plenty of sofa space to relax. I wouldn't hesitate to recommend this as a great place to stay in Brisbane!
Shirley
Carolyn was a fantastic host. We very much enjoyed her company when we went out to dinner and her kind offer of a lift to the airport was very much appreciated. Nothing was too much trouble for her, even printing our boarding cards for the next day. Her apartment is great for a couple and We would certainly stay here again. Good pub/restaurant quite close by. Thank you for having us to stay.
jon
Carolyn was a wonderful host and her apartment is in a beautiful location overlooking Brisbane's downtown core. There're restaurants, stores, and a metro stop within about a five minute walk. The room was clean and organized and the bed was extraordinarily comfortable! One of the best sleeps I've had in a while. Thanks Carolyn and all the best in Brisbane!
Ross
My airbnb experience with this host was excellent. Cannot speak more highly of the experience. The host was very friendly, helpful and courteous. I only stayed for one night but she went well out of her way to accommodated my small needs being a visitor to Brisbane. I would highly recommend this host.
Jack
My flight in England was cancelled and delayed a million times over. So I arrived in Brisbane 24 hours after I said I would. Although I wasn't staying with Carolyn any longer she still took time off work to pick me up from the airport and drive me to the train station via a few sight seeing spots. She is a lovely person and so easy to get a long with! I will defiantly be seeing Carolyn again when I return to Queensland in the not too distant future.
Andrea
Carolyn is just amazing! the place is absolutely as described, I really had a good time :)
Maria and Ray
Our stay with Carolyn was the kind of experience that makes us love using AirBnb. She was very responsive in our messages and incredibly helpful overall. Despite our long flight delay, she was available to meet us at her apartment when we arrived. Our room and personal bathroom/WC were very clean and the bedding super comfortable and immaculate. Carolyn was an excellent host to us and we enjoyed chatting with her, and she even gave us a couple of rides in her car. We really wished we could have stayed longer than 1 night! The apartment is a short walk from Albion station and easy to get to the city centre, but we would recommend taking a taxi from the airport if you have suitcases. Overall, highly recommended. Thanks, Carolyn!
544kr NOK
Private guest flat, views, & continental breakfast
---
Ferieutleiested

· Solkysten
Private apartment attached to our home on acreage. Stunning Sunshine Coast Hinterland - views over rainforest to ocean. Peaceful, lots of morning birdsong. Private deck and covered BBQ area exclusively for our AirBnB guests. Access to our heated salt water pool, surrounded by lush tropical gardens. We provide continental breakfast items - cereals, bread, yoghurt, fruit, juice, condiments - and a selection of teas and coffees. For a single or couple, no children. No smoking. Our guest flat is an apartment that comfortably accommodates up to two people - no children please, and definitely no more than two people so please do not ask for more than two people to stay in the flat as refusal may offend. Very private and you can come and go as you please. The guest flat is attached to the main residence but has private access so you have your own space entirely to yourself. Comfort and peace and quiet - the place to unwind and recover from the rush of modern life, or a good base to work from if you are in the area for business. Wake up to the sounds of native birds in the surrounding rainforest. Perhaps start the day with a swim in the salt-water pool. The guest flat provides you most things you'll need including iron and ironing board, hairdryer, toiletries, TV, access to WiFi, reverse cycle air conditioning, bathrobes, towels for use at our pool, and of course we provide all bed linen and towels in the bathroom so you do not need to bring your own. Inside the guest flat there is a microwave, toaster, electric kettle, sandwich press, fridge, crockery, cutlery, a dining table - the essentials for preparing your own snacks or salads. Cooking facilities and an outdoor dining area are available at the covered BBQ area just below the guest flat, which is exclusively for our AirBnB guests. We provide cooking utensils. We provide a selection of coffees and teas and hot chocolate, including herbal teas and decaffeinated coffee. Included in the tariff we provide breakfast essentials such as several types of cereals, bread, milk, juice, yoghurt, fresh fruit etc for you to prepare your own continental breakfast. Please note that there are several steps down to the guest flat, with a secure handrail to assist. If you usually have difficulty negotiating stairs then this may not be a suitable accommodation for you. The guest flat is not accessible to those in wheelchair or walking frame. Business travellers are very welcome. On request, you have access to the laundry facilities in the main residence, or alternatively there is a coin-operated Laundromat in the nearby town of Woombye. You have access to our pool. Please note that during the coolest months (from May to August) the pool solar heating is turned off as the pool loses all the daily solar gain during the cool of the night, making it very expensive in electricity to run the solar heating pump over winter. During the rest of the year (September through to April) the pool heating is on daily and ambient air temperature maintains pool temperature at about 26-30 degrees throughout the day. We mostly work from home and so you can expect to see us around the property most days. We are happy to interact as much or as little as you want - if you want complete privacy then that is not a problem. We have a home theatre we frequently use - if you would like to join us to watch a movie and share a bottle of wine then please let us know. When you arrive we will show you to the guest flat, provide you the keys and a brief orientation to the property, and then leave you to settle in. Our property lies within the Montville precinct but it is actually about halfway between Montville on the summit of the Blackall Range and Palmwoods located at the foot of the Range - please note that we are not within walking distance into Montville village and it is about a five minute drive to get to Montville. The area is very picturesque, peaceful, and Montville is a quaint village with much to offer tourists. The Blackall Range has many beautiful scenic views and towns, there are waterfalls and scenic walks through rainforest sanctuaries. The area is also known for its arts and crafts and galleries, and there are many award-winning restaurants in the area. We can provide some suggestions for things to see and do in the area - at time of booking please let us know if you'd like us to forward some local information and recommendations to assist your planning. Our property is not convenient to public transport and it can be quite expensive to travel by taxi to and from our property - you therefore need to have your own vehicle. Rental cars are available at Maroochydore (Sunshine Coast) airport or at pick up locations in Maroochydore. We have off-street parking for you. Please contact us for directions on how to locate the property if the directions you are able to access after making a booking are unclear. This is a fully non-smoking property - no smoking or chewing of tobacco products anywhere on our property. Please do not bring illegal or illicit drugs onto our property - use and/or possession of these substances while on our property will not be tolerated.

les mer
Brett
Megan was very welcoming and accommodating as soon as we arrived! The apartment was perfect with an amazing view over the valley to the ocean and a sunrise to die for that can be watched from the comfort of the bed.. We loved the location, close enough to Melany and Montville but also high enough to get a great view and also some relaxing mountain air. We unfortunately had problems with our car. However Megan was great in helping us organise a mechanic to fix the problem asap, plus she drove us back and forwards from the apartment to the mechanics. And offered us another night of accommodation if we couldn't get our car back on the road! Couldn't thank you enough Megan. We had a great weekend despite the car problems!
Zamm
Getting out of our hectic city life to explore the silence and solace of nature. We certainly getting those from our host, Arthur and Megan's home. The mesmerising view from the verandah, so calm and peaceful, complete with beautiful mountain peaks, pine trees, colourful flowers, the chirping sounds of birds and the breezy wind gave me the goose bumps. Certainly, the experience rid ourself of stress and gave us peace. Thank you so much on the warmth welcome, dear Megan. Cheers, Zamm
Amy and Andrew
This place is so beautifully tranquil! I stayed here to have some quiet and nourishing time to myself and that is exactly what I got. I could never tire of that amazing view across the hills to the ocean either. It is a totally private space from the main house. Arthur and Megan are lovely hosts, they are there if you need anything, but at the same time, allow you all the space you need. The breakfast items are super generous, the bed luxurious and everything feels new and very clean. I loved my stay here and I shall be back :)
Richard
An amazing place, great hosts, luxury private unit gave us a lovely relaxing stay.
Ruth
What an absolutely wonderful place to stay! Its always a lovely bonus when you stay somewhere that the photos shown look great but then the place is even better in real life and it was certainly the case for this place. The breakfast goodies were generous and delicious, the bed was like sleeping on a cloud and there were lovely little touches throughout the flat that just added to the stay. Was lovely, peaceful and private setting, especially looking out to the bush with the ocean in the distance and we enjoyed watching the sunrise both mornings without having to get out of bed. Megan and Arthur were very helpful and easy to communicate with and gave us a big list of things to do and restaurants to try in the area which made the weekend away even better! Handy location to exploring the local area as well. We would stay again and have already recommended the place to others! Thank you both!
Phil
We recently had a 3 night stay at Arthur and Megan's guest room near Montville. The local area boasts a fascinating network of local, interesting towns up on a volcanically formed inland plateau. Good restaurants are a highlight, particularly The Edge in Montville. Our accomm surpassed everything described online. The room is a free-standing 'cottage' near their own magnificent self-designed home. Everything speaks quiet good taste and thoughtful detail. The bed is very comfortable, the fridge garnished inside with jams, milk etc; breakfast cereals also provided. The space is generous and basted in that special Queensland light, with double-fold French doors leading to a romantic balcony that overlooks the large grounds of native trees and bush and the great sub-tropical pastoral beyond. Large TV and Wi-Fi all good no doubt but we spent our time with the analogue beauty of that porch. Megan and Arthur are warm, attentive hosts who elevate respect for privacy to an artform. They are generous people, helping us out in sorting a few problems with our airline tickets. We enjoyed their superb home cinema on our final night which made for a memorable coda. Highly recommended. Phil and Lyn, Blue Mountains, NSW.
Amy and Andrew
Wonderful stay again as usual, my peaceful retreat from the world.
Tamara
I had a lovely stay at Arthur and Megan's guest flat. Megan made me feel very welcome and was most helpful. Everything was as described and the effort that Megan and Arthur put into special little touches was very appreciated. The guesthouse is lovely and quiet - and the views are absolutely fabulous. I will definitely recommend to friends !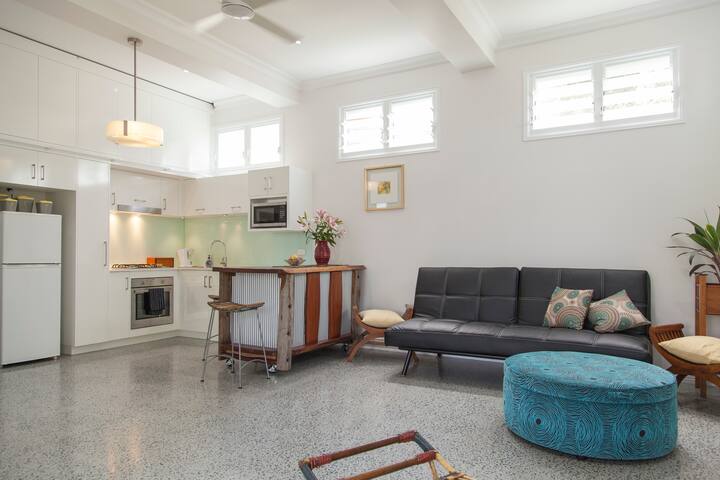 652kr NOK
West End Pied a Terre
---
Ferieutleiested

· Solkysten
Convenient and comfortable, modern self contained 1 bedroom apartment. Private entrance on ground level, 20 metres from parks and the Brisbane River. Close to public transport, cafes and shops in vibrant West End. Welcome to your newly-built, stylish and fully self-contained apartment near the river. This well-appointed modern, airy space has high ceilings and a designer kitchen. Timber bifold doors open from the living area to your private courtyard. It is a brand new, one bedroom air-conditioned apartment with ensuite and private access from the street. It is on the ground level of a traditional Queenslander house and your friendly host lives upstairs. The location is quiet, adjacent to the Brisbane river, close to public transport and only 700 metres to the West End Bus and Ferry Terminal. A leafy, relaxing river park is 20 metres away and the University of Queensland can be seen from your private courtyard. It is walking distance from the bustling, vibrant and eclectic West End full of coffee shops, bars and fantastic restaurants. . You have access to the entire apartment and courtyard. My son and I live upstairs and are happy for you to enjoy your privacy, or meet for a chat and help with information about all West End and Brisbane has to offer. The choice is yours. West End is a vibrant, multicultural inner city suburb. The eclectic community is reflected in the wide range of cafes, restaurants, bars and quirky small businesses. West End is a popular destination for Brisbane residents, for its famous coffee shops, funky shopping, cruise-ability and nightlife including Latin dancing! A short walk takes you to the West End Bus and Ferry Terminal, with fast City Cat or bus transport to the city and all over Brisbane. We are located 2.8 km from the city, 2km from Southbank and the Convention Centre and only 1km from the heart of West End. I have a maximum 12 night stay available.

les mer
Martha
A delightful and perfectly decked out apartment tucked away in the eclectic West End, this was a treasured find. Calm, serene, with every attention to detail, staying here was a true escape. Gayleen was a most excellent host.
John
Gayleen made us feel very welcome so that our stay was very enjoyable. The area of Brisbane where Le Pied à Terre is situated is very pleasant with the Brisbane river nearby.
Michael
Always great staying at Gayleen's. The place is awesome and super clean with great amenities.
Sally
We recently stayed at West End Pied a Terre for 3 nights. We really loved it. The apartment is very modern, comfortable and nicely furnished. Gayleen was an excellent host, making sure we had everything we needed and providing lots of information which made our stay in Brisbane more enjoyable. We loved the location. Very close to the river and the vibrant West End area. Surrounded by interesting restaurants and cafes and even a great bookshop. We did not know this part of Brisbane before and it was wonderful to explore. We took our bikes and enjoyed riding along the river on bike paths and through South Bank, stopping for coffee at Gallery of Modern Art and the Botanical Gardens. One highlight was the West End Farmers Market on Saturday morning. The ferry terminal is nearby and we took the ferry into the city and also had a very pleasant trip down river one day, getting off at Bulimba for lunch. We were also able to catch the bus and walk into the city centre. We would really recommend West End Pied a Terre to fellow travelllers.
Julia
We had a great 2 night stay in this lovely garden apartment. Everything is very tastefully decorated and pristine. Fresh fruit and breakfast items were very thoughtfully provided by Gayleen, who was a great, communicative host. The apartment is only 700m from the Citycat riverbus and approx 10-15 mins walk to the shops and restaurants of boho West End. Would definitely recommend as good base to explore Brisbane.
Ozge
My boyfriend and I had an incredibly comfortable stay in Gayleen's beautiful West End apartment, and we would definitely go back. It was so clean, so spacious, and so relaxing! Gayleen really goes out of her way to make the place look spotless, and ensure that her guests have a comfortable stay. She has really thought of everything you could possibly need while travelling including providing umbrellas, cooking utensils, toiletries like shampoo and soap, towels, and even eye masks so that you get a good night's rest. I highly recommend this Airbnb apartment!
Lyn
We had a wonderful brief stay with Gaylene. The apartment is absolutely fabulous - could not recommend more highly! We'll be back for sure :)
Ryan
What amazing studio! Such a cool, private space in a perfect location. If you're reading this, please don't stay there so there's more chance of it being available next time I'm in Brisbane.