Maison entièrement meublé sur la rue pittoresque à distance de marche du centre-ville historique. Comprend le câble de base et Internet. Il a tout ce dont vous avez besoin! Visitez (URL HIDDEN) pour plus de photos et d'informations.
(URL HIDDEN)
À distance de marche du centre-ville historique.
It was a nice area and house. I enjoyed my stay while working 70+ hours at the plant. My only complaint is the lack of wifi.
Zachary
2015-03-27T00:00:00Z
House is in a lovely neighborhood and would be very adequate but needs lots of TLC.
Betty
2017-04-03T00:00:00Z
Host made arrangements very easy. Older home in need of maintenance, cleaning and updating.
James
2015-07-27T00:00:00Z
.
matthew
2016-12-14T00:00:00Z
Romtype
Helt hjem/leilighet
---
Eiendomstype
Hus
---
Plass til
8
---
Soverom
York, South Carolina, USA
Te encantará mi lugar a causa de la paz y la tranquilidad en nuestra granja de árboles de pino de 14 acres .. Mi lugar es bueno para parejas, aventureros en solitario, viajeros de negocios y amigos peludos (mascotas).
Romtype
Privat rom
---
Eiendomstype
Hus
---
Plass til
2
---
Soverom
York, South Carolina, USA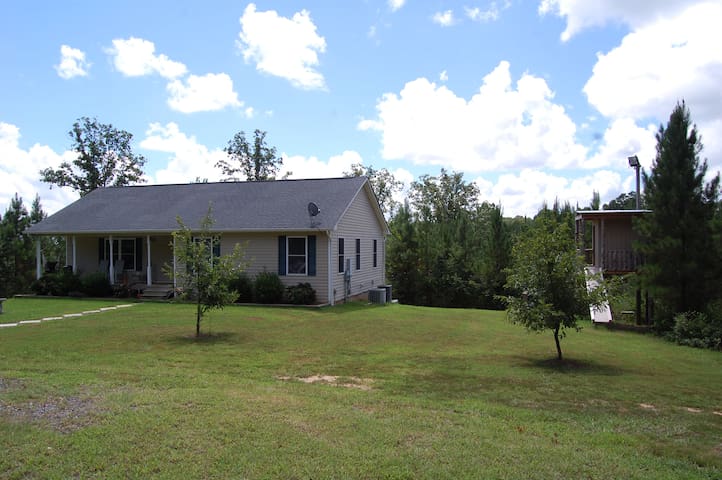 The best part of my day was arriving at the house everyday and being greeted by Matt's dog Bear. Bear is one of those dogs that doesn't have a mean bone in his body and doesn't meet a stranger....very loving!!
James
2016-09-29T00:00:00Z
Romtype
Privat rom
---
Eiendomstype
Hus
---
Plass til
2
---
Soverom
York, South Carolina, USA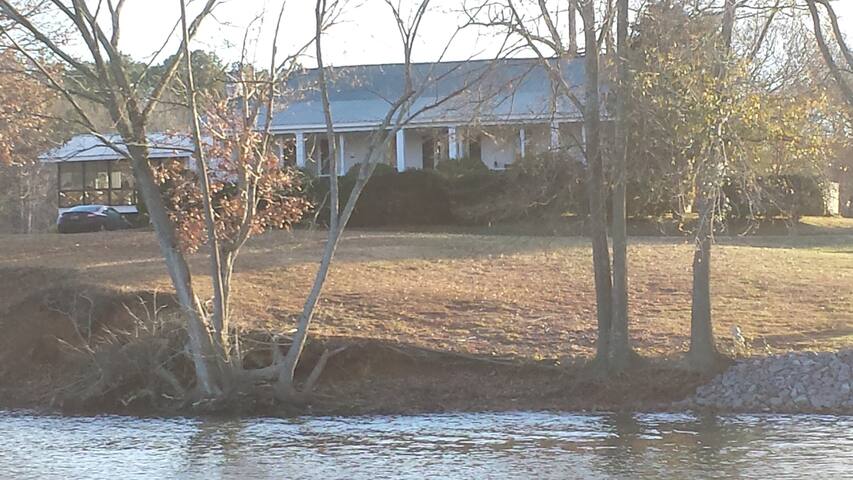 Escape the city and enjoy beautiful waterfront living. Private cottage attached to residence close to nature. Bird watchers paradise. Cottage includes full kitchen, 1 1/2 baths, king size bed and full living/dining room, private balcony. Perfect for fishing, kayaking, swimming, sun bathing, or bonfires on the beach.
Cozy Cottage with separate entrance attached to main house. Near several activities including, Charlotte Premium outlets 12 min,Daniel Stowe Botanical Gardens,19 min from Bank of America Stadium, 31 mi. From Charlotte Motor Speedway, 6 mi from BMX Super cross, 15 mi from Charlotte international airport. King bed can be converted to 2 twins upon request.
The neighborhood is a very private and quiet peninsula surrounded on three sides by the beautiful waters of lake Wiley. Neighbors are friendly and you will feel extremely safe. All pictures are real and taken from the property. Comfortable living surrounded by rustic nature and wildlife. Life is better at the lake!
The space is as discribed very quiet area, nice little dock and very clean. The host was very informative about the area and polite. It's small and cozy with older appliances but they work so that's all that matters. She left a few water bottles and granola bars out which was very nice. We would gladly use this listing again if in the area.
Nikita
2016-12-11T00:00:00Z
Great place away from the hustle of Charlotte, but close enough to drive in for dinner and bars
Hayden
2016-12-21T00:00:00Z
Martie's cottage was cozy peaceful and had a wonderful view of Lake Wylie. The cottage was as described in the pictures with all the amenities needed to make you feel like your right at home. I met Martie upon arrive and she was such a friendly and accommodating host. I loved my stay and definitely look forward to staying again in the future.
Shalesa
2016-11-06T00:00:00Z
Nice place, great location on the lake. Good neighborhood, felt safe there. Nice and spacious, good deal.
Bobby
2016-11-20T00:00:00Z
Martie was an absolute gem of a host! Her cottage was well stocked and CLEAN!! Very peaceful and serene!!! We would gladly stay again!! Highly recommend!!
Adrienne
2016-12-25T00:00:00Z
a peaceful spot on the lake that is still close to everything you need
Aaron
2016-12-09T00:00:00Z
Great place, super clean with a nice view. The host was very kind and made sure everything was provided. If I stop by the area again, I will definitely come back!
Lola
2017-03-17T00:00:00Z
What a fabulous place on the lake. I was looking for something quiet and peaceful near a weekend conference I was attending and Martie's place more than fit the bill. Clean, quiet and with beautiful lake views I felt completely at home and safe on my own. Comfortable beds, all kitchen amenities and your own private lakeview porch made this stay wonderful... Thanks, Martie!! I'll definitely be back again.
Debra
2017-03-19T00:00:00Z
Romtype
Helt hjem/leilighet
---
Eiendomstype
Hus
---
Plass til
2
---
Soverom
Rock Hill, South Carolina, USA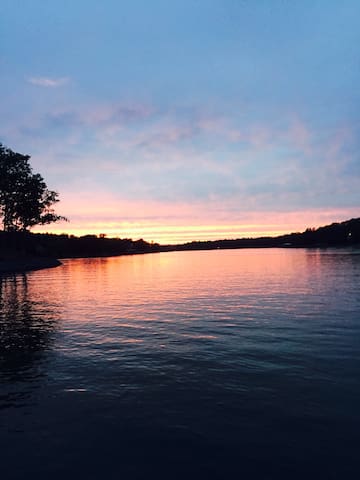 This studio has an outdoor kitchen, Queen Murphy bed, wide screen HDTV, leather chairs inside, and outdoor seating on spacious patio. WiFi, 15 minutes to downtown Rock Hill, 20 minutes to Carowinds. Peaceful country setting with hen house and two friendly dogs on property.
This is a private self contained studio in a peaceful country setting with easy access to Rock Hill, Charlotte, Gastonia, and Lake Wylie. Coffee maker, microwave, toaster, refrigerator, and range. Glass ware, dishes and silver ware provided. Bath with shower, dressing room and toilet "closet" . Queen Murphy bed. Linens and towels supplied. Outdoor seating as well as seating in den with widescreen HDTV and sound bar. Space accommodates 2 comfortably.
Our street has four houses on it and we are all close. We look after each other's pets and know when we are out of town to keep an extra eye on things.
What a wonderful experience! The bungalow was exactly as described, very cozy, quiet and welcoming. Jan and Charlie were perfect hosts, even leaving us fresh eggs and breakfast. I would highly recommend this poolside paradise.
Sarah
2016-07-17T00:00:00Z
I highly recommend this place! This was my first time staying at an airbandb and Jan& Charlie were by far the perfect hosts. From the moment we arrived till the time we departed, the hospitality was superb! Check in was a breeze and as soon as we entered the property we were greeted with chocolate chip cookies! The property is located in a beautiful setting and offers nice privacy so you actually feel like your on vacation. The room was clean and comfortable and had everything you could need from breakfast options, snacks, drinks, and personal items. Having access to the pool was a plus and the beautiful landscaping surrounding the pool makes you feel like your at a resort. Our stay was wonderful and everything was beyond what I had hoped for. Thank you for a memorable stay! ON A PERSONAL NOTE I feel the need to share this story just so you know more about the character of Charlie and Jan. I checked in late so I didn't get to meet Charlie or Jan when I arrived. Once I had a chance to check out the room, I noticed pictures and awards on the wall that led me to believe that Charlie and Jan owned a (sandwich shop) Sub Station II. I immediately thought about my father because we used to meet for lunch at the same sub shop in Charleston but they all ended up closing and I just assumed that all of the Sub Stations had closed. The next morning, I noticed Jan out in the garden so I walked out and introduced myself. While we were chatting, I shared with her that my father and I used to meet there for lunch and seeing the signs brought back such great memories because he passed away about 6 years ago. At some point in our conversation I must have shared with her the type of sub I used to order because when I arrived back to the room that evening there was a sticky note on my door that said that there was a surprise for me in the outdoor kitchen fridge. I opened the door and there was a ham and cheese sub from Sub Station II exactly how I used to order it. You would have thought that I hit the lottery and as soon as I took my first bite I was overwhelmed with a flood of emotions! It was one of the kindest things anyone has ever done for me. Charlie and Jan are truly genuine and have a heart of gold and I wish them much happiness in life!
Angela
2016-06-12T00:00:00Z
Unfortunately had to come in town at the last minute for a friends funeral. Jan was very sympathetic in our correspondence, which i appreciated so much. Staying at their place provided us privacy abd personal touches a hotel wouldnt have plus it actually saved us money. Their 2 dogs were great greeters and precious! We only saw one chicken near the poolhouse which was fun plus the fresh eggs, cookies, breakfast foods and snacks were perfect. We could see jan and charlies house from the pool house, but there were plenty of curtains, and they gave us our privacy but offered any contact or help we needed. The birds singing in the morning and the beautiful setting were exactly what we needed. The bed is a queen murphy bed but it was super comfy, and the comforter was great! We will definitely be back if in the Rock Hill area again.
Meredith
2016-11-13T00:00:00Z
We had a wonderful long stay with Jan and Charlie!!! They were extremely helpful and beyond accommodating from booking to check out. They are as social or reclusive as you need and both delightful. It is a nice quite retreat to relax and escape for a bit. It is a lovely piece of land with a touch of wild life. The pool house is quite comfortable for a short or a long stay. We would definitely stay here again and highly recommend it to others.
Sandra Michelle
2016-05-06T00:00:00Z
Hands down the best place I've stayed to date! I arrived late (after 10pm) and Jan had the lights on for me inside the house. I walked in and knew this place was going to be awesome. The bed was comfy, great flatscreen tv, 2 captains chairs that were made to relax and drink a beer in ( oh did I mention the fridge had a few in it for me?). Cookies on the table, breakfast snacks ready for the morning and some fresh eggs in the fridge. I am sad my stay was only one night! In the morning I brewed some coffee, and sat on the deck overlooking the pool and worked on my laptop. Jan gave me a tour of the 5 acres, it is an awesome secluded space. Will definitely be back one day! GO PACK GO!
Tim
2016-04-22T00:00:00Z
Fantastic host. Great communication and thought of everything someone would need while traveling away from home. Even had snacks there during my stay.
Marcela
2016-09-30T00:00:00Z
I messaged on the way and Jan met me at the driveway and directed me towards the guest house.T he recommendations she gave for the area was great! It was a beautiful area and an amazing stay. I would absolutely stay here again.
Keith
2016-08-25T00:00:00Z
Awesome Hosts. Great Pool house. Epic Subs.
Mike
2016-10-13T00:00:00Z
Romtype
Helt hjem/leilighet
---
Eiendomstype
Leilighet
---
Plass til
2
---
Soverom
Rock Hill, South Carolina, USA
You will have a private suite in the upstairs with private bath, study and private bedroom. Home is conveniently located near Velodrome and Winthrop University and 20 minutes from Charlotte. Breakfast for an extra fee or use kitchen. Cat in the home.
Near university, 3 miles from Interstate I-77. Private space for guests.
Cul de sac in convenient location, quiet and safe
This airbnb was in a very quiet neighborhood... very safe. The room was just as listed... very nice and had a big closet and sitting room as well.... and the private bath. Good wi fi connection. It was all quite pleasant. Deborah was very welcoming and accommodating. It was very nice to be there and great to meet with Deborah.
carolyn
2015-08-21T00:00:00Z
We mainly communicated via email and text; my schedule and Deborah's made it impossible to have face time,perhaps next time. I gathered that she loves birds and the great outdoors, so we share that in addition to art, and travel. Her lovely, spacious upstairs suite was very private, and it was well organized, I found everything one needs for an overnight. I would recommend my friends and family.
Deborah
2016-05-12T00:00:00Z
Deb was very accommodating from the start when my schedule changed and I wasn't able to arrive until later that night. She is a very gracious host and I would definitely recommend her to anyone and will stay here again if I'm back in this community!
Lee
2016-03-07T00:00:00Z
Deborah was a wonderful host. Clean and private room with fluffy bath towels and crisp clean sheets. We weren't sure exactly what time we were going to arrive and Deborah was very accommodating. I would stay with Deborah again if I were in the area. Many thanks!
Tawnia
2015-04-13T00:00:00Z
Deborah was very easy to work with and accommodated my travel plans without difficulty . She saved me some panic by alerting me to my destination's off campus athletic complex, which was so appreciated. The private suite was as pictured and described. It was a spacious, quiet area with plenty of room to unwind. My stay was quite brief but was pleasant nonetheless.
DeDe
2015-09-24T00:00:00Z
Great stay. Very easy to communicate with and the privacy of the upstairs mini suite was great!
Jeff
2016-06-03T00:00:00Z
Deborah's home was lovely! She was a pleasure to stay with and to meet. The bed slept GREAT! I felt like I had a whole apartment to myself--you basically have the whole upstairs of her home. I would definitely recommend!
Kathryn
2015-03-13T00:00:00Z
Deborah made us feel welcome and she was helpful in finding us a good pizza place, even though she doesn't eat pizza. The room was exactly as stated, clean, comfortable, pleasant and private. The neighborhood was quiet and seemed quite safe.
Thomas
2015-02-08T00:00:00Z
Romtype
Privat rom
---
Eiendomstype
Hus
---
Plass til
2
---
Soverom
Rock Hill, South Carolina, USA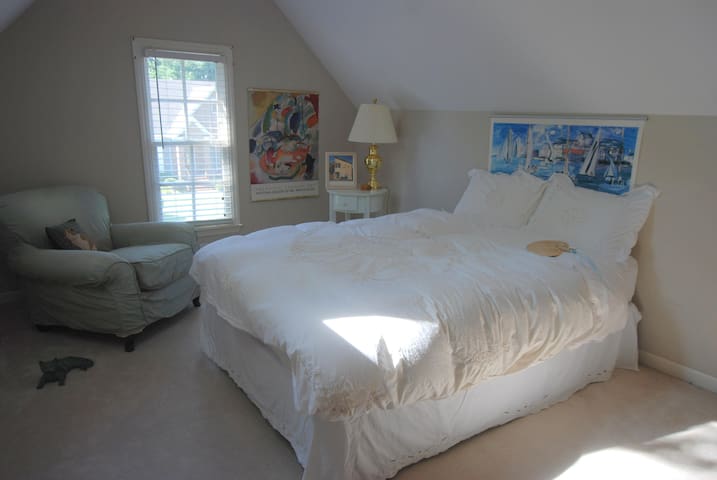 4 Bedroom 2.5 Bathroom 2 level single family home over 2900 sq. ft. Washer & Dryer, Full Kitchen, Eat in Kitchen, Family Room, Dining Room, Living Room. Quiet Neighborhood and great privacy. I am approximately 2 to 3 miles from the Novant Health BMX Supercross Track & the Giordana Velodrome, 6.6 miles from the Catawba Nuclear Plant in Rock Hill, South Carolina, 3 miles from Lake Wylie, and 30 minutes from Charlotte, North Carolina
This home has a lot of privacy for guest. The owner is not on the premises when guest book stay. There is plenty of space to relax and enjoy. Every thing you need in a home while you are away from home.
There is a Walmart Super Center about 2 miles up the street. Along with Car Wash, Dollar Store, Several Restaurants, Gas Stations, and a Credit Union. Further up HWY 161 (Celenase Road) Hooters, Starbucks, QT Gas Startions, Harri Teeter, CVS, Several Sports Bars, Urgent Care, More Restaurants to choose from. Please look my GUEST RESOURCES it list the majority of the places.
This house is AMAZING! It's beautifully decorated. It's very peaceful in the house. Rochelle is a wonderful host. I love the margarita mixer, as well as the bar itself. My boyfriend and I enjoyed ourselves very much.
Danielle
2017-03-19T00:00:00Z
The house is beautiful in a nice newer neighborhood. The owner is very accommodating and provides nice extras. We had a problem with the heat while we were there and it was fixed within a few hours. Awesome experience!!!
Sandee
2017-04-03T00:00:00Z
Very clean and spacious home. Very comfortable. Rochelle was great with communication and went the extra mile for my wife who was there for her fathers funeral. Absolutely would stay again.
Matthew
2017-03-12T00:00:00Z
This house is more beautiful than the pics......Clean and beautifully decorated....Rochelle's communication was always within minutes....House rules and instructions are easy...and precise and there is a handyman avail in mins. There was plenty of water condiments and the bar was stocked The gas fireplaces helped keep us toasty and set the ambiance for relaxation. Beds comfy with loads of pillows. I can't wait to stay here again!
gertrude
2017-03-17T00:00:00Z
Romtype
Helt hjem/leilighet
---
Eiendomstype
Hus
---
Plass til
8
---
Soverom
Rock Hill, South Carolina, USA
is steps from the saltwater pool. Q bed upstairs with roomy living area. Downstairs: stone shower, big screen, couches, kitchenette with eating/meeting area. Two blocks from Bryant Field. Under 6 miles to: Old Town, Winthrop University, Giordana Velodrome, Lake Wylie access, Riverwalk Trail, Manchester Meadows.
Quiet two-story retreat with covered porches, pool, rockers, grill and lovely gardens. Private upstairs has a lodge-like feel with a queen bed, eat-in area, sitting area with a big couch (will sleep 1 adult) and lots of floor space for extra sleepers. 1 twin inflatable mattress and a queen inflatable platform bed are available. Pool is a deepwater saltwater pool. Main floor has 2 entrances, big TV, sports decor, an ice machine, standard fridge, small convection oven and microwave. Great place to watch the game! The area is lighted with landscape lighting at night and we decorate for holidays.There are two outdoor living rooms, one with a fireplace, patio heater and gas barbecue grill. We have a private parking area and entrance over a running stream to the Casita. I am a caterer and arrangements can be made for breakfast, stocking the fridge or food service for any meeting or event.
Quiet residential neighborhood close to shopping and recreation.
We had a WONDERFUL stay at Zinnia Cottage. Liz and Bob were VERY welcoming - there was even a plate of fresh baked cookies waiting for us when we arrived! The Cottage is clean and quiet and comfortable. I HIGHLY recommend!!
Scott
2016-04-30T00:00:00Z
We booked Zinnia Cottage as part of our daughter's move to Charlotte. She had stayed with the Hilles frequently on her work trips and said she preferred the Cottage to any hotel in the area. When we arrived, it was easy to see why. An unassuming yet inviting bungalow tucked away just minutes from North Carolina's thriving city, the Cottage is an oasis. Impeccably decorated by Liz Hille with sports memorabilia that belongs both to the family and the locals (ask for some intriguing stories when stopping in for coffee in the morning!). Finished off with just the right touch of an expert inn keeper, the two-story pool house is cozy enough to get away from it all – and is furnished with all the modern amenities to serve as home base for a business trip. Our favorite part of the visit was meeting the Hilles, who couldn't have been better hosts. Accommodating, flexible, warm and friendly, they're a fun and interesting couple who are worth the trip to get to know! We're already looking forward to our next visit.
Romy
2014-04-07T00:00:00Z
As this was our third one-week visit to Zinnia during the past 12 months, we knew we could count on a super comfortable private house and that Bob & Liz would do whatever it took to make our stay a relaxing one. We can't wait to return next year.
Brian
2014-12-18T00:00:00Z
This was the second time I have stayed with Liz. The first time was so great I had to return. Liz invited my dog this year and it was great to have him in town during the USDGC. Highly recommended beautiful oasis.
Pete
2015-10-12T00:00:00Z
My family visited SC for my niece's high school graduation and this cottage was a perfect complement to our trip. The property is gorgeous with lush plants, foliage, many seating areas, a chiminea, fireplace and the inground pool. Liz and her husband were the perfect hosts. The cottage was stocked with snacks and beverages ( which were a nice surprise) as well as recommendations for local restaurants and attractions. The bed was super comfortable the furnishings were cozy and felt homey. The pool was the perfect temperature and we had beautiful weather the whole time we were there. There is a private entrance to the cottage so we didn't feel like we were bothering the hosts as we came and went. We loved our visits with Junie, their sweet dog. We asked for beach destination recommendations for our vacation and Liz told us about Folly Beach and the little beach town surrounding it. We loved it! We would absolutely recommend this property and hosts and hope to stay there again on our next family visit to SC.
Vicki
2015-06-01T00:00:00Z
My stay at Zinnia Cottage was everything I was looking for...quiet, peaceful and comfortable. Even though this location was just a short drive from my home in the metro area, it felt like a wonderful getaway. The neighborhood quickly becomes a quiet hamlet as you leave the main road. The salt water pool was beautiful, clean and so relaxing. Liz has a lovely area set up all around the pool where you can comfortably lounge in the quiet of nature. The pool house/cottage is quite spacious with a nicely stocked kitchen and the upstairs sleeping and sitting area are like a vacation cabin, complete with tons of natural sunlight. Liz waited for me to initiate contact and then visited by the pool briefly, otherwise I was left to enjoy the cottage and outdoors areas in solitude. Liz was very kind and a gracious host...even had fresh baked cookies waiting for me. If you are not into the sports decor of the downstairs portion of the cottage, you have plenty of room in the sunlit upstairs. The bathroom was plenty adequate, as was the stone shower; both on the main floor. If you are a large person, you might find them a bit cramped, but doable. All in all this is a splendid getaway spot...I am already thinking about my next visit!
Kathleen
2016-09-26T00:00:00Z
Wonderful secluded oasis, with breathtaking gardens and delightful accommodation in the cosy yet very comfortable Zinnia cottage. The pool and patio are the perfect place to unwind after touring the surrounding areas. Liz is the perfect host, stocking up the cottage with all the basic necessities prior to our arrival and ensuring we had a very enjoyable visit. Would highly recommend this property to anyone visiting the Charlotte area.
Simon
2016-07-11T00:00:00Z
Very prompt and polite hosts. An extremely pretty property, bigger than it looks on the picture. It feels very much like a home than a house, so felt very relaxing. There are effectively two rooms - downstairs living room and upstairs bedroom. So probably best suited for a couple. Thoroughly recommend it.
Grant
2014-11-05T00:00:00Z
Romtype
Helt hjem/leilighet
---
Eiendomstype
Hus
---
Plass til
5
---
Soverom
Rock Hill, South Carolina, USA
Our place is good for couples, solo adventurers, and business travelers. Our place is 40 minutes to Uptown Charlotte and 25 minutes from public transportation, should you wish to forego traffic and parking in the city. We are 45 minutes to the airport, making it convenient for travelers no matter where you're going/coming from. You'll love our place because of the neighborhood, the comfy bed, and the coziness. We offer workout training included in your stay, at your request.
Romtype
Privat rom
---
Eiendomstype
Hus
---
Plass til
3
---
Soverom
Rock Hill, South Carolina, USA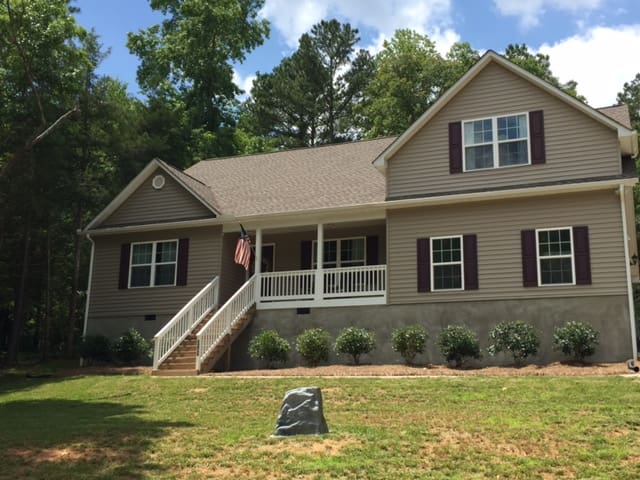 Two story home with pastoral creekside setting near Rock Hill, SC. A quiet oasis 30 mins from museums/culture/corp worlds of metro Charlotte, NC, and only 10 mins to Winthrop Univ. Two bdrs+office can accom 6 in pvt upstairs, owner also resident.
My home is a modern, eco-friendly home (3500 sq ft) in the forest overlooking a large stream (Fishing Creek), pond and private gardens about 4 miles from Rock Hill, SC. You have the run of upstairs portion of my house (2 bedrooms, bath, office/library room, two balconies, sitting foyer), as well as all the surrounding property, decks, and grounds, for your private use. Downstairs is a modern kitchen, guest bath, ping-pong room, dining area and living room surrounded by stone and wood decks overlooking the creek, the pond, old homestead chimneys and the forest. On the grounds is an organic garden, sheep, chickens (fresh eggs), horses, and miles of walking trails. Rock Hill is home to top-rated liberal arts college Winthrop University and less than 20 miles to downtown Charlotte, NC. Hopefully you relish and enjoy solitude and quiet, yet with modern home accoutrements and with city amenities and restaurants just a short distance (less than 5 miles) away. My home is in the forested segment of an 80+ acre property with surrounding homes also situated on equal or larger acreages. Row-crop agriculture (cotton, soybeans, wheat, oats) and forest plots surround the property in an area protected by zoning for agriculture and country living. Owls hoot, humming birds and doves frequent the feeders, otters and beavers swim in the creek. You will have access to the library of gem and mineral guides, landscaping and gardening books, science and cosmology, cycling, equestrian arts and other areas of interest. I would love to learn your passions and heritage as well. As a single guy, business owner, and hobby landscape/farmer, I enjoy sharing my home and grounds, especially with like-minded ecologists. Occasionally I host a wedding, have wine tastings, and/or host visiting opera singers or competitive cyclists. I'm delighted to make suggestions for day/multi-day travels in the area, and/or restaurants/outings, and/or you can enjoy organic eggs and plenty of home-grown all-organic veges and fruits when in season. Come enjoy the oasis of peacefulness with the natural beauty of the setting and grounds, yet very near to the metro cultures of Charlotte and Rock Hill.
This property is located a few miles from downtown Rock Hill, yet worlds away in a mountain-stream-like setting in the forest along Fishing Creek. Our county has a master plan to preserve the pastoral and agricultural nature of this portion of the county so most of the homes in the 'neighborhood' are on 60-200 acre plots. You can walk the roads and trails around the house and rarely see another person or even another house.
Another amazing stay at Kim's!
Stephanie
2017-03-05T00:00:00Z
Kim and his dog were very welcoming and accommodating when I arrived. I got the tour and quickly got settled in. The property and the house are as/more beautiful than the listing describes! The home is as described in the listing: you get full access to the upstairs which is two bedrooms (one with a private balcony), an office, and a bathroom. Kim stays downstairs, so the main living room, kitchen, dining areas are shared. The listing states "entire home" which you have access to, but just know that you will be sharing the entire main floor with Kim and his dog, as is described in the detailed description. No cable or satellite, but there is a TV downstairs with local channels. I stuck with Netflix, but the wifi can be spotty out in the country, and I had to either log off/on or reset the router most days. Since the home is out in the country, just know that you are a ways from town, only about 5 minutes to the edge of Rock Hill, but 15-20 if you are trying to get over to the Galleria, Starbucks, or Golds Gym areas.
Ben
2015-12-03T00:00:00Z
My friend and I were looking for a place to spend some quality time together without any distractions and nowhere to go. This was the perfect place to do that. There was absolutely no reason to leave Kim's property once we arrived. So peaceful and beautiful, even nicer in person than the photos in the listing make it seem. He gave us a little tour of the area and pointed out all the things we might like to see: horses, chickens, sheep, his garden (which he let us eat from), trails along the creek, etc. Kim was very sweet and told us to make ourselves at home, which we quickly did, kindly allowing us to use refrigerator space and take over his kitchen, cooking a good bit of the time. A very comfortable, clean and bright space- Perfect for relaxing! For those of you worried about a dog in any way, his indoor/outdoor dog very much minded his own business and was a sweetie. Kim even got out his telescope and showed us Saturn's rings for the first time (very exciting stuff)! The experience left my friend and I planning our next trip to Kim's place. No reason to look anywhere else.
Julie Anne
2014-07-31T00:00:00Z
What an amazing experience! Our first time using Airbnb, and Kim is a wonderful host. He is charming, helpful, and has a wide range of interests that we chatted about. The Venue is a fascinating and comfortable place, loved the cast iron crocodile and mineral collection. We could have spent days happily exploring the grounds. My 16 year old daughter made me promise that we will go back. Thank you Kim!
Lisette
2014-07-18T00:00:00Z
What a wonderful place! Surrounded by nature we found a little paradise! The house is designed with a lot of good taste and has lovely interiour details! Kim is a perfect host, we felt home directly and his dog was guiding us trough the nature! Thank you very much
Denise
2015-10-13T00:00:00Z
Although I did not get a chance to meet Kim, he was an awesome host. He was very accommodating and easy to communicate with. The property was amazing...just wish we could have stayed longer!
Stephanie
2015-06-28T00:00:00Z
We had a wonderful time staying at Kim's home. He was extremely welcoming and the grounds were absolutely beautiful! The pictures truly do not do it justice. I would definitely recommend Kim as well as his accommodations to anyone looking for a place in the Rock Hill area. It is private but you are still close to downtown and other areas of Rock Hill. Oh, and his resident dog, Erinie, was the best welcomer around! Thank you Kim for being such a great host!
Amy
2016-06-27T00:00:00Z
From the moment we arrived, Kim made us feel very welcome. We were treated like family visiting his place for the first time. He went the extra mile to show us around the place & gave a little background on each nugget of serenity offered in and around his home. We had a lovely supper w/Kim on the patio. We laughed & swapped stories of life. We retreated to the upstairs w/Ernie & were offered the escape & solitude we were searching for. Kim's home is absolutely exquisite. And Kim is a wonderful host. We will definitely be returning.
Dinki
2015-04-11T00:00:00Z
Romtype
Helt hjem/leilighet
---
Eiendomstype
Hus
---
Plass til
6
---
Soverom
Rock Hill, South Carolina, USA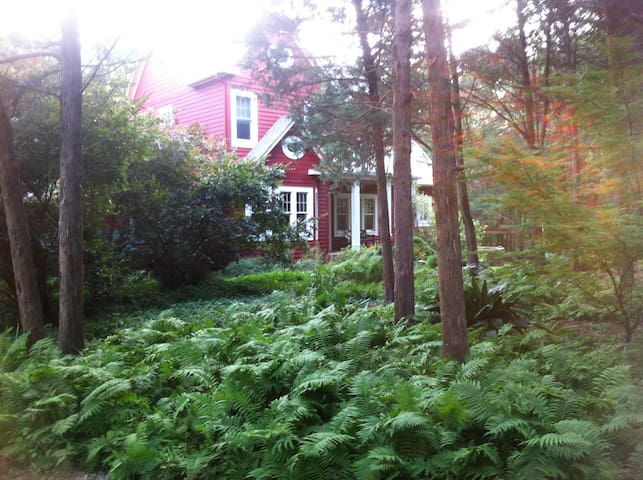 My house has 4 distinctly unique guest rooms upstairs which share 2 full baths. Includes a homemade Southern breakfast and a happy-hour check-in. The location is downtown Clover (pop. 5000) and within walking distance of several restaurants and shopping. Close to CLT Airport and area attractions.
Historic house (circa 1890), with 21/2 acres of gardens and woodlands, lots of porches for relaxation.
We felt like family at the Magnolia House. Laura greeted us with a smile upon arrival and showed us her beautiful home. We sat and chatted on the front porch with a glass of wine and Laura graciously pointed out nearby hiking and local restaurants. The next morning, Laura made the most amazing breakfast. Our room was welcoming and the bed extremely comfortable. Her two dogs are friendly and loving. I look forward to another stay at the Magnolia House.
Leah
2016-10-21T00:00:00Z
Great host! Makes a killer breakfast and treats you like family.
Adam
2016-10-10T00:00:00Z
I had a truly wonderful stay at Laura's house. It happened to be walking distance from where I had business in Clover. It is also a matter of blocks from the town center where there are a number of stores and restaurants ranging from general goods to antiques and diners to barbecue respectively. A genuine quaint southern small town. The house itself is what one might expect from an 1890's built home...slightly uneven floors, a few old window panes that distort ones view and door weight and hardware that reminds you that you just closed a door. The house had fresh paint and earthy accents throughout. Get to know Laura just a little over breakfast or at happy hour and you'll figure out why. The home is located right off Main Street, so stay in one of the back bedrooms if road noise bothers you in the morning. I am a heavy sleeper, so it wouldn't bother me either way. However, I slept in room 2 which was in the back. Well restored as was the rest of the house. The only negative I could mention is it was a full bed. I am 6' tall so my feet would touch the rail if I didn't scoot all the way to the headboard. The room shared a bathroom with the other 3 upstairs, but there is a second bathroom off the kitchen that has a shower if timing was such that required concurrent showers. If you are bringing anything that needs refrigerating, you might want to let Laura know in advance...fridge was packed with yummy items and some beer for happy hour on the screened in porch. The same traffic which might wake one up in the morning is such a delight in the evening...make time to sit on the porch, watch the cars go by and chat with your host. I happened to get my chance during a rain storm which added that much more to the experience. The furry owners of the house were friendly and eager to please their guests with somewhere for them to scratch or pet. They followed me into the den and laid at my feet with their bones whilst I talked away on a phone call. They did so as if they always had. Last but not least, breakfast consisted of eggs, sausage and fresh biscuits with assorted jams and jellies. The biscuits were not full size...more like slider biscuits that had been cut out in different shapes. I conversed with Laura and her boyfriend Jerry about the area, traveling on the west coast and the general state of things in the country. They are very easy to talk to...your visit would be incomplete without doing so. Have a pleasant stay the next time you are in Clover...I know I will and I know where!
Jason & Gabby
2016-08-18T00:00:00Z
If you're sick of the routine motel and are looking for something very nice off the beaten track in an interesting little town, and super dog friendly. this is great.
Walter
2016-12-17T00:00:00Z
Romtype
Privat rom
---
Eiendomstype
Bed & Breakfast
---
Plass til
2
---
Soverom
Clover, South Carolina, USA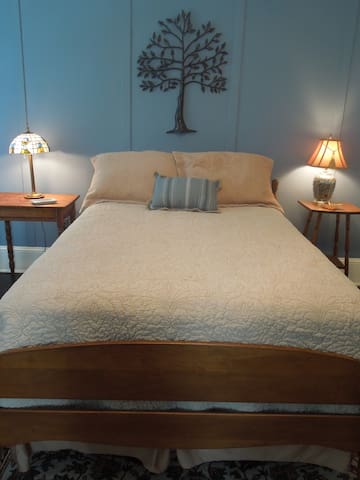 Roomy with queen sized bed. Shared bathroom, hospitality area with fridge & coffee maker. Office & fresh baked cookies. Morning light breakfast bar. Two blocks from Bryant Field. Under 6 miles to: Old Town, Winthrop University, Giordana Velodrome, Lake Wylie access, Riverwalk Trail, Manchester Meadows.
This bedroom has 2 large windows and view of back yard , patios and pool. It has a coastal beach feel with decorations from South Carolina, Boston , MA and Anna Maria Island, Florida. It is close to the shred bath and has a large closet and armoire.
Liz and Bob were terrific. Their home was so warm and welcoming. The pool was FANTASTIC. Spacious and relaxing backyard. Comfy and large bed. Plenty of snacks, food and beverages readily available. Liz also makes cookies that are to die for. Hosts like Liz & Bob are the reason we will keep using AirBNB over hotels. You can't beat the level of personalization and hospitality. If you are visiting Rock Hill or York, this is the place to stay!
Brian
2014-09-23T00:00:00Z
My husband and I stayed in Rock Hill on our way home from Florida. Liz and her husband were friendly and welcoming. The accommodations were very nice. Their home is beautiful, clean and expertly furnished. The Coastal Feel Bedroom is quiet and comfortable. Liz offered many healthy breakfast choices and good coffee. We highly recommend staying with Liz in Rock Hill, NC.
Carol
2014-04-08T00:00:00Z
Liz and Bob have a beautiful home! The listing was better than described! I stayed in the bright coastal bedroom for a month and truly felt at home! The room was comfortable and perfect! They had everything I needed! The backyard is so so so nice! I loved being able to read outside or lay by the pool! They have a beautiful garden as well! This was my first airbnb experience but it far exceeded my expectations! I am so thankful that Liz and Bob welcomed me into their beautiful home for a month!
Harriet
2015-07-01T00:00:00Z
Great experience! Hosts and accommodations were awesome! Truly a relaxing oasis! Greatly enjoyed the hospitality and the wondrous , peaceful backyard landscape and pool!
Carolyn
2014-06-20T00:00:00Z
Romtype
Privat rom
---
Eiendomstype
Bed & Breakfast
---
Plass til
2
---
Soverom
Rock Hill, South Carolina, USA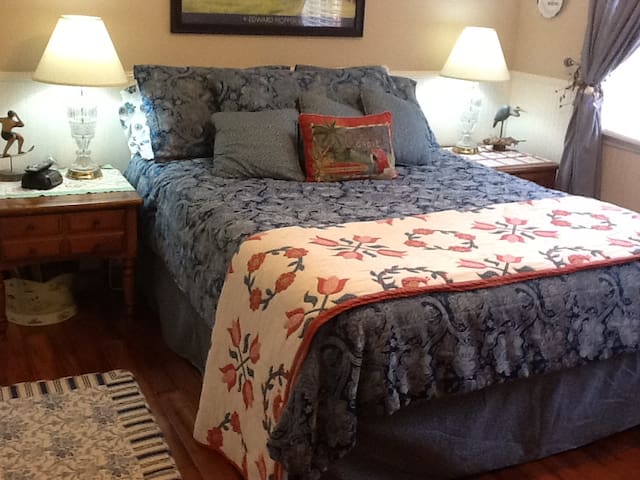 My house has 4 uniquely distinctive guest rooms upstairs which share 2 full baths. Includes a homemade Southern breakfast and a happy-hour check-in. The location is downtown Clover (pop. 5000) and within walking distance of restaurants and shopping. Close to CLT Airport and area attractions.
Historic residence (circa 1890) with 2 1/2 acres of gardens and woodlands. Lots of outdoor spaces to rest and relax.....and dogs.
Romtype
Privat rom
---
Eiendomstype
Bed & Breakfast
---
Plass til
2
---
Soverom
Clover, South Carolina, USA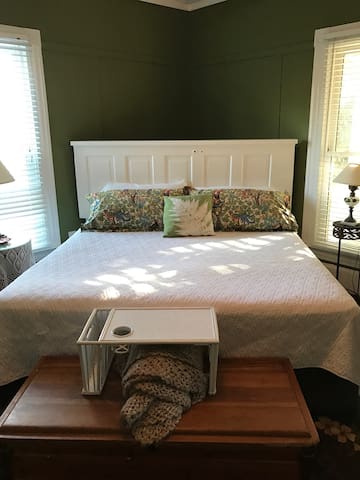 bienvenidos Inglés. Bonita habitación con 1 cama de matrimonio muy cómoda. Posibilidad de maitre a su disposición una cama paraguas para bebé. Por favor, especifique antes de reservar, con el fin de instalarlo en su habitación.
Romtype
Helt hjem/leilighet
---
Eiendomstype
Hus
---
Plass til
4
---
Soverom
McConnells, South Carolina, USA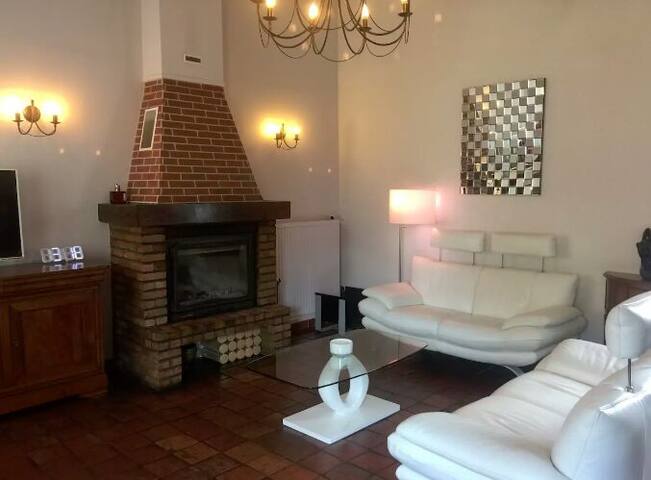 Two twin beds. shared bath and hospitality corner with coffee maker, small fridge and fresh baked cookies daily. Light morning breakfast buffet. Office with desk.
This is a great room for kids, friends and roommates. Roomy with a large window dormer and window seat. There is a writing desk in the room but for more room there is an office with a sitting area and TV for use.
Liz & Bob's place was perfect for our needs. We were in Rock Hill for a sports tournament and were able to zip back and forth between the house and the fields. We thoroughly enjoyed the yard and pool area and felt extremely welcomed by the snacks and drinks provided upon our arrival. The location is quiet and relaxing, clean and roomy. We couldn't have asked for more. Thank you, Liz & Bob, for your wonderful hospitality. It was a delightful stay.
Andrea
2015-04-13T00:00:00Z
Romtype
Privat rom
---
Eiendomstype
Bed & Breakfast
---
Plass til
2
---
Soverom
Rock Hill, South Carolina, USA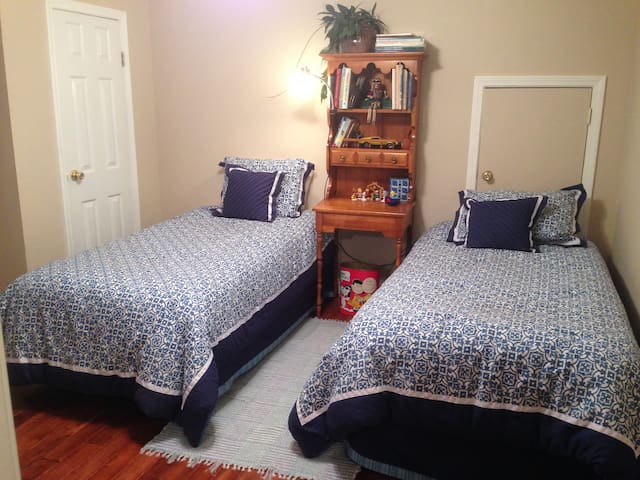 My house has 4 uniquely distinctive guest rooms upstairs which share 2 full baths. Includes a homemade Southern breakfast and a check-in happy-hour. The location is downtown Clover (pop. 5000) and within walking distance of several restaurants and shopping. Close to CLT Airport and area attractions.
Historic residence (circa 1890) with 2 1/2 acres of gardens and woodlands, lots of places to sit and relax... and dogs
Romtype
Privat rom
---
Eiendomstype
Bed & Breakfast
---
Plass til
2
---
Soverom
Clover, South Carolina, USA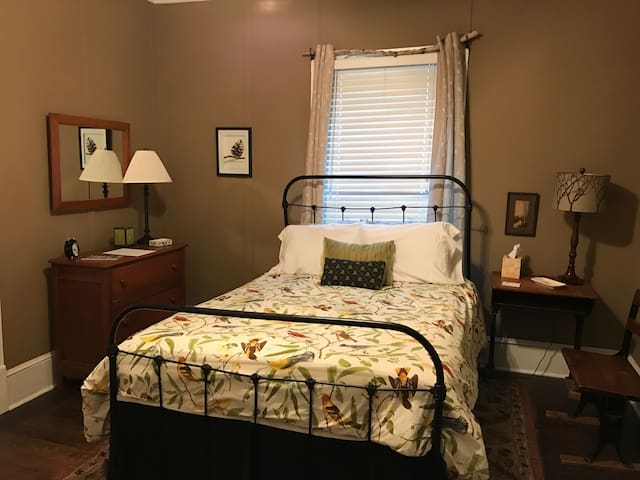 Full sized bed. Shared bathroom, hospitality area with fridge & coffee maker. Office & fresh baked cookies. Morning light breakfast bar. Two blocks from Bryant Field. Under 6 miles to: Old Town, Winthrop University, Giordana Velodrome, Lake Wylie access, Riverwalk Trail, Manchester Meadows.
This is one of 4 rooms available on the second floor of our home. This is a very quiet, peaceful room with a vintage charm and the colors of Provence. There is a dresser and closet for belongings and the shared bath is right across the hall. The small office with TV, sitting area and desk are also across the hall.
Romtype
Privat rom
---
Eiendomstype
Bed & Breakfast
---
Plass til
2
---
Soverom
Rock Hill, South Carolina, USA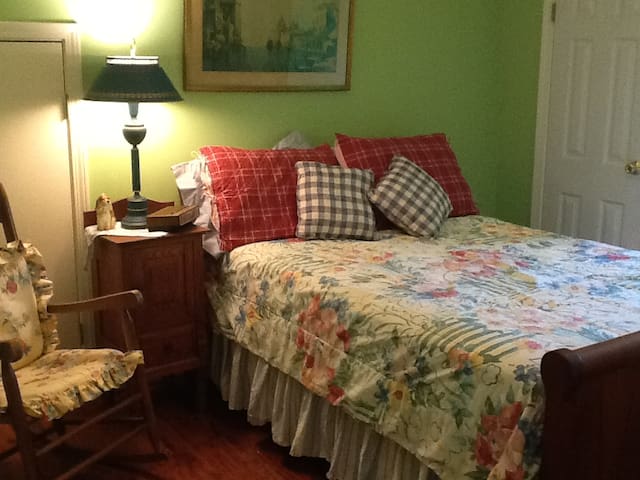 1

–

18

av

19 Utleiesteder
Oppgi datoer for å se fullstendige priser. Ekstra gebyrer gjelder. Skatter vil kunne tilføyes.