This is a beautiful, one-of-a-kind home fully restored by a master craftsman. Located on a quiet street only a short walk to downtown Whitehall & White Lake. Beautifully decorated, you will love relaxing inside or lounging on the secluded back deck.
If you are looking for a quiet getaway in beautiful home near downtown Whitehall, this is the place. This home was fully restored by a master craftsman - it has a ton of character and wonderful detail. Aside from the wonderful interior of the home, there is a back deck with a bubbling artificial pond and winding pathway through the backyard and garden. Downtown Whitehall is a short walk as is White Lake. Lake Michigan is about a 15 minute drive. You will truly enjoy staying at this one-of-a-kind home.
Beautiful craftsman home, very comfortable. We love this area of Michigan and it is close to the Downtown Whitehall area and other attractions. Great for a small family or 2 couples.
Michael
2017-03-12T00:00:00Z
It was a nice, cozy, warm, well put together place to stay. We were there for a low key wknd, where we spent most of our time out of doors, at the near by shoreline. It was great to come back to a place where we could make dinner, have a warm shower & relax for the evening. Extra blankets and fans were provided, we just had to get them off the shelf. There was also a basket of common travel items, that can be forgotten, in the bathroom, so it was nice not to have run out for soap. Also it was very clean, which is a must!
Amber
2017-02-19T00:00:00Z
The house was excellent for our time in Whitehall and Elliott was a great host.
Jerry
2017-03-19T00:00:00Z
The home was beautiful and we had a wonderful time! Elliott was easy to reach and everything you want in an Airbnb host.
Nicole
2016-10-30T00:00:00Z
This is definitely the best place we've stayed in with airbnb! The house was so clean and everything we needed was there. Communication with Elliott was great and we had no problems with anything. Lovely bedrooms and very comfortable beds made for a wonderful get-away! Backyard was magical with pond, gardens, and trees and plants! Neighborhood was so quiet and peaceful. We are definitely going be staying there again! Elliott's place is a definite 10!!!!
anna
2016-11-15T00:00:00Z
Thoroughly enjoyed our stay in Whitehall. The house is in a quiet neighborhood but close to white lake and downtown. Enjoyed how cosy and quirky the house was with loads of character and things to look at. Garden and porch area were lovely. Bathroom and kitchen areas were very good with everything we needed provided. Elliot was quick to answer our questions. A very nice getaway, highly recommended.
Alice
2016-10-21T00:00:00Z
My wife and I stayed here for our honeymoon; it was quiet and cozy, exactly what we wanted. The house has a great layout, and has been updated with high-end materials throughout. The heated floors made it very comfortable without drying out the air. The kitchen is well-stocked with dishes and cookware, although the microwave/oven combo was a little tricky to figure out. The only drawback was the lack of ceiling lights, but everything else more than made up for it. Elliott even came and cleared the snow off the driveway. I would highly recommend staying here, and I'm sure my wife and I will be back!
Kenton
2017-01-10T00:00:00Z
Incredible home!!! Unique space! We loved that our family was able to visit together, cook together and relax in such a cozy house that felt like home. We will definitely be booking this space again in the future.
Lila
2016-12-27T00:00:00Z
Romtype
Helt hjem/leilighet
---
Eiendomstype
Hus
---
Plass til
4
---
Soverom
Whitehall, Michigan, USA
Located in a quaint town, walking distance to White lake, fishing, shops, parks, bike trail, tennis courts, bars and restaurants. 7-8 miles to Lake Michigan beaches. House is cozy and clean with 4 person outdoor hot tub, fire pit, quiet area. The set rate is for four people. Additional guest will require approval and an additional cost of $10.00 per person per night.
My neighbors do watch out for each other. We do care about our neighborhood and all activities going on. I know all of my guest will be respectful during their visit to this wonderful community. Thank you!!!!!
This location is about 15 minutes to Michigan adventure and about 30 minutes to Silver Lake Sand Dunes. Jackson House has everything you need from A to Z. Mary was professional and replied quickly to any questions. Hot tube was very nice and clean as well as the house. There is tons of wood for the firepit so there is nothing to worry about.
Daniel
2016-09-03T00:00:00Z
Mary is a great host. Even though we didn't meet her in person, everything in the house was nicely arranged for us. All three bedrooms had necessary beddings, even a couple of bottled water on each night stand. Adequate hand towels and shower towels in both bathrooms. On the kitchen table, Mary even left a couple of small bottles of wine, making us feel at home right away. There was coffee maker, which we found very useful. Mary provided a carton of milk. Very nice. Overall, very nice experience. I would definitely come again, if we come to this area in the future.
Philip
2016-08-22T00:00:00Z
Mary is a great host. Her house was very clean and comfortable. Everything you need for your stay is available and she even left us bottles of water and some wine. Mary was always very fast to respond to our communication. The neighborhood was very nice and cozy too with restaurants within walking distance. We really enjoyed our stay and would definitely stay again if we are ever in the area. -Chad and Sette
Chad
2016-08-07T00:00:00Z
Very friendly and welcoming, comfortable home with nice amenities. Mary was very prompt in all of her replies and made sure we had everything we needed.
Taylor
2016-06-23T00:00:00Z
The pictures are a good representation of what the house is like. Give the house manual a glace. We felt welcomed. Perfect for 6 people, 8 people is enough. Loved the home setup, clock, throws and clean (beds,sheets,comforters & towels). Special mention for the Hot Tub .. oh yeah ..! We chose this place for its rules & affordability. Calm & Quiet neighborhood. Thank you so much.
Ghouse
2016-05-15T00:00:00Z
Everything was great! Wonderful location and amenities. Loved the hot tub and outdoor space. Had plenty of room too relax inside and out. She made is feel very at home. Will defiantly be returning in the future.
Traci
2016-07-11T00:00:00Z
The home was great and in an amazing location to where we needed. More than we needed for way cheaper than any hotel with everything needed.
Adam
2016-05-02T00:00:00Z
With this being my first experience with AirBnb, I had no idea what to expect. My friend and I couldn't be more happy with our experience! It was truly a home away from home. The hot tub was wonderful. She provided plenty of tips and suggestions of things to do in the area and made several little touches that made the stay so pleasant. I would recommend this property to anyone.
Robert
2016-07-06T00:00:00Z
Romtype
Helt hjem/leilighet
---
Eiendomstype
Hus
---
Plass til
7
---
Soverom
Whitehall, Michigan, USA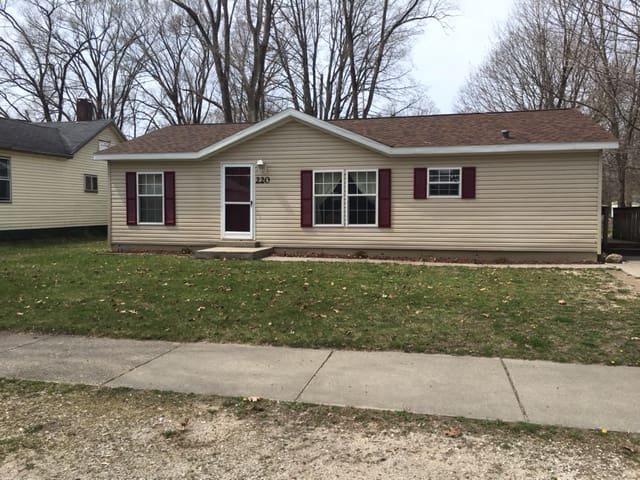 Our one-of-a-kind house has features you'll see nowhere but here. Located right across the street from beautiful whitelake we are close to everything West Michigan has to offer.
Hank's house, is located close to everything. 10 minutes from Michigan Adventure theme park. 5 minute drive from a free boat launch. 5 minute drive to Duck Lake State Park. Plenty of shopping and golfing and fishing not to mention our beautiful sunsets.
Our neighborhood is filled with summer cottages and beautiful homes. We sit just across the street from beautiful White Lake, which is one of the few that has Channel access to Lake Michigan. We have a nearby boat launch and many tourist attractions just minutes away from the house .
Romtype
Privat rom
---
Eiendomstype
Hus
---
Plass til
6
---
Soverom
Whitehall, Michigan, USA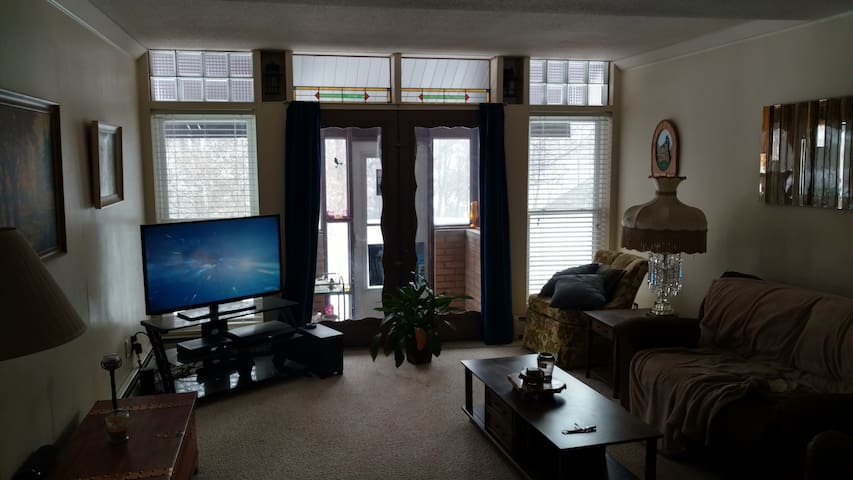 You'll leave your worries behind when you stay at this beautiful home on White Lake with deep water access to Lake Michigan. Enjoy a blazing bonfire on the private beach, paddle around White Lake in our canoes, and experience Pure Michigan views from nearly every room in the house. Get comfortable, cook or grill a meal, sit awhile on our front porch or side patio and take in the mesmerizing view of the Lake.
Romtype
Helt hjem/leilighet
---
Eiendomstype
Hus
---
Plass til
10
---
Soverom
Whitehall, Michigan, USA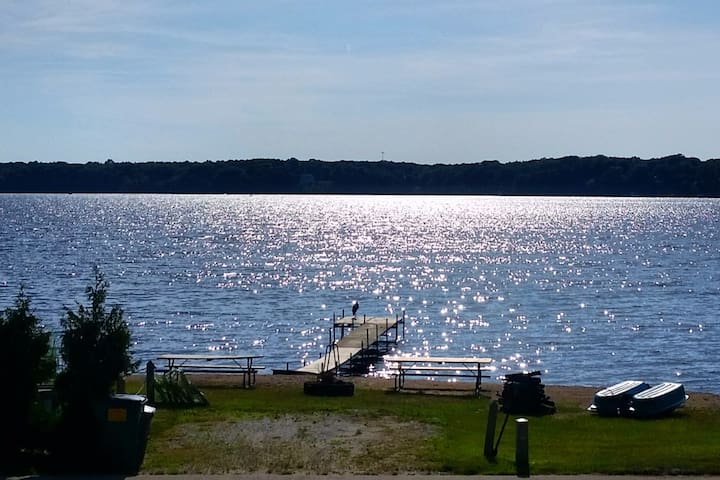 Near LAKE MICHIGAN, MI ADVENTURE, JJ RESORT, 22.5 MILES OF BIKE TRAIL, WHITE RIVER KAYAKING & CANOEING, FISHING, CAR RACING, HORSE RIDING, GOLFING, OPTIONAL 40 ACRE LEASE FOR HUNTING. SILVER LAKE DUNE RIDING, EASY ACCESS TO SNOWMOBILE TRAILS.
Has a fenced in back yard with a fire pit, gas grill and plenty of outdoor furniture for lounging. The front room is set up with a table and chairs, games, playing cards and puzzles with a pellet stove for those chilly days and nights. We have a full kitchen, full bath, TV's and dvd players, washer and dryer.
A five minute drive to Lake Michigan, Duck Lake, White Lake and Michigan Adventure, also our spectacular lighthouse built in 1875 which is now a museum open for tours. We are two miles from our local library with bike/walking trail in warm weather. Snowmobile trail in winter! We are twenty minutes from Silver Lake Dunes, horse back riding, JJ Water Park, White River Canoeing and kayaking (Happy Mohawk), Lewis Farm petting Farm and Country Dairy. We are twenty mins. from The Lake Express Ferry from Milwaukee to Muskegon and lots of restaurants and shopping.
We enjoyed our stay at Erica's rental house near Whitehall. It was really close to a couple little towns, a water park, Lake Michigan,and about half an hour from Muskegon. We didn't meet Erica, but talked to her several times over the phone- she was available to answer questions during our stay. The home looks like it is set up as a rental property and we had no complaints. It was clean, as described in the listing, and there were some nice touches added- a couple kids games, a stack of firewood to use in the backyard firepit, and bottled water in the fridge. The only issue we had was the whole house was a complete cell signal dead zone- but that's pretty common in Michigan so we expected it. Overall it was very nice and I would recommend this property.
Scott
2016-05-31T00:00:00Z
The neighborhood was very rural on a busy road right outside of town. Erica's house was very close to a lot of really great vacation sites for young families. We had a great time and the house was very comfortable.
Jessica
2016-08-10T00:00:00Z
The house was exactly as pictured--lovely furnishings, warm and welcoming. More spacious than it looks. The large laundry was a great toy car run when it rained. And the hostess provided big baskets of toys! It was clean and ready. 4 nice tvs! But no wifi. The review nicked down just a tad because there were no sundries--half a roll of t.p., one bar of hotel-size soap, washer and dryer but no detergent, no extra garbage bags. A stop at the Meijers in Muskegon on the way in might be a good idea. It's well water, fine to drink but you might want a couple of gallons of "regular" water.
Mary
2016-08-22T00:00:00Z
This house was perfect! Very cozy with a beautiful back yard to just hangout in peace. Would definitely stay here again!
Brandi
2016-06-28T00:00:00Z
Erica was a wonderful host, she went out of her way to make our stay comfortable. The house was clean and minutes from Lake Michigan.
Jesse
2016-07-30T00:00:00Z
This rental was a clean, pleasant, and quiet place to stay. It was very convenient for us since it was less than a 30 minute drive from the sand dunes at silver lakes park. Erica was a a kind lady who very charming to deal with. I would certainly recommend it or stay there again.
Nick
2016-07-04T00:00:00Z
We were very pleased with the welcome. The home was very country setting which we liked. The home was cleaned well, it was baby friendly, and well kept up. We were only minutes away from the lakes. A very quiet neighborhood and very private area.
mary lou
2016-05-19T00:00:00Z
We had a great time while staying at Erica's place...nice, clean, and quiet location.
Jonathan
2016-09-05T00:00:00Z
Romtype
Helt hjem/leilighet
---
Eiendomstype
Hus
---
Plass til
7
---
Soverom
Whitehall, Michigan, USA
My place is close to parks and the city center. You'll love my place because of the location and the people. My place is good for couples and families (with kids).
Romtype
Helt hjem/leilighet
---
Eiendomstype
Hus
---
Plass til
9
---
Soverom
Whitehall, Michigan, USA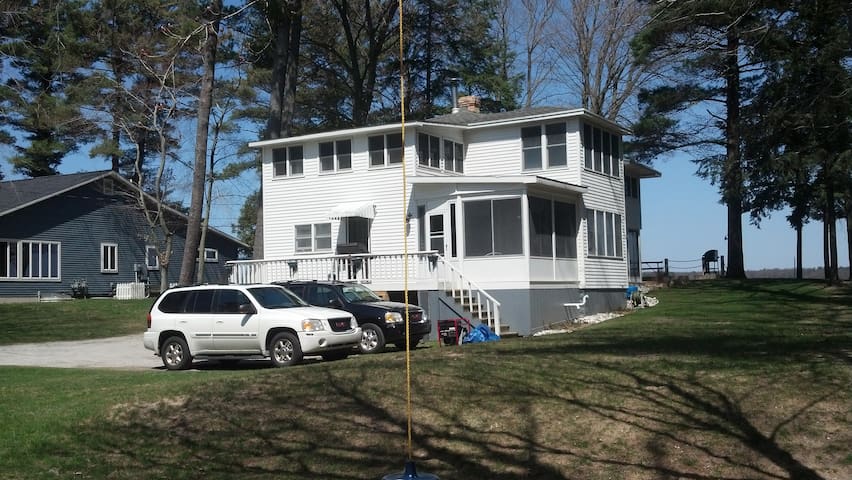 Our place is a short walk to Lake Michigan, the beach, and great views of the sunset. Not far from Stoney Lake, Silver Lake Sand Dunes, and located in Claybanks township. You'll love my place because of the new remodel, and comfortable coziness. Eating and sleeping outdoors on the deck, and the fire-pit for roasting hotdogs & s'mores bring back some of the simple pleasures of country living! Our cottage is a great getaway for couples, families (with kids), and big groups.
It is quite spacious , and in a beautiful wooded setting. The upstairs is a new addition, and the downstairs has been remodeled.
Kris is very responsive. The house is nice and spacious. It can easily hold up to 3 families up to 10 people with right beds and furniture. A short walk gets us to a narrow long stretch of sandy beach by Lake Michigan, great for watching sunset after spending the day at the nearby Silver Lake Sand Dunes (25 minutes drive) or Luddington State park (1 hr). Would come back if in the area again. The only thing: wifi is on and off, cell phone reception not very good. But we are on vacation, off the grid worked out fine. :-)
Joy
2016-09-05T00:00:00Z
Kris, Thank you for being such an amazing host! your house was perfect for us. ♡♡ We appreciate you and all that you did!! If we make Michigan Adventure a year a yearly thing, we will see you again. Thank you so much!!!
Dorthy
2016-08-30T00:00:00Z
We stayed 5 days at The Grand Garden Lake House. We enjoyed our stay and had everything we needed available to us. The pictures of the house were exactly as described. We had a family of 6 stay here and there was more than enough room to roam for all of us. We very much enjoyed the back yard fire pit and also the quite! The host was available for any questions we had and she also provided a booklet/guide for attractions in the area, which was nice. We would stay here agian! Thank You for the hospitality and for the memories my family was able to make!
Tanya
2016-09-23T00:00:00Z
This is really great location. It's on your way to so many things. Kris was really helpful and thoughtful. The only improvement would be a window fan or two.
Polly
2016-08-14T00:00:00Z
If you are looking for a "pure Michigan" experience, this is the place for you! Kris has created a lovely, spacious, and delightful place. The house is surrounded by beautiful woods and very private. Kris is a warm and welcoming host. This house has 3-4 bedrooms and 3 baths, well stocked with towels, etc. The location is amazing - within walking distance to Lake Michigan - and a short drive to a variety of towns and points of interest. It is a great place for a group of friends or a family.
Rebecca
2016-10-02T00:00:00Z
Kris is very friendly and gave a great tour of her home. It's a wonderfully charming house! It was the perfect place for us to relax as a family.
Deb
2016-08-28T00:00:00Z
Spacious and serene. Generously provisioned kitchen with plenty of dishes, pots, pans, etc.. Wood, chairs, benches, marshallow/weenie fork & more for enjoying the fire pit in the back yard, beach toys to borrow, wrap-around deck with umbrella & furniture especially nice in afternoon. Couple miles drive to free beach access at Claybanks Township Park. Wooded lot close enough to hear Lake M sometimes but not see it. Cool Michigan breezes most days and ceiling fans in many rooms. Upper level brand new. Lower level has a couple very musty rooms. Hope these can air out. Lots of mosquitoes outside as is typical of the area. Serious bug repellent recommended. Right now Aug.2016 NO AT&T reception, but Verizon works fine. We hear AT&T will be adding a tower in the area in October... Kris and her daughter were on hand to guide us in, welcome us and show us around. Very knowledgeable about the area. Great value. We would love to come back.
Emily Hillquist
2016-08-06T00:00:00Z
The house is not too far from a fairly narrow beach (less than 5 minutes driving), the Lake is beautiful. We did not stay long enough to appreciate the house, but Kris was responsive and comprehensive. Overall, it was a bad experience, we had to leave after a few hours in the house because of a cleanliness issue. Sprint phone coverage was really bad (but they have WIFI now). We finally paid $231 for the night which was really expensive and add to our disappointment. I will not recommend the house to my Family and Friends but I'm sure that the cleanliness will be improved and the house will be a nice getaway near the beach.
CINDIA
2016-08-23T00:00:00Z
Romtype
Helt hjem/leilighet
---
Eiendomstype
Hus
---
Plass til
7
---
Soverom
Montague, Michigan, USA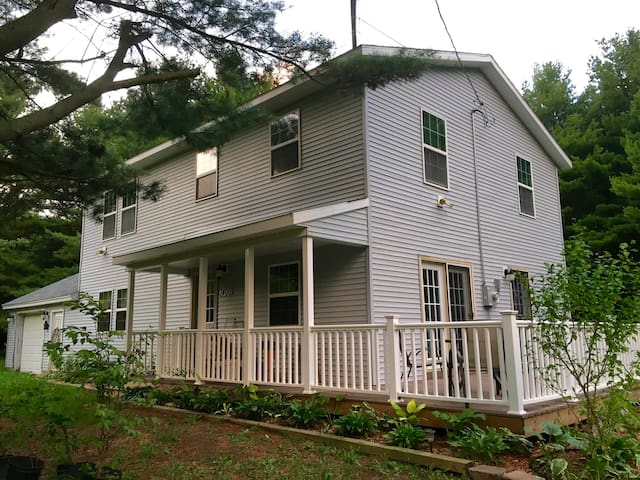 Eigener Eingang, Ihr eigenes Wohnzimmer, Bad, Queen und Einzelbett, Zugang zur Waschküche, Mikrowelle und Kühlschrank, große Terrasse mit Aussicht, 2 Minuten zu Fuß zu einem der Lake Michigan zu den größten und schönsten Strände.
Eigener Eingang, Ihr eigenes Wohnzimmer, Bad, Queen und Einzelbett, Zugang zur Waschküche, Mikrowelle und Kühlschrank, große Terrasse mit Aussicht, 2 Minuten zu Fuß zu einem der Lake Michigan zu den größten und schönsten Strände. Der Raum befindet sich auf einer separaten Ebene vom Rest des Hauses, aber die Gäste auch Zugang zu dem großen Deck haben, mit Grill, Tisch und Stühlen und Blick auf den See. Es gibt einen Radweg direkt vor dem Haus, die durch einen Wald geht, entlang des Lake Michigan Seeufer und alle um Muskegon See. Wir freuen uns, um unsere Gäste zu kennen, sondern auch wollen, dass sie ihre eigene Privatsphäre haben, wenn sie es vorziehen. Unsere Nachbarschaft ist auf einem Streifen Land an drei Seiten von Wasser (Lake Michigan, Muskegon See, und der Kanal, der sie verbindet) begrenzt positioniert. Es gibt wunderbare Wanderwege zu wandern und Fahrrad und eine Küste, wo Sie für Meilen zu Fuß gehen kann.
Unsere Nachbarschaft ist auf einem Streifen Land an drei Seiten von Wasser (Lake Michigan, Muskegon See, und der Kanal, der sie verbindet) begrenzt positioniert. Es gibt wunderbare Wanderwege zu wandern und Fahrrad und eine Küste, wo Sie für Meilen zu Fuß gehen kann.
My husband and I had a wonderful stay at Susan's. Their home is lovely and quiet, and they gave us great tips for making the most out of our visit. We enjoyed chatting over coffee and hope to return soon!
Lydia
2016-10-29T00:00:00Z
OhMyGosh - What a wonderful place to stay - Susan & Ty could not be nicer hosts - I got in late and they were there to meet me and chat - show me around - it was honestly like staying with Family (that you like tho - lol) The bedroom is comfy with great amenities like micro & fridge - bathroom right there - clean & private. I can't recommend staying here enough - awesome access to the beauty of Lake MI. I'm hoping to be back soon in the warmer weather to take advantage of this great airbnb.
Cara
2017-01-12T00:00:00Z
Susan and Tyler, were great hosts. Very welcoming and kind. I would recommend a visit to them if you are in the area. Julie from Elberta Mi.
Julie
2017-03-19T00:00:00Z
Sue and Ty were very welcoming. Comfortable stay, great view of Lake Michigan.
Mary
2017-01-05T00:00:00Z
The host canceled this reservation 4 days before arrival. This is an automated posting.
Brad
2016-09-27T00:00:00Z
Susan and Ty's home is the perfect airbnb set up. If you want to enjoy the beautiful outdoor activities that Muskegon has to offer, their airbnb is in the perfect location. We had a great time and their home was warm and welcoming.
Erin
2017-01-01T00:00:00Z
Wonderful hosts. Clean and lovely home . Great location by the beach. I could not have asked for a better first airbnb experience. I am now a convert.
Andrea
2017-03-07T00:00:00Z
Susan was a wonderful host! Very warm and welcoming! Her house is beautiful, and the room we stayed was very spacious, comfy and very clean. The bathroom was also very nice and clean. The house is right by the wonderful Pere Marquette Beach which has phenomenal sunsets. Looking forward to be back in the summer! Thanks for everything Susan!
Özge
2017-03-05T00:00:00Z
Romtype
Privat rom
---
Eiendomstype
Hus
---
Plass til
3
---
Soverom
Muskegon, Michigan, USA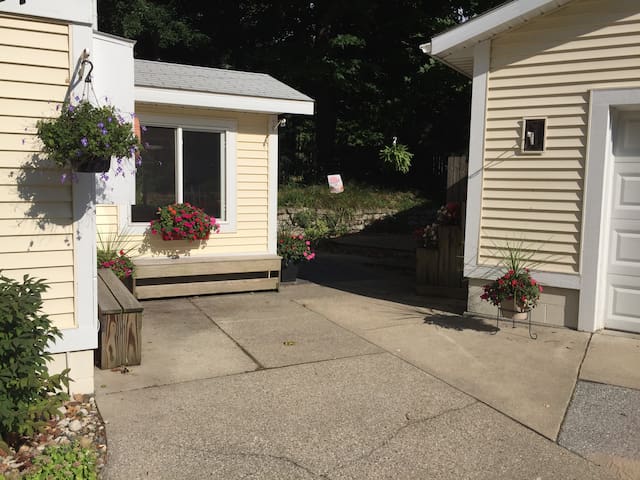 Roomy family style cottage with Great kitchen, cozy living room. Downstairs bedroom with new window A/C unit...rarely needed...shaded setting in hemlock clearing, great patio sun. Lots of books...birds, nature. Upstairs family loft, two twin beds, one full bed and one queen bed. Full bath with shower upstairs too.
Situated in an untapped part of W Michigan, the Gray Dove is an ideal place for quiet getaway over a weekend or longer. We're keen to return ASAP. The kitchen is well-equiped and we cooked all our meals in and took a picnic to the beach on our last night. This would be a great spot for a group of friends, for a family outing, or for a couple. My wife and I enjoyed everything about this place for our time away. Bring your bikes for a chance to roam around the countryside and back roads, bring a beach tent and towels for a day at the lake, and try to stay out of the car as much as possible. During our too-brief period, there was no reason to leave the shady, relaxing confines of the Gray Dove and its beach-side neighborhood.
Nathan
2016-08-25T00:00:00Z
We loved this cozy and sweet cottage, was the perfect fit for our family of 6! The hosts were very gracious and hospitable, the property was beautiful and a short walk to the beach. We can't wait to go back!
Diana
2016-08-30T00:00:00Z
My stay at Kim and Stephen cottage was a much needed break as well as a wonderful trip down memory lane. I grew up in Montague and had spent a great deal of my weekends on the neighboring 80 acre owned by the sadony family. It's not only a breathtakingly beautiful area, it's a wonderful, peaceful cottage to stay in with exceptional hosts.
Rob
2016-10-02T00:00:00Z
My wife and I took a weekend trip to Montague for a last getaway before baby #4's arrival. We fell in love with the place the moment, our wonderful host Kim and her husband let us in the door. The cozy cottage was absolutely perfect! Moments after seeing the size and number beds, we began planning a return trip with our kids and in-laws! The beach area down the path was a pleasant surprise. Relaxing, peaceful calm sandy beach, where me and my wife soaked up the sun. Kim and her husband were helpful with recommendations and tips with things to-do in the area. We look forward to visiting again!
Miguel
2016-09-05T00:00:00Z
This place is amazing! Close to the beach, plenty of space, perfect layout, inviting and comfortable outdoor space. I loved it. My 4 friends and I came for art prize. We all loved the space and town.
Amanda
2016-09-25T00:00:00Z
Romtype
Helt hjem/leilighet
---
Eiendomstype
Hus
---
Plass til
6
---
Soverom
Montague, Michigan, USA
Unser charmantes Bungalow ist zu Fuß zu erreichen von der Innenstadt Muskegon und Muskegon See. Genießen Sie die ruhige Nachbarschaft Einstellung, während die Nähe zu all der Aktion, die Innenstadt zu bieten hat. Brauereien, Restaurants, Einkaufsmöglichkeiten und der Bauernmarkt alle erwarten. Wenn die Innenstadt nicht Ihre Szene ist, ist der Bungalow nur eine kurze Fahrt zu Pere Marquette Strand am Ufer des Lake Michigan. Große, überlaufene Sandstrände sind der perfekte Ort für einen erholsamen Tag in der Sonne.
Romtype
Helt hjem/leilighet
---
Eiendomstype
Hus
---
Plass til
3
---
Soverom
Muskegon, Michigan, USA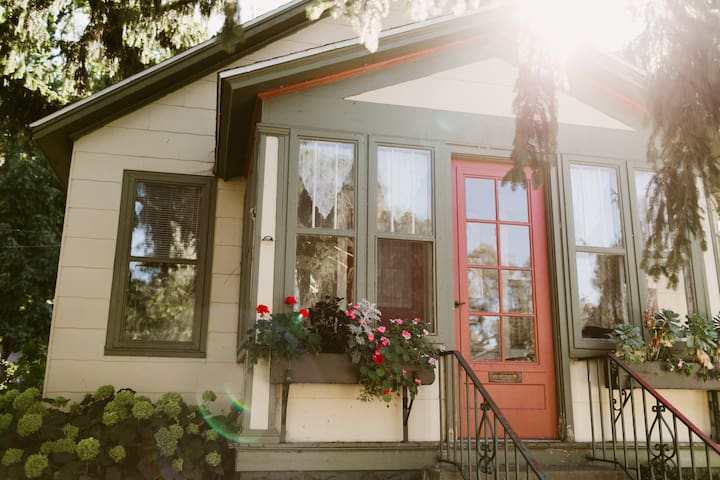 Nestled in the woods, overlooking Buttermilk Creek, offers quiet privacy, but is within minutes of Lake Michigan beaches, White Lake, restaurants, a microbrewery, yoga studio, multiple golf courses, bike trail, water sport rentals and water parks.
Hip '50's ranch, kitchen and two baths renovated 2015, perched above a tree-filled ravine, we call it our 'tree house.' Private, spacious, wrap-around deck for grilling, cocktails, enjoying the birds and wildlife. WiFi, cable, Xbox, bluetooth sound bar, cook's kitchen. Small fenced yard for children and pets.
Neat, well-kept, residential neighborhood that dates to the 19th century lumber era of White Lake.
Everything was great, the house was super cute and had everything you could need. I would definitely stay again if I were going to be in the area
Michelle
2016-06-21T00:00:00Z
Wow! We had an unforgettable time in Montague at Lori and Mitch's beautiful house. The place was very clean, bright, well-stocked, and so comfortable. The house was spacious with big windows overlooking a bubbling creek and yet still cozy and warm on the inside. Lori and Mitch let us know what was around town for us to enjoy, and they were always easy to reach by phone. There is a great deal to do in and around Montague, and coming home to such a welcoming space was just what we needed. Grilling on the patio was a lot of fun, and being able to enjoy the kitchen was wonderful. It's a great place for people who love to cook and enjoy the outdoors! Actually, it's great for everyone! Thanks for the wonderful vacation. I highly recommend, it's a gem!
Jessica
2016-07-05T00:00:00Z
The host canceled this reservation 218 days before arrival. This is an automated posting.
Natalia
2016-11-16T00:00:00Z
I arrived a tad early because enroute, I was unable to access my messages. Mitch was amazingly flexible and welcoming. The house was welcoming, warm, comfortable, tidy, and immediately I felt relaxed. The sound of nature and the view and privacy was truly hard to leave when my stay ended. If ever the house goes on the market, I want a chance to buy it. I would stay again, if they continue and will check into it next year to see if home is still available Thank you Mitch and Lori for sharing your piece of heaven with me. Sally D
Sally
2016-08-23T00:00:00Z
I was so pleased with our first Airbnb experience. The house was beautiful and well stocked. Lori and Mitch were very approachable and Mitch came and introduced himself on arrival. we would highly recommend this home to all
Lynn
2016-08-28T00:00:00Z
We arrived on the hottest day of the year. The house was (uncharacteristically) warm and stuffy. We told Mitch and, as if by magic, two new fans appeared on the front steps before 9am the following morning. The heat abated after several thunderstorms and we never needed the fans, but really appreciate the time and effort he expended to try to make us more comfortable in the unexpected heat. Overall, the house was comfortable and well-equipped. The deck and outdoor grill allowed fun meals and time to enjoy the great view of the woods from the house. As if the natural view was not beautiful enough, Mitch surprised us with lovely floral arrangements which he left on the deck near the grill. Would definitely stay again and suggest this well-equipped home and the genial hosts to anyone travelling in the area.
A
2016-08-17T00:00:00Z
Lori and Mitch are wonderful hosts! They left suggestions of local beaches, shops, restaurants, bike trails, and hikes. The White Lake area has a lot to offer for a fun vacation. The 22 mile bike trail is "smooth powder" and begins 2 minutes from the house. The beaches are great for swimming, water sports, or simply reading. Mitch warmly welcomed me to a yoga class and it was excellent! He is obviously well liked by his many students. The house features newly remodeled bathrooms and kitchen. Our family of four had plenty of space to either get together or find some private time. The deck offers beautiful views and sounds from the creek running through the ravine below. On our last night, after a walk on the beach, we enjoyed making dinner together with food from the Montague farmer's market (not to be missed if you are from the city like we are) complete with a local cherry pie. Fantastic!!!!! Lori and Mitch made themselves available by phone and were minutes away if needed - but they weren't needed. This house is very comfortable and summer fun is just minutes away.
Cathy
2016-07-23T00:00:00Z
Upon initial arrival at this adorable home we were instantly thrilled. It was clean, well equipped, well maintained, scent free, and very welcoming. We thoroughly enjoyed the view off the deck down to the creek. It was serene and stunning to wake up to each morning. Having a bowl of cereal and sitting on the deck was like spending a few minutes in heaven. Mitch and Lori were extremely accommodating and even left us great suggestions of good places to eat and visit in the area. We will absolutely be staying here again. Our experience was nothing short of wonderful!
Diana
2016-09-04T00:00:00Z
Romtype
Helt hjem/leilighet
---
Eiendomstype
Hus
---
Plass til
5
---
Soverom
Montague, Michigan, USA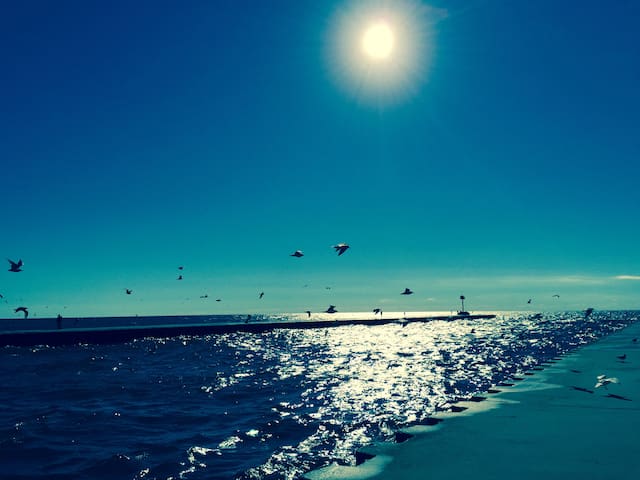 Secluded Lake Michigan cottage with 90 feet private beach.
Romtype
Helt hjem/leilighet
---
Eiendomstype
Hus
---
Plass til
9
---
Soverom
Montague, Michigan, USA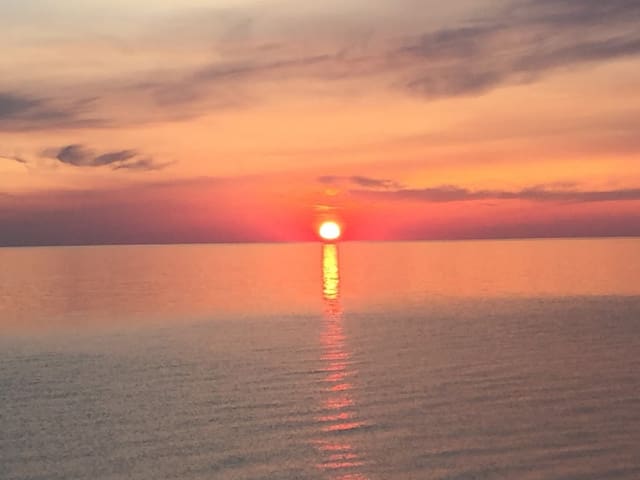 3 Bedroom, 1 Bath Cottage on 76' Private Frontage on Lake Michigan MONTAGUE/WHITEHALL COTTAGE, BEAUTIFUL VIEW AVAILABLE ON SCENIC LAKE MICHIGAN! VRBO322524ha PET FEE of 150.00 PER PET REMINDER!! INSTANT BOOK AVAILABLE THROUGH MAY 15TH OF 2017 UNTIL FURTHER NOTICE. PLEASE SEND A MESSAGE IF YOU ARE LOOKING TO BOOK PAST THIS DATE.
3 Bedroom with 2 of the bedrooms with queen beds and the 3rd bedroom with 2 full beds and a twin. Lake Michigan views from all rooms and windows of the cottage. Ample deck space around the entire cottage with gas grill or charcoal grill provide for outdoor cooking including picnic tables lounge chairs for sunset viewing and outdoor cookouts. VRBO322524ha
It is in Big Flower Creek Association a 34 acre wildlife sanctuary with Big Flower Creek river access to Lake Michigan with row boat, canoe and kayak provide with advance notice. It is also very close to the West Shore Snowmobile Trails. Silver Lake Sand Dunes. Michigan Adventure.
What a great place!! I don't think you could find a better view! Mike has thought of everything. Very comfortable and cozy place.... we are already planning our next stay!!
Cass
2016-10-17T00:00:00Z
Mike was extremely welcoming upon arrival. The directions he gave us were perfect as his beautiful cottage was secluded deep in the woods and right up on Lake Michigan. The pictures do not do his home justice! It was everything we could've hoped for looking for a getaway weekend. We can't wait to come back! 5 stars.
Alex
2016-11-13T00:00:00Z
Mike gave all info ahead of time and then greeted us when we got there too! Def above and beyond. He was extremely receptive to questions and was available 24/7. The place is fabulous! Exactly what a beach cottage should be... My only complaint is that I couldn't move in permanently because I would like to! I did extend my stay by a day tho because I loved it that much...
Wendy
2016-09-11T00:00:00Z
Mike was an exceptional host to work with! The views at the cottage are to die for and he thought of everything to help make our stay perfect. Mike even went so far as to purchase a hammock for us to use because we inquired about one. Our favorite part of the trip was walking along the private beach and watching the sunset from the deck. If you're looking for an "unplugged" (even though there is wifi and cable) getaway, this is the place! We are already looking forward to coming back again.
Rebecca
2016-05-08T00:00:00Z
Such a beautiful place, the pictures don't even do it justice. Right on Lake Michigan and then surrounded by woods on a private lane. Mike was a great host and very accommodating. I can't wait to return!!
matt
2016-03-20T00:00:00Z
If you want to escape and relax, this is the place to do it. Absolute stunning views, immersed in nature, and silence I didn't know existed! The house was well kept and clean and Mike makes himself available when needed.
andrew
2016-04-18T00:00:00Z
Looks just like the pictures. Beautiful views and tranquil setting! We were there for a weekend getaway and wished we could've stayed longer! Mike was there to greet us upon arrival, and walked us through the house to show us where everything we may need was located. He also had pamphlets and flyers of things to do in the area, which were helpful.
Jeff
2016-05-23T00:00:00Z
Just got back from a wonderful , relaxing long weekend staying at Mike's cottage. Everything was great. Mike took time and showed us where everything was and even stop by to bring us some extra paper goods. He's a great host. It was a GREAT place. And I'm definitely going back.
Jeri
2016-10-09T00:00:00Z
Romtype
Helt hjem/leilighet
---
Eiendomstype
Hus
---
Plass til
8
---
Soverom
Montague, Michigan, USA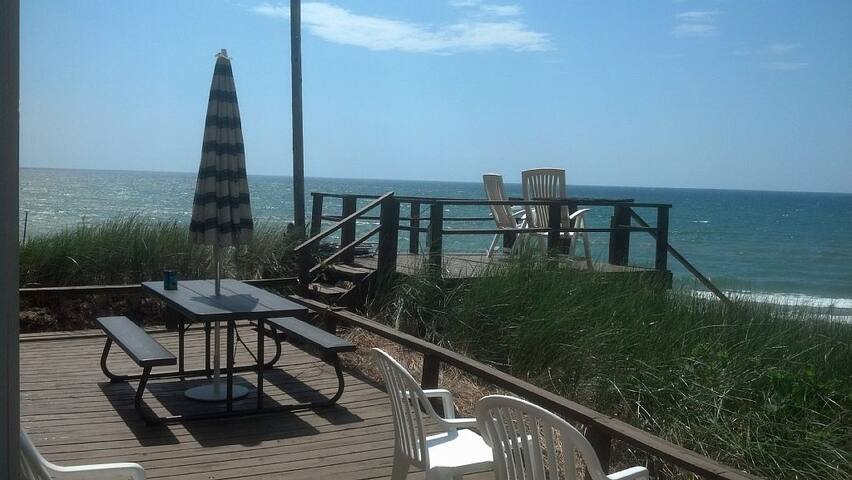 A Private upstairs bedroom with attached half bath and loft in a beautiful log home nestled in the woods, half a mile from two Lake Michigan beaches, a public boat ramp onto White Lake, and a fishing pier. Just fifteen minutes from grocery stores, bike paths, bike, kayak and SUP rentals, antique shops, coffee shop, Fetch Brewery, Yoga studio, and the highway.
If you are looking for a quiet spot where you can walk out the door through trails in the woods, or down to the beach, this is it. I do not have a dishwasher or cable TV, but I do have Wifi. You will have the upstairs bedroom, loft, and half bath. The bathroom downstairs has a shower/tub.
The Old Channel Inn, a wonderful restaurant and bar, and The Old Channel golf course are right down the street. You can see other homes from my home, but they are at least 300 feet away.
Romtype
Privat rom
---
Eiendomstype
Hus
---
Plass til
2
---
Soverom
Montague, Michigan, USA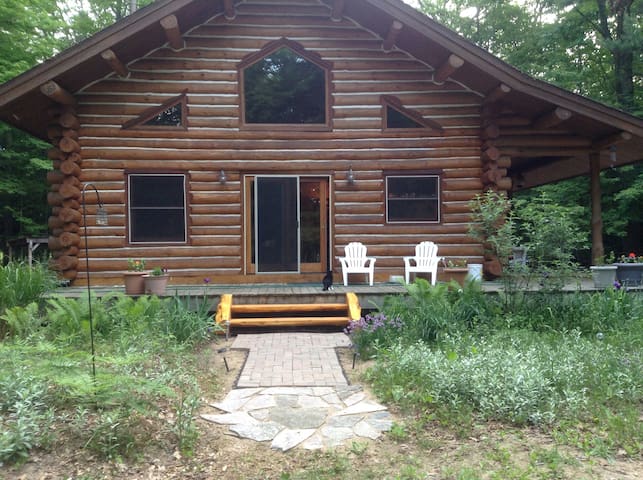 Begrüßung 2BR Hütte im Wald mit einer halben Meile von Lake Michigan eigenem Zugang. Perfekte Ort zum Entspannen und wahr im Norden Leben mit einem wunderbaren Zugang zum privaten Strand genießen. Wir erlauben keine Haustiere jeglicher Art, egal wie nett sie sind.
Unser Platz ist eine gemütliche Hütte im Wald gelegen nur, wie Sie in einem nördlichen Michigan Einstellung vorstellen würde. Wir haben einen privaten Strand nur einen kurzen Spaziergang am Ende unsere unsere ruhigen Straße, die eine der schönsten aller Sandstrände am Ufer des Lake Michigan ist. Wir sind in der Nähe von Silver Lake, den Sanddünen, Stony See, Benona Shores Golfplatz und viele landwirtschaftliche Betriebe mit frischen lokal angebauten Produkten. Wir sind eine Stunde von Grand Rapids, 30 Minuten bis Pentwater, 40 Minuten, um Ludington und 20 Minuten nach Muskegon.
Ruhig und voll von den Klängen der Natur macht es einfach zum Erholen und Entspannen Sie Ihre Zeit in der Hütte zu genießen.
We have a longstanding nostalgia about Stony Lake and the Lake Michigan beach here so we were excited to find a nice place in a perfect location. This cottage was a wonderful place to land to relax, cook/eat, bon fire, and lollygag (i.e. To relax with reckless abandon!) at the beach. All the amenities needed were available, wifi and cable worked great. The neighborhood is safe and pretty with very convenient beach access. We enjoyed visits to local eateries, Camp Miniwanca, Claybanks Township Park and Claybanks Pottery. Fresh farm markets abound and a nice grill make for delicious meals. Planning a return trip.
gordon
2016-08-04T00:00:00Z
we had another fantastic stay in this adorable cabin, thank you again!
holly
2015-08-04T00:00:00Z
Nice secluded location excellent for travelers who are looking for a quiet relaxing trip.
Ben
2016-10-17T00:00:00Z
We had a lovely time on our late summer getaway before school begins. The cottage was perfect for us - quiet and comfortable. The beach is about a 10 minute stroll or a quick drive. Water levels are high, so there isn't much space between the dune and the water, but we were able to enjoy ourselves just relaxing. The fire-pit area was great, as well. We had a couple of questions upon arrival, and Jason responded within a couple of minutes. We hope to return in the future!
Denise
2015-08-19T00:00:00Z
Simple and relaxed cabin/summer home in a quiet beach community. Lots of trees and shade and just a 5-7 minute walk from the beach. Ideal for couples or small families looking to get away, see some nature, grill out, enjoy a good fire—the last part especially easy thanks to the free firewood provided by the host. We had some small technical issues with the cabin, but Jason was willing to respond and correct the issue. He also recommended some local activities while we were there, so we had no problem finding stuff to do.
Dan
2015-09-13T00:00:00Z
The host canceled this reservation 7 days before arrival. This is an automated posting.
Christian
2015-10-02T00:00:00Z
The host canceled this reservation 15 days before arrival. This is an automated posting.
Scott
2015-10-02T00:00:00Z
we had a fantastic holiday in this gorgeous cottage and we loved the peace and quiet of the neighborhood. being able to walk to lake michigan was fabulous, and the cottage was perfectly appointed in every way. thank you for a wonderful getaway, we would love to come back again!
holly
2015-08-14T00:00:00Z
Romtype
Helt hjem/leilighet
---
Eiendomstype
Hus
---
Plass til
5
---
Soverom
Shelby, Michigan, USA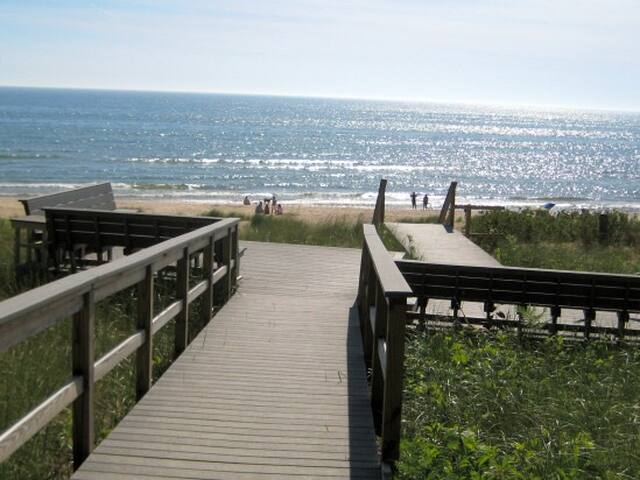 My place is close to Meinert Park and Lake Michigan. You'll love my place because of the views, the location, and the outdoors space. The backyard is wooded, with multiple wildlife. There is a spacious deck as well as an enclosed sunroom. My place is good for couples, solo adventurers, business travelers, families (with kids), and furry friends (pets).
The house is a comfortable, cozy house set back into the woods. It has a comfortable living space, and two bedrooms, as well as two full bathrooms.
The house is located on a dead end road with minimal traffic. It is a quiet street, with friendly neighbors.
Such a lovely place! We loved it and can't wait to go back. Thanks Carol.
Melissa
2016-09-07T00:00:00Z
The Cozy Cottage was an amazing place to stay. The photos do not do it justice! The cottage is located at the end of a secluded road at the end of a long wooded driveway. The large deck (complete with a table, chairs, and a grill!) overlooks an open yard and then onto acres and acres of beautiful forest. The surrounding forest is just beautiful and provides walking access to Lake Michigan (instructions provided by Carol at the house were very helpful). The house itself was clean, spacious, and well-stocked with kitchen, bath and linen necessities. The master bed was super comfortable (thick memory foam topper). Carol made us feel welcome by providing a printout with details about the property and area. We would definitely stay hear again :)
Carissa
2016-05-31T00:00:00Z
Carol was an amazing host. Super responsive and helpful. She installed an extra window AC unit during our hot and humid stay. The foresty walk to the beach is really nice but with small kids and a lot of stuff the drive is an easy alternative. Overall a really nice and relaxing place to stay!
Thom
2016-07-24T00:00:00Z
Carol was always just an quick email away and answered all my questions in a timely manner. Cute little cottage tucked away in the woods. More than enough space for us, even though we only pretty much slept there!
Kristen
2016-08-21T00:00:00Z
Like a previous review said, the pictures don't really do this cottage justice! It's off the beaten path and very private - it was perfect for my family and I. My toddler and my parents had so much fun playing together on the back porch, and the grill and kitchen are well appointed and ideal for having a family meal, rather than having to eat out all the time. The beds are also extremely comfortable. The house is surrounded by woods, so don't forget your bug spray (this is NOT a knock on the listing, just a note about Michigan in the summer if you intend to spend any time outside at all)! We weren't able to take either the walk or the drive to the nearby beach, but there are detailed instructions in the house on how to get there. Thanks for providing such a nice and comfortable home for my family for the weekend!
Kyle
2016-07-18T00:00:00Z
Everything at the house was very warm and accommodating. Carol sent us detailed directions and a map to the house. She and her husband stopped by for a very pleasant chat and to see if there was anything we needed.
Tom
2016-10-13T00:00:00Z
What a beautiful home surrounded by nature and a short walk to Lake Michigan. We had everything we could have possibly needed with the comfort and amenities of home. Our hosts were lovely and checked in with us the day after our arrival to make sure we had everything we needed. We would definitely recommend this cozy cabin in the woods if you are looking to relax and unwind and enjoy a wonderful PureMichigan vacation.
Jennifer
2016-09-27T00:00:00Z
Romtype
Helt hjem/leilighet
---
Eiendomstype
Hus
---
Plass til
4
---
Soverom
Montague, Michigan, USA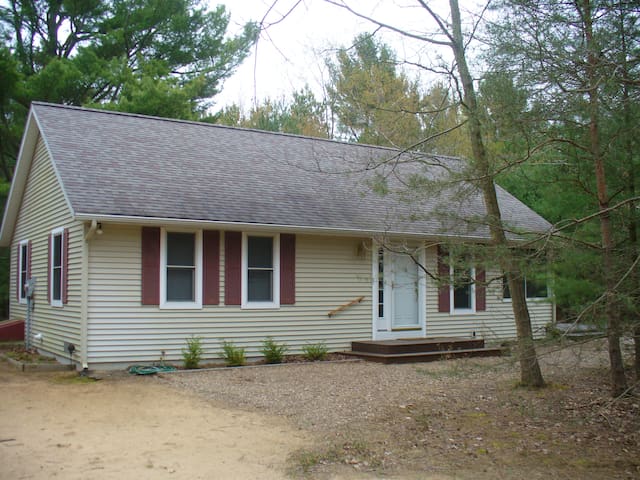 Swan at Stonehearth is close to downtown Montague with its small-town charm. Seasonal farmers market, book store/wine bar, old-fashion soda fountain, bike trail.. Enjoy a glass of wine in front of the beautiful stone fireplace and fall blissfully asleep in a fabulously comfortable bed. Quiet charm and romantic ambiance.. Perfect destination for a quiet retreat, special celebration, or a long weekend all to yourself. Business travelers will welcome the space to relax instead of a boring hotel.
Quiet residential neighborhood within walking distance of downtown Montague. Check out Book Nook and Java Shop for music, wine, yummy foods and, of course books! Seasonal farm market with the best local produce. Cross the bridge to Whitehall and check out Fetch Brewing or Pub 111 for great brews. Find unusual gifts at Colby's Hokey Pokey, Pitkins Drug Store, or White River Gallery.
Romtype
Helt hjem/leilighet
---
Eiendomstype
Hus
---
Plass til
3
---
Soverom
Montague, Michigan, USA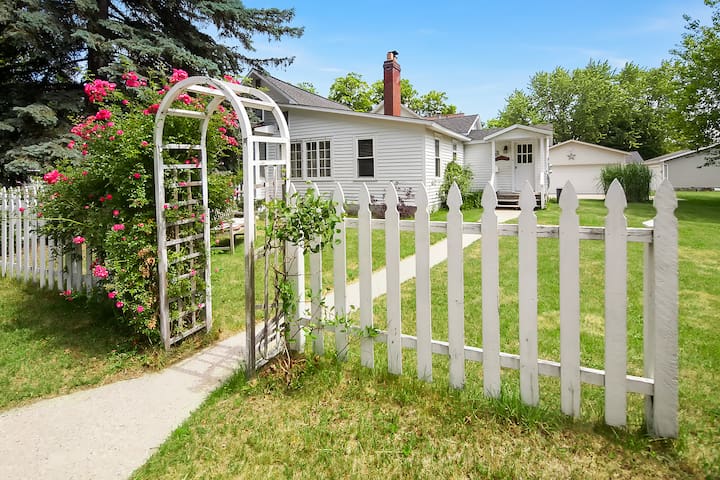 Quiet 1875 ítalskir heim. Annarri hæð svefnherbergi fyrir tvo gesti með baði. Ganga veitingastöðum, börum, verslunum, söfn og hjólandi meðfram Lakeshore. Gönguferð sandalda og skóginum nágrenninu. Slakaðu á hlið verönd við hliðina á eldinn og í almennum bakgarðinn garði. Formlega borðstofu, Salon, og list bókasafn með arni á fyrstu hæð. Listamenn, rithöfundar og tónlistarmenn: vinsamlegast texta mig í gegnum Airbnb áður en bókun að leyfa mér að senda þér bókunarbeiðni (afsláttarverð) fyrir pöntuninni.
Room # 2 John Steinbeck Room. Skap-Pedic drottning stór rúm með baði.
Þetta heimili, sem heitir "The Lakey House," er staðsett í sögulegu Nelson hverfinu í Muskegon, yfir götuna og nokkrum hurðum niður úr Hackley og Hume Heimilin safninu. A fyrri heimilisfastur þessa ítalskir, 1875 tímum bygging var Mr Lakey, sem í eigu og stjórnað gamla Lakey steypa, sem staðsett er á Muskegon Lake. Húsið er staðsett í göngufæri miðbænum, sem er aftur að koma fram sem blómleg svæði veitingastöðum, verslunum og fyrirtækjum. Eftir Hey-daga 19. aldar timbur lendra manna og iðnaðar bylgja 20. aldar, ný hagvaxtarskeið er að gerast í Muskegon. pláss framleiðandi er í þróun, og það er flott matreiðslu listir skóla. Strandlengjan sem var einu sinni varið fyrst og fremst að iðnaður er að opna til aðgang almennings og breytt í náttúrulegu pláss. Vegna þess Muskegon er djúp-vatn höfn, það er fullkomið og Michigan tenging við Lake Express frá Milwaukee og nýja vél til skemmtiferðaskipa túra Great Lakes. Til gamans, kíkja okkar ör-breweries á Pigeon Hill og óeirðarmenn bruggun, Gourmet ostur á The Cheese Lady, fornminjar að framan forsalinn, og ýmsum verslunum og atriðum innan Century Club byggingunni (uppáhaldið mitt að vera Stormy Kromer, einstök lína á fallega gert Lumberjack-tegund fötum). Stór ferskur matur markaður er opinn alla þriðjudaga, fimmtudag og laugardag. Við höfum mikla Indian veitingastaður, karrý eldhús. Það er hjólið leiga búð bara niður blokkina og reiðhjól slóð bara tvær fleiri blokkir í burtu sem mun taka þig til Lakeside hverfið og Pere Marquette Beach á Lake Michigan og út yfir Muskegon River íbúðir fyrir sumir framúrskarandi Birding. Í viðbót við þessar göngufæri þægindum, eru dásamlegt starfsemi til að njóta innan 10-20 mínútna akstursfjarlægð, þar á meðal að heimsækja fallega ströndum okkar, gönguferðir, siglingar, og margt fleira. Velkomin í Port City!
We had a great time and felt at home. Sandy is a great host and the house is beautiful!
Carolyn
2016-07-24T00:00:00Z
Beautiful room in a beautiful house. Sandy helped with directions and my late arrival. She welcomed me with beer, wine and snacks, and coffee in the morning. Walk easily to everything downtown. I'd happily stay again.
Richard
2016-09-28T00:00:00Z
My first AIRBNB and it was a success! I will definitely be back to this location for a nice break! Sandy is wonderful and I love, love , love the house! Very accommodating in every way!
stevi
2016-10-09T00:00:00Z
I have a great stay with Sandy! Highly recommend.
Richard
2016-07-12T00:00:00Z
Sandy was awesome. She was very responsive & very hospitable. Sandy was warm and inviting and her home was AWESOME SAUCE!! I would definitely recommend this Airbnb. I will be booking with Sandy again next year, same time ! Sandy you made my 53rd Birthday Complete! My daughter loved it !
Cheryl
2016-08-30T00:00:00Z
Wow! I got lucky when my original reservation cancelled and I rebooked with Sandy...what an incredible house...if you are even half a history/architecture buff this is your place...oh wait...the enormous bathroom and tempurpedic bed just add to the overall wonderfulness...I only wish I could have stayed longer but Northern Michigan was calling. A word of warning...the staircase to your bedroom is (URL HIDDEN) an old house so to be expected....steep as in don't bring a big suitcase steep :) I would highly recommend staying here....I will again if possible
Beth
2016-07-28T00:00:00Z
Accommodations exceeded our expectations. The location was perfect for our needs. We enjoyed the nearby restaurants & breweries. We felt comfortable using the kitchen and sitting room. Lakey is so close to the relatives we were visiting, we will definitely consider booking again in the future. Our host made us welcome with some nice extras, too.
Steve
2016-11-14T00:00:00Z
We had a great time staying at Sandy's place. It was a great location and the room was clean and very comfortable. She was very welcoming and accommodating. Communication was excellent. We would definitely stay there again!
Cyd
2016-07-14T00:00:00Z
Romtype
Privat rom
---
Eiendomstype
Hus
---
Plass til
2
---
Soverom
Muskegon, Michigan, USA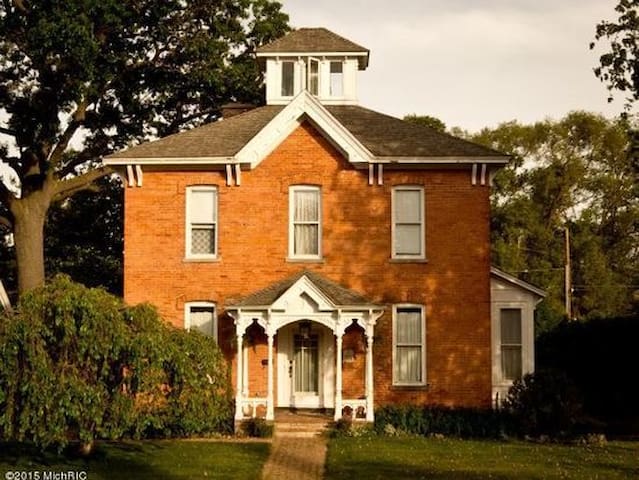 Whitehall - Airbnb
:
Gjennomsnittlig

4.88

av

5

stjerner fra

182

gjesteanmeldelser