Bright and spacious studio in Linton near Ross on Wye. Funky kitchenette, large bathroom, sofa bed and cot bed for children, Wifi, pets welcome, beautiful views towards the Malvern Hills, village location with pub, great walks, courtyard garden... Just a few steps up from a quiet country lane but not suitable for guests with mobility problems.
The Studio 'Miss Muffet' at Tuffets is self contained and private, but attached to our cottage with private access via french doors from the large garden. It is located in a new cedar clad extension, built into the hill to maximize the views. The apartment has vaulted ceilings and a cozy but modern feel.
Our village Linton is a true village with a good community, great pub and fantastic walks. Located on a ridge between the Malvern Hills and Black Mountains in Wales it is ideally located for those who enjoy beautiful views and the great outdoors.
We had a lovely time ar Katrin's place. Very spacious room and comfy bed. Would definitely recommend.
Bec
2017-03-25T00:00:00Z
Katrin was great at letting us know directions and allowing us flexibility with our arrival time. Miss Muffet's is a delightful place to stay; clean, quiet and in a great location. The local pub was good for dinner and it is close to the Forest of Dean so we enjoyed a wonderful trip to the Sculpture Trail. Breakfast in the sun outside was a highlight.
Katherine
2016-10-02T00:00:00Z
A lovely stay in a nice location, very welcoming hosts and a good selection of amenities for a self catering stay. I would highly recommend this place for anyone looking to stay here.
Pete
2016-08-21T00:00:00Z
The space it self was actually better and much more cute than the pictures showed. Katrin made us very welcome and even gave me some milk I had forgotten to collect on the way in. It was a cold weekend outside but warm and cozy inside. Comfy bed which added to a great nights sleep and the only sound I heard all night was an owl. The local pub at the end of the lane did some lovely food too.
Sarah
2016-11-20T00:00:00Z
A lovely apartment with stunning views from the little patio. It has everything you need in a very idyllic and peaceful location. The apartment is clean and very well decorated. It is just a short walk from the local pub, which offers a good choice of tasty food. Katrin is a wonderful host, everything was just perfect. Thank you!
Heike
2016-08-28T00:00:00Z
Katrin was very helpful and was on hand if we had any questions but left us to enjoy the short break we had.
max
2016-07-06T00:00:00Z
We were for a local event in Linton and were lucky to find this little gem of holiday accommodation. We went in particular for this one as we also could bring our dog. The apartment is very spacious and light, well equipped with a big comfy bed, kitchenette, massive bathroom and a lovely outside space with great views over the countryside. Our dog was well looked after by our host Katrin and was very happy to stay with her dogs in the doggy room over night. It's probably worth mentioning that there are other dogs but you really can't hear them and I had the most quiet night in a long time. Our host Katrin is amazing, she made us really welcome but gave us all the privacy we possibly could have wished for. We will come back, hopefully soon and then with our kids because there is enough space to accommodate them and they will just love it. (And Katrin offered to babysit whilst we head of to the local pub..
Andrea
2016-05-23T00:00:00Z
What a great weekend we have just had!! The studio was absolutely lovely. It was small but perfectly formed and had more than enough room for myself and my husband. It had everything you needed for a really lovely getaway. The views from the little outside patio where stunning and listening to the owls and other wildlife from the comfort of the warm cosy bed was a treat. We did quite a bit of walking and had some fantastic meals at a couple of local pubs, The Penny Farthing Inn that was a 20-30 minute walk and the Kilton Inn which was a 10 minute drive away. Would highly recommend this Airbnb studio for anyone who wants to explore Ross-on-Wye and The Forest Of Dean. Hope to be back soon xx
Jane
2016-10-23T00:00:00Z
Romtype
Helt hjem/leilighet
---
Eiendomstype
Leilighet
---
Plass til
2
---
Soverom
Linton, Herefordshire, Storbritannia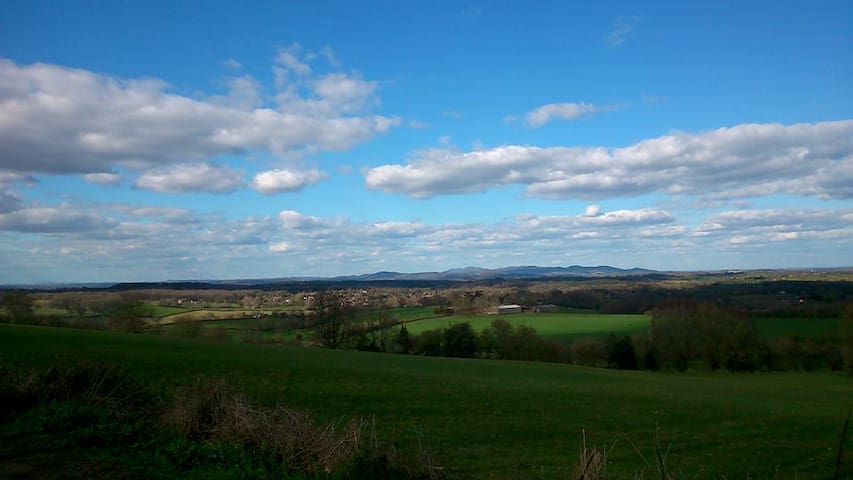 Nasze miejsce jest w pobliżu wsi. Wye Valley jest AONB gdzie można chodzić, rower, kajak i odkrywać wiele ścieżek przez lasy i pola uprawne. pokochasz ją ze względu na ciszy i spokoju. Prywatny romantyczne miejsce, gdzie można przytulić się przed ryczący woodburning piec trzymać z dala bluesa zimowych. Jesteśmy w niewielkiej odległości od Monmouth z jego bijou dziwnych sklepów i restauracji. Najbliższy pub jest młyn ścigać się 40 minut spacerem, ale nie w ciemności. Takeaways dostarczyć.
Pat i Richard wita Państwa w swoim nowo wyremontowanym cydr stodole. Ma jedno podwójne łóżko, aneks kuchenny, mokry pokój i salon z telewizorem. Również mamy piec koza, jak również grzejniki. Istnieje małe patio i dostęp do części ogrodu. Jest duży off road parking, bezpieczne przechowywanie rowerów. Jaja z życzeniem naszych własnych kur. Mimo, że właścicielem zwierzaka sami podjęliśmy decyzję, aby nie przyjąć zwierzęta jak gości. Zakaz palenia proszę. Trzy noce minimum pobytu. Jesteśmy w ciągu dwóch mil od Ross-on-Wye. Jest wyśmienita kuchnia i kilka pubów w zasięgu ręki. Istnieją możliwości do spacerów, wędkowania i kajakarstwa w tym Wye Valley Area of Outstanding Natural Beauty. Czekamy na Ciebie. Jesteśmy właścicielem i kierowania 1939 mg, a ze szczególnym zadowoleniem kierowców MG i zaoferuje im cash back jeśli przylatują w MG. W rzeczywistości jest ludzi starych samochodów Szczególnie mile widziane nikogo w starym samochodzie. Chociaż bezprzewodowy WiFi jest odpowiednia dla wiadomości e-mail, surfowanie po Internecie i zakupów itp nie jest wystarczająco silny, aby przesyłać filmy. Telewizor nie zawierają odtwarzacz DVD i tam jest mały wybór DVD w stodole. Istnieje również szereg popularnych gier pudełkowych, Scrabble itd.
Wenslow Stajnia znajduje się w Wye Valley Area of Outstanding Natural Beauty.
Thank you Pat and Richard for a wonderful stay! The cottage was absolutely lovely and was the perfect weekend getaway in the countryside. We were able to get out to do some beautiful walks on the trails nearby and come back to the cosy barn with a warm fire!
Stefanie
2016-11-27T00:00:00Z
We had a lovely long weekend at Wenslow Barn. Pat and Richard were great hosts and the barn is even nicer than it looks in the photos!
John
2016-08-15T00:00:00Z
We had a lovely stay with Pat and Richard. The property is ideally placed for exploring the local area and Pat and Richard made us very welcome.
Dave
2016-10-29T00:00:00Z
My husband and I have just spent the most fantastic long weekend at Wenslow Barn. Pat and Richard were very welcoming and friendly but left us to do our own thing. The barn was so cosy with the wood burner and it was extremely well equipped including some very thoughtful touches included such as fresh eggs, cookies and a bottle of Prosecco. This delightful barn is in a convenient location for visiting many places and we really couldn't fault our stay in any way. Thank you very much Pat and Richard.
Megan
2016-11-14T00:00:00Z
It is a beautiful barn in stunning surroundings. It is quiet and rural-perfect if you want a middle-of-nowhere getaway, but still very well connected. Pat and Richard could not have done more for us.
Emily
2016-11-04T00:00:00Z
We had a wonderful time at Pat & Richard's. It was exactly as described, and was perfect to just get away from everything, and they were absolutely fantastic hosts.
Edward
2017-01-23T00:00:00Z
We absolutely loved our stay in the barn, it was so cosy and peaceful, a fab place to get away from the hustle and bustle yet still close enough to town if needed. Pat and Richard were fantastic, so welcoming and accommodating. We look forward to staying again in the near future.
Sarah
2017-02-13T00:00:00Z
The barn is cosy and immaculately clean -even better than pictures! Pat & Richard have thought of everything right down to the fresh eggs, fruit bowl and chilled bottle of prosecco! The location is close enough to town to enjoy the restaurants and shops in Ross but also tucked out of the way to enjoy the peace and quiet and appreciate the countryside. We had a fabulous stay at Wenslow barn and would recommend it to anyone who wants some quality R&R...the only downside was that we couldn't stay longer!
zoe
2016-10-07T00:00:00Z
Romtype
Helt hjem/leilighet
---
Eiendomstype
Leilighet
---
Plass til
2
---
Soverom
Ross-on-Wye, England, Storbritannia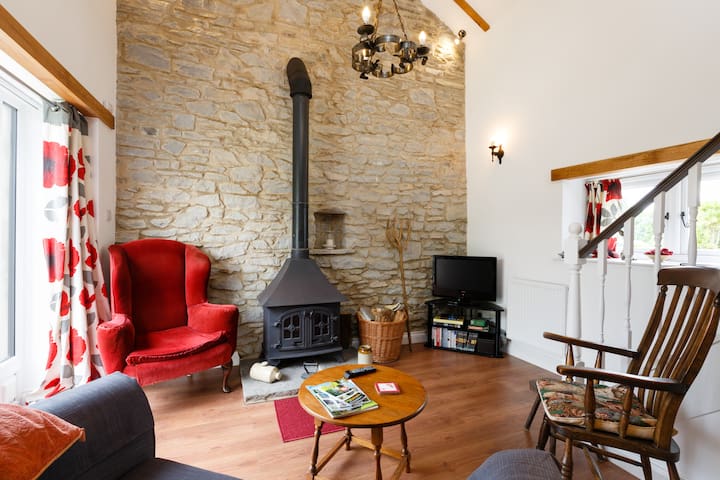 Cosy detached stone studio with private patio/garden set in the beautiful Wye Valley AONB, three miles from Ross-On-Wye and close to the Forest of Dean.
Ivy studio is a stone built cottage offering private self contained accommodation for two. There is a private outdoor seating area and use of the garden. The studio consists of a living room/bedroom furnished with a sofa, double bed, wardrobe, table and chairs and TV. Adjoining there is a fully equipped kitchenette with cooker, fridge, toaster, microwave and utensils. The bathroom has a shower, sink and toilet. Fresh linen and towels are provided. Guests also have the use of a summer house situated adjacent to the studio, this is a living space containing a table and chairs and additional storage.
Ivy studio is located on Howle Hill an area of outstanding natural beauty in the Wye Valley. Just three miles from the market town of Ross-on-Wye and on the edge of the Forest of Dean. Howle Hill offers wonderful woodland walking and is the ideal base for a country retreat.
Stayed here with my wife for 2 fabulous days in the Eye valley. Location was great, high up on a hill with great views, beautiful little studio cottage, very clean and tidy, just how it looks in the photos. Enjoyed the log burner in the evenings, as well as the unexpected treats the hosts left us. Didn't use the summer house that was also available which was a shame as this looked equally as nice as the cottage. The hosts were amazing, really friendly, did more than enough to endure we had a nice time, thank you. We explored Wye Valley, Symonds Yat, and then even further afield in the Brecon Beacons and also Bibury which were no more than 45 minutes away, so a great base to see loads of places. I've stayed in a lot of airbnb places this year, this was as good as any of the others, would recommend this place to anyone, loved it.
Mark
2016-10-02T00:00:00Z
Lyn was very welcoming. It is a lovely little studio with everything you need for a fabulous time. Having the wood stove in the cold winter was great, Lyn even supplied wood. When we arrived we were greeted with a lit wood stove, a plate of home made mince pies and chocolates. Well more more could we want. So cosy. The studio itself was incredibly clean and nicely furnished. And Lyn was very relaxed and laid back personality which is always nice. We mAnaged to melt a plastic fish slice but Lyn was very kind about it. a d didn't want us to replace it. So we will definitely be coming back in the future.
Helen
2017-01-02T00:00:00Z
only drawback would be you need a car and need to drive to nearest local shops and restaurants bars etc but exceptionally peaceful location will be great for walkers.
Jim
2017-03-26T00:00:00Z
Fantastic place to stay. Warm and cosy. Well equipped place, very comfortable and clean. Really relaxing. Woodburner brilliant too. Tea, coffee, milk provided as well as home made scones and biscuits - yum! Seeing an owl and bats was an added treat. Close to Ross-on-Wye where there were plenty of places to eat and buy food to take back to the cottage. Lovely walking country and great scenery.
Carrie
2017-02-19T00:00:00Z
We had a lovely stay in Lyn's spotless and excellently equipped cottage. It's hard to pick one thing that stands out but the home-made ginger bikkies on our arrival were splendid.
Brian
2016-12-24T00:00:00Z
We stayed for a weekend at Ivy Cottage and loved it. Well described, it was perfect for the two of us and had everything we needed. We arrived to the fire being on, milk and homemade cookies- what a lovely welcome! The hosts were lovely and very helpful and we would definitely stay here again. Thanks Lyn!
Arianna
2017-02-05T00:00:00Z
Everything that airbnb should be - ideal location, comfortable, cosy, warm, clean, and with helpful and welcoming hosts. The delicious home made biscuits were a lovely touch, as was the fact that Lyn lit the wood burner so the place was lovely and toasty when I arrived. I can't recommend Lyn's place highly enough and wish I could have stayed for longer.
Jeff
2017-02-14T00:00:00Z
A great stay with everything that we needed. The kitchen is well equipped for making a small meal and the wood burner keeps the studio, nice and warm. The surrounding area is fantastic with plenty to explore. Thanks for a great weekend.
Jonathan
2017-03-12T00:00:00Z
Romtype
Helt hjem/leilighet
---
Eiendomstype
Leilighet
---
Plass til
2
---
Soverom
Howle Hill, England, Storbritannia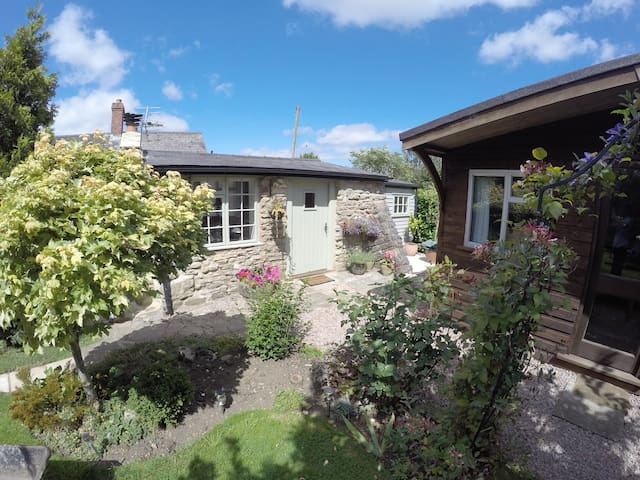 该公寓坐落在怀谷,赫里福德和格洛斯特的杰出自然风景区中间的区域。自足的扁平完全具备所有的基本知识,减去一个电饭煲,用微波炉代替。如果您预定请与我联系的主要道路简单说明。
生活空间是一个舒适的自助式公寓拥有你将需要有一个私人入口和湿房您的住宿基本设施。它有一个沙发床,如果你需要睡4,我们可以要求提供旅行婴儿床和高脚椅。 对于那些谁是未来该地区的婚礼,洗礼等,并需要容纳多达六,我们很高兴能弥补夜间临时的床,虽然不是很理想!
伟大的乡村环境中,一个良好的网络大城市,一个小时内最开车即布里斯托尔,加的夫,伯明翰。 怀谷本身大有作为,是杰出自然风景区,横跨英格兰和威尔士之间的边界在英国南部最具戏剧性和优美的景观区的区域。 赫里福德,格洛斯特(包括大教堂城市)切尔滕纳姆都在30分钟车程距离,只需步行10分钟后,你可以在Forest of Dean森林的心脏。莱德伯里有20分钟的车程,通过它你遨游苹果酒的心脏使全国及世界著名的韦斯顿的苹果酒是参观一个伟大的地方,可能买一些带回家!
Hi very nice tasteful comfortable accommodation and good location for quiet break. We had a great weekend and would happily go again. Lucie was very friendly.
Nigel
2015-11-22T00:00:00Z
Lucie and Richard were extremely welcoming. Lucie stopped by to welcome us and to show us around. She also stocked the refrigerator and pantry with food--bread, milk, fruit, condiments. The apartment is lovely--very clean and well appointed. The bed is very comfortable, and the apartment is well laid-out. Lucie and Richard provided very thoughtful information about tourist attractions and necessities in the area, including emergency numbers. The location is pretty, though I think that it would be challenging without a car. The one challenge we faced was that the internet was spotty. I suspect that this was a feature of the service provider rather than something within Lucie's control. On the whole, the apartment offered a lovely home base for a week of work, we left feeling refreshed and rested. Many thanks to Lucie and Richard for hosting us.
Lisa
2016-07-12T00:00:00Z
everything was just lovely, the location was perfect scenic country side, and inside the farmhouse was neat and nice and had everything we needed.
Pooneh
2015-07-12T00:00:00Z
a beautiful country space perfect in every way and only a short drive to all nearby locations, try it you wont be disapointed.
JOY PETER
2016-12-01T00:00:00Z
I had a perfect stay at Wharton farm cottage. It was extremely clean and perfectly located. I totally recommend a stay here. a+++
Inbar
2016-07-16T00:00:00Z
Our stay at Lucie' place was great. The apartment is very comfortable and well setup for a relaxing stay. Only a few minutes drive from excellent local pubs and restaurants and the amazing Forest of Dean we were sorry to leave! A real bonus was being able wash some clothes in the washing machine!
Peter
2016-11-27T00:00:00Z
A delightful little home from home! We felt immediately relaxed and at home at Lucie's pink house. The décor was beautiful and bed was extremely comfortable so we will be back next time we are in the area!
Laura
2015-05-10T00:00:00Z
We had a great time staying at 'The Pink House'. There were 2 rooms. A huge room with a comfortable sofa/bed, armchair, tv, small table and chairs, small kitchen area, comfortable double bed, and a small made up bed for our little one. The other room was a wet room with toilet and basin, nicely done. We were mainly there to explore the area so it was a great place to have as a base. Lucie provided extras - milk, bread, cereals, jam, etc and even though there wasn't a cooker, there was a good microwave and a couple of Baby Belling type hobs which were easy to use and there a few saucepans but no frying pan! Lucie was very friendly and welcoming. So altogether we had a really good few days at The Pink house.
Marion
2017-02-18T00:00:00Z
Romtype
Privat rom
---
Eiendomstype
Leilighet
---
Plass til
4
---
Soverom
Herefordshire, England, Storbritannia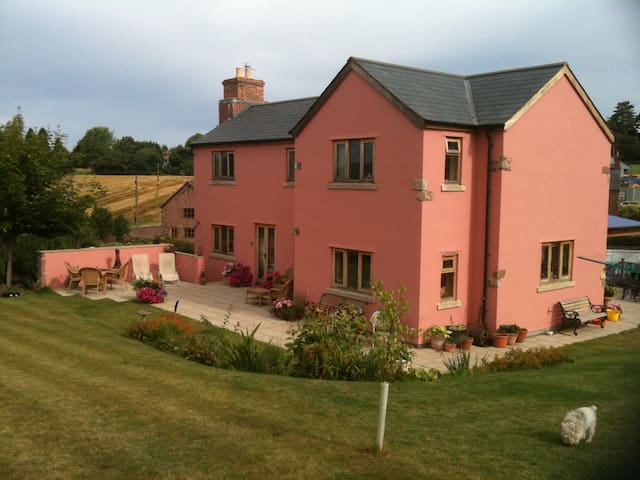 The Old Dairy is a cosy and welcoming self contained farmhouse annex on our working farm. We are situated in beautiful countryside 4 miles from Ross-on-Wye. There are 3 very good eating pubs within 1 mile, the River Wye is approx 1.5 miles, and there are many local walks making us ideally situated for walkers and cyclists. Our breakfast provision for guests includes bread for toast, croissants, cereals, muesli, jam, marmalade, fruit juice, ground and instant coffee and tea & fresh eggs.
The Old Dairy comprises a small entrance hall with coat hanging space and shoe rack leading into the lounge with 2 seater sofa and arm chair. There is a table and 2 chairs under the window so that you can eat your breakfast and enjoy the view. The Old Dairy now has its own internet connection so enjoys reasonable download speed. There is a smart TV in the lounge so that guests can enjoy catch up TV etc. There is a king size double bed in the bedroom which will split into 2 x 3' single beds if required. The bathroom has a walk in shower and the whole property has under floor heating which makes it very cosy!
The farm is situated in beautiful countryside. Pengethley Park, which is rented from the National Trust and is located just behind our barns, is where we graze our sheep and is a beautiful place to walk. The River Wye is only 3/4 miles away walking distance & the Forest of Dean is easily reached by car.
Sue's place was lovely and very peaceful. It had everything you would need with a good amount of information and supplies on arrival. I would definitely recommend staying, it was very cosy and great communication from Sue.
Liam
2016-10-03T00:00:00Z
A lovely annex in beautiful countryside. Susan was very welcoming & great at responding to all enquiries. Annex is pretty, well equipped & was spotless for our arrival. Very happy to recommend to any future guests.
Melanie
2017-02-05T00:00:00Z
Susan and family were warm and welcoming and their cozy farmhouse was a relaxing environment for our little family of three. Waiting just outside to greet you are cows, horses and sheep and their playful dogs. We will be back again soon to say hello and explore the area. Definitely recommended.
michael
2016-06-26T00:00:00Z
Host was welcoming and very helpful! Location was lovely, and close to town. The cottage was really cosy and had everything we needed in it. Wished it was cold so that we could have used the fire place! We had an amazing time. Perfect people, perfect location, perfect cottage.
Aimee
2016-07-25T00:00:00Z
My wife and I were visiting from the USA, although we both previously lived in Herefordshire. Sue was a great host and made us feel very welcome. On our arrival she provided us with a local newspaper, TV guide, bread, fresh eggs, croissants, biscuits, juices and cereal! It was also very nice to have fresh flowers in the cottage. The location is perfect for visiting nearby Ross on Wye, Hereford and Monmouth. It is also only a short distance to the M50. And motorway access. The cottage was warm and cosy and had all the amenities that we needed. We had a 13 night stay and we were made to feel part of the family! The farm dogs were also very friendly and enjoyed the occasional game of catch! This is such an idyllic spot and well worth a visit. There is an excellent farm shop nearby and there are excellent pubs in the vicinity who serve real ale and good quality homemade food (check food opening hours, they are all different). Thank you Sue, we will be back!
Stephen
2016-08-25T00:00:00Z
Susan was extremely polite and welcoming. The accommodation and location was top class, could not have asked for more; I would not hesitate to stay there again. Thank you.
Richard
2016-06-13T00:00:00Z
Lovely little place in a scenic location. Would definitely visit again.
amy
2016-08-27T00:00:00Z
Susan's place is perfect for a getaway in the country. It's just as advertised, but believe the rest of the reviews: the pictures really don't do it justice! Its much bigger than the pictures make out and is a very comfortable/ liveable space. The location is perfect in beautiful farmland and very close to all the best bits of the surrounding countryside. Amenities such as the local farm shop (which does amazing sausages!) and bigger supermarkets if needed are very close. You will definitely need a car though! Bonus: really friendly dogs!!!!
Julian
2017-04-10T00:00:00Z
Romtype
Helt hjem/leilighet
---
Eiendomstype
Leilighet
---
Plass til
2
---
Soverom
Peterstow, Storbritannia
We have converted a large double garage at our property into quality self contained accomodation for those wanting a short or long break in the beautiful Forest of Dean, Gloucestershire. We have a garage which we provide for those wishing to safely store bikes, canoes or golf clubs. The king sized bed can be converted into 2 x 3' single beds if so desired - please advise. There is plenty of room for storage of clothes and suitcases with a walk in wardrobe off the bedroom.
Light and airy lounge / dining area with fully equipped kitchen. Large sofa with chair to match, along with reading area. 32" Sony flat screen tv with dvd player and assortment of dvds to view. Selection of board games available. Small utility area has washing machine and condensing tumble dryer for all laundry needs. Bathroom is spacious with full sized bath with power shower and glass screen. Heated towel rail. Low cc wc, sink with large mirror, shaver power point and light above. 2 hard wired smoke alarms ensuring safety upstairs and down. Fully centrally heated throughout with radiators in all rooms. All radiators fitted with TRVs ensuring heating requirements can be adjusted to suit individual room requirements.
Rural location and car therefore is essential to enjoy all that the area has to offer. Local pubs serving good food, local Post Office and general stores within walking distance. Co op supermarket within 2.5 miles open 7am to 11pm offering wide choice. Country walks from the front door with views down the valley.
Romtype
Helt hjem/leilighet
---
Eiendomstype
Leilighet
---
Plass til
2
---
Soverom
Longhope, England, Storbritannia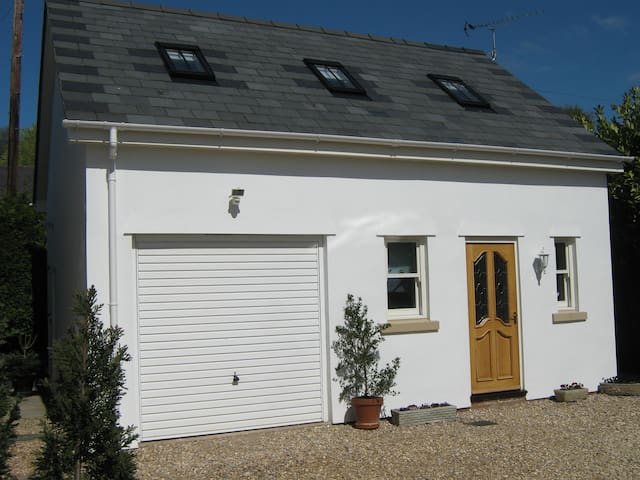 Sobald die Dorfkneipe, aber jetzt ein ruhiges und erholsames Selbstverpflegung Nebengebäude. Horseshoe Inn House befindet sich in der Ortschaft Brooms Grün gelegen, am Gloucestershire und Herefordshire Grenzen und 4 Meilen entfernt von der historischen Marktstadt von Ledbury. Es gibt schöne Spaziergänge und Aussicht und viel zu tun, wenn Sie zu Fuß mögen, besuchen historische Stätten, lokale Veranstaltungen wie ein jährlichen Poetry Festival, Veranstaltungen in Eastnor Castle oder die Städte von Hereford, Gloucester und Worcester visitng.
Das Nebengebäude ist im Erdgeschoss mit eigenem separatem Eingang. Es gibt 2 Doppelzimmer, beide mit eigenem Bad. Ein Schlafzimmer verfügt über ein Kingsize-Bett und Schlafzimmer 2 verfügt über ein Kingsize-Bett, das in 2 Einzelbetten geteilt werden kann. Es gibt ein Esszimmer, Wintergarten und komfortable Lounge für Sie zu nutzen. Die Küche ist ein Kühlschrank, Geschirrspüler und eine Waschmaschine / Trockner. Ein großer Garten, mit Grill und großem Parkplatz ist abvailable.
Brooms Green ist ein kleines Dorf und ist ein ruhiger und friedlicher Ort. Es gibt viele Wanderwege vor Ort, im Anschluss an den Gehwegen. Wir sind 4 Meilen von Ledbury, den lokalen Markt der Stadt, und 2 Meilen bilden Dymock, die die nächste Kneipe hat. Ledbury hat eine Reihe von guten Restaurants und es gibt viele Pub, die wir empfehlen können. Wir leben in einem beautful Teil des Landes und sind in der Nähe zu Wales.
This was a lovely place to stay and even better than it looks in the photos. All the rooms were spacious, clean and comfortable and we loved relaxing in the conservatory observing the different birds. Heating, appliances, internet all fine. Jackie and Chris were great hosts and we were really sorry when our week was up.
Helen
2017-03-26T00:00:00Z
A fantastic place to stay with excellent self catering facilities, lots of access to the outdoors and really lovely hosts. We would happily visit again and will recommend it highly to people we know
Sarah
2017-04-09T00:00:00Z
Romtype
Helt hjem/leilighet
---
Eiendomstype
Leilighet
---
Plass til
4
---
Soverom
Ledbury, England, Storbritannia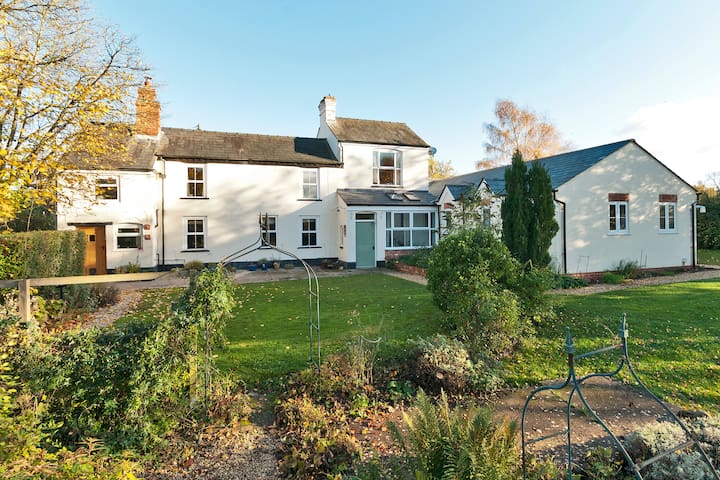 Oksa on lähellä Ross on Wye kylässä Bishopswood. Täältä löydät rauhaa ja hiljaisuutta pois hussle ja vilske elämän! Toivonut monet varten kodikkuutta, näkemykset, sijainti ja koska olemme vain aikuisille perääntyä. Ihanteellinen luonnon ystäville, kävelijät, pyöräilijät tai jotka vain rakastavat olla keskellä. Miksei tutustua moniin kaupunkeihin ja nähtävyyksiä pääsee helposti autolla. Olemme hyvin lähellä Wye Valley Walk ja Wye-joki kanootti käynnistää menossa Symonds Yat.
We had the most perfect stay at The Roost. Carol and Barry are fab hosts and made us feel so at home and welcome. Never felt so welcome at a holiday letting before so the personal touch made it that bit more special for us and was so nice to feel at ease asking any questions and they were always happy to help and were able to get to know them a bit! Absolutely stunning location and a gorgeous apartment. All so well thought out and really well equipped. We didn't have the best weather but were still able to do so much and then come back to the lovely apartment and relax! Can't wait to come back again and couldn't suggest a nicer place to stay!
Louise
2016-06-28T00:00:00Z
Carol was a fantastic host - she was there ready and waiting for us with keys and to explain the area on the day, and beforehand she had emailed me some useful links for activities to look into. The flat is great and in a very quiet and rural area - perfect for a weekend escape to the countryside. There's loads to do in the area and all quite close by (as long as you have a car). Highly recommend.
Mark
2016-08-22T00:00:00Z
The host canceled this reservation 104 days before arrival. This is an automated posting.
jenny
2016-09-10T00:00:00Z
Wonderful warm welcome from the best hosts ever. Both the apartment and the guest's garden are immaculate. Everything that you expect from the description and much more is of the highest standard. This is a very spacious purpose built building of the highest quality. The setting is tranquil where you can hear the silence yet within easy reach of shops. pubs and places to visit. Our July 2016 visit was one of our best yet and we wish we could give it six plus stars. Your search is over just get it booked now.
Veronica
2016-07-21T00:00:00Z
Romtype
Helt hjem/leilighet
---
Eiendomstype
Leilighet
---
Plass til
2
---
Soverom
Ross-on-Wye, England, Storbritannia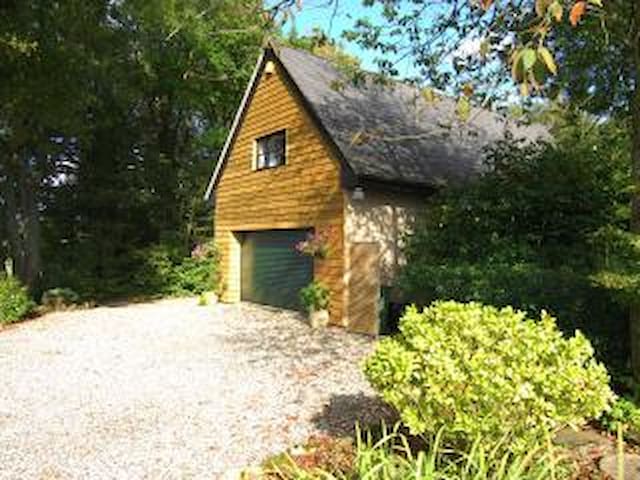 Romtype
Helt hjem/leilighet
---
Eiendomstype
Leilighet
---
Plass til
2
---
Soverom
Herefordshire, England, Storbritannia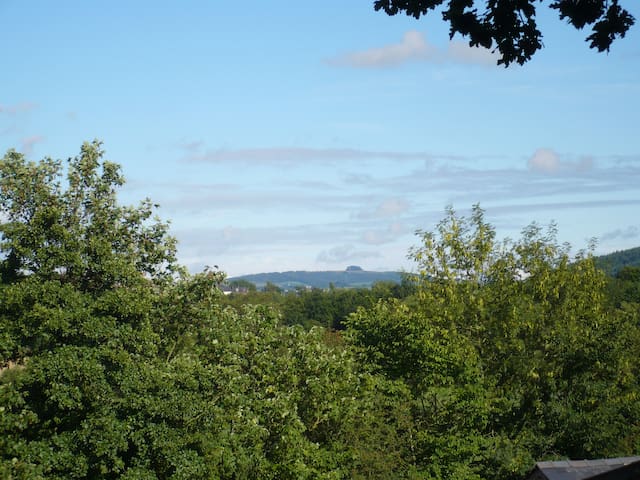 This is a one bedroom apartment in converted sandstone barn. Situated in a quiet rural location it is perfect as a relaxing retreat or a base to explore the wonderful local attractions. There is one double bedroom with ensuite, open plan living space with fully-equipped kitchen and lounge area. Wi-fi is included.
Llangarron is a quiet village with few amenities and we are situated at the end of a short country road approximately 3/4 mile from the centre of the village. We can offer a peaceful and relaxing place to stay yet we are only a few minutes from some excellent road links. The neighbouring village of Llangrove has a friendly country pub that serves food and welcomes visitors. The accommodation retains the original roof timbers and beams. Whilst the ceilings are high there are 2 beams which give are only approx 5'8'' above the floor. Previous guests invariably viewed these as part of the character of a traditional barn conversion.
We are in a quiet rural location and guests frequently comment on the tranquillity despite being close to good road links. As a consequence we generally have a good range of song birds, quiet lanes and traffic free footpaths to ensure you can relax and enjoy your stay. The market towns of Ross on Wye and Monmouth are equidistant in opposite directions and are approximately 5 miles away. The Lower Wye Valley region is designated an Area of Outstanding Natural Beauty for very good reason. The traditional holiday activities of walking, cycling, canoeing, fishing, golf etc are all available locally. Places to visit - The Royal Forest of Dean with its wealth of wonderful scenery and social history. You can visit some local locations used to film some recent movies such as - Star Wars: Episode VII: The Force Awakens, which used Puzzlewood near Coleford or Coppett Hill which featured in a Harry Potter film. - Symonds Yat with it's magnificent river views and famous Peregrine falcons, it also looks spectacular viewed from a canoe. Canoe trips are easy to organise from Ross on Wye or Monmouth. - The Dean Heritage Centre......... is worth a visit - The cathedral cities of Hereford and Gloucester. Hereford Cathedral houses the world famous mappa mundi Gloucester Cathedral was used as part of the set for the Harry Potter films - The Malvern Hills. - The River Severn (with its famous tidal wave – 'The Severn Bore'). -The Welsh Borders, including the 'Book' town of Hay-on-Wye and the Brecon Beacons. -Goodrich Castle, plus other historical sites.
We loved our stay and felt very welcomed and at home. The location is great, it allowed us to arrange wonderful walks and enjoy fresh air and lovely scenery. We are very grateful for this.
Maria del Mar
2017-02-19T00:00:00Z
A spontaneous last minute weekend break! Mark provided us with detailed information shortly after booking. We saw Mark about ten minutes after arrival although he had kindly arranged for us to be able to access the apartment beforehand. He was very welcoming and suggested some awesome places we might like to check out - Symmonds Yat and The Forest of Dean are just breath taking!! Also completed a scenic and beautiful walk around the village, a local spotted us trying to navigate with our phones (not great signal/typical city types) and lent us some O.S maps - although we did find one of these later at the apartment. The apartment was exactly as described and contained everything we might need. The location is absolutely perfect for exploring the national park and bang inbetween of towns Ross-on-Wye and Monmouth (approx 15 mins to each). The setting is peaceful and pretty, especially the nearby Brook. A great place for a long weekend of much needed respite, thank you Mark. Would have loved to stay longer.
kat
2016-07-12T00:00:00Z
Lovely stay at Mark's place. Exactly as described and a lovely rural hideaway. Would recommend.
Alison
2016-06-15T00:00:00Z
Had a great stay & can't fault anything. Mark was super responsive, organised (the fresh milk and biscuits were a joy!) and accommodating. The listing is as described and I found everything to be in great working order. Who says you have to be without your creature comforts on a farm!?! Can highly recommend this either to hide away from the world or as a base to explore the area.
Jacques
2016-08-31T00:00:00Z
Arrived and settled in with a good welcome from Mark, everything as described.
Russell
2016-05-13T00:00:00Z
This is located in a beautiful spot, really nice and quiet and comfortable. Within an easy short drive of wonderful walks full of historical sites. Fantastic visit, great communication!!
Thomas
2017-03-19T00:00:00Z
very comfortable, well equiped, surrounded by quiet. we will come again.we had a happy time there.
Merle
2017-02-27T00:00:00Z
For anyone looking for a cosy retreat this flat/ cottage ticks the boxes. It was clean, warm and ideally located in a rural setting for a relaxing break. Mark our host was welcoming and the added touches of milk in the fridge and chocolate biscuits was really thoughtful. It was nice to know he was there if we needed him but we were free to come and go as we pleased without intruding on the family residence. Travelling with a dog was made so much easier knowing there were a couple of tracks we could utilise for doggy comfort breaks Would thoroughly recommend a stay at this property
Lou
2017-03-12T00:00:00Z
Romtype
Helt hjem/leilighet
---
Eiendomstype
Leilighet
---
Plass til
2
---
Soverom
Ross on Wye, Herefordshire, Storbritannia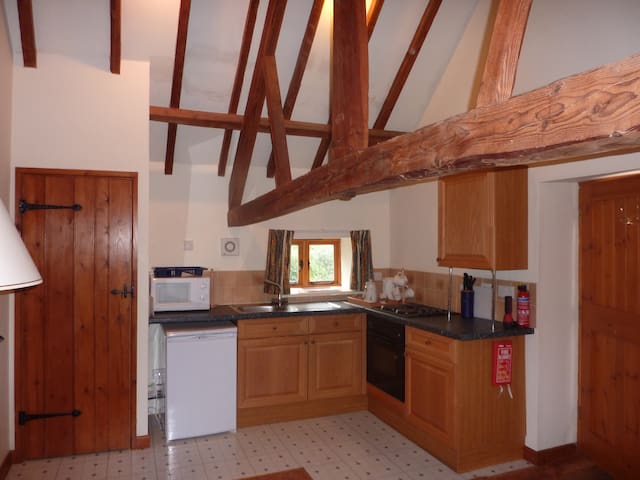 Fully furnished Annex / Apartment, in a quiet residential area 15 minutes walk from Monmouth Town, and a stones throw from the beautiful surrounding countryside. The property has it's own entrance with off-road parking. The owners are attached to the annex to assist during your stay, without restricting your privacy during your stay. Open plan living / bedroom areas. Separate newly furnished kitchen, and shower room, with under floor heating.
The accommodation was very comfortable and clean...ideal base to see the area...host was very helpful...and made us feel very welcome...thanks again for a lovely place to stay...
Lindy
2017-04-02T00:00:00Z
A warm and friendly welcome, with extra help given beyond the airbnb commitment. A beautifully equipped room, very comfortable bed, spotless, modern, kitchen and shower, and all very convenient for Monmouth centre. Highly recommended. Thank you!
David
2017-02-11T00:00:00Z
Sian and Jason provided a lovely warm and friendly welcome for us on arrival. They went out of their way to ensure that we had everything we needed during our stay. Nothing was too much trouble.
Guy
2017-01-08T00:00:00Z
Romtype
Privat rom
---
Eiendomstype
Leilighet
---
Plass til
3
---
Soverom
Monmouthshire, Wales, Storbritannia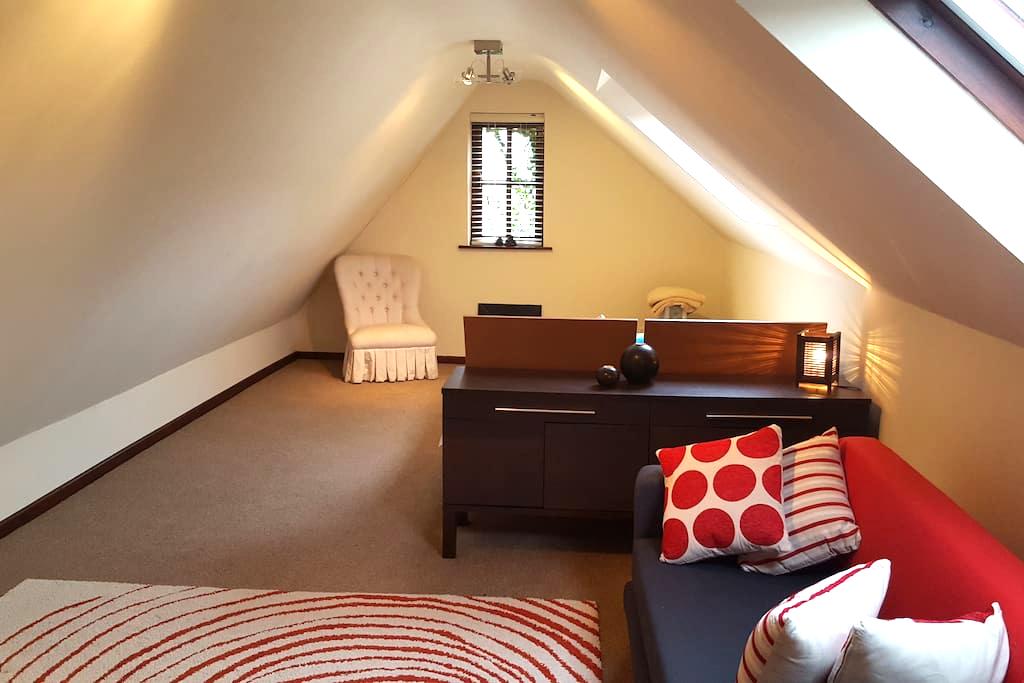 Specht Annexe ist eine Wohnung, die aus aber angrenzend an die Eigentümer Haupthaus getrennt ist. Es verfügt über einen eigenen Eingang und Veranda, praktisch für schlammigen Stiefel! Es ist in 6 Morgen herrlichen reifen Ford Wald. Es hat seine eigene separate Küche, Bad und eigener Terrasse.
Charmante eigenständiges Studio Wohnung Anlieger Eigentum in 6 Morgen Ford Wald und in der Nähe von Ross-on-Wye, Forest of Dean und dem Fluss Wye gesetzt.
Howle Hill ist ein ruhiger bewaldeten Hang Gemeinschaft innerhalb von 3 Meilen von den Annehmlichkeiten von Ross-on-Wye.
We were made to feel very welcome by Simon and Marion. We arrived to home made brownies and a lovely little cottage room with cast iron wood burning stove that kept us warm, and a well equipped kitchen. Herbal organic tea fresh from the garden :) lovely place.
Philip
2016-06-29T00:00:00Z
Great short stay in a truly beautiful location. Would love to return to explore and enjoy more. Marion and Simon were very welcoming hosts, and have created quite a special place up in the woods.
Andy
2016-09-05T00:00:00Z
Thank you Marion and Simon, we had a lovely two night stay in the annexe! The house is in a beautiful location and it's very peaceful. It was great meeting you both. We enjoyed using the fire pit and look forward to returning when the hot tub is ready for guest use.
Matthew
2016-05-30T00:00:00Z
Very much enjoyed the stay, which was too short. Marion and Simon were great hosts - very helpful with any requests - they were keen to ensure we enjoyed our visit. It'll be good to visit again.
neil
2016-08-01T00:00:00Z
Communication with Marion was effortless and a warm welcome (including homemade flapjacks) awaited us. The annexe is cosy, well-equipped and in the most beautiful setting. We would not hesitate to return to this peaceful oasis.
Hannah
2016-08-22T00:00:00Z
Woodpecker annex is a lovely place to relax in the most beautiful woodland setting. The waking is excellent with stunning views of the Wye valley and surrounding Herefordshire countryside. Our hosts were were fantastic and very happy to help with walking and dining recommendations which all turned out to be superb. We thoroughly enjoyed the weekend and would recommend without hesitation for perfect tranquility just 2 or 3 miles out of Ross on Wye. Thank you so much.
Martin
2016-05-09T00:00:00Z
Romtype
Helt hjem/leilighet
---
Eiendomstype
Leilighet
---
Plass til
3
---
Soverom
Ross-on-Wye, Herefordshire, Storbritannia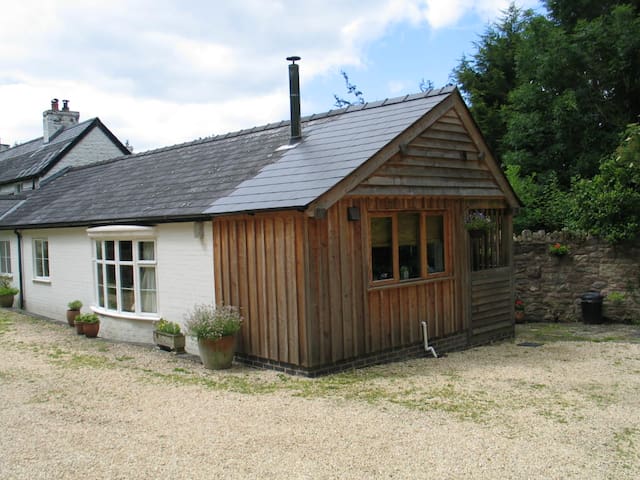 Ubicación Ubicación! Edge Pueblo / Rural - senderismo, golf, pesca, relajante directo / cerca de la puerta -independiente vistas de 360 grados a la Kymin, Monmouth Ciudad, Hereford Road o campos / vista directa al jardín! Transmitir y jardín junto asientos y parking Salida (URL HIDDEN) para las atracciones locales.
El estudio es de nueva vivienda con nuevos equipos y muebles de calidad nombrado. El espacio de salón es muy confortable, con dos grandes sofás de cuero que se pueden mover para ver el jardín - como es su placer - El espacio de jardín en frente de las puertas plegables - que puede ser abierta para permitir que el jardín en - se puede utilizar - hay son puestos fuera de la vivienda y de la corriente adyacente - 360 vistas son en torno al igual que los campos y los animales adyacentes - un lugar perfecto para relajarse, caminar, golf, pesca - el paseo por la ciudad es de diez minutos y la hermosa ciudad de Monmouth tiene todas las comodidades y ofrece tiendas de línea principal y encantadoras tiendas individuales que apoyamos el fin de mantener. El área de la cocina está muy bien equipada y otra vez nuevos aparatos. Todo el espacio es amplio y luminoso y acogedor. Una escalera corta conduce a una cama de matrimonio y un dormitorio conjunto completo de muebles y vistas ventana en el techo y TV de pantalla plana grande Todos los radiadores son controlados de forma individual para su ajuste. Toallas, ropa de cama y batas se suministran todo junto con el té de la leche del café para su llegada. Un hermoso lugar para descansar o viajar o caminar directamente desde.
Wow - por dónde empezar! - La ubicación, las vistas, el campo aunque a la ciudad muy cerca - no hay necesidad de un coche! Monmouth es una ciudad amigable muy bien equipada y es tercero en la lista de la mejor forma de vivir en el Reino Unido.
A truly wonderful host. Felt very lucky to be the first ones staying at this picturesque abode. The cottage was neatly organised and relaxing with lots of natural light. The host Janine was welcoming and friendly, showing us her art work and introducing us to her dog, Charlie :) Highly recommended overall experience!
Craig
2016-02-16T00:00:00Z
The accommodation was beautiful. The host made us feel incredibly welcome and ensured that everything we wanted was there. All fixtures clean and modern-we would definitely recommend it and will use again next time we visit the area.
Helen
2016-05-30T00:00:00Z
Beautiful studio in a pretty location. Everything was there and Janine and Richard had paid a lot of attention to detail. I'd highly recommend this place. Cannot fault it.
Sarah
2016-04-10T00:00:00Z
A fantastic place to stay, the studio has everything you could need, cleverly fitted into the space. The location was perfect, a ten minute walk into Monmouth, and just off the main roads taking you everywhere you want to see in the Forest of Dean and Monmouthshire area. Richard and Jan are great hosts, we checked in on what turned out to be a really hectic and busy day for them, and you'd never have guessed; they were welcoming and very professional. Their garden and artwork in the property are also great, all in all a really lovely place to stay.
Fran
2016-05-10T00:00:00Z
Lovely welcome, very helpful hosts. Cosy studio with everything you could need. Bed was super comfy
Samantha
2016-02-17T00:00:00Z
Little Leasebrook was actually better than described, with excellent facilities and a lovely garden full of flowers and birds. Janine was available by phone and email to solve any problems.
Rachel
2016-06-14T00:00:00Z
The apartment itself has everything you could need and is 10 minutes away from the nearest town! The landscape surrounding the apartment is beautiful and it perfect for those seeking a break from city life, as we were! Jan and Rich were very welcoming and accommodating, even gave us a list of things to do in Cardiff the day we left. And the welcome with wine and chocolates and more than appreciated. Would recommend this to anyone who is looking for a country escape, with lots of nice forests and things to do near by.
Sandra
2016-05-04T00:00:00Z
Lovely apartment, great hosts, perfect for a little break away
Michelle
2017-02-25T00:00:00Z
Romtype
Helt hjem/leilighet
---
Eiendomstype
Leilighet
---
Plass til
2
---
Soverom
Dixton, Storbritannia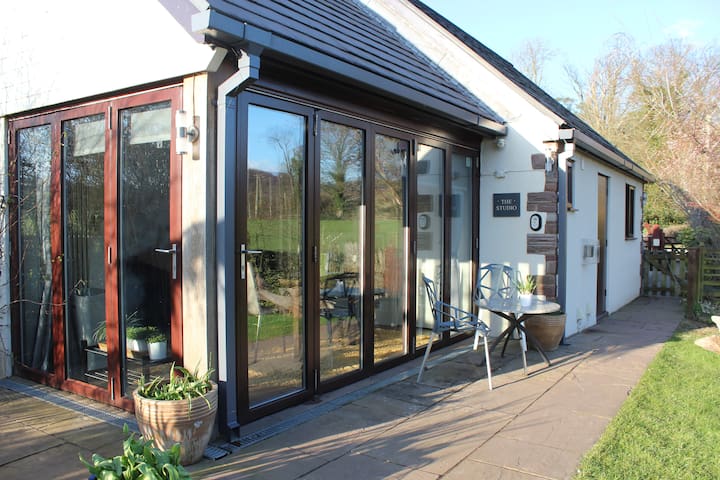 Beautiful rustic converted cartshed within the grounds of Caldicott Farm. Ideal for couples, or small families, with a large comfortable double bedroom, smaller bedroom with bunkbeds, open plan living/kitchen area and bathroom/shower. The cottage is situated in beautiful Herefordshire countryside, in a peaceful location, with only the farmhouse nearby. It is also an ideal retreat space, or a base to explore the Brecon Beacons, Malvern Hills, the River Wye, Hay on Wye, and the Forest of Dean.
The Cartshed has a large double bedroom, which is white and airy, with a wall of windows looking out to the grounds. The second bedroom is smaller, with two full sized single bunks. The main living space has two small sofas and TV to one end, and kitchen and small dining area to the other. The Cartshed is most suitable for couples, or couples with young children. The Cartshed looks out onto a private garden, which you can use for bbqs and dining outside. Caldicott Farm comprises of 3 acres, which you are welcome to explore. There are no neighbours, except our family who live in a farmhouse on site. Next door to the Cartshed is a small holistic therapy space in a converted barn, and treatments can be booked in advance of your stay. Sound therapy, massage and reflexology session can be booked subject the therapists availability. For more information please visit Brightfire Holistic online. The Cartshed is an exceptionally quite place, full of wildlife. You may see the barn owls which nest in the barn, woodpeckers, buzzards and red kites which are all regular visitors. It is the perfect place for peaceful getaway, and a base to explore the beautiful Herefordshire countryside, rivers, hills, and black and white market towns.
The area is very quiet, surrounded by farmland and woodland. There are no neighbours, except the hosts in the main house. There are many public foot paths, and woodlands to explore within walking distance. The ancient and magical Dinedor Hill is very close by. Hereford is a local market town, famed for the Cathedral housing the medieval Mappa Mundi and Chained Library. The local villages have some great riverside pubs, providing lunches and evening meals . Canoe hire is available locally, as an ideal way to explore the local rivers. Activities for children include several local farm parks, Go-Ape and Pedalaway Cycling in the Forest of Dean, Butterfly Zoo, Maze and boat trips on the river at Symonds Yat. Puzzlewood is also a fantastic kids attraction about a 40 minute drive, and has a stream train ride next door. For rainy days there is a local swimming pool 15 minutes away , and an indoor soft play centre in Hereford. Walking along Hay Bluff, exploring the Brecon Beacons, British Camp in the Malvern Hills, or a trip to Llangorse Lake are other popular days out in the area.
Very cosy, warm and clean. Inside was very beautiful and such a nice and quiet place for a getaway, would definitely come back !
Freya
2016-02-11T00:00:00Z
Staying at the Cartshed was an absolutely incredible experience. My family wanted a relaxing few days in the English countryside, and that's exactly what we got. The Cartshed was converted from a wagon barn to be a cottage, and dates at least from the 18th century, so is very historical. However, on the interior it is very new and modern, and quite roomy. There are two bedrooms, one master and one with a bunk bed, a bathroom, and a large cooking/living space. The restoration was very well done and the building retains most of it's original features. It was really just a fun place to stay in. I felt like I was living in a bit of history, and it was also just very comfortable for my family. We were able to explore all over Herefordshire and into East Wales as the location is central. Brigid is a great host and very communicative. She also provides a helpful informational packet to her guests and is full of great ideas for fun things to do in the area. In summary, if you are looking for a place in the area or just looking for a place to spend some time in the countryside, this is your place! It's quiet, clean, and relaxing. I highly recommend it!
Javan
2016-12-11T00:00:00Z
A beautiful place to stay - perfect for us and our nine-year old twins. I had a wonderful massage soon after we arrived, arranged by Brigid, who also provided excellent information about activities in the local area. The Cartshed was equipped with everything we needed and we loved the underfloor heating. Thoroughly recommended.
Rachel
2016-02-21T00:00:00Z
Brigid's place is a real hidden gem! Was perfect for our stay. We have two small children and a dog who needs plenty of walking. The accommodation is cosy and very well thought out. Underfloor heating was a lovely touch given we stayed in winter. It was in a very quiet setting which was great for us, only downside for some is that there is nothing really in walking distance. Didn't matter for us as we had a car though. We would certainly not hesitate to come back again!
Ben
2016-12-19T00:00:00Z
This is a really beautiful place to stay and surprisingly warm (once we figured out the under floor heating). The wildlife is great and it's a lovely touch having bird feeders so close to house so we had a real close connection with the birds. Brigid and Tom were really lovely too. My 3yo thoroughly enjoyed chatting away to the sheep and stroking there pet ferret Oscar. Brigid offers sound therapy and as it was my husbands birthday I booked him a 'Gong Bath'. He would highly recommend this as says it was one of the best experiences of his life and he wishes he could have it done weekly! Lovely stay - we will be back. Thanks Jodie, Ashley & Edie
Jodie
2017-02-09T00:00:00Z
Very Positive and deeply fulfilling experience to be staying at such beautiful accommodation in such an idyllic area. The accommodation was immaculate and more than expected from the pictures. The family were very welcoming and laid back. It was a pleasure to stay and would recommend to friends and family.
Matthew
2015-10-02T00:00:00Z
Staying at The Cartshed was my first experience on Airbnb and overall it was great! It was just as picturesque in person as the photos described and there was ample space for travelling in a party of three. We especially liked the fact that the lights and heating had been turned on for us prior to arrival as it added a homely feel to the place upon arrival. Brigid was very responsive and helpful before and during our stay, and although it was just for one night it was a welcome stopover during a long journey. I would highly recommend this accommodation to anyone as a stopover along your journey or as a relaxing break, as it was a bit of both for us!
Natasha
2016-11-09T00:00:00Z
Brigid could not have done more to make us welcome. She is a lovely warm person and this shows in all the really thoughtful touches throughout the house. The Cartshed is a most beautiful conversion in a very attractive and peaceful farmyard which is full of birds. We slept so soundly there. We liked the area too and found a great place to eat nearby. We are so glad that we stayed there.
Joy
2015-09-14T00:00:00Z
Romtype
Helt hjem/leilighet
---
Eiendomstype
Leilighet
---
Plass til
4
---
Soverom
Holme Lacy, England, Storbritannia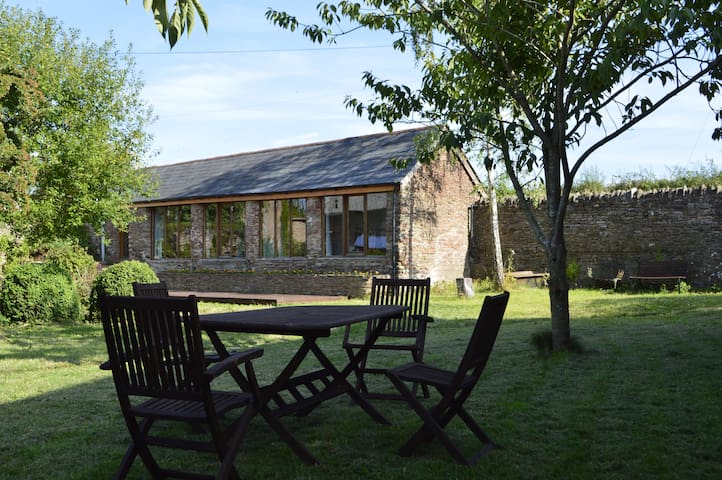 The Courtyard Apartment at Flanesford Priory. Sleeps 2. Is a studio apartment
Peaceful, beautiful surroundings within walking distance of friendly pub with good food. We stayed in the Courtyard Apt. which was clean, comfortable and charming. The staff were genuinely friendly and helpful, a wonderful weekend with our dog.
Penni
2017-04-13T00:00:00Z
Romtype
Helt hjem/leilighet
---
Eiendomstype
Leilighet
---
Plass til
2
---
Soverom
Goodrich, England, Storbritannia
My apartments look onto great views. You'll love it because of the location, the people, and the outdoors space. It's good for couples, solo adventurers, business travellers, and furry friends (pets). We are Walkers and Cyclists Friendly, but welcome everyone. You can book from 2 days, any additional days are much cheaper (please contact us if nec). Winter Offer runs until end Feb.
Modern, open-plan apartment with gallery bedroom and sunlight tubes.
Location of this apartment is fabulous, the view from the living room apartment is wonderful and the location is perfect for some great walks. We very much enjoyed our stay and would most definitely return.
Katie
2017-03-05T00:00:00Z
Romtype
Helt hjem/leilighet
---
Eiendomstype
Leilighet
---
Plass til
2
---
Soverom
Hillersland, England, Storbritannia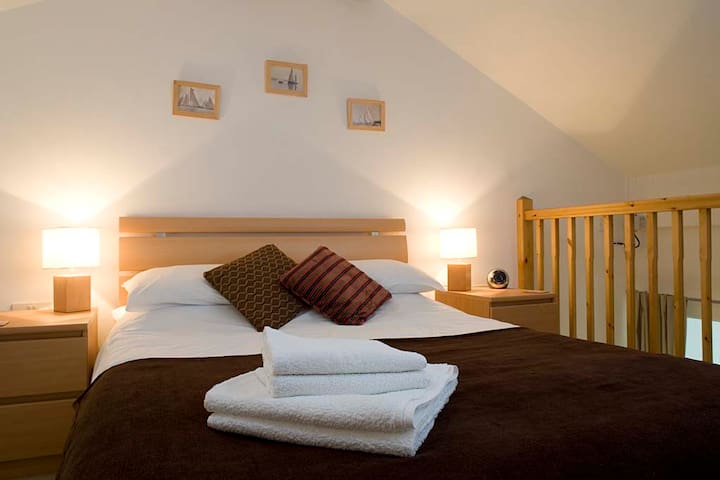 1

–

18

av

26 Leiligheter til leie
Oppgi datoer for å se fullstendige priser. Ekstra gebyrer gjelder. Skatter vil kunne tilføyes.