Este condominio está ubicado en el centro de Westlake, donde el centro comercial al aire libre en pleno auge Crocker Park está a sólo un corto paseo. Si el centro es demasiado corriente para usted, la ciudad un poco hipster-ish de Lakewood se encuentra a 10-15 minutos en coche. Lakewood está llena de tiendas y lugares de reunión únicos. Además, este apartamento está situado a unos 12 minutos de la playa de Huntington. Parque de atracciones Cedar Point y Kalahari Resorts son unos 50 minutos. Experimentar algo de la vida nocturna en el centro de Cleveland, donde se encuentra el casino, varios bares / clubes, y muestra sucediendo o disfrutar del Centro de Ciencias, muchos museos, sitios históricos, jardines botánicos, parques y West Side mercado durante el día.
Everything was as advertised. Patryk was very responsive and a great host. His place is really nice and I highly recommend it. The area also has many amenities when it comes to food options and shopping.
Matt
2016-09-03T00:00:00Z
Patryk' place was terrific. The condo was clean and worked well for my family, including 2 teenagers and 2 labradoodles. Crocker Park offers many restaurants, shopping and movies. The freeway makes access to Downtown or other area attractions easy. The large projector screen was fun for movies or watching sports when we stayed in. Communication with Patryk and with Martin was very prompt and helpful. We had a great stay and we highly recommend!
Sue
2017-01-01T00:00:00Z
This is a perfect location to enjoy the entire Crocker Park experience. The accommodations where superb and the location easy access to shopping and restaurants. Extremely close to highway to Downtown Cleveland
Rich
2017-01-26T00:00:00Z
We had a great stay, they were very good with communication and the place was clean, stylish and comfortable. Awesome location as well! We would definitely stay again!
Donna
2017-03-12T00:00:00Z
We had an excellent time at Patryk's place. The condo was nice and spacious plus the bathroom was awesome! He even had a built in hairdryer, which was an excellent addition. The bedrooms were both spacious and the living room is a great place to lounge. Especially with the giant projection screen! Al He has an excellent welcome board with emergency numbers, wi-fi password and other good to know items. Also it is next to Crocker Park which is a really cool shopping complex! I highly recommend this place if you're visiting Cleveland.
Ryan
2016-06-20T00:00:00Z
Thanks for a great stay. The place is great and the location is good, walking distance to the shopping and restaurant area. Nice and calm nabourhood.
Sanne
2017-01-24T00:00:00Z
We loved the condo! Plenty of space and loved the projector. My nephew said it was "like we're at the movies!"
Kristen
2017-04-02T00:00:00Z
This place was great we enjoyed every bit of... very clean and quiet also very close to store and things to do!
Roderick
2017-03-22T00:00:00Z
Romtype
Helt hjem/leilighet
---
Eiendomstype
Leilighet
---
Plass til
4
---
Soverom
Westlake, Ohio, USA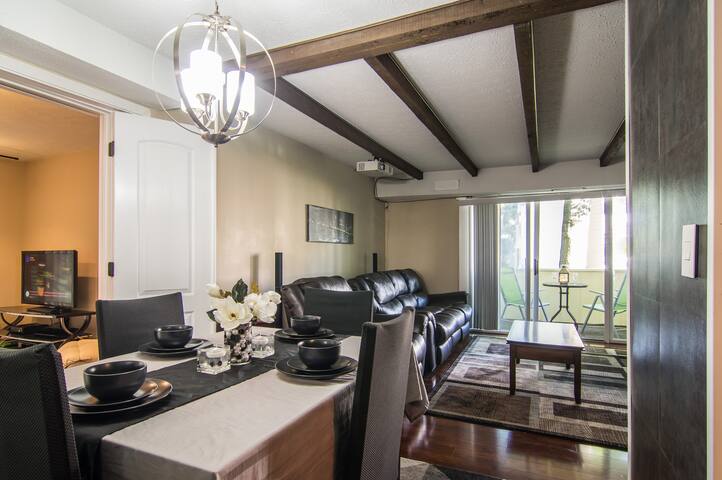 Das neue, moderne Wohnung in der Crocker Park werden Sie auf Ihre Füße für Standing Ovations bringen. Der Raum ist so konzipiert, der Gipfel des Luxus. Hochwertige Materialien und Annehmlichkeiten umgeben Sie in der Wohnung um Ihren Aufenthalt so angenehm wie möglich zu machen.
Die Wohnung ist mit einem 120-Zoll-Leinwand ausgestattet, die den Hauptraum mit knackigen Visuals füllt. Eine massive Filmsammlung sowie Netflix und Hulu sind durch Apple TV verfügbar. Eine voll ausgestattete Küche ist vorhanden, alle Ihre kulinarischen Wünsche zu erfüllen. Es gibt sogar einen in Waschraum gebaut.
Die Wohnung befindet sich nur 2 Minuten von einer Autobahn. Diese Autobahn Osten verwenden, können Sie die Innenstadt in 18 Minuten. die Autobahn nach Westen verwenden, können Sie nach Cedar Point, einer von Amerika besten Vergnügungsparks nehmen. Der Flughafen liegt etwa 20 Minuten südöstlich gelegen.
I'm
Louis
2016-11-20T00:00:00Z
My stay here was great, And he also was a great host. I would definitely go back... Can't wait!
Bryan
2016-11-12T00:00:00Z
Very convenient location in Crocker Park. Trader Joe's 100 feet from door, parking plentiful & free, lots of walkable restaurants and shopping.
John
2017-01-02T00:00:00Z
The host canceled this reservation 30 days before arrival. This is an automated posting.
Allyson
2017-01-31T00:00:00Z
Loved this place- felt very much at home
Melissa
2017-01-06T00:00:00Z
Missing basics like salt, pepper, and a wine opener but a great place to stay. Also, no cable but close to entertainment.
Eric
2017-02-27T00:00:00Z
Beautiful place in a very nice area just outside the city! Zero complaints...
Greg
2016-11-02T00:00:00Z
Martin's place made for one of my best Airbnb experiences. It's perfectly located and walking distance to shops, bars, restaurants, and more. I would recommend it to anyone looking to stay in the Westlake. Moreover, Martin was a great host who communicated well and went out of his way to provide a great experience.
Tom
2017-01-13T00:00:00Z
Romtype
Helt hjem/leilighet
---
Eiendomstype
Leilighet
---
Plass til
4
---
Soverom
Westlake, Ohio, USA
JD was a fantastic host! He was very accommodating and super easy to talk to. Place was in great condition and very clean. Bed was very comfy and it was nice to sit out on the balcony for a bit. If I ever find myself traveling that way again, hopefully his place will be available. Highly recommend!
Mike
2015-08-24T00:00:00Z
Absolutely perfect! Great location, apartment was clean and spacious, JD was helpful. I'd stay again in a heartbeat :)
Rita
2015-08-31T00:00:00Z
Great place to stay! JD was very accommodating and the Lindt chocolates were a great touch. Would definitely stay here again.
Jonathan
2015-10-04T00:00:00Z
Wonderful host! JD was a wonderful host, everything was as described, clean, and comfortable.
Stephanie
2015-08-16T00:00:00Z
JD was an amazing host and everything was just as described! Would definitely stay here again!
Trisha
2015-10-12T00:00:00Z
Romtype
Helt hjem/leilighet
---
Eiendomstype
Leilighet
---
Plass til
2
---
Soverom
Westlake, Ohio, USA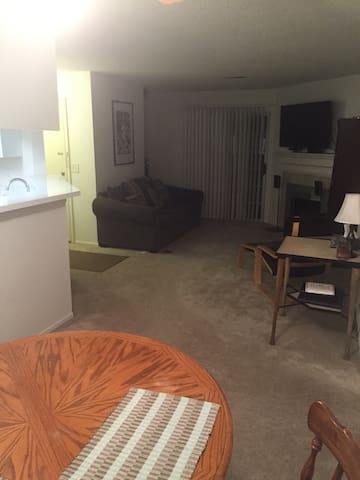 The host canceled this reservation 15 days before arrival. This is an automated posting.
Dirk
2016-07-20T00:00:00Z
Romtype
Privat rom
---
Eiendomstype
Leilighet
---
Plass til
1
---
Soverom
Westlake, Ohio, USA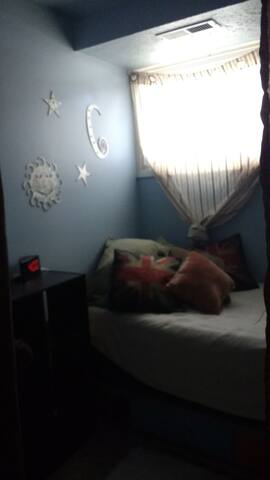 The apt. was clean & comfortable! Home away from home. I'll be back!!
Christina
2016-11-04T00:00:00Z
Great host, location and apartment. Description is accurate. Comfy beds, easy access and great communication with Joel. Will definitely stay again and highly recommend.
Tammy
2016-11-27T00:00:00Z
The place was clean, comfortable and fun. The TV was huge and having Sling TV was a great bonus. Free coffee was a huge life saver and I loved the clean fluffy towels. I really enjoyed the stay and will stay again when I visit friends in Cleveland. I wanted privacy and totally got it from check in to check out.
Christina
2017-02-26T00:00:00Z
The place was great! Awesome location. Super clean, and everything we needed was provided. I'd definitely stay here again.
Jim
2016-05-24T00:00:00Z
Perfect! Joel's house is on a quiet tree lined street a few blocks from Lake Erie. It is close to downtown Cleveland, west side suburbs, restaurants, and grocery shopping. The space is the whole first floor apartment of the house and Joel's family lives upstairs. The apartment was clean, the AC was cool, and it had everything that we needed. My wife and I stayed with our 7 month baby for 4 nights and felt right at home while visiting family. The apartment includes driveway parking, secure access, full kitchen with stove, coffee maker with pods, fridge, dishwasher, wifi, large screen tv's, amazon or sling tv, a clean bathroom, and clean towels and sheets. On the first day we met Joel and his family. He was relaxed and friendly. Joel was available if we needed assistance but gave us plenty of space and privacy. We recommended Joel's apartment to local family and friends and would stay again. 5 stars. Highly recommend!
Tom
2016-08-30T00:00:00Z
Great experience! Super clean, very nice. 4 of us were very comfortable in the space.
Tricia
2016-10-24T00:00:00Z
Loved this place! Had such a homey feel! Location is great as well! I do have to say the bed was one my favorite things! Made it so hard to leave in the morning, I just wanted to lay there forever!
Brandi
2017-01-30T00:00:00Z
We stayed at Joel's place for 4 days and 3 nights. Joel and his family were wonderful hosts. We had everything we needed. There are a lot of great restaurants nearby (the proper pig for you meat lovers) and a nice little park within walking distance if you are travelling with little ones. This place is right in the middle between downtown Cleveland and a great shopping area Crocker Park. We hope visit Cleveland again soon, and we would love to book this place again!
Jane
2016-08-23T00:00:00Z
Romtype
Helt hjem/leilighet
---
Eiendomstype
Leilighet
---
Plass til
4
---
Soverom
Lakewood, Ohio, USA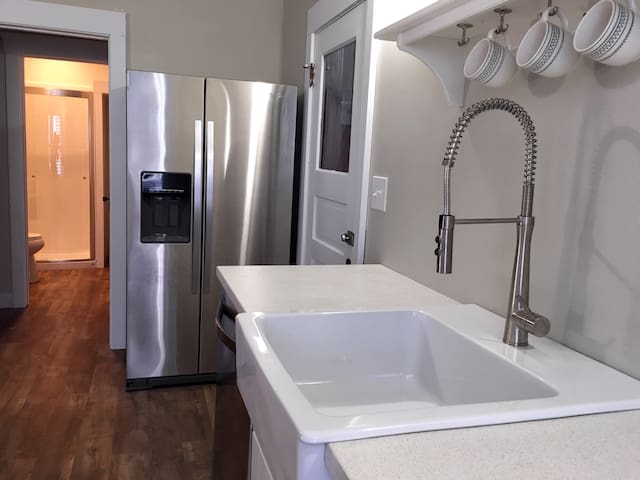 Habitación disponible en este apartamento de primer piso de un siglo Inicio dúplex actualizada! Gran dormitorio tiene una cama de tamaño completo y armarios de gran longitud de la pared. Disfrutar del espacio común dentro o amplia zona de descanso al aire libre. Minutos a pie de todas Lakewood tiene que ofrecer!
dormitorio privado disponible en BD 2 dúplex, estacionamiento incluido! hogar del siglo actualizado con todas las comodidades necesarias. Cerca del centro de Cleveland (15-20) y el transporte público (1min). Está a un paseo (10-15 minutos) de todos los restaurantes de Lakewood tiene que ofrecer. Los huéspedes tendrán acceso a comedores dormitorio, salón y cocina y un baño compartido. Recientemente actualizado cocina tiene todas las herramientas que necesita para preparar una plato en casa si no quiere disfrutar de las muchas atracciones culinarias noreste de Ohio tiene que ofrecer. interacción con los huéspedes se limitará debido a una apretada agenda de trabajo, pero estoy siempre una llamada a un texto de distancia para asegurarse de que su estancia es una suave y cómoda posible. El premio de Cleveland ganar sistema RTA tiene una parada de autobús a unos pasos de un minuto. El 26 se llevará directamente al centro para facilitar el acceso a la ciudad.
Lakewood, OH ganar premios en base a nuestras casas, estilo de vida, de caminar y el encanto en general! Ven a ver lo que el resto del mundo está aprendiendo :) Mi calle es una calle común Lakewood con una mezcla de casas unifamiliares y dúplex. Se encuentra justo al lado de Detroit Ave, una vía principal con el tráfico normal y un montón de bares y restaurantes de la zona.
Jillian was an extremely accommodating host. While our differing schedules meant that I did not interact much with her face to face, she went out of her way to make sure I had everything I needed.
Drayton
2015-05-31T00:00:00Z
Great house, great bed also! Nice little neighborhood, would definitely recommend it
Devon
2016-02-19T00:00:00Z
In town to run a marathon and needed a last minute place to stay. Jillian was a great host, she made me feel welcome and ensured that I had everything I needed. The apartment was nice and very clean. Comfortable bed to get a good night sleep before the race.
Lars
2015-05-17T00:00:00Z
A great host and easy stay.
Amanda
2017-02-11T00:00:00Z
Jillian was a great host. My stay was perfect. The area is a great neighborhood and the house is even better. I'd highly recommend it.
Kevin
2016-04-20T00:00:00Z
My stay at Jillian's was quiet and peaceful, clean and comfortable. She made it a very uncomplicated stay, though our paths never crossed!
Jenna
2016-06-13T00:00:00Z
Super nice house and very convenient, Jillian went above and beyond!
brian
2016-06-05T00:00:00Z
Jillian was an amazing host. She did everything to make sure I felt comfortable and welcomed at all times even though she keeps a very busy schedule. When things were out of order she always kept me informed and got them back to working in a timely manner. I enjoyed my stay with Jillian!!!
Gabriel
2016-01-31T00:00:00Z
Romtype
Privat rom
---
Eiendomstype
Leilighet
---
Plass til
2
---
Soverom
Lakewood, Ohio, USA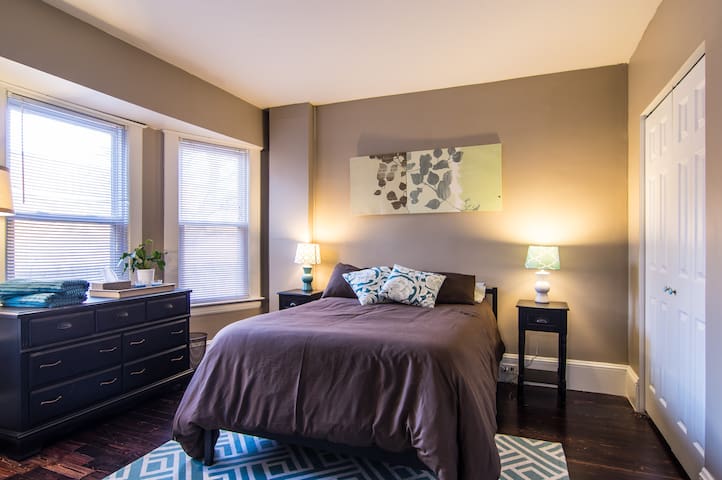 Lakewood est une ville dynamique, sécuritaire à l'ouest de Cleveland, avec une ambiance unique et une grande sélection de grands restaurants, bars et boutiques éclectiques. A quelques minutes de Rocky River, Ohio City, et Downtown Cleveland.
Beth and Brian have a great spot in Lakewood. The house was very clean and was cozy and comfortable!
Jaci
2016-12-26T00:00:00Z
A fantastic (and first!) whole-home Airbnb experience. The house has a great vibe and old-home character. Our hosts have outfitted it with many small treats to make any extended stay a success. For 11 nights, we were treated to endless entertainment as our 7yo explored almost every board game in the rack. The nearly-famous cheese tray awaited us weary travelers and the many menus hanging on the display boards gave us many options until we had the opportunity to go grocery shopping. Which, by the way, is super easy with a huge Giant Eagle just 5 minutes away and easy access to Trader Joe's or Whole Foods if you want to travel a bit further. Brian and Elizabeth checked in on us in the first couple days and helped ensure that we were comfortable. And the upstairs residents were also gracious and kind. Near to the freeway, the house was located well for our needs. This was a great find and a perfect spot for our family as we transitioned from another state to the Cleveland area.
Mike
2016-07-02T00:00:00Z
Brian and Elizabeth were super helpful even though they were out of town. The arrival instructions and house manual are detailed and tell you everything you need to know. We are not from a hot and humid climate so we were unsure of how the house would feel in the middle of summer. There are fans in every room and AC in one of the bedrooms. The temperature is controlled remotely so we weren't able to access that, but the house remained cool despite the warm weather outside. Our kids played the board games non-stop. In fact, after this trip we talked about moving our games to the living room since our kids loved them so much. They literally played them for hours! We loved Angelos for dinner and had a blast kayaking and paddle boarding at 41 North on the Rocky River. Check out Jack Flaps for breakfast and Town Hall for dinner. Enjoy your stay in this home. It's spacious so you can actually rest on vacation!
Holly
2016-08-21T00:00:00Z
Brian and Elizabeth rock. Great place and they were extremely accommodating. Highly recommended.
Raymond
2016-04-20T00:00:00Z
Brian and Elizabeth's rental made us feel like Lakewood residents for a few days. We had easy access to all its restaurants and amenities, including the excellent Jyuly 4th fireworks show at Lakewood Park. The rental boasts a great porch like many Lakewood duplexes. We even enjoyed a late-night game of Scrabble, one of many choices at Brian and Elizabeth's place. Plus, it's an easy walk to Tommy's for morning pastries.
Bill
2016-07-06T00:00:00Z
This is a pretty typical Lakewood duplex - 60+ years old, but in good condition. There is plenty of street parking as promised and there are plenty of home-type amenities within - dishes, cups, diningware, dishwasher, coffee maker, Saran Wrap, fridge, soap, shampoo and conditioner, hair dryer, towels, TV, and wi-fi. Overall, not a 5-star hotel, but a great place to stay near family. There are a few bars and restaurants in walking distance but you're probably not visiting Lakewood, OH for the restaurants and nightlife.
Eugene
2017-03-29T00:00:00Z
The hosts were very welcoming even though they were not present at arrival. Wonderful treats were left for us and our young children. The pictures of the home were very accurate. The house was charming and the epitome of a 'Lakewood home'. The neighborhood was quiet as advertised and close to everything! My family would definitely stay there again if we were planning a trip back to Lakewood
Jill
2016-12-31T00:00:00Z
This place was spotless! We were very comfortable and enjoyed the convenience of the neighborhood. Very walkable. Check in was easy, communications were prompt and clear. We hope to return again soon!
Maureen
2017-04-09T00:00:00Z
Romtype
Helt hjem/leilighet
---
Eiendomstype
Leilighet
---
Plass til
4
---
Soverom
Lakewood, Ohio, USA
Hola viajeros! Nuestro lugar está rodeado de restaurantes, transporte público, carreteras principales, teatros, hospitales y el centro de la ciudad de Lakewood. El lago es de 1 milla al norte. Alrededor de un cuarto de milla de la manzana es la principal autopista I-90 Este / Oeste, que le dejará en el centro de Cleveland en menos de 5 minutos. La ubicación es genial! Te encantará nuestro lugar porque su moda, acogedor y limpio. WIFI gratuito, un puesto de trabajo, cocina completa, ect. El espacio es ideal para parejas, aventureros en solitario, y viajeros de negocios.
El espacio está en el tercer piso de nuestra casa. Si usted es de 6 pies. 2" o más alto que desea ver la cabeza en la cocina para la iluminación de la pista. Además, la ducha podría ser agobiante si eres de los que requiere una gran cantidad de codo o cabeza habitación.
Estamos a sólo 1 cuadra calle de grandes restaurantes como el castaño de Indias Brewery (todo es grande aquí!), Barrio (Tequileria tacos), Roxu (fusión asiática). Los menús están en el cajón de la cocina. Además, hay una tienda de chocolate famoso llamado Malleys chocolate y un Walgreens enfrente de la otra también 1 cuadra al norte. El Donut Pantry es esquina opuesta de Walgreens y la estación de gas BP en Madison y Warren se cruzan.
Really great place--one of the best I've seen for combining price and comfort. Taking a shower is a bit of an adventure, but the rest of the place is wonderful, and Brent had so many nice, small touches that added a lot to stay.
Lanta
2017-03-18T00:00:00Z
The host was very available upon arrival. The apartment was clean and comfortable.
Tammy
2017-03-24T00:00:00Z
Great location, excellent space, very comfortable. Brent is a very accommodating host.
Kaitlin
2017-03-05T00:00:00Z
Very clean and a great space!! Brent was incredibly helpful.
J
2016-12-18T00:00:00Z
Very cozy...kitchen has the basic tools to let you cook rather than eat all the time. Super clean! Luxurious towels in a bathroom hat as advertised is doll house perfect...a tall person, or someone wanting to save water and shower with a friend would be challenged. :) It is a third floor walk up, so you'll get your steps in if you are in and out a lot! Street parking can be a challenge as only one side of road available to park on, yet we were always able to park within a few houses.
Lori
2016-12-04T00:00:00Z
Great place to stay! The apartment was cozy and clean and had everything we needed. The neighborhood was cute, quiet, and very convenient. Host was very attentive and responded quickly to questions.
Skyler
2017-01-08T00:00:00Z
The apartment was a good value in a great location! Thanks
Edwin
2017-03-04T00:00:00Z
Brent was a great communicator and very accommodating. The location is very convenient to Lakewood and Rocky River. We had a back stairwell and the top floor apartment and everything felt private and secluded. The apartment was well maintained and perfect for the two of us.
Liz
2017-01-15T00:00:00Z
Romtype
Helt hjem/leilighet
---
Eiendomstype
Leilighet
---
Plass til
3
---
Soverom
Lakewood, Ohio, USA
三樓的公寓非常適合情侶,獨奏冒險家和商務旅客。它有一個私人浴室,冰箱和小廚房給你帶來很大的安慰離家出走。位置是從幾十家餐廳,酒吧,公園和商店的步行距離。如此靠近克利夫蘭,幾個公交車站就在步行距離內去市中心的心臟。這也是只有5分鐘車程,到第117 RTA站,前往克利夫蘭機場,市中心和小意大利。
第三層包含私人浴室,廚房和客廳/臥室。要進入太空,客人將有自己的舒適的私人入口和外套存儲。空間是非常適合單身,夫婦和商務旅客。但是,我們無法容納幼兒。
位置是從幾十家餐廳,酒吧和商店的步行距離。
Jessica and Daniel's place was great! They were tremendous hosts. The kitchen was even stocked for breakfast. Very clean and homey. Close to lots of restaurants and shops. Nice neighborhood. One of the best AirBnB's that we've ever stayed at. Would highly recommend!
Stacey
2017-04-01T00:00:00Z
Jessica's place was exactly what I was looking for! She communicated promptly and was very flexible with my check in time. I'll definitely be back next time I'm in Cleveland!
Jess
2017-03-04T00:00:00Z
Our stay was comfortable and quiet! A perfect place to stop on our long drive home.
Megan
2016-12-17T00:00:00Z
El apartamento es la guardilla de una casa. Es muy amplio y bonito. Esta muy cerca del aeropuerto. Muy recomendable.
Jaime
2017-02-24T00:00:00Z
The neighborhood was cute, quiet, and walkable. The space was cozy and clean. The futon beds were surprisingly comfortable. The hosts were very welcoming and responsive. Staples like bread, juice, milk & butter as well as some cereal & frozen breakfast foods were provided. The only slight downside to this place for me was that sound travels pretty well between this unit and the owner's unit below. But even so, we really enjoyed our stay.
Laura
2017-04-09T00:00:00Z
The hosts and the space were perfect! My partner and I wanted to spend a night in Lakewood because we love the area. Very cute, clean, and private space. Love that we had our own entrance. The hosts were exceptionally friendly and prepared for us. Super close to a lot of great restaurants and shops. We went there specifically to go to 16 Bit Arcade, and it was a little too cold to walk, but hoping to go back when it's warmer and enjoy walking around the neighborhood. Would absolutely recommend!
Erin
2017-02-05T00:00:00Z
Nice little place, great value.
Jeremy
2017-02-26T00:00:00Z
Would definitely recommend staying at Jessica's place! Very professional and kind. A++
Ro
2017-01-22T00:00:00Z
Romtype
Helt hjem/leilighet
---
Eiendomstype
Leilighet
---
Plass til
4
---
Soverom
Lakewood, Ohio, USA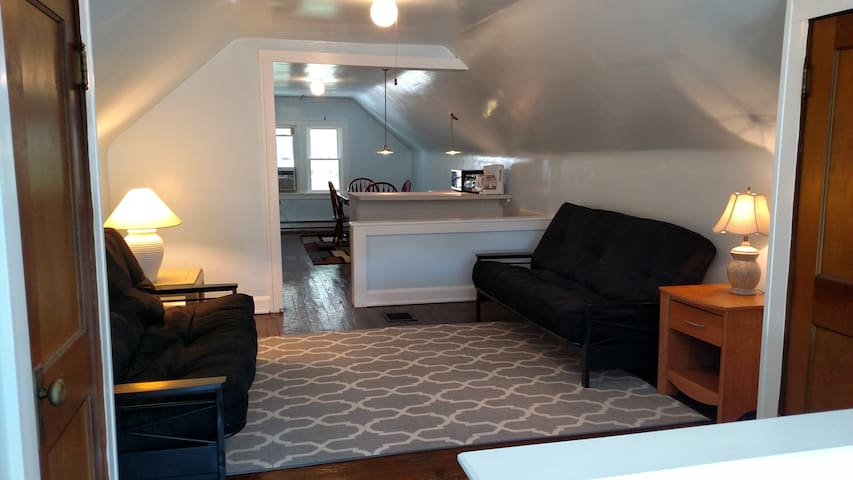 It was ok
suzanne
2017-04-14T00:00:00Z
We had a great stay. Perfect spot, for a quick trip into town.
Matt
2017-03-12T00:00:00Z
Romtype
Helt hjem/leilighet
---
Eiendomstype
Leilighet
---
Plass til
4
---
Soverom
Lakewood, Ohio, USA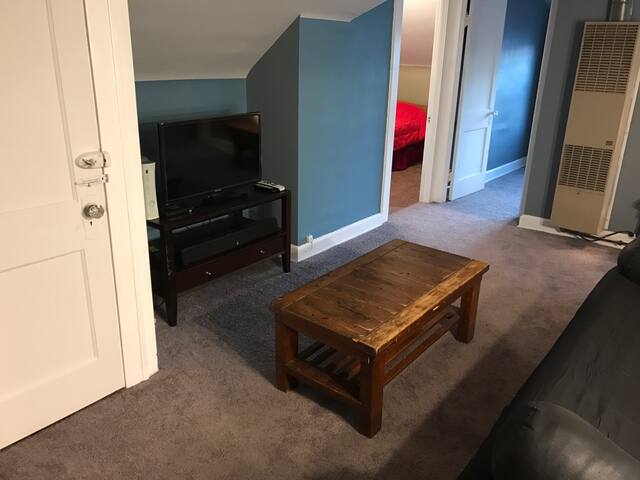 Great
PHILIPPE
2016-07-23T00:00:00Z
Romtype
Helt hjem/leilighet
---
Eiendomstype
Leilighet
---
Plass til
2
---
Soverom
Lakewood, Ohio, USA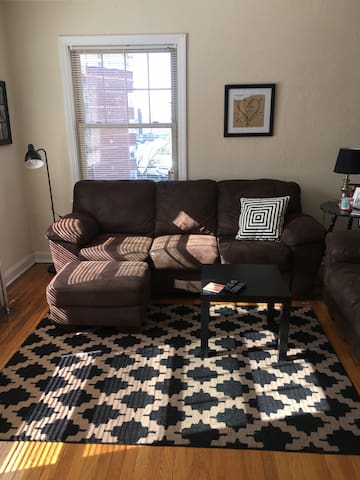 Great neighborhood, listing was accurate. Amanda was really flexible in meeting me for check-in at a time that worked for me. Apartment is in an older building, but it was clean and well-maintained.
Christian
2016-07-23T00:00:00Z
Romtype
Helt hjem/leilighet
---
Eiendomstype
Leilighet
---
Plass til
3
---
Soverom
Lakewood, Ohio, USA