limpia habitación doble situado a 2 minutos a pie del estadio de Wembley y del Wembley Arena. La estación de metro de Wembley Park se encuentra a 3 minutos a pie, que le da acceso rápido al centro de Londres y el West End en 21 minutos. Sólo Designer Outlet de Londres se encuentra a sólo 5 minutos a pie y es sede de restaurantes, tiendas y un cine 9 pantalla donde se pueden ver las últimas películas. biblioteca de McDonalds y lo local se encuentra a 2 minutos a pie y hay un supermercado local a sólo 1 minuto a pie.
Una bonita habitación con vistas.
Very nice flat!
Shixian
2017-03-18T00:00:00Z
The apartment is very clean and nice. It is perfectly located : 2 mins walk from Wembley Stadium and from The Wembley Central Station ! There's also a grocery store as soon as walk on the street after leaving the apartment . Nrissa is super nice and always answering to messages for details and she has flexible hours for your check in and out which is awesome . I had an amazing stay! I highly recommended it!
Mélanie
2016-06-18T00:00:00Z
Nrissa was very nice and she was at the flat to greet us upon arrival. If we had any questions she was there and made herself available, and she provided anything we asked for. Although a shower is not listed in the amenities, she was quite happy to let us use it with our own towel. We were in London for an event at Wembley Stadium and she even allowed us to leave our bags at her place during the event even after the stated check out time. It made it incredibly easy for us to go to our event, and then stop back and pick up our bags on our way to the underground. As she states, is only a couple minutes away to the stadium and the station! Beautiful flat, the picture of the room doesn't do it justice! Very modern, and clean.
Katina
2016-10-02T00:00:00Z
Nrissa's a great host, and her place is clean, tidy and comfortable.
Derek
2016-11-12T00:00:00Z
Nrissa was quite pleasant and the flat is lovely. The bed is very comfortable and the location is wonderful. I would stay here again.
Jéri
2016-07-04T00:00:00Z
住宿的位置特别好,也很好找。离地铁很近,楼下有超市。房东人也超级好,房间特别干净。
Hongyue
2017-03-19T00:00:00Z
Romtype
Privat rom
---
Eiendomstype
Leilighet
---
Plass til
2
---
Soverom
Wembley, Storbritannia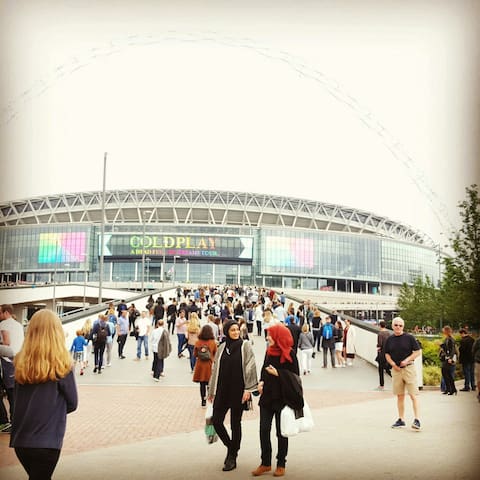 Una habitación doble moderna en un apartamento de nueva construcción con excelentes conexiones de transporte (2 minutos a pie de la estación de metro de Wembley Park y 12 minutos de Baker Street a través de la línea Met). Un paseo de los principales lugares como el estadio de Wembley, SSE Arena y el Designer Outlet Londres. El lugar elegante para alojarse después de que los conciertos, eventos o gran juego!
Rommet har direkte tilgang til en stor balkong med flott utsikt over Wembley Stadium og en dedikert stort bad rett utenfor rommet (kun brukes av gjestene). Det er også en stor garderobe for å henge klær og en full lengde speil.
Very nice accommodation, having a good time in eddie's place
shuwen
2017-03-19T00:00:00Z
We did enjoy Eddie's place really nice and with a good location;his place is modern,colorful,spacious! Eddie was really cool And always with a smile to help us when needed. Will definitely recommend to other airbnb guest trying to find a nice place in London where to stay!
synthia
2017-04-10T00:00:00Z
Very good place :-)
Paweł
2017-04-03T00:00:00Z
Super close to Wembley Stadium and Arena, this is a modern, very clean flat with private bathroom. Eddie is very helpful and clearly takes care to make sure that the place is ready and clean to receive guests. He is also very kind and friendly, which is a big plus.
Larisa
2017-03-12T00:00:00Z
Excellent place and very close to the Wembley Stadium. The place is very comfortable with ample of space.
Gulnar
2017-03-15T00:00:00Z
I didnt spend few nights in Eddies place it was Anas brother who was instead of us there and they had a very nice stay at Eddies apartment. It is very bright, very spacious, calm and clean. Very good location few minutes till metro what was excellent, ideal to discover the city. Eddie was very communicative and responsive. We would recommend this place in any case! Thanks again! All five stars for thus place. Regards from Zadar
Ana&Tony
2017-03-28T00:00:00Z
Romtype
Privat rom
---
Eiendomstype
Leilighet
---
Plass til
2
---
Soverom
Wembley, England, Storbritannia
Il mio posto è vicino allo stadio di Wembley, Wembley Arena, Londra Designer Outlet,, Tesco Express e Cine mondo. , Wembley Arena. Amerete il mio posto a causa della ottima posizione, proprio accanto allo stadio e arena di Wembley e il punto di vista, l'intimità, la cucina, il letto comodo .. Il mio posto è buono per le coppie, avventurieri, viaggiatori d'affari da solista.
Lo spazio La camera è molto luminosa con molta luce naturale con finestre dal pavimento al soffitto. Attraverso le finestre dell'appartamento, si può vedere una vista spettacolare stadio di Wembley. Si trova proprio accanto al palazzo Arena di Wembley. * Ottima Trasporti link - 2 minuti a piedi fino alla stazione di Wembley Stadium (ferroviario, treno diretto a Marylebone (10 minuti), Baker street) - 6 minuti a piedi dalla stazione parco Wembley (Metropolitan Line / Jubilee Line della metropolitana) - 15 minuti a piedi dalla stazione centrale di Wembley (/ London Overground Bakerloo line - La fermata dell'autobus si trova proprio accanto / di fronte all'ingresso principale di appartamento * 1 minuti a piedi a Londra Designer Outlet (GAP, Superdry, Nike Factory, Adidas, carrozzeria, ecc) * Tesco, Islanda, Asda, Lidl supermercato tutti a piedi Mio marito ed io vivo qui e saremo lieti di aiutarvi istruzioni turistiche; Londra visite turistiche, ristoranti, shopping, ecc
Maulika's room is quite near to the SSE, and it only takes 2 minutes to go to SSE, and house owner is quite warm hearted ~
Wenjing
2017-03-19T00:00:00Z
The location is perfect for the one who comes for concert in SSE Arena or Wembley Stadium and wishes to stay for a night near these places. The host is very friendly to us and will try her best to fulfill your request if you want to ask for anything.
Imelda
2017-03-18T00:00:00Z
The host canceled this reservation the day before arrival. This is an automated posting.
sofiane
2017-03-24T00:00:00Z
Muy correcto
José Manuel
2017-01-29T00:00:00Z
If you have meetings at Wembley Stadium or event and you need a room let me highly recommend this home. It was immaculate; closer to the stadium, busses and trans than any of the local hotels. This was my first time using Airbnb and based upon the hosts I will definitely do this again. I did not feel like I was sharing an apartment I felt like I was sharing a friendship. I could not ask for a better first stay.
daniel
2017-04-01T00:00:00Z
Maulika and her husband are nice. But we can hear everything what's happening in the other room.
Pauline
2017-02-05T00:00:00Z
Amazing place local to wembley stadium. Friendly and nice size room.
Aleysha
2017-02-18T00:00:00Z
The location is perfect if you come to visit The Wembley Arena!
Ama
2017-03-08T00:00:00Z
Romtype
Privat rom
---
Eiendomstype
Leilighet
---
Plass til
2
---
Soverom
Wembley, England, Storbritannia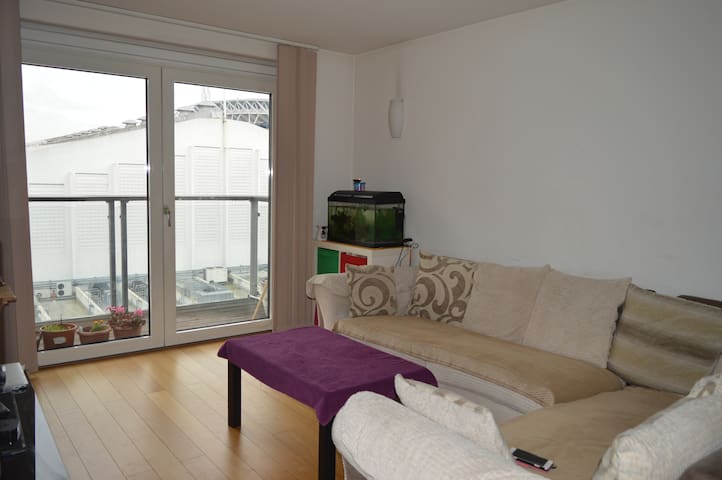 El meu lloc és a prop de Wembley Park i l'estació de metro de Wembley Central, Estadi de Wembley de superfície, de Wembley Park / Arena, Font Studios, així com diversos restaurants i bars. . Et encantarà el meu lloc per la cura i l'atenció al detall en el disseny, la comoditat, la ubicació i el jardí. El meu lloc és bo per a parelles, aventurers en solitari, i viatgers de negocis.
Sophie is very nice. Good location. The only problem is, here is a sofa bed rather than a typical bed.
Sara
2017-03-18T00:00:00Z
My sister and I stayed here for a few nights and had a wonderful time. Even though our flight came in super late, Sarah stayed up late to welcome us. She even made us eggs and salmon when we arrived because I had mentioned I was hungry. Above and beyond!! The neighborhood is quiet and peaceful but a 5 minute walk to transport, bars, restaurants, a nice shopping mall and obviously the Wembley Stadium. It is a pretty far metro ride to the center(about 40mins-1hr) so plan accordingly. The place is quite nice, cozy. The couch/futon is pretty large and comfortable. Kitchen is easy to use and the garden outside is a peaceful place to have your morning coffee. TV works great, shower is easy to use, bathroom is clean. There was fruit, yogurt, milk and insta-coffee already there which was really nice. Kitchen is easy to use, and grocery store within walking distance. I wouldn't try to cook a several course meal here but for simple meals it's perfect. Honestly between the price, quality, location and kindness of the host this place is at the top of the best AirBnbs I've stayed in. Would absolutely stay here again. Thank you so much, had a wonderful stay :)
Alex
2017-04-06T00:00:00Z
The perfect location for a visit to Wembley Stadium.
Chris
2016-11-12T00:00:00Z
Great place! We really loved our stay, was the perfect spot so close to the stadium, plenty of places to eat, walking distance of everywhere. The flat was cosy and comfortable. Very clean and we'd come back when in the area!
Emma
2016-12-01T00:00:00Z
Great location if your staying at wembely , easy to communicate and fast response no issues! Driveway parking excellent , small place but warm and perfect for a couple of nights ! Thank you
Taliia
2017-01-01T00:00:00Z
Accommodation was perfect for me (older guy travelling on own). Excellent host and great for location for Wembley stadium.
Graham
2017-02-27T00:00:00Z
Great location, clean, well equipped and comfortable.
Gemma
2017-04-09T00:00:00Z
Warm cosy, clean garage conversion with lovely hosts and in a fantastic walkable location for Wembley Arena/Stadium in a quiet residential road with off road parking. Although small it has everything you need and the bonus is being private to the hosts living area.
Caroline
2017-03-08T00:00:00Z
Romtype
Helt hjem/leilighet
---
Eiendomstype
Leilighet
---
Plass til
2
---
Soverom
Wembley, England, Storbritannia
habitación doble de buen tamaño en el apartamento de nueva construcción. Frente al patio así que no hay ruido de tráfico. Justo al lado de la salida del diseñador de Londres. estadio de Wembley un par de minutos a pie.
La habitación es de buen tamaño doble con una cómoda cama y un amplio espacio en el armario para colgar la ropa. También proporcionamos toallas y ropa de cama para hacer su estancia más cómoda.
Está muy bien situado a sólo un par de minutos a pie del estadio de Wembley, y justo al lado diseñador londinense Outlet- usted tendrá tiendas, bares, restaurantes y un cine justo en su puerta. Por no hablar de un pequeño Tesco justo al lado para agarrar sus elementos esenciales para el desayuno!
One of my best stays so far. Dermot and Sid were lovely and warm, and the flat is beautiful. I spent a fantastic evening with them. The location was ideal for me-the building also has a super market and shops (Designer outlet) right around. I feel like I am leaving with having made new friends and I would definitely stay at the flat again. I would recommend Derm's place to my friends or anyone visiting London
Raj
2017-02-06T00:00:00Z
Had a great stay with Dermot and Sid, They were great hosts. Really felt welcomed and comfortable. Fantastic company yet gave me the space I needed. The apartment was clean and fresh and very well presented. I was able to use the kitchen whenever I liked And chill on the balcony in the evenings. Sleeping area was so cosy, my bed was comfortable and I had plenty of space for all my stuff. 10 mins walk to the tube station which was so easy to find. Ideal for trips to Wembley stadium and shops. Although I was on a course at the Northwick Park hospital (only 2 stops away on the tube). Would highly recommend this place. Very good value for what you get. Thanks for having me guys, I will definitely be returning :).
Laura
2017-03-29T00:00:00Z
Dermot & Sid were great hosts ! The flat and the bedroom are very comfortable and we liked the lovely decoration ~ Good location : go meet them!:)
gregory
2017-03-05T00:00:00Z
The home is really lovely, fantastic, safe and clean. Highly recommend! Also it was convenient for us to go anywhere. Dermot & Sid are very patient and willing to help us with any questions, super warm! :)
Yuki
2017-03-19T00:00:00Z
Best stay ever! Highly recommend it to all! Dermot & Sid's is such a warm, tidy, clean and fashionable place. Dermot is super nice and easygoing, he is always willing to offer help to us. Location is fantastic as well, very close to the underground station, shopping center and Wembley Arena.
Beck
2017-03-18T00:00:00Z
Romtype
Privat rom
---
Eiendomstype
Leilighet
---
Plass til
2
---
Soverom
Wembley, England, Storbritannia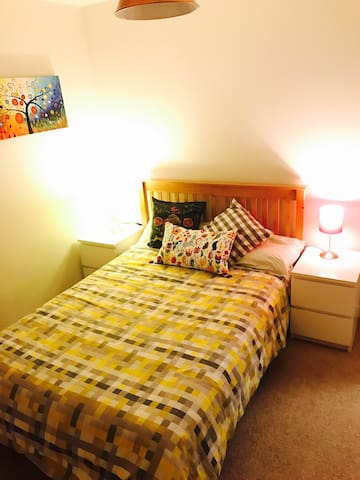 Contemporary and spacious 1-bed flat with open kitchen in a stunning new building with private garden right next to Wembley Stadium and London Designer Outlet. Flat is only a 5-min walk to Wembley Park underground station and a 20-min ride to Central London. The flat is fully equipped, nicely decorated with a large sofa and 43'' Smart TV. The bedroom features a king-size bed and drawers. There's a car park ideally located next to the building offering 24-hour tickets at reasonable costs.
It's very good. The house-owner is excellent.
xin
2017-03-18T00:00:00Z
非常好的房东,房间特别棒,距离London design outlet 和sse 一分钟路程。
cha
2017-03-19T00:00:00Z
Alexandre was a great host for us. Responded very quickly to messages, was on the spot precisely at the agreed time, offered help with directions (although we did not need them), and did not disturb our privacy once the keys were collected. The apartment was clean, spacious and modern, exactly as described. Apartment is equipped with a quality kitchen with everything one could want if preparing a proper meal, including a microwave oven and a regular oven. Large bathroom and a separate bedroom with a comfortable bed. The location couldn't be better if visiting Wembley Arena or Stadium. We enjoyed our stay very much.
Gusts
2017-03-05T00:00:00Z
We enjoyed our stay at Alexandre's place. It was conveniently located and easy to get into central London. Alexandre was a great host, he communicated well and even came to meet us when we parked up. Once we were shown around, we were left to get on and enjoy our trip. I would recommend staying here!
Asghar
2017-04-02T00:00:00Z
Romtype
Helt hjem/leilighet
---
Eiendomstype
Leilighet
---
Plass til
2
---
Soverom
Greater London, England, Storbritannia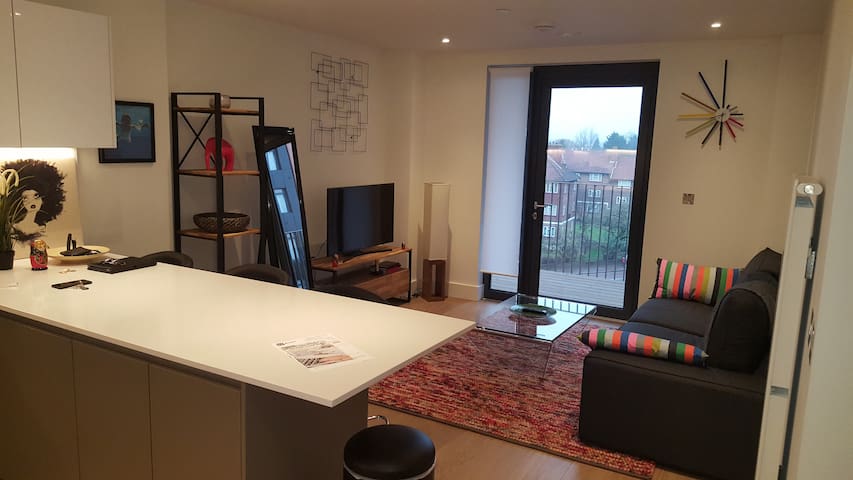 Sehr komfortabel und geräumig. Nizza Platz vor dem Fernseher zu entspannen
close to wembley
思渊
2017-03-19T00:00:00Z
Claudiu is a great host! He was very accessible and extremely helpful in terms of providing tips to navigate. Super close to the Wembley stadium which was awesome. Only thing is that if someone is staying in the back room they have to go through your room to get there. But other than that it was a good stay!
Melissa
2016-11-01T00:00:00Z
Claudiu is a really hospitable person. He made sure I settled in well and was very understanding for the late check-in and early check-out. The sofa bed was really comfortable despite being in a central location in the apartment :) The apartment is very close to public transport and is located in a calm/safe neighborhood.
Alexis
2017-03-16T00:00:00Z
Lovely house!
CHENG
2017-03-18T00:00:00Z
The area wasn't too good but the host was friendly and we were left to get on with our stuff didn't have own room bed sit in the living room so felt a bit vulnerable, place was clean, I think a room needs to be separate not where people can walk through.
Jill
2016-09-12T00:00:00Z
Late Arrival (after a flight delay) after midnight was no problem. Joanna welcomed us friendly and even supported us with a socket adapter and WiFi connection. Direct neighbourhood looks not to friendly but on the other hand Wembley stadium, super markets, fast food, bars, restaurants and tube station are only 5 min. away
Jochen
2016-06-26T00:00:00Z
Accueil impeccable. Claudiu s'est montré fort chaleureux. Je recommande vivement cet hébergement, d'autant qu'il est à deux pas de Wembley.
Bruno
2016-04-05T00:00:00Z
Claudu was very easy to communicate with, no problem setting up the key pick-up time or any other inconveniences. His place is 10 minutes away from Wembley which was amazing for us as we went to a gig. The place is extremely clean and the hosts provide clean towels. They were very accommodating. Highly recommended place! Thank you Claudu!
Beatričė
2016-06-21T00:00:00Z
Romtype
Delt rom
---
Eiendomstype
Leilighet
---
Plass til
2
---
Soverom
Wembley, Middlesex, Storbritannia
Imperial Court - Empire Way is een premium plek in het hart van Wembley. Niet meer dan 5 minuten loopafstand van het iconische Wembley Stadium en SSE Arena (voormalige Wembley Arena) en 3 minuten lopen naar de LDO - Londen Desing Outlet waar u meer dan 20 restaurants, meer dan 30 branded winkels, een bioscoop, vele bars en cafes.
Mijn vrouw en ik zijn een volwassen echtpaar dat in een 2 slaapkamer apartament. We leven in een slaapkamer met ensuite. Dus de badkamer is te worden gebruikt door alleen onze gasten (niet gedeeld). De gasten worden verwelkomd naar de woonkamer en keuken te gebruiken
De wijk is levend en levendig
Romtype
Privat rom
---
Eiendomstype
Leilighet
---
Plass til
2
---
Soverom
Wembley, England, Storbritannia
这是一盏灯,时尚,现代的坐落在温布利公园,从上证所体育场,温布利大球场和伦敦的专卖店距离酒店不远的心脏公寓。 该公寓也非常适合希望游览伦敦的中心,同时与银禧和大都会地铁线步行几分钟的 - 带你直接到贝克街,邦德街和威斯敏斯特,以及城市的主要车站(尤斯顿滑铁卢& 国王十字)。 伟大的游客来说,演唱会观众与业务
对于那些在商务旅行,温布利公园也位于靠近许多伦敦西北部的商务园区和中心,使其成为理想的商务旅客。 停车场可在该地区众多的安全停车场(3000位),在一个非常合理的价格,只有1到5分钟的步行路程。 无论是温布利大球场,SSE竞技场和伦敦的专卖店是2至5分钟内象限法院走。 该公寓位于一楼,面对内庭院,所以没有从繁忙的街道噪音。您可以在阳台上,它具有温布利大球场的弧形小窥放松。 有许多餐馆,咖啡馆,电影院和酒吧,位于内象限法院的2~5分钟的步行路程,使这个地方非常适合那些谁不想留在煮。 对于那些谁愿意留在中,只有外的乐购超市和一个设施齐全,开放式厨房和用餐,可以通往休息区。厨房里有煮了宴,其包括燃烧器4电炉,烤箱,微波炉和所有必要的用具,平底锅,餐具和刀具所需的一切。 还有一台洗碗机,这样你就可以把你的脚了一顿后,看着大屏幕高清电视,其中有来自Netflix获得70个Freeview频道以及电影,boxsets和电视剧。 也有高速宽带和WiFi设置,这意味着你可以流视频,玩游戏或空间或室外庭院内的任何地方你的笔记本电脑/设备浏览。 该公寓最多可容纳3人,卧室可以布置成具有适合情侣或单身双子一张特大号床(让我们提前知道你是怎么想我们安排的话)。有在休息室为第三人的沙发床。 提供所有的床单和毛巾,每一个新的客人到达前的公寓清洁。对于那些逗留时间(1周以上),公寓的清洁和床单每周变化。 我们相信,您将享受您的逗留,我们欢迎您到伦敦。
如上所述,所有的区域的主要景点内的公寓的2至5步行分钟。 除了顶级体育赛事,还有整个月的传说中的温布利大球场之旅。 上证所竞技场音乐会,喜剧和娱乐,以及展览顶场地。 伦敦专卖店包括一些顶级的高街品牌的设计师在出口价格。名称如: 阿迪达斯,布乔恩·博,长凳,博士貂的,Fiorelli,库尔特·吉格,GUESS,哈姆雷,李维斯,M&S,耐克,八期,Superdry的名字,但一些。 也有很多地方吃在当地。餐厅与咖啡馆,如: 小屋,连锁店Caffe Nero哥斯达黎加咖啡,星巴克,汉堡手工制作公司,吉米的世界厨房,拉斯维加斯绿鬣蜥,南多的,乒乓,比萨快递,任性的和来自Zizzi只是少数在该地区的选择。
Romtype
Helt hjem/leilighet
---
Eiendomstype
Leilighet
---
Plass til
3
---
Soverom
Wembley, England, Storbritannia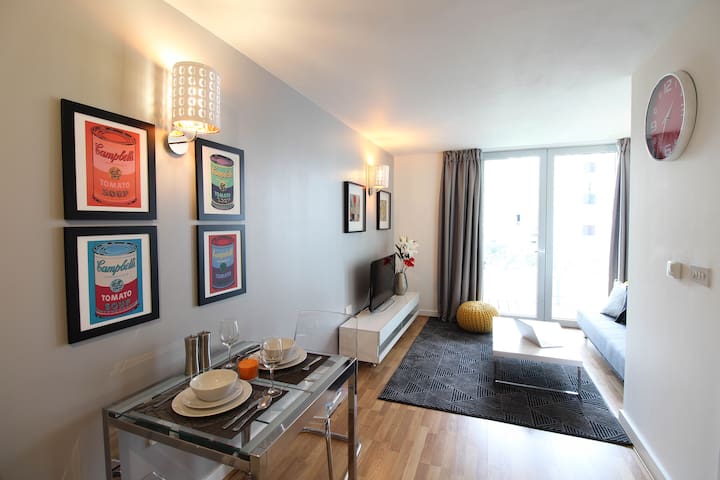 Belle chambre dans un quartier sûr Peut-être fournir voiture avec chauffeur pour se déplacer à Londres. Port Ari ramasser et déposer également disponibles sur demande.
C'est loft salle de conférence très grande et confortable. Beaucoup de brillance de l'air et le soleil. Vue d'ensemble de Nice. Autour de Wembley et le centre de Londres. Vous aurez table, 2 chaises, placards, armoires, fer, sèche-cheveux, serviettes, chauffe etc. Peut-être fournir des choses supplémentaires sur demande si vous réservez plus de 3 mois.
Les voisins accueillant et sécuritaire
Nalaka was a great host, accommodating of my check in needs and providing a great little room right next to Wembley stadium. Lovely room, with all your needs. Will definitely use again! Thank you!!
David
2016-11-27T00:00:00Z
La chambre était très confortable, très propre et accueillante avec de quoi se faire du thé (ou café), sèche cheveux, rangements, fer à repasser à disposition ainsi que le wifi. La chambre se situe à moins de 10minutes à pied de l'Arena. Nalaka et sa charmante femme ont été d'excellents hôtes souriants, très attentionnés et compréhensifs. Nous avons passé un très agréable séjour en Angleterre! Merci encore pour votre accueil!
Nadia
2016-12-04T00:00:00Z
The host canceled this reservation 4 days before arrival. This is an automated posting.
Ahmed
2016-11-15T00:00:00Z
Exactly as advertised, perfect for contract work. Very close to amenities, no problem with noise our disturbances. Hosts were very polite and were able to make arrangements for parking permits. Would certainly stay again.
Benjamin
2016-11-18T00:00:00Z
Very kind and accommodating hosts. The room itself is private and spacious, easily big enough for two or even three or more if a pump up bed is brought or provided. Great location possible for those visiting the SSE or Wembley stadium! Great value and would definitely recommend :)
James
2016-12-02T00:00:00Z
Lovely clean room in a great location for Wembley stadium, London designer outlet and Wembley arena.
Gareth
2016-11-16T00:00:00Z
Very nice room! About 10minutes walk to Wembley Stadium. Highly recommend!
Yanan
2016-11-19T00:00:00Z
Romtype
Privat rom
---
Eiendomstype
Leilighet
---
Plass til
2
---
Soverom
Wembley, England, Storbritannia
Salut, Merci pour vérifier ma liste. Cet appartement est une nouvelle construction à un jet de pierre de la station de métro Wembley Park, qui est desservi par les lignes Metropolitan et Jubilee. Très proche des commerces, restaurants et magasins de l'aréna le SSE et le stade.
Anindya was very responsive. The apartment is amazing in good loacation! Fantastic choice for holiday!
Ceci
2016-12-27T00:00:00Z
Place was very nice. The host was great.
Aby
2016-01-19T00:00:00Z
Minutes away from the Wembley designer outlet which is great for food & shopping, the apartment is situated in an amazing location just moments away from Wembley Park station. The place has been decorated well with modern interiors. Very cosy apartment in nice quiet neighbourhood . Overall I had a lovely stay & will certainly consider staying again.
Senafikish
2016-12-23T00:00:00Z
Anindya met us at the door and pointed out local transport and places of interest nearby when we arrived. He showed us around the apartment and made us feel very welcomed. The apartment is nicely furnished and has a relaxing atmosphere. The Wembley stadium and Arena are only 7 minutes walk away, there are plenty of places to eat and drink close by, we particularly liked the London designer outlet which was a 7 minutes walk from the apartment close to the Wembley stadium . The apartment is well equipped if you decide to cook your own meals but we decided that we would eat out and enjoy the locality. Anindya is a very good host, very friendly and always available to help and he made sure my parent were comfortable when they were staying there. I would definitely recommend and book again
nasmin
2016-12-19T00:00:00Z
Excellent decor and the multitude of amenities made for a very comfortable stay, especially plenty of natural light. Neighborhood is excellent and the location could not be better: Wembley Park train station is less than a block, plenty of shops, supermarkets, restaurants. Wembley stadium is a short walking distance. Really enjoyed the stay ---Thank You!
S
2016-09-22T00:00:00Z
Very swift and friendly communication. Flat was as advertised and both host and housekeeper were always willing to help. Would very much recommend.
Ahmed
2017-01-01T00:00:00Z
The host canceled this reservation 143 days before arrival. This is an automated posting.
Jaco
2015-12-07T00:00:00Z
I thought this place was a very nice and clean flat and was very close to the train station. Very good neighbourhood and quiet. The owner was very pleasant and very easy to get a hold of if anything need be. His assistant was amazing and very pleasant as well. All in all very good experience and definitely would stay again!!!
Michelle
2016-10-14T00:00:00Z
Romtype
Helt hjem/leilighet
---
Eiendomstype
Leilighet
---
Plass til
4
---
Soverom
Wembley, Storbritannia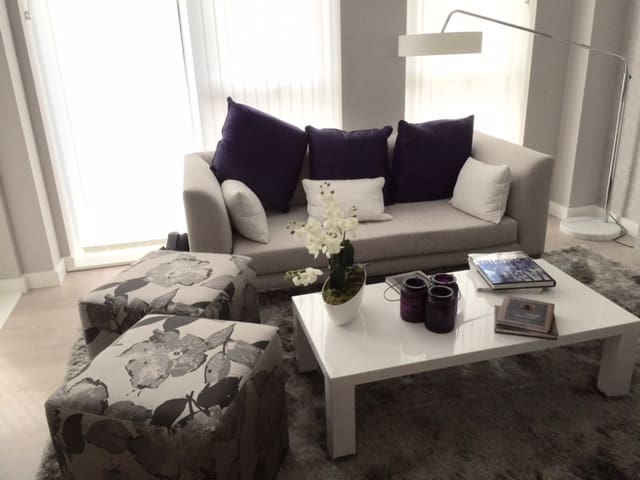 Nær Wembley Stadium og Wembley Arena, London Designer Outlet med rikelig underholdning og servering, Wembley Park tunnelbanestasjon, ASDA og LIDL og Tesco for dagligvarer og medisiner, små spisesteder og dagligvareforretninger. Det er også en 24 timers MacDonalds 5 minutters gange unna. Hvis du skal delta på en konsert eller en annen hendelse i "OL kompleks", er det en 10 minutters gange til Wembley Stadium. I motsetning til de fleste leiligheter leies i Wembley Stadium området, er vår off-street privat parkering en stor bonus.
Vår flat er koselig, fint innredet, veldig behagelig for 2-4 personer. Vi har forsøkt å pynte med mange forskjellige stemningsbelysning og holdt den lille plassen så store som mulig. Leiligheten er utstyrt med en projektor i hvert rom (stue, hvert soverom) som er kontrollerbar via telefonen, og kan gi Chrome eller Microsoft trådløs tilkobling via høyhastighets trådløst internett installert i leiligheten. Kjøkkenet har en vaskemaskin og tørketrommel installert. Tørketrommelen er en ductless maskin og vannet samler seg i bunnen igjen, og er designet for å tømmes manuelt etter hver tørkesyklus for å sørge for at det ikke renne over og forårsake en dam på gulvet. Det er en oppvaskmaskin, en liten fryser og lite kjøleskap. Kjøkkenet har elektrisk komfyr og stekeovn. Det er nok kjøkken utstyr tilgjengelig for å tilfredsstille de fleste matlaging behov. Alt vi ber om er at du behandler alt med omsorg og rydde opp grundig for å få glede av de som følger deg. Vi vil legge til rette for alle sengetøy endres for hver gjest ved slutten av oppholdet eller minst en gang i uken for de som bor lenger, og ekstra senger er tilgjengelig i leiligheten i tilfelle en ulykke. Det er søppel og resirkulering nede til venstre for den låste inngangsdøren til bygningen. Vi tilbyr også sjampo, såpe, toalettpapir, badehåndklær og håndklær.
Romtype
Helt hjem/leilighet
---
Eiendomstype
Leilighet
---
Plass til
4
---
Soverom
Wembley, England, Storbritannia
Questa è una bellissima nuova posizione eccellente piatto costruito al centro di Londra 3 minuti a piedi dalla stazione della metropolitana di Wembley Park, 7 minuti da stadio Tubo: 12 minuti da Baker Street, a 20 minuti da Oxford Street 1. Dedicato ampio bagno appena fuori dalla stanza (solo per essere utilizzato dagli ospiti) 2. Ampio balcone 3. parete - parete finestra Riscaldamento a pavimento 4. 5. Grande armadio con i cassetti vicini molli e uno specchio a figura intera Parcheggio: £ 5 al giorno in NCP parco della porta accanto o di punizione sulla strada (se trovate spazio 19:00-08:00)
> E 'una bella nuova costruzione piana e la sensazione di soggiornare in un nuovo appartamento è unico. La camera ha un grande armadio dimensioni con uno specchio a figura intera e riscaldamento a pavimento. > L'accesso al balcone dalla camera da letto dà una nuova dimensione del tutto. > Il bel bagno (unica per l'ospite) ha piastrelle da parete a parete e una grande vasca da bagno,
Si tratta di una zona molto tranquilla e sicura, molto ben collegato al centro di Londra. Le sue 12 minuti di distanza da Baker Street. La zona ha molti vivaci negozi, centro commerciale e raccordi per tubi. Stadio di Wembley si trova proprio accanto.
Romtype
Privat rom
---
Eiendomstype
Leilighet
---
Plass til
2
---
Soverom
Wembley, England, Storbritannia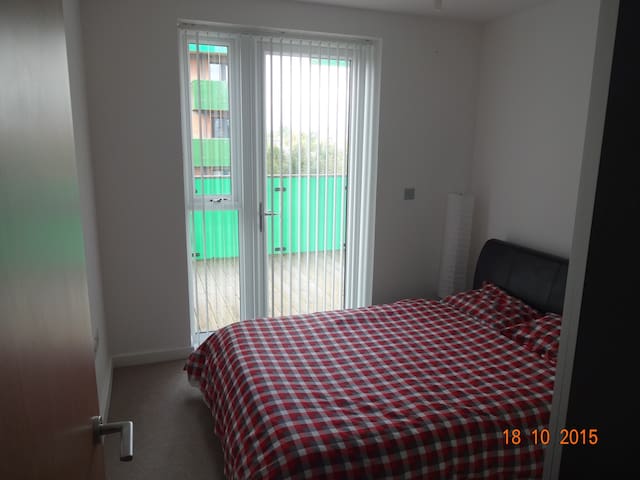 Belle suite avec kitchenette et balcon avec une vue superbe du stade de Wembley. 5 min à pied de la station Wembley Park et à 15 minutes de marche du stade de Wembley
La Suite est meublé et fourni avec: Cuisinière et four, Four micro-onde, Bouilloire, Grille-pain, Réfrigérateur, Laveuse / sécheuse, Couverts, assiettes, coupes, Des lunettes. Petit déjeuner gratuit Céréales, lait (au réfrigérateur), Thé, café, sucre et sel et poivre. Salle de bains privée avec: douche, WC et lavabo. articles de toilette gratuits: gel douche, lavage à la main et de shampooing. Serviettes et draps de lit. Sèche-cheveux. Fer et planche à repasser. couverture supplémentaire (disponible dans la garde-robe). TV avec Now TV Films. Lampe de chevet. Voyage adaptateur européen.
Vous êtes au cœur de Wembley Park, juste en face de la route il y a un supermarché ASDA également à proximité que vous avez de nombreux restaurants et bars. 5 min à pied de la station de métro Wembley Park. Se déplacer: 10mins à Londres Marylebone Station ferroviaire, 15mins à la station de métro Baker Street en métro.
Romtype
Privat rom
---
Eiendomstype
Leilighet
---
Plass til
2
---
Soverom
Wembley, England, Storbritannia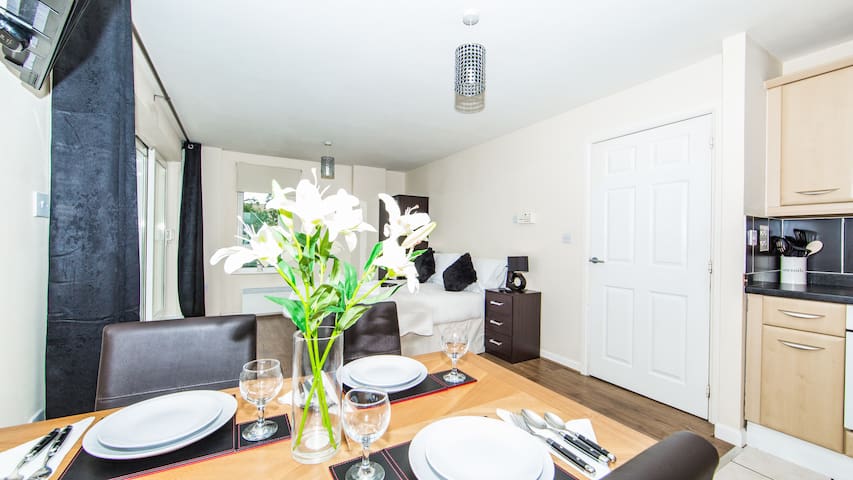 Ganz in der Nähe Wembley Park Station U-Bahnstation (ca. 7 Minuten zu Fuss). Zu Fuß zur Wembley Stadion und die Wembley Arena (ca. 0,9 Meilen, 15-20 Minuten zu Fuß).
Ein schönes und modernes Apartment mit einem Wohnzimmer und einem offenen Küche, Doppelzimmer und Badezimmer mit Dusche und Badewanne.
Mit Blick auf Chalkhill Park
Vani is an attentive and helpful host.The communication was perfect from the beginning. The place is absolutely wonderful and clean. I recommend it anyone who want a visit in Wembley.
Martina
2017-03-19T00:00:00Z
Plenty of room and the kitchen is wonderful if you plan on making your own food. Overall very nice.
Christian
2017-04-02T00:00:00Z
My colleague Alex stayed at Vani's apartment and enjoyed his trip. Vani is friendly, attentive and communicative - stay here if the apartment interests you!
David
2017-03-12T00:00:00Z
Very friendly and had a lovely stay
Salama
2017-03-05T00:00:00Z
Vani's property was fantastic! Me and my girlfriend had a great experience and is definitely ideal for couples. The location is perfect with a view of Wembley stadium too (less than 10min walk from Wembley Park). It's also right next to a huge Asda which is very convenient. A guestbook was also present too which I thought was very handy. Unfortunately, I didn't get to meet Vani although I met her boyfriend and he was friendly and helpful too. Overall, id highly recommend Vani's flat. I'd definitely like to stay again in the near future!
Hakim
2017-02-25T00:00:00Z
Romtype
Helt hjem/leilighet
---
Eiendomstype
Leilighet
---
Plass til
2
---
Soverom
Wembley, England, Storbritannia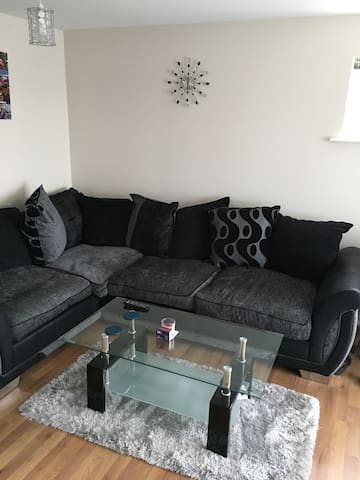 Double room available in stunning flat with private bathroom in new build flat located only 5 minutes walk from Wembley Park tube station. Great for concerts at the nearby Wembley Stadium which is only a ten minute walk away.
Romtype
Privat rom
---
Eiendomstype
Leilighet
---
Plass til
1
---
Soverom
Greater London, England, Storbritannia
Mein Platz ist gut für Paare, Solo-Abenteurer, Geschäftsreisende und Familien (mit Kindern).
Romtype
Helt hjem/leilighet
---
Eiendomstype
Leilighet
---
Plass til
4
---
Soverom
Wembley, England, Storbritannia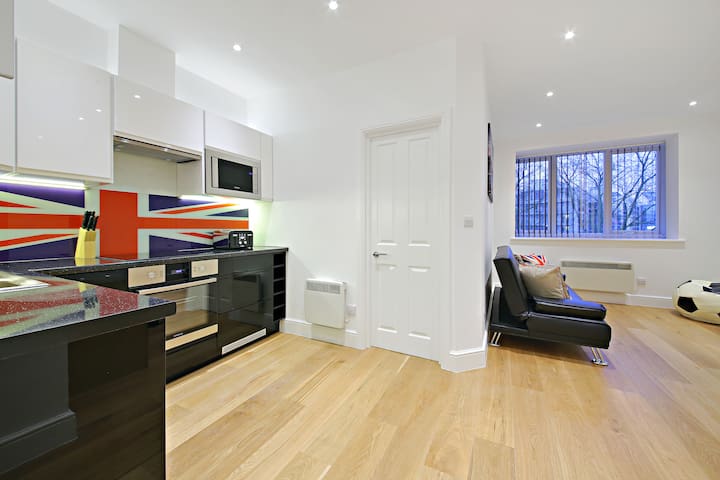 1

–

18

av

47 Leiligheter til leie
Oppgi datoer for å se fullstendige priser. Ekstra gebyrer gjelder. Skatter vil kunne tilføyes.