My place is close to public transport. You'll love my place because of the coziness. My place is good for couples.
Romtype
Helt hjem/leilighet
---
Eiendomstype
Leilighet
---
Plass til
2
---
Soverom
Wassaic, New York, USA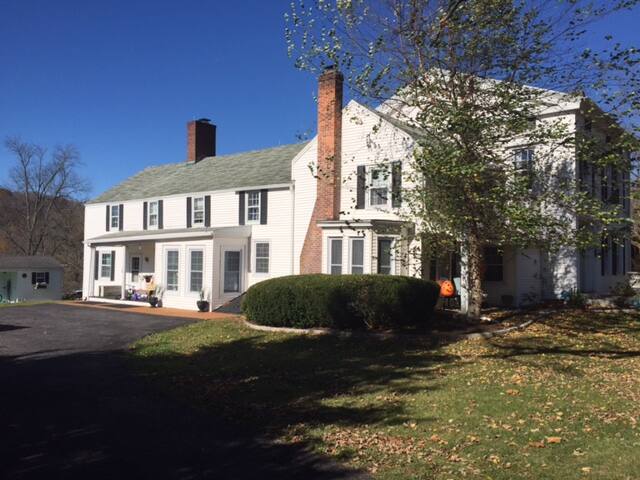 Stay on a working "ultraganic" farm accessible by public transit from NYC. The private main floor of our solar powered house has a warm wood stove and lots of rustic amenities. Leave the city without a car and come unplug.
We offer a country retreat fully accessible by commuter train without a car. We can provide a basic rental or we can provide cooking, teaching, etc a la carte. GHF is a very special place that is creating a model in sustainable living. We grow amazing vegetables and run entirely on solar energy. The living space is adjacent to our ground floor farmers unit with attached greenhouse. We host yoga, meditation, and educational events and the land is charged with this work. Please visit the Growing Heart Farm website or (SENSITIVE CONTENTS HIDDEN) page to get a better feel for our farm.
We are secluded from main roads while still within walking and biking distance of a train station and small convenience stores. Our land is perched on a knoll overlooking a bird sanctuary and has views of mountains to the east and the west.
The property and house were beautiful and exactly what we were looking for. It felt like home immediately and was extremely comfortable. Kitchen was perfect for our group of 12 and we'll stocked with everything we needed. The trails around the property we beatuiful, we named the chickens after powerful famous women (Cher was the friendliest) and the tree house was perfect for star gazing. Can't wait to go back!
Brita
2016-08-29T00:00:00Z
They made us feel very welcome. Things were very clean and cozy and everyone truly enjoyed themselves. We wished we could've stayed longer! They were very flexible with our check in time as well which was a plus! Thanks again!
Mia
2015-03-20T00:00:00Z
Lewis, Jani and Edwardo were AMAZING! We didn't plan for it, but were so happy that the farmers there able to take us to and from the train station. They also helped us buy groceries and were around for all of our questions and needs. The house was PERFECT. So charming, but spacious, clean and fun. Had a fully stocked kitchen for us to make dinner for 18 people and board games for us to play with. The place was incredibly clean and so secluded. On the one nice night, we were able to make a fire and they supplied us with the wood. I can't say enough nice things, really. It was exactly what we were looking for: an affordable, easy to get to yoga retreat weekend in nature. I'll absolutely be back! Thank you again for having us!!!
Lauren
2017-04-02T00:00:00Z
The space was light-filled, clean, and very well stocked. We were very very pleased as a group with the accurate attention to detail and linens available for all persons as well as the amply spiced kitchen! We loved the vibe and the space -- it was perfect for our community retreat of 15 people. :)
Ashley
2016-03-06T00:00:00Z
I stayed at the house with a group of students. We were greeted by friendly folks and enjoyed the surrounding area quite a bit. We loved exploring the treehouse and the farm!
Josie
2015-05-28T00:00:00Z
Beautiful, healing, bristling with energy! The mountains, the tree house, the bonfire pit, the tree swing, and so much more. We were thrilled to spend a weekend here.
Daniel
2017-02-05T00:00:00Z
Romtype
Helt hjem/leilighet
---
Eiendomstype
Leilighet
---
Plass til
12
---
Soverom
Pawling, New York, USA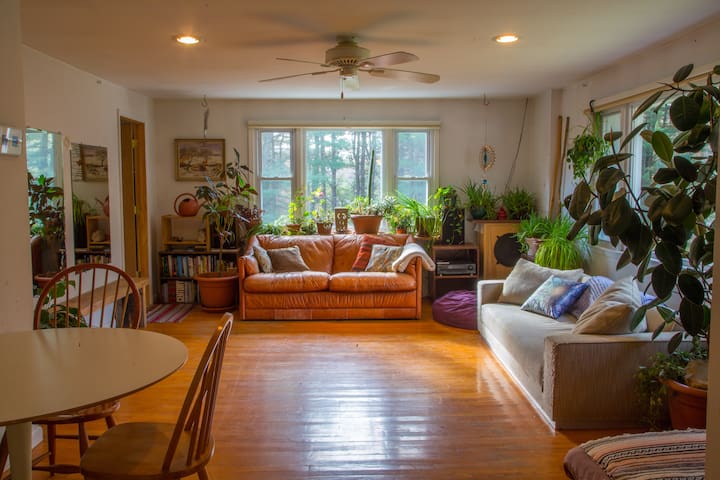 Beautiful river view! This all new spacious basement apartment, private entrance, queen in BR, and futon and couch in large living room will provided a unbelievable relaxing atmosphere. Full kitchen and large private deck with grill. Hiking from back door or Appalachian Trail head 1/4 mile walk. Go dipping in the river, Or just relax on the river front deck. Will be available mid May . Complete set of pictures soon. You'll love it!! And I bet you'll come back!
sleeps 4 ,or 5 if you'd like an additional air mattress. Nice and roomy with high ceilings. Huge private deck to yourself for relaxing river front, doing yoga, or reading a book. NOTE: there is no wifi access here.
The famous covered Bulls Bridge is 1/4 mile around the corner. AT trail heads at the bridge and hiking trails from our back yard. 4 miles down the road is the quaint town of Kent with many unique shops and restaurants.
Romtype
Helt hjem/leilighet
---
Eiendomstype
Leilighet
---
Plass til
4
---
Soverom
Kent, Connecticut, USA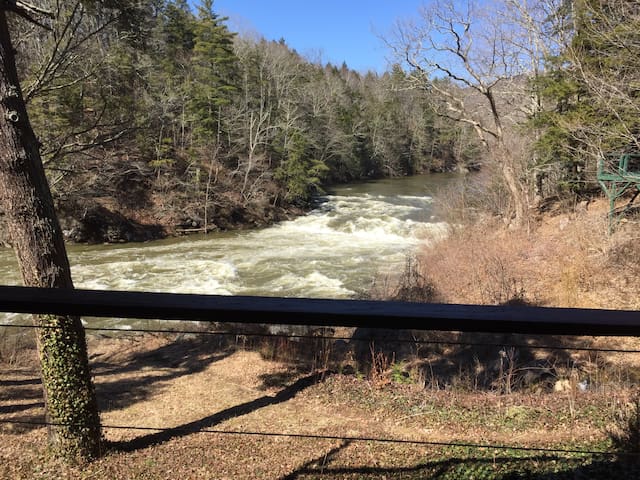 The Artists' Apartment is a relaxing home away from home for guest actors and musicians when appearing on stage at the Ancram Opera House, a rural performance hall in Columbia County. When not in use, we offer the apartment to travelers to enjoy the area and artists seeking retreat space to create, rehearse or meet with collaborators.
The garden level apartment is a quiet, private and comfortable space for 2-4 people. There are two small bedrooms--one with a double bed and another with a queen. The wood-burning fireplace is ideal for a chilly evening and the gazebo makes for a great spot for reading, hanging out or enjoying a drink. Take your morning coffee or use the charcoal grill on the patio. Located in southeast Columbia County, NY, the apartment is surrounded by some of the most beautiful countryside in the Hudson Valley. Wonderful hiking, country drives, cycling just outside your door. Lovely swimming is also nearby. Hudson, Great Barrington, Hillsdale, Millerton—all between 15-30 minutes away—offer excellent dining, shopping, galleries. Performances at Bard and the Berkshires are also close-by. A few details to note—the open kitchen, living area and bath are all new, recently renovated; the bedrooms and den are charming but need a fresh coat of paint. The bedrooms were once used as music studios with exterior facing windows so there is plenty of light, however, between the rooms there are interior windows which are curtained for privacy. With additional arrangement, the Ancram Opera House's intimate performance hall, equipped with a baby grand piano, may be available for rehearsals, retreats, meetings, celebrations and parties.
A beautiful and spacious apartment in a beautiful setting. Met Jeff only briefly but he was a perfect host from beginning to end. The apartment is wonderfully decorated, none of the fussy B&B frilly style. My 2 yr old who hates taking baths refused to come out of the amazing shower room...a shocking miracle. Then she insisted on taking a bath with her cousin in the beautiful tub...another miracle! The children found the gazebo in the evening magical and the wide open hilly lawn with mounds of fallen leaves great fun. They didn't want the weekend to end. In the words of our 7 yr old, "It was a great weekend. Too bad we have to leave!"
Jane
2016-10-16T00:00:00Z
We absolutely loved Jeff's beautiful space. It is comfortable and convenient - the best of the Berkshires only a short drive away. Would stay again in a heartbeat.
Evan
2016-10-23T00:00:00Z
Pictures didn't do the place justice. Jeff/Paul were extremely welcoming and helpful. The place is well appointed with everything you'd need, and things you didn't even know you wanted, like locally made soap and a bevy of kitchen appliances (hello, waffle maker!) The only issue we ran into was that it is very hard to regulate the temperature in the bedrooms. Especially if you want to close the doors.
Cassidy and Kyle
2017-01-01T00:00:00Z
Our second time was just as great as the first. Clean, homey place with character. Jeff is a terrific host.
Seth
2017-02-20T00:00:00Z
Jeff was very communicative and hospitable. They place was exactly as advertised and a great location and value. We'd love to come again.
Seth
2016-10-10T00:00:00Z
I enjoyed meeting Jeff and Paul, and talking about the performing arts in NYC and the Hudson Valley. They are doing a wonderful job of bringing theater to a bucolic haven: Ancram. The apartment was very spacious and very clean. The kitchen was better equipped than my home kitchen. They thoughtfully left milk, cereal, and coffee to get me started. The furnishings are eclectic and fun and comfortable. The gazebo and hammock were definite pluses. Jeff communicated immediately with me. I plan to return.
Joanna
2016-08-25T00:00:00Z
Amazing stay at an amazing place! Especially loved the bathtub! Would come again for sure! Thanks Jeff!
Frankie
2016-09-18T00:00:00Z
Paul was a great host (Jeff was out of town at the time). Everything was communicated clearly ahead of time, and even though we moved around our arrival time a little they were very accommodating. A unique feature of this place is that the apartment/house that's for rent is actually at the lower level of a little Opera house in a small town (Ancram), which the couple have recently restored. With little back doors to lead up to the stage and wonderful furniture, art and books all around, our experience was fantastic!
Kiran
2016-07-05T00:00:00Z
Romtype
Helt hjem/leilighet
---
Eiendomstype
Leilighet
---
Plass til
4
---
Soverom
Ancram, New York, USA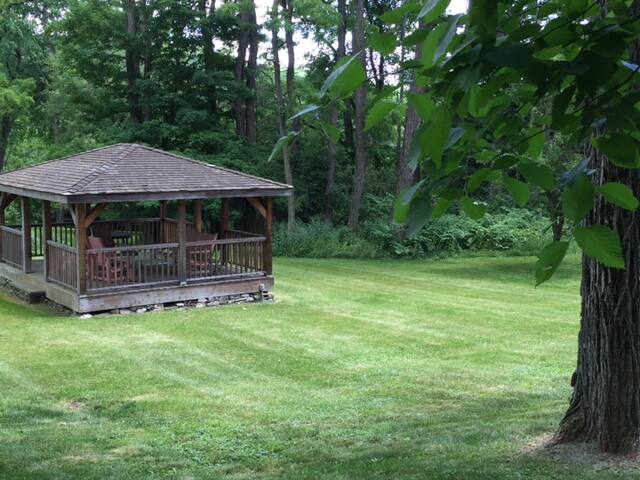 **We ask that you please read the entire listing before sending a request** Quiet, beautiful apartment located in Milan NY, just off the Taconic State Parkway. Enjoy a clean, private 2 bedroom apartment, 50 acres of wooded land and gorgeous views!
Airy, clean and beautiful 2 bedroom apartment in Milan NY. Perfect Hudson Valley escape, and conveniently located just 3 miles off the Red Hook/Rhinebeck Taconic State Parkway exit. The apartment has beautiful, brand new hardwood floors, 2 bedrooms that both have queen sized memory foam mattresses, a wood stove, a big, cozy L-shaped couch, and a well appointed full kitchen and bathroom. Things to know about the apartment: -Cell service is very limited, but we do provide a house phone to compensate. There is great wifi so if you have an iPhone, you can still easily send iMessages (to other iPhones, of course ;) -The Hudson Valley is very rural, and where we're located is right in front of 50 acres of woods. Please note that we always clean very thoroughly before our guests arrive, but bugs do still come into the apartment in the spring and summer despite our best efforts, because this is where they live! Typically what we see are some ladybugs, a few cob spiders and the occasional ant - it's nothing scary and never more than a couple here and there. -The apartment is completely pet free. However, we have a small, very sweet dog. If she sees you, she may want to interact with you because she's very friendly. If you have any issues with dogs, please let us know in advance so we can keep that in mind when you're visiting. -The apartment has oil heat. The wood stove is supplementary, and a feature of the apartment to be enjoyed in the winter.
Milan is an absolutely beautiful small town right off the Taconic State Parkway with gorgeous, rolling hills and amazing views. It's convenient to many fantastic parts of the Hudson Valley. This is a great place to stay if you're coming to the area for Bard College, Omega Institute, Olana, events at the Dutchess County Fairgrounds, to explore cultural activities such as the FDR Museum or any of the amazing historic mansions in the area, and much more! It's also a great place to stay if you're just coming to the area to relax and enjoy the Hudson Valley, without a specific agenda! -8 miles to the center of Red Hook -9 miles to the center of Rhinebeck -9 miles to the Dutchess County Fairgrounds -9 miles to Bard College Campus -13 miles to the center of Tivoli -24 miles to the center of Woodstock -25 miles to the center of Hudson Milan is a very small town, and does not have a grocery store. There is a gas station on the way to our house where you can get some basics, but the closest grocery stores and restaurants are in the town of Red Hook, which is about a 10 minute drive from our house. *If you decide to send a booking request, please include the phrase "no brown M&M's" in your message. That way we know you've read all the information provided in the listing! We look forward to hosting you!*
Katherine and Sebastian were amazing hosts. The apartment was perfect as described and it was the small touches that made the stay memorable... coffee beans and grinder, fresh juice, comfortable linens...etc. The place is conveniently located near Rhinebeck, on a beautiful road.... amazing to walk, run, or ride on. I would definetly stay again.
Jason
2015-12-10T00:00:00Z
My husband and I, along with two of our best friends, stayed at Katherine's apartment this weekend, and it was absolutely amazing! Katherine and her husband were two of the sweetest, most kind people you'll ever meet. The apartment itself is fantastic. The wood burning stove was a real treat when it got colder in the evening, and don't even get me started on how comfortable the beds were! Definitely stay here if you are in the area!
Kaylin
2015-10-13T00:00:00Z
Katherine and Sebastian were warm, welcoming, and super accommodating! They had some wonderful suggestions of what to do/ where to go in the area which we definitely took advantage of. We asked to check out a bit later than usual and they were very understanding. The apartment was clean, quiet, uncluttered, and so comfortable-- a perfect base from which to explore the Hudson Valley! The bed was incredibly comfortable (my girlfriend insisted on getting the name/make of the mattress!) Though the apartment is attached to the house, do not let that dissuade you. As someone who enjoys privacy and autonomy, I felt like I was in my own private cabin in the woods. The hosts are there for you should you need them and I never felt "abandoned". I appreciated the helpful guidebook they leave for guests. I have zero complaints-- this was one of the best AirBnB's I have stayed in. I will definitely be returning to stay with them!
Todd
2016-05-23T00:00:00Z
Katherine and her place were fantastic! Katherine was incredibly flexible with her schedule when picking up keys and dropping them off. The apartment was beautiful - clean, airy, and comfortable. Katherine and Sebastian were very welcoming, providing us with coffee and great suggestions of places to eat and pick your own locals. My only regrets were we didn't get to spend more time with them, and we weren't able to stay longer. Will definitely try and stay with them the next time we need to get out of the city.
Seth
2015-09-28T00:00:00Z
Thanks to Sebastian and Katherine for the wonderful house for our trip. They were very responsive and warmly greeted us upon our arrival. We really appreciate they accommodating us on a checking in at evening time. The house is beautiful, clean and cozy. We love the kitchen and the dining table. The bed and bedroom are so comfortable and we slept very well. The heather was working great also. We would strongly recommend their place!
Sandy
2016-01-02T00:00:00Z
One of the best Airbnbs I have ever stayed in. The apartment is immaculate and exactly as shown in the photos. Hard to know where to start when describing the incredible experience we had here! You have total privacy in the apartment, but Kate and Sebastian are available if you need anything at all. They are a very sweet couple and we enjoyed meeting them, plus their recommendations for activities and restaurants in the area are spot on! The house is situated on a gorgeous country road with a sweet lake in the backyard and plenty of space to walk through the woods. Consider this a rustic paradise with all the urbane comforts you may be accustomed to. Kate and Sebastian did all of the light fixtures themselves, and built much of the furniture. We felt so at home. A huge thanks also to Kate for setting up special birthday decorations for my boyfriend in the apartment before we arrived, which I had shipped to her in advance! We can't wait to come back.
Beth
2015-10-12T00:00:00Z
We had a great experience at the apartment. So tastefully decorated and very clean! Beautiful surroundings and lovely people. Already planning our next trip!
marjolein
2015-10-05T00:00:00Z
I came up to Red Hook on business and I decided to stay in an Air B&B instead of the chain hotels across the river. I was pleased to find a very clean apartment with a very comfortable bed and all the amenities I needed for an overnight stay. The property was beautiful and was very secluded while being easily accessible from the Taconic. Kate and Sebastian were great hosts and were very accommodating. I would highly recommend this location for anyone looking to stay in the Hudson Valley.
Nathan
2015-09-03T00:00:00Z
Romtype
Helt hjem/leilighet
---
Eiendomstype
Leilighet
---
Plass til
4
---
Soverom
Red Hook, New York, USA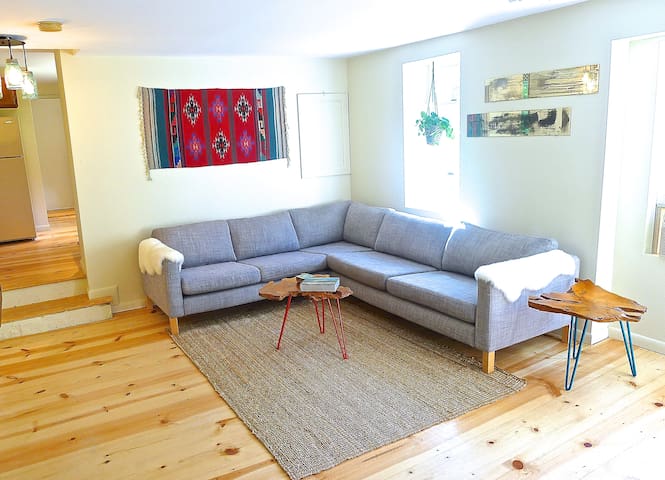 Growing Heart Farm is a working "ultraganic" farm accessible by public transit from NYC - leave cars and traffic behind. This is our Yoga room floor with private entrance & deck, attached bedroom, and Jacuzzi Bath.
We offer a country retreat fully accessible by commuter train without a car. We can provide a basic rental or we can provide cooking, teaching, etc a la carte. GHF is a very special place that is creating a model in sustainable living. We grow amazing vegetables and run entirely on solar energy. The living space is adjacent to our ground floor farmers unit with attached greenhouse. We host yoga, meditation, and educational events and the land is charged with this work. Please visit the Growing Heart Farm website or (SENSITIVE CONTENTS HIDDEN) page to get a better feel for our farm.
We are secluded from main roads while still within walking and biking distance of a train station and small convenience stores. Our land is perched on a knoll overlooking a bird sanctuary and has views of mountains to the east and the west.
Romtype
Helt hjem/leilighet
---
Eiendomstype
Leilighet
---
Plass til
6
---
Soverom
Pawling, New York, USA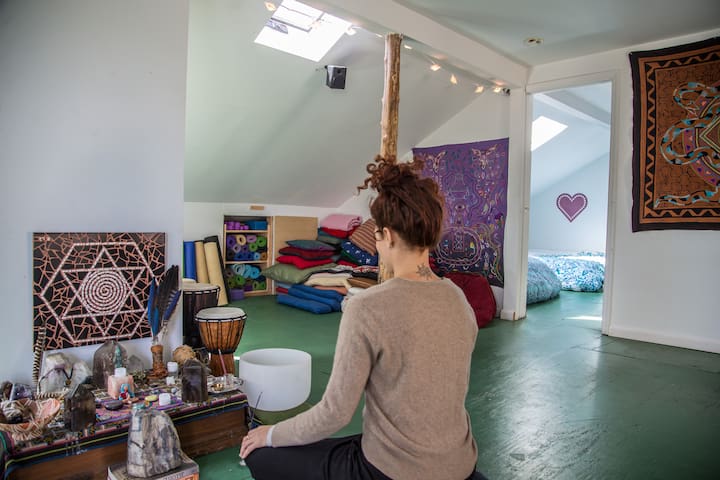 Just under 2 hours from NYC you will find yourself in the beautiful Hudson Valley. Local farms, great restaurants, antiques, history and the magic light of the Hudson River School. Minutes to Bard, Marist , CIA, FDR home, Hudson, Woodstock and much
cozy 1bdrm apt. in private home,fully supplied kitchenette & bath, sitting area,screened in porch overlooking woods Outdoor grill .Private entrance. Minutes to Bard, Marist, CIA, FDR home, Antiques,Omega Institute, Upstate Films ,wonderful Rhinebeck & Red Hook restaurants featuring local fare. . 25 minutes to Hudson or Woodstock. .Parking, TV , WiFi.This is an historic area with so many options for fun! See the glorious light made famous by the Hudson River School as the sun sets over The Catskill Mountains, browse for antiques, on chilly night enjoy a glass of wine in front of a fireplace or rock on the porch. Visit the bounty grown nearby at our wonderful Farmers Markets. Pets are welcome Take a ride at The Rhinebeck Aerodrome or just sit on the porch and chill...........very quiet except for the occasional deer! There is a queen pull out couch for an extra person for $30 more. Also see our listing for a single room & private bath in the main house under "Escape to the Hudson Valley". You are welcome! 2 night minimum stay.......... for one night only add an additional $25.
What a great stay! Jeri was so nice and accommodating. The place was exactly as pictured and the quaint town of Red Hook was a truly enjoyable experience, especially the Poet's Walk.
Zach
2016-09-06T00:00:00Z
Very comfortable, convenient and hospitable. Jeri was available, friendly and accommodating. We were up for Bard's 2015 Commencement weekend. Would recommend her place to others.
Ian
2015-05-25T00:00:00Z
Experience was wonderful. Jeri's place is idyllic and she is an extraordinary person. We stayed while participating in a program at Bard College. Kitchen amenities are limited if you like to cook, but there is bountiful food in the area. We were very comfortable and would be delighted to stay there again.
Lucinda
2015-08-01T00:00:00Z
Jeri was so nice. She left me a bottle of wine and muffins to welcome me. The apartment is spacious, tastefully decorated, and has anything you'd want. I even managed to cook myself breakfast every morning in the little kitchen. Three miles from downtown Red Hook. A beautiful setting.
Lauren
2016-10-28T00:00:00Z
I'm sure it's a very nice booking for a long weekend if the host is the only other person living there, as I believe it was when she made the decision to join the Airbnb network. But this is my cautionary advice: Ask how many people and animals currently live in the house before you book it! There is NO soundproofing between the main floor and the basement, which is where this apartment is located(URL HIDDEN)
Edie
2016-12-01T00:00:00Z
Jeri is a gracious host. I really enjoyed my time in her apartment. It is located in a very quiet area of Red Hook but not far away from many wonderful things to do in the area. Jeri was welcoming and made me feel comfortable and at home. The apartment was perfect for my month-long stay with a comfortable bed, small, but nice kitchen, and a beautiful screened-in patio for relaxing and enjoying the the wooded area outside her house which is filled with chipmunks, squirrel, and deer. It was a great place for reading, enjoying a morning cup of coffee, or glass of wine in the evening.
Nikki
2014-07-28T00:00:00Z
Jeri was a wonderful host! We were there for 2 nights with our dog and Jeri was kind enough to give us a quick tour of the apartment and also keep her dog inside since we were nervous our dog wasn't ready to meet other dogs off leash yet. She was there when we needed her but also gave us our privacy. The apartment is exactly how you see it in the pictures. The main highlight is the balcony with floor to ceiling screens. You feel like you are sitting in the middle of the forest but without the hassle of bugs! :) The apartment also has a functional kitchen with almost everything you need. It was a very serene and tucked away place. All in all, wonderful stay! :)
Meenal
2014-08-18T00:00:00Z
Jeri was a wonderful hostess, warm and welcoming, her place was as lovely and elegant as she was! We all the privacy needed but also had the chance to interact with this interesting person. Jeri was thoughtful with the accommodations, there was everything from paper towel to napkins, candles to dishwashing liquid, plenty of towels and a really relaxing back porch where we spent a number of restful moments! we were sorry to say goodbye!
Ilana
2012-08-29T00:00:00Z
Romtype
Helt hjem/leilighet
---
Eiendomstype
Leilighet
---
Plass til
2
---
Soverom
Red Hook, New York, USA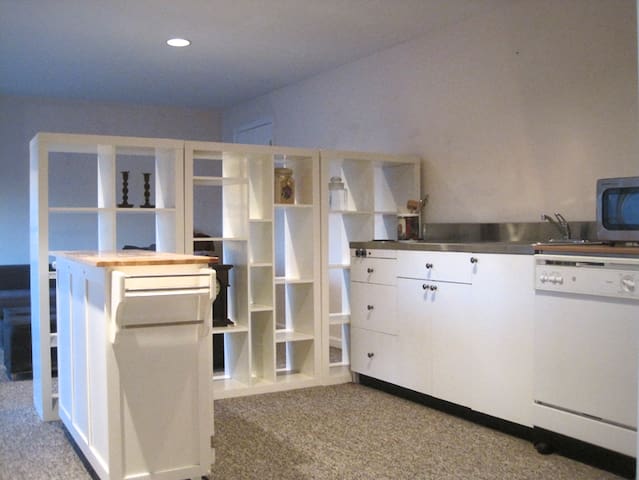 This beautiful, newly renovated large one bedroom apartment is in the center of Lakeville CT. Close to Hotchkiss, Indian Mountain, and Salisbury Schools. Also near Limerock Race Track and Mountainside Treatment Center. Walk to 5 restaurants and the lake. Check in is 4pm and check out is 10am. If you would like a different time, you must contact the owner.
Beautiful, newly renovated. Walk to post office, 5 restaurants, health food store, liquor store, convenience store and lake.
Lakeville is a wonderful New England town. Hiking, skiing, boating, golf are all nearby.
It was a very warm and welcoming place with great street views and sun lighting. I'm very satisfied with the night I spent there and will definitely speak nothing but great things about the place. The location was awesome with a few restaurants across the street and the neighborhood had a very safe feeling to it. Amazing. The only thing was that it was a bit expensive for one night.
Brian
2016-09-18T00:00:00Z
This is a well-appointed, very comfortable and well situated lodging, easy to find and with good access to the area. We enjoyed our stay and appreciated the snacks set out for us as well.
Rebecca
2016-06-13T00:00:00Z
We had a wonderful stay. Beautiful apartment, with everything you could want for a comfortable stay. Perfect location, easy walk to the lake and into town. We loved it, and Pierce made everything very easy & accommodating for us!
David
2016-08-17T00:00:00Z
Amazing location walk to a fine restaurant and bar across the street. The bed is amazing, it lives like a home, fun decor, wifi... PERFECT !!!
Santo
2016-09-05T00:00:00Z
Pierces apartment is cute and Lakeville and the neighboring towns/lakes are great! He let me bring my dog which was very kind of him. We could hear the neighbors upstairs walking around a bit and it's a bit overpriced considering it's on a busy road but other than that we were very satisfied.
Whitney
2015-05-26T00:00:00Z
Very lovely place! Clean and comfortable. We enjoyed our stay.
Anastasia (Tess)
2016-06-06T00:00:00Z
My boyfriend and I were visiting a friend in Lakeville for the weekend. We had a great stay at Pierce's place. He was an awesome host. He was very friendly and easy to communicate with. This was my first time trying Airbnb but, Pierce made the whole experience very easy and pleasant for us. The apartment was beautiful and very easy to find. It was warm and very spacious. The location is perfect. We were within walking distance of many restaurants, shops and a gas station. Overall we had an amazing stay and I would definitely stay at Pierce's place again in the future.
Ashley
2017-01-01T00:00:00Z
Pierce's place was lovely and super clean (read: spotless)! It's very large and has everything you need in terms of cooking equipment. The location is also great. The road the apartment is on is not a busy road. The lake is a short walk away and lovely for canoeing or swimming. There's a restaurant and a pizza place across the road which looked very nice though we didn't try either because we didn't stay long enough.
Irene
2016-08-02T00:00:00Z
Romtype
Helt hjem/leilighet
---
Eiendomstype
Leilighet
---
Plass til
4
---
Soverom
Salisbury, Connecticut, USA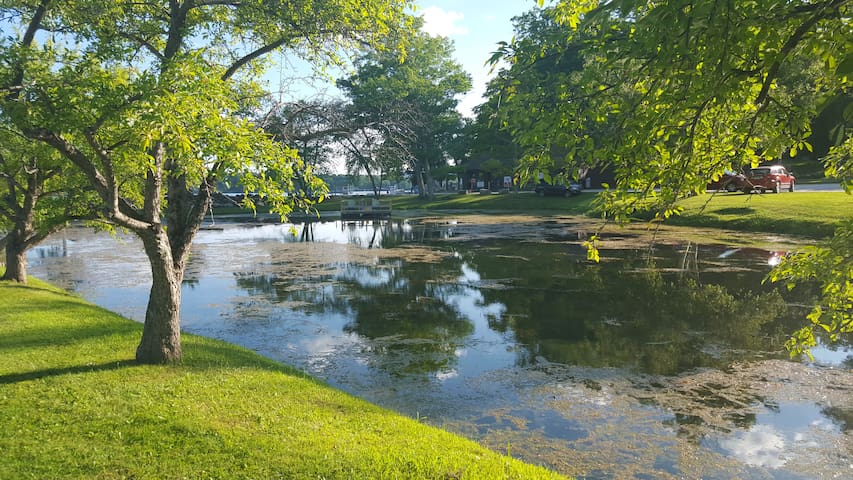 THE APARTMENT: Fully furnished garage apartment , separate from owner's house. Full bath with a tiled stall shower. Kitchenette with sink, under-counter fridge, one burner induction cooktop, Breville smart oven (basically a large & fancy toaster oven), and a microwave. There is a small chest freezer in the garage for your use. There is no full size range/cooktop/oven. Silverware, plates, glasses, etc. are all provided. There is one large combination bedroom/dining area/living area with a queen size bed and a pull out couch. Radiant heat with window air conditioner & ceiling fan during the summer. There is access to both hardwired and wireless internet, and basic cable on a 32" Sony TV and a DVD player. Phone needs to be your cell phone, although land line can be available in an emergency. ** Sleeps 4: here's how. 2 in Queen bed, 2 in pull out couch ** No pets , please. Garage space available for bikes and/or skis. Owner does not use the garage for vehicles, but owner does need access so the garage door may be opening and closing. We will be considerate about time of day for access. The only real downside is that there is no deck or terrace attached to this apartment, although there is lawn space. Of course if we get along, there could be an invitation to use our outdoor spaces. **NOTE THAT WE ARE IN THE COUNTRY, A MILE FROM ANY TOWN. A CAR IS A NECESSITY** ACCESS: 2 hour drive from NY and 2 1/2 hrs from Boston. Twenty minutes from Metro North Wassaic train station from NYC Train (URL HIDDEN) Taximan (PHONE NUMBER HIDDEN) ACTIVITIES: 5 minutes from Lake Wononscopomuc, one of Connecticut's premier deep water lakes with swimming and boating. 10 minutes from the Appalachian Trail. 30 minutes from Catamount Ski Area. 45 minutes from SkiButternut. 45 minutes from Tanglewood Music. 30 minutes from Norfolk's Infinity Music Hall. If you hit it right there are the US Eastern Ski Jumping Championships in nearby Salisbury every February. 5 minutes up the road takes you to hiking or snowshoeing by our local reservoir. THE AREA: Lakeville is home to The Hotchkiss School and The Salisbury School, two top preparatory schools. Also nearby is The Lime Rock Park, Road Racing Center of the East. There are many fine restaurants in the area, multiple art galleries, and the Scoville Memorial Library, the oldest publicly funded library in the country. As well as local galleries and shops, a 10 minute drive takes you to Millerton, NY with a movie theater, art galleries, bookstore, an old fashioned diner (with updated menu) and the Rail Trail for walking and biking. A 30 minute drive takes you to Great Barrington , MA for even more shops, restaurants and movie theater.
I like John apartment very much which is tidy and bright. During my stay at John apartment, it got a heavy snow. When i were going to leave there early morning at 7:00am, I am very concerned the slippery road to connect to main road from John apartment. John is very nice and he drove his car first and then drove my car to make sure it is safe for me. I appreciated it very much and would like to stay there if i have opportunities to go to Likeville in the future.
Xueen
2016-02-16T00:00:00Z
John & Linda's apartment is peaceful, spotless, spacious, and has lots of warm natural light. From my previous Airbnb experiences, usually the pictures were rosy and nicer, but these pictures accurately show the place. Actually, i think the place was bigger and even nicer than what's shown. There was plenty of room for the four of us (4 adults) and our stay was comfortable. We were surrounded by perfectly maintained lush green grass and tall trees. We all forgot shampoo and they generously provided us with a big bottle. Thank you John and Linda!
Janet
2015-08-02T00:00:00Z
Wonderful stay in beautiful Salisbury. Apartment is perfect ... Very clean, private, nicely furnished and all the comforts of home. John and Linda are welcoming and available if needed but don't hover. I'm always happy staying at their property!
haden
2016-04-21T00:00:00Z
Outstanding accommodation. Wonderful quiet location near charming small town around lake. Perfect if you are visiting the Lime Rock track and I am sure a much better experience than the few local hotels. Charming and helpful hosts, new, fresh, clean and spacious over garage appartment separate from main house. Would love to stay again and would highly recommend to anybody.
Steve
2014-05-01T00:00:00Z
My boyfriend and I were in dire need of a last minute relaxing weekend getaway. We had stayed at the Atchley's place last year, so we immediately decided to book. As it had been last time we were there, the place was so, so clean. John and Linda really made the place feel like our second home, and it was probably THE most relaxing weekend of my life. The highlight of our trip was when our car died while we were parked in the driveway, and this is when I found out that this is probably the most considerate and kind family, ever. Their son spent lots of time with us trying to fix the car, and Linda later came by and asked if we needed anything to eat since we were somewhat stranded for the time being. I would not hesitate going here a third fourth or even fifth time for our next trip!
Cathy
2014-07-22T00:00:00Z
The home was lovely, recently renovated and very clean. The scones provided in the morning were a lovely touch! the home sits on a peaceful property and the hosts were very welcoming. highly recommend!
chris
2014-09-28T00:00:00Z
John was a gracious host who welcomed me with delicious muffins and was on call when I accidentally locked myself out of the home. The home was well kept and I look forward to returning in a month. Highly recommended!
Audrey
2012-09-04T00:00:00Z
The apartment is spotless, airy, bright and roomy. The area is very quiet and pleasant. The kitchen and bathroom were generously sized, nicely outfitted, and nearly new. We had a lovely stay.
K & L
2016-10-22T00:00:00Z
Romtype
Helt hjem/leilighet
---
Eiendomstype
Leilighet
---
Plass til
4
---
Soverom
Salisbury, Connecticut, USA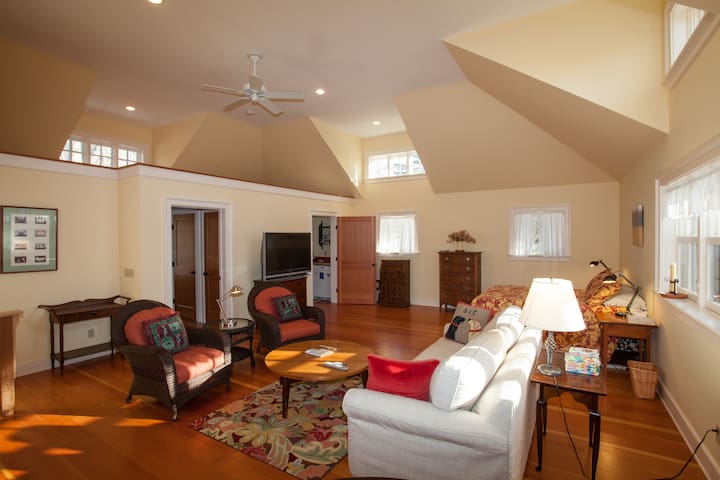 My place is close to restaurants and dining, the city center, and parks. My place is good for couples, solo adventurers, business travelers, and families (with kids).
The host was home when we arrived and showed us the apartment. The space was larger than it seemed in the photos. It was a quick 5 min walk to downtown where there were great restaurants and shops. Our only complaint is the bed was too short for my husband who is 6'2".
Caitlin
2016-10-11T00:00:00Z
Very lovely flat in a quiet environment. Brand new and well equipped. Very easy communication with Lisa. I recommend it to anyone.
sylvie
2016-08-14T00:00:00Z
We really enjoyed our time at Lisa's air B and B. It is perfectly located on a quiet road just a block from the center of town. The hosts were out of town. However, they were responsive and accommodating. I would highly recommend their place if you are looking for an affordable place to stay in a lovely and low key town in upstate New York.
Robert
2016-10-16T00:00:00Z
My husband and father in law stayed at Lisa's place while they were working on a house near by. It was exactly what they needed and Lisa was very responsive and helpful. Only two things to note, there is no TV, but I guess I should have checked that before booking, and secondly the guys did note that if you are a light sleeper then it may not be ideal. Other than that the apartment made a fantastic spot to crash and the beautiful gardens and area did not go unappreciated. Thank you Lisa!
elisabeth
2016-09-03T00:00:00Z
Thanks Lisa - we loved staying so close to the great Millerton village!
Doug
2017-02-21T00:00:00Z
Had a great time staying here a second time.
Linnea
2017-02-10T00:00:00Z
Cozy place! The little downtown is really nice too!
Bertrand
2016-12-06T00:00:00Z
Modern and clean apartment, footsteps from Millerton's Main Street shops and restaurants. Very quiet spot, perfect for resting up in between enjoying the area. Parking was easy and check in was flexible. My wife and I would definitely stay here again!
Andrew
2016-12-31T00:00:00Z
Romtype
Helt hjem/leilighet
---
Eiendomstype
Leilighet
---
Plass til
4
---
Soverom
Millerton, New York, USA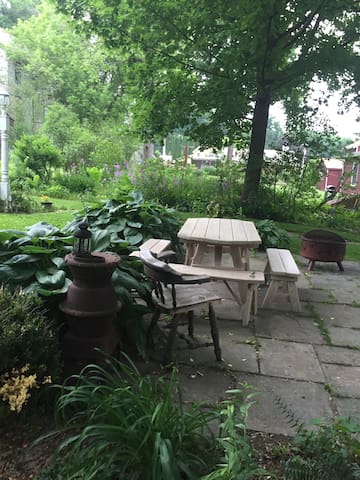 This large 2BR apartment sits over one of the most charming Main Streets in the Hudson Valley…Budget Traveller listed it in the top 10 Best Small Towns in the country. NYC's Irving Farm Coffee Roasters, a top rate movie house, wonderful dining & shopping, and amazing location…
This 2BR provides ample space for your visit to Main Street, Millerton. Full kitchen and small private deck allow you to getaway and relax. Location allows you to engage in everything Millerton, NY has to offer.
Main St is home to Irving Farm Coffee Roasters below (your stay includes a bag of coffee + breakfast voucher!) a moviehouse, bookstore, wine shop, numerous fabulous restaurants, antiques...
We are very happy to have this 'home away from home'. This time, we stayed for 3 weeks and felt (EMAIL HIDDEN)munication with the host is very efficient and any issues or questions (if any) are addressed in a timely manner. Location is perfect with a movie theater, coffee house, and great restaurants just a few steps away ! Looking forward to our next visit !
Leah
2016-01-23T00:00:00Z
we had a fantastic stay ,the place is warm and the room is neat and clean very comfortable to stay as home. Jamie is great thank you. and we will come back again.
xiaohua (Jennifer Ho)
2017-04-03T00:00:00Z
We've stayed at both the 1 and 2 bedroom apts and loved them both. Timely access to apts is great and they are well equipped, beautifully furnished and clean. Vouchers for goodies at cafe downstairs is a nice touch.
Jin
2016-05-29T00:00:00Z
It is a very modern, clean, and beautiful space. It's sweet and cozy, with comfortable beds and nice linens. There are steep stairs to get to this unit, so just a warning for the elderly or those with mobility issues.
Myong
2016-03-16T00:00:00Z
Very nice, clean and comfortable space. Enjoyed the new renovation and the balcony on the back with the mountain view.
Matt
2016-10-10T00:00:00Z
We had a very comfortable stay. The unit is beautifully decorated and perfect for three people. The neighbourhood is very convenient as well. Communication with the host cannot be better! We look forward to the next visit !
Leah
2015-10-17T00:00:00Z
Another great stay ! Thank you.
Leah
2016-04-03T00:00:00Z
A friend and I recently spent a few days at this incredible spot right above Main Street. Modern, clean, warm and welcoming. The light in the apartment is so wonderful that you're going to want to sit and read by the fireplace for hours. This quant little town of Millerton is lined corky shops well worth exploring and the rail trail/hiking near by make this the perfect weekend get away. All this plus a breakfast voucher for the cafe downstairs?! What a nice surprise! We spent a few hours there people watching and getting to know the staff and regulars. Not only is the coffee amazing but that breakfast burrito?! It was everything! I also grabbed 4 cookies and a doughnut for our afternoon hike, absolutely defeating the purpose of healthy hiking, but they were well worth it. Jamie was lovely to deal with and made checking in/out a breeze. We'll absolutely be back when we need another upstate escape, hopefully very soon!
Joshua
2015-12-22T00:00:00Z
Romtype
Helt hjem/leilighet
---
Eiendomstype
Leilighet
---
Plass til
4
---
Soverom
Millerton, New York, USA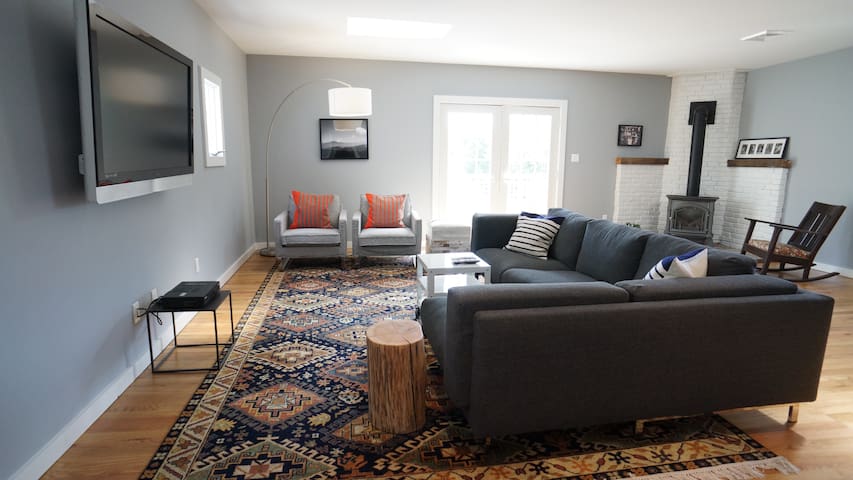 Beautiful and private lakefront apartment with direct lake access and views of Long Pond Lake. Large bedroom with queen sized bed and separate living room/dining room, kitchenette, bathroom.
Welcome to our lakefront retreat! Our newly renovated ground floor apartment sits on the tranquil and beautiful Long Pond Lake. The 2 room apartment features a master bedroom with a queen sized bed and an open living area with kitchenette. This apartment comfortably sleeps 2 in the master bedroom, however there is queen sized air mattress and/or pack and play available should have have children or additional guests. There is a kitchenette with a fridge / freezer, sink, microwave, electric burners and it's stocked with all the basics, including coffee, tea, milk and snacks. You will have everything you need for a comfortable stay but if you have any specific requests, please let us know and we will do our best to accommodate! The apartment is steps away from the lake where you can relax and unwind. We have two lovely kayaks and life vests for you to explore the lake. You can sit back and watch the sunset on our adirondack chairs, or toast s'mores in the outdoor fire.
You will be surrounded by lovely farm roads, rolling hills, creeks and plenty of animals, both farm and wild! There are deer, turtles, beavers, chipmunks, wild turkeys and more. The lake is an ideal place to watch wildlife at its best. There are so many things to do in the Hudson Valley year round. There are historic sites, plenty of farms to picks fruit and produce, hiking, biking, fairs, cultural events and excellent farm to table restaurants. Enjoy local wine tasting, art galleries, golf, skiing, antique stores and farmers markets. Please don't hesitate to share your interests and we will be happy to give you some recommendations. Omega: 5 min Rhinebeck: 15min Woodstock: 35min Hudson:30 min
The host canceled this reservation 137 days before arrival. This is an automated posting.
Robin
2017-01-09T00:00:00Z
I can't even begin to describe how beautiful Melissa's property is. The pictures absolutely don't do it justice. From the beginning, Melissa was very helpful and accommodating. The view of the lake was wonderful, and the location is so secluded. We were surrounded by nature, and coming during the fall season was definitely the best choice we made. We were still able to kayak and drink our morning coffee in front of the private lake comfortably, and we could make toasty fires at night. I would describe the place as woodland wonderland immersed in the fall foliage. The only noise you could really hear were the sounds of crunchy leaves and deer, among other animals, roaming near the property. Absolutely wonderful. The inside of the apartment had everything you need. If you plan to do any simple cooking, I would contact Melissa first to see what she has provided. She left us with wonderful locally brewed beer and a simple bottle of champagne. And if you get the chance to use the french press, it is a must!! The amazing walk-in shower was also total surprise. Overall, I believe this property was perfect for what we were looking for; peace, quiet, privacy, nature. There is so much to do in the Hudson Valley area; visit Woodstock, hike the Catskills and see Kaaterskill falls, Oktoberfest in autumn, hike breakneck ridge, or see Croton Gorge Park on your way up. There are also a winery, many wonderful restaurants, and farmers markets right in Rhinebeck. This is not a location with a ton of nightlife. This is definitely an area for those looking peace and tranquility. It's not very easy to see while driving most places in upstate New York at night. Our nights were mostly spent coming from dinner or local bars (like The Shelter or ARTBAR) and sitting around a fire. Nights spent in we often made fires, or used our telescope to see stars, baked some cookies, or drank some wine. This property gives you the opportunity to have just the relaxation you've been dreaming of at work or school. We had one of the best and simplest vacations in our experience (frequent users of Airbnb), and I would highly recommend this property to anyone in the northeastern area. Especially those who have great proximity, living in either Long Island or NYC. The distance was optimal for us, perfect amount of roadtrip/driving time.
Alexandra
2016-10-11T00:00:00Z
Great, clean and quiet location. Short drive to the little general store that had great breakfast. The home is right on the lake - beautiful way to wake up and you can see so many stars at night. Mel was great to communicate with and offered plenty of local info.
Michelle
2016-11-06T00:00:00Z
Romtype
Helt hjem/leilighet
---
Eiendomstype
Leilighet
---
Plass til
2
---
Soverom
Rhinebeck, New York, USA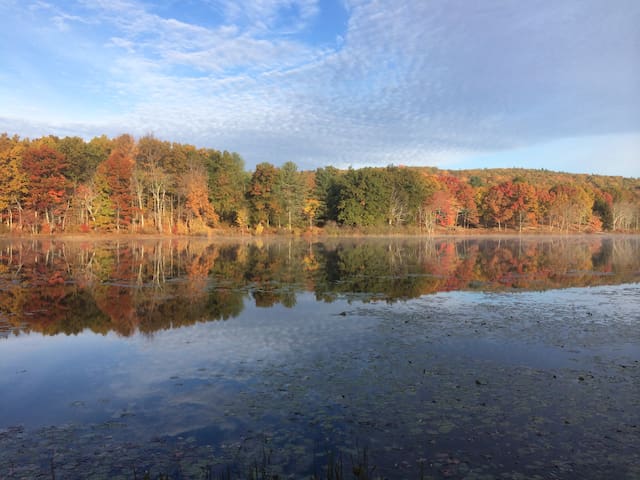 Large one-bedroom apartment on the second floor of a well cared for Victorian house in the village of Sharon, CT. Located across the street from JP Giffords cafe and down the street from Sharon Hospital, the apartment has been recently renovated with a new kitchen, appliances, and a fresh coat of paint. The interior is an eclectic mix of mid-century modern, Shaker, and contemporary furnishings.
Located at the top of one flight of stairs, the private apartment has one-bedroom with a queen-size bed and desk,a large living room, a washer/dryer, and a fully equipped kitchen stocked with coffee and tea. The bathroom includes a shower/tub and is stocked with fresh towels and bath soap. A twin size cot is available upon request.
Beautiful Airbnb in Sharon, CT. Spacious, 2nd floor apt. in gorgeous antique home right in town. Every amenity you can think of. Uber comfortable bed, down comforter, lovely kitchen, spotless!
Alexandria
2017-02-27T00:00:00Z
The host canceled this reservation 129 days before arrival. This is an automated posting.
aash
2017-02-14T00:00:00Z
Heide is a great host and the apartment is incredibly charming and right in the center of Sharon, CT. We were there to be near a family member in the Sharon Health Center rehab, which is a block away (as well as Sharon Hospital), but this would also make an amazing getaway rental for a New England escape. I fully recommend Sharon, Heide, and the apartment.
Mark
2017-03-17T00:00:00Z
A very comfortable and well appointed interior. The town of Sharon is very lovely with lot's of history. Great coffee shop across the street.
Peter
2017-01-31T00:00:00Z
Romtype
Helt hjem/leilighet
---
Eiendomstype
Leilighet
---
Plass til
2
---
Soverom
Sharon, Connecticut, USA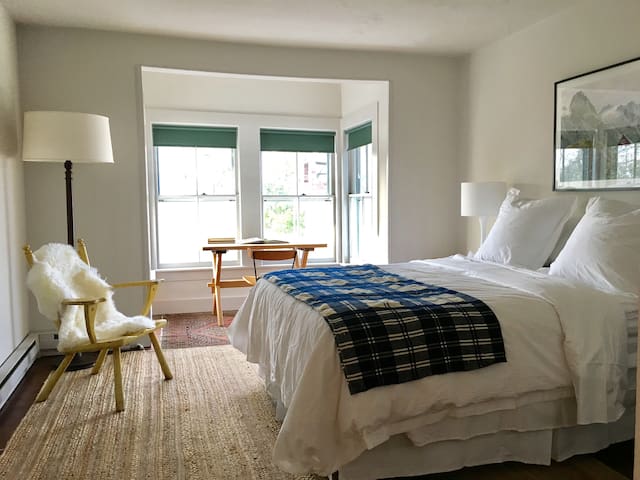 Private entrance, private apartment in a great central location. Minutes away from the Poughkeepsie train station, Marist, Vassar, Walkway over the Hudson, Culinary Institute of America, IBM, and so much more! Complete with a small kitchenette area, a separate bedroom, and bathroom. It has all the amenities you will need while away from home. We are committed to building a positive reputation on airbnb. We've set a low price in order to book our listing often and gather your positive reviews!
All the amenities you will need while away from home!
Quiet neighborhood. Bar and restaurant .5 mi, 1 mi from Vassar and 3.5 miles from Marist. Hiking and biking trails 1 mi away.
Ashley and Aaron's private suite was a wonderful stay. Clean linens, an extremely comfortable bed, and a tastefully decorated and cozy space makes it the perfect place for a weekend getaway in this area. It's a very short distance (about 5-7 min drive) from Poughkeepsie's Main Street and also a short drive from cute nearby towns like Woodstock (GF's personal favorite). Would definitely recommend this gem!
Rokk-Vincelli
2017-02-20T00:00:00Z
The apartment was very clean and comfortable. Ashley and Aaron provided everything we needed and more including snacks, towels, shampoo, etc. They even messaged me during our trip to see if we needed anything and gave us suggestions for restaurants and bars. We would definitely recommend anyone to stay here!
Lawren
2017-03-26T00:00:00Z
Ashley was super accomodating and helpful, offering lots of suggestions for places to eat and things to do. The apartment is cute and has everything you need for a weekend or more.
Melanie
2017-01-27T00:00:00Z
Ashley and Aaron are new Air Bnb hosts but their commitment to making it the best experience for their guests is evident. The apartment is in a quiet and safe neighborhood (about a 5 minute drive from the Vassar campus). It's beautifully decorated with vintage furniture (that Ashley restores herself) & other contemporary pieces. The place really feels like an extension of their own home (which is right next door), beautifully curated and cared for. They're super helpful with tips about Poughkeepsie and the neighboring towns. I'll be back! Thank you Ashley and Aaron!
Elizabeth
2017-02-25T00:00:00Z
Ashley was a great host! Very friendly, but didn't make us feel watched. Separate apartment attached to the home. Very nice decor, suuuper comfortable bed. Roku on the smart tv, free wifi, all that. Bath toiletries all provided like a hotel. Tucked in a neighborhood pretty close to Vassar and the cute college strip of shops down there. Would need a car to drive to the train station. Would stay again! Thanks!
Chrissy
2017-01-12T00:00:00Z
My husband and I loved Ashley and Aaron's place! It was spotlessly clean and in a quiet, yet central location. There were so many little touches that made our stay so welcoming, including a note to us on the chalkboard door of the closet, snacks and coffee, and lots of great towels and blankets. They responded promptly to all of my emails and were flexible when my plans slightly changed. They offered a restaurant recommendation when I needed it. I can't say enough good things about this experience! We will definitely stay there again when our travels take us back to Poughkeepsie.
Michele
2017-03-05T00:00:00Z
This spot was very cute and worked well for exploring the Hudson Valley area. Ashley was a very responsive, flexible host, and even though the space is connected to her home, it felt totally private. My wife and I recommend it!
Alex
2017-01-15T00:00:00Z
Ashley and her husband were great hosts - very responsive when we couldn't figure out how to use the tv (our issues, not theirs!), easy check-in/check-out, nice comfy bed, and altho we didn't partake they had great snacks available! Wi-fi worked great, neighborhood is quiet, and very close to Vassar and places to eat and explore in Poughkeepsie.
Dana
2017-01-17T00:00:00Z
Romtype
Helt hjem/leilighet
---
Eiendomstype
Leilighet
---
Plass til
2
---
Soverom
Poughkeepsie, New York, USA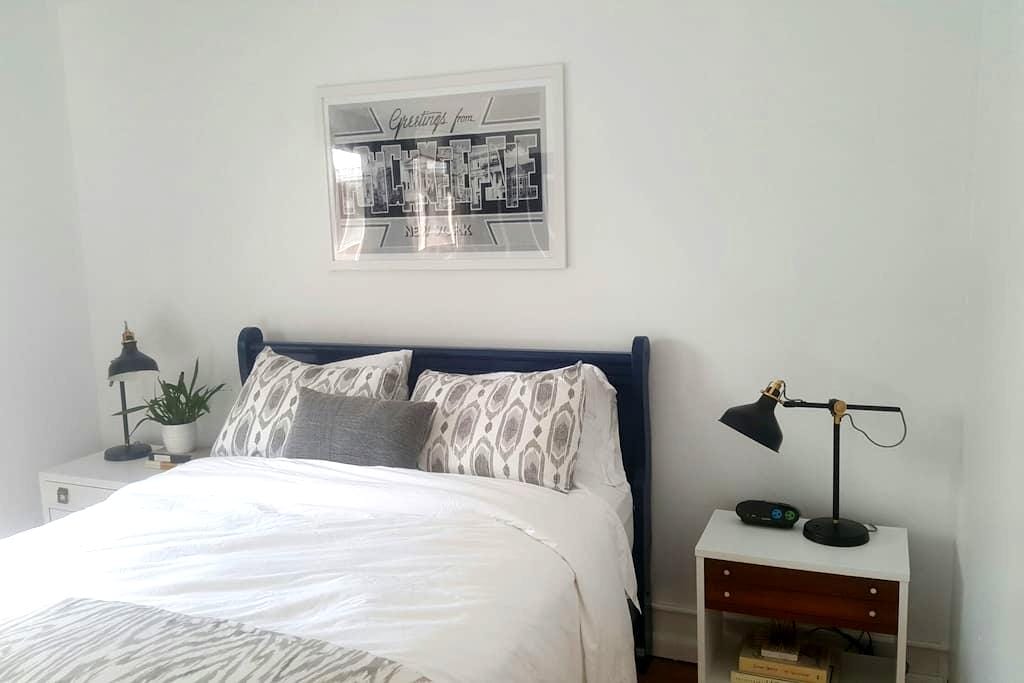 Enjoy some time away from NYC in this gut-renovated, top-floor apartment at the Roxy, a historic guesthouse on a quiet country road in the foothills of the Berkshires. Beautiful light and views throughout; loft-like living and dining space with full kitchen; sleeps 4 or 5. Use of front porch and side lawn. Away from all bustle, but right between the popular towns of Millerton and Amenia. Property adjacent to the Harlem Valley Rail Trail. 2 hours north of NYC, 10 minutes by cab from Metro North.
Staying at the Roxy is almost like going back in time. Built in 1906, it served as a guesthouse to vacationers arriving from the city for several decades. But while you will be staying in some of the same rooms as guests did 100 years ago, we have updated the top floor to add contemporary comfort. And while those guests arrived by train, we recommend that you bring a car to get around (you can park on our property). You can, however, also take Metro North to Wassaic and take a cab (10 min). Bring your bikes, or rent some while you are here. The Roxy is on a quiet country road, surrounded by farmland and marshes, but the cute and very popular town of Millerton to the north as well as Amenia and the art hub Wassaic to the south are within bicycling distance on the Harlem Valley Rail Trail, the former railroad line converted into a path for biking, walking, and jogging. It runs just past our property. In the morning, bring your cup of coffee or tea downstairs to the front porch of the Roxy. After your excursion of the day, go for a game of bocce or badminton on the lawn outside the old Dance Hall. Return to the porch for a glass of wine or a nap in the hammock. Or, on a rainy afternoon, retire to the living room sofa with a book. Cook dinner in the brand new kitchen with produce, meat or cheese picked up from one of the local farm stands or treat yourselves to a nice dinner at Serevan or Monte's in Amenia or pizza at The Lantern in Wassaic. Not too far from the New York City, very close to countless attractions, and yet very quiet. We look forward to welcoming you to the Roxy.
The Roxy is located between the small towns of Amenia and Millerton, two hours north of NYC and a 10-minute taxi ride from the Metro North Station in Wassaic. Amenia has good restaurants and a drive-in theater in the summer, Millerton sports a movie theater, a book store, a big antiques mall and lots of small eateries and quaint shops. Other fun outings are to Millbrook, Rhinebeck, Hudson, Great Barrington, the Book Barn in Hillsdale, MoCa, and local wineries. In season, check out art exhibitions at the Wassaic Project, theater and music festivals from Shakespeare on the Hudson to Tanglewood. Skiing, horseback riding, ponds and lakes for swimming and ample hiking possibilities are within easy reach. The Appalachian trail is just a few miles away. Our property borders on the Harlem Valley Rail Trail. We are very close to schools like Hotchkiss and Millbrook and also a good base for a college tour in the area.
Romtype
Helt hjem/leilighet
---
Eiendomstype
Leilighet
---
Plass til
4
---
Soverom
Amenia, New York, USA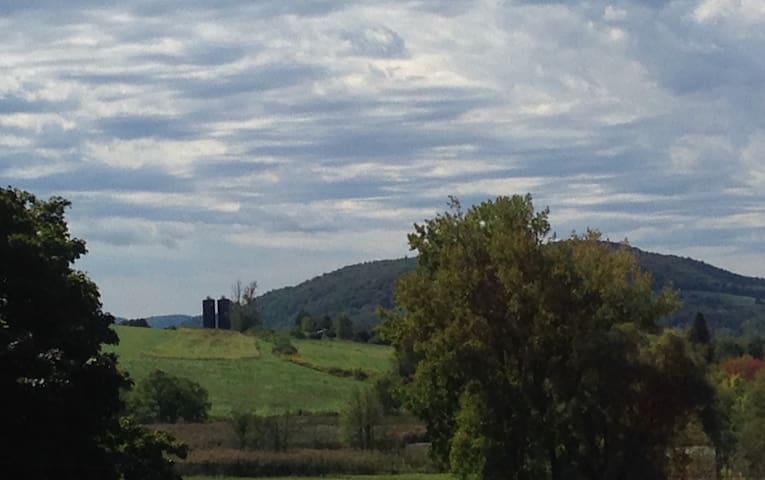 You'll love our place because it is a cozy, private one bedroom apartment with a full galley kitchen, dining area, full bathroom and private entrance. Experience life within the village of Rhinebeck.
The one bedroom apartment is newly renovated with its own private entrance. The owners, Frank and Mette, live on the main floor of the house. We are more than happy to welcome and accommodate our guests with all of their comfort needs.
Our place is only a 5 minute walk to the center of Rhinebeck, with top notch restaurants, cafes, quaint shops, walking tours, and an outdoor public recreation center for hiking and sports, including swimming and tennis. The town also has a renowned Independent Film Theater. Other sites within 10 to 30 minutes by car include public golf courses, hikes along the Hudson River with spectacular views, a climbing tower at Ferncliff Forest, a Poet's Walk in Annandale, The Rhinebeck Aerodrome, tours of the FDR Estate and the Eleanor Roosevelt Center at Val-Kill and much more. A one hour drive can take you to ski areas in the Catskills.
Frank's place is light, clean, and beautifully furnished, and we highly recommend it! Frank's communication with us beforehand was timely and helpful, and his wife was there to greet us when we arrived. The apartment is walking distance to town, and we enjoyed a lovely dinner at the Terrapin pub, located in a converted church.
Dick & Dorothy
2017-03-24T00:00:00Z
The neighborhood was perfect, walking distance to everything. Frank was there when we arrived to show us up to the apartment. The apartment is clean, bright and lovingly restored. We woke up to an all day snowstorm, and Frank's son cleared off our car without being asked. We had a delightful stay, and look forward to going back.
Wayne
2016-12-30T00:00:00Z
Staying at Frank's place was such a treat. The apartment was perfect - clean, cozy, and perfectly located within short walking distance of Rhinebeck's cute shops and restaurants. Frank was by far one of the most helpful and friendly hosts I've ever stayed with. I plan on coming back soon!
Lisa
2017-03-14T00:00:00Z
another great stay- quiet, immaculate, comforable and convenient. Thanks Frank!
Dena
2016-12-20T00:00:00Z
Great place. very clean, and the host's are great!
Maggie
2017-02-19T00:00:00Z
This is a lovely and very clean rental. Stocked with fluffy towels and Frank even left coffee, creamer, and eggs! A short walk to town. Easy checking in and out. The whole experience was lovely!
Lauren
2017-01-20T00:00:00Z
Loved the location and amenities!
Nicole
2016-12-31T00:00:00Z
The space was lovely, quiet, clean, bright and cozy. Frank is an excellent host. We didn't have a car and he generously offered to give us rides. There was a big storm when we were there and he checked in to make sure we were safe and sound! Frank and his family are warm, generous and thoughtful hosts and their apartment (above their house) is cozy and great!
Debra
2017-02-26T00:00:00Z
Romtype
Helt hjem/leilighet
---
Eiendomstype
Leilighet
---
Plass til
2
---
Soverom
Rhinebeck, New York, USA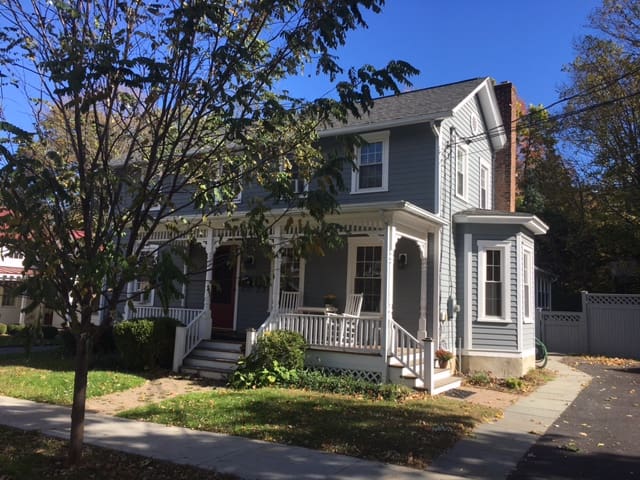 Fully renovated 1910 Connecticut farm house, beautifully decorated with sunlit rooms & hilltop views. Three bedrooms, 2 1/2 baths, sleeping loft, living room with high ceilings, fireplace and media system. Formal dining room & breakfast nook for 4 in fully equipped chef's kitchen. Hand-scraped, antique wide plank floors throughout the lower level with an open air feeling. Master bedroom and en suite bathroom on the first level and separate from other living quarters. Upper level guest rooms
Large loft-like living room. Sunlight throughout. Majestic views. Cozy living.
Close to Hotchkiss, Salisbury and Berkshire schools for families needing to visit students. Close to Lime Rock, Millerton, Twin Lakes and Lakeville Lake. 30-minute drive from three ski mountains (Butternut, Catamount and Mohawk) and 60 minutes from Jiminy Peak. Great location for families, couples, friends, antique seekers, car enthusiasts and nature-lovers wanting to hike, run, bike, ski or explore all there is to do in the Berkshire and Litchfield Counties.
Romtype
Helt hjem/leilighet
---
Eiendomstype
Leilighet
---
Plass til
6
---
Soverom
Salisbury, Connecticut, USA
Our two bedroom apartment in the country is located within 2 miles of the Omega Institute in Historic Rhinebeck, NY. Master Bedroom has a Queen bed, 2nd bedroom has two full beds. Livingroom has a pull out sofa for even more guests. Full kitchen. Great porch with gas grill!
Livingroom with an entrance to a porch/deck with a large grill and seating. Kitchen and a breakfast nook, two bedrooms, 1 bathroom, closets and dressers. Located in the country. This is an apartment that is semi-detached from the main house. Main house and apartment are a log cabin designed home with a true Hudson Valley country feel. Full cable and wifi available. Back yard for your dogs to run free. Brand-new sectional couch with queen size pull out bed red leather it looks beautiful also updated some linens to nice cotton sheets The new couch was just delivered the beginning of March the place looks great for the season coming up especially for Omega people we are very close and it's a nice getaway to come to in between sessions up at Omega 2 miles away
Rhinebeck is a charming Hudson Valley town. Within walking distance of a country store. Local attractions include Dutchess County Fairgrounds, Omega Institute, Old Rhinebeck Aerodrome, HITS, Culinary Institute. Some of the other events in the area are: Sheep and Wool Festival, Wine and Food Festival, Sinterklas Festival, Antique car show, Country Living Fair, Beer Bourbon and Bacon, and the Arts Festival.
Sondra has a wonderful place! It is in a great location near Omega and Rhinebeck. Sondra's place has a great layout, is clean, quiet, and so comfortable. Sondra was welcoming and easy to communicate with. Sondra's place was perfect for our family of four! August 2015
Debi
2015-08-18T00:00:00Z
I appreciated Sondra's quick response to my request to book. We were looking for a place at the last minute and she came through for us. Her place is comfy and tranquil and close to all that we wanted to visit in the area.
Linda
2015-07-19T00:00:00Z
I would not highly recommend this place. For the price it was not what we expected. I really hesitate to write bad reviews but the mattresses were extremely uncomfortable, sagged in the middle. I would suggest replacing the mattresses and getting some decent cotton sheets.
Rebecca
2016-07-18T00:00:00Z
Sondra was the PERFECT Host!! She greeted us upon arrival and showed us around our beautiful place. She left the fridge full of food, eggs, milk, water, yogurt etc....I can't say enough about the place. A very tranquil soothing place. I will be coming back to her place in the next two months. Thank you Sondra for everything!!
Ilene
2016-08-29T00:00:00Z
Sondra was an amazing host - the booking and check-in process was very easy, and she really made us feel at home. Not only was the apartment cozy and clean, the surroundings beautiful but also Sondra had ensured there were many options for breakfast available at the apartment, which was much needed with our incredibly early mornings. She was also really flexible and easy-going with our party of three people and two dogs, and really made everything so stress-free. I would absolutely return again as it would be a great place to spend a relaxing weekend and actually get to enjoy the location a bit more. Everything was just perfect! Thank you so much!
Miina
2016-07-25T00:00:00Z
Sondra is a friendly, responsive host and made sure we were comfortable during our week-long stay. The two of us thoroughly enjoyed a quiet winter retreat reading and writing in front of the wood-burning stove. The apartment is spacious (an extra bedroom we didn't use), clean, and we had plenty of equipment to cook our meals in the kitchen. A great value in a lovely setting that's easy to get to from NYC. (Note: There's much more light in the rooms than the pictures show.)
Sarah
2016-01-02T00:00:00Z
My husband and I spent two nights at the apartment. It was totally pleasant - just as advertised. We had a great time! the accommodations were very cozy and the surroundings are beautiful. We prefer staying a few minutes outside of town, where it is quieter, which is why this location is great. The hosts were very kind and welcoming and included some lovely breakfast foods for us into the kitchen. We would stay here again.
Lily
2015-05-25T00:00:00Z
It was a short stay but it was the perfect place. Just as described, cozy and quiet. The fridge had all the necessary ingredients for a breakfast and Sondra is a great host.
Javier
2016-06-27T00:00:00Z
Romtype
Helt hjem/leilighet
---
Eiendomstype
Leilighet
---
Plass til
6
---
Soverom
Staatsburg, New York, USA
Wassaic - Airbnb
:
Gjennomsnittlig

4.94

av

5

stjerner fra

395

gjesteanmeldelser