The guest apartment is a section of an historic 1847 Greek Revival home. Private entrance leads to a sitting room with couch in front of a charming non working fireplace, table for casual eating and stuffed chair for reading. One end of the sitting room leads to a cozy room with day beds for sleeping or hanging out! A kitchenette has sink/refrigerator/coffee maker. Upstairs is a cozy bedroom with bead board ceilings + queen size bed. The adjacent bathroom has a bathtub with newly tiled wall.
The home is located on the country road of route 45 in Warren. Close by is the beautiful Lake Waramaug. It's fun to take a drive around it or stop to hang out on it's beach. Overlooking the lake is The Hopkins Inn for a drink or a bite to eat......or.....the Hopkins Winery for a "tasting". Just 10 minutes down the road is the quaint town of New Preston with its shops and casual eatery. the town is built along the river that was used for power "in the day". Hiking trails are numerous. A favorite of mine is Steep Rock in Washington. A casual walk along the dirt road which runs along the river or a more strenuous hike on the more hilly side. Visit the historic covered bridge at Bulls Bridge and explore what the swirling water has done to the rocks over thousands of years. From there you can follow the Appalachian Trail for a "walk"........ or a "hike"! In season there are several ski areas within an easy distance.....Catamount, Mohawk Mountain Ski Area, Butternut and Ski Sundown. The charming town of Great Barrington Massachusetts is an easy trip with it's shops and galleries and also the nearby Tanglewood for Boston Pops concerts. Relax and have fun!
Romtype
Helt hjem/leilighet
---
Eiendomstype
Hus
---
Plass til
4
---
Soverom
Warren, Connecticut, USA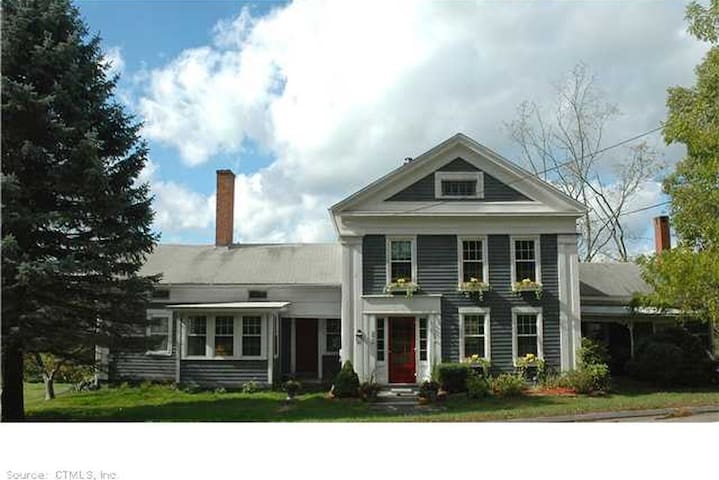 This beautiful home is located on the Connecticut wine trail in the hills of North Western Connecticut. With vineyards within walking distance, It is the perfect escape for those weekenders looking to get out of the city and lounge by the lake or Ski in the winter. The property offers access to the lake in the summer and is just 20 minutes away from Mohawk Mountain ski resort. Newly furnished and with great lake views, this home can sleep up to 6 people and is the perfect country retreat.
Truman was very responsive and the cottage looks exactly like the pictures. I would definitely go back.
Paula
2017-01-02T00:00:00Z
The place was absolutely charming. Perfect for weekend retreat. Truman was great, very responsive. The listing was accurate! Their home is located on the large property but the distance is enough for privacy. We would definitely come back again!
Alana
2016-05-02T00:00:00Z
Our second time at Truman's beautiful home. A perfect getaway that truly feels more tucked away in the Lake Waramaug area. We hiked, dined at great restaurants, went swimming in the lake, and woke up to beautiful surroundings. Luxury in the country. Thanks to Truman and his beautiful family on another wonderful stay. Can't wait to come back in the winter. xo
Christine
2016-06-27T00:00:00Z
What a peaceful, quiet place! Birdsong floating in through the windows, mist on the hillside. Mint and squash flowers from the garden. It was a wonderful place for time together as a family, and Truman is an exceptionally generous host!
Addie
2016-07-11T00:00:00Z
It was a perfect weekend getaway. Just over 2 hours from the city and set in beautiful rolling green hills. We loved that the lake and winery were literally minutes away. The house itself is elegantly designed and very comfortable. Truman was a great host. He came to check in as soon as we arrived and was quick to respond when we had questions. Would definitely stay here again.
Sameer
2016-05-30T00:00:00Z
A wonderful experience. The place is exactly as shown, homey, rustic, nicely appointed, and clean. It is a perfect getaway, complete with beautiful surroundings. The garden was still in bloom, the kids loved the tree swings, and the Hopkins Vineyard provided fabulous wine. Truman was responsive and always there for us when we needed him. We will miss this place!
Brett
2016-11-03T00:00:00Z
This is a charming and comfortable home with a working fireplace and country kitchen - perfect for the weekend with my wife and our daughter. Truman gave us great directions prior to coming, and the entire process was simple and with no stress. We cooked our breakfasts with supplies from the Cornwall Country Market - on the way to Mohawk Mountain where we were skiing with friends the day of check-in. There are some wonderful places to eat further south for dinner (we ate at Upper Crust Cucina, south on 202 in New Milford; had lunch one day at Hopkins Inn just down Curtiss and Hopkins roads). We'll certainly consider coming back to this property to get away from The City! Thank you for a lovely stay.
Mahlon
2016-12-31T00:00:00Z
Truman's cottage was just as represented. Country chic, rustic but nicely furnished and well appointed. Our host was very responsive. We were able to explore surrounding towns of, Kent, Washington and New Milford (about 15 minutes away). The cottage, being out of town, provides privacy and seclusion for those looking to get away and relax. King bed in master is heavenly! Two twins in guest room, also. Love LOVE the treadmill. Would have enjoyed a walk outside but a bit too cold. Beautiful views on the drive up. Thanks, thanks, again for a beautiful stay!
Victoria
2016-03-05T00:00:00Z
Romtype
Helt hjem/leilighet
---
Eiendomstype
Hus
---
Plass til
4
---
Soverom
Warren, Connecticut, USA
This charming two bedroom, one bath cottage can accommodate six guests. The cottage has been completely re-done in 2014. The cottage overlooks beautiful Lake Waramug and is in walking distance to Hopkins Inn and Hopkins Winery. Semiprivate beach.
The cottage has a fully appointed kitchen, outdoor BBQ as well as all towels and linens. Cable/Phone/High speed internet.
This cottage has a fantastice view of Lake Waramug. The lake itself is listed as one of the top "1000 places to see before you die" Guests can ride around the entire lake or for that matter take a seven mile walk or run around the entire lake. small towns are nearby for dining or antique shopping.
The cottage was in a great location as our son was rowing in a regatta on the lake and the cottage had a grestview of the lake.
mary bernadette
2016-05-02T00:00:00Z
Bliss Cottage was the perfect cozy getaway. Tom was communicative and helpful before we checked in, and even left us local muffins and jams as a welcome gift. Checking in was easy, and the cottage was clean and comfortable. Parking was a little tricky to figure out, but once Tom explained to us where to park over the phone, we found it just fine. Would definitely recommend a stay in October - the foliage is beautiful!
Sneha
2016-10-24T00:00:00Z
Tom is a great host---excellent communication. His lovely family cottage was just perfect for us. We were three guys staying at Lake Waramug while attending a class reunion at the Gunnery--only 10 minutes away from the cottage. One Bedroom was a large queen--and a second Bedroom with two beds. This was so much better than staying at a hotel. The Hopkins Inn is right next door so meals are no problem if you want to eat out. And we did some tasting at the Hopkins Winery which is also right there. Highly Recommended.
Paul
2016-06-13T00:00:00Z
It was a wonderful experience. Quiet and clean! Tom was extremely friendly, patient, and understanding. Very accommodating!
Asha
2016-08-21T00:00:00Z
I will admit that when I got to the property, I was nervous because there was no Air Conditioning however; the temperatures never broke 74 degrees and, at night, I actually needed to turn on the heater! I am from Florida so, anything under 65 requires a jacket. The cottage was very nice and was obviously renovated recently. I enjoyed my morning coffee (thanks for the full size coffee maker!) in the morning on the front porch overlooking the beautiful lake. I can only imagine what that view must look like in the fall. Tom met us at the cottage and greeted me with beer. It was much needed after a 21 hour drive. The winery was really cool and the people were wonderful. Parking was a bit tricky but manageable. All in all, I would love to stay here again. And don't forget to stop at the waterfalls!
Bill
2016-06-10T00:00:00Z
The cottage was great. Had everything we needed for a great weekend away. An easy walk down to a private lake front beach with a fire pit, Hopkins Inn and winery next door as well. Hope to go back in the fall and definitely recommend.
David
2016-09-03T00:00:00Z
We arrived looking forward to a nice relaxing place to call home the week before our daughter's wedding- We found it! Tom was delightfully funny and welcoming, even before we arrived. He went out of his way to give us all options available for dining and things to do. He came by to personally greet us and made sure we knew he was available if we needed anything, and in a world of "cyber-everything", it's wonderful to enjoy human contact and casual fellowship. The neighborhood is great. The walk down to the lake is short and the view is great; from lakeside or from the porch! Tom is a great host- mostly because he's real and likes to meet people and kibbits!
Tonya
2016-06-03T00:00:00Z
We rented the cottage for friends of ours and they were totally satisfied with all aspects of the stay. They also reported that the host was very attentive.
Steven
2016-08-02T00:00:00Z
Romtype
Helt hjem/leilighet
---
Eiendomstype
Hus
---
Plass til
6
---
Soverom
Warren, Connecticut, USA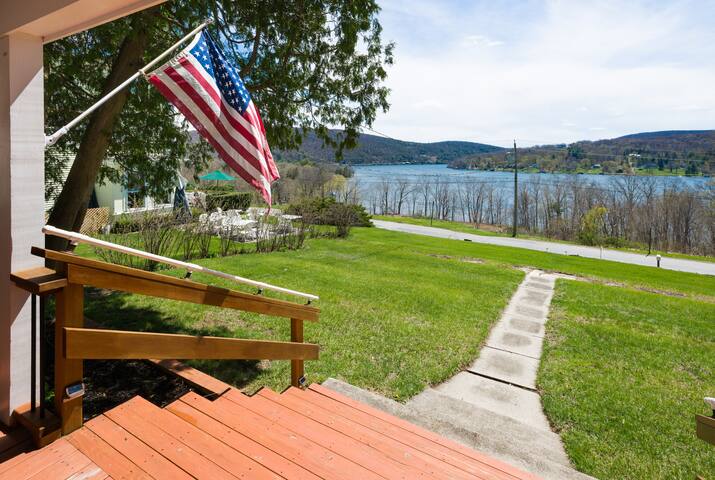 Beautiful Litchfield County retreat in private and quiet location. Your choice...plenty of hiking, bicycling and skiing nearby, or sit by a roaring fire and pen the great American novel. Come be inspired by the picturesque views and wildlife. Close to Lake Waramaug beaches and the largest nature preserve in CT. Guests have access to the Warren Town Beach on Lake Waramaug.
We loved this place! We were traveling partly to explore and play in the snow, and partly to see if we'd like to move to the area. Peter and his daughter were the best hosts we've had. Super kind, super helpful - and also just people you want to hang out with. They brought us sleds to borrow since it had recently snowed, and Peter even taught our 2 older kids (10 & 6) how to sled. He told us all about the area, got out maps, and helped us figure out where to explore (including a reeeeally good ice cream shop). The place has a lot of character - the kind of place where you start a fire in the fireplace and play Scrabble. The kitchen has plenty of pots, pans, utensils, a really nice stove, coffee equipment, etc that we were able to pick up a few supplies at the grocery store and cook some nights (made Clafoutis, pasta, re-heated pizza). Really cool little library of old books! Definitely looking for excuses to return!
Shannon
2017-01-11T00:00:00Z
Romtype
Helt hjem/leilighet
---
Eiendomstype
Hus
---
Plass til
4
---
Soverom
Warren, Connecticut, USA
Our place is across from Lake Waramaug. Great getaway for couples. Numerous restaurants, galleries, and entertainment options are close by. Two night minimum - $500
Immaculate privately owned house for rent, short or long term. Perfect for city weekenders. Open floor plan, two bedrooms, one full bathroom. Beautifully furnished with antiques and period (1940's) furnishings. Phone, cable TV, DVD player, fireplace, and wired high speed internet are available. Landscaped yard with watergarden, organic herbs and berries gardens. Lawn/garden care and snow removal included. Walk to private town beach. Near skiing, hiking trails, and excellent restaurants. Guaranteed to be the cleanest house on the lake. No smoking or pets allowed.
This is a lake community favored by many New Yorkers as a weekend getaway and vacation spot. With the change of weather things are a bit quieter now but the beauty of the area remains. There are many excellent restaurants, galleries, and other recreational opportunities close by.
Romtype
Helt hjem/leilighet
---
Eiendomstype
Hus
---
Plass til
4
---
Soverom
Warren, Connecticut, USA
Welcome to MaWink's House! The area has certainly developed since my German barber and hairdresser great grandparents bought this house over 60 years ago! But with three generations still living in the area and using this as our central meeting spot, we still lovingly refer to it as MaWink's house. The home, a stone built 'cottage' built at the turn of the century, is four bedrooms/three bathrooms and sits a hundred yards from our cabana and doc on scenic Lake Waramaug. THE UPSTAIRS * Master bedroom with a four post bed, private balcony to admire the perfect view of the lake, private sink, and a shared bathroom with... * Second large bedroom with stunning views of the lake, private sink and three single beds. THE DOWNSTAIRS: * renovated kitchen with back door entrance (leads to car parking area and garage) and breakfast bar. It's open plan with... * Large living room/dining area that includes a large flat screen TV, dvd player, stereo and collection of dvd's. * The front closed in porch (my favorite area!). There is a table that sits 6 where we usually eat and a sitting area to admire the views. * The den/library - a smaller room off of the living room with windows to the porch and a sleeper sofa for extra guests. * The back bedrooms/bathrooms: *** There are two cosy back bedrooms that we call MaWink and Gaga's rooms after my great grandmother and my great aunt. Always the host, MaWink never slept in the big bedroom upstairs, but instead kept that for her constant flow of guests coming to the house! MaWink's room is en suite with bathroom with shower and queen bed. There is an additional bathroom with full bath in the hallway for Gaga's room which has two single beds;) THE CABANA: With one of the few cleared views of the lake from the street we always have bikers and walkers stop to take a picture... but don't worry, the cabana is set below on the lake so you'll barely notice them! A two room cabana with gas grill, fridge, prepping space and sitting area. Two wood docs - one attached to the cement based area and one that we float to swim out to! You can climb down to the 'beach (water height dependent ;) ) to play in the water or just get thrown in from the doc! Lots of comfy furniture including lounges, wicker table and chairs and a outdoor couch! AMENITIES: Washer/dryer in basement full kitchen/appliances/dishes etc linen/towels/blankets included Digital Cable, large DVD collection, stereo, telephone (cell phone reception is not great around here) Wireless internet THE AREA: We are based on Lake Waramaug, in Warren, CT. Litchfield county was ranked one of the top 1000 places in the WORLD to see before you die, and I can attest to it. With rolling hills, adorable villages, hikes, rivers, lakes, antiquing, art, fantastic restaurants... its a dream getaway only 1.5 hours from NYC. At the foot of the lake is New Preston, a small village filled with quaint antique shops, a couple lovely restaurants and a nice cafe/bakery. Kent town center is a ten minute drive and famous for its adorable high street and art scene. If you want to hang out with the townies (from the billionaires to the gas station attendant) head to GW's in Washington depot for great food, live music and plenty to drink. If you don't want to drive anywhere, take a five minute walk up the road to Hopkins Inn, restaurant and vinyard for some wine tasting and traditional Austrian cuisine. As a family we feel so lucky to have this home and while my mother now owns it (and will retire there and move from NJ) my grandparents, aunts and uncles all put their love, time and energy into the place so you might run into one of them as they mow the lawn or trim the hedges! I am now based in London (see my other listing) but I take every opportunity I can to head home for the tranquility of Mawink's house!
The house was very cozy and comfortable. The upstairs master bed was VERY comfortable. The setting right on the water made for beautiful mornings with coffee on the screened in front porch!
Robyn
2016-06-06T00:00:00Z
We had the best vacation. 4 adults and 4 kids (Place can fit at least 4 more) ages 6-75. The house is very comfortable and we did not need to bring anything extra but food. The cabana on the lake is great - you can use the BBQ (works on gas), pedal boat, fishing rods, fire pit, Kayaks. There are seats, cushions, life vests, refrigerator! and pretty much anything you need to stay there for hours. We went during the foliage season (GORGEOUS!) and used the fireplace at the house (chopped woods are ready outside). There are bikes in the garage, equipment for snow and all the little things you would think that you need in such place. Kitchen is well equipped. Bathroom, shower, toilets, sinks all great and enough towels for everybody. Wi-fi works great. The place is beautiful, and pictures does not do justice. We had a great time and will recommend to anyone looking for a family getaway. It was only 2 hours from Brooklyn, NY where we live and the road to there was beautiful too. The area around has lots of activities too - farm related, hiking for all ages, vineyards with stores (one of them only 5 minute walk away from the place). Highly recommended!
Amir
2016-10-11T00:00:00Z
Host was very accommodating and allowed us to get to the property early (we had a red-eye flight and this was helpful). The location is great and the lake is beautiful. Having the cabana and dock area was fantastic and we hosted a few get togethers with friends and family. They all loved it.
Margaret
2016-06-26T00:00:00Z
This was one of the best AirBNBs I've ever stayed at. The photos don't even do it justice. The inside is exactly as described - cozy, charming, roomy and clean. Outside, you're literally facing the lake and it's gorgeous. Thank you for a terrific Thanksgiving!
Matt
2016-11-26T00:00:00Z
Beautiful house and lake. Very helpful host. We had a great time.
HARSHAD
2015-09-21T00:00:00Z
If you want rural Connecticut with long winding roads this is it: the setting here is just unbeatable. The house faces directly a lake and you can take long walks admiring the spectacular views. The house itself is spacious and comfortable: a perfect spot for a relaxing weekend! (bonus point: cell phone reception is not great, so you can really get away from all those emails!)
Claudia
2016-10-23T00:00:00Z
We absolutely loved our stay at Heidi's lake house. There was plenty of room for the 8 of us and our two dogs. The house is beautiful and is stocked with a lot of conveniences. Most of our time was spent on the dock overlooking the lake. What a magnificent view! Overall, everyone in our group loved the house and would recommend staying here.
Jeremy
2016-05-31T00:00:00Z
I styed at Heidi's house on Lake Waramaug this past weekend with my family and it was perfect, we couldn't have been happier! It was exactly as advertised - beautiful, clean, homey, comfortable, and of course the location is ideal! The view is fantastic, the dock was great. We had a perfect weekend!
Martha
2015-05-12T00:00:00Z
Romtype
Helt hjem/leilighet
---
Eiendomstype
Hus
---
Plass til
9
---
Soverom
Warren, Connecticut, USA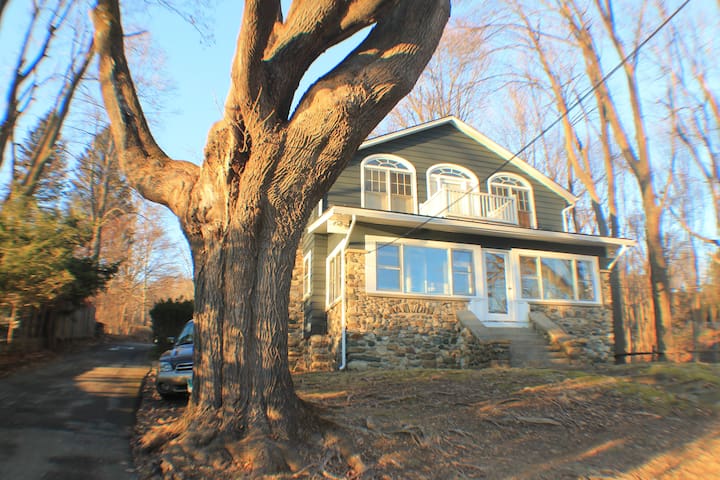 Thank you for looking at the farm. The farm is located less than ¼ mile from beautiful Lake Waramaug and the town beach is available, with a life guard. 10 miles the center of Litchfield, ct 16 miles Mohawk ski area in Cornwall
The farm was built 1851 and is listed on the ct historic register. The house features a large kitchen with a commercial range and granite counters. There is patio area over looking a formal garden and the orchards. There is large screened in porch. It is situated on 42 acres to explore, great for hiking and cross country skiing. There is swimmable pond and a gorge with a water fall. The town beach is 1/4 mile away and has a life guard and picnic area.There are 2 beautiful barns. During certain times during the year there are cows in the pasture. The cows are fun to watch and are very docile, friendly and are very good listeners. The property is family/kid friendly, and a crib is available.
Paul and his mother were absolutely lovely to my father and his friends. My father had his 55th reunion and he and three of his friends stayed at the house for the weekend and had a wonderful time. They said that it was quiet and just really perfect for them. Thank you so much Paul!
Debs
2014-06-09T00:00:00Z
We had a wonderful stay to sun hill farm. Paul was a great host. We were 4 couples and still had plenty if space in the house. They house was in a beautiful, truly a wonderful weekend getaway!
Jennifer
2014-08-25T00:00:00Z
We had a great time. The house was comfortable and clean and the kitchen was a dream to prepare meals in. Paul was very responsive when we encountered an issue with the house internet after a storm.
Robin
2014-10-06T00:00:00Z
Our family reunion was very successful, in large part to the beautiful facilities at Sun Hill Farm. We would recommend it to any group wanting to be in this beautiful part of the country and needing a fairly large house to meet the needs of multiple families or groups. Paul was a very good host. We will certainly keep this place in mind for future events.
Louise
2014-07-07T00:00:00Z
Paul was accommodating and worked with us on our schedule and provided a lovely, delightful home; clean, well appointed, beautifully maintained, comfortable, relaxing. And beautiful grounds (lovely flowers!) with acres of room for children to play. We sadly missed the cows. The house was even larger than I thought it would be, with many spacious rooms to afford everyone privacy. Thanks Paul. It was perfect.
Sharon
2015-06-14T00:00:00Z
This is a wonderful old house, with eclectic furnishings in a beautiful area of Connecticut. The house is filled with antique beds and comfy quilts. The kitchen is modern and well stocked. Paul was an attentive host and was available with any questions we had! If you have a large family and want a perfect country weekend, I highly recommend Sun Hill Farm.
Danica
2016-11-27T00:00:00Z
Paul arrived at the house with a bag of groceries for us and gave us a little rundown on the house. He told us a bit about the area, including a fall festival to be held over the weekend. He made sure we had emergency numbers to call, and he showed us where first aid supplies and fire extinguishers were kept. The house was very comfortable and well stocked. It was perfect for enjoying a fall weekend in Connecticut!
Karen
2015-10-11T00:00:00Z
We rented the Sun Hill farm as a group of friends in town for a wedding. It was perfect for us. Three couples with seven young children and two nannies sounds like quite a crowd, but there was plenty of space. The kids had a ball playing in the spacious yard. The kitchen is brand new and well appointed. Did I mention the 100 year old heirloom apple trees? Lovely!
Cam
2015-09-27T00:00:00Z
Romtype
Helt hjem/leilighet
---
Eiendomstype
Hus
---
Plass til
10
---
Soverom
Warren, Connecticut, USA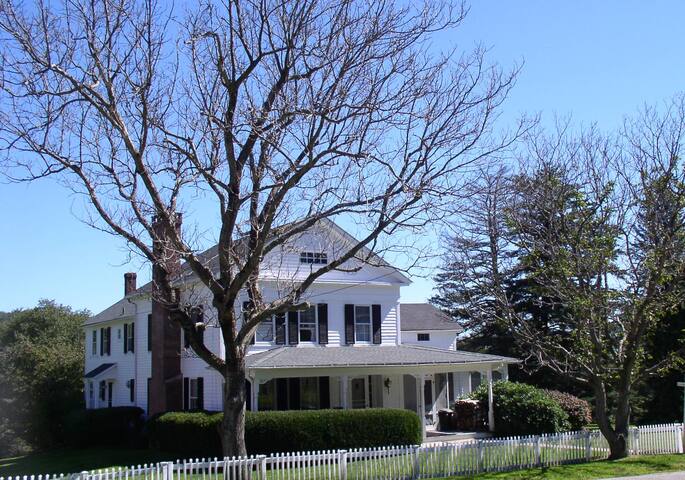 Accommodations have own private entry on first floor of 18th Century colonial on a quiet dead end road. 10 minutes to Kent and to Washington. Appalachian Trail nearby. Great biking and hiking
Romtype
Privat rom
---
Eiendomstype
Hus
---
Plass til
2
---
Soverom
Warren, Connecticut, USA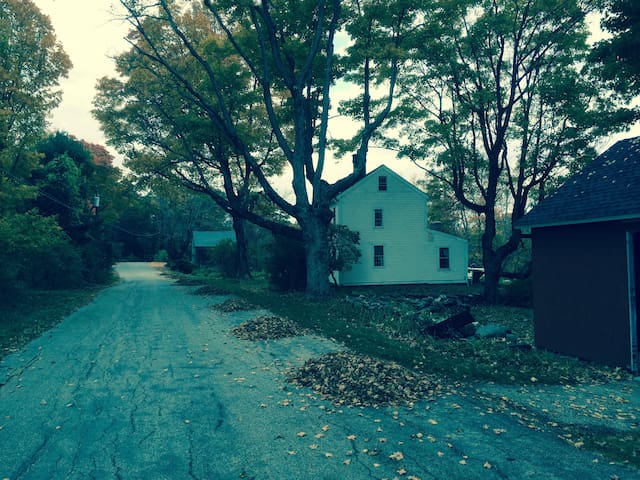 This elegant 8-bedroom, 7.5-bathroom house provides a tremendously memorable experience for groups of up to 16 guests. You'll have 500 feet of prime waterfront access on Lake Waramaug. Great for family gatherings, near golf, skiing, and much more!
Built in 1898 by renowned architect, Eric Rossiter, "The Boulders" exudes an elegance and historic charm only found in New England. This stone and shingle home is situated on an expansive, beautifully landscaped property, which is shared with the "Carriage House," a smaller vacation rental home. In total, the property can comfortably accommodate family reunions and guests at local celebrations. Whether you're looking to escape the hustle and bustle of New York or the crowds in the Hamptons, "The Boulders" offers everything you need to feel as relaxed as possible! Inside, you'll find this recently renovated 8-bedroom, 7.5-bathroom residence to be impeccably decorated with tasteful furnishings, gorgeous hardwood floors, and multiple charming fireplaces, making the 13,000-square foot home feel very warm and inviting. From wireless internet access and cable TV to in-unit laundry machines and a gas grill, this house comes with all the essential conveniences of home. You and your companions will find plenty of space to spread out and relax in privacy, as the spacious layout features multiple living spaces, a library, and media room, as well as sleeping arrangements for 16 guests. After an unforgettable day on the lake, refuel with a meal prepared in the gourmet country kitchen, fully equipped with marble countertops and stainless steel appliances. Later, sip a nice glass of wine out on the screened porch while you admire the breathtaking fall foliage and lake views. Perhaps the best feature of this home is its incredible outdoor space! You'll be mere steps from Lake Waramaug, where you can swim, kayak, and fish, or simply relax on 500 feet of stunning waterfront. Plus, you'll have access to a boathouse and 2 docks, providing easy water access. For moments when you'd prefer land-based activities, enjoy hiking along wooded trails that begin directly behind the home, or bike 7-8 miles around the lake. The kids will certainly love running around and playing on the home's large 2-acre yard.
When you're not relishing in the home's amazing amenities, you won't have to venture far to experience the area's best attractions! From here, you'll be only 25 minutes from skiing and a pristine golf course. If you're in the mood for some retail therapy, browse local antique shops before stopping for lunch at one of the area's quaint restaurants. Explore the area further by sightseeing in the nearby towns of New Preston, Washington, Washington Depot, Kent, and Litchfield. In addition, the house is conveniently located within 1 hour of Hartford, 2 hours from New York City, and 2.5 hours from Boston. Whether you're traveling to Connecticut for a special event or simply on a peaceful lakeside getaway with loved ones, this extraordinary Warren vacation rental home leaves nothing to be desired!
Romtype
Helt hjem/leilighet
---
Eiendomstype
Hus
---
Plass til
16
---
Soverom
Warren, Connecticut, USA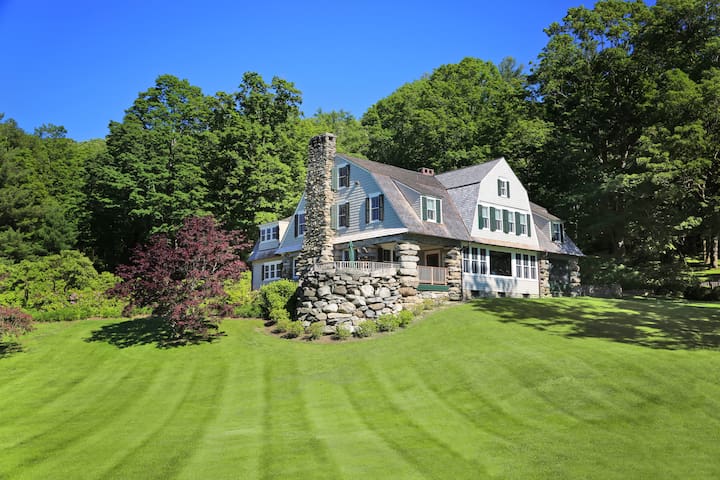 Unique comfortable, 2 room cabin in the woods on dead end road for a tranquil setting with Housatonic River view from within cabin and access for great fishing, boat/raft floats, hikes, free of normal stress, Has TV for DVD's. Rental booking less than 3 days between rents possible.
AC in each room. Gas wall heater in front room with backup wood burning stove and electric heaters. Kitchen has a gas stove, a microwave and a toaster oven. Queen size bed in one room, sleep able couch in other. Vaulted ceiling. Roughing it in style.
Tranquillity peaceful relaxation is here if you desire it or participate in active outdoor activities for fun.
The cabin is a great little spot in a nice area. The Appalachian trail is a 5 minute drive, the firepit in front of the cabin is a great spot to relax, and the cabin itself has all the basics. A great little getaway. Bill was very responsive.
Alex
2016-10-09T00:00:00Z
Bill was very communicative prior to our arrival, heated the cabin in advance, and provided all basic necessities such as fresh linens and towels. The area surrounding the house is beautiful-- the river is literally steps away, and you drive through gorgeous woods to get there. Based on the description and prior reviews, I expected the cabin to be rustic, and I am a camper/backpacker. That said, I was very disappointed with what we found. It seems like there is a squirrel living in (or at least visiting) the house because we found acorns in multiple hiding spots. There was also a large amount of small larvae on the floor in the main room-- not sure what those were from. The cabin smelled strongly of stale cigarette smoke, and floors could have used a good sweep/mop. We ended up staying with a friend somewhat close by for the 3rd of our 3-night stay. We opted to stay with a friend somewhat close by for the 3rd of our 3-night stay.
Catherine
2016-11-13T00:00:00Z
Nothing fancy, but a nice, peaceful place in a wonderful setting overlooking one of New England's often overlooked rivers, the Housatonic. Bill was responsive, friendly and a pleasure to deal with.
John
2016-07-27T00:00:00Z
The trip was amazing. The pictures do not do it justice. There is a beautiful river on the property and a lot of land. The house itself was cute clean and a perfect size for us. I will definitely be making it back her again.
Tara
2016-10-02T00:00:00Z
we had a great time-beautiful setting
David
2016-09-06T00:00:00Z
The cabin is situated in a lovely area. The whole region is beautiful and a new discovery for us. Bill is a top notch host and made sure we had all the necessary and useful information. The cabin was as we expected and we definitely hope to return.
kyle
2016-07-05T00:00:00Z
The host canceled this reservation 13 days before arrival. This is an automated posting.
Joanne
2017-04-01T00:00:00Z
Bill is a great host. He was very communicative when we booked his cabin and even went above and beyond by asking his housekeeper to provide frozen pancakes and sausage for breakfast if we were so inclined. The cabin is small, but perfect for a couple. It rests right along a beautiful lake where we saw others fishing in the morning. We brought our dog (Harley), who loved running around the yard and dipping her feet into the lake water. There are sweet gum seeds (the spikey brown balls that fall from the sweet gum tree) that can be a bit dangerous for dogs and we had to keep mindful of that every time we were outside. Also make sure to check for ticks because we found one on Harley after our stay. The cabin is quiet with not a lot of other homes or activity nearby. You can find a nice breakfast cafe a couple of miles down the road over a covered bridge and the Kent Falls are a few miles further than that. Great for hiking and getting away from the city life.
Jon
2016-10-16T00:00:00Z
Romtype
Helt hjem/leilighet
---
Eiendomstype
Hus
---
Plass til
2
---
Soverom
Sharon, Connecticut, USA
Nestled at the end of a private road in idyllic landscape, this converted barn offers the perfect getaway: new kitchen, big log fires, giant hot tub, movie & games room, 15 mins from Kent CT & Mohawk Ski mtn, gorgeous views, village amenities nearby
The lodge has a brand new kitchen in an open-plan, converted barn type space, with a large log fire and huge windows letting in the light and looking out over rolling meadows and woodland. In addition to the main room, a converted basement contains a media/playroom with foosball table and adjoining bathroom. Bedrooms are located on ground, first and second floors.
The towns of Sharon and Kent are both less than 15 mins drive away, with plenty of nice amenities, cafes, taverns, stores etc. The local village of Cornwall Bridge has a great deli and wine/liquor store, Post Office and a hardware and fishing tackle store. The area has 3 State Parks and is noted for its Scenic Beauty. The Appalachian trail and the Housatonic River run through the valley, within easy hiking distance of the lodge. There is an abundance of wildlife, especially birds (an Audubon center with raptor aviary is a few miles away) but also bears have been sighted!
We absolutely loved staying at the lodge and would love to come back again some day. Your instructions for everything were easy to understand and everything we needed was easy to find. Thanks again Tim!
Keiran
2017-01-02T00:00:00Z
Tim's rustic house in the mountains was a perfect stay for the week! The house was better than I'd imagined, and all our guest had very restful night in comfortable beds. Tim was excellent to communicate with and answered all the questions prior to our arrival.
Chris
2017-03-24T00:00:00Z
Fantastic house for our family getaway. A bit of rustic back to nature! The house is well equipped and nicely furnished!
jemma
2017-02-21T00:00:00Z
This lodge was truly charming and secluded! A friend and I had a fantastic time in the ample, well-lit, and cozy space. Enjoy yourself by the fireplace, in the hot tub, strolling the grounds, or down the road to some great skiing and lovely little towns! Tim was available day and night to answer all of my questions quickly and thoroughly. We felt at home by the time we left and really didnt want to leave! I would definitely recommend this location to anyone looking for a relaxing and scenic getaway. Flexible check-in was a big plus too!
Mason
2017-01-30T00:00:00Z
This place is wonderful, I would recommend it to anybody looking for a getaway, or a large home to stay with friends, or family. The game room is amazing, a kids paradise!! The hot tub it a great feature to have, and the view can be beat. Sitting in the tub enjoying privacy, listening to silence, enjoying each other's company. This place can't be beat.
Sarah
2017-02-13T00:00:00Z
Romtype
Helt hjem/leilighet
---
Eiendomstype
Hus
---
Plass til
8
---
Soverom
Sharon, Connecticut, USA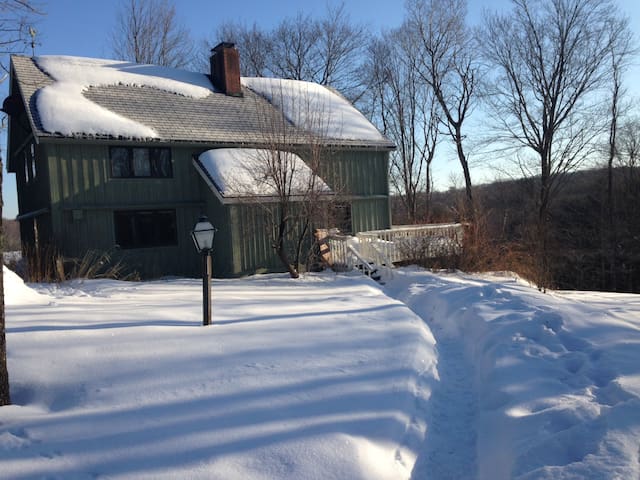 The 1885 Farmhouse was first built as a country Gothic-revival church in 1885 on the edge of farmland in Sharon Valley by the Parish of Saint Bernard's. Rebuilt in 1915 as a family farmhouse with adjacent farrier's shed. Rebuilt again in the 1990s as a weekend home. Litchfield County and the Hudson Valley might be the closest experience the USA has to Provençe and Gascony in the South of France.
Breezy and light-filled. Close to great restaurants, Mohawk Mountain skiing, Indian Mountain and Hotchkiss Schools, Lime Rock Park, recreational trails, the Village of Millerton, and farmers' markets. Built as a country Gothic-revival church in 1885 on the edge of farmland in Sharon Valley by the Parish of Saint Bernard's. Rebuilt in 1915 as a family farmhouse with adjacent farrier's shed. Rebuilt again in the 1990s. Engineered to accommodate 180 people on Sundays, the first floor's oak joists are 2x10 inches and 12 inches on center. The home unbuttons in the late spring and remains airy and cool all summer. Westerly winds from upstate New York glance off Indian Mountain and head south down Sharon Valley, making the neighborhood ten degrees cooler year-round than Brooklyn's Park Slope, where the owners live and work during the week. By mid-autumn the home buttons up for a snug, warm winter. Careful use of building materials containing no volatile organic compounds makes the home a delight for anyone sensitive to allergens and irritants. Sharon Valley is lush with water, its drainage established at the end of the last Ice Age, and our land is home to the tallest tri-leader birch in Litchfield County, nearly 85 years old. We furnish the house with cotton sheets, cotton and wool blankets, and feather comforters and pillows. There's a hair dryer under the sink in the en-suite bathroom, and a steam iron and ironing board for do-it-yourselfers, but we very much like New England Dry Cleaners in Millerton on US Route 44 near the Connecticut state line.
Nearby restaurants are Monte's and Serevan in Amenia, the Oakhurst Diner, Manna Dew, and No. 9 in Millerton, the Boathouse and Woodland in Lakeville, and Pastorale and the White Hart Inn in Salisbury. Nearby hiking and nature observation are on the Harlem Valley Rail Trail, South Taconic Trail, and Appalachian Trail. Sharon Valley was, we can report, once a world center for the manufacture of mousetraps, but that hasn't been true for a hundred years. Note the ancient tri-leader birch in the photograph from the rear yard, looking north: it is the tallest in Litchfield County and nearly 85 years old. The most remarkable views are from the South Taconic Trail near the boundary where Massachusetts, New York, and Connecticut all meet. (North of the Village of Millerton, take Dutchess County Route 63 (the road to Boston Corner) to Deer Run Road, and park along Quarry Hill Road at a trail head.) The South Taconic Trail has some segments best climbed with both feet and hands. The much gentler, nearly level Harlem Valley Rail Trail is a particular favorite and a stroll in the country, illustrating the differences among fens, marshes, and bogs. Sharon Valley is a part of the Taconic Range and Litchfield Hills, small segments of the Appalachian Mountains. For visitors from overseas, New York City, the Hudson Valley, and the Taconic Range are extensions of North America's East Coast flyway, popular with migrating birds since the glaciers' retreat at the end of the last Ice Age.
Walter & Karen welcomed us very warmly on arrival in a way we knew we would stay friends long term, and we felt totally at home in their house until the moment we left. The house rules are very clear and logical. The entire house is super cozy and close to a perfect hiking trail - the paved Harlem Valley Rail Trail. We found a couple of amazing restaurants within 10-15 minutes of driving and we also enjoyed making our own meals in the house. Perfect weekend getaway!
Zvonko
2016-01-18T00:00:00Z
The farmhouse itself is very cozy and quiet, it's lovely. Karen and Walter were always very quick to respond to any questions and super friendly all around. We only stayed for the weekend but wouldn't have loved to stay longer! It's a beautiful area of the country and a great place to stay if you're wanting to see the area. We would highly recommend it!
Shannon
2016-06-07T00:00:00Z
Four of us had a delightful weekend in Karen and Walter's farmhouse with its lovely gardens and open field behind. It has the comfy, informal charm of an older home and a well equipped kitchen plus outdoor grill for any cooking we were inspired to do. The location is ideal for activities and exploring in a beautiful area of CT. We look forward to a return visit.
Jane
2016-09-06T00:00:00Z
My family had a lovely stay with you during my wedding! They loved exploring the area and, in particular, the close proximity to the Rail Trail. Communication with Walter and Karen was great as we took some time to sort out the final arrangements. Thank you!
Michael
2016-08-29T00:00:00Z
Our stay could not have been better! The house was great and the beds were comfortable!
Chris
2016-10-10T00:00:00Z
Our experience at Walter & Karen's house was really great. Walter was there to greet us when we arrived and was very welcoming. The house was just as described. It was perfect for my family (including my toddling 13 month old) to get out of the city for a few days. The location is quite nice being close to a few little towns.
Anne-Marie
2016-05-02T00:00:00Z
The farmhouse is a awesome place for a family vacation! Plenty of room for kids to play (ages 7-11) and adults to relax. The kitchen has everything you need, for making pancakes, grilling burgers, or bringing-in BBQ or sushi takeout from nearby. Even though we had two of the hottest days of summer so far, the house was cool and breezy with lots of fans and the screened porches. The washer / dryer were super convenient. The kids loved sleeping on the front porch, going to soccer day camp at IMS, reading books from the Scoville Library, and catching fireflies and tiny frogs out back. It sounds idyllic but true. The adults enjoyed the Canaan Y for working out, the Millerton Moviehouse, and the Woodland for dinner. Here's the only advice we'd offer. Being up this far in the NW corner of Ct, you're almost off the grid (which we like). While the Internet connection is excellent at the house - next time, we will download more movies for the kids ahead of time. We are already making plans to visit next summer.
Beth
2015-07-24T00:00:00Z
Nous avons ete tres bien accueillis par karen et walter. Ils nous ont tout explique sur les environs, et sur le fonctionnement. La maison est tres bien decoree et confortable. La vue de la cuisine est apaisante et nous avons passe un tres agreable moment la bas.
Lascar
2015-12-30T00:00:00Z
Romtype
Helt hjem/leilighet
---
Eiendomstype
Hus
---
Plass til
8
---
Soverom
Sharon, Connecticut, USA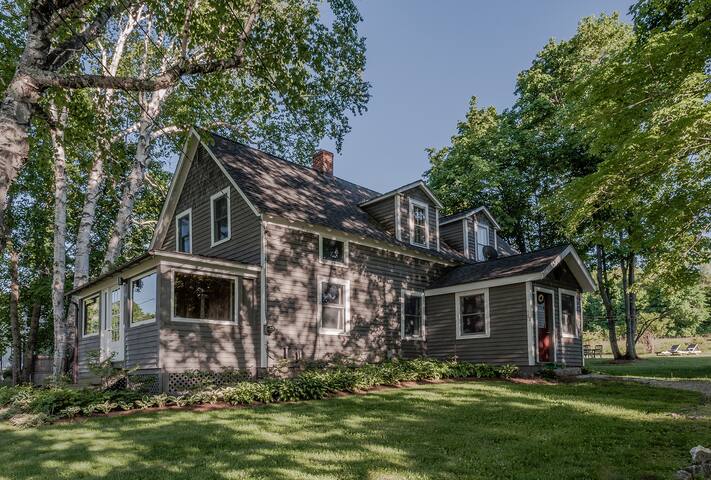 This beautiful home is located on the Connecticut wine trail in North Western CT. With vineyards within walking distance it is the perfect summer escape. The property offers a beautiful salt water pool as well as access to the local beach.
Romtype
Helt hjem/leilighet
---
Eiendomstype
Hus
---
Plass til
10
---
Soverom
Warren, Connecticut, USA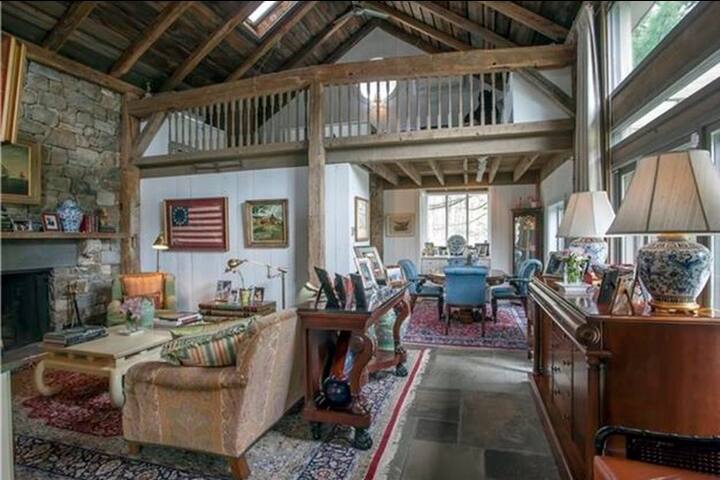 This 1870's private and cozy eyebrow colonial includes a gourmet kitchen, spacious bedrooms, wide board floors, strap-hinged plank doors and a regularly tuned Weber studio upright piano. Located in historic Sharon, CT in a welcoming rural neighborhood, it's a perfect getaway for those looking to enjoy a peaceful and comfy country getaway that includes the bounties of Litchfield County, CT and Dutchess County, NY.
Warm and cozy Plenty of parking in private driveway
The home is in the midst of an historic, casual and comfortable 1800's era neighborhood. Places within easy access include: -Lime Rock Race Trac(URL HIDDEN)-Millbrook Vineyard and Winery -Sharon Play Hous(URL HIDDEN) -Appalachian Trail (hiking) -Sharon Audubon Cente(URL HIDDEN) -Harlem Valley Rail Trail (hiking/biking) -Cascade Winer(URL HIDDEN) -Clinton Vineyards -Culinary Institute of America in Hyde Park -Poughkeepsie! -Top-rated restaurants -Numerous golf course(URL HIDDEN)-Several ski areas nearby (Mohawk, Catamount, Ski Butternut, Jimminy Peak) -Bash Bish State Park Haystack mountain and Infinity Theater in Norfolk 4 miles from Hotchkiss School, an independent boarding high school
It was a great, comfortable home. Everything was extremely clean and well kept. Tom was awesome with the entire process from check in to check out.
Andrew
2017-01-16T00:00:00Z
We've had a wonderful time in Thomas' place in Sharon despite some rain Thomas was waiting for us and showed us around He's a great and charming host. The house was splendid and well-equipped and big enough for four people. Nature was close and overwhelming enough to enjoy the foliage. We strongly recommend this place to anyone Paul. The Netherlands
Paul
2016-10-23T00:00:00Z
Tom is a generous and exceedingly helpful host who has created a fully stocked and truly comfortable home for visitors. It's a down to earth house, not luxurious; but then that's not what he's promising. The location is wonderful--it's both a relaxing countryside home as well as being set on a street boasting many Victorian-era houses that are right in town and make driving around Sharon and the area, accessible. I particularly enjoyed sitting outside on Tom's wonderful upstairs deck and looking up at the tall tree tops and sky, and then taking a walk on the block where the house is set. For a special extra, cross the street and you may get a peek of the winding Ten Mile river. I highly recommend a stay here!
Aileen
2016-08-01T00:00:00Z
Tom was very gracious, always accessible and helpful. The home was delightful and better in person than the photos. Very comfortable. The neighborhood is quaint, quiet mostly families. The yard, front porch and back deck off master bedroom were so nice that I wish I had taken more time to enjoy sitting outside for coffee each morning. I'd definitely recommend Tom's home for visiting area sites, events or just a peaceful getaway.
Cheryl
2016-08-07T00:00:00Z
Tom's place is on a very quiet side street in a rural area. You can see stars at night, being so far away from city lights. The house is pristine clean and neat. The upstair bedrooms have what appear to be original old charming flank floors. The living room has comfortable sofas. It has a modern gourmet kitchen, with high-end appliances. There is a deck out of the master bedroom where it is very pleasant to sit around and pass time. Communication with Tom was very smooth. Even though he wasn't there to meet us, we had no problem finding and gaining access to the house. Thank you Tom for opening your house to us.
Gary
2016-10-30T00:00:00Z
Our stay at Tom's house felt like visiting a family friend in the country side. Tom gave us a warm welcome and showed our kids how to play his piano. The house is beautiful, with exposed beams, and lots of light. Everything worked beautifully. We saw deer in the morning, and enjoyed the fresh air. There's plenty to do in the area. It's a short drive to Kent Falls (for a one hour hike along the water fall), half an hour to Bash Bish Falls, 10 minutes to Ellsworth farm for apple picking, and 10 minutes to the Harlem Valley Trail for some bike riding on an old railway track. It'd be a wonderful place to spend Thanksgiving.
Petra
2016-10-11T00:00:00Z
Tom was there on arrival and greeted us warmly. Everything was fine with the house and amenities.
Kevin
2016-10-16T00:00:00Z
Wonderful roomy cottage in the woods, with large bedrooms, well stocked kitchen, and patio for relaxing or even BBQing. Located perfectly for exploring the area and the hidden gems on the charming roads that wander through this part of the state. Tom was a gracious host. Will definitely stay here again.
dylan
2016-07-24T00:00:00Z
Romtype
Helt hjem/leilighet
---
Eiendomstype
Hus
---
Plass til
4
---
Soverom
Sharon, Connecticut, USA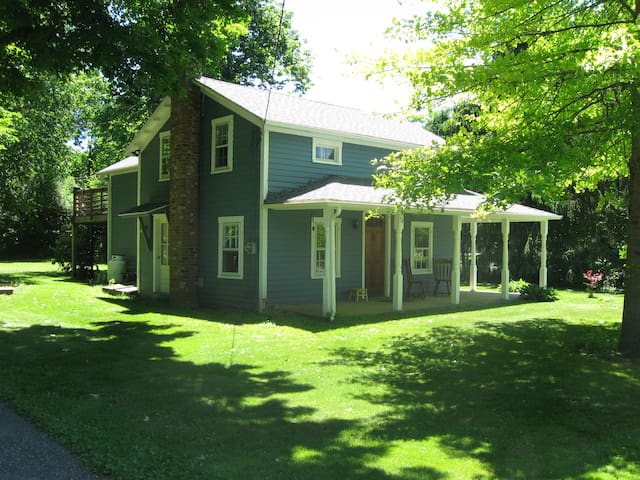 Close to Beautiful swimming lakes, great grocery store, drug store and other essentials in town, farmers market, hiking and fishing. You'll love our place because the sunsets are out of this world. BBQ and eat at picnic table and then cook smores at the fire pit and enjoy the view.
The host canceled this reservation 8 days before arrival. This is an automated posting.
julien
2016-06-24T00:00:00Z
Romtype
Helt hjem/leilighet
---
Eiendomstype
Hus
---
Plass til
5
---
Soverom
Sharon, Connecticut, USA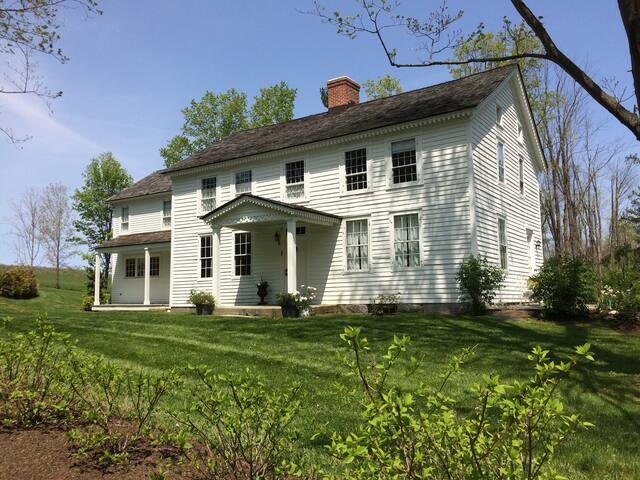 This historic home borders Warren and Kent CT. It is over one hundred years old and is very easy to move from the town of Kent or Warren. The home sits on five acres and has undergone extensive renovations since purchase in 2014.
We had a great summer weekend at Tom's place. We booked extremely last minute and Tom was super responsive, flexible and accommodating. The property is a great size, and the bedrooms upstairs are particularly comfy with lovely spongey carpets and plush beds! The garden was beautiful but we spent most time at a nearby lake beach.
Laura
2016-07-25T00:00:00Z
Romtype
Helt hjem/leilighet
---
Eiendomstype
Hus
---
Plass til
8
---
Soverom
Warren, Connecticut, USA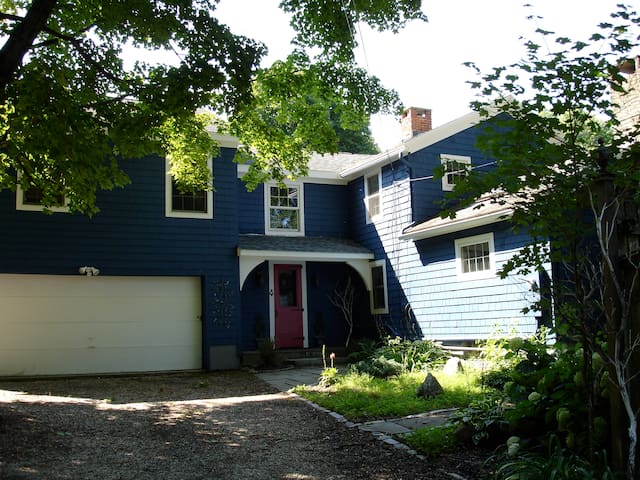 This gracious colonial home is nestled in nature in a beautifully wooded area atop Sharon Mountain. You will love the setting with its abounding natural beauty and peace and quiet it offers. This gem is comfortable and spacious, with all the modern conveniences, promising a warm feeling of home and a restful stay. What a magnificent getaway destination for family and friends looking for an exquisite pastoral experience.
Our home atop Sharon Mountain is very close to Mohawk Mountain Ski Area (Cornwall), Ski Butternut (Great Barrington), Sharon Audubon Center, Limerock Park, lovely local restaurants in NY & CT, Hotchkiss School, Salisbury School, Indian Mountain School, Kent School, Harlem Valley Rail Trail and the Appalachian Trail. We are one hour south of Stockbridge, home of the Red Lion Inn, and close to Tanglewood and the Norman Rockwell Museum. Our home is a two hour train ride from New York City, using the Metro North Line to Wassaic, NY, with a 15 minutes ride to/from our house (taxi available).
Our home is located in a lovely neighborhood atop Sharon Mountain. Some of our neighbors are " weekenders" from NYC and some live year-round. People are quite friendly and helpful as well.
Place was great. Nice, isolated spot in the mountains to get away from it all. Got about 2 feet of snow and had a great time playing in it. The house if very large and spacious. A few rooms have no furniture and just rugs so they are great for yoga and playing around with our five year old.
Jesenia
2016-11-23T00:00:00Z
Great house in great location and excellent condition. As this was my first time taking a house on Airbnb I didn't know what to expect but it was great.
Natan
2016-09-25T00:00:00Z
This is a beautiful home in a wonderful setting. It was the perfect location for special time with our family. All we needed was there in the house and the hosts were welcoming and helpful whenever we had questions.
Kevin
2016-12-23T00:00:00Z
Mary's home is immaculate and equipped with everything you need for your vacation stay. We enjoyed quality family time around the large kitchen table, got cozy and warm in front of the fireplace, slept soundly in the extremely comfortable beds, and all in such a beautiful setting. We highly recommend this home and hope to return some day.
Ann Marie
2017-02-20T00:00:00Z
Amazing house with everything you need for a wonderful country weekend. I will definitely book it again.
Ana
2016-09-11T00:00:00Z
Our family enjoyed a wonderful stay in this cosy, comfortable home, tucked into a beautiful forest in this lovely area of Connecticut. Snowfalls and tobogganing, and a white New Year's eve made it very special. The house is cosy, spacious and comfortable, with all the necessary amenities, and a gentle New England feel. Mary and Philip were a pleasure to deal with, and very helpful.
Lucinda
2017-01-02T00:00:00Z
Wonderful stay in a beautiful home with great hosts. Highly recommend!
Maria
2017-02-12T00:00:00Z
This was my second time staying at Mary's beautiful home. I look forward to returning!
Aileen
2017-02-26T00:00:00Z
Romtype
Helt hjem/leilighet
---
Eiendomstype
Hus
---
Plass til
9
---
Soverom
Sharon, Connecticut, USA
Comfortable antiques-filled child-friendly vintage home in the woods overlooking the Housatonic River. Fish, kayak, hike the Appalachian Trail, swim in a lake, or ski. Roast marshmallows over the fire pit or curl up by the cozy fireplace. 1.5 miles to W. Cornwall with the prettiest covered bridge in New England, shops, seasonal farmers' market, and a restaurant. Nearby: Hotchkiss, Kent, Indian Mountain schools and Lime Rock.
Fort Housatonic is surrounded by trees with cozy pine panelled interiors. There's a large living room, eat-in kitchen, three bedrooms, large library/play room, and a sun room. Plenty of firewood for the fireplace or outdoor fire pit. Enjoy lounging or dining on the huge deck overlooking the river and mountains. Cookout on the Weber grill. Kitchen has a Bertazzoni gas range, Chemex coffee maker, microwave, blender, hand mixer, and dishwasher. Help yourself to staples in the kitchen, it's well-stocked with olive oil, sea salt, and the like. The house is furnished with comfortable American antiques and is very child-friendly with toys, games, books, bikes, sprinkler, big lawn, and safe paved area for ball playing, including a basketball hoop. A 31" flatscreen TV and DVD player are tucked away and there's a small collection of movies. Walk down the steep rough path to the river (400 feet) and fish (1000' private frontage) or explore. Swim in one of the nearby lakes. Drive around or hike in the autumn for the best leaf peeping in New England. Downstairs: main bedroom has a double bed, second bedroom has a queen. Upstairs bedroom: twin beds fastened together as a king (you may separate). Note: upstairs can be very cold in winter. Two daybeds in common areas aren't usually made up for sleeping, but you may. 100% cotton linens and towels provided. Connect your device to our Tivoli radios or Bluetooth Bose speaker for music. Introduce your children to vinyl on our turntable. Wifi available (at your cost).
Litchfield County, aka the Foothills of the Berkshires, is filled with charming New England villages with restaurants, bookshops, galleries, artisans, antique shops, and nature centers. Downhill skiing is 10 minutes away. Fish, kayak, raft or canoe in the river. Hike the Appalachian Trail or other stunning trails in nearby Mohawk Mountain State Park or the Pine Knob Loop. The nearby Miles Wildlife Sanctuary has an easy looped trail with great birding. Public beaches (most have fee): Lake Wononscopomuc (13 minute drive), Taconic State Park (20 minutes), or Lake Waramaug State Park (23 minutes). The house is in Sharon, but closer (three-minute drive) to West Cornwall, home of Connecticut's most picturesque covered bridge, a seasonal farmers' market, cute shops, and a quirky French restaurant, RSVP. See guidebook for more.
Our stay was easy and relaxing! Thanks Martha.
Mara
2016-12-28T00:00:00Z
The perfect stay
maura
2016-11-06T00:00:00Z
Communication leading up to the weekend was excellent. Martha was very helpful in offering advice about the surrounding area. The house was lovely - simple and well appointed, and ideal for a weekend reunion for a few friends. We spent most of the time on the deck, which was large enough for all of us to congregate, and we even brought two Weber grills to cook with. Can't recommend Fort Housatonic enough.
Ben
2016-07-25T00:00:00Z
The house is an incredibly quaint log cabin in the Connecticut woods overlooking a beautiful river. It is a perfect balance of modern amenities and convenience with the appearance of true back-in-time living. Although it is tucked away in a remote lot, it is just minutes from several small towns, in particular Kent, which is a beautiful, upscale New England village. Martha provided detailed instructions on how to get there, and how to get around the area, with tons of suggestions on restaurants, activities and sites to see. Thanks to her guidance, we enjoyed a glorious kayaking trip, an amazing BBQ dinner and of course some fishing.
Jennifer
2016-06-20T00:00:00Z
We enjoyed our stay. It was quiet, peaceful, and out of the way. It is a beautiful place with an excellent view of the river below. If you like older and quaint, this is your place. Martha was responsive and helpful.
Charles
2016-06-06T00:00:00Z
Romtype
Helt hjem/leilighet
---
Eiendomstype
Hus
---
Plass til
6
---
Soverom
Sharon, Connecticut, USA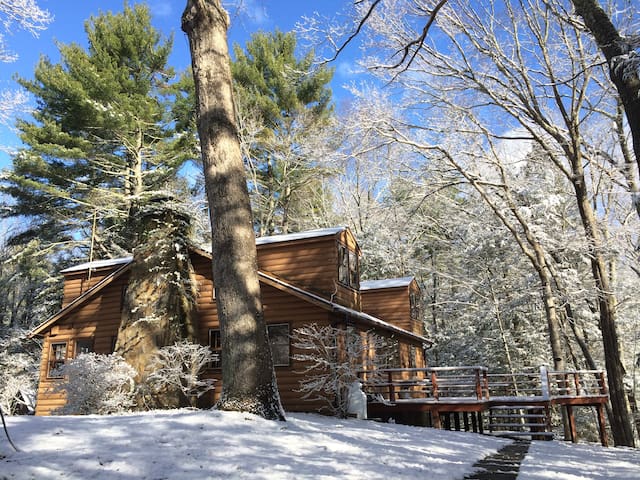 Warren - Airbnb
:
Gjennomsnittlig

4.83

av

5

stjerner fra

151

gjesteanmeldelser
1

–

18

av

161 Hjem til leie
Oppgi datoer for å se fullstendige priser. Ekstra gebyrer gjelder. Skatter vil kunne tilføyes.