We are located in a desirable, executive area of Vernon called The Foothills ... a 5 min drive from downtown! AND only a 20 min drive to Silver Star Mountain! You will feel at home in this fully furnished, beautiful home! The Private Bedroom with a stunning view of the mountains is in the lower level of home/above ground with adjoining Living area. We have wireless internet ... cable TV with Netflix! Bathroom is just at the top of stairs.
Private Bedroom ... perfect for one or two people.
Neighbourhood is in a prestigious area of Vernon where many professionals and executives live. Plenty of areas to go for a stroll in the neighbourhood or stroll up into the hills for a spectacular view of all of Vernon! Only 20 minutes from Silver Star!
We booked Denise's place last-minute for a single night she had available - we so wished we could have stayed longer! We arrived in the evening and received a warm welcome from Denise and husband Harry before taking much-needed showers in the very clean, comfortable bathroom, spending time relaxing in our own private living room, then falling asleep in a ridiculously comfortable bed in a bedroom with a killer view. We unfortunately missed Denise in the morning (we overslept in the ridiculously comfortable bed), but were able to help ourselves to really good coffee which we sat and drank on the patio with view of the mountains and Lake. We would definitely recommend this stop anyone looking for a relaxing stay in beautiful Vernon - again, our only regret is that we couldn't stay longer. Thanks Denise!
Ev
2016-08-03T00:00:00Z
This was our first AIRBNB experience and we loved it. Denise and her husband were great hosts and the accommodations were excellent and roomy. It also was only a 20 minute drive to Silver Star mountain.
Kathea
2017-03-08T00:00:00Z
Denise was a wonderful host. The house appears to be new. Very nice and quiet neighbourhood. We will definitely come back again.
Walter
2016-03-19T00:00:00Z
Denise & Perry are gracious and warm hosts of their beautiful home. The basement living area is quite spacious. And the bedroom cozy with a beautiful, big window overlooking the valley and mountains! An overall great place and hosts. Would definitely stay again!
Robert
2016-12-17T00:00:00Z
After reviewing the accommodation options, I decided to book a few nights at Denise's and I am certainly glad that I did (She was able to accommodate my day of request). The house is nicely situated outside of the downtown en route to Silver Star provincial park, which comprises the Mountain Resort and Sovereign Lakes Nordic Centre. The views were spectacular from the house and the bedroom in the basement is very quiet (so much so that I was able to catch up on the recent lack of sleep). In fact, it is semi-private with a television offering cable and Netflix that one can use outside of the bedroom. Denise and her husband were welcoming and very nice. I enjoyed morning chats with Denise. Coffee and tea are available and one has access to the kitchen. I highly recommend considering staying with Denise; her place is one of the nicer one, perhaps the nicest that I have rented on AirBNB.
Dan
2016-12-03T00:00:00Z
Denise is a wonderful host and makes sure her guests have no problems at all. She goes beyond to make sure her guests have a comfortable stay at her place. The house is lovely and at perfect location to enjoy the beauty of Vernon!!
Guneet
2017-02-11T00:00:00Z
Very nice home, quiet room with a comfortable bed perfect for a great night's sleep. Denise is a warm and friendly host.
Warren
2016-12-20T00:00:00Z
I enjoyed my stay very much. Denise helped me when I needed a new accommodation very urgent and welcomed me very warmly on the front door. She and her husband are very friendly, pleasant and relaxed people, so I felt comfortable all the time. I have to say thanks for borrowing me cleaning stuff for my car and for the agreeable communication during my stay. I can recommend this place from the bottom of my heart. It was a very enjoyable stay.
Eva-Maria
2016-10-07T00:00:00Z
Romtype
Privat rom
---
Eiendomstype
Hus
---
Plass til
2
---
Soverom
Vernon, British Columbia, Canada
New Lakeview Home Swan Lake , 2 person Hot tub with access to lake and canoe !
New home , fully equipped . New bbq Natural gas . Great location! Close to Silver Star mountain resort ...also located between 2 other lakes in our area for beach and water sports . We are about 60 Kms from Kelowna BC and 60 km to Salmon Arm Bc .
We are rural but a short 5 minute drive to town . Beautiful birds .. A nice spot to relax . Or work . Close to lakes and ski hills ... best of all worlds
Wonderful home to stay at! It was the perfect amount of space for our family consisting of two young children. We were very comfortable and so pleased with how clean the home was on arrival. Carol was so easy to meet with and very accommodating. The house is filled with all the necessities for a great stay and goes beyond - the coffee and fruit upon arrival was a perfect, thoughtful touch!
rebecca
2016-09-02T00:00:00Z
Carol and her husband were very friendly and easy to deal with. They really care about the guests! The place was amazing and the convenient, but private location was a plus. I would highly recommend this place. See you again!
Rodney
2016-07-22T00:00:00Z
We loved our time spent here! The house location was perfect for what we wanted, close enough to Vernon to easily go there for anything needed, and just far enough from it that we didn't feel like we were "in a city". The quiet view from the deck with the hot tub and outdoor fireplace was just magical. The house was clean, spacious and very nice. Carol was a great host, easy and quick to communicate with. I honestly can not think of anything I have to complain about.
Candise
2016-12-27T00:00:00Z
This was the perfect accomodation and a home away from home. Spacious, comfortable, clean and fully furnished and has everything one might need. Carol is very welcoming and easy-going. Close to town, shopping and Kalamalka lake access. I am planning to go back!
Dobrila
2016-08-14T00:00:00Z
Our stay here was fantastic. The house itself looks better than on the pictures, I would recommend the host to use a professional photographer. he house is new, clean and has a lot of space. Outside BBQ and hottub are really nice additions. We came in easy and fast and were happy to see a basket of bagels and croissants as a welcome gift, thanks a lot! We were allowed to use their canoe to take a trip across thew Swan lake, that was fun.
Stan
2016-09-20T00:00:00Z
Excellent location. Home was beautiful and had everything we needed. Made our Vernon vacation perfect. Highly recommend.
Cheryl
2016-07-15T00:00:00Z
Carol's place is gorgeous. It's brand new and super quiet! It had everything we needed for our needs and more. I am amazed at the value for this luxury home away from home!
Brian
2016-11-25T00:00:00Z
This is a wonderful house with great amenities. Everything you need for a great stay. Would definitely recommend to anyone!
Tyler
2017-01-01T00:00:00Z
Romtype
Helt hjem/leilighet
---
Eiendomstype
Hus
---
Plass til
6
---
Soverom
Vernon, British Columbia, Canada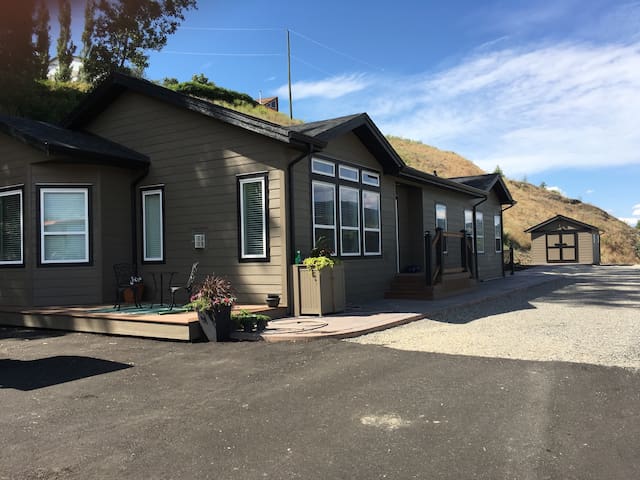 The cosy Snug (10ft. by 12 ft.) sits at the waters edge. At night you may be lulled to sleep by the lapping of the waves. You might see beaver, raccoon or deer. Bald headed and golden eagles nest above hiking trails in the pine forest steps away.
At the waters edge with a private bathroom inside the house , wifi only available outside guest bathroom, canoe, peddle boat, outdoor Pergola with BBQ, small bar fridge (no freezer), 13 minutes from town. There is hiking above the house and 2 provincial parks 15-20 minutes away. Enjoy the lake, listen to the loons, and watch the beavers swim by and the eagles soar above the hills behind us. Pricing is based on one room occupancy for 1-2 people.
Hiking, Lakeshore, Swimming, Boating, Nature.
Alison's Vernon Lakeshore Paradise Retreat is exactly that! Her place and location are stunning. I am giving this amazing retreat five stars even though we arrived on a VERY HOT 99-degree day to Alison's lovely (albeit very tiny) lakeside cottage, The Snug, Because of the unusually high temperature, the cottage did not cool off enough for sleeping until well after sunset. But such a high temperature is extremely unusual for this area where few homes even have air-conditioning. I am confident that on virtually any other summer day, this little retreat would be as breezy and cool as it is beautiful. There is a large, well-appointed, private bathroom in the main house for those staying in the cottage. And our gracious hostess Alison made us a delicious breakfast before we went on our way. I highly recommend this little bit of paradise.
Rebecca
2013-08-11T00:00:00Z
Going to bed and listening to the lake was one of the best sleeps ever! Such a cute, inviting and fun place to stay--kind of like glamping. We could have used an extra day to just laze around! Alison is a great host and was very helpful. We loved the chickens and all the little touches, such as fresh eggs and muffins for breakfast. We would happily stay here again next time we are in Vernon. Thanks Alison for a memorable stay.
Dave
2016-06-27T00:00:00Z
We are currently in our third week of a four week tour and Alison became officially our favorite host and listing yesterday. We came late around 930 pm, but Alison welcomed us warmly and made sure we had everything we needed. We stayed in "The Snug", something like an external bedroom right on the water, with the lulling waves right outside our window and a view of the dock. The room was cosy and beautifully decorated with a soft and comfortable bed and fluffy pillows. It had a tiny fridge, microwave, hot plate and water cooker, however don't expect to really cook inside (The room is about 9 square meters). If you need internet, there is wifi in the house. Expect to gaze at the stars on the lounge chairs outside in the garden, swim, or take a kayak/canoe/paddle boat ride on Lake Okanagan. The bathroom is in the house, as with the best breakfast in Vernon! You might see a hummingbird, big yellow butterflies, (in our case a curious fawn), but definitely a happy chicken on the property. Stay as long as you can! A stay with Alison is an experience you won't forget!
Carrie
2014-08-04T00:00:00Z
Alison is the most wonderful Host. Her energy is so peaceful and so calm. I instantly felt welcome. The Snug is an enchanting little spot that is more than perfect for me and another person. I fell asleep to the aounds of the lake, that was just a meter away. Alison invited me for breakfast and we ate together like family. She served a huge breakfast with eggs from her chickens, and lots of veggies just how I like it. I Absolutely will be booking here again I am Grateful for this getaway.
Gigetta
2014-08-09T00:00:00Z
A very highly recommended airbnb location. Fantastic location on the lakeside, very relaxing, wished we could have stayed longer. Wonderful breakfast and Canadian hospitality.
ian
2014-06-11T00:00:00Z
Peaceful and serene. Great location by the lake. Alison is very helpful and prompt in responding to my queries.
Geraldine
2014-05-17T00:00:00Z
Amazing place loved the stay. Thanks again
JP
2015-08-15T00:00:00Z
My wife and I had a wonderful visit at Alison and Rodger's waterfront "snug" for two. Alison and Rodger were excellent hosts and made us feel at home right away. The unit is very charming and being right on the water was very special.
Robert
2015-08-24T00:00:00Z
Romtype
Privat rom
---
Eiendomstype
Hus
---
Plass til
2
---
Soverom
Vernon, British Columbia, Canada
Furnished cottage (500sq.ft.) open style on our 2.5 acre lot just 5 minute drive to downtown. Very private garden setting with large tiled patio area. Views of garden, orchard and surrounding hills. Tranquil, private quiet setting.
We are in a rural setting yet only 5 minute drive to downtown. Surrounded by small acreages with interesting neighbors. Some have horses, sheep, lamas, donkey, and ostriches.
WINTER: 3O minute drive to ski Silver Star Mtn. (URL HIDDEN) We are in a rural setting with hiking right out your door. Only 5 minutes to town to shop, have coffee, visit the farm market. Lots of golfing or vineyards to visit.
Robert was there to greet us on arrival. He and Pat were very kind and gracious. In fact, we discovered they provided us with organic eggs, butter, milk and buns on our arrival. The Garden cottage was exactly as described and pictured. We loved it! Located in a country setting, close to town, and very quiet was just what we were looking for. The cottage was very clean and had everything (and more) we needed for our stay. Our only regret was that we couldn't stay longer but we will definitely return. I highly recommend the Garden cottage for anyone looking for a wonderful place to stay.
rosemary
2015-05-05T00:00:00Z
A memorable stay in the Garden Cottage. Robert and Pat were wonderful gracious hosts.
Dave
2014-08-28T00:00:00Z
We spent 3 wonderful days in the Garden Cottage, a high class apartment which is full equipped and very comfortable. The Environment is aweful in Roberts garden, a complete quiet and lonely place, even the town is only a few minutes away. Robert welcomed us warmly, he gave us recommandations about restaurants and other touristic attractions and explained us how to find them. He also equipped us with organic fruits and eggs of his wonderful Garden. He did all he could to make our stay pleasant. Thanks so much, Robert, we will come again! Volker&Anne
Volker
2015-09-27T00:00:00Z
Great place! Beautiful setting and Robert went above and beyond at making me feel at home. Highly recommend, and hope to return some day. Thank you!
Beth
2015-05-12T00:00:00Z
This was the second stay at Robert's and, as with the first, everything was perfect. Very accommodating and easy - couldn't have been better. Thank you!
Beth
2015-09-08T00:00:00Z
perfect!
Josianne
2016-08-24T00:00:00Z
I had the opportunity to spend 4 nights at the garden cottage while visiting vernon for work purposes. I arrived very late to check in and Rob was there to greet me upon arrival. The suite was fabulous and the attention to detail was evident. The fridge was stocked with organic eggs, butter, and some milk. There was also bread and fruit and teas and coffee. Pots and pans for cooking and adequate bedding for a very comfortable stay. However the best part about the stay is the location of the cottage. It is set on the beautiful acreage amongst fruit trees and a very nice garden. The views are breath taking. Rob and Pat leave you to yourself unless you require anything. The privacy is another great feature of the cottage. Thank you Rob and Pat!
Paul
2015-05-28T00:00:00Z
The garden cottage was better than expected. Robert was a great host. His property is well loved and show it. It was a pleasure to stay here and we will be passing on our experience to friends considering the area. Special notes. We have 2 motorcycles. Robert provided rockstar parking (outside our bedroom window) for the bikes as well as space for our suv and trailer. We also had a schedule problem that Robert helped us solve in less than 15 minutes. Thank you very much!
Rob
2015-08-19T00:00:00Z
Romtype
Helt hjem/leilighet
---
Eiendomstype
Hus
---
Plass til
2
---
Soverom
Vernon, British Columbia, Canada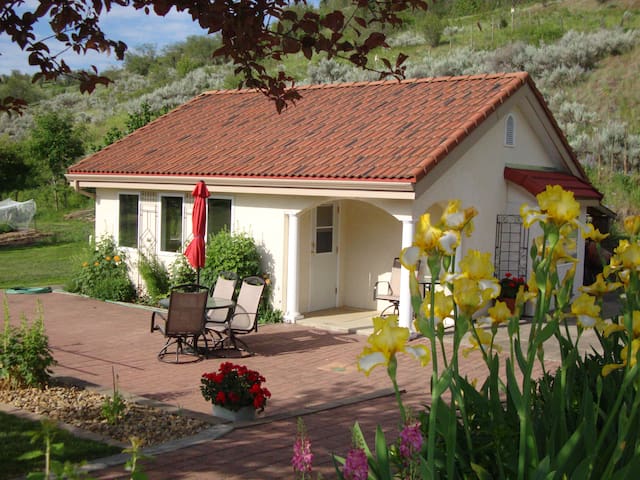 Located hillside overlooking lake, mountain & ravine views. An 'off-grid' wilderness retreat setting within easy driving access from the cities of Kelowna & Vernon BC. Miles of hiking, biking / ATV trails & horseback tour rentals upon request. There is even a 60' deep olympic size swim pond to cool off on hot days just up the trail!
Unbeatable price for this type of space and retreat experience! A comfy futon is provided along with a candlelit bar counter (off-grid = sans electricity) and seating area. You will want to bring as much camp gear to suit your level of comfort ☺
The most spectacular views and surroundings! Sweeping ravine and valley views to the east and mountainous / groomed cherry-farm hillsides to the west! The only rush hour traffic here are the horses, deer and free ranging cattle grazing in our meadows! Our Neighbours at the 'End of trails Ranch' also offer horseback and trail tours...reserve well in advance as they get quite busy! There is even a 60' deep olympic size swim pond just up the trail to cool off during hot summer days!
Romtype
Helt hjem/leilighet
---
Eiendomstype
Hus
---
Plass til
2
---
Soverom
Vernon, British Columbia, Canada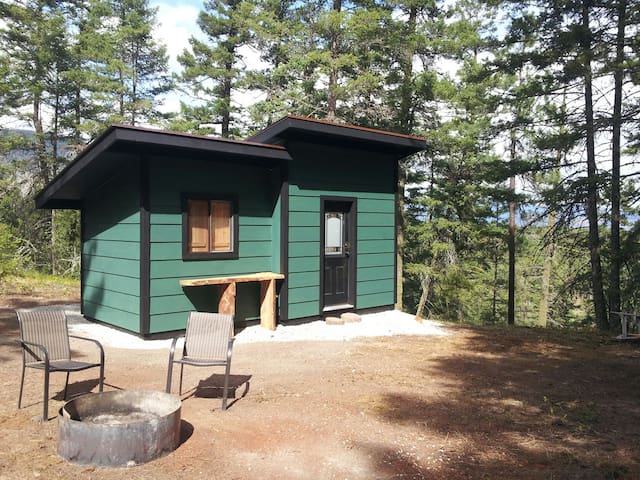 Orchard house is fully equipped and modernized. Large deck with views of valley & lakes. Steps to Grey Canal trail along BX creek to waterfall, or several kms along Silver Star Foothills. Close to downtown Vernon and 15 mins to Silver Star Resort. Quiet place to relax and enjoy the sunsets over the Okanagan hillsides.
Located off a quiet country road on 20 acres overlooking North Okanagan including Kalamalka and Okanagan lakes. The house has been modernized inside and is fully equipped.
We're located on a quiet gravel road in a rural area overlooking Vernon and surrounding lakes in the distance. The BX hiking trail borders the property and 2 creeks are a short walk from the house.
Amazing location and a beautiful home. Super deal for a group wanting to stay and enjoy the okanagan. Patrick was super welcoming and helpful as well!
Alexandra
2016-07-25T00:00:00Z
This is a really nice place in a peaceful and beautiful area, my son and I really enjoyed our one night stay. Patrick and Sean could not have been more welcoming and helpful. The house is spacious, comfortable and very well equipped, classic countryside views of hills and lakes. Very much hope to return one day and explore the area rather than just passing through.
Michael
2016-07-23T00:00:00Z
A must visit! This guest house is delightfully cozy yet well-equipped. The property is absolutely gorgeous, as well. This would make for an excellent family getaway. The hosts are very communicative and welcoming. I hope to return!
Bayonne
2016-08-21T00:00:00Z
The Curlew Orchard House is a fantastic, hidden gem that even most locals do not realize the treasure that it is! Although removed from the congestion and bustle of Vernon and Kelowna, the house is a 5 minute drive from all amenities. A smartphone / (SENSITIVE CONTENTS HIDDEN) maps / is really helpful for finding the place, but the hosts offered directions and would certainly help all those wanting guidance. This scenic location with an amazing view of Vernon and horizon outlining Kalamalka and Okanagan lakes make for great morning and evening balcony / deck sessions off the main bed room. The upstairs bedrooms all have air conditioning - fantastic for the summer. The house has old farmhouse charm with modern upgrades and pleasing aesthetic. We had everything we needed for this nice family getaway, and the hosts were available on location or by phone in short order if we had any questions or requests. A few minor things that could have made the experience outstanding we did not ask for as we just rolled with the circumstances and there was nothing that made us stressed or frustrated. We are forwarding a few suggestions to the hosts via email and I am very confident they will respond add a few items etc. that will make this guesthouse even better. We look forward to returning in the winter to ski Silverstar and the like; this house would make an amazing jumping off point with the fireplace and cozy charm for the responsible and laid back skiier / snowboarder group. There is much more we could add - it was one of our best stays. Laundry in the suite. TV, wifi, comfortable beds and linens... Property grown apricots brought over by those part of the wonderful team of hosts. Bravo on a stellar set-up! - everything? no
Harold
2016-07-29T00:00:00Z
This place was amazing. It was exactly as you would expect it. Quite and serene. The view was superb. Close to everything we needed. Very private and clean. Definitely a home away from home. I would most certainly recommend this place to anyone.
Natalie
2016-08-14T00:00:00Z
What a great, beautiful farmhouse and warm welcome! We really enjoyed our stay in this peaceful and perfect equipped setting. If we had known this, we should have booked for more nights. Thanks!!
Frank
2016-08-05T00:00:00Z
Our group had a wonderful weekend away at the Orchard house. The house looks just as it does in the photos and everything was spotless when we arrived. The house is located in a beautiful farming area and we enjoyed going for walks around the house. There is a very nice trail that starts right at the end of the driveway. Another favorite was the deck and views over the lake and Vernon. Highly recommend!
Emma
2017-03-26T00:00:00Z
Patrick et Shawn ont été d'une hospitalité exceptionnelle :) Tout était parfait! Nous avons bien dormi et avons été très bien reçu. Je le recommende à quiconque veut visiter le nord de Okanagan valley.
Leyla
2016-06-28T00:00:00Z
Romtype
Helt hjem/leilighet
---
Eiendomstype
Hus
---
Plass til
6
---
Soverom
Vernon, British Columbia, Canada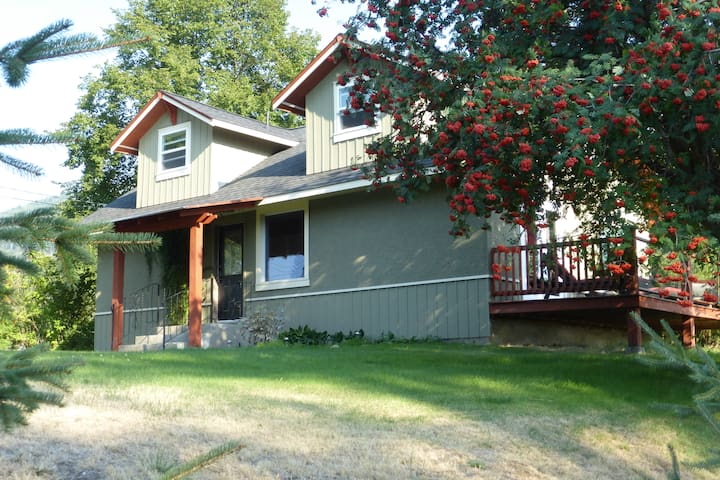 Central location to downtown, both lakes and ski hill. Kelowna airport is 35 minutes away if you decide to fly in. Our area offers the best of all seasons;
Private entrance walkout basement suite includes queen bed, closet, dresser, night-tables, large shower, small kitchenette includes: coffee-maker, toaster, bar fridge, microwave oven,BBQ, Electric frypan and cutlery. Futon bedding for small children only, extra $15.00
Vernon offers hiking, biking, fishing, quadding, downhill and cross country skiing at Silver Star and Sovereign Lake, swimming at Kalamalka and Okanagan Lakes, plenty of wineries and wine tours, fine dining and much more.
Holly was an amazing host. From recommendations on places to eat to her clean and spacious suite. The view from the hot tub was amazing and deer at our door in the mornings added to the serene feeling. Holly made our special ski vacation more memorable than we could have expected. We will be back again!
John
2017-02-28T00:00:00Z
This was my first Airbnb experience and it was excellent! Holly answered all our questions and provided assistance when needed on a very prompt basis. This suite was a very clean, nicely furnished one bedroom unit with a great shower, a spacious living room and the pluses of a pool table, private walk out terrace and hot tub with a city/lake view. There were fresh tulips on the table and terry towel bath robes for the hot tub! I can highly recommend this Airbnb.
Cheryl
2017-03-30T00:00:00Z
This place is awesome ! Great view from the hot tub! Landlord is super chill! Cheers
Ryan
2017-02-16T00:00:00Z
Great place. Hot tub and view is just magic. Definitely recommend
Kim
2017-01-02T00:00:00Z
Holly's place is ideal for a short break, very close to amenities and about 20 mins to get out to SilverStar Ski Resort. The hot tub is perfect and the full size pool table was a forgotten bonus, the feel of the lounge area is relaxed. The shower is huge and the bathroom feels surprisingly luxurious. To use streaming on the TVs you will need to bring your own aux cables to attach your own devices or you can watch DVDs. Although while we were there, between the games and the hot tub we didn't use any of the screens. The kitchenette is small but reasonably appointed - we brought a slow cooker and made a big ol' stew for our post-skiing dinner, was ready when we got home with minimal effort! We will definitely go back to this AirBnB!
Jill
2017-03-14T00:00:00Z
We had a great time at Holly's Airbnb. Good value, the hot tub (and the view) were fantastic to have, and we had ultimate privacy. We really enjoyed our time in Vernon as well.
Kaiti
2017-02-13T00:00:00Z
Holly's place is very clean and the bedding is super comfy! We had a great stay with all the kitchen amenities needed to make a full meal. The hot tub overlooking the city view was one of the best additions to the trip. The pictures are true to image and the space is very spacious for up to 4 people if needed. We will certainly be back at Holly's next time we're in Vernon!
Vivien
2016-12-30T00:00:00Z
Great place at a great price!
darrell
2017-02-19T00:00:00Z
Romtype
Helt hjem/leilighet
---
Eiendomstype
Hus
---
Plass til
2
---
Soverom
Vernon, British Columbia, Canada
This is the Okanagan valley of British Columbia! You have a huge full lower living area with a million dollar view. We're upstairs in our living area. 15 minute drive to the ski hill OR beaches. Quiet, clean and spacious. We love our home!
A fully furnished lower level to yourself with private entrance. Spacious living area with big screen TV. Ping pong table and treadmill if you want some activity. Large bedroom and full bathroom. Located in quiet neighbourhood with short distances to golf courses, beaches, wineries, hiking trails, ski hill and more. While the bedroom has a queen size bed, we can easily provide a double size above floor inflatable air bed to accommodate a third person in your living room area.
Beautiful new area of the city. Private residences on quiet cul-de-sac. Access to street parking in front of the home or a spot in our driveway. Will consider some access to garage for dirt bikes, skis or equipment. Talk to us about this and we'll do what we can to accommodate you.
Clean and Rick is very accommodating and made sure my family is comfortable. Definitely staying here again on the way back to BC. thank you so much Rick for the excellent experience :)!
Cheryle
2016-05-20T00:00:00Z
Rick was very accommodating and was a fantastic host. The house was located in a quiet part of town and boasted a phenomenal view of the city. The accommodations were spacious and comfortable.
Ryan
2016-06-30T00:00:00Z
Great accomodation, amazing environment, peaceful and lovely place perfectly managed by Rick, a really nice guy. Don't miss it. It's a must !
Luc
2016-06-27T00:00:00Z
Rick's suite is spacious and comfortable. The suite is easily accessible from both downtown Vernon and the Silver Star Ski Hill. Rick is a great host! Thanks again!
Sean
2016-10-10T00:00:00Z
Rick is an amazing host. He was both accommodating and friendly. My friend and I had an amazing stay at his air bnb. It has a stunning view of vernon and it's is quiet and beautiful. We really enjoyed our stay and will definatly be back when we are in vernon.
Rika
2016-09-12T00:00:00Z
My wife and I had and very relaxing and enjoyable stay and Rick's property. Another great example of gems found on airbnb and changing the face of travelling and experiencing areas of the world from the eye of a local. The home is great, table tennis in which I challenged Rick to a game or three (be careful he is good!). Big TV, fireplace, great internet, spacious. Great bath and excellent view!! I mean... excellent. I must also thank Rick for not over pricing his property and allowing everyone to enjoy this home. Great stay, great connection. I wish you all the best of luck.
Edward
2016-06-05T00:00:00Z
What you get is the entire basement of a well constructed house near the hilltop in a new subdivision of Vernon. The home is very clean, spacious, comfortable and well furnished in every respect, with the backyard providing an unobstructed view of the city. The host was very helpful and took time to explain how the TV set could be operated. Great value !
Bk
2016-08-19T00:00:00Z
Rick and Denise both exceeded my expectations on everything. From the check in to making sure we were comfortable, to recommending things to see and do in the area, to making sure we had everything we needed while we were in there space. I had great conversation with Rick on a few occasions, very personable and thoroughly enjoyed everything about the stay. I will for sure 100% stay again, and have already recommended there house to my parents who live in Winnipeg!!!! Thank you Rick and Denise for the great week!!
Jesse
2017-02-24T00:00:00Z
Romtype
Helt hjem/leilighet
---
Eiendomstype
Hus
---
Plass til
3
---
Soverom
Vernon, British Columbia, Canada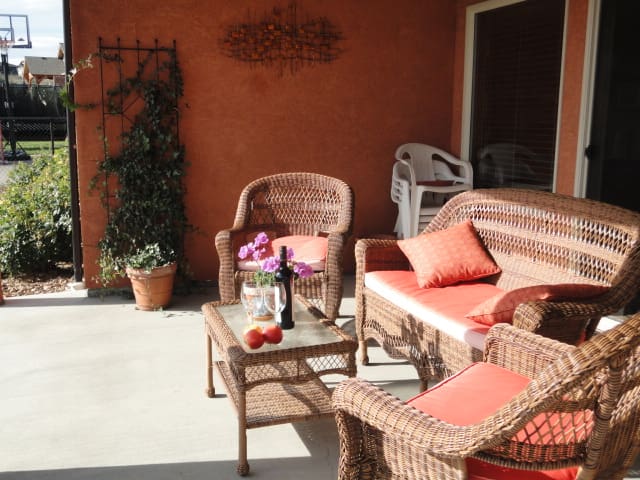 A cozy room with double bed available in quiet spacious house. Close to all amenities but off the beaten path. 10 min drive to downtown, 20 min to Kal Park, 35 min to Silverstar, walking distance to Kin beach, walking trails and parks close by.
Quiet secluded but close to everything you need
Quiet location that was really easy to get to. I found the bed to be wonderfully comfortable. Rhian was a welcoming and relaxed host. Her dogs are adorable.
Karen
2017-03-17T00:00:00Z
Rhian was very easy to communicate with before my arrival and everything was set up for me. Also, her place was impeccably clean. I would recommend staying, especially if you love cute dogs and cats
Jeremy
2017-01-07T00:00:00Z
Great room, very clean. Excellent stay
brian
2017-02-26T00:00:00Z
Great Host! Very friendly
Jesse
2017-03-07T00:00:00Z
Lovely family with 2 sweet dogs and 1 fluffy cat.
Fathul
2017-03-29T00:00:00Z
Rhian's home was just as described. She was quick to respond to messages. Relaxed home. The bed was slightly uncomfortable but adequate. Good value for money.
Gulsen
2017-02-24T00:00:00Z
Beautiful area. Perfect place to stop and rest your head. Rhian was a great guest and we were well rested.
Satwant
2017-02-11T00:00:00Z
We came to Vernon to ski at Silver Star. The nightly rate attracted us to this B&B. The location is a few miles from downtown so that added about 10 minutes to our drive time. We didn't mind of course as we were saving quite a bit over other expensive hotel or resort nightly rates. Rhian and her daughter were courteous, helpful and let us have our space when we wanted it. We utilized their kitchen and entertainment system. They have a cat and two small dogs. The room was on the small side but comfortable for an active couple. We would definitely stay again.
Thomas
2017-02-21T00:00:00Z
Romtype
Privat rom
---
Eiendomstype
Hus
---
Plass til
2
---
Soverom
Vernon, British Columbia, Canada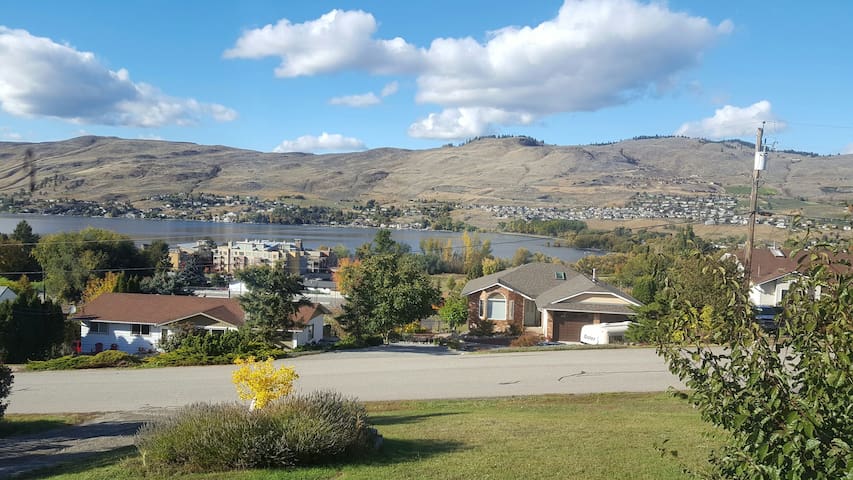 As travellers we enjoy meeting different people. We also appreciate how nice it is to have our own space when we need some quiet time. Therefore we share our home at times and offer a private suite downstairs, your own level entrance,full kitchen and your own bathroom just across the hallway...... We supple coffee, tea and continental breakfast items as well as some kitchen supplies like condiments.
Our level entry suite downstairs is suitable for two adults. It has a fully equipped kitchen, large bedroom with a comfortable queen bed, desk, lamp,reading light. There is small comfortable living room off kitchen/ dining area. We offer Wi Fi and a flat screen T.V.( cable) There is Air Conditioning in summer which makes for a pleasant stay. Your own updated bathroom is just across the hallway...There is room for a small child on a foamy at no extra charge. BIKE lock up storage at night available Our back garden is very private and guests are welcome to use it in summer. Off street parking for one car. We provide a few breakfast basics to start off with.... like tea, coffee, homemade treats, fruit, eggs, waffles and bagels in the suite....enjoy..... We use a landline and have an answering machine.....and are available by text This is a safe neighbourhood in the heritage neighbour hood. Lovely walks along treed streets with interesting old homes in some parts. There are many gorgeous old trees which is why we have eagles and hawks setting up home in our neighbours trees....flocks of quails are common and even deer wander by....the beaches are a very short drive away....you can walk downtown in minutes..... Silver Star Ski Resort is 20 k's up the "hill" In summer Silver Star offers mountain biking trails..and the parks are excellent to mountain bike in.....
If you would like your own well stocked kitchen with full stove, fridge, microwave, coffee machine, kettle and everything needed to cook "at home" ....plus a very comfortable queen sized bed in a full sized bedroom with your own living room area and your own bathroom just across the private hallway, you'll enjoy the private LEVEL entry suite in our home downstairs.... (There are 4 steps down side of house for those who may be concerned with mobility issues)
Wonderful! Private, very clean, nice suite. Jane and Greg were friendly, helpful, knowledgeable about the local scene. We had homemade muffins upon arrival (a nice unexpected touch). We stayed for 5 nights, and they offered to let us use the washer. Bonus! Would definitely stay again if we are in the area.
Koby
2015-07-09T00:00:00Z
Jane and her husband were very helpfull and friendly. They were very understanding of my health concerns and did everything to help me out, which I was gratefull for.
Gordon
2015-04-23T00:00:00Z
We stayed with Jane for a week and it was really great. She made us feel super welcome at her home. Even bringing us her home made cooking who was delish! She and her partner gave us great tips for South America. I highly recommend staying with her
Nadine
2015-08-16T00:00:00Z
Jane has a wonderful little suite in a very good part of Vernon. Close to downtown but also very quiet. The bed is very comfortable, as is the rest of the suite. Full amenities were found in the kitchen, along with some basic foods provided by Jane and other past guests to help get us started - including some great muffins! We had a great time and give many thanks to Jane for helping ensure that with her hospitality.A perfect stay.
Kevin
2015-05-22T00:00:00Z
We came back to Jane's place again on our way back from Calgary. Since we have to arrive late due to our long driving, Jane left a note on the door and made sure that we have everything we need. I really appreciate for that.
Ringo
2016-07-17T00:00:00Z
I had a great stay at Jane and Greg's cozy suite. I had everything I needed and the bed was very comfortable. Their home is very centrally located and a short walk to everything you might need. I would definitely recommend this Air BNB to anyone looking for a comfortable place to stay in Vernon! Thank You Jane and Greg for your hospitality.
Lori
2016-06-06T00:00:00Z
It was an absolute pleasure staying with Jane at her lovely home in Vernon. She responded quickly and made my sister and me feel welcome from the moment we arrived. The ground floor suite was very private and clean, and Jane thoughtfully provided tea, coffee, snacks and breakfast provisions. The location was excellent as it was within walking distance of downtown but still close to the highway. Jane even offered to drop my sister and me off at a venue in town instead of taking a cab. I will definitely stay here again the next time I am in Vernon!
Carolyn
2015-07-12T00:00:00Z
Jane and her husband were great hosts. They were welcoming and accommodating. Lovely experience, would definitely stay here again if I am in the area!
Gladys
2016-05-31T00:00:00Z
Romtype
Helt hjem/leilighet
---
Eiendomstype
Hus
---
Plass til
2
---
Soverom
Vernon, British Columbia, Canada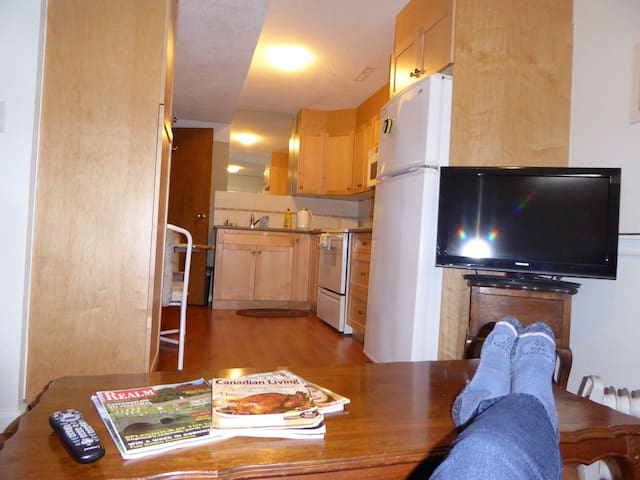 Enjoy a comfortable, clean and quiet stay in our home in the desirable Foothills neighborhood. Includes access to a private room and bathroom in a walk-out basement boasting beautiful views of the hillside. Located only 15 min from Silver Star.
Our space is ideal for those looking for an affordable place to spend the night while exploring the great Okanagan Valley during the day! Perfect for ski and snowboard enthusiasts alike looking to get some snow time in without paying the higher costs of resort lodging. Also fabulous throughout the remaining seasons to go hiking, biking, playing on the lake, or just travelling through.
Quiet neighborhood in the Foothills with beautiful views of Kal, Okanagan, and Swan Lake. Located only 15 mins from Silver Star and 10 mins from town. A great neighborhood to go walking around in. There are also some lovely hiking trails nearby to explore.
Sarah's place was spectacular! She and her husband were very accommodating and provided the full basement to myself. You could see the views of the mountain from the room. The bathroom was very clean and modern. I would highly recommend staying at this place.
Kent
2016-10-26T00:00:00Z
This space was gorgeous! And Sarah was a great host! I arrived late after a big day and she was more then hospitable and had me all set up in no time. Gorgeous views, nice patio space, private, beautiful big bathtub, and the best sleep in a comfy bed I've had in awhile. Would highly recommend this to anyone looking to stay in the Vernon area, only a 10 minute drive to downtown Vernon and 15 minutes to the ski hill!
Robin
2016-11-08T00:00:00Z
My girlfriend and I had a great time at Sarah's place. She was very accommodating for us as our arrival time kept changing. The bed is extremely comfortable. The bath tub is nice and big (perfect for after a long day of skiing). And the living area was nice to have with a great view. This place is a great deal and very close to Silver Star. The private entrance was nice as well after a long day on the mountain and not feeling very social. Sarah is very good at being there when you need her and giving you privacy when you don't. Thanks Sarah for the great stay!
Doug
2016-12-20T00:00:00Z
Sarah made me feel very comfortable from the get going with her care and kindness. Additionally I was pleasantly surprised with everything, from the size to the view and the comfort. thank you so much for everything.
Patrick
2016-10-30T00:00:00Z
The room had a fantastic view. I felt safe and had all the privacy I wanted. I will be back often and without hesitation. Sarah made me feel comfortable and it was easy to coordinate my arrival times. A hotel would not measure up to this!! Excellent value.
Ruth
2016-11-20T00:00:00Z
Great Host, clean, quiet and the scenic view was so beautiful.
jude
2017-03-15T00:00:00Z
Beautiful, clean, comfortable home close to Silver Star and Vernon. Sarah was a great host. Great private bath and private entrance. Awesome value!
Rick
2016-12-29T00:00:00Z
Sarah and her place were perfect for a Silver Star visit! She was very personable and worked with my schedule for check-in. Other pluses: - The wifi is reliable and fast. - The deep soaking tub was awesome after a long day on the slopes. - Towels and bedding were very comfortable. - The view from the place is beautiful. Be aware there is no kitchen, and there are no appliances besides a tea kettle, so cooking is not an option. Restaurants are 10+ minute drive away. I bought instant coffee (Starbucks Via) and that worked just fine for my morning caffeine :) I would definitely stay again!
Nathan
2017-01-27T00:00:00Z
Romtype
Privat rom
---
Eiendomstype
Hus
---
Plass til
2
---
Soverom
Vernon, British Columbia, Canada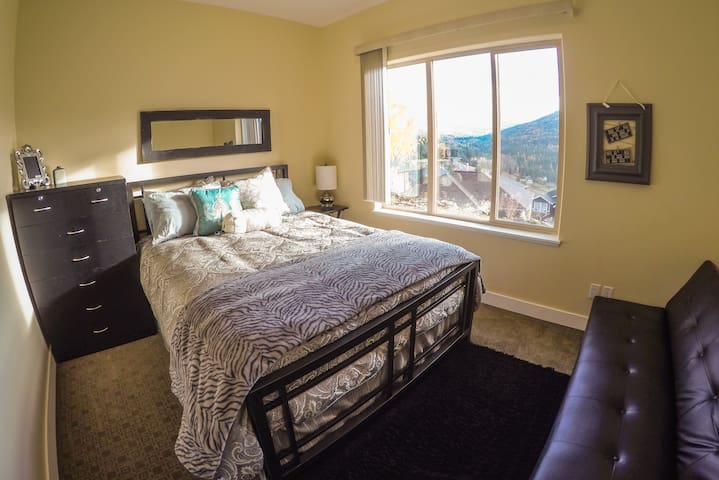 Older home with heritage features & new furnishings gives this house a cozy home feeling. Comfortable & charming, offers everything you need from an ipod music system to a fully stocked kitchen and bbq. Private ensuite bathroom. Special rates for Medical Students, VGH or Alternative. My home is across from VGH. Based on $50/day, Weekly rates 25% discount, $262.50 per week and Monthly 40% discount $840 per month.
Kalamalka Room offers a Queen bed, dresser, closet, bed side table and a shelving unit. Last Christmas a major renovation was done creating two en-suite bathrooms so each bedroom has a private three piece bathroom. No more sharing!! The living room is cozy, has a gas fireplace and you can plug in your ipod for music selections of your choice. Full access to a fully stocked kitchen and that includes herbs and spices in abundance. I have a second room, Okanagan Room. Check the calendar and see if they are both available and bring a friend! https://www.airbnb.ca/rooms/6591320
There are great restaurants on 30th Ave., clubs offering rock music or jazz. We have a Town Theatre on 30th Ave and the bigger Cineplex Theatre a 5 min walk south to Polson Centre. I am located across from the Vernon Jubilee Hospital and the house has easy access for those travelling through town and simply need a place to crash for the night.
Trudy was very welcoming of us into her home, and was more than happy to take time to give recommendations of where to go in the local area, including a great coffee shop called Bean Scene on 30th Av. It was so handy to be able to use the kitchen, and Trudy's incredibly well stocked spice cabinet. Would recommend this as a place to stay while in Vernon. Thanks.
Danielle
2015-09-21T00:00:00Z
Staying with Trudy was great, and just what I needed value-wise. She is very welcoming and relaxed. The room and bathroom were spotless. The house is near a main road so there is some traffic noise but it didn't stop me from having an amazing sleep. Thank you so much for opening up your house to me Trudy!
Kylie
2015-09-04T00:00:00Z
Trudy was very welcoming and made me feel right at home. The highway, being so close can be a little bit loud when the bedroom window is open, but overall my stay was a great experience and I would stay there again, should I visit Vernon again.
Vincent
2016-06-30T00:00:00Z
I stayed at Trudy's for 4 weeks. I felt right at home! The room and house was exactly as described. And the new bathroom is great! The kitchen had everything I needed to prepare all of my meals for work! I would definitely stay at Trudy's again if I come through Vernon again.
Lindsay
2016-03-18T00:00:00Z
Trudy is really kind heart and considerate. Everything is ready after checking in, kitchen, bathroom, towels, spacious and cozy room etc. Trudy makes us feel at home. It deserves recommendation and we will back next time when travel around.
Jie
2015-08-04T00:00:00Z
Trudy is a wonderful host...very warm, friendly and a terrific conversationalist. Her home is as warm and charming as she is. The room she provided is lovely with a very comfortable bed, luxurious bedding and pillows. Feeling so relaxed and comfortable...I had the best nights sleep I have had in a very long time. Thank you Trudy! Sharon
Sharon
2015-11-21T00:00:00Z
Trudy was a lovely host and made me feel very welcome in her home. The room is beautiful, and the addition of the private bathroom is a huge bonus for long-term stays. The kitchen was also very well stocked! I stayed at Trudy's for 8 weeks for a clinical practicum, and it provided everything I needed for a comfortable home away from home. I would highly recommend staying here, and would not hesitate to book a room from Trudy again in the future.
Annette
2016-06-11T00:00:00Z
Trudy is an amazing lovely lady and host. I very much enjoyed staying at her house and was lucky to meet another also friendly guest during my stay. She was very accommodating after I arrived a day earlier than reserved - lucky for me, her place was available. She is pleasant and warm. I highly recommend her place. Thank you Trudy!
Silantoi
2015-09-03T00:00:00Z
Romtype
Privat rom
---
Eiendomstype
Hus
---
Plass til
2
---
Soverom
Vernon, British Columbia, Canada
Our place is close to public transport, nightlife, the city centre, and family-friendly activities. You'll love my place because of Private entrance with full use of front private yard. Suite is completely furnished, and also has its own private laundry area. When you arrive for your stay you will enjoy coffee and tea provided by hosts.. On first night fresh muffins will also be provided. For those interested in skiing Silver Star we are only a 25 minute drive to village.
Spacious and quiet self-contained suite with a bedroom, well equipped, excellent value, and great host. Highly recommended.
ZOFIA
2016-07-14T00:00:00Z
Overall: Clean, adequate, spacious, comfortable suite, great value for short stay. Positives: Adequate, close parking Private yard in front of suite with manicured grass and tall hedges Cozy, efficient kitchen, owner has it well stocked with lots of extras, few spices Open living area with sofa, chair, coffee-table, table with 3 chairs. Nice laminate hardwood floors, Good lighting throughout Bathroom and kitchen lights are good. Great mirror in bath Wand-type, shower handle over tub works well, steady, even flows and temperatures. WiFi strong and steady, Cable TV Large 122cm Digital TV (48 inch) wall hung in living area. DVD player with good movie selection but nothing for small children, great IMAX set of movies Invited to swim in the owners pool, it was appreciated on a warm day. Gary is accessible by phone and communicates well. Works hard to make sure guest is comfortable, drops by often. The 1st morning, He delivered to us two blueberry muffins and cheese and fresh cherry tomatoes from the garden. Inconveniences A little difficult to find driveway to house which is at end of long street, then have to do a U-turn into the property driveway. Be careful (watch back-left) when exiting this driveway, cars are turning onto the street in front of you from the main road. Make sure you have the needed info to get into suite if owner is gone, as was in our case. Key to suite door is a little tricky to make work, but it does. 5-8 minute drive to city proper, I.e., grocery, restaurants, etc Some road noise may wake you if BR windows are open. Typical of basement suites, there is some noise from the couple above, especially if they are entertaining. Getting into/out of the bed makes strange noises that can wake bed companion. Eleven steps up to parking area. Could be challenge with luggage. No BBQ unit at suite
Irene
2016-08-14T00:00:00Z
Gary is a really nice host., and the room is big and comfy
Yixiu
2016-12-24T00:00:00Z
Very clean and comfortable. The apartment was well equipped, comfortable beds, nice bathroom and private space. It felt like a home away from home. Great TV for watching the Olympics! I appreciated Garys flexibility with our checking out needs. It was a very good experience and I recommend Gary's place for sure!
Sandy
2016-08-07T00:00:00Z
Host and accommodations couldn't have been better. Gary was flexible about my arrival, helpful, yet gave plenty of privacy. The suite truly is spacious, clean, and comfortable. Lovely location away from city noise yet close by to downtown. Couldn't have been happier with the place.
Katy
2016-07-06T00:00:00Z
Wir waren leider nur zwei Tage zu Gast bei Gary. Die Unterkunft und die Gastfreundschaft von Gary war super. Ich würde jederzeit wieder kommen und jederzeit einem Freund zu dieser Adresse raten.
Pia
2016-10-18T00:00:00Z
The apartment was really spacious, clean and comfortable. Gary and his wife Judi were super friendly. We had a very pleasant stay in Vernon.
Martin
2016-08-12T00:00:00Z
26-28 Dec 2016 It was a very pleasant and comfortable stay at your beautiful home! The welcome muffins were heartening and warmed our hearts and tummies from the minute we stepped in. You Gary and Brenda both had been kind and accommodating with seeing to our needs including the heater and washing machine. It was also a convenient drive up to Silverstar where we had a good skiing fun as well as supermarts. Definitely recommended! Happy new year 2017! Love & best wishes Sunny, Rennie, Laura & Manuel Singapore
Sunny
2016-12-28T00:00:00Z
Romtype
Privat rom
---
Eiendomstype
Hus
---
Plass til
4
---
Soverom
Vernon, British Columbia, Canada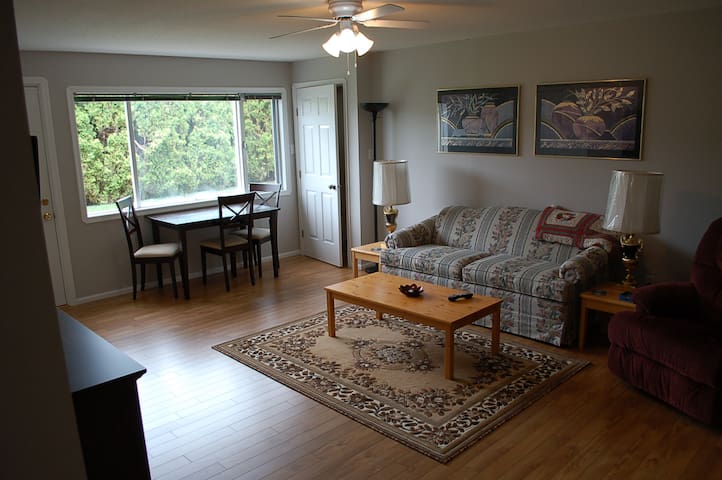 Our home is located on Swan Lake in a popular 4.5 Star RV Resort. We are close to family-friendly activities, wineries, beaches, golfing, and much more. You will enjoy our home as it offers all the comforts of your own home, including, modern appliances, wi fi , cable tv. Also lounging on the covered deck, barbecuing in the back yard, and enjoying meals under the gazebo. Your stay also includes access to the pool and hot tub, which is located in the park.
Romtype
Helt hjem/leilighet
---
Eiendomstype
Hus
---
Plass til
4
---
Soverom
Vernon, British Columbia, Canada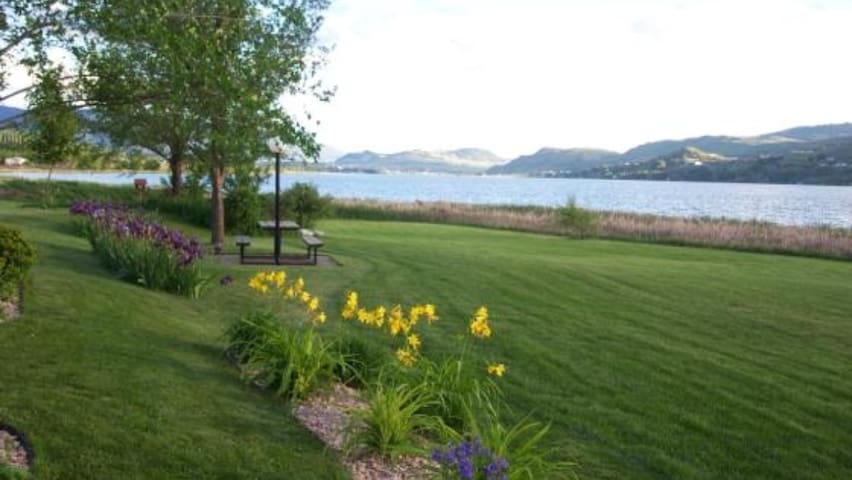 Amazing 4 bdrm + den in new home next to million dollar properties! 3 minute walk down to gorgeous Kin beach or explore world-class golf, tennis, beach volleyball & hiking minutes away. All amenities - sleeps 8 and small hypo-allergenic dogs okay.
This is one of the few houses not on the water that allows a fantastic view and beach access within a few minutes walk.
Our neighborhood is located in Lakeridge Estates, an exclusive community that has homes worth over a million dollars - to match the million dollar view!
Host was great, more than helpful. House was beautiful, location was nice. Was not impressed that nothing in the listing mentioned the basement suite with the small child and the dog. Had problems with the neighbours and our rental was terminated, had to find a new place for the rest of the weekend. Would suggest this for people 55 years and older.
Nick
2016-06-19T00:00:00Z
Great place. Lots of room, clean and great views. Vern was very helpful to greet us and orientate us to the house.
Brenda
2016-06-16T00:00:00Z
Owner very nice and warm , place is spectacular. The view is a million dollar one. The AC was great because it kept us cool.
Wessam
2016-07-03T00:00:00Z
Vern was great! The view is beautiful! No complaints :)
Gurbir
2016-06-27T00:00:00Z
Our stay was fantastic. Beautiful house with a spectacular view made our Okanagan vacation one to remember.
Alan
2016-07-30T00:00:00Z
We loved this place! First experience with Airbnb and we have no regrets. We loved the view and the neighborhood too. Great choice for a family trip! Thanks Vern
Diana
2016-07-17T00:00:00Z
Vern and his wife were extremely nice and accommodating hosts. the place itself was very very pretty and modern. not a big deal to me at all, but one thing to note is that some furnitures and things are not exactly like the photos, which is understandable as the photos were probably taken earlier.
Howard
2016-06-08T00:00:00Z
Beautiful view as advertised and house was modern and clean. Great location with a quick walk to the beach below. Kitchen was lacking a few items but other than that, a great spot for our vacation. Would highly recommend!
Barry
2016-07-10T00:00:00Z
Romtype
Helt hjem/leilighet
---
Eiendomstype
Hus
---
Plass til
8
---
Soverom
Vernon, British Columbia, Canada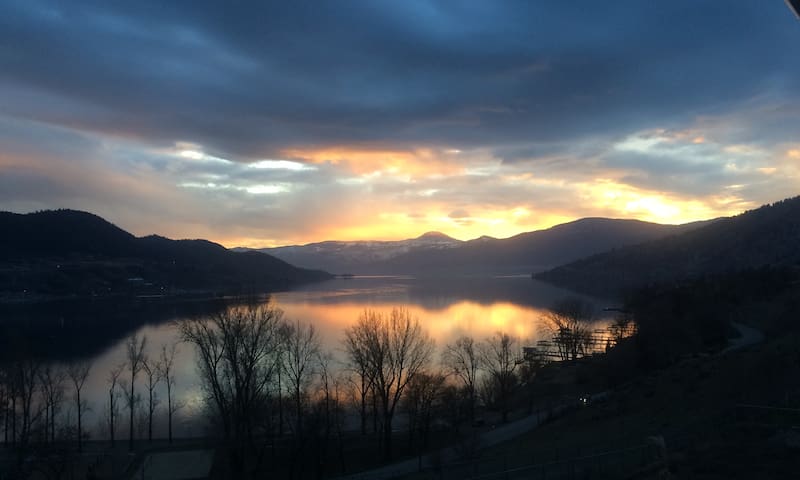 Our home is close to the city centre, walking distance to public transport, parks, restaurants, entertainment. Drive to ski resort, wineries, hiking, lakes - this little city has it all! Our house is a home, and we would love to share it with good people. You can have the full run of the top floor with a 'coffee kitchen' and we're sure you will be comfortable!
You will enjoy sole access to the top floor of our home. It has a spacious bedroom, bathroom with shower, a small kitchenette, and a sitting area. It's a bit like a self-contained apartment once you are up there!
Our neighbourhood is a domestic street with an eclective group of houses. It is considered 'East Hill' and because we are at the bottom of the hill, we are extremely close to everything! Coffee shops within blocks in three different. directions! Main street is literally 3 minutes walk, and there is a great selection of restaurants to choose from. There are a few bars within a longer walking distance. We are situated half way between Okanagan Lake and Kalamalka Lake, and easy access to the main road up to Silver Star Mountain.
Our stay was more than we expected, Mandy and Bonnie welcomed us with open arms, our room was bigger than expected with a lot of comforts and very clean, we came and went without any trouble and it was so close to town, we have no complaints at all, Thanks again !
Wayne
2016-10-23T00:00:00Z
The host canceled this reservation 18 days before arrival. This is an automated posting.
Victor
2016-11-29T00:00:00Z
Mandy's suite is truly a home away from home. I had a great stay and if I am ever back in Vernon I hope her suite is available as I would stay again.
Lynn
2016-10-29T00:00:00Z
Lovely cozy home and lovelier hosts :)
Trina
2016-10-16T00:00:00Z
Had such a great stay with Mandy and Bonnie. Vernon was one of our first stops in Canada and Mandy made us feel extremely welcome. It was like home away from home. Have done a bit of traveling and this would be one of our favourites. Huge upstairs area all to ourselves with tv, fridge, toaster, jug etc, gorgeous ensuite and bedroom which was lovely and clean. We had use of their kitchen and laundry which was great for our long stay. Would definitely stay here again and recommend it to other people who are coming to Vernon. Thanks so much for having us, we had an awesome time. Natasha and Quentin :)
Natasha
2016-12-13T00:00:00Z
Romtype
Privat rom
---
Eiendomstype
Hus
---
Plass til
2
---
Soverom
Vernon, British Columbia, Canada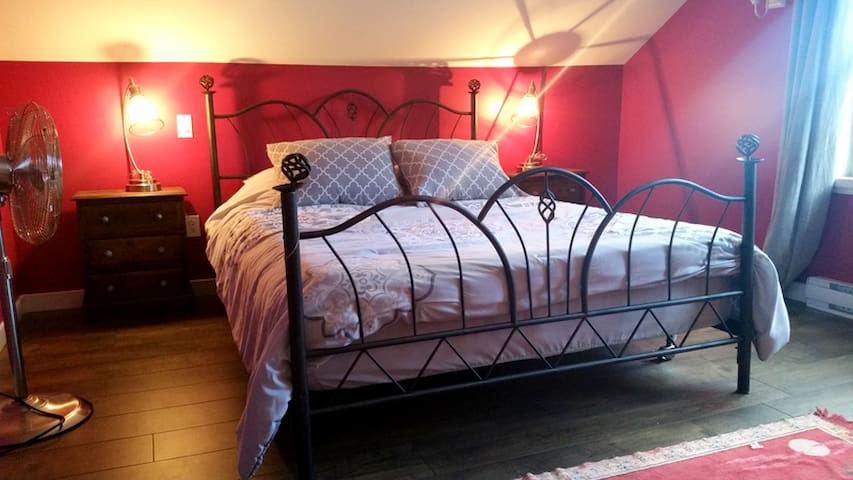 Your getaway is only a click away. Central to all the North Okanagan has to offer on a quiet cul-de-sac. We offer luxurious accommodations with brand new construction. We are situated close Downtown, 4 Golf courses, 3 Beaches, Silverstar Ski/Biking Resort as well as many other activities. We can accommodate couples, solo adventurers, and business travelers. We have an incredible deck with sweeping views of Vernon's incredible city lights, Silver Star Mountain as well as the beautiful lake.
We will greet you at the door with as much interaction as you would like to have. We are here to help make your stay the best you have ever experienced!! We include a full continental breakfast including coffee, tea and juice. We have a fridge with a small freezer, toaster, microwave, kettle, iron and ironing board, blow dryer and hair straightener. Full linen, including face towels, bath towels as well as hand towels. We also offer full access to WIFI and Netflix.
Turtle Mountain is a desirable neighborhood as it is majestically placed high upon a mountain yet it is a 2 min drive to downtown. We are on a quiet cul de sac with friendly neighbors and beautiful walking trails all around us including the famous "Grey Canal Trail" full of history of Vernon
What a lovely stay! Super clean and comfortable. Loved everything about staying at this B and B. Exceptional view! Samantha and Fred are excellent hosts!
Rhonda
2017-04-01T00:00:00Z
This was the perfect long weekend getaway and exceeded our expectations! The location was great to situate yourself in for a weekend in the Okanagan. The suite itself was welcoming, clean and luxurious plus the outdoor firepit is a great bonus. Sam and Fred were amazing hosts and you can see the care they put into the place to make it the best experience for guests. We really couldn't have asked for a better stay and would recommend it to everyone.
Nicole
2016-09-06T00:00:00Z
Wonderful!! Wonderful!!! Wonderful!!! Absolutely Amazing and exceeded our expectations! Sam and Fred have thought of everything and made our stay very comfortable and memorable. We will never stay at Sparkling Hills again. What a view! The photos really do not do this justice. The evening fire pit was relaxing and the scenery made for a perfect morning cup of coffee. Thank you so very much and we will most definitely come back again.
angel
2016-09-10T00:00:00Z
Stephanie and Fred were incredibly accommodating, in contact with us beforehand and greeting us at the house. The gave us the royal tour and then gave us our space. They made special arrangements for my dietary restriction and even found my favourite! Because it was Jeremiah's birthday, there was a note and a nice bottle of wine. The place was spotless and brand new, with a super modern shower and an amazing bathtub. We loved the blinds!! :) Easy place to relax - we really didn't even want to leave. Wifi worked great and the desk was good to have in the room, as we managed to get some work done. The fireplace on the porch was really cool, although the weather didn't allow us to use it (just too hot!). Thanks for the stay - if we're ever in Vernon again, we'll definitely try to book the same room!
Alyssa
2016-08-22T00:00:00Z
Such an amazing experience ! We went up to celebrate a birthday and could not have had a better time. Gorgeous place with a breathtaking view, very central and easy to get around - both to downtown Vernon, as well as other attractions such as Kalamalka Beach & wineries, bee farms, etc. Also only about 25 minutes away from Sparkling Hill Resort which has a luxurious and delicious restaurant called PeakFine - definitely a top choice if celebrating an occasion or just wanting to treat yourself to a 5-star meal. Fred & Samantha were wonderful hosts - very accommodating and helpful. The place was clean, cozy, and fully stocked with coffee, tea and other yummy snacks. Favourite part had to be the perfect balcony with a wonderful view of Vernon and Swan Lake, even in the summertime it was so nice to be able to use the fire pit. All in all a wonderful experience, happy to recommend to all of my friends and family and we will 100% be back soon !
Rachel
2016-08-28T00:00:00Z
Once again...fabulous! Celebrated a Birthday and got some scrapbook in done. Was wonderful!. Such a beautiful space. Gracious hosts. ..thanks for the bottle of wine!
Amanda
2016-10-02T00:00:00Z
Sam and Fred gave us a warm welcome. They gave us a detailed introduction. The communication before and during our stay was attentively, mindful. The accommodation is a highlight. Spectacular view of the town. You can marvelously relax and enjoy the amenities of the apartment. You can enjoy the really great shower while having the view over the town.
Sascha
2016-09-27T00:00:00Z
We had such a fabulous stay on Turtle Mountain! Stopping in Vernon and staying the night was a last minute decision so we did not expect it to turn out to be such a highlight of our honeymoon. We spent the day mountain biking on some of the most scenic trails out at Lake Kalamalka and then booked a stay with Samantha and Fred for the evening. Boy did we luck out! This place is just as magical (actually probably moreso) than the photos make it seem. You are not just renting a room, but a completely separate space with your own private entrance. The cozy porch with fireplace overlooks the entire downtown area and your bedroom is surrounded with windows that have the same view. INCREDIBLE! Plus the bed was super comfy, the space is decorated well and everything is very clean. The space has a luxurious shower and bath plus a small kitchenette. Downtown is basically just at the base of the hill, so super convenient. For how little it costs to stay at Seascapes, it is an absolute steal. Fred met us upon arrival to show us the ins and outs of the space and then let us do our thing until we departed. We had the pleasure of chatting with both Sam and Fred before we left town the next morning and they are very kind and friendly. I highly recommend Seascapes on Turtle Mountain!
Bethany
2016-09-17T00:00:00Z
Romtype
Privat rom
---
Eiendomstype
Hus
---
Plass til
2
---
Soverom
Vernon, British Columbia, Canada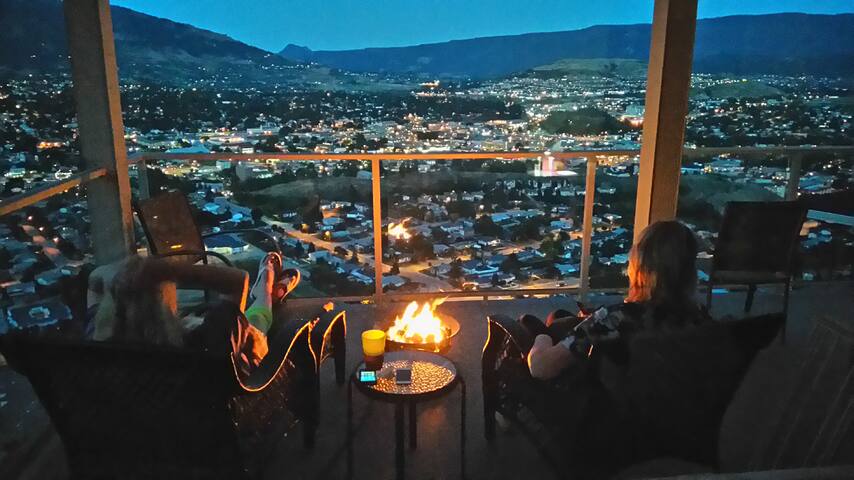 Come enjoy the sunny Okanagan Valley with a gorgeous roof top hot tub overlooking the lake and mountains. Lots of parking available for boats and toys. Quad and dirt bike trails accessible right from the driveway. 15 minutes from Silverstar resort
Quiet country feel right on the outskirts of town. Gorgeous views of the city and lake and country side.
David and Jessica's furnished basement was exactly what was described in their profile. It was spacious with extra pillows, blankets, and towels and the place was very comfortable. It was very clean, close to town and 20 minutes from the ski mountain. There was a knocking noise that another reviewer commented on which had not been fixed, and was loud and disruptive all night (but we were able to drown it out with ear plugs). Additionally, the dishwasher was not able to be closed and needed attention. Also, since it's a basement apartment you can easily hear people above you, which was expected and not bothersome to us.
Talya
2017-01-30T00:00:00Z
Well located to town and SilverStar. Encountered an annoying repetitive ticking sound from the ceiling every night. Everything we needed was available.
David
2016-12-17T00:00:00Z
Great location about 20 min drive to silver star, the place is really spacious and the owner are really thoughtful and made sure we jad all we needed. I would definitely return
Nathalie
2017-01-02T00:00:00Z
We enjoyed our stay at David's place. We were welcomed when we arrived, they showed us the suite and how to operate everything. The rooftop space was incredible, with great views. The suite is in the basement, but very clean and well maintained. Our privacy was respected, but they always made sure someone was available if we needed anything. Very friendly couple with a great home.
Brianna
2016-08-04T00:00:00Z
Good location relative to downtown Vernon. Suite was clean and quiet with comfortable beds. Living quarters very spartan with inadequate natural light and painted poured-concrete walls not clearly shown on the host's page. Appears to be a DIY project lacking in ambience and with unfinished electrical/plumbing. We never met the owner. No-one greeted us or checked to see if things were well. There were no instructions for operating the oven, central heating, accessing Wi-fi. The fluorescent lighting was harsh and could not be turned off without turning off the sitting area pot-lights too. The hot tub controls did not work; the bar stools around the eating area were extremely uncomfortable; the bathtub plug didn't work, so showers were mandatory; the bathroom basin had no plug. The mouse jumping out of the bathroom garbage was upsetting. This owner charges excessively for a low quality facility. We paid $671 for three nights for a suite worth no more than $50 - $75 a night. We were not impressed.
Jordan
2016-09-19T00:00:00Z
We had a great time staying in Vernon at David's place! He was very welcoming and provided us with great suggestions on things to do in the area. The rooftop patio was awesome, it's a huge space with an amazing view! The inside of the suite is very spacious with a lot of places to sleep and modern appliances. I would recommend staying here to anyone. It was an excellent overall stay!
Liam
2016-07-22T00:00:00Z
Specious suite, AMAZING roof top deck with an awesome view. Owners were kind and responsive. Would definitely go back :)
Heather and Augusto
2016-11-27T00:00:00Z
We loved staying at Dave's place. A party of 6 of us comfortably stayed in this suite and would gladly return. The house is located just outside the city, and about a 10 min drive to a beautiful beach. We loved it here because it was quiet, we were able to be vocal and make a little bit of noise, and we weren't disturbing anyone. The roof top patio was the biggest bonus, with beautiful views to enjoy, and the hot tub to enjoy in the evening. We were given everything we needed, and our trip almost felt too short. We can't wait to return.
Paige
2016-08-09T00:00:00Z
Romtype
Helt hjem/leilighet
---
Eiendomstype
Hus
---
Plass til
6
---
Soverom
Vernon, British Columbia, Canada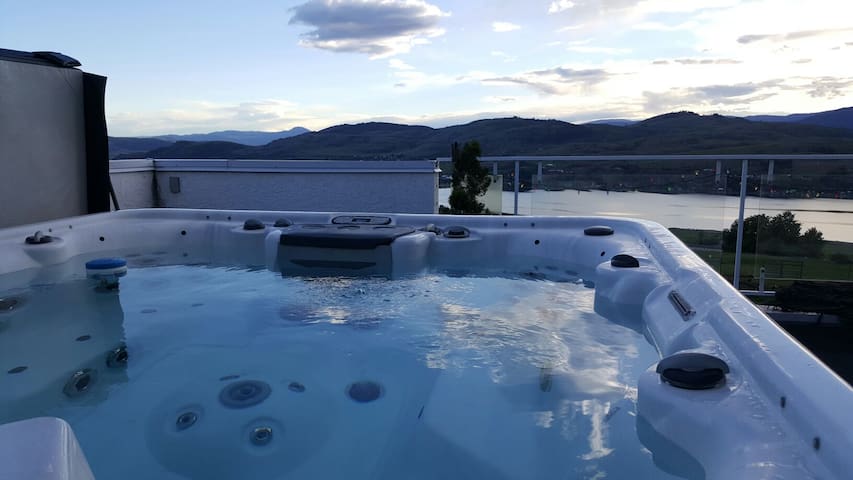 1

–

18

av

207 Hjem til leie
Oppgi datoer for å se fullstendige priser. Ekstra gebyrer gjelder. Skatter vil kunne tilføyes.