Our studio apartment has lake views, 1 bedroom with double bed, a single day bed, bathroom with shower, kitchen, walk out to a patio and a short stroll to the beach. The apartment has a separate entrance from rest of house. About a one hour train ride to downtown Chicago on the South Shore Line which runs daily almost every hour. Miller beach has great hiking nearby in the Indiana Dunes National Park, great local restaurants, and many local events during the summer!
Apartment is cozy, quiet. Kitchen is efficiency, with cook top on island / chairs around counter connected to living room with love seat, chair, TV, WiFi.
Walking distance to a nice coffee shop / Breakfast stop - Vintage Kitchen, Burgers, Pizza and Lake Perch @ the Flamingo or fine (EMAIL HIDDEN)munity is active in the arts, nature, and environment.
Romtype
Helt hjem/leilighet
---
Eiendomstype
Leilighet
---
Plass til
3
---
Soverom
Gary, Indiana, USA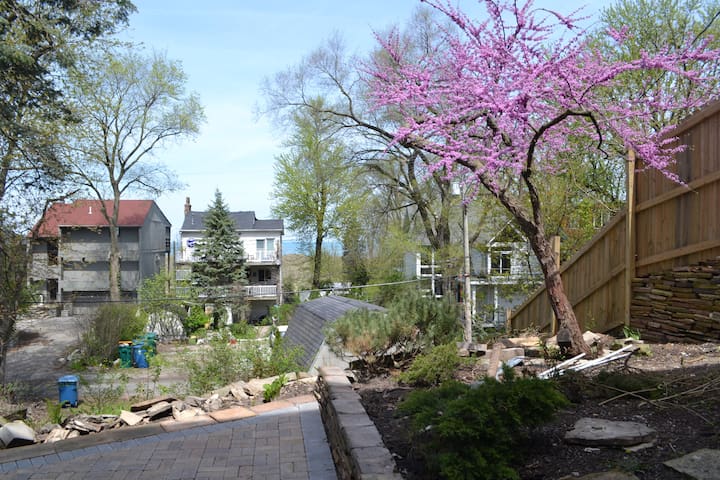 Meu lugar é perto de parques, restaurantes e jantar. Meu lugar é bom para casais, aventureiros solo, e viajantes de negócios. A casa fica em Pine Lake, você pode nadar, pescar e caiaque à direita do nosso cais .. O apartamento não tem uma varanda com vista para o lago e é no segundo andar. Você pode ter acesso ao pátio e grill. Nosso lago tem rampas para barcos públicos, se você quiser trazer um barco ou jet ski.
Rhonda is such a wonderful host through our stay. Her apt is very clean and cozy at the lake front as described. This is one of my best experiences with Airbnb. Thank you Rhonda!
John
2016-07-16T00:00:00Z
Rhonda was wonderful and her home was perfect for our vacation. We checked in just fine (despite my error of the time difference!), she was available but not imposing. We forgot our fishing poles but she had one we used. She also had kayaks available that we took out on several occasions. We also used her patio and grill several nights for dinner. The apartment we stayed in was the perfect space for me, my husband, 1 year old and small dog. The location was close to beautiful beaches on Lake Michigan and to smaller lakes nearby. we had a wonderful time and hope to return someday!
Loren
2016-09-09T00:00:00Z
The place is clean and warm. The neighborhood is quite. The apartment have everything you need it. Rhonda was very easy to communicate with. Definitely will recommend it to other guests.
Xing
2017-01-07T00:00:00Z
The space is really excellent! It is for all intents a mother in law suite, that is nicely furnished, very clean, and has a window that looks out to the lake which is beautiful. Rhonda is a doll to work with, we sat and talked with her for a bit while we sat out on the back patio (overlooking the lake and watching the sunset) and just had a great time.
Frank
2017-02-20T00:00:00Z
Rhonda was wonderful and welcoming. The home was quiet, easy to locate, and had everything you need for a short weekend away. My wife, dog, and I had a great time and would absolutely come back to this unit.
Jordan
2016-08-07T00:00:00Z
Great location, great host and great value. I'd stay again.
Steven
2016-07-08T00:00:00Z
Rhonda was an amazing host. Her home is absolutely lovely and clean! She provided a lot of amenities and was flexible with check-in/check-out times. Highly, highly recommend if you are in the area!
Kellie
2016-08-20T00:00:00Z
We were greeted right away when arriving to this house. The house was exactly as pictured and was a great setup for our road trip.
Kelsea
2016-08-22T00:00:00Z
Romtype
Helt hjem/leilighet
---
Eiendomstype
Leilighet
---
Plass til
4
---
Soverom
La Porte, Indiana, USA
Die Wohnung ist nur eine Stunde von der Innenstadt von Chicago, ruhiges Wochenende mit großen Hof und frische Eier vor Ort erhoben. Es verfügt über eine eigene Küche. Besitzer wohnt vor Ort und können für Mahlzeiten und Snacks auch Gastgeber. Die Wohnung ist über Garage neben Eigentümer der Wohnung.
This place is incredibly peaceful and the perfect size for a cozy weekend getaway. I loved the feel of the cabin with the wood carpentry and simple decor. The kitchen is spacious, the bed is comfortable, and the windows bring in great natural light. I will definitely stay here again.
Laura
2016-11-07T00:00:00Z
Nice quiet location. Hosts were laid back and easy to work with. Would stay again.
Courtney
2017-02-05T00:00:00Z
Bill and Christine have a great apartment. Always easy to rent from.
Sarah
2016-12-08T00:00:00Z
A very nice space for a fair price. Comfy bed, good kitchen, ample space make it a nice place for extended stays. Worked well for doing business close by.
John
2016-12-23T00:00:00Z
The place was perfect for location and very quiet! The host was very nice. Definitely will stay again there if given the chance.
Sarah
2016-10-05T00:00:00Z
Very happy they keep the space for me!
Robert
2017-01-22T00:00:00Z
Our host was easily reached & check in & check out was smooth and simple. The space was nice- including a kitchen, bathroom, & bedroom/living space, but our stay was so short that we didn't use the kitchen. It was all clean & the bed was very comfortable.
Darla
2017-03-25T00:00:00Z
We had a very peaceful and restful night at "Bill's Place". It was so easy to communicate and get settled in. Everything was clean and neat. We would definitely stay here again!
Julianna
2017-03-07T00:00:00Z
Romtype
Helt hjem/leilighet
---
Eiendomstype
Leilighet
---
Plass til
2
---
Soverom
Crown Point, Indiana, USA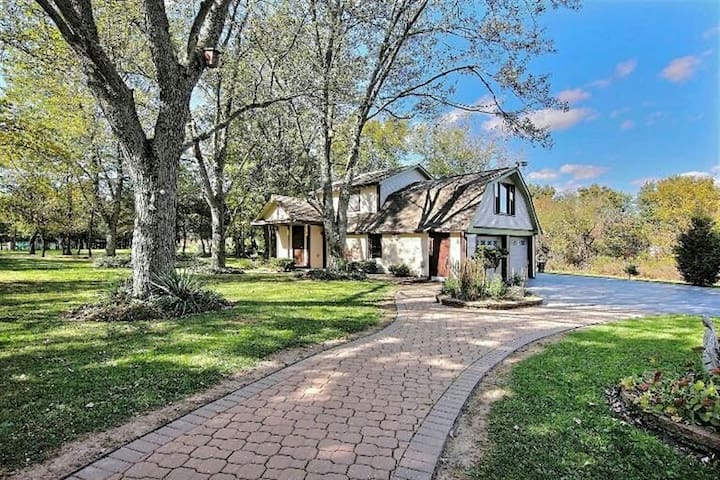 Wir sind über die Straße von der National Lakeshore! zwischen dem Dunes State Park Strand und den Dünen Besucherzentrum Besucher Günstig gelegen. Sie können sowohl zu Fuß. Sie können auch für einen einfachen Zugang zu Chicago zu Fuß zum Bahnhof. Bringen Sie Ihre eigenen Fahrräder oder einige im Dunes Visitor Center mieten. Die Waldpfaden und Sandstrände sind ideal zum Entspannen ein. Unser Platz ist ideal für aktive Familien und alle, die die Natur genießt.
Wir haben ein kleines Rechts Suite / Studio-Apartment mit voll winzigen Küche auf der Rückseite unseres Hauses. Es verfügt über ein Kingsize-Bett und Königin Luftmatratze. Es ist eine völlig separaten Raum ohne Zugang zum Haupthaus, aber immer noch mit dem Haupthaus verbunden ist. Der Hauptraum teilt 1 Wand mit dem Haus. Die kleine Wohnung ist eine coole Mischung aus einem Bett und Frühstück und privaten Ferienhaus. Wir nennen es ein "Bett, Strand und Fahrrad" perfekt für aktive Familien, die Wandern und Radfahren genießen.
Es gibt vier Straßen in der Nachbarschaft. Main Street verwandelt sich in eine Schotterstraße, die die Dünen-Nationalpark beginnt. Die meisten Menschen haben sich hier bewegt, um das Wegenetz und Dünen zuzugreifen. Überqueren Sie die Straße eine Wanderung durch den Wald zu starten.
We arrived four hours late after a blow out on I80, we had been hoping to get to the beach in the afternoon which was very close to this lodging. Tara was super accommodating as we did not arrive until 10:30, and directed us in via phone as the streets were dark, and signage difficult. The weather had been sweltering and we arrived to a wonderful cool room(just as shown), with the air mattress already inflated. Humidity and Mosquitos were crazy, but Tara had bug spray already out for us, and was very helpful the night we arrived.
Inga
2016-09-08T00:00:00Z
we loved our stay at Tara's place! just a short drive from chicago and right by the state park. it was a perfect weekend getaway for our family.
sue
2016-11-27T00:00:00Z
This room is perfect for any couple or small family. It has everything you need in the small kitchen. The bed is large and comfortable, the fireplace and bathtub are nice bonuses. The hosts are more than accommodating allowing us to use their bicycles for the short ride to the dune park. They also invited us to use their outdoor firepit. The train station is right down the road and can take you to Chicago in just over an hour.
Michael
2017-04-07T00:00:00Z
Tara and Mike have a great place! The in law suite was private and very comfortable. Tara and Mike are welcoming and seem to genuinely enjoy hosting. My kids loved the large jetted bathtub (makes so many bubbles) and I appreciated the beautiful scenery. This place is in the heart of Indiana Dunes.
Hilary Emily
2017-04-04T00:00:00Z
Tara was very communicative prior to our arrival - the link with directions in her confirmation was accurate and easy to follow, we knew exactly where to park and how to get to the separate living quarters. The room was exceptionally clean and had good literature out with local events and things to do in the area. Another plus was the beach card Tara allowed you to use - saves you $7 per visit to the Dunes. Tara and her family was kind and fun to chat with - and she obviously puts a lot of thought and consideration into making specific amenities and considerations for each of her guests. For example - we stayed on our babymoon, and Tara had fresh chopped mango and bottled water available, had turned the AC down to help this pregnant lady be comfortable (since we are always hot) and had fresh pink and blue flowers around for our gender reveal. I found those things especially thoughtful and appreciated the extra effort!
Emily
2016-08-28T00:00:00Z
Tara and Mike we would like to thank you very much for making these last several days so enjoyable for us. Your place was so nice and exactly as you photographed it. I usually am ready to go home at the end of our vacations but I was sad to leave this time. It usually takes us several trips around a city to get used to our surroundings but Mike your directions were spot on. We truly loved Porter beach, especially without all the restrictions that the state park handed out. The last two days at Porter were very relaxing barring a little thunder and lightning one of the days. Your place was very nice and welcoming. We really enjoyed visiting with you and meeting the boys and the dog. You made us feel right at home. The pool was also an extra bonus. We would love to come back this time every year, Maybe next time we will bring some of the rest of the family. We also would like to stay longer next time and take the train into Chicago. We didn't want to forfeit any of our days at the beach this time since it was a short stay so we will plan on a little longer stay next time. Again Thank you for welcoming us to your home.
Lisa
2016-07-14T00:00:00Z
Mr. & Mrs. Clean live here! Immaculate from top to bottom. Tranquil setting & private paradise. We had such a relaxing weekend here & everything was perfect from the comfortable bed to the jetted tub to the cozy fireplace. Beautiful furnishings with plush blankets & large, fluffy towels. Tara surprised us with fresh flowers & treats as well. We will definitely stay here again sometime. Thank you for providing such a wonderful airbnb experience.
Trent
2016-11-06T00:00:00Z
Tara and Mike our hosts were very accommodating and kind. There was a bowl of fresh berries and cold water bottles in the fridge with a note welcoming us as well as some beautiful fresh flowers in the living room. The unit was well appointed and decorated and felt luxurious. Such a treat! The linens were high end and the unit was pristine. They made me and my children feel very welcome and at home. Their boys are very sweet and although we kept the kitchen door closed as recommended we never heard any bleed through noise. The property is a peaceful, private haven and very charming. The pool area is very nice and there is a beautiful cabana to relax in that is very inviting. All in all my best Airbnb experience to date! Equally as great a place for a couple to go and get away as well as small family as it is very child friendly.
Nicole
2016-06-27T00:00:00Z
Romtype
Helt hjem/leilighet
---
Eiendomstype
Leilighet
---
Plass til
4
---
Soverom
Chesterton, Indiana, USA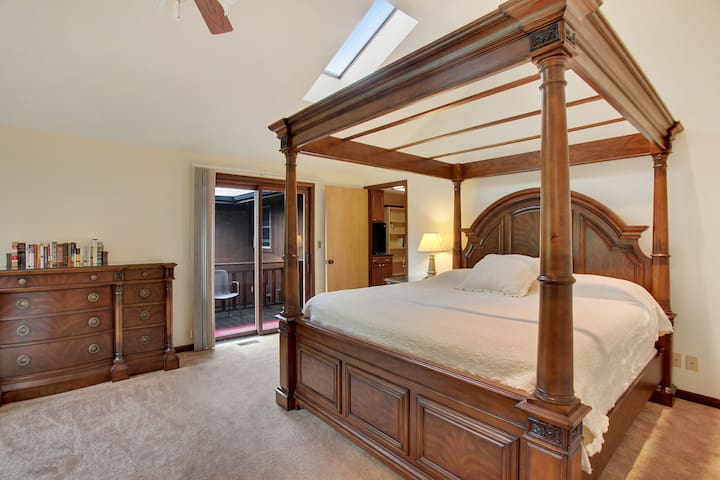 We had a fantastic experience at the 'Hat House'! Ed was super helpful and the house was a lovely standalone studio with everything we needed and more.
Anna
2016-06-27T00:00:00Z
We had a lovely stay at "The Hat House". Ed replied quickly to our last minute request. The house was perfectly located for the purpose of our trip, which was to visit the Indiana Dunes State Park. You only have a 10 - minute drive, so you have more time to spend at the park. Ed was also spot on with his restaurant recommendations; we visited the Northside Diner and George's Gyros, and we had very good meals at both places. Finally, Ed welcomed us and we had a chance to talk. He let us know that he was going to give us privacy, but he was available if we needed him. We recommend "The Hat House" if you go to Chesterton.
Jared
2016-08-02T00:00:00Z
Ed was a great host and we enjoyed our stay at the Hat House very much! The area has a lot to explore and a convenient South Shore rail line to Chicago for an easy day trip. The house was very comfortable and bright and the refreshments were much appreciated! We will be back for another visit.... thank you Ed!!!
Jim
2016-07-26T00:00:00Z
My girlfriend and I had a great weekend getaway at the hat house. Ed and Deb were very hospitable and welcoming. When we walked in there was a binder with information about the area, restaurant and entertainment recommendations and even a pocket full of coupons for us to use. There was a basket filled with chips and snacks for us and a pack of beer in the fridge. The bed was very comfortable, it was great having a full kitchen and bathroom and a bonus to have cable and wifi! On the second night we were even able to use their fire pit to roast smores. If we ever needed anything, Ed texted us back within minutes. We will definitely be returning in the near future!
Andrew
2016-06-19T00:00:00Z
The host canceled this reservation 33 days before arrival. This is an automated posting.
Chris
2015-06-21T00:00:00Z
Ed was a great host. He was easy to work with. The sheets were clean and super soft(I say this because a lot of bedsheets are the cheap kind). The place was cute and clean and the neighborhood quiet. I would stay there again.
Sere
2016-06-14T00:00:00Z
ed was a good host. was helpful and made us feel welcome and comfortable. space was a nice studio in a good area. convenient to towns main st, highways and interstates, and a bike route to dunes state park and the beach on lake michigan. would stay here again if we returned to indiana dunes.
Bob
2016-07-30T00:00:00Z
Beautiful "hat house" in a great location! Ed was very communicative and our stay went very smoothly.
Aida
2016-07-17T00:00:00Z
Romtype
Helt hjem/leilighet
---
Eiendomstype
Leilighet
---
Plass til
4
---
Soverom
Chesterton, Indiana, USA
Fully furnished, wifi, HDMI supported television (no cable) washer and dryer in unit, dedicated parking. Minutes to the I-65 and US 30 corridor, 35 minutes to Chicago, 45 to the loop. 1 1/2 flights of stairs, no elevator. No parties.
Since this home is amongst many elderly folks consideration for them is a must, there cannot be parties.
she was amazing you couldn't ask for a better host
Travis
2016-10-14T00:00:00Z
Communication was great. The apartment fit our needs perfectly. We were in town for a swim meet and being able to relax in a two bedroom apartment rather than a hotel room was perfect for our family. Deborah was nice enough to allow us a late check out, which made the experience even nicer. All the basic necessities were available, the beds were comfortable, and checking in and out was a breeze. I highly recommend staying at Deborah's place if you're in the area.
Kathy
2017-03-19T00:00:00Z
Comfortable, quiet, spacious rooms. Will definitely stay here again.
Ginnie
2017-01-25T00:00:00Z
Extremely clean, neat, and cozy place. Check in and check out was seamless. I also accidentally locked myself out of the condo and Deborah was extremely cool and flexible about it. Thanks for being such a great host!
Tramell
2017-02-28T00:00:00Z
She was very warml and respectful.
RICHARD
2016-08-09T00:00:00Z
Very nice and clean will stay there again if back in the area
Jeffrey
2017-03-24T00:00:00Z
Deborah was a wonderful host. She was happy to work with us, and clear on any questions we had. The property was organized and comfortable. The only negative was there may have been a pet from a previous renter that set off my wife and my allergies only while we were in the property.
Marshall
2016-07-06T00:00:00Z
Apt was furnished nicely and very comfortable. Neighborhood is residential and I felt very safe. AC worked well as did the Wi-Fi. Quiet.
Linda
2016-09-18T00:00:00Z
Romtype
Helt hjem/leilighet
---
Eiendomstype
Leilighet
---
Plass til
4
---
Soverom
Schererville, Indiana, USA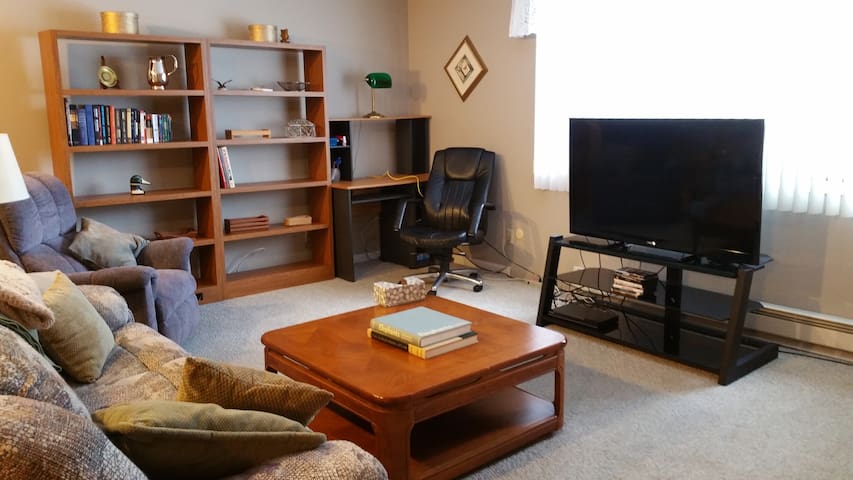 Omgeven door WILDERNIS op een hoekperceel van een grote ongebruikte, prive wildernis park en duinen! 4 personen hot tub (beschikbaar hele jaar) buitendouche, (niet in de winter), een stoombad / 2 personen jacuzzi / open haard / DIEREN OK (na goedkeuring) en strandrolstoel.
4 personen, 2 Night Minimum! Onroerend goed met bubbelbad, (operationele hele jaar), jacuzzi, sauna en een panoramisch uitzicht op de duinen, omgeven door woestijn, het strand en de beroemde vuurtoren van Michigan City. Er is niets tussen jou en het fijne zandstrand met uitzondering van een kleine 3 minuten lopen langs de voet pad door de duinen naar het meer. Het zand is zo fijn dat wanneer u uw voeten te slepen, het eigenlijk piept. Toegang tot de hot tub of de BBQ op het dek of binnen blijven en te luisteren naar rustgevende geluiden van de branding Lake Michigan en de liederen van de krekels in de duinen. Laat de geluiden wiegen je in slaap. Master slaapkamer heeft een king size / hemelbed. Dit is een 5 sterren accommodatie en op een geweldige, natuurlijke 5 sterren locatie. 4 maximaal persoon te allen tijde, dag of nacht. Huisdieren in overleg. Gashaard. Extra grote badkamer met een twee-persoons jacuzzi, TV, en het strand zand speelgoed voor kinderen. Echt een vijf sterren gevoel. U vindt er ook een indoor sauna. Trakteer uzelf op een buitendouche op het dek en een hot tub (het hele jaar beschikbaar '). Comcast kabel en high speed draadloos internet inbegrepen.
Rustig en veilig.
Fantastic little getaway on the water. Very cozy, everything we needed to enjoy some time away from the city. The kitchen is equipped with everything we needed to cook, the hot tub and saunas were working perfectly and ready to use when we walked in the door. There's great walking/hiking from the doorstep. Finally, and perhaps most importantly, the owner, Ben and caretaker Mark were incredibly accomodating and gracious, checking in regularly to make sure we had everything we needed. I'd absolutely recommend to anyone looking for a fun and relaxing time.
Lindsey
2017-01-01T00:00:00Z
Great location comfortable and clean
Wil
2017-03-31T00:00:00Z
You can't beat the view from the balcony or the short walk to the beach. The pictures show the space very accurately. We loved the hot tub and indoor sauna. Grocery store, shopping and restaurants were all a short drive away but we felt much more secluded than that when we were "at home". Ben was easy to contact and quick to respond. Looking forward to our next visit to Michigan City!
Janelle
2017-02-20T00:00:00Z
Best Airbnb I have stayed in. The pics do not do it justice, it is beautiful inside and truly right on the beach.
Alexander
2017-01-04T00:00:00Z
The property was very easy to find and such a pleasant surprise. The pictures don't do the view justice. We felt perfectly at home cozy by the fireplace with the lake in the background. I will be coming back in warmer weather for sure!
Ashlee
2017-02-26T00:00:00Z
We had a very nice getaway at this property. It is located right in the dunes just a short walk to the beach. The views of the lake from the house were amazing. The beach itself is beautiful. It stretches for miles. We loved the outdoor hot tub on the porch (the views of the sunset and lake from the jacuzzi were awesome). Everything was in full working order. The property manager on site was very friendly. We went for a winter getaway with our dogs and it was perfect. Even though the houses are very close together in his area we never heard anyone, it felt very private and secluded. I'm sure it's more lively in the warmer months. But it was perfect for what we needed. The furnishings and house itself weren't super fancy or modern, but it was cozy and clean. Having the hot tub, sauna and beach access make it worth the price. Those are very unique elements that we really appreciated and utalized.
Krista
2017-03-05T00:00:00Z
Had a great girls weekend at the house. Plenty of space for everyone and we really enjoyed the Hot Tub & Sauna. Communication and was fantastic and everything was super easy. We had a great time and cannot wait to come back soon.
Erin
2017-03-26T00:00:00Z
What a great place! So clean and comfortable. The view of Lake Michigan is fantastic and unobstructed. The walk to the beach was quick and easy. We LOVED our time here.
Jodi
2017-04-10T00:00:00Z
Romtype
Helt hjem/leilighet
---
Eiendomstype
Leilighet
---
Plass til
4
---
Soverom
Michigan City, Indiana, USA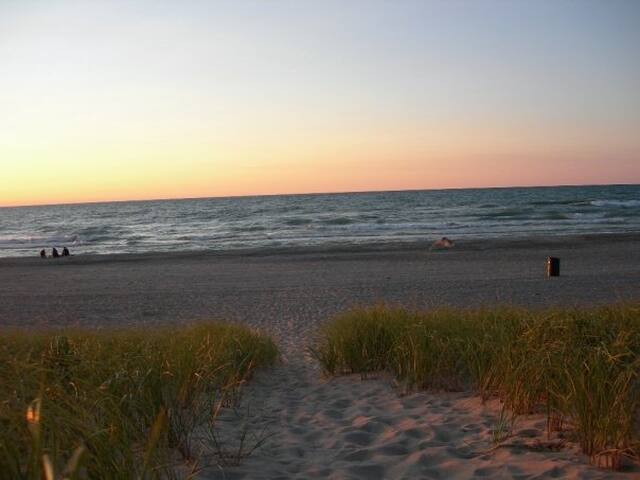 如此接近芝加哥,但在自己的世界!这一个卧室宽敞岳母的公寓坐落在一个安静的林地车道海滩步行距离之内。放松舒适简约。步行10分钟即可到密歇根湖,私人海滩。
和平,安全,方便地访问所有本地网站无论是骑自行车,步行。或汽车。 见上面广泛描述。
Perfect location close to the beach, dunes, outlet mall and casino. Arthur was a wonderful host. The place was comfortable and cozy, perfect for a weekend getaway.
John
2017-04-09T00:00:00Z
The location was amazing--in the woods and a short walk to the beach. The space was clean and beautiful, both inside and out. Arthur was so hospitable, checking in with us via text beforehand. He also provided homemade banana bread and peanut butter cookies! What a lovely touch. It was a peaceful getaway--we relaxed and spent time hiking the Indiana Dunes and walking on the beach. The location is just a few minutes to the South Shore train that takes you into Chicago, right by the Museum of Science and Industry. Next time we will bring board games or DVDs in case it rains and we aren't able to go hiking. A very serene retreat, great for kids and adults alike.
Lily
2016-05-16T00:00:00Z
Art gave us great tips on dining and hiking. The space was clean and cozy. We came in the fall and the colors in the yard were stunning -Art's gardening makes this place magical. The kitchen was well stocked and made it easy for us to have breakfast and coffee in the morning. His house is walking distance or a short drive to beautiful lakeshore and/or wooded dunes. Thanks for the banana bread and lovely stay so convenient to Chicago. :)
Molly
2016-11-05T00:00:00Z
The listing was very accurate and Arthur gave good, specific directions. He was flexible when we told that we would be later than originally planned. The apartment, surroundings, fruit, and baked loaf were great. We just wish that we had had more time to enjoy.
Daniele
2016-06-14T00:00:00Z
We really enjoyed our stay in this peaceful getaway very close to Chicago and next to the Indiana Dunes. Art has been very welcoming with a chimney ready for us to enjoy and some banana bread. This was a perfect stay for us to get out of town.
Alexandre
2016-05-02T00:00:00Z
The location of Arthur's place was amazing! We drove in from Chicago just for one evening, but we wish we could have stayed in the area longer. There was a wonderful secluded beach just minutes from Arthur's house! Arthur was a wonderful host offering us coffee, fresh fruit and even home made banana bread on our arrival. Thank you for being so accommodating Arthur!
Kevin and Rosie
2016-07-02T00:00:00Z
It was great being at Arts place. He is a very nice person and gave us some fruits and self made banana bread, delicious! The house was tidy and everything there we needed. Beach is in walking distance and you can find some shady places. The only negative thing are the mosquitos and deer flies everywhere. So you can hardly sit outside on the terrace, I think that's why there is no table outside, just a bench... Better keeping the mosquito doors and windows closed ;) thanks again to Art, we had a very nice stay there!
Karoline
2016-07-16T00:00:00Z
My sisters and I truly enjoyed our visit to Beverly Shores. The apartment provided everything that we needed and was a welcome respite after a long day at the beach. Access to WiFi would be the only thing that could have made our stay better. The private beach is the crown jewel of this vacation space. We all agreed that we would return to this vacation space.
Maggie
2016-08-07T00:00:00Z
Romtype
Helt hjem/leilighet
---
Eiendomstype
Leilighet
---
Plass til
5
---
Soverom
Beverly Shores, Indiana, USA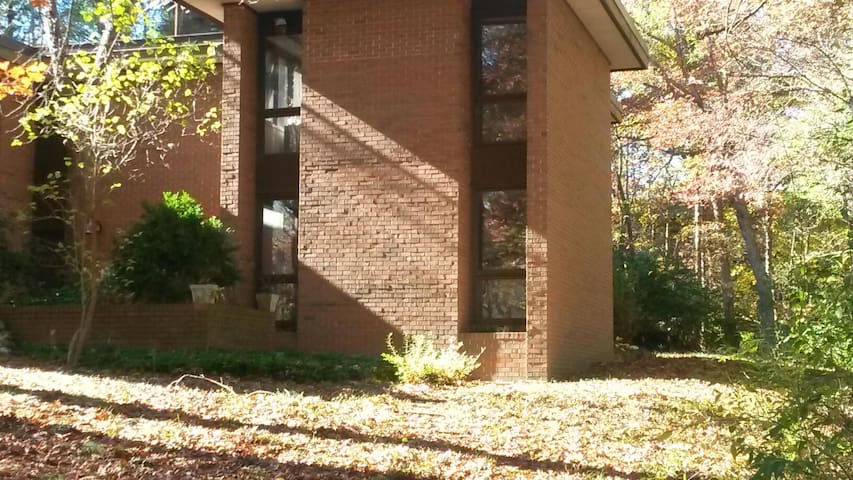 My place is close to restaurants and dining. You'll love my place because of the kitchen and lots of space. My place is good for couples, solo adventurers, business travelers, and families (with kids).
Fairly new suite was comfortable and roomy. It made us feel like at home. Accessible location to travel routes.
Glen
2017-03-28T00:00:00Z
Was very clean. Had everything we needed. Would go back.
Steven
2016-06-25T00:00:00Z
Die Unterkunft ist sehr sauber und das Personal ist sehr freundlich und hilfsbereit. Die Zimmer sind mit allem ausgestattet was man so braucht. (Bequemes Bett, TV, Sauberes Bad, Küche)
Florian
2016-09-10T00:00:00Z
Romtype
Helt hjem/leilighet
---
Eiendomstype
Leilighet
---
Plass til
4
---
Soverom
Portage, Indiana, USA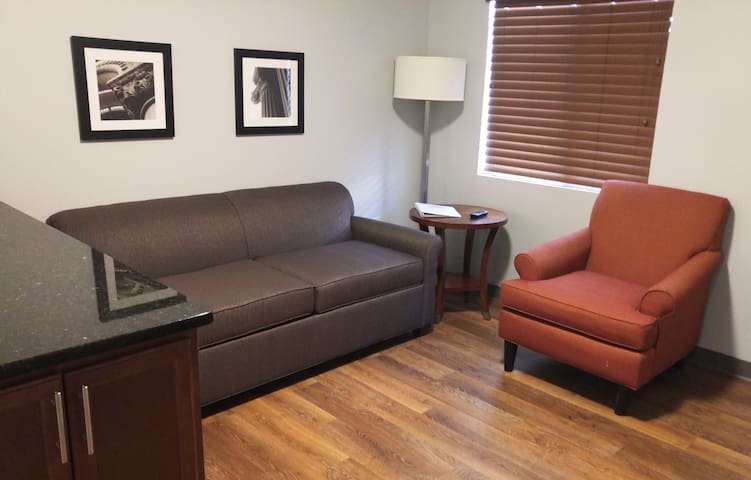 The view is everything we wanted!
Alexandria
2017-03-19T00:00:00Z
My girlfriend and I were a bit overwhelmed by how beautiful and comfortable our stay at "the Miami" turned out. The view of the beach dunes and the lake is terrific, and the amenities are spectacular: a hot tub, steam shower, jacuzzi bath, large shower space, and much to our surprise and delight, a bidet alongside the toilet in the master bath. There's even a fire pole! The kitchenette was perfect for our needs, and we were able to cook a few things and had coffee each morning. The best feature, however, given that it was January, was the brilliantly-conceived double-sided fireplace (it heats both the bedroom and main living room space). There's just something so primal and comforting about a fire, and even better when it can be summoned with the flick of a switch. Ben was extremely helpful and patient, even after initial hassles with the AirBnB website that we both struggled with. He phoned us at the beginning and end of our stay, to ensure that everything was comfortable for us, and to answer any questions. Caretaker Mark, who greeted us upon arrival, was also extremely friendly and helpful, and we were delighted to meet his two beautiful and friendly dogs too. A highlight of our stay came on Sunday morning, when a group of six whitetail deer went strolling casually across the beach, on their way to finding some breakfast no doubt. They were beautiful to see, and a bit awe-inspiring. I will definitely be back again, and wouldn't hesitate to recommend Ben's place to anyone wanting a quiet, luxurious getaway in a beautiful beach setting, only an hour away from Chicago.
David
2017-01-29T00:00:00Z
Romtype
Helt hjem/leilighet
---
Eiendomstype
Leilighet
---
Plass til
3
---
Soverom
Michigan City, Indiana, USA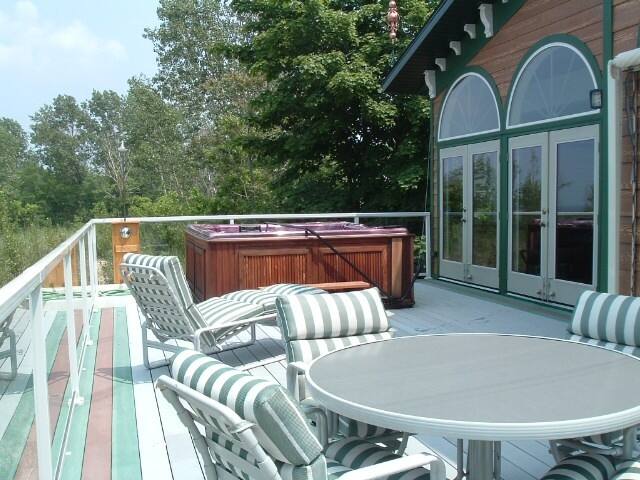 Marca nueva lista! Estamos situados a 0,8 millas de las playas del lago Michigan. Disfrutar del aislamiento y la privacidad en Michiana Shores. Hay un montón de senderismo en las inmediaciones con un montón de vida silvestre para ver. 3 bicicletas están incluidos en el alquiler. La casa tiene 4 dormitorios, con 7 camas en total: Dormitorio 1: 1 cama de matrimonio Dormitorio 2: 1 cama de matrimonio Dormitorio 3: 1 cama de matrimonio Dormitorio 4: 2 literas (ambos dos más completa) Baño 1: cuarto nivel superior con una ducha / bañera combo Baño 2: Bajo nivel de cuarto de baño con ducha
Esta lista es totalmente nuevo a partir del 28/06/16! Estamos situados a 0,8 millas a pie hasta el lago Michigan. Disfrutar del aislamiento y la privacidad en Michiana Shores. Hay un montón de senderismo en las inmediaciones con un montón de vida silvestre para ver. La casa tendrá 7 camas: Dormitorio 1: 1 cama de matrimonio Dormitorio 2: 1 cama de matrimonio Dormitorio 3: 1 cama de matrimonio Dormitorio 4: 2 literas (4 camas en total) Hay 2 baños: Baño 1: cuarto nivel superior con una ducha / bañera combo Baño 2: Bajo nivel de cuarto de baño con ducha Tenemos un cobertizo en el patio trasero con 3 bicicletas, un vagón de gran playa, sillas de playa y juguetes de playa. Esta casa es adecuado para niños con seguros para niños en los armarios, juguetes, dos sillas altas y flotadores Fisher Price refuerzo.
Our group really enjoyed our stay here! We were 6 adults and 3 kids and there was plenty of space. The common spaces were inviting and the kitchen was perfect for cooking meals as a group. And, Colin and Krystel were great hosts and responded quickly to our questions. Can't recommend this house highly enough for a group, especially a group that includes kids.
Aya
2017-01-01T00:00:00Z
Our stay was great. The house was beautiful and had everything you needed and more. We had a camp out, rode bikes, played at the beach, played board games, watched movies, went out to eat, ordered pizza. We were able to cook most meals there, a grocery store was minutes away if needed. It was clean, close to the lake, had a great park near by, the hiking was nice. It was very kid friendly. Mine were ages 5-13 (6 kids) and they all had fun. The owners are great - responsive and friendly. The area is absolutely gorgeous and worthy of a visit and stay. I can't say enough about what a fun experience we had.
Ramona
2016-08-29T00:00:00Z
Colin was a great host. The house is located a short drive from Chicago and it's very close to the lake shore (less than one mile). The place is very clean and cozy, with wooden floors upstairs and carpet downstairs. We travelled with children ages 8 to 12 and had a great time. There's a couple of scenic walks close by. The house also has a nice yard with a propane grill. In summary, great place for a long weekend getaway!
Gaspar
2016-11-26T00:00:00Z
Our stay was great! The place was nicer than expected! Colin was accommodating and very responsive. We would definitely stay again and would recommend staying here for others!
Jennifer
2017-02-05T00:00:00Z
This was a perfect house for us. Clean, great new appliances, fresh flowers everywhere, and an easy walk to the beach. It's great if you have little ones. There are new bikes, a new jogging stroller, new patio and grill....they really thought of everything. There's a fire pit and plenty of chairs, and a seriously stocked kitchen...you just need to bring the food. Thank you so much!
Alisha
2016-08-01T00:00:00Z
The house was super comfortable and easy to get to, perfect for a quick overnight stay in Michigan City.
Noah
2017-01-29T00:00:00Z
House was great for a large group. Colin was a very helpful host.
Max
2017-04-02T00:00:00Z
We had a great time! Perfect place for families with kids!
Marisa
2016-10-10T00:00:00Z
Romtype
Helt hjem/leilighet
---
Eiendomstype
Leilighet
---
Plass til
14
---
Soverom
Michigan City, Indiana, USA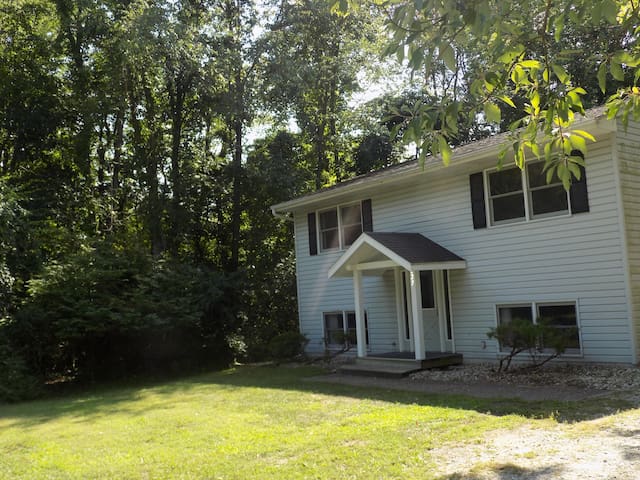 Mi lugar está cerca de la Universidad de Purdue del noroeste. Te va a encantar mi lugar debido a la ubicación. Mi lugar es bueno para parejas, aventureros en solitario, y viajeros de negocios.
The host canceled this reservation 67 days before arrival. This is an automated posting.
Carlos
2017-04-12T00:00:00Z
Romtype
Privat rom
---
Eiendomstype
Leilighet
---
Plass til
2
---
Soverom
Hammond, Indiana, USA
The host was very easy to get ahold of and was sweet enough to even leave a small welcoming present for us. She was able to provide suggestions to restaurants in the area and told us if we needed anything we were welcome to contact her. The area was great. The apartment was within walking distance to an outlet mall, coffee shop, and farmers market. We loved the decor, historic feel, and cleanliness of the apartment. Would definitely stay here again.
Amanda
2016-08-02T00:00:00Z
Gloria's home is amazing!! The apartment is very clean, spacious, cozy, and stylish! Her home is close to several restaurants, shopping outlets, farmers markets, and the beach. She was an excellent host from start to finish and provided everything we needed for a wonderful stay. We greatly enjoyed our visit to Michigan City and plan to return soon! :)
Laura
2016-07-05T00:00:00Z
Romtype
Helt hjem/leilighet
---
Eiendomstype
Leilighet
---
Plass til
4
---
Soverom
Michigan City, Indiana, USA
Valparaiso - Airbnb
:
Gjennomsnittlig

4.86

av

5

stjerner fra

269

gjesteanmeldelser
1

–

14

av

14 Leiligheter til leie
Oppgi datoer for å se fullstendige priser. Ekstra gebyrer gjelder. Skatter vil kunne tilføyes.