Appartement au rez-de-chaussée d'une maison de charme dans un parc arboré au bord du Loing et à 50 mètres de la forêt de Fontainebleau. Tout proche des sites pour l'escalade Idéal pour se reposer. Parking privatif
Idéal pour des vacances détente à la campagne, nous sommes au bord de la forêt de Fontainebleau et vous pourrez faire de nombreuses promenades.
Un moment hors du temps, dans un authentique hâvre de paix. Nous avons passé là deux jours formidables. La maison est fort bien équipée, ceinte d'un jardin magnifique entretenu avec grand soin. Carmen et Thierry sont des hôtes charmants et bienveillants, d'une touchante générosité. Une expérience, tant hôtelière qu'humaine, à recommander et à renouveler !
James
2016-07-12T00:00:00Z
Logement situé dans un cadre très sympathique, au bord du Loing d'où l'on peut se baigner et à deux pas de la forêt de fontainebleau. Carmen et Thierry sont très accueillants. Je recommande chaudement pour un séjour de grand air!
sandrine
2016-08-29T00:00:00Z
Si j'ai un reproche, il m'est adressé, trop court mon week end ! Une réponse très rapide, un appartement en rez de jardin avec tout le confort et charmant. Carmen et Thierry ont été adorables et attentionnés. Nous sommes partis enchantés. A bientôt,
Jean François
2016-07-25T00:00:00Z
Amazing stay in Fontainebleau, the house is perfect, clean and quiet and there is an nice garden where you can chill and relax in front of a river I might be back soon!
Quentin
2016-08-01T00:00:00Z
Superbe séjour auprès d'une demeure magnifique chargée d'histoire. Le logement est impeccable, propre, fonctionnel et chaleureux. Et surtout nous avons été accueillis comme des amis par Carmen et Thierry qui se sont montrés toujours disponibles et très présents pour donner un conseil de ballade, nous prêter une carte. Que demander de plus ! nous gardons un excellent souvenir de ce séjour et ne pensons plus qu'à revenir dans ce lieu magnifique ! Un grand merci à Carmen et Thierry.
Celine
2016-08-21T00:00:00Z
Séjour sympathique, hôte très agréable. L'appartement est nickel, rien à redire.
frederic
2016-02-07T00:00:00Z
Un accueil chaleureux, un endroit magnifique, on se sent tout de suite bien chez carmen et thierry. Ils sont tres disponibles et de bon conseil pour les visites et les restos. nous y retournerons avec plaisir, je les recommande à tous!
muriel
2015-07-25T00:00:00Z
We booked this lovely apartment for the second time. Last year we stayed for three nights, this time we booked a full week and had a wonderful time. Carmen and her husband are lovely hosts that make you feel very welcome, the house and garden are magnificent and the Fontainebleau surroundings offer plenty of things to do. Would definitely recommend this place to stay longer than just one night!
Maartje
2016-06-27T00:00:00Z
Romtype
Helt hjem/leilighet
---
Eiendomstype
Leilighet
---
Plass til
2
---
Soverom
Montigny-sur-Loing, Île-de-France, Frankrike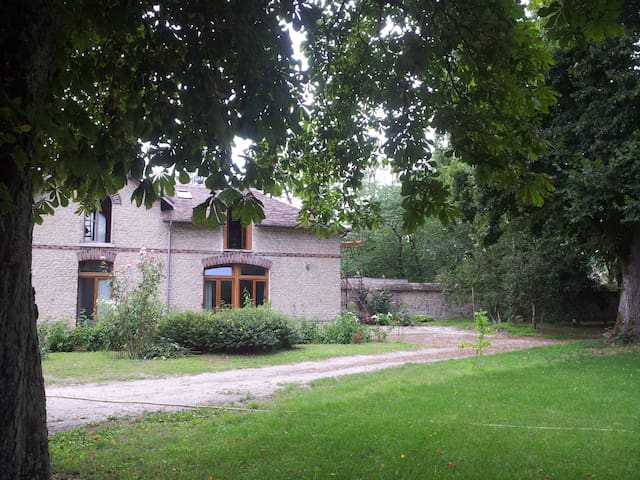 Calm and serenity in the heart of the woods, this charming studio will welcome you for moments of nature and peace.
Apartment was pretty comfortable and cute. The owner was really gentle and helpful and her mum delivery us delicious eggs and apples directly from her farm. The place is very quite and familiar, I'll come for sure again during my next trip to Fontainebleau!
Francesco
2015-12-06T00:00:00Z
J'ai passé un super séjour, le petit studio est tout mignon, facile d'accès, dans une rue calme et tranquille. Parking, wifi, il y tout ce qu'il faut pour le confort. Le coin est super mignon, avec le Loing juste à côté. Je n'oublierai pas de si tôt un tel séjour.
Mélodie
2016-12-16T00:00:00Z
Merci à Anne qui a tout fait pour faciliter mon arrivée et pris le temps de faire le tour du logement avec moi. Installation et déco très sympa qui fait que l'on se sent chez soi. Parfait pour un séjour de repos au calme et très bien situé pour visiter Fontainebleau et les environs ou profiter de la forêt.
Louise
2016-12-25T00:00:00Z
Mon séjour chez Jacqueline a été superbe. Comme disait Anne, l'endroit est un petit coin du paradis. Jacqueline a été tellement gentille avec moi! Je n'oublirai pas facilement. Merci à toutes les deux et à très bientôt!
FLOR
2016-11-02T00:00:00Z
Romtype
Helt hjem/leilighet
---
Eiendomstype
Leilighet
---
Plass til
2
---
Soverom
Montigny-sur-Loing, IDF, Frankrike
The ground floor apartment opens onto a terrace and a park. It consists of a bedroom and a living room with sofa bed equipped kitchen, separate wc. Access to the pool and tennis property. Booking from 2 nights.
The cottage is just outside the village of Montigny sur Loing which has all the amenities (shops, pharmacy, bakery, etc.) It is a quiet and bucolic place., Ideal to relax.
We hebben een 2 uur voor aankomst pas geboekt. Dit was geen enkel probleem en we konden meteen terecht. Ligging van het huis is fantastisch. Het zwembad ligt aan de rivier en de tennisbaan voor het appartement. Echt een aanrader.
Melanie
2016-07-31T00:00:00Z
Romtype
Helt hjem/leilighet
---
Eiendomstype
Leilighet
---
Plass til
4
---
Soverom
Montigny-sur-Loing, Île-de-France, Frankrike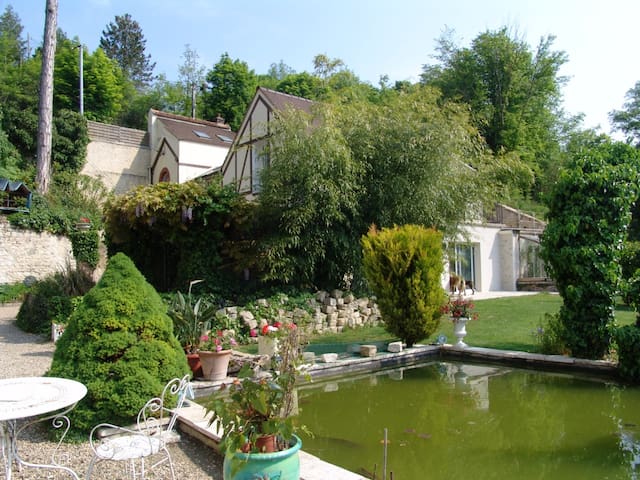 Hello, you love the forest, climbing, canoeing, history, castles, I can accommodate you and help you explore the area. This room will be a place to rest after a walk, Fontainebleau forest, near Loing Valley or a visit: Château de Fontainebleau / Vaux le Vicomte / Milly la Foret / Provins and Paris (50 min Lyon train station)
Your room with its comfortable bed and bathroom, will be your exclusive domain. It has an office with a Mac mini computer connected to the internet.
In the heart of an old village beside the Loing, trade in 2 steps (crossroads Contact / bakery) Restaurant Smoking and a "beach" is near the banks of the Loing. rental canoe to make the descent of the river, Grez sur Loing in Morêt sur Loing +/- 15 km Forest edge of the village (GR) ATV rentals in Morêt
Отличный уютный дом, в котором есть всё необходимое. Филипп очень гостеприимный, общительный человек. Но если надо побыть наедине, он не будет мешать. Свежая выпечка и очаровательные записки, которые он оставлял нам по утрам, заставляли почувствовать себя в гостях у хорошего друга. Расположение дома очень удачное, супермаркет находится прямо в этом же здании, булочная со свежей выпечкой - в 2х минутах. Нет проблем с парковкой (бесплатной), до Парижа 50 минут на поезде (до станции 5 минут пешком). Вокруг волшебный лес, а сам городок на берегу реки очень спокойный и красивый. Получили большое удовольствие от пребывания!
Anton
2015-11-13T00:00:00Z
Super hôte ! Très accueillant et très sympathique! Je reviendrais chez Philippe avec plaisir!
Ludovic
2015-12-19T00:00:00Z
Philippe was a very good host. He welcomed my daughter and I upon arrival and went out of his way to make us feel comfortable. He organised a breakfast for us, even though that was not part of the deal and put his kitchen and sitting room at our disposal during our 3-day stay. The amenities are exactly as described. We can definitely recommend Philippe's place. The area is beautiful with various sporting activities and touristic sites. The castle of Fontainebleau is a must see. We had a car but I believe there is a pretty good train connexion to Paris (about a 150-minute trip).
Anna
2016-07-24T00:00:00Z
Hôte très gentil et serviable. Séjour très agréable.
Meryem
2016-05-30T00:00:00Z
Romtype
Privat rom
---
Eiendomstype
Leilighet
---
Plass til
2
---
Soverom
Montigny-sur-Loing, Île-de-France, Frankrike
Petit appartement Cosy situé au calme qui donne sur une arrière cour en plein centre ville à proximité du Château de Fontainebleau et de ses restaurants.
Romaine a été très à l'écoute et disponible pendant notre séjour. Nous avons passés deux jours très agréables dans l'appartement. La proximité du centre et du château est particulièrement appréciable.
Ludivine
2016-12-27T00:00:00Z
Many thanks for the trip. Everything was perfect. Except the couch is not very confortable...
Laurent
2016-12-11T00:00:00Z
Romaine and her apartment are great. Fully recommended!
Walter
2017-02-11T00:00:00Z
Logement propre et spacieux pour un séjour en amoureux réussi! Accueil de Romaine agréable!
Tiphenne
2017-02-18T00:00:00Z
Excellente accueil. Logement propre, agréable et fonctionnel. Merci encore et désolé pour l arrivée tardive.
Marc
2017-02-08T00:00:00Z
Das Apt. ist super! Schön gelegen in Schloßnähe, ruhig, sauber, es ist alles da, was man für einen angenehmen Aufenthalt braucht. Romaine hat uns sehr nett empfangen! Vielen Dank! Sehr zu empfehlen.
Anne-Katrin
2017-03-25T00:00:00Z
Hôte très agréable et disponible, appartement confortable et parfaitement situé. Idéal pour un week-end à Fontainebleau!
Paul
2017-01-07T00:00:00Z
Nous avons passé un week-end très sympa et tranquille, ce que nous recherchions en venant à Fontainebleau. L'appart est charmant et bien équipé. Romaine répond hyper rapidement et elle s'est montrée flexible sur l'heure de départ, ce qui était très apprécié. Par contre le lit est un poil petit si jamais il faut partager à deux. Globalement un logement parfait et très conseillé.
Christopher
2017-03-05T00:00:00Z
Romtype
Helt hjem/leilighet
---
Eiendomstype
Leilighet
---
Plass til
2
---
Soverom
Fontainebleau, Île-de-France, Frankrike
Studio avec parking centre de Fontainebleau. Proche commerces et restaurants. Appartement 27 m2 lumineux au 4ème étage dans une résidence avec ascenseur.
Romtype
Helt hjem/leilighet
---
Eiendomstype
Leilighet
---
Plass til
2
---
Soverom
Fontainebleau, Île-de-France, Frankrike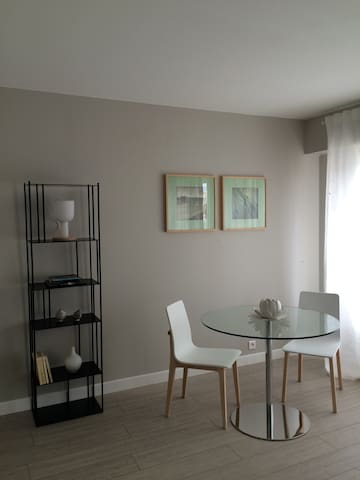 Lovely studio, independant entrance. Very close to the centre, the castle & 10 mn by foot to INSEAD. Home made breakfast, meals available upon demand (24h)
The studio was renovated recently. Free wi-fi, cable TV Beds: 1 queen bed (160x200cm), + 1 single bed (90x200cm) and baby bed on demand Kitchen fully equipped, coffee makers, bottled water & soda at your discretion.
À 2 pas de la place du marché et du centre-ville.
Apartment was newly renovated and clean. Location was excellent, supermarket, bakery and restaurants are just a couple of blocks away. Hosts were really nice and helpful. Quiet neghbourhood.
Olli
2017-04-01T00:00:00Z
Idéal pour une escapade en amoureux
Guy
2017-01-27T00:00:00Z
Studio fonctionnel,au calme et très bien situé.
Djamel
2017-03-03T00:00:00Z
personne charmante, et accueillante.
Edith
2017-03-11T00:00:00Z
Très joli studio, très propre et bien placé. Merci pour votre accueil!
camille
2017-03-25T00:00:00Z
Logement très propre. Studio très confortable, calme car loin de la rue et des passages des voitures, fonctionnel, moderne avec une belle déco. Lalie et très disponible pour des questionnements. Pour ceux qui trouve cela intéressant wifi et canal plus gratuit. Merci nous avons passé un agréable séjour.
Julien
2017-02-21T00:00:00Z
Parfait
Vincent
2017-04-03T00:00:00Z
Studio fonctionnel
Pierre-Edouard
2017-02-15T00:00:00Z
Romtype
Helt hjem/leilighet
---
Eiendomstype
Leilighet
---
Plass til
3
---
Soverom
Fontainebleau, Île-de-France, Frankrike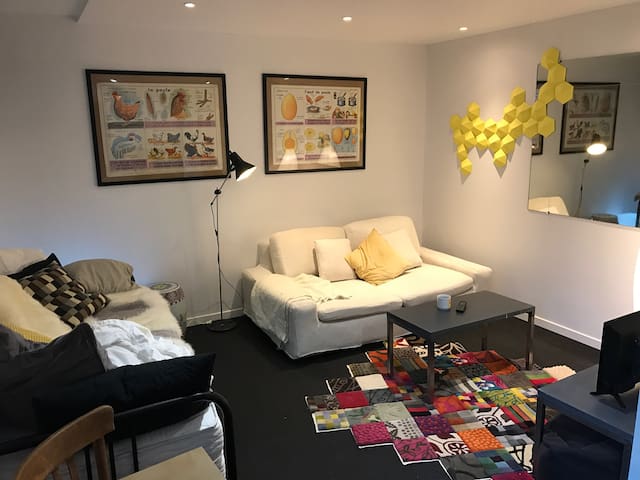 Appartement chic aux moulures et parquet d'époque d'une superficie de 60 m2 . situé en centre ville de Fontainebleau ( 2min à pied des commerçants et du chateau) Grand lit confortable 160 cm - WIFI - TV -Cuisine équipé -Machine à laver 10mn à pied de l'Insead. 2km de la gare . 35 mn de Paris en train.
Romtype
Helt hjem/leilighet
---
Eiendomstype
Leilighet
---
Plass til
2
---
Soverom
Fontainebleau, Île-de-France, Frankrike
Deux pièces charmant dans le centre historique de Fontainebleau au cœur du quartier piéton et à deux pas du château. Vous pouvez profiter de cet appartement paisible et confortable jusqu'à 4 personnes en utilisant un canapé convertible.
L'appartement est sympa, super bien situé, propre et calme. Céline nous a vraiment bien accueilli et le contact était parfait durant tout le séjour. Le lit et le canapé convertible sont confortables. Nous reviendront avec plaisir. Merci encore.
Rima
2016-11-02T00:00:00Z
The apartment was perfect for us (2 adults and 2 children aged 5 & 7). Walking distance to everything in town and only a short drive to the forest for rock climbing. If arriving by car I would suggest parking at the Napoleon underground car park (28 euro will get you unlimited access for 7 days). The apartment: * Sofa bed was easy to fold away each day to regain space in the living room. * kitchen is well equipped and had everything we needed to cook meals at home (there is also plenty of cafes and restaurants nearby) * bathroom is small but nothing different to the photos so this was to be expected The host: Celine was wonderful, greeted us on arrivals it's a warm welcome and explained everything we needed to know. In short I would definitely recommend this apartment.
Jane
2016-06-19T00:00:00Z
Que du positif sur ce logement. Très cosy et parfait pour visiter la ville et le Châteaux de Fontainebleau. En plus d'un logement parfait, nous retenons également l'accueil et tous les échanges avec nos hôtes. Un grand Merci à eux.
Pierre
2016-03-27T00:00:00Z
Apartment was very clean, functional and tidy in a superb location. Céline was very friendly and, even though we didn't meet in person, she took care of everything needed. The bed was also confortable.
Joao
2016-11-07T00:00:00Z
Céline welcomed me in the apartment and made me feel home immediately. The apartment is fantastically located. it was clean and well equipped. I would def reccomend it
Andrea
2016-01-24T00:00:00Z
Celine contacted me before I arrived and gave me clear instructions on where to meet her on arriving in Fontainebleau. She was really helpful and welcoming. The apartment was perfect for me. light and clean, with a very comfortable bed. It was perfectly situated in the centre of town, near to the castle and some very good restaurants, but off a main road, so quiet and peaceful at night. Celine made it clear that I could contact her if I needed to and I really appreciated her care.
Kay
2016-08-08T00:00:00Z
Céline a été très accueillante et arrangeante sur les horaires d'arrivée et de départ. Nous avons passé un très bon séjour dans cet appartement qui a un emplacement idéal. Nous recommandons vivement!
Morgane
2016-10-03T00:00:00Z
ottimale
Marco
2016-09-11T00:00:00Z
Romtype
Helt hjem/leilighet
---
Eiendomstype
Leilighet
---
Plass til
4
---
Soverom
Fontainebleau, IDF, Frankrike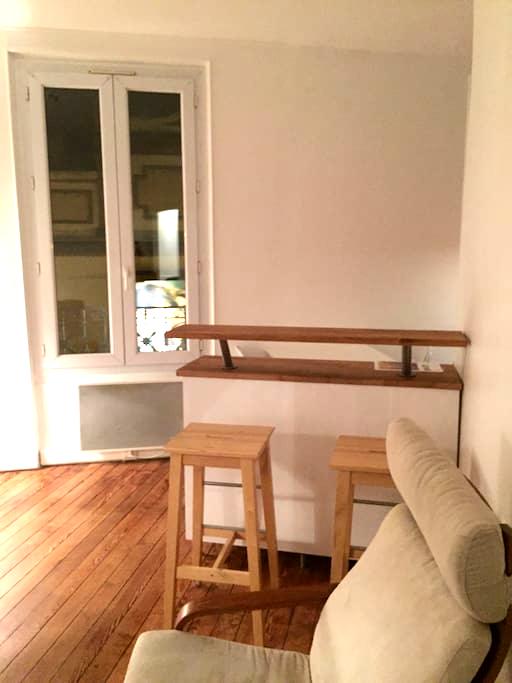 3 rooms attic duplex, 50 m2, very quiet, all equiped, at the 2nd floor of a small 2 floors building, close to all commodities, shops, bus station for the railway station, 5 mn from the castle by walk, 50m from the big park entrance.
All equiped and confort apartment Level 0 KITCHEN full equiped ( no dishwasher) -ceramic hob + oven -fridge -Micro-wave oven -toaster -electric kettle -coffee machine -all you can need to cook … -washing machine -iron -high kitchen table with 3 bar stools LIVING ROOM -1 sofa -1 dining table with 4 chairs - TV / internet box / WIFI / DVD player / HIFI / mini jack aux plug 1 TOILET Level 1 1 MAIN ATTIC BEDROOM -1 double bed 140X190 -desk -wardrobe -alarm clock set radio 1 SMALL ATTIC KIDS ROOM -1 single adult bed 90X190 -Toys and books for kids ! 1 BATHROOM -bath/shower -toilet -wahbasin -hair dryer
-The street is not very busy and particularly quiet during the night -You can access to the big castle park entrance 50m from the apartment, open 24/24, ideal for joggers or a walk. -All food shops and supermarkets are in a very close area. -Restaurants and bars corner are at the top of the street , 2 mn by walk. -The main castle entrance is at 5 mn by walk. -The Fontainebleau forest is nearby the centre, many very nice walks and hiking
Parfait, tout s'est bien passé. Merci beaucoup
Célestin
2017-03-31T00:00:00Z
This is a very cosy place. Quite and also on walking distance of the shops on the main road. We would stay here again.
Kim
2017-03-26T00:00:00Z
Séjour réussi pour un couple et une ado. L'appartement est idéalement placé en centre ville mais au calme, à deux pas des commerces, restaurants, cafés... Il est conforme aux photos, confortable, déco personnalisée très sympa. Literie et linge de toilette de qualité. Jean-Baptiste est sympa, attentionné et disponible. Je recommande!
Dominique
2017-02-15T00:00:00Z
Nous avons passé un excellent séjour. Jean Baptiste a été très gentil et flexible. L'appartement est décoré de manière très personnelle, il est très bien situé, tout près du château et du centre ville. Très calme, et ensoleillé. Nous reviendrons!
emmanuelle
2017-02-19T00:00:00Z
Really clean, well-equipped and beautiful apartment in Fontainebleau. Jean-Baptiste was really helpful and very very fast with response time, he sent a message to make sure that we got in OK and there were no issues which was really appreciated. Overall, a very lovely host. The apartment itself is located walking distance from the central square and still in a quiet neighborhood. I would definitely stay again on a return trip to Fontainebleau!!
Isobel
2017-03-12T00:00:00Z
Romtype
Helt hjem/leilighet
---
Eiendomstype
Leilighet
---
Plass til
3
---
Soverom
Fontainebleau, Île-de-France, Frankrike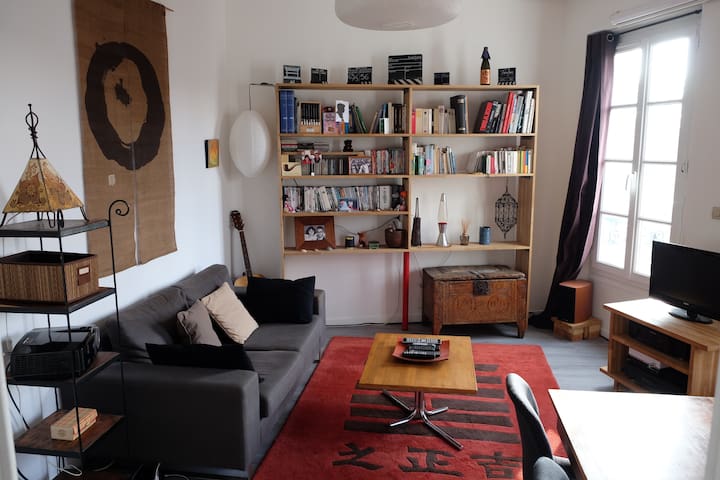 Appartment ( 42 s.m.), 2 rooms very close to all comodities by walk, shops, 5 minutes by walk from the Chateau, 10 minutes by walk from INSEAD and the forest and in a quiet area. With a very high ceiling and a wooden floor. Lots of charm and a very nice view on the forest of Fontainebleau. Completly renovated bathroom and small kitchen in January 2017
Charming and renovated appartment in an authentic building in the historical center of Fontainebleau. Quiet street (rue Saint Merry) and close from all commodities, Chateau and INSEAD. Very high clearance and beautiful view on the roof and the forest of Fontainebleau from the living room, with over 3 meters high ceiling, on a very top of a charming building. Beautiful wooden floors and high ceilings. Kitchen, bathroom and toilet completly renovated in january 2017. High speed Wifi included in the price. You will found, all you need for your stay : 1 towel per person, clean sheets, a airdryer, a fridge, a microwave, an induction plate, a small oven, vacuum cleaner, iron & ironing board, television, washing machine. Thank you to give me back the appartment as cleaner as you have found it. In case you do not respect this rule an amount of 50€ will be taken from your caution. For family : In case you want a special baby bed, I will ask for 20€/ night, with clean sheets.
Rue Saint Merry is probably one of the most charming street in Fontainebleau with tipical Fontainebleau's houses : quiet street, just a corner from the center and all comodities. Close to the Chateau and INSEAD
Super sympa et volonté de faire bien.
pierre-yves
2017-01-26T00:00:00Z
This apartment is cosy and on the third floor with a lovely view. There is no elevator. The bathroom and kitchen is newly renovated and very neat. The hostess was very communicative and helpful. I would definitely recommend to stay here. The lighting is a bit dim though for the evenings.
Trisha
2017-02-13T00:00:00Z
Bien situé proche du château et du centre idéal pour 4 personnes
fabien
2017-03-16T00:00:00Z
Lovely flat and great location
Emma
2017-03-27T00:00:00Z
Appartement et hôte très agréable je recommande
Boucard
2017-03-09T00:00:00Z
Appartement très sympa et propre
Aurélie
2017-04-02T00:00:00Z
Quartier tres calm, presque sans bruit. Joli vu et proche du centre ville. Super studio avec petite cuisine.
Eva
2016-07-21T00:00:00Z
Nous avons eu un très agréable séjour. L'emplacement est idéal, proche du centre-ville et tous les commerces mais aussi calme. Belle vue, dernier étage. Facile d'accéder à la fôret pour des randonnées, et plein de choix pour un bon repas le soir.
Leighton
2017-03-19T00:00:00Z
Romtype
Helt hjem/leilighet
---
Eiendomstype
Leilighet
---
Plass til
4
---
Soverom
Fontainebleau, Île-de-France, Frankrike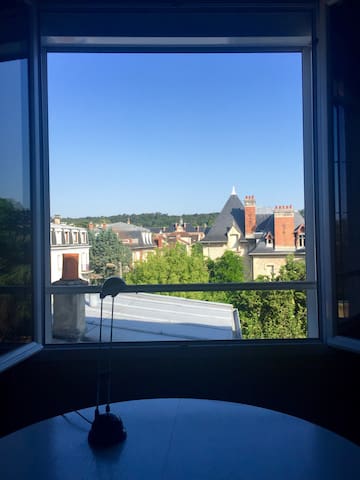 Studio in the centre of Fontainebleau located halfway between city centre and INSEAD (1.1 km - 10 mn walk)
Perfect location, within walking distance of the city centre, the castle and restaurants, the INSEAD school of business and the forest.
Studio agréable, calme, bien situé,fonctionnel,propre,et très lumineux. Accueil très sympa des hôtes,qui se rendent disponibles,toujours prêts à vous rendre service pour vous aider à réaliser un bon séjour. Rien à redire.
Christophe
2017-03-28T00:00:00Z
Logement tres propre et tres fonctionnel, en plein coeur du centre ville. Tres bon rapport qualite_prix. Sarah et william sont tres sympathiques. Recommandation garantie !
Alain
2017-03-13T00:00:00Z
Logement conforme à la description, emplacement idéal (à une rue du plein-centre et du château de Fontainebleau, nombreux restaurants et commerces). Sarah et William sont très sympathiques. Très propre. Si l'occasion se présente nous y séjournerions de nouveau sans hésiter Je recommande +++
Aurore
2017-03-21T00:00:00Z
Très bonne prestation, le studio est très agréable, il donne sur la rue mais peu passante, on entend rien. Idéalement placé en centre près du chateau et à 10minutes à pied de la forêt. William et Sarah nous ont bien accueilli, étaient disponibles pour toute question et bien arrangeant durant ce court séjour. Merci encore à tous les deux, Lydia et Quinten
lydia
2017-03-18T00:00:00Z
I had the opportunity to stay at Sarah and William place for one week in April 2017. The apartment is nice and calm. Moreover, for me it was an awesome position as it is very close to INSEAD. Highly recommended!
Valerio
2017-04-05T00:00:00Z
Romtype
Helt hjem/leilighet
---
Eiendomstype
Leilighet
---
Plass til
2
---
Soverom
Fontainebleau, Île-de-France, Frankrike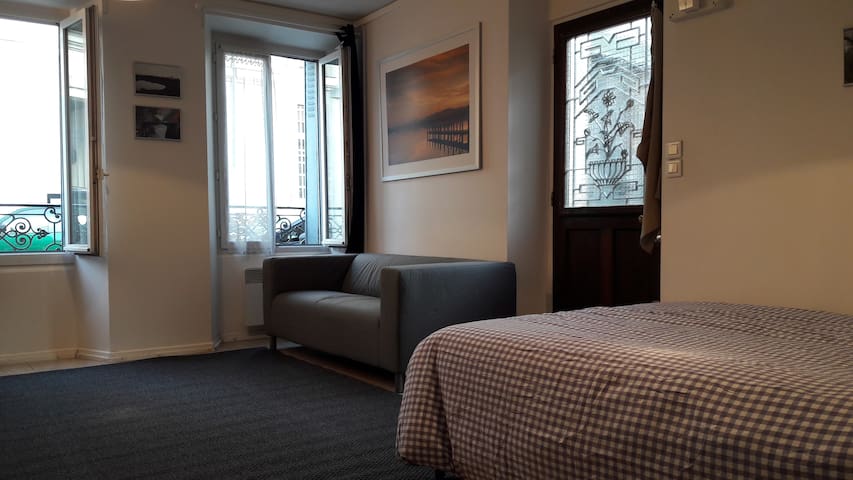 2ème étage , immeuble ancien. Très calme, 5 mn château, centre ville et INSEAD. 70 m2 , 4 pièces : séjour/cuisine américaine + 3 chambres avec 1 lit double et 2 simples. douche, WC. TV, WIFI, garage vélo privé. Stationnement gratuit à proximité.
Idéal pour une famille avec 1 à 3 enfants. -Une chambre parentale avec lit double, donnant sur cour et jardin avec dressing et cabinet de toilette. -1 chambre avec 1 lit simple et lavabo. Possibilité de dédoubler le lit pour un 2ème couchage (convient plus à une personne de petite taille). fenêtre sur rue. - salle de bain ; douche, WC. -1 chambre avec 1 lit simple. Fenêtre sur rue. -1 salle d'eau (douche /lavabo) -1 WC. - 1 séjour/cuisine américaine équipée. 2 fenêtres sur rue. 2ème étage, pas d'ascenseur.
Tous commerces à proximité (dont un petit supermarché à 200 m). En voiture, Vous passez deux rues et rejoignez la route vers Paris. A partir de notre rue, tout le quartier est en stationnement gratuit. Dans notre cour : un garage à vélo privé. Porte équipée d'un digicode.
Great apartment in the heart of fontainebleau town. Vincent seemed very relaxed and accomodating - we could pick up the keys whenever we wanted, and when we came to town (quite late) everything was neatly set-up for our arrival (there was even a bottle of wine waiting for us). Definitely recommended!
vegard
2016-03-06T00:00:00Z
Very responsible host. Easy to communicate. Highly recommended.
Sung Ho
2016-07-24T00:00:00Z
This place was perfect for our bouldering trip. The appartment was central, practical, spaceous and homey. Parking was no problem. Vincent met up with us at our late arrival and helped us with all the information we needed. I highly recomend this place to stay if you are going to Fontainebleau.
Karl Johan
2016-08-22T00:00:00Z
We had a lovely stay in Fontainbleau. Vincent and his wife met us on arrival and showed us around the apartment. They were very friendly and helpful and pointed out some places of interest we might like to visit. The apartment was well situated and delightful. There was everything we could have needed for our stay. We all thoroughly enjoyed staying at the apartment and would not hesitate to return or recommend it to a friend. Thank you to Vincent and family and to Airbnb
claire
2015-08-29T00:00:00Z
Ma famille et moi (2 enfants, 2 adultes) avons passé un week-end très reposant dans cet appartement amenagé côté nature comme une cabane et situé côté ville à 5 minutes de la rue principale de Fontainebleau, du château et son parc. Merci !
Catherine
2016-10-31T00:00:00Z
Vincent and Marie-Pierre's flat in Fountainbleau was a lovely place for our one week climbing trip to the beautiful forest of Fountainebleau. The flat was just as described, clean and fully equipped. We stayed there with five adults and one child and it was the perfect place for us with two bathrooms and a great cooking space. A nearby supermarket and bakery made it easy to go shopping and all the nice spots of the town of Fountainebleau and all the climbing areas were just around the corner. Vincent and Marie-Pierre were really nice, welcoming and helpful hosts. They made it easy for us to feel home at their home. Thank you so much! Totally recomending staying at their place!
Patrizia
2015-08-15T00:00:00Z
Excellent séjour grâce à cet air bnb. les hôtes sont particulièrement accueillants et bienveillants. L'appartement est bien agencé, excellemment situé ans Fontainebleau (à proximité du centre - 3 mn a pied- mais dans une rue calme avec beaucoup de places de parking) Cet appartement est vraiment à recommander pour un séjour en famille ou entre amis!!
Ondine
2015-07-26T00:00:00Z
L'appartement de Vincent et Marie-Pierre est confortable et cosy, très bien situé entre l'INSEAD et le centre de Fontainebleau. Très pratique pour un séjour en famille. Et un accueil très chaleureux, des hôtes vraiment à l'écoute et prêts à aider en cas de besoin - merci encore!!!
Caroline
2017-02-11T00:00:00Z
Romtype
Helt hjem/leilighet
---
Eiendomstype
Leilighet
---
Plass til
5
---
Soverom
Fontainebleau, Île-de-France, Frankrike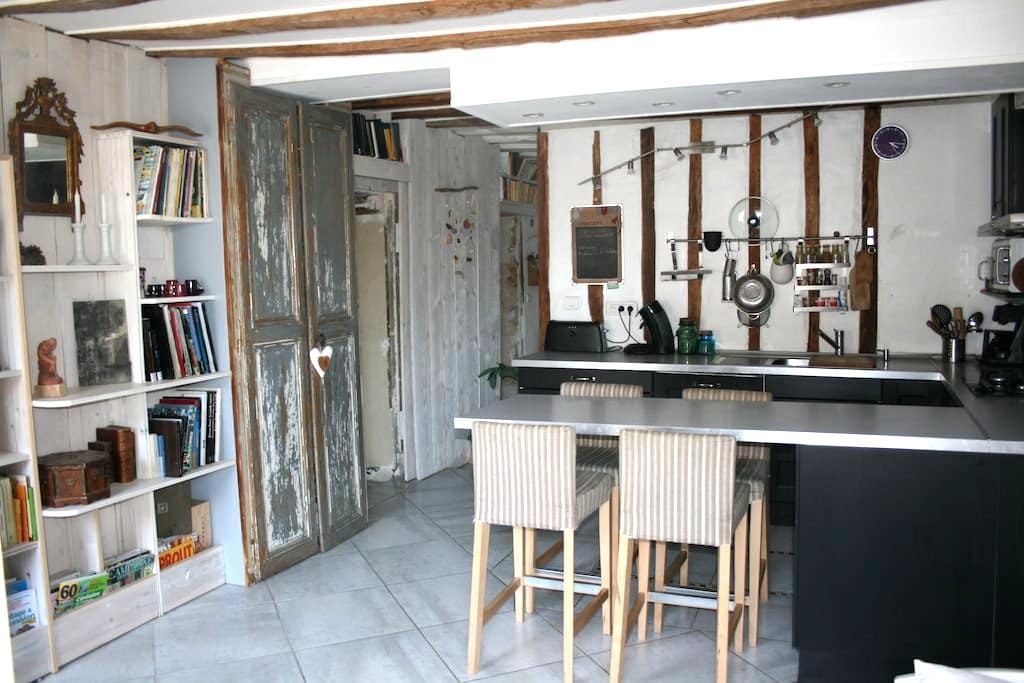 Great location, in the fashion district, in the very heart of Fontainebleau life, 15 mn walking to INSEAD, in front of the castle and in the very heart of best restaurants and pubs in town ! All accomodations at the feet of the studio. Very well secured with 2 DOOR ACCESS CODES and HIGH DEBIT WIFI.
This chic and cozy studio, located in the very center of fontainebleau, will make your city experience like perfection. Lovely and fully equipped, its comfort and elegance will seduce you. Located in the trendy montebello street, this flat is totally secure. LOCATION: The studio has the best possible location in Fontainebleau: directly in front of the entrance of the castle (Chateau de Fontainebleau). Located in the city center, it is close to many restaurants and pubs. INSEAD and the forest of Fontainebleau, which is beautiful for hiking and rock climbing are just 5 minutes walking distance away. There is a bus station directly in front of the house from which you can go to INSEAD or Fontainebleau-Avon train station in 10 minutes. From there the train takes 40 minutes to Paris. You can find the best boulangerie, pubs and restaurants in town on the same street. Supermarket and laundromat are 3 min walking. The forest is also 2 min by foot. You can go bouldering (10 min from the top bouldering spots (3 Pignons, Cuvier, Apremont, Gorges de Franchard...) or hiking in the forest (You'll see some animals) or you can visit the castle or go fishing in the canal by foot. There is one of the best hippodromes of France in 5 min driving distance, which makes Fontainebleau a heaven for horse riders. Closest ATM is 2 min on foot. The town sport complex; including swimming pool, gym, basketball courts, tennis courts, football pitch and a golf course is just 10 min away on foot. EQUIPMENT: It is a fully furnished studio that has a fully equipped kitchen. hi debit Wi-Fi, fridge, Bathroom with bathtub under the roof and electric heating, iron, ironing board. There is one kingsize double bed in the (URL HIDDEN) mattress is of good quality which will guarantee a good night sleep. I have even prepared some earplugs on your night table in case you are sensitive to the city noise, especially at night. There are 2 big windows in the room and one in the bathroom which make the studio very lighted. At the same time if you shut the curtains it will be dark and you can sleep till late in the morning. The bus stop is only 20 meters away from the studio. Do not hesitate to contact me if you have any questions. If you need anything special you can send me a message. It is perfect for INSEAD students or visitors, tourists, rock climbers or people visiting. Also very economical for people who want to boulder, visit Paris or the Fontainebleau forest and the Castle. Please note that it is not suitable for tall people due to the mansarded style and to people searching for calm due to its location in the very heart of the city (bars and restaurants can bring some noise sometimes). See you soon in Fontainebleau ! Sandrine
In front of the Chateau de Fontainebleau. In the very heart of best restaurants and pubs in town Close to all accomodations Laundrymat ATM
I had given her very short notice, but Sandrine was helpful with everything even when she was busy. Place is accurate as described. Neighbourhood is busy, but very quiet after 1AM.
Arjun
2015-06-23T00:00:00Z
Very nice little spot in the center of town. The studio is charming and well furnished, both functional and with a personal feel. The neighborhood restaurants and bars add some atmosphere without being too noisy.. Unfortunately mosquitoes seemed also attracted to the place :( Yet, I would come back to this address!
Pierre-Louis
2016-08-06T00:00:00Z
Thanks Sandrine, very nice place which has been nicely done up and presented.
Toby
2013-11-16T00:00:00Z
Warm and cozy attic in an excellent location! You could not get any closer to the heart of dining in Fontainebleau. It's only 2 blocks from the bike rental shop and the climbing shop. Keep in mind that the ceiling is very low over the bathtub. You will not be able to stand up to shower, even if you are a short 5ft. tall woman like me. Also, the bathroom is dark. The light over the sink didn't work. There was long hair all over the black, carpeted floor when I arrived. The last guest probably didn't vacuum. WiFi is free but very slow. Remember to go to the door labeled "8bis", NOT "8". I made the silly mistake and wondered why the door code would not work until a lady dining across the street told me it was the wrong door. There is a big, fluffy towel, a kitchen and an iron but no toilet paper. You can go to the Monoprix and pharmacy a few blocks east on the main strip to get TP and Kleenex. It does get noisy at night when the restaurants have live music downstairs on the weekends. I found the muffled music filtering through the walls to be quite soothing, actually. And I was tired from climbing, so falling asleep amid the noise was not a problem.
Mikka
2014-10-22T00:00:00Z
Our schedule was still in flux and Sandrine made it easy for us to get into the studio. She was very helpful with questions. The studio was as described. It was well designed and comfortable if small. The only issue was that it was near impossible to get onto the WiFi.
Helen
2015-06-04T00:00:00Z
The appartement was really nice, quite small but enough space to be comfortable. Everything needed was available in the kitchen or bathroom. It was very central and all restaurants and bars were in close proximity. The only little drawback was the relatively loud music from the bar below on the weekend. So be prepared and bring ear plugs.
Annika
2016-09-28T00:00:00Z
Hôte sympathique pour un gite tout aussi accueillant !
Jean-Francois
2015-05-23T00:00:00Z
Petit studio en plein centre ville, au dessus d'un bar nocturne donc prévoir les boules qu'ils. Inadapté pour les grandes personnes surtout la salle de bain Très bon dialogue avec Sandrine
Aurélie
2017-01-14T00:00:00Z
Romtype
Helt hjem/leilighet
---
Eiendomstype
Leilighet
---
Plass til
2
---
Soverom
Fontainebleau, Île-de-France, Frankrike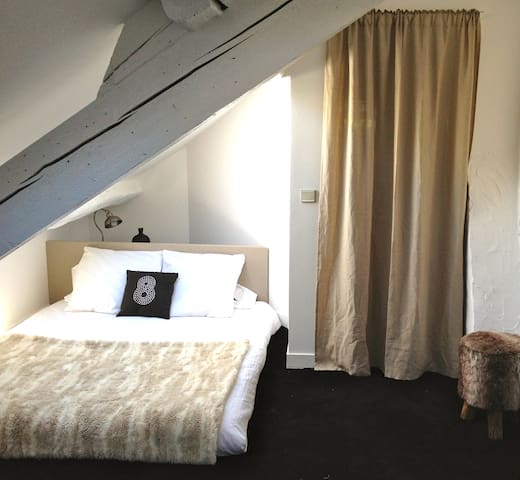 Apartment in the center of town, near The castle and its gardens. 10 min from train station in Avon by car or bus (2min walk to bus stop). 30 min from Paris by train. 750 sq ft - bright and clean. Comfortable beds. Quiet building and street. Perfect for couples, family with kids or business travelers. Bedroom 1 - 1 queen bed, desk, storage Bedroom 2 - 2 twin beds, storage Large living/dining area, kitchen, bathroom, WC Bus station - 2 min walk Castle and gardens - 4 min walk
Appartement très sympa, très bien placé au centre de Fontainebleau.
Audrey
2017-04-01T00:00:00Z
Super logement, très bien situé, avec tout le necessaire. Super accueil et disponibilité de l'hôte pour l'arrivée et le départ.
Berengere
2016-10-09T00:00:00Z
Nous avons passé un très bon séjour chez Romain. Son appartement est à la fois charmant et confortable et dispose en outre d'une très bonne situation dans le centre ville. Romain et sa famille ont été très disponibles pour répondre à nos demandes et s'adapter à nos horaires d'arrivée fluctuants. Un logement à conserver en-tête de ma liste de favoris et à conseiller à tout visiteur de Fontainebleau!
Caroline
2016-11-13T00:00:00Z
Romtype
Helt hjem/leilighet
---
Eiendomstype
Leilighet
---
Plass til
4
---
Soverom
Fontainebleau, Île-de-France, Frankrike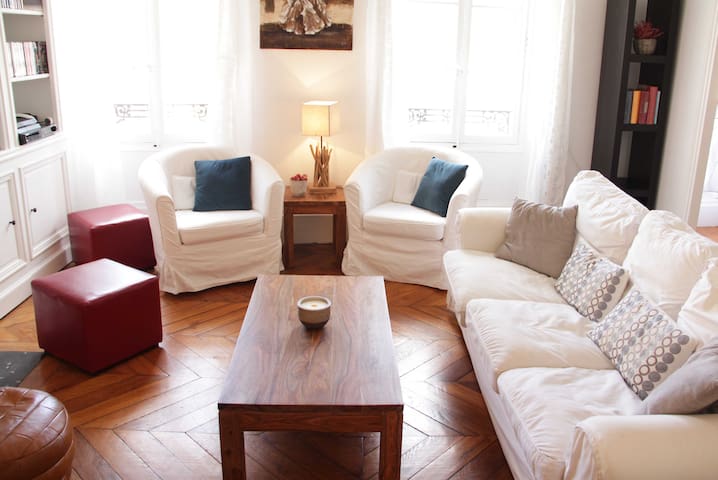 A 5 mm à pieds du centre et du châteaux et à 8 minutes à vélo de INSEAD,charmant petit appartement Loft F1/2 sous les toits ,refais a neuf, pierres et poutres apparentes, peut loger 3 adultes. Cuisine équipe , linge de maison,wifi, télévision .bus au pied de l'appartement .
état neuf
A 8 minutes en vélo de INSEAD et pour vos promenades ou votre jogging ,le parc du château de Fontainebleau est à 3 minutes à pied .
I came to visit Fontainebleau for a few days and this apartment was perfect. It was a great location and it was a lovely apartment! Nicely furnished and very comfortable. Will definitely try to stay here again on my next visit!
Daisy
2016-07-05T00:00:00Z
Séjour de 3 mois. Une aventure au niveau du code d'entrée de l'immeuble et résolue grâce au propriétaire mais qui reste délicat au dire des autres locataires surtout en période de pluie. Très confortable , un calme exceptionnel avec les voisins. Un bon emplacement pour les courses, bus , centre et surtout les pizzas, les meilleurs de Fontainebleau. Bilan, un super séjour. Juste un souhait, un grille pains serait le bien venu.
Marc
2016-04-11T00:00:00Z
Great time in a lovely little apartment!
Graham
2016-05-31T00:00:00Z
Very comfortable place right in downtown Fontainebleau. Everything was as expected, Pascal was very quick to respond. Parking is iffy anywhere in Font...
Teal
2015-04-26T00:00:00Z
We felt very comfortable in his small apartment in Fontainebleau. Its newly renovated. Check-in and Checkout was very uncomplicated. Drawbacks are that the stairway leading to the apartment is a bit smelly and that to reach the sleeping room you need to crawl under the roof beams.
Pascal
2016-05-09T00:00:00Z
le logement est charmant, fonctionnel et bien équipé, tout a fait conforme à la description qui en est faite. La remise des clés a été très facile et simple avec la soeur de notre hôte qui s'est montré très cordiale et arrangeante sur les horaires. Une chouette adresse pour un séjour à Fontainebleau ! Seul bémol, le stationnement, difficile, payant et limité à 2 heures dans tout le quartier, comme dans tout le centre de Fontainebleau d'ailleurs.
Florence
2016-04-18T00:00:00Z
Charmant appartement, bien situé et bien décrit. Nous avons passé un séjour très agréable. Nous avons pu profiter à pied du château et du centre ville. Il y a tout le nécessaire pour cuisiner. Merci pour les facilités d'arrivée et de départ.
Christophe
2015-06-03T00:00:00Z
Overall experience - very good. Pascal was traveling, so it was his sister who greeted us. I don't speak French and she does not speak English. So I used the SMSTranslator app to exchange text msgs with her. Worked just fine. I asked for early checking (around 11am) and this very nice lady waited for us extra 1.5-2 hours since our train arrived late and then I was stupid enough to walk all the way from the train station with a heavy shoulder bug. Hint: take the bus #1. On the route back to the train station it stops literally some 30 yards from the apartment. The apartment is very nice and clean. 2 people sleep in a separate room behind those X shaped bars you see in the photo. So you have to watch your head when you get there under those. 1 person sleeps in a mezzanine above the living room w/kitchen. 2 pretty steep flights of stairs lead to the apartment and then another shorter flight of stairs when you enter the apartment. So, if you have a huge heavy trunk or have a problem climbing stairs you might think twice. The location is great. You leisurely walk for 10-15 minutes along the main picturesque Fountainbleau street and you reach the chateau.
Yuri
2016-07-09T00:00:00Z
Romtype
Helt hjem/leilighet
---
Eiendomstype
Leilighet
---
Plass til
3
---
Soverom
Fontainebleau, IDF, Frankrike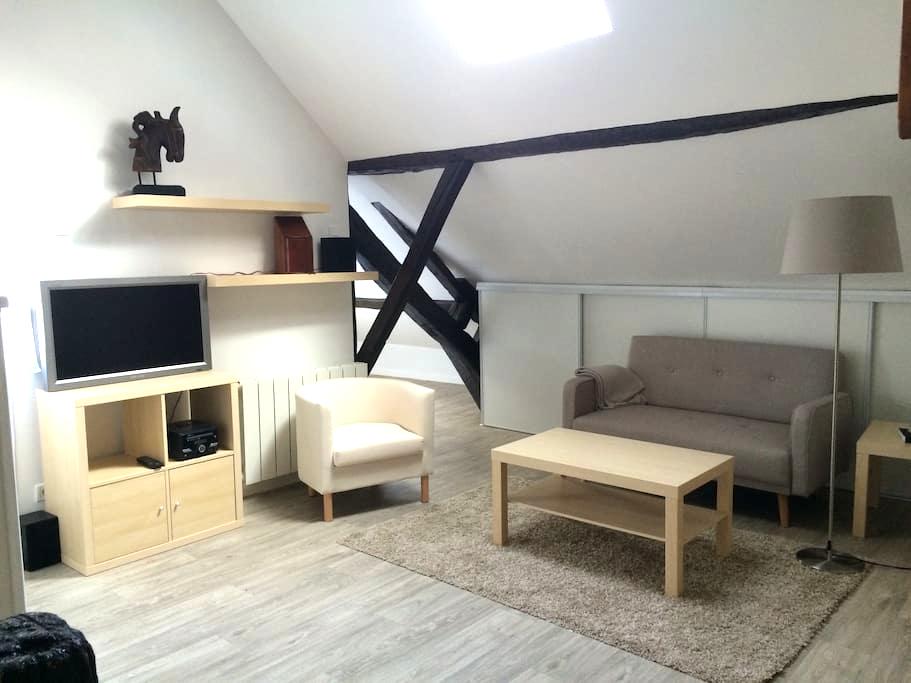 Appartement T2 entièrement rénové au centre ville de Fontainebleau avec courette et jardin, douche à l'italienne, cuisine toute équipée. Situé en rez-de-chaussée. Arrêt de bus à 50 m pour se rendre à la gare.
Le quartier est très calme, situé dans une rue parallèle à l'axe principal de la ville, petit jardin pour pouvoir manger dehors l'été.
Nous avons été accueillis très chaleureusement, avec petit cadeau de bienvenue, par Clément, qui s'est montré très arrangeant sur les horaires d'entrée et de sortie des lieux. L'appartement est plus grand que ce que les photos laissent imaginer, avec tout le confort nécessaire pour un bon séjour. Pour les amateurs de vélos, Clément peut proposer des parcours dans la forêt de fontainebleau, et une cave pour stocker les VTT. En bref, je recommande avec beaucoup d'entrain cet appartement.
Lucile
2017-03-19T00:00:00Z
Très bien
Nina
2017-02-27T00:00:00Z
Nous étions les premiers "airbnb" de Clément, et nous avons été très satisfaits par l'accueil qu'il nous a fait et par son logement. Situé dans une rue assez calme, à 2 minutes à pied du cœur vivant de Fontainebleau et du château, l'appart' est idéal pour passer un court week-end dans cette belle ville. Clément est venu nous chercher en voiture à la gare du transilien le premier jour, et nous avons pu repartir en bus le lendemain (il y'a des navettes toutes les 20 minutes) c'est super pratique ! Concernant l'état du logement, il vient d'être refait, tout est nickel, il n'y a rien à redire ! Nous recommandons :)
Anaëlle
2017-01-22T00:00:00Z
We really enjoyed our weekend here. Convenient location - could walk to patisseries and restaurants and only a 15min drive to the forest. We were always able to park on the road outside but I imagine this can sometimes get busy. Apartment was warm, clean and spacious enough for our needs.
Becky
2017-03-13T00:00:00Z
Appartement très jolie spacieux, une pièce en + par rapport aux photos donc bonne surprise. Fonctionnel, je recommande !
Jérémie
2017-01-29T00:00:00Z
Séjour très agréable. Appartement spacieux, propre et bien situé ! Parfait pour passer un week-end à Fontainebleau.
Marie
2017-03-05T00:00:00Z
Romtype
Helt hjem/leilighet
---
Eiendomstype
Leilighet
---
Plass til
2
---
Soverom
Fontainebleau, Île-de-France, Frankrike
A small and cosy apartment on two levels (duplex ; careful, staircase is steep) with a fully equipped kitchen, in a quiet street, 3 minutes from the bars and restaurants of the lively town center.
Redecorated and renovated duplex apartment on the top floors of a small, three-floor building within walking distance of the main city attractions: the castle and its gardens, the movie theaters (which sometimes show films in English) the restaurants and bars. It consists of a main room with an american kitchen furnished with all the necessary appliances on the first level and a bedroom and bathroom on the top floor. (Be warned, the stairs are steep but the oldest guest, over 80, didn't complain) . The decor, associating modern and colored furniture to the original wooden beams and stoned wall, creates a cozy and chic atmosphere. This apartment is ready to welcome you for a short or long stay. Whether you're staying in Fontainebleau for professional reasons or for your holiday, you'll find what you're looking for and enjoy one of the many restaurants (from traditional French cooking to sushi bars, fast food places to classy restaurants) and bars in the evenings or in the sun, in summer, at lunchtime. The center of Fontainebleau is lively at every season. And the town and its surroundings offer long walks or bike rides in the forest, rock climbing, horse riding, canoeing or a movie show, You can also escape to the picturesque neighboring villages of Barbizon, Moret sur Loing, Larchant, Milly la Forêt (all reachable by bike exept Milly maybe - difficult by bus because of timetables made for commuters) or if you're with car, the picturesque villages of the Loire valley (even the Easternmost "châteaux" such as Chambord) , the wild Sologne area or the heritage villages of Burgundy -and its vineyards- can be reached on a day-trip. And Paris of course which is a 40 minute train ride from the Fontainebleau-Avon station.... If there's a third guest (a child preferably) or if you don't want to share the double bed, there's a double airbed (inflatable electrically) but it will use a lot of space...
A quiet street not far the center but Fontainebleau, except if you have a bar nearby which can be noisy (and there is none close by) , Fontainebleau is a quiet litle town but very lively in the evening. And you're less than a minute walk from the action...
I had a great time in Fontainebleau. The flat is exactly the same as shown in photo, well equipped and thoughtful in details, I enjoy the flat very much! It located in the centre of town, but quiet and peaceful, yet convenient access to shops, palace, park and forest, perfect for a relaxing holiday. Fast wifi, clean flat, good kitchen, comfortable bedroom, can't ask for more really. Caroline and her father are very lovely and helpful. She is quick in responding message, kindly offer pick up from train station. Even when I missed the train, her father still patiently waited for me in the station, which made me feel very welcome, big thanks! Overall, I strongly recommended this lovely flat to anyone who would like to stay in Fontainebleau!
Lily
2015-07-25T00:00:00Z
Caroline nous attendait comme convenu. Elle nous a présenté le logement et les "services" alentours avec beaucoup de gentillesse. Son logement très propre et fonctionnel nous a permis de passer un séjour bien agréable. Merci beaucoup.
Joelle
2016-07-09T00:00:00Z
Nous avons beaucoup apprécié le week-end passé chez Caroline. L'appartement est très bien décoré, très propre, et très bien placé dans Fontainebleau. Caroline nous a réservé un très bon accueil, et ses petites attentions nous ont fait plaisir. Nous y reviendrions sans hésiter.
Arnaud
2014-01-27T00:00:00Z
Pas satisfaite
Rima
2016-06-12T00:00:00Z
Nous avons séjourné dans cet appartement 4 jours a l'occasion d'un concours d'équitation. il est très bien agencé, très sympa , très bien situé au centre de fontainebleau avec toutes les commodités a proximité . enfin l'appartement est très propre et très bien refait . Notre hôte Caroline est très serviable . a recommander .
marc
2015-04-20T00:00:00Z
Très joli appartement bien décoré et très bien situé par rapport au centre ville. Caroline nous attendait pour la remise des clés et nous a laissé une grande liberté pour l'horaire de depart. Du coup nous avons bien profité de notre séjour un peu rallongé. Merci.
Anna
2016-02-25T00:00:00Z
Merci à Caroline pour sa disponibilité et son accueil et sa réactivié de la veille pour le lendemain. L'appartement est très bien placé et décoré avec goût. Il est extrêmement bien équipé pour pouvoir cuisiner. Seul petit bémol le bruit des voitures lorsque vous dormez la fenêtre ouverte, le son résonne sur les murs de la rue.
Guillaume
2014-07-28T00:00:00Z
Caroline is a great host! My friend and I were studying in INSEAD for a month and we stayed at Caroline's very nice apartment. It was cozy, clean, and quiet. The kitchen is well furnished and make it very easy to cook. And most importantly Caroline and her father had been really responsive all the time and took care to make sure we have what we need. We really enjoyed our stay at Caroline's place. Thank you Caroline!
Sally Wei
2014-06-20T00:00:00Z
Romtype
Helt hjem/leilighet
---
Eiendomstype
Leilighet
---
Plass til
2
---
Soverom
Fontainebleau, Île-de-France, Frankrike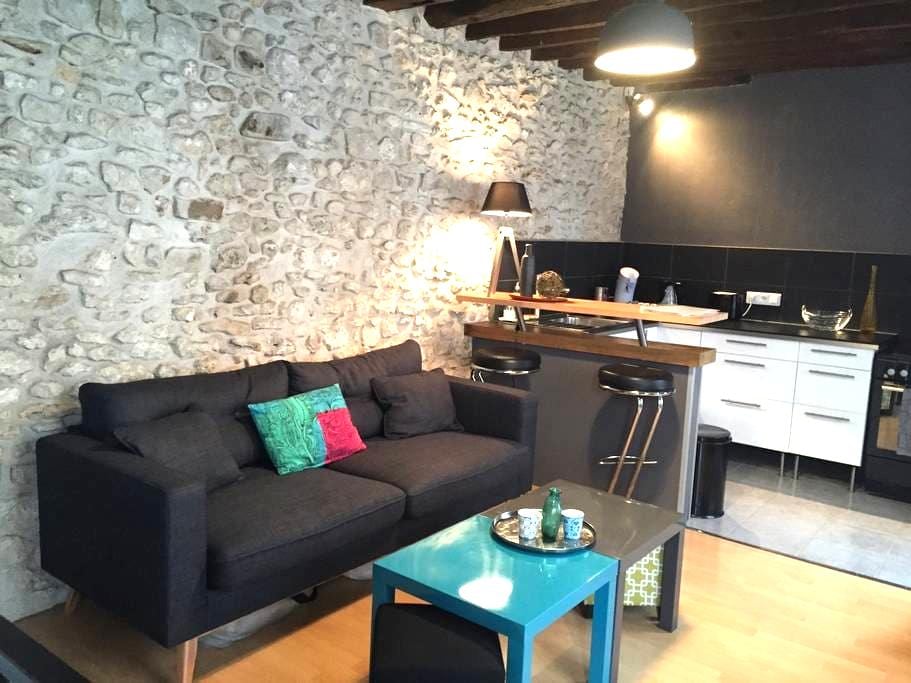 1

–

18

av

154 Leiligheter til leie
Oppgi datoer for å se fullstendige priser. Ekstra gebyrer gjelder. Skatter vil kunne tilføyes.