The appartments opposition is in countries surronundings on a farm in the middle of fertile village Lofthus. It's new spring 2017, and is a basement appartment. It contains bathroom, bedroom, kitchen hook and livingroom, as well as outdoor area and own parking. The outdoor area consists of lawn with afternoon sun and a predispose wood-fired hot tub on the terrace. It is approximated without traffic and is nice for children with big space for playing.
The Place is unike because it is walking distance to almost everything in Lofthus.
Alvavoll is located in Lofthus center, a short distance from everything you need. Approximately 300-500 m to the grocery store, movie theater, pub, cafe and fitness center. The local Mix kiosk is in walking distance and sells delicious imported cheeses and both fast food and regular dinner. The local Pub "Ekspedisjonen" is open on weekends and sells beer from its own brewery, historic Hotel Ullensvang offers swimming, bowling and during the summer open a `la carte restaurant. Ullensvang Gjesteheim serves delicious traditional and Thai dishes. For the kids there is only 1 mil north to Mikkelparken, and it is 10 min to the nearest Beach With toilet. It is 3.2 mil south to Odda and start to Trolltungatrip.
Romtype
Privat rom
---
Eiendomstype
Leilighet
---
Plass til
4
---
Soverom
Lofthus, Hordaland, Norge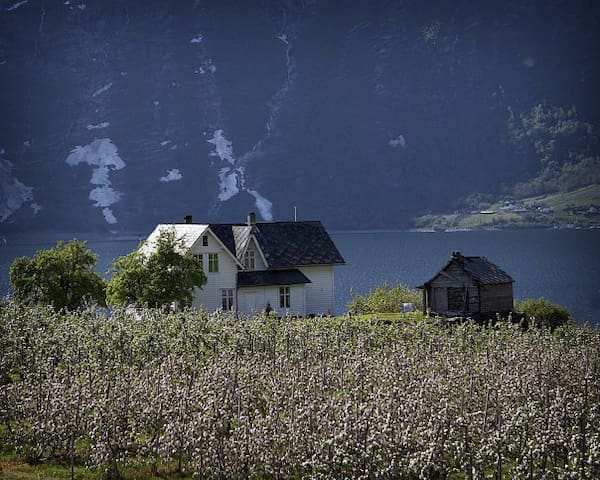 Stay at a fruit farm with a spectacular view. Two bedrooms, fully equipped kitchen and a large private terrace. Popular hikes in the area Trolltunga, Dronningstien and Hardangervidda. Mikkelparken (10 min).
The apartment lies at a beautiful location called Eidnes. We have the most amazing view of Sørfjorden and the Folgefonna glacier. With famous hikes not far form the apartment this is a great starting place for the nature loving traveller. Trolltunga, Hardangervidda, Via Ferrata is just to mention some. The stating point of the Trolltunga and Via Ferrata hike is 30 minutes away by car. This i also a family friendly area with the amusement park Mikkelparken in Kinsarvik only 10 minutes away by car. The apartment is a part of the main house on a fruit farm. The apple blossoms bloom from mid May till early June.
The apartment lies in a quiet area with amazing view and hiking possibilities. The village of Lofthus can also offer a variety of restaurants. During summer the A la Carte-restauranten Zanoni (Hotel Ullensvang) is open, Ullensvang Gjesteheim (three minutes by car) serves Thai food and Norwegian food, and the local pub Ekspedisjonen Skjenkestove can tempt with beer tasting of their own produced beer. Gløyp in Kinsarvik (ten minutes by car) serves gourmet-food (lunch, dinner), right next to the family amusement park Mikkelparken.
A great place to stay. The views were amazing. The apartment had everything we needed. Great hiking right out the door. The cherries were ripe and delicious. Ida was very helpful and gave us lots of information about the area. For our trip this was the perfect place to stay. I only wish we could have stayed longer.
Cody
2016-07-20T00:00:00Z
Amazing fjord and snow cape view. Pity we arrived late for the cherry picking season. But the surroundings are full of nice orchards. Close to a few good hiking trail. The apartment itself has the basic comfort. Be aware the hot water tank seems to have a limited capacity so one might be better to wait a bit between showers.
lei
2016-08-03T00:00:00Z
The apartment has an amazing view of the fjord and is located in a cheery and apple orchard. It has all the basic you need for a great stay. Ida was a lovely host and was there to greet us. She was very helpful and provided a lot of information about the area, what to do, where to go, restaurant and hikes. She also showed us places where we could swim. She was also very quick at answering our messages and email. We really enjoyed staying at the apartment and we would go back again next time we are in the area
Paul
2016-08-07T00:00:00Z
We had a fantastic stay in Lofthus, great little town with what is needed: a grocery shop, a take-away/restaurant, and a kids' entertainment park 10 min away. We kept looking at the view from the house the whole week! The mountain, the snow, the boats... I do think the place looked as the pictures, the kitchen is an older model, but works fine, there's even a mini dish washer for the lazy ones like us! The bed was comfortable, the bathroom very large and warm. Ida and her family were very friendly before and during oir stay. The place is very quiet and a very good choice if you need to relax!
Linda
2016-08-21T00:00:00Z
Ida ist sehr freundlich und hilfsbereit. Die Unterkunft ist sehr sauber und man hat einen super Ausblick auf den Fjord!
Johanna
2016-07-02T00:00:00Z
Easily one of the best located airbnb's we have ever stayed in. Wish we could have stayed longer
Rebecca
2016-06-25T00:00:00Z
Ida is a very nice host, she turned on heater to wait for us and provided helpful instructions. Staying at her house is also a wise choice. The house has a very nice view.
CHENQI
2016-07-05T00:00:00Z
The view from this home is the best I have ever seen from any Airbnb or hotel.But the best thing about our stay was the hospitality of the host. From welcoming us with apples from their garden to dropping us to the trailhead of Queen Sonja's, it was beyond our expectations.We would gladly recommend this place to everyone.
Mousom
2016-08-29T00:00:00Z
Romtype
Helt hjem/leilighet
---
Eiendomstype
Leilighet
---
Plass til
6
---
Soverom
Lofthus, Hordaland, Norge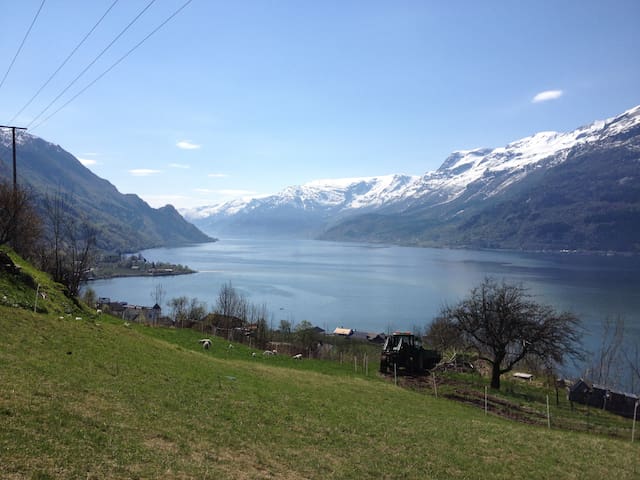 Stedet mitt er nærme Trolltunga, Dronningstien, Husedalen, Munketrappene, Hardangerfjorden, Hardangervidda. Du vil elske stedet mitt på grunn av Sentral plassering på Lofthus med utsikt over Hardangerfjorden..Stedet mitt er bra for par og familier (med barn).
Great stay! Amazing view of the fjord, and a brand new apartment that was perfectly clean. Easy arrival, and Erland was also able to pass along some great tips for the area, (and the food at the guesthouse he works at down the road was excellent!). Would definitely recommend a stay here.
Chris
2016-08-28T00:00:00Z
Erlend war ein freundlicher und unkomplizierter Gastgeber, der soweit wie möglich auf unsere Wünsche eingegangen ist. Sein Apartement hat eine ruhige und zentrale Lage in Lofthus mit wunderschönem Ausblick. Es ist neu und modern und alles Nötige ist vorhanden. Ein paar mehr Küchenutensilien wären wünschenswert wenn man selber kochen möchte. Allerdings servieren Erlend und seine Frau leckeres Thailändisches Essen im Ullensvang Gjestehus, so dass man sich auch von Ihnen bekochen lassen kann. Insgesamt können wir dieses schöne Apartement in bester Lage uneingeschränkt weiterempfehlen und wünschen Erlend für die Zukunft noch viele nette Gäste.
Cornelia
2016-08-13T00:00:00Z
It was good. Incredible views and paceful place. Near of a supermarket and the ship station. Comfortable beds and cleaned. The inconvenient is that it hasn't got washing machine and I missed some varieties in the kitchen like scissors, good knives and any frying pan or sauce pan more.
Maria Jose
2016-08-25T00:00:00Z
Romtype
Helt hjem/leilighet
---
Eiendomstype
Leilighet
---
Plass til
5
---
Soverom
Lofthus, Hordaland, Norge

The appartments opposition is in countries surronundings on a farm in the middle of fertile village Lofthus. The flat is on two levels. It contains bathroom, 2 bedroom, kitchen hook and livingroom and a balcony with sun and wiew over the village. The flat lies in the end of our barn and that is why it is called "Løo".
The Place is unike because it is walking distance to almost everything in Lofthus.
Alvavoll is located in Lofthus center, a short distance from everything you need. Approximately 300-500 m to the grocery store, movie theater, pub, cafe and fitness center. The local Mix kiosk is in walking distance and sells delicious imported cheeses and both fast food and regular dinner. The local Pub "Ekspedisjonen" is open on weekends and sells beer from its own brewery, historic Hotel Ullensvang offers swimming, bowling and during the summer open a `la carte restaurant. Ullensvang Gjesteheim serves delicious traditional and Thai dishes. For the kids there is only 1 mil north to Mikkelparken, and it is 10 min to the nearest Beach With toilet. It is 3.2 mil south to Odda and start to Trolltungatrip
Romtype
Helt hjem/leilighet
---
Eiendomstype
Leilighet
---
Plass til
4
---
Soverom
Lofthus, Hordaland, Norge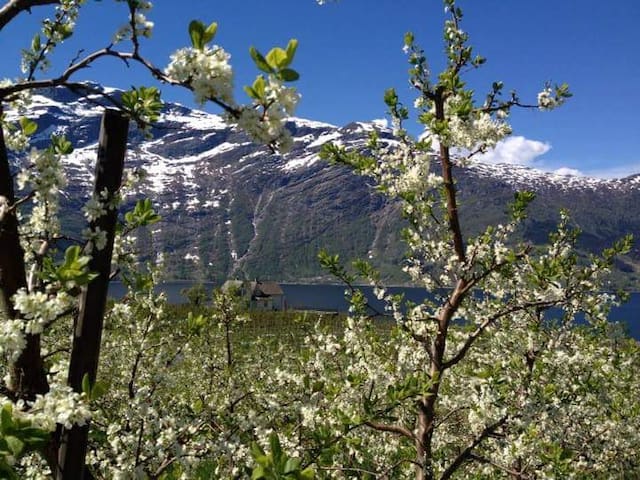 Lofthus - Airbnb
:
Gjennomsnittlig

4.5

av

5

stjerner fra

29

gjesteanmeldelser