We are a TRUE Bed and Breakfast! The $30 GCNP entrance pass, separate purchase at gate, is good for the whole week so, consider staying more than a night. The park pass is also good for the North Rim too. Note: The "SkyWalk" it NOT part of the South Rim~which is where we are. Use your favorite search engine for further info on SkyWalk. Now, that being said, here we go..! ________________ HAPPY HAPPY JOY JOY is a European styled B&B and the CLOSEST B&B to the GRAND CANYONS SOUTH RIM! We're only 20 minutes away from the GCNP entrance gates! Stays over $159 include breakfast. (See below for specifics.) We have 20 acres of peace, quiet and serenity with super-easy and DIRECT ACCESS on/off AZ HWY 64 (to Grand Canyon) with free parking right out in front! A water feature out back draws elk, deer, pronghorn sheep (aka antelope), various raptors, songbirds, hummingbirds, bunnies, coyotes and native wildlife too various to mention. We are a Certified Wildlife Habitat with the National Wildlife Federation. Also, you can actually see stars and the Milky Way horizon-to-horizon, especially on new moon nights! However, full-moon nights are something to experience too. These are just a few special qualities you'll experience here, oh-so-close, to the Grand Canyon. NOTE: Rooms accommodate TWO persons ONLY. Offered is The HUMMINGBIRD ROOM. After a big day at the Grand Canyon, there is a queen super-pillowtop bed for your comfy-cozy visit to dreamy-dreamland. There is a SHARED full-bath w/the Pilot Room. If calendar shows booked, and you'd really like to stay with us, drop me an line/inquiry and I may be able to help. ****BREAKFAST SPECIFICS**** -A one-night stay includes our SOUTH RIM BREAKFAST PICNIC (packed "to~go"). -Two nights includes our South Rim Breakfast Picnic and our leisurely, sit-down YUMMY-FOR-YOUR-TUMMY southwestern style breakfast. Or if you're really on the move and don't have time for a leisurely breakfast (served between 8:30a-9a) the Picnic is available both mornings. -A three nights retreat includes two picnics and a sit-down. Or three picnics if you'd like. -Four+ nights...let's talk! OFF-SEASON RATES LESS THAN $159 INCLUDES COFFEE/TEA or JUICE AND HOMEMADE BANANA BREAD. If your rate is less than standard and would like full-breakfasts let me know as there are ways to handle this.. We are flexible up here Grand Canyon way. So, please, if you have further questions or special requests send them on over and let's see what can be done. Look forward to talking w/you soon. Let it be known pets on property. So, if you have allergies bring along proper medication, if needed, or an aversion to pet hair, please do not stay with us. Cookie-Monster, our large medium-sized lab mix is a work in progress (a rescue w/diminishing trust issues thanks to the kindness of previous guests). She has two cats. LoverBoy and Razzle-Dazzle. LB was born under the house. RD is our latest addition. He loves people, will head-butt you and purr loudly. Don't be surprised if he comes visit you in your room so, keep door shut if you don't want a kitty visit. Cats may or may not be here as they live in Prescott now and come up to visit often. ________________ Rates are subject to change until you are a confirmed guest.
20 acres of wide open-space in sparse juniper~pinion pine countryside.
Sally was extremely helpful in all of her recommendations of activities and tactics for surviving the Grand Canyon. She helped to make our trip memorable and one of kind.
Morgan
2016-10-16T00:00:00Z
Vi var rigtig glade for at bo hos Sally. Vi var hos hende 2 dage, og hun fortalte meget om Grand Canyon, så vi havde et godt udgangspunkt for at opleve området. Huset ligger smukt og der er gjort meget ud af at indrette det så der er en god stemning. Hun lavede nogle dejlige picnic kurve, så vi kunne nyde maden med udsigt over Grand Canyon.
Jens
2015-09-19T00:00:00Z
The stay at Sally's place was very nice. Location was perfect distance to get out of the crowded areas and still be within a short distance to drive to the Park. The bed was very comfortable, and the bathroom was very clean. Sally was exceptionally hospitable and helpful with directions and planning. Comfortable experience. Would recommend staying there.
Thuy-Van Tina
2015-03-23T00:00:00Z
Great hosts, felt like we could do whatever we wanted and be ourselves. Great breakfast too!
Lucas And Layla
2012-04-05T00:00:00Z
Sally was a very great and friendly host. :) talking to her is really fun and enjoyable. Her home was lovely and the bedroom was very comfortable. The space around her property is definitely very relaxing and something that most of the other places near e Grand Canyon cannot offer. The location was good too, and definitely nearer to drive to the Grand Canyon than from Flagstaff or Williams.
Melissa
2013-12-19T00:00:00Z
Sally was an incredible host! She knows how to treat her guests with very thoughtful touches including but not limited to bottled water and chocolate in your room when you return for the evening. The bed and room was VERY comfortable and I slept so well! We had a wonderful stay and the departing breakfast so we could make the arranged helicopter ride was Very good including homemade banana nut bread. (URL HIDDEN) included so many items that anyone would appreciate any one or several items in a beautiful breakfast bag! She arranged our helicopter ride through the Canyon for us and gave us the BEST tips on things to do while in the area. Amazing how lovely Sally made our trip! Don't miss this wonderful opportunity while visiting the Grand Canyon!
Janet
2014-03-27T00:00:00Z
Sally was a great host and the place was cute and homey! I had a great time hanging out with Sally, we even watched a movie together after my day at the canyon! You can also see the most beautiful stars from her place. I would definitely recommend staying here.
Alana
2014-04-04T00:00:00Z
Sally makes you feel very welcome in her cozy home near the Grand Canyon. A welcome retreat from a day of resting! Breakfast was delicious both days and very much appreciated!!!
Allison
2015-09-30T00:00:00Z
Romtype
Privat rom
---
Eiendomstype
Hus
---
Plass til
2
---
Soverom
Grand Canyon, Arizona, USA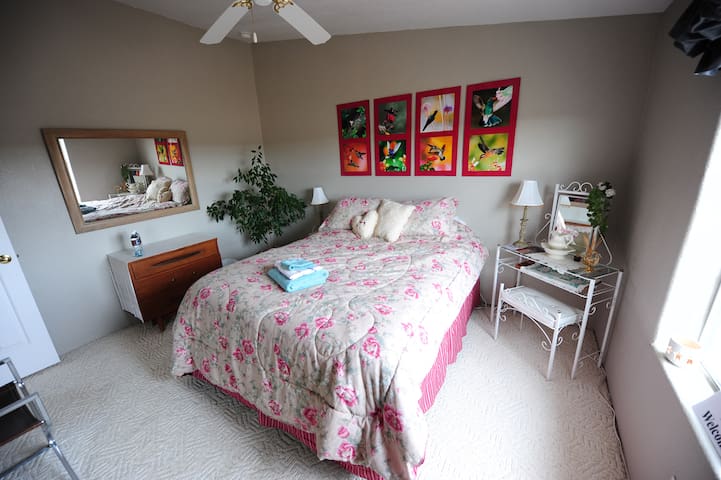 Visit the Grand Canyon and Williams, a charming Route 66 town, in comfort and style. This recently renovated historic home has three bedrooms (one queen bed in each), two bathrooms, a full kitchen and a back patio for outdoor grilling. It is just steps from the Grand Canyon Railway Station and a very short walk to restaurants and shops.
Location, location, location! Park your car and relax in this spacious, clean and comfortable three-bedroom, two-bathroom home just steps from the famous Grand Canyon Railway station, where trains depart for Grand Canyon National Park and, during the winter holiday season, the North Pole via Polar Express! Historic downtown Williams, quaint shops, restaurants, bars and entertainment are a quick 10-minute stroll from the front door. My home is perfect for family and adult getaways. It sleeps a maximum of eight, if you put two people on the comfy sofas. Full kitchen, cozy gas fireplace, window air conditioning units in bedrooms, separate TV room, distinct sleeping and living areas, backyard patio with a picnic table and new gas grill for al fresco dining. Williams is a perfect small-town getaway. Groceries, coffee shops, restaurants and entertainment are all just a short walk away. Summer temperatures are mild, winter days often have both snow and sunshine. Williams is a "dark sky" town, so the bright stars and galaxies seem close enough to touch!
The town grocery store is well-stocked with basics and fresh, healthy fare. It has a pharmacy, a deli and the only Starbucks in town! It is a quick walk or drive from my home. (URL HIDDEN) 637 W. Route 66, Williams, AZ 86046, Phone: (PHONE NUMBER HIDDEN) Hours: 5 am - midnight My favorite places in town (all a short stroll from the house): Breakfast: Cafe 326- Not into Starbucks? This local shop can help with your caffeine fix. 326 West Route 66, Williams, AZ (PHONE NUMBER HIDDEN) Red Garter Inn- Anna serves a fine breakfast in this former bordello! (URL HIDDEN) 137 W Railroad Ave, Williams, AZ (PHONE NUMBER HIDDEN) Pine Country Restaurant- Great juevos rancheros and giant pies! (URL HIDDEN) 107 N Grand Canyon Blvd, Williams, AZ (PHONE NUMBER HIDDEN) Lunch/Dinner: Red Raven - (URL HIDDEN) Dave is the owner, food is delicious. 135 Historic Route 66, Williams, AZ (PHONE NUMBER HIDDEN) Dara Thai - (URL HIDDEN) Friendly, casual, solid Thai food. Apple and her mom run the place. It's our family's favorite and an Arizona Highways best restaurant winner. Grand Canyon Hotel, 145 Historic Route 66, Williams, AZ (PHONE NUMBER HIDDEN) Station 66 Italian Bistro - (URL HIDDEN) one of the newer places in town yummy pizzas and other food, lots of fantastic local beer. 144 W Rt 66, Williams, AZ (PHONE NUMBER HIDDEN) Cruisers Lots of fried comfort food and home of the Grand Canyon Brewery! Live entertainment and homemade BBQ. Outdoor seating (URL HIDDEN) 233 Historic Route 66, Williams, AZ (PHONE NUMBER HIDDEN) Rod's Steakhouse - a Williams institution - great steaks. Tell Stella and Larry I sent you ;-) I worked there in High School. (URL HIDDEN) 301 East Route 66, Williams, AZ (PHONE NUMBER HIDDEN) Spenser's Pub, Grand Canyon Railway Hotel Great food, friendly service, check out the giant fireplace in the lobby. To get there walk straight out my front door! (URL HIDDEN) (URL HIDDEN) "Nightlife": Sultana Bar If you like to relax at a bar - The "World Famous" Sultana Bar has been around forever and is always a hoot. Bring quarters for the pool table and juke box. Kick back and enjoy the "local color". (URL HIDDEN) W Rt 66, Williams, AZ (PHONE NUMBER HIDDEN) Canyon Club Another Williams institution, outdoor patio 126 W Railroad Ave, Williams, AZ (PHONE NUMBER HIDDEN) Grand Canyon Winery Tasting Room Fantastic new addition to downtown Williams. Great local beer and wine, hipster t-shirts (URL HIDDEN) 138 West Route 66, Williams AZ, (PHONE NUMBER HIDDEN) Spenser's Pub at the Grand Canyon Hotel (URL HIDDEN) Exit front door, cross street and parking lot, to the left of the lobby
Lisa's house is warm and nice. We really love the design and decoration in different bedrooms and the living room. It make us feel so comfortable and relaxed after a long trip. And Lisa is also a very nice host, we will definitely choose to live at this house if we travel to Grand Canyon next time!
美融
2016-03-24T00:00:00Z
My friends and I went on a mini road trip for my 30th and we stayed at Lisa's house. It was everything we could have wished for even games of which we spent the evening playing. It has everything you needed for a group of 8 people and it even had a Tipi which I could resist and had to sleep in it. The house is within walking distance to the all stores and town. We wish we could have stayed longer.
Daniella
2016-09-06T00:00:00Z
This little house is perfect for a group looking to stay in a cool Route 66 town on the way to the Grand Canyon. Lisa was a great host and did everything to help make our stay memorable and fun. She even gave us some excellent restaurant and coffee recommendations. The house is just a short walk to town, which is great because we we're pretty tired after a long road trip from Tucson. It was especially nice to have a house (not a hotel) to kick back, sit by the fire, play some cards, and drink french press coffee in the morning (Thanks, Lisa). We all had a great time and I'd recommend this cool little house to anyone.
Adam
2014-12-29T00:00:00Z
Lisa was the best she answer any question I had promptly. we didn't personally meet her but her home was the perfect fit for our family. traveling with toddlers is never easy, but she truly made the polar express experience easy. her home is kid friendly, and her location is perfect. the house is right across the train station, near by groceries and restaurants. it was equipped with everything we needed (COFFEE!! YAY!!). we didn't even had to go out, we had dinner and breakfast at home. her house was clean (loved the décor) with a cozy fire place and board games and the cutest little teeppee. we got lucky and got some snow! we would definitely stay here again. thank you so much Lisa.
ANA
2015-12-20T00:00:00Z
The house is simply great. It has everything you could need and even more (we found even coffee, jams, tea...), the pictures you see is what you will get. We did not meet the host personnally, but communicating with her was easy, quick and we received all the info we needed on time. We can only recommend this house: great place to stay if you are planning to visit the Grand Canyon and Sedona.
Nadia
2015-08-22T00:00:00Z
Really cute home, convenient to Route 66 shops and restaurants as well as train to Grand Canyon. Lisa has anticipated every need. Home tidy and we'll set up. Very much enjoyed our stay.
Marilois
2015-04-25T00:00:00Z
We thoroughly enjoyed our stay at Lisa's home in Williams! The house is beautiful, comfortable and really close to everything! We could not have been happier there. Thanks for the hospitality!
Jessica
2015-10-15T00:00:00Z
We absolutely loved staying at Lisa's home in Williams. We went to see the Grand Canyon via the train. The home was across the street and within walking distance to many cute restaurants. The home was very clean and roomy. We had everything we needed and more.
Loren
2015-06-11T00:00:00Z
Romtype
Helt hjem/leilighet
---
Eiendomstype
Hus
---
Plass til
8
---
Soverom
Williams, Arizona, USA
Conveniently located 30 minutes from the Grand Canyon South Rim Entrance and 30 minutes from Williams, AZ. We have twin porches to enjoy your morning and evenings; perfect for sunrise and stargazing. Look for Grand Canyon Escape II in Sedona.
This space is located in a rural area and not in Williams, AZ. It is located on 3 acres and has both a front and back porch for relaxing before or after going to the park. Internet and TV services are via satellite as it is off the grid except for electricity. You will see wildlife. (Hosts also offer accommodations in Sedona, AZ - Smaller space but multiple booking discount applies - contact the hosts.
This is remote. All homes are on 1-2 acre lots and it is very private. Neighborhood is very friendly but you probably will not see anyone.
A welcome basket w/snacks and water--very nicely done. A very interesting locale--a little hard to locate for an out of towner but not insurmountable.
John
2016-10-28T00:00:00Z
We rented the cabin for some quiet time on a long road trip (from Houston, Tx, to LA, CA): after all those noisy hotel rooms, the cabin was fantastic - it is SO quiet and peaceful. Very well maintained and good taken care off, spacious and generous. A detail we loved was the clothesline along the porch to dry the laundry, if you don't want to use the dryer. The cabin is close enough to the park (we came here driving through the park and didn't even go back but (EMAIL HIDDEN)munication with Tamara was easy and very efficient. Thanks, this has been exactly what we needed and envisioned.
matthias
2016-04-06T00:00:00Z
Fantastic experience here! Our family of 6 (2 adults and 4 children including 3 teenagers) had a great time, as everyone got their own bed. Tons of room for everyone. Dishes for any meals we needed. Warm welcoming gift as well. I really enjoyed being away from the congestion of the Tusayan hotels, and it's just 20 minutes south of there (30 minutes from the canyon). Make sure you download directions before you get on the road-- our cell phones had spotty coverage on the way (Sprint). Internet service at the house is slow. Overall, we loved it!
Syler
2016-03-22T00:00:00Z
There was a well filled Welcome basket and wine, lots of pamphlets and maps. We played board games each evening which was fun.
Cynthia
2016-09-27T00:00:00Z
We arrived to an adorable cabin with plenty of room and a nice welcome basket. We had a little trouble with the WiFi one evening and Tamara responded immediately by offering to drive to the house right away and solve the problem. She is more then accommodating and this cabin is highly recommended!
Jen
2016-02-20T00:00:00Z
Host is really friendly but the wifi is too slow that takes five minutes to load a page.
Jiamo
2016-01-07T00:00:00Z
The house is really nice and in a convenient location, not too far from Grand Canyon. Spacious, and clean. We all love it!
Lisa
2016-06-14T00:00:00Z
Very friendly hosts,great house,amazing view outside the house
Haoyang
2016-01-18T00:00:00Z
Romtype
Helt hjem/leilighet
---
Eiendomstype
Hus
---
Plass til
8
---
Soverom
Williams, Arizona, USA
My place is close to The Grand Canyon and Williams, AZ. You'll love my place because of the views, the location, and the ambiance. My place is good for couples, solo adventurers, and business travelers, Family and Friends. You will love the "Western Town " on the property. Fully equipped kitchen with newer appliances including fridge with filtered water and ice dispenser in the fridge door. Electric oven has convection oven feature.
"Old West" is a vacation on its' own. This 4 bedroom, 2 bath home also has a Western Town on this 10 acre property featuring a Bird Cage Theater, Saloon, Jail House, Café, Livery Stable and much more. The views off the two covered decks of the starry nights and South Rim of the Grand Canyon are just amazing. Multi colored sun rises and sets are breath taking. Enjoy the outdoor BBQ/Smoker Grill, fire pit and outdoor games located on the property as well. Hiking, site seeing in this area is great. The wonderful town of Williams is just 22 miles and the South Rim of the Grand Canyon is about 35 miles.
The neighborhood is very well designed. Each property is at least 10 acres so you have plenty of privacy. The roads are maintained. You are within 1/2 mile to HWY 64.
A fantastic place to stay! We were greeted with a lovely welcome basket. This was a clean, cosy, quiet spot to enjoy all the great places to explore nearby. Enjoyed seeing the bunnies and cows who wandered by the yard. Loved the old west town in the backyard especially during the unexpected snowstorm one evening! Great place!
Theresa
2017-04-05T00:00:00Z
What a unique property & delightful experience! The host was very thoughtful & communication was excellent. House was clean, a very secluded & quiet location. I'd definitely stay here again when visiting grand Canyon, which is about 40 minutes away.
Gina
2017-03-20T00:00:00Z
Connie was very responsive and helpful through the booking process! We loved staying at her home which was very clean and comfortable. The town of Williams was just down the road and offered plenty to explore. It was a quick drive to the Grand Canyon and after a long day exploring we enjoyed BBQing and relaxing at the house.
April
2017-01-16T00:00:00Z
The host canceled this reservation 133 days before arrival. This is an automated posting.
Teena
2017-01-08T00:00:00Z
Romtype
Helt hjem/leilighet
---
Eiendomstype
Hus
---
Plass til
10
---
Soverom
Williams, Arizona, USA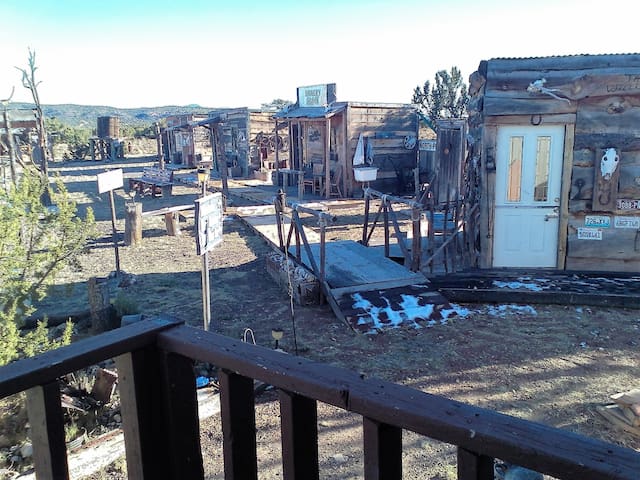 With the canyon just a five minute walk from the house with all the major resteraunts also within walking distance, this place is to nice not to share. All I ask is to treat it the same as you would your place
Inside Grand Canyon national park
Historic homes and quiet neighborhood
Sam and his family were great host! They were super friendly, very well located and gave us a lot of advice on how to visit the Grand Canyon. We watched a nice movie together and had great conversations. Sam even lent us a warm coat, since my husband didn't bring one that was warm enough. I highly recommend staying with Sam and his beautiful family!
Vanesa
2017-02-24T00:00:00Z
Sam's place was great! Very convenient for a trip to the Canyon, great location and a cute room. They were very accommodating hosts, would love to stay again!
Mia
2017-02-22T00:00:00Z
Sam and his family are great hosts; very courteous and friendly . Their place is really clean and their location is perfect for hiking and physical activities. I would definitely stay here again.
Yesi
2017-01-19T00:00:00Z
Romtype
Privat rom
---
Eiendomstype
Hus
---
Plass til
4
---
Soverom
Grand Canyon Village, Arizona, USA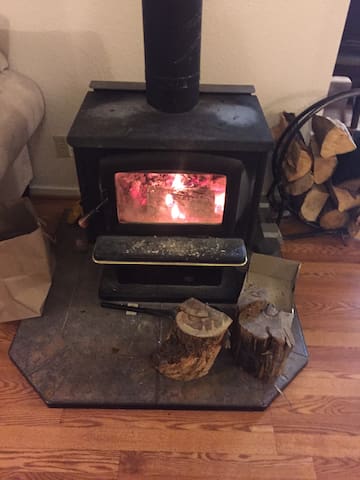 Tusayan - Airbnb
:
Gjennomsnittlig

4.95

av

5

stjerner fra

468

gjesteanmeldelser