We are one small greek-finnish family renting the studio that we are living during our holidays in Greece. It is up in the rooftop in the same building that my parent-in-law are living.
The apartment is in the top of the building. The house is one-room-apartment (25 square meters), with nice big bathroom. The kitchen includes refrigeration, two kitchen eyes, small owen, filter coffee machine, electric kettle and the necessary equipments for cooking.
The neighborhood is nice and quiet where locals are living. In the near by area there are two supermarkets, traditional bakeries and one of Nafplio's best pastry shop.
Once we arrived we found the apartment without a problem and rang the doorbell to go up. Dimitris was very kind and interested in our plans for Nafplio. After giving us a quick tour of the apartment he was more than happy to answer our questions about the area and give us great suggestions. The apartment was centrally located so everything was either a 5 minute drive or ten minute walk away. Ample space for a couple or single traveler. Even though it's a studio, the open air feel once the doors and windows are open make it feel as if you're in a small penthouse. Would definitely recommend staying here for great views, privacy, and warm hosts.
Kristen
2016-09-11T00:00:00Z
Joli petit studio, nous avons été très bien accueilli !! Merci Laura !
Laetitia
2016-02-23T00:00:00Z
Rooftop apartment with good view. Was met by host father that gave us good information about Nafplio. Overall good experience.
Johannes
2016-06-14T00:00:00Z
Funny room on the roof of a building ! Great view of the castle. Very friendly host :) The bathroom is pretty original too, kind of crooked but everything works OK.
Emmanuel
2015-06-06T00:00:00Z
We had a great time in Nauplio in our apartment! It was very clean and comfortable, plus the rooftop view was as beautiful as promised. The location was quite good, as it was in walkable distance form the city centre by a main road. Our hosts, Laura's relatives, were at our services whenever we needed them and they made sure we had everything. All and all, an amazing experience!
Costas
2016-10-29T00:00:00Z
Laura's place is a budget efficient accomodation for the city of Nafplio. It is around 10 minutes walk from the city center and there is a super market close by. Her parents in law that gave us the keys etc were very polite and nice people. Recommended for low budget holidays.
Μιχάλης
2017-01-22T00:00:00Z
The hospitality of Laura and Dimitris was unparalleled. They made us feel very welcome from the moment we arrived by inviting us into their apartment (which is located on level 2 whereas the airbnb room is on the rooftop) where they served us some cool water and delicious apricots! As a classicist and ancient history scholar myself, I was fascinated by Dimitrios' tales from back when he was an archaeologist. This family really knows the area they live in, and are always willing to share it with others! With regards to the room, the wifi had a very stable connection - one of the best connections we have found everywhere in Greece! The bed was comfortable and the air-conditioning did its job. The only thing was the bathroom which got really humid, but if you just remember to open the window in it, it will not affect the comfortability of the main room. The kitchen comes equipped with glasses and cutlery making it optimal for us as we made our own sandwiches from supermarket food. The apartment is about 15 minutes walk from the beach in old town and the major restaurant district. On our first half day there, we did the trip 8 times with no complaint so the distance is not at all something that should deter you. If you come to Nafplion by bus like we did, keep an eye out for the flower shop and EKO petrol station on the left and get out there EARLY, do not wait to go to the major terminal or you will have to lug your bags around for quite a journey! Laura, thank you for your hospitality and I hope others who read this review do not hesitate to come and stay at your fantastic apartment!
Ryan
2016-07-03T00:00:00Z
My father was made to feel so welcome and made a new friend in demetrious. Thank you so much for giving him so much help and advice.
Laura
2015-05-14T00:00:00Z
Romtype
Helt hjem/leilighet
---
Eiendomstype
Leilighet
---
Plass til
2
---
Soverom
Nafplio, Argolis, Peloponnisos, Greece, Hellas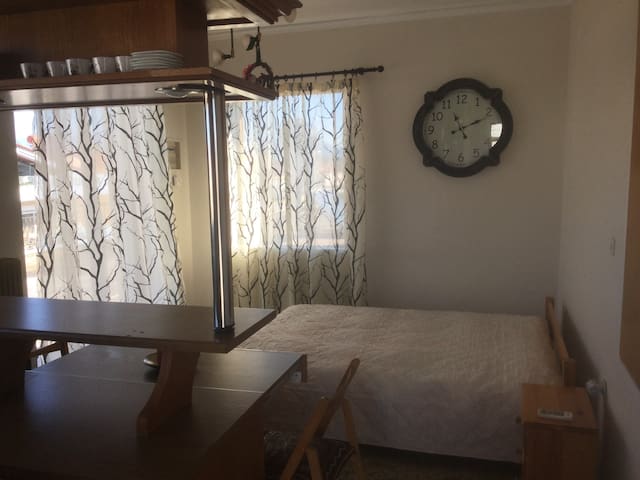 The place is close to downtown, parks, scenic views and art and culture. Reasons that my room will like: light, comfortable environment and a kitchen. Ideal for solo travelers, students and young couples. A comfortable loft with bath and kitchen, ideal for one or two visitors, students and young couples, close to city cente, restaurants, cafes, museums, and the historical sites of Ancient Sparti and Medieval Mystras. The loft has an astonishing view of mount Taygetos.
The room has a wooden roof that makes it warm and cozy. Carpets and cushions make guests feel like home. Coffee, tea, wine and fruit juices are kindly offered by the hostess, during your stay. Προσφέρεται πρωινό (καφές-τσάι), χυμοί και κρασί κατά τη διάρκεια διαμονής των επισκεπτών.
The neigbourhood is quiet and safe. Quiet and safe neighborhood.
Très à l'écoute de nos moindres besoins, Stavroula a été une hôte de qualité qui nous a même gratifié d'une bouteille de vin local!! Efaristo Stavroula!
Gilles
2016-11-01T00:00:00Z
We had a wonderful stay at Stavroula's! She was more than accommodating, helpful, and the cake was amazing! If we are ever in Sparta again we will look to stay at her apartment again.
Caitlin
2017-01-20T00:00:00Z
Stavroula's place was perfection and she was a terrific host. Her communication was excellent, she was very helpful, picking us up at the bus station and helping us to navigate the buses to various villages we wanted to visit. The loft was adorable, has everything you might need and is very comfortable...and the view is amazing!
Shirley
2017-02-24T00:00:00Z
Stavroula is a very hospital and friendly person. When you arrive you get a warm welcome with food and drinks. The flat has a huge terrace with sun all day long. Price/quality is very good. The disedvantage is the kitchen. It's very hard to cook in it, so just go get some pita :)
Sanne
2017-04-08T00:00:00Z
Stavruola è un ospite molto premurosa e cordiale. Ci ha messo a disposizione un lettino per il nostro bimbo e ci ha fatto trovare dolci e vino. La stanza è al terzo piano senza ascensore e trasuda una calda atmosfera bohémien, stracolma di oggetti, cuscini e libri. Per il prezzo pagato si potrebbe soprassedere sul fatto che tra tutti questi oggetti fosse difficile trovare un angolino per posare i propri e che ci fosse un po' di polvere, ma meno sul fatto che spesso è mancata l'acqua calda per farsi la doccia.
annalisa
2016-12-30T00:00:00Z
The cosy place and very friendly Stravoula make you feel welcome in Sparti. Only down side are the children's beds with short and uncomfortable mattresses.
Francisca
2016-11-02T00:00:00Z
Very lovely stay with great views and welcoming loft. Stavroula was warm and easy to communicate with, and yes, the cake is that good!
Hattie
2017-03-14T00:00:00Z
Θαυμάσια φιλοξενία, πολύ όμορφο το σπίτι
Left
2016-12-06T00:00:00Z
Romtype
Helt hjem/leilighet
---
Eiendomstype
Leilighet
---
Plass til
2
---
Soverom
Sparti, Hellas
Στην καρδιά της παλαιάς πόλης του Ναυπλίου, ένα φιλόξενο διαμέρισμα 90τμ σας υπόσχεται φιλόξενη ξεκούραση διαμονή. Το διαμέρισμα βρίσκεται στον πρώτο όροφο μιας ήσυχης οικογενειακής διπλοκατοικίας, με αυτόνομη είσοδο. Η άμεση πρόσβαση των φιλοξενούμενων σε τουριστικά επισκέψιμους χώρους καθώς και σε χώρους εστίασης και διασκέδασης το καθιστά ιδανικό για επισκέπτες όλων των ηλικιών. Η ιστορική πλατεία Συντάγματος του Ναύπλιο απέχει μόλις ένα λεπτό με τα πόδια.
Wonderful home in an amazing location. Μαρία is a very helpful host.
Ryan
2017-03-31T00:00:00Z
Wonderful apartment, with a big balcony, right in the center of town. A great place to stay, Maria is a very welcoming host. Would definitely recommend it to anyone!
Jorien
2017-03-15T00:00:00Z
Maria's place was beautiful! She was really helpful and made us feel like home. The best host ever. Her appartment was in the center of naflpio with plenty of choices for food or drinks just around the corner.
Nikolas
2017-04-10T00:00:00Z
Wonderful apartment, very clean and cozy. Maria and her husband were very nice and helpful.
Hajdana
2017-03-08T00:00:00Z
The flat was great! Clean, spacious, and right in the center of town. Maria was very helpful and I would definitely stay here again! Thanks!!
Anthony
2017-01-04T00:00:00Z
A really nice stay in Μαρία place ! Perfectly situated in order to appreciate the city through the old town, and then visit all the interesting site all around! Also a perfect flat for fell the vibration of the city, well decorated, good to enjoy a sunny breakfast or eat in familly ! I highly recommend to people who want to spend few days there !
Maxence
2017-03-24T00:00:00Z
Maria, her husband, and their son welcomed us in a very friendly manner to this beautiful flat a block away from Syntagma Square. The listing description was more than accurate. The neighborhood was in downtown Nafplion, near shops, tourist and other shops, near all the sights.
Alma
2016-10-17T00:00:00Z
Μαρία and her family were exceptionally friendly and helpful. They were able to meet us late in the evening to let us in and had great recommendations. I highly recommend you visit Nafplio and that you stay at her apartment. Very clean and in a great neighborhood. You will want to stay forever.
Janelle
2017-04-05T00:00:00Z
Romtype
Helt hjem/leilighet
---
Eiendomstype
Leilighet
---
Plass til
3
---
Soverom
Nafplio, Hellas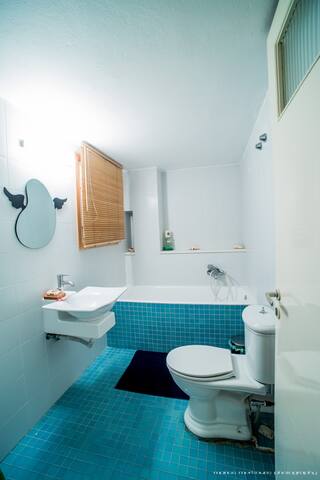 A cheap,chic studio in the centre of the old town of Nafplio,fully equipped ,situated in a quiet neighborhood . Only 20m away from the bus station. Also 200m far a way from the port and the central square. You can visit Nafplio and Arvanitia beach on foot.
L'accueil est super ! Magda parlent français et anglais (en plus du grec) et est très accueillante. Le logement est situé en plein coeur de la vieille ville de Nauplie, pas loin des restaurants et commerces. Il est possible de se garer à moins de 2-3 minutes à pied gratuitement. Le logement est situé en rez-de-chaussée donc on entend un peu le bruit de la rue mais c'est une ruelle très peu passante donc ce n'est pas gênant. Le logement est tout équipé et est très spacieux et propre. Je vous recommande vivement d'y aller !!
Gaelle
2017-03-18T00:00:00Z
Πολύ ωραίος χώρος στην καρδιά του Ναυπλίου. Οικονομική και άνετη διαμονή. Συστήνουμε ανεπι
Maria
2017-02-22T00:00:00Z
1.φιλοξενοι και ευγενικοί οικοδεσπότες 2.αψογη η τοποθεσία του καθώς βρίσκεται δίπλα σε ολα τα τουριστικα μερη 3.καταλληλα και πλήρες εξοπλισμένο
Antonis
2017-03-05T00:00:00Z
Δεν θα μπορούσαμε να ζητήσουμε τίποτα περισσότερο. Υπέροχο διαμέρισμα με σύγχρονη διακόσμηση και όλες τις ανέσεις, φιλόξενοι και συνεννοήσιμοι οικοδεσπότες τόσο πριν όσο και κατά τη διάρκεια της διαμονής μας, κεντρικότατο σημείο με εύκολη πρόσβαση στην αγορά και στις συγκοινωνίες και όλα αυτά σε λογικές τιμές. Ευχαριστούμε πολύ για όλα!
ΠΑΝΑΓΙΩΤΗΣ
2017-03-03T00:00:00Z
Ένα σπίτι στην καεδιά του Ναυπλίου, όμορφα διακοσμημένο και πλήρως εξοπλισμένο! Οι οικοδισπότες πολύ ευγενικοί και φιλόξενοι!! Το συστήνω ανεπιφύλακτα!
Heavenly
2017-02-07T00:00:00Z
Ένα άρτια εξοπλισμένο σπίτι που σου παρέχει τα πάντα στη κυριολεξία. Από αποχυμωτή, λεμονοστίφτη, κατσαρόλες και ότι άλλο χρειάζεται μία κουζίνα! Στο μπάνιο είχαν αφροντούς γνωστής ελληνικής οικολογικής εταιρίας και ότι άλλο θέλεις! Για μένα το σπίτι είναι στην ιδανικότερη τοποθεσία, μέσα στη καρδιά της παλιάς πόλης, χωρίς να χρειαστεί να ανέβεις σκαλιά, όπως πολλοί χώροι φιλοξενίας-ξενοδοχεία στην παλιά πόλη και βρίσκεται μάλιστα μέσα σε ένα στενάκι που σου χαρίζει και την ησυχία σου από την έξω φασαρία που μπορεί να έχει ώρες αιχμής στα γραφικά σοκάκια της παλιάς πόλης. Όσο για ντους οικοδεσπότες, άμεση και άριστη εξυπηρέτηση από τον κ. Χρήστο και τη κ. Μάγδα σε όλα τους, ευγένεια σε όλα τα επίπεδα, μέχρι και μαγειρεμένο φαγητό από τη κουζίνα τους μας πρόσφεραν, φρέσκα αυγά δικά τους, εσπεριδοειδή για χυμό, ελαιόλαδο, σπιτική μαρμελάδα και άλλα! Ευχαριστούμε για την υπέροχη φιλοξενία!!
Λαμπρος
2017-03-15T00:00:00Z
We had a great time at Magda and Chirstos' place. The flat is in perfect location, right in the old town and has everything you need. It is very tastefully decorated and cosy. The hosts are such lovely people, especially Magda. She was kind enough to bring us very delicious Greek food that she cooked and made our days with her nice chats. I would definitely like to be back and give them another visit. Highly recommended.
Melih
2017-03-24T00:00:00Z
Καταπληκτικό!!! Υπέροχο σπίτι, σε υπέροχη τοποθεσία καθώς βρισκόταν στην παλιά πόλη και τα πάντα ήταν μόλις λίγα λέπτα με τα πόδια!! Το σπίτι ηταν πόλυ ευρύχωρο και ολοκαίνουργιο!! Θεωρώ πως οι φωτογραφίες το αδικούν... Η κυρία Μάγδα ήταν εξαιρετικά ευγενική και διακριτική.. Θα το πρότεινα ανεπιφύλακτα!!!
Φωτεινή
2017-02-27T00:00:00Z
Romtype
Helt hjem/leilighet
---
Eiendomstype
Leilighet
---
Plass til
4
---
Soverom
Nafplion, Peloponnisos Dytiki Ellada ke Ionio, Hellas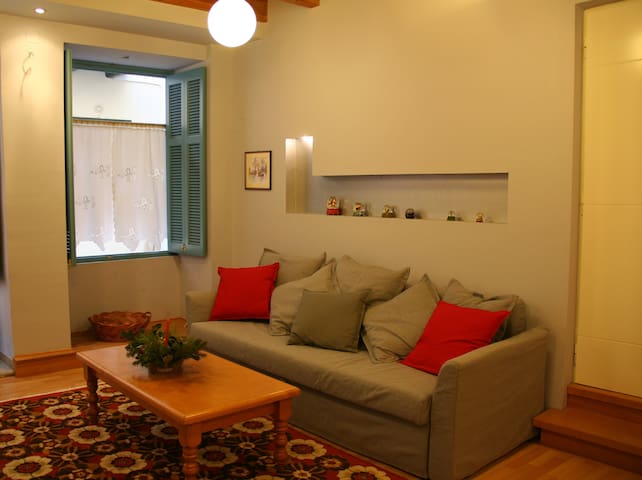 Allgemeine Beschreibung Meine Wohnung bieten eine komfortable Selbstversorger Ferienhaus für 4 Personen. Die Olympia-Wohnung strategische Lage (ruhig und dennoch in der Nähe von anderen Freizeiteinrichtungen und Sehenswürdigkeiten) macht es zu einer idealen Wahl für einen Urlaub mit Ihrem Partner. Hochwertige Einrichtungen und persönliche Betreuung durch Besitzer garantieren einen unvergesslichen Urlaub .. Schlafzimmer / Badezimmer Zwei Schlafzimmer mit Doppel-Size-Betten Qualität Bettwäsche und Handtücher zur Verfügung gestellt. Wir bieten eine wöchentliche Reinigung und Bettwäsche alle 7 Tage gewechselt. Wohnbereiche Lounge mit bequemen Sofas Das Haus verfügt über Breitband-Internetverbindung. Küche / Esszimmer Das komplett renovierte Olympia Apartment Küche hat alles, was für einen Selbstversorger-Urlaub. Viele ausgezeichnete Restaurants mit regionaler Küche in der Gegend.
Sie Wohnung befindet sich in einer ruhigen Gegend, 20 min. mit dem Auto aus dem alten Olympia.Tranquil Lage mit Panoramablick. Olympia-Wohnung befindet sich am Rande des Dorfes Krestena, nur 15 Minuten mit dem Auto von Kaifas einem 20 km langen Fantastischen Strandes.Der Gebiet ist ein idealer Ausgangspunkt für alle Arten von Outdoor-Aktivitäten, doch nur ein Katzensprung entfernt vom Ionischen Meer. Krestena ist ein malerischer freundliches Dorf, ausreichende Infrastruktur Bewohner und visitors` Bedürfnisse zu erfüllen.
Très grave appartement. Deux chambres avec deux lits doubles. Konstantinos est venu nous chercher à un super marche du village, il est très agréable et très serviable. Rien à redire.
Carine
2016-04-24T00:00:00Z
We were met by Konstantinos not far from the flat. We followed him there and found it to be exactly as described - very conveniently located for Olympia visit and totally equipped for the kitchen with comfortable bed. Very nice thank you ! We would recommend it !
Jan
2016-06-20T00:00:00Z
Konstantinos's apartment was huge and wonderful. We liked it and recommand it to anybody that wants to visit Olympia.
Laurence
2016-08-26T00:00:00Z
very nice guy & easy to find this appartment. very clean & near centre of village. easy to to go Olympie & flexible to live in / leave out.
juan
2016-07-27T00:00:00Z
Konstabtinos apartment is in a small village on the outskirts of olympia. It is near a lovely beach and lake which are accessible by car and the apartmebt itself it very spacious. Konstantinos was a great host and brought us eggs from his farm for breakfast and sent us on our joirney with plenty of fruit from the garden. I will definitely be visiting again next time im in greece.
ZOIE
2016-04-03T00:00:00Z
We enjoyed our trip in Konstantinos house. The place is very big. The village around is pretty lovely.
eric
2016-07-13T00:00:00Z
My husband and I appreciated Konstantinos' flat. The place is well situated, very clean with a lot of space with it's two big bedrooms. The balcony is perfect for the breakfast ! The exact address is not obvious to find, but the neibourhood is helpfull and so friendly ! I'd recommend this place without a doubt!
Audrey
2016-05-14T00:00:00Z
Super nice place. Close to great sites. Very clean and host was welcoming. We would stay again.
Russ
2016-10-19T00:00:00Z
Romtype
Helt hjem/leilighet
---
Eiendomstype
Leilighet
---
Plass til
4
---
Soverom
Kréstena, Ilia, Hellas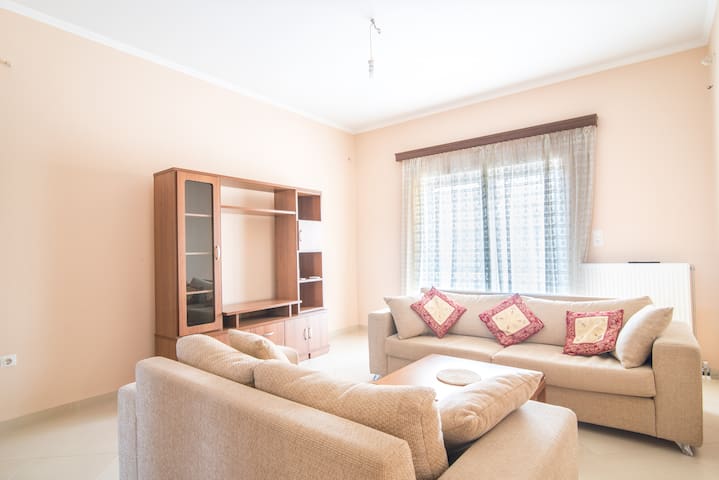 A 25 sq.m. sunny studio, located in the oldest district, 3 min walk from the International Dance Center, close to every major attraction and close to any transportation to the sea, waits to offer you the most easy and relaxing holidays!
My shiny and quiet studio includes, wireless Internet, TV, hot water, and a spacious balcony. If you love visiting the old center city, Museums and archaeological areas and the hotspot for the city's youth, you truly cannot find a better place to stay as all major attraction are within 3 blocks from my home.
Δωμάτιο πεντακάθαρο και τακτοποιημένο, παράδειγμα προς μίμηση για πολλά "δήθεν" ξενοδοχεία. Επίσης, δίπλα στο κέντρο και την πλατεία. Η Ζένια ευγενέστατη και εξυπηρετική. Συστήνεται ανεπιφύλακτα!
Spiros
2016-02-22T00:00:00Z
Zenia´s place is cosy and clean and it was very nice to stay there over night. I will come back any time I will have to sleep over night in Kalamata. All the family members were very helpful with different informations Zenia is a very kind and helpful person who offered to drive me to the busstation in the early Sunday morning. This was of great help. Thank you so much, dear Zenia. See you soon Carmen
Carmen-Francesca
2016-05-16T00:00:00Z
Όλα ήταν πολύ ωραία!!!! Ο χώρος ήταν ακριβώς όπως η περιγραφή και οι φωτογραφίες.Η Ζένια και η μητέρα της η Ζωή πολύ εξυπηρετικές και φιλόξενες για όλο το διάστημα των 17 ημερών που μείναμε.Το σπίτι πολύ κοντά σε όλα!!!Παραλία,σούπερ μάρκετ, εστιατόρια, πλατείες,αγορά....Εννοείται ότι θα ξαναπάω και θα ξαναμείνω στη Ζένια το επόμενο καλοκαίρι μιας και η Καλαμάτα, όπως και όλος ο νομός Μεσσηνιας είναι υπέροχος και εχει απιστευτα μερη να επισκεφθεις!!!!
Γιώτα
2016-08-18T00:00:00Z
Μεσα στο κέντρο και καθαρό όπως η περιγραφή
Nikos
2016-07-17T00:00:00Z
Το σπίτι είναι άψογο όπως φαίνεται στη φωτογραφία, σε φανταστική τοποθεσία στο κέντρο της πόλης, με την άψογη φιλοξενία της Κυρίας Ζένιας. Ευχαριστηθήκαμε την διανομή μας παρά πολύ και το συνιστούμε σε όλους.
αριστόδημος
2016-10-07T00:00:00Z
I had a brilliant time in Kalamata and loved staying in Zenia's studio. I felt very welcomed and at home. The place is so central yet there's a lovely view through the rooftops to the mountains. Would definitely stay there again, thanks Zenia!
Yolanda
2016-10-11T00:00:00Z
Zenia was lovely and extremely helpful ! The studio was clean and spacious. We had a lovely time !
Jonathan and Sivylla
2016-05-06T00:00:00Z
We stayed at Zenia's apartment for 3 nights and it was really nice! The room is small but cozy, ideal for 2 people and really clean, equipped with all the things necessary. It is perfectly situated near Kalamata's central square (2 min walk) as well as the Old Town (7 min walk). Zenia is a great host, both friendly and discrete at the same time. We felt like home :-)
Peggy
2016-05-03T00:00:00Z
Romtype
Helt hjem/leilighet
---
Eiendomstype
Leilighet
---
Plass til
2
---
Soverom
Kalamata, Hellas
Ένα πολύ ήσυχο ιδιωτικό στούντιο με το δικό του μπάνιο πολύ κοντά στο κέντρο της πόλης. Ιδανικό για ένα άτομο ή ένα ζευγάρι. Το στούντιο έχει ανακαινιστεί το 2010, είναι ωστόσο σε ένα παλιό κτίριο (το οποίο χρειάζεται μια νέα εργασία χρωμάτων, σχεδιάζει να κάνει αυτό σύντομα). Το στούντιο περιλαμβάνει κλιματισμό, μικρό ψυγείο, μικρή κουζίνα (ηλεκτρικές εστίες), Wi-Fi (+ LAN) στο internet και ένα μικρό μπαλκόνι με θέα στο βουνό του Ταϋγέτου .. και ηλιακούς συλλέκτες των γειτόνων! Αυτή η ενοικίαση είναι στον δεύτερο όροφο. Βρίσκεται στην πλατεία του Νέου Κόσμου, ακριβώς δίπλα στην τοπική σούπερ-μάρκετ και καφενείο, σε μια ήσυχη κατοικημένη περιοχή. Επίσης, στη γειτονιά (1 λεπτό με τα πόδια) αρτοποιίας, ζαχαροπλαστικής και ανθοπωλείο, κρεαταγορά, 2ος σούπερ μάρκετ, υπηρεσίες τροφοδοσίας, κατάστημα (URL HIDDEN) φαρμακείο. Πέντε λεπτά με τα πόδια από το Πανεπιστήμιο Πελοποννήσου και το κέντρο της πόλης της Σπάρτης, καθώς και. Η ευρύτερη περιοχή του Πανεπιστημίου βρίσκεται στα σύνορα του σχεδίου πόλης με πολύ πράσινο χώρο, ιδανικό για περπάτημα, τζόκινγκ. Κλασικό τοποθεσίες για να δείτε μέσα και γύρω από τη Σπάρτη: -Αρχαίας Σπάρτης αρχαιολογικά ερείπια και το Αρχαιολογικό Μουσείο της Σπάρτης. -Archaeological Χώρο του Μυστρά (παγκόσμια κληρονομιά της UNESCO) (URL HIDDEN) -Το Μουσείο της Ελιάς και Ελαιολάδου (Το μοναδικό μουσείο στο είδος του στην Ελλάδα) Η τιμή περιλαμβάνει: -) Κατανάλωση νερού -) ΜΕΤΑ ΧΡΙΣΤΟΝ -) Ηλεκτρική ενέργεια -) Ζεστό νερό --- Ηλιακός θερμοσίφωνας για άμεσα διαθέσιμα ζεστό νερό. --- Όταν / εάν η παροχή αυτή έχει τελειώσει, υπάρχει ένα ηλεκτρικό θερμοσίφωνα που ενεργοποιείτε το για 20-30 λεπτά (ακριβώς όπως και η μεγάλη πλειοψηφία των σπιτιών στην Ελλάδα). -) Σεντόνια, πετσέτες. -) Κουζίνα --- 2 εστίες, ψυγείο --- Γλάστρες, ποτήρια, πιάτα, σκεύη -) Wi-Fi σύνδεση στο internet. Έχουμε επίσης μια θύρα LAN στο δωμάτιο για μια καλωδιακή σύνδεση στο διαδίκτυο, αν προτιμάτε. -) Ένα ποδήλατο είναι επίσης στη διάθεσή σας δωρεάν (αν το χάσει ή ζημιά θα πρέπει να το αντικαταστήσει)! - Ό, τι άλλο μπορεί να χρειαστείτε εμείς θα προσπαθήσουμε το καλύτερο για να σας φιλοξενήσει. Για μεγαλύτερης διάρκειας παραμονές: Μπορούμε να δημιουργήσει τον προσωπικό αριθμό VOIP σας να χτυπά στο δωμάτιό σας και να χρησιμοποιηθούν από εκεί (μέσω μιας συμβατικής τηλεφωνικής συσκευής), αν σας αρέσει.
Kostas was really helpful, we checked in pretty late and booked the last minute but everything went fine ! The place is really nice and clean, there is even some offered tea and water ! A little too expensive for 1 person or limited budgets, definitely beats the hotels around anyway and the provided help is worth it.
Alexis
2017-04-09T00:00:00Z
Bon accueil, logement très bien, et merci Kostas pour la visite !
Manon
2017-01-19T00:00:00Z
Kostas was a great host. he showed us the local area and a great local bar. he was helpful and responsive to our queries.
Paul
2013-04-12T00:00:00Z
It's really cheap and good located option for Sparta. Hosts were friendly and provided all useful information. The main drawback is the room's furniture is old, so it has specific smell. Some things were hard to use: hold by fingers batteries in aircon tool, stove worked strange. But if you are short in money as we were and for short visit - good.
Tatiana
2016-07-29T00:00:00Z
Very nice place to spend a night or two, sweet people, I'd definitely recommend it-
Iwsifina
2017-04-07T00:00:00Z
Γκαρσονιερα ανετη με ο,τι απαραιτητο για 1-2 νυχτες ! Ευχαριστουμε !!!!!!!
Παναγιωτα
2017-02-12T00:00:00Z
Kostas helped us to get to his place and gave us info about food and places to see. His place is very close to center and bus station. He offered us one big bag of oranges and Greek drinks. Everything is perfect, room is clean,hot enough during winter and quiet. We had a wonderful night.Thank you.
Hana
2017-01-04T00:00:00Z
Kostas was a very great host, he gave us many advices, he help us to find a car. Her mother, who lives in the same building was very nice too. The room is clean and calm and not far from the bus station. It's very easy to go from Sparta to Mystra and the south of Lakonia. We were very happy about our stay in Sparta !
Axel
2013-07-06T00:00:00Z
Romtype
Helt hjem/leilighet
---
Eiendomstype
Leilighet
---
Plass til
2
---
Soverom
Sparta, Peloponnesia, Hellas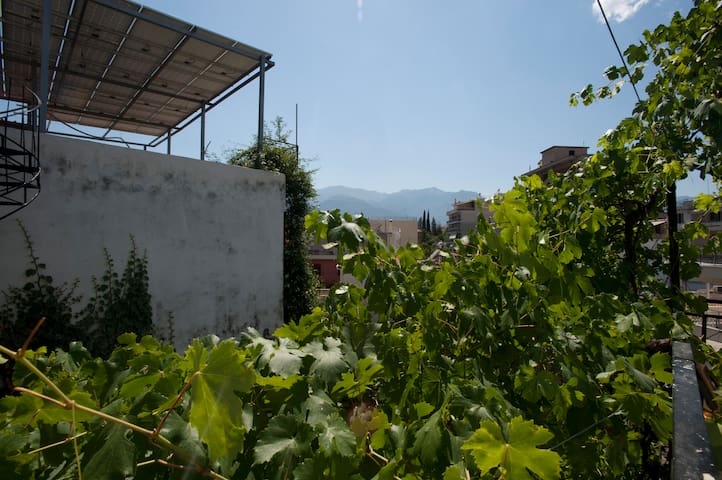 Cosy studio located at the eastern side of the city,in a very quiet neighborhood,only 10' walking from the city center & the beach. You can relax and have a drink in the balcony with unobstructed mountain view. Ideal for walking in the nature or next to the sea Very close to athletic center,S/M,cafe',traditional taverns and the urban bus station Visitors will taste the extra virgin olive oil and the famous olives of Kalamata from our family production accompanied by a quality local wine
A lovely studio, tastefully decorated with a very cosy atmosphere that offers wonderful moments of relaxation, with view to the imposing Taygetos Mountain. Beautiful and quiet environment in a nice neighborhood among olive and orange groves. In 10 minutes walk you can reach the beautiful beach of Kalamata or the city center. In the neighbourhood you can find anything you need to have fun, shop, eat or even take to sports and walking, while the apartment is also very close to the local university
In the neighbourhood you can find grills and taverns with quality tasty food, nice cafes to relax and supermarkets to shop easy and cheap. Also in a small distance you can find gyms, football, basketball and tennis courts and a municipal athletics stadium.
Ble møtt av kone og datter...litt etter avtalt tid, men akseptabelt. De gav meg en grei innføring i leiligheten og det som var nødvendig å vite og jeg fikk også svar på det jeg lurte på der og da. Litt frukt og typisk gresk kake som velkomstgave var hyggelig. De gav tydelig uttrykk for at de sto til disposisjon og at det var bare å ringe om det var noe jeg trengte hjelp til eller lurte på.
Dagrun
2016-07-30T00:00:00Z
Μία πανέμορφη καταπράσινη και ήσυχη γειτονιά στο κέντρο της Καλαμάτας, πολύ κοντά στον παραλιακό και στο κέντρο. Το σπίτι ανταποκρινόταν πλήρως στην περιγραφή, όπως και οι υπηρεσίες που προσφέρει. Πεντακάθαρο και φιλόξενο. Μας περίμεναν λιχουδιές από τοπικό ζαχαροπλαστείο για το καλωσόρισμα. Υπέροχο μπαλκόνι με θέα το Ταύγετο, και άπλετος χώρος για πάρκινγκ.
MYRTO
2016-05-04T00:00:00Z
this apartment is clean and has a beautiful view of mountains and olive groves. it is very comfortable.
Jenny
2016-10-19T00:00:00Z
Πολύ όμορφο διαμέρισμα, πεντακάθαρο και φωτεινό. Ο Γιάννης πολύ φιλικός και εξυπηρετικότατος. Νιώσαμε σαν στο σπίτι μας.
GERASIMOS
2016-11-11T00:00:00Z
We had a great time in Kalamata. The apartment was accessible, comfortable and convenient, in a nice neighbourhood, with easy parking in front of the building.
Karla
2016-09-28T00:00:00Z
ο κυριος Γιαννης ηταν ιδιατερα εξυπηρετικος κ προθυμος να μας βοηθησει σε οτι χρειαστηκαμε. Το διαμερισμα ηταν ακριβως οπως το ειχαμε δει στις φωτογραφιες, καθαρο, σε μια ησυχη γειτονια με υπεροχη θεα. Αξιζει να το προτιμησετε!!!!
Mariana
2016-11-18T00:00:00Z
Οι φωτογραφίες παρουσιάζουν το studio ακριβώς όπως είναι. Καθαρό, φωτεινό, σε ήσυχο μέρος και οι οικοδεσπότες πρόθυμοι να εξυπηρετήσουν. Καταπληκτική σπιτική μαρμελάδα. Επίσης, ο κύριος Γιάννης ήταν πολύ ελαστικός στις ώρες παραλαβής και παράδοσης του χώρου. Το προτείνουμε ανεπιφύλαχτα και σίγουρα όταν ξαναεπισκεφτούμε τη Καλαμάτα θα προτιμήσουμε το συγκεκριμένο χώρο. Σας ευχαριστούμε για όλα.
Stasa
2016-06-21T00:00:00Z
We had a wonderful time in Mr & Mrs Voutsis apartment in beautiful Kalamata. The place was very nice in a quiet area with absolutly stunning and breath taking view of the mountains. Mr Voutsis and his wife were very welcoming and accepted late booking and arrival. They welcomed us with very tasty pastry and marmolade. I highly recomend it!
Maciej
2016-03-28T00:00:00Z
Romtype
Helt hjem/leilighet
---
Eiendomstype
Leilighet
---
Plass til
3
---
Soverom
Kalamata, Hellas
Στο κέντρο του λιμανιού με θέα τη θάλασσα του Μεσσηνιακού κόλπου studio γκαρσονιέρα με δυνατότητα φιλοξενίας μέχρι και 4 ατόμων σε αυτόνομο οροφοδιαμέρισμα με ηλιακό, κλιματισμό, wi-fi πλησίον εμπορικών καταστημάτων και εστιατορίων.
Το στούντιο βρίσκεται σε μία εξαιρετική τοποθεσία στο κέντρο του λιμανιού με θέα το απέραντο γαλάζιο, αλλά και με άμεση προσβαση σε εστιατόρια καφετέριες και ζαχαροπλαστεία. Σε απόσταση 2 οικοδομικών τετραγώνων βρίσκεται ένα μικρό super market το οποίο όμως είναι ικανό να καλύψει κάθε αναγκη κατοίκων και επισκεπτών.
Nice and good located apartment! As hosts live in the same house, check-in was easy + Jackob gave us a short introduction to the city/area.
Steffen
2016-01-29T00:00:00Z
Very cute apartment, nicely decorated with a fabulous terrace. Ideally situated next to shops, supermarkets and restaurants. But above all, the best host we could dream of. Katerina was very helpful, warm and friendly. It was a great experience and I totally recommand this location. Thank you !!!
Sarah
2015-08-25T00:00:00Z
Katerina is a great host: puntual, kind, always with a big smile and very quick to solve problems, for example when the elevator broke or the sun was so Hot and bought another curtain. Her family has a shop close to the studio and we felt like part of the family. They love kids (our daughter is 3 years old) and mom Maria prepared very good sweets and lalakias for us too. The studio is very nice and the view from the Huge terrace is the best, we liked watching the sea and the stars. We felt like at home, that 's the reason why we would like to come back very soon!
laura
2015-08-14T00:00:00Z
We absolutely loved our time at Katerina's studio and it was even better than the photos The spacious outside deck was a favourite and breakfast out in the sunshine was superb amongst the pretty red flowers The studio was clean and the decor beautiful in blue and white Watching the activity on the harbour and the beautiful night lights were stunning It is close to everything that you could possibly need We didn't actually get to meet Katerina but she was very accessible via email - her brother Jacob was on site and very helpful
Bev
2016-05-13T00:00:00Z
What a gorgeous stay! The apartment was perfect and Katerina has thought about every little detail when decorating it; it's really beautifully done and had everything we needed. The view and sunset from the balcony is absolutely stunning and we wished we could have stayed longer. Katerina was very communicative and helpful, as was her brother who showed us around and was always on hand if we needed anything. Thank you for a wonderful stay, we will definitely be back!
Rosalie
2016-10-26T00:00:00Z
Staying at the place was really nice. The apartement is exactly how described except the balcony, it is way bigger. Everything worked perfect, thank you very much.
Fanny
2016-02-17T00:00:00Z
We received a very warm welcome and were assisted with our luggage transfer to our apartment by Jacob. The apartment was very clean and practical.The view ia amazing!!!!!! The apartment is in the best position and in close proximity to all amenities with bus stop outside front door.We had an amazing stay in Kalamata.Thank you Katerina and family.We will strongly recommend this apartment to friends and family.We love Kalamata
Mary
2016-09-08T00:00:00Z
Had an amazing week in kalamata! The apartment was perfect and the balcony was stunning! To top it of we had a week of uber weather!
George
2015-11-14T00:00:00Z
Romtype
Helt hjem/leilighet
---
Eiendomstype
Leilighet
---
Plass til
4
---
Soverom
Kalamata, Μεσσηνίας, Hellas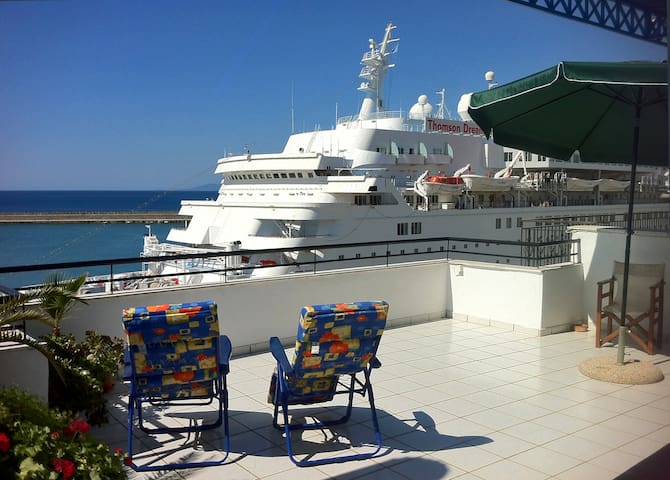 Όμορφο, άνετο διαμέρισμα 55 m2 που μπορεί να φιλοξενήσει 2 έως 5 άτομα. Βρίσκεται στην καρδιά της πόλης, σ' έναν ήσυχο δρόμο δίπλα στο πάρκο του Πνευματικού Κέντρου και 2' από τους κεντρικούς πεζόδρομους κ την πλατεία του Άρεως. Στους επισκέπτες παρέχονται κ 2 ποδήλατα. Centrally located, stylish apartment that can accommodate 2 to 5 people. In the heart of Tripolis, next to the park(Pneumatiko Kentro), only 2' walk to Areos square and the pedestrian streets. Free 2 bikes are provided.
Το διαμέρισμα βρίσκεται στον πρώτο όροφο μιας πολυκατοικίας αστικού τύπου του 1975 στο κέντρο της πόλης. Είναι πλήρως επιπλωμένο και όμορφα διακοσμημένο με ρετρό στοιχεια. Περιλαμβάνει : - Ένα καθιστικό ( μ´ένα ημίδιπλο κρεβάτι με χρήση και καναπέ , κ ένα ράντζο-πτυσσόμενο κρεβάτι ). Living Room (a semi double bed - 120cm x 200cm - used as a couch and a single folding / pull out bed - 90cm x 200cm) - 'Ενα υπνοδωμάτιο ( με υπέρδιπλο κρεβάτι). Bedroom (with one queen bed 160cm x 200cm) - Μια μικρή κουζίνα πλήρως εξοπλισμένη ( ψυγείο, φουρνάκι με εστίες , καφετιέρα, τοστιέρα, είδη μαγειρέματος, είδη σερβιρίσματος). Kitchen (refrigerator, small oven, coffee machine, sandwich toaster, kitchenware etc.) - Ένα μπάνιο ( μπανιέρα , θερμοσίφωνας ,πιστολάκι μαλλιών) . Bathroom ( bathtub, water heater, hairdryer ) - Ένα χωλ (με μικρό τραπέζι εργασίας). Entry hall ( with a small table )
Το διαμέρισμα βρίσκεται σε μια ήσυχη γειτονια στην καρδιά της πόλης, δίπλα στο πάρκο του Πνευματικού Κέντρου. Αποτελεί ιδανική τοποθεσία για να ξεκινήσετε τη βόλτα σας και την περιήγηση σας στην όμορφη Τρίπολη. Απέχει : · μόλις 2' με τα πόδια απο τους κεντρικούς κι εμπορικούς πεζόδρομους (καφέ, εστιατόρια , καταστήματα) και την πλατεία του ´Αρεως (άγαλμα Κολοκοτρωνη). Only 2' walking distance from the shopping centre (coffeehouses, restaurants, bars, department stores) and the Areos Square · 5 ' με τα πόδια απο το Μαλλιαροπουλειο Θέατρο και τις πλατείες Πετρινού και Αγίου Βασιλείου. 5' walking distance from Malliaropouleio Theatre and the Central Square Agiou Vasiliou & Petrinou Square · 10' με τα πόδια απο το Αρχαιολογικό μουσείο και το Πολεμικό μουσείο. 10' walking distance from the Archaeological Museum & the War Museum · 15' με τα πόδια από το Πανεπιστήμιο και το αθλητικό δημοτικό στάδιο. 15' walking distance from the University and the Sporting Center · 20' με τα πόδια από το ΚΤΕΛ Αρκαδίας. 20' walking distance from the Intercity Bus Station · 25' με τα πόδια από το μικρό θεατρο του άλσους Αγίου Γεωργίου. 25' walking distance from the St George's Park and Theatre.
Ολα ήταν υπέροχα! Η κυρία Μαίρη ήταν πολυ γλυκιά και εξυπηρετική! Η τοποθεσία πολυ κεντρική! Το σπιτι παρείχε τα πάντα - φαγητο, Ίντερνετ, επιτραπέζια παιχνίδια, λογοτεχνικά βιβλία ακομα και ποδήλατα! Ολα ήταν τέλεια!
Κωνσταντίνα
2017-02-19T00:00:00Z
A perfect apartment for families. The flat has all the necessities you need. Great for vacations! Mary and her son were very friendly. The communication was just perfect. Thank you for everything!
Michael
2016-11-20T00:00:00Z
Very nice and clean apartment, next to the city center with restaurants and Shops. Would always recommend!
Manuel
2017-03-04T00:00:00Z
Το καλύτερο vfm στη πόλη το προτείνω ανεπιφύλακτα.
Thanos
2017-04-03T00:00:00Z
Nice place tastefully decorated and centric. Mary was very kind leaving us many things for breakfast.
Nuria
2016-12-13T00:00:00Z
Πανέμορφος χώρος, εκπληκτικά διαμορφωμένος!!!! Φοβερό στυλ και πολύ καλή εξυπηρέτηση από την κ. Μαίρη!! Μέσα στο κέντρο της πόλης, κοντά σε όλα... Όλα εκπληκτικά!!!
Nikos
2016-12-06T00:00:00Z
Mary is very friendly and willing to help you. Her place is very clean , warm , beautifully decorated, and in a great location . I would definitely recommend it !!!
Dimitra
2017-02-02T00:00:00Z
Amazing house at the center of the town. Mary is a great hostess! We really enjoyed our time at this fine apartment!
DIMITRIS
2016-12-04T00:00:00Z
Romtype
Helt hjem/leilighet
---
Eiendomstype
Leilighet
---
Plass til
5
---
Soverom
Τρίπολη, Αρκαδια, Hellas
Ideal for couples and business travellers
Modern, cosy, bright, with a big balcony on the main street. There is air-conditioning in the bedroom and the living room, as well as central heating with individual adjustment. Hot water throughout the year through solar boiler and a boiler connected with the central heating. Fridge and basic equipment in the kitchen. Free Pay-TV available.
Direct access to the town market. Ten minutes on foot from the old town. Free parking.
This is located in the heart of the city outside the tourist district. An easy 5 minute walk into the busier part of town and a 20 minute walk to the fortress. Parking is easy here. We had a relaxing stay in this vacation town.
Hannah
2016-12-24T00:00:00Z
Αψογο το διαμερισμα μεσα στην πόλη σε πολύ μικρή απόσταση από την παλιά πόλη του Ναυπλίου.Θα ξαναμείνω σίγουρα στο επόμενο ταξίδι.
Λίτσα
2017-01-30T00:00:00Z
Πολύ άνετος και καθαρός χώρος, όπως ακριβώς στις φωτογραφίες, μια value for money επιλογή, που δίνει τη δυνατότητα για περιπάτους στην παλιά πόλη του Ναυπλίου σε απόσταση δέκα λεπτών με τα πόδια!
Δήμητρα
2017-03-05T00:00:00Z
Lovely apartment in the new Nafplio. It is perfect for a couple. It has a balcony which is pleasant. Close to the bus station and the old city. We only had problems with wifi and hot water sometimes.
Danaé
2017-02-24T00:00:00Z
Would definitely recommend this place. It was very clean, quiet, comfortable and nice. Everything we needed was close.
Alexander
2017-02-12T00:00:00Z
Very clean apartment about a 15 minute walk to shops and restaurants. Easy check-in/check-out and plenty of places to park a car whereas parking is much harder to find downtown.
Camille
2017-03-07T00:00:00Z
Πρώτα απ' όλα, η συνεργασία και η επικοινωνία με τον Βασίλη ήταν άψογη και διακριτική. Το σπίτι του είναι στο εμπορικό μέρος του Ναυπλίου, σχεδόν 15 λεπτά περπάτημα από το ιστορικό κέντρο του Ναυπλίου, σε μία ήσυχη γειτονιά. Πολύ καθαρό και ανταποκρινόμενο σε όλες τις περιγραφές και του ίδιου του οικοδεσπότη αλλά των προηγούμενων επισκεπτών. Αν μου δοθεί η ευκαιρία, σίγουρα θα το επισκεφτώ στο μέλλον.
Thanasis
2017-03-27T00:00:00Z
Very lovely and new flat. Super comfy.
Jimmy
2016-11-03T00:00:00Z
Romtype
Helt hjem/leilighet
---
Eiendomstype
Leilighet
---
Plass til
2
---
Soverom
Nafplio, Hellas
Charming apartment, a true gem in the heart of Kalamata, located minutes away from the beachfront. Perfect for all your vacation needs. Nightlife, restaurants & shopping within walking distance. Three spacious rooms equipped with air-condition, sunny balcony with view of the sea, kitchen, washing machine and free Wi-fi. Last but not least three awesome bikes you can use to explore the city!
In Chrysoulas' apartment everything was more than perfect! We suggest to everyone to chose this apartment for his/her next visit to Kalamata!! Thank you Chrysoula!
Evangelos
2016-09-12T00:00:00Z
The apartment was very spacious and clean! 3 big bedrooms with new air condition systems and a comfortable living room. The house was fully supplied and can cover almost all needs to support your short-term stay. The apartment is in a very good position in Kalamata with plenty of stuff around. Chryssoula was very kind and helpful assisting us in having a pleasant stay in Kalamata! Value for money apartment
Σωτήριος
2016-07-31T00:00:00Z
Die Gastgeberin war immer erreichbar und war stets bemueht uns zu helfen. Alles in allem war es eine SUPER SUPER Unterkunft und immer weiter zu empfehlen.
Ioannis
2016-09-17T00:00:00Z
Tout était parfait. L'appartement correspond tout à fait à la description et était très propre. Bien situé dans une petite rue, tout proche du port et des commerces. Chrysoula, absente au moment de notre arrivée, nous avait communiqué les consignes pour récupérer la clé et s'est enquise de notre bonne arrivée dans les lieux. Vous n'avez besoin de rien d'autre que votre propre garde-robe car Chrysoula vous laisse tout à disposition: du tire bouchon au tournevis, en passant par le presse-agrumes pour mon jus de citron matinal. Même les glaçons nous attendaient a notre arrivée, et nous avons pu rapidement trinquer à nos vacances, des supérettes étant toutes proches. J'ai apprécié les balcons pour ma lecture, en profitant de la vue sur la mer et la douceur automnale. Le sens "vivez la-bas" a vraiment pris son sens. Je pense revenir à Kalamata et j'espère que le logement de Chrysoula sera alors disponible.
Agnes
2016-10-27T00:00:00Z
Chrysoula a été très réactive à nos messages; son appartement est extrêmement spacieux, agréable et à deux pas de la mer. Le logement est très fidèle à la description et le quartier très sympathique!
Caroline
2016-08-29T00:00:00Z
Although we never actually met Chrysoula in person, as she was out of town, she was very good at helping us have the best stay we could imagine. She was very quick in replying to our questions, and was very flexible with the check out time. The flat is amazing, it is huge, a family could easily stay there for a longer period of time. So the two of us had plenty of room. The pictures are accurate, the flat is located perfectly, a minute from the beach, where there are a lot of restaurants and shops to choose from. The beach is about 5 minutes walk away. We were very happy with our stay and would recommend this place to anyone travelling to Kalamata.
Hannes
2016-10-14T00:00:00Z
We were a group of 4, and all of us found the apartment absolutely brilliant. Spotlessly clean, central location, air conditioning in every room - it was just what we needed. Special thanks for the homemade jam and ouzo that was waiting for us on arrival. We definitely felt very welcome and would recommend Chrysoula's place to anyone!
Inna
2016-07-11T00:00:00Z
It's probably not that easy to understand from the photos, but the place is really big and comfortable! Staying here has been a real pleasure: - the house it's full of everything you can think about, it's very spacious, and there is a nice view of the sea and the mountains. Beds are big and confortables, the kitchen is stuffed with things, there is a good quality oven, AC in every bedroom...there is everything. - location is really good! 50 meters from the sea, there are few small markets nearby, and you can walk those 50 meters to the sea to find lot of cafe/turistic places or walk 50 meters in the opposite direction to find traditional taverns (go check my favs, Restaurant Πολυχρόνης and Ellas Cafe), bakeries (again check my fav, on Methonis Road just behind the house) , and everyday life. Bigger supermarket are a few minutes walk of distance, and if you feel the need to go to the city centre is just 10/15 minutes walking. - Chrysoula has been a real good host, quick in replying to my questions and to help me with whatever small issue I could have found. All in, I spent in Chrysoula's apartment two entire months and I felt really really lucky to have chosen this place :-)
Mauro
2016-12-31T00:00:00Z
Romtype
Helt hjem/leilighet
---
Eiendomstype
Leilighet
---
Plass til
7
---
Soverom
Kalamata, Hellas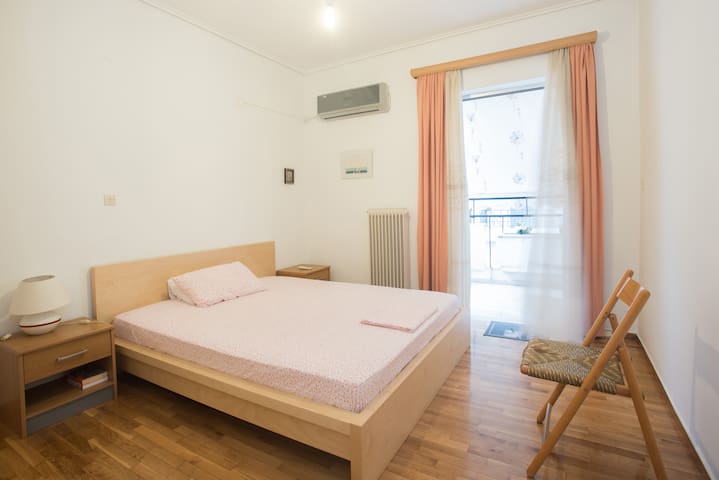 Úžasná dovolená u moře Studio s nezapomenutelným výhledem na moře. Docela a plně vybavené studio apartmán jen pár kroků od pláže. Z balkonu budete obdivovat nádherný výhled na Argolis 'zálivu.
Dovolená u moře Studio apartmán s úžasným výhledem z balkonu, 30sqm, se mohou ubytovat maximálně 2 dospělí a 1 dítě. Studio Byt je jedna velká místnost 30sqm s kuchyní, koupelnou a dvěma samostatným lůžkem. Ve studiu můžeme přidat jednu postel pro dítě nebo dětskou postýlku. Máme dva studio apartmány ve stejné budově.
Apartmány jsou přední části zcela kamenité soukromé pláže, jen pár kroků od těší váš plavání pokaždé. Navíc výhled z balkonu vás udeří, zejména svítání. Apartmány se nachází v klidném místě na okraji obce, ale vše, co potřebujete se nachází v těsné blízkosti pěšky. Je umístěn v komplexu apartmánů, které se používají jako apartmány.
the apartment was wonderful - simple and so clean and nice. the location is amazing, so close to the water , just as seen in the pictures. we had a wonderful time in kiveri village. thank you christos!
hemy
2015-10-28T00:00:00Z
This studio is right on the water and is absolutely gorgeous! A perfect place for relaxing and exploring Nafplio and Argos.
Christina
2015-06-30T00:00:00Z
Christos met us at the apartment and showed us around. He was very welcoming. The apartment was as described. Comfortable and roomy. The location was lovely, overlooking the beach and sea. A quiet village in the winter. There was a supermarket, grocers, butchers, a bar and a taverna open during the winter. You could walk to the village centre via the road or down quite a few steps to the beach path. It is not suitable for people who have difficulty walking because of the steps. It is situated well for visiting areas of interest by car. I would recommend this apartment if you want to relax and get away from the hustle and bustle.
Susan
2016-01-05T00:00:00Z
Nice studio with beautifull view and perfect for combining visiting a lot of historical site and enjoying the natures/sea!
Marc
2015-10-05T00:00:00Z
This apartment is exactly like described, with a beautiful view on the beach and an immediate access at said beach. The apartment was clean and really comfortable. Christos was available and the flat is not really hard to find. I would recommend this apartment for anyone who want to enjoy the beach at a peaceful location, near Athens (2 hours by car).
Fanny
2016-10-14T00:00:00Z
Great experience, amazing place and location! Christos and his mother are great hosts and I can fully recommend staying in this apartment. The sea view is really perfect!
barbora
2016-08-22T00:00:00Z
We were pleasantly surprised by this studio. The balcony is great. We went down to the private beach for a swim in the morning. The location proved an excellent starting point to various sites we wanted to visit. Initially the WiFi was very slow, but Christos fixed it on the weekend. Good beds, clean and good value and we can highly recoomend it.
Erna
2015-07-27T00:00:00Z
Πολύ όμορφο και γραφικό το Κιβερι με καθαρή θάλασσα. Σουπερμάρκετ/Φούρνος στα 3 λεπτά με το αυτοκίνητο. Ο Χρήστος κ η μητέρα του ευγενικοι κ εξυπηρετικοι!
Zoi
2016-08-27T00:00:00Z
Romtype
Helt hjem/leilighet
---
Eiendomstype
Leilighet
---
Plass til
2
---
Soverom
Argolis, Peloponnisos Dytiki Ellada ke Ionio, Hellas
Рядом с моим жильем рестораны и кафе, семейные развлечения, ночная жизнь, общественный транспорт и пляж. Мое жилье подходит для этого: пары, соло-путешественники, деловые путешественники, семьи (с детьми). Возможна встреча и сопровождение гостей от аэропорта (автобусной станции) до места проживания. Предоставляется бронирование автомобиля.
Tatiana s'est montrée très disponible pour faciliter notre arrivée. L'appartement est bien situé pour se rendre dans le centre de Nauplie à pied. Bonne adresse.
Mél
2016-10-26T00:00:00Z
This apartment is awesome. It is spacious, clean, and very practical. It has a full equipped kitchen so you can cook, and the bathroom is spacey and equipped. The internet is perfect. I highly recommend yhe apartment.
Damian
2016-10-22T00:00:00Z
great apartment in central location. close to city center and sea, overall great host
Piotr
2016-09-05T00:00:00Z
Хорошая, чистая квартира, добрая гостеприимная хозяйка, всё понравилось. Буду рекомендовать друзьям
Юлия
2016-10-05T00:00:00Z
We came to Nafplio for the weekend (staying Saturday night) to explore Nafplio and run the half marathon- Tatiana's flat is perfectly placed to explore the town and participate in events, it is close to the old town and centre and very near the lovely Saturday market. Tatiana was great at communicating ahead of our stay and flexible with check in and check out times. Thanks Tatiana for a great weekend :)
Jane
2017-03-05T00:00:00Z
Ci ha accolto venendoci a prendere alla fermata del bus. Alloggio accessoriato, spazioso ,non lontano dal centro nè dal mare (10 ' a piedi). Ci siamo trovati bene in tutto.Lo consiglieremmo.
Rosalba
2016-10-08T00:00:00Z
Our stay at Tatiana's place was great, the apartment is really spacious (we had two double-beds, hard to decide which one to sleep in) and perfectly-equipped. It has a balcony for your morning breakfasts (best bought at "Central" bakery around the corner) and the price is fair. Tatiana met us at the apartment and was really friendly. The neighborhood is nice and only 10 minutes walk to the old town and the beach. Thank you!
Joscha
2016-09-13T00:00:00Z
Great apartment for 2 couples. Very clean and has all you need. It is located close to the city center and parking is available on the same street. It can be a little noisy in the evenings due to the many motorists in the city. Overall a very nice place to stay.
Ivan
2016-09-25T00:00:00Z
Romtype
Helt hjem/leilighet
---
Eiendomstype
Leilighet
---
Plass til
4
---
Soverom
Nafplio, Hellas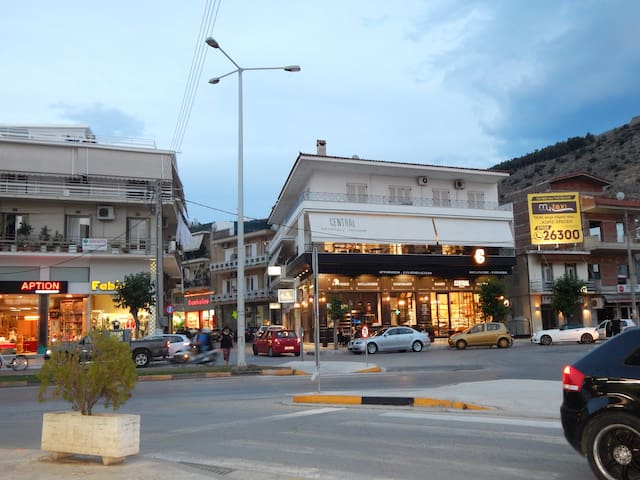 Two light and airy bedrooms first floor apartment situated in the new Nafplio neighborhood and within easy reach to the shops, the marina and the city centre by foot. Large reception room with dining area, TV Cable and large sized balcony. free & faster Wi-Fi, air conditioned and full modern kitchen equipments. Private parking place. Master bedroom with A/C, fitted wardrobes and private patio. Clean sheets and towels provided. Possibility to use the washing machine (included in the price)
3 bedroom apartment of 65 square metter with private parking place and 2 large balconies
Το σπιτι βρησκεται σε πολυ καλο σημειο οπως το φανταζομουνα , ησυχο , καθαρο επαρκες και κοντα στο κεντρο 1, 2 χλμ.... Ο Κωστας οτι μου ειπε και οτι ειδα στις φωτογραφιες ειναι αληθινο . Χαρηκα την διαμονη μου στο σπιτι του και ειναι αριστη επιλογη για διαμονη σε κοντινο σημειο ως προς το κεντρο του Ναυπλιου ...
Elias
2017-02-19T00:00:00Z
The place was amazing. Fresh oranges made me eat 12 in a day. Super cheap as compared to mykonos. Clean house with all amenities more than required. Excellent experience overall. Kosta was wonderful. He did everything to make us feel comfortable.
Abhimanyu
2017-03-05T00:00:00Z
Kosta, was friendly and helpful. Good basic accommodation located in the outer area of the city. 20 minute walk, 5 min by car to the marina area.
Connie
2016-09-24T00:00:00Z
Nous sommes restés 2 semaines avec 2 enfants et nous nous sommes sentis chez nous. L'appartement est confortable et il y a une terrasse agréable. Le Wi-Fi marche très bien. Kosta est disponible et nous a aidés à découvrir Nauplie.
Susy et Georges
2016-11-12T00:00:00Z
Very satisfied!
tong
2016-10-23T00:00:00Z
A beautiful,modern, well equiped and very comfortable appt., only 2' by car from old Nauplie. Great contact with Kosta who speaks also perfect French and did everything he could to accomodate us. NB: the beach nearby is nice for bird-watching and for the panorama
Carolina
2016-10-25T00:00:00Z
Très bon sejour dans l'appartement de Kosta. L'appartement est grand et bien équipé, parfait pour un court ou long séjour. Je recommande sans hésiter !
Camille
2016-12-18T00:00:00Z
Conforme à la description,confortable et très fonctionnel.. Grande flexibilité sur les heures d'arrivée et de départ :) Μerci monsieur Costas
Joanna
2016-09-25T00:00:00Z
Romtype
Helt hjem/leilighet
---
Eiendomstype
Leilighet
---
Plass til
4
---
Soverom
Nafplio, Hellas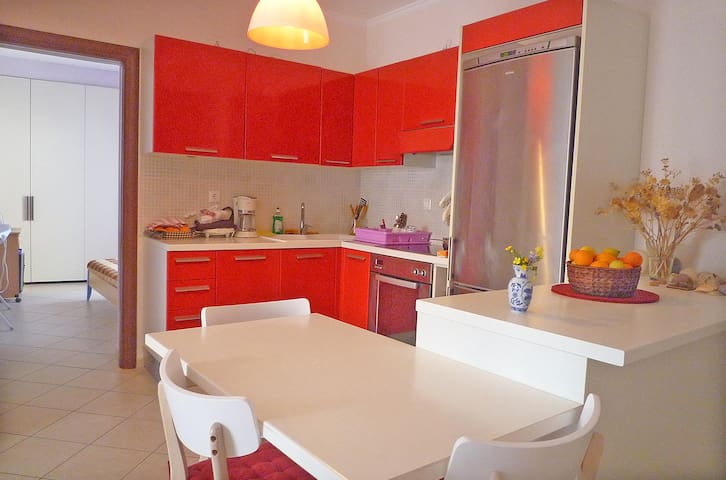 Dieses geräumige 120 m² Appartement befindet sich im Zentrum der historischen Stadt Sparta entfernt. Der Nähe von Parks, Museen, Bars und eine Vielzahl von Unterhaltungsmöglichkeiten. Warm, lightful, großes Wohnzimmer, ein komfortables Schlafzimmer, Bad, eine voll ausgestattete Küche und Fitnesseinrichtungen. Schlafmöglichkeiten für bis zu 6 Personen und ist ideal für Paare mit oder ohne Kinder, oder Personen, die alleine reisen. Ολόκληρο διαμέρισμα στο κέντρο τη Σπάρτης. Ζεστό, φωτεινό, ευρύχωρο, καθαρό, κουζίνα, μπάνιο, γυμναστήριο.
Teppiche und Kissen schaffen eine einzigartige gemütliche und komfortable Atmosphäre, die man fühlt sich wie zu Hause macht sind.
Ruhig und friedlich Nachbarschaft. Ruhe und ruhige Umgebung
Exactly as described. Stavroula was kind to us and she let us cookies for the breakfast. Nice place to stay!
Aurélien
2017-02-27T00:00:00Z
Some details are missing to format a nice place. I understand that we have traveled out of full season (3/1/2017)
Athanasios
2017-01-06T00:00:00Z
This place is situated in the great location (e.g. near KTEL bus terminal, near city centre, close to supermarket, close to bakery shop). The owner is very nice and friendly. The apartment is clean and quite big (as shown in the picture). Very recommended to anyone who wants to visit Sparta and the area around Sparta by public transport. The KTEL bus terminal is only 10-15 mins by foot.
Poum
2017-02-26T00:00:00Z
Stavroula's place was just perfect for us. She and her daughter were extremely helpful in greeting us and helping us find the places we wanted to go. The house is so spacious and comfortable, and had so many nice personal touches, we wished we could have stayed longer.
Melissa
2016-12-19T00:00:00Z
I had a very pleasant stay in stavroulas place. It is a nice spacious house with a nice bed a real kitchen and a comfortable sofa in the living room. I felt really at home. Also the location is perfect. It is close to the central square and the busstation. I could only stay one night but I would definitely stay longer next time and I can recommend this place without a doubt. Also stavroula is a very nice host. She makes sure that you have everything that you need.
Eva
2017-01-27T00:00:00Z
Spacious apartment with very good location. Stavroula is very kind and helpful. She cooked for us very delicious cakes. Communication was perfect. Strongly recommended. Thank you!
Gleb
2017-01-13T00:00:00Z
A lovely homely and comfortable apartment which was centrally located and walking distance to shops and cafes. A warm and welcoming host who made us feel at home instantly. Fast internet always appreciated.
Sandra
2017-02-17T00:00:00Z
We stayed 2 nights in this apartment, it was a really nice place ! Spacious, comfy and very bright, it's well located a few minutes away from the center. And there is a supermarket 2 minutes away from the apartment. Stavroula was here in any case of a problem and she was really nice by making our stay the most pleasant ! We highly recommend this place !
Charlotte
2017-02-11T00:00:00Z
Romtype
Helt hjem/leilighet
---
Eiendomstype
Leilighet
---
Plass til
4
---
Soverom
Sparti, Hellas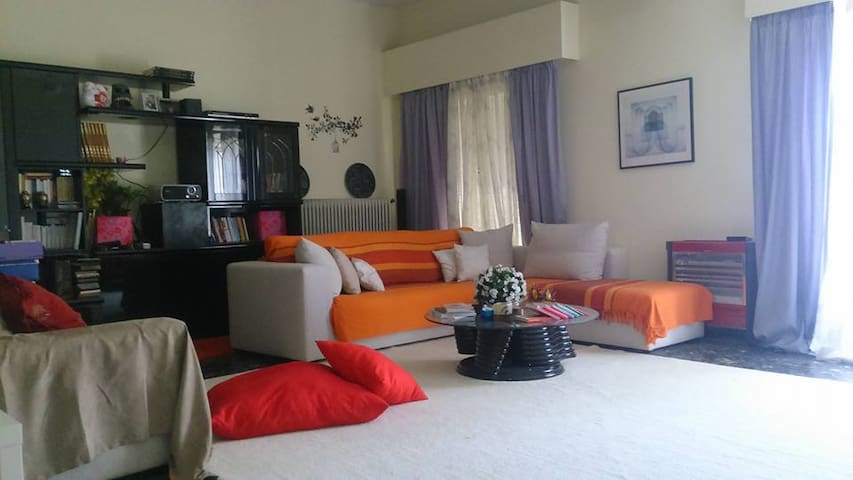 Is hardly found 30m from the central square of city in the second floor. It abstains few metres from: commercial centres, banks, old city centre, military museum, archaeological museum, palace of dance, cafeterias, restaurants, mass transit. To public parking of city is hardly 200m. My space is comfortable and quiet suitable for pairs, activities for a individual, professional travellers and families (with children). They can be entertained up to four (4) individuals.
It is found in the central of Kalamata in the second floor of two-storied post-seismic manufacture and it offers, luxurious and professional services, that exceed your expectations. The discreet elegance, the comfort, the spacious spaces, but also the specialised benefits and services for you, the rendering ideal choice of stay in the city of Kalamata or for interruptions or for professional obligations.
Our apartment is found in distance of breathing, from all below (access with the legs): Walking from the start the road Aristomenoys,you will meet certain from the more important neoclassic buildings of Kalamata, that accomodate public services and institutions: initially the building of hotel REX and near the Town hall Kalamata. Afterwards the end of road Aristomenoys we meet the square of King Georgios, the central square of Kalamata. There we see the building of Bank Greece where the apartment is found for us opposite her, neoclassic beginnings 20th century.from the road Aristomenoys that crosses the all square of King Georgios, will see and the composition "Eleytheria¨ has been set up in the means of square, with the heroes of Greek Revolution, Papaflessa, Kolokotronis, Mayromichali. In all the department the road Aristomenoys is full with cafeterias and commercial shops. Little above we meet the old city and wide of 23 March which has same assembled a lot of hangouts of youth wintry mines.I roaming in the narrow alleys will transport to you in a other season and you will give the occasion to discover old buildings that bore in the passage of time, tens mansions, stones churches, museums and shops with local products Afterwards you reach in wide Ypapantis where it was the first region except castle that was lived in the city. In wide Ypapantis dominates the splendid temple of Ypapantis of Savior, with the double belltowers and the silver cupolas. North the temple and wide Ypapantis is found the Municipal Conservatoire Kalamata, that is accomodated in a traditional building of 19th century. Precisely by the temple is opposite found also the Military Museum Kalamata, with appreciable exhibits from 1821 and afterwards, while very near, in the road of Saint Ioannis you can be visited the Historical and Folklore Museum (URL HIDDEN) of wide of 23 March is found the small church of Saint Apostles where according to the delivery was declared the Revolution and was taken place the first operation of free Kalamata. In her centre dominates Iroon, while perimetrically you see a lot of cafeterias, bar and (URL HIDDEN) the alleys round this they are found kafekopteia, traditional cafeteria and ovens where they fill air of region with their splendid smells from kaloydia. It deserves you visit little more pera the castle of city where it was founded the years of Byzantium and up to today his visitors they wander between the ruins of season of (URL HIDDEN) southern utmost castle is organised the International Festival of Dance, while the castle are the setting that unfolds and the novel of Aggeloy Terzaki ¨Prigkipissa Izampo".
Elli und Ihr Mann haben uns freundlich empfangen und die bestens ausgerüstete Wohnung gezeigt. Wir konnten sogar die Waschmaschine brauchen weil Elli Waschpulver bereit hatte und für das Auto hat Sie uns Parkkarten gegeben. Es war alles da fürs Frühstück inklusive selbstgemachtes Gebäck und Oliven vom Familieneigenen Olivenhain. Wir können Elli's dollhouse 100% empfehlen.
Peter
2016-11-13T00:00:00Z
Το σπίτι είναι στην καρδιά της πόλης, πεντακάθαρο, υπερπλήρες με όλες τις δυνατές παροχές και πολλές παραπάνω, μη αναμενόμενες (μέχρι και παγάκια στην κατάψυξη!). Η κυρία Έλλη άριστη στην επικοινωνία της και στην εξυπηρέτηση. Εννοείται πως θα ξανάρθουμε. Προτιμήστε το με κλειστά μάτια.
Manolis
2017-02-06T00:00:00Z
Τέλειο κι εξυπηρετικό για μια σύντομη επίσκεψη στην Καλαμάτα! Είσαι κοντά σε όλα!
ΑΙΚΑΤΕΡΙΝΗ
2017-02-10T00:00:00Z
The host was perfect, an the appartement also !
Camille
2017-01-24T00:00:00Z
Elli's place is wonderful. Clean and ready close to everything. Location is perfect for those who want to discover the city and those who are shopping lovers. Looks exactly as in pictures! Elli is a nice and warm host. If you speak English , her friend will help with communication. I recommend it !
Marianna
2017-02-08T00:00:00Z
Μείναμε ευχαριστημενες και εγώ κ η μητέρα μου. Το σπίτι ήταν κουκλίστικο στην καρδιά της πόλης δίπλα σε όλα. Η οικοδέσποινα Έλλη ήταν ζέστη και εξυπηρετική και πρόθυμη να μας εξυπηρετήσει σε όλα. Αν θέλετε να μείνετε στην Καλαμάτα μην το σκεφτείτε καν. Είναι εξαιρετική επιλογή
Maro&Michael
2017-01-15T00:00:00Z
Το σπίτι είχε πραγματικά τα πάντα καθαρό και η κα Έλλη ευγενέστατη. Η σχέση ποιότητας τιμής πολύ υψηλή.
CHRISTOS
2017-01-29T00:00:00Z
Η Κυρια Ελλη ηταν φιλοξενη και εξυπηρετικη και το σπιτι σε εξαιρετικα κεντρικο σημειο.
Marina
2016-10-06T00:00:00Z
Romtype
Helt hjem/leilighet
---
Eiendomstype
Leilighet
---
Plass til
4
---
Soverom
Kalamata, Hellas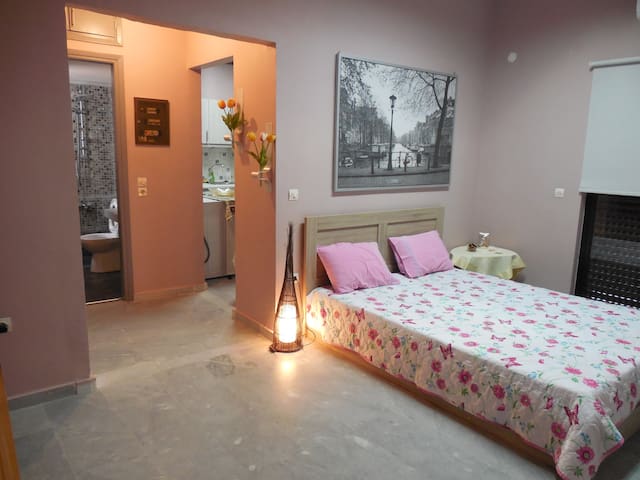 Reformed appartment close to the beach, the city center and all kind of shops, restaurants, bars. Walking distance from the dance theater and the historical center. Perfect for families with max. two kids or three adults. Fully equiped kichen.
Η καταχώρηση ήταν ακριβής. Το διαμέρισμα ήταν πολύ καθαρό και όμορφα διακοσμημένο. Πολύ κοντά στο κέντρο της πόλης πρόσβαση με τα πόδια περίπου 10 λεπτά. Η οικοδέσποινα ήταν πολύ φιλική και πρόθυμη να μας εξυπηρετήσει.Είμαστε πολύ ευχαριστημένοι από την διαμονή μας!
ΒΑΣΙΛΙΚΗ
2016-08-17T00:00:00Z
Ακριβης καταχωρηση, προσεγμενο, ευαερο και καθαρο διαμερισμα σε καλη τοποθεσια, κοντα στο κεντρο (10'-15') με τα ποδια. Πολυ φιλικη και ευγενικη η Poppy δεν ειχαμε κανενα παραπονο. Πρωτη επιτυχημενη διαμονη στο airbnb, τις προηγουμενες φορες ειχαμε απογοητευτει!
Vaso
2016-09-08T00:00:00Z
Πόλυ όμορφο διαμέρισμα, ολα είναι όπως περιγράφονται και όπως φαίνονται στις φωτογραφίες. Πολύ καλή τοποθεσία κοντά στο ιστορικό κέντρο. Η κυρία Πόπη είναι πολυ φιλική και εξυπηρετική, μας βοήθησε με ο,τι χρειαστήκαμε. Το συστήνω ανεπιφύλακτα.
Maria
2016-09-11T00:00:00Z
Η κυρια Poppy ηταν φιλικη κατα την προελευση μας στο διαμερισμα και εξυπηρετικη. Μετα την αναχωρηση μας υπηρξε μια παρεξηγηση που με την επικοινωνια στην airbnp λυθηκε. Το διαμερισμα ηταν καθαρο και σχετικα κοντα στο κεντρο. Ηταν εξοπλισμενο οπως περιγραφεται. Το παρκιν ηταν ανετο. Υπηρχε προβλημα με θορυβο απο τον δρομο και απο την απεναντι πολυκατοικια, ( αυτοκινητα, μηχανακια , φωνες , γαυγισματα ) καθως το διαμερισμα ειναι πολυ στενοχωρο και η ηχομονωση στο μπανιο (που ειναι μεσα στην κρεβατοκαμαρα και εχει παραθυρο προς τον δρομο) ειναι μηδαμινη. Σημαντικη η ελειψη παντζουριων, ειναι μεγαλο προβλημα για οσους τους ενοχλει το φως του ηλιου.
dimitris
2016-09-25T00:00:00Z
Το διαμερισμα ειναι οπως περιγραφεται. Η ποπυ ειναι μια πολυ ζεστη οικοδεσποινα που σε υποδεχεται με ενα πολυ μεγαλο χαμογελο οπως αυτο φαινεται και στην φωτογραφια του προφιλ της. Η τοποθεσια του ειναι πραγματικα βολικη καθως σε 5 λεπτα με τα ποδια βρισκεσαι στο ομορφο κεντρο της καλαματας.
Ioanna
2016-12-05T00:00:00Z
Apartment is sunny bright, clean and well equipped. Despite of city centre the place is quiet and calm. There are many shops and bakeries around. We really enjoyed our stay and recommend this apartment and Poppy as a host.
Serge
2017-03-05T00:00:00Z
Τελειο σπίτι πεντακάθαρο και πολυ φιλόξενοι οικοδεσπότες
Αφροδίτη
2017-01-27T00:00:00Z
Το διαμερισμα ειναι πεντακαθαρο, πληρως ανακαινισμενο και η οικοδεσποινα πολυ ευγενικη και φιλικη! Εκτος απο ενα θεμα με το θερμοσιφωνο που απ'οτι καταλαβαινω ηταν προσωρινο, ολα ηταν υπεροχα! Ηταν πολυ κοντα στο κεντρο, και στην παραλια προσβασιμο ακομη κ με τα ποδια.
Vivi
2016-10-30T00:00:00Z
Romtype
Helt hjem/leilighet
---
Eiendomstype
Leilighet
---
Plass til
3
---
Soverom
Καλαμάτα, Μεσσηνίας, Hellas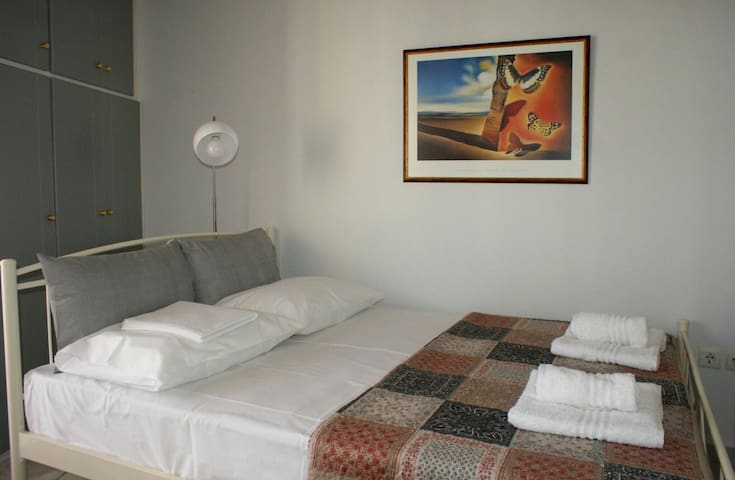 Trikolonoi - Airbnb
:
Gjennomsnittlig

4.69

av

5

stjerner fra

719

gjesteanmeldelser
1

–

18

av

300+Utleieleiligheter
Oppgi datoer for å se fullstendige priser. Ekstra gebyrer gjelder. Skatter vil kunne tilføyes.