This is a beautiful, very private apartment on one end of a large log house on 50 acres. Coker Creek curls and sings for half a mile through the property. Secluded, with the restorative feel of a retreat. Luxury space in the forest. Comfort in the heart of Nature. We are a very green family with an enormous appreciation for the beauty and wisdom of the natural world, our setting and our sanctuary. We maintain the rest of the house for occasional visits from family and friends.
Coker Creek, just outside your windows, curls around this house. An island we feel to be magical and a good swimming hole are a rock-skipping hop away. Trails thread the 50 acres, most of which are accessible to renters. You will feel private and safe here, nestled in Nature and at the same time comfortable and bathed in beauty. Extra porches and a huge game room with fire place are part of the common ground. Private meditation space upstairs, and an extra small room downstairs that could be fitted out as an office. Tell us your needs.
We are in the National Forest, so abundant opportunities for outdoor wonderment exist. Hiking, waterfall viewing and swimming, canoeing and kayaking, photography, lake-paddling, fire-fly watching, taking joy in the unfoldment of natural events. Small, historic towns to visit. Art and music opportunities. Some antiques, a few restaurants, but mostly it's about the glory of being outdoors in the nurturing murmur under tall trees. The tall trees (80-100' tall pines especially) have made getting wifi and satellite tv difficult. Right now, there is limited wifi at the house, and there is satellite tv, but not all channels are available. Weather affects reception.
This was a truly wonderful, one-of-a-kind experience and space, really heaven on earth. Barbara did so much to make the time very special, and went above and beyond to help me feel at ease and comfortable. I traveled with my cocker spaniel, Ariel, whom she treated as her own. The trails and woods were stunning and quiet, perfect for the private retreat I needed. I would highly, unreservedly recommend this lovely space.
Julie
2016-12-11T00:00:00Z
My husband, our dog and I had a wonderful time at the cabin! Everything was VERY clean and inviting, making it easy to relax inside on a rainy day. The bed was very comfortable with lots of pillows and warm blankets, making it easy to sleep in. The kitchen was spacious and equipped with everything we needed to eat in all 3 nights we were there. We spent lots of time around the fireplace, and enjoyed the panoramic views of nature all around us. Outside the cabin, the creeks water flow was soothing and enjoyable. Our dog had so much fun fetching sticks and running through the water. Across the creek, there is a small island on the other side which was fun to explore. Lots of beautiful moss and neat rock formations. Barbara is wonderful host and kind person. The cabin was wonderful, the outdoor setting was perfect, and Barbara was a delight.
Margi
2017-01-02T00:00:00Z
This is a hidden jewel; I couldn't have been more pleased. The property is beautiful and serene. The house has lots of room, with a massive kitchen.
Nancy
2016-10-10T00:00:00Z
Romtype
Helt hjem/leilighet
---
Eiendomstype
Leilighet
---
Plass til
4
---
Soverom
Tellico Plains, Tennessee, USA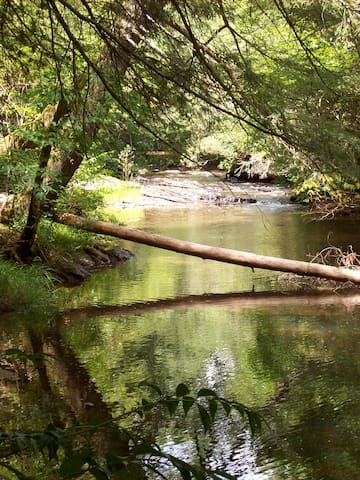 Private ground level of private home. Hosts live upstairs. Private entrance, living, dining, equipped kitchen, linens. Trout river adjoins property. 6 miles from Great Smoky Mountains National Park, Cades Cove entrance. Lovingly furnished with antiques.
This location is unique in that it is situated on the Little River, a trout fisher's delight. In the summer it's perfect to relax in the cool water. The furnishings are upscale and comfortable.
I love the fact that it is a rural location within a short distance to tourist meccas and nature lovers delights. There are upscale and down-home restaurants and the 12 million tourists who come to this area each year find a plethora of activities involving nature or tourist thrills.
I truly wish I had enough adjectives to tell Georgene and Andy how wonderful our stay was at their home. The photos do not do it justice. The home was immaculate and their was peach preserves, English muffins and cream cheese waiting on us in the fridge. Both hosts were so kind and friendly and eve their dog Cindy was great. Lots of things to do in the area but we enjoyed sitting out front and down by the river just watching and listening to all the beautiful sounds. We enjoyed Georgene telling us about all the places she had been and where each antique in her home was purchased. Would love to have more time to sit and talk with both Georgene and Andy (loved his Scottish accent)! We will be back and would highly recommend this home. Thanks. Earl and Pat/Buchanan, Ga.
Pat
2015-08-04T00:00:00Z
I cannot say enough good things about this AirBnB. Georgene and her husband were so welcoming and helpful with anything we needed. Honestly, we preferred to keep to ourselves and stayed out of the house a lot of the time. Georgene knew this and didn't "bother" us unless we needed help. Any time I needed assistance, she was only a text message away! There was also a doorbell I could ring if I was in the house. The accommodations were exactly as pictured on the website! I have never stayed in such a nice place! We are B&B goers, so we know what to expect, but this was above and beyond. All the furniture has been gathered from their travels around the world, which was awesome. The place was meticulously clean- I feel like I could have eaten my dinner off the floor! The house was stocked with everything we needed to cook meals, as well as some additional food in the fridge and freezer, if we wanted it. Georgene baked some delicious zucchini bread which I ate on for several days- it tasted fantastic every day! :) The house truly is tucked away into the mountains. There are a series of twisty, narrow mountain roads to contend with in order to access it, so if you're not comfortable behind the wheel of a car, this is probably not the location for you. However, my husband is an excellent driver, so we didn't mind it. It also allowed for some beautiful mountain views on the way up! Plan on about 45 minutes to get to Gatlinburg from the house, if you want to go.
Joanne
2016-05-14T00:00:00Z
Georgene was great about communicating before our arrival and was a very gracious host once we arrived. The home was just as listed and even more lovely in person. It was nice to have our hosts close by if we needed anything, but we always felt like we had plenty of privacy. If we ever return to the area, we would certainly stay here again!
Sarah
2016-06-03T00:00:00Z
Georgene made us feel very welcome to her home. She was gracious and always willing to share recommendations about local dining. We were always pleased with her recommendations. We love the area and are pleased to find such a great and affordable place. We will definitely go back.
Katrina
2016-08-07T00:00:00Z
Our experience at the Riverside Romance was nothing less than perfect. It is a very clean and relaxed atmosphere to come to after a long day of hiking! Georgene was a very welcoming host, she showed us around the gorgeous place.
Camila
2014-12-22T00:00:00Z
Me and the Misses wanted to take a spontaneous last minute trip since we both had been blessed with some additional time off in our busy work schedules. We knew we wanted to stay in the Pigeon Forge/Gatlinburg area, but most on Airbnb did not have a kitchen or were just a private room. That's when we came across Georgene and Andy's place. Didn't know much about Townsend, but saw it was centrally located to smoky mountain national park (7 miles), Maryville, and Knoxville plus right off the river. I booked it on the spot and within the hour Georgene had accepted our reservation. Any reservations I had about Riverside Romance melted away after meeting our hosts. Georgene met us downstairs upon our late arrival. She walked us thru the downstairs apartment answering any question and questions I didn't even know I had. In our time spent in the apartment we felt we could come and go as we pleased, but if and when we needed anything Georgene and Andy were a doorbell ring away. They truly go out of their way to delight their guests. We enjoyed spending time with both of them and exchanging stories. We felt like we were staying in an inlaw apartment with an aunt and uncle, not someone we met 24 hours ago.
Noel
2015-11-22T00:00:00Z
Our airbnb experience with Georgene in Townsend, Tennessee was the best we have had. She provided a beautiful home with many conveniences and extras. She and her husband were friendly and helpful. We felt welcome on arrival and relaxed when we left. Excellent experience all around. Martha and Thurman Ragar
Martha
2015-11-15T00:00:00Z
Enjoyed our time at this lovely apartment in Townsend. Well stocked kitchen, and overall the unit is quite roomy. We were there for 4 nights and it was nice to be able spread out instead of being confined to a hotel room. Reasonable rates. Thanks for everything Georgene.
Mary
2015-11-01T00:00:00Z
Romtype
Helt hjem/leilighet
---
Eiendomstype
Leilighet
---
Plass til
2
---
Soverom
Townsend, Tennessee, USA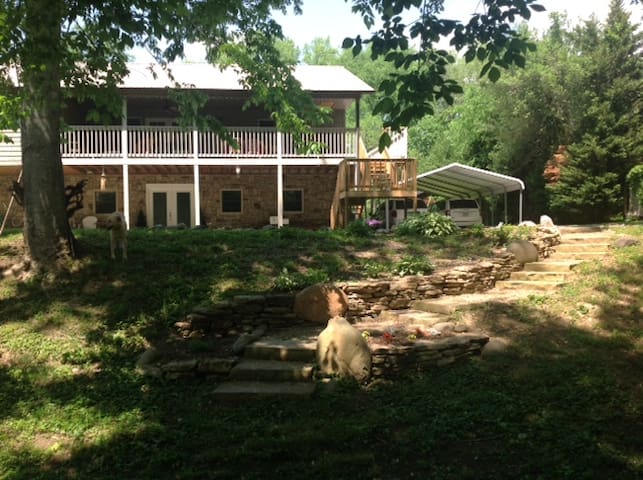 Great condo. Real value for families. On the Little River, 1000 ft off bike path, convenient to shops and restaurants. 5 minutes to the Cades Cove entrance of the GSMNP. Horseback riding, golf, mini golf, fishing, tubing, bicycling, hiking. Pricing includes all taxes.
One level, on the river. Good for families, business traveler, elderly. Wheelchair accessible. Parking out front. Patio on back.
Stable nice neighborhood.
Romtype
Helt hjem/leilighet
---
Eiendomstype
Leilighet
---
Plass til
6
---
Soverom
Townsend, Tennessee, USA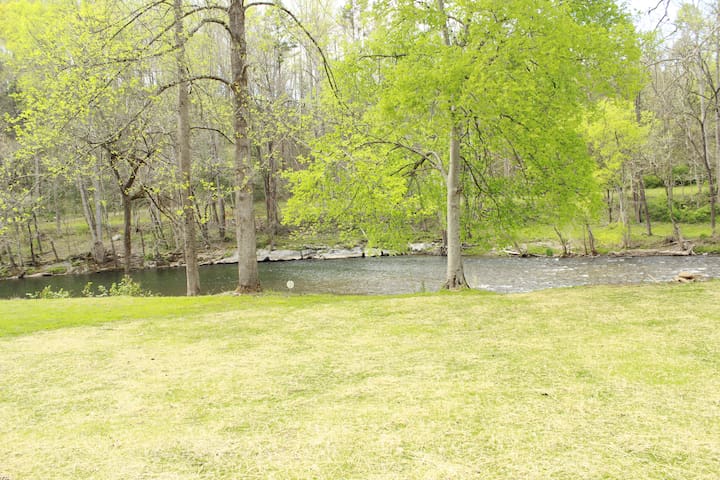 This recently refurbished studio garage apartment is only 100 yards from your own private dock on the beautiful Tennessee River. We have something for everyone here. Enjoy the peaceful river just outside your door or drive over and experience the grandeur of the Great Smokey Mountains. For a little excitement, check out the Class 4 rapids on the Ocoee River. There are also many local hiking trails and an ATV park at Wind rock Mountain 30 minutes away.
Studio apartment new construction, Wood floors,granite counter tops,full kitchen, queen bed, triple dresser, washer and gas dryer. has gas heat and air conditioning, additional heater in bathroom Very cozy space recliners can be pushed together to form a love seat. Small deck with chairs. table, fire pit and grill available. Stone terrace by river with seating and fire pit. Wood furnished.
I live at the edge of a housing development with playground, pool, park and boat launch available. I have 5 wooded very private acres associated with my home, there is 250 feet of level waterfront.
Patricia was a great hostess & a very interesting gal. We were able to spend some with her & thoroughly enjoyed our conversations. Her apt. is the greatest, small but with everything you could possibly want including a washer & dryer. You couldn't ask for a better location, we hope if traveling that way again to be able to book her place.
Irma
2016-12-02T00:00:00Z
Patricia was an excellent host. Her place was beautiful and had such great scenery. Communication with her was very easy. Would love to stay here again!
Kiersten
2016-11-13T00:00:00Z
Space was clean, highly upgraded with beautiful granite counters and memory foam bed and tile bathroom. Snacks provided by Patricia to my son were spot on and very much appreciated. Location was quiet and had squirrels and deer to watch. Would stay again and again.
Jeff
2016-12-18T00:00:00Z
Romtype
Helt hjem/leilighet
---
Eiendomstype
Leilighet
---
Plass til
2
---
Soverom
Kingston, Tennessee, USA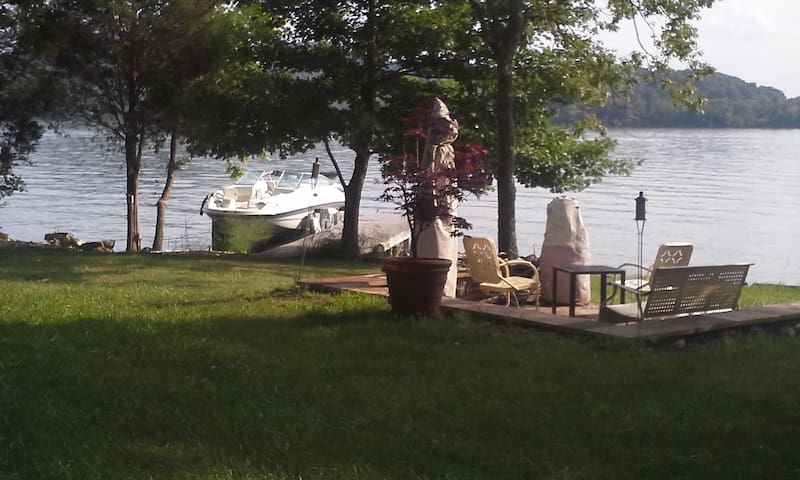 Unobstructed views of Mt. LeConte, Gatlinburg, and the ski slopes of Ober Gatlinburg. Enjoy your morning coffee on the balcony while watching the sun rise over the mountain.
NEW ADDITION - Just added January 2017: PRIVATE secure WiFi, fast speed internet for your convenience. Added December 2016: large walk in shower, new kitchen counter, bathroom sink and a fan installed over the bed. This is a 400 sqft studio condominium with a queen size bed and a queen size sleeper sofa with upgraded memory foam mattress. It is located on the 2nd floor (no elevator). I clean the condo personally so it is just right. Unlike hotels, I wash all blankets and comforters after EVERY guest. There is also a small but fully equipped kitchen with all you need to "cook at home" just supply your own meals. I supply plenty of towels, washcloths, beach towels, extra linen, coffee, bottled water and snacks, and a couple of laundry detergent pods if you need to wash clothes (coin laundry in clubhouse). No worries if you forget your shampoo or soap, I leave starter supplies of both. You will also find a large library of DVDs (200+). Unlimited firewood is provided during the cold months. So just bring yourself and your clothes and enjoy the beauty of the mountains! 10 to 14 days before your arrival, you will receive a welcome packet by email. This packet will include: -A welcome letter containing your door code for the keyless entry and confirmation of your check in/check out dates and times -Directions including the address and unit number -A list of things provided for your use during your stay -A list of things to do in the area including restaurants, website links, and app information for your phone or tablet
Very quiet resort at the top of the mountain! Don't be surprised if you even see a bear! The property is very peaceful with plenty of level parking. The pool and hot tubs are open from 8 am - 9:45 pm.
Melanie's lovely cosy apartment was a real haven for us on our visit to the area. It is a really special place with the most incredible view of the smoky mountains!! The photos don't do it justice! We loved all the little touches that Melanie made to make our stay particularly enjoyable and relaxed. It was really the perfect place to stay! Melanie was a great host - very communicative and helpful, with great instructions and tips. evrything was perfectly organised, clean and very comfortable. Thank you for a wonderful time in the Smoky Mountains!
Natasha
2016-11-13T00:00:00Z
Our stay at Melanie's was even better than I expected, the pictures don't to this listing justice. Although we did not meet Melanie & Joe they were readily available via emails or by phone. Before our trip Melanie sent us all the information we needed & a great set of directions, this come in extremely handy since our phone gps was giving us inaccurate directions.
Marie
2016-06-10T00:00:00Z
Melanie's places was by far the highlight of our trip! Very clean and the views were stunning! I made a mistake during booking, accidently leaving a day in-between our check out at one place and our check in with Melanie, but Melanie had texted us some suggestions for a hotels and activities to kill some time which just went above and beyond! We have already talked about booking for the fall and I can't wait to go back!
Taylor
2016-07-14T00:00:00Z
Melanie and Joe's place was fantastic! It was cozy and clean and had an amazing view. Melanie was very responsive.. whenever I had any questions she would respond within minutes. We also loved the collection of DVDs :) Wonderful experience overall!
Emma
2016-06-13T00:00:00Z
Absolutely awesome. The views of the mountain were so nice. Melanie was incredibly responsive and even gave us a list of things to do and places to eat. If anything the photos undersell how nice it is. It was incredible to have our bed right next to the window where you could look out and see the mountains. Highly recommend it and the price was great.
Brian
2016-10-17T00:00:00Z
Awesome place. Feels like a tree house. Super clean. Clear and easy to understand instructions. Amenities are awesome even though I didn't use them. If I'm ever in Gatlinburg again, I will always stay here.
Chris
2016-05-16T00:00:00Z
We had great time in this place. It is a great place for the beautiful mountain view, and great service from Melanie. Definitely recommend to everyone! Linda
Linda
2016-09-04T00:00:00Z
Melanie's place is amazing! We only spent 2 nights but I didn't want to leave. We were taking a 2 week road trip and stayed at 3 places with Airbnb; Melanie's by far took the cake for the best. It is literally on top of the mountain. We were there during a full moon and where the bed was situated we could fall asleep star/moon gazing. She was more than thorough with directions and even left plenty of coffee/snacks for us. I have already recommended this place for a meeting ground on the next family vacation! Highly recommend.
Ashley
2016-05-24T00:00:00Z
Romtype
Helt hjem/leilighet
---
Eiendomstype
Leilighet
---
Plass til
2
---
Soverom
Gatlinburg, Tennessee, USA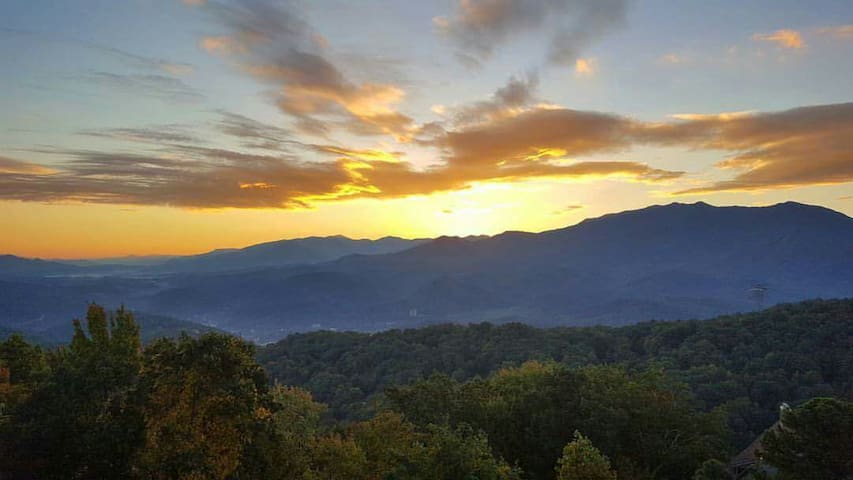 Apartment consists of 2 en-suite king bedrooms with a small kitchenette area in between. Price listed is for 1 or 2 persons, in the same bedroom. The bathroom offers a shower only. There is an additional en-suite, king bedroom on the other side of the kitchenette. It is an additional cost for this 2nd bedroom. The apartment with both bedrooms can sleep 4. We will not rent to separate parties so no need to worry about your privacy. Near town and the arts & craft community.
Lower level of a 3 level home with separate entrance. If you are staying, there will be no one renting the floor above you. There is a hot tub right outside your door. The kitchen has a small fridge, microwave and coffee maker. Flat screen TV's and a boom box also provided. Laundry room available and outside table and chairs with a charcoal grill.
Dead end street. Quiet area in the arts and crafts community. Convenient to town.
We rented the place for a last minute stay in Gatlinburg. Laurie quickly confirmed the rental within the hour and gave us good directions. The only thing I would mention is if you are not familiar with the area I would try to get there before it gets dark. The hot tub was hot and ready for us when we arrived. The place was very clean and we had everything we needed! Such a great couple of nights!
Ariel
2016-04-25T00:00:00Z
I had a great stay at Lauries cabin. The apartment was updated, clean, and although the apartment was in the bottom level of another cabin it was private and quiet during our stay. The only negative I noticed was that the bed was broken in the middle and sagged but was still quite comfortable.
Andrew
2016-02-19T00:00:00Z
Great house, great location, clean and nicely appointed. Would recommend to anyone visiting The area
Randal
2016-11-11T00:00:00Z
We had a great time! Perfect location for exploring the Smoky Mountains and nearby Gatlinburg. Really enjoyed relaxing in the hot tub every evening after hiking. Nice views from shared deck. The only thing that could have made it better was a full kitchen (although we did enjoy using the grill one night).
Tom
2016-04-29T00:00:00Z
Laurie's house is great! It's close to the downtown, and it has beautiful view! The hot tub is a plus especially after a whole day's trail.
Susie
2016-03-16T00:00:00Z
We had a great experience at Laurie's! Awesome location with a great view. We will definitely try and make it back.
Ethan
2016-03-21T00:00:00Z
We at an amazing time staying at Laurie's. Booking was super easy and Laurie was very responsive via email and text. The room was perfect! Clean, good size, and comfortable. The entire space had a great indoor/outdoor feel. It is situated in the mountian and it feels like an treehouse getaway! Kitchen was perfect for what we needed and there was a grill outside. Dog also loved the space. Great yard for exploring and getting him some exercise. Awesome spot! We will definitely book here again!
Arianna
2016-04-18T00:00:00Z
Had a very nice time. Nice clean room and enjoyed the balcony and hot tub. Was very private since the rest of the place was empty.
Aaron
2016-04-22T00:00:00Z
Romtype
Helt hjem/leilighet
---
Eiendomstype
Leilighet
---
Plass til
2
---
Soverom
Gatlinburg, Tennessee, USA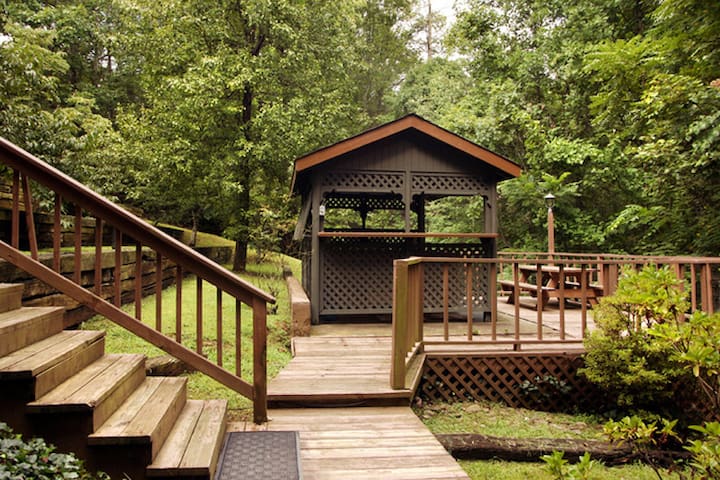 As they say, "There's no such thing as a bad day on the river." Beautiful, relaxing spot ten feet from the Little River. Enjoy the view, float in the river, or just use this convenient spot for a home base as you enjoy all that East Tennessee has to offer! Only 15 minutes from downtown Knoxville and UTK and a quick jaunt to the beautiful Smoky Mountains, Townsend, Pigeon Forge and Gatlinburg. Hiking, fishing, horseback riding and stunningly picturesque scenery are all in your back yard!
Comfortable beds for 5-6 in a warm and inviting apartment with the river just outside your door. (Additional aerobeds are available for additional guests.) You won't believe the view, and you can always float in the river for warm-weather fun!
Your Lazy River Landing paradise is near the end of a dead end road, so peace and privacy is the order of the day.
The pictures and description were very accurate. The apartment was very clean and comfortable. The setting was incredible! Wish I had more time to be on the river. Really enjoyed my leisurely morning on the patio watching the boats go by. Michael and Mary Lou were excellent hosts.
Bob
2016-08-30T00:00:00Z
Michael and Mary Lou were amazing hosts. They were extremely accommodating and gave us great suggestions for what to do in town. The space is extremely clean, and they really go above and beyond to provide everything you could need for your stay. I DEFINITELY recommend staying with them!
Jeannie
2016-05-23T00:00:00Z
What a beautiful oasis at Lazy River Landing!! The apartment accommodations were terrific and the perfect space for our family of 4 to stay and enjoy peace, relaxation and fun swimming in the river as well. Every little touch they added made me feel like they truly enjoy hosting guests here! A great place to enjoy the sounds of nature in the morning as you sit with some coffee or tea by the rivers edge!! We will definitely come back if we are down this way again!! Fabulous job Mike and Mary Lou!! Glad we chose your place for our first time using AirBnb!!
Bethany
2016-08-03T00:00:00Z
Mary Lou met us when we got there and I must say the space is much more than what is listed. They went above and beyond anything I expected. I have stayed with Airbnb many times and this was my very best experience. I will definitely stay there again. Mary Lou took care of all my needs. Loved the fact that there was a gift there for me and so many little things that they went out of their way for. A bottle of wine with a welcome note, candies and snacks, drinks, any bathroom and personal care needs, even a sweet little sound machine beside the bed. ***** Yes that is 5 stars. Loved my stay.
Glenda
2016-04-17T00:00:00Z
Mike and Mary Lou are the sweetest couple! They both were available to answer questions about local eateries, best places to visit and where to go hiking and if they weren't sure, they would reach out to their local friends and get the best suggestions for us. We had the entire bottom level to ourselves and it felt like our own personal space with our own entrance. I felt right at home with a literal waterfront location, we had private space both inside the apartment and outside - I felt totally comfortable sitting outside and reading as if I was at my own house. The neighborhood itself is off the beaten path, so it feels private and secluded, but it is still centrally located to both the city of Knoxville (with all the day and nightlife it offers) and the beautiful mountains (with all the hiking and nature it offers). My friend and I could not have been happier with this place and its hosts. We have already made a list of people we want to bring back - we will definitely be visiting again as soon as possible.
Alisa
2016-02-28T00:00:00Z
Mike and Mary Lou welcomed me from the time of booking through my arrival and during my stay. The place was exactly as described and then some. It was spotlessly clean, had every amenity I could have needed, and was very well maintained. The property was close enough to all that Knoxville has to offer but is out of the way enough to feel secluded. The river view is outstanding, and Mike and Mary Lou were amazing hosts, wanting to make sure I had everything I needed. I will definitely be back!
Michael
2016-08-12T00:00:00Z
Exactly as described, great hosts, and a wonderful experience! We will definitely be back in the spring or summer to stay again.
Jill
2016-12-15T00:00:00Z
Michael's place is hands down the place to stay in Knoxville. Very peaceful and right on the water and such an easy drive to downtown Knoxville.
Danny
2017-02-12T00:00:00Z
Romtype
Helt hjem/leilighet
---
Eiendomstype
Leilighet
---
Plass til
5
---
Soverom
Louisville, Tennessee, USA
All the coziness of a cabin in the woods, minus the chainsaw bear statues! Our above-garage apartment is open, light and modern, with a porch looking down into the creek, and secluded among the trees! Instagram: @cozy_farmstead *We were thankfully unaffected by the wildfires in Gatlinburg*
Our house is secluded in the woods, but only 45 min from Knoxville, 20 min from Maryville, and 15 min from the Great Smoky Mountain National Park. We are the perfect location for outdoor adventures. We are also relatively close to Gatlinburg and Pigeon Forge. The scenery is breathtaking here, and we absolutely encourage guests to take full advantage of being close to nature while you're here.
No neighbors! There is another house close by that is rented by long-term renters.
Our weekend getaway to the mountains was great, thanks in large part to Rachel and Greg's delightful apartment in the foothills near Walland. We found the space to be very cozy--we felt right at home. We especially enjoyed having a full kitchen, as we spent a good bit of our time cooking and relaxing around the apartment. Rachel has excellent recommendations for nearby outdoor excursions. We took her suggestion and did the 12-mile roundtrip hike up Mt. LeConte via the Alum Cave route. We hope to return soon!
Michael
2016-08-08T00:00:00Z
What a wonderful, secluded spot in the foothills of the Great Smoky's! We had a great 3 days hiking around the park and returning to the light and spacious apartment. The place is clean and has everything you need to be self-contained. We also fell love with the sweet dogs. Would absolutely stay again!
Jacinta
2017-03-05T00:00:00Z
What a beautiful property Rachel and Greg own, 230 acres , a beautiful creek runs down their property line , tons of trees and a great view of the stars at night. It was a nice getaway for us, very cozy upstairs apartment with a private balcony . They were easy to communicate with and gave great directions , they're about an hour away from pigeon forge / gaitlinburg.. side note : their dogs are extremely loving and friendly and one decided to greet us as we were driving up to their house, so just drive up slow they'll move out of the way . We'd definitely stay again!
Christina
2016-12-09T00:00:00Z
Rachel & Greg's home couldn't be more perfect. From check in to check out, they were friendly and helpful. They gave us the names of some great trails and restaurants in the area. We are already looking forward to staying here again. We enjoyed that the place had EVERYTHING we needed. We were able to cook our own meals with all the supplies and amenities (a grocery store less than a 10 min. drive away) If you are looking for a place to stay while hiking the Smokies, STAY HERE!! About a 15 min drive to the park and tons of close places to hike, explore, and drive. Bottom line: Rachel and Greg's is convenient, beautiful, quiet, and so relaxing. Highly recommended.
Hayley
2017-03-17T00:00:00Z
Perfectly secluded place away from the business of the city. Rachel was very nice by offering all kind of useful information, and we would definitely love to come back time in the spring.
Iuri
2017-01-31T00:00:00Z
We had an excellent stay here, not a single complaint. It felt just like home except much nicer. Very easy access to the smokies via Gatlinburg.
Alex
2017-01-03T00:00:00Z
Initially were a bit scared as to where or how to get to the house. Clear signs helped us on our way in once on the property. We were happy and excited once we were pulling up the driveway and saw two happy dogs running to greet us! Rachel and Greg came out to show us the place and gave us a few suggestions on where to go and what to check out close by. They were a lot of help making us feel comfortable and answering any questions we had about the area. Smokey Mountain park is only a few minutes away (depending on how fast you drive), the town was only about a 15 minute drive as well. Beautiful scenery everywhere you looked and to be honest, even just staying in and enjoying the sound of the small creek in the back was relaxing. We wish we could stay longer but unfortunately, life goes on outside of the paradise we were in. We are anxious to visit again!
Edgar
2017-03-24T00:00:00Z
We had a great experience staying here! Rachel and Greg are very welcoming hosts and the apartment is charming and cozy. Combine that with being surrounded by the beauty of the mountains and you've got the perfect place to stay!
Taryn
2016-03-02T00:00:00Z
Romtype
Helt hjem/leilighet
---
Eiendomstype
Leilighet
---
Plass til
3
---
Soverom
Walland, Tennessee, USA
Nestled in a Victorian Home built in late 1800's, this apartment has a private entrance and all the amenties. It's only a five minute walk to the Old City, 20 minute walk to UT campus, and a 45 minute drive from the Smokies. Make yourself at home in our cozy apartment while you experience the beauty of Knoxville, TN.
This apartment offers all the basic amenities for your stay. The rooms are filled with light and offer a cozy atmosphere for your stay.
Fourth & Gill is a historic neighborhood with sidewalks perfect for leisurely strolls or shady bike rides around gorgeous Victorian and Queen Anne homes. A local park or one of Knoxville's YMCAs is only a few blocks away for exercise or kids who want to play.
Dan and Mary were very hospitable during our stay in the apartment. We walked to and from apartment as we did not move our car for the duration of the stay. Highly recommend for anyone traveling to events in the Old City/Downtown area of Knoxville. The apartment itself has older character/architecture which gives it a very nice feel.
Tim
2016-09-25T00:00:00Z
Dan & Mary's place was great! A very nice older home that was a quick walk or uber ride to all the main attractions Knoxville has to offer. Will definitely stay again the next time I'm in town for a UT game!
Kyle
2016-11-13T00:00:00Z
We were so lucky to find Dan and Mary's rental. If you don't mind walking, it's a nice stroll to the hub of everything downtown. The unit was super clean and very cute! The kitchen has everything you need to do some light cooking. They even had fresh baked cookies for us, that really made us feel so welcome. Next time we find ourselves near Knoxville, this will be our first choice of accommodation.
Gina
2016-11-21T00:00:00Z
Pros: The neighborhood is very pretty and with a lot of historic houses and the Victorian is quite beautiful. It is spacious and also not far from Old City, walkable in the day. Dan was also very nice. The snacks left were a nice touch. Cons: The potential renter should know that this house is at the edge of the neighborhood in an industrial area and literary backs up to a very busy road and the highway. It felt secluded walking around the edge of the house to the back without great lighting at night for part of the way. It took a lot of getting used to the content rumble of the trucks zooming by and from the top floor the noise comes right in with the windows open, which had to be because it was so stuffy. It was hard to sleep well with the noise, hard mattress and stuffiness. If you don't mind these things plus dusty and shabby, it is a good spacious place close to town.
Tammy
2016-03-12T00:00:00Z
Was super kind and considerate. Called to double check our arrival time and would check in periodically throughout the weekend to make sure we had everything we needed.
Madison
2016-04-04T00:00:00Z
I give this unit and experience 5 stars because it was an excellent value and pleasant experience. Got to stay in a great neighborhood, in a surprisingly spacious apartment with friendly and accessible hosts, all for a steal of a price. It's upstairs, and in an old house with some quirks, but it delivers on what's described and has no nasty surprises. Definitely give this one a shot if you want a cozy place to stay and walk into town/meet some cool people!
Evan
2016-09-19T00:00:00Z
Dan and Mary were super professional and accommodating, periodically checking in. The place is very charming and private, and has all the practical amenities. Had a great trip!
Gerrit
2016-09-18T00:00:00Z
Although the hosts were out of town everything was smooth for our arrival. They kept in touch via e-mail and gave alternate numbers in case there was any problem. Their house binder provided all the info we needed to get around. It seemed like we were far from downtown when we drove in, but that was the driving directions. We easily and safely walked to Old Town and Market Square every day. We loved the Brewery down the street and chatted with the locals. The place reminded me of one of my college apartments-a bit quirky, but very functional! It certainly met our needs for a long weekend in Knoxville.
Diane
2016-11-08T00:00:00Z
Romtype
Helt hjem/leilighet
---
Eiendomstype
Leilighet
---
Plass til
4
---
Soverom
Knoxville, Tennessee, USA
Comfy private two-bedroom apartment, with stain-glass windows and walnut wood floors. Nestled on 120 acres in the Great Smoky Mountain foothills. Bedrooms open onto balcony with mountain and forest views! Full bath, great room, full kitchen. Relax!
If you like privacy, quiet and reclusive locations, this is the place for you! Your two bedroom apartment is attached to our home which sits in the middle of 120 acres of private land. You have a fully equipped private apartment with your own entrance and free parking. Included are two bedrooms, each with a doorway to a large outside balcony, great room with living area, full kitchen, full spacious bathroom, and large entrance porch. The space has no cable TV but does include a DVD player and TV with plenty of DVDs. Located 15 minutes south of Maryville, and 20-40 minutes from everything around here, Great Smoky Mountains National Park, Cherokee National Forest, Hwy 129 "the Dragon", Cherohala Skyway, Tuckleechee Caverns, Chilhowee Lake, Little River, Gatlinburg, Pigeon Forge, Dollywood, Knoxville, TYS airport, and many other scenic attractions.
The location is isolated and the setting is refreshing! No other houses or lights are normally visible except for Look Rock Firetower and an occasional vehicle traveling up the mountain. We have a beautiful dark night sky with the milky-way often visible. Great for star-gazers!!
Mary was the best host in the world and her property was absolutely perfect! The cabin was spacious,comfortable, and private. We could come and go as we pleased. This was the perfect place to escape to for a quiet weekend away. She gave us such a warm welcome even though our flight arrived late and we didn't make it up there till midnight! Mary was also very helpful in suggestions for trail hikes and other sights in the national park. The airport was a short 15-20 min drive away so it was conveniently located as well. This place is a gem and I sure can't wait to return.
Gabrielle
2016-02-16T00:00:00Z
Mary was very inviting and allowed us to check in early so that we didn't have to wait around town. The location is incredibly peaceful and quiet. We only stayed night but we left feeling refreshed and relaxed. If we're ever in the area again we'll definitely be returning to Mary's!
DJ
2016-04-03T00:00:00Z
My first ABNB stay and what a great experience. Our host was very accommodating with our arrival schedule and was very helpful with local tips for our two days of traveling in national parks. Beautiful property well kept and nicely furnished. We hated that we had to leave. Can't wait until we can come back to the area.
Tim
2016-03-18T00:00:00Z
It's a lovely house and great mountain view. You have entire privacy during stay and even enjoy a balcony. The host is very nice and helpful, considerate of everything - directions, amenities, breakfast in the morning. It's a little difficult for my car to climb the mountains to get there, but it's worth it. All in all, it's a good choice if you like some time of country life in Tennessee.
Kaiwen
2015-12-24T00:00:00Z
Mary was an incredible host. She maintained contact from the time the reservation was made to the moment we arrived. The place is tucked away in a beautiful valley near the Smoky Mountains and can be a bit challenging to find. Mary's directions were accurate and we were able to find her place in the dark. The apartment is much larger than it looks in the pictures and has very comfortable beds and sitting spaces. I wish we had planned to spend more time at Mary's place. She provided us with eggs, coffee, milk, orange juice, granola and grits to get us going in the morning and also provided some great suggestions for hiking and mountain drives in the area. If we make it back to the area, we will definitely stay at Mary's place again. It was a pleasure.
Kevin
2015-12-28T00:00:00Z
This was an amazing place! Our only regret was that we were not able to stay longer. Beautiful view, and a host that went the extra mile for us. Mary is an excellent host, giving us a tour and being at call when we needed some small things.
Alex
2016-03-27T00:00:00Z
Completely awesome. Quiet and peaceful.
Danni
2017-02-13T00:00:00Z
This is a really great house to live in the mountains, clean comfort and spacious. The full well-equipped kitchen helped my family a lot for cooking. The host is very knowledgeable, she knows everything about the Smokies,and she is really nice and helpful.
fan
2016-12-31T00:00:00Z
Romtype
Helt hjem/leilighet
---
Eiendomstype
Leilighet
---
Plass til
4
---
Soverom
Maryville, Tennessee, USA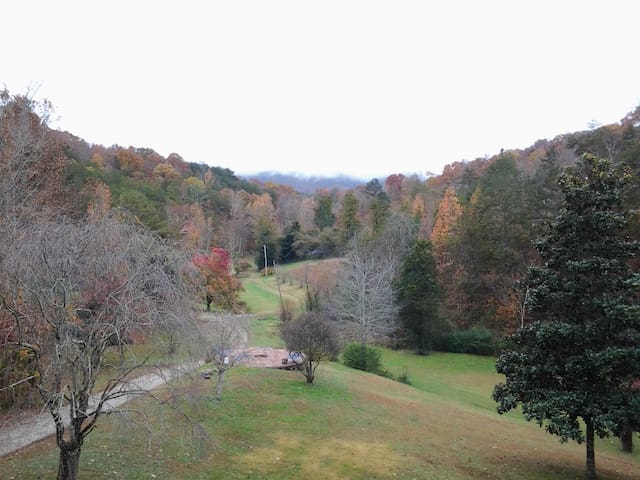 Absolute perfection awaits you in this breathtaking downtown condo! Features open concept with maple hardwood floors, gourmet kitchen with quartz counter tops, huge island with bar stool area, stainless appliances, custom back splash & lighting! Bathrooms renovated - new tub and tile in guest living space. This smart condo is a block away from Market Square and two blocks from Gay St. where dozens of great restaurants and bars await your visit. Garage parking available as well as rooftop pool and BBQ.
Romtype
Privat rom
---
Eiendomstype
Leilighet
---
Plass til
2
---
Soverom
Knoxville, Tennessee, USA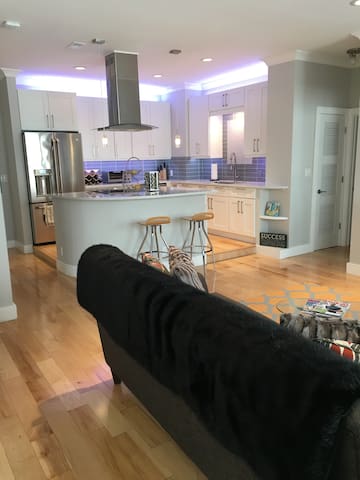 Stay in the guest room of this spacious and sunny 2 bedroom loft with an incredible view of downtown Knoxville. High ceilings, gorgeous bright natural light, and fresh flowers are all around the loft. This is the perfect location with Market Square and Old City restaurants, bars, and boutiques and the Tennessee and Bijou theaters just outside your doorstep. UT and Neyland stadium are a short walk away.
Large TV with HBO, On Demand, Hulu, and cable package The apartment is stocked with luxury linens and toiletries Cook with fresh herbs in the fully equipped and stocked kitchen French press with complimentary coffee and tea Washer and dryer in the loft There is a gym in the building This listing is for the guest room, to rent the entire apartment see the listing here: https://www.airbnb.com/rooms/9934963.
Downtown Knoxville is the best! There are so many great restaurants, bars, coffee shops, and boutiques just outside the doorstep.
Katie our host, was magnificent. She was very welcoming and charming. She made us feel at home instantly with a welcoming card that was very sweet. The apartment is located in the heart of downtown Knoxville which is walking distance to just about everything. Also, it was well kept and had a unique style. The pets are adorable and don't bother you however are playful if playing with them.
Paul
2016-03-09T00:00:00Z
It was great to find a clean and affordable stay downtown.
Maria
2017-02-15T00:00:00Z
Very sweet host Great location.
Bob
2017-03-30T00:00:00Z
Wir waren nur eine Nacht bei Katie und kamen auch relativ spät an, weshalb wir fast sofort ins Bett fielen. Katie begrüßte uns und erzählte uns kurz etwas über die Geschichte des Gebäudes, in dem das Loft ist. Die Wohnung ist mega cool und man fühlte sich in dem Zimmer sofort willkommen. Neben Wasser lagen auch Handtücher und Shampoo bereit. Ihre Haustiere Penny und Molly sind sehr zutraulich. Selbst wenn man alleine reißt, wird Molly (Katze) dafür sorgen, dass man in Katies Loft nie einsam ist. Das gesamte Appartment war sehr sauber und das Bett war äußerst bequem!
Hannes
2016-10-11T00:00:00Z
Everything about Katie's place is awesome! The location was perfect, walking distance to downtown and only a 5-7 min drive to University of Tennessee which was perfect for us because my boyfriend was taking a short course there! The apartment was decorated like it was straight out of magazine and felt super comfortable and airy because of the high ceilings. We only really saw Katie in the mornings but she was super friendly and her pets were adorable. Would 100% recommend staying here, you can't be the price and if we're ever back in Knoxville I hope we can stay here again! P.s. The mattress is heated, which my boyfriend loved!
Taylor
2016-06-04T00:00:00Z
We had a lovely night's stay at Katie's place. Her apartment is right smack dab in the middle of downtown Knoxville, so great for exploring! And I can't gush enough about how beautifully decorated the apartment is. Katie's aesthetics and eye for detail are divine!
Jackie
2016-08-05T00:00:00Z
This listing was great! We never got to meet Katie on our short trip but she was very responsive to messages and we loved Molly!
Chloe
2016-12-01T00:00:00Z
I showed up to the apartment and was very pleased to find how convenient it was to the building entrance. Katie was very friendly and was not in the apartment much during my stay, so even though we had just rented one bedroom we really had Access to all of the common areas. The pets were super sweet and I was a little surprised that you could not really tell pets lived in the apartment! It was clean and neat and felt like home!
Tiffany
2016-03-04T00:00:00Z
Romtype
Privat rom
---
Eiendomstype
Leilighet
---
Plass til
2
---
Soverom
Knoxville, Tennessee, USA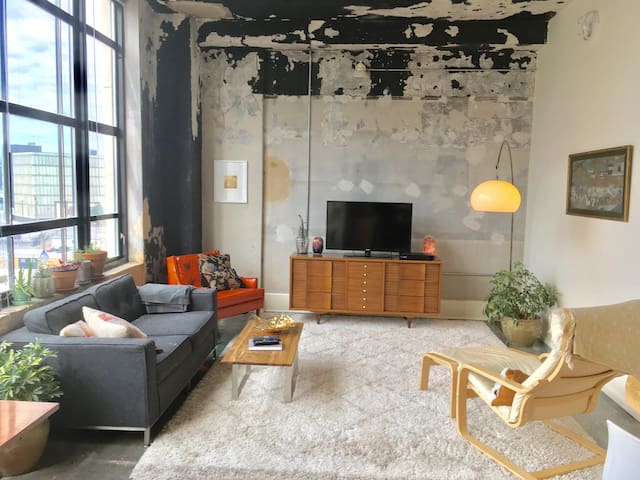 Private large remodeled upstairs 2 bedroom apartment in historic Oak Ridge. Aprox 750 sf. Has cable, wifi, stove, oven, fridge & freezer, toaster, coffee maker, light snacks, shampoo, conditioner, hair dryer, iron and ironing board. This apartment has beautiful wooded view from livingroom and back yard patio. Coded entry, so you can check in and out as you like. I don't charge more for weekends like most host and no cleaning fee.
Historic Oak Ridge neighborhood, beautiful trees, and relaxing space
Romtype
Helt hjem/leilighet
---
Eiendomstype
Leilighet
---
Plass til
2
---
Soverom
Oak Ridge, Tennessee, USA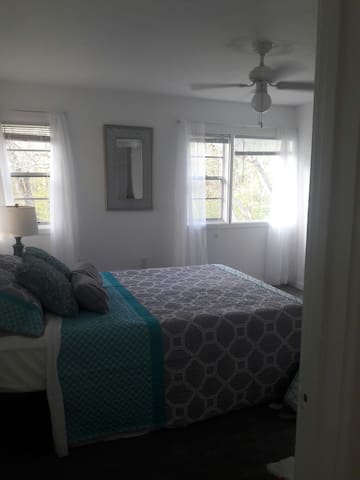 Next to I40 and about 15 away from downtown. Walgreens, Kroger, West town mall, turkey creek and 15 min away from university of TN
Romtype
Helt hjem/leilighet
---
Eiendomstype
Leilighet
---
Plass til
3
---
Soverom
Knoxville, Tennessee, USA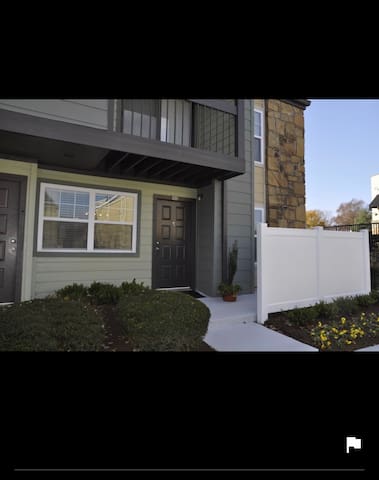 This 1BD/1BA efficiency apartment is full of Southern Charm! It is both private & peaceful, as this room w/kitchenette has its own keyed entrance & is located in a log cabin on a residential private, wooded lot, conveniently just 1 mile from many amenities. The comforts of town are nearby, yet the dead end location feels like you are miles away in the forest.
In this first floor, cozy, efficiency apartment (located at my home), you will be able to come & go as you please in this private entrance efficiency with semi-shared bath 1BD/1BA & kitchenette. There is a covered front porch with seating just for you located a few steps from your entrance. You are welcome to take your morning coffee here & gently welcome the day. Your bathroom Jack & Jill's with my home studio, which I use part-time 3-4 days a week. Sometimes clients need to use this restroom. Though the restroom is pretty much private, there is a chance that 1-3 clients will use the restroom in a given day, though many times I am either out of town or not even working on the days guests are here. Most often, guests are away while clients are here & there is no issue. We will always knock & lock/unlock so that it is immediately your space again. No one will have access to your bedroom as long as the door is kept closed. You have a lock on the bedroom side. The room has many extras that you may need while here including an umbrella, hair dryer, flat iron, heater, large table fan, sound machine, alarm clock, extra blankets, sheets, & pillow. There's also a fold out chair & table available & extra toiletries in the bathroom. As we all know, heat rises, so while there is central heat & air in my home, I set the temp to the middle floor, & this makes the lower floor cooler (your floor) & the upper floor warmer. There is a space heater in your unit if you need it. I just ask that you please do not leave it on when you are away. There is also a large table fan for those who need a fan to sleep at night. Also, there is a nightlight for your convenience upon entering the room at night. It is located just below the light switch so that you can see to turn it on. As for food, you are on your own while here, however, there is a refrigerator & microwave, as well as Keurig machine w/K-cups provided. You are welcome to bring your own preferred flavors or to donate flavors that you don't care for. There is also a Guest Information Booklet with tips & suggestions for your stay, including local places to eat plus my personal reviews or recommendations of each place. The info booklet will also provide you with things to know while staying here, such as where to leave your dirty towels, how to return your key at check-out, & the wi-fi password. Restaurants, scenic mountain drives, & things to do are all written with extreme care & detail for you. If you plan to have an extended stay, please let me know if you plan to have guests so that we can work it out prior to their visit. Pets are allowed to stay upon prior approval. Please let me know at time of booking if you plan to bring your pet, as well as type & size of pet. There is a large fenced in backyard right outside of your entry that is perfect for your pet's potty breaks. Also, your larger dogs are welcome to stay there while you are here. If you are extended stay & need to bring your large pet, this is ideal. The yard does not get used very much by my small inside dog, who will not interfere with your stay, as the rental is separate from my living quarters.
My home is situated on a private lot with trees around so it has a "cabin in the woods" feel, though you are only 1 mile to the nearest Wal-Mart, which around here, means you're in town! Hwy 411 is 1 mile away. Hwy 129/The Dragon is 3 miles. Downtown Maryville is 4 miles. Maryville College is 5 miles. Knoxville airport (TYS) is 9 miles. University of Tennessee @ Knoxville is 20 miles. Townsend, TN, is about a 30 minute drive, while the Cades Cove entrance to the Great Smoky Mtn. National Park is another 10 minutes. Sevierville/Pigeon Forge is a 45-50 minute drive & Gatlinburg is about another 15 minutes. Allow 20-30 extra minutes during tourist season for tourist traffic during the last couple of miles toward your destination if headed to these 3 towns. Oak Ridge National Laboratory is a 45 minute drive. Chattanooga is 2 hours from Maryville. Nashville is 3 hours from Maryville.
Thank you so much, Jill. Our stay was so short, but your place was amazing. Super cute decor, amazingly comfortable bed, and close to everything. We WILL be back. Thank you so much!
Sara
2016-04-10T00:00:00Z
We had a great stay with our own private room. Jill was very friendly and easy to communicate with. Would definitely recommend!
Keaton
2016-10-24T00:00:00Z
We really enjoyed our stay at Jill's! The space was small but cozy, and had everything we needed including a Keurig which was a sweet surprise for us caffeine-dependent students! The decorations were very unique and imaginative, and made the whole room feel homey--she even had the same welcome mat that I do at home :) Jill helped us to find the best scenic spots for us to visit on our trip, which we wouldn't have even known to look for otherwise. Thanks to Jill our stay in Tennessee was fun, comfortable, and memorable. We hope to stay with her again on our next trip!! :)
Olga
2016-10-28T00:00:00Z
Jill's apartment was the cutest, comfiest little hideaway that greatly exceeded our expectations! She had little notes throughout the apartment that really helped us make the most of our stay. The shower was amazing, the bed was super super comfortable, it really made us feel at home. We woke up rested and refreshed ready to start our long day of driving. I would 100% recommend this apartment, and Jill was such a great host! Hope to stay here again in the future!
Moy
2016-03-02T00:00:00Z
Jill's place had everything we needed for our time away! The space was beautifully decorated, clean, and contained a lot of great information about the local area and things to do. We were in town for a wedding and the location was easily accessible to Knoxville and surrounding locales. Plus, Jill let us bring our pup with us which was a huge bonus. Would definitely stay again if back in the area!
Alena
2016-09-26T00:00:00Z
Jill's place in Maryville was amazing. She was so hospitable and thorough about the space and the surrounding area. I have zero complaints and I would definitely come back. Jill is an outstanding host.
Ariel
2016-09-02T00:00:00Z
The visit was so convenient since we were traveling outside of normal check in hours with a dog. Jill acommodated wonderfully with self check in and was always available for anything but we didn't have any questions as the apartment was laid out and notes were left throughout giving tips and suggestions. We especially liked the fridge space and the book nook with a variety of books. We spent approximately 8 hours in the room to gobble a late night pizza and sleep before hitting the road again, but our needs were exceeded. The room and bathroom were impeccably clean and secure. Reading the info book made us want to come back immediately for a relaxing week that would include convenient hikes, drives, and hopefully a couples massage! Thank you and if we are fortunate to come back that way (possibly soon since we need to make the same drive twice in the next month) we will definitely see if Jill's space is available again. Thank you!
David
2016-06-05T00:00:00Z
My stay with Jill could not have been more comfortable. The room is cozy and quiet, and she has gone out of her way to make sure everything is there to make it feel like home. From a bottle of citrus water to extra toiletries, to a book of information (SO helpful!), to adorable labels on everything, I felt so at home here and I wanted for nothing. The area is quiet as well so it was a nice retreat after 7 hours on the interstate! Getting in was an absolute breeze and the yard was perfect for my pup to romp around in. Thanks for a great stay Jill!
Kate
2016-03-14T00:00:00Z
Romtype
Helt hjem/leilighet
---
Eiendomstype
Leilighet
---
Plass til
2
---
Soverom
Maryville, Tennessee, USA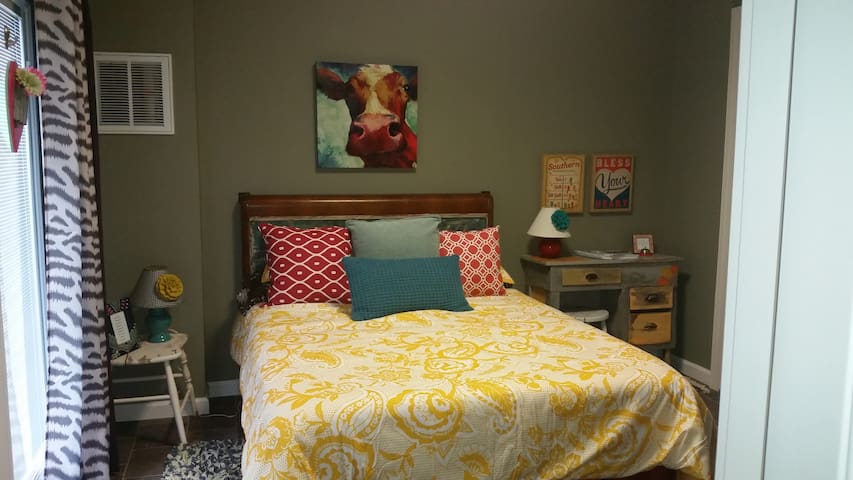 Lovely spacious 2 bedroom 2 full bath condominium boasts cathedral ceilings in the open living room and kitchen, a deck with a grill, a back yard privacy fence, a one car garage and a full sized washer/dryer. In N Knoxville only 12 min from downtown Knoxville. Bedroom 1 has queen bed with dresser, sitting chair and walk in closet. Bedroom 2 has twin beds, dresser, chair and a large closet. Nearby shopping and restaurants.
The condo has lots of updates. High Speed internet. Roku TV in living room can play Netflix, Hulu and other internet media options. Eat in kitchen has basic pots, pans, plates, silverware, glasses, cups, measuring and cutting tools, cooking utensils, blender, coffee pot, fridge with ice maker, full sized stove, microwave and dishwasher.
Quiet duplex condominium neighborhood convenient to shopping and restaurants. 12 minutes from downtown Knoxville.
Melanie's house was very clean and comfortable for my friends and I. We stayed for two nights to see a friends show in Knoxville and it was a really great experience to stay at her home.
Miranda
2017-01-17T00:00:00Z
Everything was great! Definitely recommend for anyone who wants to live like a local and not pay a lot to do so. Will definitely stay again.
Brandon
2017-01-29T00:00:00Z
A great place to stay! Quick drive to downtown, clean, and comfortable
Ryan
2017-01-23T00:00:00Z
This property is very comfortable and convenient to everything in the Knoxville area. The photos are accurate. Our hostess was very accommodating and took care of a request for us right away. An extra bonus was a garage in which to park our SUV. We really liked the home, the furnishings and the location and hope to return there soon.
George
2017-02-15T00:00:00Z
The hostess was lovely and welcoming! The house was very comfortable and had a "honey" feel. The neighbourhood was quiet and peaceful. Overall, I would definitely recommend anyone to stay here.
Morgan
2017-01-04T00:00:00Z
This is a beautiful place with plenty of room. It's the perfect distance away from everything. 100% will stay here again if I come back to Knoxville. Melanie was an amazing host, the neighborhood is quiet.
Morgan
2017-03-23T00:00:00Z
Very nice spot and clean! Just what we needed and will be back again!
Joe
2017-01-19T00:00:00Z
Melanie did a wonderful job communicating with us and check in was easy. The king bed was soooo comfortable. It was exactly as advertised and exactly what we needed for a girls weekend in Knoxville. It was a short drive to downtown but in a residential area so you don't have to deal with the hustle and bustle.
Dee
2017-01-15T00:00:00Z
Romtype
Helt hjem/leilighet
---
Eiendomstype
Leilighet
---
Plass til
4
---
Soverom
Knoxville, Tennessee, USA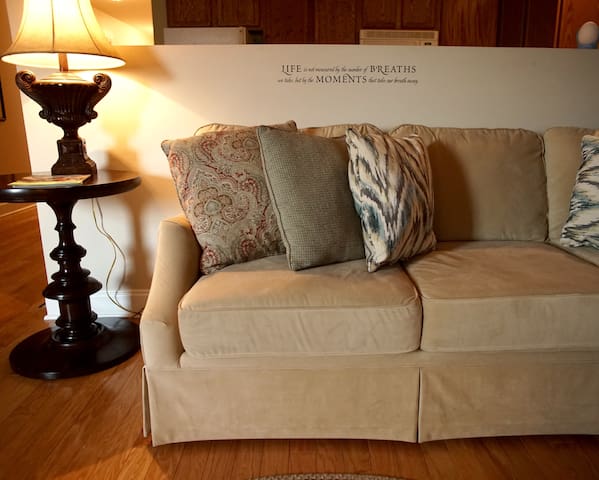 West Knoxville apartment just off Interstate. Close to downtown and convenient to West Knoxville restaurants: 25 within a half-mile. UT football games, parent visits, couples getting away. Butterfly garden in the front yard, veggie garden in the back.
This is a comfortable apartment on the side of my house with your own private entrance and parking. Their is a deck in the back for you which looks out into the bamboo and backyard. Deck has table and chairs. Total privacy.
Romtype
Helt hjem/leilighet
---
Eiendomstype
Leilighet
---
Plass til
2
---
Soverom
Knoxville, Tennessee, USA
2 bedroom/2 bathroom apartment. Brand new with all brand new furniture. Close enough for all Knox activities including game day but far enough to get out of the city. 20 minute drive to UT campus, 20 minute drive to Turkey Creek, and 5 minute drive to Maryville campus.
Please be aware the apartment is on the 3rd floor. We do allow pets.
My son decided to treat his mom and me to a TN Vols game with his girlfriend and we made it a nice leisurely weekend. We also had the opportunity to visit with a family member we had not seen in over a dozen years. The apartmet is in a beautiful gated community in Alcoa. It was a perfect location for attending a Vols game. We were able to avoid most of the inbound and outbound traffic because of the location. While we didn't take the time to shop, it is located very close to a number of shopping options and restaurants. I was lucky enough to find a great cigar shop just around the corner and picked a couple up to add to my home humidor. Equipped with two bedrooms and two baths, it was a perfect setup for us to each have provacy. The kitchen had pretty much anything you would need, although we didn't cook it was all there if needed. A very spacious living area with all kinds of electronic stuff we didn't take advantage of. We basically watched a little tv in our down time and talked. Very clean, everything in it's place, beautifully decorated, and the beds slept amazingly!! Hunter was very easy to communicate with. He was very responive and gave us some very good ideas on where to eat dinner. While we never actually met, I feel like he was more accomodating than some higher end hotels. Excellent location, value, amenities, hospitality, cleanliness and comfort. I would definitely recommend to anyoene who wants a quiet, beautiful place to stay in the area. Thanks Hunter for contributing to some great family memories! Invaluable experience!
Brian
2016-11-13T00:00:00Z
Hunter was a great host! He was readily available when We phoned for more instructions on the location. The apartment so it's called. In my opinion this was a condo. We were so comfortable and we felt right at home. Hats off to the decorater! Our visit was very, very clean. All the conveniences of home. The neighbors were very friendly and very curtious. Major restaurants were a stones throw away. The fuel prices were a $1.79! You need not want for anything at Hunters place! Thank your hospitality!!! Total five star accommodations!!!
Tammy
2016-07-17T00:00:00Z
The place was in great shape and Hunter was helpful throughout the process.
Khuram
2016-11-19T00:00:00Z
Hunter's apartment is simply fantastic! The moment we walked in the door, we felt right at home. The air fresheners make the place smell AMAZING! It smelled, fresh, clean and inviting. The location was perfect for our visit. It was so close to our friends in Maryville and close enough for our drive to Gatlinburg. The apartment was SO spacious and decorated SO nicely. Everything we needed was readily available- towels, dishes, laundry, bedding, etc. The California King bed in the master bedroom was extremely comfortable. Hunter's communication was great and I couldn't have asked for a better experience! I would HIGHLY recommend Hunter's place to anyone!
Kristin
2016-08-01T00:00:00Z
Hunter was a great host. He was responsive and communicative. The beds were comfortable and the kitchen was well equipped. The place was great, we would definitely stay again, it felt like home away from home!
Hannah
2016-12-04T00:00:00Z
My boyfriend and I had such a great stay at Hunter's place. He was very clear with directions and how to check in, the apartment was so nice, and it was definitely somewhere we would stay again! It really was so comfortable and perfect for us. I would highly recommend it to anyone interested in visiting the Knoxville area.
Tara
2017-03-05T00:00:00Z
Hunter's apartment was definitely a great choice! The location is in a very recently built apartment complex probably less than a mile off the highway. Check in was easy, and the property was very clean. I would definitely recommend this property if you need a place to stay.
Jonathan
2017-02-12T00:00:00Z
My girlfriend and I stayed at Hunter's place for 3 nights! We enjoyed every minute of it. This was also our first stay at an airbnb. I was a little nervous at first but Hunter was such a great host and was very reassuring by answering all of my many questions. The apartment was beautiful and clean. The apartment had lots of cooking supplies that would have been convenient if we had Wanted to cook. The master bed was also very, very comfortable. On this trip we took advantage of the fact that pets were allowed and brought our cat, lily, which was very convenient since we were gone for 3 nights. Hunter's apartment was 20 minutes from Knoxville and it's located right next to tons of restaurants and places to shop. I recommend if you are planning to stay in the area you stay at Hunter's place. I know if we are ever in the area again, we will.
Ashley
2017-03-12T00:00:00Z
Romtype
Helt hjem/leilighet
---
Eiendomstype
Leilighet
---
Plass til
5
---
Soverom
Alcoa, Tennessee, USA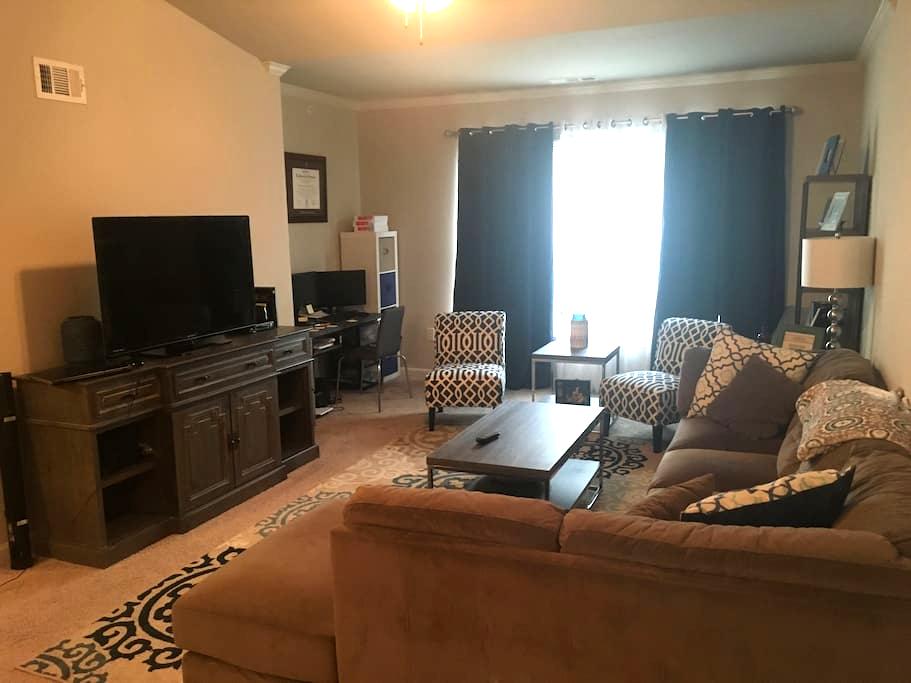 Tallassee - Airbnb
:
Gjennomsnittlig

4.93

av

5

stjerner fra

583

gjesteanmeldelser