My place is close to stroud centre (15min walk) with its bustling art and culture "the Heavens "with its stream, Nature Reserve and walks , great views to the Severn river, . You'll love my place because of the cosiness, the views, the location, the people in our neighbourhood.
Perfect location for a visit to Stroud and surrounding countryside. Amazing views over a valley called 'The Heavens' (yes, really!!) and an easy walk into the centre of town. Lucas is a great host and very connected in the local community - when he walked me into town for the truly fantastic farmers market he introduced me to so many people, and pointed me to all the best stalls and places to shop. The accommodation is comfortable, with enough space and privacy to make it an easy home from home. Definitely recommended and will be back!! Thanks, Lucas
Emrys
2017-03-26T00:00:00Z
Perfect base for exploring the Cotswolds. Situated on a residential street in town and close to the shops, but with beautiful hillside views and close to footpaths for country walks. We'll definitely be staying here again; Luuk was a fantastic host!
Ken
2017-04-04T00:00:00Z
Romtype
Helt hjem/leilighet
---
Eiendomstype
Leilighet
---
Plass til
3
---
Soverom
Stroud, England, Storbritannia
Tranquil environment, 20 minutes walk from the town centre. As Stroud is fairly hilly, this is mainly uphill, for those who are daunted by such a prospect. There are also lovely walks just across the way and further afield. Beautiful views. And the walk back into town is downhill all the way.. There are various good walks locally in the Cotswolds. Beautiful views of the local environment from the garden out front Non-smoking, Alcohol free. This is a real haven and retreat from a busy world
The environment is quiet and attractive. It is a small apartment, but spacious. Breakfast is organic, special requests considered
There is a wonderful view towards the cemetery and The Heavens, beautiful sunsets and lovely walks can be taken there
This room is located in a lovely part of Stroud. Sara-Lee is a lovely host and was thankfully flexible with my arrival time. The house is clean and I was served a delicious wholesome breakfast each morning.
Heidi
2015-06-15T00:00:00Z
It was very lovely staying with Sara-Lea - a nice balance between chatting and feeling welcome and also space to be alone and feeling respected in that. Very clean and pleasant. Also lovely to have a tree just outside the bedroom window, to hear the birds in the morning and a beautiful view as you leave the building.
Hazel
2016-03-16T00:00:00Z
First of all, my visit to Stroud and the Cotwolds went well and no doubt much of that good feeling from my host's willingness to make me feel welcome. I experienced her generosity in other ways as well, and her breakfast was very nutritious, varied and the porridge was superb. Secondly, her place is quiet and peaceful and the overall feel is of a spotless compact home, offering a peaceful break away from the hectic clamour of one's daily life. The bedroom is fine, of ample size and has a very good bed, and the central heating in the winter months very efficient. Sara-Lea is a finely tuned and sensitive woman and well able to provide a good space for a person to enjoy some time away from their own routine
Kalandar
2016-12-21T00:00:00Z
Sara-Lea's home is peaceful, beautiful and spotlessly clean. The building is surrounded by rustling pine trees and birdsong - it is a place of relaxation and healing. Sara herself is a kind and fascinating person - and she makes a truly wonderful breakfast!
Hilary
2017-01-15T00:00:00Z
Sara-Lea's place is in a lovely location high up overlooking the town and beyond. Sara was very welcoming and extremely accommodating - arrangements were straight forward and hassle-free. It was a treat to have home-made bread too! Thank you Sara-Lea - I enjoyed my stay :-)
Helen
2017-03-27T00:00:00Z
A lovely house and host in a quiet area. I Found it very relaxing.
Pete
2015-09-15T00:00:00Z
Sara-Lea is a lovely person with a kind soul and full of passion. It was a great pleasure to be her guest and have a chat. I rested well and woke up very comfortably. Breakfast was just amazingly good, made with top quality, ingredients and delicious home-baked bread. I would come come back even just for that breakfast. Very nice location with surrounding hills looks beautiful. Thanks Sara!
Pawel
2017-01-05T00:00:00Z
Sara-Lea was very welcoming, even standing outside the property, waving while I drove round and round looking for the place (my own fault, it's actually quite easy to find, but I was tired after three days of almost constant driving). The location is unique, being a converted workhouse, but my experience was very different from that the poor inmates from less enlightened times would have suffered. It's also in the middle of some of the best scenery Britain has to offer. Very peaceful, Sara-Lea is a tranquil, caring host and was never intrusive - she even left me in peace to enjoy breakfast which, as I am not at my best in the morning, suited me fine.
Andy
2016-09-30T00:00:00Z
Romtype
Privat rom
---
Eiendomstype
Leilighet
---
Plass til
1
---
Soverom
Stroud, Gloucestershire, Storbritannia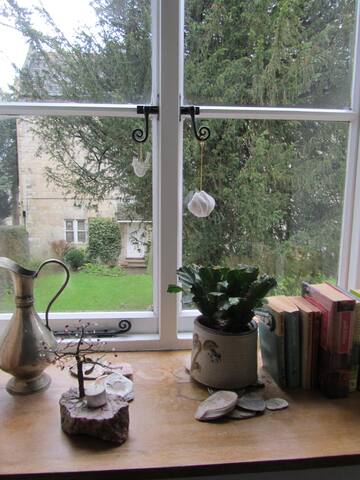 Lovely new flat by a pretty stream in the village of Stroud. Not far to Bristol and Wales. An hour and a half on frequent trains to London.
There is secure private parking with a code for a barrier. There is a large HD smart tv.. hi fi speakers and a ps3 as well as super fast wifi. There are all the facilities to do some good home cooking. There is a co op store that opens late just nearby....2 minute walk. There are lovely pubs with craft ales and good food in close proximity. You can have a perfect relaxing holiday break in my home in the quiet rural atmosphere.
There are lovely walks through the surrounding valleys. Cirencester, Gloucester and Cheltenham are all worth a visit.
My friend and I stayed at Edmund's for nine days and it was a very pleasant experience. When we arrived we had a little trouble finding the place, but Eddie answered my call right away and pointed us in the right direction. He was very communicative and helpful at all times during our stay. The house was clean and full of natural light. We had plenty of clean linens and towels and the shower had fantastic water pressure. A huge plus for me was also the private parking behind the complex. We could park our car and then walk to town every day. The center was only a few minutes walk so we rarely even needed to drive. Eddie's place was lovely and priced very well for how much we got! I would highly recommend this place and would stay again if visiting Stroud in the future.
Kyla
2016-05-26T00:00:00Z
The flat was quite reasonably sized and was extremely comfortable. The kitchen was clean and stocked with everything needed to cook and clean. Bed was comfortable and bathroom was tidy. Also has carparking around the back of the building. Would absolutely stay here again if I were in the area again and can't recommend this place enough.
Josh
2016-06-19T00:00:00Z
The whole house smelt of cigarette smoke. There was ash on the dining room table, nothing was clean and we had to do a load of dishes before we cooked anything in the pots and pans, there was something rotting in the fridge and on top of that there was clothes and shoes and empty liquor bottles all over the house. We booked for 2 nights but left after 1 and found somewhere else despite having already paid. The guy who met us said he needed to give us the key, then said he was gonna be late and that the key was in the house already, and then he met us and it didnt look like the guy from the picture. Not sure if the bedding had been changed, booked for 3 and only 2 pillows and no sheet for second bed, no towels. Hard to find the place following directions and numbers as well. But the shower had good pressure despite yellow stains on the curtains, breakfast was laid out and good selection of dvds!
Jamie
2016-05-12T00:00:00Z
Nice clean flat
Alex
2016-06-25T00:00:00Z
I really enjoyed my stay in Stroud at Edmund's apartment. The place was great, had everything I needed (from free WiFi to different verity of coffees). Edmund was a very gracious host and very accommodating. The apartment itself is located only few minutes walking distance from the city center and there is a private parking area behind the building. I liked my stay so much that if I am ever again in Stroud, Edmund's place will be my first choice. Thanks again for everything, Edmund.
Azam
2016-05-30T00:00:00Z
We had a lovely stay at Eddie's house, with cold beer in the fridge on arrival, and excellent communication throughout. Centrally located to Stroud, with heaps of walks in the vicinity.
Simon
2016-05-28T00:00:00Z
Bon accueil avec documentation touristique et accès internet
Husson
2016-07-31T00:00:00Z
Location was spot on for the purpose of our stay.
Mark
2017-03-18T00:00:00Z
Romtype
Helt hjem/leilighet
---
Eiendomstype
Leilighet
---
Plass til
4
---
Soverom
Stroud, Storbritannia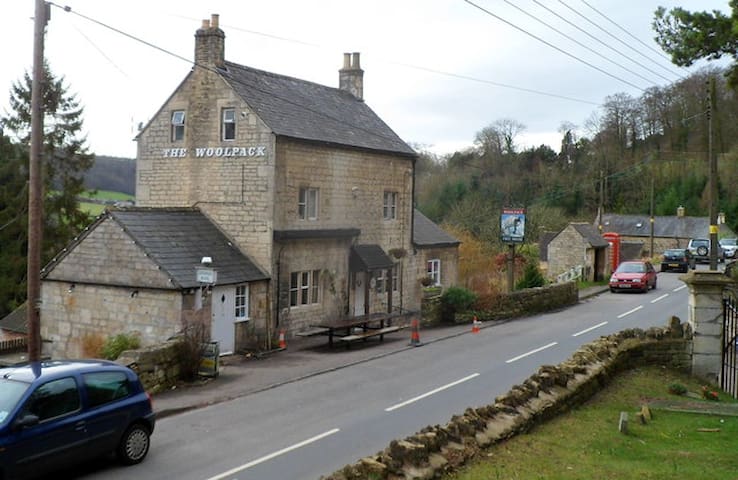 Our home is in midst of Rodborough Common (National Trust), a rural hill setting "Area of Outstanding Natural Beauty" above historical Stroud. We offer a spacious self-contained apartment with facilities & flexibility to make the most of your stay.
Spacious, renovated and private. The apartment has it's own entrance from a decked terrace overlooking the back garden. It is self-contained, comprising of a bedroom with double bed and sofa-bed, bathroom/wc and kitchen/diner. Mid-week the flat is a nursery business so has some toys in a corner, with highchair and cot available if required. We provide clean linen and towels, along with tea/coffee essentials. We can also provide a continental breakfast by arrangement, or you can eat out at local gourmet restaurant pubs and cafes, or cook your own meals. You have the flexibility and facilities to come and go as you please to make the most of your stay.
Cotswold Brow is set in the midst of Rodborough and Minchinhampton Commons managed by the National Trust and designated as an "Area of Outstanding Natural Beauty" by Natural England on behalf of the United Kingdom government. There's more information and some great photos at this link: nationaltrust uk website /minchinhampton-and-rodborough-commons/ Local activities include: walking, historic sightseeing, art and crafts, markets, fairs, festivals. Sporting facilities include: golf, cycling, horse riding, gliding, kites, sailing, archery, tennis, badminton, squash and swimming (both public indoor and outdoor pools, as well as our private outdoor swimming pool).
Our short stay at the Cotswolds Retreat was really nice. The room was very clean and had a nice kitchen area and bathroom. The hosts Ludo & Katy were very welcoming and accommodating. I would recommend this place to anyone, from a small family to a couple.
Paul
2014-07-30T00:00:00Z
Great location and views, Ludo helped us find the place and carried in our bags.
Ed
2016-01-11T00:00:00Z
My mum and sister stayed here for a weekend (it was a birthday treat) and they absolutely loved it. The place is gorgeous and easy for access to all sorts of things. Ludo and Katy made the booking and checking in etc. process simple and were great to deal with.
Rowena
2016-08-08T00:00:00Z
Overall stay was great, Katie & Ludo are great hosts and gave us lots of information about walks and where to go. We were lucky enough to have a really sunny weekend so got to spend some time relaxing after our walks by their lovely pool. Location is stunning
Tracy
2016-07-25T00:00:00Z
Don't know where to start with this review. The host was polite and friendly. He greeted us well but the property is a nursery with a bed in it. I had the alphabet on the wall in front of the bed. The heating was not on so I was freezing in the nursery. On the right hand side of the bed were children toys and costumes and on my left was a little hanger for their jackets, a board with forms and other nursery information. The fridge had a small container with Cheerios and the name "Lucy" on it, so poor Lucy forgot her Cheerios! There were child door locks and plugs everywhere, push chairs on the decking outside and a little table and chair which I thought was cute. I wanted a romantic get away but instead I regressed back to being a toddler! One of the most bizarre experiences I have had.
Ali
2015-09-28T00:00:00Z
Very clean, pleasant and enjoyable stay.
Joel
2016-02-29T00:00:00Z
A lovely stay at Katy and ludo's room. We were given information about the Cotswolds and had a great time overall.
Khadiza
2015-10-26T00:00:00Z
Ludo and Katy were very kind and really helped us out with a last minute booking and even gave us walks to go on. The flat is great with views out over the valley, would highly recommend! Thank you
Hal
2017-02-26T00:00:00Z
Romtype
Helt hjem/leilighet
---
Eiendomstype
Leilighet
---
Plass til
4
---
Soverom
Stroud, Gloucestershire, Storbritannia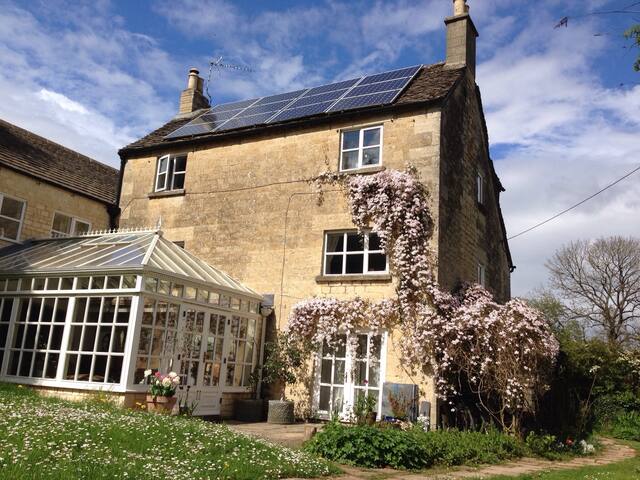 Hay Barn apartment is fully functioning but not fully finished as we wait for a major refit next winter. Still attached to the old hay barn - a double bedroom, en-suite shower, a kitchen living room with gas range, fridge and view of Slad valley.
Farm holiday - Stroud Slad Farm is a working organic farm with beef cows, sheep, it's own woodland, space for outdoor fires
Set in the beautiful Slad valley, close the Cotswold way and the Woolpack pub in Slad
Fantastic location - we had a great stay!
Leif
2017-01-01T00:00:00Z
The apartment at Slad was more than it promised, although 'unfinished' had a rustic charm and was very cosy. One of the reviews I read said that the photo's did not do it justice, and, I would agree. The bed is extremely comfortable, the shower is great, the view from the kitchen is amazing. I felt extremely welcomed, cared for and comfortable. There is everything you need. Unfortunately I was working and did not get to experience the wonderful countryside but what I did see made me want to come back. Paul was extremely friendly and I know that I could have asked for anything that I needed.
Garry
2015-10-01T00:00:00Z
Of You want 4 stars luxury this is not your place to be. If you want the unusual, the quiet, beautiful woodlands next door and lovely people to welcome you, then Paul and Sarah's barn apartment is a unique place to go to.
abel
2015-10-13T00:00:00Z
Fast communications with a warm welcome. Honest description of property and the perfect place to stay for our guest from France. Thank you.
Tim
2016-05-07T00:00:00Z
Welcoming host - great place to stay at this working farm in this beautiful area just above Stroud. Amazing walks in the forest by the farm. The space is very functional and all you need for a really comfortable stay in the area.
asa
2016-05-12T00:00:00Z
This is a very busy organic farm, but despite this the hosts did what we asked straight away, such as put up safety rails on the stairs for the children that we were with in their yurt nearby. This is a beautiful location, but very near the lovely town of Stroud for strolling and shopping. We also bought some of their amazing beef, and slow cooked it in the flat for one of our meals. Because more than two of us were cooking and eating in the flat the host let us use their spare catering fridge in the barn beneath the flat, which was really helpful.
Gill
2016-08-28T00:00:00Z
My stay at the Slad Farm hay barn was great! Paul and Sarah were very hospitable and the spot was comfortable. I was only there for a short visit but I'd love to go back to see more of the farm and chat with them more.
levi
2015-07-03T00:00:00Z
We enjoyed our holiday at Slad Farm very much. Sarah and Paul are very nice and helpful, and we felt comfortable from the first moment. The apartment was perfect for nice walks and daytrips to the cotswolds area.
Uwe
2015-08-31T00:00:00Z
Romtype
Helt hjem/leilighet
---
Eiendomstype
Leilighet
---
Plass til
2
---
Soverom
Stroud, Gloucestershire, Storbritannia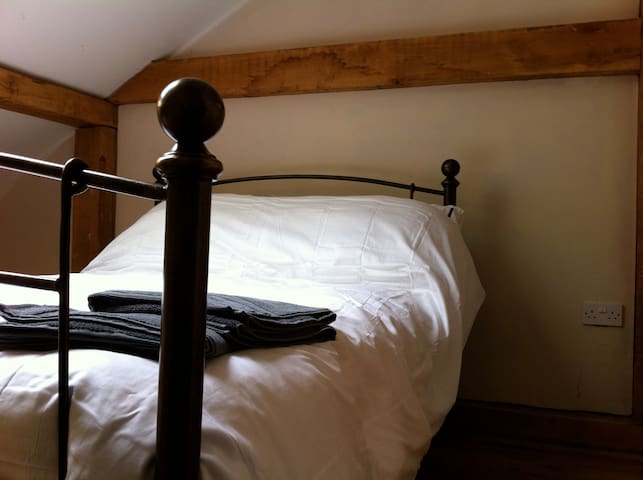 My Cotswold apartment is close to parks, has great views and a large communal garden and it's own garden. Less than 15 mins walking distance of the beautiful market town of Stroud with it's winding streets, independent shops and farmers market. A converted 18th century detached manor house, my 2 floored apartment has stone mullioned windows and high ceilings but a lovely cosy feel. My place is good for couples, business travellers, families (with kids), big groups, and furry friends.
A unique, spacious apartment in a converted manor house on the outskirts of the Cotswold market town of Stroud, with 2 pubs virtually on the doorstep and beautiful views - it's the perfect place for a relaxing break. 2 free parking spaces come with the apartment.
Lovely independent restaurants, pubs and boutiques locally. Close to Slad the birthplace of Laurie Lee, an area of outstanding natural beauty.
Romtype
Helt hjem/leilighet
---
Eiendomstype
Leilighet
---
Plass til
8
---
Soverom
Stroud, England, Storbritannia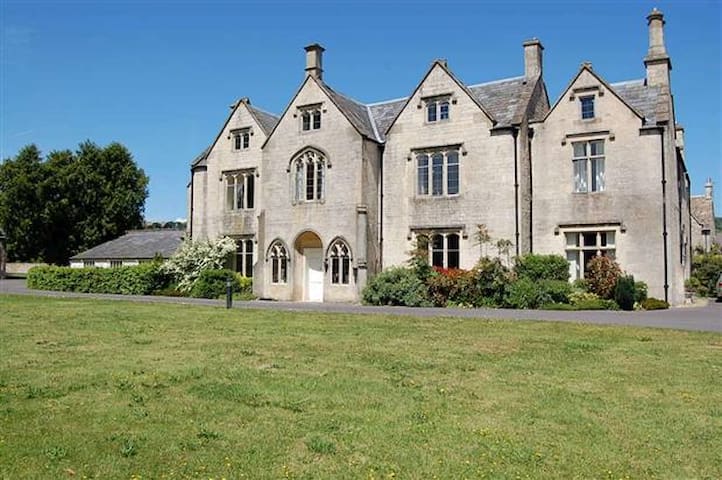 Light and airy 2nd floor maisonette very close to the town centre, rail and bus stations. Two bedrooms with larger than double beds.. and a sofabed Sitting room, kitchen and bathroom. Travel cot, high chair and toys. Welcome pack and fresh flowers. Great rate for longer stays. NB please see 'guest access' if you're stay on a Tuesday night..
Light and airy 2nd floor maisonette very close to the town centre, shops, restaurants, rail and bus stations and the park. Two good size bedrooms (master bedroom with superking bed the other is a day bed generally converted to a large double unless a single is asked for)... and a sofabed can be converted into a bed in the sitting room if needed. Open plan sitting room and kitchen, and bathroom next door. There are loads of DVDs in the flat to watch, and for children lots of toys, and there's a high chair, changing mat, travel cot and some slings if you don't want to bring a push chair. The flat is minutes from the town centre and train/bus stations. Perfect for quiet folk who would like to be in the midst of town and have their own 'pad' to stay in. You'll be shown round the flat either by the owner, David, or Natasha who lives a few doors away. The accommodation is on the 2nd and 3rd floors of a mid terrace large Victorian house. Whilst the flat is, we think, lovely - but definitely not perfect - the entrance hallway is a shared space with other tenants and its quite 'basic'. The flat has a sunny sitting room (with comfortable sofabed if you need a 5th person staying) and widescreen TV with wifi. The kitchen is 'open plan' off this room. The bathroom (with bath, electric shower and basin) is next door. The bedroom on this floor has views over the park, and is either a comfortable single day bed for a child or is generally converted into a double (advisable for an adult or a couple - please specify if you want the day bed, or we'll make up the double). Upstairs is the main bedroom; a comfortable superking bed in a beautiful large light open plan attic room. Please note.. we price the flat for 2 people sharing the attic bed. If you are not a couple and want separate rooms please book for an extra person ie we ask that you book for 3 people so the 2nd bedroom can be made ready for you. This is also the case re the sofa bed and double (ie friends not wanting to share a bed) To be transparent about pricing, airbandb set 'smart' pricing which varies per day/month, we set the lower and upper limit only. We charge a one off cleaning fee per booking. Our weekly/monthly rates are greatly reduced to take into consideration Wednesday mornings 9.50-1pm, Natasha needs to use the 2nd bedroom for her psychotherapy/ neurofeedback practice (and the flat to be empty/quiet). You will have a 'welcome pack' of a few staples (bread, milk etc) and please feel free to use the kitchen. KItchen contains hob, oven, microwave, fridge, small freezer, dishwasher, washing machine. There is a co-op behind the house and there are many shops and restaurants in the town centre. There are 3 supermarkets within 5 minutes drive. Parking for one car is behind the terrace (a 2-3 minute walk/drive, along an unmade utility track) or you can buy visitors permits through the host at £2 a day(parking not often easy out front as more demand than supply). Other parking on street is a few minutes walk. The train station is a 5 minute walk, the bus station even less. Stroud is a lovely town, we thinks its got a magic all of its own. Its definitely not beautiful but full of interesting people, shops and cafes, and the farmers market on a Saturday morning is not to be missed! You are minutes from the cinema, library, doctors, park, church, shops... The countryside nearby is beautiful and the Cotswold Way is a draw for many walkers.. We hope you'll come and stay and make yourselves at home. Natasha lives 4 doors away, you're very welcome to come and say hello during your stay.. and she can help with any issues.
Great alternative interesting town, in our experience generally people here are kind, friendly and go out of their way to help but like everywhere there are all sorts of folk .. hope you'll enjoy it as much as we do!
Natasha was very friendly and welcoming and even went to get some extra provisions to make the experience even more homely. The apartment is beautiful with tasteful decor and was a perfect place to explore Stroud and the Cotswolds from. Our 'pad' for our short (wishing it was longer) trip was ideal and a very short walk to the centre of town and a Co-op just round the corner for those bits and pieces you always think of last minute. A lovely place and a lovely host, thank you Natasha.
Bo
2016-05-22T00:00:00Z
Lovely little flat in perfect location for us, with the extra bonus of an available parking space. Very comfy and cosy, the host met us with the keys and then we were free to come and go. If around here again will definitely try a repeat visit. Thank you Natasha.
Liz
2015-07-13T00:00:00Z
Natasha and her family are wonderful and the accommodation is comfortable, clean and welcoming. This is the second time we've stayed with Natasha and would recommend doing so to anyone.
Jonathan
2016-03-07T00:00:00Z
This was a delightful apartment right in the centre of Stroud. We had everything we could possibly need and we were well greeted and settled in. The bedroom was lovely. Excellent locations and great hosts
Tricia
2014-08-30T00:00:00Z
My family had a wonderful 3 week stay at the apartment of Natasha and David. The apartment is very clean, comfortable, cosy, light, and lovely decorated. It was a great pleasure to deal with Natasha and David. All the questions were dealt in the quickest possible way and with attention. Thank you very much for your warm welcome!!! Definitely would stay again !!!
Julia
2014-12-15T00:00:00Z
Natasha's maisonette was an excellent place to spend a few weeks in Stroud. It is centrally located with all amenities practically on its doorstep while at the same time quiet and private. The flat is tastefully furnished with quality appliances and a warm feel. Natasha is a friendly and helpful host who was always available to assist with whatever questions arose. I hope to use her flat again and would warmly recommend it to anyone who wants to spend some time in Stroud.
Ioana
2015-12-28T00:00:00Z
Natasha introduced me to the flat and made sure I had everything I needed, and then left me to enjoy the large, clean and welcoming space. This is a good base for exploring Gloucestershire and the south Cotswolds.
Mark
2016-05-19T00:00:00Z
The place: the flat was clean and tidy , central location . The host: Natasha was really good in communication , when I contacted her she replied immediately . She sent us SMS to make sure everything is okay. She has even helped me find seafood restaurant in the area. The area: I like Stroud and defiantly I will come again.
Majed
2014-06-11T00:00:00Z
Romtype
Helt hjem/leilighet
---
Eiendomstype
Leilighet
---
Plass til
5
---
Soverom
Stroud, Gloucestershire, Storbritannia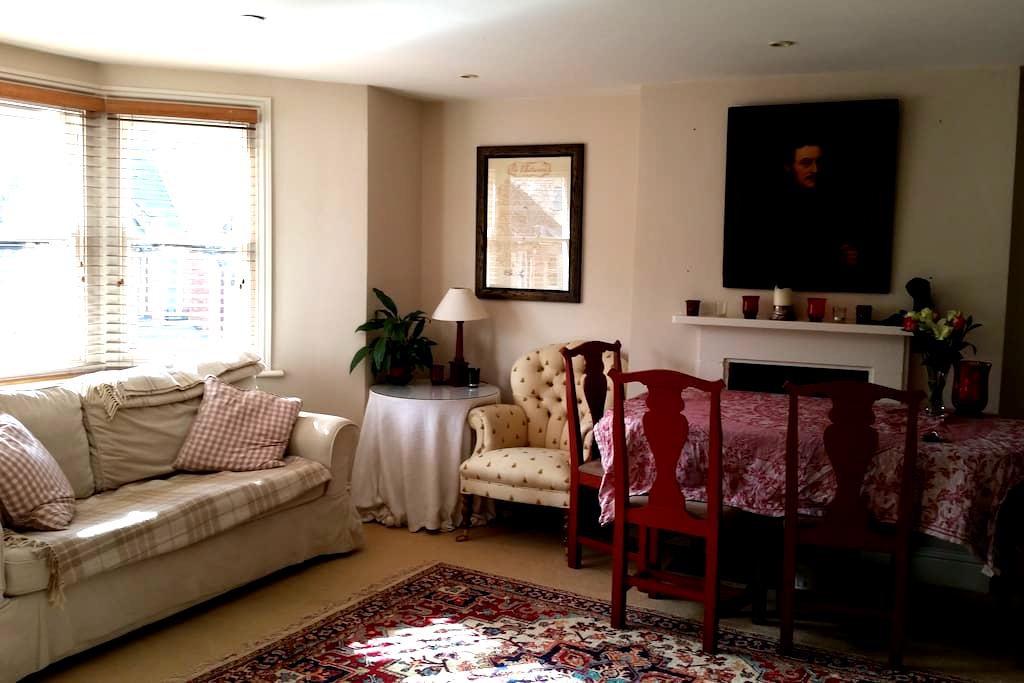 My place is close to the city centre, art and culture, restaurants and dining, and great views. You'll love my place because of the comfy bed. My place is good for couples and solo adventurers.
The apartment is finished to a high standard, A lovely light space with fantastic comfortable kingsize bed and wonderful views from the rear garden.
A wonderful quiet location with access to to town by foot in 5 minutes and countryside walks in close reach. Stroud town has many nice cafes, restuarants, artistic shops and a cinema. UK's best farmers market on Saturday morning. Waitrose supermarket 6 minutes walk. Bath is 40 minutes by car, Cirencester 15 minutes by car, Cheltenham 25 minutes by car, Bibury 45 minutes by car
A great little place, suitable for couple wanting to explore Stroud and the Cotswolds, or just a quiet weekend
Charles
2017-01-15T00:00:00Z
I've stayed at Michael's a few times now and I've found it to be very pleasant.
Kevin
2017-03-02T00:00:00Z
Michaels place is perfect for a single traveller or a couple. Even better than expected and well worth the money, would definitely stay again.
Catherine
2017-04-06T00:00:00Z
The host canceled this reservation 78 days before arrival. This is an automated posting.
Chris
2016-10-06T00:00:00Z
Michael and Paulina were great host. Enjoyed staying in their apartment.
ani
2017-02-24T00:00:00Z
The little flat is so cute & cosy, Micheal was great with communication, and it's a stone throw away from the town centre with all the shops & restaurants & nightlife. Micheal & his wife are very friendly they came out to meet us a couple of days after arrival & Micheal came to say Goodbye ( they live next door) also we were greeted with necessities like fruit, coffee, tea, sugar & milk which I thought was really thoughtful. Overall lovely host and a great place to stay.
Denise
2017-03-18T00:00:00Z
A great spot to stay! It is an easy walk to the main shopping area. Flat is very comfortable, clean and warm with everything you need. Michael and Pauline were very helpful and we enjoyed a lovely morning tea with them.
Helen
2017-03-07T00:00:00Z
This is lovely cute accommodation that is modern bright and clean. We enjoyed using the facilities. We'd be very happy to stay again
Jacqui
2017-01-30T00:00:00Z
Romtype
Helt hjem/leilighet
---
Eiendomstype
Leilighet
---
Plass til
2
---
Soverom
Stroud, England, Storbritannia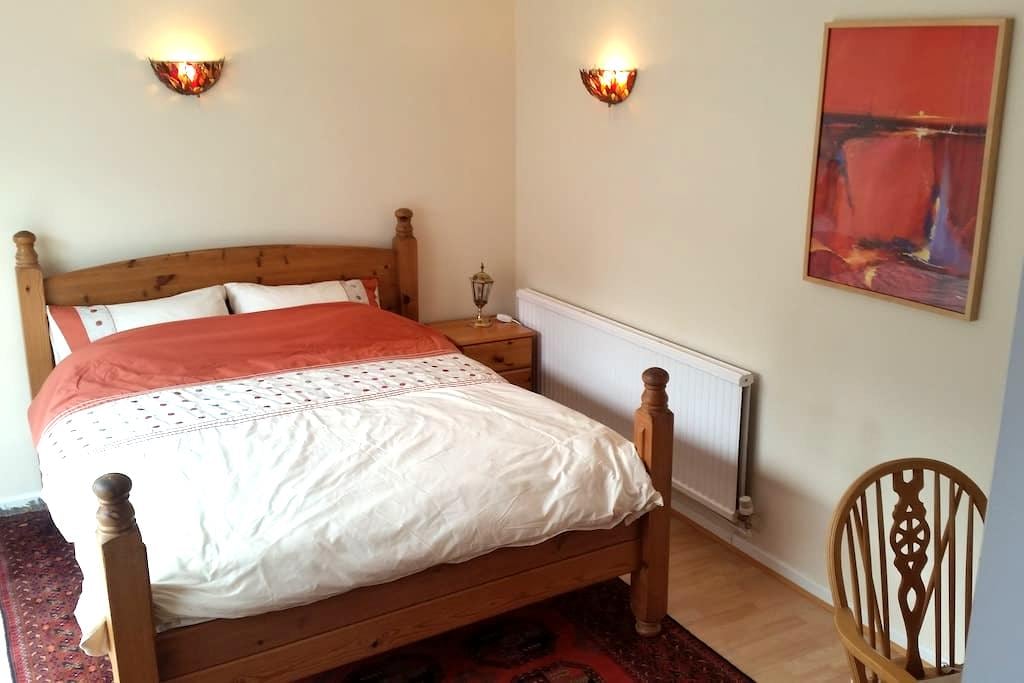 Enjoy Stroud easily from this central location. Within a stone's throw away you'll find lovely cafes, a good wholefood shop, convenient bus/train routes, a great Saturday farmers market and good access to the countryside.
Stefanie was really welcoming, despite me being late due to bank holiday traffic! Place was exactly as described and a nice escape. Location as great within walking distance of the train station and town centre.
Emily
2016-05-31T00:00:00Z
The host canceled this reservation 3 days before arrival. This is an automated posting.
Lucy
2016-04-26T00:00:00Z
Romtype
Helt hjem/leilighet
---
Eiendomstype
Leilighet
---
Plass til
4
---
Soverom
Stroud, Storbritannia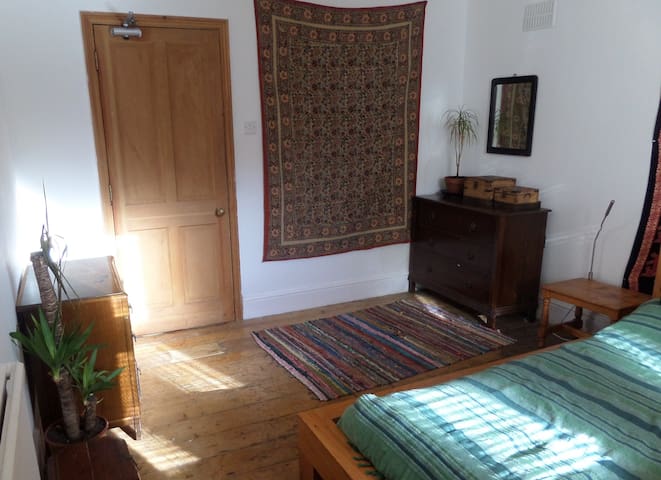 Recently renovated private B&B apartment at The Imperial Hotel, Stroud. Sleeps up to 9 persons. 0 min walk to town centre. Opposite to Stroud Train Station. 1rst bedroom:1 DBL bed+1 SGL bed, 2nd bedroom:1 DBL bed+2 SGL beds, 3rd bedroom: 1 DBL bed.
The Imperial Hotel is located at the centre of Stroud adjacent to the Railway Station with a direct connection to major cities making the Imperial a perfect place to visit some of the southwest's beautiful country sides and towns. It blends the original Coaching Inn character and period features dating back 200 years with modern comforts and an authentic Thai cuisine menu.
We had a great stay in Stroud. The flat is huge, a massive 3 bedroom area with a dining area and a living area. It was very clean and suited us down to the ground. Upon arrival there a slight delay in getting us to the flat but our hosts were very helpful & once we were settled it was the perfect base right in the center of town. Would recommend if someone wants to stay in Stroud.
Clara
2016-10-23T00:00:00Z
Perfect location in the centre of Stroud. Rooms large and clean.
Danny
2016-09-19T00:00:00Z
Very handy location. Great communication prior to the visit. The flat was perfect for our needs. It was clean and comfortable. Many thanks
Declan
2017-03-18T00:00:00Z
Romtype
Helt hjem/leilighet
---
Eiendomstype
Leilighet
---
Plass til
9
---
Soverom
Stroud, Storbritannia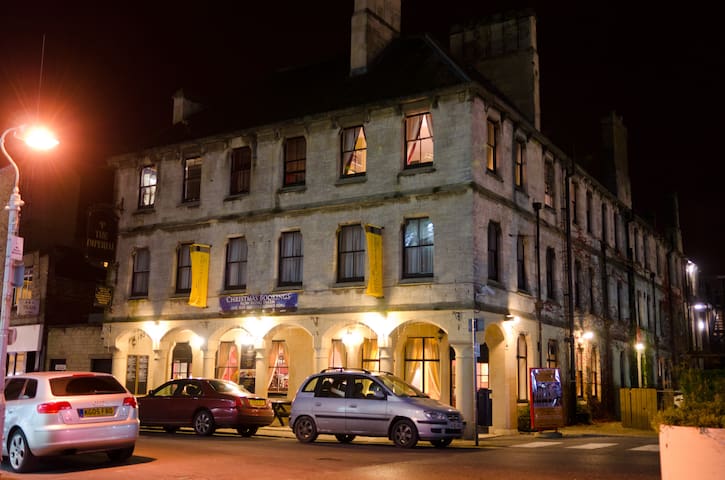 Wonderful penthouse with breathtaking views of the Cotswolds. A stone's throw away from Stroud train station, less than 2 hours from London Paddington. Its situated next to a pay and display car park which charges £2.50 a day (free on a Sunday)
Amazing stay. Sumptuous view and spotless!
Tom
2016-12-26T00:00:00Z
Karen and Mark were extremely helpful and accommodating throughout. Mark met us at the apartment, showed us round pointing out necessary details. We were extremely satisfied with their service, care and attention, thank you. The apartment is spacious, comfortable and well furnished and equipped. It was a real sanctuary for us at the end of busy family days. The location is central, close to shops, the fabulous street market and transport.
Clem
2016-06-27T00:00:00Z
A fantastic penthouse apartment with amazing panoramic views over Stroud. Hosts were very helpful and easy to communicate with. The beds are super comfy and it was so warm in the depths of winter as we came from summer in NZ.
Jane
2017-01-07T00:00:00Z
Our stay at Michael's flat was superb. Karen and Mark (the managers) were both lovely and made us extremely welcome. Mark was very helpful in terms of showing us around the apartment and providing local tips. The flat itself was luxurious and perfect for our travelling party. We would highly recommend it!
Simon
2016-12-04T00:00:00Z
Phenomenal experience through and through. Don't let "Cheapside" deter you. Amazing top story views and extremely convenient from train station (right across the street). Michael and gang were also very accommodating. Would stay here again in a heartbeat.
Reed
2016-07-04T00:00:00Z
We were made very welcome by Mark on behalf of the owner Michael. He met us at the flat and showed us where things were and how they worked and was available by phone at any time during our stay. A nice gesture of fresh milk in the fridge with tea and coffee to hand. We were going to a family wedding just outside Stroud so the flat was a perfect base. Luxurious comfort for getting ready and coming back to afterwards! The town is full of interesting shops and places to eat and drink. We had a lovely meal at Number 23 tapas restaurant and great beer at the Golden Fleece. The views from the flat are spectacular.
Llibby
2016-08-14T00:00:00Z
Michael and his caretakers were very welcoming and helpful, and were very responsive when I had any questions about the apartment. The place was in great shape, with new appliances and nice furniture, and had beautiful views and a very convenient location right next to the train station. I'd definitely stay again!
David
2016-02-14T00:00:00Z
The place was sparkling clean and the helpers were amazing. Really enjoyed staying with the beds really comfy and the views that were amazing.
Pranav
2016-03-28T00:00:00Z
Romtype
Helt hjem/leilighet
---
Eiendomstype
Leilighet
---
Plass til
6
---
Soverom
Stroud, Storbritannia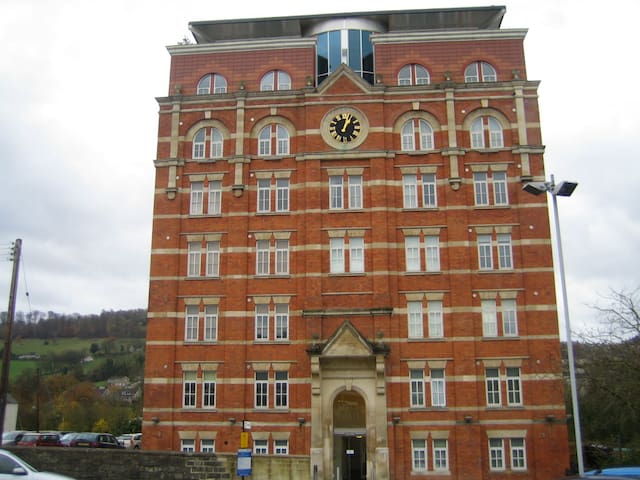 Spacious and bright 3 double bedroom apartment with exposed brick and beams is perfect for a family stay in this beautiful cotswold town. It has a large open plan living space with mezzanines and 2 terraces with exquisite rooftop views. Currently our family home we are hoping to rent out during our time away. The house has wooden floors throughout. It really is a great space, bright airy and perfect for gatherings for friends and family.
Large open plan duplex apartment. This is a 3 double bedroom apartment although one of them is a child's room with cot, which we are more than happy to make up for families if required. There is a large room with single bunks beds and there is also a futon mattress available on the mezzanine which can sleep 2 extra if required. So we can accommodate up to 8 people plus a baby. The property has two balconies at either side of the top floor which have breathtaking views over the roof tops at the start of the Slad valley, one balcony has the morning sun the other the evening. Perfect for dinner and drinks on warm nights.
Stroud is a lovely town in the Cotswolds with a busy farmers market on a Saturday. Beautiful countryside on the doorstep, just 2 km down the road from Laurie Lee's slad valley and Woolpack Inn.
This property was just gorgeous, it was massive, and very interesting custom design, with lots of cozy areas to sit and relax, which was just as well as we had pretty rubbish weather while we were there. The projector let us watch Netflix/YouTube on a giant screen from the super comfy sofa area which was great for the evenings. The property was easy to find, had a private parking space, and was located in a lovely well-to-do area, with a supermarket nearby, some decent restaurants, and access to the nearby Cotswolds. The hosts were on holiday but in spite of that were very prompt at responding to emails, gave us tons of useful information, and made sure that a family member let us in and show us around on the first day. Really great property and we had a lovely time, thanks very much. Simon & Matt
Simon
2016-10-02T00:00:00Z
We had a very good stay at Fleur's. Everything was as he said and she tried to make us everything confortable and nice. Thank you and thanks too to her sister! We will recommend this place to everyone!
Laura
2016-09-24T00:00:00Z
Romtype
Helt hjem/leilighet
---
Eiendomstype
Leilighet
---
Plass til
8
---
Soverom
Stroud, Storbritannia
Immerse yourself in 420 acres of natural outstanding beauty-within a short walking distance from the Cotswolds Way. This self contained gem is light & airy, has luxury cotton sheets, a well equipped kitchen & a powerful shower. It sits on the edge of Woodchester Park -a 420 acre SECRET landscaped valley, inc woodlands, lakes & a gothic mansion. Relax further during your stay & treat yourself to an aromatherapy massage/Reiki/crystal treatment in our beautiful healing & wellbeing centre next door.
We have put our heart and soul into creating a uniquely beautiful, uplifting and very special place for you to truly unwind and connect. The studio is filled with light, completely detached, quiet, peaceful, south facing, with views embracing the valley. We have furnished it to a very high standard, with luxury cotton sheets, luxury blankets and gorgeous furniture and fittings. There is even a built in dishwasher and washing machine! Our wellbeing centre next door offers exquisite treatments, such as: Aromatherapy Massage, Reiki, Crystal Healing, Indian Head Massage, Miracle Meditation Circles, Transformational circles, Chakra Cleanse, Self Mastery & Self-Healing courses, The Art of Feng Shui & creating dynamic radiant space, Self Transformation, Manifesting Abundance Prosperity & Success. This is a very special place where wonderful things happen!
The Cotswolds: If you're looking for somewhere with a surprise round every corner then look no further than the beautiful Cotswolds. Famous for quintessentially English market towns and villages built from honey-coloured stone, the Cotswolds are a range of gently rolling hills and the largest Area of Outstanding Natural Beauty in England and Wales making them a perfect base for keen walkers and cyclists. Escape the high street and lose yourself in village lanes full to bursting with quirky and independent shops, restaurants and farmers markets or soak up the amazing atmosphere of one of our many festivals and events. You'll find some of the world's most famous – and beautiful gardens in the Cotswolds, as well as wildlife parks, castles and stately homes and some of the finest historic buildings and churches in the country. Don't be put off by our lack of coastline either! We have 40 miles of lakes in the Cotswold Water Park and numerous gently winding streams, canals and waterways criss-crossing the picturesque towns and villages. On the door step: WOODCHESTER PARK - the secret valley: Nestled in the Cotswolds, the secluded valley of Woodchester Park is home to the remains of an 18th- and 19th-century landscape park, a Victorian mansion, a chain of five lakes fringed by woodland and pasture, and an abundance of wildlife.The 19th Century Victorian Gothic Masterpiece was abandoned in mid-construction in 1873. Hidden in a secluded Cotswold valley, it is untouched by time and the modern world. This Grade 1 Listed Building has been saved from dereliction, but will never be completed. Visitors walk through an extraordinary architectural exhibit in which the secrets of the medieval Gothic builders and masons are laid bare. The carvings in Woodchester Mansion are among the finest of their kind in the world. 3 mins drive / 30 mins walk: NAILSWORTH: The artistic, market town of Nailsworth is nestled in a wooded valley in the south Cotswolds. Nailsworth is renowned for its selection of award-winning restaurants, pubs and cafes. Eating out in Nailsworth means you are spoilt for choice. Hobbs House Bakery is famous for being owned by the Fabulous Baker Brothers – Tom and Henry Herbert – and was featured on their TV show. William's Food Hall has helped turn Nailsworth into a foodie haven. It draws celebrities and foodies through its doors to dine on fresh seafood and local produce. 5 mins drive: MINCHINHAMPTON The delightful, small market town of Minchinhampton sits on the edge of Minchinhampton Common. It's made up of pretty stone cottages, many dating back to the 17th century and medieval wool trade. There is a weekly country market and a good choice of cafes. Minchinhampton was chosen as a scenic location for the recent BBC TV adaptation of J K Rowling's Casual Vacancy. There are breathtaking panoramic views of the Stroud Valleys from Minchinhampton Common, which sits on the Cotswold escarpment. It is an important archaeological landscape and managed by the National Trust. Rare orchids and butterflies can be spotted along with freely roaming horses and cattle. Please drive carefully over the common and keep an eye out for (URL HIDDEN) of the most famous residents is the Princess Royal who lives at Gatcombe Park on the edge of town. Every year, the famously quirky Giffords Circus takes up residence in Minchinhampton as part of its annual summer tour of the Cotswolds. 15 mins drive: TETBURY: Tetbury is a historic market town that is now internationally famous for its range of antiques shops and dealers. Independent boutique shops sit alongside restaurants that feature in the Michelin Guides. Tetbury attracts everyone from Royalty (Prince Charles and his sons' home, Highgrove, sits less than a mile away) to English countryside lovers, antique-finders, foodies and real ale connoisseurs. 8 min drive: STROUD: In the opposite direction and you will find yourself in the market town of Stroud - Situated below the western escarpment of the Cotswold Hills at the meeting point of the Five Valleys, the town is noted for its steep streets, independent spirit and cafe culture. The Cotswold Area of Outstanding Natural Beauty surrounds the town, and the Cotswold Way path passes by it to the west. The award winning saturday farmers market IS A MUST! 25 min drive: BIBURY & ARLINGTON Bibury is a charming, typically Cotswold village just a short drive from Cirencester. It's easy to see why William Morris called Bibury 'The most beautiful village in England' – wonderful stone buildings strung out along the banks of the River Coln. Arlington Row, owned by the National Trust, is one of England's most iconic and photographed sites – it even appears on the inside cover of UK passports! Originally built in the 14th century as a monastic wool store, it was converted in the 17th century into a row of weavers' cottages. The cottages are now lived in by National Trust tenants, with no public access to the cottages or gardens, although one of them can be rented out as a holiday cottage. The River Coln flows through Bibury sandwiched between the main village street and an expanse of boggy water meadow known as Rack Isle, so called because wool was once hung out to dry there on racks after it had been washed in Arlington Row. With Arlington Row as a backdrop, it makes one of the most picturesque scenes you will find in the Cotswolds. 30 min drive:CHELTENHAM SPA 45 min drive: BATH SPA
Just back from a great weekend with some friends. High spec studio with lovely views, right by a great walk to woodchester Mansion, the Ragged Cot pub in Minchinhampton does a fab roast and Victoria was a great host - extremely accommodating and helpful!
Hannah
2017-02-26T00:00:00Z
We visited Victoria's faultless studio for our Valentine's retreat weekend to the Cotswolds. The location was perfect for everything we wanted to do and views spanned across the rolling hills of the countryside. The snowy weekend certainly added to the romance. This was a stylist, modern, clean studio which was very fitting to all of our needs. We arrived to fairy lights leading up to the door, a personalised welcome message, and beautiful rose on our bed which was a lovely touch. All facilities were excellent including the DVD player, power shower, and dishwasher. The superb bed (with feathered duvets and plush blankets!) made for a sound sleep... and the late check out time suited our lazy Sunday morning vibe. We hope to return in the summer when we can have more sunny ventures!
Danni
2017-02-12T00:00:00Z
This place couldn't be better positioned on the southern slopes of a valley holding a stunning series of crystal clear lakes. There are gorgeous paths right next to them and if I'd been braver I (it was March) I would have been super tempted to swim. Victoria's apartment is spacious, self contained & immaculately presented..and the floor of the bathroom is particularly well heated! A really lovely stay. I can also recommend the well being centre which adjoins the accomodation. It's set in a remarkable location and I found it truly worthwhile. Nailsworth is also a lovely place with a very creative atmosphere. Highly recommended.
Zoe
2017-03-22T00:00:00Z
Victoria is a superb and welcoming host and her place is amazing. Her attention to detail is fantastic ..from the welcome sign with our names on to the infornation pack with absolutely everything you would need to know. We had a lovely taxi driver Alan, who took us to one of The Black Horse inn where we had a brilliant meal. All that wrapped up with being in a beautiful area only a stones throw away from a walk to the Three Lakes makes for the perfect getaway.
Janine
2017-01-28T00:00:00Z
I really enjoyed staying here and was very relaxed. I travel for business so an internet connection of good quality is important for me. This one is around 15meg so very good. The bed is awesome and cosy as is the whole apartment. Victoria and Paul are very friendly and warm people and I liked them both. I will stay again. Cheers Mark.
Mark
2017-02-23T00:00:00Z
We had such a fantastic time staying in Victoria's studio apartment - my two friends and I were able to explore the surrounding area on foot and by bike, following Victoria's helpful suggestions. The studio itself is lovely - very warm and cosy, well-designed and homely - a fantastic place to come back to after a day exploring. The bed was incredibly comfortable and the kitchen well-equipped for all our cooking needs. Victoria also left some complimentary fizz in the fridge that we were exceptionally grateful for at the end of a tiring day! Victoria herself is a real delight too - so friendly and always willing to help - she made the trip so incredibly easy for us. I'd definitely recommend the place to anyone looking for a calm and relaxed break away from city life - we're hoping to come back soon for a return visit.
Carly
2017-02-20T00:00:00Z
Lovely location and a nice modern home
Alice
2017-02-24T00:00:00Z
Perfect location, lovely welcome and we felt very reassured that Victoria would help us if we needed it. Victoria gave us directions to Woodchester Mansion, which was a beautiful walk. Very clean and cosy, lovely warm shower and comfortable bed. Perfect getaway, thank you so much
Jenny
2017-02-07T00:00:00Z
Romtype
Helt hjem/leilighet
---
Eiendomstype
Leilighet
---
Plass til
4
---
Soverom
Gloucestershire, England, Storbritannia
This studio apartment provides a cosy retreat for two people, with a special rustic charm. It is set in the last bay of Owlpen's grade one listed medieval barn, and massive oak cruck beams date it to 1446 making it one of the oldest surviving barns in the Cotswolds.
This historic building has been completely renovated in the same style as Owlpen's larger cottages. INTERIOR The open plan studio, light and spacious, has comfortable seating and a king-sized double bed, like a hotel suite. Key Features •Cosy retreat for two with rustic charm •Historic building with original features •Hotel suite style studio apartment •Dog friendly •Sleeps 2 Two steps lead up to the kitchenette and dining area with views towards the manor gardens and meadows. Adjacent is the bathroom, with sunken bath and handheld shower. The cottage is heated with high capacity electric storage heaters. Outside there is a large private terrace with a small wrought iron table to enjoy a morning cup of coffee in the sunshine. The cottage is situated in the heart of Owlpen's valley, over the Estate Office and Cyder House restaurant.
The Owlpen valley has long been recognised as one of the most romantic places in England and provides guests with an exclusive and relaxing hideaway, surrounded by private woods and hills and many miles of walks--from a gentle stroll round the estate trails to a 20 mile trek along the Cotswold Way. This is Laure Lee country, situated in the Royal Triangle in the heart of the Cotswolds hills. The historic cities of Bath, Cheltenham and Cirencester are all within an easy drive, as are the cultural and scenic attractions of Oxford, Blenheim and Stratford Upon Avon, which are popular day excursions. An ideal base for the Horse Trials at Badminton and Gatcombe Park and racing at Cheltenham. Newark Park (National Trust) and Woodchester Mansion are three miles away, as well as many historic houses, including Berkeley Castle, Chavenage House and Sudeley Castle. The choice of attractions and things to see and do is huge and you will want to return to see and explore it all. The Cotswolds are one of England's best known touring regions of picturesque hills, limestone villages and scenic attractions. The magical deep wooded valleys here form its most spectacular scenery. Extra details Golf, gliding, riding, antique shops, historic houses, castles and gardens nearby. But many visitors never leave the privacy of the Owlpen estate, with its miles of footpaths and 800-years of history.
Tythe Barn is a charming and cosy haven that was perfect for the peaceful break we were hoping for. We got great recommendations on places to go and had good communication in the run up to our stay as well as a check in call when we arrived. The location was great for scenic walks. Would thoroughly recommend for anyone who is looking for time out from the hustle and bustle.
Helen
2016-02-28T00:00:00Z
We had a wonderful stay at Owlpen Manor - Bella was extremely helpful and friendly in the run up to our stay, and provided detailed information to ensure we could access the cottage out of hours. The cottage was super cosy and in a beautiful location (also an extremely peaceful place!) - and it had everything we needed for our stay. The bed was extremely comfortable, and I can recommend a soak in the bath tub too! There was a place to buy eggs right by our cottage, and the scenery in the local area was beautiful. All round, it was a great location and extremely relaxing weekend! Thank you very much!
Sam
2015-08-31T00:00:00Z
Owlpen estate is a beautiful part of the world and the Tithe barn Cottage is a charming and comfortable place to stay. Very well equipped and packed with character I thoroughly recommend staying here as part of your trip. Our hosts were helpful and friendly and our dog loved the walks in the coutryside.
Dave
2015-08-24T00:00:00Z
Loved this place. Everything for a cosy weekend. Kitchenette is fully equipped so don't miss out on bringing any of your own things for breakfast or meals. The Old Crown is worth a visit too. Planning on coming back in July
Phil
2016-02-21T00:00:00Z
We were made very welcome, including a tray set for a pot of tea and milk in the fridge. Really cosy, lots of charm with old wooden beams, good 'sunken' bath, well equipped for a short break. Storage heaters took a bit of managing but there was a good backup heater. Really comfy large bed, good towels, Sky TV a bit basic, DVD player would have been good addition. Lovely grounds, great area for walking, Owlpen church a real gem. So peaceful, great for a short break away from it all.
Stephen
2015-04-02T00:00:00Z
Beautiful rural location with amazing walks and rustic charm. Room was immaculate and the host kindly left some milk which was very handy! The room had beautiful character had plenty of amenities. An absolute Gem and perfect getaway!! We were left to our devices and instructions on how to get there were clear and concise. Could not have been any better.
Fraser
2015-11-29T00:00:00Z
This cottage and estate are beautiful, comfortable, and wonderfully located. The staff were extremely nice and welcoming, and were not at all intrusive. An absolutely wonderful place to stay. Highly recommended.
Alexander
2015-07-08T00:00:00Z
Peaceful, quiet, clean and lovely, everything we were hoping for.
Will
2017-03-26T00:00:00Z
Romtype
Helt hjem/leilighet
---
Eiendomstype
Leilighet
---
Plass til
2
---
Soverom
Gloucestershire, Storbritannia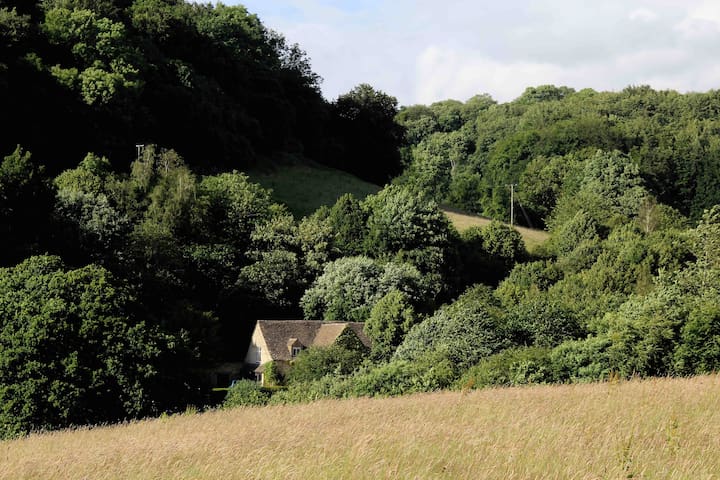 My place is close to a great variety of walks and views. You'll love my place because of it's homeliness and the location. This room is on the second floor with great views of the surrounding countryside. I have 2 other rooms available, one single shared room and one double private room which are listed separately.
Romtype
Privat rom
---
Eiendomstype
Leilighet
---
Plass til
1
---
Soverom
Gloucestershire, England, Storbritannia
Grigshot apartment is set in the top floor of a Georgian house on the outskirts of Stroud, with its own entrance its a perfect place for work, leisure or family time as you can come and go as you please. It is also set ideally for commuting to Cheltenham, Bath, Cirencester, Tetbury or Gloucester. Good for couples, business travelers, families, big groups, and pets. Next door is the Old Fleece where you will enjoy a 10% discount on food which is available 11am to 10pm 7 days a week.
Our space has very large rooms, with character third attic bedroom. In beautiful historic Georgian house set in 3 acres of garden.
The house is within walking distance of Selsley Common and both Rodbrough and Minchinhampton Commons and nearby attractions of Woodchester Mansion. We have negotiated discounted green fees at nearby Minchinhampton Golf Old Course. Equestrian events locally include Gatcombe and Badminton. Next door is the Old Fleece, which serves lovely food all day every day.
The accommodation is at a great location. The view is quiet scenic. It is next to a pub, which is always helpful. Rosie and Kyle were very friendly and nice to help with the check in process. My recommendation would be to do something about the stairs for the entrance. It is a three bedroom apartment, which means people with reasonable luggage. The stairs are too small to take things up and down. My second recommendation will be to provide guests with a provision to control heating and hot water. I'm sure it was just one off but my family stayed without heating or hot water one evening + night. That was a cold experience. It was, however, sorted the next day and Ben was very helpful throughout. The third bedroom on top needs some decor. It's a bit raw and my sister got some shivers at night. Some nice interior adjustments would help. Apart from these, great hosts, great location and give it a try.
Vaibhav
2017-04-04T00:00:00Z
Nick's apartment is just beautiful! The decor is absolutely stunning and the apartment is extremely spacious, it can easily accommodate 6 adults comfortably. There is lots of parking available, and Nick allows you full use of the garden which is useful, especially as we had our Chihuahua with us. A bottle of wine in the fridge was a nice touch, along with milk, tea and cafetiere coffee. The layout with the kitchen and dinning room combined was great. The kitchen is well equipped and everything is brand new, which is lovely. The location is great and there are lots of great places to walk and explore nearby. Nick offers 10% discount at the pub next door which is a great bonus! Having stayed a quite a few Airbnb's this one is my favorites.
Ann-Marie
2017-01-02T00:00:00Z
Romtype
Helt hjem/leilighet
---
Eiendomstype
Leilighet
---
Plass til
6
---
Soverom
Gloucestershire, England, Storbritannia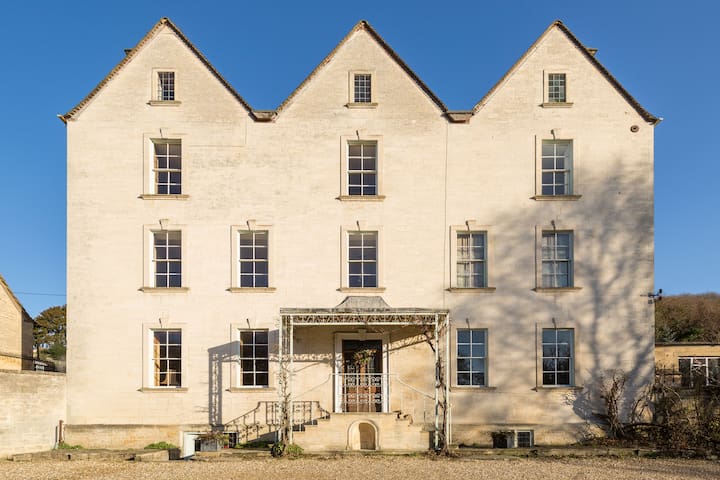 As featured on Channel 4's 'Hidden Villages of the Cotswolds' and convenient stop on the Wysis Way for walkers, we offer a rural location surrounded by fields, our own meadow and woodland. The Woolpack, as immortalised in Laurie Lee's 'Cider with Rosie', is only a 10 minute walk away.
Incredibly picturesque setting in this Cotswold valley made famous by that lovable (and very sadly missed) rogue, Laurie Lee, in his novel 'Cider with Rosie'. Steanbridge, a hamlet nestled within the Slad Valley, is a very special place at all times of the year. Our neighbours train racehorses, which are spectacular to see coming down the lane en masse for their daily exercise. We would be pleased to advise on the numerous walks starting and finishing from our home including the fairly-recent Laurie Lee route (people always get lost outside our front garden!). We offer a light and airy, recently renovated top floor of our mill (with direct access). We love it for its character and history as well as the peacefulness and nature around from our doorstep. The 17th century former woollen mill provides a spacious living area for use of guests with two doubles, or one double and two singles, with a double sofa bed and use of a kitchen. Guests are also welcome to explore our garden, including the meadow with the Slad brook running through it, and our woodland. We have a BBQ and fire pit for guests to use also if they so wish. Whilst we both work full time, we are never too far away and try to be available to assist with guests' needs. Parking outside Upper Steanbridge Mill is for 2 cars and guests are welcome to use both. We also have parking on gravel by our stream the other side of the road for further vehicles. Our friends at Wonky's Wheels in Stroud will look after you if you need a taxi anywhere as bus routes are reliable but buses run infrequently. Walking into Stroud is a 40 minute stroll. Mobile phone reception at Upper Steanbridge Mill is patchy, so please let us know if you would like to book a taxi etc. and we would be pleased to help. We live in a remote country setting with hardly any light pollution. The pub however (The Woolpack) is only 10 minutes away on foot and thankfully the walk is downhill on the way back. We can lend a torch! Stroud is 2 miles away, (award-winning Farmers' Market on Saturday mornings) Nailsworth 6 miles, Cheltenham 11 miles, Gloucester 10 miles, Cirencester 10 miles, Bath 33 miles and Bristol 30 miles. Bristol Airport is an hour's drive; London Heathrow 1h20mins; Birmingham Airport 1h 30mins. Paddington to Stroud is 1h 30mins by train and a 5 minute taxi ride thereafter. The British designer Jasper Conran once likened Stroud to 'the Covent Garden of the Cotswolds' and is a great base to explore the undiscovered south Cotswolds countryside and the Five Golden Valleys. The town of Stroud is the capital of the south western Cotswolds and located at the divergence of the five Golden Valleys, so named after the monetary wealth created in the processing of wool from the plentiful supply of water power. Five populated valleys converge at Stroud, ten miles southwest of Cheltenham, creating a bustle of hills. The bustle is not a new phenomenon. During the heyday of the wool trade the river Frome powered 150 mills, turning Stroud into the centre of the local cloth industry. Even now, Stroud is very much a working town, and one which doesn't need its heritage in order to survive. While some of the old mills have been converted into flats, others contain factories, but only two continue to make cloth - no longer the so-called Stroudwater Scarlet used for military uniforms, but high-quality felt for tennis balls and snooker tables. The Slad valley, again, was a centre of clothmaking until the 19th century when the mills ceased production. The grey-stone village of Slad is scattered along the south-east slope of the narrow valley and has been immortalised by the poet and author Laurie Lee. We recommend our friends at Wonky's Wheels in Stroud for all taxi needs to and from Upper Steanbridge Mill. The guys there know us well for our own work-related and personal needs! Our local, The Woolpack, gets very busy at weekends. To avoid disappointment, we would be pleased to book you a table there in advance (Hannah, the landlady, is a formidable hostess but even she cannot work miracles when there are no covers available!).
Rural Gloucestershire at its finest. Lesser known part of the Cotswolds (more industrial in parts but equally as verdant) with steep-sided valleys and a character of its own.
Upper Steinbridge Mill was totally perfect for our 2 night stay - we had 6 of us in the house comfortably as we were in the area for a friends wedding. The view from the upstairs bedroom is incredible and we were treated to an amazing sunrise one morning down the valley. The space is bigger than it looks and is just great for a little weekend away or longer. Brilliant area for walking and the little meadow over the road makes the perfect setting for breakfast in the sunshine. Ideally it's best to have a car in this area but Jon was amazing and gave us a lift to where we needed to get to - a truly excellent and friendly host - I'd go back in a flash.
Diana
2016-09-25T00:00:00Z
Excellent location in the Cotswolds, perfect spot for exploring the area. The hosts were very welcoming & the house was well equipt. We enjoyed the local farmers market in Stroud and a delicious supper at the nearby Woolpack pub. Would recommend!
Ceri
2016-06-13T00:00:00Z
Loved our stay at the cottage which met all our expectations. The owner was very helpful, providing information on the area and checking in to make sure everything was ok. Lovely cottage, very relaxing and off the beaten track. Fully recommended to unwind and relax. Good base for the cotswolds and there is a pub within walking distance if you don't feel like cooking.
John
2016-06-25T00:00:00Z
My family had a wonderful weekend in Jon's and Antonia's house. Located in a beautiful slot of Slad it is recommended for morning walks around and behind the property into the wood (if it's not too muddy!). If you like horses you can meet a number of and talk to them, they're just around the corner... Jon and AntoniA were very hospitable, provided all necessary for a nice breakfast, the wood burner was waiting for us when we arrived and generally they made us feel like home. We hope they continue to provide that causy atmosphere to all guests; I' m sure their adorable son will take care of that! Good luck with your wild garlics Jon!!!
Michalis
2016-01-31T00:00:00Z
We had a lovely time staying with Jonathan and his super family. They couldn't have done anything more to make us feel welcome and comfortable, and were flexible and relaxed hosts. The accommodation was bigger than we had anticipated from the photos, and the kitchen was well stocked, both with essential food and equipment. Both bedrooms were very comfortable, and the bathrooms immaculate.
Daphne
2016-08-03T00:00:00Z
What an amazing weekend. The mill itself was a beautiful base for our few days in the Cotswolds, with lovely walks and great food right on the doorstep. Jonathan and Antonia were incredible hosts, and we felt really welcome staying there. They had very generously provided breakfast items & coffee, helped us plan our days in the Cotswolds with lots of tips & must-dos, and also helped us organise taxi services when we had no phone reception. I would love to come back here and stay again, and can't recommend this place enough! Thank you for a lovely weekend Jonathan & Antonia
Sophie
2016-05-31T00:00:00Z
From my arrival and throughout the weekend, Jon and Antonia were welcoming, helpful and considerate hosts. The accommodation was clean, comfortable and full of character. The kitchen is well equipped and some essential foodstuffs, coffee, tea, milk, cereal and bread were provided. The building is in a beautiful location with delightful views and a charming pub nearby. There are several walks in the area and appropriate information is provided. Highly recommended
Steve
2016-03-30T00:00:00Z
We had a great weekend in this lovely, comfortable, self-contained accommodation. The beds and pillows were inviting and comfortable, our hosts provided us with plenty of welcoming things like bread, milk and tea, and gave us recommendations for places nearby to eat and drink. The location is gorgeous and so peaceful.
Bethan
2016-08-08T00:00:00Z
Romtype
Helt hjem/leilighet
---
Eiendomstype
Leilighet
---
Plass til
6
---
Soverom
Slad, Storbritannia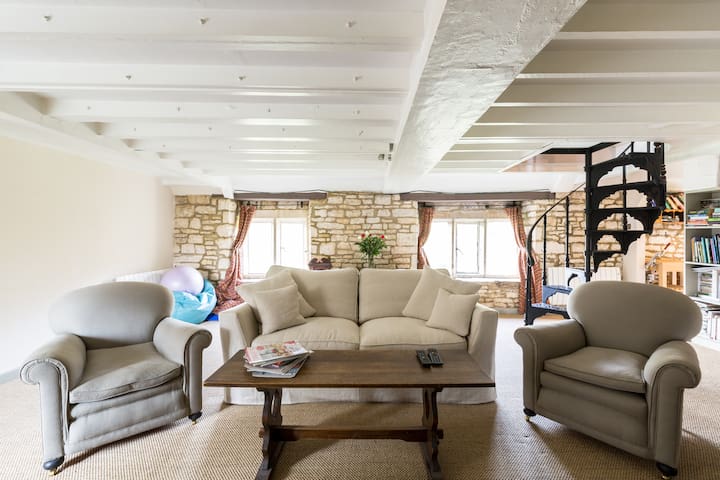 Weavers Cottage is a 17 century weavers cottage in one of the oldest streets in beautiful Cotswold gem Painswick. It has a pretty, sunny terrace & roof garden with seating for dining and a barbecue. Situated on the Cotswold Way - a walker's paradise.
Weavers Cottage is a 17 century old weavers cottage from the days when Painswick was a centre for wool and spinning and weaving - as many of the properties in the Stroud area were. It has an old ingle nook fireplace and large beamed bedroom and pretty garden terrace and roof terrace to eat on. It is ideal for two but there is an extra small bunk room with adult sized beds which could accommodate children but the roof terrace would be unsuitable for very young children.
Painswick is called the Queen of the Cotswolds because of its prettiness. We are on the Cotswold Way and the walking here is glorious. we are ten miles from Cheltenham with is shops and race track, five miles from Gloucester with its rugger ground and two and a half miles from Stroud with its local food market and historic buildings. Painswick is often used as a filming location because of its picturesque buildings. Weavers cottage is next to the arts centre and gallery with resident artist studios. Ancient Roman remains are also in nearby Cirencester.
An excellent spacious and perfectly located cottage to explore Painswick and surrounding areas. Clean and well equipped. Thanks for the food starter pack and the extra nights stay
Brenda
2015-09-12T00:00:00Z
Weavers cottage was a lovely spot to stay and enjoy the Cotswolds. The cottage is in the middle of Painswick and yet feels out of the way and quiet. The whole house was clean and tidy, had everything you could want and even little details like magazines, board games and tour guides. Ellen was very descriptive to help us find the cottage and thoughtful to leave us breakfast food and a note to recommend the Falcon Inn for dinner (which was delicious). We look forward to come back in summer to take advantage of the outdoor patio/ terrace area in the sunshine.
Sara
2016-11-21T00:00:00Z
Ellen was very friendly and accommodating/flexible regarding meet up time and checking out time....this is the first time I have used Air bnb and will do again :)
Lyn
2015-10-30T00:00:00Z
Lovely cottage in the most beautiful town! Ellen was lovely, left us a refrigerator full of breakfast items and fire wood in the living room. The cottage was cozy, clean and the perfect place to relax. It's located right next to cafes and restaurants and you can head out onto walking trails in minutes. The bathroom was large and the water got very hot (always a plus!) Thanks Ellen! We will be back.
Michelle
2016-09-15T00:00:00Z
The cottage is lovely! It's not huge, but fit four of us comfortably. It has everything you need, and is extremely well-situated near the Painswick pubs and walking paths. The heat can be spotty but the fireplace is great. Wifi is suitable. Would definitely recommend Ellen's place for a weekend getaway!
Ariella
2016-02-18T00:00:00Z
Charming cottage, just as in the listing.
Sarah
2017-03-09T00:00:00Z
super cottage, very cosy and beautifully furnished. Painswick great and lots of lovely walks to local pubs!
Niki
2016-10-24T00:00:00Z
The space was very clean and tidy and was pretty well equipped for some meals at home. Ellen was very kind to help accommodate our toddler with a travel cot and highchair. We weren't able to take advantage of the roof top patio due to weather, but we enjoyed Painswick!
Russell
2016-04-28T00:00:00Z
Romtype
Helt hjem/leilighet
---
Eiendomstype
Leilighet
---
Plass til
4
---
Soverom
Painswick, Storbritannia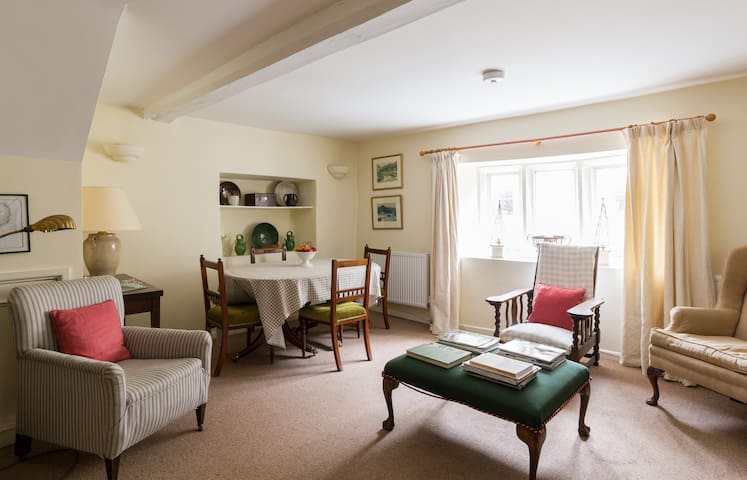 1

–

18

av

59 Leiligheter til leie
Oppgi datoer for å se fullstendige priser. Ekstra gebyrer gjelder. Skatter vil kunne tilføyes.