V domě jsou 3 ložnice, obývací pokoj se 2 rozkládacími pohovkami, 2 kuchyně, koupelny a sklep, který se nachází v bezprostřední blízkosti Jablanac a přírodního parku Zavratnica. Dům má vlastní přístup na pevninu uzavřeném rampě, která zaručuje maximální soukromí. Dům se nachází na soukromém nábřeží, dvě pláže, promenády a dvou kotvišť pro lodě. V ceně pronájmu součástí jsou 2 kajaky a je zde možnost pronájmu délce člunu 4m napájecí 25ks.
Romtype
Helt hjem/leilighet
---
Eiendomstype
Hus
---
Plass til
9
---
Soverom
Jablanac, Lika-Senj fylke, Kroatia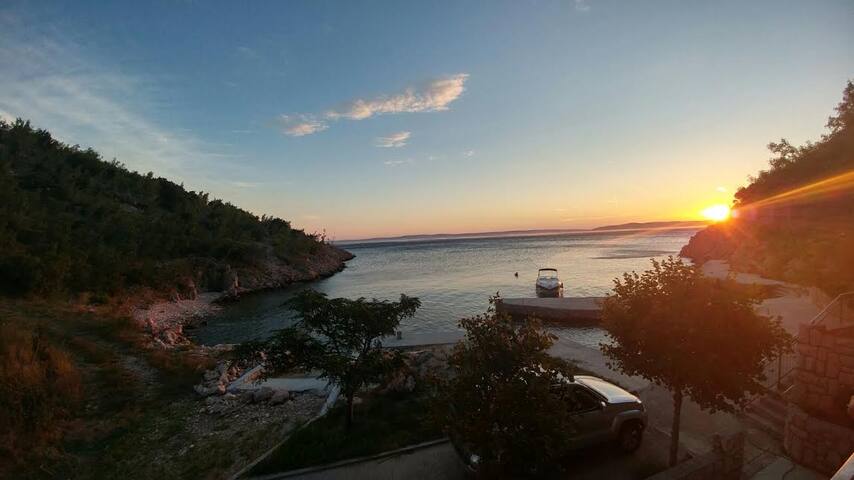 STINICA31B se nachází v blízkosti moře, pláže, restaurace, obchod, Velebit hor, přírodní park Zavratnica a ostrovy Rab, Pag a Goli Otok. Ty budou mít místo kvůli názorům a umístění bytu. Byt je určen pro páry a rodiny s dětmi.
Byt je prostorný a pohodlný. Venkovní terasa s krásným výhledem.
Místo má hodně soukromí a tiše.
Romtype
Helt hjem/leilighet
---
Eiendomstype
Leilighet
---
Plass til
4
---
Soverom
Jablanac, Lika-Senj fylke, Kroatia
Letní dům se nachází v malé vesničce Stinica nacházející se jen 500 metrů od pobřeží, na úpatí hory Velebit. Apartmán Studio má otevřený obývací pokoj, kuchyňský kout a oddělený sprchový kout s toaletou. Balkon s výhledem na moře.
Z naší terasy a balkonu si můžete vychutnat úžasný výhled na moře a hory s nejkrásnější západ slunce na světě. Můžete si opravdu vychutnat a relaxovat v naší středomořské zahrady. Pokud hledáte klid a pohoda, náš byt je tou pravou volbou pro vás. V přední části domu volné parkovací místo.
If you are looking for complete peace with a beautiful view of the Croatian coast, this is the place for you. It almost feels like you are in the middle of nowhere, but it was a welcome change for us after exploring several busy cities. The room was clean, spacious and comfortable. There is not much happening in Stinica, but the neighboring town had a few restaurants. We made some of our own meals due to limited restaurant options. This is a great spot to relax and then to explore several places including Zavratnica and Rab Island. Asja's mom was our host for our few days and she was wonderful, despite our language barrier! She went out of her way to help me while sick and Asja was helpful in getting us medical care. This felt like an escape from the busyness of life and allowed us to enjoy the natural beauty and peace that this part of the Croatian coast had to offer. Highly recommend! Lauren and Blair
Blair
2016-06-05T00:00:00Z
Lovely apartment, beautiful area with close access to islands of Rab, Pag and the Velebit National Park. Just be sure to withdraw money and do your shopping in Senj or other big cities before getting there. Lovely outside garden area to relax in the evenings, great view, easy to find and great host. Absolutely recommended.
Alex
2016-09-04T00:00:00Z
I had a wonderful time at Asja's place. The apartment was comfortable, clean and very big. I felt always like home and I think, it's not possible to make a host a bigger compliment. Hope to get to Asja's place once again and would always recommend her! Thank you, Asja :-D
Stephan
2014-08-24T00:00:00Z
Wir waren 4 Tage in Stinica bei Asja (Asja's Mum), problemlose Kommunikation, ein herzliches Willkommen und alles wie beschrieben. Die Nähe zum Meer, das Wasser und das Velebitgebirge sind super.
Guido
2016-09-16T00:00:00Z
Très bon accueil de la part de Nina qui ne parle pas l'anglais mais s'est toujours arrangée pour qu'une personne soit là pour faire la traduction. Appartement spacieux, très bien tenu, agréable avec vu sur la mer du balcon. Il faisait très chaud et la climatisation fut appréciable :) (pour 5 euros en plus par jour). Accès à la mer à pied, joli petit village. Merci beaucoup pour l'accueil
bruno
2015-08-09T00:00:00Z
Han sido más que unas vacaciones. Me hicieron sentir como en familia durante las semanas que pasé en Stinica. Es un lugar tranquilo, agradable, alejado del ruido. Y ellos son una familia encantadora, muy acogedores y simpáticos. Voy a echar de menos muchas cosas. El lugar me dejó impresionado. Supongo que tendré que regresar...
Luis
2016-08-29T00:00:00Z
Wir hatten schöne Tage in Asja's Appartement. Der Kontakt war sehr freundlich und die Gastgeberin war sehr hilfsbereit. Bei Fragen wurde sofort geantwortet. Die Lage der Wohnung ist optimal zum entspannen und liegt am Rande eines sehr kleinen Dorfes. Direkt gegenüber ist eine nette Insel (Rab) und lohnt sich für einen Tagesausflug.
Lea
2015-06-01T00:00:00Z
Our stay at Stinica is really memorable and I can only highly recommend to stay with Asja and her family. Not only were we welcomed and directed very patiently to the house in the dark of the night - Asja even watched out on the balcony with a flashlight to signal us to the village - but we actually felt at home there. We've spent a few evenenings chatting, eating and drinking with Asja, her sister Nika and Asja's partner Samir and the other guests at this magnificent patio, enjoying the marvelous sunset over the island of Rab which is just across the coast. The studio is bright, lofty and comfortable and is a great home base to explore both the hinterland (Plitvice Lakes, Velebit National Park etc.) as well as the islands of Rab and Pag - or just hang out by the sea, swim or snorkle.
Björn
2015-08-25T00:00:00Z
Romtype
Helt hjem/leilighet
---
Eiendomstype
Leilighet
---
Plass til
2
---
Soverom
Stinica, Lika-Senj fylke, Kroatia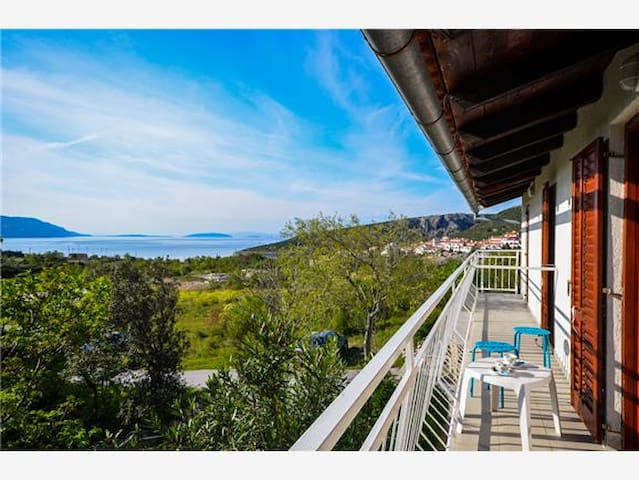 Min plass er nær flott utsikt, sjø, flotte strender, omkringliggende øyer - Pag, Rab, historiske ruinings ... Du vil elske mitt sted på grunn av utsikten over sjøen fra hele leiligheten spesielt fra stor balkong. Det finnes mange strender du kan nå i minutt eller to. Leiligheten ligger i den splitter nye bygningen kun få meter fra strendene, men har også sin egen svømmebasseng, solterrasse, peis. Splitter nye interiøret ved berømte arhitect. Leilighet med galleri gulv og takvinduer.
Jadranka i její bratr byli skvělí hostitelé, komunikace rychlá, vstřícná, dostali jsme spoustu užitečných informací kam se podívat po okolí, kde nakoupit. Apartmán odpovídal popisu i fotografiím - tzn. moc hezký, čistý a na pěkném klidném místě, bazén s výhledem na moře je výjimečný. Ideální místo na klidnou dovolenou.
Petr
2016-09-01T00:00:00Z
Vielen dank fuer alles. Es war ein ausergewoehnlicher Urlaub :) Wir haetten nicht gedacht das solche Orte exestieren :) Der erste Eindruck - WO sind wir ?!? man errreicht das Dorf nur ueber einen Weg - der uebrigens nur fuer ein Auto Platz hat - dass heisst, falls ein Auto gegenueber angefahren kommt muss einer der Fahrer an die Seite fahren ( manchmal muss man rueckwerts fahren um Platz zu finde :D ) - und das ganze ueber 3km , es gibt keine Barrien die einen Sicherheit verleihen. Es gib keinen Ladem, kein Caffe oder Restaurant. Morgens um 7;45Uhr kommt ein Kleintransporter mit Bot und Broetchen die man dann kaufen kann oder in der Woche kommt jemand mit Obst/Gemuese oder Gefrohrenen. Aber der Ort hat seinen Charme- nach 1 Nacht und und dem Ausblick am Morgen vergisst man den ersten Stress. Das Haus ist sehr sauber, das Apartment wirklich sehr schoen eingerichtet und modern, mit allem was man braucht :) Jadranka und Ihr Bruder sind wirklich ganz liebe Menschen :) Gleich bei Ankunft haben wir eine Flasche Wein sowie Pralinchen bekommen. Die Betten waren SEHR bequem !!! Der Pool sehr gepflegt :) Zum Meer waren es ein paar Minuten runter- etwas anstrengend, aber okay. Erst da merkt man wie sehr wir im Konsum leben und denke dass WIR das alles brauchen- was garnicht stimmt. Der Ort hat uns gezeigt das man sich mehr ueber die kleinen Dinge freuen sollte und die kleinsten Sachen geniessen soll :) Wir haben uns da wirklich sehr wohl gefuellt und moechten uns nochmal bedanken :* Vielleicht kommen wir naechstes Jahr wieder, nur diesmal mit einem Boot am Anhaenger :)
Sabina
2016-08-29T00:00:00Z
We liked the apartment very much, especially the pool and the view. It is situated in a nice small village. There are no shops so make sure you buy everything in senj before you arrive. We made a lot of trips- to zavratnica, to lukovo, to the island pag and rab. We enjoyed the it very much.
Natalia
2016-09-17T00:00:00Z
Wir hatten einen wunderbaren Urlaub in einer phantastischen Ferienwohnung. Es hat uns an nichts gefehlt. Die Wohnung war 1a und der Ausblick allererste Sahne!
Nico
2016-09-28T00:00:00Z
Jadranka and her family are great hosts: always available and caring! The apartment is comfortable and the terrace has a fantastic view on the sea and the islands with direct access to the swimming pool. We hope to be back soon! Thank you for everything :-)
Rossella
2016-07-18T00:00:00Z
I would like to highly recommend staying at Jadranka's place in Starigrad. It's a fantastic apartment with amazing sea and sunset view. It's newly renovated (July 2016) and clean. Jadranka and her daughter were very helpful starting from the day of the reservation. They provided us with everything we needed. We really enjoyed the pool, the barbecue place and the balcony. The road down to the village was a bit stressful at the beginning because of the serpentinas, but we got used to it and we enjoyed travelling to many different places around. What might be slightly better: the pool might have been bigger (it's ca. 3x4m) and the beach could have been prettier. But there are many lovely beaches in a short drive from the apartment so there's nothing to be worried about. We also missed a small grocery store nearby, but there was a delivery every morning so that it was possible to buy fresh bread and milk. My overall opinion is 5/5. We loved Croatia and Jadranka's place was a perfect base to travel around. We stayed there with our 3 year old son and he also enjoyed this vacation very much. Thanks for everything!
Paulina
2016-07-31T00:00:00Z
Le village est très jolie et pas touristique. C'est un endroit ou il faut aimer être en dehors des circuits touristiques habituelles. Par contre en 30 min de voiture, il est possible d'aller sur l'île de Rab (avec un ferry) ou d'aller à Senj. Il y a une très jolie promenade à faire entre Starigrad et le village d'à côté. Nous conseillons ce appartement pour la tranquillité, la beauté du lieu et la gentillesse de Jadranka.
Laurent
2016-08-13T00:00:00Z
Romtype
Helt hjem/leilighet
---
Eiendomstype
Leilighet
---
Plass til
6
---
Soverom
Starigrad, Lika-Senj fylke, Kroatia
A cool little apartment with a great location. Just a couple of minutes drive (5 km) from the beach and not more then 30 minutes (23 km) drive from the top of the biggest mountain in Croatia - Velebit that is also a national park. Peaceful and quiet place with hardly any tourists, with amazing vievs on islands Rab, Pag and Krk that are just a ferry drive away, breathtaking sunsets, perfect base to explore the amazing surroundings. A place to come in touch with nature in the very special way.
Unique location with tons of possibilities just a short drive away. Swimming in the sea and hiking on the biggest mountain in Croatia is possible within 30 minutes drive.
Just a couple of houses in the village with all the neighbours more then frendly.
C'est un superbe apparetement avec tout ce que nous avons besoin pour passer un bon séjour. Malheureusement Ivan n'était pas la mais il a laissé plein d'informations utiles pour le voyage ! Sa tante était super gentil et acceuillant ! Superbe séjour !
François
2016-10-15T00:00:00Z
Der Aufenthalt in Ivans Wohnung war wirklich einzigartig. Von der Wohnung aus hat man einen unvergleichbaren Ausblick auf die Landschaft! Die Sonnenuntergänge sind wirklich großartig und der nächtliche Sternenhimmel ist wunderschön von dort oben!! Ivan haben wir leider nicht kennengelernt aber seine Tante Mira hat uns herzlich begrüßt und uns mit Milch und Brot ausgeholfen. Wir haben uns sehr wohl gefühlt und würden Ivans Wohnung auf jeden Fall weiterempfehlen.
Anna
2016-09-25T00:00:00Z
We had a great welcome from Mira (the aunt) with beer, meat and cheese. Very lost in the nature, close to Jablanac and Stinica (5min by car), easy to park and lovely small beaches in theses villages. It takes 30min by carfrom Senj to reach the appartment. Ivan answers very quickly to the questions so it is really nice.
Thomas
2016-08-05T00:00:00Z
Petite maison nichée dans la montagne avec tout le confort nécessaire. Il y à une belle vue sur la mer. Nous sommes à proximité de Jablanac pour pendre le ferry. le seul petit bémol est le chemin étroit pour y accéder
Maryam
2016-09-04T00:00:00Z
This little apartment is situated on a hill with a fabulous view. The host was perfectly prepared for our arrival (with a baby) and his aunt Mira was really helpful and extraordinarily nice. Even though we were there at the end of february it was a nice experience because spring has started. I would highly recommend going there if you are looking for a spot that is quiet. Our dog liked the walks there Thanks Ivan and Mira! Best wishes Lisa, Roland and Nina
Lisa
2017-02-27T00:00:00Z
Ivan is the perfect host even though we didn't meet him. He was extraordinarily helpful with travel descriptions and advice. The apartment is situated near a small village and a small car ride from the sea, and close to the nationalpark Velebit. This makes the apartment a great base for exploring the area. We brought our boat, and the small harbour nearby was perfect for leaving the boat during night. Again the place is perfect for daytrips with boat, there is many beaches and several towns to visit. Ivans family living in other parts of the house, was very helpful and welcoming. We really enjoyed to meet them, and they made the stay much more inspiring than a boring hotelroom.
Jakob
2016-07-27T00:00:00Z
Nice people and beautiful location in nature... There are prepared really helpful maps and aunt Mirka/ Peter are really great. We recommend it.
Kitti
2016-08-31T00:00:00Z
The place is really lovely, cozy and nicely furnished. The area is a real rural escape. Ivans Familiy gave us a warm welcome.
Elisabeth
2016-10-02T00:00:00Z
Romtype
Helt hjem/leilighet
---
Eiendomstype
Leilighet
---
Plass til
4
---
Soverom
Senj, Lika-Senj fylke, Kroatia
Pěkný pokoj s manželskou postelí a sociálním zařízením, balkonem a kuchyňským koutem se nachází v 1. patře, WIFI a aircon zahrnuty, pořádané mé milé maminky a babičky. zahrnuty welcome drink. Písečná pláž, chodník u moře, restaurace a bary na pláži v pěší vzdálenosti! Tento pokoj nabízí dokonalé soukromí, samostatné dveře.
Pokoj nabízí dokonalé soukromí, se samostatným vstupem. Moje rodina má více než 30 let zkušeností z hostování hosty z celého světa. Po příjezdu na místo pobytu vás bude nabízen s welcome drink (místní víno a rakija) Pokoj s kuchyňským koutem, koupelna a balkon v soukromém domě, Ostrov Rab, Barbat pro 2 osoby. Existuje spousta restaurací, kavárny a jeden hotel s lehátky a trampolínou pro děti, pouhých 200 m od domu ... Barbat je tichá lokalita se spoustou písečných pláží, které jsou ideální pro relaxační dovolenou zejména s dětmi ... Jsme pronájmu 2 apartmány a 2 pokoje v domě, a žijeme v našem bytě v přízemí ... Máme spoustu zkušeností v oblasti cestovního ruchu, protože před 30 lety ... Zajišťujeme ložní prádlo, ručníky a vše, co u potřebovat pro relaxaci čas u moře ... Wi-Fi, parkování zdarma, přistýlek pro děti, klimatizace, tV, kola, snídaně, gumový člun ...... máme velkou zahradu, kde jsme byli zvyklí sedět ve večerních hodinách s našimi host pití místní domácí pije mít talk & fun ... Přijďte se k nám připojil :) Popis: (18 m2) Prostor se nachází v prvním patře a skládá se z manželská postel, koupelna, WC, balkon s výhledem na moře. Vlastnosti: klimatizace, satelitní TV, kávovar, nádobí, lůžkoviny, ručníky, internet, parkování
Pokud se chystáte z trajektu do města Rab, budete muset vzít vzít první vlevo po Petra Supermarket v obci Barbat. Na stopce, se doleva, pak hned po vidíte Barbat 377. Adresa je Barbat 376 v blízkosti kostela !, Rab ... prvním místě, když jedete z ferry..Full soukromých pláží ... V blízkosti Pudarica ( písečná pláž). Tam je chodník z Barbat do starého města vše u moře ... můžete jít pěšky nebo jet na kole ..
The reservation was canceled the day before arrival. This is an automated posting.
Anne Linnet
2014-07-15T00:00:00Z
Super netter Empfang.Kleines feines Zimmer mit Balkon und Meerblick.Die Küche ist direkt Nebenan und hat Platz für eine Person.Empfehlenswert ist es auf jeden Fall.
Melanie
2015-07-31T00:00:00Z
We had a lovely stay in Barbat. Vera's mum and grandmum let us feel very welcome! We had really good weather so we could swim a lot. The room was clean and exactly as in the pictures. The hostess are nice and their animals are lovely. We even watched champions league with Vera's grand mum xD We will definitely visit Barbat again and we recommend it to everybody!! Thank you for hosting us! Cheers Raoul and Karilyn
Karilyn
2016-05-31T00:00:00Z
Vlatka's mum and granny were amazing, we felt so welcome in their house. The rooms were clean and tidy too. Thank you for a great stay! :)
Zoe
2013-09-09T00:00:00Z
Das Haus liegt wunderbar zum Strand, und ist in 2 Minuten zu erreichen. Vom Balkon hat man einen Blick auf das Meer. Restaurants und Cafés sind fussläufig zu erreichen. Man kann zu Fuß bis Rab am Wasser spazieren gehen. Beim Boot mieten hatten wir auch Unterstützung erhalten. Wir waren drei Tage auf Rab.
Stefanie
2015-09-02T00:00:00Z
Everything was perfect. We had a very good time staying at your House. We will definitely visit Barbat again and we recommend it to everybody! Thank you so much! Tina, Uroš & Olly ;)
Tina
2016-07-10T00:00:00Z
Wir hatten eine tolle Zeit bei Vera, Ihrer Mum und ihrer kleinen Tochter. Zimmer, Bad, Küche und Balkon sind genau so wie beschrieben und wir wurden super herzlich empfangen. Vera und ihre Mutter haben uns bei allem geholfen und waren immer ansprechbar, was ganz toll war. Und wir wurden sogar eingeladen auf ein Glas Wein und einen netten Plausch. :-) Man kann direkt vor dem Haus parken, das Meer und die eine oder andere Bar/Restaurant sind einen Steinwurf entfernt und in die Stadt braucht man mit dem Auto keine 10 Minuten. Wir haben den Aufenthalt sehr genossen und können die Unterkunft nur weiter empfehlen.
Jonas
2016-06-26T00:00:00Z
We were warmly welcomed by Vera's mommy Jadranka and her grandma, probably the nicest persons on this island :) We enjoyed being very close to the beach with partial view on the sea. The big advantage of the room is a balcony with two sides opening doors witch connect you with atmosphere over there. It was a real pleasure to be there. Many thanks and greetings!
Veronika
2016-08-29T00:00:00Z
Romtype
Helt hjem/leilighet
---
Eiendomstype
Hus
---
Plass til
2
---
Soverom
Barbat, Primorje-Gorski Kotar fylke, Kroatia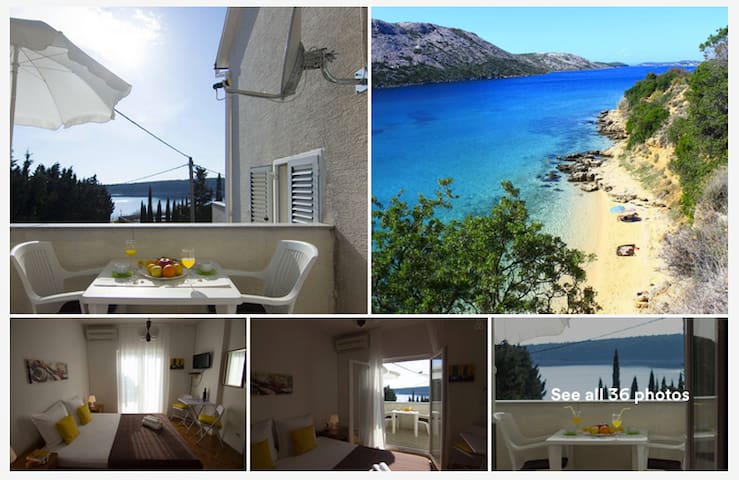 Moderní studio apartmán (cca 25 m2) v 1. patře s dokonalým výhledem na moře, 20 metrů od pláže. Rodinná atmosféra včetně grilování pavilonu pro venkovní zábavný a stolování. Cítit podstatu středomořské krajiny, vůní, jídlo a způsobu života.
Náš dům se nachází v Barbat pouhých 20 m od moře. Promenáda na 10 km úseku mezi středověkého města Rab a módní Pudarice pláž je ideální pro ranní úlovek, chodítka, běžci a cyklisté přičemž v čerstvý mořský vzduch a užívat si výhled na moře. Pro ty, kteří dávají přednost authenthic letní zábavu existují četné písčité pláže a křišťálově čisté moře jen minut. A tam jsou žádná slova popsat západ slunce ...
V blízkosti domu (60m) se nachází přírodní pramenitá voda (pojmenovaný Ošit), která teče z hor na pevnině, pod mořem a vzít stoupat na Promenádě jako pružina. Voda je velmi chutné. Svěží zelenou krajinou, suché kamenné zdi, středomořské byliny, květiny, olivovník, hroznové víno, palmy, křišťálově čisté moře, velmi milí lidé a hodně lásky přetékají.
La posizione della casa è meravigliosa, davvero a 15 metri dal mare e senza fatica alcuna, dopo qualche giorno ci si rende conto che è una delle case piu' comode della zona e con i servizi e le spiagge sotto casa! La casa è molto pulita e nel nostro appartamento non mancava nulla. Daniela è meravigliosa, sempre attenta e pronta per le tue esigenze e nel contempo discreta; la sua famiglia è lo specchio della sua anima, la nonna parla anche italiano. Dopo avere visto tutta l'Isola posso dire che è il posto piu' bello e credo di essere stata fortunata a sceglier questo posto! C'e' questa passeggiata lunga sei chilometri che arriva a Rab che al mattino presto è una meraviglia se piace camminare! E' un luogo per coltivare la mente e lo spirito!
EMANUELA
2016-08-30T00:00:00Z
Daniela ist eine äußerst freundliche, ja herzliche und hilfreiche Gastgeberin. Die Wohnung entsprach allerdings nicht unseren Erwartungen. Sie war ziemlich klein: Schlafzimmer okay, aber Wohn-Essraum mit Küche sowie das Bad extrem klein, und insgesamt eine uneinheitliche Ausstattung (nur ein paar moderne Elemente). Die Lage ist ruhig und relativ nah zum Wasser (schöner Blick vom Balkon), aber dieser Küstenbereich eignet sich zum Baden nur sehr bedingt.
Horst
2016-09-19T00:00:00Z
We experienced Strong and Magical Moments ! Rab Island is A Paradise, filled with charm where our have been able to realize our dream ... Daniela Is A Really Host EXCEPTIONAL and AMAZING !!!
Pauline
2016-07-14T00:00:00Z
great place with great atmosphere just few minutes walk from the sea, Daniela is very friendly person and she was always helpfull, we had welcome drink and apartman was tidy and clean Island of Rab is full of hidden beatifull beaches and old town is really nice
Jan
2016-07-07T00:00:00Z
Daniela and her whole family are one of the nicest people I have ever met. My boyfriend and I had such an amazing time staying at their apartment. We were greeted by a clean and tidy apartment, which has everything that you need for a great vacation: airconditioning, spacious bedroom and a lovely kitchen and bathroom. Daniela's house has a perfect location, just 20 m from the sea and the sandy beaches. Nearby you will find grocery store, coffee shops and restaurants. Daniela is a perfect host, she provided us with many informations that we needed, and made us feel like home. I would definitely recommend everyone to visit Rab, and staying at Daniela's apartment! Daniela thank you so much for everything, I cannot find enough words to describe how wonderful time we had staying at your house :)
Viktoria
2016-08-09T00:00:00Z
Our stay was excellent, apartments was nice and clean, very spacy, added value is a balcony with see view to the south west so you can watch the sunset, peaceful, hosts were great and can give a lot of assistance what to do and where to go in Rab. Grocery shop is 10 min walking. Great stay.
Tomaz
2016-07-18T00:00:00Z
Daniela est une hôte parfaite ! Elle saura vous accueillir (petit verre de schnaps de bienvenue) et vous donner toutes les informations nécessaires pour passer une excellent séjour sur cette magnifique île. L'appartement correspond à la description et la vue au réveil est vraiment superbe. N'hésitez pas à séjourner ici. Merci Daniela ! :-)
Julien
2016-09-11T00:00:00Z
Romtype
Helt hjem/leilighet
---
Eiendomstype
Leilighet
---
Plass til
2
---
Soverom
Barbat, Primorje-Gorski Kotar fylke, Kroatia
Pěkná malá vesnice, skvělá kombinace pro vychutnat výhled na moře a na hory. Můžete si zaplavat v přírodním parku, jen jeden kilometr od domu. můžete navštívit ostrov Rab a Pag, kteří mají blízko k Jablanac. Pláž je vzdálena 2 minuty chůze od domu, takže je ideální pro malé děti a rodinnou dovolenou.
Dobrý den, budu rádi nabídli velmi pěkný dům. Naše tři ložnice byt na pobřeží je ideální pro dovolenou snů. Čisté, útulné a oáza klidu, nedaleko horské Velebit a 50 metrů od moře. Jsme vítáni pro rodiny s dětmi. není žádný provoz, je velmi malá obec za skvělou vecation!
Můj sousedství jsou zde, aby vám pomohou, pokud budete potřebovat nějaké informace, pomoc nebo cokoliv ... my všichni chtěli mít večeři spolu, mají nějaký grilovat, které jdou na denní výlet spolu :)
We had a lovely holiday in Maja' house. It is very spacious, rustic but comfortable and has fantastic views. Well equipped kitchen. The sea is on your door step. Beautiful beaches are 15 minutes walk away. Jablanac is small and very pretty, everyone was friendly. Maja was very welcoming and helpful. Shops are a good drive away so you need a car. We would recommend Jablanac and Maja house to everyone who wants to enjoy Croatia, its mountains and a wonderful sea in a quiet, relaxed and authentic atmosphere. Perfect for family holiday.
sophie
2016-08-31T00:00:00Z
My family and I stayed in Maja's house for 2 weeks and our experience has been really fantastic! Maja supported us very well. The house is comfortable, clean and fully equipped! The "village service" with fresh fruits, vegetables and bread is unique and very pleasent. Consequently, we offer Maja's house for everyone!
Thomas
2016-07-17T00:00:00Z
Romtype
Helt hjem/leilighet
---
Eiendomstype
Hus
---
Plass til
8
---
Soverom
Jablanac, Lika-Senj fylke, Kroatia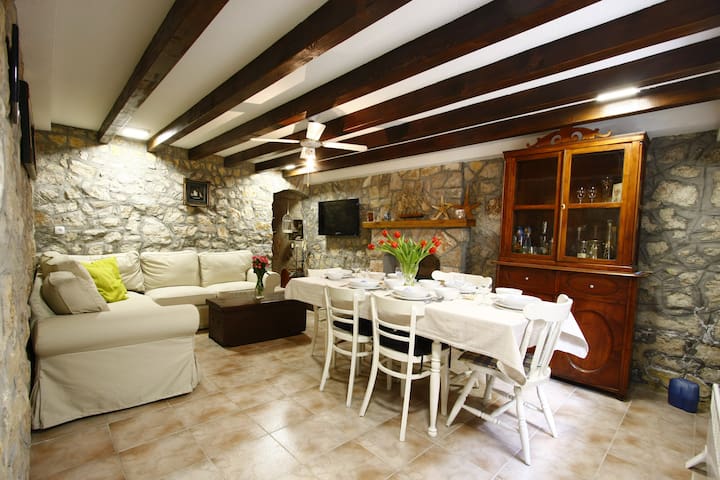 Hvis du er ute etter en fredelig og avslappende ferie, Starigrad nær Senj er det rette stedet for you.The Leiligheten ligger i den første raden til sjøen, bare noen få skritt fra stranden.
Klimatiserte leilighet på 55 m2 har ett soverom med dobbeltseng, et bad, et fullt utstyrt kjøkken og en stue med sovesofa, TV, satellitt og sikret wi - fi-tilkobling. Total kapasitet er 4 personer. Under oppholdet kan du holde verdisaker i safen. Grilling er innenfor terrassen. Privat parkering er sikret. Med 15 m2 stor skyggefull terrasse og 20 m2 avdekket terrassen, kan du velge hvor du vil tilbringe dagene
Steinete stranden nedenfor leiligheten er ideell for svømmere. Liten strand som passer for barn er 20 m til høyre, og dyrevennlige stranden ligger bare 15 meter til venstre.
Monika ist die beste Gastgeberin, die wir je hatten!! Sie ist eine sehr freundliche und herzliche Person, die sich super viel Mühe gibt damit es einem an nichts fehlt! Ausserdem spricht sie super gut deutsch! Die Unterkunft ist einfach wunderbar und mit viel Liebe eingerichtet! Es ist alles da was man braucht. Wer Ruhe und Entspannung sucht ist hier genau richtig! Die Nähe zum Meer (20 Schritte) ist unbezahlbar und man hat jeden Abend einen tollen Sonnenuntergang direkt vor der Nase. Monika, danke für einen wunderschönen Urlaub! Wir kommen wieder! :) Sophie & Steve
Sophie
2016-07-18T00:00:00Z
Wir fühlten uns bei Monika sehr wohl, es wsr eine wundervolle Unterkunft sehr sauber schln eingerichtet und alles liebevoll angerichtet. Monika hat uns sehr verwöhnt. Die Aussicht ist Atemberaubend. Es war ein sehr erholsamer Ort mit sehr wenig lärm, von der Nachbarschaft haben wir daher nicht viel mitbekommen.
Stéphanie
2016-07-28T00:00:00Z
Wonderful apartment: Very clean, modern furniture, AC working perfectly, VERY fast wifi (Netflix in 1080p ;) ), kitchen contains everything one needs, fridge with freezer, big bed for 2 and the couch can be transformed into another bed for 1, blankets and sheets and stuff are all clean and very cozy, the terrace outside is wonderful for dinner or breakfast and we've seen the most beautiful sunsets, at the beach (just a few steps downwards from the apartment) the groundings are made of concrete (I consider it the best kind of beaches, I hate sand) wonderful hosts: very friendly, very helpful, speak German and English, very chill village surroundings: there is no such thing as a nightlife or party going on - if you want something like that, you need to go somewhere else! This place is perfect for relaxing and chilling at sea, since there is not much more than sun and sea going on - perfect for us :) One thing you need to consider is, that there is not even something for grocery-shopping. So you need to drive for about half an hour to the next supermarket - but thats no problem, since there is a big fridge ;) The local people are very friendly and used to tourists. There are wonderful hiking-tracks as well! So long story short: Hope to be back next year :)
Paul
2016-08-31T00:00:00Z
We had a great time at Monika's. The apartment is beautifully set right next to the sea. Monika and her boyfriend provided us with some great ideas for excursions and were very friendly overall. The town where the apartment is situated is quite secluded so you'll be wise to bring some books and all the provisions you're going to need. All in all it's everything it promised to be and you can have a great quiet time there.
Jacob
2016-08-16T00:00:00Z
Romtype
Helt hjem/leilighet
---
Eiendomstype
Leilighet
---
Plass til
4
---
Soverom
Sveti Juraj, Lika-Senj fylke, Kroatia
Appartement 2 + 2 in Stinica .Beautiful uitzicht vanaf het terras, 300 m van het strand, Wi-Fi, een volledig uitgeruste, airconditioning, vaatwasser, tv, huisdieren zijn welkom, boot docking, gratis parkeergelegenheid .Opties voor uitstapjes naar het eiland Rab, Pag, Goli otok
Appartement in "Vila Suza" geven luxe accommodatie. Appartement heeft een eigen terras met prachtig uitzicht. Het heeft een eigen parkeerplaats en boot dock.Stinica is in de regio waar mountin ontmoeten mediterrane klimaat en het is gunstig voor asmatic patiënten.
Wijk is rustig en vredig. Het is blind straat en het is veilig voor kinderen om te spelen met alle andere kinderen van plaats. Het huis is boven toeristisch dorp geplaatst en bieden een rustige vakantie.
Suza cortesissima e disponibilissima. ha più volte ribadito di chiedere per qualsiasi necessità. bellissimo terrazzo dove riposarsi, mangiare, etc godendo di uno stupendo panorama
ELENA
2016-08-04T00:00:00Z
Suza's apartment is really great! We had a really nice time there. It's clean, comfy, well equipped and the very large balcony/terrace has a breathtaking view! Suza was very a helpful and friendly host. When we arrived her mother greeted us. Suza's mother is such a nice and kind woman, she was always smiling! She showed us around and let us borrow cooking oil. This was one of the best airbnb's we have stayed at and we would definitely recommend it to others :)
Jordan & Luke
2016-06-23T00:00:00Z
Esperienza assolutamente positiva, l'appartamento è accogliente e perfettamente attrezzato (c'è addirittura la moka che fa il caffè buono). La vista che si gode dal terrazzo è all'altezza delle aspettative che crea la foto. L'accoglienza calda e rilassante, da sentirsi a casa da subito. Superiori: Granny, rassicurante presenza che accoglie con il sorriso (e anche con qualche squisitezza!) e Otto, scanzonato ma educatissimo cagnolino. Stinica è un villaggio turistico, ma non caotico e, soprattutto, con persone vere. Tutti hanno saputo trovare qualche parola in italiano per farci sentire a nostro agio. Posto tranquillo e buona base di partenza per escursioni sulle isole e nell'interno. Il mare spettacolare ovunque, scogli, sabbia o sassi che sia.
federica
2016-09-06T00:00:00Z
Die Gastgeberin war sehr nett, alles hat hervoragend geklappt. Das Apartment war super, alles war sehr modern eingerichtet und funktionierte einwandfrei. Auch der Blick vom großen Balkon war super.
Marvin
2015-07-31T00:00:00Z
Très belle maison avec une vue sensationnelle depuis la terrasse. La demeure est située juste à côté du ferry qui fait le trajet jusqu'à l'île de Rab.
Fabien
2016-08-10T00:00:00Z
We spent in Stinica only one night, but we experienced amazing time. The view from balcony was beautiful, apartment was comfortable, clean and cosy. Our host was helpful and really nice. Highly recommended!
Mateusz
2016-08-05T00:00:00Z
Very nice place. The location was really good very close to the beach which was amazing lovely town.
Jamie
2016-07-16T00:00:00Z
Suza's lovely apartment is nice and the whole familyhouse as well. I stayed at her place with 3 other guys. Recomendation: Perfect for familys and smaller groups! The view is awesome! If you want to be noisy its the wrong place and when you come late in the night and world down circumstances it is quite difficult to find. We enjoyed our stay and say thanks to the friendly hostimg family!
Tim Merlin
2016-08-07T00:00:00Z
Romtype
Helt hjem/leilighet
---
Eiendomstype
Hus
---
Plass til
4
---
Soverom
Stinica, Lika-Senj fylke, Kroatia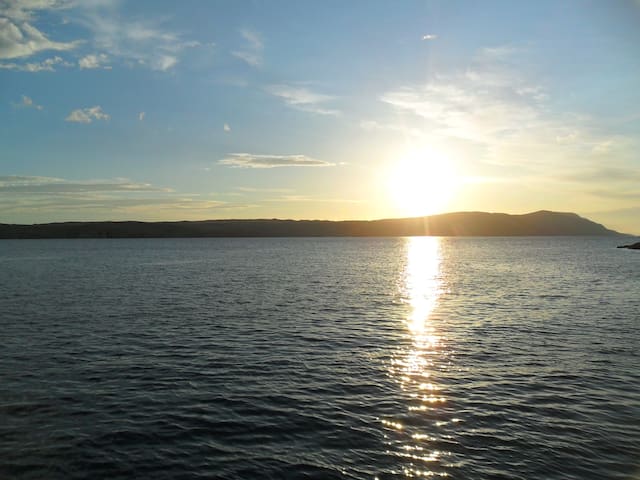 Stunning location, surranded by natural aromatic herbs, fruit trees, planted garden, 2 beautiful teracces, one with the direct sea view. The appartemant includes two bedrooms both with sea view, kitchen with the dinning room and bathroom.
Appartament Nature Vibe is situated on the upper floor of private house. It has beautiful seaside view directly from bedrooms. One bedroom has an exit to the balcony were you can enjoy in your morning coffee listening the birds and admiring the colours of the nature. The other bigger terrace has a lot of space were we have sunbeds, chairs , table and parasoil. Behind the house is outdoor fireplace that is at disposal to the guest. For any information and requiery please don't hesitate to contact us we are here to make Your holiday pleasent and unforgetable.
Donja Klada non ha tradito le nostre aspettative: mare incontaminato, aria pulita, poca gente, tanta tranquillità. L'appartamento ha rispettato fedelmente le caratteristiche descritte nell'annuncio. Ringrazio Darko e sua moglie, genitori di Martina, che ci hanno accolto, consigliato e coccolato, pur con discrezione, per tutto il tempo del nostro soggiorno. A presto!
Carlo
2016-08-22T00:00:00Z
Such a beautiful place! A small village with only a few houses at the coast. Not so much tourists. We loved it! The lessors was really great and helpful. We will come back! Thank you for the wonderful week!
Sara
2016-08-08T00:00:00Z
Romtype
Helt hjem/leilighet
---
Eiendomstype
Leilighet
---
Plass til
4
---
Soverom
Donja Klada, Ličko-senjska županija, Kroatia
Mé místo je v blízkosti moře a jen pár metrů od pláže. Zamilujete si své místo kvůli poloze v přírodním parku Velebit, ideální pro hosty, kteří hledají pauzu od zrychleného tempa dnes, v oáze klidu, čistou vodou a nedotčenou přírodou. Mé místo je dobré pro páry a rodiny (s dětmi).
Romtype
Helt hjem/leilighet
---
Eiendomstype
Leilighet
---
Plass til
4
---
Soverom
Starigrad, Lika-Senj fylke, Kroatia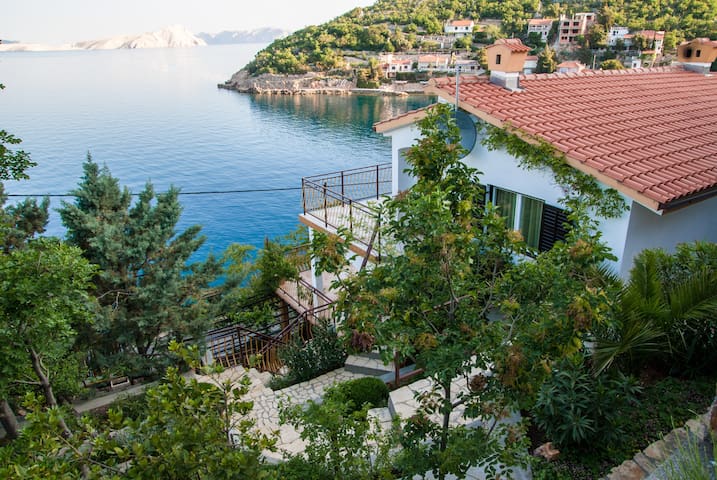 Whenever we needed something we could simply call Laura. She even granted our special wishes. If you look for a trip to croatia, i recommend you this apartment. Thank u for the great time!
Max
2014-08-07T00:00:00Z
Romtype
Helt hjem/leilighet
---
Eiendomstype
Leilighet
---
Plass til
3
---
Soverom
Novalja, Lika-Senj fylke, Kroatia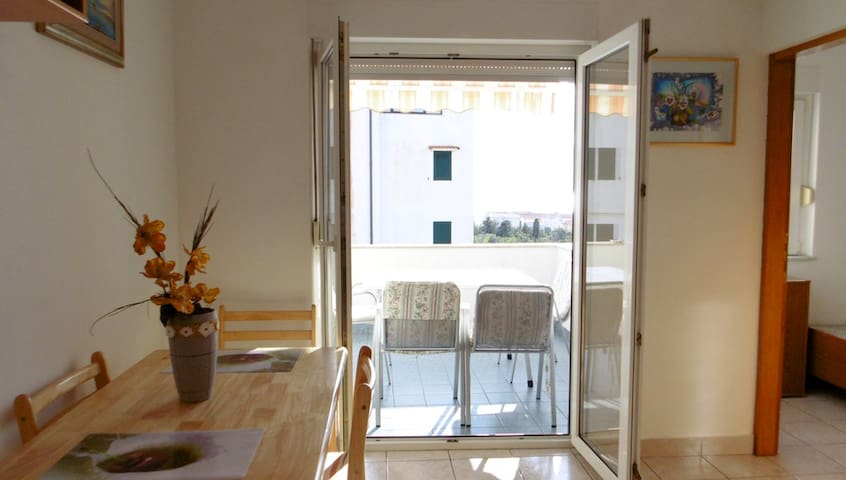 Dům na pláži Adriana se nachází na pobřeží, 20 metrů od křišťálově čisté modré Jaderského moře, s samotě písku a skalnaté pláže, malé soukromé středisku k dispozici v soukromém silnici. Ideální pro aktivní i klidnou dovolenou z beginnin
Dům se nachází v soukromém prostředí, obklopené sto let staré olivovníky a duby a nedotčené přírody. Tato oblast se skládá z osmi domů v severozápadní části ostrova Pag, dvacet metrů od moře s výhledem na ostrovy Cres a Lošinj. Historické město Zadar, Paklenica a Kornati Národní parky a letiště v Zadaru jsou jen hodinu jízdy autem.
Dům se nachází na soukromém poloostrově obklopeném 6 dalších rekreačních domů, přístupu soukromé cestě.
Ich habe eine wunderbare Zeit im Beachhouse verbracht. Das Haus ist liebevoll gestaltet und es sieht genauso aus wie auf den Fotos. Nuur die Sonnenuntergänge sind in echt noch schöner-) Ich könnte mir auch keinen besseren Gastgeber vorstellen - auf Fragen wurde prompt reagiert und auch meine Hunde wurden herzlich empfangen - ich habe mich sehr wohl und willkommen gefühlt - Hvala lepa Kresimir!
Renate
2016-05-22T00:00:00Z
Dieses kleine Häuschen ist der schönste Platz, an dem wir je Urlaub gemacht haben. Es ist ein besonderes Privileg, dass Kresimir sein kleines Paradies mit uns geteilt hat. Seine Eltern haben dieses bezaubernde Stückchen Erde vor 40 Jahren entdeckt und ales Baumaterial für ihr Feriendomizil mit dem Boot an diese Bucht gebracht, in der es tatsächlich auch einen kleinen Sandstrand in der Nähe gibt. Jetzt hat Kresimir vor zwei Jahren diesen Gästeanbau fertiggestellt und liebevoll eingerichtet. Er hat an alles gedacht. Endlich ein Ferienhaus, in dem es auch große Töpfe gibt! Die Kühl- Gefrierkombi ist groß und im Kühlschrank standen schon ein paar Begrüßungsgetränke und frisches Obst für uns kalt. Vor allen Fenstern gibt es Moskitonetze, so dass man auch abends bei geöfnetem Fenster noch lesen kann. Zwischen den wunderbaren alten Bäumen im Garten war eine Hängematte befestigt. Die Familie von Kresimirs Schwester war gerade nebenan, Robert, der Schwager, hat allerbeste Gastgeberqualitäten. Für alle diejenigen, die doch noch nach dem Haar in der Suppe suchen: Es gibt den Luxus einer Gartendusche mit warmem und kalten Wasser. Einige Wespen (völlig harmlos und genauso gechillt wie wir) fanden diese Stelle gut und man musste eben aufpassen, wo man hintritt. Der Sound von Urlaub: zirpende Zikaden, ist allegegenwärtig. Mir gefällts, aber wen sowas stört... Ich kann nur eines sagen: Hier ist ein kleines Paradies. Behüte es und geniesse es.
Karin
2016-08-04T00:00:00Z
A couple of days in paradise!
Nils
2016-06-25T00:00:00Z
We spent two great weeks in this amazing beach house. Everything was absolut perfect (beach.house.sundown.sea.water.communication,...). Thanks for all!
Stephan
2016-10-30T00:00:00Z
Romtype
Helt hjem/leilighet
---
Eiendomstype
Hus
---
Plass til
5
---
Soverom
Lun, Island of Pag, Kroatia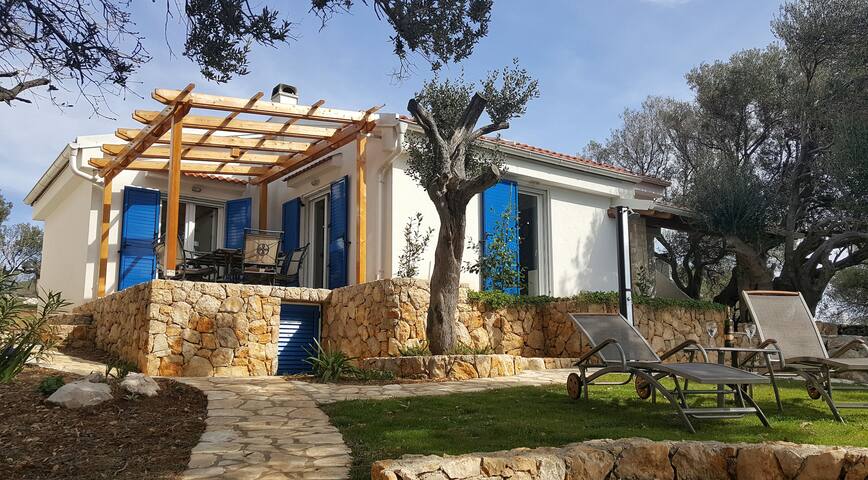 Romtype
Helt hjem/leilighet
---
Eiendomstype
Leilighet
---
Plass til
4
---
Soverom
Novalja, Ličko-senjska županija, Kroatia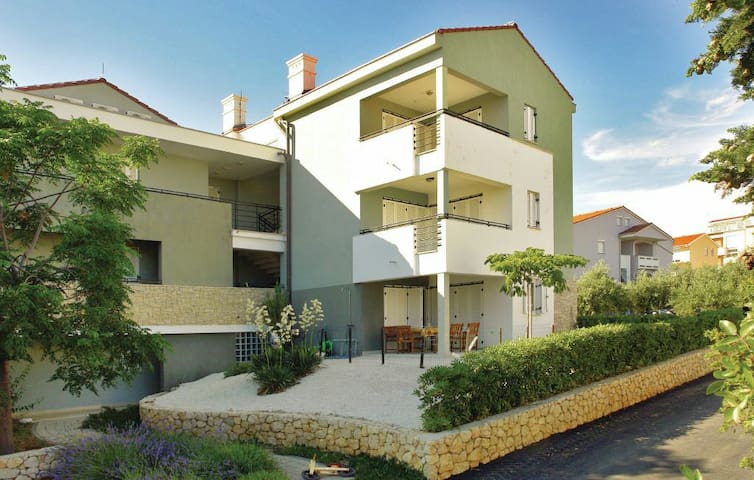 Comfortable 37 m2 apartment with one room (two single beds and 2 person sofa), kitchen/dining room, bathroom and two balconies (one with sea view). Private entrance.1 min walk from the stone beach.Perfect for diving, wind surfing, kayaking, fishing..
Perfect for relaxation and getaway for enjoying the sun, sea and sound of silence. Comfortable apartment 37 square meters with one room (two single beds and 2 person sofa), kitchen/dining room, bathroom and two balconies (one with sea view). Private entrance. The house is located in very peaceful environment, distant only 1 min walk from the beach (max. 5-10 people on the beach at the same time). Great for anyone who want their holiday to be real relaxation. Perfect for diving, wind surfing, kayaking, fishing or just lying and soaking up the sun and sounds of the sea.
Prizna is very small village, in winter there are only 7 habitants :)
Had a great time! The appartment is nice, balcony view is relaxing, beach is close. And the hosts are more than friendly!
Ursa
2015-06-01T00:00:00Z
Acceuil exceptionnel !!! Nous avons eu un problème avec notre voiture de location en arrivant, Julija et sa famille se sont démenés pour nous aider, en attendant la dépanneuse ils nous ont fait goûter des spécialités du pays qui étaient excellentes ! Nous avons discuté longuement ce fut extrêmement enrichissant. Concernant l'appartement, rien a dire ! Face à la mer et les montagnes avec une petite plage privée très tranquille ! L'intérieur est chaleureux, propre et bien équipé. C'est un sans fautes à tout point de vue !
Cecile
2015-08-18T00:00:00Z
The host canceled this reservation the day before arrival. This is an automated posting.
Christian
2016-03-26T00:00:00Z
Let me start of this review saying that out of ALL of my stays this has been the best Airbnb stay I have had so far. From the very beginning Julija has been super helpful and super fast replying to all the quesions we had and giving us lots of helpful tips to prepare for the trip as well as insider tips about the area. When we got to Prizna Julija and her parents were already waiting for us out on the road and welcoming us with a cold beverage and some self made taditional croatian food. Katharina and Sdavko, the owners of the house, are living on the floor benath the apartment but have a seperate entrance making this stay perfectly private. They gave an absolute perfect example of the great hospitality of the Croatian culture! Everything we needed they were there to help right away and made us feel like we were actually at home. We enjoyed evenings together with a barbecue trying some fish that was caught just that day and even for my sisters birthday Katharina made a birthday cake to make her birthday away from home a sweet suprise! When we ran out of bread Katharina even surprised us with a heavenly smelling fresh baked loaf of bread! My dad caught quite a few fish with the helpful intsructions of Katharina and Sdravko including a different kind of fish to stun at every time! The beach there is so perfectly authentic and private that you didnt have to worry about tourists being everywhere or people trying to sell you things (although you can have all that if you´re a lover of that with just a small car ride to all the closeby bigger cities like Karlobag, Pag or Novalja - even the Croatian Ibiza is only two hours away if you want to party on the beach or bungy jump). It was pleasantly quiet and relaxing and the water is perfect for diving among the shore and watching new kind of colored fish swimming right beside or beneath you in the crystal clear water. We even found sea stars and saw DOLPHINS in their natural habitat while sunbathing on the shore! The apartment was absolutely neat and clean and had EVERYTHING you needed! And you only have to walk down the street (not more than two min) to the beach. We thank you from the bottom of the heart fo making us fall in love with Croatia - we want to come back soon! Sincerely yours, Family Schmidt
Kristina
2016-07-27T00:00:00Z
The hosts were very hospitable, very careful and nice. The rest left a good impression. The appartments decorated very beautiful and were very clean. We hope that we`ll come back here one more time.
Tetiana
2014-07-30T00:00:00Z
Отдых в Prizna мне и моей семье доставил массу удовольствий .Тишина, близость чистейшего моря и минимум людей , делают это место идеальным для уединения и отдыха в тишине. Но если вы на автомобиле и захотели развлечений , то на расстоянии 300 метров расположена переправа на остров Паж . А уж там Navalja и дискотека 24 hr.non stop. Нас встретила Катарина-мама Юлии, очень добрая и приятная женщина. В апартаментах хороший интернет, вид с балкона, с которого рано утром можно увидеть дельфинов . Хозяева предоставляют шезлонги и зонтики для отдыха на пляже . А если вы рыболов любитель, берите удочки и побольше грузил и крючков , получите незабываемые впечатления.
Valerij
2015-07-11T00:00:00Z
We had a wonderful time in Julija's apartement. Her parents are amazing hosts, they are super kind and very caring. The description is perfect, the place is very clean and the neighborhood is lovely. Highly recommended.
Livia
2015-08-02T00:00:00Z
Dear Gospa Katarina, dear Julija:) these were lovely days at your place with a wonderful view on the Pag island, home made juice and great polish-croatian (URL HIDDEN) works!!! We realy regret there was no possibility for us to stay longer:( thank you and we would be happy to be able to come again!!! Hvala Vam:)
Zofia
2015-07-23T00:00:00Z
Romtype
Helt hjem/leilighet
---
Eiendomstype
Leilighet
---
Plass til
4
---
Soverom
Prizna, Lika-Senj fylke, Kroatia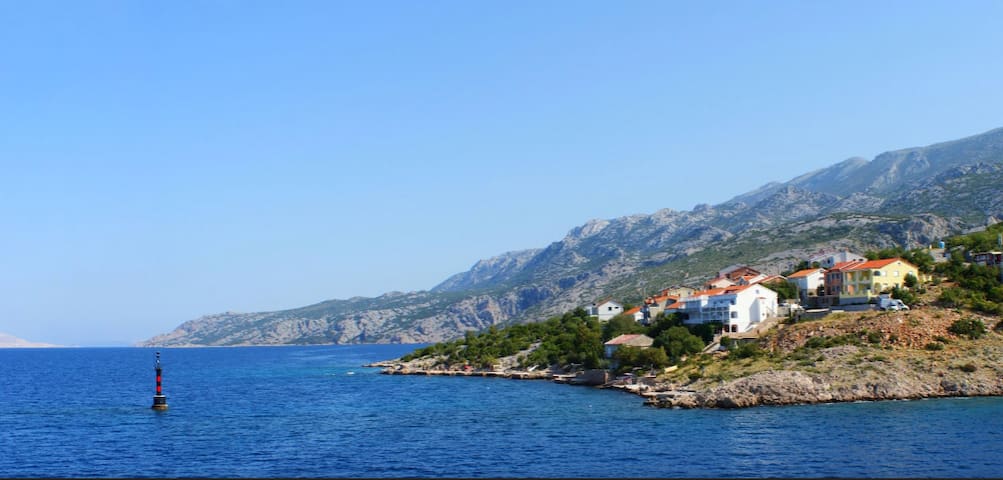 Mé místo je v blízkosti krásným výhledem, restaurace a stravování, a parků. Zamilujete si své místo kvůli názorům, umístění a atmosféru. Mé místo je vhodné pro páry, rodiny (s dětmi), velkých skupin a chlupatými kamarády (zvířata).
Romtype
Helt hjem/leilighet
---
Eiendomstype
Leilighet
---
Plass til
4
---
Soverom
Jablanac, Ličko-senjska županija, Kroatia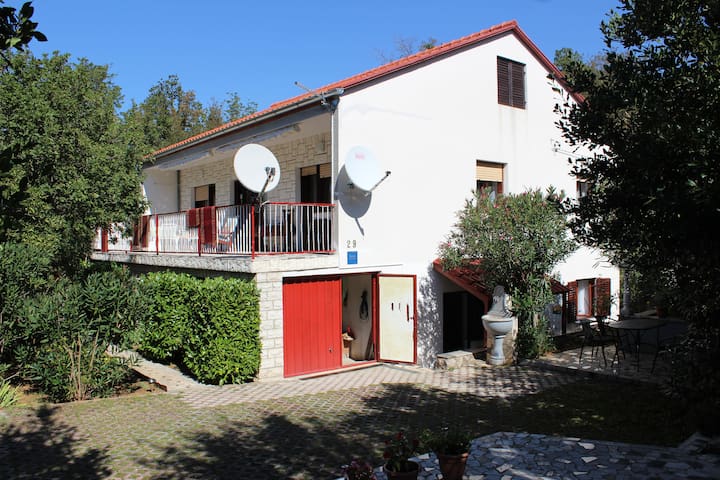 Beautiful apartment set in the peacefull part of the island, surrounded by olive trees. Close to the beach, supermarket, good restaurants and everything else needed for unforgetable hollidays. The place is perfect for family with kids. My place is close to public transport, family-friendly activities, the airport. You'll love my place because of the location, the people, the ambiance, the views. My place is good for couples, families (with kids), and big groups.
The apartment is in a quiet place near to a little beach It's large enough and each room has its commodities The house is clean and functional The stay was pleasant Joelle
joelle
2016-08-22T00:00:00Z
The host canceled this reservation 4 days before arrival. This is an automated posting.
Eldar
2016-08-04T00:00:00Z
Romtype
Helt hjem/leilighet
---
Eiendomstype
Leilighet
---
Plass til
8
---
Soverom
Barbat na Rabu, Primorsko-goranska županija, Kroatia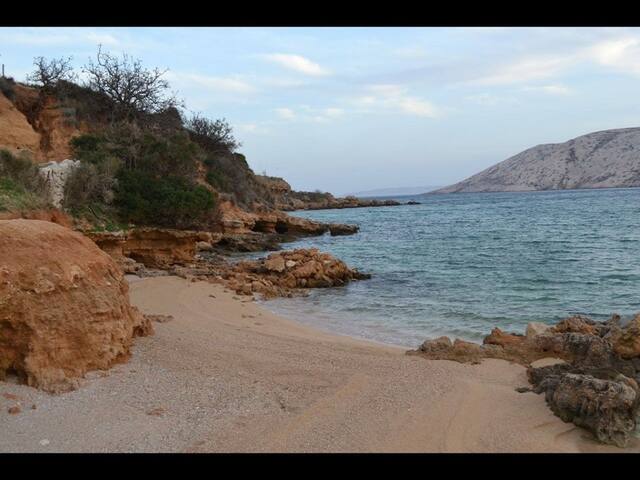 Oppgi datoer for å se fullstendige priser. Ekstra gebyrer gjelder. Skatter vil kunne tilføyes.