This cozy one bedroom apartment is just twenty minutes from downtown Nashville and the airport. It is located less than a mile from shopping, dining, and the interstate. This corner apartment is next to the swimming pool and other amenities.
Our apartment is in a perfect location for business trips or a weekend of fun downtown. Here in Smyrna you can live like the locals do while enjoying the city of Nashville. We are close to all amenities and attractions.
Our neighborhood is quiet but close to all of your necessities. We are less than a minute from the interstate as well as shopping and dining. We are a 20 minute Uber and Lyft ride to downtown or the airport.
Romtype
Helt hjem/leilighet
---
Eiendomstype
Leilighet
---
Plass til
2
---
Soverom
Smyrna, Tennessee, USA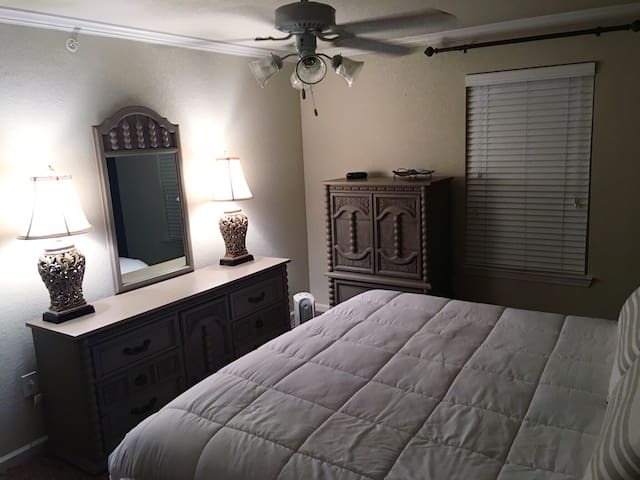 Welcome to the "Heart of TN". Studio in established neighborhood. Minutes from shopping and MTSU. Kayaking, hiking, and fishing within an hour. Back road day trips to distilleries, wineries, antique shops, live music, and unique eateries.
Privacy is totally your choice. The Studio is totally all electric. Under "Amenities" there is a Breakfast box not clicked. You will not have to start your day on empty.:)
The Greenway is an excellent way to walk or ride off some stress of a day. For more local nature, I suggest the Wilderness Station Trails. Great place to brake-in that new pair of trail shoes. Sunshine Health Foods on Church Street for healthy life style neeeds. Stones River National Battlefield and Oaklands Historic House Museum are full of local history. Stones River Mall and The Avenue for up scale shopping experience. Mayday Brewery..."Beer, Hugs, and Rock'N'Roll", another hometown experience. Soccer at Richard Siegel Park only eight miles away. Beans Creek Winery is less than an hours drive. Tom Brown and family make some of the best wines in Tennessee. George Dickel, Jack Daniels, and Pritchard's Distilleries make a good day trip. Pritchard's along with whiskey; they are appreciated for their fine rums and liqueurs. Isha U.S.A. Center is only 55 miles from the Studio.
This was our second time staying at George's and it was just as wonderful as the first. It was quite cold on our stay and the heat worked exceptionally well. George was super accommodating, leaving the light on for our late arrival and checking on us the next day to make sure everything was okay. Wi-Fi was great for us when we decided to watch a Netflix movie one night. Everything was clean and comfortable and we had no complaints! This is an great, convenient place to stay and I wouldn't hesitate to recommend it to others.
Marcy
2015-11-24T00:00:00Z
Let me begin by saying that I am very picky, particularly about cleanliness, and George's place exceeded my expectations! George is a super nice fellow and went out of his way to make sure we felt comfortable. He even left us a little note welcoming us with a container of crackers, dark chocolate and HOMEMADE hummus in the fridge. The bed was soft and comfortable and the heater worked really well. The location was easy to get to and the entire area was super quite. My husband was particularly happy that despite being close to the city the night sky was dark enough to view many stars. We will certainly consider staying here again should the need arise.
Danielle
2014-12-15T00:00:00Z
George is awesome! He's a fantastic host. He was there to greet me on arrival. He checked in to make sure all was good with the apartment; he makes sure his guests are comfortable and have all they need. He made hummus! There were snacks, fresh fruit, coffee, and OJ. The place was very clean. The bed was comfortable. Everything was great. No complaints. I would highly recommend George to anyone visiting Murfreesboro.
Kristian
2016-03-27T00:00:00Z
The apartment was very clean and comfortable. George was a great host. It is suitable for a single person or couple.
NANCY
2014-12-31T00:00:00Z
George was an amazing host. The studio was immaculate. He was flexible with my arrival and departure times. I ran out of milk for my coffee one morning, and asked to borrow some of his. He didn't have any, and next thing I knew, he was knocking on the door with half and half he'd gone to pick up at the store for me! So kind and so unnecessary, but so very much appreciated! I was in MBoro on a work trip, and my investigator and I used the studio as a home base for getting stuff done. George realized we were keeping our noses to the grindstone. When I asked to borrow a knife to cut vegetables one evening (there are knives in the apartment; I just couldn't find them), he realized I was cooking pasta and gave us a bottle wine the next night, saying, "It looks like you guys earned some relaxing!" I was touched. I can't imagine a better place to stay. It was a stressful, busy week, and I was comforted to know that I had such a lovely, clean, and cozy place to turn in for what little sleep I got. I can't recommend George and his studio enough. The cost/night is a steal, given what a lovely space it is, and what a lovely host George is. You should consider yourself lucky if this place is available when you need it!
Elizabeth
2015-11-06T00:00:00Z
George personally greeted me when he heard the car come up the drive. The neighborhood was quiet and convenient. George is an attentive host, and had the studio ready with a welcome note and a fruit bowl on the table. The internet in the studio was a good speed and allowed me to get some work done that I needed to complete while I was there. I would heartily recommend this studio to anyone who needs a place to stay in Murfreesboro, TN
pam
2015-04-21T00:00:00Z
George was a wonderful and welcoming host. He had lovely snacks and kitchen necessities and he was always close by in case we needed anything. The home was cleaner and way nicer than we ever could have expected and we felt almost like we were at home. Thank you George for the wonderful experience and the incredible hospitality. I would definitely stay here again and I would definitely recommend this to everyone I know.
Dolores
2015-07-01T00:00:00Z
George was a great host. He made us feel like family.
George
2016-10-02T00:00:00Z
Romtype
Helt hjem/leilighet
---
Eiendomstype
Leilighet
---
Plass til
2
---
Soverom
Murfreesboro, Tennessee, USA
Close to Music City, keeping with the music theme, this room provides an elegant, modern and peaceful environment for all to enjoy. Located in a perfect location, only a few miles from I-24, with shopping malls, grocery stores, restaurants and local entertainment.
Spacious Living Room with extremely comfortable leather couch and recliner makes for a relaxing evening!
The room is part of a quiet complex off of Franklin Rd. Beautiful farmland to the west and plenty of things to do towards the east near the interstate!
Romtype
Privat rom
---
Eiendomstype
Leilighet
---
Plass til
2
---
Soverom
Murfreesboro, Tennessee, USA
This is an over the garage very nice apartment located right off I24 on the Stones River. The apartment includes a fully equipped kitchen, washer, dryer and dining area. DirecTv and Internet provided. Adults only, No Children, no Pets. Pool and facility is for the guest use only, no visitors, please.
850+ Sq Ft. 2nd floor apartment. Queen size bed, walk in closet, dining area, full kitchen, washer dryer. Direct access to outside means you come and go as you please. Quiet neighborhood means you can relax and come and go as you please. Adults only. Check-in 3-10pm weekdays, anytime on weekends.
Quiet neighborhood, located directly on the Stones River. Between exit 80 and 81 of i24
This is a great place to stay and had all the comforts of home and more than met our expectations. We would definitely stay here again.
Tom
2016-07-25T00:00:00Z
We had a wonderful stay at Bob and Debbie's place. They met us when we first arrived and went out of their way to make sure we had everything we needed for a soccer-filled weekend in Murfreesboro. Their entire place was gorgeous, spacious and felt like home. We will definitely stay here the next time we need a Nashville trip! Thank you!!
Alex
2016-11-06T00:00:00Z
This place was absolutely perfect! I booked this for a weekend get away and this location could not have fit better! Bob was very quick with responses and extremely accommodating for my boyfriend and I. His picture definitely do not do the place justice! Much more modern and beautiful than described. The bathroom was absolutely my favorite part! All in all perfect. Will be returning!
Kristina
2016-07-11T00:00:00Z
Debbie and Bob were both very nice hosts. We really enjoyed our time there. It was clean and comfortable. Debbie even came home to get an iron for us...thank you. If we'd not been so busy with my cousin's wedding, we would have loved to have taken advantage of the the hot tub out on the beautiful lanai, and there were swans playing in the creek behind their house. Thank you both!
Mindy
2016-10-16T00:00:00Z
This place is great. Amazing bathroom, room to stretch, pool and hot tub would be great when the weather is right, the views of the river must be seen to be believed. Hosts were great, as long as you're not needing to be right downtown where you can walk the square, this is the place to stay in the Boro.
Tripp
2017-03-19T00:00:00Z
Bob welcomed us and showed us around the apartment; where to find things and how everything worked. The apartment was as listed; better when experienced in person.
Jay
2016-07-16T00:00:00Z
YOU WILL NOT FIND A BETTER PLACE IN NASHVILLE TO STAY- ESPECIALLY AT THIS RATE! I cannot say enough about the hospitality we experienced from Bob and his wife Debbie; they are wonderful folks! Prior owners of a farm, they know southern hospitality at its finest and will make you feel right at home. This apartment + pool are GORGEOUS. Everything is updated and super clean (the sheets and towels smelled like they were fresh out of the wash)! My husband and I had a delightful private stay at their home and cannot wait to visit again. Thanks Bob and Debbie! It was a pleasure.
Chelsea
2016-07-31T00:00:00Z
We were so pleased we chose to stay here! Bob and Debbie were great hosts, and the apartment was better than described. AMAZING bathroom, full kitchen, and just a few minutes away from some great parks. We will definitely keep this in mind for future visits.
Brittany
2016-05-30T00:00:00Z
Romtype
Helt hjem/leilighet
---
Eiendomstype
Leilighet
---
Plass til
2
---
Soverom
Murfreesboro, Tennessee, USA
The apartment is three blocks from the Square in downtown Murfreesboro. The Square has attractions such as bars, boutiques, restaurants, art galleries, and the historic district. My place is good for couples, solo adventurers, and business travelers.
The house was built in the late 1800s and has been renovated to accommodate six tenants. Each tenant has their own individual apartment and entrance. The apartment has been upgraded but still contains some original craftsmanship around the fire places and doors. There isn't a central heat or air unit, but the place is fitted with two gas fire places and a window AC unit if the temp becomes uncomfortable. It's a very quiet space other than traffic noise and the occasional fire truck.
Murfreesboro is an excellent city, frequently mentioned as one of the greatest college towns in the nation. Rutherford County has been one of the fastest growing counties in the nation and is within a 40 minute drive to downtown Nashville. The city features extensive Civil War history classic Victorian homes, an incredible music scene, numerous community theaters and university performances, sports and other events almost every night.
Great room in a great place! Super comfy huge bed, and I loved having my own bedroom fireplace. And Steven was very communicative, friendly, and chill host!
Adam
2017-02-05T00:00:00Z
Great communication and very helpful. Everything was just as advertised, great first Air-bnb experience for me. Neighbors were quiet, I never heard or saw them. Definitely recommend Steven's place.
David
2016-12-04T00:00:00Z
I didn't get to meet Steven, but he was great with communication (very prompt responses) and was genuinely hospitable. The place is great, too. In the best part of the Boro, close to historic downtown! Definitely recommended!!
Ellie
2017-01-10T00:00:00Z
Steven's loft apartment is a beautiful, spacious apartment with a great walkable location downtown. It has high ceilings, huge windows and original hardwood flooring. While I never met Steven, he was easy to communicate with on the Airbnb app.
Christina
2017-01-05T00:00:00Z
Great place, great host; everything was as described on the page. It's a cool old building right next to downtown.
Raymond
2017-02-26T00:00:00Z
Steven was good to communicate check-in directions, wifi and fireplace directions. His tv was out of order - so if that is a big deal to you - ask in advance if it has been replaced. We had our laptop and some great booksbooks, so we were fine. Overall it was a nice space and very convenient to MTSU.
Leigh
2017-03-27T00:00:00Z
Steven is a pretty good man. And he is more handsome than the picture. The house is pretty big. I love it.
XI
2017-03-18T00:00:00Z
Steven's place was great. Everything was exactly as pictured and Steven's instructions were crystal clear. The apartment builing is really cute and we were excited to stay in an older place. As we walked up the flight and a half of stairs, we were greeted with a large kitchen, den, and bedroom. It's definitely bigger than it looks in the photos. Steven left us instructions for the fireplaces and wifi. I've never used a gas fireplace and they were very easy to understand. The fireplace in the bedroom was very efficient too. The entire house was extremely clean and there is no clutter. If you like sleeping on a cloud, the bed is perfect. Our own preference is for a firm mattess, so we thought it was too soft. We have family in the area, and if we needed to stay in an Air B&B again, we would check to see if Steven's place was available first.
Mitch
2017-03-06T00:00:00Z
Romtype
Privat rom
---
Eiendomstype
Leilighet
---
Plass til
3
---
Soverom
Murfreesboro, Tennessee, USA
Cool two story apartment. Living room and kitchen downstairs, bathroom and your room upstairs. Easy to find and always kept extremely clean.
Two story apartment
Lincoln response was quick and that made it easier. Will stay again.
Vish
2017-02-17T00:00:00Z
Stay was great was a good host will stay again
Calvin
2017-04-07T00:00:00Z
A very comfortable place and good privacy. Lincoln is a very nice and considerate host. I enjoyed my stay.
Crystal
2017-03-19T00:00:00Z
Lincoln was a cool guy and great host. Place was very convenient and quiet.
David
2017-03-27T00:00:00Z
Super chill guy, comfy room, great price.
Ben
2017-02-25T00:00:00Z
My stay at Lincoln's place was just as advertised. He was friendly and a great host.
Bill
2017-03-01T00:00:00Z
Had a pleasant (EMAIL HIDDEN)munication was seamless. The place was exactly as described. Would highly recommend.
rahul
2017-03-25T00:00:00Z
Great value!
Bill
2017-02-27T00:00:00Z
Romtype
Privat rom
---
Eiendomstype
Leilighet
---
Plass til
1
---
Soverom
Murfreesboro, Tennessee, USA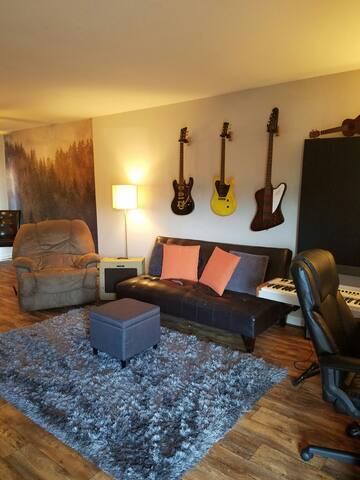 Awesome, clean 2B/2B. Private ground floor entrance. Close to MTSU, restaurants and shopping. Wifi, washer & dryer, fully stocked kitchen. Walking distance to shops and restaurants. Free parking. Great for two couples or a family with older kids. Not suitable for babies or toddlers. Right off I-24.
Awesome place and great people to rent from. They made everything super easy. Oh, and there's a great bar in the complex!
Joseph
2017-04-06T00:00:00Z
Romtype
Helt hjem/leilighet
---
Eiendomstype
Leilighet
---
Plass til
4
---
Soverom
Murfreesboro, Tennessee, USA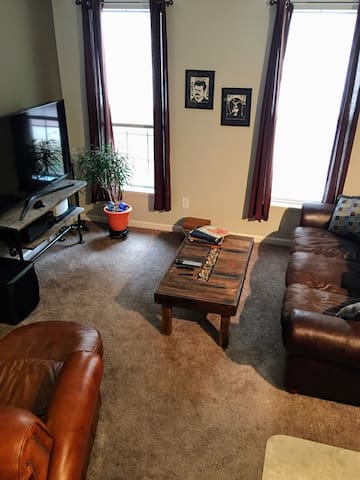 My place is close to Nashville, TN. Nashville has great restaurants, entertainment, and night life. Murfreesboro is a great city within 30 minutes of Nashville. We have great restaurants, and our place is located about 5 minutes away from the interstate, two shopping malls, and many great restaurants.. You'll love my place because of the kitchen, the coziness , the location. My place is good for couples, solo adventurers, and business travelers.
The host canceled this reservation 5 days before arrival. This is an automated posting.
Stephen
2017-02-26T00:00:00Z
Amazing place, amazing people! Tks for everything
Rodrigo
2016-11-19T00:00:00Z
Great place great people
Sherwine
2017-01-04T00:00:00Z
Brandon was very up front about this location being a shared space, and even confirmed this with me prior to my arrival. Brandon and his roommates were super sweet, respectful of my need to study, and accommodating. As a female staying at a male apartment, I was initially nervous about renting this space, but as soon as I met everyone in the apartment I was put at ease. Thought this location was near by a shopping plaza and not far from many attractions. Comfy bed, and classy people, would stay here again!
Jordan
2016-10-15T00:00:00Z
Brandon was very communicative and kind, and although the bed was in the living room/public space, we felt like we had privacy. Thank you!
Michelle
2017-02-05T00:00:00Z
Brandon was a very good host.
Kayode
2016-08-19T00:00:00Z
Awesome a plus plus
Ali
2017-01-10T00:00:00Z
Good futon, nice host and roomates
Michael
2017-03-31T00:00:00Z
Romtype
Delt rom
---
Eiendomstype
Leilighet
---
Plass til
2
---
Soverom
Murfreesboro, Tennessee, USA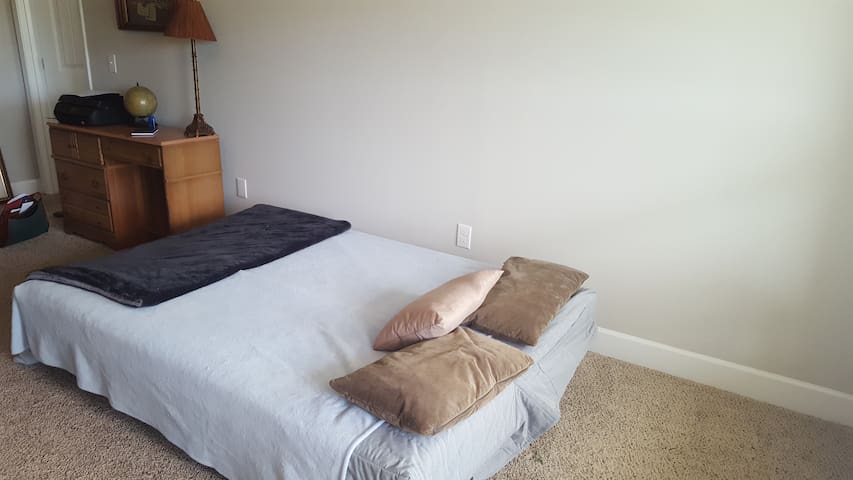 The Merry Window apartment is the mast suite located in the Nightingale Apartments, an English Tudor quadraplex on Murfreesboro's historic Main St. The apartment got it's name because of the huge sunny window from which the ladies enjoyed their tea.
The Merry Window, as the name implies, boasts several large sunny windows, a clawfoot tub, hexagon tiles, french doors, hardwood floors, period moldings, built in ironing board and side porch with relaxing fountain.
Murfreesboro's East Main St is alive with history and charm. The Nightingale apartments are a short walk to historic Oakland's Mansion, Rutherford counties antebellum courthouse, 9 restaurants, exciting night life, the Saturday farmers market and Middle Tennessee State University. East Main St. boasts tree lined boulevards, manicured lawns and historic homes of almost every architectural style.
When we arrived at the Merry Window we were welcomed by Nancy. Her homemade muffins the next morning were lovely and delicious. The home was lovely with Paula's artistic touches. The neighborhood felt very safe and comfortable. It was a nice walk to the heart of the historic old town. We had come to Murfreesboro to bicycle the Greenways but hope to return to enjoy more of the area and would be delighted to stay here again.
Van
2016-06-21T00:00:00Z
Great place to stay in downtown Murfreesboro - quaint, cosy, clean and great hospitality from our host, Paula. We really enjoyed our stay and will come back again.
danielle
2016-10-10T00:00:00Z
Highly recommended.
Carole
2017-03-14T00:00:00Z
What a beautiful place to stay, excellent hospitality, Paula our host was "too"good. A stones throw from downtown murfreesboro and ideal central location for touring the many sites around tennessee. Wonderfull neighbourhood which u can stroll at your leisure plenty of parking at rear and last but not least "THE MUFFINS"
Tom
2016-04-30T00:00:00Z
This place was a heaven sent for this bride to be! I needed a place between moving out and the wedding. This was so perfect I had the photographers come here to take my pre-wedding photos. PLUS, the muffins are amazing!!!
Amanda
2016-06-26T00:00:00Z
Paula could not have made us feel more welcome. This is a terrific neighborhood.
Lisa
2016-09-25T00:00:00Z
This apartment was perfect - roomy, relaxed, homey, and wonderfully decorated. You couldn't ask for a better space to stay for a middle Tennessee visit!
Matt
2016-05-03T00:00:00Z
Beautiful clean apartment
Jon
2017-01-12T00:00:00Z
Romtype
Helt hjem/leilighet
---
Eiendomstype
Leilighet
---
Plass til
3
---
Soverom
Murfreesboro, Tennessee, USA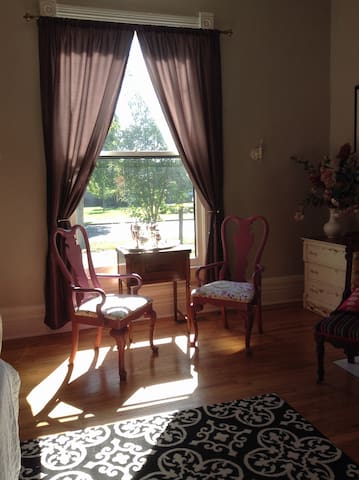 Historic Tudor Revival bursting with charm, elegance and luxury located on Main st. Private entrance, outdoor space, mini kitchenette, private bath with miniature claw foot tub, 11' ceilings, crystal chandeliers, leaded glass windows and fine linens.
415 E Main St. also known as the Nightingale Apartments was the first Tudor style house in Murfreesboro. Built in 1922 as a quadra-plex it still boasts all of it's original features. Hardwood floors, leaded glass windows and doors, crystal/brass door knobs, moldings, 11' ceilings, chandeliers, balconies, large screened and unscreened porches even a vintage intercom system to summon the upstairs tenants. Centrally located on historic Main St. it is within walking distance of MTSU, Oaklands Mansion and the historic downtown district. Interior Designer/ Host Paula Francis has furnished the micro mini apartment with the utmost in luxurious amenities. A stay in the Nightingale Apt. will be a truly relaxing, unique experience.
Living in downtown Murfreesboro has been a dream come true. Everything you could possible need or want is within walking distance. Local events include the Saturday morning farmers market, music on the square first Saturday of every month, Jazz Fest, Uncle Dave Macon Days, Civil War re-enactments, Christmas carolers, MTSU graduation, marathons and numerous parades.
The space itself is very quaint and makes you feel as if you are at home. Paula even makes the most wonderful muffins while you are here during your stay. I'm glad that I had the pleasure of staying in this wonderful place with such a rich history.
Peyton
2016-08-15T00:00:00Z
Great stay at Paula's charming place. Everything you need for a cozy & relaxing getaway. Within walking distance to restaurants & shopping. Thanks for the fresh warm blueberry muffins too!
Rhoni
2016-03-18T00:00:00Z
The apartment was perfect for what we needed. It is beautiful and the location is great. The neighborhood is charming, surrounded by many of the grand homes of Murfreesboro, and just a couple of blocks from the historic downtown square. The apartment was not spacious, but there was enough room for 2 for the weekend. Paula was a gracious host, and we had delicious treats awaiting outside our door each morning.
Mark
2015-07-19T00:00:00Z
Nightingale was a lovely little "nest" in one of the beautiful historic homes on Main Street in Murfreesboro. Despite the freezing winter weather, my room was a cozy little retreat. Paula brought us delicious bake goods in the morning and the room was stocked with water bottles, coffee, tea, soda and even little boxes of cereal! The bed was very comfortable and Paula even provided me with an air mattress and electric blanket for my son. I very much enjoyed my stay here and would return again!
Karen
2016-01-20T00:00:00Z
Our experience in Paula's beautiful apartment was wonderful! She was a most gracious hostess and we were very impressed by her design skills which were apparent in every room. The living room especially was spacious and filled with light, looking down on the most beautiful street in Murfreesboro. The soaker tub and victorian touches kept the eclectic space in line with the history of the house. We took a walk down to the Historic Courthouse Square and enjoyed the ambience of the tree lined street. We highly recommend Paula and her very original house!
Robert
2015-06-14T00:00:00Z
The property is lovely in person, centrally located in a safe, active neighborhood. The space is thoughtfully configured and comfortable. Paula is as lovely and colorful as the apartment. Would certainly stay again!
Joelle
2015-08-15T00:00:00Z
Enjoyed my short stay. Good location with a great walking route in the Murfreesboro historic district. Paula was welcoming and friendly upon my arrival.
Blaine
2016-04-15T00:00:00Z
Paula's place was great; clean, cute, very convenient for MTSU, the air conditioning worked very well, as did the shower, and the amenities were lovely, including the muffins she provided for breakfast. The neighborhood was also impressive; the block was full of palatial houses.
Jason
2016-05-31T00:00:00Z
Romtype
Helt hjem/leilighet
---
Eiendomstype
Leilighet
---
Plass til
2
---
Soverom
Murfreesboro, Tennessee, USA
I have a vacant room for a month. There is an air bed and you can share the bathroom with me.
The host canceled this reservation 14 days before arrival. This is an automated posting.
Christian
2015-05-17T00:00:00Z
Romtype
Privat rom
---
Eiendomstype
Leilighet
---
Plass til
1
---
Soverom
Murfreesboro, Tennessee, USA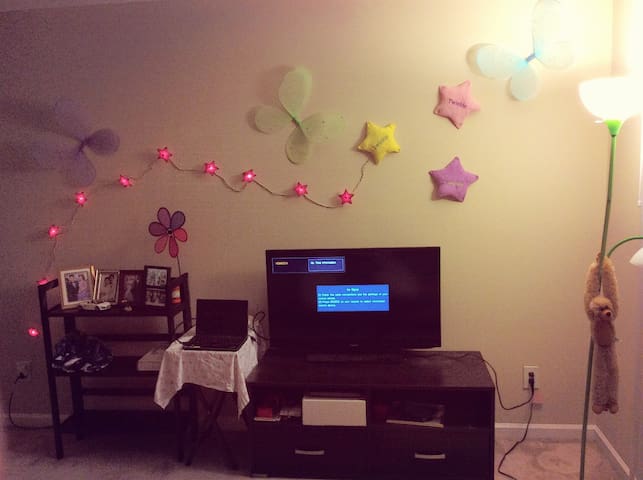 The Balcony on Main is the premier apartment in "The Nightingale", Murfreesboro's first quadraplex. This peaceful retreat features floor to ceiling windows, large balcony, original floors, soaking tub, chandeliers, hardware and transom windows.
The Balcony on Main is a quiet space for reading, writing, preparing for an important business meeting or speech. Located on the second floor of a 1922 English Tudor you feel as if you're in the trees. The central location is a short walk to MTSU, the historic square, Oaklands Mansion, Canonsburg Village, the Discovery Center and Murfreesboro's Greenway along the Stone's River. The beautiful large windows overlook the original brick sidewalk and tree lined Main St. You'll enjoy a front row seat to parades and marathons while sipping hot chocolate or enjoying a glass of wine from your own private balcony. Original deep soaker tub, fluffy white towels, brand new ultra comfortable queen sized bed with luxury linens are a few of the amenities that make your stress melt away. During the summer months spend your evenings by the flower/vegetable garden under a beautiful mature maple tree complete with an outdoor chandelier. Don't forget the fire pit. Nothing beats S'mores under a chilly Harvest moon.
The Balcony on Main, built as the city's first quadraplex in 1922, is located on East Main St. in Murfreesboro's sought after historic downtown area. Three blocks West is the towns square complete with Rutherford Counties historic courthouse, one of the six remaining antebellum courthouses in Tennessee. If history is your passion you are surrounded by it. Less than a half mile is Oakland's Mansion. Built as a two room brick house in 1815 the Mansion, one of Middle Tennessee's most elegant homes, found itself in the crossfire of the Civil War. Tours are available daily. Stones River Battlefield a 570-acre park along the Stones River, three miles Northwest of Murfreesboro, memorializes a key battle of the American Civil War that took place on Decemb(PHONE NUMBER HIDDEN) and January 2, 1863 which resulted in a strategic Union victory. The park offers live re-enactments, candlelight tours and a host of other exciting family friendly educational events. On the square you will find a variety of boutiques and dining options. Start your day with a full breakfast at the boro's oldest and best known restaurant, The City Café. It's been a hang out for locals since it first opened in February 1900. If you're not a breakfast person than enjoy a home cooked meat and three, complete with cornbread. And don't forget the sweet tea and banana pudding! Make sure to take a walking tour of Main St.. Brochure describing the various architectural styles, year built etc. is available.
Paula was an amazing host! She was there to greet us when we arrived and we didn't need much more from her after that. The Balcony apartment is BEAUTIFUL! Sitting on the (actual) balcony for morning coffee and enjoying the fresh blueberry muffins was one of my best Airbnb experiences yet! Bed was super comfortable with lots of extra linens available.
Jeremy
2015-11-15T00:00:00Z
Very nice property. Great location in historic part of Murfreesboro. Within walking distance of town square, and nice food/coffee spots. Paula was very friendly and welcoming...she even helped me carry my groceries up & gave me a quick overview of things to do within walking distance. The apartment was clean and well stocked with utensils, towels, etc. I would definitely 8tely recommend this property!!
John
2017-02-23T00:00:00Z
I was a little reluctant to book the Balcony on Main because there were no previous reviews. However, once I saw the reviews that Paula has for her other airbnb listings, I felt more confident. From the beginning Paula exceeded all expectations. She was always prompt and professional with her communication...before, during, and after the stay. When we arrived, Paula and the owner of the House (Nancy) were there to greet us. They were very kind and welcoming. Paula gave us a quick overview of the apartment which is accurately represented by the photos posted here. The apartment was very clean with nice linens/towels. Every morning we received freshly baked muffins delivered with a warm smile by either Paula or Nancy. The refrigerator was stoked with fruit, water, juices, and wine. The pantry was also stocked with snacks and breakfast items. The house is centrally located in the historic district, between the old courthouse and the university, with ample parking. Nashville is aprox 40 min away without traffic. My wife and I highly recommend staying in The Balcony on Main. Paula and Nancy exceeded all expectations.
Stefan
2015-09-07T00:00:00Z
We had a fabulous time in Murfreesboro Tennessee. The accommodations were wonderful and Paula was a great host. We really enjoyed staying at the Balcony on Main, as it is a true historical gem. We look forward to returning again soon.
Eric
2015-12-14T00:00:00Z
If you ever visit Murfreesboro, TN, the Balcony on Main is a must stay. Paula Francis could not be a more gracious host. We stayed on the second floor, where there was plenty of room, and a lot of sunlight. All the amenities of being at home were there, and, the case of water Paula delivered upon our arrival came in very handy during our 4 night stay. Our daily homemade muffins/donuts delivered at our door, promptly at 7:30 a.m. were an added treat. The home is within walking distance to the town Square, where there are good local restaurants; downtown also boasts Pa Bunk's, which is a whole food/juice market. Easy 30 minutes drive to Vanderbilt.
Paula
2015-10-25T00:00:00Z
Paula was an excellent host and provided the perfect accommodations for our short stay. The rooms were clean and cozy. The balcony was a great spot to drink a cup of coffee and start the day. The fresh baked muffins in the morning delivered to your front door was a nice perk too.
Drake
2016-10-16T00:00:00Z
The Balcony on Main is located on beautiful and walkable street. Many fantastic restaurants located in a perfectly walkable distance. Also very close to MTSU. Love that Paula and Nancy have a well stocked small kitchen, a coffee maker, a Kuerig, a microwave and toaster. They even have a small assortment of pods (for the Kuerig), sugar, creamer, and sweetener. Very cute dining area just off the kitchen. The bedroom has beautiful, large windows that let in wonderful sunshine. For me, they have the most comfortable bed that I have ever slept in! Made getting up for work very difficult. The living room was a very nice size and quite comfortable. The balcony was great for a morning cup of tea or open the door to let in fresh air. Much better option than a hotel room!
Maureen
2017-03-03T00:00:00Z
Beautiful, warm, welcoming place to stay. Paula welcomed us when we arrived. She had water, juices and soda in the fridge for us. There were a lot of nice touches, warm blueberry muffins in the morning, plenty of towels, comfortable bed. She kept us informed of events happening in the area. We will definitely stay again or recommender place to others.
Toni
2015-10-04T00:00:00Z
Romtype
Helt hjem/leilighet
---
Eiendomstype
Leilighet
---
Plass til
2
---
Soverom
Murfreesboro, Tennessee, USA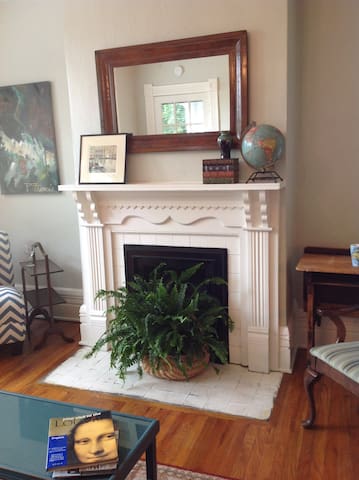 My place is close to public transport, nightlife, parks, and the city center. You'll love my place because of the location, the people, and the ambiance. My place is good for couples, solo adventurers, and business travelers.
I adore my recently renovated apartment and am so glad to be able to share it with you. Its got everything 2 people would need to hangout for a weekend or a couple months. Check out is at noon. Key drop box available for non-business hour check outs
Great neighbors and neighborhood. Super quiet at night and during the day there's a workshop close by but it's not noisy and won't effect anything just thought I'd give a heads up.
Romtype
Helt hjem/leilighet
---
Eiendomstype
Leilighet
---
Plass til
2
---
Soverom
Murfreesboro, Tennessee, USA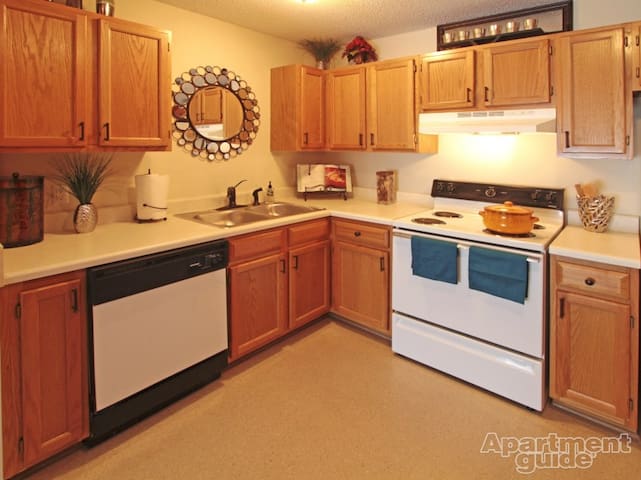 Convenience, comfort + charm - close to it all in a quiet, serene setting. The best of both worlds! Full kitchen, king bed, WiFi, Cable, hdwds in a bright, spacious log cabin apt. w sep entrance. Walk to the lake or sit on the porch & enjoy the view!
A completely unique, clean, light-filled and truly comfortable log cabin apartment for long and short stays with king-sized bed, WiFi, full kitchen, porch - close to everything. Walk to the lake! Only 25 minutes from downtown Nashville, 15 minutes from the airport, 6 miles to Mount Juliet/Providence with great shopping and restaurants. 5 minutes to Long Hunter State Park and Couchville Lake with great walking trails and canoeing. Walk to Percy Priest Lake and enjoy the great wildlife Middle TN has to offer year round. Great base for water sports as well. Sleeps 2 in king bed, living room couch folds out to a comfortable full bed for extra guests.
Just six miles to Mt Juliet and the highway, we are in a completely unique setting you will not find anywhere else in the area. The cabin is on a peninsula in Percy Priest Lake with only four streets and no street lights. Enjoy the peace and quiet of country living without sacrificing any convenience! We love it here and you'll see why!
What a lovely place! Eva was there to welcome us when we arrived and gave us suggestions for breakfast the next morning. The cabin was cozy and had everything that we needed! Total weekend of relaxation!
kirsten
2016-11-27T00:00:00Z
We had a great stay! Thomm was very friendly and easy to communicate with. We used their guidebook to plan our trip into the city and take a hike around the lake. The cabin itself was very comfortable and accurately described. Thank you for a very relaxing weekend!
Lauren
2016-11-07T00:00:00Z
Great place! Very clean. Very quiet. Very friendly.
John
2016-05-24T00:00:00Z
We loved it here!! Looks exactly like the photos! We met Eva when we arrived and she was so nice and hospitable. Easy to communicate with them although it was mostly small talk like where to find the amazing bed! (Best nights sleep you will ever get!!) We definitely plan to come back and enjoy the Nashville Shores (we spent most of our time exploring Nashville and the local life). Thank you for providing a quiet and peaceful place for us to spend our honeymoon, we can't wait to come back! :) P. S. The coffee and snacks were delicious!
Heather
2016-09-27T00:00:00Z
It was absolutely lovely and we had a fantastic time!
Sammy
2016-08-01T00:00:00Z
We really lucked out when we found this lovely log cabin apartment. The setting is beautiful. The deer are even friendly. Just a short walk to the lake. Take your binoculars to see all the birds. Eva and Thomm are great hosts. We loved it Janet
JANET
2015-06-14T00:00:00Z
We had a lovely stay in the log cabin. It was like a dream- peaceful atmosphere, kind and knowledgable hosts, and the home roasted coffee in the morning was a perfect touch. The place provided everything we needed; amenities, snacks, and spiritual relaxation (perfect to come back to after a night out in nashville). Home away from home - cheers
Brian
2015-08-21T00:00:00Z
Unfortunately we only had the pleasure of staying at Thomm and Eva's for a short amount of time. However, they were extremely inviting, easy to communicate with, and had everything we wanted and more after spending the entire day walking everywhere Nashville had to offer. We'll definitely stay here again in the future and take advantage of the nature surrounding their beautiful home. Thanks for having us!
Lee
2015-08-23T00:00:00Z
Romtype
Helt hjem/leilighet
---
Eiendomstype
Leilighet
---
Plass til
3
---
Soverom
Nashville, Tennessee, USA
Great neighborhood with designated parking. Large room and private bathroom. Our home is close to parks, popular restaurants, shopping, dive bars, and just a 10-12 mile uber or lyft ride to downtown Nashville and Vanderbilt. Awesome location! Restaurants and shopping within walking distance. My place is good for couples and solo adventurers.
Romtype
Privat rom
---
Eiendomstype
Leilighet
---
Plass til
2
---
Soverom
Nashville, Tennessee, USA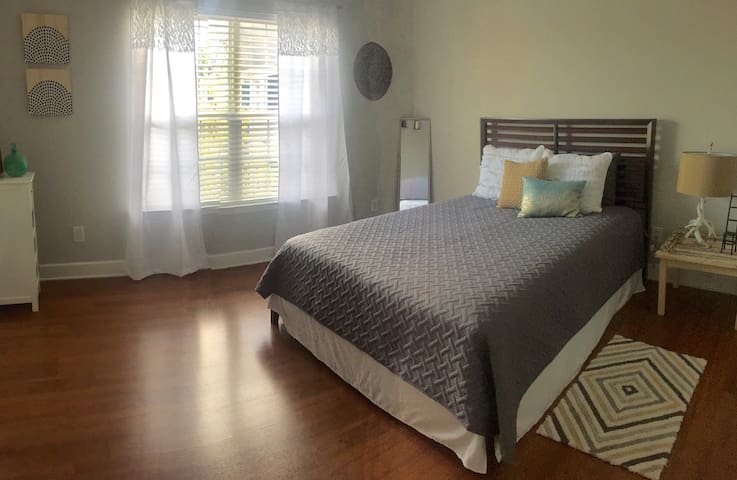 Our property is located on Middleton Street, right along the Cumberland River in the SoBro neighborhood. This unit features 2 Bedrooms, 2 Bathrooms, Washer/Dryer, Internet, and Sleeps 5.
Experience the best of downtown Nashville when you stay at our amazing building vacation rental! Located in the hip SoBro neighborhood surrounded by restaurants and shops, we offers sophisticated properties! Live it up like a local in one of Nashville's trendiest vacation rentals! Our vacation rental is located on Middleton Street, right along the Cumberland River in the SoBro neighborhood. Featuring trendy restaurants and cultural attractions, SoBro (South of Broadway) is one of Nashville's most treasured neighborhoods for locals and tourists alike! -2 Bedrooms with a king bed, a queen bed, and either a sleeper sofa or 2 roll-away beds -2 Full bathrooms -Sleeps 5 Parking: -1 parking space is provided in the secure garage Building Amenities: -Stained Black Polished Concrete Floors -Controlled Access -Elevator Unit Amenities: -Air Conditioning -Fully equipped kitchen -Free wifi -Cable -Washer and dryer -Iron & Ironing board -Coffeemaker -Hairdryer -Ceiling Fan -Dishwasher -Garbage Disposal Nearby Attractions: -Tennessee Performing Arts Center: 1.4 miles -Nashville Convention Center: 1.1 miles -Tennessee Sports Hall of Fame: 1 mile -Bridgestone Arena: 1 mile -Country Music Hall of Fame: 0.8 miles -Ryman Auditorium: 1 mile -Vanderbilt University: 2.7 miles *Nightly Minimums are subject to change depending on weekdays, weekends, holidays, and special events.
In the heart of Downtown Nashville! Nearby Attractions: -Tennessee Performing Arts Center: 1.4 miles -Nashville Convention Center: 1.1 miles -Tennessee Sports Hall of Fame: 1 mile -Bridgestone Arena: 1 mile -Country Music Hall of Fame: 0.8 miles -Ryman Auditorium: 1 mile -Vanderbilt University: 2.7 miles
Minus the construction starting every morning at 6 am the place was amazing. Great location & amenities..
Jamie
2014-11-22T00:00:00Z
The apartment was wonderful. It was in a great location for us which was near downtown. Everything was practically new with plenty of towels and blankets. The view was amazing. I especially liked the check in and check out procedures which were given to us through an app. The only negative thing I would say is that the windows need some kind of black out curtains. The shades were see through. I would definitely stay at this location again.
Sandra
2015-07-01T00:00:00Z
Accurate description, very nice place. Practically brand new. Looking forward to returning.
Shawn
2015-04-24T00:00:00Z
Neighborhood and locale are awesome, a new building so clean and well kept. Very pleased that we found this for our first weekend in Nashville.
Matt
2015-10-05T00:00:00Z
Romtype
Helt hjem/leilighet
---
Eiendomstype
Leilighet
---
Plass til
5
---
Soverom
Nashville, Tennessee, USA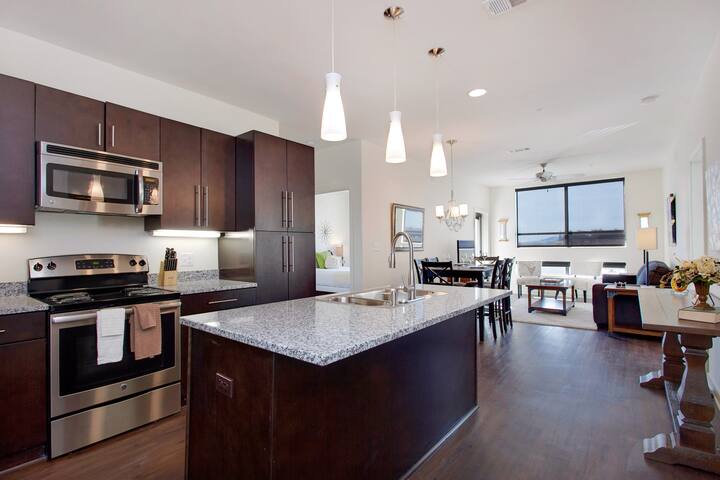 Den slanke, moderne design av denne 2 soverom / 1 bad leilighet gir et perfekt hjem borte fra hjemmet! Du kan ikke be om en bedre beliggenhet for å oppleve Nashville til fots! Bare en kort spasertur til sentrum, LP Field, og så mange kule lokale butikker og barer!
Gjestene kan bo i et privat soverom med en super skjegg queen size seng som kan romme opp til to personer. Gratis parkering. Gratis wifi.
East Nashville er den kuleste! I den ene retningen, kan du enkelt gå til LP Field, Cumberland River, gangbru, og Downtown (Broadway Honky-Tonks, barer, danseklubber, Famous Tootsie). Den andre retningen, våge deg inn i Five Points, der det er tonnevis av kafeer, restauranter, barer, og one-of-a-kind butikker. Nashville International Airport (BNA) er en rask, 12 minutters kjøretur unna.
This was a great location for Nissan Stadium and Broadway! Hope was very hospitable and had her place very clean for us. Great experience!
Conner
2015-09-06T00:00:00Z
Hope's apartment is a great place to stay if you want to be super close to downtown and the airport. In addition, there are multiple tasty restaurants and hip bars within a five minute drive. The neighborhood felt very safe and I had no issues parking my car there for my stay. Inside is a clean, tidy, nicely decorated space with a comfy bed and a hot shower. Everything you need to know she provides. I had a great stay.
Scott
2016-01-19T00:00:00Z
Loved staying with Hope and her 2 dogs. This was the best airbnb experience I've had so far! Hope was very helpful when it came to planning out my day.
Jordan
2015-09-29T00:00:00Z
This was my first Air BnB experience and Hope was awesome! Her doggies are so friendly and cute. The place was clean and comfy. I came tired from meetings all day and driving and she was quite gracious and friendly! Definitely recommend this place.
Kimberly
2016-01-15T00:00:00Z
Hope was very helpful and responsive, and the space was cozy and well-kept. I felt right at home! The location was perfect for walking to Downtown and Five Points. I was only in town for a night, but I would have stayed here longer if I could have. Do yourself a favor and check out Hope's place!
Paul
2016-03-16T00:00:00Z
Though we didn't get a chance to meet Hope, she made checking in and out easy! Her house was nice and clean, and we had everything we needed for a comfortable stay.
Amanda
2016-08-25T00:00:00Z
The place looks exactly like it does in the photos. Extremely comfortable stay. Hope had everything we needed for an overnight stay. You might want to have a car if you're staying at Hope's place. It's in East Nashville, which is about a 25min walk to downtown Nashville, which isn't too bad. The apartment was great. She has the cutest little puppies, but they stay in her room if you are worried about them. Hope left clear instructions on how to get in, which made the check in process very smooth.
Florence
2015-08-29T00:00:00Z
Hope's home was extremely welcoming. The location couldn't have been more perfect. We were able to explore the local scene of neighborhood. Her dogs are the cutest too. Perfect place for a Nashville visit!
Jordan
2016-11-07T00:00:00Z
Romtype
Privat rom
---
Eiendomstype
Leilighet
---
Plass til
2
---
Soverom
Nashville, Tennessee, USA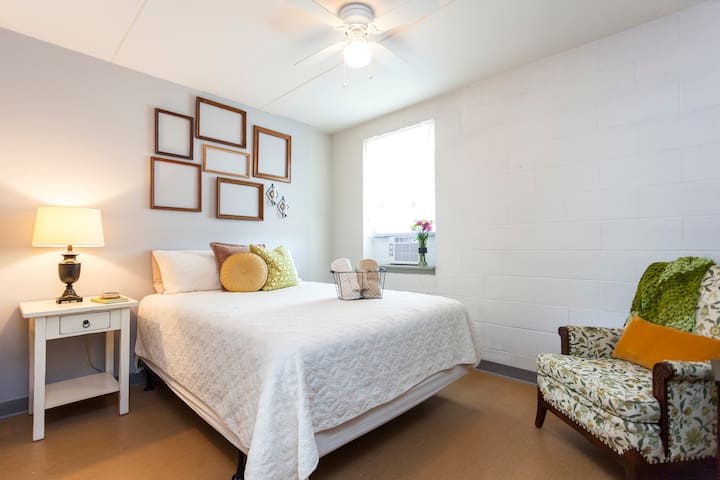 Comfy one bedroom apartment for two! Room to spread out, driveway parking, close to downtown and local restaurants. Walk to the Nashville greenway.
Romtype
Helt hjem/leilighet
---
Eiendomstype
Leilighet
---
Plass til
2
---
Soverom
Nashville, Tennessee, USA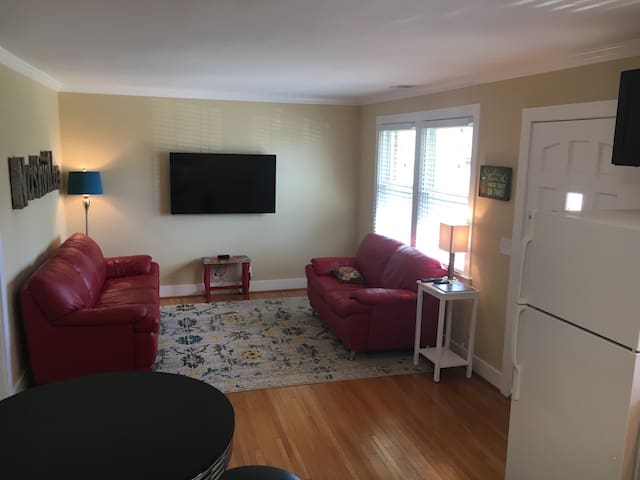 Smyrna - Airbnb
:
Gjennomsnittlig

4.97

av

5

stjerner fra

702

gjesteanmeldelser