Villa Sali er en luksusvilla, vakkert beliggende rett på stranden og i nærheten av Lovina, turistbyen på nordkysten av Bali. Villaen har en stor tropisk hage og et vakkert evighetsbasseng omgitt av en stor terrasse og en balle Benong på stranden side. Villaen har 4 soverom, 3 bad, kjøkken, stor stue og en stor terrasse med spisestue og salong. Under oppholdet ansatte vil være til tjeneste 6 dager per uke, inkludert en kokk til å tilberede alle måltider!
Villaen kombinerer tradisjonell balinesisk arkitektur med moderne bekvemmeligheter. Mange naturlige materialer er brukt, inkludert paras stein på gulv og granitt og marmor på bad og kjøkken. Også fliser av terrassen gulvet utenfor er laget av hvite paras stein. Blikkfang av villaen er den høye stråtak laget av originale balinesisk Alang-Alang gress. Den dekker også den fremre delen av terrassen slik at du alltid kan sitte ute og nyte det fantastiske klimaet. På kvelden er taket vakkert opplyst. De smakfullt dekorerte Villaen har plass til grupper opp til 8 personer. Villaen har 4 elegante innredede soverom, 3 bad med dusj, toalett og vask, et fullt utstyrt kjøkken med alle moderne apparater og en stor stue med spisestue og sittegruppe med TV og DVD med surround system. Stuen har skyve glassdører som kan åpnes helt ved fronten, noe som gjør stuen fullt integrert med terrasse, hage og svømmebasseng. Fra terrassen har du en fantastisk utsikt over Bali havet! Alle soverom har air condition og takvifte for en behagelig temperatur. Tre av soverommene har en dobbeltseng og ett soverom har to enkeltsenger. Dette soverommet deler bad med en annen soverom. De to andre soverommene har eget bad. Det er romslige innebygde garderober tilgjengelig for klær i hvert soverom og i ett soverom du finner en safe for dine personlige eiendeler. To soverom er plassert på forsiden av villaen med utsikt over bassenget og havet. De to andre soverommene er plassert på baksiden av villaen med en vakker utsikt over hagen. På grunn av plasseringen av soverommene på begge sider av villaen du har mye privatliv, også når du bor med flere par eller familier. Villaen har et meget stort evighetsbasseng på 72 kvadratmeter med et eget grunt barnebasseng på 18 kvadratmeter. Barnebassenget har også 4 vannfontener. Bassenget har en "overflow" til stranden side slik at det virker som om vannet renner ut i havet, og gir deg en fantastisk utsikt! Villaen har flere sittegrupper å slappe av. På terrassen rundt bassenget er det solsenger og parasoller. Under stråtak kan du nyte måltidene dine på det store spisebordet. Også på terrassen vil du finne en sittegruppe med en lounge sofa å slappe av og nyte de herlige kveldene. Og selvfølgelig ikke mangler ballen Benong på stranden side! Dette typisk balinesisk tilsvarer et lysthus, med en madrass og masse puter gjør at du kan oppleve det ypperste innen avslapning. Det er et flott sted å slappe av med en bok, en drink, musikk eller bare for å nyte den flotte utsikten over havet. Også på kvelden når solen forsvinner med en rød glød bak fjellene i Java i det fjerne og himmelen fylles av tusenvis av stjerner. Solnedgangen på denne kysten er fantastisk! Villaen er omgitt av en stor og vakker anlagt hage med mange tropiske trær og blomstrende planter hele året. Fra hagen har du din egen tilgang til stranden, så stranden og havet er bare noen få skritt unna. Mesteparten av året sjøen på nordkysten er rolig med mindre strøm og bølger og stranden skråner forsiktig ned i havet, og er derfor også egnet for barn. Etter en svømmetur i sjøen kan du skylle av saltvann på utendørs dusj. Beliggenheten rett ved stranden gir deg en uhindret utsikt over havet, og du vil ha din egen strand foran 35 meter! Under oppholdet gjestfrie og imøtekommende personale vil være til tjeneste 6 dager per uke (på søndager de er normalt av). De tar seg av renhold, vaskeri, dagligvarer shopping og de kan forberede de mest delikate måltider for deg. I tillegg til en husholdning hjelp og en kokk, har villaen en gartner til å opprettholde bassenget og hagen og en sikkerhetsvakt i kveld og om natten. De personalkostnader er fullt inkludert i leieprisen, så tillaging av alle måltider av personalet er også inkludert, bare dagligvarer er på egen regning, men prisene på mat er fortsatt svært lav i Bali. Personalet kan også gjøre dagligvarer for deg, de går til det lokale markedet for å kjøpe ferskt kjøtt, fisk, grønnsaker og frukt og til supermarkedet for å kjøpe drikke, brød etc. Du kan velge selv hva du ønsker å spise hver dag, i villaen er en liste med menyforslag, men de ansatte kan gjøre alle rettene, Western samt asiatisk mat, de er fantastiske kokker! Mye oppmerksomhet er betalt for å sikre komfort og luksus i og rundt villaen. Alt er gjort for å gjøre oppholdet ditt så behagelig og komfortabelt som mulig. Din drøm ferie blir virkelighet med et opphold i dette praktfulle villaen!
Omgivelsene gir rikelig rom for utforsking, oppdagelse og aktiviteter. Vakre strender, delfin turer på sjøen, terrasserte rismarker, plantasjer, fjell, templer og noen fine landsbyer og byer er i nærheten, for eksempel Lovina og Singaraja. Denne gamle hovedstaden i Bali er hjem til Gedong Kirtya bibliotek hvor du finner de berømte Lontar manuskripter. Sør for Singaraja du finner han mest spektakulære foss av Bali, den Git Git fossen. Ca 10 minutter fra villaen buddhistisk kloster, Brahma Vihara Arama, også kalt den lille Borobodur, er verdt et besøk, akkurat som de berømte varme kildene i Air Panas som er 5 minutter unna. Du vil finne fantastiske snorkling og dykking områder, for eksempel Menjangan Island og også en av de flotteste golfbanene i Asia, Bali Handara Kosaido Country Club, er bare en times kjøretur unna. Du vil bli overrasket over dette autentiske delen av Bali, flere og flere mennesker oppdager det fortsatt uberørt, uberørt og autentisk nordkysten av Bali!
Fantastic, Fantastic & Fantastic. Great villa, excellent staff. Really enjoyed our stay would recommend without hesitation.
Raghav
2017-01-16T00:00:00Z
Angelique was very easy to communicate with. The place was so beautiful, peaceful and quiet and exactly like the description. Highly recommend if you want a relaxing get away from all street noise and city hustle.
Alyssa
2017-01-13T00:00:00Z
This place is great for a small family or a small circle of friends. We were a family of five adults and two kids and stayed here for three days and enjoyed it thoroughly . The villa is fully serviced with an exclusive trained staff that manages the house keeping and the cooking and the shopping and the cleaning etc.etc. The local food prepared by the staff was great. They would probably require minor guidance for cooking other cuisines. Swimming in the sea is safe but it is unexciting with no waves or breakers or rollers. The sea resembled a large shallow swimming pool for all practical purposes. The kids spent almost all their time in the swimming pool. The beach has black sand and is as good as any sandy beach. There are other similar villas in the neighborhood. The bedrooms and the bathrooms are great and the fully loaded open dining area and the kitchen is impressive . Angelique is a professional when it comes to describing the villa and all it contains. We found it it exactly as described. All the information provided by Angelique was useful and accurate and the arrangements made by her for our transportation and check in and check out went through with clock work precision. I recommend this place for a quiet family holiday .
tj
2017-03-18T00:00:00Z
Уединённая вила вдали от цивилизации. Отзывчивый персонал. На вилле есть все необходимое. Спокойный отдых
Inga
2017-02-23T00:00:00Z
The villa was extremely beautiful! the staff was very nice and helped with anything we needed such as scheduling massages and drivers. The three hour drive to the villa from ge hotel was a longggg one after a long day of traveling but the drivers were very nice and spoke great English.
Alissa
2017-02-15T00:00:00Z
Wir wurden mit einem wunderbaren Abendessen begrüßt. Wir haben uns die 7 Tage rundum wohlgefühlt und die 2 Damen und der Gärtner haben alles dafür getan, daß wir einen sehr angenehmen Aufenthalt haben. Es wurde nach Wünschen gekocht, aufgeräumt, der Pool wurde jeden Tag gesäubert, der Garten in Ordnung gehalten, es wurde eingekauft nach unseren Wünschen, Taxi besorgt, Ausflüge von dort organisiert, wir wurden in der Villa Sali massiert, einfach klasse. So wie die Villa beschrieben ist, so ist sie auch. Alles super!
Thomas
2016-12-28T00:00:00Z
Romtype
Helt hjem/leilighet
---
Eiendomstype
Villa
---
Plass til
8
---
Soverom
Seririt, Bali, Indonesia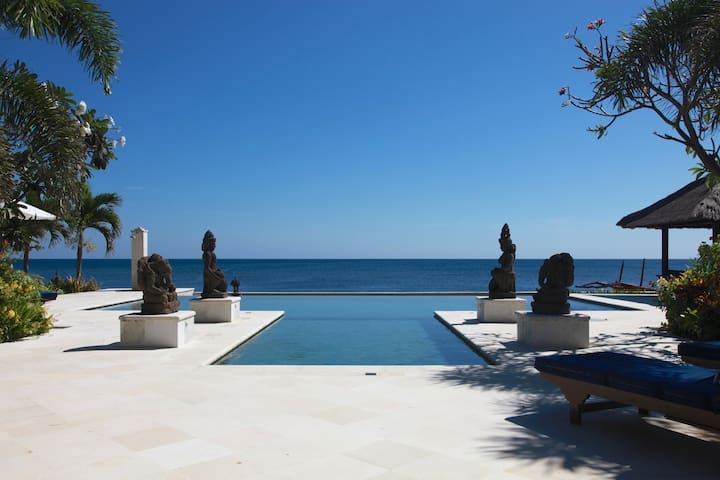 Diese atemberaubende 3-Zimmer-Luxus-Design-Villa befindet sich auf 1200 m2 schöner Hang Land eingebettet Blick auf das Meer, üppige Reisterrassen und malerischen Bergen. Genießen Sie die komplette Privatsphäre im Paradies.
Den luksus design villa, Villa Zoubi, er en smuk moderne design villa, beliggende i den åndelige område Umeanyar tæt på Lovina North Bali, med udsigt over rismarker, Bali havet og bjergene. Fra overalt - soldæk til soveværelser - du kan nyde de fredelige solopgange. Eller nyd udsigten fra vores fredelige balle, mens du lytter til lyden af floden, der bare løber ud over de grunde - eller hvad en cool ned i infinity-pool, mens smilende tilbage på havet og rismarker. Villaen værter op til 6 personer og har 3 soveværelser med dobbeltsenge, med walk in-garderobe, toilet og store en-suite badeværelser med bruser, hvor du forestille dig selv bader i naturen takket være de smukke vand vægge. Et soveværelse med dobbeltseng har en stor terrasse, som ligger på 1. sal i hovedbygningen med udsigt over den tropiske have, swimmingpool og rismarker. Separat er 2 andre dobbelte gæstehuse med hver en smuk indrettet soveværelse og knyttet et stort badeværelse med alle luksus. Hvert værelse er udstyret med aircondition, dag og nat gardiner og et sikkert. Villaen har en meget åben struktur, moderne, hvid og med glasskydedøre. Huset er bygget til enhed med naturen og til at have en fantastisk atmosfære og visning i hvert stykke af huset og haven. Et sted at slappe af, et sted at nyde skønheden i naturen. Et sted at være sammen med din familie og venner eller på egen hånd, væk fra mængden.
The villa is awesome and the staff are brilliant thanks for a great time
ALLAN
2017-02-21T00:00:00Z
Amazing villa and garden with great staff!
Marc
2017-01-15T00:00:00Z
Our stay in this breathtaking property was unforgettable. We wished so much that we could stay longer and will definitely be coming back! The staff went above and beyond to accommodate our needs and make us comfortable. The view, the pool, the design; everything was as if out of a dream. Thank you very much for a fantastic stay!
Shimyun
2016-12-23T00:00:00Z
Really enjoyed our stay. The staff was wonderful especially Ms Ayu and Mr. Katut . The managers Mr. Budi and Riko were superb at handling any requests. They made our stay a real breeze. The property itself is wonderful. It is a bit secluded but that was our choice. Thank you Johan and Dewi for being so responsive to all out queries.
Vineet
2017-04-03T00:00:00Z
La Villa Zoubi est tout simplement magnifique! Plus belle en vrai que sur les photos! Une incroyable piscine avec vue sur les rizières à l'écart de la ville et des zones touristiques parfait si vous voulez être au calme!
Demba Mohamed
2017-03-05T00:00:00Z
The Villa is really a GEM. Its better than the Pictures. What more can you ask for.... Rice Fields, Ocean view but a bit far from ocean, mountain view on a cliff. Every thing in the Villa is top of the line. You wont get this stuff even in a 5 star resort. The Pool is very good given the fact that its on a cliff. The Staff are very welcoming, accommodating and will go the extra mile for you. Excellent Cook, very clean place with complete privacy. I would love to come back and spent a week with my family.
ANSAR
2016-12-15T00:00:00Z
This is the most beautiful villa we have ever stayed at. The staff were fantastic, and the setting was marvelous. It is secluded, at the north of the island of Bali, but that is what we wanted, and we were not disappointed. Quite the contrary, if possible in the future, we would like to return.
Josef
2017-01-21T00:00:00Z
It has been an incredible experience having the opportunity to stay in this Villa for 3 nights. We were blown away by the beauty of the place and its surroundings. The view of the rice fields and ocean in the horizon from the pool is incredible. It's an amazing place to relax, unwind and enjoy your holidays. With the excellent service provided by the staff and the food they cook you won't want to leave this place. 100% recommended
Luis
2017-03-13T00:00:00Z
Romtype
Helt hjem/leilighet
---
Eiendomstype
Villa
---
Plass til
6
---
Soverom
Seririt, Bali, Indonesia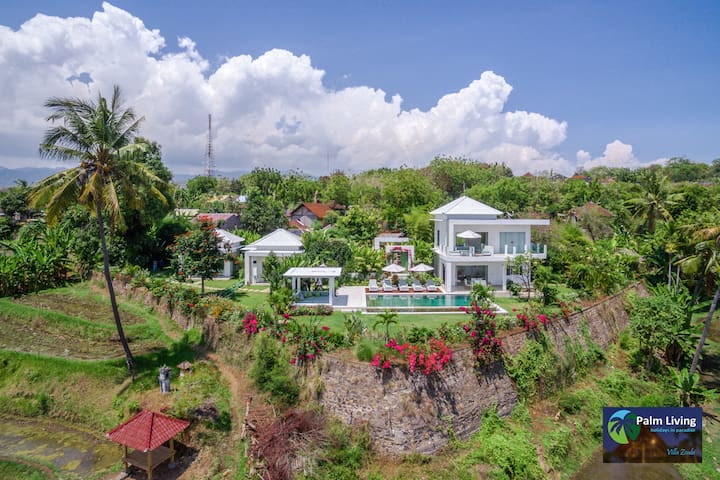 Villa Danison er en himmelsk frontbeach villa, omgitt av vingård, ris felt, frodige hager og et fantastisk evighetsbasseng, som ligger på ekte nordkysten av Bali, i et rolig og fredelig område, bare 20 minutter fra Lovina.
Přímořské vila, plně obsazené. Při vstupu do domu, první věc, kterou uvidíte z prostorné vchodu je krásné oceánu, který může být viděn z velké obývací pokoj, kuchyně, terasy a zahrady. Vila nabízí čtyři prostorné, klimatizované-ložnice (dvě s manželskou postelí, dvě s oddělenými lůžky). Každá ložnice má vlastní koupelnu se sprchovým koutem, umyvadlem a WC západní. Tam je pětina WC na chodbě. Ideálním místem pro nejvíce odpočinkovou dovolenou, tvrdí, že líbánky nebo rodinnou dovolenou. Ve svěží, tropické zahradě najdete: Krásná infinity bazén (12 x 6 m) s odpočívat po schodech. Prostorná sluneční terasa s opalovacími lehátky a slunečníky. Balé benong (altán) s matracemi a polštáři k relaxaci u bazénu nebo na masérka, aby vám relaxační masáž. Zastřešená terasa s jídelním koutem a útulné posezení, který je vybaven stropní ventilátor a romantickým osvětlením. Moderní a prostorný obývací pokoj s výhledem na bazén a moře Bali je vybaven stropní ventilátory, LCD TV s plochou obrazovkou a hudební zařízení. Plně vybavená kuchyň má lednici a dávkovač vody (chlazená a teplé pitné vody, komplementární). Vila je plně osazený s manažerem / řidiči, kuchaři, úklid, zahradník / bazénu muž a bezpečnosti. Snídaně, oběd, večeře a svačiny mohou být připraveny naší krásné kuchař na jedinou složkou ceny. Si můžete vybrat jídlo z naší rozsáhlé nabídky (s většinou původních indonéských pokrmů, ale také některých západních jídel a speciálních možností pro děti) k snídani / oběd / večeře, poskytnout určitou zálohu v hotovosti za naše kuchaře nakupovat (příjem by měly být poskytovány po). Mezi další zařízení a služby: - bezdrátové připojení na internet (WiFi) - mobilní telefon (se zápočtem na Bali, například pro volání ovladač nebo masérka) - baby-lůžko a židlička - praní prádla za nízké ceny - služba letiště (IDR 650,000) jedním ze způsobů, za auto, platí pro 4 osoby + zavazadla) - čisté ručníky pro koupelny, stejně jako bazén a plážové osušky jsou k dispozici pro - podpora Náš řidič je rád, že uspořádat exkurze nebo výlety (IDR 650.000 za den vč. Paliva, založené na max 6 osob a max 8 hodin, kratší výlety jsou samozřejmě také možné). Ve vile najdete Info knihu s tipy na výlety a důležitá telefonní čísla. Místo: Mystická Severní pobřeží Bali je pravděpodobně nejzachovalejší část ostrova s jeho čistotě a pravosti. Na nejvíce okouzlující a magické místo Bali, daleko od svého pracovního života, můžete de-stres, relaxovat a užívat si jedinečnou přírodu, která Bali má co nabídnout. Vila se nachází uprostřed vinic, rýžová pole a v pěší vzdálenosti od chrámů, přímo na úpatí hory pokryté palmami a banánovníky. Villa Danison je obklopen tropickou zahradou, barevné, přímo u Puri Jati Beach na Bali moře, v blízkosti obce Umeanyar. Při 15 až 30 minut jízdy najdete město Lovina, který je známý pro pozorování delfínů a Singaraja, které je hlavním městem okresu Severní Bali. Také pozorování delfínů odchod je k dispozici na pláži před vilou, pronájmem loděk od místních rybářů. Existuje několik vil v okolí, kdo se nachází v těsné blízkosti Villa Danison. Aby bylo zajištěno dokonalé soukromí, dvě vily jsou odděleny příjezdové cestě s exotickými rostlinami a stromy. Tam jsme také několik středisek v docházkové vzdálenosti, které mohou poskytnout možnosti pro jídlo.
Villaen ligger i avsidesliggende område i Nord-Bali, hvor du kan se den opprinnelige Bali, vekk fra travle, overfylt turistområde. Det er mange aktiviteter tilgjengelig fra delfinsafari i soloppgangen, (er dykkesenter i gangavstand fra villaen og flere alpinanlegg i utkanten av 1km tilbudet PADI sertifisering kurs) dykking, (er Handara golfbane en time unna) golf, fotturer, shopping , sykling, ser på solnedgangen, eller du kan bare slappe av og nyte massasje i lysthuset.
Maison magnifique, bien plus belle d'ailleurs que sur les photos, personnel au petit soin, du jardinier au manager Putu en passant par les cuisinières et le chauffeur Kadek, tout est mis en oeuvre pour vous faire vivre des vacances de rêve. Nous avons passé une vingtaine de jours extraordinaires dans cette magnifique Villa. Le nord de Bali est à découvrir absolument, pas encore envahi par les hordes de touristes, il a gardé un côté authentique qui commence à manquer au sud. La villa est restée impeccable du premier au dernier jour, les repas sont tous excellents et la bonne humeur toujours au rendez-vous. Seul point noir de ce lieu paradisiaque, il en devient difficile d'en sortir pour visiter cette île magnifique ! Un grand merci à tout le personnel qui a tout fait pour que toute notre famille se sente comme à la maison, avec le sourire rivé aux lèvres ! Il est déjà acté que nous reviendrons.....
Pascal
2016-07-17T00:00:00Z
The house is absolutely beautiful. The staff is amazing. The ladies, Tutik, Ciri, and Yanti, go out of their way to make you feel welcome and enjoy your holiday. Roy, the house manager, goes above and beyond to ensure guests have a relaxing stay. The ladies are shy at first, but they opened up quickly and are definitely the sweetest ladies I have ever met. If you need something and it exists on the island, Roy and the ladies will do whatever it takes to get it for you. My family stayed at the villa for 10 days to celebrate my dad's 65th birthday. Roy and the ladies planned a wonderful beach party including Balinese dancers and Roy even performed with his band. We could not have asked for a better night. Roy also went out of his way to customize tours for our group. The food the ladies cook is amazing. We were sad to leave, but we are already looking into flights to return. The northern coast of Bali is beautiful and quiet. Nothing like the big cities in the south. The people walking by on the beach are friendly. Even the vendors are friendly and talk to you about your stay even after you tell them you are not interested in buying anything. We only ate one meal out and were not impressed. This was on our third day. After that, we decided to stick with the delicious meals prepared by the ladies. Kutuk the gardener is always around. He cleans the pool every morning and replaces the beach towels. Throughout the day he was willing to help run errands such as running to the store to get ice. We truly feel in the love with the villa and staff. We will return, and I highly recommend staying here.
Sara
2016-04-02T00:00:00Z
Such a beautiful place to arrive! We live in Bali, but have not explored the north side enough. We will definitely be returning. It's stunning. The sea was sparkling and the driveway was lined with flowers. The staff all came out to welcome us - they helped us unpack and offered us welcome drinks. The house itself is right on the beach. A beautifully large swimming pool sits in front of the entertaining deck. The kitchen is spacious and there were two wonderful cooks who would go to the market to buy ingredients for all our meals. All the bedrooms are internal, and when to have small children this is a real plus! The house was clean and delightfully airy. We cannot express our appreciation of this spot more! What a beautiful find! Thank you, Novi.
Nicola
2016-06-27T00:00:00Z
The staff are incredibly friendly and so helpful. Service throughout our stay was fantastic, from the cooks and manager to the nighttime security guard and driver. They went above and beyond our requests, even for little snacks for us to bring home as gifts. The food was great, better than our one fancy resort dinner! The house itself is beautiful and well maintained with a great pool. We are all planning to come back again soon!
Blair
2016-09-21T00:00:00Z
It was a beautiful house, the beach and location is not the most tourist friendly and it is a long 3 hour plus drive from the airport. The hosts were incredibly nice and accommodating and I felt like I was staying in a 4 star hotel. If you have the time during your stay in Bali, definitely worth venturing up north and staying here!
Megan
2016-11-15T00:00:00Z
This is the perfect place to relax away from the touristy areas of Bali. One of the highlights is that there is a coral reef that comes right up to the beach just 5 minutes to the west of the villa.
Ying
2015-12-15T00:00:00Z
This villa is outstanding! Noviana and staff at this villa were excellent. Roy (the Villa Manager) met us at the airport with a sign and drove us to the villa. It is quite a long drive from Denpassar airport to the Villa Danison but so worth it. We only had 3 nights there but from the moment we arrived, we were treated like royalty. Greeted with a lovely cold fruit drink and welcoming smiles from the girls at the house. If you want to get away from the stress of real life, stay here. They cooked and served beautiful meals to us every day. It was the most delicious food ever and superb quality. The pool area is excellent. I went for a walk on the beach at sunset each day, but that was the only time I went outside the villa. Roy organised for a local massage lady to come to the villa. 1hr Bali massage was fantastic. We asked her to come back the next day again, it was that good! Fabulous place - thoroughly recommend it. No hesitation in going there again. Villa Danison is 5 star.
Ruth
2016-03-23T00:00:00Z
Villa Danison was absolutely amazing! The pictures on AirBnb look stunning but in reality it all is even better when you add the fantastic services of Putu (the manager) and his staff (6 persons!). We loved their friendliness!! We were with 2 families with 6 small kids which can be a hazzle, but for the staff nothing was too much to ask for. Every morning and evening we got delicious Indonesian food (what we asked for) so we did even not think about eating out! If you think a 5* hotel knows all about how to treat guests, think twice and go to this place! I am sure Putu and his staff will surprise you. Everything Noviana has written on the site is true or even better. One thing we know for sure: we want to come back here asap!
Stefan
2016-05-07T00:00:00Z
Romtype
Helt hjem/leilighet
---
Eiendomstype
Hus
---
Plass til
10
---
Soverom
Seririt, Bali, Indonesia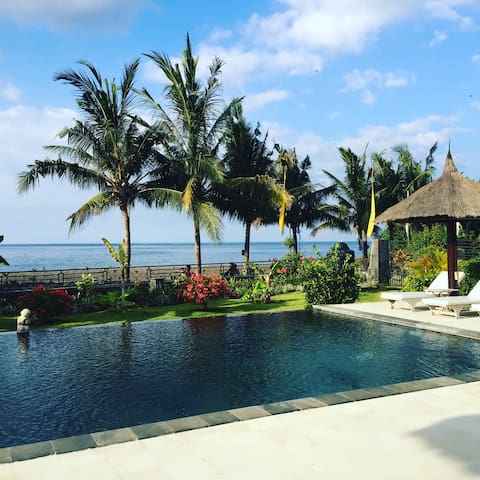 My place is adjacent to the family-friendly activities. You'll love where I am because of nuance, its location and the landscape. My place is suitable for couples, single adventurers, families (with kids) and a furry friend (pets).
Romtype
Helt hjem/leilighet
---
Eiendomstype
Hus
---
Plass til
2
---
Soverom
Seririt, Bali, Indonesia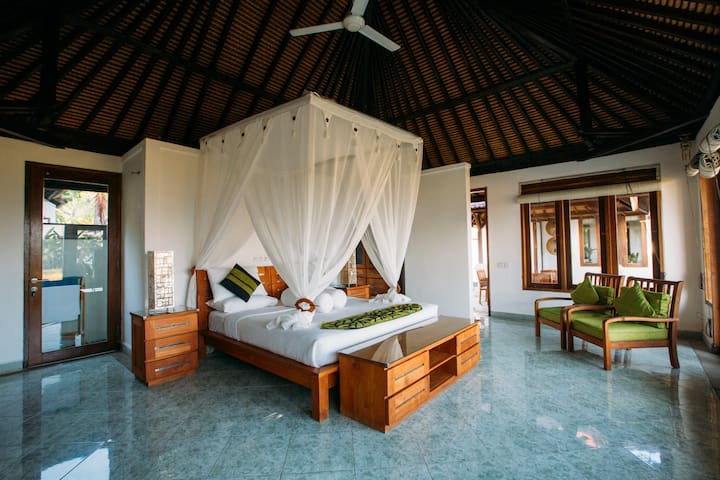 En oase av fred og ro, langt fra turisthjemsøker med en vakker vista øst og vest langs nordkysten av Bali
En 3 roms villa bygget i 2010 med en 100m stranden forside. Stranden er en offentlig strand, med svart, vulkansk sand. Umiddelbart utenfor villaen vår stranden er steinete, noe som fører til en liten korallrev. Fordi vi er på en liten promintory tidevannet noen ganger innskudd flotsum og jetsum på stranden - som vi prøver våre vanskeligste å holde rent. Egen infiniti basseng og jacuzzi. Fantastiske ansatte å holde huset rent, ta vare på hagen og bassenget, gir trygghet og lage mat for deg (hvis du ønsker). Absolutt ro - med massevis av Balis mest fantastiske severdigheter og plasserer en kort kjøretur unna. Jeg designet vår villa meg selv og nøt opplevelsen av guiding det gjennom konstruksjonen. Jeg har vært involvert i svært store utbygginger mange, men dette betydde mer for meg enn noe annet - det er veldig personlig. På arabisk "Jaa Bali" betyr - "fordi jeg følte at det" - for meg, som synes perfekt! Vi er noe eksternt, som på slutten av en 2 km kjørefelt fra hovedveien. Dette gir praktiske nærliggende lokale butikker og restauranter - en 20 eller 30 minutters kjøretur unna - mens å være rett på stranden unna enhver kjas og mas. Vår hage har en 100 meter fasade direkte på stranden. En liten spasertur langs stranden blir det veldig sandstrender og lett å svømme. Rett utenfor villaen vår er en fjellknaus, som blir et korallrev en liten svømmetur unna og fisk liv er ganske interessant. De to nede soverommene har utenfor bad, for å nyte følelsen av sjøluft - og man har utsikt direkte til sjøen. I soverommet har også sitt eget bad og har en vakker balkong med utsikt langs kysten mot øst - nyter den vakreste soloppgangen noen gang vil oppleve. Vi har utformet Jaa Bali for å være den ultimate sted å "komme seg bort fra byen hast" - dette er et sted å slappe av og lese, bli kjent med deg selv og dine venner og familie bedre enn noen gang før. Hvis du leter etter nattklubber, er ikke dette noe for deg.
Vi er en av en liten enklave av villaer, rett på stranden, ganske nær 3 veldig små hoteller, hver med en veldig enkel restaurant. Vi er godt utenfor "allfarvei", med en sterk tilknytning til den lokale landsbyen, som vi er gradvis blitt en del av.
Steve's place is as described: A beautiful large villa on a secluded part of Bali. We had a wonderful time.
Sarah & Peter
2017-03-21T00:00:00Z
Our vacation at Steve's Beachvilla was fantastic. We felt like in a private hotel. Mercy, the housekeeper, was really great, very friendly and a big help. She provided us with a rich breakfast (eggs, bread, various fruits and self-made fruit-juice), kept the house clean and in order and we could engage her to cook our dinner. We can only emphasize previous feedbacks that Mercy is a real great cook and we enjoyed here delicious balinesse dinners a lot. There was also Made, the friendly gardener looking for the garden and pool. He was very nice and created for our youngest son a fishing stick. Thanks to Kadek, the night security guard, we felt save all nights as he was looking for the property. To get around we could engage Putu, as driver and guide. He brought us to many wonderfull places, such as temples, waterfalls and a natural park, where we went snorkeling. We can only recommed Putu - he is very nice and a save drive and excellent guide. Should we come back to Bally - we will certenly come back here. :-) Thank you Steve for letting us stay in your Beachvilla!
Sascha
2016-07-28T00:00:00Z
This place is absolutely a slice of heaven, if not the actual place! We stayed for 4 days, and every day was amazing, and we didnt even go anywhere! Lazing around, napping, the kiddos (2 and 3 years old) running around playing in the pool and gardens. Merci: what can we say about her that hasn't already been said, other than we wanted to pack her up and take her back to Singapore with us. Amazing food, and such a sweetheart. Gusti kept us safe at night doing constant patrols. If you decide to stay (which you should), you have to do at least one visit to the Zen Spa, one of the more beautiful spots in the world. Would recommend this location to anyone looking for a great relaxing vacation where you can sit back and relax, with no cares on your mind.
Scott and Zura
2013-07-23T00:00:00Z
Quite possibly the best Airbnb I've ever stayed in, and I've been in a bunch. The villa was exactly what I wanted: right on the beach, remote, quiet, and utterly gorgeous. More importantly, the place was maintained by Mercy, who made this trip a dream. She's responsible for taking care of the house, but she also cooks authentic Balinese and Indonesian food, and - let me say - her food is amazing. AMAZING. We didn't want to leave. All other food we had in Bali paled in comparison to hers. Think of staying here as staying at a private restaurant with a bed and a pool. We'll definitely be staying here again when we come back to Bali!
Simon
2015-06-18T00:00:00Z
Une semaine de slow Life .. Nous avons vécu au rythme du soleil et des vagues et profité des lieux et du sympathique staff dont l'excellente cuisine de Mercy. Nous ne regrettons pas notre choix et le recommandons à tous ceux qui veulent se ressourcer. La maison en pure balinais est ouverte sur la mer.
GILLES
2015-07-25T00:00:00Z
Together with my family I stayed at this magnificent accomodation in Northern Bali. We had a wonderful time there, together with the staff including Mercy (the caring housemaid, known for her world-class cuisine), Putu (a very safe driver that has an extensive knowledge when it comes to breathtaking places, off the beaten track) and Kadet. Putting it in a nutshell: The villa is super-clean, it takes you as long as ten seconds to get to the beach, it's nicely located and getting there was totally hassle-free as we had Putu, our private driver! Thank you Steve for making this unforgettable journey to Bali possible!
Stefan
2015-09-02T00:00:00Z
We had a blast at Jaa Bali! The house is gorgeous and the pool is stunning. Mercy (the housekeeper) is an amazing person who made our stay at Jaa Bali simply perfect. Mercy cooked a few dinners for us and we also found out that many restaurants in the area will pick you up if you want to get out of the house for a meal or two. Check out spice beach club! Only slight disappointment was that the beach had some trash on it, but we found ourselves enjoying the pool so it was of minimal concern.
Todd/Marianna
2013-09-10T00:00:00Z
Cannot say enough good things about Steve, his villa and Mercy, the housemaid and chef. Superb, we were treated like royalty for the whole stay. Putu the driver was amazing too. Palace in paradise with very gracious people. We'll be back.
Robert
2016-10-20T00:00:00Z
Romtype
Helt hjem/leilighet
---
Eiendomstype
Villa
---
Plass til
6
---
Soverom
Seririt, Bali, Indonesia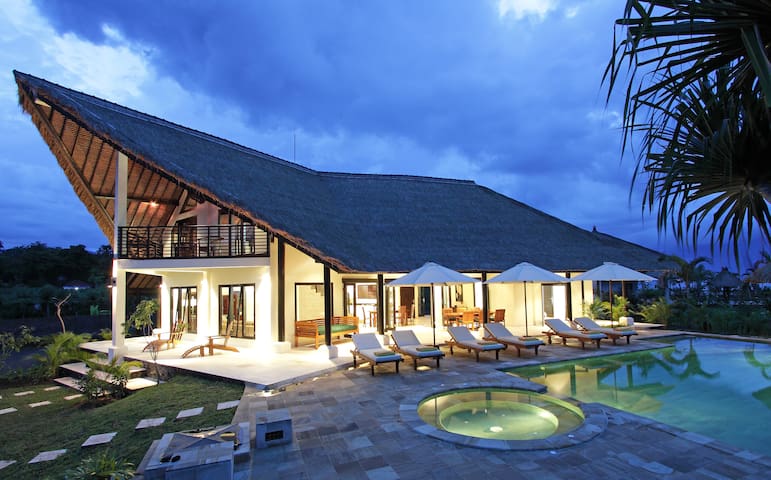 약있는 온수 욕조와 수영장, 사랑스러운 빌라. 10 분. 자동차 드라이브는 서쪽 Serririt / 노스 웨스트 발리의이 단일 레벨 해변가 빌라는 모두 6 빌라, 서양 사람들이 소유 한 모든있는 작은 빌라 부동산의 일부입니다. 이 위치 영역은 회복 휴가에 대한 매우 조용하고 환상적이다.
이 환상적인 빌라의 투숙객은 20 미터 거리 바다의 아름다운 경치를 즐기고, 수영장 옆 일광욕 하루를 보낼 수 있습니다. 뜨거운 욕조 실내 저녁 휴식을위한 최적입니다. 6 명 총 전용 욕실을 자랑 모두 3 더블 침실을 제공하는 빌라에 수용 할 수있다. 에어리, 오픈 플랜 생활 공간에서이 완비 된 주방과 흰색 L 모양의 소파는 대형 평면 TV에 직면 해있다. 여러 번 문 바베큐을 가지고 있으며, 야외 식사에 대한 완벽한있는 아름다운 정원에지도한다. 발리의 목가적 인 북쪽 해안에 위치한 빌라는 아름다운 자연 경관 속 편안한 휴식 공간에 적합합니다. 손님들은 먼 산의 전망에서 수영과 스노클링 잔잔한 바다, 그리고 경이로움을 즐길 수 있습니다. 아침 식사는 지역의 매력을 탐구 하루 전에 즐길 수있는 별장에 제공됩니다. 빌라의 10 분 거리 내에 2 개의 레스토랑이있다. 자동차, 자전거와 오토바이는 호스트에서 대여 할 수 있습니다. 아기 나 어린이가 사용할 포함 아기 높은 의자입니다. 고객은 전체 빌라 영역에 액세스 할 수 있습니다. 우리는 사랑스러운 경험과 신뢰할 수있는 영어 헬프 데스크 및 관리를위한 발리 여자 "MONIC"를 말할 수 있습니다. MONIC는 전체 여행을 통해 당신의 서비스에하고 당신이 필요로하는 어떤 식 으로든 도움이됩니다. MONIC는 모빌 전화 24시간를 통해 연결할 수 있습니다. 정원사 / 수영장 소년과 하녀는 당신의 서비스에 매일 오후 5시까지 오전 8 남아 있지만 빌라에서 자신의 존재가 머무는 동안 요청에 대해 협상 할 수 있습니다! 빌라 마이는 모두 6 빌라의 작은 해변 빌라 단지에 위치하고 있습니다. 2 개의 빌라는 왼쪽 빌라 마이의 권리는 거의 점령되지 않고, 우리의 위치는 확실히 매우 조용한 지역이다. (버스, 기차, 택시 등) 대중 교통은 전체 북한 발리 해안 사용할 수 없습니다. "BEMO"라고 - - 일반적으로 지역 주민에 의해 사용되는 마을에 마을에서 여행을 사용할 수있는 교통 수단이 있습니다. 우리는 드라이버 (관광 투어, 쇼핑, 또는 그냥 레스토랑의 방문) 적 필요하거나 요청시 임대 자동차, 모터 바이크 또는 운송을 구성 할 수있게되었습니다. 수영과 스노클링에 적합 - - 진정 바다와 아름다운 검은 모래 해변은 배후에 북한 발리의 해안선을 따라 아름다운 뷰와 화산 산 체인은 환상적이다.
그들은 매우 조용한 동네가있다. 전용으로 왼쪽에 빌라 우리의 권리 소유자 자신에 의해 점유되는 임대한다.
Villa Damai is amazing. Located directly at the seafront and far from the road, it is the perfect spot to relax. The staff is really nice and helpful and Monic, the Manager is always reachable on her mobile. We really enjoyed our stay at Villa Damai and strongly recommend it to everyone who's looking for quiet and peaceful accommodation.
Christoph
2016-11-19T00:00:00Z
This place was AMAZING! Staffs were very welcoming and had nice view. My family had such a great time here. We will come back!!!
Hailey Hee
2016-10-21T00:00:00Z
We loved our stay, we felt very welcome and comfortable in this villa. The staff were very friendly and accommodating.
Lauren
2016-10-18T00:00:00Z
Ulrichs Villa is very Nice and spacious. Great pool and beachfront view. His staff are very friendly and helpful. We had a nice vacation.
Kai and Jolanta
2016-07-07T00:00:00Z
We staid at villa Damai 6nights and it was an unforgettable week. Everything was really perfect. The place is lovely with a wonderful and clean pool, the garden is amazing and you feel that the staff of the villa is taking care everyday to maintain that. The food prepared by the staff is tasty, full of Indonesian flavour and for a very good value. The inside of the villa is huge and perfectly adapted to give sensation of space and comfort. Rooms are greatly equipped and the mattress are soooo comfortable that you'll not be able to leave your bed before 12noon ! No hesitation for my next trip in Bali, I'll definitely come back in this piece of heaven. The staff and Mr Ulrich are very responsive and very reactive, any service you need, any question you ask, you'll get the same support as a 5* hotel straightaway !
Valerian
2016-08-08T00:00:00Z
Ulrich and his staff, Monic, the manager. Apri, the housekeeper. Kadek, the gardener/handyman. And Putu, the security. Were all very nice and extremely helpful. The villa itself is beautiful! Everything you need is there the moment you walk in. The lighting, the art, the furnishings were all very well chosen and evoked a feeling of calm and relaxation. During our stay there was an un forseen power outage due to a downed power pole which took a couple of days to repair. Monic took care of the problem within hours by securing a generator which Kadek tended to dutifully until power was restored. We had only intended to stay for a week but ended up extending our stay for another week. We absolutely loved being there.
Randy
2016-03-08T00:00:00Z
Positiv: nice house, large rooms, nice terrace and pool, well equiped. Negative: coal fired power plant in proximity (about 2 km) clearly visible from beach. Big coal shipments arrive regularly. Total lack of information about this fact. Technical problem with hot water in main bath room and kitchen. Water could not be used due to bad smell. Could not be fixed during our stay.
michael
2017-01-07T00:00:00Z
Bij aankomst werden we opgewacht door de staf van de villa , zeer vriendelijk onthaald en een welkomsdrankje . De villa is zeer mooi en is perfect om even uit te rusten . Vandaaruit ook een paar mooie uitstapen gedaan . Het ontbijt kan voor mijn part stuk beter .... 1,5 toost per man , vruitsapje moeten bijvragen alsook vers fruit moeten vragen , 2 de dag een sms gestuurd voor ontbijt om half acht ( wegens uitstap) .... zelf snel onbijt klaargemaakt . Derde dag , geen fruitsapje en geen vers fruit meer . Eigenlijk een van de minste onbijten op ons verlof , kan veel beter . Hebben ook de eerste avond een lunch gekregen , rijst met kip .... kip was belachelijk weinig , denk 30 gr max aan vlees en saus een koffie lepeltje . Hebben de twee overige dagen zelf bbq gedaan om zeker te zijn . Dus de villa is super goed en mooi met prachtig zwembad en tuin en vriendelijk personeel , juist het eten is niet echt goed .
Marc
2016-10-08T00:00:00Z
Romtype
Helt hjem/leilighet
---
Eiendomstype
Villa
---
Plass til
6
---
Soverom
Seririt, Bali, Indonesia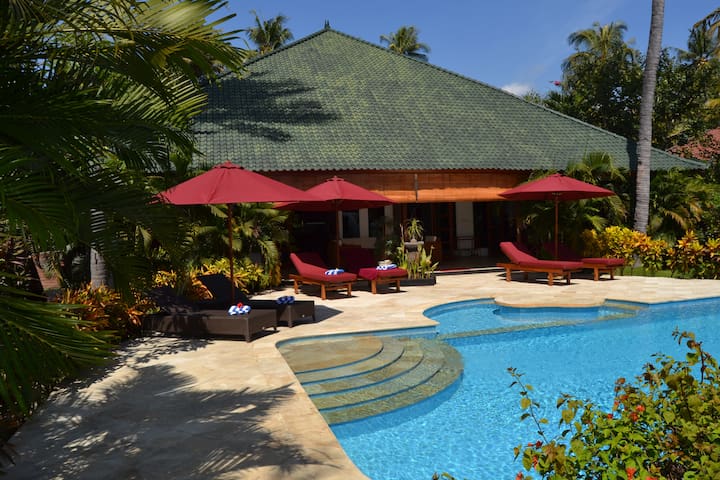 Vila se nachází přímo na písečné pláži Lovina-Beach. Ze zahrady nemáte vlastní přístup na pláž. Po většinu roku moře na severním pobřeží je v klidu s menší proud a vlny. Vila je z davu, pěkně zdobené a je plně personálně. Vila je ideální pro jednu nebo dvě dvojice nebo rodinu s dětmi.
Vila má dvě ložnice a dvě velké koupelny. Jedna ložnice má king size postelí a druhá se dvěma samostatnými lůžky. K dispozici je klimatizace v pokojích, ale často to není nutné díky jemným mořským vánkem se použít. V obývacím pokoji je široká skládací dveře. Na kryté terase je jídelní stůl se 6 židlemi, pohodlný obývací prostor s pohovkou a dvě židle. V obývacím pokoji jsou dvě pohovky. Tropické zahradě je velký soukromý bazén (5 x 10) a kolem bazénu najdete lehátka se slunečníky. V zahradě najdete vysoké palmy, ovocné stromy a keře ve všech barvách. Krásné místo je balík benong, malý dům, který je otevřen na všech stranách a přímo sousedí na pláž. V dopoledních hodinách můžete vidět rybáře v jejich pestrobarevné čluny s jejich úlovek dne (lze zakoupit na místě!). Ve večerních hodinách si můžete vychutnat krásný západ slunce. Vila, zahrada a bazén se nachází na soukromém pozemku 1000sqm a není sdílený s ostatními nájemníky. Dům je kompletně zařízen; Ručníky a povlečení jsou poskytovány. V kuchyni je kompletní s lednicí, vodní nádrže s vodou chlazené, toustovačem, kávovarem a mixér. V knihovny v obývacím pokoji najdete knihy o Indonésii, cestovní průvodce a romány. K dispozici je s plochou obrazovkou LCD televize s USB rozhraním a kabelovou TV s mezinárodními a děti kanály. K dispozici je audio systém k poslechu hudby. Vila má také zdarma WIFI vysokorychlostní internet a pračku.
Vila se nachází v 10 minut jízdy od Lovina centrum, turistické vesničce na severním pobřeží ostrova Bali. Doprava může být snadno uspořádány během svého pobytu ve vile. Okolí poskytuje dostatek prostoru pro zkoumání, objev a aktivit. Krásné pláže Dolphin výlety, terasovitá rýžová-pole, plantáže, hory, opice, chrámy a některé pěkné vesnice a města jsou blízko, jako je Lovina a Singaraja. Tento starý hlavním městě Bali je domovem knihovny Gedong Kirtya kde najdete slavné Lontar rukopisů. Jižně od Singaraja najdete on nejvíce velkolepý vodopád z Bali, na Git Git vodopádu. Asi 10 minut od vily buddhistický klášter, brahmavihára Arama, nazývané také malou Borobodur, stojí za návštěvu, stejně jako proslulé Hot Springs Air Panas, které jsou 5 minut. Najdete zde nádherné šnorchlování a potápění, jako je Menjangan Island blízké a také jeden z nejlepších golfových hřišť v Asii, Bali Handara Kosaido Country Club, je odtud jen hodinu pryč. Budete překvapen tímto autentickým části Bali, stále více a více lidí objevuje stále nedotčené, nedotčenou a autentické severním pobřeží!
Romtype
Helt hjem/leilighet
---
Eiendomstype
Villa
---
Plass til
4
---
Soverom
Seririt, Bali, Indonesia
Villa am Strand von mit großer Sonnenuntergänge, leckeres Essen und super freundliches Personal. Der perfekte Ort im Norden von Bali Ihren Urlaub zu genießen.
Villa Lumba Lumba ist eine schöne Villa in der Ortschaft Ume Anyar im Norden von Bali, nicht weit von Lovina. Lumba Lumba verfügt über 2 Schlafzimmer, jedes mit eigenem Bad. Die Villa ist von einem großen tropischen Garten umgeben, so dass Sie alle die Privatsphäre Sie brauchen, ohne das Gefühl der eingezäunt ist. Es gibt einen privaten 60 M2 Infinity-Pool, wo man sich abkühlen kann und schwimmen. Es gibt eine geräumige Sonnenterrasse mit 4 Sonnenliegen und 2 Sonnenschirmen, wo man sich entspannen, die Aussicht zu genießen und zu den Klängen des Ozeans zu hören. Wenn Sie Ihren Laptop, Tablet oder Smartphone zu verwenden, gibt es Steckdosen und bieten Wi-Fi gratis. Beobachten Sie den Sonnenuntergang von der Bale Benong, der ideale Ort, am Ende des Tages zu träumen. Mein Personal kümmert sich um Sie und tut alles, um Ihren Aufenthalt so angenehm wie möglich zu gestalten. Gede, der Gärtner, und sorgt dafür, dass der Garten frisch aussieht und hält auch den Pool sauber. Iluh, die Haushälterin, hält die Villa auf einer täglichen Basis, ist Wäsche und kocht Ihre Mahlzeiten. Es ist ein Auto, Hafen, wo Sie Ihre (Miet-) Auto abstellen können. Genießen Sie Ihr Frühstück, Mittag- und Abendessen auf der Terrasse. Das Frühstück ist im Preis inbegriffen. Meine Mitarbeiter kocht auch Ihre Lieblings-Mittagessen und Abendessen, wenn Sie möchten. Alles, was Sie tun müssen, ist für die Zutaten zu bezahlen. Sprung über den Zaun und du bist am Strand Das Riff vor der Villa vom WWF geschützt ist. Es ist ein idealer Ort zum Schnorcheln oder Tauchen. Und von Zeit zu Zeit können Sie die Delfine, indem. Unsere Preise sind inklusive Frühstück und 10% Steuern. Nebensaison: 120 EUR / Nacht (11. Januar - 30. April und 16. SEPTEMBER - 20. Dezember Hochsaison: 140 Euro / Nacht (1. Mai - 15. September / 20. Dezember-10. Januar)
Villa très agréable et bien équipée. Elle se situe en front de plage et on s'endort avec le doux.bruit des vagues. La piscine privative est parfaite et le staff adorable. Séjour tip top
caroline
2017-01-07T00:00:00Z
The villa managers were extremely helpful and made us feel really calm and relaxed once we arrived. We had 2 dinners in the villa and both meals were made by Iluh who cooks really well! The villa is located fairly far away from the main road, any trips out would require a transport. Otherwise the place is extremely perfect!
Weicheng
2016-08-17T00:00:00Z
It was a real pleasure to stay in villa Lumba Lumba, this is a very beautiful villa in front of the beach the staff, especially Gede and Ilo are very kind, they made our holidays just perfect, if you need something, just let gede knows and he will make it possible if we come back in bali, it s sure we would like to stay here again ! thanks a lot cathy
Cathy
2016-04-28T00:00:00Z
Villa Luma Lumba is een heerlijke plek om te zijn. Het wijdse uitzicht , het onwaarschijnlijk grote zwembad en de fantastische staff (icl driver Putuh) hebben het voor ons tot de mooist mogelijke start van onze vakantie gemaakt. Het is niet mega modern maar wel huiselijk gezellig en we leefden het merendeel van de tijd op de patio en buiten.
Aloys
2016-08-11T00:00:00Z
Très belle villa our se reposer et personnel exceptionnel
Nelly
2017-01-21T00:00:00Z
My husband and I truly appreciate that Thierry would welcome our family (including 3 large Labradors) into his wonderful home. The villa itself is very comfortable, right on the beach and he has 2 of the most sincere and fabulous staff. Thank you very much for hosting us and we sure will come back! Terima kasih.
Arvyanti
2016-03-28T00:00:00Z
Villa Lumba Lumba is een heerlijk plekje, met geweldige staff. Het eten wat voor je gemaakt wordt is heerlijk, iedere dag weer een heerlijke ervaring om naar uit te kijken. Je kunt ook best mooi snorkelen achter huis, als de wind gunstig is en het water niet troebel. Je kan het beste wel schoentjes aandoen ivm het koraal.
Rick
2016-07-31T00:00:00Z
Romtype
Helt hjem/leilighet
---
Eiendomstype
Villa
---
Plass til
4
---
Soverom
Seririt, Bali, Indonesia
Romslig, åpen luft, moderne villa m / frodig hage, evighetsbasseng med utsikt over havet og massevis av salongområder å slappe av og forynge deg selv. Full kjøkken, tre doble soverom med eget bad. WiFi og satellitt-TV. 7 ansatte, inkl kokk og sikkerhet, valgfri bil / sjåfør og båt for utleie. Massevis av sightseeing og turmuligheter tilgjengelig. Våre ansatte vil gjerne anbefale den beste basert på vår erfaring og ordne for deg. Lovina er en vakker 30 minutters kjøretur unna.
Tři dvoulůžkové ložnice, každá s vlastním sociálním zařízením, prostorným obývacím pokojem, na které se vztahuje mimo jídelní kout a velká kuchyň a různé 5-hvězdičkový vybavení, plus samostatné WC. Vila je Wi-Fi hotspot a satelitní TV nabízí více než 200 mezinárodními kanály. S mořem na sever od majetkových a vinic a rýžová pole na jih, jste dokonale umístěn prozkoumat nedotčenou přírodou a chrámy podél severního pobřeží ostrova, nebo jít do kopců, a obdivovat krajinu a úchvatné západy slunce , Nebo jen zůstat ve svém novém domově, nechte se hýčkat personálem a relaxovat u bazénu nebo na pláži na straně altánu. Bazén a dvorek jsou soukromé s otevřeným výhledem na moře.
Sett i rismarkene med et bakteppe av frodige fjell samt en spektakulær havutsikt, er villaen tjuefem minutters kjøring fra Lovina og en ideell beliggenhet for å utforske landskapet og templer langs den uberørte nordkysten av øya. Eller bare slappe av og la deg bli bortskjemt. Du er ved siden av West Bali National Park med sine rike korallrev og tropiske regnskog. Det er flere muligheter for fotturer til fossefall og varme kilder, touring noen imponerende templer, besøke kaffeplantasjer, delfiner, snorkling eller dykking. Vår "Help Desk" tjenesten vil hjelpe deg i å gjøre reservasjoner og arrangere turer. Det er en restaurant med internasjonal mat kun 400 yards fra villaen, noen kjente spa behandlingssentre (Zen) innen en 10 minutters kjøretur, og i Lovina, 25 minutter unna, er det et godt utvalg av restauranter, Spice Beach Club og dagligvarer selge internasjonal mat.
Beautiful place to relax, tucked away in the northern part of the country, away from the business. Highly recommend a trip to the waterfalls. Staff takes care of everything and took care of all of our needs, they are amazing! Cooked delicious food, pool was amazing, interior really felt Balinese. Ocean view was ideal.
Devon
2017-03-30T00:00:00Z
Jennifer's place is a diamond in the rough. The long drive from the airport is worth the reward and the hospitality of the staff ( definitely take advantage of Iluh's cooking and Agus will help with about any need you may have). Ariel (the driver) will get you to and from the airport and any where else you would like to go. The most relaxing stay I have had!
Scott
2016-09-27T00:00:00Z
Second stay in Jennifer's villa during our honeymoon in Bali, and we were still surprised by the beauty of the place, and the kindness of the staff. It should be easy to stay there for at least one week! Thanks to Gede, Agus and Wayan for the perfect dinner we had there!
Cindy
2016-10-16T00:00:00Z
This was the most beautiful experience one could want. The Villa is stunning - 100 % like in the pictures, the staff spoils you and there is no better place to relax. Agus, Illuh and especially Ariel made this stay very special for us. If you don't need a lot of "action" in your holidays, this is the place to go. The only thing you have to know (and it's not abut the villa) - the beach is very small and quite cluttered with stones and debris. Since the pool and garden are gorgeous, that was fine for us. All together a great experience for Joerg and me - thank you again
STEPHANIE
2016-11-12T00:00:00Z
Det var en fantastisk oplevelse at bo i Villa Sedang. Villaen er næsten bedre og smukkere end på fotoene. Personalet er virkelig fantastisk - uanset om det drejer sig om hjælp til planlægning af ture, hjælp til vasketøj eller madlavning. De var også rigtig søde til at fortælle om den balinesiske kultur og deres forskellige ceremonier. Villaen ligger lidt isoleret, men personalet hjælper gerne med at hente is, sodavand mm, hvis man gerne vil have det. Vi har absolut kun positivt at sige om vores ophold i Villa Sedang og vil helt klart anbefale andre at bo der. Vi håber virkelig, vi får mulighed for at komme tilbage en gang.
Lise
2017-04-06T00:00:00Z
This is a really great house, beautiful and quiet place to live in. Can't love it more!
心源
2017-01-23T00:00:00Z
This place is truly amazing if you want to relax and disconnect from the outside world. The place is beautiful and the staff is really friendly and takes care of everything you want. We had a great time enjoying Ilut's food, having Ari taking us to nice places while on outings and Agus taking care of all practicalities. We already missed the place when we left.
Desirée
2017-01-15T00:00:00Z
Greats place...and verry friendly staff.. Agus and iluh and house (URL HIDDEN) fantastic ...love love... Will be back again
imade
2017-01-01T00:00:00Z
Romtype
Helt hjem/leilighet
---
Eiendomstype
Hus
---
Plass til
6
---
Soverom
Seririt, Bali, Indonesia
Naše 4 krásné luxusní ateliéry vychutnat nádherný výhled na moře, bazén a do zahrady. Všechny pokoje jsou velmi prostorné a mají balkon (1 / F) nebo terasou (G / F), kde si můžete chytit i východ a západ slunce. Neexistuje lepší místo k osvěžení duše!
Máme 4 studio pokoje: - # 1 - První patro, král Dvoulůžko, Balkon # 2 - První patro, král Dvoulůžko, Balkon # 3 - Ground Floor, král Dvoulůžko, zahradní terasa # 4 - Přízemí, oddělené postele, zahradní terasa Poznámka: Každý pokoj má vlastní seznam Airbnb a rezervace na více než jedné místnosti budou muset být provedeny jednotlivě Každý pokoj nabízí velký prostor, a ohromující výhled do zahrady, na bazén a oceán, nad. Ty budou mít nádherné západy slunce z pohodlí svého pokoje. Všechny pokoje jsou světlé a jasné, ale budete v chladném stínu kdykoliv během dne. Každý pokoj má velkou manželskou postel a jednu rozkládací pohovku, která je ideální pro dítě. Děti mladší 12 let jsou zdarma (pouze dodatečné snídaně je za poplatek). Dětská postýlka je k dispozici bez poplatku. Vaše studio je velmi prostorný a velmi dobře jmenován; Váš komfort a pohodlí jsou v popředí naší mysli. Nabízíme vám následující vybavení: -. • 1 Král Manželská postel s luxusní matrací a kvalitních prostěradel • 1 rozkládací pohovka je ideální pro dítě nebo třetí osobu ve vaší party • En-suite koupelna se sprchovým koutem • Vybavení koupelny (včetně mýdlo, sprchový gel, šampon, vysoušeč vlasů, zvětšovacím zrcadlem, pantofle) • Elektrická varná konvice a káva / čaje zařízení • Velká lednička • Dobře zásobené Mini-bar • Pokojová služba, v pokoji za předpokladu, jídelní a nápojový lístek • čtecí světla Bed-side • žaluziemi • Dálkové ovládání AC a stropní ventilátor • bezpečnostní schránka In-room • 32 palcový LCD televizor s mezinárodní satelitní televize • DVD přehrávač s velkým výběrem DVD k dispozici zdarma • Wi-Fi připojení k internetu v celém areálu • Volný šnorchlování zařízení
Kromě pláže, místní sousedství je pro dokonalou chůzi nebo procházky území; to je nádherný areál chrámů, ricefields a vinic, lemovaný majestátními kopci v dálce. Že se nachází na špičce ostrohu, naše místo je již dlouho známá pro své pozitivní duchovní energii a jako úkryt pro ty, kteří hledají klid pomocí jógy a meditace; Dnes je rozvíjející se do stanoveného místa určení pro wellness cestovního ruchu. Není tedy překvapením, že v blízkosti Resortu budete mít možnost podílet se na širokou škálu jógy a meditace zasedání a specializovaných wellness procedur, mezi ně patří ajurvédské masáže a tradiční čínskou medicínu. Budeme rádi zajistíme program, který vyhovuje vašim potřebám. K dispozici jsou 2 restaurace v docházkové vzdálenosti, a to jak podávat kombinaci mezinárodních a indonéských jídel, stejně jako velký výběr vín, koktejlů a nealkoholických koktejlů. V Seririt 3km od hotelu najdete desítky tradiční indonéské stánky s občerstvením a kolem na trhu, jsou dobře stojí mimo kontrolu. Můžeme doporučit mnoho barů a restaurací dále do ciziny, mnohé z nich jsou v nebo kolem Lovina. Doprava může být snadno uspořádány.
Excellent experience. The place is like a hidden garden with great sunset and even sunrise if you walk a little bit outside the beach. The stuff are also smiling and considerate!
Christal
2015-09-12T00:00:00Z
If you are looking for privacy and relaxation look no further.
Viktor
2017-03-01T00:00:00Z
Very friendly staff. Nice, although slightly remote, location. Big room, sea view, light colors, comfortable, water cooker, free coffee and thee and water. Fridge. Big nice bathroom. Restaurant staff also very friendly. Menu could contain some more Indonesian dishes, but food was fine.
Hans
2015-10-24T00:00:00Z
Romtype
Privat rom
---
Eiendomstype
Villa
---
Plass til
2
---
Soverom
Seririt, Bali, Indonesia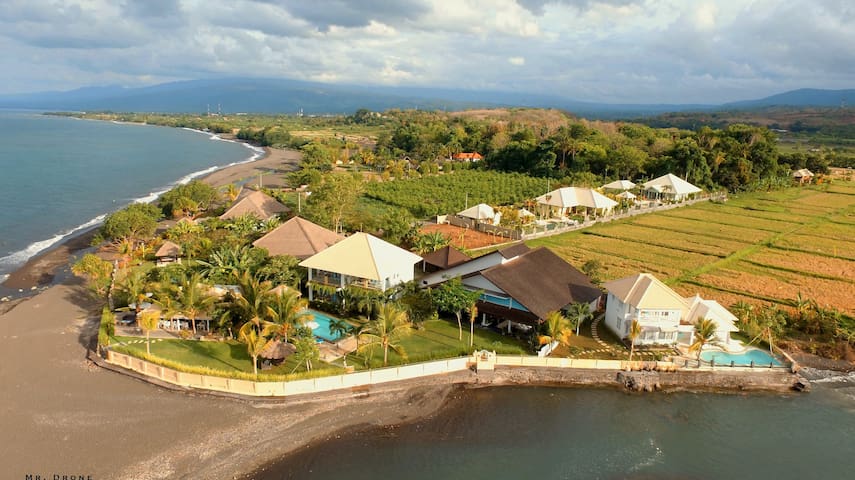 别墅佛"巴厘岛最美丽的别墅"。 Zoover奖得主多年。该别墅位于海滩罗维纳近北巴厘岛上。装修和室内是惊人的。当灯光在你去转移到一个妖精的尾巴。享受你希望私人按摩浴缸,无边泳池,20×9和所有的豪华。工作人员为您准备优良的膳食,并做家政服务。步骤围绕在令人惊叹的景观或游览热带花园。满足您在别墅佛!
巴厘岛是北方authentique,退出发生在巴厘岛,从crowdy向南走。如果你想有一个轻松的假期是北方最好的住宿场所。别墅佛位于罗威那附近;在这里你可以找到酒吧,咖啡馆和餐馆的地方..罗威那就是著名的"海豚"。它可以发现在别墅佛前海豚。孟赞干岛附近潜水和浮潜。
Огромное спасибо за шикарный отдых на фантастической Villa Buddha! Вилла очень красивая, точно как на фотографиях. Мы путешествовали группой из 10 человек. В аэропорту нас встретили, дорога до виллы была долгой, но по приезду мы были приятно удивлены красотой и чистотой виллы. Хочется отдельно отметить дизайн виллы. Потрясающий декор и свет. Утром, когда мы проснулись и вышли из своих комнат, мы были поражены еще сильнее: вилла поразила своими размерами и местом расположения, теплое и приветливое море с черным вылканическим песком, плескалось в двух шагах! Кроме этого с утра нас ждали потрясающе приветливые 4 девушки, которые уже накрыли нам стол к завтраку и ждали нас с улыбками! Покормив нас они просто растворились, чтобы прибрать наши комнаты! Они так же готовили для нас ланч и ужин. Еда была самой вкусной, которую мы ели на Бали! В лаундж-комнате есть прекрасная подборка музыки и фильмов. Мы провели чудесное время на великолепной вилле Будда, хотелось бы нам приехать туда еще? Безусловно - ДА! Единственный нюанс - это мусор на берегу, который приносит с океана, с рыбацких деревень, но садовник два раза в день чистил пляж и возле виллы можно было купаться, вода была чистой.
Жанна
2017-01-17T00:00:00Z
The villa is a work of art. Very beautiful with an awesome staff. We had a blast and would go back to do it again!
dustin
2017-03-15T00:00:00Z
Its very beautiful Villa .very good for my yoga retreat.
Elena
2017-03-30T00:00:00Z
Romtype
Helt hjem/leilighet
---
Eiendomstype
Villa
---
Plass til
16
---
Soverom
Seririt, Bali, Indonesia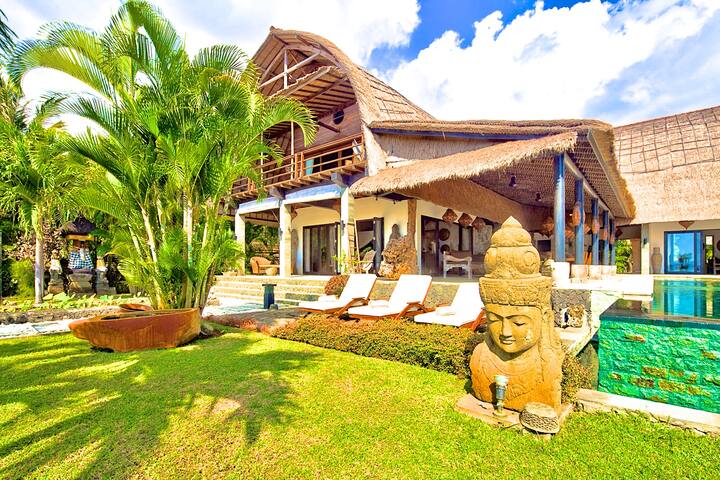 Beach vila Sungai Raja je moderní balijské vila s mnoha tradičními prvky. Jakmile vstoupíte do vily přes balijské branou a přes odrazových můstků v lotosovém rybníku ve světě luxusních a přátelskou pohostinnost svítá na vás.
To je svět, kde budete mít konečný odpočinkovou dovolenou. Ať už lenošení kolem a v bazénu (15mx5m) po celý den, nebo přijdete domů osprchovat po dni plném inspirativních návštěvách tempels a kláštery, na dive- nebo šnorchl výlet a vychutnat si masáž horkými kameny předtím, než má velkou indonéské večeře. Vila je komfortně zařízené v kombinaci s autentickými dekorací v otevřeném stylu tak, že vnitřní a vnější jsou plynule navazuje v tomto tropickém podnebí, kde je život žil převážně venku. Velký, částečně zastřešené terase v, hraničí s bazén s lehátky, žok bengong pro stínované lenošení a jídelním stolem pro vychutnat si jídlo s výhledem. Zahradní Hranice přímé mírové North balijské pláž, vysoce hodnocené místem k odpočinku obklopen přírodou a místní kultury.
Vila je bezstarostný aby byla zaručena uvolněnou dovolenou. Při lenošení celý den u bazénu obklopen luxusem vily není vaše věc, můžete se zapojit do mnoha aktivit. Všechny organizované zájezdy poskytnout vyzvednout ve vile bez dodatečných nákladů. Na severu Bali najdete jedny z nejlepších šnorchlování a potápění skvrny tento krásný ostrov může nabídnout. Ostrov Menjangan s fascinující, nejzachovalejší korálů a legendární Tulamben vraku, je WW I nákladní lodi jsou skvělé místa pro toto. Další oblíbenou činností je pozorování delfínů a budete vyzvednout přímo před vilou lodí. Tam je nějaký mystický pocit kolem něj jít na moře za soumraku s vaší lodí mužem a hon na delfíny. Někdy přinášejí velkolepou show s zadních vyletí a ocasní chůzi. Ale již působivé ticho brzy ráno na moři v tradiční rybářské lodi je zvláštní zážitek. Nejbližší restaurace je asi 20 minut jízdy, a mnoho z nich má zdarma pick-up / zpáteční dopravu. Nicméně není třeba opustit vilu jako Indri & Gusti poskytují velké indonéské a balijské večeře a dokonce i některé populární západní kuchyně, aby si u bazénu.
Amazing environment, I want go there again, I will introduce to my friends
Yuan
2017-02-08T00:00:00Z
Where to start?! Villa Sungai Raja was absolutely amazing! We had heard lots of cautionary tales when it came to Air BnB but this is not one of them. The home is outrightly incredible. 4 large bedrooms all with ensuites plus you're own, very large, private pool. From the moment you arrive this place will blow your socks off. The pictures really do not do it justice. Then to top it all off, the staff really do make your stay memorable. We wanted for nothing. If you're reading this wondering whether to stay or not or whether I may be dramatising our experience, I am not so definitely book it. As I write this, we are staying at the Sofitel in the premium ocean view suite at 4X the price and I would give this up for another night at Villa Sungai Raja at the drop of a hat. Thank you so much Hedzer and all the staff for making our moments with you so memorable.
Benny
2015-12-24T00:00:00Z
An Enormous thank you to Hedzer and his beautiful Balinese staff at Beachvilla Sungai Raja. Being the first Australian family to stay at the villa we would like to say how overwhealmed we were with the size and grandure of the villa. We planned to do many activities in the north but ended up spending most our time just lazing and relaxing around the pool eating great food and listening to music. The staff were so accommodating as to when to serve your breakfast and to discuss all dinner preparations(all you have to do is decide what you want to eat hand over some cash and the kitchen staff look after anything and everything),And it was all Delicious. The Gardens are exquisite and very well kept ,you would never know there was always someone around weeding or watering or guarding the property. We highly recommend Katut the driver who picked us up from the airport took us on a couple of outings then drove us to our next location. Katut is very knowledgeable about the local area and is more than happy to talk to you about his culture and hindu religion. We had a wonderfull time at the villa and left feeling very comfortable and relaxed. Can't wait to tell all our friends and look forward to returning in the future.
Benjamin
2015-12-01T00:00:00Z
We would like to extend our thanks and gratitude for having stayed in your "Marvelous Villa" :) Seems Everything's Perfect! The Bed, Toilets, The Pool, Unbelievable :) My Doughters really enjoyed being in front of the apple tv & my son cant get up from the pool.. Thanks to Indri, Gusty n Desy For All Delicious Meals, How to Presenting, Feels like we Have Dinner in 5 Stars Hotel..
Saenab
2015-12-06T00:00:00Z
Balinesische Architektur modern Interpretiert grosszügig einfach genial! Ein riesiger pool und viel Fläche zum verweilen. Liebevolles Staff Team jedoch viel Privatsphäre. Wir haben die 6 Tage nur genossen. Massagen können innert kürzester Zeit gebucht werden und werden im Haus gemacht auch dies nur genial.
Marco
2016-03-06T00:00:00Z
The Beachvilla Sungai Raja is an ideal place to spend a relaxing holiday! It is exactly as described by Hedzer ... actually it's even better. It's extremely spacious (perfect for 6 people and kids), well equipped with anything you need for a enjoyable stay. The pool must be mentioned separately as it's very large for a private villa and has even a depth of 2m which means that it's really suitable for swimming. Hedzer's team is very nice, gentle and helpful. All-in-all a place which can be highly recommended if you do not mind to be a little far off from most sightseeing places. 100% value for money! Thanks.
Weth100
2016-02-05T00:00:00Z
No doubt one of the best family trips ever! We have two daughters (3 and 5 years old) and we took my in-laws for 3 nights in this truly amazing villa. Because of its isolation, this villa invites you to relax and enjoy the wonderful beachfront location. The staff is very profesional and will make sure that you have everything you need to get most of your stay. The staff organised our transport from the airport, meals, our snorkelling and dolphin spotting trips and in house massages. We highly recommend it and can't wait for our second round!
Carlos
2016-01-18T00:00:00Z
Our group of 7 + baby have no enough words to say how we were happy at this beautiful villa. Pictures are just not good enough, it's so beautiful inside and outside. Villa is really spacious, everyone could have a corner for himself if needed. Infinity pool is just perfect, with a beautiful view, no one needed beach. Garden is cherished and very well maintained. Spacious bedrooms, comfortable beds, good quality linens. Only best words for Staff as they were very discreet and very helpful (brought to us some medicine and whatever we asked). Driver Kadek came to pick us with a baby chair, cold water and big smile, his services are highly recommended. Whole our stay was very smooth. As villa is in pretty remote location, usually we had our lunch and dinners at villa for grocery price. Just ask to make balineese food, not western and you won't be dissapointed, otherwise driver will take you to Lovina to some restaurants. Villa is highly recommended, especially if you are seeking of relaxation and tranquility.
Laura
2016-01-12T00:00:00Z
Romtype
Helt hjem/leilighet
---
Eiendomstype
Villa
---
Plass til
8
---
Soverom
Seririt, Bali, Indonesia
LUXE PRIVATE VILLA PIEDS AVEC PISCINE. Cette belle villa de plage est en cours de rénovation pour le moment et sera opérationnel à nouveau au 1er juin 2017. Les réservations peuvent être faites déjà pour la période après le 1er juin pour profiter de cette villa privée entièrement rénovée par la suite. Parce que les photos de rénovation ne sont pas disponibles pour le moment. photo actuelle peut à cet effet légèrement différente de la réalité, mais vous ne serez pas déçu! Pour plus d'informations s'il vous plaît nous un courriel.
Romtype
Helt hjem/leilighet
---
Eiendomstype
Villa
---
Plass til
6
---
Soverom
Seririt, Bali, Indonesia
Beach Villa Mari Masuk, ist ein im balinesischen Stil bauen 8-Personen Ferienhaus mit modernen und befindet sich direkt am Strand an der Nordküste der tropischen und exotischen Insel Bali. Diese Traumvilla, wo man sich sofort wie zu Hause fühlen ist zu mieten für alle, die Luxus und Privatsphäre liebt. Villa Mari Masuk verfügt über ein großes Wohnzimmer mit Mezzanine, 3 Schlafzimmer mit eigenem Bad, verschiedene geräumige Liegeflächen rund um einen großen privaten Swimming-Pool von 12 x 5 m, ein Bale Bengong.
Romtype
Helt hjem/leilighet
---
Eiendomstype
Villa
---
Plass til
8
---
Soverom
Seririt, Bali, Indonesia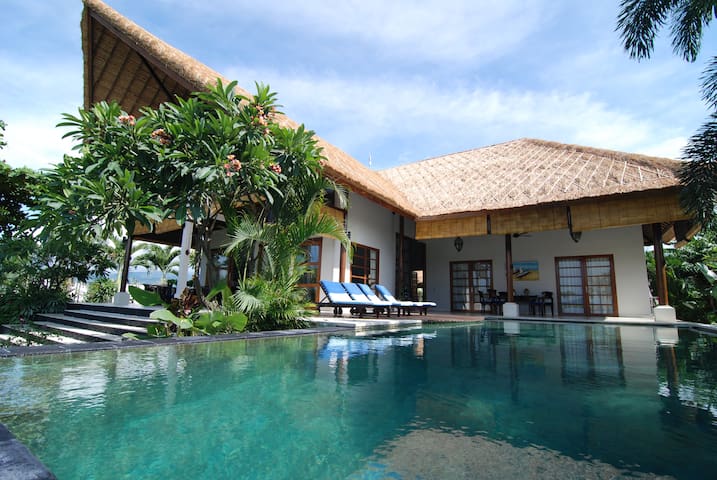 Luxury private villa with its own cook, private pool and tropical garden bordering the quiet beach with coral reef. Lovely place to relax in authentic North Bali with lots to discover: sports, culture, nature, religion.
Welcome to the easygoing North of Bali. Our three Ume Anyar Beachhouses are luxury villas in a large tropical garden (6500m2), directly on the beach in Ume Anyar, North Bali. The three 250 m2 villas: Ayu, Bagus and Cantik, can be rented separately exclusively, or in a combination to welcome larger groups of families and friends. Each villa contains 4 bedrooms and bathrooms and is fully equipped for 8 guests. The villas are located on the beach of Ume Anyar, our garden ends on the beach. Ume Anyar is a small fishermen's village close to Seririt, not far from Lovina and Pemuteran. The villas are fully staffed with a carefully selected, friendly and professional staff of cooks, housekeeping, gardening and nightwatch. Our concept is to offer our guests an unforgettable holiday as a family or group of friends in the freedom and privacy of a villa. Each of the 3 villas is slightly different, but all offer the following accommodation: - 4 air-conditioned 2 person bedrooms. - each bedroom has an en-suite bathroom, most have traditional Balinese open air shower/bath and toilet. - each beachhouse has its own cook/household. Your cook prepares delicious indonesian/balines or european meals, you only pay the local shopping costs. - spacious shaded terrace with a large dining table and lounge area - private pool - pool deck with comfortable deck chairs - a beach shower - large bale bngong to relax next to beach and swimming pool - spacious inside living with dining table, comfortable couches, view over the garden, the pool and Bali Sea - fully equipped modern kitchen with large fridge, microwave, etc - wifi internet connection and flat screen TV with DVD player, iPod docking station - baby beds and -chairs are available for families with small children To make transportation (excursions, transport from/to the beachhouses) as comfortable and convenient as possible, we have a dedicated driver team. Our drivers will be more than happy to pick you up at the airport or any other place on the Island. During your stay they can drive you anywhere on the island for daytrips or taxi service.
Small fisherman village Raja Tama (on the beach), provides freshly caught tuna fish! Go there, buy one, give it to your cook: delicious! In Seririt you will find an authentic market. Not many tourists, and you are very welcome.
We had a very nice stay at kundalini villa. Nice house, good rooms, beautiful garden and pool(s). The staff were very pleasant and fantastic cooks.
Tom
2014-12-04T00:00:00Z
Rolf was wonderful to work with and was happy to answer all of my questions leading up to our trip; the reservation process was very easy. The villa was beautiful and we especially enjoyed the picturesque pool and impeccably maintained gardens. The staff was friendly, helpful, and very kind. We had a lovely honeymoon at Kundalini and would recommend this property to people who are looking for a remote and peaceful retreat.
Sarah
2015-11-01T00:00:00Z
We are very happy to stay for two weeks in their house! The staff is very friendly. Thanks Ilu for delicious cook... Thanks Dini for very good proposition for discover the North Island. Thanks all the staff! Very beautiful garden! The house have Nespresso machine... If you like coffee take your Nespresso coffee :-) !!! Thanks a lot off... Sure we come back again!
François
2015-09-15T00:00:00Z
Beautiful. Peaceful. Quiet. Wonderful friendly staff. Good Indonesian cooking. The listing is as accurate as can be. As far away from the madness of Kuta and Seminyak as you can be.
Fritz
2014-12-20T00:00:00Z
Great place that provided a much need break from city life. Ketut our cook made the most amazing delicious meals while Dini and Rolf were ever so helpful in helping to make our stay better. Would definitely come back again.
Ming De
2015-05-18T00:00:00Z
Beach House war wunderschön, modern, viel Platz, gepflegter Garten, tolle herzliche Köchin! Direkt nebenan Baustelle. Dies hätte uns vor der Buchung mitgeteilt werden können. Ansonsten toll!! Danke!!
Anja
2013-11-19T00:00:00Z
It was a wonderful experience staying in beautiful Kundalini. It is a real paradise- and I can warmly recommend this beautiful place to everyone who wants to enjoy high comfort, nature and individuality. Dini and her stuff took perfect care for us. Atuk is a great cook and we enjoyed dining at home really much. Very private place and always in good hands. The pictures are absolutely true - eben it is more like paradise...
Nicole
2015-02-09T00:00:00Z
We, a group of 8 adults, were welcomed by the security guard with a lovely smile. Dini, the property manager, came over within a couple of minutes. She showed us through the villa, explaining everything and leaving her phone number in case we had any problems. Iluh and Ketut, the two housekeepers looked after us very well during our 5-day stay. They were just amazing; cleaning, shopping, cooking, etc. and everything with genuine friendly smiles. The description was exactly as we found it. We thoroughly enjoyed our stay. The pool was very inviting and we had several massages in the bale near the beach. The villa is in a row of a few other nice villas, but there are no restaurants, nor shops, near by. However, a vehicle with driver was available if we had wanted to go to a restaurant. But Iluh and Ketut made us such fantastic meals that we had no inclination to go elsewhere. Oh, and I should mention our trip in fishing-boats to watch the dolphins. An amazing experience. In all, a VERY nice and relaxed place to stay.
Nini
2014-10-19T00:00:00Z
Romtype
Helt hjem/leilighet
---
Eiendomstype
Villa
---
Plass til
8
---
Soverom
Seririt, Bali, Indonesia
Villa Senja er en balinesisk stil luksus 8-personer villa som ligger på nordkysten av den tropiske og eksotiske øya Bali. Villaen er rigth på stranden med privat tilgang til stranden. Denne drømmen villa, hvor du umiddelbart føle seg hjemme er til leie for alle som elsker luksus og privatliv. Helt nydelig sted som vil gjøre ferien din til en sann drøm.
Villa Senja har en stor stue med mesanin, 4 soverom med eget bad, ulike romslige områder for soling rundt et stort privat svømmebasseng på 18 x 6 m, en pool dekk med flere moderne solsenger, et balle Bengong (balinesisk Rest House) og en salong med parasoll mot den tropiske solen. Dette stedet ligger rett på Bali Havet. Alt dette er omgitt av anlagte, tropiske og kjærlig vedlikeholdt, parklignende hage, hvor bare hvite blomster vokser. På sørsiden av vår Buka (åpent hus) man kan nyte den fantastiske utsikten over rismarker og fjell. Villa Senja er ideell for: - En romantisk, avslappende strand og sol ferie i det jordiske paradis - Lage ulike kulturelle utflukter; - En aktiv ferie, som dykking, snorkling, sporing turer, delfin safari, terrengsykling, surfing, golf rafting, etc. - Dvale eller lengre opphold
A wonderful villa, Villa 3-4 hours away from the airport, but we forget to get tired and forget all the way when we got to the House to see such a beautiful view. With Indonesian characteristics of buildings and a large swimming pool, giving a feeling of paradise. Budi and other employees are very friendly .We had very home feel. Villa was very clean, quiet, and is a suitable place to relax. Have the opportunity to come to, they would once again staying at the Villa.
guanghou
2017-03-19T00:00:00Z
5☆
Milena
2017-03-14T00:00:00Z
Es war wie ein Traum als wir in der Villa ankamen. Es war viel schöner als auf den Bildern und als erwartet. Das Personal sehr entgegenkommend und freundlich. Wir hatten nicht mit so viel Aufmerksamkeit gerechnet. Danke für die schönen Tage die wir in Villa Senja verbringen durften. Wir würden sofort wieder buchen und auch weiter empfehlen!!
Silja
2017-02-28T00:00:00Z
Romtype
Helt hjem/leilighet
---
Eiendomstype
Villa
---
Plass til
8
---
Soverom
Seririt, Bali, Indonesia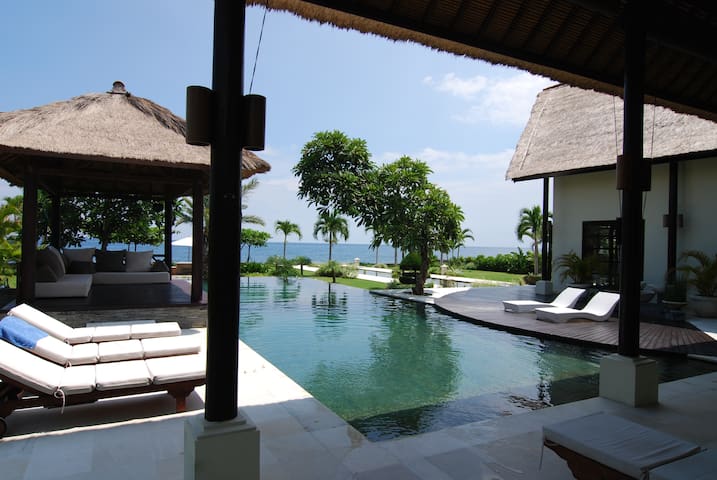 Garden Suite является Appartement на первом этаже виллы Cempaka, как часть "Гунунг Рая". Он имеет беспрепятственный вид на пышный тропический сад, из которого вы можете увидеть море и красивую долину. Гунунг Paradise удобно расположен в самом центре районе с множеством интересных мест и различных видов активного отдыха. Вы также можете пользоваться бассейном, наши услуги дворецкого, обширное меню выбора, йога, массаж ... идеальный расслабляющий HIDEAWAY.
Просторный сад Люкс с кроватью размера Kings и полностью оборудованной ванной комнатой. В саду есть несколько мест, чтобы сидеть или лечь. Вы также можете отдохнуть или поесть в частном Bale benong (своего рода садовый павильон), откуда открывается прекрасный вид на Munduk долину и горы. Пакет является частью "Гунунг Рая", это является частью «Гунунг Рая», старый манговый фруктовый сад, в котором 2 виллы окружает просторную пышный тропический сад с большим бассейном и персонал дома с лобби безопасности и центральной кухни. Гунунг Рай окружен чистой подлинной природой и балийской семейной жизни.
Вилла находится в прохладных горах Северной Бали. В окружении тропических лесов и плантаций. Есть прекрасный вид на холмы спускаются к морю. Есть много интересных мест и мероприятий. Просто краткое описание деятельности: Много храмов, Singaraja старого города наследия, экскурсии, водопады, наблюдение за дельфинами, пляжи, подводное плавание, дайвинг на Пемутеране или остров Менджанган, Bedegul с полем для гольфа, Ботанический сад и Tree Top парк приключений, походы на байдарках и каноэ на озере Tamblingan, долина Munduk ... Многие смерчи доступные как парапланеризм, а также художественные и кулинарные классы. Деревенские туры, горячие источники, красивые рисовые поля .. Подробнее после бронирования.
Romtype
Privat rom
---
Eiendomstype
Boutique hotel
---
Plass til
2
---
Soverom
Seririt, Bali, Indonesia
Living Village Gastfamilie im Dorf tomoukos gelegen, lovina, Bali. Die Gastfamilie sehr strategischen Lage, komfortabel, ruhig und sicher, kleiner Garten, schöner Pool, das Frühstück ist lecker und frische Fruchtsäfte und Bali Kaffee / Tee, gratis WiFi ..
Am lebenden Dorfgastfamilie die guten Platz zu bleiben, der Preis beinhaltet ein tägliches Frühstück, Zimmermädchen serviert, Seife und Handtuch, drahtloses Internet, eine Lage, nur 5 Gehminuten vom Strand hat. Auch viele Aktivitäten oder sehr interessanter Ort zu besuchen wie: Buddhistisches Kloster, heiße Quellwasser, Krishna Souvenir, einige Wasserfall, Zwilling wie, einige Tempel, Museum usw.
Romtype
Privat rom
---
Eiendomstype
Villa
---
Plass til
2
---
Soverom
Seririt, Bali, Indonesia