Heaven - Juniorsuite med fantastisk udsigt over Santorini Himlen er en junior suite placeret ved landsbyen Imerovigli. Det ligger højt på Imerovigli Caldera og kan nemt nås fra hovedvejen af landsbyen. Det er et perfekt designet suite af 25 kvadratmeter, der giver alle de bekvemmeligheder. Placeringen af denne egenskab er unik. Da det er bygget højt på klippen har gæsterne udsigt til to forskellige dele af øen. Den første del er, at af Caldera, vulkanen og de vulkanske øer, der er selvfølgelig betagende. Den anden del er den sydlige del af øen og landsbyerne Kamari og Pyrgos. Ejendommens udendørs rum er inddelt i to niveauer. Det første niveau er den private veranda, som ligger lige foran husets indgang. Fra verandaen kan man nyde panoramaudsigten over øen og nyde dit måltid, da det giver havemøbler og et hjørne formet bygget sofa ideel til afslapning og nyde panoramaudsigten over øen. Verandaen giver fuld beskyttelse af personlige oplysninger og giver dig det indtryk, at det flyder i den blå himmel. Det andet niveau er absolut hot spot af ejendommen, da det er en privat terrasse, som ligger lige over huset. Terrassen er bogstaveligt talt et stykke kunst og giver en af de bedste udsigt over øen, da det er det højeste punkt i Imerovigli! Terrassen er udstyret med to liggestole, så du kan nyde solen og den utrolige udsigt over øen. Den indendørs rum Himlens giver en dobbeltseng, et lille badeværelse med bruser og en opholdsstue med en komfortabel sovesofa, der kan sørge for indkvartering til endnu en gæst. Desuden er der et tekøkken med et lille køleskab med fryser, to kogeplader, madlavning untensils og et spisebord. Faciliteter og Service Ejendommen indeholder: -Daglig Rengøring -Satellit LCD - TV -Trådløst internet -Stereoanlæg Vi skal være glade for at hjælpe dig med alle de nødvendige oplysninger for at gøre dit ophold behageligt og komfortabelt. Vi kan foreslå steder, du kan besøge, såsom turistmæssige attraktioner, restauranter, butikker og museer. Vi vil også være glade for at hjælpe dig med at arrangere en bil eller cykel leje; organisere lokale ø-ture og overførsler inden for øen. Mere info om placeringen af ejendommen Himlen er beliggende i den fredelige landsby Imerovigli, kun 2 km fra Fira den travle og charmerende hovedstad Santorini. Afstanden fra det nærmeste offentlige parkeringsplads og busstationen i Imerovigli er 2 minutter til fods. Der er 5 restauranter og 3 mini markeder inden for 3 til 5 minutters gang fra ejendommen. Der er også et bageri, biludlejningsfirmaer og et apotek inden for 5 minutters gang. Fra Imerovigli kan du tage vej, der går gennem Firostefani og endelig slutter ved Fira (20 minutters gang). Afstand fra havnen (Athinios): 10 km Afstand fra lufthavnen (i nærheden af Kamari): 7 km
Communication with Stephanos was excellent and his employee Zachos was very helpful. The suite is exactly as seen, the view breathtaking. The air com works well and we had no problems with toilet smells that others have reported. I think the thing to do is leave the bathroom fan on. I would recommend the ilios bakery they do groceries and great pastries as well as coffee. The only suggestion I have is that the description of fully equipped kitchen is inaccurate and should be changed. There are two very rusty rings and no oven. This in itself presents no problem if you want to eat out but I love cooking with local ingredients and based on he description was hoping to at least make a couple of meals. Nonetheless the place was great and l would happily recommend.
Altan
2015-07-09T00:00:00Z
This place really lives up to its name as heaven! We had the most romantic times of our lives here. I would close my eyes and pick this place if you are going to Santorini. TRUST ME you will enjoy it. The view is spectacular, very clean and new property located at the highest point of the Caldera. The place is in the middle of immerovigly surrounded by restaurants and bars within few mins walk but at the same time high enough to cancel out any noise. very peaceful location. Also the host Stefanos who manages the place is very professional and the hospitality is very good. We will come back here again!
Satish
2016-08-24T00:00:00Z
Stefanos was an excellent host. He was readily available via email--which was extremely helpful for someone that didn't have calling capabilities in greece. His assistant, Zachos, was more than accommodating. Upon our arrival, he met us at the bus stop and helped with our bags to the place. He also explained the necessary workings of the apartment. Stefanos set up a taxi to take us to the airport and Zachos, once again, was there to make sure we were safely on our way. The place is right in the middle of imerovigli with amazing views. As mentioned in previous posts, the bathroom and shower are extremely small and occasionally smell of sulfur. It's a bit comical to try and shower without wetting the entire bathroom but that's all part of the experience. We had a wonderful time and would highly recommend this listing!!
Amanda
2015-09-05T00:00:00Z
Our stay at heaven was absolutely magical! The view is stunning and the room was very warm and in perfect condition. Stefanos and his team were more than accommodating and every time we had a question they immediately took care of us. After 5 days on Santorini seeing the entire beautiful island we decided we could not have had a better apartment in a more beautiful location! Thank you so much stefanos, zachos, and rosa, you truly made our stay incredible, and we would recommend heaven to anyone and if we come back we would hope to stay there again five stars? No way! We give heaven a million stars! Thank you for everything!
Tim
2015-04-07T00:00:00Z
Our stay in heaven was wonderful, stefanos was easily contactable and addressed any queries we had about the apartment or sights to see on Santorini. The view from the room and the suntanning rooftop were both perfect and as described.
John
2015-08-07T00:00:00Z
This apartment has amazing views exactly like in the pictures. Zachos met us at the bus station to help with our bags and show us the apartment. Very good location close to a couple of restaurants, pharmacy, mini mart and bus station. The shower is incredibly small and if you are a slightly larger person you will struggle with the size of it, the bathroom also had a strange smell coming from it. We also found the bed to be quite hard and not very comfortable.
Fiona
2014-06-21T00:00:00Z
Stefano's place was everything we could've wanted and more! The photos do not do justice to the exquisite views you have here. Perfect for a couple to stay, it is cosy and well equipped. Would stay here again in a heartbeat!
Kimberly
2016-09-07T00:00:00Z
The most beautiful view I saw in Santorini was here. The apartment was very spacious and clean. It was in a great location near the super market and restaurants. Also, Stefanos' assistant, Zachos was extremely helpful and professional. Made everything run very smoothly! Will be returning.
Ricky
2016-08-02T00:00:00Z
Romtype
Helt hjem/leilighet
---
Eiendomstype
Hus
---
Plass til
3
---
Soverom
Imerovigli, Aegean, Hellas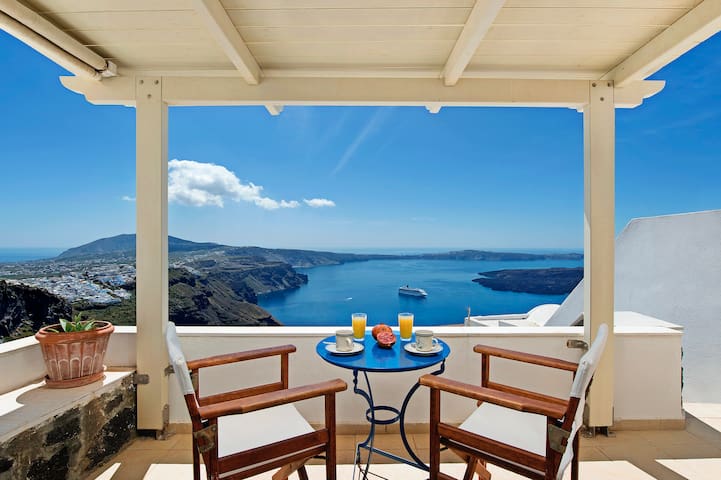 Stilvi Studio welcomes its guests since 2013! I will be delighted to welcome you on this beautiful island of Greece!
Stilvi Studio welcomes its guests since 2013! I will be delighted to welcome you on this beautiful island of Greece!
First of all I wish to thank Marianna for the great stay she ensured for my wife and I on our honey moon. Nothing in the description of the listing is understated!!! The property is located in my opinion in the best neighbourhood and we had very easy access to all the lively places,markets, places to eat and sightseeing spots. The great view from the terrace was breathtaking, the property is well-maintained and for that kind of money in this neighbourhood it is a bargain. Marianna was very responsive and helping, she ensured an ATV rental for our stay that helped us explore the whole island and she told us where the best gourmet restaurants and nice bars are located. I am so impressed by our stay at the Stilvi studio that if we ever come back to this island there will be no doubt as to where we are staying again. Thank you for letting us experience this little heaven on earth for the 5 nights that we had :)
Todor
2016-05-15T00:00:00Z
Wow! This place is incredible! The view is amazing and one of the best we saw on Satorini - 180 degrees of viewing from a spectacular height! The room is very cute and charming. The balcony outside the room is the best. It's a short walk to restaurants, shops, etc, but is actually in a wonderfully quiet area, so you can be on your balcony in the evening and hear almost no noise at all! Our hosts were very helpful, friendly and welcoming. Lots of great advice too. I would highly recommend staying here. It's much less crowded than Oia and is much less touristy and busy. The view is better here!
Thomas
2016-06-08T00:00:00Z
Both Natali and Marianna were kind and welcoming, meeting us in the main square of Firostefani (for an early check in) and being kind enough to point out some of their favorite spots of Santorini on the map. Of course, we didn't have enough time to heed all of the suggestions but it gave us a great starting point. They also provided a complementary bottle of wine. The studio itself is cute and has a wonderful view of the caldera - perfect for catching a sunset! Located ~5 min from Fira by foot, it was a convenient and quiet location. I would recommend not to bring too large of a suitcase as you'll have to haul it through cobbled streets and up stairs from the nearest parking (~10 min walking distance away). There was also a daybed on the patio that was pretty nice to relax on. All in all, a beautiful place to stay!
Joony
2016-04-20T00:00:00Z
Marianna organised a transfer from the port and despite our ferry being 1 hr late met us on arrival. She showed us around the studio and gave suggestions for things to do and places to eat. The studio is amazing and the balcony and view simply stunning and fairly private. The AC works great for those hot afternoons & wifi was good. The studio is in a quiet area and not a far walk from the town centre with shops and restaurants and the old port & cable car. Our studio was serviced daily same as a hotel. This is defiantly the place to stay for an authentic Santorini experience.
Brendan
2016-07-25T00:00:00Z
Our host made us feel extremely welcome, showing us around the place and also giving us some great recommendations for our time there! The location was superb (we had a car and travelled around the island and this was in our opinion, the best place to stay). The view was incredible - the best place to watch the sunset and they had even left us a bottle of wine (and water!) which we enjoyed! We thought the apartment was even better than the photos, very clean and had everything you needed, including towels, hairdryer, etc. The apartment was even cleaned every day - just like a hotel. Really impressive service! We would 100% recommend this place and look forward to booking again next summer.
Stacey
2016-10-04T00:00:00Z
amazing location and amazing view!
Shuwen
2016-06-28T00:00:00Z
What a beautiful studio and the location is to die for! You will not regret this! Georgia is amazing and so helpful with everything from organizing transport to and from. Easily walkable but it is a bit of a climb!
Shruti
2017-04-06T00:00:00Z
Marianna was great, she met us at the shuttle drop off and escorted us to the apt. I recommend wearing good walking shoes as the Caldera requires a lot of walking! She showed us everything the apt had to offer and had a folder with many recommendations on the island. The view is PRICELESS, and something we will never forget! Thank you! And we very much enjoyed the wine, great touch. We can't wait to return!
Crystal
2016-07-13T00:00:00Z
Romtype
Helt hjem/leilighet
---
Eiendomstype
Hus
---
Plass til
2
---
Soverom
Θήρα, CYCLADES, Hellas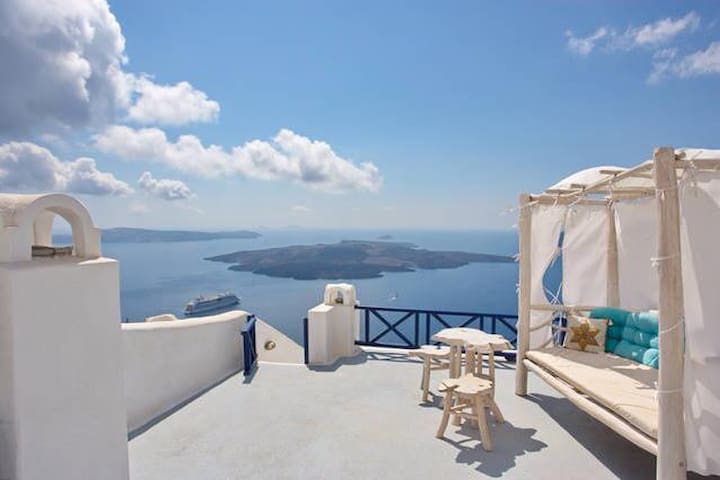 The home is 200 m from Archaeological Museum of Thera, 200 m from Prehistoric Thera Museum and 200 m from Megaro Gyzi. Santorini Airport is 4 km away. Just 100 m from bus station, Fira's famous sunset spot and centre.ΕΙΝΑΙ ΣΤΟ ΚΕΝΤΡΟ ΤΟΥ ΝΗΣΙΟΥ ,ΣΕ ΠΟΛΥ ΚΟΝΤΙΝΗ ΑΠΟΣΤΑΣΗ ΥΠΑΡΧΕΙ ΣΤΑΣΗ ΛΕΩΦΟΡΕΙΩΝ .
Romtype
Helt hjem/leilighet
---
Eiendomstype
Hus
---
Plass til
3
---
Soverom
Thira, Hellas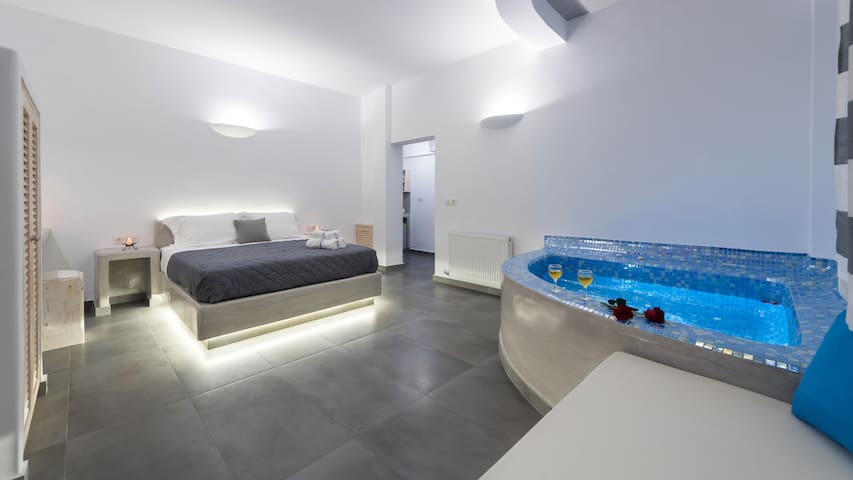 Elfies tower houses situated in the traditional village of Mesaria in the heart of Santorini. This charming, furnished with attention to detail cottage is ideal for idyllist who love the tranquility of a typical Greek village. The house has 3 levels connected by a kl. Courtyard and a narrow staircase. On the ground floor the living room, a well-equipped kitchen and a bathroom is located on the 1st floor is the bedroom (+ sep. Bathroom) and the 2nd floor there is a small roof terrace.
The house is built in typical Cycladic style. It has tall, narrow stairs, which extend over three levels. The stairs have no railings, a feature of the Cycladic architecture. The kitchen is well equipped with a stove, dishes, cutlery and a multi kitchen appliance. The bed is a double bed. Furthermore, there is a vacuum cleaner in the house.
The property is situated in a quiet street in the heart of a typical Greek neighborhood. From the house you look at least three churches. Shops and a cafe or a tavern located 10 minutes from the house.
Romtype
Helt hjem/leilighet
---
Eiendomstype
Hus
---
Plass til
2
---
Soverom
Mesaria, Aegean, Hellas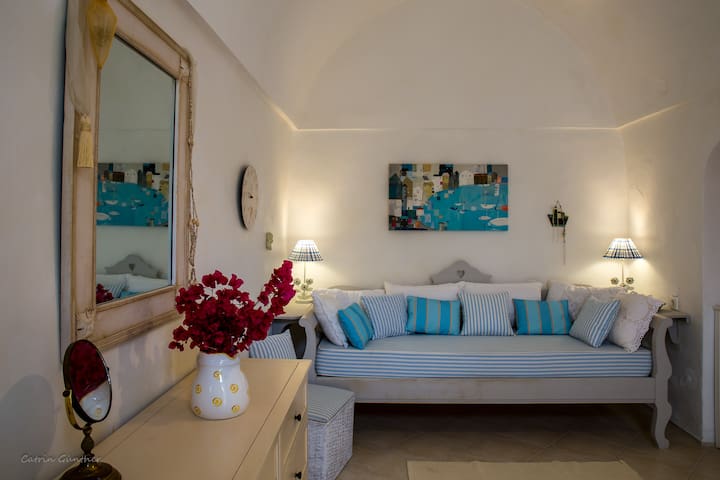 Two terraces with the famous view EXCLUSIVELY for you, the courtyard offers a lot of privacy. An ideal place to unwind. One of the last original cave houses in the great neighbourhood Firostefani on the Caldera overlooking the sea and volcano islands. Enjoy the famous view from the terraces and the enchanting courtyard, which is an additional room in summer. 3 BDR, 2BA, fully equipped kitchen, BBQ, max. 6 people. Shops, tavernas & cafés just around the corner. It's our private holiday home...
Spiti Barbara is perfect for 2 couples/families or a small group of friends, up to max 6 adults. Spiti Barbara is a 220 year old traditional cave house situated in Firostefani, about a 10 minute walk from the main town, Fira. The house is designed for max. 6 people. One bedrooms has a queen and single bed and so can accommodate minimum a couple or 2 singles or even 3 people. Furthermore there is a sleeping loft with a double bed. There is a bathroom off the main living room and shower/laundry and toilet across the courtyard -typical of the architecture of the time. There are two rooftop terraces with magnificent views over the Caldera. The courtyard with its well established olive tree provides a cool and private place to sit. The house has been sympathetically renovated to provide a modern standard of comfort whilst retaining as much as possible, the traditional and typical architecture of a cave house. The house is located just below Efterpi Villas and just above Dana Villas. Taverns and small supermarkets which are open in season, are very close, and the main town of Fira is only a 10 minute walk, along a scenic pathway. A moderate non-commercial tariff is charged to help preserve Spiti Barbara --one of the last authentic cave houses in Firostefani.Very spacious 75m2 indoors - excellent view - 2 terraces - shady courtyard with olive tree and flowers (~ 80m2) - 3 bedrooms - 1 livingroom - 2 bathrooms - fully equipped kitchen. Firostefani is setteled on the middle of the caldera and you can easily reach other places by bus, car or on foot. Beaches are to be found on the shallow side of the island, next beaches 10min by car: Exo Gialos and Monolithos.
The unique view!!! Typical cycladic architecture, small pathways for evening strolls. Taverns and small shops close by. It is located in the traditional village Firostefani which is on the middle of the Caldera and like that a good starting point to other places. It is only 10min on foot to the main town Fira along the scenic pathway. There you can visit museums, attend concerts etc. I love the different music festivals, like in August in Megaron Gyzi - free admission and renown artists, jazz to classical. And in September the Santorini International Music Festival mainly with classical Music. In summer we usually stay three weeks at the house and often we don°t leave Firostefani in the first week! Just the house and its neighbourhood... thats enough to enjoy.
Everything was fantastic. Good communication from beginning to end. We were met from our taxi and taken to Spiti Barbara and given an explanation of how everything works. There's also a manual. We had complimentary wine, milk, juice etc waiting in the fridge. We were absolutely stunned by the view and by Spiti Barbara itself. If you think it looks good in the photos, wait till you get there.
Russell
2016-05-10T00:00:00Z
Wonderful stay at Spiti Barbara, a very comfortable, clean and typical house with spacious rooms (no studios). We really enjoyed our breakfasts on the rooftop terrace with a breathtaking view over the Caldera, but also quiet, cool, discreet dinners in the courtyard. A plus of this house is undoubtedly its typical structure across the courtyard which makes very feasible sharing the property with other friends. Anette and Christoph were perfect host, we had critical arrival and departure times and they were flexible and willing to help, which we much appreciated. We also found Firostefani a very pleasant place to stay, providing everything needed (don't miss a Greek dinner at Aktaion). Besides it is far enough from the hectic Fira but at the same time just a 10 minutes walk from it along a very beautiful path. We do recommend Anette's property in Firostefani.
Valter & Donatella
2016-08-19T00:00:00Z
Communication with Annette was very good, the guides you find in the house, for stuff to do around the islands, for nice restaurants and walking around are just great! The view is amazing and if anything the pictures don't do it justice. Clean sheets, towels, washing machine, dryer, water is just fine. You have the terrace to get tanned, a binocular to look at all the ships below and a gorgeous sunset view. Rania was prompt and checked in on us when requested. The area has some good restaurants, it's far enough from Fira to sleep well without the traffic and hustle and bustle, but close enough to be there in 10 minutes.
Daniel
2016-08-28T00:00:00Z
Huset er helt utrolig fantastisk! Meget eksklusiv og romantisk, og med den mest utrolige udsigt over Calderaen. Alt i huset fungerer perfekt, og man mangler intet. Det er meget smukt og simpelt indrettet, og komplimenterer det 400+ år gamle græske hus. Man føler sig hjemme i huset lige med det samme. Værtsparret er søde, og man får rigelig med information om huset og området fra dem. Huset ligger i et roligt område, omgivet af luksus resorts og restauranter.
Mikkel
2015-06-21T00:00:00Z
La casa es maravillosa, es la única casa en el barrio y está rodeada de studios y hoteles...eso la hace aún más especial. Las vistas de la terraza hacen que los atardeceres sean mágicos y la realidad supera a las fotos. La casa está en el mejor lugar de la isla por la ubicación y la puestas del sol. En cuanto a comodidades es muy práctica y excelentemente equipada. El barrio es hermoso y a pocos metros hay un supermercado y varios negocios. Fueron nuestras mejores vacaciones y sin dudas la volveríamos a elegir.
Carolina
2015-07-30T00:00:00Z
Anette was very responsive with email and throughout our stay. She was kind and helpful, providing all the necessary information. The property manager, Raina, met us at the parking lot and took us the the flat. Raina was pleasant and we felt welcomed. The cave house is ridiculously amazing. Seriously. I felt we lucked out when we secured this listing and expected to have a nice stay. However, we were overly surprised at how much the photos do not show. In short - it was one of the coolest places I have stayed. Everything in the house was in working order, we grilled in the couryard and prepared quite a few meals in the kitchen. The water pressure was nice, the washer and dryer were great for a long stay, and the house stayed cool with the air-conditioning. The two - TWO - outdoor areas provided a breathtaking view of the caldera. Couldn't put a price on that. The house is a few steps away from the main pedestrian walk on Firostefani. There are great restaurants and a mini-shop literally within a short walking distance. (Try Galini's for breakfast, Why Not Souvlaki for lunch, and Da Vinci for dinner). We enjoyed that it was an easy ten minute walk from Fira, with awesome views on the way. The neighbourhood settled down after dark and it is a far cry from the rancor of downtown Fira. This would be the perfect place for family or a group of friends on holiday.
Jordan
2015-05-25T00:00:00Z
ottima accoglienza, ottima organizzazione
sandro
2016-06-18T00:00:00Z
My friends and I stayed at Spiti Barbara last week. The place is fantastic. It can comfortably sleep 6 people, with plenty of room to socialise. When other reviewers say the pictures don't do the villa or the view justice, they are right. The view is spectacular and being able to watch the beautiful sunset from the terrace was amazing. Anette was very helpful before and during our stay, making sure we were OK and ensuring we had everything we needed. Marina, who was managing the house in Santorini, was equally very friendly and helpful. The place has towels ready for you and great instructions and guides of where to go and what to do. Firostefani is a great location, only 10 minutes walk from Fira, 20 minutes walk from Imerovigli and 20 minutes in the car to Oia. There are some fantastic restaurants close by too, we recommend Onar which is just above the villa. Overall, we had a great stay and highly recommend Spiti Barbara.
Helen
2016-09-19T00:00:00Z
Romtype
Helt hjem/leilighet
---
Eiendomstype
Hus
---
Plass til
6
---
Soverom
Firostefani, Santorini, Hellas
Die Villa liegt hoch auf der Klippe in einer ruhigen Gegend des malerischen Dorf Imerovigli. Es blickt auf das Meer, den Vulkan und die berühmte Caldera mit einer Terrasse mit Gartenmöbeln ausgestattet. Die Lage ist einzigartig und die Aussicht von der Terrasse ist atemberaubend. Die Liegenschaft befindet sich im Zentrum des Dorfes. Alle Imerovigli ist in einem leicht zu Fuß, einschließlich Sonnenuntergänge, Cafes, Restaurants, private Kapellen. Von Imerovigli können Sie den Weg nehmen, der durch Firostefani geht und endet schließlich an der Fira (20 min zu Fuß). Das kürzlich renovierte Villa verfügt über ein Doppelzimmer mit einem Doppelbett, das in zwei Einzelbetten, ein kleines Einzelzimmer mit einem Einzelbett, ein eigenes Bad mit Dusche, eine voll ausgestattete Küche mit allen modernen Einrichtungen zusammen mit einem Essbereich verwandeln kann. Egal zu sagen, dass der Traum wie Blick auf den Vulkan, die Caldera und dem malerischen Dorf Imerovigli von diesem Balkon, werden die Gäste mit einem unvergesslichen Erlebnis zu bieten. Anlagen: Voll ausgestattete Küche, Sat-TV, DVD-Player, Klimaanlage, Terrasse mit Gartenmöbeln, WiFi Internet. Dienstleistungen: Tägliche Reinigung, bieten wir Badetücher und Bettwäsche, Portier-Service, Auto- oder Fahrradverleih auf Anfrage, Reservierung lokalen Inseltouren, Transfers auf Anfrage. Wir werden Ihnen gerne mit allen notwendigen Informationen zur Verfügung, um Ihren Aufenthalt angenehm und komfortabel zu machen.
What an amazing home! Fanis and Tina were so gracious and had everything we needed arranged as soon as we needed it! We arrived very early in Santorini and Fanis was kind enough to let us check in early as we had nowhere to store our bags. The view is absolutely unbeatable and as private as you get on the island. So much so that we often had to shoo other tourists off our porch because our view was so wonderful! Do not hesitate to book this location. :)
Rebekah
2017-03-17T00:00:00Z
We had a great experience at Fanis&Tina's place: everything was very well organized (pick up at the airport, transportation and welcome). They were also very quick and helpful at solving small inconveniences. We appreciated the traditional architecture of the house, the breathtaking view from the terrace and the quiet atmosphere of Imerovigli (if compared to Fira). We also appreciated having a cleaning service daily.
Francesca
2016-10-25T00:00:00Z
Lovely apartment and much bigger than we expected. Great communication throughout from our hosts who were extremely helpful with arranging transfers and recommending places to eat. The view is absolutely stunning and the terrace is very spacious. It is overlooked by the public path which runs alongside so it's not 'private' but you do get it all to yourselves and it appears that this is just the natures of Santorini - very buzzy and lots of people. About a 2 minute walk there is a public pool which not many people seem to know about and a great way to spend the morning/ afternoon. Fira and Firastefani are a short 15/25 min walk along the cliff and a great place to have dinner. We would definitely stop here again! Thanks Fanis and Tina
Becks
2016-07-29T00:00:00Z
The apartment is in an amazing setting and Tina was very helpful and communicative. The only issue is that the beds were very hard.
Emily
2014-07-04T00:00:00Z
Our stay with Fanis and Tina was absolutely wonderful. The location is perfect, the view is unreal, and the apartment is lovely. We would definitely recommend coming during the summer when warm weather is guaranteed, but Fanis and Tina accommodated us incredibly well given the weather circumstances!
Lindsey
2015-03-16T00:00:00Z
Fanis an Tina, Thank you so much!!! They are wonderful hosts, always available and helpful with tips. Their english is perfect and their recommendations fantastic! Best food we ever had in one of the places they recommended. Arranged tours and transportation for us, really made our stay perfect! The apartment is gorgeous, cozy, beautiful cool decoration, very well equipped and everything in pristine conditions. The view is amazing! Location is perfect in one of the main paths just a few minutes away from main towns. Absolutely recommend it and hope to come back soon!!! Sas efcharisto!!! Andrea and Tim
Andrea
2014-05-18T00:00:00Z
Fanis and Tina are amazing and this place is stunning. The views are unbeatable and the location in Imerovigli always relaxation away from the masses. Fanis was incredibly helpful with getting me set-up, providing thoughts on where to see the sunset and where to eat. Book this place - and with Tina & Fanis without hesitation!
Brian
2014-07-02T00:00:00Z
Tina was wonderful! we thoroughly enjoyed our stay at the little stones. Tina gave us a full list of instructions on where things were located within the apartment. She also made any arrangements we needed for pick up and drop off from the port and airport. she greeted us in the parking area and walked us down to the apartment. Tina was quick to reply to any requests through email and text messaging. The pictures and description are very accurate. the views from the patio are breath taking! Stay here you won't be disappointed. We would definitely stay at the little stones again.
bradford
2014-08-07T00:00:00Z
Romtype
Helt hjem/leilighet
---
Eiendomstype
Hus
---
Plass til
3
---
Soverom
Imerovigli, Aegean, Hellas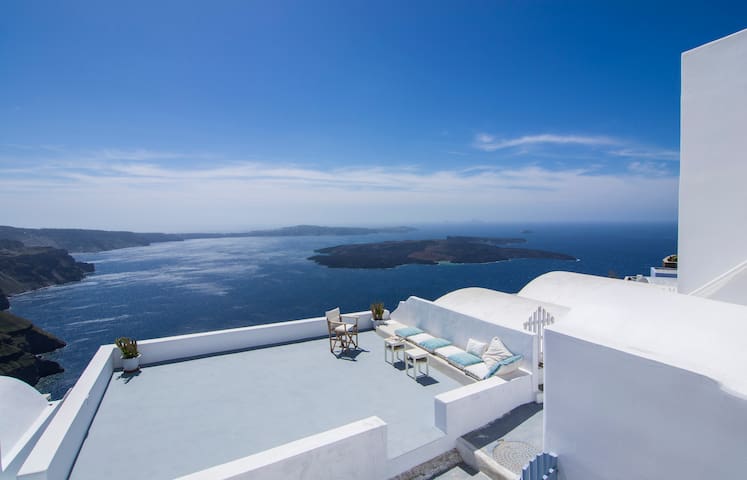 Vår Junior Suite består av en Master soverom, spisestue med kjøkkenkrok, bad med dusj, og en komfortabel jacuzzi ligger ved siden av sengen, hvor du kan slappe av hver dag. Uteplass med bord, solsenger, paraply, og bassenget.
Luksus for to Vår Junior Suite består av en Master soverom, spisestue med kjøkkenkrok og bad med dusj. En komfortabel jacuzzi ligger ved siden av sengen, hvor du kan slappe av etter en travel dag på øya. Junior Suite ble brukt som en tsipouro-gjør anlegget for 100 år siden. Det har blitt rekonstruert i 2016. Utenfor plass inkluderer et bord for to, solsenger, parasoll, og et felles svømmebasseng.
Den Mesaria Village Landsbyen Mesaria er svært nær hovedstaden Fira (3 km), i en avstand på 0,9 km fra den vakre og berømte Caldera, 2 km fra flyplassen, 2,5 km fra nærmeste strand og 3,5 km fra stranden Kamari. Den tradisjonelle bosetningen Mesaria er en av de eldste i Santorini og kanskje den eneste som gjenstår tradisjonelle. Det er bare 3 km fra hovedstaden Fira. Det er mange strender i nærheten, den mest berømte stranden i Santorini, Kamari, ligger i en avstand på 3,5 km fra landsbyen Mesaria. Den største vinprodusent av øya ligger litt lenger mot vest, rett ved den berømte Caldera klippen, med fantastisk utsikt mot solnedgangen! Derfra kan du nyte solnedgangen mens du smaker den berømte viner fra Santorini. Hotellet har en restaurant, en kafé, og et marked for å kjøpe lokale viner.
Chris was quite accommodating and worked to make our stay a pleasant one. The suite, pool and courtyard were quite attractive and peaceful. Motorcycles and ATVs are available for rent very close by in town. Thanks Chris!
Michael
2016-08-15T00:00:00Z
Chris and Ida were very nice, picked us up from the ferry and drove us to the airport early the morning we left! The house was as described, the only downside was that it is located in a small town half hour bus from Oia and about a twenty minute walk away from the big city Fira. Overall a nice place to stay!
Jessa
2016-12-07T00:00:00Z
Très proche de l'aéroport! Chris nous a beaucoup aidé. Il est venu nous chercher et nous porter à l'aéroport en plus de nous avoir aider à louer une voiture. Il nous a aussi montré les endroits utiles à connaitre. Le frigidaire avait des boissons en arrivant. De plus, il y avait des pates, des tartinades et du café que nous pouvions utiliser! :)
Mélissa
2017-03-30T00:00:00Z
Amazing! Chris was a fantastic host. He was super accomodating (airport transfer, organised ATV and boat tour). The place itself was absolutely beautiful! So, so, so cool!
Daniel
2016-06-27T00:00:00Z
Great host, very nice, helpful and respectful. place is even better than the pictures, location is ideal.
Arthur
2016-09-16T00:00:00Z
We had a great stay with Chris and Ida; they were both very accommodating and friendly. Chris even picked us up from the bus stop. They're close to a grocery store and about a half hour walk from the airport. The photos depict the space and it is well looked after. We only stayed a night so we didn't have much time to use the pool or hot tub.
Brody
2016-10-28T00:00:00Z
Chris and Ida were very friendly and gracious hosts.
Max
2017-03-24T00:00:00Z
Very nice stay. Thank you.
Petra
2016-07-19T00:00:00Z
Romtype
Helt hjem/leilighet
---
Eiendomstype
Hus
---
Plass til
2
---
Soverom
Mesaria, Hellas
Od tohoto unikátního luxusní vile na okraji útesu Firostefani, si můžete vychutnat panoramatický a jedinečný výhled na kaldery, sopky, a Středozemní moře, a můžete obdivovat nádherné romantické západy slunce ze svých velkými terasami. Nenechte si ujít Santorini nejkrásnější panoramatický místě!
Soukromý cesta vás dovede z hlavní ulice do vily za jednu minutu. Nedávno zrekonstruovaný dům zajistí vaše soukromí a klid, protože se nachází mezi dvěma soukromých zahradách, že budete mít bezpečné vzdálenosti od přímých sousedů. Jedná se o třípokojový dům a lze pohodlně spát 6 osob. Existují dvě hlavní ložnice s klimatizací, jedna s velkou manželskou postelí a druhá se dvěma samostatnými lůžky tlačil společně. Oba mají vlastní koupelnu (jedna s vanou a druhá se sprchovým koutem) a samostatné verandy. Piano pokoj má dvě sousední samostatnými lůžky. Tam je dobrý velký obývací pokoj s pohodlnou pohovkou a TV "43 se satelitním propojením, stereo CD systému a impozantní krb. Jídelní stůl může sedět osm. Velká otevřená kuchyně je plně vybavena a má všechny elektrické spotřebiče, které můžete potřebovat. Jen mimo tam je krásná terasa s jedinečným výhledem. Malá vložka roh je ideální pro odpolední pití, zatímco u velkého mramorový stůl každý ocení jejich večeři při svíčkách. Na zahradě nabízí krásný bazén (rozměry: 8mx4m / hloubka: 1,50m) 2 pergol a jeho pohovkou a lehátky, kde si můžete odpočinout a obdivovat výhled na sopku.
Firostefani je malá obec se nachází v horní části kaldery s množstvím obchodů, restaurací a barů. 20 min jízdy velmi malebné pathwalk je hlavní město Fira, hlavní město Santorini. Jedná se o velmi příjemný a klidný prostor s mini-market, obchůdky, dobrých restaurací a příjemných kaváren.
This was one of the most amazing trips we've ever taken. Villa was spectacular. From the coordination with Alexandra via airbnb portal to Bridgette greeting us on arrival. The car pick up and drop off inclusion was great. The cleaning during our stay with fresh towels and supplies was amazing. Bridgette helped to coordinate car rental, a private catamaran boat trip. She even met us when we accidentally locked ourselves out. She was amazing. This villa is a gem. Thank you. We will be back
Tina
2016-09-25T00:00:00Z
This villa is truly unbelievable. The pictures on the website certainly capture the imagination. But you simply can't grasp how beautiful the setting is until you arrive. It's mesmerizing. There is nothing between you and the sea. The villa itself is truly marvelous. Very clean and so comfortable. We cooked often, and found everything we needed. There were many bath towels and towels for the pool/beach. We enjoyed many hours in and around the pool, and just enjoying the view. Eating meals and enjoying drinks and playing games on the lanai, with the stunning caldera view was a real slice of heaven. Many nice restaurants and shops are a 3 minutes walk down the path to Firostefani, and even more 10 minutes away in Fira. We had very high hopes and expectations, based on the descriptions and pictures, and they were exceeded by far.
Rick
2016-07-09T00:00:00Z
Alexandra provided transfers to and from airport for a large party with separate departure times. Very nice can and lovely driver. Also welcome basket with wine and snacks at villa. Host was available by phone to arrange transportation and tours at any time. Very helpful. Neighborhood was perfect. Walkable to bars, restaurants, shopping. We did have a rental car, which was also arranged by host and delivered cars to villa, another plus.
Sally
2016-06-22T00:00:00Z
This villa is just a piece of heaven. We had high expectations based on the description and they were exceeded by far !! Alexandra has been very responsive during the booking process and, during the stay, Brigitte was always there to answer any questions and provide pieces of advice. The villa was very clean and Brigitte came every two days to do the cleaning up and change the towels, same for the pool which was just top notch. The view is astonishing and the location is just the best you can expect for Santorini... Again, this villa is a piece of heaven !
Mathieu
2016-07-23T00:00:00Z
The home was not easy to find, initially. But, that is what made the home that much more than amazing. The home is simply beautiful and makes you feel at home the moment you walk in. The view, the pool and the sense of solitude made this vacation wonderful. I can't wait to return.... Thank you.
Larry
2016-09-17T00:00:00Z
Romtype
Helt hjem/leilighet
---
Eiendomstype
Hus
---
Plass til
6
---
Soverom
Santorini, Firostefani, Hellas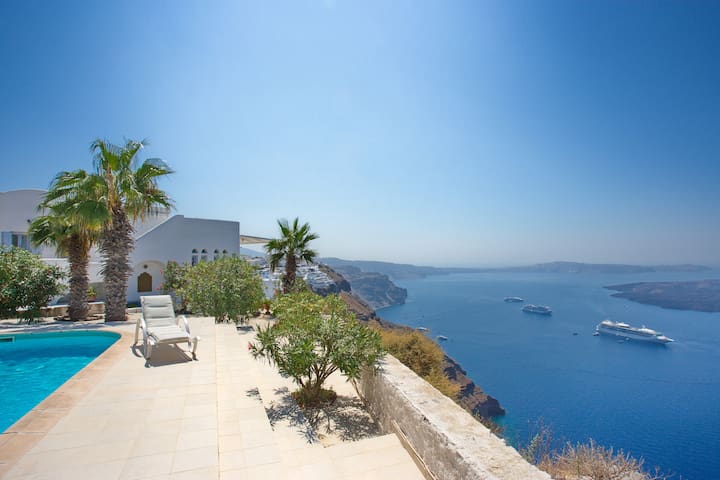 "Cally" Traditional Cave House is just 1 km away from the main town Fira. Easy to access by your car or Motorbike (ATV-Quad), no more than 15 minute walk.Enjoy a unique stay in Santorini in a fully equipped apartment and with your own swimming pool.
Cally Cave House is a New and renovated traditional Cave house of Santorini.Fully Equipped with kitchen, refrigerator, TV and WiFi (internet) and parking. Two unique bathrooms and lounge dining. The House has been designed according to the traditional architecture of Santorini (Cave House), but also to deliver high standards of comfort. The interior is decorated in the modern way, but also with fine taste and superbly equipped to cover our visitors' needs the well-cared for, tailored service becomes a guarantee for unforgettable stay. Enjoy our large courtyard and relax in the Private pool (heated swimming pool upon request with extra Charge) drinking unique flavors from Santorini. It is ideal concept for families or friends who want to enjoy summer holidays in Greece in a little different way. The house 70m² - sleeps up to 4 people with.The house includes a master bedroom with a large double bed, closet, an LCD flat-screen TV and romantic decorations that will excite you! At home there is also two single beds. The kitchen is fully equipped with a oven and stove-top, filter coffee machines and all other facilities to ensure a comfortable stay in Santorini. Two separate toilets constructed in a traditional way and excellent materials for your top convenience.
The house is in a quiet area near Fira, the Capital of Santorini, in a quiet street just a few meters from a Greek church, surrounded by many traditional vineyards.
The house is very beautiful. Is surrounded by a donkey, some taste, there are flies. The boss is very nice. The flight is late. Let's check the baggage.
刘
2016-09-29T00:00:00Z
Séjour très agréable : villa conforme aux photos et au descriptif. Tout est beau, propre et neuf. Merci à Maria pour l'eau et le petit encas à l'arrivée. Pour info : Terrasse et piscine privée cette année mais qui seront à partager ensuite avec le logement voisin en rénovation pour l'instant.
Valerie
2016-08-02T00:00:00Z
This Airbnb was incredible. Even more beautiful than the photos, it far exceeded our expectations. We had a private pool, two bathrooms, a fully equipped kitchen and some basic food supplies to get us through our arrival. Our host, Maria, was incredibly generous with her time, greeted us at the house, helped us with anything we needed, provided us with a phone to contact her and came down to see us if we ever had a problem we needed help with. We also had a house cleaner come every day. Out of all the AirbNb's I have stayed in, I would recommend this place the most, and hope to come back and stay again. The location was close to the centre, but we would recommend hiring quad bikes as they make getting around so easy. The apartment also had wifi, but it was slightly temprimental...which is this places only minor downfall! All in all an incredible experience.
Larissa
2016-07-24T00:00:00Z
Cally Cave House is a beautiful property just down the hill from Fira, capital village of Santorini. It takes about 20 minutes to walk uphill to the town, but my friends and I didn't mind that too much because the house itself is worth the hike. The house and pool are impeccably maintained; the house was cleaned each day that my friends and I stayed there, and the technician herself was very thorough and pleasant. The photos are 100% accurate. The fridge was stocked with some essentials -- eggs, ham and cheese, bread, orange juice, and bottled water -- for which my friends and I were very grateful after our late evening arrival. The listing also includes a cell phone that can be used to contact Maria in case of an emergency or with questions. Maria was an absolute joy to work with. She was very helpful and communicative, which I appreciated most when my friends' and my flights were canceled and we needed to make other departure arrangements. While our stay in Cally Cave House would have been delightful anyhow, Maria's efforts throughout the reservation process and our stay made it even more so.
Sara
2016-10-10T00:00:00Z
Amazing place! 10/10 so helpful and awesome house!!!!
Jacob
2016-09-27T00:00:00Z
We had an amazing stay in Santorini. The house had a great location walking distance to any bars or restaurants you would want to go to. The house was beautiful. We loved swimming in the pool after a long day of touring around the Island. We would love to come back in the future.
Jennifer
2016-10-23T00:00:00Z
The apartment is absolutely stunning. Exactly like the photos but better in person. It's such a unique property, had never stayed anywhere like it. Hairdryer, cooker, shampoo & conditioner etc etc. It's about a 15 minute (slow) walk from the main town. The Wifi is a little weak but that was the only issue. The host organised a transfer for us to and from the port/airport. There's two large bathrooms with toilet and showers in each. The double bed is huge and very comfortable. Would highly highly recommend it to anyone. Picture perfect - LOVED IT. Thank you so much - I hope to be back again. Will always remember this stay in Santorini :D
Laura
2016-08-18T00:00:00Z
House is awesome. Services and facilities lux. Is one of the most beautiful places in the island. No second thoughts. Thank you for everything. Harris
Charalampos
2016-08-06T00:00:00Z
Romtype
Helt hjem/leilighet
---
Eiendomstype
Hus
---
Plass til
4
---
Soverom
Fira, Hellas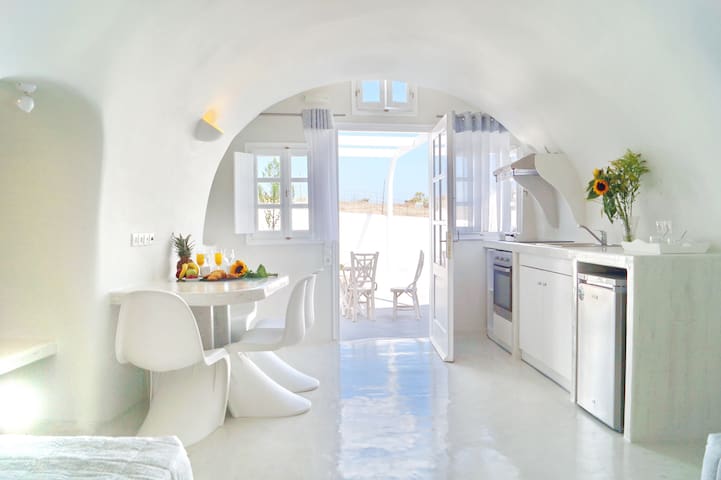 Our Santorini Diamond house/apartment has 3 bedrooms (one master with king size bed), 2 bathrooms (one ensuite in master bedroom), one large living room, a fully equipped kitchen and 2 private balconies with sea view and a private terrace. There are 3 TVs, free wifi inside the house, cleaning service on demand. We can propose: • daily excursions around island or to the volcano • rent a car or a moto • pick up from airport/port. The nearest bus stop to go anywhere is just 5-7 minutes by feet.
Fully renovated in 2017 with built in sofas, dining table and beds. You are 10 minutes from the sea. It is the perfect place for group of friends and for families as it can host 8 persons. The master bedroom with king size bed has its own bathroom and balcony. The second bedroom has 3 single beds with a large window and the third bedroom is upstairs with its own balcony and terrace. All rooms and the living room have their own air condition and TV. You have wifi all over the apartment. The kitchen is fully equipped with fridge, dishwasher, toaster/grill, boiler, coffee machine and all cookware.
Mini market with almost everything is just around the corner and one of the biggest supermarkets is just 15 minutes by feet or 3' by moto or car. The best bakery of the island is also 10 minutes by feet or 2 minutes by moto or car.
Romtype
Helt hjem/leilighet
---
Eiendomstype
Hus
---
Plass til
9
---
Soverom
Καρτεραδος, Αιγαίο, Hellas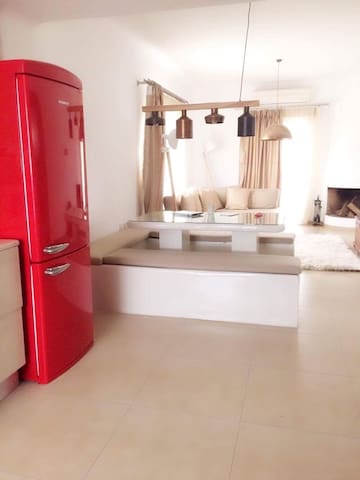 We would like to welcome you to our beautiful island Santorini to experience the hospitality and the friendliness of the local people, and our old traditions which are known only on our island. Our family owns 2 old houses in the old traditional area of Fira, which is the capital of Santorini. We have recently renovated them, and we did our best to ensure that they would keep their character and unique style: High ceiling roofs, thick stone-made walls, to keep the rooms cool during the summer and warm during the winter. As they didn't have access to wood as a building material, the old habitats of Santorini used to "carv" their houses and their furniture into stone hills or caves. It's a perfect place for couples, families, elder people and everyone else who will appreciate one of the most beautiful and quiet area of the island, while being just a breath away from the main square and the magnificent caldera view. Fira is a town built around the island's famous caldera, 200m. above the sea, which offers a panoramic view of the whole island, the volcano and the surroundings islands Fira is located in the centre of the island, from here you can easily have access to all the other villages. You will find here all local facilities: restaurants, cafes and nightclubs, museums, banks, pharmacies. the cable car, which leads to the old port Distances from Calderimi: main square-150m airport-6 km athinios Port-13 km bus station-200m taxi station-200m nearest beach- Exo Gialos 2,5 km Calderimi studio is 45 sq.m., it has one bedroom with queen bed, one dining-living room with a large sofa which can be used as an extra bed, one fully equipped kitchen and one (URL HIDDEN) has also a private terrace with table and chairs, decorated with flowers and plants.
Our stay at Vivi's house was everything we had hoped for. Vivi was very friendly and helpful with all our needs - she met us at the port, gave us lots of useful information and little treats to eat and drink, yet respected our privacy. The delightful accommodation reflected the local tradition and was exactly as described, including a very cool, spacious bedroom, well equipped kitchen ( including tea, coffee, fruit, etc), and sunny courtyard. The house was very near the centre - just a few minutes walk to the Caldera, bus station, etc. I would highly recommend this accommodation.
Halina
2015-06-28T00:00:00Z
Such a great location in Thira! Close to super markets and adorable restaurants and maybe a 5 minute walk to the main square. Vivi was also so helpful with being able to set up transportation and let us leave our bags even after checkout since our flight was so late. A clean and adorable house as well. Would definitely stay again!
Tessa
2016-06-28T00:00:00Z
Amazing traditional house only steps away from the centre of Fira in the real/less touristy part of Fira where real people live. It gave us a very good feel of the place. It was quite, on a small alley of the old Fira. We loved the place, very spacious, beautifully decorated, with ac and reliable wifi, cute courtyard. And of course Vivi was the best: she was very easy to communicate with, picked us up at the ferry terminal and drove us to the place, called a taxi for us on the way back. She was very pleasant and sweet and left a cake for us upon arrival. Wonderful place! Would stay again any time!
Mikhail
2015-07-24T00:00:00Z
Perfect accommodation in Santorini! Vivi is very warm hearted. She picked us up in the airport and drove us to the airport when we left. The room was extremely clean and with very tasty traditional sweets and wine on the table. Vivi told us nearly all the attraction of the island. We really appreciated! Duan+Yan
Duan
2013-12-27T00:00:00Z
Very good home. Where live we are!!!
taegon
2013-11-14T00:00:00Z
We really enjoyed our stay in the nice and cosy house of Vivi and Andreas in Fira, Santorini! Vivi was so nice to provide us with many home made goodies which not only were very tasteful but also made us feel like "at home" from the beginning. We very much appreciated having breakfast in the lovely yard in front of the house! In short, we can only warmly recommend Santorini and Vivis house - especially at the end of March: great weather, impressive hiking tours... and very few tourists! Thanks for everything.
Mathilde
2014-03-31T00:00:00Z
Vivi was very welcoming and the apartment was gorgeous, really tastefully furnished and clean. It is a great location and very peaceful too. We had a problem with our plug adapter and some of the plug points but Vivi was there to help within minutes. I would really recommend staying here.
Rosalyn
2015-10-07T00:00:00Z
We had a great experience at Vivi's place in Fira for a week. The location can't be beat, it's a 2 minute walk to the main square but it's also quiet too so you can get a good night's sleep on the island. Vivi's place had everything you could think of to make your stay great and she checks in to make sure we were enjoying ourselves and to answer any questions we had. She helped make our stay on the island memorable. She also has a place right next door in case there are more of you and all want to be together.
Vivian
2015-09-25T00:00:00Z
Romtype
Helt hjem/leilighet
---
Eiendomstype
Hus
---
Plass til
3
---
Soverom
Thira, Hellas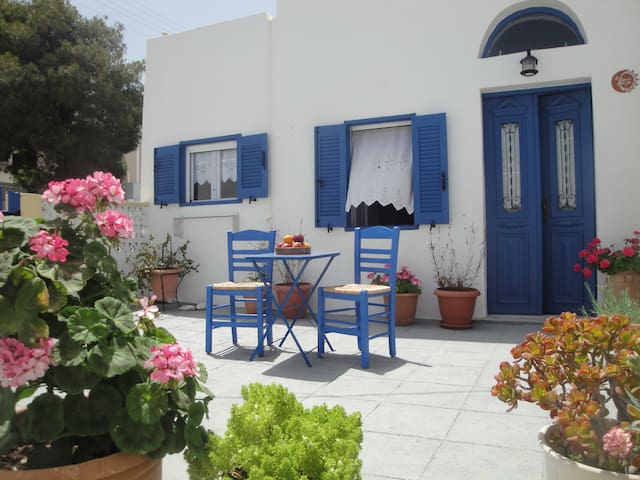 Studio 5 er en del af "Hara s Houses", et kompleks af 5 egen forplejning deler en lille swimmingpool. Det er beliggende på Imerovigli village -den højeste punkt på kanten af Caldera- med enestående udsigt over vulkanen og Det Ægæiske Hav.
Hara s Houses - Studio 5, hvælvede det hvide tag hus (nemlig "Athena"), er bygget med udsigt over Santorini vulkan, Caldera, klippeformationer i Skaros og Imerovigli landsby. Det er en typisk Santorini arkitektur på kanten af randen af calderaen. Studiet fordele fra: -on dobbelt indbygget i sengen -one enkeltseng eller sofa -lounge hjørne -EGNE terrasse med fantastisk udsigt over Caldera -EGNE fuldt udstyret køkken med køleskab, kogeplader, kedel, fransk kaffe presse, porcelæn og fade -TV -air-tilstand (kold eller varm) -bedding og linned -stole og borde til indendørs og udendørs -To liggestole Adgang til lille swimmingpool, placeret nederst niveau af komplekset. Studiet kan sove 2-3 personer. Inkluderet i prisen: • daglig rengøring • linned & håndklæder • driftsomkostninger (el, vand, etc.) • WiFi internetadgang • skat På anmodning: • overførsler til / fra havnen / lufthavnen • bil / scooter / ATV huslejer • private massage sessioner på stedet • ø ture • planlægning begivenhed Bemærk venligst at priserne varierer efter årstid og antallet af overnatninger. Kontakt os venligst for tilbud og rabatter!
Kvarteret er fredeligt og roligt og består hovedsageligt af private huse. Landsbyen har en række traditionelle og høj standard lokale restauranter, minimarkeder, butikker og biludlejningsfirmaer.
106 steps down to paradise !! Thanks to Ana Stamos & Leah & the pool man sorry I can't spell name but he carries 40kg up the steps
Tina
2015-08-11T00:00:00Z
We didn't meet Anna but found her easy to deal with prior to arriving. In Santorini, Stamos was very helpful meeting us and showing us to the apartment. We loved our time there, the apartment is lovely and the deck and pool area fantastic! Imverogli is a great location - close to Thira and Oia, without being too crowded. We stayed for 5 nights so the daily cleaning service was appreciated. Highly recommend getting a quad to explore the island if you're visiting for a few days. We also loved the restaurant La Maison (top of the path towards the windmill) and had one of our best meals in Europe there.
Nicole
2016-05-20T00:00:00Z
My partner and I stayed in Studio 5 - Hara's Houses for five nights. We had a wonderful time there. It was perfect and as described: cosy and quiet with a breathtaking view. The apartment had everything we needed during our stay, it was cleaned daily and the stocks of coffee, tea and towels etc. were replenished daily. We both loved it there and we were sad to leave. Stamos was our contact in Imerovigli and he went out of his way to make us feel welcome. On our last day there he even picked up a parcel for us from Fira and delivered it himself so we could enjoy the beautiful terrace for an extra few hours before we left for our flight home. Stamos helped us with restaurant recommendations and places to visit during our stay. He was the perfect host and helped us with our luggage and transfers from the airport. Studio 5 was excellent and in a great location for everything we needed. It was right next to the pool which felt like an extention to our apartment as no one else used it during our stay. We would highly recommend it to others visting Santorini in the future.
Ellen
2016-10-23T00:00:00Z
Santorini has dead drop gorgeous views at every turn but they couldn't be more beautiful than from our terrace at apartment Athena at Hara's Houses. The beds were comfortable and the towels and linens fresh everyday. The hot water was an issue however understandable on Santorini's cliffside. The kitchen was disappointing and not only in need a a good cleaning but new appliances as well. No coffee pot, microwave or working corkscrew! We hade wonderful help with luggage, pool and hot water from Kostas. The stairs up and down were very hard to climb and not for someone with bad knees or legs! Still it was an enjoyable, unforgettable stay of five nights and would recommend to others. Anna was very quick to remedy any problem that arose.
Kathleen
2014-09-27T00:00:00Z
Good location. It is close to the syntagma metro station. It is easy to access to the airport from there. This is a 24 hours airport express next to the metro station. Ana is very hospitality and the apartment is very nice.
Betty
2015-09-28T00:00:00Z
Nice location, on the cliff. The place was cleaned everyday. Close to Fira.
Weiliang
2015-06-28T00:00:00Z
Going into this stay, I had high expectations, and they were perhaps too high. Previous reviews made it seem like there was nothing particularly wrong with the place, so I'm hoping this review will give a more realistic overview. For starters, I feel like what sets Airbnb apart from hotels are the host-guest interactions. I've visited several properties through my account and my girlfriend's, and we've always had the pleasure of meeting a local who would personally welcome us to his or her place. The other Airbnb host we had in Athens spent an hour giving us a tour of the neighborhood with awesome recommendations. While all hosts weren't like this, they were welcoming to very positive degrees. With Anna, we only communicated online, and she would direct my questions to Stamos, who I guess is her concierge/employee. Stamos was kind, but the introduction to the area felt a little rushed, and when we had to leave, we were left in the care of his assistant, who I had to tell to help my mother with the luggage she was carrying and who had trouble with the stairs. This felt like a shabby hotel operation, without the check-in desk. The good: The studio itself is nicely kept and comfortable enough for three people. The area includes a beautiful view and direct access to the pool, which is a nice way to cool off on a hot day. Makes for cool photos to make your friends jealous. Stamos set up the pick-up and return to the airport (though expensive). The meh: We were told we couldn't drink the tap water, so we were hoping there'd be some bottles of water we can at least buy from the host but there weren't--I had to go get liters of water at the top of the hill, which isn't the most fun thing to do. Oh yeah, there's plenty of stairs to climb to get to the main path, and at night, these stairs weren't lit, making it a little sketchy and dangerous if you trip. The internet is non-existent, so that made things kind of difficult. There are several homeless cats that wander onto the property, which isn't ideal. It also smells like sewage from time to time because it seems like the pipes drain off the side of the cliff a few feet below the balcony. If I were to visit Santorini again, I would not stay here. I talked to someone else who stayed in a studio on the premises, and that person agreed with this assessment. I met someone at the airport who paid less per night than I did in Imerovigli and got more space, the same view, and better amenities. If you would like silence at night, Imerovigli is good for that, but it is not central, and the buses are very unreliable. I would stay in Fira next time around.
Brian
2016-06-01T00:00:00Z
Amazing place to stay for the money and the village of Imerovigli is lovely and quiet. This was our honeymoon so we stayed at Haras houses for 10 nights. Compared to some of the honeymoon places further in the village we didn't feel we'd lost out at all ( only saved money to spend on wine instead!) We stayed in this apartment for five nights and the only downside I'd say is you are right by the pool so it can get quiet noisy especially if like us you happen to be staying the same time as a family with small children who have no respect for the peace and quiet. Anna was amazing and Stamos was brilliant and very helpful. Would definitely recommend staying here if you visit Santorini.
Louise
2013-08-02T00:00:00Z
Romtype
Helt hjem/leilighet
---
Eiendomstype
Hus
---
Plass til
3
---
Soverom
Imerovigli, Aegean, Hellas
This house has an amazing view of the volcano and the south side of the island. It has a massive outside patio. It has unique characteristics and is a cave house. 2 bedrooms, a full kitchen and a living room. I really think you will love this place.
The house is a traditional Santorini cave house, situated in Imerovigli village, on the Caldera(cliff). Unlike most of the cave houses in Santorini, this one runs wide and not deep in the rock. This characteristic provides a lot of natural light throughout the day, thanks to the windows that cover the front of the house. There isn't one room without natural light. The villa has a very nice lay out and is ideal for couples, families or even a group of friends. It is comprised of two bedrooms (one is outside the main house, totally private) with double beds and a living room with two single concrete beds/sofas. It also has a fully equipped kitchen with stoves, oven and all other necessary. The living room, besides the two sofa/beds, has a dining table with chairs. The villa can very comfortably accommodate up to 6 persons. It does not have air-conditioning but the house keeps a very comfortable temperature all year round. Outside, the 85sq.m veranda provides unobstructed view of the Aegean sea, the volcano and Thirassia island. You can also find patio furniture, which includes an umbrella, table and folding chairs, as well as 2 sun loungers. There are also concrete areas that someone can sunbathe on. It is near the path that leads to the main town of Fira, so there aren't many steps to reach it, approx. 40 easy steps. Restaurants and mini markets are only a step away, and so is the main town of Fira. Distances (approximates) Fira (the capital): 1klm Oia (Ia): 7klms Perissa/Perivolos (black beach): 15klms Red beach: 15klms Airport (JTR): 7klms Athinios Port: 8klms Nearest bus stop: 120 meters Mini markets: 50 meters Restaurants: 20 meters and the next at 50 meters Parking: 70 meters Facilities and Service(URL HIDDEN)Linen and bathroom towels provide(URL HIDDEN)TV LCD 22" with Satellite receive(URL HIDDEN)DVD/DivX playe(URL HIDDEN)Hi-Fi midi with CD player/radio/MP(URL HIDDEN)High-speed Internet connection (Free(URL HIDDEN)Fully equipped kitche(URL HIDDEN)Hair drye(URL HIDDEN)Iro(URL HIDDEN)Heater for the winter month(URL HIDDEN)Cooling Fans provide(URL HIDDEN)Free map of the islan(URL HIDDEN)All taxes
The view from our location was nothing short of spectacular. The house is very quaint and cozy and the separate kitchen and bedroom further add to the experience of Greek Island living. Overall, a very special and memorable experience. If one is planning on cooking their meals, I would not recommend this location as the kitchen is very basic. The appliances are extremely old and the kitchen smelled of mould and had ants crawling around. It is fine if you are simply looking to keep water bottles in the fridge or just basic foods in hand. Each person is provided with one bath and one hand towel, which are replenished every three days. We did ask if it would be possible to get a few extra ones as we have teenage daughters with long hair but were told that none could be spared. As I compared our locations to others in the area, it did strike me that there is an opportunity to add a fresh coat of paint to the outdoor walls and perhaps invest in better outdoor furniture. The few chairs provided were in poor state and lacked comfort. These are fairly easy fixes that would add to the overall comfort of the location.
Anick
2016-07-31T00:00:00Z
The view is unbeatable. No problems with the wifi- worked great. House is cute. The kitchen was the only thing I didn't like- it smelled very musty. Our host was very nice, explained all the sights to see and arranged transport for us. Recommended.
Heather
2013-12-02T00:00:00Z
Informational for you to consider: The kitchen and one of the apartments is outside the actual house. Therefore guests staying in the outside room will need to go through the living area where the two single beds are to get to the bathroom in the middle of the night. Also this outside room does not pickup the wifi. Only those in the main house were able to connect. This did not bother us but consider this if you are traveling with people who would not like such an arrangement. Negatives: The bathroom: During our stay the toilet had a leak around the bottom. Because the bathroom has only one very small window it does not dry out quickly and we assumed at first that some of the water was due to condensation from the nice hot showers. After the second night we realized the issue had to due to caulking around the toilet and advised Aris of the issue. Cleaning: we were six people staying from Sat. night to Thursday day with one bathroom (that did not dry out) and we were only given one set of towels. We had a drying rack but there are 5 cats wandering around the patio (I assume strays?) and at time the wind was pretty strong to even considering using it anyway-and did I mention we had 6 people.The cleaning person only came on Tuesday and only after we called Aris. So I have to agree with others that said the bathroom needs a revamp and the host should consider every other day cleaning, when hosting more guests-in this case 6. The positives: possible thee best view on the entire Island. Aris is a very pleasant and attentive host. He provided a phone free of charge so we could get in touch with him at anytime and he always promptly responded to our needs, including trying to fix the toilet, but ultimately it would need a plumber to fix it after we left. He arranged pickup/dropoff at the airport and helped to bring our bags to and from the apartment which requires bringing them up and downstairs since you are on the side of the mountain. When we requested a car for rental he arranged everything. The rental was dropped off and picked up conventiently at the parking lot above the apartment. Some people mentioned issues with WIFI but it worked for us 90% of the time and when it didn't it just required a simple reboot (plug, unplug). I would recommend the apartment, just make sure the toilet issue is resolved and confirm with him the cleaing frequency suits your needs before booking, especially if you are a larger party.
Denise
2014-03-28T00:00:00Z
The place has an amazing view if not the best in Imerovigli. Aris was great in providing a transfer to his place. He could not meet us personally because he had been involved in a motor vehicle accident but made sure someone was present to meet us and give us instructions. Although the view and terrace were great we felt the place is in need of an update perhaps fresh paint and more cleanliness. The place didn't feel like it had been cleaned prior to our arrival. Bathroom had a horrible smell coming from the sewer trap and there was no water pressure in the shower. Attention to these areas would make this place shine even more compared to the other houses in the area. Not our most desirable place among other AirBnb experiences we had in our overall trip to Greece. House below this one was abandoned and seemed to have a squatter living there.
Jesse
2014-09-25T00:00:00Z
Picturesque, simple, everything we needed, arranged transfer, helpful in explaining all we wanted to do while on the island. Walkable to city center, but secluded enough to enjoy the peace & quiet.
Hannah
2017-02-12T00:00:00Z
We had an awesome time in Santorini at Aris's place - the view is insane!! We loved the location - it's a quick walk to Fira but Imerovigli is far enough away that it's quieter and feels less touristy. Again, unforgettable view!
Anica
2015-04-24T00:00:00Z
Aris's home is lovely and it has wonderful view. We had a comfortable stay at his place.
trupti
2017-02-16T00:00:00Z
Aris' place is the whole package! It was a 15-20 min walk to the main town of Thira which was a scenic and photogenic trail to say the least. The place was clean with a breathtaking view we could not get enough of! There was easy access to a local supermarket, some restaurants and the bus stop was a 2 min walk away. Aris waz very easy fo communicate with and was able to help us out with airport tranfers, car rentals and getting around the island. We definately recommend staying here if you are visiting Santorini!
Hanna San Juan
2017-04-01T00:00:00Z
Romtype
Helt hjem/leilighet
---
Eiendomstype
Hus
---
Plass til
7
---
Soverom
Thira, South Aegean, Hellas

Unpareil experience, Cave apartments in a charming villa 1km from Thira. Don't miss this unique chance to live Santorini in the best position, easily reachable from anywhere. 1 km from Thira, full served. -free transfer for a 3 days minimum stay ONLY 5KM FROM THE AIRPORT AND 7KM FROM THE PORT OF ATHINIOS.
GREEK GODDESS SWEET CAVE SANTORINI IS LOCATED IN THE OLD, TRADITIONAL VILLAGE OF KARTERADOS, IN FIRA; ONLY 1 MINUTE FROM THE LIVELY CAPITAL AND THE FANTASTIC CALDERA VIEW. WELCOME TO THE GREEK GODDESS FAMILY GREEK GODDESS SWEET CAVE SANTORINI IS A TRADITIONAL CAVE HOUSE, AND SELF-CATERING ACCOMMODATION. WE ARE LOCATED IN KARTERADOS, ADJACENT TO FIRA. WE OFFER FREE WI-FI ACCESS, A FLAT-SCREEN TV, AIR CONDITIONING AND A YARD. THERE IS A FULL KITCHEN WITH A MICROWAVE AND AN OVEN, AS WELL AS A PRIVATE BATHROOM WITH A BATH OR SHOWER AND A HAIRDRYER. YOU CAN ENJOY A GARDEN VIEW. OTHER FACILITIES SUCH AS DRY CLEANING, AN IRONING SERVICE AND LAUNDRY ARE OFFERED. Hosts Zoi Metaxa and John Lutfey specialize in unique, relaxing, comfortable accommodations with a personal touch, and are committed to making your stay a memory that you will cherish forever. Whether we are picking you up from the airport, setting up a boat trip or just recommending a great restaurant, Zoi and John's goal is to assist in making your stay as enjoyable as possible. WE ARE VERY CLOSE TO THE SHOPPING CENTER OF KARTERADOS AND FIRA, AND WE ARE ONLY 5KM FROM THE AIRPORT AND 7KM FROM THE PORT OF ATHINIOS. WE ARE ALSO VERY CLOSE TO PUBLIC TRANSPORTATION.
Geographical Information about the Karterados Area Karterados is 15 minutes walk from Fira the capital. Centrally situated on the island, the area starts from the main road that leads to Fira and reaches all the way down to the beach and the east coast of Santorini. Distance Fira town : 1 1/2 kilometers ServicesRestaurants, cafes, 2 bakeries, fastly developing shopping area with a large supermarket on the main road, tennis club after the square Buses The bus stop is on the main road that goes to Fira, with connecting buses to the capital, Messaria, Megalochori, Emporio, Perissa & Perivolos, Exo Gonia and Kamari. Buses pass by for the Aiport and the Port. There is also a bus that goes through Karterados village taking you to the beach area.
Great position, near to the city center and enough positions for car parking.
Ziying
2017-01-02T00:00:00Z
Romtype
Helt hjem/leilighet
---
Eiendomstype
Hus
---
Plass til
4
---
Soverom
Karterados, Aegean, Hellas
Ο χώρος μου είναι κοντά σε τέχνη και πολιτισμό, υπέροχη θέα, εστιατόρια και χώροι εστίασης και δραστηριότητες για οικογένειες. Ο χώρος μου είναι κατάλληλος για ζευγάρια, επαγγελματίες ταξιδιώτες, οικογένειες (με παιδιά), μεγάλες ομάδες και κατοικίδια.
Romtype
Helt hjem/leilighet
---
Eiendomstype
Hus
---
Plass til
6
---
Soverom
Fira, Hellas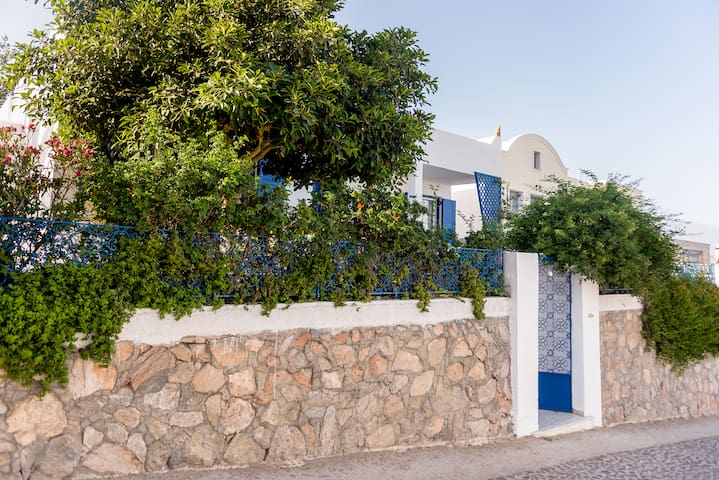 Λόγοι που θα σας αρέσει ο χώρος μου: άνετο περιβάλλον και άνετο κρεβάτι. Ο χώρος μου είναι κατάλληλος για ζευγάρια, δραστηριότητες για ένα άτομο, επαγγελματίες ταξιδιώτες και οικογένειες (με παιδιά).
Romtype
Helt hjem/leilighet
---
Eiendomstype
Hus
---
Plass til
4
---
Soverom
Vourvoulos, Aegean, Hellas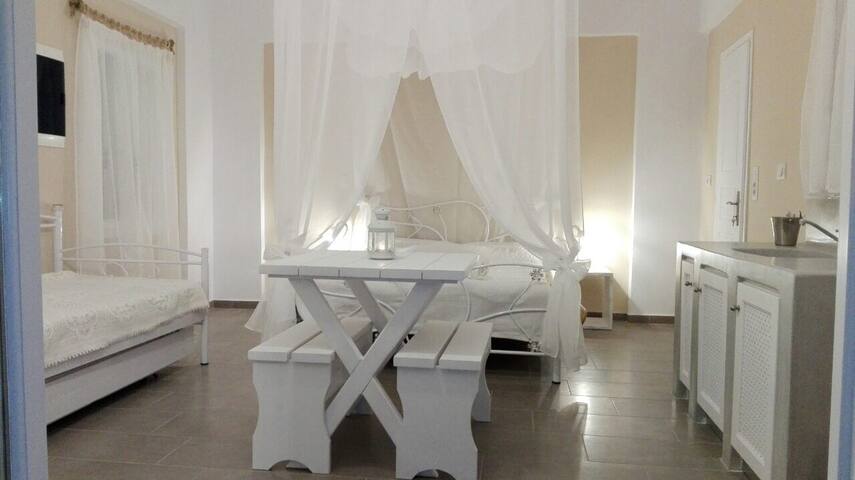 dobbeltrom
Excellent visit and far exceeded expectations. The family went out of their way to accommodate our logistics needs. The pool was my highlight (day bed poolside, nice chairs and very relaxing). The rooms were more than adequate. I have only good things to say about the stay.
Wes
2015-09-16T00:00:00Z
It was really nice to stay, and I'll book again with them if I go back :)
Jingwen
2016-11-04T00:00:00Z
Nice stay in this family run pension!
Lim
2016-07-13T00:00:00Z
Tolles Preis-Leistungsverhältnis!
Nicolas
2016-04-01T00:00:00Z
Barbara was a great hostest for airbnb and gave us advice and even arranged a lift into town for us with her husband. The pension was quite nice -- we had room 13# with access to the roof and a fine view! There was a mosquito net which was important because even in winter there are mosquitos in Greece! Be careful about closing it properly. It's about 15 min walk to the town of Fira. Barbara also arranged for us to do a boat tour and for a small fee took us to the airport and picked us up which was a great help and made our trip easy and comfortable.
Greg
2014-12-26T00:00:00Z
Great apartment and lovely staff! We walked only 15 Minutes to the centre of Fira. Restaurants and super markets are also near the pension.
Anne
2017-03-18T00:00:00Z
The place is really nice. Only 15 minutes away from Fira. The photos are pretty accurate :)
Divya
2015-11-14T00:00:00Z
Pension livadaros is a nice place to stay in Santorini. Maria came to pick us up at the port. She took time to explain us everything we needed to visit the island. She also contacted a renting agency for us: one hour after we arrived, we already had a scooter ! The apartment was very pleasant, even if it was quite small. This was a very quiet and relaxing place. People who work there are all nice and helpful. Perfect for the price.
vincent
2015-07-02T00:00:00Z
Romtype
Privat rom
---
Eiendomstype
Hus
---
Plass til
2
---
Soverom
Σαντορίνη, Αιγαίο, Hellas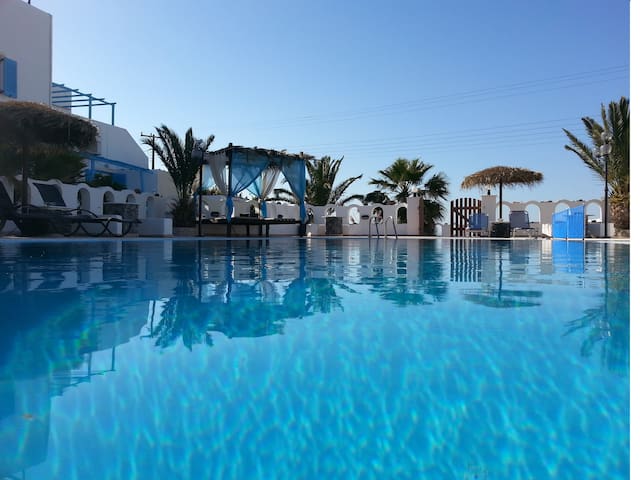 "Arbor House" is a lovely private home, located on the eastern side of Santorini in the charming and unspoiled village of Kontohori, a peaceful heritage-designated village. The house is located only minutes away from Fira, the island's capital city. Great for families and friends. Come and enjoy the true Greek hospitality.
The villa is located on a winding path amongst local and internationally owned villas as well as untouched ruins from years past. Its typical Cycladian architecture has lovingly been restored to retain its local character with all the modern amenities. The living room boasts an impressive 20 foot-cathedral domed ceiling providing natural coolness to the house and contains a dining table suitable for 4 to 6. Located upstairs, a traditional barrel-vaulted master bedroom is flooded with light from an en suite balcony, accessible through the main house or lower-level courtyard. A modern bathroom is accessible through the courtyard or hallway past the a completely renovated kitchen, complete with dishwasher, oven, range top and washer/dryer plus all the amenities required for the chef in you. The private courtyard, gated by double privacy doors from the street, opens to a lovely seating area set amongst a beautiful landscape of potted plants indigenous to the area. The upper and lower terraces provide a wonderful oasis of calm for relaxing during the day and al fresco dining during the evening. This idyllic, authentic villa is beautifully decorated with all the luxuries you'd expect in a chic Mediterranean vacation home. Perfectly suited for a professional couple looking for more privacy and to serve as a comfortable base to further explore the magical island of Santorini.
The two-bedroom villa is located on a winding path amongst local and internationally owned villas as well as untouched ruins from years past. Its typical Cycladian architecture
A fantastic location and beautiful home. Konstantinos was a great host and very useful providing us with all of the information we needed. Cannot recommend this highly enough, thanks for a great experience.
Becky
2016-09-17T00:00:00Z
The landlord very nice ~ and tell us a lot of things, can let us more comfortable to live in the house, the decoration of the room was very good, can see that the landlord is very attentively ~The location of the house is good !thank you~and have a nice day
翁凡茜
2016-07-18T00:00:00Z
What can I say about the place? It is WONDERFUL! The stay in this house is my best experience in Greece. The house is huge , Everything is perfect as pictures. And the locaton is great as well, you can get the supermarket and Fira center by walk. I really want to the householder is so nice, whenever you contact with him, he would help, even you already left the house. Really like here!
Yi
2016-06-07T00:00:00Z
Maison pleine de charme, a 7mn a pied de Fira, dans un dédale de ruelles. Immersion grecque totale. Decoration soignée, équipement complet, nous adorions prendre le petit dejeuner sur la terrasse exterieure. Superette proche, parking pour voiture ou quad non loin, accès possible a un hotel a 2 mn pour les petit-dejeuners ou la piscine (10 euros chaque). Lakovos, l'associé de Costas a pris le temps de nous donner toutes les explications, les bonnes adresses, disponible a tout moment, d'une grande gentillesse. Nous recommandons vivement cette adresse a tous ceux qui recherchent des vacances authentiques tout en gardant les facilités.
Yvick
2016-08-20T00:00:00Z
This was by far our best Airbnb experience! The house was just as beautiful as the pictures, it was all the things we expected it to be and more - it felt like home instantly! It's location was ideal - 10 minute walk to the centre and the bus station, and a 5 minute walk to the mini-market. The hosts were very helpful and friendly - they arranged our transfers from the airport and made sure we did not miss out on the must do's of the island. Arbor house was the best place to call home for a week :)
Maria
2016-08-08T00:00:00Z
We had a very good experience. The house is very big and beautiful, Konstantinos organized our arrival to the house and gave us all support that we needed during our holiday. The apartment is very near to the center of Thira, Thank you for everything!
Alessandra
2016-08-16T00:00:00Z
Konstantinos house was the perfect place to stay in Santorini! It was spacious, clean, and very convenient--close to both the main Fira restaurants as well as the bus station. We would highly recommend staying here!
Devon
2016-09-30T00:00:00Z
had a very pleasant stay!
Mark
2017-03-24T00:00:00Z
Romtype
Helt hjem/leilighet
---
Eiendomstype
Hus
---
Plass til
5
---
Soverom
Fira, Hellas