We are offering space and comfort for those seeking true peace and escape from the rigours and stress of the modern world.
Set in our 8 hectare organic quinta, Casa Serena is unusual in that it is completely off grid, with no compromise in terms of comfort- making it a perfect choice for those who wish to minimise their carbon footprint whilst they travel and relax. Our log burning stove heats the entire property on chilly evenings Casa Serena is available throughout the year! We are offering space and comfort for those seeking true peace and escape from the rigours and stress of the modern world. With a flick of the switch you connect with natures power, harnessing the power of the sun and water to provide natural energy. Each visitor experience is 100% personal, but a stay at Casa Serena will demonstrate to all that being green does not mean you forgo the luxuries of life! The entire quinta is powered with solar energy and plans are in place to increase our current energy supply with hydroelectric energy. We farm with absolute respect for the natural environment. Enjoy fresh fruit and nuts from a vast selection of mature trees on the quinta, including: orange, lemon, clementine, plum, cherry, apple, pear, walnut and hazelnut. In September when we harvest the grapes from the 2000 vines in our vineyard, we produce our own wine and the most incredible organic grape juice! Enjoy fresh seasonal produce from the organic gardens and fresh eggs for breakfast, (we can also provide bread from our local bakery, fresh bacon, sausages and smoked produce on request). Enjoy full exclusive access to our private river beach on the stunning River Dao, the perfect spot for swimming and relaxing! Convenient access to the Ecopista do Dao, a 49 k cycling and pedestrian track that runs from Santa Comba Dao to Viseu. A gate leads from our quinta, directly onto the track, (bike rental nearby). Our stunning plunge pool is completely natural and constantly replenished with fresh water from our own ancient water mine.
Casa do Sobreiro is off the beaten track in a stunning rural location, with excellent access to the towns of Tondela, Santa Comba Dao and Carregal do Sal - (All within a 15 minute drive of the property). The locals in our village at the top of the valley are friendly and welcoming and we are blessed with a vast array of excellent eateries, sightseeing opportunities and activities to choose from nearby. Guests will find information and plenty of inspiration for days out and experiences at the property , so whether you feel like horseriding, kayaking, swimming, visiting a masseuse or checking out the incredible Neolithic Dolmens nearby, you will certainly not be stuck for ideas!
We enjoyed our stay at Casa do Sobreiro very much! It is such a beautiful and quite piece of land with an amazing comfortable and cosy house. You have a fantastic view over the green little paradise and can listen to the nature without any noise of a city. We have been welcomed from the landlords with organic fresh fruits, self made bread and and a very delicious wine. The landlords are so friendly, gave us very good hints and helped us to make our stay as comfortable and relaxing as possible. Thanks for that, again!! We really recommend to stay at Casa Do Sobreiro - the green little oasis!
Mareike
2015-06-25T00:00:00Z
Fantastic place. Quiet, peaceful and far removed from the hustle and bustle of everyday life. A great place to enjoy nature and just relax. The owners are lovely people and were very happy to help when we needed it.
Tani
2015-09-21T00:00:00Z
The arrival went very smooth. Michael the owner met us in the nearby village and showed us the way down to his and his wife Mary's property. God lokal wine and fresh eggs from their chickens awaited us. The house we stayed in, is just next to the owners. Michael works on the land around the property and if you like, he is nice to have a little chat with. The house is beautiful done and very comfortable. The bed is really good with wonderful bed linen. There is a great fire place that came in handy in the chilly evenings in October. We missed curtains in the kitchen door and in the bathroom since the outdoor area was part of the owners. The outside was not as inviting and cosy as the inside and it lacked some finish and some privacy. The pool didn't have fresh water due to the dry summer. Although Michael did his best to clean up the pool. The river lays 5 minutes downhill in the little valley not really suitable for swimming, but a nice calm spot There is very good description of possible things to see and do and we enjoyed the surrounding, with its mountains, cities and grand beaches.
Anette
2015-10-06T00:00:00Z
Lovely people, lovely house, lovely countryside!
John
2015-09-03T00:00:00Z
Melanie assists Michael and Mary and does it without any doubt. She was kind and helpful, sent us full information before our arrival so we managed to find the place easily. Michael and Mary fair hosts, welcome and careful. It was a pleasure for us to stay at their house and had a little talks sometimes. The place is very beautiful, a forest, river, a 50 km bicycle route. It worth staying for a long time. The house is clean and comfortable and it uses a sun energy -- great! I liked the library at the house also. Well, I would highly recommend that place to stay at. Everything was great. Keep going. Best wishes, Melanie, Mary, Michael and your future guests.
Ihar
2015-08-27T00:00:00Z
Romtype
Helt hjem/leilighet
---
Eiendomstype
Hus
---
Plass til
2
---
Soverom
Santa Comba dao, Viseu, Portugal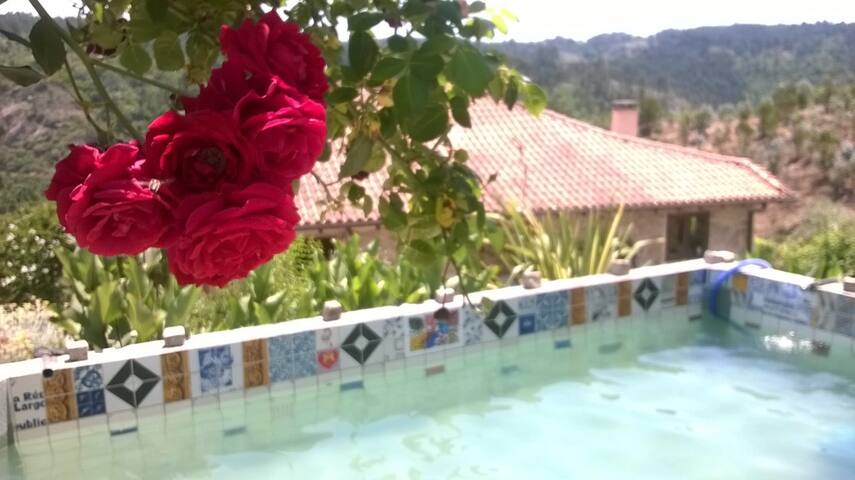 En la casa se compone de dos casas móviles, con una superficie total de 30m2. Se encuentra en el jardín, a 60 metros de nuestra casa; compartimos nuestra piscina y huerto. Vivimos en el borde de un pequeño pueblo histórico. El bosque, pueblos tradicionales y el río están cerca. Santa Comba Dão, con tiendas y comercios, está a 2 km. Ciclismo y piragüismo opciones están a menos de 20 km de distancia. Coimbra está a 45 km, el mar y la Serra de Estrela son 90 minutos de nuestra casa (en coche).
El espacio se le alquilando consta de dos casas móviles de 7,5 x 2,5 metros cada uno. Una terraza de unos 30 metros cuadrados completa la configuración del lugar para alquilar. El hostal está situado en el extremo del jardín, a unos 60 metros de nuestra casa. En el medio: un huerto, un pequeño huerto y la piscina. Compartimos esto con usted.
Vivimos en el borde de un pequeño pueblo, Colmeosa. La mayoría de las casas se construyen, por lo menos la planta baja, con piedras naturales talladas en las rocas (Casas de Pedra). Hay varios de estos pueblos de los alrededores, en los que el tiempo ha llegado a un punto muerto. A dos kilómetros por la carretera (sin asfaltar) se puede llegar al río Criz. Normalmente es buena para nadar, aunque a finales de verano algas pueden convertir el agua verde y menos atractiva para bucear en.
Romtype
Helt hjem/leilighet
---
Eiendomstype
Gjestehus
---
Plass til
4
---
Soverom
Santa Comba Dão, Viseu, Portugal

Ma place est à proximité des transports en commun et des parcs. Vous allez adorer ma place à cause des points de vue, l'emplacement, les gens, l'ambiance, et l'espace de plein air. Ma place est bonne pour les couples, les aventuriers solo, les voyageurs d'affaires, les familles (avec des enfants), grands groupes et amis à fourrure (animaux de compagnie).
Romtype
Privat rom
---
Eiendomstype
Slott
---
Plass til
12
---
Soverom
Santa Comba Dão, Viseu, Portugal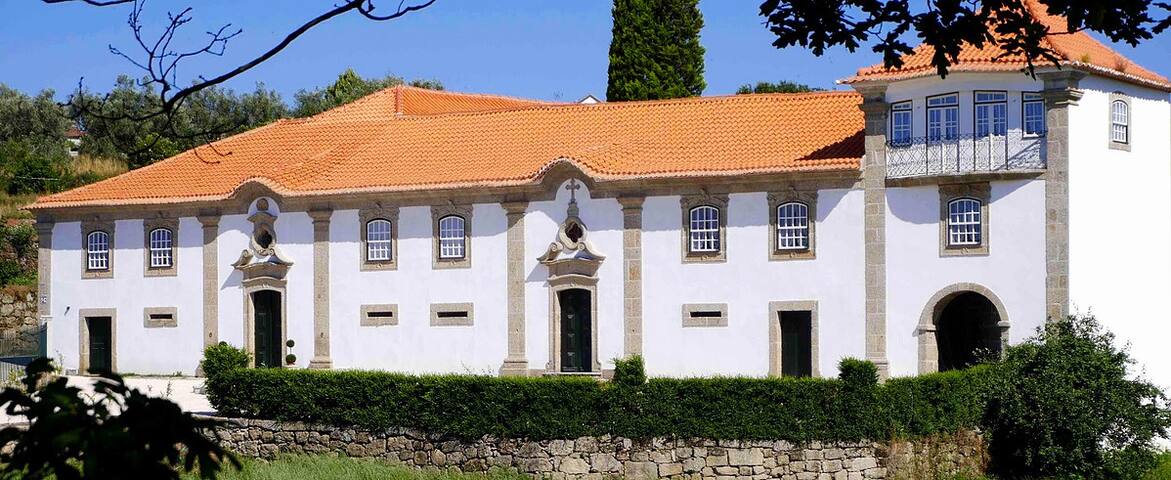 The apartment at Casa do Pisao is the ground floor of our home, a granite farmhouse, set in over 4 hectares of mixed woodland and terraces overlooking the water. The property has a pool, and offers the use of fishing equipment, 2 mountain bikes and 2 kayaks.
The farmhouse Quinta do Pisao sits on the side of a valley, overlooking a tributary of the River Mondego. The apartment "Casa do Pisao" is on the garden level of the main house, with a small terrace reserved for guest use.
What a magnificent place to stay! The accomodation exceeded all expections. Claudia and Leon gave us a warm welcome and good guidance. The accomodation was superb: fully equiped kitchen (with 'homegrown grapes, vigs and marmelade in our fridge), very comfortable and large bed, luxurious bathroom and cosy living area. That what topped it all: the view and environment. During our stay we had the feeling we had the whole place to ourselves. Claudia and Leon respected our privacy, but were also very helpfull if needed. Definitly a place to visit if you like comfort, nature, the typical Portugese country live and everything it has to offer!
Belinda
2015-09-10T00:00:00Z
The homemade jam, the huge and comfortable bed, the amazing shower, the pool, the breakfast with a view by the grapevines, the hammocks and the serene location are just a few highlights of many! What can we say, we had an amazing stay here with Claudia and Leon. We couldn't believe how quickly the stress of home-life fell off us during our stay and the hosts definitely made us feel welcome. It really is a quiet place so is perfect for the busy professional to unwind, take walks down to the reservoir and through the woods, or just read a book with a view. Highly recommended.
Paul
2015-09-14T00:00:00Z
We had a lovely stay with Claudia and Leon. They were the perfect hosts, always there when we needed something but still making us feel as if we had the place to ourselves. We thoroughly enjoyed the perks they offer, from the BBQ and kayak to Claudia doing some laundry for us. Thank you! We did not use the pool but it looked very nice.The studio itself is very charming and the whole place is just beautiful. This is an amazing country retreat, offering a peaceful, relaxing atmosphere as well as lots of options to be active and we highly recommend it!
Kathrin
2015-08-24T00:00:00Z
Beautiful place. Claudia and Leon were very friendly and extremely helpful! It was a nice relaxing spot in the middle of nowhere!
sarah
2016-09-18T00:00:00Z
Nuestra estancia en Quinta do Pisao ha sido una experiencia que sin duda repetiremos. Se trata de una casita encantadora con unos anfitriones más encantadores aún si cabe, escondida en mitad del monte y con todos los detalles y necesidades que buscarías tener en un espacio así. La casa es cómoda, limpia y preciosa. Los jardines, terracitas y piscina están a tu libre disposición, perfectamente cuidados. Claudia y Lyon son muy atentos y muy agradables, desde el principio congeniamos al momento y a pesar de la diferencia idiomática tuvimos conversaciones muy lindas :) tienen dos perritas preciosas muy bien educadas que sacan a pasear por el campo y por el río. En resumen han sido 3 días maravillosos, lo recomiendo muy mucho!!! Y por supuesto, volveremos :)
Rosaura
2015-07-08T00:00:00Z
The stay in this wonderful place was definitely the best part of our summer holiday. The view is great, the apartment perfect and the entire atmosphere way better than you could ever guess from the pictures here. Claudia and Leon are great hosts who really make their guests feel at home. The apartment is spacious indeed and well equipped with anything you could need. The only downside of booking this place is having to leave afterwards. We will surely be back!
Mattijs
2015-08-18T00:00:00Z
Great location and surrounding. You can feel that Claudia & Leon love what they do. The whole property is very well maintained. We got a warm and friendly welcome and at our arrival we had fresh organic eggs, homemade jam and some butter in the fridge. We got some more organic veggier from the garden and really enjoyed our stay. The pool as well as all sitting and relaxing areas are perfect to just enjoy and relax. The BBQ was set up and we used them every day. Claudia and Leon always respect our privacy and it was like having everything for us. Great place and location!
Ralf
2016-08-25T00:00:00Z
Wow, such a great place. Very peaceful and very beautiful. A perfect way to relax in the countryside. Claudia gave us some maps for easy walks in the local area and we got to see a different side of Portugal with small vineyards, quiet villages, river views and we chatted to local people who were very friendly and surprised to see tourists! Apartment was beautifully renovated and Claudia and Leon were lovely hosts who were very helpful - even supplying us some breakfast essentials because we hadn't realised how remote it was until we arrived and the local shops were closed for the night. Fabulous and we would recommend.
Rhod
2015-09-17T00:00:00Z
Romtype
Helt hjem/leilighet
---
Eiendomstype
Hus
---
Plass til
2
---
Soverom
Tábua, Coimbra, Portugal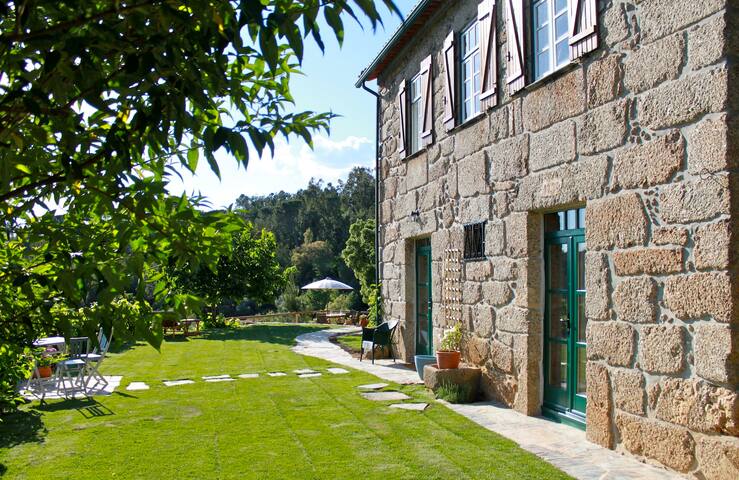 Quinta da Lontra - Ein frisch renoviertes Apartment mit einem Schlafzimmer in einem schönen Haus am Fluss, nur wenige Meter vom Fluss Mondego. Wenn Sie sich für den Frieden, Schönheit und Ruhe suchen, dann ist dies der richtige Ort. Die Wohnung verfügt über ein eigenes Bad und Küche, und ist hell, modern und privat. Die obere 2-Zimmer-Wohnung ist auch separat zu mieten. Die Quinta liegt 1 km nach unten eine unbefestigte Strecke gelegen und ist mit dem Auto, aber sehr tief geduckt Fahrzeuge kämpfen können. Das Frühstück wird auf Anfrage zur Verfügung gestellt.
Ein Doppelzimmer, eine eigene Küche und Bad, können wir ein kleines Schlafsofa für ein Kind zur Verfügung stellen.
Wenn du bist für den Frieden und die Ruhe mit schönen Wanderungen und Schwimmen im Fluss suchen, dann ist diese Wohnung ideal. Die Schönheit der uns umgebenden Natur macht diesen Ort wirklich etwas Besonderes. Das nächste Dorf von Póvoa de Midões ist ca. 1,5 km von unbefestigte Strecke von uns und hat einen kleinen Supermarkt und 3 Bars. Die nächstgelegenen Städte von Carregal do Sal und Tábua sind beide ca. 8 km in Entfernung und haben Supermärkte, Wochenmärkte lokale Produkte verkauft werden, Apotheken und alle anderen Annehmlichkeiten.
Toby and Nina were very helpful and communicative before and during our stay at their place. The house is located at the Mandego River, swimming and all kinds of activities are possible. The facilities are modern, clean and work well. On request, Nina and Toby prepare breakfast and dinner. We tried both and highly recommend doing so. Quality and quantity were high and the price was low. Hiking and canoeing tours are possible in the area, the Serra de Estrela and the city of Coimbra are worth visiting. A highly recommended accomodation if you seek holidays close to nature in a friendly environment.
Jonathan
2016-08-28T00:00:00Z
Toby and Nina were simply fantastic. Great accommodation, at a fantastic place. It is one of the best bnb I've been so far. For one that loves the nature and wants to be disconnected from the daily routine for a while, this is definitely the place to be. Absolutely incredible.
Luis
2016-08-24T00:00:00Z
Toby and Nina's place is a lovely sanctuary in rural Portugal. We had a fantastic couple of days there, the space is great and is well set up. The river is beautiful, we got to spend a bit of time kayaking there which we loved! Definitely recommend.
Boe
2016-07-19T00:00:00Z
Wonderful place, very nice people, we will come back! Thanks!
Isabela et Philippe
2016-09-03T00:00:00Z
We would love to keep this house our little secret but that would be a shame at the same time. Cause it's such a nice place to be. It made me feel like a child again, free to do what it wants to do: swim in the river, climb in the tree hut, catch a crayfish, run, skip and end in the hammock. The adventure was in the smallest details. The house is nicely decorated and offers everything you need for a nature holiday. Every now and then cat Simila and the dog brought us a visit, two cute, friendly creatures. We haven't met Toby but Nina was cool, relaxed and helpful.
Miriam
2016-09-28T00:00:00Z
We had a lovely stay at Nina & Toby's nice house near the river. They are really welcoming, helpful and make delicious breakfast :-) Can't wait to go back ...
Reinout
2016-07-30T00:00:00Z
We loved our stay in Toby and Nina's spot. The house was really cozy and had everything we needed. The river view and the hosts were particular highlights. Toby prepared a delicious breakfast, it's a must try! If you are looking for inner peace and a full restart with a dash of adventure and romanticism, this is the perfect place. We can ensure it's a full "yes, go for it", 'cause despite all the other options, we are going to choose Toby and Nina's spot again, soon!
Sara
2016-09-05T00:00:00Z
When traveling through Portugal without a set route we came across this lovely place. They have just started renting out the newly renovated guest house and we were honered to be one of the first guests to enjoy this lovely piece of paradise. The place itself was clean, of good size and the bedroom is truly amazing, as if carved into the rocks! The view of the river from the terrace was beautiful and we had great fun swimming and taking a kayak for a trip. Nina and Toby offer breakfast with coffee, tea, yoghurt, (chocolate) croissants and bread with cheese and homemade jams as an option and it was wonderful! We had a great time here and recommend it to anyone looking for a truly unique and relaxing place. Don't forget to get enough groceries before you get there because you will not want to leave once you have arrived.
Matthijs
2016-07-05T00:00:00Z
Romtype
Helt hjem/leilighet
---
Eiendomstype
Leilighet
---
Plass til
2
---
Soverom
Póvoa de Midões, Coimbra, Portugal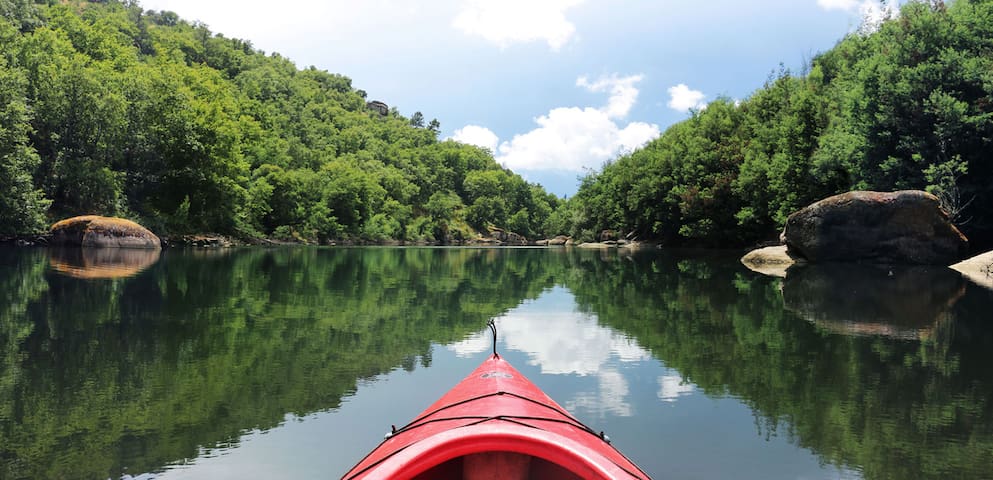 Casa da Eira (T2 - até 6 pessoas) Peq.Almoço Incluído Piscina, Jardim, Horta, Sala Jogos e Bicicletas Junto à Barragem da Aguieira. Ideal para descobrir toda a região Centro de Portugal
Turismo em Espaço Rural, criado a partir das ruínas de 1 casa Agrícola, datada de 1865 é uma unidade pequena, familiar, com 2 casas independentes (máximo 10 pessoas), com vários espaços comuns como a Piscina, Relvado, Horta e Sala de Jogos. Espaço criado com todos as comodidades e um toque pessoal, para que os nossos hóspedes se sintam em Casa!
The host canceled this reservation 3 days before arrival. This is an automated posting.
Olga
2016-08-24T00:00:00Z
A beautiful place that is hidden in a quiet village. The host was very friendly! We could use all type of vegetables and fruits of their garden. The house is modern and clean and therefore comfortable. Great wifi ;-). We'll definitely come back to this house!
Marleen
2015-07-25T00:00:00Z
Fomos muito bem recebidos, com a amabilidade do sr António, pai do João. A casa demonstra um cuidado e decoração simples e bonita. Acordar e ter pão fresco é uma regalia que,nos dias de hoje não é tão comum, e que soube muito bem.
Gonçalo
2015-10-17T00:00:00Z
The house is brand new, overlooking a beautiful garden, pool and view. Communication with Joao was great from the moment we contacted him. We arrived very late but were warmly welcomed by Joao's father that took care of us in excellent way and hosted us generously. We could use the vegetables from his organic garden and use the swimming pool and playroom. Joao's father prepared us a cake each day and even showed us the beautiful village and its surroundings. He Recommended us were to travel to. We will surely recommend and be happy to return for a longer and relaxing vacation. We chose to stay in a place outside the standard tourists route but are so happy we did.
Philip
2015-10-01T00:00:00Z
João and his wife welcomed us while we arrived. The house (for 6 persons) and garden + swimmingpool were really beautiful. We were able to use all facilities (table tennis, bikes, pool tables etc..) for free! Breakfast in the morning was perfect! This house is really recommended if you're going to this area!
David
2015-10-21T00:00:00Z
Óptimo, óptimo e excelente! Não consigo descrever toda a satisfação por ter estado na casa de santo António. O sr. António é um excelente anfitrião. Senti-mo-nos casa e em família. Obrigado por tudo. A quem tenha dúvida em reservar este espaço, não tenham... Reservem! Não se vão arrepender. É para repetir!
Paulo
2017-02-26T00:00:00Z
La petite maison de João est très mignonne et très propre dans un petit village typique. Le petit déjeuner est très correct.
Mikael
2015-03-04T00:00:00Z
Romtype
Helt hjem/leilighet
---
Eiendomstype
Bed & Breakfast
---
Plass til
6
---
Soverom
Mortágua, Viseu District, Portugal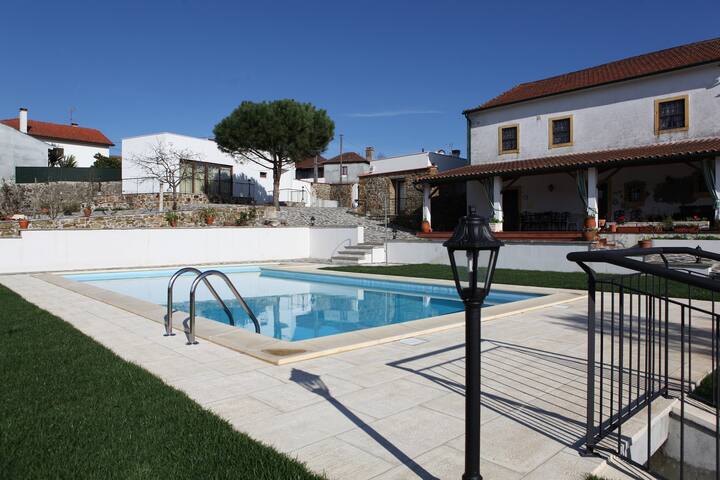 Cottage with cozy patio and garden in a quiet Portuguese village on the edge of a forest. On the ground floor a kitchen with dining area and a sofa bed for two people. On the first floor a double bed and a bathroom with shower. Near refreshing rivers, picturesque mountain villages of slate, stunning coastlines and culturally interesting cities. Piodao, Aveiro, Coimbra, Viseu, ... an hour's drive.
Tivemos uma estadia perfeita no local ideal. Muita privacidade e tranquilidade, a casa tem tudo o que é necessário e é muito bonita e bem decorada. A Petra e o marido são muito simpáticos e disponiveis. Sempre que possível hei-de voltar. :)
Nuno Gonçalo
2016-07-31T00:00:00Z
Os 4 dias que passamos foram fantásticos, Petra e Bert são um casal extremamente acolhedor, puseram-nos a vontade logo que chegamos e ajudaram-nos sempre que precisamos. A casa é lindíssima, decorada com muito gosto, melhor ainda do que na fotografia e equipada para todas as eventualidades. O sitio é isolado o suficiente para desligar e descomprimir e ao mesmo tempo está perto de vários sítios de interesse. Um sitio a voltar.
Lucy
2016-06-08T00:00:00Z
Petra and Bert are very nice host, very welcoming and very friendly, available to help or to answer any question about what to do in the area. The Country house is cute with its wood-burning stove and interior decoration. If you like nature, rustic farm house and very cosy, this place is for you. If you prefer, a bit more modern accomodation but arranged with taste, the new guesthouse they are busy finishing should fulfill your wishes. The shower water was sometimes a bit cold for a few seconds from time to time, but generally that was not an issue. The place is still a bit unsafe for small children but all is okay if you watch them and if you don't let them alone upstairs. The kitchen was well equiped. The countryside surroundings are great. We enjoyed a lot our short stay by them.
Frederic
2017-03-25T00:00:00Z
Petra and Bert's house is very charmant and sweet. They were great hosts, very nice and friendly. The place is very quiet and perfect for some peaceful days in nature. We've travelled with our 3-year old grandaughter and considered the house a bit unsafe for small children, specially upstairs. Nevertheless, we've loved it.
Margarida
2016-06-12T00:00:00Z
In general, we loved our stay in Petra and Bert's Country House! The negative point (if there is any) is the access to the house, it was made by country roads (but Bert told us it was going to be tarred soon!)! So...soon it will not be a problem anymore! The house is located in a small village surrounded by nature and a few miles away from Arganil (supermarket, pharmacies, etc), so it is isolated but has everything nearby. Ideal to spend some quality time in the woods or relaxing by the fireplace! The house is even more beautiful than it seems in the photos! It is perfect for a couple stay. The bedroom and bathroom are in a beautiful loft upstairs. Below it there is an open space with the kitchen, dinner table and a small bed to relax. The house has everything it is needed to spend a great time! I would like to thank Petra and Bert for the hospitality, joy and all the help provided! Hope to see them in a near future!
Guilherme
2017-01-01T00:00:00Z
Romtype
Helt hjem/leilighet
---
Eiendomstype
Hus
---
Plass til
4
---
Soverom
Arganil, Coimbra District, Portugal
Leiligheten er en del av en gammel granitstone hus, renovert med moderne og tradisjonelle miljøvennlige materialer. Gjestgiveriet ligger over Mondego River Valley, med utsikt til Caramulo fjellene. På forespørsel frokost (veganer / vegetarianer) og / eller et måltid (vegetarianer / veganer på forespørsel) vil bli servert. Slapp av og nyt denne fredelig sted.
El apartamento incluye una zona de cocina plan y la sala de estar abierta con 1 cama doble (y 1 cama individual en necesidad). La cama doble está equipada con un colchón ortopédico. Hay un baño con ducha y WC, y otro WC separado junto a la sala de estar. La estufa de madera aporta calor acogedor en los meses más fríos. La leña para la estufa de leña se le cobrará en función del consumo. Fantástica vista desde el Wintergarden / sunterrace. WLAN está disponible. servicio de lavandería en "Quinta de bambú" está disponible. Hay 2 bicicletas para alquilar.
Vi er lokalisert i sentrum av Portugal av Póvoa de Midões, nær Tábua og Carregal do Sal (8km) mellom Lisboa og Porto ca 60 km fra Coimbra. I landsbyen vår, Póvoa de Midões (ca 800mt) vil du finne et lite supermarked (mini markedet), fire kafeer / barer, en bakeri / pastery, en frisør og en Mekanikk Workshop. I kommunesenteret er det en månedlig loppemarked. I sentrum finner du en lekeplass. Fra Quinta Bamboo i nærheten kan du besøke vakre og spennende steder i regionen. Den oscillerende stein i Povoa de Midoes med en fantastisk utsikt over Mondego elven, også kalt Penedo C'abana, er et viktig monument i fylket. En av de mest unike naturressursene i landskapsvernområdet av "Serra gjøre Açor" er cascade "Fraga da Pena". 40km fra vårt sted kan du vandre i "Serra da Estrela", den høyeste fjellkjeden i Continental Portugal (1993m) som er dannet av en stor granitt åskam. Det er en frisk, sjarmerende og avslappende sted for en tur, er dette Forest "Serra do Buçaco" med sin fantastiske flora og biologisk mangfold. Coimbra, den tradisjonelle universitetsbyen med bemerkelsesverdige arkitektoniske monumenter og kunstskatter du kommer i 50 min. Figueira da Foz denne gamle havnebyen er en av de mest populære badestedene Portugal vestkyst med sine lange og brede fine sandstrender.
A perfect apartment and location to escape the outside world for a while. Our hosts could not have been more friendly or helpful. Wonderful views of the valley and mountains. I would recommend this place to anyone and would not hesitate to return here again. A car is a necessity as it is remote.
Karen
2016-03-22T00:00:00Z
We spent 4 nights in this charming guesthouse and did not want to leave. It is a beautiful and cosy place, with a stunning view (and magnificent sunsets) from the terrace. Martina and Bernd made us feel at home and we enjoyed their beautiful garden (and the organic peaches, peers, apples, ...) as well as the peaceful environment. We had a great hike in Sierra da Estrella (40 minutes drive), visited Coimbra and some little villages around, walked by the river Mondego (and there is a nice viewpoint in Povoa de Midoes), ... there are plenty of things to do around! We rented a car during our stay, which made it very easy to move around. And you can also relax on the terrace and just enjoy the place. Many thanks Martina and Bernd for this wonderful time and wish you all the best!
Séverine
2015-07-23T00:00:00Z
Our hosts at Quinta Bamboo are the soul of hospitality and kindness; they made us feel welcome and were extremely helpful. The accommodation was immaculate and comfortable, the neighbourhood interesting with beautiful views from the balcony. We loved our stay there. The listing description is accurate and in fact, the place exceeded our expectations.
Sundari
2016-04-18T00:00:00Z
The apartment is designed very creatively, very cozy and spacious in the lovely surroundings. The place has this positive energy, full of character. The studio is very spacious it contains all that you need for a very comfortable stay. If you are lucky to travel in winter time you can take advantage of sitting by the log fire and enjoy the lovely local wine. Great host!
Sandy
2016-12-22T00:00:00Z
Quinta Bamboo ist ein perfekter Ort für Menschen, die ihren Urlaub in Kontakt mit der Natur verbringen möchten. Zum einen ist das helle und großzügig geschnittene Gästehaus toll, um einfach auf der Terrasse mit Blick über den Garten oder auf dem Sessel vor dem Ofen zu sitzen. Zum anderen liegt der kleine Ort Povoa de Midoes gut gelegen um den nahegelegenen Nationalpark Serra de Estrela und die sehr schöne, umliegende Gegend zu erkunden. Außerdem sind Martina und Bernd entspannte und hilfsbereite Gastgeber, die mit ihren Angeboten, wie Yoga, Kampfsport, etc... einen runden und vielfältigen Aufenthalt ermöglichen. Sehr zu empfehlen für all diejenigen, die natur- und körperverbundenes Reisen ohne großen Trubel mögen oder perfekt auch als entspannte Zwischenstation vor, nach oder zwischen einem Besuch in den nicht weit entfernten Städten Lissabon, Porto oder Coimbra.
Benedikt
2016-02-08T00:00:00Z
Wir hatten eine wunderbare Zeit an diesem wunderschönen Ort - umgeben von der wunderschönen Natur. Martina und Bernd sind allzeit hilfsbereit und wir wurden mit frischem Gemüse und Obst aus dem eigenen Garten versorgt. Wir kommen gerne wieder.
Tamara
2016-09-23T00:00:00Z
Very cool place. Very nice people. You can close your eyes and go.
Victor
2016-10-11T00:00:00Z
Fantastisch mooi huisje met hele vriendelijke hosts. Met wel 3 terrassen en een geweldig ingedeeld verblijf. De omgeving is ook echt de moeite. Na wat auto-problemen zelfs door hun opgehaald en weg gebracht van en naar het treinstation! Alles was mogelijk en bespreekbaar. Echt een fijn verblijf!
Vera
2016-08-19T00:00:00Z
Romtype
Helt hjem/leilighet
---
Eiendomstype
Leilighet
---
Plass til
3
---
Soverom
Póvoa de Midões, Portugal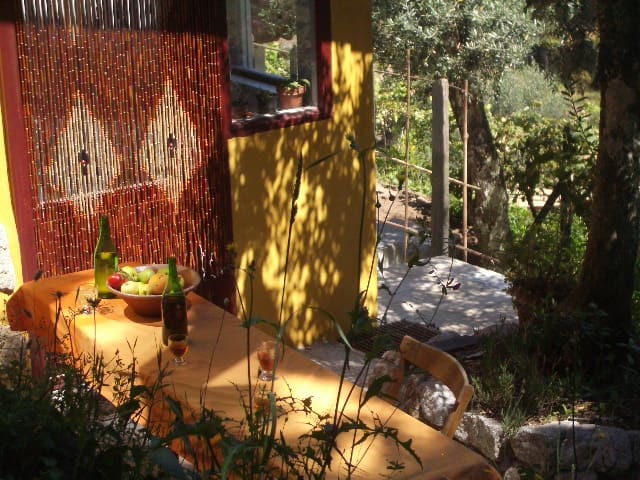 We have created a place that is our little paradise on earth! The peace and serenity is much like spending time at a retreat. Every guest we have hosted, so far, has fallen in love with our `House of Stars`. Come and spend a few days with us. Everything to make your stay a perfect one, is provided for you in the apartment. Each guest is special to us. We are passionate about our Airbnb business and we look forward to hosting YOU!
The name: `House of Stars` was inspired by the mountain range in our area namely the `Serra da Estrela` which means the `mountains of the stars` in Portuguese. We warmly welcome you to our haven of peace and tranquility(URL HIDDEN)Our 'HOUSE of STARS' offers you a SELF-CATERING, ONE BEDROOM, en-suite apartment, accommodating STRICTLY, 2 GUESTS ONLY! The apartment is completely PRIVATE and AWAY from the main house. Providing you with a large comfortable, new KING-SIZE bed, with an orthopedic mattress and a`memory foam` topper for a super night`s rest. Good quality pillows and bedding. All bed-linen and towels are supplied as well as swimming towels. A new hair dryer and styling hot brush is available for your use. A comfortable lounge with a wood-burner, a fully equipped kitchenette, with table and four chairs. The PRIVATE outdoor PATIO area has a griller and is perfect for having your own barbecue, morning breakfast, sun bathing, sun-downers, relaxation and star gazing. SEE PHOTO GALLERY(URL HIDDEN)Set in the confluence of three valleys in a traditional, small Portuguese schist village, which also has a historical chapel. 'House of Stars' provides a haven for walkers and nature lovers, the perfect refuge for a relaxing outdoor holiday with all the luxuries of a well equipped base. This peaceful village lies between two large towns, ARGANIL and TABUA, which provide and supply everything one needs in the line of supermarkets, bakeries, coffee shops, banks, post office`s and all other amenities. Arganil lies 15 minutes away and Tabua, 20 minutes respectively. Local restaurants serve good Portuguese home cooking and presently charge about €7-50 for a full course lunch. Evening dinners and Sunday lunches might cost a bit more. Coffee shops are plentiful. The coffee and pastries are superb! Forget about your waistline when visiting Portugal. The surrounds are especially beautiful.The magical view over the serenity of the valley, is sure to enchant the beholder. If you are looking for total peace then this is the place for you! Here you can lose yourself within the tranquility of our valley, while listening to the songs of myriads of birds, or having the opportunity to observe one of the rarest birds in the Iberian, namely the Spanish Imperial eagle. There are ample opportunities to take walks in the surrounding forests, by simply stepping out of the door, into the valleys or the forests surrounding the apartment. May brings splashes of purple lavender and yellow and white daisies, which cover the fields.The climate is especially good for the masses of gorgeous roses which adorn virtually every Portuguese garden in this region of central Portugal during the summer months. At the start of summer you will hear the call of the cuckoo in the valley. The night-time summer skies are star-studded, while the silence is interspersed by crickets chirping, and the song of the frogs in the stream below. Watch the moon rise over the hills, when it's full moon. Guests love the crystal clear nights (telescope provided on request) and the beautiful call of the owls in the valley. Listen to nightingales and even wild boar as they go about their business. In the distance you'll hear the deep, peaceful sound of church bells ringing. Come and watch the 'shooting stars' in the clear night skies in August and make your wish! 'House of Stars' also lies in the center of a region of particular cultural interest, with some of the most beautiful palaces and castles, religious sites and Roman ruins. The city of Coimbra, the second oldest university city in the Europe, is located within a 45 minute drive from our 'House of Stars' and has many interesting attractions. Condeixa lies just south of Coimbra and has fantastic, impressive Conimbriga Roman ruins, professionally restored mosaic floors and a Roman museum. Viseu lies north of us and is one of the Beiras' most appealing cities for sheer charm and vitality. Cobbled streets, meandering alleys, fine churches, museums, leafy public gardens graced with flowers and fountains and good restaurants. Viseu dates back to Visigoth times. Famous for it's red Dao wines. The high mountains of the Serra de Açor have become famous for their schist villages. Piodão, located within an hours drive and is a UNESCO WORLD HERITAGE site and sits nestled on a steep slope. A definite 'must see'! The town of Coja offers a wonderful opportunity to relax and enjoy one of the nicest places to have a leisurely swim in the pure gushing mountain water at the alluvial beach, or just to sit and enjoy a drink by the waters edge at the old water mill.The environs of Coja are within an easy 20 minute drive. About 10 minutes from Coja along a very picturesque drive lies the pretty village of Beinfeita, well known for it's water-fall, called Fraga da Pena. The Town of Arganil, has a really good tourist info. center, and any further information relating to things to do and see in the general vicinity, can be found there. In the Gois area, you will be able to see a series of well restored traditional, ancient Schist villages high up in the spectacular mountain scenery.The villages are 30 minutes drive from the 'House of Stars'. Along the Serra da Atalhada are 25 restored windmills, this area is 35 minutes drive to the west from us. The 360 deg view is amazing! The Serra da Lousã mountain range, has gained fame for it's fine scenery.This is also the location of the magnificent Manuelian Palace of Buçaco, nestled in the Buçaco forest with its magical formal gardens and one of the largest arboretums in Portugal, with over 300 hectares of forest.The forest park has well-marked walks, which guide the visitor to the Stations of the Cross and other look-out points which offer spectacular views over the country-side. Luso is only 10 minutes drive from Buçaco, and is a well known Victorian Spa town with therapeutic facilities. Open to the public but not for free! Pristine water is still bottled at the source of it's fountains. Luso has a very good cafe and restaurant right on the main square, at the parking area. Buçaco is approximately within a 45 minute drive and a 'MUST SEE'! Should you require any additional information regarding interesting sites to see, or things to do,we will assist you. Further information on good restaurants, Coffee Shops and Supermarkets, can be obtained from us as well. Your hosts, Ingo and Gillian, speak English, German and Afrikaans fluently as well as some Dutch and Portuguese. We pride ourselves in providing excellence and personal service to make your stay special. We are passionate about our 'House of Stars' and our region and look forward to meeting and hosting you! ..................
The area is beautiful and serene, total peace and tranquillity abound here. There are many interesting places to visit, within the region.
We had a wonderful time at Gillians place. We enjoyed the silence and the beautiful nature. Gillian really took care of us and welcomed us warmly. We highly recommend to spand at least three nights at the house of stars.
Mareike
2016-09-22T00:00:00Z
At the end of our 3 week stay in Portugal, after touring the sights and experiencing lots of bustling about, there was rain in the forecast for days and my wife and I were longing for a quiet retreat. We looked through many AirBNB options and decided on Gillian's "House of Stars". What a fortunate decision that was! Her haven in the country is SO QUIET and the cottage is beautiful and comfortable. We stopped at the market before arriving and so enjoyed cooking some meals at home (after over 2 weeks eating out)! The country kitchen had everything we needed to prepare our meals. We had a lovely walk through the backroads by her home, into the forest hills, past streams and lots of flowers and other flora. We hung out for another day and read, drank great wine, enjoyed our privacy, and just rested. It was heavenly. The cottage itself, Gillian's home next door, and the surrounding courtyard and gardens, which she and her family remodeled and transformed into a work of beautiful artistry, is really something to behold! The bed is quite comfortable and she provides warm robes which were much appreciated during the chilly weather. The wood stove inside is also a nice touch. This is one very talented and creative family and extremely bright, friendly, and warm hosts. If you are so fortunate to experience this awesome retreat, you will be grateful!
Ken
2016-05-10T00:00:00Z
Nous avons passé trois semaines en Espagne et au Portugal et vraiment ce gîte est le plus agréable que nous aillons eu. Gillian et son époux sont extrêmement sympathiques, généreux, intéressants et intéressés par cette expérience de location. L'endroit est une pure merveilleuse pour tous ceux qui souhaitent vivre des vacances dans la moyenne montagne. Le gîte est parfait : mignon, très propre et arrangé avec beaucoup de gout. J'aimerais vraiment y séjourner à nouveau.
catherine
2015-08-08T00:00:00Z
Wir haben Gillians "House of stars" im April 2016 besucht. Es war ein sehr schöner und erholsamer Aufenthalt. Für uns war es der perfekte Ort, um einen gemütlichen und ruhigen Urlaub zu verbringen. Wir haben uns bei Gillian sehr willkommen gefühlt. Sie ist eine sehr aufmerksame und sehr gut vorbereitete Gastgeberin. Sie empfing uns mit frischem portugiesischem Brot, Wein, Schinken und Eiern. Außerdem gab es ein gut vorbereitetes "Book of Tipps", das es uns sehr erleichtert hat, uns in der Gegend zurecht zu finden und all die portugiesischen Schätze zu entdecken. Aber auch für einen ruhigen Tag zu Hause ist der Ort perfekt. Es ist sehr sauber und sehr geschmackvoll und gemütlich dekoriert. Man fühlt sich dort sehr schnell zu Hause. Besonders haben wir es genossen, auf der friedlichen Terrasse mit tollem Ausblick zu sitzen und einfach dem Summen der Bienen zu lauschen. Was uns am meisten beeindruckt hat und was diesen Ort so speziell macht, ist die Liebe und Leidenschaft, die man in jedem Detail des Hauses spüren kann: Von den selbst restaurierten Türen über die geschmackvolle Inneneinrichtung bis hin zu den handgemalten Bildern an der Wand war alles mit viel Hingabe und Liebe gemacht - wirklich besonders! Wir würden gerne wieder dort hin fahren. We visited Gillian's house of stars during April 2016. It was a very pleasant stay and very relaxing. For us it was the perfect place to spend a cosy and peaceful vacation. We felt very welcome there. Gillian is a very thoughtful and extremely well prepared host. She welcomed us with fresh Portuguese bread, a bottle of wine and ham and eggs in the fridge. Her very well prepared book of tips made it very easy to find our way in the area and to discover all those great Portuguese treasures. But also for a lazy day at home the place is perfect. It is very clean and very nicely decorated. It is very cosy and it is easy to feel at home there. We loved sitting on the peaceful patio and just enjoyed the view and the buzzing of the bees. What has most impressed us and what made the place so extra-special was all the love and passion that you can feel inside each detail of the house: from the by hand restored doorknobs, carefully chosen interior deco to the self painted pictures on the wall - everything is made with much dedication and care, truly special! We would love to visit again.
Melle
2016-04-15T00:00:00Z
We had an amazing time in d house of stars. Ingo and gillian are wonderful host. I really recommend this place to anyone who wants to have a lovely time in d countryside of portugal. Tks for everything guys Fred and agnese
Frederic
2012-08-12T00:00:00Z
I can't think of enough nice things to say about our stay here. It was extraordinary! Gillian and Ingo were incredible hosts. They were extremely welcoming and accommodating, and such nice people. We had such interesting conversations with them as we came and went, and they offered great tips for visiting the area. The cottage is lovely. It was just perfect for a quiet stay in the Portuguese country side. We were there in the winter, so each of our evenings ended with reading by the wood burning stove while sipping port wine. We stayed for three nights, but we wished it had been for three weeks! Highly recommended.
Tim, Lisa and Felix
2013-12-24T00:00:00Z
Gillian and Ingo were wonderful hosts, Their wee cottage is perfect, Warm, wonderfully secluded and very peaceful. Highly recommended.
Ele and Al
2014-01-08T00:00:00Z
Het waren een paar heerlijke dagen op een perfecte plek om te ontspannen. Heerlijk huisje en met liefde ingericht. Warm en gastvrij ontvangen en de omgeving is schitterend. De brownie was heerlijk Gillian en we hebben op jullie plek weer mooie dromen en plannen kunnen maken. Liefs Marjolein en Arne
Arne
2015-05-01T00:00:00Z
Romtype
Helt hjem/leilighet
---
Eiendomstype
Leilighet
---
Plass til
2
---
Soverom
Tábua , Coimbra, Portugal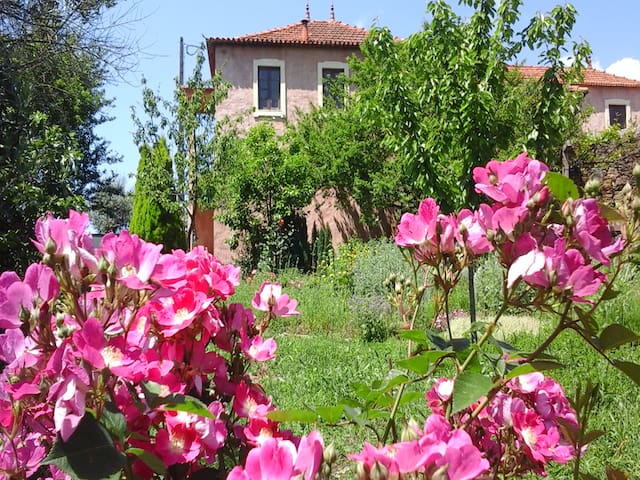 É uma casinha muito acolhedora com cerca de 19 mts2, nas margens do rio alva, tem um quarto, uma cozinha e casa de banho, inserida numa zona onde o sossego a tranquilidade e a beleza da natureza imperam.
O Vimieiro é o refúgio ideal para o seu fim de semana venha conhecer uma paisagem singular simples e apaixonante! Atreve-te e deixa-te seduzir..
Très bon accueil. Endroit charmant et très tranquille.
Christophe
2016-08-03T00:00:00Z
bruno is a nice guy who gives us a warm welcome. the cottage is small but charming near the river, a watermill and a small waterfall. the view is lovely
karolien
2016-10-07T00:00:00Z
Foi muito boa a nossa estadia, um sitio muito agradável e uma bela harmonia com a natureza. Extremamente aconselhável.
João Pedro
2016-10-02T00:00:00Z
Great guy. Very welcoming, just feels like it all yours....
Niall
2016-12-07T00:00:00Z
Casinha de pedra is a magical place. Perfect for those seeking tranquility and nature harmoniously combined. Bruno is very good host, and we could enjoy privacy and peace we needed on our holiday. Ideal!
Cris
2016-08-30T00:00:00Z
Aleija, Bruno's wife, was lovely and provided us with additional cooking equipmemt (pans) on our request. The tiny house is a perfect little spot for a couple, in the middle of s small paradise with a waterfall that can be swum in and a watermill, the mill is a bit rusty so a bit noisy in the night though! There is a nice restaurant in close range, not open on sunday and monday ( when we were there)but we had a great dinner on saturday. If you want the paradise strictly for yourself we advise to book in weekdays, because the locstion is also populsr with the Portugese in the weekend. We had a great time, can recommend it.
Jiske
2016-09-27T00:00:00Z
Ha sido una estancia maravillosa. La casita de cuento, muy acogedora y con encanto. Situada en un sitio privilegiado para los amantes de la naturaleza. Ideal para ir con amigos peludos y ganas de bañarse en los días de calor. Altamente recomendable si quieres desconectar y disfrutar del paisaje. Bruno muy amable y atento. Nos ofreció un desayuno exquisito para cargar pilas para todo el día. Dos días y sus dos noches para repetir..... Quedamos encantados.
Mercedes
2016-09-08T00:00:00Z
Devido à Casinha de Pedra se encontrar em obras, ficámos alojados na Casa do Alto, que é um pouco maior, pelo que a avaliação se refere a esta última. O Bruno é um anfitrião impecável: desde o início fez-nos sentir muito bem recebidos com a suas sugestões de locais para visitar, simpatia e disponibilidade para ser contactado e responder a qualquer questão que nos surgisse. A Casa do Alto é acolhedora e tem uma ótima vista, estando inserida num conjunto de casas em xisto na praia fluvial do Vimieiro. Apenas uma das casas está habitada o que cria uma sensação de isolamento (que estávamos à procura) mas não em demasia pois existe de um restaurante (muito bom!) na praia. A beleza natural do local é extraordinária e provoca um relaxamento instantâneo, especialmente quando os únicos seres a partilha-lo connosco são um patos, cabras e gatos. Em suma, foi o local perfeito para a nossa escapadela, sob a alçada de um excelente anfitrião. Recomenda-se!
Pedro
2016-12-04T00:00:00Z
Romtype
Helt hjem/leilighet
---
Eiendomstype
Hus
---
Plass til
3
---
Soverom
São Pedro de Alva, Coimbra, Portugal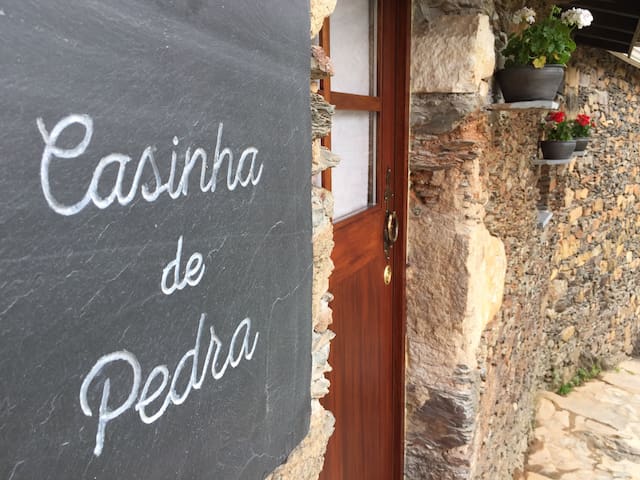 ¡Hola! Mi casa Quinta da Fonte es cercana a la familia actividades favorables, restaurantes, tiendas, cafeterías, hermosas vistas de los valles con paseos río y nadar! Te encantará el espacio al aire libre, camas cómodas, un ambiente amplio de la casa, amplio baño tipo spa, árboles frutales como naranja, limón, higo, ciruela, cereza y manzana, las salidas del sol de la mañana, atardeceres y el ambiente tranquilo de la quinta. La casa es bueno para parejas, familias con niños y grupos grandes!
(Rental opties van delen van het huis beschikbaar voor een kleiner budget) Het huis is voorzien van houten en betegelde vloeren, een open haard, een grote keuken met allerlei koken gadgets (soep, brood, sap, koffie makers etc), Rayburn, wasmachine en droger, uitgedost veranda, kantoorruimtes, cinema projector en luidsprekers, Xbox 360 speelzaal, dvd's, boeken, Apple tv, satelliet-tv en diverse bluetooth speakers verspreid over het huis voor uw vakantie afspeellijsten voor muziek! Aan het eind van een drukke dag kunt u ontspannen in de spa badkamer te kijken naar de sterren of het kijken naar de zon in te stellen tegen de bergen door middel van onze grote badkamer raam.
Es ist sehr ruhig hier, rustikal in Gefühl und eine große Flucht aus Stadtleben. Während es einen Hauch von Raum und Ruhe hat, das Haus ist nur einen kurzen Fußweg zu einem kleinen Laden im Dorf und eine sehr kurze Fahrt nach Carregal do Sal, wo Sie alles finden Sie benötigen, einschließlich 5 verschiedene Supermärkte, viele lokalen Geschäften, Restaurants und Cafés. Wanderwege gehen direkt vom Haus durch schöne Landschaften zu großen Blick auf das Tal und einer beeindruckenden Wanderung entlang eines Flusses. Im Sommer ist der Fluss groß zu schwimmen während Ihres Erkundungen Abkühlung! ☺ Suchen Sie nach der 6-Minuten-Video auf YouTube berechtigt Carregal do Sal.
Romtype
Helt hjem/leilighet
---
Eiendomstype
Hus
---
Plass til
7
---
Soverom
Carregal do Sal, Viseu, Portugal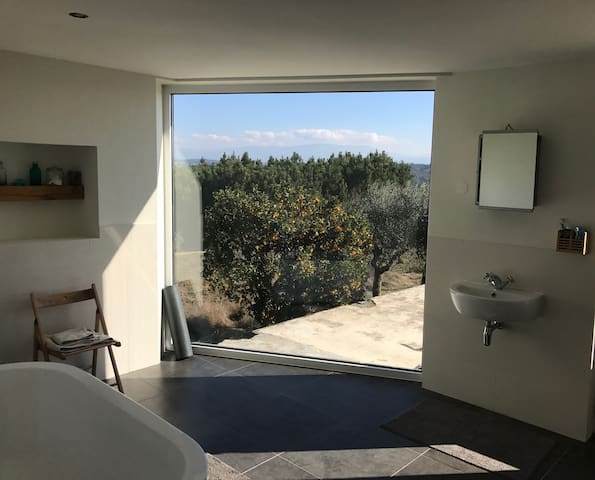 Nossa pousada está situada em uma bela localização rural, com acesso ao rio Dão apenas alguns minutos a pé. Ao longo do percurso do rio é a Ecopista, um ciclista e caminhantes paraíso. Nossa pousada também é apenas uma curta distância do local, pitoresca cidade de Santa Comba Dao, ea Serra do Caramulo, onde o esqui é uma atividade popular. Nossa propriedade é facilmente acessível a partir da estação ferroviária local de táxi. No entanto, podemos recolher desde a estação-nos se você gostaria.
A localização é em uma pequena aldeia de todos os moradores portugueses, que são muito simpáticos e também está disponível se você precisar deles em uma emergência.
Romtype
Helt hjem/leilighet
---
Eiendomstype
Gjestehus
---
Plass til
2
---
Soverom
Treixedo, Santa Comba Dao, Portugal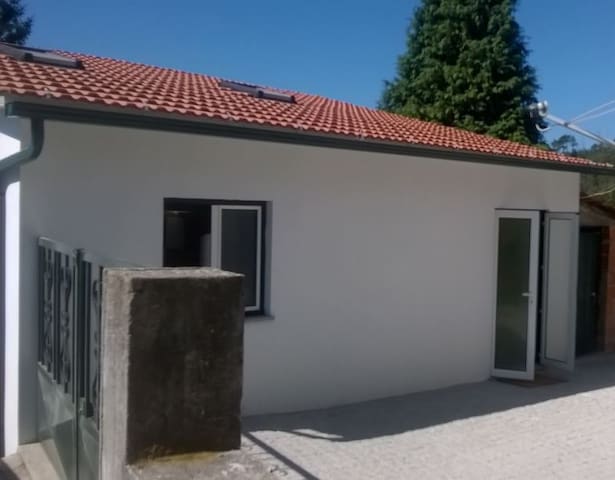 Beautifully decorated rural Villa with mountain views and outdoor pool, in the heart of Central Portugal. Casa do Limao is a well equipped 'home from home' has 3 bedrooms and 2 bathrooms and sleeps 6 comfortably. Our private courtyard is a perfect space for alfresco dining and sunbathing. There is a built in BBQ area and you will find our games room, utility room and useful shower room / wc in the covered barn area. As our guests you will enjoy exclusive use of the property, pool and grounds.
Situated in the heart of Central Portugal, Casa do Limao is the perfect place to get away from it all and completely unwind. All of the accommodation is homely, comfortable and immaculately maintained. As well as providing guests with a fantastic base for a sunshine break - our log fired central heating makes the property a great choice for a winter break too! Popular as a romantic getaway and we also attract many house hunters in the off peak months. The property has a modern interior with kitchen/diner/lounge on the ground floor. This a great space to dine and relax, equipped with TV, DVD, and Wi-Fi with unlimited internet access. Patio doors lead onto a private courtyard with yet more dining space for al fresco meals and steps lead down to the pool and garden area below. Guests are welcome to pick seasonal fruit from the mature fruit trees, (we have figs, pears, oranges and more). The courtyard is a real suntrap so in the hot summer months you will enjoy cooling off in the pool! You can dine alfresco, and BBQ in the shade of the open barn area.
Our village is a few km away from Mortagua where you will find all of the amenities you could need. Train station, banks, swimming pool, supermarkets etc. We have a great restaurant just a couple of km away that make the most amazing pizza's in a wood fired oven. Order and collect your pizza and enjoy in the sunshine next to the pool! Casa do Limao is situated in a friendly village where everything runs at a slow place. This area is often referred to as the 'real Portugal'! The local rivers and lakes offer opportunites to swim, SUP, kayak etc. Hire bikes and cycle along the Ecopista do Dao from Santa Comba Dao to Viseu! There are too many beauty spots to share with you here but you will learn all about them in the detailed info at the property itself.
Romtype
Helt hjem/leilighet
---
Eiendomstype
Hus
---
Plass til
6
---
Soverom
Mortagua, Viseu, Portugal
An den Ufern des Flusses in der Mitte der Natur, ideal für Outdoor-Aktivitäten! Kanus, Tretboote, Kajaks und ATB zu mieten. Lounging am Pool oder am Privatstrand ist auch möglich! Das Frühstück wird auf der Terrasse mit Blick auf den Fluss serviert!
Schönes Hotel am Ufer des Flusses Mondego in Zentral-Portugal. Die Pension befindet sich in der Mitte der Natur, doch nur 10 Minuten mit dem Auto von Tábua oder Carregal do Sal, wo Sie Supermärkte, Bars und einige gute Restaurants. B & B Dahlia hat seinen Eingang über den Innenhof. Das Schlafzimmer ist mit einem Doppelbett (140 x 200 cm) und einem Waschbecken ausgestattet. Das Wohnzimmer mit Sofabett ausgestattet (bedsize 140 * 200cm), Kleiderschrank, Minibar, Kamin, Tisch und 2 Stühlen. Das Bad mit Dusche und WC ist privat. Es gibt einen großen Salzwasser-Pool, schattige und sonnige Terrassen, eine überdachte Grillplatz und einen privaten Flussstrand. Table d'hôte (Abendessen mit den Gastgebern und anderen Gästen) Service auf Anfrage. Aktivitäten: Kajak, Kanu, Angeln, Wandern, Mountainbike, Reiten etc. etc. Bahnhof 12 km (Carregal do Sal), busstation 12 km (Carregal do Sal oder Tábua).
Die einzigartige Lage spricht für sich; Fluss, Wald, Natur, Hügel usw.
Die Urlaubstage im Retiro no Rio waren sehr schön. Natur und Ruhe reichlich vorhanden und der Swimmingpool sehr einladend. Elena und Ruurd haben sich bemüht, unseren Aufenthalt angenehm zu gestalten. Das Frühstück war ausreichend und auf Wünsche wurde eingegangen.
Peter
2014-09-17T00:00:00Z
Quand nous arrivons sur le domaine de" Retiro no Rio",le rythme change. Pour commencer, nous descendons tout doucement en voiture sur le chemin non bitumé. Héléna nous accueille tout en douceur et nous fait découvrir l'endroit: -le logement pour les gens de passage:le rez-de-chaussée d'une vieille maison rénovée,fraîche,avec le confort nécessaire,décoré avec soin et sobriété -la belle piscine bordée de transats ( dont la moitié à l'ombre des paillotes). -le bord de la rivière avec entre autres des pédalos;(circuler sur cette grande rivière est un moyen formidable pour apprécier les lieux). Les repas sont préparés avec soin à partir des légumes et plantes aromatiques du potager.Nous avons savouré la confiture de kiwis-bananes et celle de figues,la tarte aux cactus,et les plats géréreux de légumes ainsi que le saumon (fumé sur place par Root) Un régal pour les végétariennes que nous sommes ! Le "massage-relaxation" effectué par Héléna ajoute un moment de détente à notre bref séjour. Loin du bruit, de la circulation on retrouve là-bas le contact avec la nature,et avec des hôtes à la fois discrets et attentionnés .
Carole
2014-07-02T00:00:00Z
Wa spent a very nice moment in Elena and Ruurd house! The place is beautiful and Elena and Ruurd are very nice ! Thanks a lot for your hospitality!
Mélanie
2014-06-24T00:00:00Z
We spent a relaxing evening at Retiro no Rio, a beautiful house overlooking the beautiful Mondego River - a great midpoint between Porto and Lisbon. Thanks Elena and Ruuird for the great stay and for being very accommodating.
Alex
2014-04-29T00:00:00Z
Adorei esta minha pequena estadia no Retiro do Rio, excelente para descansar, obrigado Ruurd e Elena. Recomendo
Maria
2015-04-04T00:00:00Z
Wir haben eine wunderbare Nacht bei Ruurd und Elena verbracht - ihr Anwesen ist wirklich traumhaft gelegen!!! So idyllisch und ruhig am Fluss... Ideal, um einen Spaziergang dort zu machen - begleitet wurden wir von Brita, einem herzensguten Hütehund der beiden. Unser Zimmer war einfach aber sauber und praktisch, es lagen Seifen und frische Handtücher bereit, auch zwei Mineralwasserflaschen hatte Elena uns hingestellt - eine tolle Sonnenterrasse vor der Tür und der Charme der Natur machen den Aufenthalt perfekt. Die beiden hatten uns angeboten, bei ihnen für 12,50 Euro zu Abend zu essen - was wir gerne in Anspruch nahmen. Es war super lecker - vor allem die hauseigenen eingelegten Oliven sind ein Traum.
andrea
2015-03-23T00:00:00Z
Amazing place for holidays! Really calm and fantastic view The breakfast was awesome Ruurd and Elena are super guests We hope to come back Thank you for all
Marie
2015-07-27T00:00:00Z
We loved our stay with Elena at the beautiful Retiro no Rio! The bnb is clean, quiet and absolutely waterfront. The views are stunning and you have private access to the river. The room is comfortable and clean. Even though we requested far too late, Elena managed to provide us with a wonderful meal, and she and Ruur were excellent hosts. I would definitely return.
Cara
2014-04-17T00:00:00Z
Romtype
Privat rom
---
Eiendomstype
Bed & Breakfast
---
Plass til
4
---
Soverom
Póvoa de Midões, Coimbra District, Portugal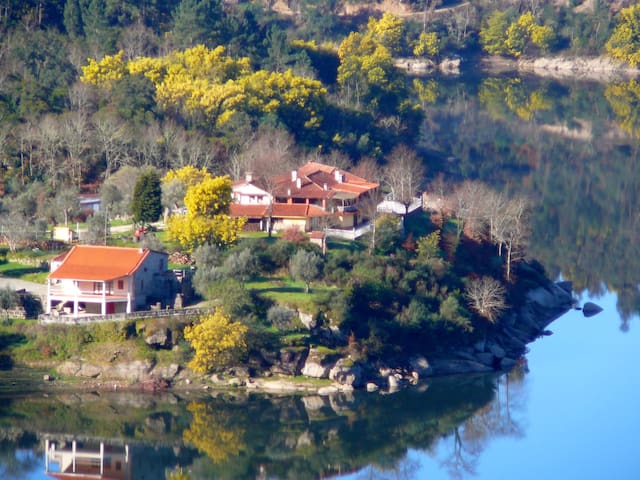 Olá, My house is near Coimbra and about 800 meters from Rio Alva. You´ll love the house and the surroundings because of the quietness all around. You can also play tennis on two clay courts and freely use the ancient bicycles. Another activities like canoeing, fishing and extreme sports are also available. We are near for trout and black bass rivers and lakes, Nice fishing spots; fly fishing, spinning. 3 hours maximum from the Lisbon AirPort and 2 hours from Oporto AirPort.
Paikka sopii niille, jotka arvostavat maalaisympäristöä ja vuoristomaisemia. Lähellä on kirkasvetinen joki ja maisemat ovat kauniita. Talo on viihtyisä. Oma vierailuajankohta osui kylmään viikkoon ja hieman palelimme. Lämmittimissä oli ongelmia, mutta isäntä ratkaisi ne lopuksi. Keittiö on hyvin varusteltu. Isäntävki on mukavaa ja ystävällistä.
Esko
2017-03-25T00:00:00Z
Perfect room with beautiful view. Very friendly hosts.
greetje
2016-12-12T00:00:00Z
Estadia 5 estrelas. Quarto muito confortável e típico. Campo de tênis fantástico e muito bem conservado. O Hélder foi muito prestável e flexível. Obrigado.
Pedro
2016-09-18T00:00:00Z
Helder and his son were 5 stars hosts! We spent a perfect stay in their house, they let us very comfortable so we could enjoy the big house, the countryside and the tennis courts. The location is perfect if you want to enjoy nature and outdoors sport, very closed to a lovely river and trails right from the house's door. The room and private bathroom were in perfect conditions and everything was perfectly clean. We even spent some nice moments with our hosts, sharing dinner and talking around a coffee. So we can highly recommend you to spend some days in Vale das Maias!
Aline
2016-11-02T00:00:00Z
Romtype
Privat rom
---
Eiendomstype
Villa
---
Plass til
2
---
Soverom
Coimbra, Coimbra, Portugal
Vumba's estate has a unique set of conditions which offer our guests the quiet enjoyment of a true rural experience. The renovation of the old winery gave birth to a snug little cottage, ideal for a family or a group of friends, with two rooms, a cozy living room, a bathroom and a nice and well equipped kitchen with a fireplace. The estate has several trails and idyllic ponds. Isolated from the outside world, here you'll find the ideal combination of natural resources to let you enjoy nature.
Vumba is a 140 hectare property which occupies a beautiful valley of green pastures and charming groves. The beauty of the landscape is emphasized by the imposing mountains surrounding the region. On the horizon you can see, in a full, 360º uninterrupted sweep, the peaks of the Estrela Mountains (to the east), the Açor and Lousã Mountains (to the south), the Buçaco Mountains (to the west) and the Caramulo Mountains (to the north).
Our estate and the surrounding area are a hikers and bikers paradise. In fact, one of the region's most important assets is the great beauty of its landscape. The most famous landmark of the region is the village of Piódão, but there are many other natural resources in the municipality which are virtually unknown, such as the Margaraça woods, the Fronhas dam and the river Alva, the best kept flyfishing secret in Europe. Outside the municipality, but within a radius of 40 km, are the cities of Coimbra and Viseu, the historic and beautiful Buçaco mountain and the Luso thermal springs.
We spent a lovely week in the Alhembric at Vumba. The Alhembric is a tastefully decorated cottage that suited our family of four – it's compact but well equipped. If you want to do more ambitious cooking than you can do on its two electric rings and small oven, there are cooking facilities in the communal living area, although we didn't ever feel the need. We enjoyed being able to retreat to our own living and dining room, but also being able to go to the airy, large communal area with its wifi and glorious view over the valley. Vumba is a beautiful, peaceful setting to stay in, set in fragrant pine and eucalyptus woods. It's possible to walk for miles through the woods and fields on the estate and round the quiet neighbouring villages without having to get in the car, especially in the cool of the mornings and evenings. The swimming pool is beautifully landscaped and equipped with comfortable chairs and loungers, and there's always some shade to retreat to. We enjoyed foraging in the vegetable garden. The large, sweet tomatoes in the vegetable garden were delicious. One evening we made a ratatouille with them and the aubergines, peppers, courgette and onions we picked in the garden. we made tea from the lemon verbena bush. Joanna gave us delicious eggs from the Vumba chickens; we also enjoyed the Vumba cheese, particularly the soft variety. Joanna was unfailingly helpful and friendly, always available to answer any queries. She told us about a candlelit procession one saints day evening in a nearby village, which turned out to be very atmospheric. She kindly gave us clean towels sooner than scheduled. We enjoyed her tour of the farm and cheese making buildings on the back of the tractor. We'd love to come back to Vumba one day.
Sara
2016-08-21T00:00:00Z
Embora já tivesse consultado várias vezes, decidi usar o Airbnb pela primeira vez quando comecei a organizar uns dias de férias com os meus filhos adolescentes e encontrei o espaço Vumba. É uma quinta dedicada à produção biológica e as fotos eram inspiradoras. Fica perto de várias praias fluviais, tinha piscina e no geral apresentava uma óptima alternativa às rotineiras férias no litoral. Quando chegámos fomos muitíssimo bem recebidos pela Joana que nos mostrou prontamente todo o espaço e nos deixou completamente à vontade. Sem qualquer hesitação, à mínima suspeita de que a força da água corrente na casa onde vamos ficar alojados não estivesse nas condições habituais, mudou-nos para uma casa maior, com um pátio e um quarto extra que para nós era melhor e que não ficava atrás da primeira em cuidados com a decoração, conforto e condições. Ambas muito bem equipadas! A quinta tem vários espaços comuns e o mais agradável de todos é sem dúvida a piscina. É uma piscina antiga mas em fantásticas condições que mantém uma personalidade e encanto diferentes e está rodeada de vegetação. Não faltam espaços para estender a toalha e tomar banhos de sol e de água. Outro espaço comum que aproveitámos muito bem foi a sala e cozinha da adega. Todos os pormenores são encantadores, o espaço é amplo, luminoso e super confortável - ideal para jantar num ambiente diferente ou para tomar um café expresso (sempre disponível) pela manhã. Existe ainda uma lavandaria, uma enorme mesa exterior óptima para refeições ao ar livre e uma horta onde se encontram os melhores ingredientes para uma bela salada ou uma sopa. Podemos tirar o que quisermos e apontamos numa folha. No final fazemos as contas juntamente com o pão e os ovos frescos. Pudemos ainda ir visitar as ovelhas e as cabras mas não assistimos à produção do queijo que é interrompida durante o mês de Agosto. Perto da quinta existem várias praias fluviais e a Joana aconselhou-nos a do Vimieiro seguida de uma ida ao restaurante com o mesmo nome. Recomendo vivamente! Estas são informações genéricas mas a verdade é que há coisas que não se explicam, sentem-se. Estes dias foram uma experiência muito enriquecedora e cúmplice para nós possível também pelo amor e carinho que se sente nas mais pequenas coisas e que é, sem dúvida, transmitido por quem cuida delas. Muito obrigada e até breve!
Rita
2016-08-29T00:00:00Z
Romtype
Helt hjem/leilighet
---
Eiendomstype
Hus
---
Plass til
5
---
Soverom
São Martinho da Cortiça, Coimbra, Portugal
House in Central Portugal, close to lake and river beaches with private gardens and swimming pool. Easy access from main highway, 5 mins or so from the IP3. Lovely peaceful setting on the edge of a small village with cafe, bar and shop. 5km to nearest town, Tabua, which has bars, restaurants, supermarkets, club, hospital etc. 30-40 minutes drive to the historic cities of Coimbra and Viseu. 4 bedrooms, 3 up, 1 down Fibre optic internet & cable TV Fully equipped kitchen Towels, sheets etc
3 upstairs double bedrooms and one downstairs bedroom (Sofa bed or singles as required). Can arrange for additional temporary beds if required.
Set on the edge of Azere, a quiet village with a couple of bars, cafe and shop. Tabua, a good sized town, is 5km away with supermarkets, restaurants, club, cafes, shops, hospital etc. Coimbra and Viseu are both 30-40 minutes away. Close by to the lake and river beaches with cafes, restaurants and bars.
Tudo o que consta no anuncio corresponde. Casa agradável e com um bom espaço exterior. Piscina e espaço envolvente muito bom. Local tranquilo e sereno, ideal para descansar. O Ivan está sempre disponível e responde a todas a todas as mensagens de forma rápida. Quem nos recebeu foi o Sr. Jorge que nos fez uma visita guiada à casa e nos mostrou tudo e nos disponibilizou o seu contacto para ligar caso necessário.
Ricardo
2016-08-28T00:00:00Z
Foram-nos proporcionadas muito boas condições durante a estadia. Superou as expectativas. Ambiente interior e exterior agradável para um bom descanso. O Ivan e o Sr Jorge foram muito atenciosos e prestáveis. Recomendo a todos!
Cláudia
2016-09-02T00:00:00Z
todo muy bien un bonito finde de otoño incluso la lluvia
Santiago Gomez
2016-10-16T00:00:00Z
Ivan est un hôte formidable et très sympathique ,qui répond aux mails immédiatement et attentif aux demandes .
Patrick
2016-08-21T00:00:00Z
Our Host was always immidiately avaible by short messages (sms) and phone when we had questions or found details that needed attention. We were greeted on site by a very late arrival in the house and food, fruit and wine were offered as a gift. The Hause is all matter well equipted fully renovated state. Beautiful views from the Bedrooms and really very undisturbed place. We loved the pool and good Internet and the feeling of privacy. Two weeks were gone fast and the full family was very satisfyed with our holiday.
Torben
2016-07-31T00:00:00Z
Casa espectacular, muito acolhedora e agradável. Grande vista para a serra e campo. Possui todo o tipo de equipamentos. Tanto o Ivan como o Jorge impecáveis, sempre preocupados com nosso bem estar. Tudo 5 estrelas.
Fábio
2016-09-11T00:00:00Z
BEAUTIFUL COUNTRY HOME!!! -Ivan was an amazing host! Easy to communicate with and George was very friendly and guided us through the house. -It was very cozy with a warm fireplace. -Spacious rooms, comfortable beds-IT FELT LIKE HOME IN PORTUGAL. Would highly recommend this home and look forward to coming back
steven
2017-02-12T00:00:00Z
Perfect accomodation Should be cleaner but it was ok The house is super cozy, we book for a weekend with friends, and it was amazing.
Francisca
2016-09-18T00:00:00Z
Romtype
Helt hjem/leilighet
---
Eiendomstype
Hus
---
Plass til
8
---
Soverom
Ázere, Coimbra, Portugal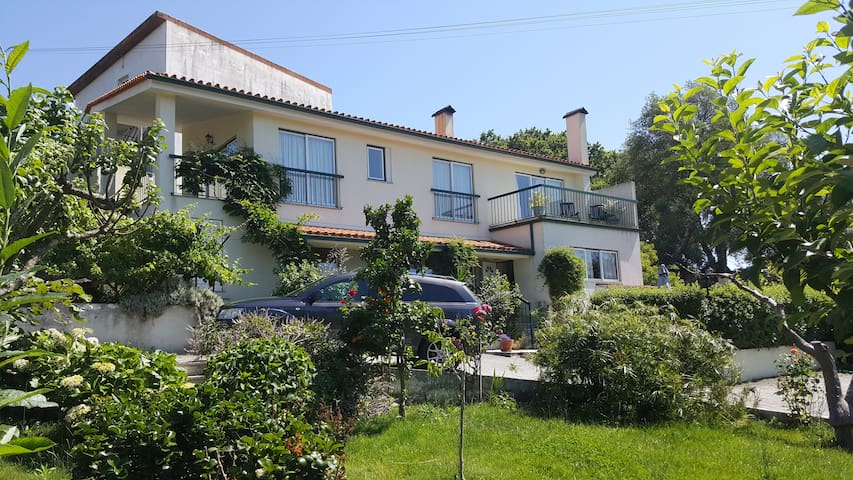 1

–

18

av

72 Utleiesteder
Oppgi datoer for å se fullstendige priser. Ekstra gebyrer gjelder. Skatter vil kunne tilføyes.