Ausflüge, Wein-Touren, Bootstouren, Radfahren, Kajakfahren
Historisches Haus in der Wachau Tor. Der Haus liegt direkt an der Donau. Die Wohnung ist romantisch , hell und einladend. Fahrrad, Kajak, mietbar. Nach Wunsch einkaufen wir das Frühstück, das in den Kühlschrank anlegen werden. Für Kajakfahren Picknickkorb wurde zusammenstellen. Im Weinkeller Party möglich.
Emmersdorf a Wachau kapuja. Wachau Ausztria egyik gyöngyszeme. Ezt a gyönyörű völgyet évmilliók alatt a Duna alakította ki. Várkastélyok, szőlő és sárgabarack ültetvények szegélyezik a Duna vonalát. Páratlan élményben lesz része annak, aki felkeresi ezt a csodálatos vidéket.
Romtype
Helt hjem/leilighet
---
Eiendomstype
Hus
---
Plass til
4
---
Soverom
Emmersdorf an der Donau, Niederösterreich, Østerrike
My house is located at the end of a small village. Enjoy the big garden and the silent atmosphere. Babys 0-2 for free Children 2-12 half price -individual price arrangement possible-please contact me :) If requested vegan or vegetarian organic breakfast can be offered. 8€ per person. Children 5€.
One is a double bed room with a view to the stars. There is also an own entrance from the garden. Another room is a single bed (1,20) including a mattress on the floor. The third room has a single bed (1,40) where you have to pass the private living room.
Romtype
Privat rom
---
Eiendomstype
Hus
---
Plass til
5
---
Soverom
Zehethof, Niederösterreich, Østerrike
Wohnen auf 190m2 mit offenen Wohn-Essbereich und Galerie mit Top Fernsicht, Terrasse und Balkon, Garten, 4 Schlafzimmer vorhanden mit Belegung fùr 9 Personen, am Tor zur Wachau, (Melk, Krems, Dùrnstein) Waldviertel, Ausgangspunkt zu vielen Ausflùgen Wien,....Preis bezieht sich auf Vollbelegung, bei dementsprechender weniger Anzahl von Personen wird Rabatt gewàhrt
190 m2, stillvolle Unterkunft
Gutes Nachbarschaftsverhàltnis
Romtype
Helt hjem/leilighet
---
Eiendomstype
Hus
---
Plass til
9
---
Soverom
Artstetten, Niederösterreich, Østerrike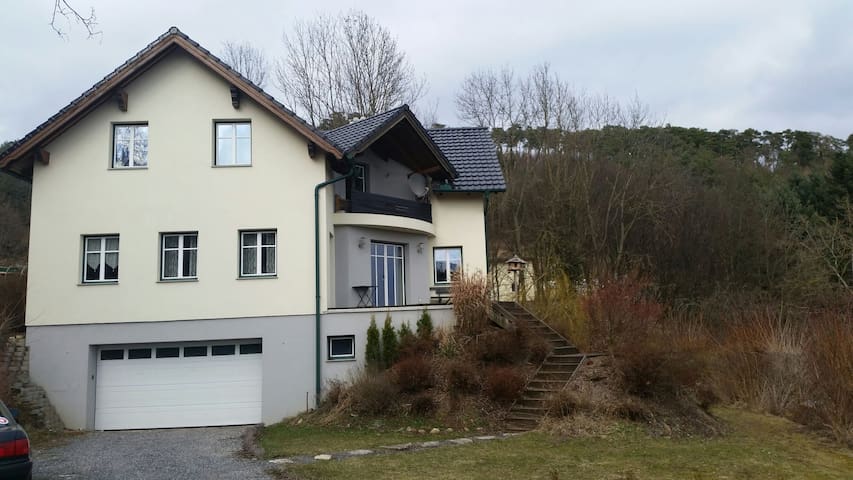 We offer 2 double and 1 single room in our house with terrace, garden, barbecue grills, and an open fireplace.
Our house with terrace, garden, barbecue facilities and open fireplace is located in the countryside in a quiet location in Rappottenstein (Waldviertel - Lower Austria). We rent 2 double and 1 single room and provide the shared kitchen and bathroom, and the outer regions of. The village center with good infrastructure (shops, inns, banks, etc.) is approximately seven-minute walk. The environment is ideal gathering for outdoor activities such as hiking, mushroom and berry picking, mountain biking, swimming, tennis or for cultural experiences. A visit to the Castle Rappottenstein or the Hundertwasser museum is recommended.
Rappottenstein offers a beautiful and tranquil landscape. For decades it attracts individualists and townspeople in our environment.
Sehr Schöne Zimmern und Umgebung :) Traumhaft...
Bella
2016-07-05T00:00:00Z
Ich war mit 2 Freundinnen auf Kurztrip im Waldviertel, die Gegend rund um Rappottenstein und den malerischen Lohnbachfall kenne ich seit meiner Kindheit. Das Haus von Regina liegt malerisch auf einer Anhöhe und bietet alles, was ein entspannungsfreudiges Herz begehrt. Das Ambiente im Haus ist wunderschön, elegant, großzügig und mit Liebe zu Details, der Garten ist groß genug zum Entspannen und es gibt vom Haus weg einige Spazierwege. Hausherrin Regina ist eine wunderbare Gastgeberin und wir haben es auch sehr genossen zwischendurch mit ihr nicht nur über die Gegend, sondern auch das Leben per se zu plaudern. Perfekt auch für Kurz-Erholungs-Tage zwischendurch oder allein urlaubende Frauen. ich komme sicher wieder.
Gabi
2016-08-09T00:00:00Z
Romtype
Privat rom
---
Eiendomstype
Hus
---
Plass til
5
---
Soverom
Rappottenstein, Niederösterreich, Østerrike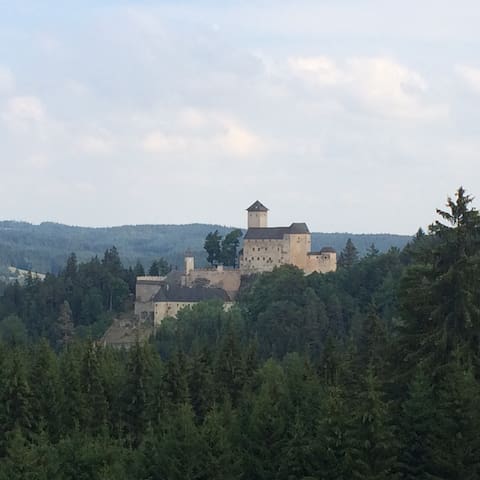 My house is located at the end of a small village. Enjoy the big garden and the silent atmosphere. Babys 0-2 for free Children 2-12 half price -individual price arrangement possible-please contact me :) If requested vegan or vegetarian organic breakfast can be offered. 8€ per person. Children 5€. Sometimes a month this house is used for workshops. But it is also a nice location to spend your holidays there. (URL HIDDEN)
This house includes one room with a furnished kitchen and a sofa transforming in to a bed (1,40) The other one is a big bright empty room with two folding beds. There is also a fire place and a fantastic view. The walls are out of wood, clay and big windows, where u can reach the terrace. The toilette is big enough for handicapted people.
Romtype
Helt hjem/leilighet
---
Eiendomstype
Hus
---
Plass til
4
---
Soverom
Zehethof, Niederösterreich, Østerrike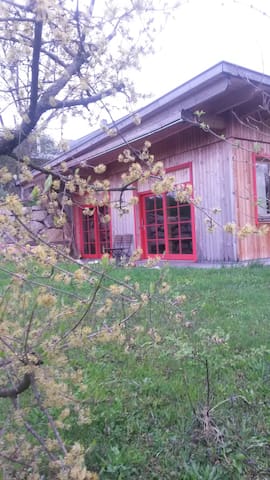 Grandes hikingtours, Danubio-'beaches ', y un jardín tranquilo para relajarse. Buenos restaurantes y 'Heurigen' (donde se obtiene el vino, jugo de uva y una variedad de platos fríos) dentro de los 5 - 10 km. O simplemente pedir "comer con nosotros"
We could try and mislead you in an attempt to keep the secret of the Aggstein to ourselves, but this B&B is as near to perfection as it is possible to get. We are already working out how soon we could return. This place is definitely not for you if you don't like the Danube and the cycle path on your doorstep, can't stand a spacious and comfortable ground-floor private room with en suite shower tastefully decorated in modern and individual style, dislike a quiet situation among orchards overlooked by a castle ruin on the hills behind, or hate cordon-bleu breakfasts served in the garden by amiable hosts who will, with little persuasion, also provide a delectable evening meal at their own table.
Candida
2016-05-07T00:00:00Z
This was a wonderful stay. Private apartment. Right on Danube. Bike path outside in front. Very tastefully decorated and designed. No detail left ignored. Gourmet breakfast. Host was exceptional. Lent us bikes. Highlight of our trip. Beautiful.
Linda
2016-05-20T00:00:00Z
Ein wunderbarer Ort mit ganz wunderbaren Gastgebern: die Unterkunft hat ein tolles Ambiente mit einem sensationellen Blick auf die Burg und die Donau. Wir haben uns wunderbar erholt und entspannt und planen nächstes Jahr wieder zu kommen. Thomas & Michael sind herausragende Gastgeber, allein das Frühstück war eine optische wie kulinarische Gaumenfreude und auch die Vorab-Betreuung ist unerreicht. Vielen Dank Euch noch einmal für den schönen Aufenthalt! :)
Ursula
2016-09-04T00:00:00Z
地理位置非常好 整个瓦豪地区有四个小镇 最西的梅尔克 最东也是相对最繁华的Krems 房子就在中间 离梅尔克开车15分钟 Krems开车过去30分钟 所以非常方便 房子本身非常新 很大的花园 窗外就是多瑙河 各种厨房 卫生设施都有 洗衣机解决了燃眉之急 没有烘干机但是晾在院子里 太阳下一会就干了 房子的后山上 还有一个非常古老的城堡 值得一逛 早餐非常丰富 而且精心摆盘 很遗憾这次只住了一个晚上 值得多住一晚 好好逛逛Durnstein和Spitz 多买一些葡萄酒 Very well located. It is in the middle of Wachau area. 15 minutes drive to Melk and 30 minutes drive to Krems. So very convenient if you want to visit all the towns in this area. There is a very old castle on the back mountain. Worth visiting. Apartment is very new. A big garden. Window view of the Danube. Good facility of kitchen, bathroom, very comfortable bed. The laundry machine saved my life! Breakfast is extremely good. Very exquisite food displaying. It's a pity that I just stayed one night. Otherwise it can be more relaxing to explore Durnstein and Spitz and the whole Wachau area for good wine.
Bernie
2016-08-04T00:00:00Z
Die Unterkunft ist ein Gesamtkunstwerk. Auf der einen Seite hat man einen Blick auf die Donau, auf der anderen Seite gibt es einen wunderschönen Garten mit verschiedenen Sitzmöglichkeiten. Wir haben wunderbar geschlafen und insbesondere das Frühstück genossen. Das Frühstück ist ein zusätzliches Highlight mit tollen Zutaten, die optisch herausragend präsentiert wurden. Absolute Empfehlung!
Hermann
2016-07-31T00:00:00Z
What an incredible place. The location is stunning, right by the river, at the foot of the hill where the ruins stand, inside a quiet little village. Michael and Thomas are some of the best hosts I've ever had the pleasure of meeting, they made us feel welcome and their breakfast is one to remember, better than some 5 star hotels I've stayed in. The room is an all-in-one studio, everything is brand new, the design is elegant and it's comfortable. Access to the garden makes this all even better, and their dog Ben is the cutest (shout out Vincent the cat too). Cannot recommend this place enough, next time we'll be sure to stay for a few nights at least.
Laurent
2016-09-30T00:00:00Z
Thomas and Michael were consummate hosts. I'd never met them before, but by the end of the stay, I felt I was simply visiting old friends. Their accommodation was spacious, well-appointed, easy to find and perfectly comfortable. The location is lovely, in the middle of Austrian wine country and close to many areas to hike, for both leisurely and more rugged hikes. Breakfast was generous, and the hosts made an effort to source much of the food locally - so local, in fact, some of it even came from Tom and Michael's own garden! I hope to return and visit them again soon!
Robert
2015-11-13T00:00:00Z
Great host. Clean apartment. The location is right on the river and a very close drive to melk. Tom made amazing food in the morning! Thank you for everything
Miriam ester
2016-06-23T00:00:00Z
Romtype
Helt hjem/leilighet
---
Eiendomstype
Hus
---
Plass til
2
---
Soverom
Aggstein, Niederösterreich, Østerrike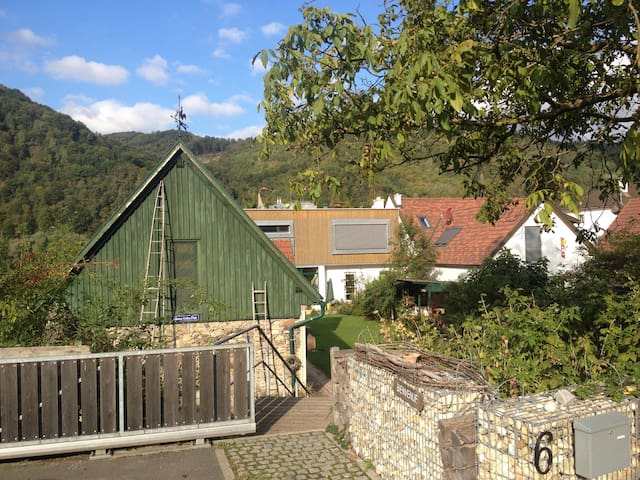 In ruhiger,sonnigen und verkehrsfreien Waldrandlage präsentiert sich diese familienfreundliche Ferienwohnung für Ihren Urlaub. In unmittelbarer Nähe befinden sich viele herrliche Wanderwege und beliebte Ausflugsziele( Bärenwald und Ruine in Arbesbach, Bauernmuseum Schwarzau,Mohndorf Armschlag, Burg Rappottenstein, usw.) Im Winter könne Sie Ihre Zeit unter anderem auf den gespurten Langlaufloipen verbringen oder aber auch einen gemütlichen Abend in der Infrarotkabine ausklingen lassen.
Empfehlenswerte Gaststätten in Altmelon sind unter anderem Familie Spiegl und Familie Lichtenwallner. Wer gerne guten Kaffee und eine Mehlspeise genießen möchte, empfehlen wir die Konditorei Frühwirth. Bezugsquellen für Lebensmittel sind ebenfalls in der Ortschaft erhältlich. Jeden 1. Freitag im Monat findet in der Nachbargemeinde Arbesbach von 14-19 Uhr ein traditioneller Regionalmarkt statt. Sollte jemand interesse an einer Moor-Erlebnis-Tour Führung haben, steht ihnen gerne gegen Voranmeldung eine geprüfte Natur- und Landschaftsführerin zu verfügung. Für unsere Gäste haben wir einiges zu bieten wie Mountainbike - und herrliche Wanderwege zu mystischen Steinformationen und Steinjuwelen wie z.B. Luagalucka,Steinbackofen, Höllfall, Galgen, Arbesberg mit ''Klausnerhöhle'', kleine Kapelle, Lourdesgrotte um nur einige zu nennen. Wer gerne in seiner Freizeit Schwammerl suchen oder Heidelbeeren pflücken möchte, ist hier genau richtig. Wanderkarten liegen auf dem Gemeindeamt in Altmelon auf.
Romtype
Helt hjem/leilighet
---
Eiendomstype
Hus
---
Plass til
4
---
Soverom
Altmelon, Niederösterreich, Østerrike
Lonesome house in the woods with spring, open fireplace, wooden chimney and 100s year old furniture ansd rooms!
Einsame Waldlage, Sonnenterrasse für Verliebte, absolute ungestörte Einsamkeit für verliebte oder Poltereien! Absolute lonelyness in the woods and hills, very antique house with chimney, woode-oven and over 100 years old antiques! Spring and the animals of the woods joining you!
Just woods, small waters and rocks - fairytale like! There are woods and rocks and beautiful acres or animals around!
Wir sind in dem charmanten Haus sehr nett empfangen worden und haben uns an unserem Wochenende sehr wohlgefühlt. Zu Beginn hat es ein bisschen gedauert bis das Haus geheizt war (wir waren im November dort), aber ansonsten haben wir dort ein tolles Wochenende verbracht!
Margit
2015-11-08T00:00:00Z
Die Unterkunft war wie beschrieben. Es war alles zu unserer vollsten Zufriedenheit. Schlüsselübergabe hat perfekt funktioniert! Besten Dank Ilse! Unterkunft wird von uns weiterempfohlen.
Daniel
2015-10-24T00:00:00Z
Tolle abgelegene Location. Ideal zum entspannen und gemütlichen Beisammensein. Tolle Natur. Die Gastergeber waren stets freundlich und hilfsbereit sowie bei jeglichen Fragen stets zu erreichen.
Florian
2016-08-20T00:00:00Z
Bereits zum dritten Mal im schönen Langfierling. Wie immer war alles perfekt.
Michael
2016-07-09T00:00:00Z
Die Kommunikation mit Ilse war sowohl während als auch nach des Aufenthalts reibungslos und unkompliziert. Sie war zudem sehr entspannt, nachdem wir uns verfahren und 30 min später kamen als vereinbart, danke dafür! Sie hat alles wie vereinbart zur Bereitschaft gestellt, hat schnell auf anfängliche Fragen geantwortet und hat uns großzügigerweise ungebeten Lebensmittel zur Verfügung gestellt. Jederzeit gerne wieder.
Carla Maria
2016-07-25T00:00:00Z
Everything was just supper
Tomas
2015-07-07T00:00:00Z
Das Haus im Märchenwald ist einfach genial! Wir haben dort einen unvergesslichen Polterabend mit chillen&grillen verbracht. Aufgrund der besonderen Lage ohne Nachbarn war feiern bis in die frühen Morgenstunden kein Problem. Die Gastgeber waren sehr freundlich und hilfsbereit und haben uns bereits bei der Ankunft erwartet. Das Haus bietet genügend Platz, war sehr sauber und wir haben eine ausgezeichnete Infrastruktur (Griller, Feuerschale, voll ausgestattet Küche, uvm.) vorgefunden.
Stefan
2015-07-12T00:00:00Z
Auch bei unserem zweiten Besuch war alles Bestens. Ilse ist eine super Gastgeberin. Immer wieder gerne!
Michael
2015-11-01T00:00:00Z
Romtype
Helt hjem/leilighet
---
Eiendomstype
Hus
---
Plass til
12
---
Soverom
Langfirling, Øvre Østerrike, Østerrike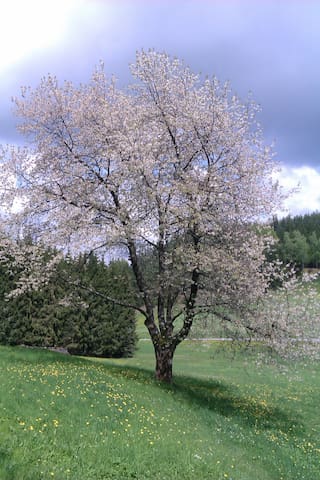 i den rolige landsbyen Gansbach i frist etasje i en restaurant. nær ulike attraksjoner (Wachau, Krems, Melk, Aggstein, Göttweig) og ideelt sted for fotturer i Dunkelsteinerwald. lite rom med dobbeltseng og skap. New / stort bad
There was a short but a pleasant stay. The host is kind and helpful. The location is beautiful, near the Danube river, Melk Abey and a sum of wonderful castles. The room I'd very clean and has a great bed. The bathroom.... in the bathroom you could play football. A shower, sink, toilet, washing machine... all you need... the Wi-Fi is included.
Victor
2016-07-15T00:00:00Z
Great accommodation in a wonderful location. It is a family run guesthouse with a bar/restaurant downstairs. We had a very tasty goulash for dinner there. We have not met Christian (who was very quick in responding before our arrival) but his mom and his brother are very nice and kind.
Valentina
2015-08-27T00:00:00Z
We were welcomed by Christian's mother. The room and the big and new bathroom were perfect for our one night stay. We are very happy we selected Christian's for our stay in Gansbach.
Dora
2016-05-16T00:00:00Z
Strong clear communication, easy directions and big smile on arrival. Christian was not available but had briefed his bar staff to expect me and to look after my simple needs. I am on a long fast drive and needed watering and feeding as well as the use of the room and wonderful bathroom. The food and drink available downstairs in the village pub was excellent and at a very reasonable price. This is exactly what I perceive airbnb to be about. Thanks for having me.
Stephen
2016-10-08T00:00:00Z
Właściciel oferuje w zasadzie tylko łóżko w oddzielnym pokoju. Poza łóżkiem i szafą (zajętą w całości pościelą) pokój nie był wyposażony w żadne meble. Nadaje się wyłącznie na nocleg tranzytowy. Ładna i duża łazienka. Na parterze znajduje się restauracja.
Jerzy
2015-12-13T00:00:00Z
The place was very clean. People were kind. We were greeted and directed to the local store where we could purchase food for dinner and breakfast the next day. It was off season so not much was happening in town.
Carol
2016-05-21T00:00:00Z
Very warm hosts! We arrived quite late, nothing open nearby, they made us a meal just after the kitchen was closed. This is also a "Gashaus" (small hotel, just a few rooms) they also had a nice breakfast in the morning, very resonable. Very charming small town.
Brandy
2015-10-08T00:00:00Z
Die Unterkunft ist sehr sauber und die Gastgeber sind sehr freundlich. Die Ortschaft ist sehr klein, aber dafür ruhig und schön.
Katharina
2016-09-18T00:00:00Z
Romtype
Privat rom
---
Eiendomstype
Hus
---
Plass til
2
---
Soverom
Gansbach, Niederösterreich, Østerrike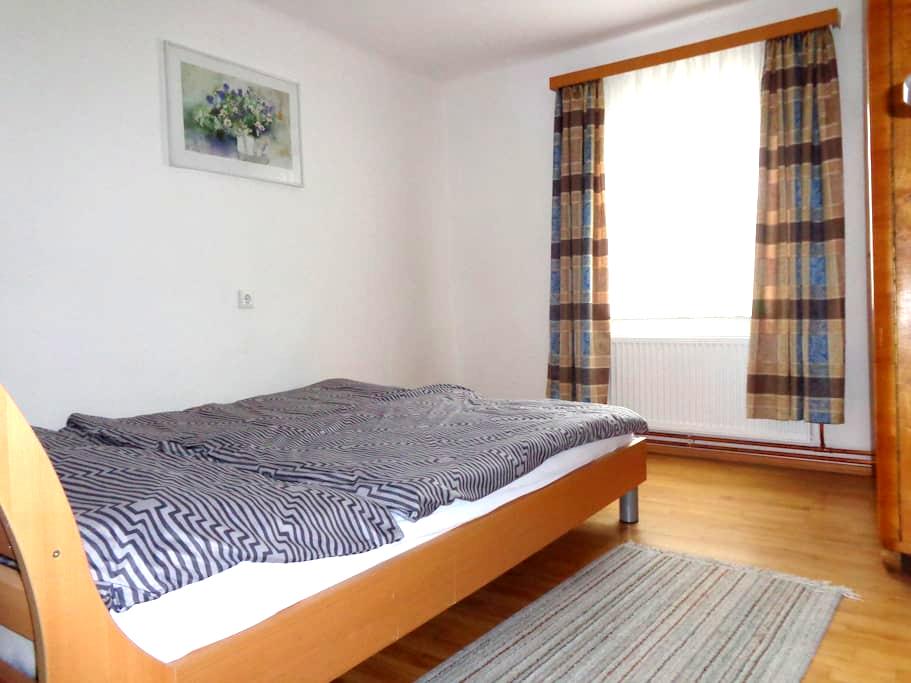 Genießen Sie entspannte Tage im vollausgestatteten Ferienhaus. 100 m2 Wohnfläche und eine wunderschöne Terrasse mit Blick auf den Golfplatz bietet Zeit zum Entspannen.
Romtype
Helt hjem/leilighet
---
Eiendomstype
Hus
---
Plass til
4
---
Soverom
Steinakirchen am Forst, Nedre Østerrike, Østerrike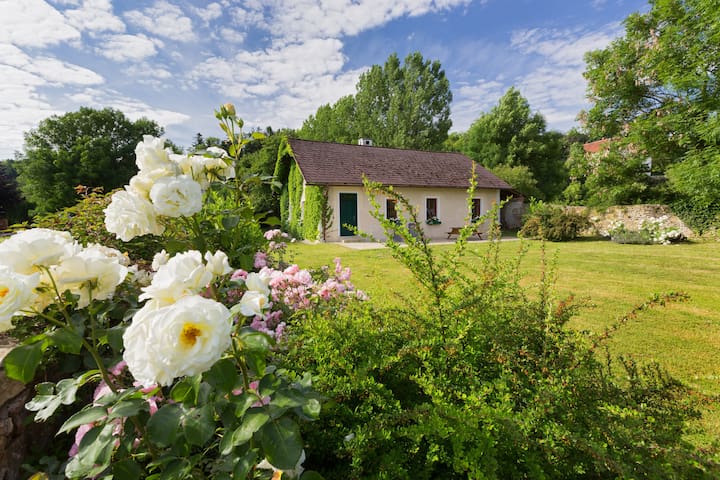 The house is an independent, fully equipped apartment and located right on the banks of Kampes. Outside the village, surrounded by forest and Waterfront is an ideal place to unwind - an invitation to enjoy nature!
This is the renovated mill building of Gschwendtmühle situated directly on Kamp, the conservatory looks out over the back dammed river. The mill is located just outside the village of Gschwendt and is very quiet - find a wonderful place to relax and rest.
This place in the middle of nature reserve Kamptal offers beautiful hiking and biking trails. Just 4 km downstream is Zwettl, which offers shopping and cultural. The Schwarzalm is close and is about 5 minutes walk away. Here there is a restaurant with good food.
We had a great time staying in this old Mill in such a beautiful location within easy reach of Zwettl. The house is warm and well equipped, the hosts are welcoming and friendly. We also managed to get free loan bikes from the Tourist Information in Zwettl and enjoyed the lovely trails along the river banks. The Autumn colours were so beautiful and we even had a visit from a kingfisher on the river next to the mill. Well recommended for a short or long break!
Eugene
2016-10-22T00:00:00Z
Korinnas Mutter hat uns gleich nach Ankunft das Mühlhaus aufgesperrt und alles erklärt. Die Wegbeschreibung war sehr genau, wir hatten keine Probleme, hinzufinden. Im Haus fanden wir alles, was wir brauchten - und noch mehr. Es war sauberer als in so manchem guten Hotel und einfach ideal. Rundherum gibt es Wanderwege, eine Alm und direkt an der Mühle liegt der Fluss Kamp. Ich kann einen Aufenthalt in der Gschwendtmühle wirklich nur empfehlen.
Miriam
2016-07-24T00:00:00Z
Es hat uns wirklich gut gefallen, die Gegend ist wunderschön und das Haus auch! Wir wurden sehr gut umsorgt und kommen sicher wieder :)
Veronika
2015-08-07T00:00:00Z
Die Unterkunft hat meinen Erwartungen voll entsprochen. Wir haben uns sehr wohlgefühlt,unter anderem auch,weil Korinnas Mutter sehr gastfreundlich und herzlich zu uns war.
Sybille
2015-10-10T00:00:00Z
The host canceled this reservation 7 days before arrival. This is an automated posting.
Claudia
2016-06-17T00:00:00Z
Ich bin kein Mann der großen Worte
Holger
2016-01-02T00:00:00Z
Die Lage war super schön und genau das, was wir uns gewünscht haben. Das Haus war sauber, gepflegt und auch mir zwei kleinen Kindern groß genug. Corinnas Mutter hat uns begrüßt und alles erklärt und war für alle Fragen persönlich erreichbar.
Charlotte
2015-08-27T00:00:00Z
Unser Geheimtipp! Ein Traum, anders können wir es nicht nennen. Einer jener Orte der Welt wo man die Abreise zweimal überdenkt, man zweifelt ob das Zuhause noch die Magie hat das Zuhause zu sein oder ob man einfach bleibt und den Moment nicht loslassen möchte. Wir sind dann doch gefahren, schweren Herzens und eines ist sicher, wir kommen sehr bald wieder. Vielen Dank dass wir diese Magie erleben durften. Katharina & Jürgen
Jürgen
2016-12-04T00:00:00Z
Romtype
Helt hjem/leilighet
---
Eiendomstype
Hus
---
Plass til
2
---
Soverom
Zwettl, Niederösterreich, Østerrike
The accomodation is nice for couples, singles and families. There is a glass table in the living room, which might not be suitable for small children, but apart from that, the house is suitable for babies and small kids.
There is a big kitchen, a cosy living room with a sleeping couch (2 persons), a children's room with 2 beds and a bedroom with a double bed. There are 3 matresses available for the floor, please let me know if you need them. You can invite people, they're always welcome (without extra charge) - but please beware of being noisy or breaking the smoking ban.
Romtype
Helt hjem/leilighet
---
Eiendomstype
Hus
---
Plass til
9
---
Soverom
Biberbach, Niederösterreich, Østerrike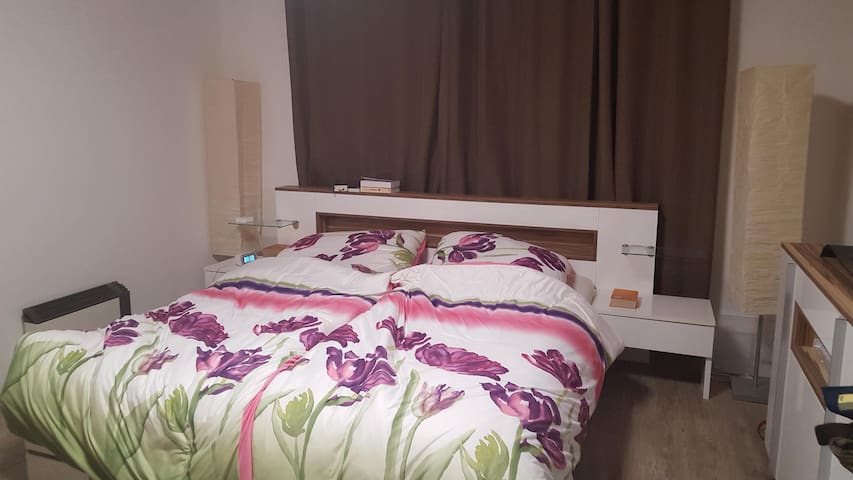 Historical, beautifully restored building from 1315, Apartment: 2-4 persons: 1 bedroom (2 persons), Wohnzi with sofa bed (2 pers) Bathroom, toilet, kitchen / lounge, with satellite TV, WiFi, refrigerator,
We only rent for a minimum of 2 nights! For rent is either a double room with bathroom and toilet, satellite TV and WiFi, for € 30 per person per night, breakfast incl., Or an apartment with double bedroom, bathroom, lounge / kitchen, satellite TV and WiFi, for € 70 per day.
Ein wunderbar großzügiges Appartement mit riesengroßem Badezimmer. Komplett ausgestattet und im Zentrum von Weissenkirchen gelegen: Herz, was willst Du mehr? Die Gastgeber hilfreich und nicht aufdringlich. Die Renovierung des uralten Hauses ist mit Fingerspitzengefühl und unter Weglassung von Kitsch gemacht worden. Tipp: Kurze Fahrt mit der Rollfähre auf die andere Donauseite einmal, so lange es die noch gibt. Ansonsten ist die Wachau auch außerhalb der Saisonzeiten einen Besuch wert. Infos über Heurigenkalender, Lokale, etc. geben die Gastgeber gerne.
luis
2016-04-06T00:00:00Z
Die Wachau im goldenen Oktober - ein Traum. Und dann das tolle Apartment: ein perfekter Kurzurlaub für die Seele! Das Badehaus von 1315 ist hochwertig und stilvoll restauriert. Zimmer, Bad und Küche sind sehr geschmackvoll eingerichtet. Christine ist eine angenehme Gastgeberin: hilfsbereit bei Fragen und ansonsten kann man ganz für sich sein. Man hört auch nichts von der darüberliegenden Wohnung. Ganz besonders fand ich zudem auch die Stein-Skulpturen von Christine! Die Lage in Weißenkirchen ist zentral und genügend weit von der Bundessstraße entfernt, sodass es sehr ruhig ist - eine wunderbare Nachtruhe! Weißenkirchen ist ein idealer Ausgangspunkt um die kulturellen Highlights der Wachau zu erkunden. Zudem kann man ganz toll wandern, z.B. den Welterbesteig nach Spitz oder Dürnstein. Gerne wieder, wenn ich eine Auszeit vom Alltag brauche!
Agnes
2015-10-04T00:00:00Z
Logement spacieux dans maison d'époque, village sympathique. Literie très molle. Christian et Christine sont très accueillants.
laurent
2016-09-16T00:00:00Z
Eine wunderschöne Ferienwohnung im traumhaften Ort Weißenkirchen. Die Zimmer sind sehr geschmackvoll eingerichtet und auch die Küche ist gut ausgestattet. Christine ist eine sehr nette Vermieterin, wir haben uns rundum wohlgefühlt und können die Unterkunft nur weiter empfehlen!
Eva
2016-09-04T00:00:00Z
This was a great place to stay. The room was comfortable and the bathroom was very nice and spacious. Everything was updated and it was fun to get to know the owners. I would recommend this place to family and friends.
Tyler
2016-07-12T00:00:00Z
We have had a marvellous stay in an historic ground floor apartment with very friendly and very helpful hosts. The main hallway with stairs to the hosts flat separates the kitchen/ lounge area from the bedroom and bathroom. But what a hallway, ancient flagstones and wooden beams, solid grand doors and Christine's sculptures all photo worthy. The rooms are beautifully designed; simple, elegant features and very spacious. Comfortable beds and lots of spare towels etc. Strong hot shower. 50 metres from the Danube with safe swimming area, sandy and tree shade surrounds.....used this alot after sightseeing. Also the BEST cake shop we found all fortnight barely 20m from apartment! We were also told about it by every Austrian we met from quite far (URL HIDDEN) not just our opinion. Finally, Wim and Christine helped us to really get around, sample the best wines and took us out walking and sampling, and were an interesting, knowledgeable and fun loving couple.
Philippa
2015-08-23T00:00:00Z
We've had a very good time in Weissenkirchen. The apartment was spacious, clean and well situated in the middle of lovely Weissenkirchen. The Danube (and ferry) are within a few 100 meters and It' s easy to rent bikes from there and cycle along the Danube (to Melk or Krems). Christine was very helpful and gave us tips to get the most out of our stay.
Frank
2016-08-11T00:00:00Z
A beautiful home in a gorgeous village. The hosts were excellent and the accommodation had everything we needed. The bed was especially comfortable and the big bathroom felt very luxurious.
Anne
2016-09-07T00:00:00Z
Romtype
Helt hjem/leilighet
---
Eiendomstype
Hus
---
Plass til
2
---
Soverom
Weißenkirchen in der Wachau, Niederösterreich, Østerrike
Mein Apartment, das für vier Leute Platz bietet, kann man herrlich die Sommer Monate verbringen. Auf der Terrasse oder im schattigem Apfelbaum Garten ist es Entspannung pur. Tagsüber bieten sich Wanderungen durch die Wachau oder Weingärten an. Die Abende kann man gemütlich beim Heurigen mit einem Glas Wein ausklingen lassen.
Im herzen des Weltkulturerbe Erbe der Wachau ein ganzes Apartment. Neben dem Radweg.
Wanderwege, Entspannung und Ruhe das Klima
Josef ist ein sehr angenehmer Gastgeber und sehr bemüht darum , dass alles passt. Die Unterkunft selbst ist ein altes Häuschen mit eigener Garage, alles sehr gepflegt! Man hat einen kleinen Garten hinter dem Haus mit Obstbäumen darin und Blick auf die Weinberge. Die Unterkunft ist ideal für Ausflüge in der Wachau, aber auch für gemütliches Zusammensitzen am Abend, wofür wir leider keine Zeit hatten. Josef bietet auch Frühstück sehr günstig an, das man in seiner Pension einnehmen kann. Sehr zu empfehlen, vor allem die vielen selbstgemachten Marmeladesorten! Ich kann diese Unterkunft nur weiterempfehlen!
Silvia
2016-10-03T00:00:00Z
Punktlich, nett und flexibel
Laura
2016-08-26T00:00:00Z
This is a nice place to stay at while visiting the Wachau. Josef is really nice and available. Everybody has space in this small house, it is clean, and has the basics. No need for more, given that you're probably going to spend your entire day outside. I would recommend.
Arthur
2016-08-19T00:00:00Z
Josef's place is awesome as well as breakfast. Josef is a great host. We had an easy and interesting communication. Highly recommended to all airbnb travellers.
Andrii
2016-06-27T00:00:00Z
Romtype
Helt hjem/leilighet
---
Eiendomstype
Hus
---
Plass til
4
---
Soverom
Wösendorf in der Wachau, Niederösterreich, Østerrike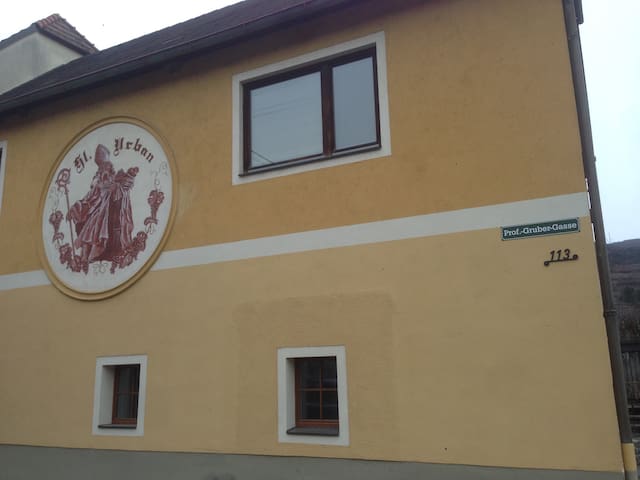 Cerca de la forma, puede tener un descanso, mirando a la belleza del paisaje con los pies cansados y su mente inspirada en el aire.
Los perros son bienvenidos!
árboles, madows veces, una vaca, un ciervo o un conejo
Goede en mooie accommodatie
Ivo
2016-09-18T00:00:00Z
Wir wurden von der Gastgeberin sehr nett aufgenommen, die Zimmer waren groß, die Betten bequem, das Frühstück herrlich. Und dazu der günstige Preis - einfach toll!
Doro
2016-05-07T00:00:00Z
Ich wurde sehr herzlich empfangen und habe mich direkt wohl gefühlt. Das Haus und die Lage waren sehr schön. Die Gastgeberin hat mir Tipps zum wandern und Freizeitmöglichkeiten in der Umgebung gegeben. Da ich nur eine Nacht hier verbracht habe, konnte ich nicht ganz so viel sehen. Ich würde aber jederzeit wiederkommen und die Unterkunft weiterempfehlen. Danke für alles.
Katharina
2015-08-19T00:00:00Z
Lovely couple and fantastic country house. We even got a bottle of good wine before leaving. Will come next time for sure.
CHAWCHEN
2015-09-08T00:00:00Z
Sehr nette Unterkunft, geschackvoll gestaltet und sauber in schöner und ruhiger Umgebung. Netter Empfang und ausgezeichnetes Frühstück, das Energie für die nächste Etappe gab. Gerne wieder!
Michaela
2016-07-26T00:00:00Z
Jesteśmy bardzo zadowoleni z pobytu w domu Stefana. Gospodarze bardzo mili, wszystko było dobrze zorganizowane i odpowiadało opisowi.
Roman
2015-08-18T00:00:00Z
Das Zimmer war in einem Privathaus. Das Zimmer war sehr wohnlich. WC und Bad waren sehr hochwertig und sehr sauber. Der Emfang war sehr herzlich, alles wurde individuell besprochen.
Dietmar
2015-09-25T00:00:00Z
Friendly Ingrid gave us warmly welcome and helps. We were really enjoyed a lot at her place.. just like a fairy home.. thank you very much for taking care of us.. highly recommend if you self-drive to Austria..
JAJA
2016-10-07T00:00:00Z
Romtype
Privat rom
---
Eiendomstype
Hus
---
Plass til
5
---
Soverom
Weitersfelden, Oberösterreich, Østerrike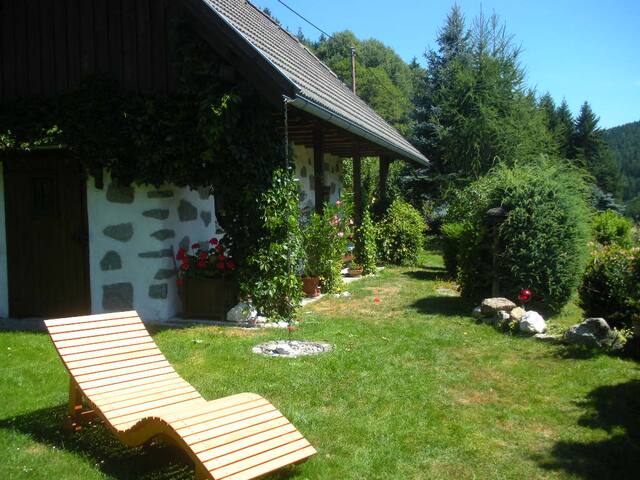 The former forester's house stands on a very special place, a "feel-good place" in a secluded location in the beautiful natural park Ötscher Tormäuer. At the house two gently rippling streams flow over, the large natural garden decelerated and in the house it is cozy! It is ideal for a family vacation and a starting point for hikes in the Ötscher region. We passed the jewel personally like a cup of coffee and then it is available to guests for a wonderful holiday at your disposal!
The cottage is ideal for families with children. It has three floors with a total of 120m². Among the Bedding: 7 beds Floor bedroom: double bed Bedroom on the first floor: 3 beds Living room on the first floor: sofa bed 2 additional folding beds (for children) Heating: wood-burning stove in the basement, fireplace on the ground floor and infrared panels also in all rooms. Your cared for yourself in the fully equipped kitchen. (Nespresso machine, coffee maker, oven, stove, dishwasher, ....)
The house is located in the Near Tormäuern, in beautiful hiking and excursion paradise Ötscherland. (Ötschergräben, Lunzer See, Mariazell, Gemeindealpe, Stairway to Heaven ....) Gaming is 4 km away, so you are, for example, in five minutes at the bakery, savings etc. 500 meters and you reach the beautiful Erlauf because you can you settle on a magnificent gravel swimming area or you refresh only briefly in the purest water. The cave and many hiking trails are nearby. The animals of the forest are our only neighbors.
Romtype
Helt hjem/leilighet
---
Eiendomstype
Hus
---
Plass til
9
---
Soverom
Gaming, Niederösterreich, Østerrike
Amidst the mystical Mühlviertel, in a peaceful and natural location, close to Johannesweg. In the house our Musikarium, room is the spot only for additional booking a music experience. Our holiday music programs range from free use of Musikariums with instruments from around the world to workshops for young and old (cost between 10 and 70 euros). 1 to 2 rooms for couples, solo travelers and families. Bathroom and kitchen can be shared with the residents couple.
In the private house of the residents married couple. 1-2 simple rooms plus toilet, Shared use of bathroom and kitchen.
Romtype
Privat rom
---
Eiendomstype
Hus
---
Plass til
4
---
Soverom
Herzogreith, Oberösterreich, Østerrike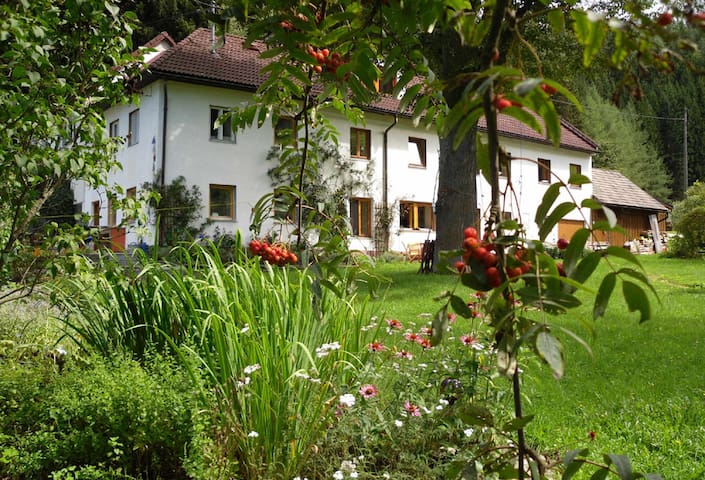 Sankt Oswald - Airbnb
:
Gjennomsnittlig

4.63

av

5

stjerner fra

147

gjesteanmeldelser
1

–

18

av

117 Hjem til leie
Oppgi datoer for å se fullstendige priser. Ekstra gebyrer gjelder. Skatter vil kunne tilføyes.