Beautiful studio in Villa Veneta of the '700 in Roncade (TV), where he resided G. Garibaldi, with garden, parking, caretaker service. Near the railway station of Quarto D'Altino station (25 min from Venice), Treviso-sea, Motorway Treviso South.
Quiet studio in the Barchessa of Villa, with double room with kitchenette and private bathroom (with shower). Parking with restricted access. Very welcoming, with views astray, in a refined and elegant setting.
Roncade and 'a beautiful town in Treviso region, the center - within walking distance from the villa - offers several good restaurants and bars, you can' visit the Castello di Roncade a few meters from the Villa, famous for its architecture and its wines . During the day you can reach various interesting destinations such as Venice, Treviso, Asolo, Jesolo etc. A few km from Venice airport.
Bon appartement, propre avec le nécessaire pour passer un séjour agréable (la cuisine est faite pour les repas de fortune). De nombreux rangements sont disponibles pour ranger ses affaires. Ce qui est dommage, c'est que nous avons dû acheter tout le nécessaire pour faire la vaisselle (éponges et dégraissant) et qu'il n'y avait qu'une seule casserole pour faire cuire les aliments. Ensuite, l'appartement est situé dans une zone tranquille et facile d'accès, proche des supermarchés. Il y a un accès Internet WiFi mais le signal est très pauvre donc il vaut mieux des fois utiliser son forfait mobile pour une meilleure connexion. Le gardien qui nous a accueilli est très convivial et agréable. L'hôte, Alessandra, a été disponible pour répondre à nos questions. Nous avons parlé anglais pour faciliter les conversations. Venise est assez facile d'accès depuis l'appartement : il est nécessaire d'avoir une voiture pour aller jusqu'à la gare. Pour info, le train est aux alentours de 3€ par trajet.
Paul
2016-08-12T00:00:00Z
Il soggiorno a Roncade è stato molto piacevole. Il paese è in posizione strategica per raggiungere diverse belle località. Il monolocale è carino e ben pulito, si può lasciare l'auto all'interno del parco privato e viaggiare con i mezzi pubblici senza alcun problema. Migliorabile è la dotazione di accessori per cucinare mentre il punto cottura ad un solo fornello è decisamente insufficiente. L'esperienza fatta è comunque molto positiva e consigliabile anche alle famiglie.
Alberto
2016-07-24T00:00:00Z
Romtype
Helt hjem/leilighet
---
Eiendomstype
Leilighet
---
Plass til
2
---
Soverom
Roncade, Veneto, Italia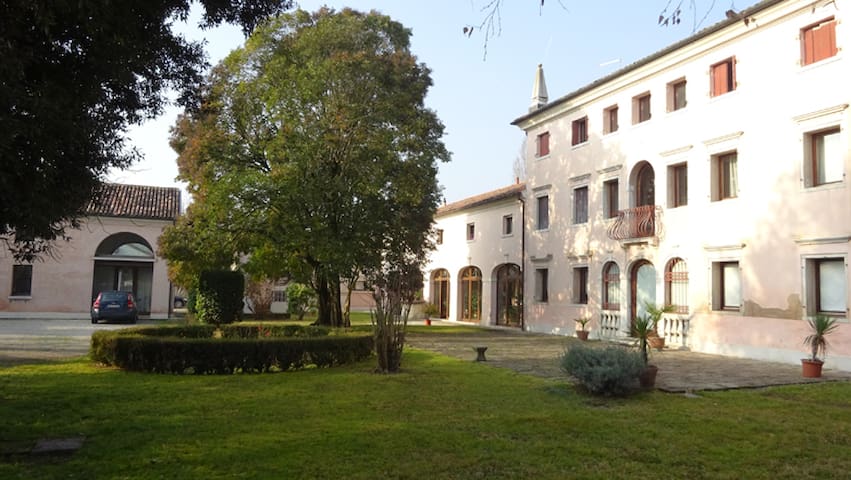 Casa Andrea offers accommodation in Roncade, 20 km from Venice and 46 km from Padova. The property boasts views of the garden is 24 km from Lido di Jesolo. There is a seating area, a dining area and a kitchen. A flat-screen TV is available. Mestre is 17 km from Casa Andrea, while Treviso is 12 km away. The nearest airport is Venice Marco Polo Airport, 13 km from the property.
Our accommodation is perfect for a business trip (business travel) with its spacious comfortable spaces, it is also perfect for your comfortable and relaxing holiday, and you can fully enjoy all its comforts. Near the city of Venice, Verona and the tourist resorts of the beaches and the Dolomites.
The small town of Roncade and about 2 km from Andrea home, you can find shops, restaurants, pizzerias, pubs. In the historic center of Roncade is the "castle Roncade". The San Cipriano district where the accommodation you can find the pharmacy a small supermarket, tobacco.
La casa è molto accogliente e offre tutti i comfort per passare un piacevole soggiorno. L'host ci ha messo a disposizione tutto ciò che si poteva immaginare. Siamo stati davvero bene. Grazie
rosa
2016-07-15T00:00:00Z
Great place for staying between Venice and Treviso, which also is worth of visiting.
Yury
2016-08-15T00:00:00Z
Alloggio come da recensione, anzi meglio! Bellissima sistemazione, comoda e spaziosa. Peccato non averne potuto approfittare per più tempo Consigliatissimo!
Alex
2016-08-23T00:00:00Z
Andrea and his wife were perfect hosts, they were available if needed, friendly and helpfull at every time. They live in the separated first floor above the rented house, but you will not notice that unless you ask them for help. They will give you all privacy you need. The house is really perfect for a family, you will find there everything you could need (and more), the pictures are exactly what you will find. Cosely, romantic and well maintained house with the possibility to park your car inside in a covered parking. The small center of Roncade itself is about 1.3 km from the house and has a few stores. We were travelling with car so I cannot comment on the availability of public transport to Venice or other places. Thank you Andrea & Roberta! Your house is wonderfull!
Franco
2016-08-04T00:00:00Z
A lovely home, perfectly cleaned and presented with great amenities including secure parking. Very friendly and helpful hosts
Lloyd
2016-09-29T00:00:00Z
Андреа достаточно гостеприимна, встретила нас, рассказала о местности. Дом удачно расположен, нет суеты, до Венеции недалеко.
Svetlana
2016-07-18T00:00:00Z
Andrea & his wife made us feel very welcome on arrival. This residential area has everything you need close by, Roncade and the surrounding villages are nice to visit . Also convenient for Venice and the airport. The accommodation is very homely and spacious and quiet. I enjoyed my stay and would highly recommend it !
Nicholas
2016-07-05T00:00:00Z
Хозяева очень понравились, очень гостеприимные, доброжелательные люди, предоставили полную информацию по интересующим нас вопросам, причём часть информации была подготовлена заранее, исходя из нашей переписки. Дом очень уютный, чистый, красивый. Не хотелось уезжать.
Татьяна
2016-08-08T00:00:00Z
Romtype
Helt hjem/leilighet
---
Eiendomstype
Leilighet
---
Plass til
5
---
Soverom
Roncade, Veneto, Italia
Leiligheten ligger nær Venezia sentrum, i tredje etasje med heis, har balkong, kjøkken, air condition, oppvarming, TV, WI-FI, bad med dusj og vaskemaskin! Ved siden av leiligheten er det gratis parkering, en bar, minibank, supermarked SIMPLY og restaurant! Leiligheten ligger 500 m fra tog staion hvor du kan ta toget til Venezia! Se deg i Venezia folkens :)
Solrik leilighet kun få minutter fra stasjonen, i et hyggelig og rolig nabolag! INGEN vaskegebyr og ingen innskudd trengs! Ubegrenset gratis WIFI !! AIRCONDITION! Transport på forespørsel :)
Ved siden av leiligheten er det gratis parkering, en bar, minibank, supermarked SIMPLY og restaurant!
Vlad's place is great for couples as it is very nice and cozy to spend time in. Also, the supermarket is right next door which is super convenient! The location is a good starting point for exploring the area ( Venice and more ) as the train station is only a short walk away. Our host was great to contact and he gave us a lot of useful tips for our stay and he was very nice to drive us all the way to Mestre after our stay. We would definitely recommend Vlad's place and will definitely stay there again!
Melanie
2017-01-09T00:00:00Z
Beautiful, cosy apartment exactly as described and shown in the pictures! Vlad is a super kind and friendly host, he even picked us up from Mestre train station and drove us to the flat. You can tell he is in the hotel industry as he knows a lot of information about Venice and the surrounding area to make your stay interesting and profitable. So don't hesitate to ask him anything, as he will probably know, and have some handy tips for you. He is also super responsive, answering most messages almost instantly! As for the apartment itself, there's not much I can add to the super detailed reviews already here, except to agree with them that it's a wonderful place to stay - the neighbourhood is perfect, very quiet, and right next door to the supermarket. We only stayed for one night, so didn't have much chance to explore the immediate area around the flat, though Vlad did tell us there are some nice restaurants and bars within walking distance. I can confirm that the train station is only a short walk away, with a nice, easy train ride straight to Venice. I'll end my annoying rambling by saying if you're looking for somewhere affordable and comfortable, as a base for exploring Venice and the surrounding area, don't hesitate to stay with Vlad!
Joel
2017-01-06T00:00:00Z
매우 만족합니다. . 바로 옆에 큰슈퍼가 있으며. 원룸 형태라 3인이 적당한듯. . 베니스 가기전 숙소로 멋진 장소입니다.(30분)
(EMAIL HIDDEN)
2017-01-10T00:00:00Z
Vlad e' molto gentile e disponibile a ogni richiesta.. l'appartamento pulito e comodo per spostarsi.. caffe' e colazione.. mini appartamento funzionale per qualche giorno di vacanza o per lavoro!!
Teti
2017-03-28T00:00:00Z
Appartement agréable dans un endroit, les propriétaires, très gentil et disponible. Communication parfaite.
Damien
2017-01-19T00:00:00Z
This is by far my best Airbnb stay yet! Vlad was kind enough to pick us up from the airport on our first day and he even dropped us off at the train station after we checked out. The room was perfect! He provided us with everything we needed; iron, washer, hair dryer, even the small things like a mini sewing kit and umbrella. Couldn't ask for a better apartment and host!
Nur Liyana
2017-04-04T00:00:00Z
Firstly, I must say that Vlad is the most gracious host I've ever encountered. He's thoroughly excited about helping you and making sure you're experience is most delightful. He made our trip that much more enjoyable just from his hospitality. The place is absolutely lovely as well. Extremely clean, with everything you need and more. We wished we could have stayed longer!
Aleksey
2017-03-22T00:00:00Z
Was much more better quality and comfortable than what expected. He had gone all the way to make guests stay comfortable, everything is new, even the bed! Would not be able to come up with anything missing, even has washing machine, hot water and little details here and there. The house itself is silent and residential, next to supermarket and few restaurants. Train station rock throw away. Highly recommendable for anyone looking for comfortable stay with all the necessities. Vlad is definitely the new huperhost to be :)
Ada
2016-12-18T00:00:00Z
Romtype
Helt hjem/leilighet
---
Eiendomstype
Leilighet
---
Plass til
4
---
Soverom
Quarto d'Altino, Veneto, Italia
My accommodation is between the airport of Treviso and the airport Venzia between Treviso and Venszia. Next to a stop of public transport, as well as in the plain between the Dolomites and the Adriatic all reachable in a short time. The accommodation is suitable for couples, lone adventurers and business travelers, for a tranqillo and restorative stay carefree and times.
This is a separate apartment with electronic key for access to the parking and housing, cuina with large living room, hallway, spacious bedroom and large bathroom. The kitchen is equipped with everything needed for cooking and eating, cookware, tableware, elettorodomestici, table and chairs. The living room has a sofa with open cupboards, led tv and satellite links. The room has a double bed, potroncine, dresser, closet and alzavalige. The bathroom with shower and sink unit, heated towel rack, drying rack, in addition to the WC and bidet.
A few steps down the sidewalk there is the village center where you can find everything you need. Dall'abigliamento, food, electronics, hardware, bakeries, bars, restaurants, pizzerias, pab.
Romtype
Helt hjem/leilighet
---
Eiendomstype
Leilighet
---
Plass til
2
---
Soverom
Roncade, Veneto, Italia

Il mio alloggio è vicino alla stazione ferroviaria,Il mio alloggio è adatto a coppie e famiglie ed offre un parcheggio gratuito. We are located in the town centre,very easy to travel to Venice,500 m from the train station and between two airports,Marco Polo and Treviso TSF.In this area you have also supermarkets,restaurants,bars and free parking, only 100 m from the famous river Sile.Very close to Jesolo beach,only 20 min by car and 30 min by bus,low cost airport transfer in case you request.
THIS IS NOT A B&B,NO SHARE BEDROOM,YOU ENJOY THE APARTMENT BY YOURSELF! YOU JUST MESSAGE ME AND YOU CAN HAVE A BETTER DEAL! LET'S TRY!?
Arthur is a great guy. He welcomed us with all the goodies you know from hotels like, shampoo, slippers, shower cap, a city map, etc. The studio is spacious with a huge bathroom and a full kitchen. The parking is in a fenced area. Arthur stored our luggage when we went to Venice for a day trip. You can find restaurants just across the street. Great place to stay!
Till
2017-03-04T00:00:00Z
Lovely Arthur! Great place! Practical and spotless apartment! Arthur was so friendly and helpful! I highly recommend Arthur's air BnB Thanks for your hospitality !
Vee
2017-04-08T00:00:00Z
Great place! Good location and public transport system. Everything was excellent!
Henrijs
2017-04-05T00:00:00Z
Good value and easy to catch train into Venice. The flat was quiet and very comfortable with everything you need. Arthur is a great host, he even picked me up from the station.
Gabriella
2017-04-01T00:00:00Z
Mi sono trovato bene ottima comunicazione
Angelo
2017-03-23T00:00:00Z
Romtype
Helt hjem/leilighet
---
Eiendomstype
Leilighet
---
Plass til
4
---
Soverom
Quarto d'Altino, Veneto, Italia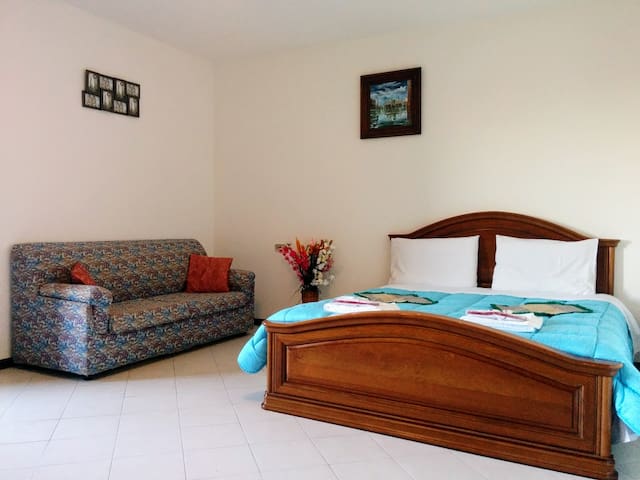 Apartment located in Quarto d'Altino center, on the second floor ascensorato, comprises: entrance, hallway, bathroom with bath, living area with kitchenette, bedroom, balcony. In addition, guests can have parking space.
For travelers arriving by plane or by car, the location of the apartment makes it unique as it allows you to reach by train in about 20 minutes Venice, leaving the car in any parking.
Our experience with Bruno and his wife was very positive. Bruno cannot speak much English but his wife can very well. The apartment was perfect for me and my girlfriend and we were very comfortable for the duration. The place has a nice balcony and on a clear day when the sun shines you can even see the mountains in the distance. The place is just 10-15 mins walk from the train station that brings you straight into Venice, the train is around 30 mins so all in all 40 to 45 mins travel. the place is also just adjacent to a large supermarket where you can buy breakfast or lunch supplies. Bruno might offer you a ride from the airport to the place and i suggest you take it! if you split his price between two or three its quite cheap and very convenient. Thanks!
Ned
2016-09-08T00:00:00Z
Bruno and Ellena are one of the best hosts I've ever come across on airbnb! They are very friendly, thoughtful and nice! They did everything to make us feel comfortable (explaining the best way to get to Venice, where to shop etc...) and were very flexible as to the check-in and check-out time. The appartement is very clean. It is located 10-15 minutes from the train station and then it would take another 15 minutes to get to Venice itself, but the journey is rather pleasant and given the accomodation prices in Venise it is definetly worth to stay a bit outside of the old city.
Skorokhod
2016-10-09T00:00:00Z
My wife and I stayed at Bruno's apartment for 11 days,between April and May 2016. The place is great for a couple or even a small family, everything in the apartment is as shown in the website. It is located at a very strategic location for those planning to visit Venice-Padova-Treviso-Verona-Bologna and many other amazing places that you'll find around the area, very close to the train station and to center of the town. Bruno and his wife are great, and they are always a phone call away for whatever you may need. They even shifted their schedule around at our arrival, because of some special circunstances we had, and they sure didn't have to do that. Be sure you will be in good hands. Quarto D'Altino is a small and charming town and you will leave with a feeling that you could just stay there forever. If you are looking for a great place for your trip to Italy, look no further. Thank you very much Bruno. Si vediamo a presto. Arrivederci.
Lucas F.
2016-05-05T00:00:00Z
This is the best place to stay for visiting Venice! We want to thank Bruno and Elena for their help, their hospitability, warm and positive attitude. We really felt like we were home. Quarto d 'Altino is lovely place. The location of the appartment is very good, just next to it there is a supermarket, nice pasticerria and gelaterria. There are two good restaurants in 10 min walk, the train station is also very close. For 25-35 mins and 3.35 euro for ticket, we went to Venice. Bruno and Elena showed the train station to us, and they also took us from the airport in Treviso and drove us back. They gave us helpful touristic information, and also kindly warned us about a trainstrike, so we could plan our day. The appartment is even better than it looks on the photos. Very clean and tidy, and we had everything we needed - fridge, stove, dishes and cutlery, even coffee and spices! Very comfortable bed and clean and spacy bathroom, also nce little balcony for having coffee in the morning. We wish we come back soon. Grazie, Bruno and Elena! Best wishes, Mihaela and Konstantino :)
Mihaela
2016-10-04T00:00:00Z
Bruno fue genial, nos recogió en el aeropuerto nos llevó a su casa cuando llegamos teniamos los horarios de todos los trenes para Venecia, nos indicó como ir a la playa siempre estuvo al pendiente de nosotros. El día que nos íbamos fue muy temprano a recogernos y nos ayudó con las maletas y llevó a la estación del tren Muy recomendable sin duda volveremos con Bruno
Ruth
2016-06-21T00:00:00Z
The apartment is located 20 km from Venice. The area is not very nice but you have a supermarket directly next to the apartment. Taking the train (which goes every 30 minutes) you can reach Venice within 30 minutes. If you're only looking for a place to sleep during the stay in Venice, it really good.
Sophia
2016-08-13T00:00:00Z
Bruno et sa femme ont fait preuve d'une gentillesse incroyable en nous attendant plus de 3h à l'aéroport suite à un retard de notre avion . L'appartement est parfait. Très propre et très bien équipé. Idéalement située à 10 min de la station de train. Je recommande ce logement !
amandine
2016-08-24T00:00:00Z
Хорошие апартаменты, удобное расположение, в соседнем здании супермаркет, до станции ж/д 10 минут ходьбы. Садитесь на поезд и через 20 минут в Венеции! Очень доброжелательные хозяева Бруно и Елена, все рассказали, дали карты города.
Евгения
2016-09-03T00:00:00Z
Romtype
Helt hjem/leilighet
---
Eiendomstype
Leilighet
---
Plass til
3
---
Soverom
Quarto d'Altino, Veneto, Italia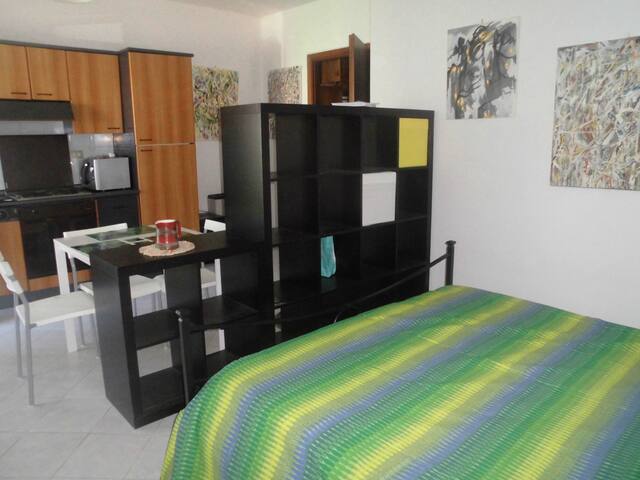 Apt. 2nd floor, quiet and safe area but close to services and consisting of: kitchenette, dining area and living room with sofa bed (double), double bedroom, large bathroom and large terrace. All it furnished and equipped with all accessories.
The apartment
The host made me and my friend welcome and it was just like the pics. However the listing says entire house but it was more like a big house with different rooms inside !!
Nicole
2016-09-22T00:00:00Z
Rita and her husband were very kind and friendly. The communication was very clear and fast from the time of booking. When we arrived they provided us with very useful information about Venice. The flat itself was perfect, very clean and with all the comforts. There is private parking where you can leave your car and take the train to Venice. The train station is 5 minutes walking from there and there are frequent trains which go to Venice in about 30 minutes. Overall it wad a very good experience and I highly recommend this place to anyone!
Giannis
2016-11-01T00:00:00Z
It is great place, I reccommend it to everyone! Rita is great! She helped us a lot with great communication, instructions and directions! The apprtment is great, parking also!
Nina
2016-09-14T00:00:00Z
we appreciated everything. You were wonderful and If I return in the near future, I will look you up?
Raymond
2016-09-23T00:00:00Z
Host molto disponibile e gentile; alloggio perfetto per le nostre esigenze. Grazie e alla prossima!
Fabio
2016-10-04T00:00:00Z
Really nice i can give 5 star . If you have car. Sleep.well ever than others room . She really nice and welcome tea breads makes me feel so good.
Sangeun
2016-09-30T00:00:00Z
Very warm welcome, great location in a village, everyhing is close by: super market, bank, restaurants, train station. Great apartment, got everything we needed, including information and tips for our trip! Will return soon!
Viktoria
2016-07-18T00:00:00Z
Rita's apartment was the best choice during our vacation. Perfect size and comfortable bed. Location is very good not far from Venice. We decided to leave the car at the place and travel to Venice by train. The train station is just 10 minutes walk from the apartment and after half an hour we arrived to the Grand Canal. Cheaper, faster, easier solution. To back the last train departures at half past midnight. Rita was really kind and helpful and contacted us two days before our arrive. Check in procedure was easy and flexible. Better then in a Hotel. :) Highly recommended and we're pretty sure that we'll go back next time to her. ;)
István
2016-08-26T00:00:00Z
Romtype
Helt hjem/leilighet
---
Eiendomstype
Leilighet
---
Plass til
4
---
Soverom
Quarto d'Altino, Veneto, Italia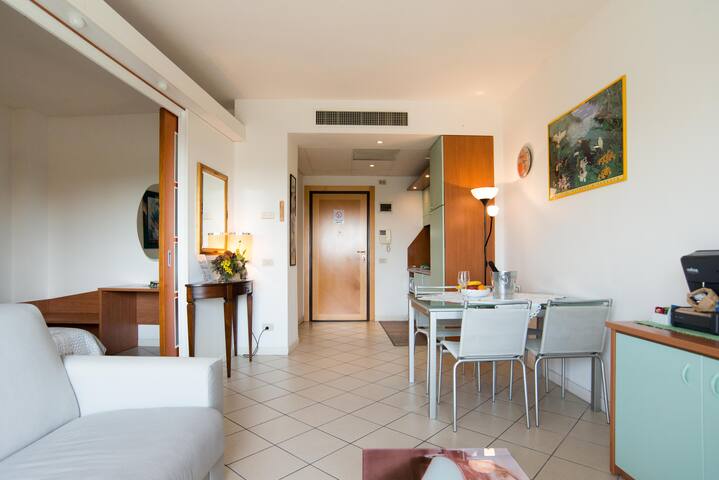 Il mio alloggio è vicino alla stazione ferroviaria,Il mio alloggio è adatto a coppie e famiglie ed offre un parcheggio gratuito. We are located in the town centre,very easy to travel to Venice,500 m from the train station and between two airports,Marco Polo and Treviso TSF.In this area you have also supermarkets,restaurants,bars and free parking, only 100 m from the famous river Sile.Very close to Jesolo beach,only 20 min by car and 30 min by bus.low cost airport transfer in case you request.
THIS IS NOT A B&B,NO SHARE BEDROOM, YOU ENJOY THE WHOLE APARTMENT BY YOURSELF FOR A CONVENIENT PRICE! YOU JUST MESSAGE ME AND i WILL GIVE YOU ANY INFORMATION YOU NEED ABOUT TRANSPORTATION,AIRPORTS,TRAIN STATIONS, EVERYTHING!
Arthur was a great host!! He was very flexible to help us check-in when we reached.!! The Location is very near to the metro station and connect Venezia very well.!! The only regret we had that kitchen chimney wasn't working.!! But other than that the apartment is really excellent.!! I highly recommend it for people visiting Venezia.!!
Kishor
2016-11-15T00:00:00Z
Очень хорошие апартаменты для пары. Чисто, уютно, тихая улица. Мы были на машине, от Венеции минут 20. Хозяева гостеприимные. Думаю что это идеальный вариант, чтобы останавливаться для посещения Венеции.
Andrey
2016-11-28T00:00:00Z
Arthur's apartment was FANTASTIC! It is even better than the photos, super clean, spacious, and there is even a new burger and bar restaurant right behind the place that is open late. Arthur has train details to Venice that he explains (just 30min away). Everything was perfect.
lola
2016-11-02T00:00:00Z
Una excelente estancia y un buen anfitrión, muy buena comunicación, comodidad..etc
Lorena
2016-11-21T00:00:00Z
Appartement super ! Comme sur les photos ! Arthur est un hôte très gentil ! Il explique très bien comme aller à Venise et quoi faire ! Il nous a pas accueillis le jours d'arriver mais Ca femme mais nous a offert le lendemain matin un petit déjeuner ! Accueil très agréable . Thank you for everything, the appartement was very great and lovely. Very like in the pictures. Arthur is an host very Nice ! Thank you for everything ! It was perfect! Aude an elodie !
Aude
2016-10-15T00:00:00Z
Пользуюсь сервисом airbnb уже более двух лет. За все время это первый раз, когда нас хозяин приехал встречать лично на вокзал. Жилье очень удобно расположено к Венеции, дорога занимаем максимум 20 минут. Так же удобно, если вы хотите попасть на море. На пляж Езоло на автобусе мы ехали 25минут. Артур очень вежливый и заботливый хозяин, с которым приятно иметь дело. А еще, он знает русский язык, что в достаточной мере облегчает общение. I use the service airbnb more than two years. Total is the first time we went to meet the owner in person at the station. Accommodation is very conveniently located in Venice, the trip takes a maximum of 20 minutes. Also useful if you want to get to the sea. On the beach of Jesolo on the bus we were traveling 25 minutes. Arthur is very polite and attentive host, with whom pleasant to deal with. And yet, he knows the Russian language that adequately facilitates communication.
Дмитрий
2016-09-07T00:00:00Z
Очень красивая, чистая квартира. Есть все для комфортного проживания. Можно готовить. Очень хорошее расположение, спокойный район, не далеко от станции. Близко супермаркет и много кафе. Артур очень гостеприимный и доброжелательный. Встретил и проводил, помог с багажем, Всегда был на связи и ответил на все интересующие меня вопросы. Очень рекомендую всем!!!
Екатерина
2016-10-07T00:00:00Z
really cosy place near the city, quiet and close to everything we needed
Yulia
2017-02-20T00:00:00Z
Romtype
Helt hjem/leilighet
---
Eiendomstype
Leilighet
---
Plass til
6
---
Soverom
Quarto d'Altino, Veneto, Italia
Il primo Residence Low Cost, con la sua posizione strategica, ideale per un soggiorno di lavoro o per una vacanza a Venezia con la famiglia
Residence Venice, "Il primo Residence Low Cost, con la sua posizione strategica, ideale per un soggiorno di lavoro o per una vacanza a Venezia con la famiglia"Caro ospite,Ti offriamo appartamenti bilocali con entrata indipendente in posizione centrale ma (URL HIDDEN) Residence Venice è ideale per le vacanze di una famiglia fino a 5 persone oppure per un soggiorno di lavoro. Il Residence Venice si trova a Quarto d'Altino (Venezia) in una posizione strategica vicinissimo alla stazione del treno per raggiungere Venezia in 20 minuti.Siamo appena fuori dell'uscita del casello Venezia EST (autostrade Venezia-Trieste e Venezia-Cortina)E' facile raggiungere in 15 minuti l'aeroporto Marco Polo di Venezia oppure in 20 minuti l'aeroporto Canova di Treviso Inoltre da Quarto d'Altino puoi comodamente andare in autobus o in treno a Jesolo e Treviso o nelle principali città e località turistiche del Veneto. Non abbiamo una reception fissa ma se vuoi fissare un appuntamento, saremo ad attenderti al tuo arrivo e ti assisteremo per tutta la durata del soggiorno e siamo a disposizione per fornirti qualsiasi informazione utile per rendere la tua vacanza indimenticabile. Il residence è formato da 30 appartamenti della struttura situata tra l'albergo Best Western e la residenza per anziani "Anni Azzurri", vicinissimi a qualsiasi esercizio commerciale: nelle immediate vicinanze trovi un supermercato, bar pasticceria, ristorante, pizzeria, banche, farmacia, giornalaio, tabacchi e negozi varia pochi chilometri ci sono il centro commerciale Valecenter di Marcon con più di 100 negozi e in direzione nord all'uscita autostradale di Noventa/San Donà di Piave trovi uno dei più grandi Outlet di Firme di abbigliamento.Gli appartamenti STANDARD hanno una superficie di 40mq con posizione frontaleSono arredati modernamente e dotati di tutti i confort : •Ingresso indipendente•Ascensore •Porta blindata •Cucina completa di lavastoviglie forno a microonde frigorifero con ghiacciaia•Set completo di stoviglie per 6 con pentole •Soggiorno con TV decoder digitale terrestre e divano letto doppio•Bagno con doccia e lavatrice•Camera matrimoniale con armadio•Terrazza •Aria condizionata estate•Riscaldamento invernale •Ferro e asse da stiro•Asciugacapelli•Posto auto privato ( scoperto non custodito) accessibile con telecomando•Videocitofono Sono ammessi animali domestici di piccola tagliaI bambini fino a 3 anni sono ospitati gratuitamente in una culla oppure nel letto matrimoniale con i genitori. Per i soggiorni settimanali Il cambio della biancheria e la pulizia sono effettuati a metà settimana, per i soggiorni mensili la cadenza è settimanale.Check-in: dalle ore 14:00 alle 20:00 Check-out: entro le 10:00
Renzo was very nice and helpful. Upon checking in, he guided us by mapping out where to go, Including maps and train information. The apartment was spacious and bed was comfortable. The free and secure parking was nice. The apartment was located close to the train station, that takes you to city center in 20 minutes. Overall great experience and would recommend to others.
Sally
2016-07-18T00:00:00Z
Reno was amazing! He made me and my husband feel very welcomed. We were traveling for our honeymoon / my birthday. He addressed all of our questions and for my birthday he left a bottle of champagne.l with a cute note! I thought that was very sweet. The place was very clean and cozy. We would definitely consider again if / when we go back to Venice.
Jasmine
2016-06-21T00:00:00Z
The apartment was nice and good location
Agnes
2014-06-23T00:00:00Z
The apartment has all the required services, is clean, and is near a supermarket, so is a great place to stay if you want to go to Mestre or other great places near like beaches etc..
Alejandro
2013-06-03T00:00:00Z
A friend and I stayed at Residence Venice for 3 nights. The building is situated in what seems to be a cute and safe neighbourhood - the houses in the area are gorgeous! There is a supermarket, pharmacy, bakery, restaurants and bank within walking distance. The actual location of the apartment is outside of Venice so you have to take a train to get to Venice. The train takes only 20 minutes and comes at least once an hour (the train schedule is provided). The train station is about a 10-15 minute walk from Residence Venice. The apartment itself was beautiful - spacious and clean! The heating worked well and the water in the shower was warm. Everything was just perfect! The host, Renzo, was very responsive all throughout our communication and offered a transfer service to Treviso airport at the end of our stay. If ever I come back to Venice, I would not hesitate to stay here again.
Tina
2013-04-10T00:00:00Z
We spent 1 week at Residence Venice and it was really great. Very clean and cozy! We had a warm wellcome with instructions given of the area and our first day in Venice. You can come and go whenever you like and have a secured parking lot. The kitchen is equipped well and you have a big fridge! supermarket and little shoppingcenter is 3 minutes by feet. All in all we can only recommend staying at Residence Venice!
Fabian & Gabriela
2013-08-16T00:00:00Z
Seamless experience, very easy check-in. We were provided with great instructions and guidance for how to get to Venice and the best way to experience the city. The apartment was clean and comfortable, and parking in the lot out front was simple.
Joshua
2016-09-17T00:00:00Z
Good place! Thanx !
Elizabeth
2013-09-09T00:00:00Z
Romtype
Helt hjem/leilighet
---
Eiendomstype
Leilighet
---
Plass til
4
---
Soverom
Quarto d'Altino (Venezia) , Veneto, Italia
My accommodation is suitable for couples, business travelers, families (with children) and furry friends (pets).
Our apartments are perfect for a short visit in Venice and surroundings. Located in a quiet area along the river Sile, are comfortable and practical thanks to the nearby train station, and easily reachable from the A4 Venice east gate. You will be in Venice in 25 minutes without the machine and car parking, we offer that too. Plus you can take advantage of the new cycle path along the river or visit the ancient Roman ruins of the city of Altino. Our apartments offer up to a maximum of 4 beds, sofa, TV, some have a washing machine (specify if necessary), kitchenette, refrigerator, dishes and cookware, linens and bedding, dining / living area, balcony, heating, air conditioning. You can use the wifi in the common area.
Romtype
Helt hjem/leilighet
---
Eiendomstype
Leilighet
---
Plass til
4
---
Soverom
Quarto d'Altino, Veneto, Italia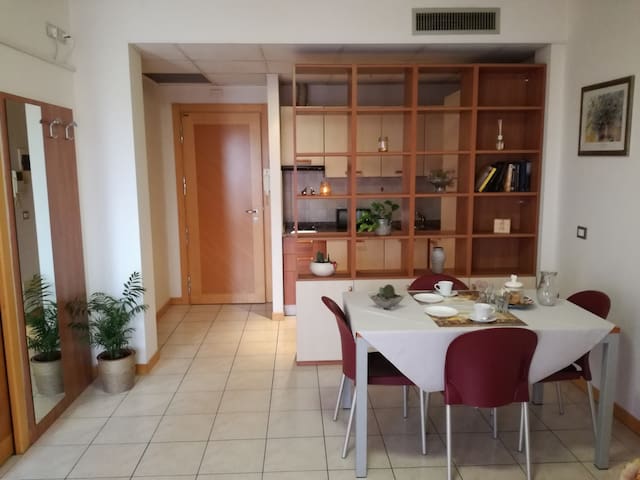 Apartment on the second floor in a quiet, yet convenient to all services, comprising: kitchenette, dining / living area, bedroom with double bed and a sofa bed (double), large bathroom and terrace. All equipped
Es war alles ok, Gastgeber sehr freudlich und behilflich, die Wohnung sauber, gut ausgestattet. :) Kann ich weiter empfehlen.
Judyta
2016-09-03T00:00:00Z
Thank you Rira for your apartment. Visiting Venice was easy from the apartment and thanks to your advice. We had a blast in Venice and a lovely stay in your apartment. Your apartment is lovely, comfortable and complete. Thank for your little attention (breakfast, map etc...).
Harisoa
2015-10-08T00:00:00Z
Rita es una persona muy atenta y cariñosa ; el apartamento está en buenas condiciones . Es un poco lejos de Venecia pero en tren se llega fácil. Su amigo Will nos llevó a Venecia y después al aereopuerto, excelente persona . Nos gustó mucho las atenciones . Le tenía a nuestra bebe una linda cuna gracias por todo .
Johanna
2015-10-14T00:00:00Z
My boyfriend and I spent 2 nights at Rita's place. It was absolutely great: I loved the little quiet town, just 25 mins away from Venice with trains every 30 mins, the apartment was spacious and exactly like on the pictures. I would say it's best suited for longer stays, it's very well furnished and has literally everything you might think you need! Rita was extremely helpful with getting me from train station and made us feel very welcome! Her and her husband were always there for any questions. We would definitely stay there again.
Lina
2015-09-27T00:00:00Z
Rita sei una padrona veramente gentile. La casa era molto pulita e anche vicina alla stazione di treno (10 min), lei ti aspetta con un mappa e ti spiega le cose più belle della cità...sempre molto disposta a aiutare! Davvero e stato un posto carino...vicino anche al mercato dove ai può fare la spesa. Raccomandabile 100% une delle migliore esperienze avute in airbnb! Un saluto e un bacio! Luisana e Johnny
Jonathan
2016-01-25T00:00:00Z
Rita y Abel increibles huéspedes el lugar muy cómodo, limpio e independiente y muy bien comunicado!
AIDE
2015-10-05T00:00:00Z
Nice flat but it's rather far from Downtown. By train it takes 30 mn.
Maxime
2017-03-15T00:00:00Z
Best experience in airbnb so far. Great appartment, well located, 10min walking from the train station. You can find all the essentials in the appartment, Rita and her husband were very welcoming, Rita picked us from the station to the appartment. They were very helpful, and very funny. We will come back to Venice and definetly to Rita's appartment. We recommand this place!
Hassan
2016-01-01T00:00:00Z
Romtype
Helt hjem/leilighet
---
Eiendomstype
Leilighet
---
Plass til
4
---
Soverom
Quarto d'Altino, Veneto, Italia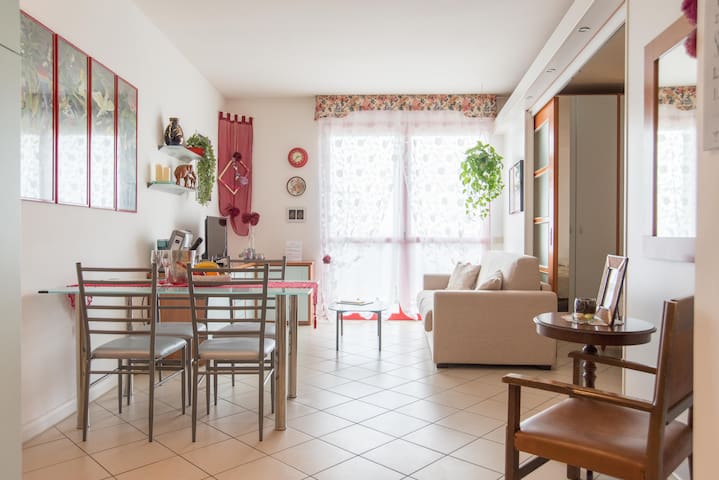 Il nostro è splendido appartamento è all' interno di una villa con un ampio giardino immersa nel verde.Può ospitare 4 persone. Da qui con il treno in 20 min si può raggiungere Venezia e con l' auto in 25 min si arriva ad Jesolo famosa per il mare
My sister and I rent out our apartments in a lovely country house. The smaller has a livingroom, a kitchen, a bathroom and a bedroom; the otherone has a kitchen, a livingroom and a bathrom on the low ground and two bedrooms and an other bathroom on the first floor. Everything is furnished in a modern way.The apartments are spacious and confortables with a big park around where you can relax, sunbath and make a barbecue. Thees apartments are located in Musestre, a little town near Quarto d'Altino, where the are restaurants,shops, ice-cream parlours, pizzerias, pharmacies and a little local market every saturday. You need 10 minuts to reach the train station where you can catch a lot of trains to Venice, that is so near. The Venice airport is only distant 15 minuts and the Treviso's one 20 minuts. The sea place of Jesolo is not so distant and for the lovers of wine the "prosecco rute" is easily reachable. Enrica and I are two guide that can organize for you: transfert, particular tour around Venice as the local "bacaro tour",cycling tour around the Venecian lagoon and along the river Sile, tour of the islands of Venice, wine and food tour...and others requests, all thees things are very cheap! This is the perfect place to relax after a long day between the Venecian "calli" and to taste a glass of good wine that we will give you.
Molto tranquillo e rilassante
Die Wohnung von Federico ist sehr gut ausgestattet: zwei Zimmer und ein Badezimmer standen uns rur Verfügung. Es gab Waschmaschine, Geschirrspülmaschine, Fernsehen und WiFi. Die Verbindung ins Internet klappte nur außerhalb der Wohnung. Die Wohnung war nett eingerichtet und sauber. Wir haben uns dort sehr wohlgefühlt. Es wäre schön, wenn dir Wohnung Fliegengitter hätte, da es sehr viel Moskitos gab! Wir empfehlen die beiden Appartements vorbehaltlos. Heiner und Sieglinde Millan
(EMAIL HIDDEN)
2014-08-07T00:00:00Z
Romtype
Helt hjem/leilighet
---
Eiendomstype
Leilighet
---
Plass til
4
---
Soverom
Musestre, Veneto, Italia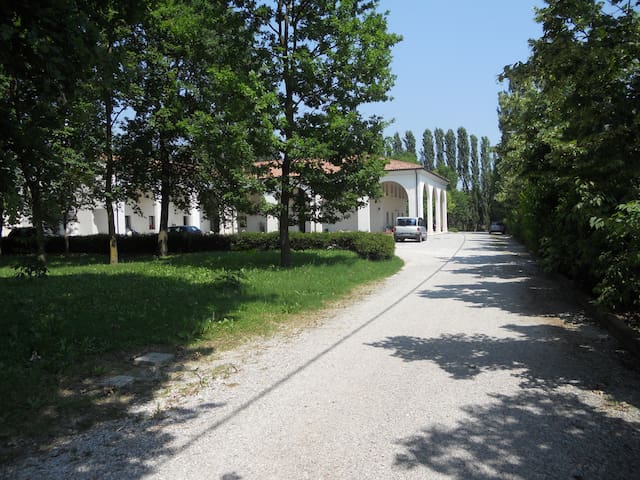 Into a green&quiet area 20 minutes to Venice City, Marco Polo & Canova TV Airport, Jesolo. Close to National Park of River Sile, bikeway, river navigation to VeniceLagoon & its Islands. Auto parking Free,Train Station 3 munutes
Everything was absolutely perfect ! Mara is so a nice person, devoted to help you and to explain the tricks to visit Venezia in the best way. As it is written in the description, the flat is very cosy and well-situated ; 30 minutes to go to in Venezia with the train, the station is so close from the flat (5 minutes). We were with our car, it was easy to park it in a special place indicated by Mara where we can reach Venezia after 5 minutes by bus. Thank you very much Mara for your kindness and your great breakfast, soooooo good !
Victor
2016-06-27T00:00:00Z
Mara was an amazing host!!! She's extremely friendly, smiles all the time and is willing to help with all you need!!! The house is awesome, with every single item you could ever thing about and whatsoever need!!! Her place is very very tidy, there is no dust anywhere, the sheets are very comfortable and so is the bed and all the rest! It was a great experience and I would definitely recommend Mara's place!!!
Matheus
2016-05-12T00:00:00Z
Mara is a very positive and energic. She provided us with valuable instructions regarding Venice. The apartment is very spacious and comfortable and is equipped with everything necessary. The train station is about 5 min walk from the house, this is very convenient. Mara, thank you for everything. Good luck and good health to you and your mother.
Dmitriy
2016-05-07T00:00:00Z
My husband and I were greeted by Mara at the airport as arranged! We had baggage issues and she patiently waited for us through the whole ordeal. Even after the airport when we had to call the airline to deal with our delayed/lost baggage she was kind enough to lend her phone to us! We enjoyed home brewed coffees by Mara every morning as well as her company! Her place is very spacious and cozy! Exactly what we needed after being in the hustle and bustle of Venice! Thanks for having us Mara!
Donna
2016-08-20T00:00:00Z
Mara was a phenomenal hostess. She is always available to help and has so many great ideas. We had coffee with her two of the three mornings we were there and very much enjoyed her company. The apartment itself is massive, clean, and very modern. It also has a dedicated lot for parking, which in Italy is a super luxury. The train station is ~5 minutes walk and the ride into Venice is ~20-30 minutes depending on the train with a cost of about 3 Euro each way for a ticket. Personally, I would not stay on the island itself as it's overcrowded and overrun with tourists and pickpockets. Mara's place was PERFECT for what my wife and I were looking for and I highly recommend it to you if you like to have a quiet, peaceful, and affordable place to lay your head at night with a great hostess. If you have a car you're worried about parking then you may as well stop and book now.
Jordan
2016-09-10T00:00:00Z
Mara was a great host with lots of advice for us about places to visit in Venice! The apartment is wonderful with airco, a big kitchen and the Quarto d'Altino train station just 5 minutes away, which takes you to Venice in just half an hour. Would recommend anyone to stay here when wanting to visit Venice!
Stephanie
2016-07-25T00:00:00Z
Lovely hostess and apartment. A bit far from Venice but if you drive you can park in the garage and take a boat from there.
Kostia
2016-08-30T00:00:00Z
Mara made us feel welcome the second we arrived! She picked us up from the airport in her little red hat and took us to breakfast when we told her we hadn't eaten yet. She was very friendly and had a breakfast ready for us every morning. Her place was extremely clean and beautiful. The bed was also very comfortable! If i had any complaint it would have to be the noise from the neighbors upstairs, but some ear plugs would solve that problem right away. Thanks Mara! Hopefully we will see you again!
Yvonne
2016-06-18T00:00:00Z
Romtype
Helt hjem/leilighet
---
Eiendomstype
Leilighet
---
Plass til
2
---
Soverom
Quarto d'Altino, Veneto, Italia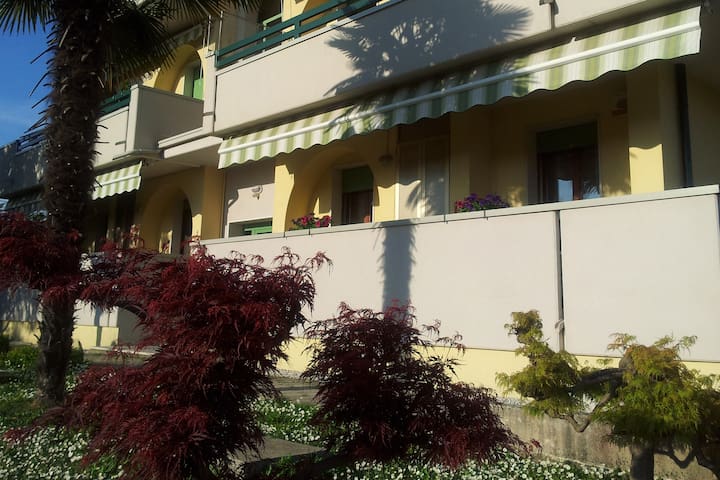 L'appartamento è situato nel centro ma in una tranquilla palazzina con parcheggio esterno. A soli 5 minuti a piedi dalla stazione dove i treni Molto comodo e spazioso è dotato di una camera matrimoniale, una camera a due letti, soggiorno, cucina e bagno. Inoltre dispone di un ampia terrazza con vista parco dove rilassarsi nelle calde serate estive. L'appartamento si trova a ferroviaria di Quarto d'Altino, comoda per raggiungere Venezia e Treviso con i mezzi pubblici.
Romtype
Helt hjem/leilighet
---
Eiendomstype
Leilighet
---
Plass til
4
---
Soverom
Quarto d'Altino, Veneto, Italia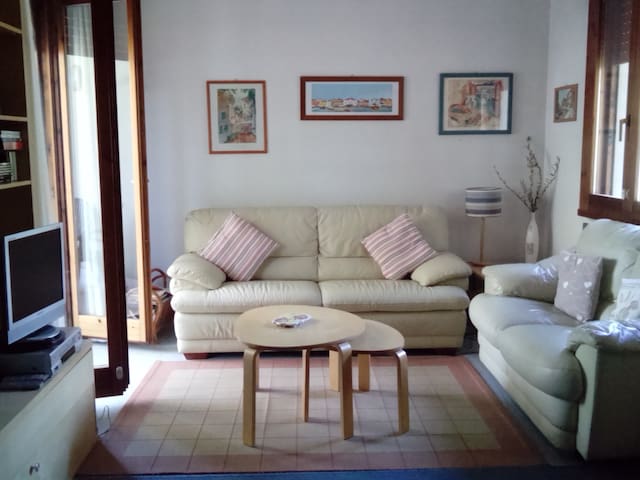 My accommodation is suitable for couples, lone adventurers and business travelers. It is suitable for children because of the spaces.
Quiet neighborhood just a few km from Quarto D'Altino station.
Romtype
Privat rom
---
Eiendomstype
Leilighet
---
Plass til
2
---
Soverom
Musestre, Veneto, Italia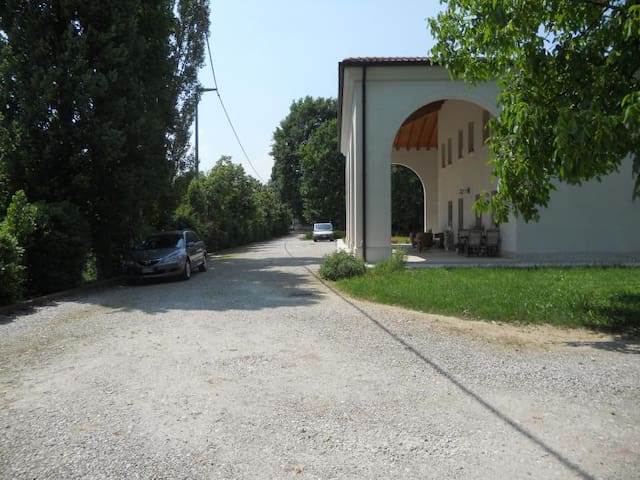 Nice apartment with a kitchen-living room with sofa bed, comfortable double bedroom, bathroom, air conditioning TV and DVD, 2 generose.L'alloggio terraces is 1 minute from the bus station to Venice and to Jesolo
The apartment is equipped with everything needed for self catering, towels, hair dryer and everything that you can expect to have in a house, ironing board, iron, washing machine, air conditioning, tv and dvd.Si located 1 minute from the train to Venice-Mestre (Piazzale Roma), near the bus stop for the best seaside resorts such Caorle Jesolo, Eraclea Bibbione. For cycling enthusiasts a chance to venture in the beautiful and picturesque pedestrian cycle path along the river Sile (bike rental)
Excelente servicio y atencion, de Marco, Ingrid y Francisco, nos ayudaron en todo y siempre disponibles
Fox
2016-10-04T00:00:00Z
Das Apartment war wie beschrieben. Wir haben alles gefunden was wir gebraucht haben, alles war sehr sauber. Die Übergabe hat sehr unkompliziert geklappt, alle waren sehr freundlich. Einzig das Schlafsofa hat leider eine sehr dünne Matratze und war somit für uns nicht brauchbar..
Ellen
2016-07-20T00:00:00Z
Hermoso apartamento, cerca de la estación. de trenes, que nos llevo directo a Venecia, Gracias a las indicaciones Marco y esposa. El apartamento tenia TODO lo que nesecitabamos, Lo recomendamos excelente, seguro volveriamos. Gracias.
Martin
2016-05-22T00:00:00Z
Nice location near the train station (the train to Venice S.Lúcia is about 15 minutes). The appartment was well equipped and comfortable.
Ana
2016-09-06T00:00:00Z
Everything was up to the description provided, and the location is quite and calm. Though I didn't meet the host in person, he managed to get everything in order for us.
Ansar
2016-08-10T00:00:00Z
Marco's place to stay was wonderful! Great communication and very helpful once we arrived.
Gus
2016-06-13T00:00:00Z
Good! minibar is nice idea :) ... Velmi pekne ubytovanie, odporucam!
Miroslav
2016-09-08T00:00:00Z
Marcos was a terrific host. He had all the train schedules posted in the apartment to make your life easier. Apartment was very clean. It is located in a quiet neighborhood, 3-5 min walk to train station, 20 min train ride to Venice. I recommend Marcos place when visiting Venice!
Jared
2016-10-08T00:00:00Z
Romtype
Helt hjem/leilighet
---
Eiendomstype
Leilighet
---
Plass til
4
---
Soverom
Quarto d'Altino, Veneto, Italia
My accommodation is close to the airport and public transport. My accommodation is suitable for business travelers.
Romtype
Privat rom
---
Eiendomstype
Leilighet
---
Plass til
1
---
Soverom
Quarto d'Altino, Veneto, Italia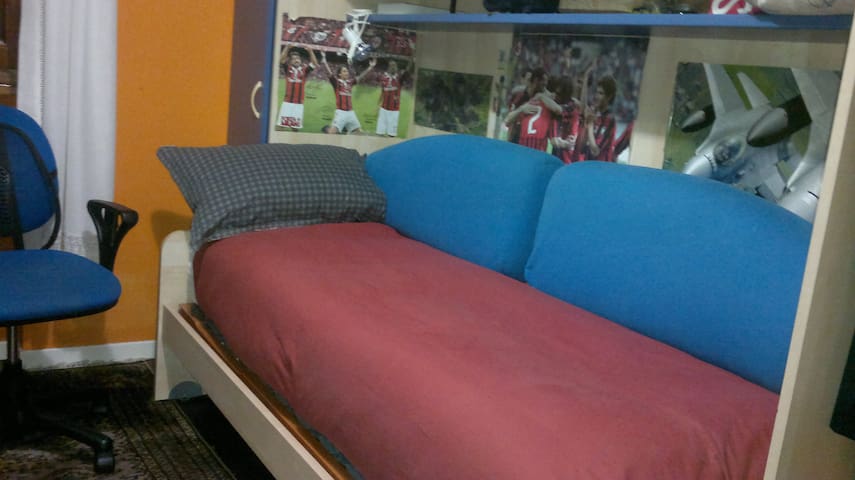 Double room in Condomnio again. Well furnished and comfortable. Shared bathroom with the host. Venice train station 10 minutes. 10/15 minutes by train to Venice. Pick-up at the train to other locations.
The accommodation ė small, but very nice and equipped with all comforts. It is in an excellent position to reach many destinations in the Veneto. Primarily and VENEZIA Treviso. Sea, hills and mountains. Opportunity to walk along the Sile.
The neighborhood is not particularly attractive. What makes it unique is the proximity and convenience to all destinations.
Romtype
Helt hjem/leilighet
---
Eiendomstype
Leilighet
---
Plass til
2
---
Soverom
Treviso, Veneto, Italia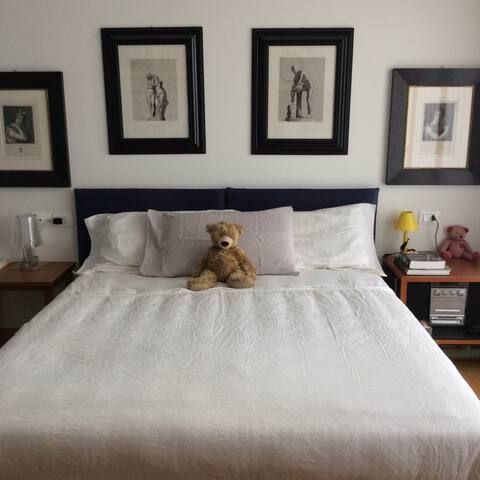 San Cipriano - Airbnb
:
Gjennomsnittlig

4.58

av

5

stjerner fra

350

gjesteanmeldelser
1

–

18

av

66 Leiligheter til leie
Oppgi datoer for å se fullstendige priser. Ekstra gebyrer gjelder. Skatter vil kunne tilføyes.