Mi alojamiento está cerca del transporte público, en el centro, los parques y el arte y la cultura. Disfrutar de mi alojamiento para la zona, el brillo, la cama cómoda, la comida y la comodidad. Mi alojamiento es ideal para parejas, personas que viajan solas y las familias (con niños).
Un molt bon lloc per a desconectar uns dies a la catalunya nord, la casa molt neta i la gent molt simpatica
Albert
2016-12-29T00:00:00Z
Très joli village. Apparemment bien équipé et agréable.
Anne-Claire
2016-12-25T00:00:00Z
La casa está super bien. Solo una habitación pero todo muy espacioso. Un jardín maravilloso. Casa muy equipada. Limpio acogedor y agradable. Hemos estado en enero y la zona es muy tranquila. Visitar villa franca, eus, evol, sant marti Du canigo . Grutas. fontpedrouse baños
Cristina
2017-01-08T00:00:00Z
Romtype
Helt hjem/leilighet
---
Eiendomstype
Leilighet
---
Plass til
6
---
Soverom
Vernet-les-Bains, Languedoc-Roussillon Midi-Pyrénées, Frankrike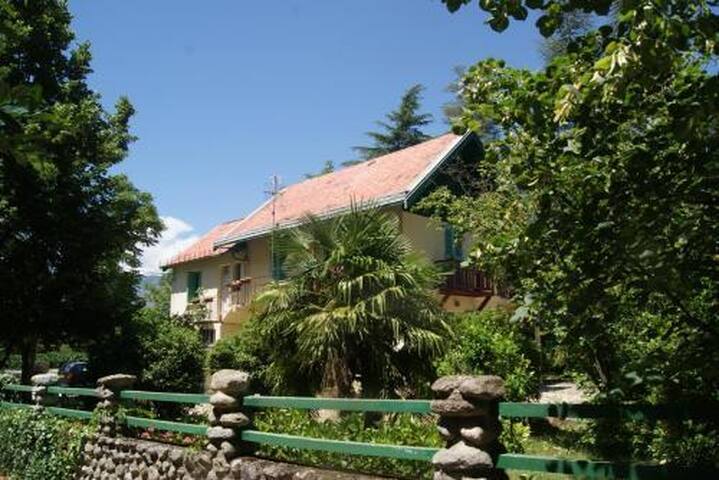 The apartment is on the ground floor of a detached house with its own private entrance; offers a covered terrace leading onto a lawned garden with BBQ, mature trees and ample playing area. It is a short walk into the center of the village and walks and cycle rides start from the front gate.
Suitable for people with reduced mobility
The village is situated in the heart of the Rotja valley and National Parks. The spa town of Vernet les Bains is a short drive, ride or good walk into the next valley.
Romtype
Helt hjem/leilighet
---
Eiendomstype
Leilighet
---
Plass til
6
---
Soverom
Sahorre, Occitanie, Frankrike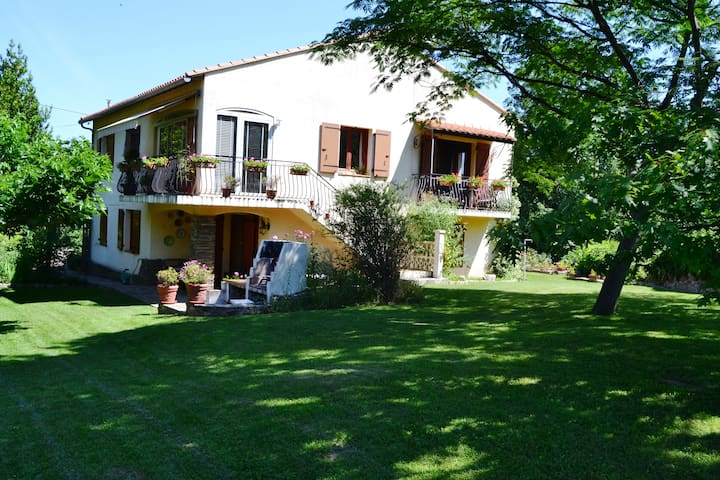 El nostre allotjament és molt tranquil; El centre del poble és un passeig de 2 minuts i el transport públic; L'Spa està a 150 metres; El arborètum del parc està just al costat del xalet; El nostre allotjament és ideal per a parelles i famílies (amb nens)
Appartement jardin très agréable. Parfaitement équipé et confortable, a deux pas du parc et du casino de Vernet les bains. Bon endroit de dilettante.
Béatrice
2017-02-17T00:00:00Z
Nous avons tout particulièrement apprécié l'environnement du chalet, une maison de caractère dans le quartier très chic et verdoyant du casino de Vernet. L'annonce d'Yvan ne précisait pas la localisation et c'est avec surprise que nous avons découvert cette belle maison face au joli parc du casino. Nous sommes ravis de notre séjour.
stephanie
2017-02-22T00:00:00Z
Romtype
Helt hjem/leilighet
---
Eiendomstype
Leilighet
---
Plass til
4
---
Soverom
Vernet-les-Bains, Occitanie, Frankrike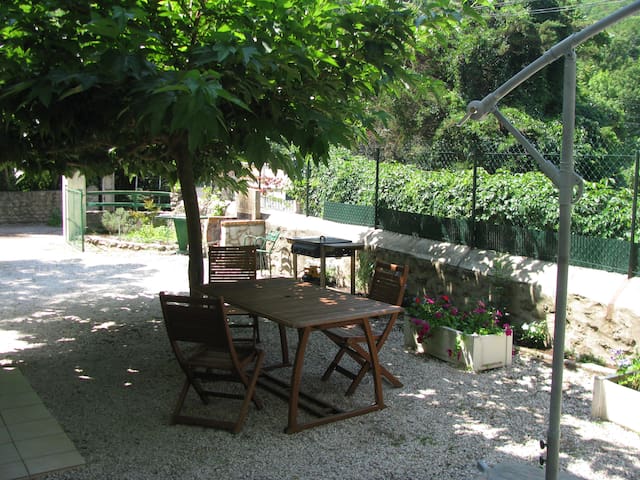 Jeg ønskede at bringe et strejf af modernisme og en fredelig atmosfære i denne indkvartering. Jeg er følsom over for sammenhængen mellem historien om denne allerede indbydende bolig, et århundrede siden, i storhedstid, turister og spa-gæster og komfort, velvære stede, som med rette hævde, rejsende i det 21. århundrede.
smuk moderne og Zen lejlighed på første sal i en lille bolig fra Belle Epoque og indbydende allerede, turister og kurgæster. ideelt placeret downtown, en minutters gang til butikker, tjenester og underholdning og to minutters gang fra de termiske bade.
de bugtende stræder i den gamle centrum af Vernet-les-Bains, typisk landsby, der klynger sig til foden af Canigou vil glæde dig. de første vandrestier, starte på mindre end to minutter fra hjemmet. Jeg ville være glad for at tilbyde nogle ideer til ture og andre udflugter. markedet i det centrale torv, tilbyder torsdage og lørdage en bred vifte af lokale og regionale produkter. en købmand, som ligger på 30 sekunder af huset, kan du forbruge konventionelt eller økologisk, som ønsket. butik, souvenirs, bøger, tøj, osv ... er ved foden af boligen, i den tilstødende bygning.
Appartement trés propre et moderne, Serge est de bons conseils et trés disponible avec lui votre séjour sera réussit à coup sur.
Benoît
2017-02-12T00:00:00Z
Serge était très convivial et accueillant, il nous a raconté en tout détail toutes les infos pertinentes sur l'appartement et aussi des recommandations sur des activités à réaliser dans le coin. L'appartement est agréable et bien soigné, rien nous a manqué!
Gerard
2017-01-01T00:00:00Z
L'appartement a été totalement rénové récemment et dispose de tout le confort nécessaire pour 2 personnes. Serge et très sympathique et particulièrement accueillant et disponible.
Mathias
2017-02-26T00:00:00Z
Romtype
Helt hjem/leilighet
---
Eiendomstype
Leilighet
---
Plass til
4
---
Soverom
Vernet-les-Bains, Occitanie, Frankrike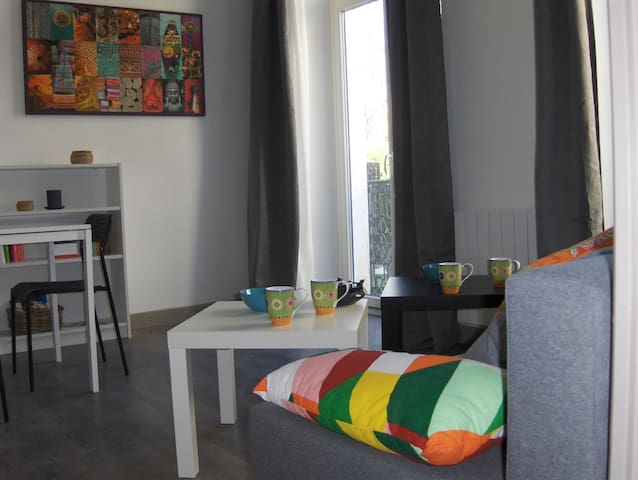 ملكيتي بالقرب من وسائل النقل العام، وسط المدينة والفن والثقافة، والحدائق العامة. يتمتع بلدي الإقامة للسرير مريح، والغلاف الجوي والجوار. الإقامة بلدي مثالية للأزواج والمسافرين منفردا، أسرة (مع الأطفال)، وأربعة أرجل. الإقامة الوحيدة فيرنت وشملت جميع (الماء والكهرباء والتدفئة)
2 غرف نوم + سرير صوفا شرفة الوصول إلى حديقة مواقف مجانية للسيارات في الشارع
بضعة خطوات من ليس ثيرمس قرية صغيرة ونيس أجواء الهدوء،
Buen apartamento, el apartamento en general es mejor que en las fotos, sobre todo la cocina, quizás un cuarto de baño algo pequeño, pero suficiente. El trato con Racha muy cercano y correcto, a pesar de haber sido por teléfono ha sido muy fácil comunicarme con ella, ha respondido bien a todas mis dudas, Racha es muy amable, un placer hablar con ella. Este año repito.
Carlos
2016-10-14T00:00:00Z
Everything was perfect.
Roddy
2016-09-02T00:00:00Z
Cálido y acogedor apartamento para pasar días de invierno. Equipamiento completo y atención rápida y eficaz, sin problemas. Para repetir.
Vicente M.
2017-01-17T00:00:00Z
Relación calidad precio muy buena, cocina grande, nueva y muy completa. Silenciosa y cerca del centro. Terraza muy agradable con vistas muy bonitas, sobre todo ahora que todo empieza a florecer. Yo repetiré sin tengo necesidad de volver, de hecho es la segunda vez que voy. La relación con Racha excelente.
Carlos
2017-03-31T00:00:00Z
Romtype
Helt hjem/leilighet
---
Eiendomstype
Leilighet
---
Plass til
6
---
Soverom
Vernet-les-Bains, Languedoc-Roussillon Midi-Pyrénées, Frankrike
Moje mieszkanie jest w pobliżu parków, wyjścia do wędrówki na Canigou, w pobliżu centrum kultury i restauracji. Ciesz się moim mieszkaniem dla lokalizacji w samym sercu miasta, widoki, jedzenie i komfort. Moje mieszkanie jest idealne dla par, turystów indywidualnych i rodzin (z dziećmi).
Vernet-les-Bains Dom Wynajem Kwatera Langwedocja, Francja Południowa ~ śpi 4 osób Bardzo dobrze wyposażone i wynajem komfortowe mieszkanie, które oferuje wspaniałe widoki na wsi Vernet-les-Bains i Mount Canigou. Apartament znajduje się 45 minut na zachód od Perpignan, w departamencie Pireneje Wschodnie, Langwedocja-Roussillon, południowej Francji. Ta urokliwa willa apartament może pomieścić do 4 osób, przestronnym salonem, jadalnią i dobrze wyposażoną kuchnią. Wiele działań w obrębie wsi pieszą, basen, tenis, jazda konna, wędkarstwo, jazda na rowerze i innych prezentowanych w witrynie internetowej. UDOGODNIENIA: - 1 sypialnia, 4-osob - Taras: słoneczne w godzinach porannych - Wioska z doskonałymi udogodnieniami Mieszkanie znajduje się w budynku o 5 prywatnych apartamentach i znajduje się w cichej lokalizacji w centrum miasta. W apartamencie znajduje się w pełni wyposażony i dobrze wyposażoną kuchnię z kuchenką elektryczną ceramiczną, kuchenka mikrofalowa, lodówka z zamrażarką, zintegrowanym pralka / suszarka. W pokoju dziennym znajduje się rozkładana sofa osobowa, która może być używana przez okres do 2 okazjonalnych gości, duża szafa z miejscem wiszącej fotel, telewizor z programami telewizji francuskiej i kilku angielskich kanałów, radio hi-fi, stołem i krzesłami dla 4 . w sypialni znajduje się podwójne łóżko, szafa z miejsca i wiszące półki i stół 1 nocna z lampą i drzwi prowadzące obecnie na małym tarasie. Prysznic ma dużą kabinę prysznicową, umywalkę, WC. Całe mieszkanie jest jasne, czyste, dobrze wyposażone i wygodne i jest wyposażony w grzałkę elektryczną w całym.
Usytuowany przy centralnym placu Vernet-les-Bains. Blisko rynku towarowego, restauracje, biura informacji turystycznej: punktem wyjścia dla wielu wycieczek.
Delphine a été très très accueillante et chaleureuse. Elle nous a bien aidé et conseillé pour les activités et l'arrivée. L'appartement est très propre et central dans le village, qui a beaucoup de charme. La vue depuis la grande fenêtre donne sur les montagnes... Un grand merci, nous conseillons vivement !
Marie
2016-08-21T00:00:00Z
Romtype
Helt hjem/leilighet
---
Eiendomstype
Leilighet
---
Plass til
4
---
Soverom
Vernet-les-Bains, Languedoc-Roussillon Midi-Pyrénées, Frankrike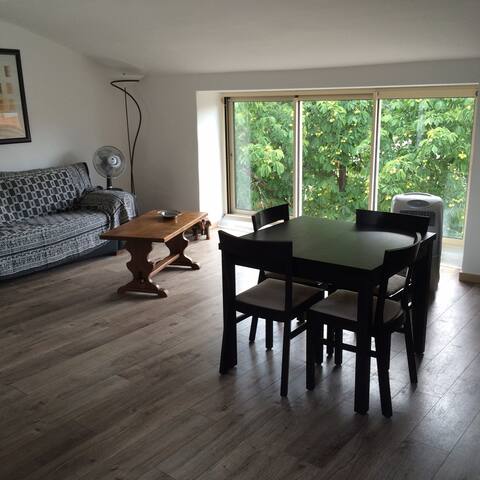 Renoveret lejlighed, fuldt møbleret, sydvendt, ikke overset og roligt. Lejligheden har en privat have terrasse med mange planter, en dam
Apartamento cómodo para visitar la zona, bien ubicado. Muy buen recibimiento por parte de Dragan.
Laura
2016-12-11T00:00:00Z
Tot perfecte, millor fins i tot que a la web, un apartament molt tranquil al centre del poble, just darrera de l'oficina de turisme que es on comencen la majoria d'excursions a la zona. El Dragan molt atent, no hi va ser durant l'entrega de claus però cap problema, per telèfon ens va donar les instruccions d'on eren. En fi que haig de dir...vam passar quatre dies fantàstics en una zona meravellosa i en un apartament molt acollidor. Sens dubte molt aconsellable, per repetir!!!
Màrius
2016-11-01T00:00:00Z
Appartement agréable, lumineux et fonctionnel. Au cours de notre séjour en hiver nous avons apprécié l'excellent chauffage mais la terrasse doit aussi être très agréable l'été. La proximité immédiate des commerces (plus le marché) est très appréciable. Bémol sur le couchage du canapé qui est à déconseiller en l'état. Logement idéal pour un couple ou avec bébé.
Caroline
2017-02-13T00:00:00Z
Acogedor apartamento con todos los utensilios necesarios. Dragan muy atento, cuando llegamos no encontrábamos el apartamento y estuvo hablando con nosotros hasta que lo encontremos y para asegurarse que todo estaba bien.
cristina
2016-01-18T00:00:00Z
El apartamento estaba muy limpio, y tal como salía en las fotos. Buena calefacción. Pero hemos tenido 2 problemas. El wifi no funcionaba y no nos ayudaron a que se hubiera solucionado. El segundo gran problema ha sido la cama. Colchón más grande que el somier. Muy duro e incómodo. Las almohadas también. ha echo que no pudiéramos descansar correctamente. Espero puedan solucionarlo para el futuro.
Marian
2017-01-05T00:00:00Z
Appartement conforme aux photos, à savoir: décor sympa, très fonctionnel et une terrasse bien agréable pour les apéros! Hôte, très disponible et fort sympathique. A recommander pour tous ceux qui recherchent un petit nid où se poser entre 2 balades !
Nadège
2016-01-31T00:00:00Z
L'appartement est très agréable et parfait pour deux. De plus Dragan a laissé des jeux, des cartes et des guides dans l'appartement bien utiles. Propre et fonctionnel. Très bon we !
Claire
2016-02-09T00:00:00Z
Bon logement, bien placé au centre de Vernet les bains à la fois calme et tranquille. Dragan repond très vite. Nous avons passé un très bon moment.
Cyril
2017-02-18T00:00:00Z
Romtype
Helt hjem/leilighet
---
Eiendomstype
Leilighet
---
Plass til
4
---
Soverom
Vernet-les-Bains, Languedoc-Roussillon, Frankrike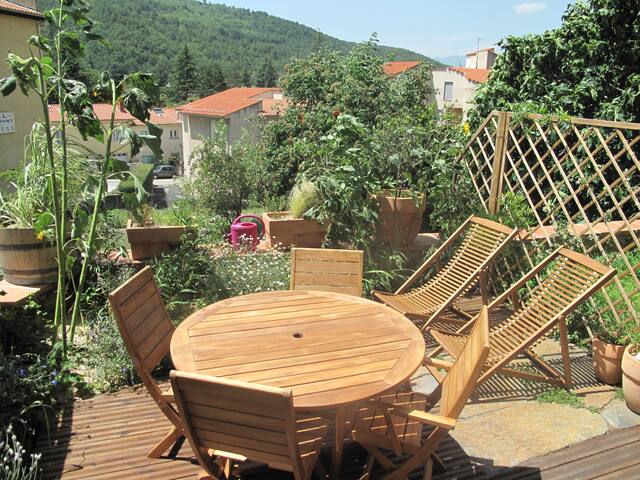 Beliggende i hjertet af den maleriske gamle bydel. 30 sekunder fra byens mange restauranter og barer.
Lejligheden blev fuldstændig renoveret i 2016. Fuldt udstyret køkken med mikroovn, opvaskemaskine, Tassimo kaffemaskine, brødrister, ovn og vitro keramiske kogeplader. Termostatisk bruser. Soveværelse har 2 enkeltsenge, men kan gøres op i double på anmodning. Der er en separat walled garden deles med ejere med en fantastisk udsigt over bjergene og byen med havemøbler mv
The host canceled this reservation 67 days before arrival. This is an automated posting.
Michel
2017-03-09T00:00:00Z
Romtype
Helt hjem/leilighet
---
Eiendomstype
Leilighet
---
Plass til
2
---
Soverom
Vernet-les-Bains, Languedoc-Roussillon-Midi-Pyrénées, Frankrike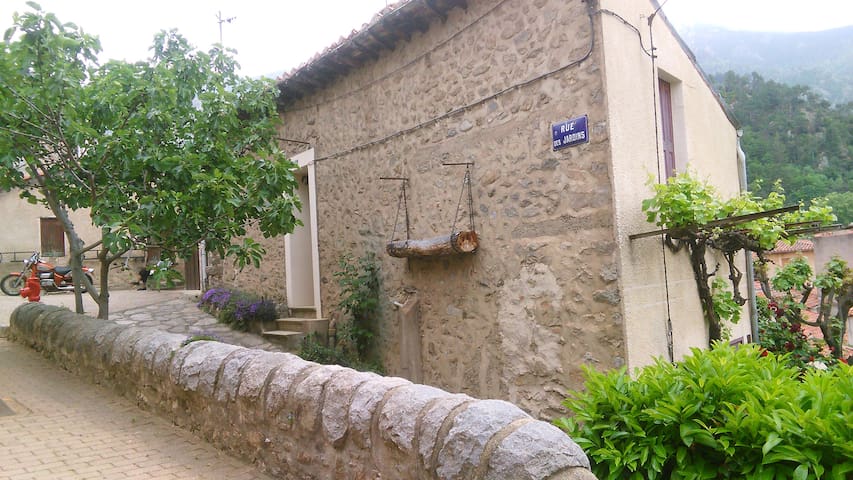 Canigou foot on the green banks of the river Cady, opposite the Casino Park, just steps from the spa and the city center. Grand functional studio on the 2nd floor with elevator, comfortable, sunny. Apartment repainted since 22 February. Fully equipped kitchen, bathroom and separate toilet. NEW BEDDING SINCE February 22, 2017. color TV, central heating. Free private parking. family welcome. Very good value for money.
Philippe è stato molto gentile e disponibile; l'appartamento è pulito e comodo, il posto è molto tranquillo e a 5 minuti dai monti e da villefranche
Jacopo
2016-08-09T00:00:00Z
Séjour très agréable. Le studio est fonctionnel et bien situé. À 2 pas du centre ville avec le marché 3 fois par semaine. Parking pour garer la voiture. Plutôt calme et bien exposé. L'accueil par Jeannette est parfait.
Océanne
2016-09-22T00:00:00Z
Appartement bien situé pour de belles randonnées. Cependant, logement bruyant et vétuste.
Flavien
2017-01-16T00:00:00Z
Très bon séjour studio agréable
Driss
2016-08-21T00:00:00Z
Accueil très sympathique, appartement bien placé, bien équipé et bien chauffé. Très bon rapport qualité-prix. Le lit était trop mou pour nous, et on entend bien les voisins. Heureusement, ils étaient très discrets. Au final, un très bon séjour!
Cyrille
2017-01-02T00:00:00Z
Bienvenu par son accueil empreint de gentillesse naturelle. le logement était décrit correctement par la photo, sauf la literie et le quartier est idéalement situé pour des curistes
Janine
2016-10-15T00:00:00Z
Logement très sympathique, bien situé pour découvrir la région, idéal couple!
Agathe
2017-02-10T00:00:00Z
Romtype
Helt hjem/leilighet
---
Eiendomstype
Leilighet
---
Plass til
4
---
Soverom
Vernet-les-Bains, Languedoc-Roussillon Midi-Pyrénées, Frankrike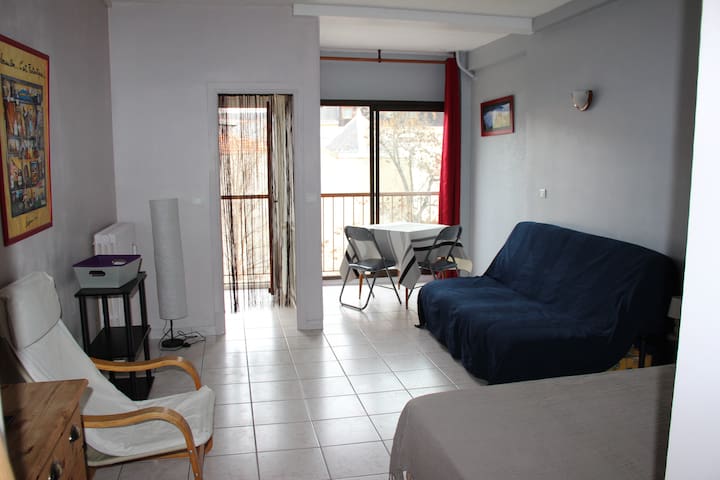 The studio is located in a secure residence with a place of air parking, 36m2 with a balcony where you can enjoy your breakfast, and enjoy the beautiful view of the village and canigou, separate kitchenette. Ideal as a pied a terre for all holidays, excursions, spa treatments ....
The studio is located in a quiet residence, facing south, very nice neighborhood, at 1 floor.
Hôtes très sympa qui nous a conseillé beaucoup de sorties dans la région. Le logement est très agréable, très bien situé et équipée. Je conseille.
valentin
2015-08-08T00:00:00Z
tres agreable sejour chez jean et renee le studio est tres bien tres bon accueil de nos hotes region ou il y a plein de chose a decouvrir.
eric
2016-08-09T00:00:00Z
Une tres belle expérience dans ce petit logement. Fonctionnel dans une résidence calme et sécurisé. Les hotes sont très gentils et soucieux de notre bien être dans leurs logement. Je le conseil vraiment pour un voyage dans la régions. Proche du canigou, de villefranche du conflan (jolie ville fortifiée) et d autre beauté de la nature à voir.
Maureen
2016-08-22T00:00:00Z
Bel studio avec belle vue et bien équipé avec tout ce qu'il fallait pour être très confortable. M. et Mme. Bataller sont très sympas et généreux; ils étaient disponibles pour toutes questions. Merci beaucoup pour un bon séjour dans cette region que j'adore!
Sherri
2015-11-01T00:00:00Z
Un petit apartament en una localització perfecte per visitar la zona. L'apartament te tot alló que puguis necessitar.
Jaume
2016-08-16T00:00:00Z
Romtype
Helt hjem/leilighet
---
Eiendomstype
Leilighet
---
Plass til
2
---
Soverom
Vernet-les-Bains, Languedoc-Roussillon, Frankrike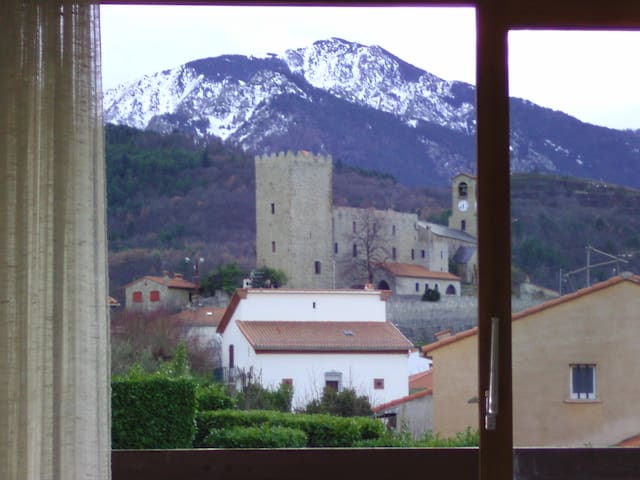 fuldt møbleret, udstyret til en turist eller ugen i tre ugers behandling, behagelig. Der er en terrasse, hvor du kan spise. Amerikansk køkken. mange opbevaring. badeværelse med badekar. separat toilet.
ideelle placering i denne lejlighed i spa-komplekset: du har alt i nærheden. Afgang af vandresti til spa kompleks (fitnesscenter, spa, massage, ...). Byens centrum er 10 minutters gang.
The host canceled this reservation 7 days before arrival. This is an automated posting.
Pierre
2016-02-26T00:00:00Z
Un séjour agréable dans une région magnifique. Le logement est confortable, fonctionnel et fidèle à la description et aux photos. Gilles est un hôte prévenant, réactif et tout en habitant ailleurs, a organisé mon arrivée avec grande efficacité.
Catherine
2016-04-29T00:00:00Z
Appartement confortable et bien situe, ideal pour qui doit suivre une cure thermale a Vernet les Bains.
Gérard
2016-08-13T00:00:00Z
Appartement conforme à la description. Propre et tout le matériel disponible. Pensez à vous procurer les draps et la couette pour les plus frileux enfin tout le matériel pour dormir. Propriétaire sympathique qui n hésite pas vous donner des conseils sur la région qui est magnifique. Appartement situé au niveau des thermes et du casino.
Sandra
2016-07-03T00:00:00Z
Romtype
Helt hjem/leilighet
---
Eiendomstype
Leilighet
---
Plass til
2
---
Soverom
Vernet-les-Bains, Languedoc-Roussillon, Frankrike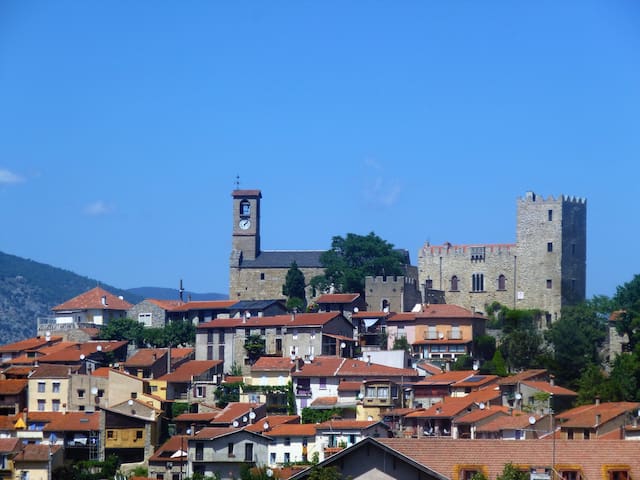 Located near the shops and the bars and restaurants of Vernet, 100m from the thermal baths and the Winter Garden, the enjoyment of the garden is unique, for it is the only house currently inhabited the house. There is a double bed in the bedroom and a single bed in the living room, another bed is possible. Atypical apartment because the house is on 2 levels, so we get down to the first floor and garden.
40 km of ski slopes (EYNE, Mont Louis). Located near the shops and the bars and restaurants of Vernet, 100m from the thermal baths and the Winter Garden, the enjoyment of the garden is unique, for it is the only house currently inhabited the house. There is a double bed in the bedroom and a sofa bed in the living room, another bed is possible. Atypical apartment because the house is on 2 levels, so we get down to the first floor and garden. Ideal for hikers or spa guests (there is a casino) or simple lovers of nature and heritage (abbeys Cuxac and Saint Martin of Canigou), animal park Casteil 2 km, several hot and aquatic centers sources with pool heated in the vicinity.
The house is located 20 m from the main square, busy during the holidays and all summer with its bars, restaurants and small shops, bakery and organic vegetable seller, the local Saturday market
Romtype
Helt hjem/leilighet
---
Eiendomstype
Leilighet
---
Plass til
3
---
Soverom
Vernet-les-Bains, Languedoc-Roussillon Midi-Pyrénées, Frankrike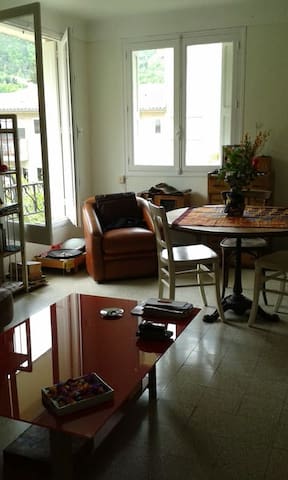 We offer accommodation in rooms (from 1 night) or studios (from 3 nights). Possibility to have a large size bed 160 or 2 beds size 90. Optional machine for studios.
300m from Vernet les Bains center. Departures many walks including Mount Canigou by Mariailles or Aigues Good ...
séjour professionnel agréable à l'hôtel les sources - chambre studio avec literie grand confort Personnel à l'écoute et au service de la clientèle
BEATRICE
2016-04-16T00:00:00Z
Très belle hôtel situé en plein cœur des montagnes et de la rivière . Je remercie Aurélien et toute l'équipe pour leurs accueille . Les chambres sont bien préparées de façon à ce que l'on puisse passer un bon séjour . De plus Vernet les Bains est village magnifique . On peut se balader a Sahorres à la rivière. que dire de plus Un Grand Merci a vous en espérant avoir la chance de revenir .
yann mickael
2015-08-09T00:00:00Z
Con amabilidad.
Vicente
2015-09-03T00:00:00Z
Es tracta d'un edifici d'apartaments combinat amb zona d'àigües termals. L'apartament està ben equipat i l'ubicació és perfecta per poder visitar la zona i fer excursions. No varem provar la zona d'aigues però el tracte amb el personal va ser exquisit. L'únic que no ens va agradar: la cobertura Wi-Fi és un pèl justa i per poder navegar, havíem d'estar al costat de la porta de l'apartament perquè funcionés mínimament. La resta tot OK Molt recomanable!
Jordi
2015-08-23T00:00:00Z
Hôtel avec un très beau cadre et une bonne équipe
Bérénice
2015-06-29T00:00:00Z
très calme et reposant!
Baptiste
2016-08-12T00:00:00Z
Très bon accueil dans une chambre agréable et lumineuse. 2 bonnes nuits dans un hotel calme.
Pascale
2016-07-18T00:00:00Z
Great hotel in a very beautiful area, in the mountains. Very nice and clean rooms. We highly recommend it.
Sebastian-Andrei
2016-05-25T00:00:00Z
Romtype
Helt hjem/leilighet
---
Eiendomstype
Leilighet
---
Plass til
2
---
Soverom
Vernet-les-Bains, Languedoc-Roussillon, Frankrike
48m2 lejlighed i en lille bolig på 4. sal med elevator, landsbyen 5 minutters gang, begyndelsen af mange udflugter, tæt på de termiske bade, butikker, swimmingpool; rolige, komfort og smuk udsigt.
1 værelses lejlighed ideelt placeret 500 m fra de termiske bade i Vernet-les-Bains og tæt på byens centrum. Stor balkon med smuk udsigt over Canigou og landsbyen, 4. sal med elevator i en smuk bolig, gratis parkering. Sovepladser 2/3 personer: dobbeltseng i værelset (140/190), sovesofa i stuen (140/90), ekstra seng til 1personne (80/190). Køkken, badeværelse, toilet. Gratis wifi. 80cm fladskærms-tv, vaskemaskine, strygejern og strygebræt, køleskab, keramisk kogeplade, mikroovn, ovn, elkedel, brødrister, service, bestik og glas. Speciel pris for person, der har hydroterapi i tre uger, så spørg os. Håndklæder og sengetøj på anmodning med tillæg. Beliggende 680 over havets overflade i det fredede hjertet af den regionale naturpark i de catalanske Pyrenæer, ved foden af Canigou (2785m), Vernet-les-Bains-dalen er berømt for sine varme kilder og ren luft. Første arboret landsby i Frankrig med mere end 2000 træer og 320 arter. Direkte adgang til stier i naturreservatet i Canigou. Region rig på romansk kunst, for dig til at opdage Abbey of Saint Martin du Canigou, den romanske kirke Corneilla de Confluent, Abbey of Saint Michel de Cuixa (Festival Pablo Casals), befæstningen af Villefranche de Confluent (ranking UNESCO) og forlod byen rangeret de smukkeste landsbyer i Frankrig, den gule tog Cerdanya, Fort Liberia, Caves af Canalettes Wildlife Park, Mount Canigou dominerer Pyrenæerne, de naturlige varme kilder i St. Thomas ... Mange landsbyer, seværdigheder og historiske slotte at udforske. Beliggende mellem havet og bjergene: du har mulighed for at hoppe i havet og bjergvandring i eftermiddag: 50 minutter fra havet, 40 minutter fra skiløjperne. Tæt på Andorra og Spanien. Adgang: Med bil: Motorvej A9 til Perpignan, derefter N116 til Villefranche de Confluent (55kms), derefter D116 til Vernet-les-Bains (5kms) Plane: Perpignan / Rivesaltes (Air France og Ryanair) Tog: Ankomst til stationen i Perpignan og TER € 1 til Villefranche de Confluent eller du vil blive støttet.
Ro, nærhed til butikker, marked, swimming pool, park, vandreture, flod
The best view in the village! Great apartment for a couple. Plenty of space and easy with modern bathroom and easy walking to 1 euro bus service and village.
Karen
2016-06-24T00:00:00Z
Nous avons passé un super moment dans cet appartement tout douillet. La vue sur Vernet et le Canigou sont imprenables. L'appartement a été refait récemment, il est particulièrement bien équipé de sorte que l'on se sente comme chez soi. Nous avons été accueilli par le frère d'Emmanuel qui a été très attentionné. Un sans fautes !
Vincent
2015-12-02T00:00:00Z
I loved the view, the appartment is so much more beautiful than the photos,so peaceful and cozy, i would definitely stay there again
KINDA
2016-11-06T00:00:00Z
Très bon accueil. L'appartement est conforme à la description, et correspondait parfaitement à nos attentes. Vernet est un village fort sympathique ;)
Raynald
2015-01-02T00:00:00Z
We never met Emmanuel, he was in Paris at the time, but we did communicate often. His brother took care of introducing us to the apartment and providing us with a fantastic bottle of home made apple juice. The apartment is exactly as expected except for the view out the front window. That was better than expected. The apartment was clean and comfortable, it has a good strong wifi, and a great adult sized shower. Vernet les Bains is a mountain spa town for those who like to hike and see nature. The area is filled with interesting small towns, Eus for example. Perpignan is about an hour away and it has all the city stuff you will need. Barcelona is about 3 hours away but I would not recommend it. We went for a two day stay and were robbed of all our documents, money and credit cards within an hour of arriving. Spent most of the time there in police stations and consulates and on the phone trying to get some money so we could eat. So if you go, be very careful. Keep your car doors locked and windows closed. And don't open them no matter how upset the guy on bicycle seems.
Sergio
2016-06-16T00:00:00Z
Nous avons passé un très agréable séjour dans cet appartement spacieux et fonctionnel avec une vue imprenable sur le village et le massif du canigou. La maman d'Emanuel nous a très gentiment accueilli et nous avons apprécié la confiance qui nous a été témoignée. De plus la région est très belle. Nous avons l'intention de revenir.
Christine
2016-07-31T00:00:00Z
We stayed four nights in Emmanuel's flat. We didn't meet Emmanuel but his brother met us off the bus when we arrived and walked us to the flat. Lovely living space with amazing view over the village and Canigou, small kitchen with everything you might need. Perfect location and easy to get around on the €1 bus. Tourist office in Vernet closed on Saturday and Sunday so luckily we decided to visit it on Friday afternoon! Highly recommended apartment and communicative host and would definitely stay again.
Clare
2014-10-21T00:00:00Z
Our trip was just great. The apartment is in excellent conditions, very well equipped and we would go back to Vernet any day! The only thing I would mention is that the apartment maybe a little tight for 4 adults. We were a couple and a child and it was perfect for us.
cinthya
2013-07-19T00:00:00Z
Romtype
Helt hjem/leilighet
---
Eiendomstype
Leilighet
---
Plass til
3
---
Soverom
Vernet-les-Bains, Languedoc-Roussillon, Frankrike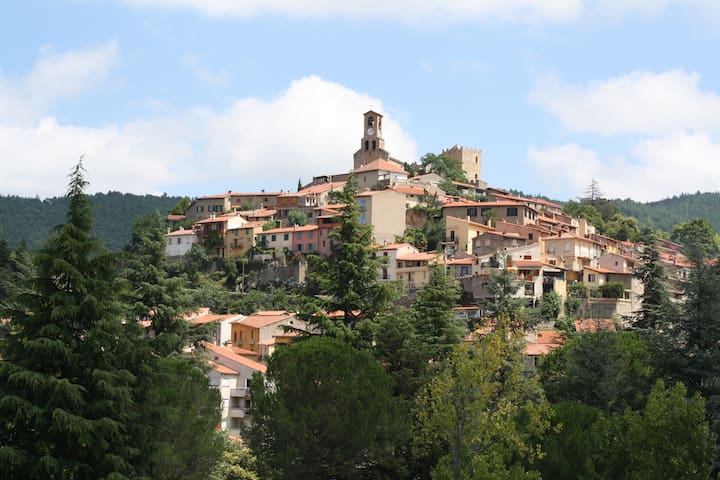 Apartament Cortal, recentment classificat 2 *, és un apartament de la zona de 30m2 amb un dormitori, pati privat i és part d'una vila de 4 cares amb belles vistes de la vall i les muntanyes.
L'apartament està ben mantingut i ben equipat pels propietaris que hi viuen i que també són els amos del restaurant "Bistrot li Cortal". L'habitació té un llit de 140 cm i té un gran armari per a la roba d'altres mobles. El saló té un televisor i accés al pati privat o hi ha mobles de jardí incloent barbacoa. En la cambra de bany, recentment renovat, és la rentadora. En tots els rangs de preus, tovalloles, roba de llit, electricitat, neteja i wifi. No és d'estranyar!
Vernet les Bains és una ciutat balneari, al peu del Canigó. Ideal per practicar senderisme, ciclisme de muntanya, hidroteràpia, barranquisme o simplement a respirar aire net. poble arburetum estrena de França, prop de les coves, parc natural, tren groc, les fortificacions de Villefranche, l'església i l'abadia romànica. Vernet es coneix com "el paradís dels Pirineus", amb 300 dies de sol a l'any.
Appartement fidèle aux photos, très propre, très bien équipé, tout à fait recommandable
Emmanuelle
2016-11-01T00:00:00Z
Everything was great! The place is calm and cozy and Tiffany & Dave were very gentle.
Jordi
2016-03-26T00:00:00Z
Studio très propre et bien équipé, situé dans le haut du village près du château, disposant d'une petite terrasse. Comme à l'hôtel, les serviettes de toilette sont fournies. Légère odeur d'humidité ambiante cependant en cette fin octobre. Vernet-les-Bains est un endroit grandiose au pied du Canigou. Je recommande.
Nadine
2016-10-30T00:00:00Z
Logement très bien situé, bien équipé. Facilité pour se garrer. Très bon séjour passé dans le village. Je recommande.
Melanie
2016-12-16T00:00:00Z
Lovely, cozy and very clean house in Vernet-les-bains. The hosts are very nice they have a great restaurant next door. Very recomended!
Mariam
2016-02-23T00:00:00Z
We have stayed here for three nights and we've been very comfortable. The apartment is cozy and very bright, it is well equipped (very useful, specially if you want to cook your own food sometimes) and clean. We strongly recommend it and also their restaurant, you just can't miss it! Fantastic treatment.
Beth
2016-12-11T00:00:00Z
Semaine très agréable dans le studio de Tiffany et Dave. Nous avons découvert une région superbe, et ceci dans les meilleures conditions. Merci à eux
alice
2016-04-02T00:00:00Z
Very nice appartment in a lovely town! Really comfortable, clean, cozy and well equipped. The hosts are very nice and they have an excellent restaurant next door! Overall, everything was great and would love to come back
Katarzyna
2016-09-30T00:00:00Z
Romtype
Helt hjem/leilighet
---
Eiendomstype
Leilighet
---
Plass til
2
---
Soverom
Vernet-les-Bains, Languedoc-Roussillon, Frankrike
This Gite is ideal for couple or two traveling together on or with one child.
Romtype
Helt hjem/leilighet
---
Eiendomstype
Leilighet
---
Plass til
3
---
Soverom
Fuilla, Languedoc-Roussillon, Frankrike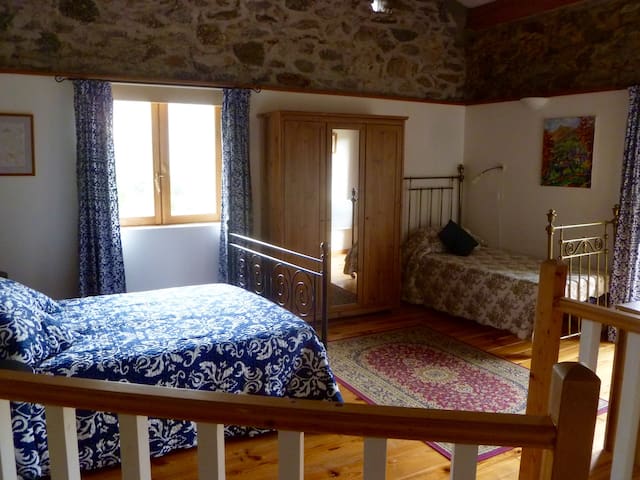 Beautifully renovated 85m2 luxury apartment in historic hostelry in Serdinya, a medieval village. 2 nights is the minimum you can book. Large totally private terrace overlooks the Canigou mountain. Midway between beaches and ski pistes, excellent location for all winter and summer activities. All the comforts of home in this convenient location. All our guests are thrilled with the apartment's beauty and comfort and particularly with the terrace. The apartment is fully equipped including linens.
Beautiful modern sunlit 2 bdrm gite apartment situated in an ancient Relais de Poste (hostlery) with full sized equipped kitchen, large bathroom, 2 WCs. A beautifully furnished terrace with full southern exposure provides a panoramic view of the valley, the Canigou mountain, and the old village of Serdinya, a 10th century village in the Conflent. Dining outdoors is easy with the plancha cooking grill, and a beautiful dining table that seats six. Have an apero overlooking the Tet River and watch the Yellow Train pass, and maybe stop for passengers, as you lounge in the deck chairs. Go hiking, skiing, take in the hot baths, visit the many monasteries, walled towns, fortresses, and dolmens, take the Yellow Train through the mountains, go canyoning, dirt biking, river rafting and much more. They are all just minutes away. Stroll through Serdinya, a quiet Catalan village with a beautifully maintained 10th century church containing splendid statues and paintings from the middle ages. Located on the Route Nationale, this property is midway between the ski pistes and the beaches at Canet. Triple glazed windows ensure a quiet stay. Full laundry facilities are free and available in the building, parking is just steps from the building. Wifi is free, and all fees are included in the weekly rental price. Beds are currently set up as one queen (160 cm) and two twin beds. Your hosts speak English and French fluently. They can assist you with any situation, and can help you get the most of your stay. Music-lovers, the owners of this apartment are classical music artists, and if you have special events that would be enriched by music, you are welcome to make enquiries for private performances. Serdinya has a park with party-size bar-b-que facilities and picnic tables that can be reserved for large gatherings, should the need arise. Supermarkets, bakeries, sausage shops, and boutiques are less than 15 minutes away in Villefranche and Prades. While you're here, you can attend the Pablo Cassals Chamber Music Festival, take the cures in Vernet les Bains, lounge in the hot baths of Bains de St. Thomas, visit the unique shops in Villefranche, the fortified village, wander through Eus, the medieval village now occupied by artists, visit the Les Grottes des Canalettes, a superb cave system just 5 minutes away, sample wines from the best vineyards of the Languedoc-Roussillon, visit farms with local dairy and meat products, and above all taste the magnificent peaches, apricots and nectarines for which the region is famous. There are so many more things you can do in the Conflent area - too many to mention here. Plus, we're 2.5 hours from Barcelona, and 45 minutes from the Perpignan airport. A unique feature of the Relais de Serdinya are the Singing Holidays, when singing events and singing weekends are scheduled throughout the year. Your host, the American singer Robin Hendrix, is a certified teacher of singing for the French Republic specializing in teaching people who have never sung in the lyric voice to arrive at doing just that, on the very first day of their singing holiday. What a blast! You can book a singing holiday for small or large groups, as there are other residential spaces available in the building. Singing Holidays are a great way to connect with friends and family in a totally new way, and with Robin Hendrix (mezzo-soprano) and her husband Michel Prezman, pianist/composer, you are guaranteed to succeed. Contact your hosts for more information on a Singing Holiday in Serdinya, if that would be of interest. Don't worry, you won't ever be disturbed by music during your stay, unless you choose to have it.
Serdinya is located in the Conflent, a confluence of three rivers, each with their own valleys. Serdinya is divided in two by the Tet river, and is memorable for its beauty and distinctive peaceful nature. The old church holds treasures dating from the 11th century, and the church's furnishings are among the finest examples in the region. Summer is bird season in Serdinya, and the irondelles and martinets swirl endlessly through the air, providing constant amusement on the terrace. Closer to the river you'll find several species of wagtails, cukoos, and other varieties.
Sundrenched is extremely practically located for hiking and other outdoor activity in the Pyrenees. We hiked Mount Canigou and Gorge Caranca which both are within 15 min drive from Robin's place. The apartment is nicely decorated, clean and cozy. Terrasse has sun practically all day long and scenery is beautiful: view of Mont Canigou, river that runs thru the village and wilderness. Robin's kitchen is well equipped and wifi connection works. Robin is extremely welcoming host and it was a pleasure to stay with her.
Marja
2016-10-23T00:00:00Z
A fantastic house in a beautiful surrounding, a wonderful apartment and the most helpful and nice host. Thank you, for our very comfortable stay with you.
Katarina
2016-07-22T00:00:00Z
Robin was so kind and welcoming, the perfect hostess. The apartment was exactly as it is showed at the pictures. Newly and complete refurbished, and fully equiped. It is also very well located, in the middle of all the places to visit in this area. Located at a small, quiet and charming village, perfect to have a disconection break and breath some fresh air. We will come back for sure. Thank you for everything Robin!
Anabel
2015-12-08T00:00:00Z
Excellent stay at Robin and Michel's place. The terrace was just as nice as it looks on the pictures, and everything inside was fine : lots of equipment, utensils (there was even a nut cracker !) Robin has a talent for sprinkling a bit of magic here and there, and was very available when we needed advice or directions.
Augustin
2016-07-18T00:00:00Z
A WONDERFUL RENTAL, incredible value for the price!! Robin and her husband Michel were superlative hosts. On our 1st night, they invited us up for Kir Royale and chips! They were incredibly helpful and supportive, yet honored our privacy. Our rental was super clean, comfortable, spacious, and well equipped--fine china, the best bed And most comfortable pillows we have ever used. The place was fabulous--even more so than described. Robin and Michel made the stay all the more memorable--they performed a private concert for us. This rental is fantastic!
Werner
2015-11-06T00:00:00Z
Molt bona la relació qualitat-preu.
Gemma
2017-01-02T00:00:00Z
Robin is very kind and we enjoyed a lot our stay at Serdinyà. She is an excellent host and the terrasse and the views of the appartement are amazing! Thanks a lot!!
Laura
2015-09-27T00:00:00Z
Robin was great at communicating during the enquiry and on site. Her place is beautifully done. The master bedroom is biiiig, and the bed super. The 2nd bedroom is small, but fine for my two kids to sleep in as the living room and patio have lots of room for toys to be strewn around. Robin was very attentive and helpful. The fortified town of Villefranche de Conflent is 10 minutes away. The trip to the fort at the top well worthwhile and you can be driven up if you ask Joel in the Bar le Canigou in Villefranche de Conflent and then walk down the 734 steps down a hand dug tunnel that emerges back in town. Or walk up the 4x4 track and enjoy splendid views of Canigou. The Yellow Train was fun too, and the sledding at Font Romeu only 35 minutes away. You can rent a sled for 6 euros a day at Font Romeu, and the sledding slope is free. There are also a couple of spa towns nearby. So plenty to do in the winter.
Christopher
2016-02-18T00:00:00Z
Romtype
Helt hjem/leilighet
---
Eiendomstype
Leilighet
---
Plass til
4
---
Soverom
Serdinya, Languedoc-Roussillon, Frankrike
apartament reformat, totalment moblat, orientat al sud, no es passa per alt i tranquil. Internet. L'apartament té un balcó amb unes vistes i vistes panoràmiques. Mirant cap al sud
si vous cherchez un petit village authentique c' est bien Venet les Bains idéal pour les ballades ,randonnés, etc, proche des bains d'eaux chaudes de ( St Thomas les Bains) et des pistes de ski de Font-Romeu .
Danielle
2017-02-19T00:00:00Z
Très bon séjour dans un Appartement accueillant et chaleureux
Riauté
2017-02-13T00:00:00Z
La situació de la casa molt maca, ja que Vernet -les -bains es un poble idíl·lic, respecte a la casa deixa moltíssim que desitjar.
anna
2017-01-02T00:00:00Z
L'apartament és gran i ben equipat. També net i al mig del poble. Ens va fallar la comunicació amb el Dragan, però un mal dia el pot tenir tothom ;)
Eduard
2017-03-12T00:00:00Z
Le logement est idéalement situé dans le centre du village. Il était propre et avec une vue agréable au calme.. Dragan a été joignable très rapidement alors que nous sommes arrivés en début de soirée.
Rémi
2016-12-29T00:00:00Z
Excellent !! A great apartment. Clean. tidy, everything there which is needed. In the center of the village but quiet. Southwest showing balcony with view on the mountains. Good shower and good Wifi. The host is very friendly and the communication and all arrangements with no problems and no delays. The village is very nice, friendly people and a perfect starting-point for hikers. Good and reasonably priced public transport. We are sure to come back.
christina
2016-10-02T00:00:00Z
Bon accueil. Petit plus: flexibilité dans les heures de départ/arrivée.
manuela
2016-01-02T00:00:00Z
Le logement est tout à fait confortable et bien équipé, conforme aux descriptions de son propriétaire. Les environs sont superbes et offrent de belles possibilités de balades (randonnées, sources d'eau chaudes...). Nous y avons passé un très bon week-end ! Merci encore à Dragan
Morgane
2016-01-18T00:00:00Z
Romtype
Helt hjem/leilighet
---
Eiendomstype
Leilighet
---
Plass til
4
---
Soverom
Vernet-les-Bains, Languedoc-Roussillon, Frankrike