Skriv inn innsjekkingsdatoen i formatet dd.mm.år
Skriv inn utsjekkingsdatoen i formatet dd.mm.år
Utleiesteder du kan bestille uten å måtte vente på vertens godkjennelse.
10 Utleiesteder
· Sörenberg
10 Utleiesteder
· Sörenberg
Oppgi datoer for å se fullstendige priser. Ekstra gebyrer gjelder. Skatter vil kunne tilføyes.
I juli og august i år kan du prøve ut ett av disse 100 hjemmene folk har vurdert som svært gode, i alle prisklasser, og oppleve lokalfolkets blikk på Sonoma. 24-timers innsjekking, Øyeblikkelig bestilling og lokal vin og snacks, lar deg lene deg tilbake og nyte turen.
Die Free Spirit Lodge das versteckte Paradies im UNESCO- Reservation Entlebuch bei Luzern. Bern, Interlaken und Engelberg sind in kurzer Zeit erreichbar. Wandern, Mountain biken und Motorrad fahren ein. Skipiste 50 Meter vom Haus entfernt.
Jedes Zimmer hat eine einfache Küche und Kühlschrank sowie einen Kamin. Handtuch und Bettwäsche und Koch Set ist da. Es ist immer ein Ansprechpartner vor Ort. Wir freuen uns auf Euch!
Gutes öffentliches Verkehrswesen! Luzern, Bern und Engelberg/Titlis nicht weit entfernt. Gratis Parkplätze.
7 of us stayed at the Bob Marley room and it fits us perfectly. The house was warm and lovely. You can make fire in the house too as it might get a little cold in the night! Location is good as there is a bus stop (20-30mins bus ride out to city area) just 5 mins walk away from the lodge :)
Shaylene
August 2015
eifach COOL
Nada
January 2017
The experience at the Free Spirit Lodge couldn't be better. We were a group of 12 people. Fränzi and Steffen were very patient and super welcoming. They were always available to explain and give tips about the region and hiking trails. Stefan even took us by car to the cable car, where we would start our hiking. They've assisted us in preparing a barbecue, raclette, etc. They've also joined us when invited, and gave us privacy when we had to work or rest. The place is perfect in both winter and summer. Even tough the chalet is remains isolated in a quiet location, it is still very easy access by public transport, and walking distance from restaurants and shops near Sörenberg Post. The rooms are spacious and clean. The vibe of the place is very positive. Highly recommended!
Vanessa
July 2016
Wir waren bei Fränzi und Steffen sehr zufrieden, die haben uns sehr viel geholfen, mehr als unsere Erwartung. Ich kann nur weiter empfehlen und würde ich selbst im Winter nochmal besuchen.
Rajesh
June 2016
Franzi and Steffen were the perfect host. They were really kind and joyful giving anything we want. The lodge was so beautiful. I strongly recommand you this lovely house and host.
sungwon
August 2016
Alles wie beschrieben. Der Kamin ist sehr Abenteuerlich Alles sehr sauber. Betten bequem. Direkte Lage an der Skipiste.
Rainer
December 2016
The place was beautiful and so were the hosts. It is situated in a quite and peaceful surrounding. Rene was really nice and so was his wife and the two other helpers of his. A never forgetting experience. I would definitely go to the same place and recommend friends the same. The only minus point would be commutation if you are on public transport as the time taken is longer else all was great.
Apul
August 2015
It was one of the best stay we ever had. Rene was amazing, we were about to check in at 2pm but came at 6pm still he was there to receive us. He has explained every little thing in the lodge, and speaks very good English. We enjoyed making fire though it wasn't too cold during our stay. We felt very homely there with our kids.
Govindaraj
September 2015
Romtype
Helt hjem/leilighet
---
Eiendomstype
---
Plass til
16
---
Soverom
5
Flühli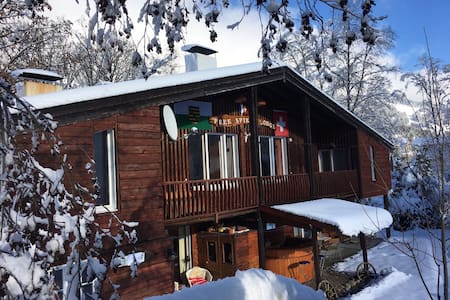 We had a lovely experience there. Franzi and Steffen welcomed us warmly. We wanted to eat a fondue and they kindly proposed us to prepare the fondue pot in a little wood house in the garden. They prepared the fire to warm up the house and prepare the table. A lot of hiking ways are available close to the house.
Fanette
October 2016
Romtype
Privat rom
---
Eiendomstype
---
Plass til
8
---
Soverom
1
Flühli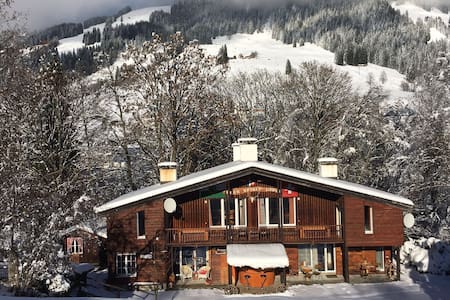 This Chalet was built in 1963 (fully renovated in 2009). It is very cozy and excellent equipped with e.g. Internet (Wireless LAN for free) and washing machine. With 3 bedrooms on 3 floors we can recommend the house for totally 6 persons. Groundfloor: Living room with oven, sat-TV. Living-kitchen with Baking oven, Microwave, Dishwasher, Fridge with freezer, Nespresso Coffee machine and a big table. Sep. toilet. 1st floor: 1 master bedroom with shower/toilet, 1 double bedroom with shower/toilet and an additional shower/toilet related to the bedrooms on 2nd floor. 2nd floor: 1 double bedroom. The Terrace with 20 m2 and furniture offers a very nice view to the mountains and the nearby river. The house is situated in a quiet environment and is surrounded with Garden (850m2). You can use the loggia, the BBQ-possibilities and the furniture for taking a relaxing sun bath. A little shopping center, restaurants, bus stop, public indoor swimming pool, mountain railway, ski lifts, ski school and an ice field you can reach in walking distance. The golf course is only 7 km away from the house. During summer Sörenberg offers beside the wonderful walking possibilities in the mountains an adventure park in the forest and a coasting slide. You can test your courage! You will have a parking possibility for 2 cars. Please note, this is an non-smoking house. Whenever, we welcome our guests personally and show them the house. If it is not possible, we stay in contact by phone or email until we know, our guests has duly arrived. During the stay our guests can reach us by phone or email.
Within one minute walk, you can reach a bus station. After 30 minutes drive by bus you will reach the railway station Schüpfheim with good connection to Lucerne and Berne. Distance to the most popular seightseeing points: Lucerne 50km, Engelberg Titlis 70km, Interlaken 60 km, Grindelwald 80km, Berne 70km Please not, that you need to pay visitor tax in Sörenberg. CHF 3 per adult and night, CHF 1.50 for children (12 - 16 years) and night. Children under 12 years are free. Please visit the tourism office after arrival to pay the amount.
Cozy Holiday-Chalet was a dream we enjoy it. Sorenberg is small and far a bit from everywhere but that exactly what we were looking for at summer. the people are so kind and would helps you all time. Iris was a nice person you would know her for sure especially with her lovely daughter.
NADER
March 2014
Iris made us feel very much at home by checking in on how we were doing. She, also, upon check out provided us with some extra time to get our stuff out, clean up, and go - and I HAVE to thank her for her patience. The listing is accurate. It is cozy and easily fits 6 people with its 3 full and one half bath. Everyone in my group LOVED it. We were in heaven here in the summer with the views, the sound of cowbells (think wind chimes), and a mountain water creek to polar plunge into. Did I mention you have the whole place to yourself? The WiFi was a bit spotty, but we weren't really there to surf the web. The location is in Sorenberg which can be a bit treacherous to get to if you are coming from Interlaken. However, once there - you will be greeted with a grocery store in walking distance, an archery range, a mountain or two, and a toboggan course in driving distance. We really wanted to stay longer! And I know everyone would agree to come back and stay here. :o)
Brian
September 2015
It was a great experience for us at Sorenberg at Iris's place. We loved the environment and it was really impressive. Iris and her friend Sabine were very supportive. The locations was great than expectation. After a long tour across Europe we felt it was a good option to relax at this kind of natural environment. As I mentioned if we am were provided with the list of attractions around in English could havr made our life more convenient. Also it's good to know the close by Rent a car and super market areas and other information. Over all we enjoyed this place it was a great place we have ever been in our whole tour. We felt we should have stayed here further more days at this relaxing environment. Thanks a to Iris and Sabine providing us a a great experience and I wish to visit this place again.
Subash
July 2016
Everything is good and clean in there. We are enjoy to cook and bbq in there. We feel comfortable.
KN
June 2015
Location was calm and great. Close to the village supermarket, restaurants, and gas stations. A cozy house by a river; it cannot get any better. The cows' bells in the area may get little noisy at night. House owner was very flexible and helpful. We loved the house and the neighborhood. We got fresh milk and strawberry from farms 5 min from the house. Many thanks and we wish to come back in the future.
Yasser
July 2016
We had one of the best vacation times at Sörenberg. The Cozy Holiday-Chalet was wonderful from all aspect, house was really cozy, warm, accessabel and equipped with almost every thing for a family. We spent almost 9 awesome days, enjoying the amazing view of the balcony, well arranged garden, Barpique facility's, indoors fire place, sound of revere water, very clean house, and many others... The community in Sörenberg are small but friendly and we felt easy mixing up with the people around. Within the premisses you have a petrol station, great supermarket, several selections of restaurants, coffee shops and sports shop were you can even rent sports facility's. Last but not least Iris and her family were very welcoming and caring to the extend we felt ourselves at home. We enjoyed our stay at Cozy Holiday-Chalet in Sörenberg, thanks Iris for the great hospitality.
Mohammed
June 2013
The Chalet is extremely comfortable, all the details are perfect ( Nespresso Cafetiere, BBQ, perfect bathrooms..) The location on the river is fantastic with a view on the mountains. The village is small, and the supermarket overpriced like in all sky-station but we had a very nice stay , hiking and enjoying the living room and terrace or garden of the chalet. Avoid he pizzeria place, bad food ( the worst hamburger you can imagine.. a pity in a country where meat should be delicious..) and they charge for the tap water..5 CHF / liter!!! On the contrary , the restaurant in Rischli is very good and not overpriced. Overal it was a very good experience and the whole family loved this chalet.
Catherine
August 2013
Romtype
Helt hjem/leilighet
---
Eiendomstype
---
Plass til
6
---
Soverom
3
Flühli
Das Studio liegt im Parterre unseres Chalets in Sörenberg (Südelhöhe). Direkt am Waldrand. Der Garten kann benutzt werden (im Sommer natürlich auch der Grill). Die Wohnung ist für maximal 4 Personen geeignet. Ideal als Paar oder als Familie.
Es ist eine geräumige 1-Zimmerwohnung mit Cheminée. Sehr gemütlich und "heimelig". Sehr gerne könnt Ihr den Garten mitbenützen. Dazu gehört auch die Feuerstelle. Manchmal trifft man uns im Haus an. Dann freuen wir uns über unsere Gäste. Privatsphäre ist aber immer garantiert. Ansonsten stehen wir telefonisch oder per email immer gerne bei Fragen oder Problemen zur Verfügung. Herzlich Willkommen seid Ihr auf jeden Fall!
Sörenberg ist Sommer- wie Winter ein herrlicher Ort, um sich zu erholen. Im Winter ist Sörenberg ein schönes Familien-Skigebiet. Im Sommer unternimmt man sehr schöne Wanderungen in der naturbelassenen "Bio-sphäre". Die Bevölkerung ist zudem sehr gastfreundlich und herzlich. Man erreicht Sörenberg entweder mit dem privaten Auto oder mit dem Bus. Der Bus hält ca. 300 m vom Chalet entfernt. Im Winter fährt der Bus alle 30 Minuten die Gäste an die Skilifte. Sörenberg sieht für Touristen die Abgabe einer "Kurtaxe" vor. Die Anmeldung liegt in der Verantwortung jedes Gastes. Das entsprechende Formular liegt in der Wohnung auf und wir fordern unsere Gäste auf, die Kurtaxe direkt im Tourismusbüro in Sörenberg zu entrichten.
I didnt met the host . we had great time there
Kobi
July 2016
Wonderful place. Absolutely recommended!
Mufaddal
September 2016
Fantastic location with a nice view. Very tranquil. Lots of possibilities to hike in summer. We loved our stay there.
Ashutosh
May 2016
De studio was heerlijk verwarmd toen wij laat in de avond arriveerden. De eigenaar was zelf niet aanwezig, maar had ervoor gezorgd dat alles in orde was. De studio is alle gemakken voorzien en op een steenworpafstand van de pistes van Sorenberg. Erg leuk skigebied waar de lokale bevolking zijn skikunsten vertoond.
Ytje
March 2016
Great location, in the heart of the mountains and a even gracious host Pino. This has been my best Airbnb experience. Pino made sure that everything was as expected and requested (had asked for a baby bed) and more (room was warm and heated as we entered) But then he was also available for a situation with the keys and very kind and helpful. Thanks again Pino and looking forward to coming back soon.
Vadiraj
November 2015
In dieser gemütlichen warmen Wohnung ist für alles gesorgt. Sehr zu empfehlen für 1-4 Personen in allen Belangen.
Bernd
December 2016
Was good experience, Pino is reachable on phone anytime, quick response.
shilpa
June 2016
Pino's Chalet was a delight. The location was amazing, we couldn't have asked for a better address with virgin nature. All around were amazing views, especially Rothorn just 5 mins away by bus. Although we didn't get to meet Pino, he was extremely welcoming and responsive. The Chalet was very comfortable and warm. There were chocolates and even provisions like Pasta for a rainy day. Kitchen was very well equipped. We enjoyed our stay and would love to be back some other day.
Donald
May 2016
Romtype
Helt hjem/leilighet
---
Eiendomstype
---
Plass til
4
---
Soverom
1
Sörenberg
Die Free Spirit Lodge das versteckte Paradies im UNESCO- Reservation Entlebuch bei Luzern. Bern, Interlaken und Engelberg sind in kurzer Zeit erreichbar. Wandern, Mountain biken und Motorrad fahren ein. Skipiste 50 Meter vom Haus entfernt. Erleben Sie die schweizer Bergwelt hautnah. Gemütliche Ferienwohnung für Max. 4 Personen.
Die Lage
Sehr nett, flexibel und hilfsbereit.
Marius
October 2016
Romtype
Privat rom
---
Eiendomstype
---
Plass til
4
---
Soverom
1
Sörenberg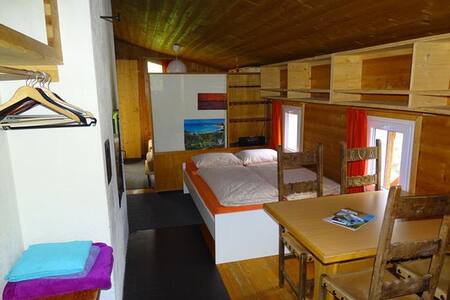 Alles super: der Empfang, die Stimmung, die anderen Gäste, die Landschaft. Vielen Dank für alles Fränzi und Steffen, wir hatten eine sehr schöne Zeit bei Euch. Einrichtung einfach aber deshalb auch gemütlich und preisgünstig...
Clémence
May 2016
We had a very nice stay at Fränzi's cabin in the mountains and I would definitely recommend it. She communicated with us well and was very friendly and welcoming!
Will
July 2016
Fränzi kindly welcomed us and showed us the studio (with our own bathroom and kitchen) in a big and nice house (chalet) split in different apartments. It was really cool, clean and calm in this summer time. You can find all you need and a big kitchen / living room is also available close to the studio. Fränzi was totally available to provide us all advices and help. She is really cool :-) !
Benoît
August 2016
Spent a great weeknd in Sorenberg with amazing mountainvew. It was so gorgeous and stunning. Everything was perfect what I expected. Thank you Franzi.
Adam
December 2016
Romtype
Privat rom
---
Eiendomstype
---
Plass til
2
---
Soverom
1
Sörenberg
Die Free Spirit Lodge das versteckte Paradies im UNESCO- Reservation Entlebuch bei Luzern. Bern, Interlaken und Engelberg sind in kurzer Zeit erreichbar. Wandern, Mountain biken und Motorrad fahren ein. Skipiste 50 Meter vom Haus entfernt. Erleben Sie die schweizer Bergwelt hautnah. Gemütliche Ferienwohnung für Max. 4 Personen.
Mitten in der Natur der Schweizer Bergwelt Wir wohnen mit in der Lodge und sind für unsere Gäste da wenn Sie uns brauchen.
Skigebiet, Pässe und Natur laden zum Wandern, Biken und Ski fahren ein Bushaltestelle ist keine 10 min von uns entfernt
We had a wonderful stay there. The hostess is quite pretty and helpful. Highly recommend with thanks!
Yong
August 2016
Spent a great two nights here.... Franzi is fun and super accommodating
Michelle
July 2016
Wir wurden super nett und aufgeschlossen empfangen und die Unterkunft entsprach vollkommen unseren Erwartungen! Wir kommen bei Gelegenheit gerne wieder.
Ricardo
June 2016
They are very nice.And the hause is also very beautiful and comfortable.
qingyu
June 2016
Fränzi und Steffen erfühlen jeden Wunsch! Sie waren sehr gute Gastgeber und auch sehr Familienfreundlich! Danke viel mal!
Stefan
August 2016
Romtype
Privat rom
---
Eiendomstype
---
Plass til
4
---
Soverom
1
Sörenberg
不枉我们开了二十几公里山路来到这里,美得就像世外桃源。
俊谊
August 2016
The only word to describe this house is perfect! Especially for the family with kids. Because of weather and traffic we arrive at 11 pm, but the host and hostess are so nice to pick up us in heavy rain!I like here very much!recommended!
SIJING
August 2016
Sehr schöne Umgebung. Sehr netter Gastgeber. Die Gegend ist traumhaft. Unsere Familie wären am liebsten gerne länger hier geblieben. Eine Küche im Zimmer (etwas klein) und eine gemütliche Gemeinschaftsküche sind vorhanden, so dass man sich eine aussuchen kann. Wir haben in der Gemeinschaftsküche gekocht und gefrühstückt. Das Wasser hier schmeckt auch sehr, sehr gut!!!!!!!!!!!!!!! Unser Zimmer war nett eingerichtet, der einzige Punkt, was wir schade fanden war, dass die Dusche nur durch einen Vorhang getrennt war. Unsere Zeit haben wir hier sehr genossen und würden die Unterkunft jedem weiterempfehlen!
Bo Ram
July 2016
Yes, everything explained on the ad was exactly as the reality!
Iñaki
August 2016
Buhler apt is exactly as in the photos, modern, clean, comfy and with all the necessary items for our stay. The bed and couch are really comfortable. Overall the apartment and the host were amazing, me and my friends would definitely recommend them.
Muhammad
August 2016
What a beautiful location! You couldn't ask for a more relaxing atmosphere with all the beauty of the Alps completely surrounding you. The apartments were perfect for our family, and we will definitely be back to stay for much much longer!
Dain
July 2016
Romtype
Privat rom
---
Eiendomstype
---
Plass til
8
---
Soverom
1
Sörenberg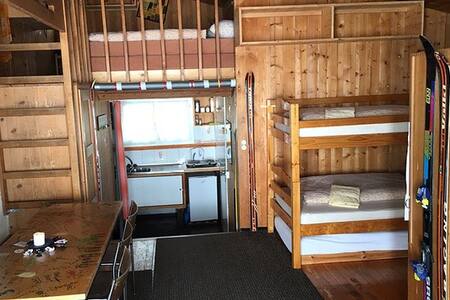 Our lovely, quiet "Chalet Heartlight", furnished with style and love is an amazing place for "digital detox" where you can enjoy the silent sound of nature and a marvellous night view into a crisp and clear sky with millions of stars.
The Chalet offers two charming bedrooms with two single beds each, a spacious and cozy living room with a fireplace, wooden floors and access to a large balcony. The modern bathroom has a shower. The well equipped kitchen contains a baking oven and a dishwasher. The chalet overlooks a wonderful park with an old, big maple and other trees and lots of privacy. This stunning place is situated within walking distance to the village center, the cable cars and the ski slopes. The first floor and lower level of the chalet are for private use for our guests. The upper floor includes two bedrooms, a kitchen, a bathroom with shower and a large living room with a cozy fireplace. The terrace offers a beautiful mountain view and overlooks an amazing private park. On the lower level you have access to a washing machine and dryer and there is plenty of space for sports gear, bikes and winter sports equipment. During winter times the rent also includes a garage. The Chalet is for the exclusive use of our guests, but you can reach us as your hosts anytime via email or telephone and if necessary, we will also assist you on site, of course.
The Chalet Heartlight is embedded into the UNESCO biosphere Entlebuch.
Wir hatten eine tolle Woche im wunderhübschen Chalet Herzlicht. Sehr gute Lage, nahe dem Sessellift, direkt an einem schönen Spazierweg mit abendlichen Besuchen der Rehe, einfach erwas Besonderes. Wir kommen gerne wieder.
Richard
February 2016
Chalet vraiment magnifique et calme, cuisine, salle de bain neufs.tres propre
Corinne
September 2015
Wir wurden sehr freundlich empfangen. Der Begrüssungszopf hat ausgezeichnet geschmeckt. Das Chalet liegt an einer Toplage, die Talstation Platz ist innert wenigen Minuten erreichbar. Vielen Dank für die Gatfreundschaft.
Bruno
February 2016
Wir haben zu Viert im Chalet eine tolle Woche Skiurlaub verbracht. Das Haus ist in einem sehr guten Zustand, geschmackvoll eingerichtet und wurde uns in überdurchschnittlich sauberem Zustand übergeben. Es ist auch zu Fuss nicht weit zu den Skiliften und ins Dorfzentrum. Monika und Jacques sind sehr nette Gastgeber. Wir werden wohl nächstes Jahr wieder hier Ferien machen.
Werner
February 2016
Romtype
Helt hjem/leilighet
---
Eiendomstype
---
Plass til
4
---
Soverom
2
Sörenberg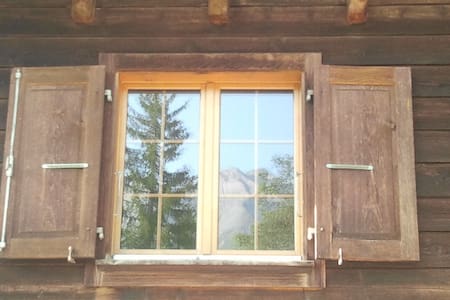 1

–

10

av

10 Utleiesteder