Modern chic guest room with view of Lake Lugano and the surrounding hills and forest. Beautiful scenic and quiet location in the hills in a private street in Rovio, with large garden and private parking. Only 10 km from Lugano . Min. stay 2 nights.
Modern chic guest room with view of Lake Lugano and the surrounding hills and forest. Beautiful scenic and quiet location in the hills in a private street in Rovio, only 10 km from Lugano and Mendrisio.
Rovio is a lovely quaint village in the hills at the foot of the Monte Generoso in the Valmara, close to Lugano and Mendrisio, and to the Italian border. It has lots of sun exposure and is a quiet little town with lots of forest around, ideal for walking, hiking, cycling, or spending relaxing time in the lounge garden or at the lake just down the hill. Rovio offers 2 restaurants, a small local supermarket with postal services. Nearest lake access is in Melano, just down the hill at 5 minutes by car or with the local bus. Nearest commercial shopping centres are FoxTown (fashion outlet) in Mendrisio 10 km or Grancia at Lugano South 10 km.
Alles was super bij La Dolce Vita. Lekker schoon, goed bed en mooie badkamer. Voor herhaling vatbaar!
Godelieve
2016-03-27T00:00:00Z
La Dolce Vita is just a mini heaven in Rovio. Very clean and comfortable place. Anneke was a super host who had prepared everything! - Driving Directions, Amenities, Itinerary Guides, Breakfast... We really had an enjoyable stay and look forward to future new listings by Anneke. Thank you for hosting us! 3
Quek
2016-06-25T00:00:00Z
Zimmer sowie Badezimmer waren sehr schön und sauber. Anneke ist eine freundliche und angenehme Gastgeberin, welche uns ausreichend mit Ideen zu Tätigkeiten, Restaurants, etc. Informieren konnte.
Lukas
2015-10-19T00:00:00Z
It has been a wonderful week-end, in such a beautiful location. Anneke has been very kind and she also helped us discovering beautiful areas and hiking around there. I totally recommend "LA DOLCE VITA" (beautiful room, nice bathroom, great breakfast, lovely host).
Nicola
2016-09-25T00:00:00Z
A very quiet place. Nice atmosphere. It was my 1st Airbnb experience. I really felt home.
George
2017-03-27T00:00:00Z
Anneke hat uns sehr spontan ein paar erholsam Tage im Tessin ermöglicht. Die Kommunikation hat wunderbar funktioniert! Das Zimmer ist stilsicher eingerichtet, hat einen wunderbaren Ausblick und ist sehr ruhig - abgesehen vom schönen Vogelgezwitscher am Morgen und Abend :)
Alexandra
2017-03-11T00:00:00Z
Ein wunderschön eingerichtetes Zimmer, wo wir uns sehr wohl gefühlt haben. Die Aussicht ist traumhaft - perfekt um einige Tage zu entspannen. Wir kommen wieder!
Rebecca
2016-04-22T00:00:00Z
Ich hatte einen wunderbar, ruhigen Aufenthalt. Die Bilder entsprechen der Wirklichkeit und Anneke ist eine sehr angenehme Gastgeberin. Hier kann man sich erholen, man ist aber dennoch nah an allem. Alles ist sehr sauber und gepflegt. Sehr empfehlenswert und ich komme gerne mal wieder.
Gabriella
2015-09-28T00:00:00Z
Romtype
Privat rom
---
Eiendomstype
Bed & Breakfast
---
Plass til
2
---
Soverom
Rovio, Ticino, Sveits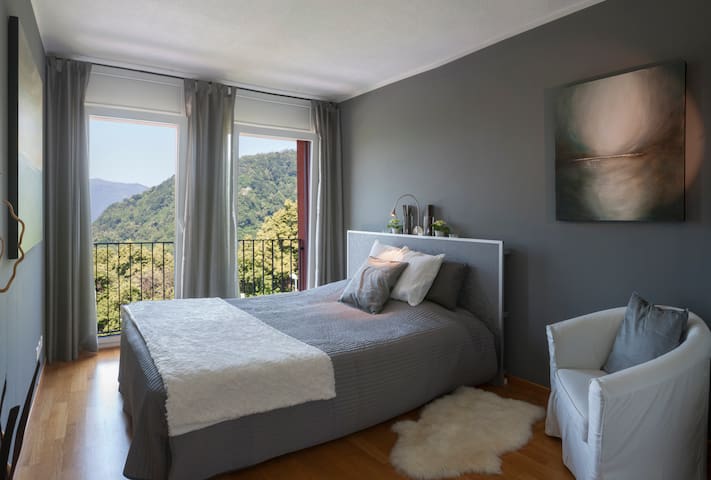 My place is close to Lugano, Porto Ceresio and Mendrisio, it is immersed in the green at the foot of Monte San Giorgo, UNESCO World's Heritage. You'll love relaxing in a cozy and peaceful atmosphere looking over the beautiful lake of Lugano, while resting by the outdoor swimming pool. The studio has been recently refurbished with a modern and stylish accent. My place is ideal for couples and solo adventurers, great also for hiking and mountain-biking.
The complex is very quiet and neighbours are nice people. Please avoid being too loud during night hours.
Espectacular vista y apartamento !!
Nati
2016-08-14T00:00:00Z
Lorenzo est très arrangeant et organisé et l'appartement très fonctionnel et avec une vue époustouflante! Super séjour
LUDOVIC
2016-07-26T00:00:00Z
A great place to have vacation, the view is extremely nice, my son had a great time in the swimming pool. The house has everything, so satisfied and appreciate to Lorenzo!
Jojo
2016-07-29T00:00:00Z
Lorenzo m'a fourni toutes les explications utiles afin de me rendre le trajet plus facile. L'endroit est fort agréable, très calme. Vue imprenable sur le lac de Lugano. L'appartement bien agencé. Merci.
Pierre-Georges
2016-09-24T00:00:00Z
Very nice Location near the forest. Enough space for parking the car and nice Swimming pool. Great view over the lake and Morcote.
Kay
2016-08-30T00:00:00Z
Eine supergute Unterkunft auf der Rückreise aus dem Italienurlaub nach Deutschland. Gut von der Autobahn zu erreichen. Sehr schön:Porto Ceresio - nur knapp 10 Minuten mit dem Auto. Das Zimmer war sehr sauber und genauso wie beschrieben. Ein toller Ausblick auf den Luganersee, vom großen Balkon aus besonders gut zu genießen. Lorenzo hat alles sehr gut beschrieben und es ist alles sehr gut auf Übernachtungsgäste ausgerichtet.
Pia
2016-08-20T00:00:00Z
Bel endroit surtout la piscine et le petit jardin. L'appartement est sympa, petit et fonctionnel. La terrasse est très agréable.
Benoit
2016-08-22T00:00:00Z
Saubere Wohnung mit herrlicher Aussicht, wir waren sehr zufrieden besonders über die schnelle antworten von lorenzo, wir empfehlen die Wohnung gerne weiter, judith, Peter und fabio
judith
2016-08-06T00:00:00Z
Romtype
Helt hjem/leilighet
---
Eiendomstype
Leilighet
---
Plass til
3
---
Soverom
Brusino Arsizio, Ticino, Sveits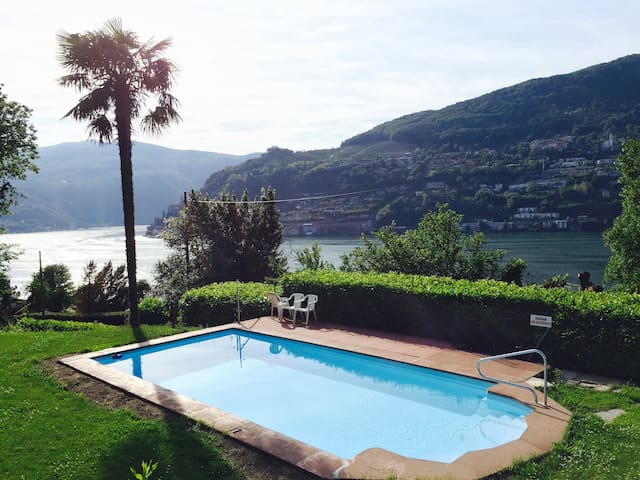 Newly renovated apartment with beautiful view on the lake. Large bedroom with integrated bathtub and shower, walk-in wardrobe. Open space fully equipped kitchen, living room, desk with laptop, air-condition. Terrace and pool. Newly renovated apartment with a beautiful view of Lake Lugano. Spacious bedroom with integrated bath and shower, walk-in wardrobe. Open, fully equipped kitchen, living room, desk with laptop, air conditioning. Terrace / Patio, Pool.
fully renovated apartment with views of Lake Lugano. Large bedroom with integrated bathtub, spacious shower, walk-in cabinet. Open space fully fitted kitchen, living room, desk with Laptop, area conditioned. Terrace / garden, swimming pool.
Vico Morcote is an idyllic village above the Lake Lugano. It is a very peaceful place. With its characteristic small alleys, the arcades of old Partrician homes, valuable architectural monuments and its natural beauty is Considered one of the Pearls of Ceresio. Vico Morcote is an idyllic village above the Lake Lugano. It is a very peaceful and quiet place with narrow lanes, arcades under old patrician houses and with its natural beauty, it is considered one of the pearls of Ceresio. Vico Morcote è un villaggio idillico sopra il lago di Lugano. E 'un paese tranquillo con vicoli stretti, arcate, case Patriziale e con la sua bellezza naturale è una delle considerato pearl del Ceresio.
The host canceled this reservation 185 days before arrival. This is an automated posting.
Oberli
2017-03-31T00:00:00Z
Unser Kurzurlaub war dank der wunderbaren Wohnung in herrlicher Lage fantastisch und total entspannend. Therese ist eine sehr sympatische Gastgeberin. Absolut empfehlenswert!!
Anne-Marie
2017-03-10T00:00:00Z
High standard eingerichtete Wohnung. Schöne Sicht auf Luganersee. Äusserst freundliche Gastgeberin. Sehr empfehlenswert.
Gabriella
2017-04-02T00:00:00Z
Sehr saubere, geräumige Unterkunft. Sehr ruhige Nachbarschaft und bequemes Bett. Ideal für eine erholsame Nacht. Gerne mal wieder
simon
2017-03-20T00:00:00Z
Die Wohnung war grossartig. Seesicht, Garten, Badewanne im Zimmer und sehr gute Lage. Wir kommen gerne wieder.
Valmir
2017-03-27T00:00:00Z
We stayed really good. The apartment was full of comforts, modern with interesting details in the environment. Good to relax and for the view on the lake. The owners have been kind and available. We would like to come back!
Moreno
2017-03-02T00:00:00Z
Il n'y a qu'un mot pour décrire ces quelques jours à Vico Morcote : MERVEILLEUX ! Tout a été parfait : MERCI !
Yves
2017-04-06T00:00:00Z
Romtype
Helt hjem/leilighet
---
Eiendomstype
Leilighet
---
Plass til
2
---
Soverom
Vico Morcote, Ticino, Sveits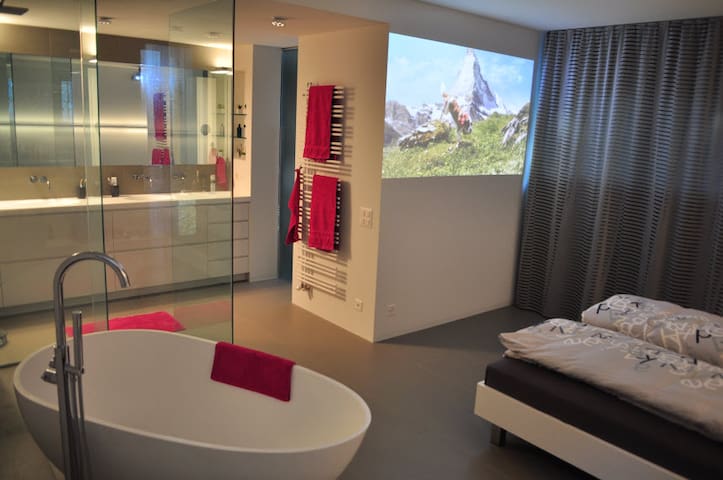 Enjoy your own two-room floor in a beautiful old stone home, located in Morcote, just a few steps from the shore of Lake Lugano where you can find may restaurants. Relax and enjoy breakfast in our lush garden overlooking the lake. Ideal location for travelling around Europe. From Lugano station it takes 30 minutes; from Melide station 10minutes by bus, from Milan 1 hour and 30 minutes.
De to-roms etasje er utstyrt med en tre varmeapparat, tv og wifi.
Very quiet neighborhood Enjoy our beautiful region. We have planty of tips ready for you: hiking trails, sightseeing, gorgeous restaurants and much more.
we stayed 2 nights at yoko & paolo's house in the lakeside village of morcote. it's an unforgettable place, the house is beautiful, a few centuries old but completely redone with taste and a japanese touch, from the living room there's incredible views on the lugano lake and a garden where you can have breakfast while looking at the mountains reflecting in the water beyond the tiled roofs of the village. the room we stayed in occupies the entire top floor, it's like an attic studio, almost independent (apart from the private bathroom that is two floors below but quickly reachable). from the bedroom, small rooftop windows allowed us to gaze at the lake in the moonlight. everything was clean and well-prepared for our stay. yoko was a perfect host, she came to pick us up on the lakeside piazza grande to show us the way, and made sure at every moment that we had everything we needed. then she prepared breakfast in the morning, served at a table with views to the lake. this was by far one of the best b&b experiences we've had, in one of the finest sites around the lugano lake. and with a price that was very reasonable considering the location and service. we did not get to meet paolo this time but will not hesitate to come back! thanks again!
Stephan
2014-09-09T00:00:00Z
Hello, So sorry for late review! We would like to thank you for everything that you have done for us. Yoko and Paolo are easygoing and great hospitality! Their home is very beautiful and clean. Yoko gave a lot of informations. Highly recommend! Anne and Ken
Surapong
2015-10-05T00:00:00Z
This is the best Airbnb experience I have EVER had. Paolo and Yoko do Airbnb because they genuinely love people and want to learn about their lives and culture. We ended up staying in the house for the evening just talking to them and getting to know their family. Staying at their house was an experience and adventure all on its own. Logistically, it's extremely close to Lugano and don't worry at all that it's not in the city center. Amazing place to stay and amazing family!!
Renee
2016-01-02T00:00:00Z
Paolo and Yoko are the best hosts we've ever met. They are friendly, hospitable, welcoming and have lots of stories to share. The house is charming with lots of stylish decorations and Japanese garden. The room we've stayed in (actually 2 rooms: living room and bedroom) are very spacious yet cosy, bed is super comfortable. Location is very picturesque, but if you walk up to the church you'll see truly breathtaking views. Yoko is very helpful. She showed us restaurant, bus stop, helped with tickets, told us about places we can visit and even served breakfast. It was our best experience on Airbnb and we hope to stay at Paolo and Yoko home some day again.
Sveta
2015-10-01T00:00:00Z
It was wonderful to meet Yoko, Paolo, and their family, and to stay in their lovely house in the heart of Morcote. It is a beautiful town with interesting old stone buildings & streets, Mediterranean foliage, and of course the incredible views from the hills, and the lake (which you will see from the garden). I enjoyed stand-up-paddling on a board on the lake, again thanks to Paolo and Yoko. They were very kind and helpful to me, and it is entirely thanks to their help and advice that my transport from Melide to Milan went smoothly. The best part of my time in Morcote was getting to eat dinner with (and talk with) the whole family, I will always remember my friends in Morcote. :-)
Christine
2016-09-14T00:00:00Z
Lovely stay! We needed a rest stop while traveling from Italy to Switzerland and this was the perfect place to do it. Yoko & Paolo were very kind and friendly :)
Daibidh
2016-09-07T00:00:00Z
We had a very nice stay at Paolo & Yoko's place. Marcote is a lovely village and Paolo & Yoko's place is perfectly located. We had a warm welcome. Paolo & Yoko are very friendly, love to give you tips about things to do and are very flexible regarding check-in/check-out. We even could use their bikes (nice to do!).
Marinke
2016-07-18T00:00:00Z
Enchanting 4 centuries old attic in the centre of Morcote, overseeing the lake. It's a hidden gem and simply a perfect getaway place for singles, couples and families. Hosts are all you can ever dream of ... easy going, trustworthy, helpful and restless! I had a great stay in Morcote and if back in the same area I will certainly be back to the same place.
Martino
2017-04-07T00:00:00Z
Romtype
Privat rom
---
Eiendomstype
Hus
---
Plass til
3
---
Soverom
Morcote, Ticino, Sveits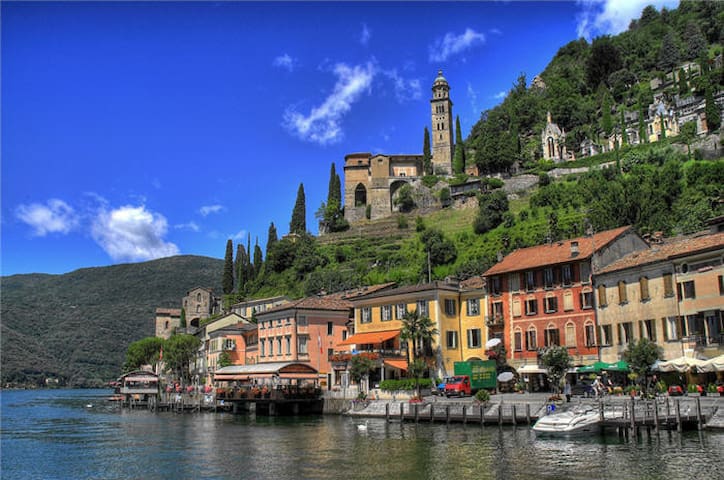 Zde se člověk cítí pohodlně. Nachází se v zelené a středomořské přírody u jezera, zahrada s palmami, slunění a relaxaci, turistiku, jogging, vodní sporty, jako je SUP, plavání, potápění, minigolf, tenis, golf, vodní sporty, dobré jídlo a dobré víno, prostě užít si Ticino.
Přímo u jezera, terasa / zahrada k relaxaci, která je charakteristická, krytá terasa, kuchyň / jídelna s sklo předním otvorem do zahrady, obývací pokoj, sprcha / WC. Poloha na jezero a rustikální klenutý cihlový strop, aby to jedinečná studio.
Caslano je samostatnou obcí a oblíbené letovisko na národních a mezinárodních návštěvníků. Obec má asi 4000 citizien a nachází se přímo u jezera Lugano; To má kompletní infrastrukturu (školy, lékaři, lékárny, nákupní, pošta a banka) a je snadno dostupný vlakem. Tato oblast je velmi malebné a nabídka pro volný čas, je pestrá: (. 18-jamkové golfové hřiště v 10 min) tenis, golf, pěší turistika, plachtění nebo plavání v jezeře - je tu něco pro každého! Naučná stezka byla postavena kolem Monte Caslano (Monte Sassalto), poloostrově jezera Lugano. Caslano je také známý pro své továrny na čokoládu Alprose a obuvi společnost Bally. Lugano je asi 10 km daleko a Ponte Tresa (Itálie), asi 2 km.
Unser Aufenthalt bei Volker war sehr angenehm. Auch wenn er zu dem Zeitpunkt selbst nicht vor Ort war, hat alles super geklappt mit dem Check-In und Check-Out. Volker ist sehr unklompliziert. Leider hatten wir das Vergnügen nicht ihn persönlich kennen zu lernen. Er war jedoch gut erreichbar und wir hatten zumindest das Vergnügen ihn am Telefon kennen zu lernen. Wir empfehlen Volkers Studios jedem weiter, weil auch die Lage toll ist um erholsame Tage zu verbringen. Das Studio ist sehr sauber und man findet alles Nötige was man braucht.
Ceyhan
2017-04-01T00:00:00Z
Die drei Tage in Caslano konnten wir sehr geniessen! Dies nicht nur wegen des schönen Wetters und der Schönheit des Tessins, sondern auch wegen des schönen Apartments! Es war nicht nur sauber, sondern auch gemütlich und im Bad roch es ganz angenehm nach Honig;-) Der Gastgeber war sehr zuvorkommend und es fehlte uns an nichts! Einfach perfekt!!!
Larissa
2017-03-12T00:00:00Z
Alles bestens. Ich wurde tadellos empfangen/betreut (inklusive Begrüssungs-Merlot). Im tollen Appartement fühlte ich mich sehr wohl und erlebte ein reizvolles Spannungsfeld zwischen Abgeschiedenheit am See und lebendigem Treiben (4 Min. per Auto oder 25 Min. idyllischer Wanderung). Ich komme gerne wieder.
Hans
2017-03-19T00:00:00Z
Wer Ruhe, Entspannung und Erholung wünscht, fühlt sich hier aufgehoben. Herzlicher Empfang durch Volker, alles hat reibungslos geklappt. Wir kommen - noch so gerne - wieder!
Jacqueline
2017-02-19T00:00:00Z
Romtype
Helt hjem/leilighet
---
Eiendomstype
Leilighet
---
Plass til
2
---
Soverom
Caslano, TI, Sveits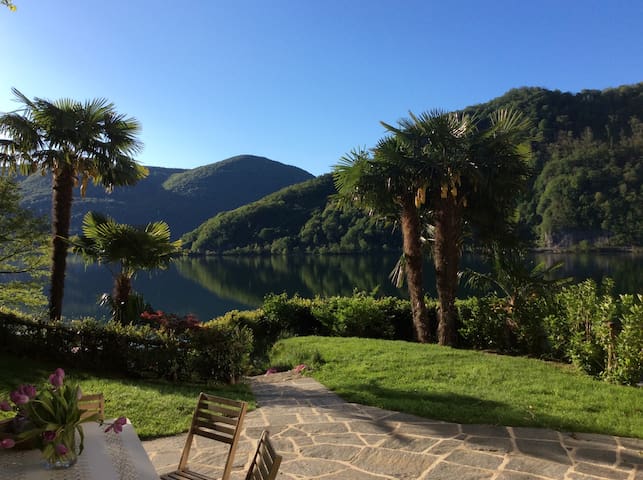 Room in a small apartment, close to the lake, 15 minutes' walk from the center with bus stop under the house, near shops and all amenities of the city.
The room is located in a small apartment, in the room there is a sofa bed (PHONE NUMBER HIDDEN) I also have two mattresses that I provide, wardrobe, chest of the condo and quiet a few meters there are all amenities (bus , shops, restaurants, bars, fitness trails ..)
Quiet neighborhood, several green areas and 500 m from the lake
Romtype
Privat rom
---
Eiendomstype
Leilighet
---
Plass til
2
---
Soverom
Lugano, TI, Sveits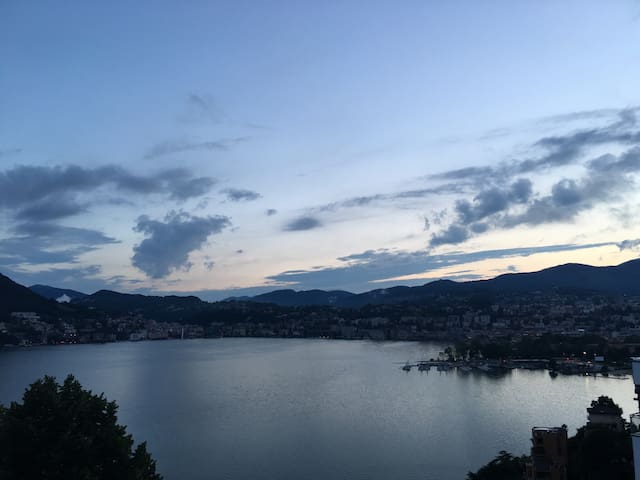 6. Etage am See Wohnung mit atemberaubender Aussicht, komplett renoviert, hell und modern, in der Nähe von Lugano, Lehrpfade und Ausflügen, familienfreundliche Aktivitäten, Fox Town Outlets, Restaurants und eine guten öffentlichen Verkehrsmittel. Hier finden Sie die verträumten Blick lieben, die besondere Lage und den tollen Pool (15.Mai-30.Sep). Der Aufenthalt in Bissone können Sie die echte Tessin, traditionelle Grotten und die Schweizer mediterrane Lebensart entdecken. Ideal für Familien und Paare. Kostenloses WLAN, Kabel-TV und einen Parkplatz.
Die Wohnung ist 50m2 und verfügt über eine einzigartige Lage direkt am See, mit direktem Zugang zum See. Von Ihrem Balkon im 6. Stock können Sie wirklich beeindruckende und freiem Blick auf die Bucht von Lugano genießen. Es ist ideal für Paare und Familien gleichermaßen und ist absolut perfekt für den Sommer, sondern auch für die Winterferien. In der Hitze des Sommers, der großen Pools, der schöne See mit seinem kühlen Wasser und die üppige Vegetation des angelegten Gartens das perfekten Urlaubsgefühl sorgen, dass Sie macht wünschen Sie für immer bleiben könnten. Die Tessiner Palmen zeigen das mediterrane Flair der Region und der Falke fliegt Overhead lädt Sie zu verlangsamen und erinnert Sie daran, dass das Leben ist wirklich schön aus. Der Pool ist vom 15. Mai bis zum 30. September eines jedes Jahr zur Verfügung. Das offene Raum Wohnzimmer ist mit einer Klimaanlage, kostenfreies WLAN, Smart TV mit Kabelkanälen, ein Blu-ray / DVD-Player und einem Radio / CD-Player. In der voll ausgestatteten neuen Küche finden Sie auch einen Geschirrspüler, Mikrowelle, eine Kapsel-Kaffeemaschine (Tchibo / Chicco d'Oro) und einen Wasserkocher zur Verfügung, um Ihren Aufenthalt noch angenehmer zu machen. Reinigungsmittel sind ebenfalls verfügbar, einschließlich einem Staubsauger. Wir begrüßen Familien mit Kindern und bieten Babybetten und Hochstühle sowie einen Flaschenwärmer, eine Wickelauflage und Nachtschutz auf Anfrage. Es gibt ein Schlafzimmer mit Platz für 4 Personen (max. 3 Personen) bequem schlafen (ein großes Bett (160x200) und einem Etagenbett (2 Betten 90x200). Ein kostenloser Parkplatz ist für Gäste, die mit dem Auto anreisen und es gibt zwei Aufzüge im Gebäude. Die Wäscherei (Waschmaschine, Trockner und Bügeleisen) auf der zweiten Etage des Gebäudes und erfordert eine Prepaid-Karte. Wir absolvierten insgesamt Renovierung der Wohnung im Juni 2016 und alles, was Sie sehen, inklusive aller Möbel, die Küche und das Bad sind neu. Wir hoffen, dass Sie Ihren Urlaub in unserem schönen Haus zu genießen.
Die Wohnung befindet sich in Bissone, einem malerischen kleinen Dorf am Ufer des Luganer Sees entfernt. Bissone war der Geburtsort des Architekten Francesco Borromini, der mit seinen Zeitgenossen Gian Lorenzo Bernini und Pietro da Cortona, eine führende Figur in der Entstehung des römischen Barock-Architektur war. Das alte Zentrum von Bissone ist eine 3-minütige Fahrt vom Hotel entfernt, entlang einer Straße mit Villen gesäumt, Wohnungen und Gärten reifen, typisch für die Gegend. Lugano, mit seinem mediterranen Flair, gute Einkaufsmöglichkeiten und schöne Promenade in nur 10 Minuten mit dem Auto zu erreichen. Darüber hinaus ist die Wohnung vor den Toren von Campione d'Italia, eine einzigartige italienische Enklave im Schweizer Kanton Tessin, die das größte Casino in Europa bietet. Das Casino befindet sich nur 10 Gehminuten entfernt. Das schöne Dorf Morcote ist auch gleich um die Ecke und der bekannte Schweizer Miniatur Attraktion ist nur einen Steinwurf vom Haus entfernt. Und zu einem günstigen 4-minütige Fahrt von der Autobahnausfahrt, ist es auch sehr einfach, die vielen Sehenswürdigkeiten und Attraktionen in der Umgebung zu erreichen. Ein kleiner Supermarkt (geöffnet bis 22.00 Uhr) liegt nur 2 Minuten mit dem Auto entfernt.
Un séjour tout simplement paradisiaque, autant pour la beauté du Tessin, la piscine et le jardin exceptionnels, l'accueil si chaleureux de Maya, l'aménagement de goût de l'appartement et la vue à couper le souffle. Sans parler des saveurs exquises se la cuisine tessinoise! Un grand merci à Maya. Nous allons revenir :)
Barbara
2016-08-06T00:00:00Z
Maya is a very caring host and offers an incredibly well equipped apartment with a breathtaking view on the lake and Lugano. We also appreciated the perfectly maintained garden and pool area. We do highly recommend a stay at her place.
Jan
2016-08-27T00:00:00Z
We were very happy with our decision to stay at Bissone rather than one of the bigger centres around Lake Lugano. It was a great base from which to explore the lakes area of southern Switzerland and Northern Italy and the accommodation itself was perfect for us. The complex is a revamped hotel from another era which has been converted to apartments but would not be out of place on the set of a "Grand Budapest Hotel" type movie. Whilst there are many signs of the old hotel, Maya has lovingly restored the apartment to a modern one bedroom home with her guests at the centre of each inclusion. The result is a modern feeling apartment with all the amenities we needed. The balcony looks straight across the lake to Lugano and whilst we are not casino people, the famous casino of Campanioni is in view and within walking distance. Swiss Miniature is only a short drive away and the Foxtown fashion outlet shopping centre at Mendrisio is also too close for resistance. The apartment is perfect for a couple or small family and the views of the lake are spectacular. The area seems extremely safe but also security in the building is excellent. Maya was very helpful and gave us her valuable insights on the area to help us enjoy our stay. We would definitely stay there again if we return to the area. There is a bus stop out the front but recommend a car if you wish to explore the area.
Rachel
2016-07-18T00:00:00Z
L'appartamento è molto carino, arredato in maniera moderna e funzionale, e gode di una vista spettacolare sul Lago. Perfetto per chi vuole rilassarsi e anche vicinissimo al Casinò. Maya è gentilissima ed è stata impeccabile in comunicazione/check in, inoltre ci ha dato ottime dritte. La miglior esperienza con AirBnB sinora
Alessandro
2017-01-09T00:00:00Z
Everything was perfect! The apartment is decorated with care, clean, functional, and very well equipped. The view from the apartment is amazing....The garden and the pool are very well cared for and a joy to be. The location is good and the setting very nice. We had six wonderfull days. How fortunate we have been that Maya found this place and made it so beautiful. We hope to return one day.
Fons
2016-08-13T00:00:00Z
Nous avons été enchanté par notre séjour à Bissone. Tout était parfait, l'accueil, l'appartement, l'hôte,le lieu et les commodités. C'est vraiment un super endroit pour des vacances avec une petite famille ou en couple. L'endroit est magnifique, la piscine et les jardins très bien entretenus. Je le conseil vivement.
Samuel
2016-07-23T00:00:00Z
Maya rendkivuli hazigazda volt, pontos, kedves és segitokesz. Szuper az apartman, nagyon tiszta és gyonyoru helyen van. A medencet nagyon elveztuk mindannyian, szinte alig voltak ugyhogy olyan volt mintha az egesz a mienk lenne. Gyonyoru kilatas volt az erkelyrol. A gyerekek nagyon elveztek, szivesen visszamennenk jovore is.
Barbara
2016-08-21T00:00:00Z
Maya was so helpful. She is always ready to help us. Her reply was quick as much as she can. It was so helpful for the tourists that we don't know how can we go how to do this etc. Also she is very kind person. Maya's please was clean, cozy and comfortable. We enjoyed breakfast every morning at balcony with fantasitc view. Atsushi and I are highly recommend her place.
Yuka
2016-09-06T00:00:00Z
Romtype
Helt hjem/leilighet
---
Eiendomstype
Leilighet
---
Plass til
4
---
Soverom
Bissone, Ticino, Sveits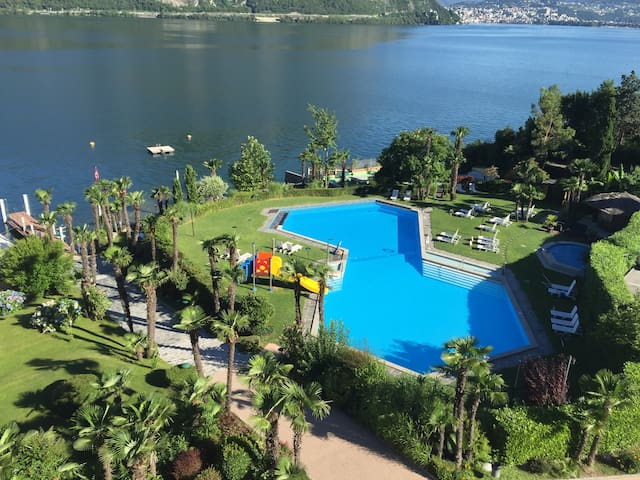 The large garden is ideal for a relaxing vacation. Minimalistic and ecological furniture + natural light, fresh all over the summer. wi-fi and fireplace. Jacuzzi from May to early September. (URL HIDDEN)
Immersed in a large garden, the eco friendly minimalistic guest house is completely independent . A perfect place for relaxing far from the crowd and noise of the lake border. The nearest village is at 1km, Argegno and the lake at 5km. We refurbished the cottage using local stones and wood.The cottage is extremely silent with great light inside and a beautiful view on the mountains. The thick stonewalls provide natural air conditioning even during the hottest summer days.You will find a comfortable bed sizing 160 cm x 190 cm on the mezzanine, the kitchen has refrigeretor, toaster, electric water kettle, microwave oven and espresso machine. The bathroom has toilet, shower and lavabo. A working fireplace , a convertible sofa (sleeps 2 people ) and 2 sofa seats, a dining table for 4 complete the living room. Internet connection , TV and stereo available. The Jacuzzi hot tub is shared with the main house.There is a private, secure parking for 20 cars in the grounds. You can use the teak table, umbrella, BBQ and sunbeds in the garden. Car is recommended, public transport is unfrequent. The location of the cottage is excellent for hiking, biking and relaxing, the lake border is at 5km.
The neighborhood is very quiet, you can hear birds and sometimes the bells of the cows grazing nearby. You will find a detailed map with the hiking pads of the area.
Nous avons été accueillis par Monique et Marcello, des personnes charmantes dans une maison très cosy avec un jardin très agréable (Barbecue, chaise longue, ...) Pour commencer, un cadeau de bienvenue vous attend ainsi que tout pour le petit-déjeuner ! Et surprise encore, une machine à café avec des capsules à disposition ! Monique et Marcello sont des personnes adorables qui savent être aussi bien vous renseigner, comme être discrètes. Ce séjour d'une semaine a été très reposant. Merci encore pour votre acceuil et au plaisir d'y revenir.
Gerard
2016-08-15T00:00:00Z
Accueil et logement très chaleureux. Plusieurs attentions diverses avait gentiment été préparé par Monique. Mélange de matériaux nobles et contemporains, la maison est bien équipée et agréable en plus d'être jolie. L'extérieur est aussi très sympa : grand jardin avec barbecue, table, chaises longues. Le village d'Argegno est bien situé pour visiter ce coin d'exception qu'est le lac de Come, la maison est sur les hauteurs à 5min environ du lac en voiture. Nous sommes reparties ravis de notre séjour, à réserver sans hésitation.
Frédéric
2016-05-09T00:00:00Z
Nous avons été reçu très chaleureusement par Monique et Marcello, qui sont très prévenants et disponibles. Le logement est situé à environ 10 minutes dans les hauteurs d'Argegno. Malgré une panne de jacuzzi, le logement ainsi que son jardin et le barbecue ont su ravir notre séjour. Les recommandations et surtout le restaurant Bella Vista à 2 km du logement se sont avérés très utiles. Le logement est situé en pleine verdure, composé d'un salon salle à manger avec canapé lit et d'une mezzanine ouverte avec un grand lit double. On y trouve tout le nécessaire possible. Néanmoins, le bâtiment en pierres peut s'avérer charmant mais assez sombre et humide et l'accès à Internet est quasi inexistant.
mathieu
2016-08-31T00:00:00Z
Monique was friendly, the welcome gifts and the breakfast in the fridge surprised us :) We was delighted with the coffee machine and coffee capsules. The house was cozy, but a little cold. The neighborhood is very quiet, restful. We got, what was promised. Lake Como is fantastic, we love Italy and italian foods! :) We can it recommend :)
Zsolt
2014-08-31T00:00:00Z
We enjoyed our stay in Monique´s and Marcello´s cosy cottage. Our two hosts made us feel very welcome and provided us with a lot of recommendations. We got fresh homemade bred and Monique even equipped the kitchen with good food because our first day was a bank holiday! The cottage is equipped exactely as described in airbnb and has a lovely garden. Don´t miss to go to Milano, it is only 1,5 hours away from the cottage and worth a visit. Cheers, Tina
Tina
2013-05-26T00:00:00Z
Wir wurden von Monique sehr herzlich empfangen und umsorgt. Die Kommunikation im Vorfeld war sehr gut. Die Unterkunft ist sehr stilvoll eingerichtet und war sehr sauber. Der Garten ist wunderschön und gross. Das Haus ist schön und ruhig gelegen. Ich kann das Haus und die Gastgeber auf alle Fälle sehr empfehlen. Wir kommen gerne ein anderes Mal wieder. Vielen Dank!
Lisa
2016-03-31T00:00:00Z
This great rustic cottage is fantastic for those who are looking for a quiet retreat from the beautiful lake. The hot tub is a fantastic way to cool down on those really hot days and Monique was very helpful and on hand when we needed information and suggestions. We had a very nice welcome basket prepared for us which was a nice surprise! There is also a very detailed information pack which has some great recommendations! The drive to the location can be precarious as the hair pin bends and locals drive with 'precision', so it helps to have a confident driver when visiting. Great hosts, great location.
Nazim
2015-06-30T00:00:00Z
Helaas kreeg ik HEEL moeilijk contact met de eigenaar. Na mijn aanvraag binnen 1 uur, na mijn reservering niet meer. Wij moesten zelf maar het adres uitpluisen (wat erg lastig te vinden is). We hadden gelukkig de aanwijzigingen gevonden bij de routebeschrijving bij AirBnb. Van de eigenaar heb ik nooit een adres ontvangen. Dit vonden wij zeer slecht! De cottage is prachtig gelegen! De sfeer in het huisje was perfect. Bed ligt zoals alle Italiaanse bedden erg hard. Tuin is prachtig en veel privacy. Helaas hebben wij er geen gebruik van kunnen maken omdat we slecht weer hebben gehad. De eerste dag knalde het Internet eruit door onweer. Wij kwamen naar Italie om te werken en dit werd een beetje moeilijk op deze manier. De rest van de dagen zonder Internet gezeten. Je moet wel houden van ver afgelegen zitten. Normaal vinden wij dit fijn maar met alleen slecht weer en aangewezen zitten op binnen zijn is het wel een beetje lastig. We konden geen gezellige restaurantjes vinden in de buurt. Op de site van AirBnb staat dat aankomst en uitchecken flexibel zijn. Omdat wij geen telefoonnummer of iets van de housekeeper hadden toen we aankwamen (na lang zoeken) de eigenaar gebeld. We werden een beetje kort gehouden aan de telefoon omdat zij in Frankrijk zat en niets voor ons kon doen. Dus we stonden even te wachten voor de poort tot iemand ons er in liet. Het uitchecken was een DRAMA! De housekeeper stond om 09:00 voor onze deur met een stofzuiger en gooide ons er bijna uit. Ze trok heb bedlinnen van het bed af en keek ons bijna naar buiten. Ze spreekt geen woord Engels! Snel douchen, aankleden en koffers pakken. We waren nog niet klaar of ze begon al met schoonmaken! Geen probleem als je vroeg moet uitchecken maar doe dat dan even in overleg! Ik had de eigenaar gevraagd om als verrassing voor mijn man (4-jarig huwelijk) een taartje te regelen, die stond er en was erg attent. Ook een welkomst woordje en een leuk pakketje. Misschien als zij er zelf was geweest wat onze ervaring anders.
Rianne
2014-08-01T00:00:00Z
Romtype
Helt hjem/leilighet
---
Eiendomstype
Loft
---
Plass til
4
---
Soverom
Argegno, Lombardia, Italia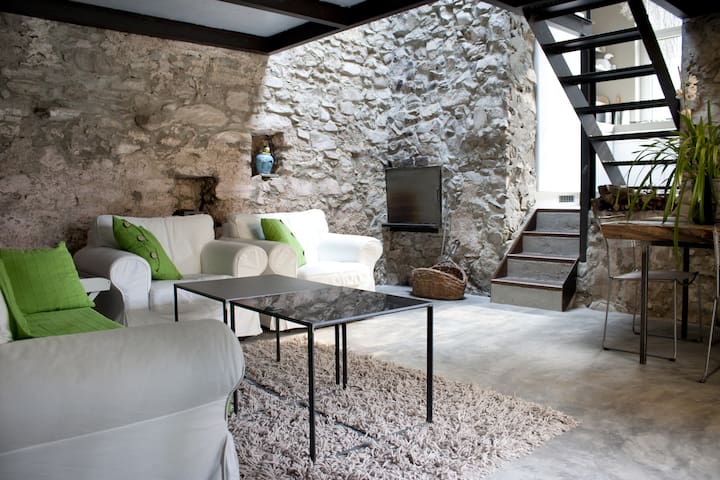 Λίμνη σε κοντινή απόσταση
Holiday Flat Αγαπητοί επισκέπτες, είμαι στην ευχάριστη θέση να σας καλωσορίσουμε στο κομψό διακοπών, το διαμέρισμά μου βρίσκεται σε μια ιταλική λίμνη συνοριακό χωριό που περιβάλλεται από το ελβετικό έδαφος ονομάζεται Campione d'Italia. Ασφαλές και καθαρό, με όλες τις ανέσεις που απαιτούνται για να νιώσετε σαν στο σπίτι σας. Κοντά στο κέντρο του χωριού και τις δημόσιες μεταφορές και βρίσκεται στον 3ο όροφο ενός σύγχρονου συγκροτήματος με ασανσέρ και ιδιωτικό χώρο στάθμευσης, που χωρίζονται από τη λίμνη μόνο μονόδρομος του χωριού. Μπαλκόνι με εκπληκτική θέα στη λίμνη του Λουγκάνο, η πόλη του Λουγκάνο και τις ελβετικές Άλπεις. Γενναιόδωρη καθιστικό / τραπεζαρία, 2 υπνοδωμάτια (το ένα με θέα στη λίμνη, king size κρεβάτι και ένα εντελώς αρκετά, που αντιμετωπίζει το βουνό, queen size κρεβάτι), πλήρως εξοπλισμένη κουζίνα για self catering, μπάνιο και ξεχωριστή τουαλέτα, τόσο με τα παράθυρα. Βρίσκεται σε κοντινή απόσταση με τα πόδια από το κέντρο του χωριού με παντοπωλείο, μπαρ, καλά εστιατόρια, πιτσαρία. καζίνο τα τυχερά παιχνίδια, φαρμακείο, τακτικά λεωφορεία και δρομολόγια πλοίων προς Λουγκάνο και μικρή παραλία (είσοδος). Σε κοντινή απόσταση, το Sporting Club, εστιατόριο και εσωτερική ντίσκο κλαμπ, με δωρεάν πρόσβαση σε εξωτερικούς χώρους πισίνα. Παντοπωλείο στο ισόγειο άνοιξε επίσης τις Κυριακές μέχρι τις 20:00. πρόσβαση στο Internet μέσα στο διαμέρισμα με hotspot, και στα μπαράκια γύρω από το ξενοδοχείο Wi-Fi και δωρεάν κωδικό πρόσβασης. Ιδιωτικός χώρος στάθμευσης με κλειδί πρόσβασης. Αποστάσεις: Λουγκάνο, 4 μίλια, Κόμο-Λίμνη 15 μίλια, Milano 37 μίλια, Highway: 2 μίλια. Κοντινότερα αεροδρόμια: Lugano-Agno (Ελβετία 20 μίλια), Μιλάνο-Malpensa (Ιταλία 50 μίλια). Άμεση και φθηνή σύνδεση με λεωφορείο κοντά στην επίπεδη από και προς Μιλάνο δύο φορές την ημέρα. Λεπτομέρειες στο διαδίκτυο κάτω από το "Λεωφορείο-casino-Campione d'Italia-Milano Centro". Ένα άλλο λεωφορείο συνδέει Λουγκάνο / κεντρικό σταθμό με το Μιλάνο-Malpensa / αεροδρόμιο. Θα βρείτε τις ώρες αναχώρησης των λεωφορείων στο: "λεωφορείο Campione-Λουγκάνο" ή "λεωφορείο" Lugano-Malpensa »ή« λεωφορείο Lugano-Linate " Μη διστάσετε να επικοινωνήσετε μαζί μου οποιαδήποτε στιγμή και για άλλες ερωτήσεις που μπορεί να έχετε :-)
Κλείστε (αλλά εκτός του οπτικού πεδίου) σε παντοπωλείο, τράπεζα, φαρμακείο, καζίνο, τα τυχερά παιχνίδια, τα μπαρ και τα εστιατόρια
Great location! The apartment is situated In the centre of Campione, just next to the Casino and some nice bars and restaurants, with Lake Lugano just across the street. The apartment has a nice living room, kitchen with everything you need, really cozy bedrooms, bathroom with separate toilet, and finally two balconies, one to the east and one to the west with great view to the lake, mountains, and Lugano, so you can enjoy the sun whenever you want during the day. Further, Marilisa is a really lovely and helpful person! Besides talking to her is really enjoyable, she also gave me some nice tips, e.g. the very cool bar with swimming pool to use for customers just over the street, 30 seconds from the apartment! I really enjoyed my stay and will definately come back there :)
Christian
2015-06-29T00:00:00Z
We really enjoyed spending the night at Marilisa's beautiful apartment and her hospitality! Campione is a nice little town and Lake Lugano is in one word incredible!! As well as the view from the balcony! Next time we should stay there longer than 1 night so we can visit Lugano and Como! :)
Johanna
2013-06-16T00:00:00Z
Amazing Place! Marilisa is Lovely! We recomend it ...
Daniel
2017-03-16T00:00:00Z
Super apartment. Very spacious and well equipped with lovely views across the lake towards Lugano. Marilisa is a fantastic host and was very communicative both before and throughout my stay. Thank you!
Matt
2017-03-05T00:00:00Z
Wonderful and spacious apartment overlooking Lake Lugano. Greatly appreciated free parking facility. Everything was perfect. Will be back. Thanks Marilisa.
Max
2016-02-28T00:00:00Z
Die Zeit in Campione war wunderschön. Der Ausblick von unserer Wohnung atemberaubend. Unsere Vermieterin Mari hat uns bei der Ankunft ersteinmal sehr herzlich empfangen und uns alles in der Wohnung gezeigt. Die Wohnung war sehr groß und auch geschmackvoll eingerichtet, so daß wir uns sehr schnell wie zu Hause gefühlt haben. Durch das ideale Klima konnten wir jede Mahlzeit auf dem Balkon einnehmen und dabei den traumhaften Blick auf den Luganer See genießen. Wir fühlten uns während unseres Aufenthaltes dort durch Mari sehr gut betreut. Wenn wir Fragen hatten, wurden sie unmittelbar von ihr online gelöst und sie fungierte als harvorragende Reiseleiterin und gab uns tolle Tips. Zum Abschluss betrachtet war sie für uns eine hervorragende Gastgeberin. Diese Erfahrung machen garantiert auch zukünftige Urlauber. Wir werden bestimmt nicht das letzte mal dagewesen sein. LG Thomas & Sabine ♡
Thomas
2016-08-15T00:00:00Z
We had a very pleasant brief stay at Marilisa's apartment. Campione is beautiful and the apartment was just as advertised, clean, and very close to the bus and ferry to Lugano, as well as to the shops in Campione. Communication was very easy.
larry
2015-04-24T00:00:00Z
My daughter and I stayed with Marilisa and her husband in their very cute and charming 2 bdr. apt. The view from the apt, and from the bedroom is magnificent (of the lake). And Marilisa is a wonderful host, amazingly giving and kind. She went way beyond of what is expected of her of her as an airbnb host in many ways. She made our stay a very pleasant one.
Donna
2012-04-08T00:00:00Z
Romtype
Helt hjem/leilighet
---
Eiendomstype
Leilighet
---
Plass til
4
---
Soverom
Campione, Svizzera, Sveits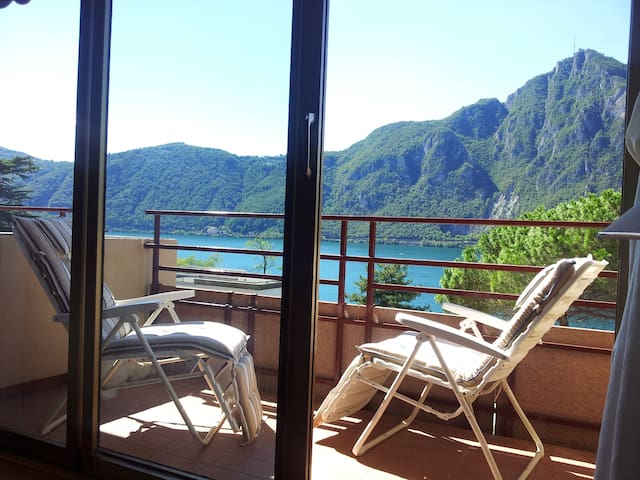 Renoviertes Tessinerhasus , jedes Zimmer mit eigener Dusche und WC. Jede Person, und jede weitere Person kostet 55.- Kinder bis 15 die Hälfte. Also ein Dpz. 110.- pro Nacht+Frühstück. Kinderzuschlag 25.- Nähe Autobahn Lugano Su (URL HIDDEN)
Typisches Tessinerhaus. Im Herbst, Winter und Frühling heizen wir gerne den Kamin ein. Im Sommer steht unser Bassin, Länge 7m, zur Verfügung und ist im Preis inbegriffen. Das Tessin bietet viele lohnenswerte Ausflugsziele an. 7 Personen kann ich problemlos beherbergen. Ich spreche Deutsch, etwas Französisch und Italienisch, Englisch verstehe ich ein Bisschen.
Wir wohnen in der Agglomeration von Lugano. Pambio ist ein winziger, typischer Tessinerort. Zum nächsten Lebensmittelladen benötigt man eine Viertelstunde zu Fuss oder 5 Minuten mit dem Auto oder ÖV. An Lugano liebe ich den alten Stadtteil und die Umgebung am See. Nachts erstrahlt der Monte Brè mit seinen vielen Lichtern zu einem Tannenbaum.
Susanne is a fantastic host! She is very prompt in replying to my queries even on the day of arrival. She even made 2 trips each time to bring my big group of family (we have 8 of us) to pick us up from and to the train station. Really appreciate her kind gesture and effort. Her house is lovely and has a great view. Rooms are clean and spacious. We love the green grass patch and swimming pool. Breakfast spread is awesome. There are cheese, ham, bread, various spreads, yoghurt, coffee, cereal, egg, milk, etc every day. We are totally spoilt for choice. My boys love her place as she has a basket full of toys for them to play during breakfast and she does not even mind the noise. Highly recommend this place to those who are considering this listing. You will not regret.
Chu Yee
2015-05-27T00:00:00Z
Susanne is a wonderful host and her place very special, historic, and lovely. We also had an outstanding breakfast and were picked up from and brought to the station – excellent service, thank you :)
Stephan
2015-10-30T00:00:00Z
This was the most unique place I stayed in Switzerland with easily the warmest host. You can immediately tell that Susanne is so sweet and kind. In my broken French we were able to talk and have a good time. Also, her house is amazing; simply phenomenal. If you are looking for a place to stay I definitely recommend it. It is a 15 walk from the Paradiso train station but she can give you a ride if you call her.
David
2015-12-12T00:00:00Z
Freundlicher Empfang in einer wunderschönen Umgebung.
Willy
2015-06-26T00:00:00Z
Wir haben uns in dem stilvoll eingerichteten Haus und dem lauschigen Garten mit Pool von der ersten Minute an sehr wohl und willkommen gefühlt. Susanne ist eine sehr liebenswürdige Gastgeberin. Unser Zimmer war sehr sauber und am Morgen wartete ein fantastisches Frühstück auf uns.
Luzia
2015-07-03T00:00:00Z
Susanne è molto gentile, tutte le indicazioni giuste e cerca di farci sentire veramente a casa. Tutto funziona perfettamente. La casa ristrutturata con stremo bon gusto. Gente semplice, felice, di casa! ah... e la colazione... non volevo più andare via ;o)) Grazie! Soggiorno breve ma con ottimi ricordi.
Jaqueline
2015-12-05T00:00:00Z
Susanne was a great host to my mother! Susanne did everything to ensure that she feels comfortable. Her precious support was very appreciated!
Maija
2015-05-06T00:00:00Z
Thank you very much for very warm welcome from Susanne. So lovely host I ever met. The place is really unique, clean and feel like home, relax and peaceful. Great breakfast, with homemade jam warm croissant and bread, etc. Thanks for drive us to the train station and warm farewell hug. We really enjoy stay here. :-)
Siriphen
2016-10-23T00:00:00Z
Romtype
Privat rom
---
Eiendomstype
Bed & Breakfast
---
Plass til
4
---
Soverom
Lugano, Ticino, Sveits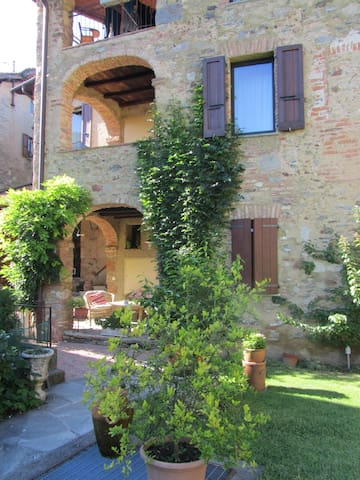 SCOPRI LE BELLEZZE DI LUGANO CON UN APPARTAMENTO NEL CENTRO CITTA' •Stanza completamente indipendente che include: letto matrimoniale, divano letto, cucina equipaggiata con tutto il necessario, tavolo e due finestre con una bella vista sulla città e le montagne •Posizionato nel centro di Lugano, location ideale per esplorare la città •A pochi passi dalla stazione dei treni (600 m) e dal Lago (700m) •L'appartamento è circondato di negozi , ristoranti, supermercati •Massima privacy •80+recensioni
A vostra disposizione una stanza di 30 mq con cucina completamente indipendente ed ad uso esclusivo. La stanza è composta da divano matrimoniale, cucina completamente equipaggiata per l'uso, tavolo, divano letto (in caso della terza persona) e due finestre con una bella vista della città e delle montagne. Non hai bisogno di nulla, troverai asciugamani, biancheria, shampoo e tutto l'occorrente per cucinare. In aggiunta offro gratuitamente degli snack per un veloce spuntino. L'appartamento è: •700 metri dal Lago •600 metri dalla stazione dei treni
•Miglior location per esplorare la città con la comodità di essere nel centro •L'appartamento è nel centro di Lugano, e tutti i luoghi di interesse sono raggiungibile a piedi. •Ristoranti, bar e supermercati sono a due passi dall'abitazione
L'appartamento corrisponde alla descrizione, arredi essenziali, molto luminoso. Luca è un host gentile e disponibile
Roberta
2017-04-02T00:00:00Z
Luca was very accommodating - provided suggestions on where to eat, etc. The unit is perfectly adequate for what it is. Located a short walk from the train station and a walkable distance to the lakefront which is really where the action is in Lugano.
Kevin
2016-07-06T00:00:00Z
Very clean, great location, very good communication with Luca
Anja
2016-12-18T00:00:00Z
Luka's house is close to the train station. The room is big and clean enough. However, there is no wifi there. But still a good room.
Kristin
2016-04-06T00:00:00Z
Clean studio in Lugano, not romantic equipped, but good location and clean.
Herman
2016-05-17T00:00:00Z
La stanza era pulita e spaziosa, vicina alla stazione e al centro. Luca, molto disponibile e simpatico e ci ha fatto sentire a casa...qualora dovessi ritornare a Lugano sicuramente soggiornerei ancora da Luca! :-)
Andreina
2016-04-22T00:00:00Z
The location was great to get into the old town and city. There were snacks and brochures as promised. Getting into the place was easy. The place, however, was a little dusty and made my friend and me sneezed a lot. Given we were both suffering from hay fever already, this was not helping us.
Han Teng
2016-04-08T00:00:00Z
Luca is indeed a great host and person; very hospitable and generous. The flat is nicely situated near the center of Lugano and provides a fantastic view to the mountains near Lugano. I have enjoyed my stay very much and hope to come back soon. Thanks again! Beat
BEAT
2017-02-03T00:00:00Z
Romtype
Privat rom
---
Eiendomstype
Leilighet
---
Plass til
3
---
Soverom
Lugano, TI, Sveits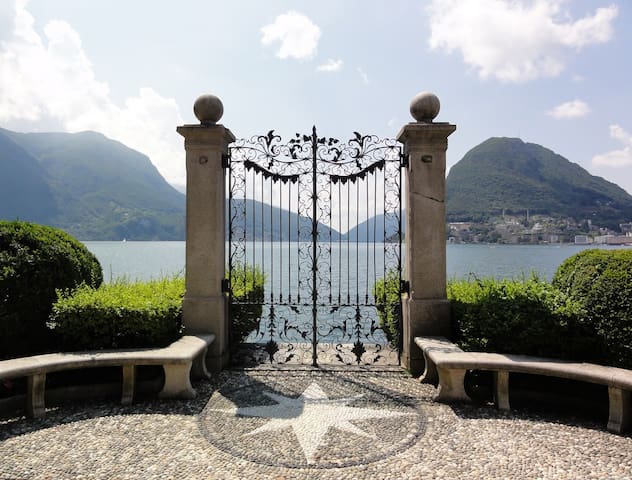 Extra People: No Charge Good internet connection The building has an elevator and is well located (7 mins walk to USI, 10 mins walk to Lugano Centro, 15 mins walk to Lugano Station, 2-4 mins walk to bus stops). Size: 1.5 room 1 big room with 1.5 bed, extendable table, chairs, couch bed (approx a double bed), wardrobes 1 little kitchen in the corridor with oven, fridge, cupboard, closet 1 bathroom with window, WC, sink, bathtub 1 large balcony with a nice view to Lugano city and the lake
I do not keep my personal belongings in wardrobes and closet so that they are empty for you to use.
Romtype
Helt hjem/leilighet
---
Eiendomstype
Leilighet
---
Plass til
2
---
Soverom
Lugano, Ticino, Sveits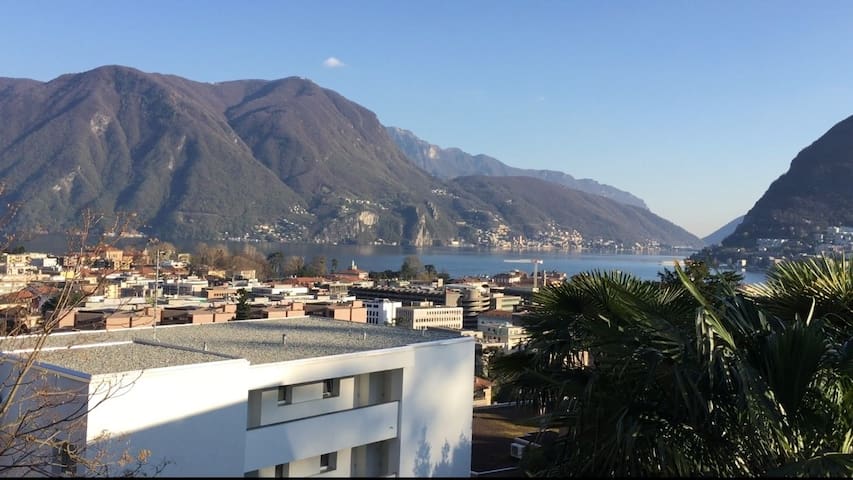 Die 2 1/2-Zi-Wohnung für 2 - 3 Personen liegt in Caprino, sehr sonnig, etwas oberhalb des Luganersees gegenüber von Lugano, wunderbar im Grünen. Ruhige Lage mit einmaliger Panoramasicht auf den Golf von Lugano, Monte San Salvatore und umliegende Berge.
Schlafzimmer mit Doppelbett, Schlafsofa im Wohnzimmer. Gut eingerichtete Küche, Esstisch mit 4 Stühlen im Wohnbereich integriert. Radio,TV, WiFi gratis. Grosser, teilweise gedeckter Sitzplatz mit rundem Tisch und 4 Stühlen, Gasgrill. Pool und Palmengarten zur Mitbenutzung, Liegestühle, Sonnenschirme, Autounterstand, Waschmaschine, Tumbler, Zentral/Infrarotheizung, Staubsauger. Wir, Gerda und Walter sind ein älteres Paar und werden sie gerne persönlich begrüssen bei ihrer Ankunft in der Casa Pervinca. Es hat Treppen zur Wohnung. Eigenes Auto ist erforderlich.
10 Min. Gehdistanz zum See, wo auch die Schiffstation San Rocco mit Grotto San Rocco ist. Von hier fährt das Kursschiff nach Lugano. Wassertaxi ist abrufbar. In der Umgebung Gelegenheit zum Baden im See. 5 Min. zum Hotel Panorama, 5 Automin. zum Einkaufen in Arogno, 10 Automin. nach Bissone/Melide, 25 Automin. nach Lugano und Mendrisio, 20Automin. nach Lanzo d'Intelvi (Golfplatz) Gutes Wandergebiet
Wir haben die Woche sehr genossen; super Lage und Aussicht auf Lugano! Der Empfang war herzlich und die Gastgeber die ganze Zeit bemüht um unser Wohlergehen. Die Wohnung ist für zwei Personen gross genug und top ausgestattet. Vielen herzlichen Dank an Gerda und Walter! Liebe Grüsse Piera und Toni
Antonio
2016-10-15T00:00:00Z
Es ist eine wirklich schöne Unterkunft mit phantastischer Aussicht. Die Gastgeber sind sehr hilfsbereit und zuvorkommend. Ich kann die Unterkunft allen empfehlen, die etwas Ruhe suchen.
Thomas
2016-10-29T00:00:00Z
Wir hatten eine super Woche oberhalb des Luganer Sees. Gerda und Walter sind sehr nette und hilfsbereite Gastgeber und empfingen uns mit einer Flasche Tessiner Merlot, Obst und Knabberei und gaben sich auch sonst alle Mühe, dass wir uns wohlfühlen konnten. Die Unterkunft - picobello sauber, total ruhig gelegen und mit gigantischer Sicht auf den See. Der schöne Garten mit Pool (solarbeheizt bei 30°) war unsere täglicher Luxus, den wir ausgiebig genutzt haben. Da will man nicht mehr weg. Wer die kurvenreiche Anfahrt nicht scheut und Ruhe sucht, ist bei Gerda und Walter goldrichtig. Zum Abschied verbrachten wir eine sehr netten Abend bei unseren Gastgebern auf der Terrasse. Wir werden gern wieder kommen...
Uta
2016-09-13T00:00:00Z
Romtype
Helt hjem/leilighet
---
Eiendomstype
Selveierleilighet
---
Plass til
3
---
Soverom
Paradiso, Ticino, Sveits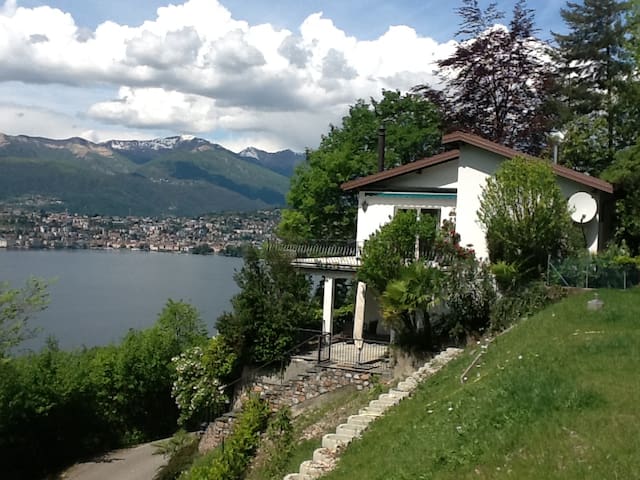 Feature and youthful home with relevance courtyard, very spacious, located in the historical center a short walk from pizzerias, bars and services, with 3 bedrooms with their balconies and 2 bathrooms. Ideal for border commuters and tourists who want to enjoy a relaxing holiday surrounded by nature far from the hustle and life frenetica.L 'apartment is located a few km from Customs gaggiolo, tresa bridge, Clivio.
Recently renovated the house is in excellent condition and very spacious, decorated with youthful style and equipped with all comforts.
Small country surrounded by nature, a few steps from the lake is served with all the comforts
L'appartamento è accogliente e ben arredato. Il paese che lo ospita non è un granché,troppo tranquillo,ma vicino ad altre mete suggestive. Sono mancati gli asciugamani per la doccia. La proprietaria simpatica e disponibile.
Ilaria
2016-12-28T00:00:00Z
U Aly czułam się jak u "Pana Boga za piecem". Aly mieszka w przepięknej, górzystej okolicy, w pobliżu pięknego jeziora. Mieszkanie jest równie urocze, pokój przestronny, a właścicielka to bardzo miła i profesjonalna osoba, przy tym niezwykle sympatyczna i pomocna. Śniadanie przygotowane przez Aly, z filiżanką przyrządzonej przez nią kawy sprawiło, że pobyt był jeszcze bardziej relaksujący i przyjemny. Okolica Besano jest na uboczu miast, ale pełna jest urokliwych miejsc i doskonała na odpoczynek i turystykę.
Nina
2016-07-24T00:00:00Z
A very cozy apartment and a very welcoming host: Alice. Sorry that we had only 1 night in the area - Lake Lugano and the beautiful Porto Ceresio are only 2 km away. Alice's apartment is clean and quiet, in the historic centre of the little town of Besano. Narrow alleys and a good way to feel life in the little towns of Italy.
Iskren
2016-09-16T00:00:00Z
We only stayed for one night but we had a great time in Besano ! It's a lovely village in a magnificent area. Aly's house is roomy and beautiful, and she is so nice and friendly... and so are her cats ;) ! We wished we could have stayed longer. We definitely recommend you stay at Aly's during your trip in the area !
Maurane
2016-08-01T00:00:00Z
Molto accogliente, una nottata perfetta! La casa è grande e spaziosa, ben tenuta.
Filippo
2016-08-12T00:00:00Z
The host canceled this reservation 23 days before arrival. This is an automated posting.
Achim
2016-07-25T00:00:00Z
i can stay with alice and luca highly recommend. their apartment was very cozy and clean, situated in the small Besano. Fridays there is still a small market on the village square. I took advantage of the stay to go hiking, around mountains, dreamlike. the round hike Monte San Giorgio can I highly recommend it. but you can also visit the nearby Varese or the wonderful lake Lugano with restaurants and enjoy gelaterias. I will miss the great Italian coffee, the alice has always made me :-)
Madeleine
2016-07-16T00:00:00Z
The place was clean and nice. However Aly didn't remember that we had a reservation that night and the communication was difficult, we didn't speak Italian and she spoke very little English. You cannot park close to her flat easily.
Rob/Hermie
2016-11-13T00:00:00Z
Romtype
Privat rom
---
Eiendomstype
Hus
---
Plass til
3
---
Soverom
Besano, Lombardia, Italia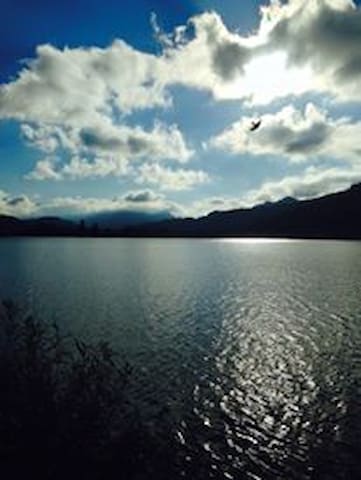 River House ist ein kürzlich renoviertes moderne Villa mit fantastischem Blick auf den See in einer schönen, ruhigen Vico Morcote, nur 15 Minuten nach Lugano Zentrum mit beheiztem Pool, Portikus Essbereich und einen schönen Garten mit einem kleinen Fluss und einen separaten überdachten Grill Grotte. Villa ist sehr zugänglich mit einem Aufzug zu den beiden Etagen aus der Doppelgarage. Mein Platz ist gut für Paare, ein romantisches Wochenende, Familien (mit Kindern), große Gruppen und pelzigen Freunde (Haustiere). NB Check-in nicht möglich mittwochs
Das Haus ist ein Luxus-unabhängige Villa mit allen modernen Funktionen. Das Haus wurde vor kurzem renoviert worden. Es ist sehr luftig im Sommer, aber es gibt eine Fußbodenheizung und ein Kamin für den Winter. Der Pool ist von Ostern bis Ende September erhitzt. Der Wohn Etage befindet sich im Obergeschoss und das hat Außentore Zugang zum Pool zu verhindern und für Kinder und Haustiere streamen. Das Master-Schlafzimmer-Suite mit Badewanne, separater Dusche und zwei Waschbecken und begehbaren Ankleide ist auf dieser Etage. Im Erdgeschoss befinden sich drei Schlafzimmer und TV-Raum, alle Zimmer außer Kinderzimmer blicken auf den See und haben Türen zur Terrasse / Poolbereich. - Die beiden Böden können direkt durch den Aufzug zu erreichen, die für einen Rollstuhl groß genug ist. Straße Etage: - Eingang mit Flur führt mit Zugang zur Doppelgarage zum Aufzug - Extern Eingang zum Haus kann auch über eine Außentreppe gemacht werden Erdgeschoss: - Einen direkten Zugang mit dem Aufzug - Zwei Doppelzimmer - Duschraum - Separates Kinderzimmer mit Etagenbett und Dusche (die Betten sind regelmäßige 90x200cm aber Matratzen sind leicht zu Sicherheitsstandards für Kinder auf Etagenbetten entsprechen) - Arbeitsbereich mit Schreibtisch und Drucker - Hauswirtschaftsraum mit Waschmaschine und Trockner und Waschbecken - Familienzimmer mit TV und Bar-Bereich - Extern beheizten Pool und Rasen - Überdachte Terrasse Erdgeschoss: - Einen direkten Zugang mit dem Aufzug - Eingangshalle mit Einbauschränken und Schreibtisch / Lesebereich - Den externen Zugriff mit mehreren verschiedenen gedeckten Essen / Entertainment-Bereiche zum Garten - Bereiche zum Sonnenbaden und schattige Bereiche - Große, offene Wohnbereich mit Wohnzimmer, Essecke, Bibliothek Ecke und Kamin mit Nussbaumparkett im gesamten Gebäude. Ausgestattet mit Swisscom Kabel-TV mit Video-on-Demand und Netflix Blu-ray-DVD, Sound-System von Bose. - Extern überdachte Terrasse mit Essbereich und Kamin - Moderne High-Spezifikation, gut ausgestattete Kochs Küche Öffnung teilweise auf den Wohnbereich. Kücheneinrichtungen umfasst, Ventilator Backofen, Mikrowelle, Wärmeschublade, Induktionsherd, zwei Waschbecken, zwei Kühlschränke, Geschirrspüler nespresso / Cappuccino-Maschine, Fondue, Mixer und üblichen Geräten - Gäste-Bad mit Eingangsbereich - Master-Schlafzimmer mit eigenem Bad mit extra großen (Doppel) Badewanne, separates Doppel-Dusche, zwei Waschbecken und großen Ankleideraum - Große Terrasse Draußen: - Kleiner Keller mit zusätzlichen Kühlschrank und Weinkühlschrank. - Separater Grillplatz mit Stier in Grill (Kohle / Holz) mit Tisch und Bänken - Schöner Garten mit Strom durchzogen ist Ausrüstung: - Video-Telefon-Gegensprechanlage - Safe - Automatische Gartenbewässerungsanlage - Automatischer Schwimmbadsteuerung - Automatische Doppelgarage Türöffnung
Sehr ruhigen Straße ohne Durchgangsverkehr. Viele Spaziergänge in der Natur weniger als 5 Minuten entfernt. Dorf mit Bar, Restaurant, Kirche 5 Minuten zu Fuß. Siehe Bereich Leitfaden für diese Auflistung.
Magnifique villa grand luxe
Sébastien
2016-11-01T00:00:00Z
The house is even much more amazing than described on the website! Everyone from our group really enjoyed the stay, perfect amenities, amazing views from all places. Perfect for our short weekend honeymoon :).
Martin
2016-11-27T00:00:00Z
We had a wonderful stay at the Villa. It was everything and more than we had hoped for. The view was amazing and the villa had everything we needed – as a big group of three generations traveling together. It was perfect for older couples, young couples and children. We will highly recommend it to others! Everything in the house was brand new and we didn't feel like we were living in someone's house – as they had no private belongings. Upon arrival we just called the housekeeper (which is not the owner) and she was very flexible and greeted us warmly and welcomingly. Had we any questions or problems though the week, the owner and the housekeeper responded quickly and solved everything immediately. We loved the area around the house. The local restaurants right at the sea front and the fact that we within just 20-30 minutes were in down town Como Italy.
Signe
2016-07-24T00:00:00Z
We stayed for 2 days at this gorgeous villa to do a professional photoshoot around the house. The house itself, the location, and the view from the house is simply breathtaking. Everything was just as described. Lynda was fantastic in communicating and making sure we have everything we need, before, during and after our stay. We would love to come back and can recommend this place for everyone who is looking for a beautiful get away or a nice setting for a photo shooting as we did.
Zanet
2017-03-12T00:00:00Z
Ottima location, stupendo panorama, casa fornita di tutto il necessario! Host disponibile, preciso e puntuale.
Enzo
2017-01-07T00:00:00Z
We had a wonderful time at the River house in Vico Morcote! The house is very cosy with a great design inside. It was very comfortable for our big family. There are many shops and curious places to discover. The house is located not far from the border with Italy, so we were lucky to visit Milano, Verona, Brescia and Bergamo. Lynda, thank you very much for your hospitality, advice and help! We surely recommend your house for all lovers of traveling! Thank you! Daria
Daria
2016-07-31T00:00:00Z
Perfect.
Yunshik
2017-01-03T00:00:00Z
Das Haus liegt an einer wunderschönen und ruhigen Lage mit Blick auf den See. Es ist sehr gross und auch für Kinder sehr gut geeignet. Von den beiden Garagen gelangt man mit dem Lift komfortabel in die schön eingerichteten Wohngeschosse. Es werden ausreichend Badetücher und Frottiertücher bereitgestellt. Auch in der Küche ist alles Notwendige vorhanden. Lynda ist eine aufmerksame Gastgeberin und meldet sich immer sofort zurück. Wir können das Haus bestens weiterempfehlen.
Melanie
2016-09-10T00:00:00Z
Romtype
Helt hjem/leilighet
---
Eiendomstype
Villa
---
Plass til
10
---
Soverom
Vico Morcote, Ticino, Sveits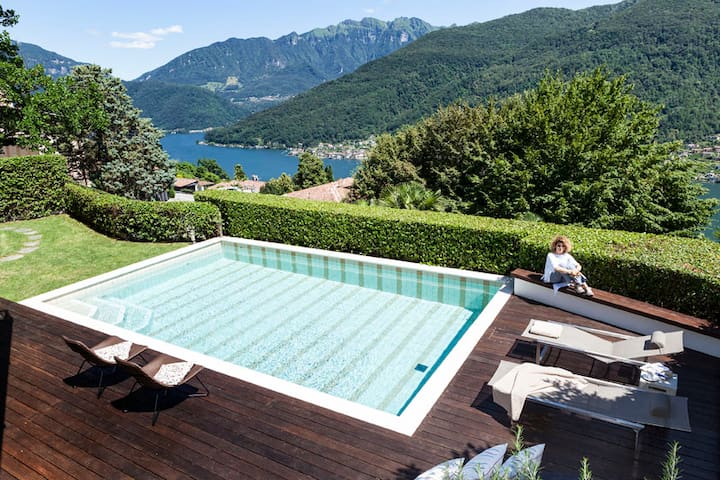 Just In front of Lugano , yet in the more secluded and peaceful side of the lake , lies this nice one bedroom flat , with large living room with us kitchen and a furnished terrace with a magnificent view. The flat can easily accommodate 4 persons
Very relaxed place, I enjoyed my stay very much! This is facing Lugano, but it's very quiet and close to nature: if you go hiking in the surroundings, you might see some animals (lizards for sure when it's sunny haha). Luca is a great host and will help you if you need anything. I definitely recommend the appartment if you're looking to have a resting time, and also a great view on the lake!
thomas
2016-09-21T00:00:00Z
Endroit magique, vue sur le lac de Lugano avec de magnifiques couchers de soleil. Appartement confortable et chaleureux.
Sylvette
2015-07-19T00:00:00Z
Luca nous a reservé un très bon accueil ! Appartement superbe avec une magnifique vue. L'appartement se situe dans une région très calme et apaisant. Nous avons été entièrement satisfait !
Fanny
2015-08-29T00:00:00Z
Excellent view over the lake. Quiet neighbourhood. A interesting walk down to the lake and a pleasant and short boat trip brings you to Lugano within a short time.
Karl
2016-09-02T00:00:00Z
Lucas apartment is a very good place to rest for a couple of days. The neighborhood is very quite and the view from the balcony is amazing. The communication with Luca went fine. He made sure we had everything we've asked for. Just be aware that the way to his apartment is narrow and very twisting, what means that you need more time to get there. Also the couch is not very comfortable.
Peter
2017-01-09T00:00:00Z
Bel endroit, bien situé, l'appartement est spacieux et (URL HIDDEN) route pourrait surprendre les citadins
René-Pierre
2016-03-31T00:00:00Z
I spent a couple of days with my parents at Luca's place. It is simply a beautiful place to stay at. The view is stunning, the house very comfortable, and Luca is a fantastic and helpful host! The house is a little hard to reach, as it includes a few kilometres of narrow mountain roads, the sort any adventurous driver would enjoy!
Mengjie
2015-08-04T00:00:00Z
The place is great. Exactly as Luca described it - absolute peace and quiet. Luca is very helpful and friendly. We enjoyed our stay in the winter and will happily do it again in the summer.
Daniella
2016-01-05T00:00:00Z
Romtype
Helt hjem/leilighet
---
Eiendomstype
Leilighet
---
Plass til
4
---
Soverom
Caprino/Lugano, Ticino, Sveits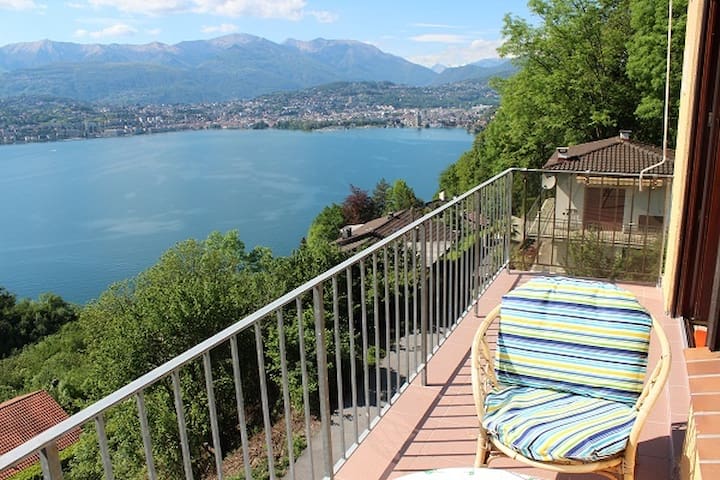 Fahren Sie den Berg Bré, lassen Sie den Lärm von Lugano hinter sich und an die Aldesago, ein kleines Dorf, das von der Sonne gesegnet. Sie werden sich in der Natur finden. Der Blick aus dem kleinen Garten wird Ihnen den Atem rauben ... Parkplatz in der Nähe der öffentlichen Verkehrsmittel den ganzen Tag lang. Sie werden von der Echtheit des Tessins verführen ...
Es geht um einen gemütlichen Ort, den ich für mich geformt, funktionalen und dennoch charmant, Bücher und Musik (sorry, kein Fernsehen!) Und so nah an den Wäldern, die Sie viele Vögel singen am Morgen hören. Es ist nichts Besonderes darüber, aber Sie werden beeindruckt, wie nah Sie an die Stadt sein kann (15 Minuten Fahrt) und so weit weg zur gleichen Zeit ...
Aldesago ist ein Dorf an den westlichen Hängen des Berges Monte Brè, im Schweizer Kanton Tessin. Es wird von einer steilen und kurvigen Straße von Lugano abgerufen. Diese Straße überquert dann den südlichen Hängen des Monte Brè das Dorf Brè zu erreichen. Trasporti Pubblici Luganesi (TPL) Buslinie 12 arbeitet auf diesem Weg von Lugano Stadtzentrum Dorf Brè, mit einem oder zwei Busse pro Stunde. Der Monte Brè Seilbahn, die den Lugano Vorort von Cassarate verbindet, sich durch häufige Stadtbussen bedient, auf den Gipfel des Monte Brè, dient ein Anschlag in Aldesago und fährt jede halbe Stunde. Die Kirche in Aldesago wurde zum ersten Mal im Jahr 1636 erwähnt, aber das Gebäude wurde im Jahr 1941 auf den Weg für Straßenarbeiten abgerissen. Der Ersatz Kirche, wie das Oratorium des Unbefleckten Herzens Mariens bekannt ist, wurde im Jahr 1943 geweiht.
Romtype
Helt hjem/leilighet
---
Eiendomstype
Leilighet
---
Plass til
2
---
Soverom
Lugano, Ticino, Sveits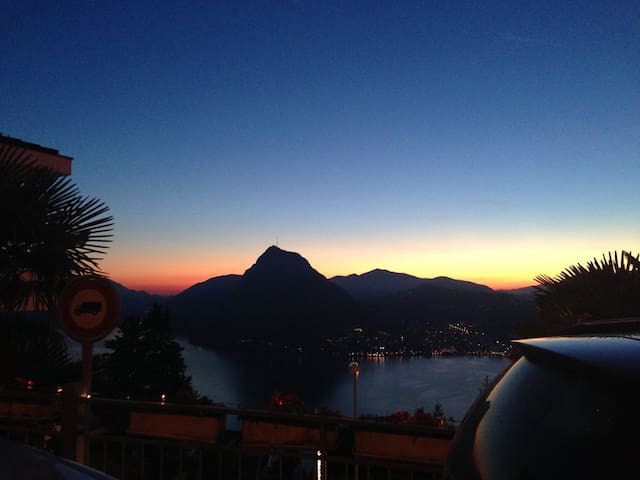 Il mio alloggio è vicino a trasporto pubblico, battello o autobus, arte e cultura, parchi, sentiero didattico (URL HIDDEN) Il mio alloggio è adatto a coppie, avventurieri solitari, famiglie (con bambini) e amici pelosi (animali domestici), Accesso al lago privato e attracco barca.
Goditi la tranquillità immerso nella forza della Natura in un paesaggio incantevole Siamo felici di potervi ricevere in questo incantevole luogo. Il loft è dotato di ogni comfort, riscaldamento, aria condizionata, sauna e bagno-turco con vista sul lago, Beamer 3D con schermo di 160" con dolby surrond, blue ray player, swisscom TV, computer Apple iMac a disposizione, WIFI, luci Philips Hue, Nest Protect, cucina attrezzata, grill esterno. È raggiungibile a piedi attraverso il sentiero dell'ulivo in 2 min dal parcheggio privato. (come tutto il villaggio di Gandria, purtroppo non è adatto a persone che non possono camminare autonomamente) Il Villaggio Gandria, romantico villaggio di pescatori arroccato ai piedi del Monte Brè offre al visitatore uno stupendo panorama. Gandria è una romantica località raccolta attorno alla sponda del Ceresio raggiungibile sia via terra sia via lago. Il tragitto in barca da Lugano, con ritorno a piedi lungo il Sentiero dell'Olivo, che costeggia la sponda del lago fino a Castagnola è un percorso molto frequentato da turisti e locali. A Castagnola avete la possibilità di visitare il Museo delle Culture o semplicemente proseguire per Lugano Il nucleo del paese chiuso al traffico è un'oasi di tranquillità con le sue pittoresche viuzze e scalette che offrono scorci e paesaggi da sogno. Nel centro dell'abitato si trova la cinquecentesca chiesa di San Vigilio col sontuoso interno barocco e l'alto campanile tardomedievale. Sul lago di fronte a Gandria, è ubicato il Museo delle Dogane Svizzere, situato in località Cantine di Gandria, e accessibile in battello. Lungo il sentiero dalle Cantine di Gandria a Caprino si trovano diversi grotti con delle belle terrazze sul lago, luogo ideale per un piacevole rifugio dalla calura e per assaporare la cucina tipica ticinese.
Gandria, romantico villaggio di pescatori arroccato ai piedi del Monte Brè offre al visitatore uno stupendo panorama. Gandria è una romantica località raccolta attorno alla sponda del Ceresio raggiungibile sia via terra sia via lago. Il tragitto in barca da Lugano, con ritorno a piedi lungo il Sentiero dell'Olivo, che costeggia la sponda del lago fino a Castagnola è un percorso molto frequentato da turisti e locali. A Castagnola avete la possibilità di visitare il Museo delle Culture o semplicemente proseguire per Lugano. Il nucleo del paese chiuso al traffico è un'oasi di tranquillità con le sue pittoresche viuzze e scalette che offrono scorci e paesaggi da sogno. Nel centro dell'abitato si trova la cinquecentesca chiesa di San Vigilio col sontuoso interno barocco e l'alto campanile tardomedievale. Sul lago di fronte a Gandria, è ubicato il Museo delle Dogane Svizzere, situato in località Cantine di Gandria, e accessibile in battello. Lungo il sentiero dalle Cantine di Gandria a Caprino si trovano diversi grotti con delle belle terrazze sul lago, luogo ideale per un piacevole rifugio dalla calura e per assaporare la cucina tipica ticinese.
My boyfriend and I spent 3 nights at Luca's place, and it was the best airbnb experience we've ever had. The house itself is just unbelievable - it's located directly on the lake, has all necessary amenities and more (there is even a mini-sauna people!), and the views are absolutely breathtaking. It does take a while to get there from the car park, but it's really nothing compared to the experience you get when you're there. Pictures don't give it any justice - truly incredible place on all fronts! It took us a while to figure out how to operate the TV and the screen projector - but we should have probably asked for the instructions in the beginning... There are a couple of restaurants in the village, but we just cooked our own meals at home - you really just don't want to leave that place even for a meal:) We did food shopping in the supermarket in an Italian town called Porlezza which is 15 minutes away by car. There is a border control on the way, but it never took us more than 3 minutes to get through. Overall - a wonderful place to stay, would come back and highly recommend to anyone looking for a relaxed time at the remote location.
Daria
2017-03-04T00:00:00Z
Traumhafte Loft, wunderschöner Ausblick, toll eingrichtete Wohnung ( alles nötige vorhanden) Vermieter ist sehr nett. Loft liegt direkt am See, der Weg dahin von oben etwas steil und anstrengend aber aufjedenfall lohnenswert.
Jana
2017-01-08T00:00:00Z
Luca was a wonderful host, he was so helpful in our check in and giving us information about Gandria and Lugano! I would highly recommend it!
Bella
2017-01-22T00:00:00Z
卢加诺湖边特别特别安静且美丽的房子!充满高科技并与湖光山色融为一体!房东人也很好,因为冬季交通不方便所以到火车站来接我们:) Super nice quite house in Lugano, with breathtaking view on the lake! And very welcoming and considerate host! Bc of the winter, he picked us up at send us to the train station:) Wanna come back again in summer:)
Jasmin
2017-02-07T00:00:00Z
This house has breath taking views of Lake Lugano and surrounding mountains. The house is located on the edge of Gandria a quite village about 3-5 min walk down a steep hill where you may park a car or catch a bus to where you want to go. I would not recommend the house for small children under the age of 5. The upper loft would be a problem without guards to keep them from falling. The house has personnel wine cabinet and food, which I had trouble remembering which food was up for use. I just applied the rule, replace what I took and the owner was very gracious and happy.
Philip
2017-03-10T00:00:00Z
Aumentare portata del boiler
Lodovico
2017-01-02T00:00:00Z
Unser Kurzurlaub in Lucas Haus war sehr schön! Die Lage ist wunderschön, wenn auch nur zu Fuß erreichbar. Luca ist ein guter Gastgeber, auch zwischendurch für Fragen erreichbar. Würde gerne wieder einmal dorthin reisen.
Theresa
2017-01-06T00:00:00Z
This place is amazing! The photos don't do it justice. Great location right on the lake, quiet and with all the amenities and very comfortable beds, this loft/cabin is a real gem. The sauna is an added bonus! Note that to get to the cabin you park at the top of the mountain and walk down a very steep path for a few minutes. Luca graciously carried our heavier bags up and down the mountain and it is a lovely walk, just quite intense. Definitely will stay here again.
Tessa
2016-11-17T00:00:00Z
Romtype
Helt hjem/leilighet
---
Eiendomstype
Loft
---
Plass til
4
---
Soverom
Lugano, Ticino, Sveits