Private comfy room with shared bathroom/kitchen, access to backyard, ample free parking, 10 minutes from JFK, Jones Beach, Roosevelt Field mall, 1 minute from southern state, 5 mins from Lirr by taxi and 10 minutes from the infamous national mile.
Romtype
Privat rom
---
Eiendomstype
Hus
---
Plass til
2
---
Soverom
Roosevelt, New York, USA
My home is located close to Molloy College and Hofstra University. If you drive regularly, the neighborhood is easily accessible from the Southern State Pkwy, Belt Pkwy, and Cross Island Pkwy. This private room is perfect for local college students who want the benefit of being close to college campus, while enjoying a more private living area. The neighborhood is quiet, the neighbors are friendly, and this home provides convenient amenities for students such as free wi-fi and smart tv's.
This is a private room in a large, english tudor style home. The common areas are the Kitchen, Dining Room, Living Room and large Bathroom. Each individual room is equipped with a Queen Sized, comfortable bed, a dresser and large closet for storage of your items.
This is a quiet Long Island neighborhood. The area is safe to walk around, and easy to navigate.
This was a perfect location for my clinical elective at Mercy Medical centre. The price is very moderate compared to other places. The host was excellent and clean. He showed me around town on the first day and offered me toiletries and all the necessary cleaning supplies needed. He was super clean. I will recommend this place for anyone. Thanks Eric for making my stay an enjoyable experience.
Yaw
2016-09-24T00:00:00Z
Good place to stay as a student. It was close to my hospital that I was working at and Eric was very understanding and accommodating with all of my needs and schedules. Highly recommend staying here!
Ashu
2016-11-23T00:00:00Z
I had a great experience staying at Eric's place. His place is 15-20 minutes driving distance from university hospitals so it was very convenient for me. He showed me around the place on the first day and was very helpful during my stay.
yogeeta
2016-10-21T00:00:00Z
A very nice room and private. Eric was a wonderful host
Luke
2017-01-27T00:00:00Z
Romtype
Privat rom
---
Eiendomstype
Hus
---
Plass til
1
---
Soverom
Roosevelt, New York, USA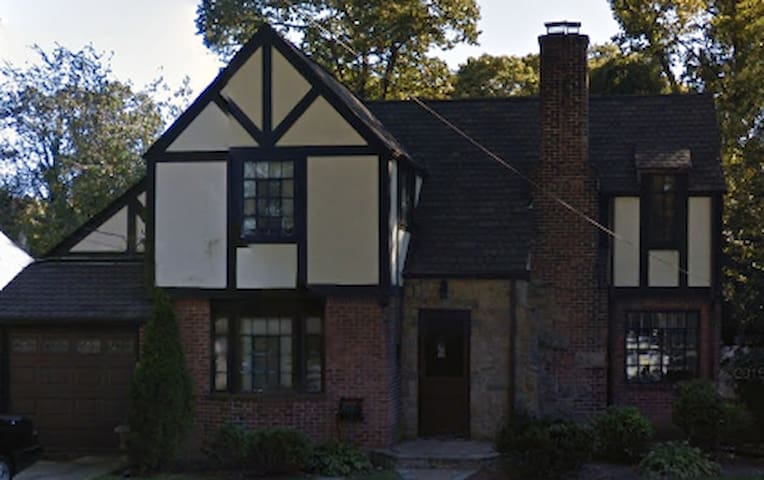 My home is located close to Molloy College and Hofstra University. If you drive regularly, the neighborhood is easily accessible from the Southern State Pkwy, Belt Pkwy, and Cross Island Pkwy. This private room is perfect for local college students, medical resident students, and tourists. The neighborhood is quiet, the neighbors are friendly, and this home provides convenient amenities for students such as free wi-fi and smart tv's, and your own air conditioner and heater.
This is a private room in a large, english tudor style home. The common areas are the Kitchen, Dining Room, Living Room and large Bathroom. Each individual room is equipped with a Queen Sized, comfortable bed, a dresser and large closet for storage of your items.
This is a quiet Long Island neighborhood. The area is safe to walk around, and easy to navigate.
Its a very comfortable and spacious room in an old nice house. The house is super cozy and the host is very attentive and genuinely cares about your comfort and well being. Super clean also.
Emiliano
2016-11-04T00:00:00Z
Romtype
Privat rom
---
Eiendomstype
Hus
---
Plass til
1
---
Soverom
Roosevelt, New York, USA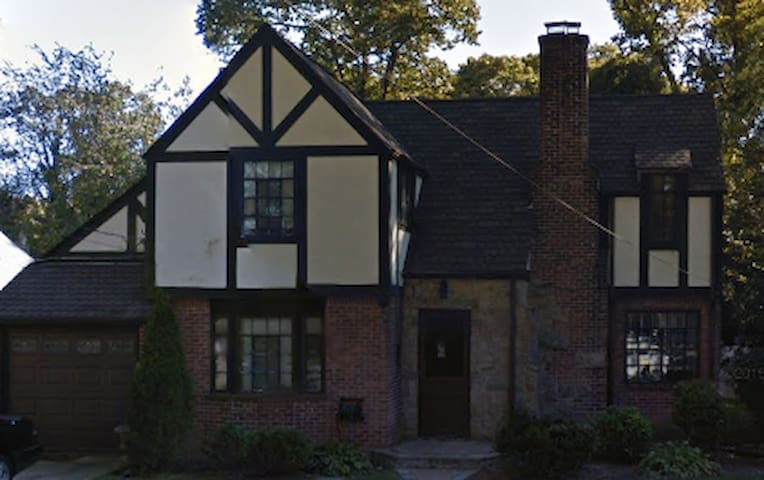 the house is in nice area, room is so big.
very large room
very good neighborhood
It was a very pleasant stay with Meral. She was very accommodating on such short notice. I suddenly had to be in East Meadows on the same day from the city. She responded quickly to all my airbnb text messages and we worked out a quick solution. I would definitely stay again. It is very close to NUMC for any medical students that are doing a rotation or have an interview at the hospital. It is a short walk to the bus station which takes you directly to the hospital.
Arlen
2015-11-19T00:00:00Z
Meral is a wonderful, welcoming host that made my stay at her home an incredible experience. She is loving and very caring. She made sure that I was comfortable and provided me with all the necessities to enjoy my stay. The room is very large and cozy. The location is absolutely perfect. Very safe, quiet neighborhood. I would definitely recommend this airbnb listing to my friends.
Zara
2016-07-05T00:00:00Z
Romtype
Privat rom
---
Eiendomstype
Hus
---
Plass til
1
---
Soverom
Levittown, New York, USA
My place is close to parks, restaurants and dining, and great views.
A lovely home in a nice quiet, safe neighborhood. Very comfortable. Many thanks!
Nico
2016-11-09T00:00:00Z
I felt welcome as soon as I got there they made me feel very comfortable
Lynn
2016-11-17T00:00:00Z
The host canceled this reservation the day before arrival. This is an automated posting.
Nada
2016-11-28T00:00:00Z
Romtype
Privat rom
---
Eiendomstype
Hus
---
Plass til
2
---
Soverom
Levittown, New York, USA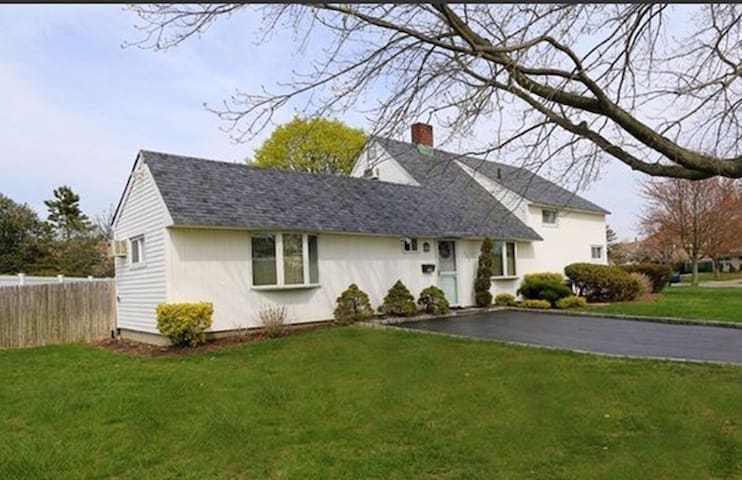 My place is close to family-friendly activities, nightlife, public transport, the airport, and the city center. My place is good for solo adventurers and business travelers. BIG NOTE: "Half Bath Only", no shower nor tub. Great for airport layovers, visiting family in the area or post event rest, just a quickie.
Conveniently situated close to a large cool comfortable newly renovated finished basement with lots to offer.
Tall shady oak trees line the avenues and wide streets of our neighborhood. this place of ours is nestled into a dead end against a nature preserve and very quiet, except for the wildlife who sometimes do break into a song.
Perfect as always. stayed just one night, but Chris and Cheryl had everything prepped as if it was a long stay. would definitely recommend to anyone.
Jason
2016-10-21T00:00:00Z
Romtype
Privat rom
---
Eiendomstype
Hus
---
Plass til
1
---
Soverom
Freeport, New York, USA
We offer you an ideal room for students and workers that have to move Long Island. It is newly remodeled and new furniture. Special price for long stay! 30 minutes from JFK airport 10 minutes from Jones Beach 15 minutes from Freeport Station (walking) 5 minutes in taxi 40 minutes from Manhattan by train. 15 minutes from Nassau Hospital by car TV. C / cable, AC, wifi, 1.5 bathrooms.
We are only 15 minutes walking from Long Island train
IT has great location
I had such a great time with Doris!!! She's the perfect host! She was there for all our needs! Everything was as she had described. The bedroom was very comfortable and pretty clean! The bathroom as well... Always clean! Nice and safe neighborhood! I surely recommend! Thanks so much Doris!
Nathan
2016-09-07T00:00:00Z
Affordable, as advertised and accommodating. The family are just really kind hosts and make you feel very welcome without stepping on your privacy. Would stay again and highly recommend for anyone else!
Haris
2016-12-18T00:00:00Z
The host canceled this reservation 2 days before arrival. This is an automated posting.
John
2017-02-21T00:00:00Z
The house is under renovation, a huge detail that should be known. Doris is a sweetheart and absolutely lovely. The room we stayed in was comfortable and simple. My only point of dissatisfaction was the saw being used before 9 am. It is wonderful that they are working on the house. But I wish we had known that, before booking. Once the process of fixing the home is completed, I am sure the stays will be perfect!
Marisa
2016-12-28T00:00:00Z
Great place! Welcoming family home. Pictures are as advertised!
Joseph
2017-03-31T00:00:00Z
Great family! And wonderful hosts! They were very helpful and I would definitely come back :)
Capucine
2017-03-17T00:00:00Z
Great hosts, Would highly recommend.Doris makes you feel welcome and overall I had a great stay.
Roshan
2016-11-07T00:00:00Z
Very gracious and friendly hosts. clean room and comfortable bed.
Linda
2016-10-09T00:00:00Z
Romtype
Privat rom
---
Eiendomstype
Hus
---
Plass til
2
---
Soverom
Freeport, New York, USA
Really great place to stay in New York. Entire apartment w lots of room to relax & no sharing. Near train, shops and 10 mins from beach, mall. Nice safe area, easy access to restaurants, grocery. 15 mins from JFK international and LaGuardia airport.
This is a private and complete apartment with large bedroom, bath, living/dining room, fully equipped kitchen -- no sharing -- entire space is private. Air conditioning and heat or numerous windows that allow cool fresh breezes. Kitchen has stove, refrigerator, microwave, toaster, coffee maker. Lots of windows throughout and lots of closet space. Location is on the upper level one short flight up wide staircase that's not steep.
Neighborhood is quiet with great parking available. Lots of trees, flowers, manicured lawns. Easy drive to Long Beach, Lido Beach and Jones Beach. A straight drive down Long Beach Rd and in a few mins you're on the beautiful boardwalk or on the beach. Also near Hofstra University, South Nassau Communities hospital, Long Island Jewish hospital. Also, Stony Brook University & hospital is approx 20 mins drive. Roosevelt mall, US Marine Academy and 30 mins from Manhattan/New York. Also it's a short ride on the Belt Parkway to Brooklyn and just a few miles to Queens and quick and easy access to Belmont Park Racetrack, US Open location and Aqueduct racetrack.
This was my third stay at this family's residence and I had a wonderful stay. Love this place which is very peaceful and in a nice neighborhood . As always, everything in the house was nice and clean. All the areas were cleaned and vacuumed, bed had new clean sheets and clean towels in the bathroom. Also, Sharon made sure that I had no issues during my stay. Personally, I feel much more comfortable staying here than at a hotel. Looking forward to my 4th visit in next few weeks.
Sunil
2014-10-10T00:00:00Z
Sharon and Mel came upstairs to greet us after we successfully worked the door code and let ourselves in. They were very gracious and accomodating. Everything was stocked; toiletries, towels, blankets, milk, juice, eggs, bread in refrig, breakfast foods in cupboard. We used their pull-out sofa in Living room and futon, as well as the bedroom bed. Temps were comfortable, place was quiet on dead-end street. We will certainly book again when we stay in that area
Andrew
2015-03-11T00:00:00Z
My husband and I had a very lovely stay at Sharon's ABNB. It a small one bedroom flat over her home with a full kitchen, nice sized bedroom, and sitting/dining area. Everything was spotless with comfortable linens, good water pressure (shower only), A/Cnice big flat screen TV with cable, and strong wifi. There is plenty of storage and would be comfortable for a week or more. The house is in a cul-de-sac across from the yard of a school. It was so quiet at night we could hear the crickets. We both slept very well. We drove down to Jones beach which is 15 minutes away down the Medowbrook Parkway. Sharon makes it all very easy with a key code lock that she sets before your arrival. We actually never met her in person, but I think that's because we were leaving early and getting back late from seeing family. She keeps in touch on email and is very attentive. This was our first experience with Air B&B and based on this I would certainly do it again.
Rachel
2014-08-12T00:00:00Z
This is an excellent space. We had room to relax and everything we needed for the weekend. I'm impressed by the level of detail with everything from the keyless entry, to the (fully stocked) kitchen and the clean, organized bathroom. Everything was modern and well-maintained. Parking was easy - right in the driveway. Sharon and Mel made us feel comfortable and welcomed in their home.
Femeia
2016-10-30T00:00:00Z
I stayed here with my parents when we were visiting some family friends in the area. This was one of the nicest AirBnb I've stayed at. There one bedroom with a queen size bed and a sofabed on which I slept- it was very comfy. The hosts were very nice and the place was very clean. They were very accommodating to any requests we had. I'd definitely recommend staying here.
Namitha
2014-12-29T00:00:00Z
After arriving late into a cold JFK, we were happy to be greeted by Mel, even though it was very late. The place was cozy and warm, and a great size for the two of us. The next morning, we were greeted with breakfast! We were in Baldwin for a wedding at the Coral House, which is very close to this AirBNB, and we loved staying here.
Michael
2014-11-17T00:00:00Z
My family had a very good experience staying at Sharon's place. Sharon and Mel are wonderful hosts. The place was squeaky clean and very well maintained. We never felt as if we were away from home. They made us feel very comfortable and kept an open door policy for our concerns. The neighborhood was very peaceful and many local shops/supermarkets were in the near vicinity. I will definitely plan my stay again with Sharon and Mel, the next time I visit NY.
Gunpreet
2014-09-13T00:00:00Z
This was my first ever Airbnb and it was awesome! The home is well kept, spacious, and in a quiet neighborhood! The little things made my stay that much better! Such as the personal note on the door and great communication! Many blessings, Simeon D
Simeon
2016-10-13T00:00:00Z
Romtype
Helt hjem/leilighet
---
Eiendomstype
Hus
---
Plass til
5
---
Soverom
Baldwin, New York, USA
My beautiful home is one train ride away from New York City's finest attractions i.e ; Madison Square Gardens, Times Square, Broadway, Museums and much more . You will love it here because we are friendly, our home is inviting, my yard gives a homely feeling and the neighborhood is serene. Dinner is optional (my sister is an excellent cook), she will cater to your pallet even if you are vegan, there is a menu for you.My manor will feel like home for the duration of you stay. You are welcome!
You are our guest and will never be disturbed once you are here. I am almost always working so you will meet me or my sister once you get here
Really enjoyed my stay. It's a nice big private room with lots of closet space and private bathroom. Went in winter and never felt too cold. You can uber to stations and ride LIRR into the city. Very quiet neighborhood and home. Safiya was really nice and offered to help if I ever needed anything.
Christy
2017-02-28T00:00:00Z
A wonderful experience!
Marisa
2016-12-27T00:00:00Z
Another great experienced with Airbnb host . The place is quiet. Private room with private bathroom, the sisters are very accommodating and location wise is good and will highly recommended for future travellers
liza
2017-01-02T00:00:00Z
Kim and Safiya's house was difficult to find at night as there were multiple houses without addresses listed on the houses on her street. There was no mention of whether the alarm was working before they left me and this made it difficult to know if I could leave without waking them up in the morning as I had to leave early. Otherwise, the room and bathroom were clean.
Jyoti
2017-03-09T00:00:00Z
Lovely home. Highly recommend
Liz
2016-12-09T00:00:00Z
Once again, Jazmyne and I had a great experienced with an Airbnb host. Kim and Safiya keeps a clean place; it is quiet. Large private room with lots of closet space and with a private bathroom, comfy, roomy. Jacuzzi tub with lots of natural light in the bathroom, flat screen TV and mirror closets. The sisters are concerned and accommodating; we had access to a well-stocked kitchen with fresh fruit and other foods. The location was great for us, very close to our client. Quiet neighborhood and home. Plenty of street parking (we parked in driveway provided by host). The sisters were pleasant and offered to help when we needed anything; prompt with communications. I highly recommended this place for business travelers, and I look to go back if/when summon by our client.
Harold
2017-03-24T00:00:00Z
For the accommodation you get, this place is amazing value. Big room with a private bathroom, and Kim and Safiya keep everything super clean.
Ijana
2017-01-09T00:00:00Z
A wonderful, comfortable place and very accommodating host; even offered to make me breakfast in the morning. Huge bathroom. Would recommend this place to others.
Andy
2016-12-14T00:00:00Z
Romtype
Privat rom
---
Eiendomstype
Hus
---
Plass til
2
---
Soverom
Baldwin, New York, USA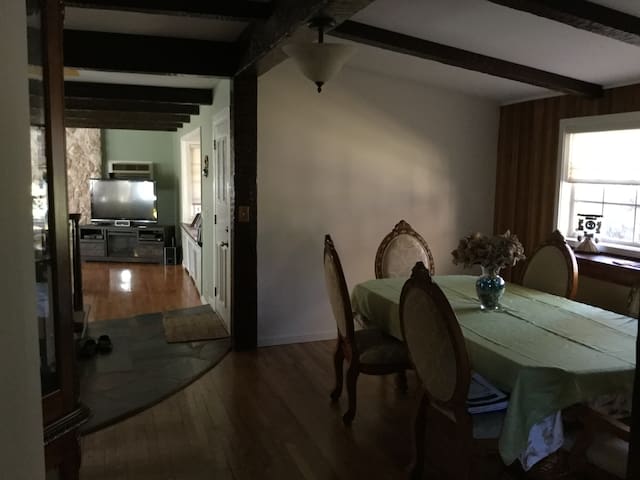 wonderful house with front porch close to New York city and beaches. close to all South Shore Long Island
Private room on second floor. Very comfortable bed. Room has 2 large windows. The house is 35 minutes by train to NYC. It is a ten minute walk to the train station (LIRR). JFK airport is a 25 minute drive as is Jones Beach. There are plenty of restaurants and shops in town. There is also a bus stop nearby about a five minute walk.
good area quiet street
My host, Carrie, did make me feel very welcome. She was extremely nice, helpful and fun to chat with. Unfortunately the room was not large and sunny as advertised, but dark and crowded. Carrie did say that she had tried unsuccessfully to alter this description which changed since her adult children returned home.
Cyd
2014-08-25T00:00:00Z
My stay in Baldwin was very comfortable with Carrie's warm hospitality. Although unfamiliar with Long Island, it was close enough to main roads to be convenient and easy to find as I went about my planned activities. I would recommend this room, with a comfortable bed. private bathroom and morning coffee to anyone who wants to avoid impersonal hotels on noisy highways.
Barbara
2016-04-17T00:00:00Z
I got in a bit late and Carrie was up waiting to offer great conversation and a cup of juice. The house is cozy, the room was comfortable with a soft bed and good AC. I just needed a place to sleep and take a shower but the short time I was there was very pleasant and Carrie and I shared some laughs.
Susan
2016-07-13T00:00:00Z
I thoroughly enjoyed my stay with Carrie and Andrew. The accommodation they provided was exceptionally good. I had exclusive use of the very clean, neat and tidy second floor of their home. The bedroom was spacious and in addition to a comfy bed, it included two dressers, a bar fridge, WiFi, a desk, a television, remote control, and a room air conditioner. My private bathroom was clean and well equipped with fresh towels, face cloth and soap. The only thing better than the physical accommodation was the warm and welcoming hospitality they provided throughout my four night stay. Upon my arrival I was pleasantly surprised to find several bags of individual serving snack foods made available to me and placed on the desk in my room. A nice touch Carrie!! The camaraderie and conversations flowed freely each morning and evening. Without reservation, I highly recommend Carrie and her "charming cottage" to prospective guests.
Will
2016-06-15T00:00:00Z
Carrie, it was another great stay. Andrew, Shawn, and Cara are great people to hang out. Thank you for letting me grill and share the bounty with your family.
Steve
2015-07-24T00:00:00Z
Loved Carrie and her place. I arrived much later than expected due to traffic which she anticipated even though I kept them up. I couldn't find anywhere open to eat and Carrie heated me a frozen dinner which was much appreciated after my trip. I stayed in the single room with light blue walls. Bed was comfortable and additional pillows provided. No one was in the other bedroom upstairs so I had the bathroom to myself. There's a tv and small refrigerator in the room. No problem accessing microwave. Hair dryer and iron provided upon request. She has good lotion which I appreciate since the airlines restrict what I can carry. I was in town for a memorial. Carrie and Andrew couldn't have been more thoughtful. Hope to return under happier circumstances the next time I'm on Long Island.
Cathy
2016-04-25T00:00:00Z
A great experience. The room was comfortable--I appreciated details like having my own fridge and couch--and Carrie & her family were very helpful & hospitable. The neighborhood is quiet and convenient to many things (train, restaurants, library), with street parking right outside.
Melissa
2014-07-19T00:00:00Z
I booked a 2 week stay. The owners are very nice. The location was great. They let me park in their driveway. One thing that wasn't clear when I booked, was which room was being rented. If I had know it was very small & had a twin bed I wouldn't have booked it. This was my fault for not confirming which of the several rooms they show is the one being offered. The room is up a narrow steep staircase. The owner did offer help to bring my things up which was appreciated. The bedroom has a small tv with cable, wifi, a small refrigerator and a window air-conditioning unit. It was extremely hot outside during my stay. The air conditioner was absolutely necessary inside the room, but within minutes of using the bathroom (which is in the upstairs hallway) or kitchen in the morning to get ready for work, I was soaked with sweat. This meant I had to get ready in the bedroom which, if you're putting on makeup, was very poorly lit. The friendliness of the owners offset some otherwise undesirable issues. Here's where the problems were though: The owners adult son had moved back into the house & was living in the room directly across the hallway from the one I rented. The first few days I'd go to use the bathroom & find it nasty. Wet floor, wet towels in piles on the floor, toilet seat up, stuff spread out all around the pedestal sink. Not cool. The owner apparently then told her son to use the downstairs bathroom, which he wasn't always doing. The area around the toilet started to reek of urine & I had to keep spraying disinfectant. I'd come up the stairs at the end of the day & be able to smell urine. It was hot so possibly the temp in the house amplified it. The lock for the bathroom door has one of those hotel chains on the door. With the ac on I wasn't bothered by the noise the son & his friends made coming & going but if you didn't have it on you would hear everything in the house. The ac would get turned to a higher setting when I was at work which was fine, however on the weekends when I wasn't there it would get turned off, & once the owner unplugged the refrigerator. The room took about 45-60 min to cool off & the food & medicine I kept in the fridg was spoiled. I initially forgot I had meds in the fridge until I was cleaning out the food items. That was about $475. down the drain. I get that people want to conserve energy but I was paying more than enough to cover the electric. Where it really all went sideways: I opened the bedroom door to use the bathroom at about 2 am one morning & got a very brightly lit, wide, clear view into the sons room. Door...
Carolyn
2016-08-29T00:00:00Z
Romtype
Privat rom
---
Eiendomstype
Hus
---
Plass til
1
---
Soverom
Baldwin, New York, USA
When you want a comfortable place for your short stay in Hempstead, we are here for you. Close to Hofstra University, Nassau Coliseum, and other attractions.
I had a lovely stay in Hempstead at Elaine's charming home. She and her family were very warm and accommodating. She even picked me up from the train station and drove me to pick up my race bib a couple of miles away.
Helen
2015-05-04T00:00:00Z
Elaine was so accommodating and friendly. She took care of me like family. Her small house is comfortable and clean.
Laura
2015-06-19T00:00:00Z
Elaine made me feel very welcome in her home. I only stayed one night, but I enjoyed the comfortable accommodations. There is a private bathroom and kitchen and easy street parking. Thank you, Elaine!
Leanne
2015-09-28T00:00:00Z
I really enjoyed my time in Hempstead. Elaine and her husband are great hosts. I enjoyed the talks we had and the food. Elaine also took me to a supermarket, when I needed something. The room is clean and there is everything you need. Definitely a good place to stay and only a short walk from Hofstra.
Hanna
2016-04-16T00:00:00Z
It was my best Airbnb experience. Elaine and her husband are a very generous host. Spent a great time with them and had amazing talks and food .. Very easy going and respectful people .. You will defiantly feel like home there .. Also I have to say They never shy from helping anyone. They picked me from the bus station without me asking and they always drop me on there way out. very clean house and an amazing comfortable room with a great level of privacy All I can say is thank you Elaine for the amazing experience and making my first week in NY a breeze
Fadhel
2014-12-16T00:00:00Z
This is the 2nd time I stayed with Elaine. She is a great host. I booked at the last minute. I'm glad she had room for me in her schedule.
Ken
2016-10-04T00:00:00Z
Absolutely wonderful, felt like a guest in someone's home more than a stranger paying for a room. Elaine was very helpful in familiarizing me with the area (points of interest, grocery store, etc) all in all a great experience
Alejandro
2015-10-24T00:00:00Z
The place was great. Clean bed and bathroom. Fridge was stocked when I got there and the kitchen has all the basic needs!
Jesse
2016-05-14T00:00:00Z
Romtype
Privat rom
---
Eiendomstype
Hus
---
Plass til
4
---
Soverom
Hempstead, New York, USA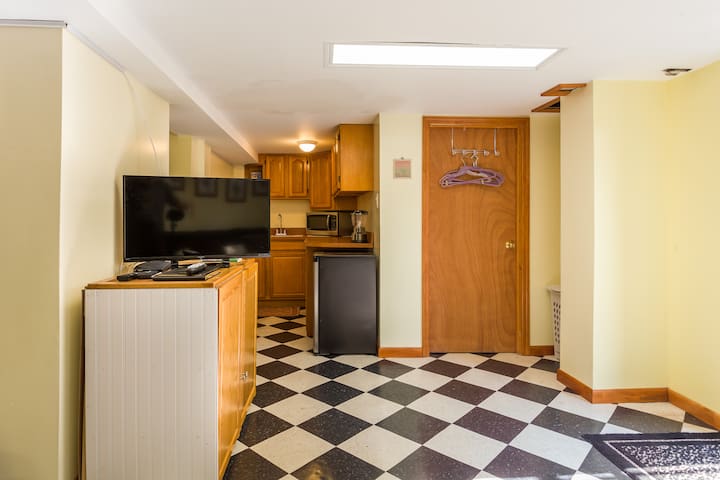 Our cool and comfortable one bedroom is located in the basement of the house. Enjoy a private bathroom with a stand up shower. Enjoy full access to the entire basement equipped with a 40 inch TV with Netflix & Youtube, refrigerator, Keurig, microwave and wifi.
The charm and character of this pre-War home make it unique. Built in 1924, this home is full of history.
Conveniently located near Roosevelt Field Mall, Nassau Coliseum, Hofstra University, Adelphi, Nassau Community College (NCC), and Winthrop, NUMC, and Mercy Hospitals. Garden City is only a short cab ride or bus ride away. There are plenty of restaurants and shopping areas. Roosevelt Field is an upscale shopping mall in East Garden City, Long Island, New York. It is the second-largest full price shopping mall in the state of New York. There are plenty of restaurants in the mall. Nearby neighborhoods include Garden City, Mineola, Baldwin, West Hempstead and Uniondale.
Very good host. Family friendly home. Room is small but clean , warm and cozy. Good privacy in the basement where nobody bothers you. I would definitely recommend.
Carole
2017-03-11T00:00:00Z
My Stay at Daphney's home in Hempstead was great. The basement was cozy. The room and bathroom were clean, quaint, and stocked with everything I needed. The neighborhood was nice and quiet. It was convenient to get around since I had a car. Daphneys was a wonderful host. She was prompt and cordial with all communication. She was great about providing guidance and answering questions I had. I would absolutely stay at Daphney's place again and I would recommend her AirBnB to anyone looking for a quiet, cozy stay in Hempstead.
Tiffany
2017-02-21T00:00:00Z
Romtype
Privat rom
---
Eiendomstype
Hus
---
Plass til
2
---
Soverom
Hempstead, New York, USA
An elegant and comfy second floor room with large queen bed, beautiful wood floors, vaulted ceilings, arched windows, and shared access to the nearby full bath. Enjoy the comfort of relaxing in our warm and inviting, bright, spacious home.
This extra large second floor bedroom has one queen bed, large closet, vaulted ceilings, and beautiful arched windows looking out onto our quiet neighborhood. A desk with office chair provides a separate space for working or studying. A full bath with tub is around the corner and is shared with any guests who book the other second floor room listed for rent in our home. Downstairs is the open living and dining room. Enjoy a coffee or tea any time of day with our Keurig brewing system! Our home is on a peaceful cul-de-sac with beautiful trees and many singing birds. We have 24/7 outside security cameras.
There are lots of great places nearby! We are only 15 minutes from Jones Beach and Long Beach. Minutes to Molloy College, Adelphi University, and Hofstra University. Easy commute to area hospitals including South Nassau Communities, Mercy Medical, and North Shore-LIJ. Great selection of dining. We recommend GM Burger Bar, Benny B's Barbecue, and Bigelow's New England Fried Clams! Beautiful Baldwin Harbor Park has baseball, basketball, soccer, tennis, and trails for running.
Great people .... Comfy space
Robert
2015-11-09T00:00:00Z
Jennifer and James were so friendly, warm, and welcoming! They accommodated us with a last-minute late arrival and even provided fresh-baked scones in the morning (which were delicious! YUM!) Great stay. Thanks so much!
Jessie
2015-08-16T00:00:00Z
Jennifer and James were hosts you would dream of: young, kind and caring with the wisdom to know what a guest needs. Sometimes you hope that the people you meet along the journey aren't just there for your travels, buy are enjoying their own journey as much as they've helped you enjoy yours. 'Til we meet again around the bend.
Brian
2015-08-14T00:00:00Z
Jennifer and James were very welcoming! Their home is in a nice quiet neighborhood, convenient to Hofstra University, where I needed to visit. The room was big and airy and quiet, the queen size bed was comfortable. The house was gleaming, including the beautiful hardwood floors. I had a really nice stay.
Loretta
2016-09-23T00:00:00Z
My new home away fromgy tmdxky. j db dbb home....nuff saidp See ya soon.
Robert
2015-09-27T00:00:00Z
James and Jen were absolute first class hosts. They were always quick to communicate prior to and during our stay. We felt welcomed into their home like friends or family. The location was in a nice safe neighborhood that was close to the city and a number of great places to visit on Long Island.
Katherine
2016-07-11T00:00:00Z
Everything was great as described in listing.
Kay
2016-07-04T00:00:00Z
I stayed at this room in Jennifer and James's house for four nights in August. It was large, bright, comfortable, with a good bed and plenty of closet space, since it was used by them mainly for airbnb guests and so didn't have any of their stuff around. A modern HVAC system meant no noisy window air conditioner, one of my pet peeves. I wasn't in the room very much, since I had lots of things to do during the day, but both of them were excellent hosts when I was there and tried to make my stay as pleasant as possible. The location of the house is very handy for visits into Manhattan (35-40 minutes by Long Island Railroad) and elsewhere on Long Island. I should note the house is a 10-15 minute walk to the train station, which could be a problem for those with limited mobility or heavy packages to carry, or if the weather is bad. But there is a taxi service right at the rail station. In any case, I didn't mind the exercise. In addition, this is a suburban location, so if you come without a car, there's not much to do in the immediate area, and restaurant choices will be limited (though some do deliver). Again, this wasn't an issue for me. So all in all, I'd recommend Jennifer and James's place highly.
Carl
2016-08-08T00:00:00Z
Romtype
Privat rom
---
Eiendomstype
Hus
---
Plass til
2
---
Soverom
Baldwin, New York, USA
Our comfortable cape house is located in the heart of Hempstead one of the best towns of Long Island NY and in a quiet neighborhood, just across from Kennedy Park. And CVS. just renovated and has access to major public transportation. 15 minutes from JFK airport
It's clean, fully renovated and most of its appliances are new
It's a residential neighborhood. It's quite and clean. Easy access to major public transportation, CVS pharmacy & Kennedy Park across the street.
Very nice stay.The landlord Katia and the tenants are very nice .The house is beautiful : big bedroom with tv and fridge, a private bathroom and a fitted kitchen. The neighbourhood is nice and the shops are close. The bus stop is close to the house, just 2 minutes.There is a big pharmacy in front of the house. I recommend this house.
Lewis
2016-10-13T00:00:00Z
We did not use this listing, but the communication was A+
Kimone
2016-04-18T00:00:00Z
Katia was very hospital. The location was convenience. he has a package of snacks, water, Thanks again and hope to meet you next time.
Xiao
2016-04-10T00:00:00Z
Katia was very hospitable. She had a nice welcome package of snacks, fruit, and bottled water. Great value considering the size of the room and private bathroom.
Michael
2016-04-05T00:00:00Z
Katia prepared a lot of food including fruits, yogurt, coffee and even instant noodle for our first day. Very helpful after we flew red eye from west coast.
Cinny
2017-02-26T00:00:00Z
Katia was an exceptional host. The location was exactly what we were looking for, quiet and close to everything. We felt right at home.
Frances
2017-03-21T00:00:00Z
Katia always responds very fast. She lives only 5 min from the house and both her and her husband were attentive and very kind. Her house is cosy and there is plenty of space. It's clean and she provides snacks and toiletries.
Sofia
2016-12-03T00:00:00Z
I stayed at Katia's place during a brisk cold spell – luckily, before heavy snow hit – and it was perfect for my trip. The house itself is 1920s-style, two-level, on a residential road off a busier street – but the house is well-insulated, I heard no noise except children meeting the schoolbus in the morning. Wooden floors, nice details, a contemporary kitchen (shared with Katia's two cousins, who live upstairs), with your bedroom and full bath right across from each other on the ground floor. Katia not only supplied the bathroom with every possible need – soap, shampoo, lotion, even a spare toothbrush – but left a lovely stash of breakfast foods in the small fridge that sits in the bedroom: yogurts, several kinds of fruit, granola bars, bagels and cream cheese, orange juice, and water. Comfy bed, lots of storage space in closet and armoires. If you're looking for a place within walking distance of Hofstra, Katia's is too far, but if you have access to a car, the campus is only 10 minutes away, and that's mostly stoplights. Many restaurants available in Garden City next door. If you take the train into the city (Manhattan), park at the Mineola station rather than Hempstead's – the Mineola trains make fewer stops, so you'll reach Penn Station faster. Katia herself is lovely and eager for you to enjoy your stay!
Patrice
2017-03-12T00:00:00Z
Romtype
Privat rom
---
Eiendomstype
Hus
---
Plass til
2
---
Soverom
Hempstead, New York, USA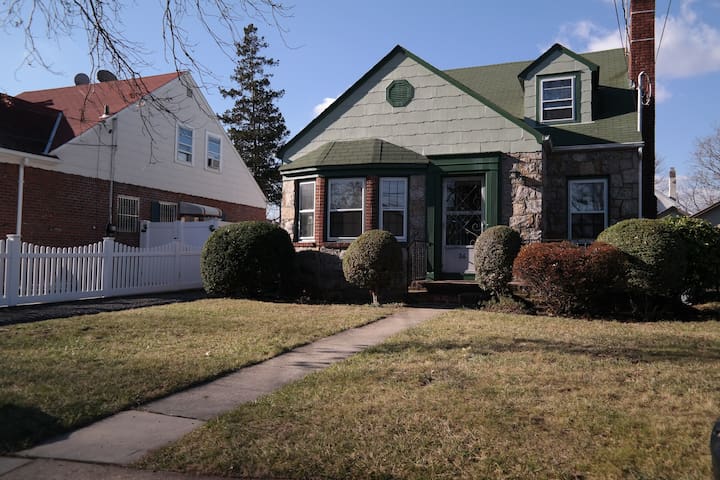 Big bedroom w/ private bath and shared use of kitchen, dining room, LR, finished basement w gym, patio plus yard. Near, NYC, Hofstra, NCC, Nassau Medical Center, parks, vinyards, beaches, JFK, LIRR & Buses, bike trails, Brooklyn, Queens & Manhattan.
Do you need to stay overnight near JFK? We offer the perfect alternative to anonymous airport motels. A taxi or the air-train to LIRR can get you here in under 30 minutes. Your large private room with a comfortable new high quality queen size bed, charming decor on first floor. Adjacent is your private full bath, tub, large shower, great pressure and plentiful hot water. Enjoy sharing our expansive, beautifully decorated home, w/ hardwood floors in "Northwest Freeport" w/big trees and wide streets, sunny patio w/ umbrellas for shade, awesome finished basement, with a gym, a big beautiful bar and comfortable living area w/NEW HD 42" screen TV. Two small quiet, clean, friendly dogs. Exclusive private access to Guest Bathroom & Bedroom 24/7 shared use of all the amenities below Modern Eat-In-Kitchen Sunny Dining Room & Living Room Exercise Area & Equipment with "Total Gym", Spin Machine, treadmill and more... Lounge w/ 42" TV, digital sound & private bar Bright Garden Sitting Room w/ beautiful plants Lovely gardens, Back Yard & Slate Patio Fresh coffee, assorted teas & safe, delicious water Access to new washer and dryer & laundry room Queen-size bed w/100% cotton linens, towels Safe Parking in Driveway and at the Curb Central Heat & A/C Powerful double Wi-Fi, Internet & Fios Cable TV w/ HBO Private "Off limits" areas include all upstairs, office and owners BR You are welcome to come and go freely. We would like you to let us know what your approximate schedule so we know when to expect you. We are frequently around and would be happy if you want to socialize with us if you feel like it, although we certainly respect your privacy. Our neighborhood has a local nature preserve with lovely pathways and even a boardwalk along the stream. Large oaks and others line the neighborhood streets north and east of the house for biking and walking if that's desired. Tennis courts, basketball and a school track all within a short walk. Area attractions: *5 min. to Enterprise Rental (will provide ride to) *25 min. to JFK International Airport Belt Parkway Exit 23 on to Sunrise Hwy./Rt.27 to Brookside Ave. *10 min. to Jones Beach/ Robert Moses State Park via Rt. 27 to Meadowbrook Pkwy S. *15 min. to Nautical Mile Waterfront dining/dancing, Rt.27 to Guy Lombardo Ave. *30 min. to New York City by the road or rail on Long Island Railroad (LIRR), Babylon Line * 3 min.ride to Long Island RR station (LIRR), 10 min. walk * 10-15 min. ride to shopping at Roosevelt Field Mall and others. Other things to do around the area locally include, fishing, kayaking and live music all just minutes away and a taxi is just $7 bucks! LIRR Train station is an averaged 7-10 minute walk.
We love the neighborhood as Freeport has been recognized as one of the most harmonious, culturally mixed communities, rich with diversity from all over. Most of the streets are lined with large old oaks, maples and beech trees. We have seen two children through the public school system quite happily, Chris belongs to multiple community organizations and works closely with the municipalities in his graphic arts business.
My stay with Cheryl & Chris was my first airbnb experience; it was wonderful. The room and house are exactly as described. The house is in a very quiet neighborhood - a 3 min taxi ride from the Long Island Railroad. Cheryl & Chris were out when I arrived, but they made sure I could find everything I needed. Their dogs, and later their daughter, greeted me. I ordered dinner delivered and ate it on the patio in the back yard. I met both Cheryl & Chris the next morning. Good conversation over a great cup of coffee; helpful, responsive, welcoming hosts. I would return on another trip.
Courtenay
2015-09-22T00:00:00Z
Cheryl and Chris are ideal welcoming Airbnb hosts, which is why everyone reviews them so highly. They've done a wonderful job embracing the best of midcentury suburban architecture in their Long Island home--and I can say that with some credibility as an owner of a 1953 three-bdrm ranch in suburban Boston that has similar fixtures but without this near-the-beach island vibe. (We could feel it even in late October.) The room is large and comfortable, and the bathroom directly to the right has a great shower head. Their small, friendly--but not overly friendly--dogs are quiet and pleasant. This was very convenient for the Hofstra University open house we attended as prospective freshman parents, while our son was lucky enough to stay in a dorm with a friend. If he's admitted, we will look forward to return visits with Cheryl and Chris.
Roger
2015-10-25T00:00:00Z
Chris and Cheryl are extremely generous and attentive hosts. House and area are wonderful and everything was as described. I'll stress that they are very very attentive and they both go out of their way to make sure you have directions and everything you need to arrive safely and enjoy your stay. very impressed
Marty
2014-09-19T00:00:00Z
The best 2 weeks in NY a girl can ask for. The entire family is extremely friendly and helpful. Cheryl assisted me several times with how to get on the trains and subway. I will rent from them in a heartbeat. Thanks Chris and Cheryl for making my trip and birthday memorable. Keep up the great hospitality.
niki
2014-08-14T00:00:00Z
Cheryl and Chris were amazing!! Their house was as beautiful as they had described it on the website. They made me feel very comfortable and felt as if I was at my own home. They were very sweet and always there if I had any questions!! Cheryl and my boyfriend got along great and had some great conversations!! I would definitely stay at their home again. Also their daughter was very sweet and nice to us!!
Olivia
2016-07-31T00:00:00Z
Wonderful!! ;) Thats all I can say about all McBride´s, their house and the guestroom. Okay, I can say more, if you like: Great, safe and silent place, near to a wonderful beach / waterfront but even perfect to stay if you wanna go to Manhattan/NYC/whereever, the train brings you faster into the city as a cab can drive you through the jam ;) The room was clean, large and bright, like the whole house. Absolutly nothing to complain, I compliment you on that place and can only recommend it to my friends. Thank you I would like to come back again, next time I visit the states.
Tim Martin
2014-08-30T00:00:00Z
Great house. Great room. Cheryl and Chris are very good hosts
Naresh
2014-10-03T00:00:00Z
Cheryl and Chris are the most fantastic hosts and their lovely home is wonderful to stay in! They are so friendly and do everything they can to ensure that you have the best stay possible. They are so generous and they home is delightful with lots of lovely features plus the room they offer is so spacious and beautiful. They went far beyond the call of duty in caring for their guests and they offer everything they can to make your stay as good as it can be
James
2016-08-02T00:00:00Z
Romtype
Privat rom
---
Eiendomstype
Hus
---
Plass til
2
---
Soverom
Freeport, New York, USA
Nice private bedroom located upstairs separated from the main floor. Modern grey and white interior design with 40 inch tv displayed before blue accent wall. Access to all movie, show and sports channels.
NICE SET UP, VERY PRIVATE.
Bomi
2017-03-18T00:00:00Z
Smooth and easy. Good hosts, very decent place.
Bomi
2017-02-26T00:00:00Z
Toshoi and her boyfriend were great host. Was available for questions as needed. An unexpected cold front occurred during my stay and Toshoi made sure I was warm with central heating and portable heater as needed. I had a continuing education course to take close by the mercy medical center. Which was about a 20 min walk. It was very convenient for me. Unless you have a car, the location is not a very convenient place to stay if you wanted to check out restaurants, nightlife, and coffee shops. But only a few miles drive to rockville centre where there are tons of bars and restaurants.
Geoffrey
2017-03-13T00:00:00Z
My boyfriend and I stayed here a couple times and every time we've Airbnb here we have a wonderful stay! The hosts are extremely friendly and I really appreciated that they were always available. They always answer within minutes and make it super easy to communicate no matter what time of day. Check-in and check-out were a breeze. The area is quiet and close to a lot of stores, restaurants, delis etc. We booked last minute and they did everything they could possibly do to accommodate us and make us feel at home. My boyfriend and I would definitely stay again!
Jessica
2017-03-06T00:00:00Z
Romtype
Privat rom
---
Eiendomstype
Hus
---
Plass til
2
---
Soverom
Hempstead, New York, USA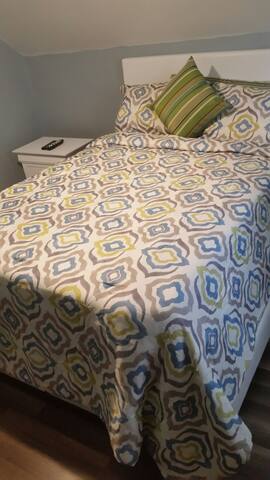 Single bed, ideal for 1 person. Use of house, including kitchen and yard. Small room, shared bath. Close to: Nassau Coliseum; Major LI Hospitals and Colleges. Quiet block with street parking in safe neighborhood. Minimum stay 1 week preferred.
Quiet, easy parking, friendly neighbors.
If I ever go back to Long Island, I wouldn't hesitate to rent from Marian again. Her home is clean and modern, and she is welcoming and helpful. For anyone looking to for a place to stay in a nice neighborhood, with nice accommodations, and at a good price, contact Marian. She is a wonderful hostess.
Erik
2015-10-22T00:00:00Z
This was week 2 at Marian's place and it now feels like a home. Marian is a wonderful and warm host.
Rajagopal
2016-05-28T00:00:00Z
For me the stay with Marian's family was an experience that I would call "home away from home". Marian is a very warm and personable host and she was communicative and made the stay very pleasant. The place is ideal for those that need to attend corporate training or short assignments at offices in and around Uniondale, NY. Quiet residential neighborhood with easy access to food, movies and transportation.
Rajagopal
2016-06-03T00:00:00Z
Overall a great experience! Unfortunately I was only there to sleep (I was out all day/night at a wedding) but Marian and her family are very friendly, even inviting me to breakfast! I'd definitely stay with her again.
Jeremy
2015-05-31T00:00:00Z
For my first Airbnb experience, I am glad I chose to stay with Marian. I felt so welcomed during my entire stay and the location was great. Marian is one of the most hospitable people I have ever met and overall a great host. Thank you so much for the great experience, Marian!
Tyra
2016-08-31T00:00:00Z
Marian is very kind, straightforward, and trusting. I felt like I was home during my stay at her place. She is also very quick to get back to you if you have any questions - great communication. Her place is very quiet during all times of day which I appreciated. Marian is also very interesting to talk to and a great conversationalist. Marian, it was a pleasure.
David
2016-01-21T00:00:00Z
Marian is a wonderful and warm person. She made me very welcome in her suburban home and her dog Pokie is a delight as well. The room itself is cozy and adequate. Marian went out of her way to be helpful - she even gave me a drop to my place of work which was 10 minutes away.
Rajagopal
2016-05-21T00:00:00Z
The host canceled this reservation 34 days before arrival. This is an automated posting.
Deanna
2016-05-24T00:00:00Z
Romtype
Privat rom
---
Eiendomstype
Hus
---
Plass til
1
---
Soverom
East Meadow, New York, USA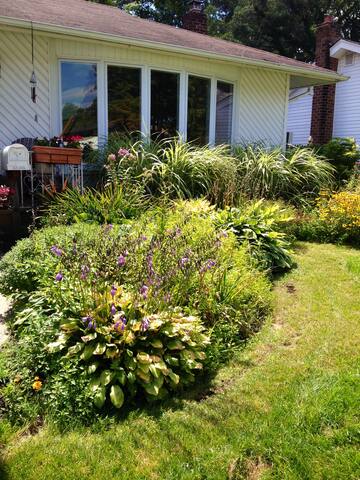 Beautiful, clean and large secluded bedroom in basement section of home for temporary accommodation with its own bathroom. With easy and short access to SS Pkwy, LIRR, Buses, Taxi, shopping mall and restaurants
Patricia was a very nice host, as well as her family. I stayed for 1 month and it was perfect. Little noice and a lot of privacy. Very clean place. Patricia made me feel very welcomed. I would definitely stay here again if needed.
Josephine
2016-05-01T00:00:00Z
Patricia was a great host. I would definitely stay here again.
Ricky
2016-07-29T00:00:00Z
My first Airbnb experience was awful; however, I decided to try it for the last time. I am convinced that I will continue to use airbnb because of the hospitality of Mrs. Patricia and Mr. Bill. This happy family made sure that I enjoy my stay. Usually, I stay in hotels for most of my travelling just for the conveniences that come with hotel. My stay at Mrs. Patricia's place was home away from home. I feel like I'm part of the family, and my best friend Abigail made sure that I did not lack anything. She usually comes to me and say "Have you eaten. Do you have food to eat." I will definitely return to visit New York, as long as Mrs. Patricia's place will be available for me to stay. I cannot thank you guys enough for all you have done for me during my stay. Thanks and remain bless.
SAHEED
2016-02-28T00:00:00Z
Had a very enjoyable stay. Patricia was a great host.
Sourabh
2016-03-13T00:00:00Z
I had a great experience in Patricia's Home. The room is spacious and private, with a private bathroom. Everything was available as described, plus air conditioning. Internet was reliable. The house was very clean. They were very quick to accomodate all of my wishes, including installing a second air conditioner in the basement, which made the whole house very comfortable in the middle of August. She has a nice family, and they made me feel at home. This place is perfect for a travelling student.
Ahson
2016-09-10T00:00:00Z
Great!
Mary
2016-07-20T00:00:00Z
Instant connection. A very nice room...roomy. The family is very friendly. Well kept, cozy environment. Patricia is awesomesauce!!!
De
2016-01-10T00:00:00Z
Great host family, great private room. Great place to stay!
Michael
2016-05-29T00:00:00Z
Romtype
Privat rom
---
Eiendomstype
Hus
---
Plass til
1
---
Soverom
Hempstead, New York, USA