Skriv inn innsjekkingsdatoen i formatet dd.mm.år
Skriv inn utsjekkingsdatoen i formatet dd.mm.år
Utleiesteder du kan bestille uten å måtte vente på vertens godkjennelse.
15 Utleiesteder
· Randlett
15 Utleiesteder
· Randlett
Oppgi datoer for å se fullstendige priser. Ekstra gebyrer gjelder. Skatter vil kunne tilføyes.
I juli og august i år kan du prøve ut ett av disse 100 hjemmene folk har vurdert som svært gode, i alle prisklasser, og oppleve lokalfolkets blikk på Sonoma. 24-timers innsjekking, Øyeblikkelig bestilling og lokal vin og snacks, lar deg lene deg tilbake og nyte turen.
Beautiful spacious Suite close to parks, restaurants and dining, and recreation areas. You'll love my place because of the comfy bed, pool and spa and full ammenities. My place is good for couples, solo adventurers, business travelers, and families (with kids).
Full 24 hour access to free laundry, fitness room, and pool/spa. We have staff available every day of the week. There is an onsite personnel in the office Monday through Friday from 8AM til 10PM, and an on call personnel available any time of the day everyday of the week.
Romtype
Privat rom
---
Eiendomstype
---
Plass til
2
---
Soverom
1
Roosevelt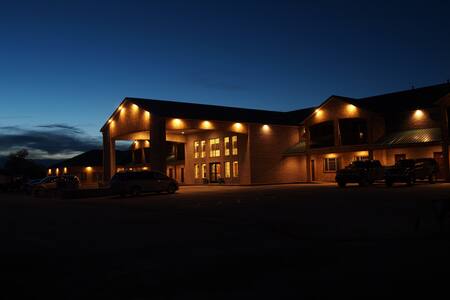 Enjoy a peaceful stay in Dry Fork Canyon tucked away on 8 acres, surrounded by breathtaking views. If your looking for a relaxing place to escape the busy life look no further. Not only are you surrounded by breathtaking views, hike, bike climb is right out the front door.
Everything.
Jana was so helpful in making us feel comfortable for our stay. She made sure to give us all the information needed in order to get the most out of our trip and even gave us advice about local trails and activities we could do while we were there. The home was perfect for our weekend get away. We'd definitely go back!
Laura
October 2016
Romtype
Helt hjem/leilighet
---
Eiendomstype
---
Plass til
8
---
Soverom
4
Vernal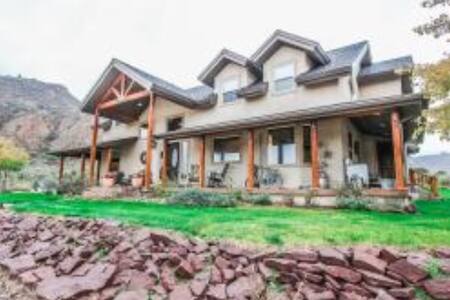 Large one bedroom apartment on third floor. The apartment is new and clean. There's a king size mattress in the room and a loveseat in the living room. Apartment is big so there's lots of rooms to accommodate air/foam mattresses if you need to. Washer, dryer, and kitchen available to use. Free Gym access, wifi, parking.
It's a new, beautiful, and clean apartment. Washer and dryer Gym Kitchen Bathroom Balcony Internet Parking Often
They're pretty quiet. Bus and walking distance places I might be out of town during your stay, but I will make sure you get the key for the apartment easily. You can text me anytime with any questions or concerns.
Romtype
Helt hjem/leilighet
---
Eiendomstype
---
Plass til
5
---
Soverom
1
Vernal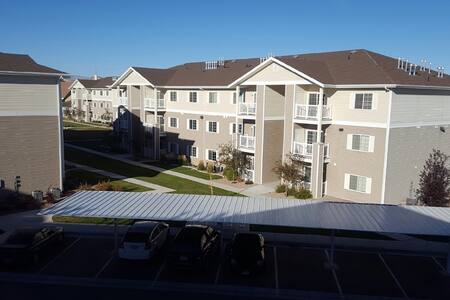 ]'
Truly wonderful experience from the moment I arrived. We were greeted with warmth and kindness. The Cozy Cabin was exactly as described with wonderful views all around. Linda & Joe were so kind and had such wonderful advice on where to go to explore the spectacular environment. I have only 1 regret, that I didn't stay longer. I highly recommend this Air B&B location, well worth the drive. A peaceful, gorgeous, piece of heaven on earth. Thank you Linda & Joe for your hospitality! Much Mahalo
Melanie
August 2016
What a slice of heaven Joe & Linda have! This is one of the most peaceful places I have vacationed at in a LONG time. This is a working ranch with wildlife is abundant! My kids loved fishing in the stocked trout pond, learning about all the equipment, and seeing the horses each day. With no wifi or internet we truly unplugged. The cabins are both well kept and very comfortable. The beds and pillows are VERY comfortable! Joe and Linda are the most gracious hosts. They make you feel right at home. We are hoping they adopt us one day! :-) All the way home we all talked about the next time we will be going back. Next time we will stay longer! Thanks Joe and Linda for giving this family a magical break from the hubbub of city life.
Nicole
June 2016
My wife and I had a great stay at the J&L Ranch. The cabin is nice and clean with all sorts of handmade furniture and cowboy memorabilia. It's got everything you'd need to make yourself at home, you just have to get food in Roosevelt before you arrive. The area around the ranch is absolutely beautiful with all sorts of opportunities for recreation. I've never seen more mule deer in my life! We took a trip up to the High Uintahs about 45 minutes away and saw elk and moose. The trout fishing around the area is fun too. Joe is a licensed guide for the National Forest and Wilderness area north of the ranch, and knows the area well. He really went out of his way to give us tips and advice on things to see and do. Both Linda and Joe were very accommodating and welcoming to us. This would be a good place for people looking to get some respite from the hustle and bustle, or those who want to experience a little bit of the wild west. The cabin also has a loft with to twin beds, and I can imagine kids who like horses and/or cowboys and indians (and what kid doesn't?) would really enjoy this place.
Brandon
August 2016
Cannot beat the rustic ranch experience! You can un-plug and enjoy!
Lisa
September 2016
My husband and I came here for a night with my parents and thoroughly enjoyed our time on J/L Ranch. Joe and Linda are awesome hosts and were kind enough to show us around and let us pet their horses. The accommodations at the cabin were great and had everything we needed to cook and enjoy ourselves. The views at night from the ranch are spectacular too!
Toni
August 2016
This was a great get away from the city. Quite and cozy. Really clean and everything we needed was there. Magnificent views, plenty of wild life to view in the area. Lovely, unique decorations inside. We truly enjoyed it and hope to come back.
Barbara
October 2016
Thank you Joe and Linda for your hospitality. We enjoyed staying at your place and are looking forward for a second trip and a trip to cowboy camp. We enjoyed the privacy, scenic surroundings and coziness of this cabin. Very relaxing environment. Both Joe and Linda's smile and willingness to share information and ideas of what to do in the area was very helpful. We had a fantastic time and wished we could have stayed longer. It was amazing to see Joe's art and we purchased the book he wrote. Meeting your dogs, horses and mules was such a fun experience. This cabin is right outside the beautiful Whiterock Canyon, which offers scenic views and outdoor recreation (hike, fish, backpack, cross-country ski, etc.). Joe and Linda are very responsive and easy to talk to. We highly recommend staying at their cabin! Clean and quaint, with wonderful hosts. We will definitely return!
Stephanie
December 2016
Romtype
Helt hjem/leilighet
---
Eiendomstype
---
Plass til
4
---
Soverom
2
Whiterocks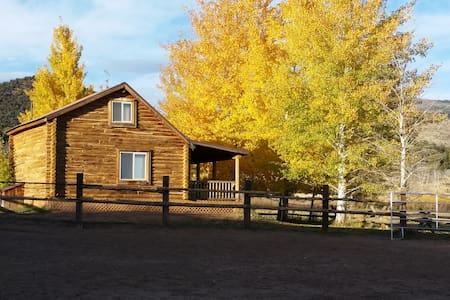 Beautiful spacious Townhome close to restaurants and dining, parks, and recreation areas with great views of the mountains. You'll love my place because of the home away from home feel and full amenities. My place is good for couples, solo adventurers, business travelers, families (with kids), and big groups.
This is a spacious 3 bedroom, 3 bathroom TownHome. It offers a full kitchen, front room and dining area. Full 24 hour access to free laundry facility, fitness room, and pool/spa. We have staff available every day of the week. There is an onsite personnel in the office Monday through Friday from 8AM til 10PM, and an on call personnel available any time of the day everyday of the week.
Romtype
Helt hjem/leilighet
---
Eiendomstype
---
Plass til
6
---
Soverom
3
Roosevelt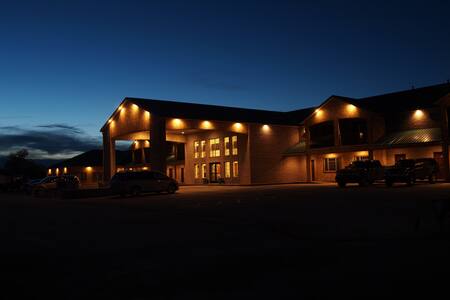 This all wood home sits on 2.5 acres of land up on the bench in Duchesne, Utah. If you want to get away from it all this is the place. Very quiet and off the beaten path. Town is approximately 5 miles away for pretty much all your needs. Very peaceful location and wildlife is known to wander the property mostly jack rabbits and antelope.
Nice log cabin close to strawberry reservoir, duchesne and strawberry rivers. Hike around the developments dirt roads to explore the area. You can access all of the cabins features I live in southern california this is my vacation home so I only have interaction with guests via e-mail and telephone
This is a rather large development known as Utah Mini Ranches. All lots are a minimum of 2.5 acres most of which have not been developed so there is a lot of open space around you Private vehicle is the best mode of transportation in this area Duchesne is about 5 miles away and has a grocery store and few restaurants and gasoline stations. There are a lot of recreational opportunities available in the area.
Wanted a place to stay on our way from San Francisco to Yellowstone, with stopover at Dinosaur National Monument. Great house, well provided with everything we needed to enjoy our stay. Remote location is quiet and tranquil. Elk/moose decor is a blast! Ryan is a conscientious host who provided full support for enjoying our stay.
Jim
September 2015
Ryan's cabin greatly exceeded our expectations. House is fully loaded to the point if you bring food and clothes you will have a great time. Ryan was always readily available for any questions as well. Thank you again Ryan, we will be coming back
Brian
June 2016
Ryan is a great host, he was in contact with us before our stay, during our stay and as we were leaving ensuring all question were answered and we had everything we needed. The home is even nicer than it appears in the pictures and was in a quiet and peaceful location. We had a wonderful stay and will be back. I would highly recommend this to anyone staying in the area.
Andrea
October 2016
Ryan checked in several times to offer help if needed. His home was very comfortable. We enjoyed the quiet evenings and the beautiful sunsets.
Gina
August 2016
2nd visit, just as great as the first. Excellent host And accommodations
Brian
November 2016
Ryan was an amazing host. From the moment we walked in we felt very comfortable. Everything was very organized and the cabin was very clean as expected . Our stay was very wonderful. We truly recommend this cabin to everyone. We are looking forward to our next Utah vacation. Thank you for everything!!
David
August 2016
The cabin is just amazing! They have everything you could possibly ask for to ensure a comfortable stay. It was -3F outside but with the fire place and heater we were able to stay very warm. I will definitely be staying here again and I highly recommend this cabin to anyone looking to get away from the city life.
Sofia
January 2016
The cabin was an amazing getaway. It pretty secluded for privacy. Ryan is a great host. The cabin had everything you could need. There was a little plumbing issue that Ryan wasted no time addressing. I will be staying there again in the near future.... If you are looking for an amazing getaway boom this cabin..
Jerry
August 2016
Romtype
Helt hjem/leilighet
---
Eiendomstype
---
Plass til
6
---
Soverom
3
Duchesne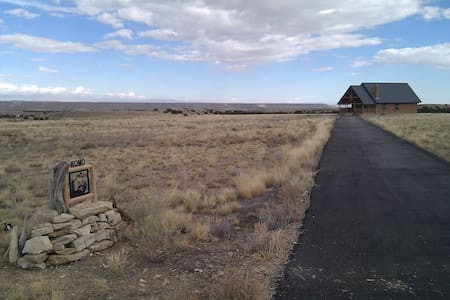 Great shared bedroom in a rural home at the base of the Uintah Mountains. Can be used as a launching pad when leaving on extended camping trips.
Romtype
Delt rom
---
Eiendomstype
---
Plass til
1
---
Soverom
1
Neola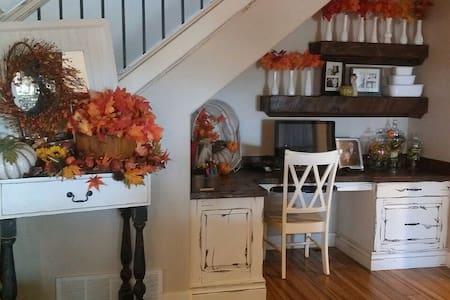 This room is located just 10 city blocks from the center of Vernal Utah. This room would be great for someone needing a place to crash before starting a week of work on the rig, or just a stopping point on whatever your journey is.
The listing description was accurate. The location was near downtown so it was easy to get everything I needed before leaving for my next destination. The room was clean and comfortable. I could not have asked for anything more! Very Highly Recommended.
Cathy
August 2015
Romtype
Privat rom
---
Eiendomstype
---
Plass til
1
---
Soverom
1
Vernal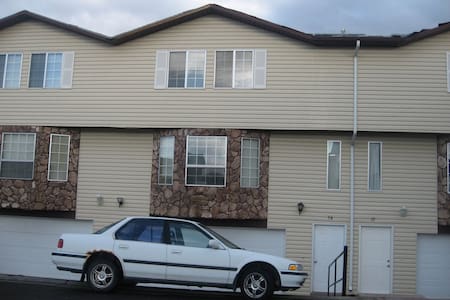 The Bunkhouse is the upstairs of a log horse barn. It has 3 bedrooms, full bath with shower, living room and kitchen. Western furnishings There is plenty of room to get out and explore or relax under the shade trees and grill out for dinner.
J/L Ranch is surrounded by Ashley National Forest and Ute Indian Reservation. You can explore our ranch and watch the horses grazing or being ridden. We are in a very secluded location. No traffic, no sirens etc. We are located 40 min West of Vernal, Ut. and 25 min. NE of Roosevelt, Ut. We have great shade trees you are welcome to hang out and picnic. There are two ponds on the property to enjoy. Fee fishing is an option. The ranch is on 80 acres so there is a lot of space to explore. We are minutes away from Ashley National Forest with access to fishing and hiking. We are always available to help with your visit. If you need ideas of things to see and do. Or you can just do your own thing and pretend you are the only person in miles!
Since we are in a remote location there are no groceries or restaurants within 20 miles. Plan to do your grocery shopping in Roosevelt or Vernal before heading to the Ranch We have horses on the ranch and cats and dogs. The horses love people but guests will not be able to go into their fields or stalls as a safety precaution.
Joe and Linda provided a beyond amazing one of a kind experience for myself and travel buddies. They were kind and welcoming from the moment we arrived, and welcomed us with ease into their ranch lifestyle. I appreciated and loved how Joe took my friend with special needs under his wing and showed him the ropes. The space we stayed in was great- immaculately clean and had everything we needed. The land is truly magnificent, and the animals stunning. I highly recommend JL Ranch for anyone who is looking to truly be on the land and in good hands!
Sarah
October 2016
The ranch is nestled in at the foot of the mountains and the view is beautiful. The bunkhouse suite is over the barn and is spacious, cozy and has everything you need for a comfortable stay. We loved it. Joe and Linda are great and know everything about the area so they can help with suggestions for hiking and things to see. The night sky is breathtaking - you forget just how many stars there are when you live in a city. We had a great time and hope to come back again soon.
Julie
August 2016
On the border of Ashley National Forest, the ranch sits on 80 acres of land with wonderful views on surrounding mountains. Northern Utah, close to Wyoming border, is real wilderness, not really touristic area compare to south of state well known and visited national parks. So if you're looking for a place to really relax, plenty of hiking trails and fishing spots, this is the place to be!!! Linda and Joe are wonderful hosts with plenty of nice stories to tell about their 40 years on the ranch. The apartment on top of the barn was perfect for our family with plenty of room and all necessary appliances. Very comfy and clean. Linda and Joe love their horses (19 I think) and plenty of deers are sharing pasture with them. We stayed 6 days and we really enjoyed everything. Thank you Linda and Joe!!!
Patrick
July 2016
Romtype
Helt hjem/leilighet
---
Eiendomstype
---
Plass til
6
---
Soverom
3
Whiterocks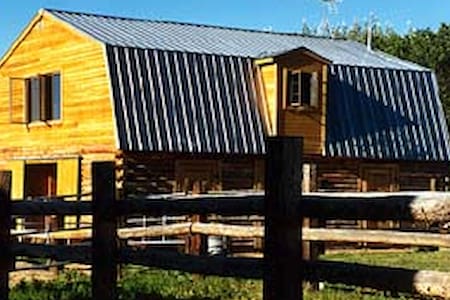 There are 2 cabins actually on a ridge overlooking and with access to Starvation Reservoir in Duchesne County. These are off grid tiny cabins. However water will be supplied, camper type tent shower, camping toilet. This is in it's first stage sleeps 6 comfortably. RV ok
Please read all the descriptions before booking, it is in the wilderness and may not be for everybody. Not on the electric grid, does not have indoor plumbing....This is a small cabin with 2 loft areas that are large enough for a King bed and some storage or sitting area. It will have off grid amenities, solar power, butane cook tops as well as a BBQ. toilet currently is a portable flushable camp type toilet. Will either be composting or other type of off grid commode. This is in stage 1 and will be having continual upgrades through the summer. THERE IS A SECOND CABIN ALSO AVAILABLE FOR EXTRA GUESTS CURRENTLY, IN NEAR FUTURE WILL RENT AS COMPLETE UNIT This is on 5 acres with wildlife, amazing birds, lots of rabbits, some deer, lizards.....etc. Yes this is outdoors, expect to see bugs and spiders, horse flies, this may not be for you...... Below the ridge is state owned public primitive camping areas with ATV's allowed also some beach area and some amazing rock formations and boulders. Bringing in RV's boats, trailers, campers is allowed but no dump. There are RV dumps in the 5 miles away town of Duchesne. If you go to the beach area or the other campground areas of Starvation you will need to get a day pass at either the ranger station next to the Duchesne High School, or the Starvation State campground park entrance. As for the cabins There will either be a code for the door or a hidden key. If you want to rent both cabins it can be arranged pending what is booked. Property to the West is privately owned and no trespassing allowed, someone has a home and is living there. The surrounding land bordering the property is not to be used for ATV's but there is ample trails further out in the miles an miles of area out here. USE EXTREME CAUTION IF YOU WANT TO BOULDER DOWN THE RIDGE ONTO THE LAND NEXT TO THE RESERVOIR. You can also access it by taking the road to Knight Hollow and access the direct land below by foot. I live in West Jordan Utah 2 hours away, will be available by phone or text
There is no public transportation to this location. You can rent ATV vehicles, boats, etc. You will need to get a day pass at the rangers station or the entrance area to the State campground Park. Children are welcome but this is wilderness area, with creatures, cactuses, rocks and steep ridges. PLEASE KEEP CHILDREN CLOSELY SUPERVISED!! Much like you would when playing in the ocean or a swimming pool!
Karen gave us great directions. We were able to find her cabins in the dark. We liked having an off grid experience. Normally, we do that in a tent, but this was much more comfortable. There's plenty of room in each cabin. And The place is really secluded. It was wonderful. The cabins are right next to the lake (2 minute drive). And, the fishing was great! We enjoyed all of the wildlife. This is a great place to come and kick back without having to haul all of the equipment, without having to set everything up when you get there and pack everything up when you go home. I highly recommend it!
Susan
September 2016
Karen was very responsive to my questions prior to booking and throughout the process as well. She gave me lot of info about the cabin itself and also detailed instructions on how to get there (which are needed as this place is definitely off the beaten path). Overall everything was as good or better than expected and there were a lot of supplies that were in the cabin already, which I was not expecting. There was everything from batteries to condiments to matches and plenty of lighting. The place can get a little chilly at night (in the wintery months) so definitely pack clothing accordingly, but there were way more than enough blankets and necessary bedding supplies provided to stay cozy. I would definitely stay here again and am very pleased with what I got for the money. Thanks again Karen!
Cash
November 2016
It was a bit of an adventure to access the cabin since it is a couple hour drive from salt lake city, including a dirt road drive. The cabin is still a work in progress, but for anyone who wants to disconnect from everything for a while it is a great place to stay for a couple days.
Sungwoo
July 2016
Was beautiful! A great weekend getaway! Would definitely come back!
Loni
July 2016
Cabins were great and had all amenities! Karen was quick to respond to questions.
Annie
August 2016
Great views extra bedding was needed not enough for guests
Patricia
August 2016
Karen was very hospitable and helped us when we needed it. Everything at these cabins are as she says, plus more. It was a very enjoyable stay and I highly recommend these cabins if you like to getaway and enjoy some nature.
anthony
July 2016
Plenty of beds for a large group. Be perpared to dig you own latrine though, because the toilet is very very small. The shower work well. Pots and pans to cook with. My friends and I dug a large fire pit which we use to cook on. Nice view, but kinda hard to get down to the lake and be wary of cacti. Overall my friends and I had a very nice time.
Stephanie
August 2016
Romtype
Helt hjem/leilighet
---
Eiendomstype
---
Plass til
8
---
Soverom
1
Duchesne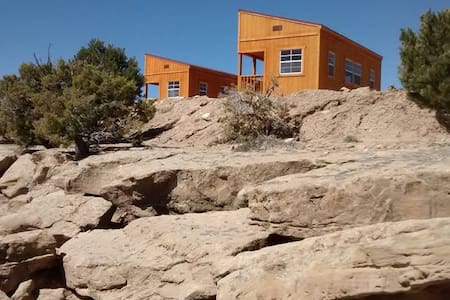 Beautiful, spacious 3 bedroom TownHome close to parks and recreation areas with great views! You'll love my place because of the home away from home feel. My place is good for couples, solo adventurers, business travelers, families (with kids), and big groups.
3 large bedrooms, each with its own private 5 piece bath. Full kitchen, dining area, and living room. Free wifi! Guests have access to the entire Townhome. We have staff available every day of the week. There is an onsite personnel in the office Monday through Friday from 8AM til 10PM, and an on call personnel available any time of the day everyday of the week.
Everything was perfect with this property, super clean and neat, perfect location right in the middle of town, very nice just as the pictures show, bedrooms are fairly large too, everything was better than expected and the price was reasonable
Dan
December 2016
Our stay was perfect. The stay facilities have some wear but are modern and beautiful. All 3 rooms were spacious and well appointed. The kitchen is well stocked with utensils and dishes. You do need to bring all cooking supplies including oil or butter. Thank you Melissa for an enjoyable stay.
Elexandra
December 2016
Great central location, very clean, fully equips kitchen, spacious bedrooms each with their own bath and all provided at a great rate.
Tony
December 2016
Romtype
Helt hjem/leilighet
---
Eiendomstype
---
Plass til
6
---
Soverom
3
Duchesne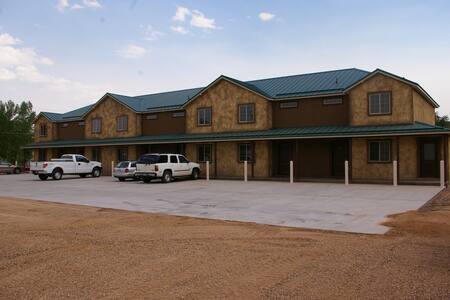 Roomy Trailer, Great Views, Hiking, Biking with Some of Utah's best fishing and water sports. Only 1/2 mile to boat ramp w/rentals available (jet ski, boat, water toys, trampoline) On 40 Acres of Private Land inside the State Park. Room for Tents and Trailers with Hookups!
The only private land inside Starvation State Park. No 10 PM quiet rules. No dogs on leash rules. Plenty of Privacy! Three more trailer hook ups available, with water, power and sewer. Lots of room for tents!! Play Ground Arrangements could be made for a boat with a driver! Maybe a Hot Tub! What ever they require.
Perfect for Events!! Solitude and Great Views!! Very quiet, if that's what you want! Short drive to a great golf course in Roosevelt! Easy access to Duchesne with groceries, liquor, auto Parts, hardware, gas, and a swimming pool. Vehicles must stay on driveway to asphalt! Property is surrounded by Cliff, good for privacy, but do not wander far in the dark!
It was secluded yet close to the reservoir. Without the neighbors so close as a regular campground. We only had to bring our own food and bedding. It was clean and nice. Very comfortable almost just like home. The kids had a place to play. And we even could have a campfire so all the fun stuff about camping without the hassle.
Rhoda
July 2016
Russ was a wonderful host! Very accommodating to all of our groups needs, and what a beautiful property. We would recommend staying here to anyone! We had an amazing weekend, didn't have to stay in the packed campgrounds below. Short drive to the lake every day. The trailer we stayed in on the property was perfect, nice to cool down during the day with the air conditioning and also having a dry place when it was raining. We had our engagement celebration on the property and it couldn't have turned out any better! Thank you so much!
Jodi
July 2016
Romtype
Helt hjem/leilighet
---
Eiendomstype
---
Plass til
6
---
Soverom
2
Duchesne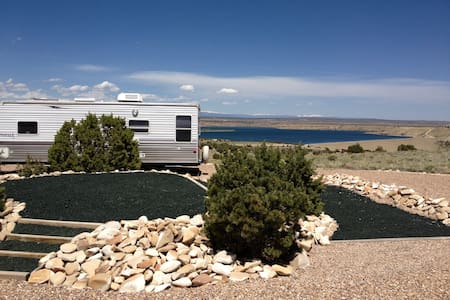 260° Views of the Utah High Dessert Mountains from the "Rough Creek Cabin". Min. days and number of guests do apply. Contact me for details. In Winter access is only available with 4x4 vehicles. Flexible bookings. Captained pontoon boat available.
Close to lakes, mountains, cities and ski areas in winter. A fully furnished house. House cleaning and area info. and support of all area events provided.
Secluded....isolated....beautiful location and views. Accessable year round, but does require 4x4 vehicle in winter. Three day minimum. Seven day maximum...usually. Pricing discounts apply to weelky rates. Many options.
Our vacation started with Jay meeting us and driving us up to his place. Unfortunately, a combination of a huge snowfall and our Land Rover just didn't quite make it up the hill. Jay, my husband and I tried everything we could think of for over two hours to get up the hill or unstuck but, eventually we had to park down past the gate and walk up. In the mean time, Lana drove the kids up the rest of the way and got them settled. Jay and my husband ferried our supplies up via four wheeler. Jay, Lana and their cute little dog then gave us the tour and headed out for their own home. The rest of our time was wonderful. Exploring the property, watching movies with the kids, target shooting, great meals in their kitchen. Lana even dug out a cute little one cup coffee maker for me for in the mornings. The views are beautiful and the property is lovely. We would love to come back.....maybe not in the snow though. Thanks Jay and Lana
opal
January 2017
Romtype
Helt hjem/leilighet
---
Eiendomstype
---
Plass til
10
---
Soverom
4
Fruitland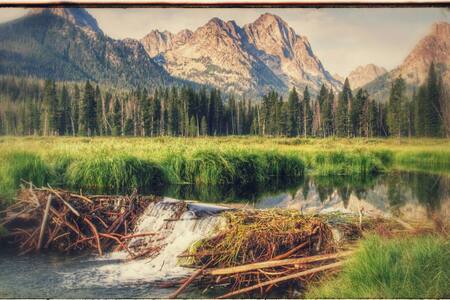 We have great fly fishing, horseback riding, snowmobiling, ATV riding, ranch golf, mountain biking, hiking, kayaking, wildlife viewing, and art classes. We provide guided activities and excursions, all meals and housekeeping. Ask for specific pricing
Romtype
Helt hjem/leilighet
---
Eiendomstype
---
Plass til
8
---
Soverom
3
Altamont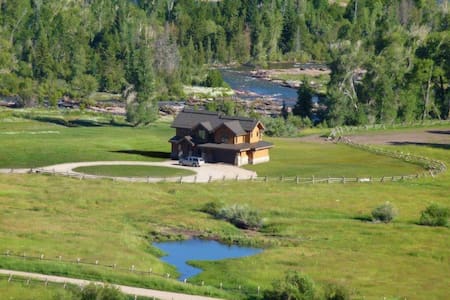 Life is simply better in the mountains or at the beach. You'll LOVE this view over looking the evening sunset, sitting in the swing or chair on the deck! It's a small, cozy cabin, but I suppose what people like the most is my collection of books/deco
I have a small guest room with private shower on the loft floor of my cabin in the Unita (Rocky Mountains) Mountain range about 7 minutes east - above Heber, Utah, near Park City, about 50 miles from Salt Lake City. We have a 60" Plasma screen, DVD, fireplace, kitchen, piano. guitar and various musical instruments, several porches, and the views surround us. Facing west we are overlooking the sunset, a lake and the Timpinogas Mountain range and the back of Park City. Hiking in the pines, snow shoeing, cross country skiing out the door, moose, deer, raccoon, many bird species and other critters. Wildflowers change all summer long. You bed is an excellent queen spread with down comforters, your private bath is new and equipped with full shower, sink and toilet. You may keep a few groceries in the main kitchen refrigerator and so light or microwave cooking. Parking on property includes space for a motor home or car or van or truck. Bedding is changed once per week while you're staying with us. Free wireless access, outside barbecue, and friendly smiles. I can help you plan your trip through the Unitas or West Coast. I've traveled most of the world and can speak English, and some French and Spanish. I have tons of Lonely Planet books and maybe another 1000 books to choose from in my library! You will need a car and to get here during the winter, a four-wheel drive vehicle. We look forward to meeting you and welcoming you to Utah. BTW, I am easy going, so if you don't drink, that's great, if you bring a bottle of wine, I will provide the goat cheese and crackers! Parking is a breeze. I only have my SUV, so any size vehicle or two vehicles, only I doubt if you'll have two, since the bed only sleeps two, and I only have that one room! LOL I absolutely LOVE to meet people from around the globe, especially seasoned travelers. I travel a lot myself (which is why bookings are limited) and there is nothing as exuberrating as discussing philosophy, cultures, world history, etc. BTW, I have tons of GREAT COURSES on almost every subject so we sure could enjoy a LONG evening of "learning". On the other hand, I am perfectly happy to have you come and go around the mountain, up to Park City (I know all the great spots and keep coupons in stock!) and come home late, sleep in, and just use my cabin for your jumping off point. I am excited to have you enjoy my little Unitas cabin and stay a night or a month, as long as I am in town. A winter stay is also available so please ask (ski bums and snow enthusiasts will love this place!)
This is the most peaceful place on earth. I have 2.5 acres all enclosed in trees, so completely private, 3 porches, and a view to die for! I overlook a lake and huge mountain range, but my favorite part of living her is the animals that roam freely about. Deer, moose, raccoon's (hard to see though!) owl, and all sort of birds and squirrels. Yes, I have feeders all around my yard, so hummingbirds and all sorts of colorful birds abound. They know where their bread is buttered! You will need your own transportation since we are in the mountains, in a gated community. In the winter, a four wheel drive is imperative and you'll need to be able to work a snow shovel! It's best if you can book ahead and I can plan my travels around you. However, if you're just stopping by for a night or two, if I am here, I would LOVE to meet you.
Romtype
Privat rom
---
Eiendomstype
---
Plass til
1
---
Soverom
1
Tabiona
1

–

15

av

15 Utleiesteder