Penn State's Beaver Stadium only 35 minutes away! Our mountain lodge is the perfect place for PSU football weekends. Endless outdoor activities at state parks nearby. Go on an adventure or just relax, this is the perfect place for it!
The lodge is beautifully decorated with the outdoors as the inspiration with whitetail deer and other wildlife mounts. A stone fireplace graces the great room creating a welcoming space for conversations and relaxing. Entire lodge sleeps 9 guests comfortably. Kitchenette for your use includes full size fridge, microwave, toaster, crockpot, toaster oven, electric frying pan, counter top convection oven and coffee maker. Dinnerware provided. All linens and towels included. Handicap accessible downstairs bath and bedroom.
Private driveway leads to lodge with large yard, wooded, peaceful setting with stream. Free parking big enough for ATV trailers. 5 miles from the Susquehanna River public canoe and kayak launch. 2 miles from Snow Shoe Rails to Trails ATV trailhead. Nearby state forests and state parks for hiking, boating, fishing and hunting. Penn State University is only 30 minutes away for all football games, college activities and events!
Vicki has been the most gracious host. We were a large group who came in at 2 am. With frequent and accurate communication, it was very easy to a) locate the place and b) settle in. The Trophy Lodge in itself is a welcoming, captivating place with a huge living room and plenty of cozy comfortable sleeping areas. Vicki kept it spotlessly clean and well equipped. Every morning, hot delicious breakfast got our days off to terrific starts. She is friendly, knowledgeable and truly loves taking care of guests. She even mailed back a scarf that we left behind by mistake. My brother's family from Boston, us from Chicago, and my mother and sister from India all thoroughly enjoyed our stay at the lodge. A memorable place indeed, and wont be complete without the caring host, Vicki ! Kedar
Kedar
2016-05-31T00:00:00Z
Vicki was great to communicate with preceding our stay. She let me know that really there were very few evening meal options locally (We chose this secluded lodge as it was half way on our road trip from DC up to Niagara Falls.) and that they had a grill (BBQ to us Aussies!) available for guests to use. So, we changed our plans and took our evening meal with us. This was ideal after a 4 hour journey and 2 children under 3 years of age. There was lovely grass areas of garden for the children to explore> A bunny rabbit was on the lawn the next morning as we came down the stairs for breakfast, this made our 3 year old whoop with excitement. Our 1 year old was enthralled by the taxidermy specimens. The rooms were beautifully arranged. I must call Vicki to ask where she sources her bed linen from! Vicki runs the lodge as a typical B&B where she can cook the breakfast -awesome pancakes, berries (home grown blueberries were delicious!!!), fruit salad, bacon and scrambled eggs which set us up well for our drive up to Niagara Falls. It's an ideal retreat place with beautifully surrounding forests, awesome if you are hunters or just want a peaceful place to explore.
Hannah
2016-07-23T00:00:00Z
Vicki and her husband are really nice hosts. They did try their best to help us to have a wonderful stay at their house. It was my graduation weekend, which is a big day in my life. I am glad my whole family could come from China and also Vicki also made the best part of this journey. She made wonderful breakfast. At the beginning, i told her i have around 8 ppl. But as graduation is getting closer, more family and friends are coming. We ended up with 10 ppl living in the house 17 ppl for breakfast. Vicki is so nice and understanding for these. On the last day, i have a graduation party at her house, she was working together with me with all the set ups and her husband helped with BBQ as well. This couple really makes my graduation weekend much more easier and comfortable. Everyone loves them. My parents want me to leave really good feedback on Airbnb and also expressed our thanks to them. My dad says he would come back to go for hunting with them!!! wonderful house!! clean and well decorated. Love it !!!!
CJ
2014-05-14T00:00:00Z
Great place for a family gathering. Feels distant from civilization but is close to 80 and not far from State College.
Andrew
2016-12-30T00:00:00Z
The home was great, clean, and plenty of room. It was a fantastic location for a small staff retreat. Only downside is the restaurant options are far from home. Hosts were very accomodating and easy to communicate with.
Donna
2016-07-29T00:00:00Z
Vicki was an amazing host! She reached out to us before we even arrived and helped us find things to do in the nearby area. Vicki took care of our group of 7 and checked in with us often, yet gave us plenty of space to do our own thing. The breakfast was incredible too! We'll definitely be back again.
Stephen & Erin
2014-08-18T00:00:00Z
Wonderful location and an incredible house. Vicki was a great hostess and made a delicious breakfast. Highly recommend.
Euthimia
2015-09-21T00:00:00Z
My family and friends had a wonderful time in Vicki & Larry house, in quiet and comfort neighborhood. House is very clean, bright and looks even better as on photo. Vicki and Larry very friendly and give a lot of information about house, point of interest around. We enjoy the breakfast and pancakes were the best whichever I ate. Location of house is good for visit the Penn's Cave and also not so far from Danny's Bar & Grill, where we had fun to eating biggest burger in the world ( 15 lbs). My friends and I will recommend this house to our co-workers, because it's good to stay for hunting, for resting, for family events. Definitely my family will come in this house again for hiking in Black Moshannon State Park, for horseback riding in Moshannon State Park, for fishing and kayaking or other recreational activities, which we interesting in different seasons. Thank you very much Vicki and Larry for such wonderful weekend!!!
Irina
2016-04-25T00:00:00Z
Romtype
Helt hjem/leilighet
---
Eiendomstype
Hus
---
Plass til
10
---
Soverom
Moshannon, Pennsylvania, USA
3 bedroom ranch home, 30 minutes from Penn State. Prime location for nature enthusiasts. Excellent hunting, fishing, biking. Minutes from PA Rails to Trails access point. Modern kitchen and large family room for relaxing. Tranquil, private back yard.
This is a modern home with easy access to outdoor activities and Penn State University. Sleeps 6 guests. 1900 square feet of living space. Large kitchen and family room provide excellent space to cook or just relax. Large, private backyard with peaceful view of a wooded 10 acre lot.
The home is in the country, in the small town of Clarence. Large secluded backyard set on 10 acres. Often see deer grazing in the early morning. Nearby state forests and state parks for hiking, boating, fishing and hunting. Parking large enough for ATV trailers. Easy access to Snow Shoe Rails to Trails ATV trailhead. Local grocery store, pizza shop, diner and truck stop restaurant. Approximately 20 minutes from Victorian Bellefonte.
This was a wonderful trip! The house was beautiful and we felt at home the minute we walked in the door. Everything was sparkling clean, beautifully decorated with everything we needed for a comfortable stay. Everything right down to the last detail was considered. We stayed here for our daughter's graduation from Penn State and had a wonderful time. Thank you so much Melody! We hope we can stay here again. My father in law came too and wondered if the house was for sale. He loved it!
Denise
2015-05-10T00:00:00Z
We had found Melody's rental property while trying to reserve a different property and couldn't help but change our plan after seeing the photos and reviews. After contacting her and setting up our stay, she was more than helpful. She was very attentive and always had time for questions. Finally arriving we were more than satisfied. The property was extremely well maintained both outside and inside. The accommodations were comfortable for everyone. We will definitely be back. Thank you so much for such a wonderful stay. It made our vacation so much more enjoyable.
Wayne
2016-05-31T00:00:00Z
Lovely, clean, friendly home. Great for time together with family.
Andrea
2016-11-26T00:00:00Z
Melody's place was spacious and clean and we had a great time. Amazing view of the night sky right outside and great hikes around the area. Melody was extremely organized and quick to respond and had great recommendations. Would definitely come again if visiting the area.
Brent
2016-09-05T00:00:00Z
Melody's place was a pleasant experience for the Columbia University Cycling Team. Plenty of space for us. Entry was easy and exit was quick. We would highly recommend this place as a base camp for cycling the Pennsylvanian Hills!
Greg
2015-04-26T00:00:00Z
My family of six enjoyed a wonderful weekend at Melody's place. It was very easy to book and she always responded very quickly, even texting me to make sure that I got her email. We followed Melody's detailed instructions and found the house easily. We arrived about 30 minutes early, but I texted Melody and she replied promptly and was kind enough to let us enter the home a few minutes early. The house was beautiful and very clean. We had plenty of room and loved how spread out it was. There were plenty of games, books, tvs and magazines-something for everyone to do. The spacious kitchen was very well stocked and we enjoyed preparing meals and eating there together. I especially loved the back deck and enjoyed sitting out and watching the deer in the yard in the evening. We did not have time to use the fire pit, but hope to next time!
Leslie
2016-07-17T00:00:00Z
We stayed at Melody's house for a little reunion with 4 of our friends. It was the perfect size for the 6 of us. We had plenty of space to hang out and loved the big kitchen for cooking together. The house was clean and had everything we needed. If we are ever in the area again, we'll definitely stay here.
Grant & April
2014-12-22T00:00:00Z
The host canceled this reservation 349 days before arrival. This is an automated posting.
Alice
2016-05-21T00:00:00Z
Romtype
Helt hjem/leilighet
---
Eiendomstype
Hus
---
Plass til
6
---
Soverom
Clarence, Pennsylvania, USA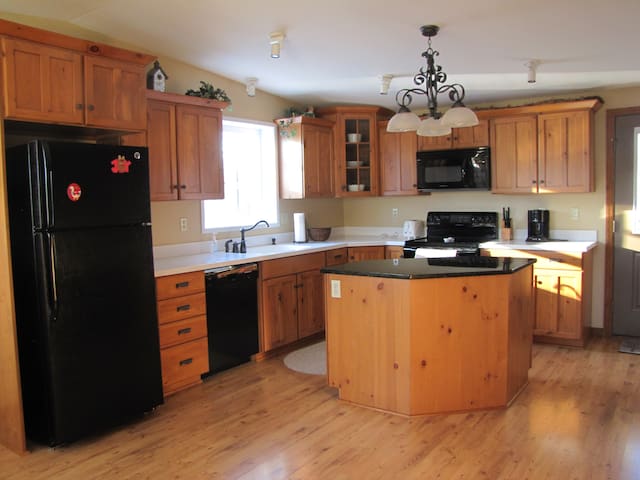 Tucked away on a mountaintop in central Pennyslvania on 24 private acres sits, Oak Mountain Hideaway. This two story log home offers spectacular views of fields and woodlands. Deer are often grazing in the fields as well as turkey and a multitude of birds sing from dawn until dusk. The night sky is dark with clear views of billions of stars and the Milky Way spans the heavens. We're close to Penn State, dozens of hiking trails, and the Quehanna Wilds. Come and enjoy our serene hideaway!
What is unique about this space is that we built it ourselves. I designed it and my husband and sons (and son-in-law) built it. We used stone from the excavation of the foundation for the stone fireplace. It has a great room with cathedral ceilings and one wall is completely windows which provides an amazing view of spectacular sunrises, fall leaves and the deer grazing in the field. The bedroom and bath are private and there is also a half bath which guests are also free to use. Parking is very close to the entrance for easy unloading.
What we love about the area is that there are no roads, highway noise, light pollution or even neighbors. We are completely secluded and surrounded by the natural environment. We are only a few miles from a wild elk herd and State Game Lands. Birdwatchers and wildlife enthusiasts will see and hear many common species including bluebirds, blue jays, robins, chickadees, mourning doves and many more including the brown thrasher, the woodcock, various owls, turkey, hawks, and the whippoorwill. We have even seen northern harriers and bald eagles. Deer are plentiful and at night you'll hear coyotes howl. Black bear make an appearance from time to time, but rarely. The nearby Quehanna Wilds is a wonderland for hikers, backpackers, mountain bikers, bird watchers, hunters and fishermen. There are over 48,000 acres in this wilderness which is part of two state forest natural areas. Here you can pick wild blueberries in late summer and cross country ski in the winter months. We are also near the West Branch of the Susquehanna River on which you can canoe or kayak. We provide a shuttle service for an added fee. Unplug and unwind in our mountain hideaway!
Beautiful, charming home in Frenchville. Extremely comfortable accommodations. Warm, welcoming, friendly hosts willing to do whatever is necessary to make your stay fabulous. Gorgeous surrounding area with plenty to keep you occupied. We had a lovely weekend and will absolutely be returning.
JoAnna
2016-07-31T00:00:00Z
Romtype
Privat rom
---
Eiendomstype
Hus
---
Plass til
2
---
Soverom
Frenchville, Pennsylvania, USA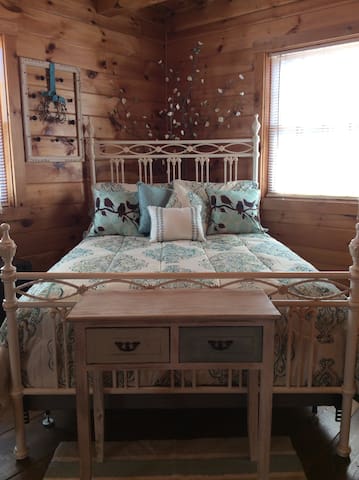 Relax in our beautiful lodge with nature all around! Enjoy the stone fireplace in the great room with cathedral ceilings or enjoy a meal around our large country dining table. The first floor suite has two bedrooms with a full bath in between.
The Lodge is beautifully decorated, inspired by the outdoors, on a private drive in a country setting. There is an open floor plan with cathedral pine ceilings and chandeliers. Awesome whitetail and other local wildlife mounts highlight the walls. We enjoy meeting people and sharing our knowledge of the area!
We live where people come for vacations! We love our beautiful part of central PA with the mountains, Susquehanna River, mountain streams and three state parks nearby. We are conveniently only 8 minutes off of the Snow Shoe exit 147 of Interstate 80. Hiking, kayaking and canoeing, swimming, fishing, ATV trails all nearby. Penn State University is 30 minutes away and is located in State College, a nice college town for some nightlife, shopping, restaurants, PSU sporting events, concerts and events held at the Bryce Jordan Center are just some of the happenings there. Wine trails and breweries can be explored. It is a 30 minute drive to Benezette, where the wild elk herd is a major tourist attraction with lookouts and the Elk Visitor Center. Stay a night for a good night's rest in a home like atmosphere while traveling, or take a couple days to get away and relax and explore the area. Have fun and we will take care of the rest!
Amazing time there. Will do this for! Had a great experience and Vicki was great. Awesome place
Jimenez
2016-07-11T00:00:00Z
We absolutely love this place and will recommend to anyone. My husband and I were on the road with our two kids getting ready to find a place to stop in between getting home. I found the B & B and sent out the request to Vicki. Within the hour we had heard back from her. Their place is so nice and comfortable. Feels like home. Vicki was so accommodating and sweet! Even though we only spent one night. We really got to relax. This is an excellent choice even if your just passing through. Thanks again for making us feel special!
Stephanie
2016-07-18T00:00:00Z
Romtype
Helt hjem/leilighet
---
Eiendomstype
Hus
---
Plass til
4
---
Soverom
Moshannon, Pennsylvania, USA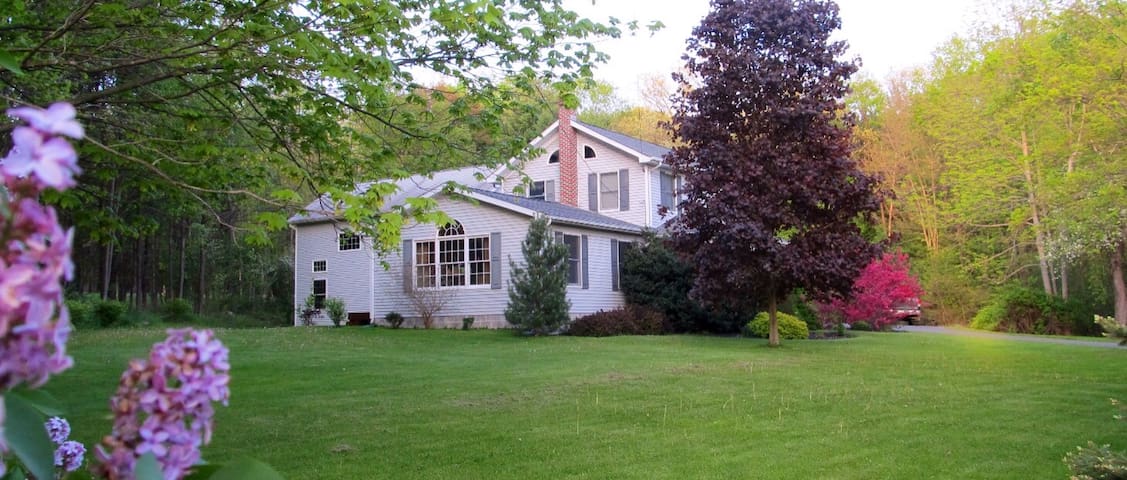 Huset vårt er i ligger innen 60 dekar av skogen, ved siden av utallige dekar mer, med tilgang til statlige spillet lander innenfor en kort kjøretur. Dette stedet er perfekt for naturelskere, fugletittere, friluftsentusiaster og jegere. Vi er også i nærheten av State College, hjemmet til Penn State Nittany Lions - perfekt for å se favorittlaget etter et hjem fotballkamp! Vi er også et bed-and-breakfast, så en meny, som tilbyr glutenfri og vegansk alternativer, vil vente med en tidspreferanse.
Dette er en ny konstruksjon med privat og sikker tilgang. Kjelleren er uferdig og har en vedovn som vil være varm og koselig i vinter. Denne plassen er alle tilgjengelige for gjestene. Den ferdige plassen er rommet med nyinstallert teppe og stor takhøyde. Det er et stort vindu og to skap. Sengen er en full seng, og barnesenger og pakke-n-spiller er tilgjengelig på forespørsel for opptil 4 gjester. Det er også et eget fullt bad med såper og ferske håndklær. Frokost, kaffe og te er inkludert, med glutenfri og vegansk alternativer tilgjengelige.
Lanse er et lite nabolag her i det sentrale Pennsylvania. Vi har ett lyskryss i en 15-kilometers radius. Vi er nær en stor statlig park, Black Moshannon State Park, samt tilgang til en Rails-to-Trails rute. Folk liker kano og kajakk ned de nærliggende Svart Moshannon og Susquehanna elver. Langrenn og alpint er tett med Tussey Mountain i State College. Penn State spill er de fleste lørdager i høst og Beaver Stadium er ca 40 minutter unna. Selve huset ligger på ~ 60 dekar med skog og to bekker. Marthas Park ligger en kort spasertur nedover grusveien, og tilbyr en liten lekeplass for barn, lite league spill i løpet av våren, og et eple festival i høst.
Holly and Cody's home was absolutely terrific - a great location only about 5 minutes from the highway, but feels as if it is a world away - and they stayed in constant contact before my arrival, making sure I knew exactly how to get there and had everything I needed upon arrival. Extremely cozy and relaxing, and a highly recommended place to stay!
Max
2017-03-15T00:00:00Z
Accommodations are at the back entrance of a very lovely, brand new house. The room is large with lots of closet space and the bathroom is also large with amenities such as soap, shampoo etc. (there are also toiletries available in the closet next to the bathroom & up the stairs, hanging on the door). Everything was immaculate. The hosts were very kind helping me find the place via text as I do not see well at night and was a vit tired after a long day. It was lovely staying in a home surrounded by woods. I can only imagine how nice it must be during the spring and fall!
Erin
2017-01-01T00:00:00Z
This spot was perfect for our road trip home for the holidays. Only needing to stay for one night, Holly and family welcomed us to the clean, private space. All amenities needed were available as well as the special touch of Christmas cookies on the mini fridge. On top of that, breakfast was made to order in the morning and was a perfect way to end the stay before hopping back on the road.
Lauren
2016-12-23T00:00:00Z
The room was very spacious and very clean. The house was quite and restful. It's a very nice private location. We enjoyed our stay and look forward to the next time we're in the area to stay again.
Anna
2016-12-27T00:00:00Z
This place is in the woods, really quiet. Separate entrance, wood stove gives off nice smell, cats beg to come in, Holly's baking and candy are great
Simon
2017-01-06T00:00:00Z
In our experience with Airbnb, this has to be one of the best places we have stayed. It was peaceful and relaxing, something we very much needed. The house felt warm, with the sounds of children and the smell of a wood stove. It was the most homey feeling while being so far from our actual home. Hospitality and attentiveness was spectacular. The amenities clean and comfortable, as well. Thank you so much Cody and Holly!
Rebecca
2017-03-27T00:00:00Z
Holly's place was just what we needed after a long drive from NH. We had issues finding the house at first, but once it was located, check-in was no problem. Overall, the room and amenities were great. Would definitely stop by again when in the area.
Jacob
2017-02-05T00:00:00Z
Romtype
Privat rom
---
Eiendomstype
Hus
---
Plass til
2
---
Soverom
Lanse, Pennsylvania, USA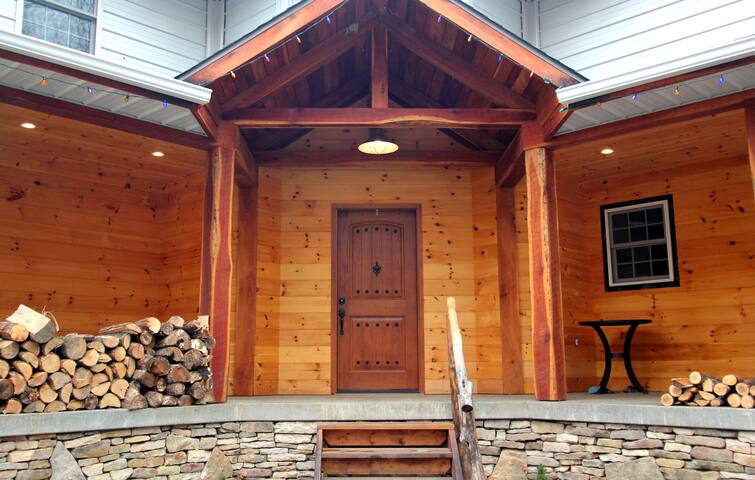 700 sqft cabin, two bunk beds, well suited for up to 4 guests. Approx $100 a night for short stays, with rates going down for longer stays. Great for vacations to enjoy the surrounding outdoor activities: ATVing, horseback riding, hiking, fishing, and hunting. 35 minutes from Penn State University. Cozy fireplace w/ push button starting technology to prevent smoking, and a portable air conditioning unit, two refrigerators, oven/range, and microwave.
Quiet, secluded cabin with easy access for guests with trailers. Convenient to interstate 80 and local establishments.
We had a wonderful time at this cabin. It was just as described, and the check in process was a breeze. Our host was very helpful in showing us the amenities and allowing us to use items there. We would recommend this cabin to everyone and thoroughly enjoyed hiking the property.
Alexandra
2016-01-03T00:00:00Z
Super friendly and accommodating
Colin
2016-10-09T00:00:00Z
The cabin was located off a private, serene dirt road and was exactly the getaway that we needed. The pictures and description may even sell the place a little short. We felt very welcome and comfortable. Would definitely recommend this cabin to anyone looking for a getaway. Thanks to Jeff for being a great host!
James
2016-07-04T00:00:00Z
The owner (lives out-of-town) and his father (lives just minutes away) were very welcoming hosts. Jeff was very responsive to my questions leading up to our visit. The cabin is beautiful and very secluded. It was perfect for a visit where most of the day you're off enjoying beautiful central PA or State College (about 30 min away) and returning ready to sit by the fire or hit the sack. Having a small bedroom allowed the kids to go to bed early and not be bothered by us staying up later - also made the bed in the main area not bad for the parents. Having no TV or internet (and knowing that ahead of time) was fantastic!
Devin
2016-07-16T00:00:00Z
My fiance and I visited Jeff's cabin to have a quiet and relaxing weekend and visit State College for a football game. It was so easy to find and a very easy 32 minute drive to State College. We were checked in by Jeff's parents who were so welcoming! They showed us everything we needed to know about the cabin and took us on a tour of the property. There are tons of trails available for hiking, mountain biking, 4-wheeling, etc. The cabin itself was just like the pictures. Very clean and well stocked with everything you needed and then some! If you are looking to get unplugged and need some peace and quiet but want to be close enough to visit State College you just found the right place!!!
Christy
2016-09-05T00:00:00Z
Orientation to the cabin was detailed. The cabin was very clean and comfortable. Nice weekend!
Denise
2016-10-24T00:00:00Z
The cabin was a great fit for my partial week of lodging. It was a hassle free check in to a well kept cabin, with plenty of extras available on top of all the necessities. The location is quiet and safe, yet close to easy travel on the highway. Jeff and Petra were very accommodating last minute to work out cabin details and check in. I look forward to future rentals at the cabin
Kevin
2016-01-22T00:00:00Z
After an initial short stay at the cabin, I chose to rent for long term and have enjoyed it very much. Communication with the owners is easy and the cabin is quite comfortable and quiet. A very pleasurable place to stay
Kevin
2016-02-25T00:00:00Z
Romtype
Helt hjem/leilighet
---
Eiendomstype
Hytte
---
Plass til
4
---
Soverom
Clarence, Pennsylvania, USA
My place is good for couples, solo adventurers, business travelers, and families (with children). Common space includes a living room, breakfast area, sun porch, and patio. All rooms include a private bathroom. Horse boarding is available for equine travelers at an additional cost, no other animals permitted. Continental breakfast is provided. Second Hand Rose located on the second floor comes with a private bath, queen sized bed, and a view of our back patio and pasture.
The host was very welcoming. We didn't spend much time at the bed and breakfast. The room we we stayed in and whole whole house was decorated beautifully. Breakfast was delicious. We would definitely stay again if we ever went back to that area.
John
2016-10-24T00:00:00Z
This b&b was was a picture perfect b&b. The family has lived in the beautiful home for generations. A tremendous amount of thought and love has gone into this b&b. Mountain views, 3 horses, fluffy clean white towels, huge yummy breakfast, tons of antiques and a very gracious host. I could have stayed for days. We chose this home because we flew in town to visit our daughter at Penn state. A bit of a drive into state college, but totally worth it.
Sergio
2016-11-06T00:00:00Z
Romtype
Privat rom
---
Eiendomstype
Bed & Breakfast
---
Plass til
2
---
Soverom
Kylertown, Pennsylvania, USA
Our place is close to many scenic views, streams and the great outdoors.. You'll love my place because of Scenic views, Hunting, 60+ miles of ATV trails to ride. Very remote location with most of the comforts of home. Running water with shower, Fully equipped kitchen, Wood Stove, and baseboard heat. There is an indoor compost toilet for small additional charge. Otherwise use the outhouse equipped with light and heat. . My place is good for couples, solo adventurers, and families (with kids).
Other camps are visible through the trees in the winter with no leaves on the tree but most camps are unoccupied except on holiday weekends. During the summer you will not be able to see any of the other cabins. House is located on private road that connects to ATV area with lots of trails and several open areas to ride. Also connects to Snow Shoe Rail to Trail with an additional 40+ miles of ATV riding.
Camp CAMEL was our first ever airbnb rental. From our first correspondence with Mark, we knew that our vacation would be a blast. We was not wrong! Mark was very accommodating. He answered all our questions and concerns and was eager to offer his advice and assistance. When we arrived at the cabin we immediately fell in love with the place! It was above and beyond our expectations. The place is well equipped. Extremely homey and comfortable. The peace and solitude blew our minds. We stayed up late around the campfire, enjoying the beautiful air. The rooms were large and the beds were very comfortable. This was a great experience of camping and outdoors combined with the amenities such as a full kitchen, tv with video games (which kept our kids busy for hours while the adults prepared the food). The cabin is located off a long and windy road which provides beautiful scenery. Bald Eagle State Park is a 45 minute drive from the cabin and we spent spent time at this beautiful park. We highly recommend this wonderful cabin and look forward to our future visits!
Leah
2016-08-19T00:00:00Z
We were unable to make it the property. We have a Ford Focus. Parts of the road were rutted out. It may have been due to a fairly large rain storm. Definitely would recommend a truck or higher clearance vehicle. That being said Mark's communication and handling of the situation was superb!
Kevin
2016-10-23T00:00:00Z
Romtype
Helt hjem/leilighet
---
Eiendomstype
Hus
---
Plass til
5
---
Soverom
Howard, Pennsylvania, USA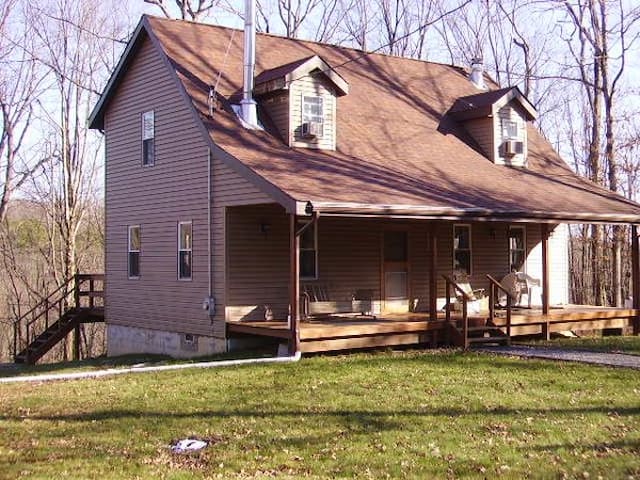 My place is good for couples, solo adventurers, business travelers, and families (with children). Common space includes a living room, breakfast area, sun porch, and patio. All rooms include a private bathroom. Horse boarding is available for equine travelers at an additional cost, no other animals permitted. Continental breakfast is provided. Mint Julep located on the second floor comes with a private bath, queen sized bed, and a view of our back patio and pasture.
This is one of those places that makes me thankful for Airbnb. I would never have found this delightful little inn on my own. Convenient to the interstate, comfortable and quiet, with rooms full of antiques, the guest house is on a hill with manicured grounds and a scenic view. Everything was sparklingly clean and breakfast was delicious.
Keith
2016-10-09T00:00:00Z
This was a wonderful first Air Bnb experience. Patty was attentive and helpful before our arrival. The building is on the corner of another road, easy to recognize from the pictures and convenient to the highway. From hosting this bed and breakfast for 10 years, Patty knows what she is doing. She made delicious pastries (small apple dumplings!) as an addition to the varied hot breakfast with yogurt and fresh fruit available. Coffee was abundant :). The property was beautiful, we enjoyed breakfast and then stargazing on the back patio. The house was quiet, cozy and filled with lovely antiques. It was a charming place and our bedroom- Mint Julep was unique! The location was great for visiting Black Moshannon state park (we enjoyed hiking and kayaking) and a 40 minute drive to State College.
Jane
2016-09-05T00:00:00Z
Patty was friendly, attentive and provided a relaxing experience.
Rhonda
2016-11-06T00:00:00Z
We were traveling from Ohio through central PA for a college football game and Patty's B&B was exactly the location we wanted. The weekend we arrived, the trees were in glorious bloom which made the view of her back porch akin to a postcard. Every detail of the spectacular home is well-considered. The furnishing is amazing like a page out of yesteryear, the bed was super comfy, super quiet, delicious breakfast, meticulously clean, and easy on/off the highway. Although we left Kylertown after a brutal football loss, we actually remarked that coming back and staying with Patty under "better circumstances" would be delightful!!
Paul
2016-10-23T00:00:00Z
Nice central location for exploring the PA Wilds. Friendly hosts. Beautiful view from the back porch.
Steven
2016-10-16T00:00:00Z
Romtype
Privat rom
---
Eiendomstype
Bed & Breakfast
---
Plass til
2
---
Soverom
Kylertown, Pennsylvania, USA
In a quiet rural setting on 16 acres only 35 miles west of State College, Pa and 3 miles off of I-80. Relax in a lovely local historic home and enjoy beautiful views and the sunset from our hilltop acreage. Be amongst our virgin oak trees and relax!
Our historic family home is unique and beautiful. "Bee's Room" bedroom has a double canopy bed and dressing room. The mid-50's motif bathroom with tub/shower combo is next to your room, This room shares a bathroom with the "Blue Room".
We are in the tiny village of Lanse, Pa, and there are many lovely simple,neat homes here. Lanse is a quiet residential community and Winburne is a small, historic coal mining community. Coal mining has ceased in the area and very little sign of this founding industry is evident.
Avi makes you feel great coming and going. Welcome arrival. Big house with rooms to roam in, or pretty outdoor filled with woodsy areas. Relaxing. Very clean. Peaceful setting. Old world charm. She left breakfast treats for an early morning departure.
(EMAIL HIDDEN)
2016-05-09T00:00:00Z
Romtype
Privat rom
---
Eiendomstype
Hus
---
Plass til
2
---
Soverom
Lanse, Pennsylvania, USA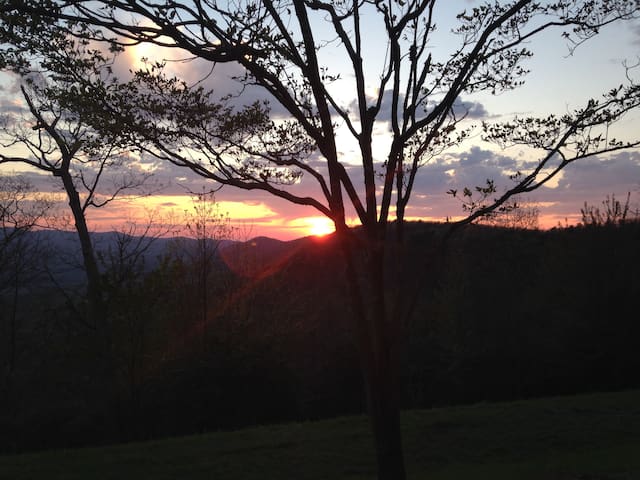 My place is good for couples, solo adventurers, business travelers, and families (with children). Common space includes a living room, breakfast area, sun porch, and patio. All rooms include a private bathroom. Horse boarding is available for equine travelers at an additional cost, no other animals permitted. Continental breakfast is provided. Lily White located on the first floor comes with a private bath, double sized bed, and a view of our sunporch.
We stayed at Mountainview for the night while commuting to a Penn State football game, and while there was a bit of a drive we couldn't have asked for a nicer spot to spend the weekend. The view was amazing and the house itself was intricately decorated and very clean. Our host Patty did a great job remaining in touch. She was always very fast to respond to an email or pick up the phone and made it clear how to get there and where to go. She was also attentive to our needs and allowed us to pick a different open room upon our arrival that suited us better than our reservation. Our breakfast was delicious and offered lots of things for people with various tastes. Plenty of great options. The drive to Penn State was just about 40 minutes which was well worth the price compared to how much you would spend to stay closer, and the lodging was far more comfortable than any hotel. We will be recommending this to everyone we know visiting Penn State or the area for a weekend.
Grant
2016-11-06T00:00:00Z
Patty and her husband are both extremely nice and hospitable. The accommodations were cozy, clean, and comfortable. The view was magnificent and the commute to Penn State was reasonable. Breakfast was delicious and bountiful. The whole experience was wonderful.
Eugene
2016-10-23T00:00:00Z
Romtype
Privat rom
---
Eiendomstype
Bed & Breakfast
---
Plass til
2
---
Soverom
Kylertown, Pennsylvania, USA
In a quiet rural setting on 16 acres only 35 miles west of State College, Pa and 3 miles off of I-80. Relax in a lovely, local historic home and enjoy beautiful views and the sunset from our hilltop acreage. Be amongst our virgin oak trees and relax!
The guest rooms are situated in an historic two-story early 20th century family home surrounded by 16 acres. The house is located on the High Landing ridge crest. From the walking paths through the property there are views east across the Moshannon Creek Valley to Moshannon State Forest and views from the yard to the western and southern horizon, more than fifteen miles away. Beautiful sunsets! The "Blue Room" bedroom has windows with an eastern forested view and an open, southern view. It is a large room with an antique double bed. There is a closet and hangers. This room shares a bathroom with "Bee's Room". The bathroom is mid-50's motif and has a shower, toilet, sink and tub.
Lanse is a quiet residential community and Winburne is an historic coal mining community. Coal mining has ceased in the area and very little sign of this founding industry is evident.
The host canceled this reservation 22 days before arrival. This is an automated posting.
Inge
2016-08-25T00:00:00Z
Romtype
Privat rom
---
Eiendomstype
Hus
---
Plass til
2
---
Soverom
Lanse, Pennsylvania, USA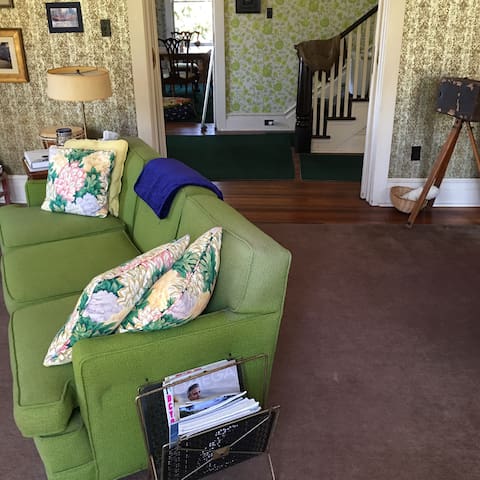 My 2BR mountain cottage situated on 1 acre of State Forest land is a quick drive to Black Moshannon State Park. In less than a 25 minute highway drive you can find yourself comfortably rolling into State College to enjoy a Penn State football weekend! You will love relaxing and watching the sun set from the patio after a full day in State College, or after exploring Black Moshannon. My place is great for couples, solo adventurers, families, and friends.
Romtype
Helt hjem/leilighet
---
Eiendomstype
Hus
---
Plass til
6
---
Soverom
Philipsburg, Pennsylvania, USA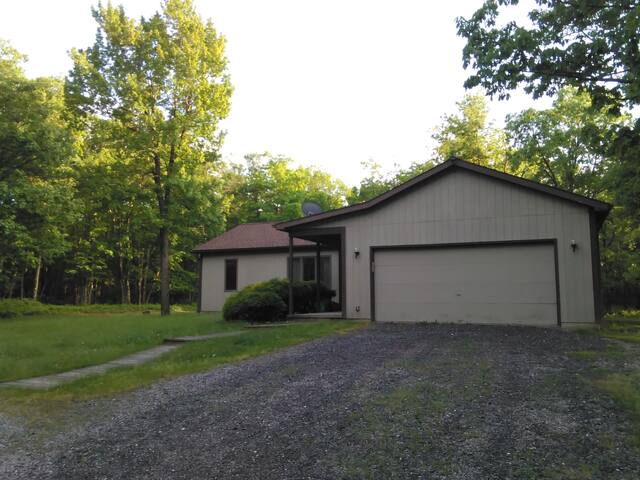 The Camp on Drocton Hill is a cozy, comfortable, mountain escape. Close to boat launches, mountain trails, Hyner View State Park, Kettle Creek State Park. Activities: boating, fishing, hunting, hiking, trail riding and more. Or just sitting on the front porch watching the river flow by. Couples, solo adventurers, families, groups, and pets will all enjoy the stay. Perfect for retreats. The scenic vistas are breathtaking, each season of the year presents a different incredible perspective.
The Camp on Drocton Hill is a cozy, comfortable, mountain retreat; an off the grid escape. This is not a fancy hotel, it's a camp in the woods; a step back in time. A great place to stay when you go to the mountains to play. Located in Renovo, PA along the W. Branch of the Susquehanna River, in the heart of the PA Wilds. Town is only minutes away giving you access to grocery, sporting goods, gas stations, restaurants and boat launches. Go fifteen minutes in any direction and you are in deep woods! The entire area is a great place to fish, hunt, snowmobile, hike, swim, trail ride (horses, ATV's, dirt bikes, bicycles) kayak or canoe. Or just disconnect and unwind. What the house has… ·(5) bedrooms many can sleep more than one ·1 full bath and a ¼ b. ·modern eat in kitchen including dishwasher. ·washer, dryer ·chest freezer ·patio: BBQ Grill, fire place, picnic table ·play house and swing set for children ·large front porch view mountains and river. ·covered parking (carport) ·two story garage (door 10 ft.w x 7 ft.h) to store the big kid play things i.e. boats, snowmobiles, dirt bikes ·closed in back porch to store smaller gear. What the house does not have… ·No Wifi ·No TV ·No cable ·No phone service ·Very, very limited cell service ·No AC (if you bring your own AC and the electric bill shows it we will deduct it from the deposit) What is allowed: ·Dogs are welcome cats are not. But remember there are wild animals in the area. Do not tie your dogs out and leave them. ·Parties are fine within reason, remember you are in a residential neighborhood. The people around you are not on vacation, they live and work there.
The house is located in a residential neighborhood but a fifteen minute drive puts you in mountains, mountains and more mountains... It's a beautiful area. If you go to a popular site to watch videos and search for, follow the river renovo You'll see a beautiful flyover from Lock Haven to Renovo; that some Renovo residents put together.
Sheri is an outstanding host. The kitchen is abundantly stocked with cooking utensils: cast-iron skillets, a griddle, coffeemaker, etc. There's a flashlight in almost every room, binoculars on the porch, wood for the fire pit. There's a small boom box with a CD player, and a DVD player (there is in fact a TV, just no channels, but DVDs work). We enjoyed a sunset at the nearby Hyner View Point State Park, and saw a couple of hang gliders take off. At Hyner Run State Park, in the same area, there's a nice, accessible short (4.3 mile) hike in the Long Fork Trail Loop. But then there are trails everywhere. We also found it an easy drive to Cherry Springs for stargazing, and recommend that highly (just avoid Saturdays and event nights if you want quiet). Excellent porch for the discerning porch sitter. Thank you for everything, Shari!
Robert
2016-08-28T00:00:00Z
Home was great it was very clean and well stocked with kitchen items. It is very roomy we had 14 people at one point in the house and had plenty of space to visit everyone. I would definitely recommend this home. Just a suggestion if you are sleeping all adults bring extra air mattress. The front porch is has a great place to enjoy the mountain view. We will definitely be staying again.
Brenda
2016-10-23T00:00:00Z
I stayed at this house with my brother and his fiancee. Having stayed in many Airbnb/VRBO properties, I have to say that this was one of the best! It has everything you could possibly need or want. The view from the front porch is amazing, and we were lucky enough to have nice weather and be able to use it. My parents were staying at a nearby motel, and even they spent a lot of time at the house enjoying the porch and kitchen! We did have to call Shari for a question wet had, and she and her brother, Craig, were extremely responsive. We spend a lot of time in Renovo, and we ate all looking forward to staying at this house again!
Aubrey
2016-10-16T00:00:00Z
The house is quite old and it is obvious it has had a long life. This is immediately obvious when you open the door. It smells old and feels you are stepping back in time. On the other hand that is probably part of the experience of being in Renovo and staying in the fantastic nature of the Pennsylvania Wilds.
Ron
2016-08-02T00:00:00Z
We had six in our group. We were all very comfortable. Don't let the word futon scare you. The futon had a double thick mattress. everything was there that we needed as we cooked all of our meals there. I did take my crock pot with me just to make my life easier. We used the dinning table hard as we played lots of games while we were there. We also took a half hour drive to Benezette and saw lots of Elk. We did this in the eve at Shari's recommendation. We did blow a fuse on the last morning here.. But Shari quickly responded and was easily fixed. We also loved being able to take our dog with us. We sat on the porch with the dog and enjoyed the breeze in the am and eve. Thank you for such a great weekend!
Rebecca
2016-08-22T00:00:00Z
Shari is an outstanding host and we highly recommend her family's home. The listing and photo's are accurate, but pictures and words just do not relay all this home has to offer. Our best moment of our week long stay was enjoying a morning cup of coffee on the front porch overlooking the river and watching a bear cub walk along the river bank. Our 6x10' utility trailer full of motorcycles fit comfortably inside the garage, as did our jeep top, and doors. The jeep fit perfectly under the car port and stayed dry all week through the evening showers. The kitchen is modern and spacious with an adjoining dining room. The back yard has a gas grill, picnic table and fire pit. The washer and dryer were an unexpected surprise. The house and grounds were very clean, well organized, and maintained. We will be back for years to come.
Rick
2016-07-25T00:00:00Z
Very cozy, dog-friendly home. Hiked in nearby forests and felt like we had it all to ourselves! Would definitely come back.
Aleks
2016-11-27T00:00:00Z
The house was roomy and comfortable. We loved relaxing on the porch. Great view and stargazing at night. It was equipped with everything you might need (except wifi). The noise from the street below was a little loud, but quieted down at night. The town of Renovo does not have much to offer but we enjoyed hiking at the state park nearby.
erin
2016-08-10T00:00:00Z
Romtype
Helt hjem/leilighet
---
Eiendomstype
Hus
---
Plass til
6
---
Soverom
Renovo, Pennsylvania, USA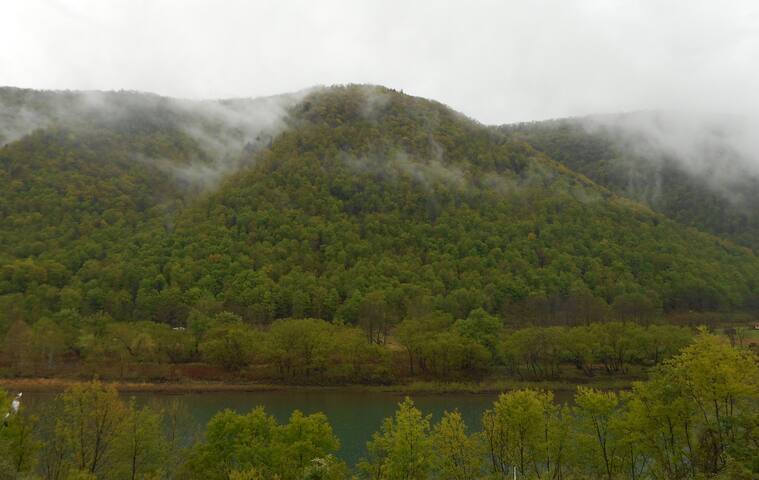 If you're searching for the perfect place to escape the hustle and bustle of everyday life, look no further than this lovely Benezette cabin. This 3-bedroom, 1-bathroom cabin sleeps 8 and is nestled in a serene setting with plenty of peace and quiet.
With 3 bedrooms, 1 bathroom, and 1,050 square feet of well appointed living space, this spacious residence is an ideal accommodation choice for families, friends, or couples out for a rejuvenating retreat. The property's enchanting location boasts beautiful mountain views to the west and frequent elk sightings, situated on 1.5 acres of lush grass, dotted with towering trees. There's certainly plenty of room to play and relax out here, with terrific features such as an outdoor fire ring, quaint picnic table, benches, and an expansive front porch. Look forward to spending memorable evenings outside on the porch, glass of wine in hand, watching the fiery sun disappear behind the trees. As soon as you first walk into the cabin's welcoming open floor plan, you'll feel right at home! Large windows fill the entire great room with an abundance of glorious natural light, as well as provide occasional glimpses of grazing elk outside. The interior evokes a wonderfully relaxing feel, adorned with cozy touches like a beautiful stone propane fireplace, hardwood floors, tongue and groove pine walls and ceilings, and rustically charming log cabin furniture. You'll be delighted to find every modern convenience you could possibly need to be comfortable here, including wireless internet access, Verizon network extender, air conditioning, central heating, and in-unit laundry machines for your convenience. Additionally, this netzero cabin's electricity is provided by solar panels on the roof - yet, the cabin is still conveniently grid-connected! Even the most discerning chefs will love utilizing the cabin's fully equipped kitchen, complete with all essential cooking appliances. After preparing dinner in the kitchen or outdoors on the gas grill, gather around the gorgeous wood dining table in the great room, offering enough seating for 6 guests. Later, have a bonfire outside or curl up by the warmth of the indoor fireplace before heading to off bed.
Situated within the quiet Blue Sky subdivision, perhaps the best feature of this property is its unbeatable location! This peaceful cabin is conveniently within a 2-mile radius of all the area's most popular attractions. Throughout your stay, enjoy leisurely 1-mile strolls to the new Elk Country Visitor Center, which was recently built in 2010, for some family-friendly activities. Fantastic fishing, hunting, and 4-wheeling opportunities can be found just a short walk away from the cabin! Guests of all ages will enjoy observing the multitude of elk roaming throughout the area - be sure to check out the Winslow Hill Elk Country Viewing Area just 1.4 miles from the cabin, or the 127-mile Elk Scenic Drive, which is accessible by Route 555 only 1.5 miles away. This cabin is conveniently located between 1 and 2 miles from town, where you'll find a wide array of dining options. Enjoy a tasty breakfast or afternoon ice cream at the Old Bull Cafe before strolling around town. Later, head to Benezette Hotel for a lovely dinner. The property is also located within 2 miles of multiple wonderful wineries, where you can tour the vineyards and taste some delicious local wines. No matter how you plan to spend your time here, this wonderful Benezette vacation rental cabin will quickly become a place you look forward to returning to year after year!
The cabin is beautiful. Very clean. My friends and I saw a herd elks grazing in front of the cabin. The area is calm and relaxing. The people in the area are friendly and will help you out if you're lost and looking for locations. Some tips for this trip is to buy some bottle water. If your going to cook, buy your groceries at Walmart. The Walmart is a 30 min drive. Also we had a power outage that lasted 5 hours. The cabin was dark and so was rest of the town. The cabin does have solar energy, but we didn't know if there was a way to switch to solar power. Some things we missed was the detergent was in the bathroom cabinet and the garbage bags were in the water tank room. Overall the cabin was great.
Fawwaz
2016-08-22T00:00:00Z
Tim's cabin was amazing! My friends and I had a great time at the cabin. It was cozy, comfortable and looks like the pictures posted here. It was big enough for the 5 of us. Tim was very helpful, responsive and he made sure that we had a great stay.
Vamsi
2016-07-04T00:00:00Z
We loved our stay here! We had 6 adults and 1 baby and all fit comfortably! The beds were comfy and the cabin looks exactly like the pictures! We mostly stayed inside since there was snow outside and it was very cold, but no one minded because it is so comfortable and cozy. We would highly recommend it and thank the hosts for a wonderful stay!
Carissa
2017-03-05T00:00:00Z
Romtype
Helt hjem/leilighet
---
Eiendomstype
Hytte
---
Plass til
8
---
Soverom
Benezette, Pennsylvania, USA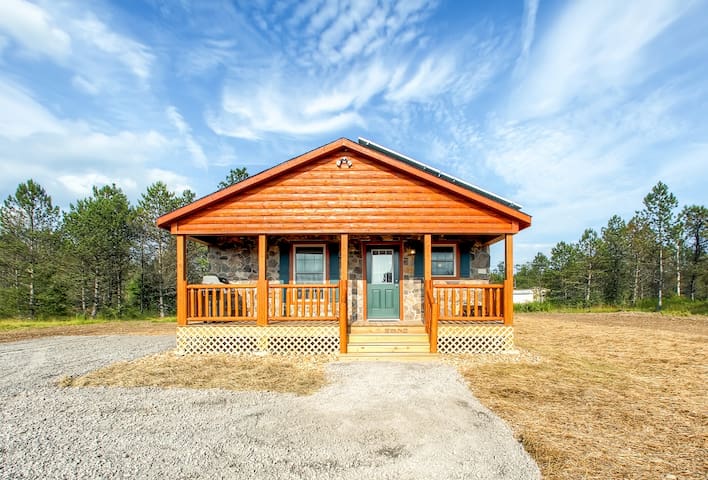 The Manse is a gorgeous, former church rectory. 4BD, 1.5 BR. Original hardwood trim and floors. A great starting point to exploring the PA Wilds. Comfort, elegance, convenience. Great kitchen, fully equipped! Large covered front porch. Located right on Huron Ave...
The quoted prices includes our required 6% sales tax. Airbnb now collects the other 3% hotel tax for our state. This is the perfect place if you love the outdoors but are looking for a a bit of luxury and creature comforts. Original hardwood trim and floors. Big pocket doors, beveled glass doors and swing doors.....a step back in time! A word of caution...you must be able to navigate stairs to access bathrooms and bedrooms. They are not steep. The Manse is our weekend/vacation home and we are excited to share it with fellow travelers (we have been sharing it through (URL HIDDEN) we aren't new to vacation home rental). Decorated with an eclectic mix of antiques and traditional furniture and decor. New air conditioning and heating system. Comfortable leather reclining sofa and 2 recliners. A fully equipped kitchen for those who love to cook. Our walk-in pantry is stocked with everything from crock pots, juicer, food processor and all types of cookware...and good knives! The bedrooms are comfortable with duvets and duvet covers to ensure clean bedding every time. We have a nice laundry room for your convenience. We keep the house very clean but be aware that living on a busy street the porch gets dusty. We would love it if you removed you shoes in the house but it isn't a must. In addition to good towels for bathing we also supply "old" clean towels in the laundry area to clean up after muddy or dirty activities or to clean up after spills etc...... Our home is on the Main Street so if you are looking for silence this might not be the place for you. Huron Avenue is a busy street so you will hear traffic as well as the occasional kids playing outside. We love sitting on the front porch...great people watching and friendly neighbors. You will have the entire house. We live in another town but will make sure you are taken care of. We have keyless entry with security motion lights for nighttime arrival. We have folks who work for us and can be available in emergencies....plus we have friends who may just stop and say (URL HIDDEN) be sure you are enjoying you your stay. Wireless internet, cable television with HBO and unlimited local and long distance withing the continental USA.
Renovo is a busy little town and The Manse is right in the heart of it all. I love the proximity to the great outdoors.....without the snakes and bear! We have a few restaurants in town. There is one grocery store and a couple of dollar stores. A Fine Wine and Good Spirits store just opened up the street and there is a hardware store nearby.
Romtype
Helt hjem/leilighet
---
Eiendomstype
Hus
---
Plass til
8
---
Soverom
Renovo, Pennsylvania, USA
My place is close to Penn State. You'll love my place because of its Victorian age ( 1870). My place is good for business travelers, families (with kids), and big groups.
Romtype
Helt hjem/leilighet
---
Eiendomstype
Hus
---
Plass til
8
---
Soverom
Philipsburg, Pennsylvania, USA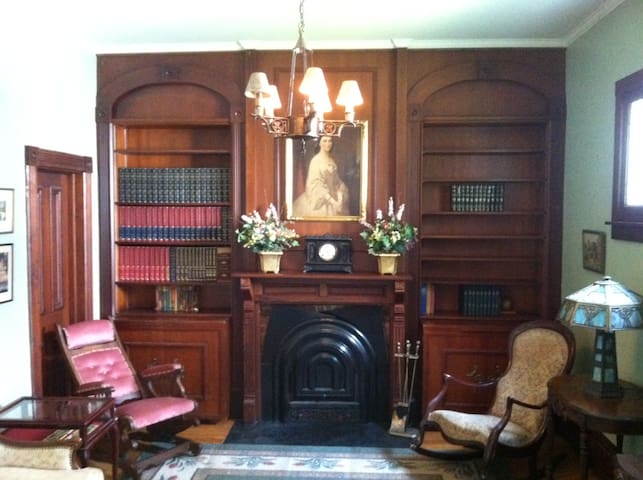 We're offering a beautiful, self contained In-Law suite/apartment that is attached to our home, with private access. We're only 20 minutes from campus, a lovely setting on a wooded mountain top, with quiet living and access to wildlife & hiking.
Cathy and Dan were so accommodating to us! We arrived after their specified check in hours but they were still so incredibly kind and understanding. They had fresh muffins and juice for us for the next morning, ice for our coolers, coffee, etc. Everything was very clean and they are just super nice people. It was a very comfortable stay. I was so disappointed we couldn't get a hotel but I highly prefer this route and would definitely stay here again! The property is beautiful and peaceful. I slept great.
Melissa
2016-09-19T00:00:00Z
Cathy and Dean were great! Such a perfect host. She had doughnuts waiting for us when we arrived several types of coffee and warm drinks for breakfast. A fully stocked kitchen, comfy bed with super soft blankets, and an extra large cot perfect for our 6'4" friend! They had an older dog that got along great with our puppy! The house was super pet friendly! The house had loads of out door space and was a short drive into state college and right next to Black Moshannon State Park! Overall such a great experience!
Vance
2016-11-06T00:00:00Z
Romtype
Helt hjem/leilighet
---
Eiendomstype
Bed & Breakfast
---
Plass til
4
---
Soverom
Julian, Pennsylvania, USA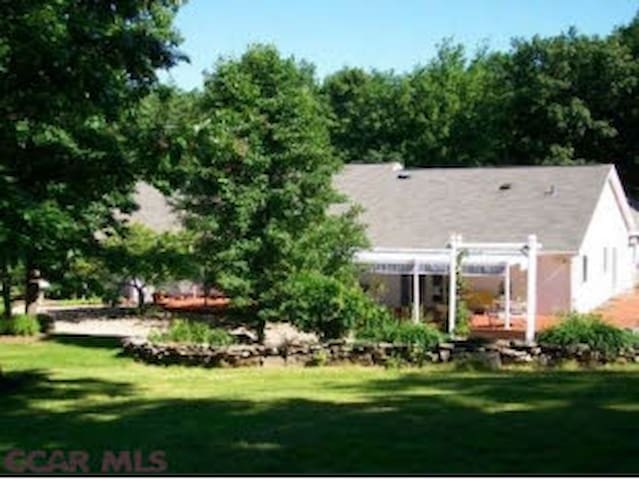 1

–

18

av

20 Utleiesteder
Oppgi datoer for å se fullstendige priser. Ekstra gebyrer gjelder. Skatter vil kunne tilføyes.