이 대형 밝고 쾌적한 침실 / 욕실 스위트 룸은 별도의 두 차를 차고, 위의 주 집에서 안뜰을 가로 질러 앉아있다. 차고를 통해 자신의 액세스, 그것은 포틀랜드의 시내 진주 지구 (NW 측)의 중심부에 당신이 조용하고 개인 정보 보호 제공한다. 전체 도시의 경험 : 진주 지구는 미술관, 부티크, 흥미있는 바, 차와 커피 숍, 양조장, 식료품 점, 레스토랑과 대상이되고있다. 주말에 아침 식사 또는 브런치 인근 수십 곳의, 예를 들어, 사용할 수 있습니다. 세 도시 공원은 6 ~ 8 짧은 포틀랜드 블록에 있습니다. 우리 주변에서 24 시간 피트니스, 아트, 상점, 콘도와 타운 하우스의 퍼시픽 노스 웨스트 대학이다. 동네는 신축과 함께 rehabbed 산업 및 상업 건물로 구성되어 있습니다. 우리의 안뜰은 당신이 방의 냉장고에 보관 객실과 와인을 준비 커피 또는 차를 모금하는 사랑스러운 위치입니다. 객실은 거실에있는 퀸 사이즈 침대, 책상, 클럽 의자가 있습니다. 당신이 와서 당신이 안뜰이 아닌 주 집에 차고를 통해 원하는대로 이동합니다. 우리는 당신이 거기 또는 우리가 도시와 그 사이트에 대해 당신과 함께 채팅을 드리겠습니다 알 필요가 없습니다. (URL HIDDEN) 확인하십시오. 하나의 주차 공간은 방에서 사용할 수 있지만 컬럼비아 강 협곡, 오리건의 유명한 피노 누아 영역 또는 Sauvie의 섬 (포틀랜드에서 도시 농업 섬)를 방문하려는 경우가 아니면 당신이 그것을 필요로하지 않을 수 있습니다. 이 스위트 룸은 거리 차 정류장에서 1.5 블록이다. Gerding 극장에서 포틀랜드의 아트 인스티튜트, 중국 정원, 올드 타운 / 차이나 타운, 책의 Powells시, 토요일 시장, 또는 센터 스테이지에 걸어보세요. 거리 차에, 강 앞에, 축구 나 농구 게임 켈러 오디토리움, 포틀랜드 미술관, 슈니 극장, 워싱턴 공원에서 일본 정원, 포틀랜드 주립 대학, 포틀랜드의 많은 작은 극장, 레스토랑, 양조장 행을 이동합니다 그 엉덩이 이스트 사이드. 포틀랜드는 걷기 도시입니다. 대중 교통은 동네 짱은 택시 나 차 리드 대학, 루이스와 클라크 대학, 포틀랜드 대학에 당신을 데려 갈 수 있습니다. 도시와 독특한 지역은 당신의 발에 있습니다. 이 제품군은 안테나를 통해 주요 네트워크와 몇 가지 다른 채널을 수신하는 32 "스마트 TV가 있습니다. 당신이 등 케이블 제공 업체, 넷플릭스, 훌루에 대한 로그인 정보를 가져올 경우 등, 영화를 감상 할 수있을 것입니다, 이 TV에. 참고 : 에어 비앤비는 11.5 %의 도시와 카운티 세금 및 1 %의 주세를 수집한다. 우리는 개와 고양이를 소유하고 있지만, 우리는 실내에서 보관하십시오. 객실은 시트, 수건, 커피 / 차, 소형 냉장고, 샴푸, 린스, 비누, 헤어 드라이기가 포함되어 있습니다. 차고는 세단이나 스테이션 왜건을 수용 할 수 있습니다. 공용 주차장은 약 6 블록 떨어진 사용할 수 있지만 대형 SUV 나 트럭, 도전이 될 것입니다. (PHONE NUMBER HIDDEN)-HO : 포틀랜드 액세서리 단기 대여의 도시는 허가 번호를 입력
진주 지역 시내 포틀랜드에 가까운 복원 산업 지역이다. 오래된 건물을 개조되었습니다. 새로운 내장되어있다. 그것은 여러 공원과 잘 계획되어있다. 그것은 쇼핑, 식사, 그리고 방황의 대상 지역이되었다.
Steven greeted us when we arrived and showed us the room which was a very nice suite above the garage in their row home complex. And it was great that there was a spot for our vehicle in the garage. Very clean and very nice. The bed was very comfortable and we even had soft or hard pillow options which was great. The apartment was right in the heart of the Pearl District which was perfect as we could walk anywhere for anything that we needed including shopping downtown at Pioneer Place and we even walked to the Moda Center to see a Basketball game.
Daniel
2016-11-14T00:00:00Z
Steve was friendly and accommodating. The apartment is in a great location, warm and inviting and very similar to an actual hotel or bed and breakfast. The hosts have made a great effort in supplying all the items travelers would appreciate: coffee maker, mini fridge, hair dryer, a few books and movies- highly recommended!
Amanda
2014-10-02T00:00:00Z
My daughter and I arrived in the afternoon and Donna was waiting for us at the location. She showed us around the suite and made herself available if we had any question. Steven gave us a couple locations we could walk to nearby and also explained the neighborhood. My 7 year old says "everything was great"!
Jennifer
2016-02-21T00:00:00Z
Steven met me at his attractive, clean and well-furnished room. He gave me a very clear orientation to the room, the neighborhood and Portland--all of which was helpful and informative. The room is in the middle of the Pearl District and is 100% as advertised--a great place to start from and come back to!
Mark
2015-05-02T00:00:00Z
Steven was friendly and even greeted us at the street and led us into our accommodations. Suite was very clean and comfortable. Bathroom was large and good water pressure. The area was called the Pearl District and even though it was my first time to Portland, OR. I felt this Suite was located near everything, we even had an off-street, garage to park in! One of many Portland street cars goes right down the adjacent street for easy access to most of the city. I loved my visit to Portland, OR and Steven's Suite was a great value, considering, accommodations, location and parking!
brian
2015-06-24T00:00:00Z
Steve made our trip seamless. He was sure to be home right when we would be arriving and made sure we were familiar to the place before leaving. The private access to the suite was perfect and we could leave and come back at random times and not feel like we were being a bother. The room itself was beautiful, clean, well equipped with everything from extra pillows to more books and pamphlets than we could read about Portland. The location was close to city transit ( we didn't being a car) and close to coffee, munchies and consignment stores alike. Steve was flexible with our check out time and was kind enough to allow us to leave our bags until our train departed. I would highly recommend the suite as well as Steve and his wife as hosts anytime.
Erin
2015-12-13T00:00:00Z
Donna and Steve made me feel very welcome. The room was spotless and there was delicious coffee from a local roaster that I could brew to have coffee in the suite. Everything worked perfectly.
Julia
2015-10-10T00:00:00Z
This was a great place to stay for a couple of nights in the Pearl district. The unit is above a garage and is separated from the main townhouse by a courtyard. It was very private, quiet, and clean. There were some thoughtful touches, for example, a basket of travel sized shampoos, soaps, toothbrushes, etc. to guests who may have forgotten to bring any, and a bag of freshly roasted local coffee. The bed was comfortable and the sheets felt quality. The hosts, Steven and Donna, were very responsive and easily communicated via texts. Donna was warm and gracious when we arrived, even going above and beyond to provide a loaner rain jacket! Overall this was a fantastic place to stay in the Pearl, very close to all the restaurants and shops that we like to visit in the area. Much better than staying in a downtown hotel- I can see why it's frequently booked, and can't wait to get back!
Teresa
2016-11-18T00:00:00Z
Romtype
Privat rom
---
Eiendomstype
Andre
---
Plass til
2
---
Soverom
Portland, Oregon, USA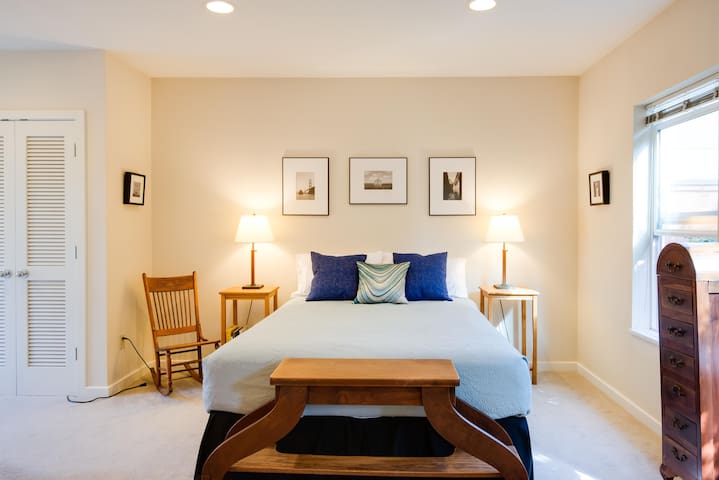 Erdgeschoss Bett / Bad im Herzen des Pearl District Licht gefüllt. 99% Begehbarkeit zu Restaurants, Lebensmittelgeschäft, Bars, Galerien, Parks, Theater und Live-Musik. Ein Block zum Straßen-Auto und zu Fuß zum Max-Bahn und dem Bahnhof.
Im ersten Stock Schlafzimmer / Bad in preisgekrönten Johnson Street Townhome Eigentumswohnungen. Queen-Size-Bett, Sofa, Kühlschrank, Esstisch und Stühlen, Mikrowelle und Keurig Kaffeemaschine im Zimmer. Komfortabler Raum im Erdgeschoss.
Der Pearl District Nachbarschaft ist eine Gemeinschaft. Gehen Sie zu einigen der besten Restaurants in Portland (und bewerteten das oben in der Nation!), Jazzclubs, Parks und Brunnen oder einen Spaziergang nach dem Abendessen für ein Eis-Snack. Fabulous Einkaufen!
Tracy was a wonderful host and this apartment was absolutely above and beyond. Had everything you could think of and the location couldn't have been better. Exactly as advertised of not better!
BRENTON
2016-07-14T00:00:00Z
This place is a great get couples getaway. Warm, cozy and clean. Very central and close to transportation.
Julia
2017-01-19T00:00:00Z
Staying at Tracy's place was a delight. The room was spacious and well-kept, and the bed was super comfy! It was very easy to come and go as we pleased, and the neighborhood was very nice. If I found myself back in Portland again I would absolutely choose to stay here.
Garrett
2016-01-11T00:00:00Z
Tracy made me feel welcome immediately by messaging me right after accepting my request. The morning I arrived in Portland, Tracy again opened the lines of communication and was extremely flexible and open to letting us check-in early. Throughout our stay, Tracy was very easy to get a hold of and supportive when we needed anything. Upon our departure, offered to give us a late check-out or allow us to store our luggage in case we had a late flight and wanted more time to enjoy the city. The location of her place was perfect. Thank you for making our stay in Portland so great, Tracy!
Sara
2016-04-05T00:00:00Z
Tracy was great! She communicated promptly and kindly via the Airbnb app. The location of her home is great, and was perfect for what we needed on our little getaway.
Rachel
2016-10-15T00:00:00Z
We had a wonderful stay in Tracy's apartment. The apartment is centrally located in the pearl district - lots of cute boutiques and restaurants in walking distance. The house is spacious, clean and has its own entrance. We arrived earlier than check-in time but Tracy was so kind to let us in early. Communication is always prompt and clear. It has been a real pleasure staying at the apartment. And we hope to stay here again next time we come to Portland!
Cheramie
2016-05-16T00:00:00Z
Tracy and her husband are awesome hosts. We didn't actually see them until our 3rd day staying in their guest apartment because everything was very clear and straightforward with getting in/out, and was stocked with everything we needed, etc. They are a super friendly, interesting, very "Portland" couple of people. It was a pleasure staying in their space and I would definitely stay again! Super awesome location to walk everywhere from, too!
Kristin
2016-08-27T00:00:00Z
Tracy greeted us as we arrived and was immediately engaging and hospitable. She made sure we knew how everything worked in the apartment and also provided a list of local restaurants and other amenities. Great hosts! The apartment lived up to our expectations - we were looking for something centrally-located to the Pearl, Downtown and Northwest and it was just that. You are literally a block or two from the Portland Streetcar and a short walk from the MAX. The room is more spacious than it looks in the photos and the private entrance is great.
B
2016-03-03T00:00:00Z
Romtype
Privat rom
---
Eiendomstype
Rekkehus
---
Plass til
2
---
Soverom
Portland, Oregon, USA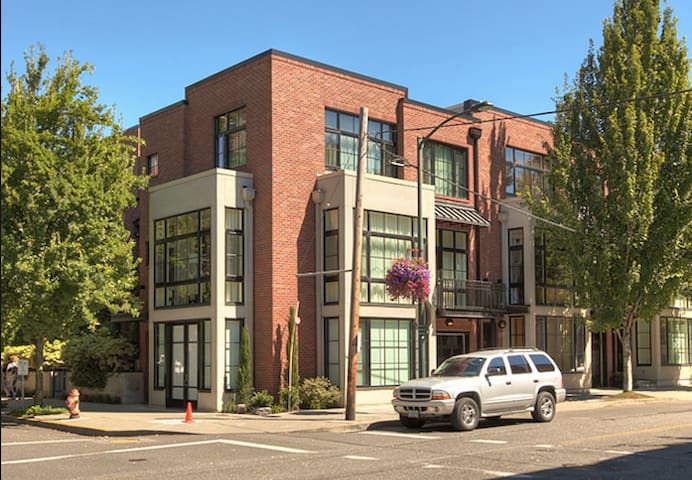 We really enjoyed our stay in Katie's studio. It's very charming and in close walking distance to some great Portland sights.
Shannon
2017-02-12T00:00:00Z
Great location within walking distance of great food, shopping and bars. Would recommend for a weekend trip to Portland!
Kelli
2017-03-05T00:00:00Z
Really great location/apt for a great price, win win. She was a superb host, and communicated with me quickly when I forgot some check in instructions. Recommend staying here highly!
Ian
2017-01-16T00:00:00Z
My husband and I had a wonderful stay at Katherine's place. Location was convenient, bed was comfortable, and Katherine's instructions to check-in were very clear. FYI, in case you are a light sleeper, you do hear some car noise from the apartment, but it did not bother us.
Karen
2017-02-05T00:00:00Z
Katie was a wonderful host, very communicative and flexible with the slight changes in our check-in and check-out time. She was always accessible via message. Her place was a perfect studio for a couples weekend away in Portland. Very clean and quaint studio in a safe apartment complex. It was walking distance to all the bars, breweries, restaurants of Portland which was very convenient as we flew in and did not rent in a car while in Portland. Would highly recommend this place!
Abirami
2017-01-22T00:00:00Z
Katie's place was perfect for our weekend of exploring Portland and visiting friends. Her studio is comfortable, beautifully decorated, and well-located. Check-in and check-out were easy, and having a dedicated parking spot in this area was a huge boon. We would gladly stay here again.
Laura
2016-11-27T00:00:00Z
I had a great stay in Katherine's apartment. The apartment was clean spacious. The building was also located in a great location with an easy walk to lots of shops and restaurants. Definitely stay here!
Megan
2016-12-19T00:00:00Z
Katie's place was just as described! The complex was safe and secure and in a great location. You are close to Bridgeport, Safeway, blue star and many other awesome destinations that are a must see while you are in Portland! I would recommend staying here.
Amanda
2017-03-27T00:00:00Z
Romtype
Helt hjem/leilighet
---
Eiendomstype
Leilighet
---
Plass til
2
---
Soverom
Portland, Oregon, USA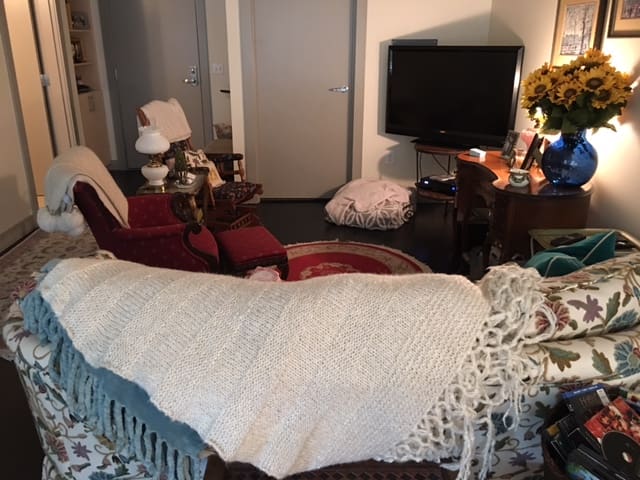 Despertar cada mañana a una de las más dulces, hojas de nenúfar urbanas en Portland. Fácil de pasear a los favoritos locales o tomar el tranvía a casi todas partes en el paraíso de la comida de gourmet. Muchos de nuestros clientes dicen ... que nos gusta hacer con nosotros, y que ellos creen. Por favor, sé que esto es la creación de una auténtica Urbano vida con las vistas y sonidos de una ciudad en crecimiento!
Este es uno de los 3 anuncios de las habitaciones bajo un mismo techo en nuestra casa. Una habitación privada elegante con su propio jardín secreto y una decoración moderna. Su habitación privada es muy cómodo para 2 personas con una cama de matrimonio esponjoso adicional, hecha con cuidado para usted y una buena noche de sueño lleno de sueños frescos. Este anuncio está en nuestro primer nivel / nivel de la calle y en un entorno urbano. Tiene un baño privado con ducha / WC / lavabo situado al lado de la habitación. Siempre ofrecemos acceso gratuito a Internet ilimitado, almohadas, mantas, toallas y muy gruesas. Hay un montón de espacio para todos sus maletas, mochilas y continuar de. La cocina compartida / comunidad está ubicada en la planta principal. aparcamiento en la calle está limitado, libre de 2 horas en frente de la casa y 4 horas a través de la calle. 7 p.m.-07 a.m. aparcamiento gratuito por la noche en la calle. garaje de estacionamiento adicional para estacionamiento de largo plazo a pocas cuadras de distancia. Portland Oregon ..... acuerdo con The New York Times hay más de 3.000 uno de una clase galardonados restaurantes, cervecerías, carros de comida y panaderías, convirtiéndose todos los días para su disfrute foodie frenesí. Es también un hecho conocido que Portland es el hogar de algunos de los mejores bares, pubs y la coctelería del mundo. Lonely Planet ha publicado recientemente en línea diciendo que es "Una de las mayores ciudades del mundo para la cerveza, la rareza, la comida barata, barrios cobardes, caminatas en el bosque y mucho más". Es fácil de recorrer, a pie puntuación de 96, con un sistema de transporte totalmente integrado. el poder-se pedalea puede alquilar bicicletas en muchos lugares, junto con el nuevo programa de Nike en bicicleta por toda la ciudad. Acceso tranvía de Portland situado a 1 cuadra abajo delante de nuestra puerta, Trimet / bus a 4 cuadras de distancia y la principal empresa de taxi a menos de 200 pies de distancia que le da acceso completo a la ciudad de Rose y todos sus tesoros. También Uber y Lyft disponible en PDX. Esta casa histórica en el distrito Pearl fue construida por un empresario local en 1908. Hoy en día, es parte de un proyecto de rediseño de transformación y ha sido un punto caliente entretener a los invitados en los últimos años. La decoración es moderna con obras de arte de colección y simplicidad arquitectónica. Este anuncio es uno de los tres niveles, ubicada en la planta baja de uso frecuente para los amigos cercanos o familiares. No nos limitamos a aceptar solicitudes que tiene que ser un buen ajuste. Somos una familia de famosos locales conocen para la toma de lugares comunes y transformarlos usando un diseño moderno, la música, el arte y la comida como la creación de nuestra magia en espacios extraordinarios.
We loved our stay in Portland! Unfortunately, we didn't get to meet Maria and Dino, but they accommodated us very well! We let them know that we were going to be later to check in, and they came up with a plan B and everything was perfect! The room and bathroom were perfectly clean and very nice. We loved the quiet area of the house. We would definitely recommend this room!
Steph
2016-09-12T00:00:00Z
From the moment we arrived at Maria's Sweet n Low pad, we couldn't have been more impressed by everything (and everyone) we encountered. After traveling from sunny Sarasota to snowy Portland, the warm welcome was MUCH appreciated! From beginning to end, our hosts were accommodating, warm, inviting, organized, and informative - unequivocally brilliant. Our chic little room with its eclectic, Euro-cool decor further impressed - we feel blessed to have discovered this gem in the conveniently-located Pearl District. We fully intend to return to Maria's when Portland warms up a bit. In addition to the sheer amazingness of this cozy AirBnB retreat, the Pearl District is located amongst the hippest, tastiest restaurants and coffee shops in Portland. The shuttle, which runs day and night just outside of the Sweet n Low, takes you to/from just about anywhere, and there are several groceries and fun shops just around the corner. Our stay was a truly incredible way to start the New Year. Thank you to Maria & Co. + AirBnB for making our first trip to Portland so special. I can't recommend this place enough to a prospective Portland traveler.
Kevin
2016-01-05T00:00:00Z
Nice spot, but very noisy (the house is right next to a busy highway), so bring earplugs, if you decide to stay here.
Mladen
2016-05-25T00:00:00Z
We have stayed in a LOT of AirBnBs and our stay with Dino, Maria and Lulu was by far one of the best. They made us feel incredibly welcome in their beautiful home. The location is perfect for exploring the Pearl District. Dino set us up with amazing suggestions based on how we told him we like to travel. The room was exactly as it is described in the ad.
Jenny
2016-07-11T00:00:00Z
Great experience overall. Loved the location of the house and the privacy of the room.
Jack
2016-03-15T00:00:00Z
Maria and Dino were very warm and welcoming hosts, and were great fun; we enjoyed our chats with them. Great base for our 2-day stay in Portland. Would recommend. Thanks guys!
Joe
2015-08-03T00:00:00Z
We had a great stay. The house was perfectly located for walking around. It was clean and we also had own bathroom. Maria and Dino were wonderful hosts as well as great life counselors for my friend who's thinking about moving to Portland. Unfortunately, my friend was talking to them all the time so I didn't have much time to sit and talk with them. I appreciate their hospitality. I definitely would stay again.
Tomoko
2016-08-07T00:00:00Z
Dino was extremely accommodating-- our flight arrived very early and he took extra steps to meet us and help us get settled. He's extremely personable and his house is AWESOME! We were free to use the coffee and tea daily, and boy he has a ton of coffee appliances. Dino was personable and gave us recommendations, as we had never been in Portland before and had no clue where to go. Bed + comforter were extremely comfortable, room is small but the common areas have everything you need. We also had our own bathroom, which was really nice. The only comment I would have on the room is that due to the patio door, it was a bit chilly at times because of the draft, but it did not detract from our stay. Thanks Dino for a great time and fun conversation.
Sonia
2016-04-05T00:00:00Z
Romtype
Privat rom
---
Eiendomstype
Hus
---
Plass til
2
---
Soverom
Portland, Oregon, USA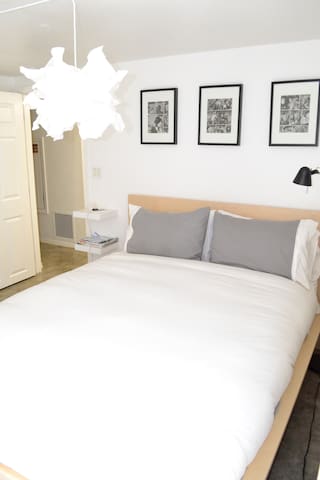 This was a perfect spot for us! With almost everything a 5-10 minute drive away. There are also cute bars and restaurants walking distance from the apartment as well. Try paymasters bar right next door it is super hip and also a cool crowd. The apartment was the perfect place to come home to every night after a long day of exploring. Heater works super well too which I was worried about since it's winter! Will stay again when visiting Portland
ashley
2016-12-19T00:00:00Z
Very cute place, located on a quiet street near; restaurants, emergency room, 23rd street, and the center of all Downtown! Also train and buses are a block or two distance away. Loved it! :) The fact that there is no TV makes it even better for a romantic vacation :)
Ana
2017-02-28T00:00:00Z
Great location, very walkable. Enjoyed the neighborhood. Good value for a clean, secure and central location. I would stay here again.
Davida
2017-01-02T00:00:00Z
Abby was great and extremely easy to communicate with on and before our stay. We had a late check in time and the apartment was cozy and warm when we got in. The area was safe and there was some street noise (as it is a Garden level apartment) but nothing out of the ordinary or that prevented sleep. Extremely well lit despite minimal sunlight and had lots of basic necessities (especially hair dryer) that came in handy!
Karen
2017-02-20T00:00:00Z
Clean, comfortable room. It is convenient because there is a supermarket where I walked 5 minutes to the east. It is convenient because you can access to downtown by street car. In addition, I felt the surrounding public security well. I think that it is the recommended room.
将武
2017-03-05T00:00:00Z
Abby's apartment was in a great location for exploring Portland. The apartment had everything that we needed for our stay.
Megan
2016-06-15T00:00:00Z
Abby was responsive and flexible with me checking in early since my flight got in before 3pm which I appreciated. The place was clean, had anything you would likely need in a short stay and the bed was comfortable. The location was also great, a short walk to the Pearl with lots of options for food and coffee. The one issue I did have was that the upstairs neighbors decided to have people over 2 out of the 3 nights I was there, and me being a light sleeper I was quite annoyed at 2am. Other than that which was out of the hosts control, it was a nice place and I would just recommend bringing ear plugs/a white noise app.
Erica
2016-08-16T00:00:00Z
Abby's directions for getting into the apartment were perfect. Very easy to communicate with via text message. They apartment was perfect for our needs.
Andrea
2016-01-13T00:00:00Z
Romtype
Helt hjem/leilighet
---
Eiendomstype
Leilighet
---
Plass til
2
---
Soverom
Portland, Oregon, USA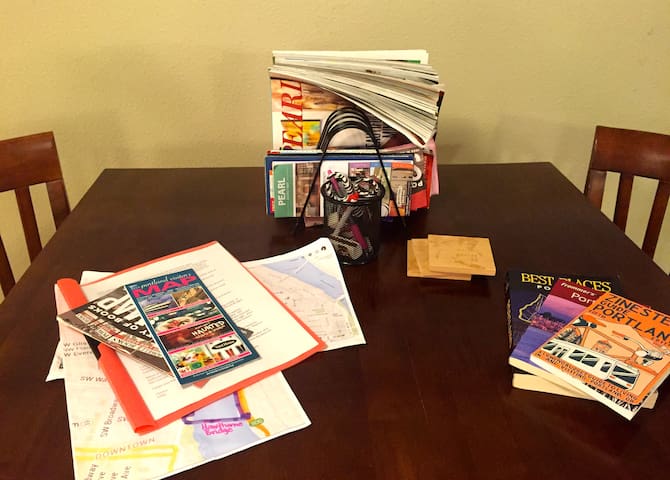 Dieses Loft-Apartment ist perfekt für jemanden, allein, oder ein paar Reisen. Die Einrichtung ist modern mit einem sehr künstlerischen Loft "fühlen. Die Einrichtung ist eine Mischung aus der Mitte des Jahrhunderts, und modern. Die Wohnung ist offen und bekommt große Sonnenlicht während des Tages. Es gibt eine voll ausgestattete Küche und Bad. Die Wohnung ist umgeben von tollen Restaurants und einen kurzen Spaziergang zu den öffentlichen Verkehrsmitteln, wenn nötig. Das Gebäude hat auch einen gesicherten Eingang. Die Decken sind sehr hoch, und die Fläche ist etwa 850.
Das Gebäude verfügt über Aufzug und Treppenzugang, zusammen mit mehreren Eingängen. Es gibt große Fenster in der Wohnung, die Nordwand, so gibt es im Einklang ist und sogar Tageslicht. Sie sind frei, alle Küchengeräte, Geschirr, Töpfe zu verwenden und Pfannen. Die Waschmaschine und Trockner in der Wohnung sind kostenlos als auch zu nutzen. Die Wohnung verfügt über eine zentrale Wärme und Luft.
Der Pearl District ist ein großes Stadtviertel in Portland NW. Hier können Sie mehr darüber lesen: (URL HIDDEN)
Cool spot!
Kira
2017-03-19T00:00:00Z
This was a great place for a quick stay! We had a blast and it was so clean and inviting. Close to everything!
Dana
2017-04-07T00:00:00Z
Very quiet place to stay. Great location, walking distance in the pearl district. Such a beautiful and fun district to stay in. Great place to stay to be close to good places to eat and shop. Open windows gave great lighting during the day.
Dominique
2017-03-06T00:00:00Z
The space was absolutely beautiful. Perfect location and parking lot right across the street if you're planning on driving. Lots of great places to walk to in terms of shopping, food and drink. The loft was unique, intriguing and felt so artsy and genuine. Wished I could have stayed longer!
Dylan
2017-02-24T00:00:00Z
Great place! Very cool inside and great location!
Brooke
2017-03-26T00:00:00Z
Nice view and good location!
Veronica
2017-03-16T00:00:00Z
Great place :)
Ted
2017-03-31T00:00:00Z
Super cool space. George was an awesome and responsive host. Location is walking distance to a ton of shops/restaurants/breweries. If I come back to Portland, I'd stay here again.
Scott
2017-04-08T00:00:00Z
Romtype
Helt hjem/leilighet
---
Eiendomstype
Leilighet
---
Plass til
3
---
Soverom
Portland, Oregon, USA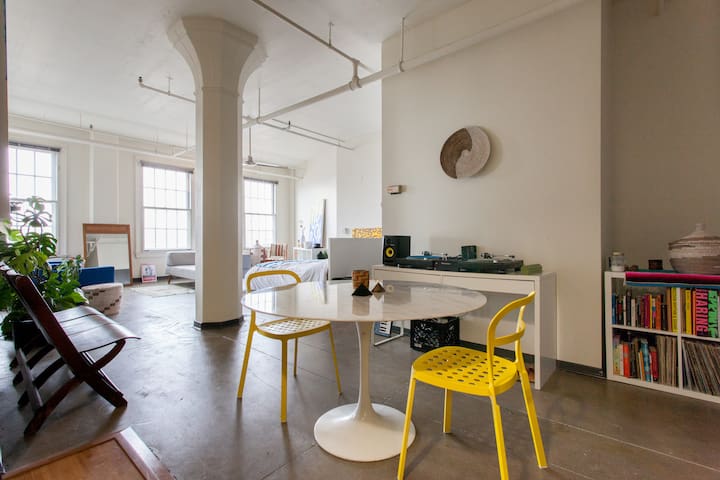 This was an awesome place. If you're looking to explore downtown Portland, get really good food and check out cool bars this is the Airbnb for you. Laura is an awesome host and she'll take great care of you. Book this if you can get your hands on it.
Paul
2017-03-18T00:00:00Z
Laura and the listing are excellent. First time to Portland, most everything here seems walkable. Somehow in a busy downtown Laura's place is quiet, spacious, and relaxed. Laura was very responsive and made sure I had everything I needed. I will definitely stay here again.
Isaiah
2017-03-15T00:00:00Z
Cute, cozy place in the perfect location. Everything about this place is amazing!
Jill
2017-03-11T00:00:00Z
Great spot! Clean, comfortable and spacious. This cute little hide-a-way is perfect for walking to downtown, alphabet district, and Japanese gardens. The location was great, and the space was really nice! The host was really accommodating and responded incredibly fast to any questions we had. We were really happy with our stay here!
Michelle
2017-03-06T00:00:00Z
At first glance, it looks like a nice residential neighborhood (which it is). But several blocks away and you're in the heart of downtown Portland. The immediate area also has smaller coffee shops and bars for those seeking a closer trek. The home itself was exceptional. It's actually an award winning home that was probably the nicest basement I've been in. It's clean, open and comfortable with a spacious and modern bathroom. Laura provided all the information you need and communicated will prior to and during the stay. A definite "must stay" for those visiting for business or pleasure.
van
2017-02-26T00:00:00Z
Laura's Basement Hideaway was fantastic! It's in a safe, quiet neighborhood, within walking distance to tons of great food, wineries, breweries, etc. We couldn't have been happier with the space provided. The bathroom was amazing, the bed comfortable, and the couch was a perfect lounging spot for some evening Netflix viewing! I would HIGHLY recommend.
Ryan
2017-02-20T00:00:00Z
This is a great, quiet spot well within walking distance to some fun and delicious locations. It is super clean and comfy.
James
2017-04-07T00:00:00Z
Laura is an amazing host, her listing is spotlessly clean, welcoming and has everything you need. After a long journey to Portland I arrived late tired and needing of a decent nights sleep. Laura provided tea, milk and croissant so you feel immediately welcomed and able to relax. The bed is wonderfully comfortable and listing is situated in a nice quite location in Pearl District. I really appreciated Laura's hospitality, prompt communications and care to make my stay perfect. Thanks a million Laura, hopefully I will see you again soon.
Mark
2017-03-24T00:00:00Z
Romtype
Helt hjem/leilighet
---
Eiendomstype
Hus
---
Plass til
2
---
Soverom
Portland, Oregon, USA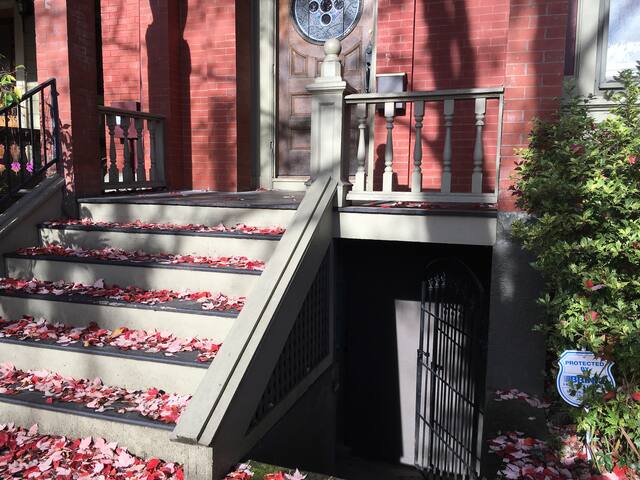 .
Tyler
2017-01-22T00:00:00Z
My brother and I had a great time staying at Cody's place. Cody (and his co-host Whit) were very responsive to any comments, questions or concerns I had about the place. The location was perfect, in the epicenter of good restaurants, hip coffee shops and breweries. One of the great features of the place that is overlooked is that the apartment is on the first floor, making it easily accessible to the road by just going out two doors. Overall, the experience that my brother and I had in Portland would have not happened without the generosity of Cody.
Adam
2017-01-08T00:00:00Z
Cody was super accommodating & was thorough in showing us his place. Our train was leaving late in the day & he offered to take our things for us so we wouldn't have to carry them around. Although the neighborhood is quiet, there was quite a bit of noise early the next morning coming from another apartment. We were guessing it may have been related to the jack hammering going on the previous day. I would definitely stay here again :-)
Christina
2016-12-23T00:00:00Z
I loved everything about this place, clean, safe, close to everything. I hope to stay again soon.
Erica
2017-01-26T00:00:00Z
Great location in the Pearl, comfortable bed. Would stay again
Colin
2016-12-02T00:00:00Z
Host greeted me, checked me in and showed me around. Cody was a gracious host!
Shirley
2016-12-08T00:00:00Z
Everything was as posted. We really enjoyed Cody's space. He was welcoming and informative. I will definitely try again when we are in Portland.
Brian
2016-11-24T00:00:00Z
Cody was responsive and thorough in orienting us to the neighborhood and to the space. The space was clean and modern, and contained thoughtful touches, like the black out curtains in the bedroom. Well equipped kitchen and bathroom. Even though on the ground level in the city, the traffic noise was muffled.
Liz
2016-12-21T00:00:00Z
Romtype
Helt hjem/leilighet
---
Eiendomstype
Selveierleilighet
---
Plass til
2
---
Soverom
Portland, Oregon, USA
내 장소는 진주 지구, 포틀랜드 시내, NW, 알파벳 지구, 컨벤션 센터 부근에 있습니다. 당신 때문에 편안한 침대, 높은 천장, 도시 전망, 좋은 위치의 내 자리를 사랑합니다. 내 자리는 커플, 솔로 모험가 및 비즈니스 여행객을위한 좋은 것입니다.
Good location, nice open floor plan, comfortable bed, clean.
Stephen
2016-11-11T00:00:00Z
Fabulous location in downtown Portland and close to everything. The loft had a really cool vibe, and a very comfy bed!
Dina
2017-02-19T00:00:00Z
Pros: Nice location in the Pearl District. Nice kitchen and comfortable bed. Cons: Watch out for the road noise coming from the Post Office distribution center at night. Don't leave anything behind communication for getting your stuff back is impossible. Still trying to get my iPad back after 12 days.
David
2017-02-24T00:00:00Z
Perfect portland loft in a great neighbor hood. Walking distance to some of the best things portland has to offer (bars, restaurants, specialty stores, coffee, bakeries...), great atmosphere, treelined streets, skyline views, lots of street parking -- would love to stay again any time.
Alex
2016-10-04T00:00:00Z
The location was central with many offerings in the way of good restaurants, boutiques, and grocery. The apartment was roomy and bright.
Caroline
2016-09-08T00:00:00Z
Wonderful location. The pics don't do the stylish furnishings justice. Highly recommended.
John
2016-12-03T00:00:00Z
The loft was beautiful and well located, within easy walking distance to many brewpubs and other attractions in downtown Portland.
Evan
2016-10-17T00:00:00Z
A really neat loft in downtown Portland. I had a great stay. Check-in / check-out were super easy. It was snowing the past two days and the heater worked really well!! I will stay here again :-)
Brad
2016-12-09T00:00:00Z
Romtype
Helt hjem/leilighet
---
Eiendomstype
Leilighet
---
Plass til
2
---
Soverom
Portland, Oregon, USA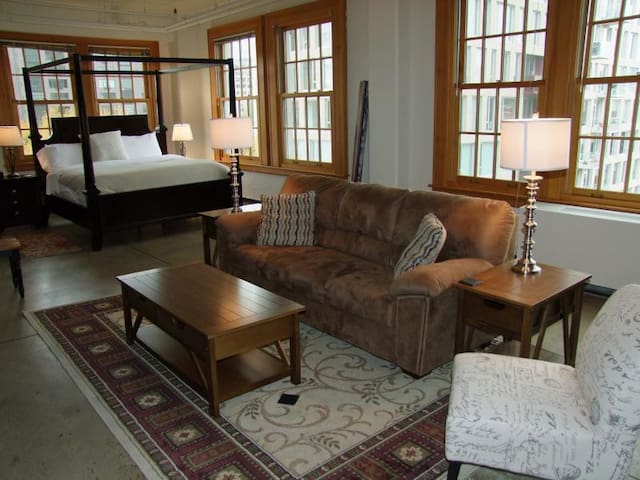 Good guy, good place!
Tomo
2017-03-14T00:00:00Z
Charles is laid back, lets you do your thing. The couple times I had a question he was there to help me out. I recommend it for anyone trying to crash in the pearl area but not trying to spend huge money. Perfect for what I needed! Will stay again.
Trevor
2017-01-16T00:00:00Z
Charles was a gracious host and quick to reply when I had questions before I arrived. The location is as advertised and a quick 5-10 minute walk depending on where you're heading downtown. The location is also easy to access by Uber although I ended up enjoying the ten minute walk to get downtown. I would definitely stay here again next time I am in town. Also, the memory foam bed and pillows has me debating throwing out my old bed at home! 5 stars all around! Would recommend to people I know heading into PDX.
Kiran
2017-03-06T00:00:00Z
Charles's place is for an overnight short-term stay if you want to be close to downtown. It is an apartment in a block of apartments, right next to Union Station, so it is very convenient if you need to walk to downtown. There is plenty of street parking, but it is metered and the maximum you can park is 5 hours a day @ $2 per hour. From 7pm to 8 am parking is free. The bed is comfortable and the bathroom is fairly clean. It is warm, and I kept my window slightly open because there was a sour smell in the apartment, but once I was in my room with the door shut it was fine and comfortable. Charles provides clean towels. The wifi is great! Although I don't watch TV, there is a big screen TV in the room if you want to watch while lying on the bed. The attached patio can only be accessed through the living room which is where Charles sleeps. Light bothers me when I sleep, and the street lights shone through the blinds, so I was glad I brought an eye mask. Charles is very nice, friendly, and quiet, and although we shared the bathroom, I never had a problem using it when I wanted to. His apartment isn't really meant for long-term stays unless all you are using it for is to sleep and have a quick microwavable or cereal breakfast (bring a paper bowl for that) and do the rest of your eating out. For the price, I would stay there again if I needed to be within walking distance of downtown. This is basic accommodation - a bed, a bathroom, fridge and microwave, and the price was right for what I needed.
Sue
2017-04-07T00:00:00Z
Great experience at Charles' place! He's a really nice and giving person. We truly enjoyed his presence. Place is both close to downtown and station, so it sure is a useful position. Room is large and warm, bed is spacious and comfortable. Everything is definitively fine!
Laura
2017-01-03T00:00:00Z
Charles' place is exactly as advertised. It is in a great location and walking distance from the pearl district and the Moda Center. It is a great place if you're looking for a something conveniently located for a great price. You share a bathroom. Charles was great communicating with any questions and very helpful.
Bobby
2017-03-17T00:00:00Z
Charles was great at communicating with me. Be weary there are no photos of the room or place. The apartment complex was kind of sketchy. The room was fairly large. Carpets need a cleaning but they aren't disgusting. Only other problem was the blanket we were given was small and he didn't have another one, but he did mention we could use the heater in the room which worked really well and there was really no need for extra blankets. He was loud at times playing video games but became quiet once I asked him to. Overall okay stay.
Toby
2017-01-08T00:00:00Z
Great access to downtown, within immediate surroundings and a close walk!
Tyler
2016-12-28T00:00:00Z
Romtype
Privat rom
---
Eiendomstype
Leilighet
---
Plass til
2
---
Soverom
Portland, Oregon, USA
これは、パール地区の中心部に1.5K平方フィートのロフトです。この1ベッドルーム2バスルームロフトが快適に4人(1本当のベッド、1ソファベッド)を眠るとパールとNWのショッピング、バー&レストランまでの距離を歩いています
スペース これは、豪華な1ベッド、2バスのロフトです。ソファの一つは、ベッドに折りたため、及び(4人の合計)は、2つの追加の人々を眠ることができます。 それは驚くべき光を持ち、超静かで快適です。あなたは朝のコーヒーを作るか、あなたの一日を始めるためにいくつかのお茶を持つことができます。あなたが服を洗浄する必要がある場合はユニットで洗濯機/乾燥機があります。 ゲストアクセス マンションは、建物と単位を入力するためのキーに入るためにFOBでアクセスされています。 ご宿泊のお客様との対話 私はいつでもユニットに関する質問または訪問/ポートランドで食事する場所の提案のために利用できるようになります。ちょうど私のテキストを撮影したり、私に電話を与えます! ご近所さん パール地区は、あなたが偉大な食べ物や飲み物を愛していれば、すべての場所の周りの素晴らしい滞在することです。あなたはコンドミニアムでリラックスしたり、中に食べたり、外出して探索することができます。ポートランドは、多くの醸造所に家であるとこのコンドミニアムは、彼らの真ん中にあります!数ブロック内では、ブリッジポート醸造、ローグ醸造、10バレル醸造、およびデシューツ醸造を訪問することができます。パールはまた、食品のすべての種類を提供し、そのほかの素晴らしいレストランで知られています。それはしかし、私たちは近く、楽しい多くのダイブバーを持っている、あなたは、このポートランドの料理のトレンドをチェックアウトしたい場合は、食堂自動車に歩くことができるすべてのハイエンドではないと思います。 歩き回っている あなたはかなりどこでも歩くことができるように、パールは、97%の歩きやすさのスコアを受けました。両方のダウンタウン、ウォーターフロント、およびNW 21日と23日には、すべての非常に歩きやすいです。あなたはハイキングの森とワシントンパークのために行きたい場合は近くにあります。あなたは東側を探索したい場合は、1ブロック先にある通りの車にホップを取ることができます。これはどこでもあなたはかなり取得します。ポートランドはまた、単にUBERを持って、あなたはそれを持っていない場合、私は、あなたのためにタクシーに非常に安いと素敵な選択肢をそれを設定助けるために幸せになります。 その他の注意点 お車で旅行している場合があり路上駐車があるか、REIの駐車場で近くに駐車することができます。 REI: この駐車場4レベルの立体駐車場です - 下の3つのレベルでは、唯一のREIの顧客の駐車のためのものです 公共駐車場は、唯一の4レベルにあり、部分的に覆われています。 REIの駐車場 毎時:時間あたり$ 4.00 毎日:$ 10.95毎日最大 駐車場: それ以外の場合は掲載されない限りダウンタウンのパーキングメーターは、日曜日に土曜日を介して、および午後1時から午後7時まで午後7時、月曜日午前8時から動作します。ダウンタウン地区の路上駐車のための現在のレートは時間当たり$ 2.00。
Kelly's place was great for the weekend. Location was perfect and the apartment was spacious and clean.
Stephanie
2017-01-22T00:00:00Z
Kelly was a great host and would check in to make sure everything was OK. The condo is a really cool 2-story loft. It's very nicely set up and has all the amenities you would want. Everything was clean. Overall, it was a great experience.
Darrell
2015-12-09T00:00:00Z
Fantastic place in a great part of Portland. Everything you need is in the neighborhood and public transit is there when you want to explore. Kelly was great with communication and local recommendations. We had an enjoyable time and highly recommend.
Gene
2016-07-30T00:00:00Z
Kelly is a very good host. She gave us a lot of good advice about our trip in Portland. Thanks to her excellent hospitality, we had a very nice trip. The location of the condo is very good and is a quiet area, but breweries, restaurants and cafes are near. Condo has a long history and is worth staying.
Katsuyuki
2016-03-24T00:00:00Z
This place was perfect for our weekend getaway. Kelly was very accommodating of my early arrival. Apartment was very spacious and centrally located in the Pearl District. It's equipped with everything you need such as a fully stocked kitchen and plenty of blankets, towels and toiletries. Everything was great!
Cristina
2016-12-12T00:00:00Z
Beautiful and cozy home! My girlfriend and I spent two great nights in Pearl District. The location is perfect, with bars, breweries, restaurants, coffee shops and shopping nearby. The loft has amazing ceilings and the bed is very comfy. We felt at home and were able to enjoy our time in Portland. Will be staying here in the future.
Rafael
2016-02-14T00:00:00Z
Great loft right in the middle of the city. Very close proximity to everything - coffee shops, shopping, art galleries, etc. If you want to experience Portland at it's best this is the place to do it!
Jody
2016-08-15T00:00:00Z
If you are looking for a bright, roomy, comfortable condo in the heart of Portland, look no farther. It was just what we were looking for & thoroughly enjoyed our stay.
Nick
2015-09-27T00:00:00Z
Romtype
Helt hjem/leilighet
---
Eiendomstype
Leilighet
---
Plass til
4
---
Soverom
Portland, Oregon, USA
시내 99의 산책 점수와 진주와 NW 23 일 사이에 역사적인 건물에 스튜디오! 섭리 공원, 파월에 가까운 도보 거리에 책과 너무 수많은 레스토랑 / 바 / 양조장과 쇼핑! 퀸 사이즈 침대. 주차가 제공되지 않습니다; 24 시간 차고에 대한 세부 사항을 참조하십시오. 현장 없음 수하물 보관소 당신은 이른 오전 11시 같은 가방을 떨어 뜨리지 수도있다. 약 $ 5 택시를 타고 - - 당신은 시내 근처에 사는 내 파트너와 함께 여행용 가방을 남길 수 있습니다 늦게 항공편을. 이전 호텔의 SuperHost. 모두 환영합니다! :-)
あなたはこの歴史的なポートランドのアパートの建物の中に時間に後ずさりしましたかのようにヴィンテージエレベーターにレンガ造りの建物のファサードからは、あなたが感じられるでしょう!あなたがユニットに入ると、左側にclawfootバスタブ/シャワー付きのバスルームがあります。小さな入り口を過ぎベッド付きメインルーム、テレビ、隅を食べるとアームチェアを読み取ることです。メインルームにはまた小さなキッチンに接続します。あなたは地元の駐車場を見つける(いくつか存在である)および24時間の駐車場の支払いがない限り路上駐車上の2時間は現在あり。このユニットは、その驚くべき歩きやすさと公共交通機関に近接しているため、車の無料行く方にぴったりです。
あなたは一つの特定の近所の真ん中に囲まれていないかもしれないが、両者の間にピシャリ軽くたたくを植えされているが探求の面で素晴らしい利点を持っています!プロビデンスパーク、パウエルの書籍、国際バラ試験農園の近くにあり、レストランのトンまで徒歩圏内。 (それは繁華街を通過するように、2つの地区のこのようまたがっ)場所はI-405ダウンタウンの都市高速道路の入り口付近にある、しかし、ない音に少しは二重窓ガラスをはめた窓に起因するユニットに運びます。
Very cute and clean place! No issues during my stay. Just a short walk to plenty of restaurants, bars, and a few breweries. The rail is also less than a 10min walk if you're planning to use it. Would definitely stay here again!
Jordan
2017-03-23T00:00:00Z
Very conveniently located! Ruth was attentive and a great host. Highly recommend staying here!
Kyle
2017-04-08T00:00:00Z
Clean, cozy, and GREAT location. Would love to stay there again. The spot had everything we needed. Thank ya'll!!
Shelby
2017-03-27T00:00:00Z
Ruth and Ted were excellent hosts. Their apartment was very clean, check in was very easy, and communication with them was fantastic. I would definitely stay here again.
Donald
2017-04-07T00:00:00Z
Very cute condo that great for a couple. Location is great! Everything is walking distance that is for shopping and eating. Love this condo!!
Eri
2017-03-21T00:00:00Z
Great experience. Walk one block to the Pearl. Apartment was spotless. Our hosts were extremely helpful and responded immediately to my questions. Would definitely stay here again.
Ryan
2017-03-29T00:00:00Z
Romtype
Helt hjem/leilighet
---
Eiendomstype
Leilighet
---
Plass til
2
---
Soverom
Portland, Oregon, USA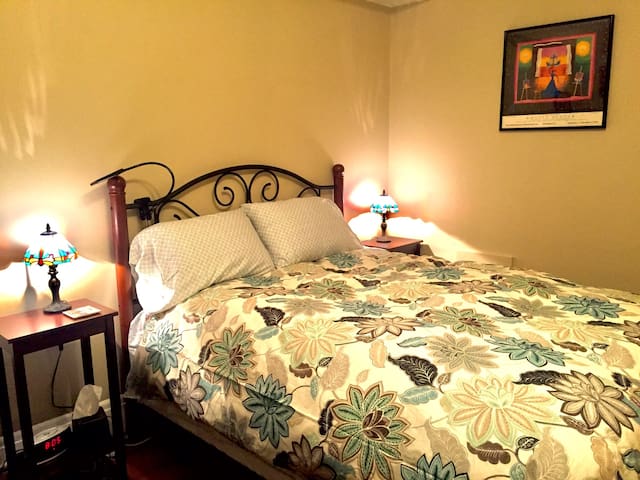 95/100의 WalkScore®와 함께! 위치는이보다 더하지 않습니다. 편리하게 포틀랜드의 예술 알파벳 지구 시내 유행 진주 지구 사이에 위치에있는 최근에 보수 공사를 마친 아파트에서 숙박이 제공됩니다. 두 지역이 가까운 도보 거리에 있습니다. 내 손님이 항상 행복두고 있는지 확인하기 위해 노력하고 있습니다. 어쨌든 나는 당신이 머무르는 동안 더욱 편안하게 할 수있는 경우, 물어 부끄러워하지 마십시오.
내 아파트는 조용한 동네 진주 지구에서 불과 한 블록 및 NW 23 일에서 5 블록 거리에 자리 잡고 있습니다. 그것은 98의 WalkScore® 최근 개조 완비 된 현대 아파트에 머물고의 고급 스러움과 함께, 정통 포틀랜드 라이프 스타일을 살고 자 이길 어렵다. 내 아파트는 특히 이웃을 위해 상당히 넓습니다. 거실은 가장 편안하지 않은 이불을 가지고 있지만, 필요할 때 작업을 수행합니다.
*** 내 10 블록 *** -Countless 맛있는 레스토랑 -Starbucks / 지역 커피 숍 -Oprah 좋아하는 아이스크림 가게 : 소금 & 스트로 -Portland 거리 차 바 -A 다양한 / 밤 생활 -Pearl 지구 -nw 23 일 (알파벳 지구) *** 짧은 도보 *** -Providence 공원합니다 (통나무 집) -Forrest 공원 (미국에서 가장 큰 도시 공원) -Grocery / 편의점
Newly renovated and in a great spot between the Pearl / Alphabet districts, great for walking around downtown. The whole unit was spotless and had a lot of amenities at a good value. Very comfortable memory foam mattress in the bedroom, clean linens/towels provided, just about everything you could ask for. Jake was great about staying in contact with me leading up to and during my stay to make sure I was satisfied with everything. Check-in was very easy, and a booklet is left in the room with specific details for check-out. I'd recommend this space for anyone looking to stay in the area, and I wouldn't hesitate to return in the future. Thanks!
Ethan
2017-02-27T00:00:00Z
Unit it self was great and as described. Location allowed easy access to everything, though it also meant it got quite noisy outside at night.
Maggie
2017-03-02T00:00:00Z
Fantastic little place for a comfortable stay with you and yours... High end finishes from the appliances down to the baseboards and onto the TP holder (my personal favorite) . Jake is a great host with the limited interaction that we had but attentive and interested in your positive experience. Give it a higher than runner up chance as the location will swoon you for sure. I saw little room for improvements but being the property is almost brand new, I'm certain by the time you read this, they just might be implemented. 5 stars from me anyway!
Robert
2017-02-06T00:00:00Z
Great spot in Pearl District!
Tré
2017-02-12T00:00:00Z
Jake's apartment is in a great location we walked to dinner because it was nice outside and there was no rain! The space is clean, tidy, and quaint. Slight mix up there was no key on arrival but Jake made arrangements to get them to us in a timely manner. The apartment provided all essentials we needed. Overall we thoroughly enjoyed our stay.
MiMi
2017-04-02T00:00:00Z
Jake's place is great! The apartment was very easily accessed and clean. Best of all it is right downtown so we walked everywhere the one night we stayed. Highly recommended if you're spending some time in Portland!
Mason
2017-02-11T00:00:00Z
Location was good. Chill place.
Walter
2017-04-06T00:00:00Z
A great space located within walking distance of a lot of great shops and restaurants. The space was quiet at night and there wasn't any street noise coming in. Would definitely recommend staying here!
Sandra
2017-03-20T00:00:00Z
Romtype
Helt hjem/leilighet
---
Eiendomstype
Leilighet
---
Plass til
2
---
Soverom
Portland, Oregon, USA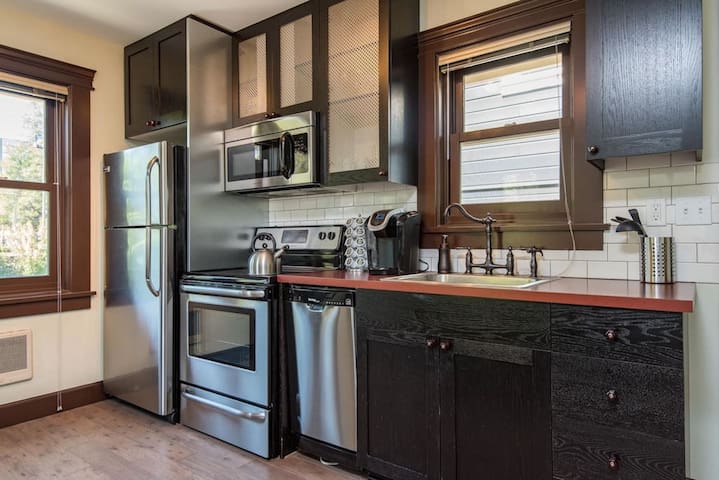 Benvingut a la millor zona de Portland! Gaudiu de la seva estada en aquest apartament increïble 2Bdr, que té tot el necessari i més, incloent un gran balcó! La ubicació és impressionant a prop de restaurants, bars, botigues! aparcament subterrani gratuït.
Cuina totalment equipada, ampli balcó, Wi-Fi i TV canal, un rei i un llit de matrimoni, 2 banys, rentadora i assecadora en la unitat
El districte Pearl està ple dels millors restaurants, bars, cafeteries, cerveseries i botigues d'alguns Portland. L'apartament també està situat a prop de nombroses botigues de queviures com Whole Foods. El barri compta amb nombrosos parcs bonics, i és una zona meravellosa per caminar i explorar. Té una ubicació cèntrica dins de la ciutat pel que és fàcil arribar a altres barris.
The apartment is in a great location and has a nice layout. With a little more preparation, this place could be a 5-star stay. Unfortunately, I ran into a few issues during the stay. The space was cleaned but there were used razors, used soap bars and empty bottles of shampoo and condition in the shower (I assume from the previous guests). I had to run out and buy my own. The hair dyer didn't work, the dishwasher soap was empty and there was a ball of dirty sheets in the closet.
Ashley
2016-11-10T00:00:00Z
Comfortable and quiet apartment with an elevator and free parking in a garage. Host responds quickly by text. It would be helpful to have an information sheet in the apartment that would include the house rules and parking spot number.
Kathleen
2016-09-07T00:00:00Z
Great location and perfect layout for two married couples or a family with adult children. Nice light and space. Just needs a bit more art and character. It is clearly a corporate type place. Very easy to communicate with Joseph and extremely convenient all around.
Stephen
2017-03-27T00:00:00Z
Pearl Disctrict 2 bed, close to shops, food. Nice place.
martin
2017-02-03T00:00:00Z
Joseph was very responsive and the location is unbeatable.
Gregory
2017-01-30T00:00:00Z
Josephs' place is an excellent option for staying in a hip part of Portland. It was close enough to the main roads to get in and out of town quickly, and walking distance to many good restaurants and pubs. Its a good size apartment and with the parking space included, everything was a breeze. Joseph was very responsive to any requests that we had.
Peter
2017-04-05T00:00:00Z
Nice location! Nice place!
Truman
2017-03-28T00:00:00Z
Great stay here, very nice to have a parking space too
Daniel
2017-02-12T00:00:00Z
Romtype
Helt hjem/leilighet
---
Eiendomstype
Leilighet
---
Plass til
4
---
Soverom
Portland, Oregon, USA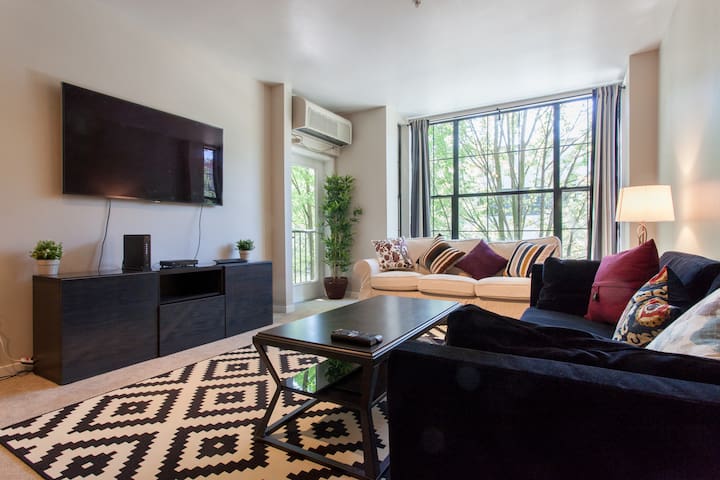 コンドミニアムは、ポートランドの中心部にある、ユニークな快適、便利な中心部に位置する空間です。それはあなたが必要になることがあり、すべての徒歩圏内にあり、路面電車の向かい側に立地。それはあなたの滞在中に必要がある場合がありますすべてのものと完全に家具付きです。
このモダンなコンドミニアムは、建物の最上階に、一人またはビジネスで長期滞在のために、またはポートランドにお出かけになるカップルに最適です!コンドミニアムは、歴史的な建物であるが、完全に近代的な備品や家電製品とブランドの新しいインテリアではない長い前に改装されました。 街の中心部に位置し... - 西パール地区の4ブロック - あなたは多くの素晴らしいバーやレストランを見つけることができNW 21日の東に2ブロック - キュートなブティックやショップが置かれているNW 23日の東に4ブロック - 路面電車の停留所が向かいです - 5ブロック(セーフウェイ、フレッドマイヤーの、トレーダージョーズニューシーズンズ)内の食料品店 - 徒歩圏内少なくとも8醸造パブ(最も近い5ブロックです) - 西側のちょうど約すべてのもの、とだけ迅速バス乗車の歩いて行ける距離で離れた東側から 設備: フルキッチン フルバスルーム テレビ/ケーブル Wi-Fi 洗濯機/乾燥機、オンサイト(クレジット/デビットカード) ロックされた建物
アルファベット地区(別名NW)は無敵です!数え切れないほどのレストラン、バー、ショップ、店舗、公園、徒歩圏内によりがあります。あなたはパールまたは西NW 23日に数ブロック東へ数ブロックを頭にしたいかどうかは、無限の機会があります。 追加されたボーナスは繁華街行くことができます電車、SWのウォーターフロント地区や東側の向かい側に直接されています。これは、滞在するポートランドの最高の近所です。
The perfect place to stay for a weekend trip to Portland. Great location, clean and well appointed, everything you need. Colette is a fantastically thoughtful host. Totally hassle free. Highest recommendation! Thank you Colette!
Andy
2012-04-16T00:00:00Z
Place was central for getting around. Some noise coming through at night, but nothing too concerning. Colette was nice and helpful as needed.
Jeffrey (and Hannah)
2011-08-06T00:00:00Z
Staying at Colette's was a pleasure! She has a lovely condo in a charming building with freindly neighbours and a great little kitty. Her bed and linens are comfy, there is hardly any street noise - we slept great! Checking in was a breeze and from the moment we walked into the building we felt right at home. The neighbourhood is awesome. Really! Colette recommended a truly delicious and even historic place for brunch that was walking distance away. And that wasn't the only tasty place we walked to! Driving to the condo is also is easy as it is simple to find from the #30 highway. We never had a problem finding free street parking in front of Colette's building when we returned from adventures outside the neighbourhood. I'll wrap it up as long reviews tend to be skipped over and I certainly want to help Colette with her Airbnb endeavours. Stay at Colette's and enjoy!
Jessica
2012-04-09T00:00:00Z
Colette made it very easy to stay at her charming apartment. Communication was excellent, key exchange was seamless, the apartment was even better than described, and her cat is completely charming. The apartment is well-situated in proximity to public transportation, and great food and drink. I would highly recommend it.
Elizabeth
2011-12-05T00:00:00Z
She was nice enough to let me stay an extra night upon a last minute request. You can read my other review to see more.
Jeffrey (and Hannah)
2011-08-09T00:00:00Z
The host canceled this reservation 49 days before arrival. This is an automated posting.
Joshua
2017-01-26T00:00:00Z
Colette is a great host! Not only did she have a beautiful, clean apartment, she left snacks and music playing for our arrival. We also made friends with her cat the second we entered the door. NW Portland is a fun and accessible area of the city. My wife and I both highly recommend staying with Colette.
Patrick
2011-08-30T00:00:00Z
Charming apartment in a nice central location- exactly as described! Colette was a fabulous host, answered all our emails quickly and went out of her way to make us feel right at home! She was nice enough to lend us two bikes which made our time in Portland perfect. Her fat cat was so cute and friendly that we almost felt bad going out and leaving it home alone! Highly recommended, and would definitely stay here again!
Karen
2011-09-07T00:00:00Z
Romtype
Helt hjem/leilighet
---
Eiendomstype
Selveierleilighet
---
Plass til
2
---
Soverom
Portland, Oregon, USA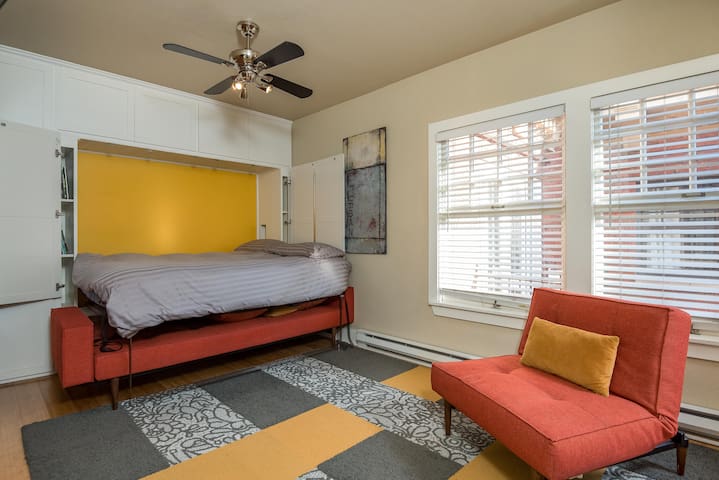 포틀랜드의 유명한 알파벳 지구와 진주 지구 사이에 편리하게 위치하고 있습니다. 이 지하 아파트는 많은 바람직한 위치에 매우 걸어 갈 수 있습니다. 내 자리는 커플, 솔로 모험가 및 비즈니스 여행객을 위해 중대하다.
내 아파트는 매우 이웃에게 진주 지구 및 NW 23 일에서 5 블록 (98 WalkScore®)에서 불과 한 블록 거리에 자리 잡고있다. 당신은 와서 우리의 가정을 방문 할 때 당신은 렌트카가 필요하지 않습니다. 당신이가는 곳으로 산책 할 수없는 경우, 기회는 거리의 자동차가 당신을 데려 갈 수 있습니다. 최근에 개조 및 완비 된 현대 아파트에 머물고의 고급 스러움과 함께, 정통 포틀랜드 라이프 스타일을 살고있다.
10 블록 내 -Countless 맛있는 레스토랑 -Starbucks / 지역 커피 숍 -Oprah 좋아하는 아이스크림 가게 : 소금 & 스트로 -Portland 거리 차 바 -A 다양한 / 밤 생활 -Pearl 지구 -nw 23 일 (알파벳 지구) 에 대한 짧은 도보 거리 -Providence 공원합니다 (통나무 집) -Forrest 공원 (미국에서 가장 큰 도시 공원) -Grocery / 편의점
Perfect for a weekend in Portland. Neighborhood felt very safe and within short walking distance to the Pearl District!
Erin
2017-03-21T00:00:00Z
I great spot to stay in Portland! Close to many restaurants, breweries, and shops. Easy to get to from public transport. Dyrall kept in touch to make sure the trip was perfect. Would stay here again when traveling back!
Zachary
2017-02-28T00:00:00Z
My flight was cancelled at last minute and I needed a place to stay ASAP - Dyrall responded to my request immediately and spared me from having to run around downtown with all my luggage! The location is wonderful, about a 10 minute walk or a 5 minute car ride from downtown. It's cute and clean and wonderful! Would stay here again!
Ryan and Gaby
2017-02-10T00:00:00Z
Dyrall's apartment was very clean, and in the perfect neighborhood! My boyfriend and I were only there for a night, on our way back down the coast, but we definitely enjoyed our stay and would book it again for future trips to Seattle!
Mia
2017-03-27T00:00:00Z
No view, but a great place in a great district.
Jason
2017-03-26T00:00:00Z
Loved staying at Dyrall's apartment. It was clean and in a very walkable location! Spent all weekend in and around Pearl District and it couldn't have been easier. I'd definitely recommend staying here.
Emmett
2017-03-05T00:00:00Z
Great central location, just a couple blocks from lots of great bars and restaurants. Highly recommended.
Brian
2017-03-08T00:00:00Z
Dyrall's place is the best place to stay if you want to feel at home. Plenty of places that are walking distance and also close to the train station. I loved the fact that Dyrall had kitchen things for us to use already in case we needed them. Also, the place was very private which was perfect and the fact that there was a gate made me feel much safer in a city I had never been in before. Highly recommend Dyrall's place for 1-3 people (great for couples) when visiting the lovely city of Portland.
Kaitlin
2017-02-09T00:00:00Z
Romtype
Helt hjem/leilighet
---
Eiendomstype
Leilighet
---
Plass til
2
---
Soverom
Portland, Oregon, USA
Portland - Airbnb
:
Gjennomsnittlig

4.9

av

5

stjerner fra

842

gjesteanmeldelser