My space is good for couples, solo adventures, and business travelers.
Realmente el sitio de Fernanda es precioso!el buen gusto de la decoración,la ubicación de ensueño...volveremos!!
Florencia
2017-03-19T00:00:00Z
Muy buena anfitriona, nos dejó la casa en perfectas condiciones y con algunos detalles que se agradecen: comida para picar por la noche, desayuno, etc Nos recibió su marido y Fernanda, que son muy amables y nos aconsejaron algunos sitios donde ir. 100% recomendable, la casa está súper bien, la zona es muy tranquila pero tiene sitios que ver y playas muy bonitas.
Rubén
2017-03-26T00:00:00Z
Piso bonito y acogedor.
simon
2017-04-09T00:00:00Z
Apartamento excelente, com muita luz natural e uma vista de mar e serra fantásticas. Muito bem decorado, acolhedor e limpo. Reúne todas as condições para uma estadia relaxada e com qualidade. A dona Fernanda e o Sr. António são pessoas muito simpáticas, acolhedoras e acessíveis. Nada de negativo a apontar!
André Macho
2017-03-23T00:00:00Z
Romtype
Helt hjem/leilighet
---
Eiendomstype
Leilighet
---
Plass til
4
---
Soverom
Vila Praia de Âncora, Viana do Castelo, Portugal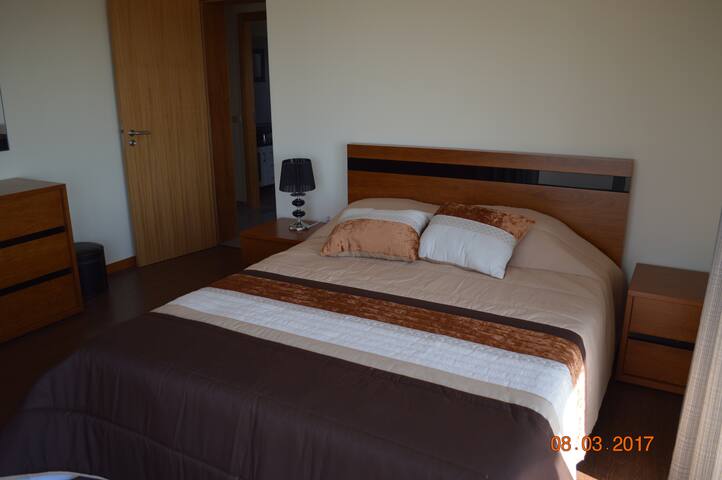 Dans une ancienne et rénovée ferme, un petit et charmant apartement avec 2 chambres, 1 salle de bain et une cuisine. Garage pour 1 voiture, piscine commune, terrasse, barbecue. 2.5kms de la plage. 2kms du centre-ville.
Petit et charmant apartement dans une grande at ancienne ferme rénovée. Piscine commune. Table de ping-pong. Endroit calme. Excellent pour repos tout comme sports, sports d'été et tourisme. Très beau chemin romain pour accéder à la propriété. Eau de source continue (provenant d'une mine se trouvant dans la montage/forêt).
Très calme. Beaucoup de verdure. Excellents paysages. Accès à plage/océan/forêt/montagne/rivière avec eau cristaline, etc.
Our family had a wonderful stay in the cosy apartment in Vila Praia de Âncora in June. The apartment is small but charming, containing everything we needed for our two-day stay. We loved having lazy breakfasts on the terrace and enjoyed many hours in the pool and beautiful garden. Alberto and his family were perfect hosts, making us feel very welcome. Paulo answered our many questions quickly and we felt well-informed about the local area including beaches, castles, towns and local specialities (this is one of the best regions to try vino verde - perfect on a hot summer's day:). We agree with Paulo - Vila Praia de Âncora is one of the best beaches in Portugal! We'd love to come again to this beautiful and peaceful part of Portugal.
Amanda
2015-06-26T00:00:00Z
Our hosts were very friendly. They did not speak English which was not a problem as my husband spoke Portuguese. The outside property is extremely well kept and includes a lush garden and a large, clean swimming pool, which we didn't use due to the weather. The apartment is quite small, but clean and serviceable. The small patio at the front is a positive addition, even though it faces onto the driveway and garage. The property was a bit difficult to find. Best to ask for very detailed instructions on how to get there. The beach, which is 20-30 minutes away by foot, is lovely. The town was very quiet when we were there (late April), which we liked, but I understand it gets quite busy in the summer months. There is an amazing lookout point not far from the property and well worth the drive up the mountain.
Laura
2015-04-29T00:00:00Z
We loved our stay at this location very, very much. The apartment is small but nice and cosy and contains everything which is needed. The outside garden is really lovely. You'll have a swimming pool in the backyard, which is clean and has a very nice scenery. The neighborhood is very peaceful. Alberto and his wife were very helpful. When we arrived the coffee machine was just broken, but they fixed it within an eye blink. One day we took some bikes Alberto provided. Also one for our son (10). It was very nice to cycle around in the vila praia ancora region. The beach in vila praia was more lovely than I expected. Especially the river side beach without current and waves for kids. We can highly recommend this location!
Ingrid
2015-08-10T00:00:00Z
L'accueil a été rapide et cordiale. Le quartier est calme et agréable. Le logement n'a rien de particulier, pas de salle de détente type salon, sombre et équipé avec le minimum. Le logement a besoin d'être un peu investi. En cuisine il n'y a pas le minium, sure, sel, huile, produit vaisselle... L'atout est incontestablement l'extérieur qui est très beau, la piscine et le jardin et très bien entretenu. Pas de chance pour nous il pleuvait et on ne peut pas se mettre à l'abris à l'extérieur.
Mickael
2015-09-18T00:00:00Z
Une belle maison et un accueil chaleureux. Appartement petit mais tres bien aménagé. Merci pour cette joyeuse rencontre :)
Céline
2015-06-23T00:00:00Z
Super accueil de Alberto et de son épouse. Je recommande vivement ce petit paradis de tranquillité dans un écrin de verdure face à la montagne
philippe
2016-08-30T00:00:00Z
Vila praia de âncora is a lovely area - I loved being able to relax, read, swim in the pool and walk to the beach as well as walk in the area. You get some great views up at the Capellas. There are some nice cafés and restaurants at the beach and the mini preços have everything you need. Paulo's parents are very kind and their property is beautiful.
Wendy
2016-07-12T00:00:00Z
We zijn zeer vriendelijk ontvangen op deze heerlijk rustige plek. Het appartement ligt in een prachtige tuin met fruitbomen en een zwembad. Een goede plek om tot rust te komen en van het strand en de verdere natuur te genieten. Nogmaals bedankt voor jullie gastvrijheid!
Marjon
2015-09-13T00:00:00Z
Romtype
Helt hjem/leilighet
---
Eiendomstype
Leilighet
---
Plass til
3
---
Soverom
Vila Praia de Âncora, Viana do Castelo, Portugal
This is a 55 m2 apartment below the main house with its own entrance, hall, kitchen, bathroom, bedroom. Open space area has a wood stove, sofa, big kitchen table + chairs. At the back is a sleeping area with a kingsize bed and cupboard. There is a separate bedroom. There is a coffee/tea corner outside the apartment and terrace with table/chairs. The garden has a stone wall all around. Bikes, wifi, garden- and beach gear, washing machine and barbecue available. Beach and walking trails close by.
The open space apartment used to be a wine cellar. The grape press has been removed and a wood stove and sofa have taken its place. Because of the massive walls the inside is nice and cool during summers. The apartment is full with paintings from the owner. The small tables made of steel are equally made by the owner, a well known painter.
The ocean, the dunes and the white empty beaches. The adorable little city of Vila Praia de Ancora. The large number of walking trails, the beautiful landscape of the Serra d'Arga with cascades, yellow gorse. The villages of Caminha, Ponte de Lima. The bike trail that runs from the North of Portugal to the South bordering the sea. At a 10 minutes walk you are at the River Ancora where you can swim or have a picnic. This is a great place to explore the Minho region.
Romtype
Helt hjem/leilighet
---
Eiendomstype
Leilighet
---
Plass til
4
---
Soverom
Vila Praia de Âncora, Viana do Castelo, Portugal
Quiet location, 10 minutes way from town center and 15 minutes from the beach, by walk. There's public parking at the front entrance. The flat is in the 1st floor. Every room has a double bed, and there's a plus sofa-bed in the living room. Perfect for big groups and families.
Romtype
Helt hjem/leilighet
---
Eiendomstype
Leilighet
---
Plass til
6
---
Soverom
Vila Praia de Âncora, Viana do Castelo, Portugal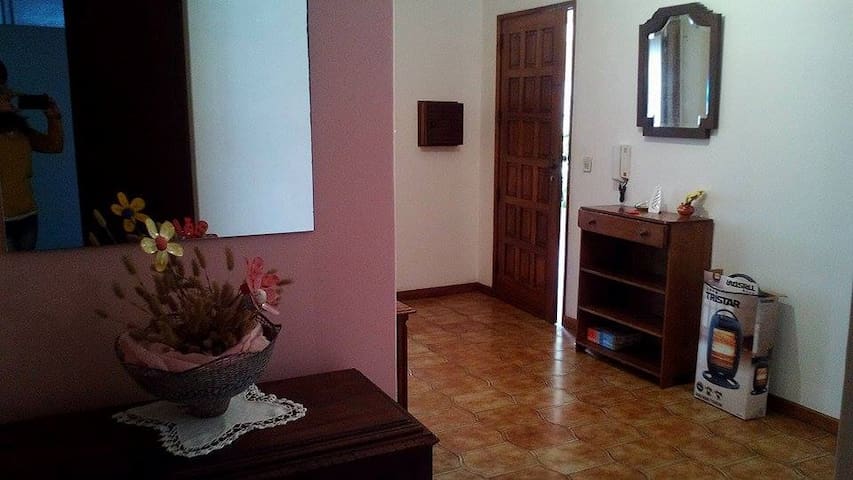 T2 for 4 people + 2 in sofa bed. At 200 meters from the beach. Quiet beach and mountain area in the high Minho coast, near Viana do Castelo, Vila Praia de Âncora and Caminha. There is a SURF school.
Spacious and comfortable. The living room features a fireplace that can be used on cooler days. In addition to the TV there is a Playstation 2 and a set of DVD movies. The kitchen has a toaster and coffee maker.
Apartamento localizado em frente à praia (200m). Existe um supermercado a 2km.
Bernardo's apartment is absolutely perfect for an escape to the seaside! It's very open and light just like the pictures with a comfy bed and powerful shower. The area is quiet - you need a car to get to the sights unless you're happy on the beach. Being able to use the fireplace was a bonus and made the place really cosy. We'd definitely go back.
Charlie
2016-04-04T00:00:00Z
Our host was awesome, very helpful and knowledgeable. We really like the apartment, it was warm and very close to the beach. We had everything we needed, very well equipped.
Wayne
2017-02-04T00:00:00Z
Nos recibió él mismo, nos enseñó el piso y nos dio unas típs sobre dónde hacer la compra y lugares para comer. La casa estaba limpia y ordenada y nos dejó un 'lit' de desayuno. La ubicación es perfecta, con vRias playas cercanas. Repetiremos
Daniel
2016-07-14T00:00:00Z
Apartamento bem localizado, muito perto da praia. Zona tranquila. É confortável e bem equipado. Recomendo!
Angelo
2015-12-27T00:00:00Z
Todo estaba preparado cuando llegamos. Fue muy fácil instalarse y sentirnos como en casa
María
2015-08-20T00:00:00Z
Nice place. Flat's got anything you need, very close to the beach. Contact with Bernardo was absolutely uncomplicated. Nothing to complain, would definitely come back!
Axel
2016-05-22T00:00:00Z
We were met by Bernardo's wife and friend who could not have been more helpful we had arrived by train and the walk is about 25 mins from the station and we got a bit lost( my fault). They kindly took us to a supermarket near by in their car. There is a supermarket almost next to Afife train station as well. The beach is 5 minute walk and is wonderful- clean quiet with wonderful crashing waves- paddling is good but you would have to be a very good swimmer. A wonderful relaxing time-great if you want some peace and quiet. Thank you
Tony
2016-06-23T00:00:00Z
Très bon accueil de la part de Bernardo, qui a su nous mettre à l'aise, jolie attention avec un panier d'accueil! Tous les équipements sont présents pour se sentir comme à la maison
Krol
2016-08-06T00:00:00Z
Romtype
Helt hjem/leilighet
---
Eiendomstype
Leilighet
---
Plass til
4
---
Soverom
Viana do Castelo, Viana do Castelo District, Portugal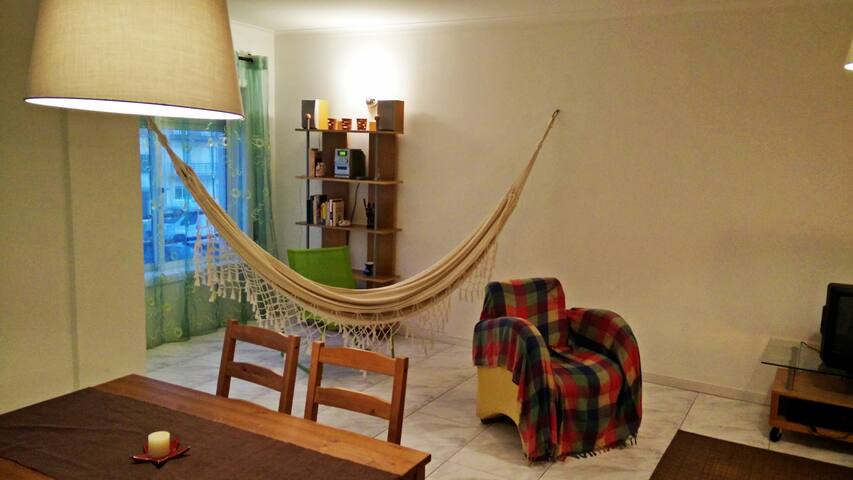 Apartamento a 400m da praia de Vila Praia de Âncora, (120m2), até 6/7 pessoas, com 3 quartos, cozinha, sala espaçosa, wc e despensa, excelente relação qualidade/preço. Quatro varandas com vistas para a praia e montanha. Local tranquilo, com grande quantidade de lugares de estacionamento e jardim.
Localizado perto do centro, sem necessidade de se deslocarem de carro. Viana do Castelo a 15km, Porto a 80km, Guimaraes (Capital Europeia da Cultura) a 60km e Espanha a 25km de carro, ou com passagem no Ferry de Caminha a 8km. Praias de Moledo e Afife a 4km. Praia de Vila Praia de Âncora a 400m. Serra de Arga a aprox. 15km. Vilar de Mouros a 13km. Rua Direita, em Caminha a 8km (Rua de Bares). A menos de uma hora do Aeroporto do Porto. Autocarros directos da RedeExpressos e outras companhias de expressos de diversos destinos para Vila Praia de Âncora. (a 200m da estação de camionagem) Actividades no Mar e praias. Canoagem pelo rio Âncora, parque para crianças em frente à praia, escola de surf, aluguer de bicicletas e karts a pedais. Feira do Mar e da Sardinha, Romarias, Feira Medieval em Caminha.
Calmo, com estacionamento e todas as amenidades por perto.
Romtype
Helt hjem/leilighet
---
Eiendomstype
Leilighet
---
Plass til
7
---
Soverom
Vila Praia de Âncora, Viana do Castelo, Portugal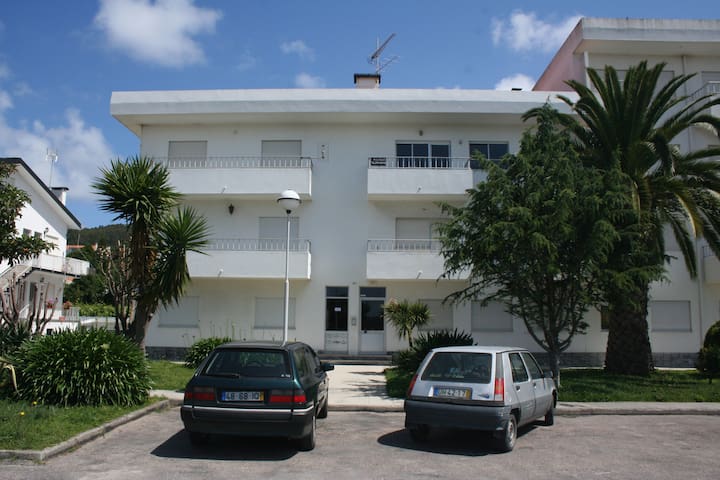 Beach apartment with excellent areas and a large balcony over the sea. Breathtaking view of the beach and mountain. Top floor apartment.
Apartamento de praia (cobertura )com excelentes áreas e uma ampla varanda sobre o mar. Vista deslumbrante sobre praia e porto de pesca. Apartamento de praia espaçoso e com vista deslumbrante sobre o mar. Ideal para praia e surf. 1 quarto com 2 camas de solteiro 1 quarto com 3 camas de solteiro 2 casas de banho completas cozinha equipada sala de estar espaçosa e confortável o terraço é grande o suficiente para barbecue é o 3º e último andar, sem elevador Os hóspedes têm acesso a toda a casa, excepto um pequeno arrumo. Todo o espaço é privativo e sem restrições. Apesar de vivermos no Porto, estamos disponíveis por telefone ou email para prestar todo o apoio necessário. Entregamos pessoalmente as chaves no check in. O apartamento está localizado na 1ª linha da praia, em frente ao forte e com um grande estacionamento público e gratuito mesmo em frente. Há pequenos comércios por perto e uma grande superfície (Continente) na rua de trás. Até à praia é só atravessar a rua, e até ao centro da Vila são 5 minutos a pé. O calçadão passa em frente à porta. A 1h do Porto pela A28 ou A3. A 1h e meia de Vigo. A 20 minutos de Espanha pela ponte de Vila Nova de Cerveira. A 20 minutos de Viana do Castelo e a 10 minutos de Moledo/Caminha. If needed, we are available to help with transportation from Oporto/Oporto airport.
The beach is just across the street and up to the town center, bars and restaurants is a 5 min walk. There are small shops nearby and a large supermarket (Continente) in the back street. The promenade passes in front of the door - great for jogging!
Local muito bem situado mas dúvida com coisas a melhorar!
Sofia
2016-08-15T00:00:00Z
We are a family of five and enjoyed a great week in the appartment which actually provided more than enough space for us. The view from the balcony is magnificent, the beach is just over the street, restaurants and shops also in walking distance. Hand-over of the keys went smoothly, Alfredo was very helpful during our stay. We had a great time in Ancora, thanks!
Julia
2016-09-08T00:00:00Z
El lugar tiene una muy buena ubicación frente a la playa. Las habitaciones son amplias y cómodas. La vista a la playa es espectacular.
Jessica
2016-10-31T00:00:00Z
Très bel appartement en première ligne. Directement sur la plage. Le club de surf est à 50m. L'appartement est très spacieux et bellement aménagé. La vue est superbe. Autant Tatiana que ses parents ont été charmants.
Valerie
2015-10-19T00:00:00Z
O apartamento é muito espaçoso e confortável. Ideal para quem quer visitar o norte de Portugal. Próximo à supermercados, restaurantes, farmácia entre outros serviços. As fotos estão de acordo com a realidade. Sem dúvida, me hospedaria outra vez.
Sueli
2017-02-13T00:00:00Z
quelle vue ! nous sommes tres satisfait du rapport prix/qualite.
michel
2016-07-01T00:00:00Z
This is a beautiful apartment, spacious, nicely decorated and has an incredible view over the sea from the terrace. Me and my partner loved everything about the apartment and would recommend it to anybody traveling to the Caminha coast. The location is ideal and there are lots of parking outside, free to use. Helena and her husband very incredibly kind and helpful- overall the best Airbnb experience one can hope for. Thank you for having us!
Moa
2016-10-01T00:00:00Z
El piso es amplio y cómodo y está ubicado en un lugar privilegiado con unas espectaculares vistas a la playa y a la fortaleza. Buena relación calidad precio.
Manuel
2016-08-29T00:00:00Z
Romtype
Helt hjem/leilighet
---
Eiendomstype
Leilighet
---
Plass til
5
---
Soverom
Vila Praia de Âncora, Viana do Castelo District, Portugal
beachfront duplex apartment living room and kitchen seen sea floor office and large terrace seen sea shower room and bathroom 1 bedroom with bathroom and toilet and a bedroom with bunk bed. kitchen with fridge microwave oven TV room plate.
Anfitrião muito simpático e amável que nos deu todas as informações necessárias. O apartamento é muito bom com grandes varandas e vista espectacular, equipado com tudo o que é necessário. Boa localização. Recomendo!
Patricia
2016-08-01T00:00:00Z
Anfitrião muito acessível, simpático e agradável! Casa excelente para passar uns dias com familia ou amigos numa das zonas mais bonitas de Portugal! Experiência a repetir!
João
2016-09-04T00:00:00Z
El piso está perfecto tiene todas las comodidades en especial la cocina está equipada con todo lo imaginado. Es un piso muy luminoso y las persianas funcionan genial oscuridad 100 de noche. Muy espacioso, la calefacción fenomenal y nosotros fuimos en Navidad, el agua caliente excelente mucha presión. Las terrazas un lujo y equipadas con todo lo necesario para disfrutar de las vistas. Es un barrio tranquilo y silencioso y el pueblo está muy cerca se puede ir andando. Hay super muy cerca y panadería lo cual es un peligro para los que adoran el pan de Portugal como nosotros. Caminha está a 10 minutos y Viana do Castelo a 15 la ubicación es muy buena . Quizás la única pega es que la tele vía saletite solo tenía canales en francés pero como tiene dvd y usb pues nos llevamos nuestras propias películas. Estuvimos muy a gusto.
raquel
2017-01-05T00:00:00Z
La llegada al duplex fue maravillosa el señor philippe muy amable y simpatico nos indico todo lo necesario. Encantados con su espacio enorme y sus terrazas donde hemos podido disfrutar del sol.
inmaculada
2016-07-17T00:00:00Z
Romtype
Helt hjem/leilighet
---
Eiendomstype
Leilighet
---
Plass til
5
---
Soverom
Vila Praia de Âncora, Viana do Castelo, Portugal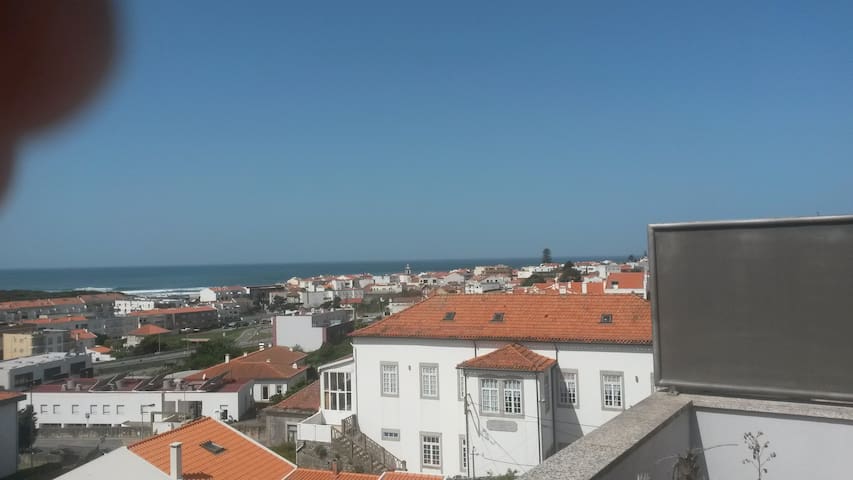 Apartamento em rés-do-chão com entrada independente, diretamente da rua. Terraço frontal com otimas vistas sobre a Vila e o mar. Boa cozinha, sala de estar e de jantar, três quartos totalmente equipados, dois wc e uma boa garagem. Preparado para que tenhm o máximo conforto em período de férias.
Romtype
Helt hjem/leilighet
---
Eiendomstype
Leilighet
---
Plass til
6
---
Soverom
Vila Praia de Âncora, Viana do Castelo, Portugal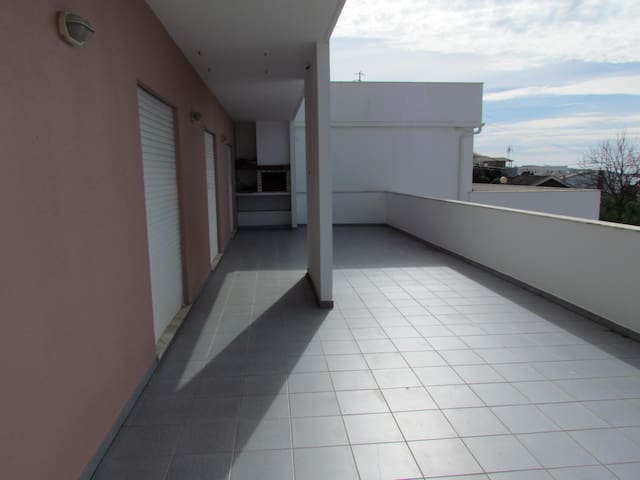 Brand new one bedroom apartment in city center, at only 500m from the beach. Very quiet no exit street, public parking at 50m, shops and restaurants. Sleeps 4 adults. Baby and children friendly, with baby bed, high chair, bathtub and toys.
This property is located in the city center, but in an extremely quite no exit street. Public parking can be found just a few meters away. The apartment is composed of an open kitchen, living room, one bedroom with double bed and one bathroom. It can comfortably fit up to 4 people, with the sofa-bed in the living room. Babies and children are also welcome.
Apartamento novo (parecia a estrear!), limpo e com todas as amenidades necessárias e anunciadas. Adorámos o pequeno terraço onde se pode relaxar ao sol. Ainda que a entrada se faça por uma rua pedonal, é fácil estacionar o automóvel perto mesmo nos meses de Verão e de maior movimento. As proprietárias estiveram sempre disponíveis para qualquer questão, e foram bastante flexíveis e compreensíveis com o horário de check-in.
Joana
2016-08-14T00:00:00Z
Superbe séjour, très bon accueil avec une vue superbe sur l'océan depuis le balcon. Appartement très agréable et silencieux, pas besoin de la voiture vue la proximité des commerçants et de la plage ! Merci encore Catarina pour l'accueil chaleureux de ta mère !
Chistine
2016-07-02T00:00:00Z
New apartment, very clean, well located near to the beach, very quiet. I strongly recommend it.
Estefânia
2015-07-28T00:00:00Z
Super semaine dans cet appartement. Il est idéalement placé, tout peux se faire à pieds. Une jolie terrasse avec vue sur l'océan et une salle de bain moderne.
Eva
2016-08-22T00:00:00Z
We were very, very pleased with the flat and the overall rental, The flat is brand new and modern, nested in a small and quiet alley together with the other downstairs flat, attached to the host's mother's home Everything was handed to us clean and all the cupboards are full of everything you'll need, from cooking utensils to bath towels etc. We loved the small terasse which has 4 chairs, a table and a sun umbrella, and will let you make the most of the view on ancora's roofs and the sea at days, and the finest portos before you go out at night ! The terasse has stairs to a small inner garden but it is blocked with a tree pot so we had full privacy since the entrance is on the other side. The location is spot on, right near the market place (held on Thursday mornings), 5 min walking to the town center/shops, 5-10 min walking to the beach depending on how long you spend at the pasteleria :) The amenities are very nice, bathroom is modern as well with a very nice shower. You also have a washing machine, which is always handy. You even get a real coffee machine with a percolator and everything. Only point to be improved for us would be the size of the bed, which is a 130cm (I understand this is the usual in Portugal). We could have used a bit of extra space and a bit less of squeaking to make it really comfortable ! We did not see Catarina as she was not in Portugal at the time but the mail exchanges were nice and quick, and we got the keys and tour of the flat from her mother who owns the house attached, and is a lovely lady as well. We would definitely recommend the flat, and consider coming back during our next stay in VP de Ancora ! !
raphael
2015-08-27T00:00:00Z
Wszystko było super - na miejscu przywitała nas mama gospodyni, która przekazała klucze. Mieszkanie piękne, zgodne z opisem i zdjęciami, w świetnej lokalizacji - kilkaset metrów do jednej z najładniejszych plaż w północnej Portugalii. Dookoła kilka fajnych restauracji. W nocy cicho i spokojnie. Gospodyni pożyczyła nam sprzęty dla dziecka - wanienkę, łóżeczko, krzesełko. Gorąco polecam!
Adam
2015-09-23T00:00:00Z
W apartamencie spędziliśmy tydzień. Z Catariną bardzo sympatyczny kontakt mailowy, na miejscu zajęła się nami jej mama - bardzo pomocna i miła osoba. Apartament idealny dla 2 osób, czysty, zadbany, wygodny, z fantastycznym prysznicem. Kuchnia dobrze wyposażona. Jest też niewielki ale przyjemny taras z którego widać ocean. Mieszkanie zlokalizowane w bardzo dobrym miejscu, blisko pięknej plaży i głównej ulicy. Obok hala targowa ( czynna w czwartki). Nie było też żadnych problemów z parkowaniem samochodu - na ulicy obok domu. Bardzo polecam i apartament i samą miejscowość. To był świetny tydzień.
Beata
2016-07-11T00:00:00Z
The accommodation is really nice - everything is new and clean, a nice balcony, a fully equipped kitchen, ... You can walk to the beach and into the city in a few minutes. Catarina is very nice and helpful, thank you!
Annika
2015-07-24T00:00:00Z
Romtype
Helt hjem/leilighet
---
Eiendomstype
Leilighet
---
Plass til
4
---
Soverom
Vila Praia de Âncora, Viana do Castelo, Portugal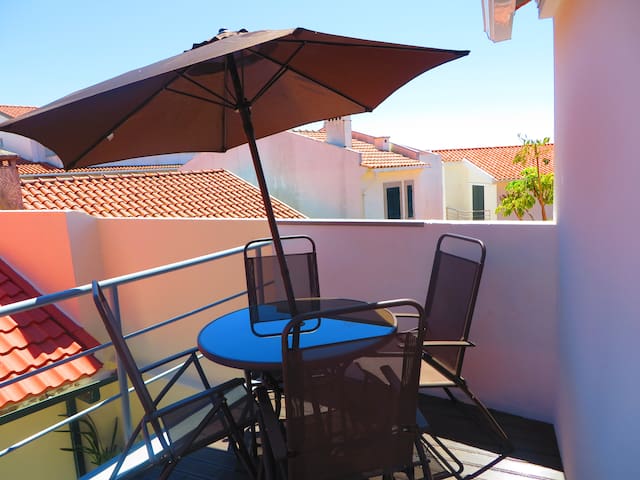 My place is close to The Beach, The city center, The Train, Public Swimming Pools, , Restaurants and Dining.. My place is good for couples, solo adventurers, business travelers, and families (with kids).
Each studio apartment has accomodations for 2 guests.. there are no additional charges per night. Our fully equipped kitchens in each apartment reflect our over 20 years in the restaurant business, even to our extractor fans. The living space also has a full size sliding glass door which allows light and much ventilation as well as climate control, We also offer parking in our underground garage at a nominal fee 5 €/day. A great advantage is you can visit by train from the international city of Porto by train. Once here you can get to all essentials by foot and enjoy our picturesque town and enjoy a long comfortable stroll on our flat pristine beach just a block from the hotel. There are water sports for those who enjoy surfing, and kayaking river canoeing and much more.... My place is good for couples, solo adventurers, families (with kids), and big groups.
You can enjoy our local fish market with the fresh catch of the day. There is a very community oriented Market each Thursday to give you a chance to shop and enjoy the bazaar like feel of an Outdoor/ indoor market.
Muy buena experiencia, muy buen sitio y muy buena atención. Recomendable.
Alejandro
2017-01-01T00:00:00Z
Excelente atención sumamente bien ubicado y muy bien suplido el apartamento para estadías cortas y largas. El anfitrión atento a todo detalle y pendiente de los detalles
James
2016-06-07T00:00:00Z
Romtype
Helt hjem/leilighet
---
Eiendomstype
Leilighet
---
Plass til
2
---
Soverom
Vila Praia de Âncora, Viana do Castelo, Portugal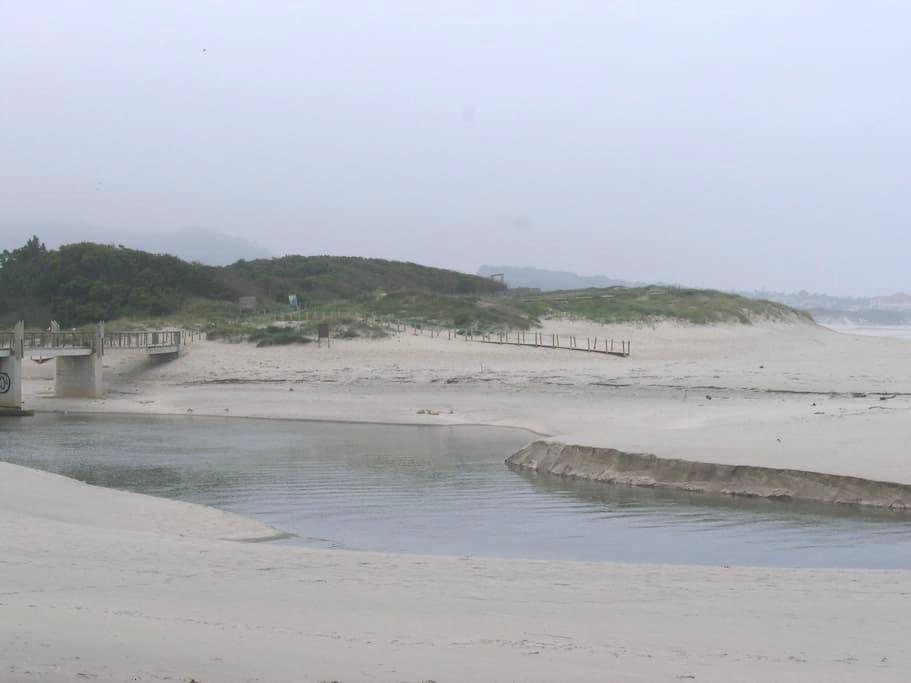 Apartamentos localizados no centro de "Afife" no 1º e 3º e ultimo andar com orientação Noroeste, cercado apenas por casas, da sala e cozinha vistas sobre o mar, e dos quartos, vistas para a montanha e centro de Afife..
Alojamento totalmente equipado, excelentes áreas, num total de 125mt2, cozinha e sala com orientação Noroeste , com vistas sobre o mar, e servido por uma varanda exterior, 2 quartos orientados para Este , com varanda fechada e com vistas sobre a montanha ,
Local de natureza, próximo do mar e rio , inúmeros restaurantes á disposição ,situado em local tranquilo ,
Отличная квартира, две спальни (есть обогреватели), ванна (есть обогреватель), большая гостиная-кухня (с настоящим камином, хотя и не пользовались), просторный коридор. Два (!) балкона, вид на океан и вид на Афифе. Все необходимое есть - плита (газ), духовка, чайник, кофемашина и т.д. Для проживания пары места более чем (и даже с запасом). Антонио отлично обо всем позаботился, дал много советов куда сходить, что посмотреть. Рядом есть и магазин и кафешки, банкомат. До берега немного пройти через дорогу. Можно прогуляться через Афифе в сторону гор-леса, там живописные тропки, монастырь и речка Кабанас. В не пляжный сезон может быть немного прохладно, т.к. дом стоит ближе к океану и на открытом пространстве.
Aleksandr
2017-03-19T00:00:00Z
We really enjoyed our stay at the apartment! Everything was really nice and Antonio was very helpful whenever we needed something! We would love to come again!
Felix
2016-03-26T00:00:00Z
Die Wohnung war sauber ,und eine Bekannte von Antonio gab uns die Schlüssel. Im Haus war es ruhig ,die Nachbarn gruessten freundlich.
Theo
2016-04-30T00:00:00Z
Antonio est un hôte très attentif et disponible qui nous a conduit à notre appartement dès notre arrivée. L ' appartement est très agréable avec une vue magnifique sur la mer , les lits étaient prêts et nous avions le linge de maison disponible. Il s 'est toujours investi pendant le séjour pour notre bien être (bois pour la cheminée, verification du gaz régulière ). Nous avions toutes les informations pour visiter la region et le nord du Portugal.
Emmanuel
2016-04-16T00:00:00Z
We stayed in the flat of the 1st floor (Antonio has two flats in the building) and we were very happy with it. The flat was spacious, very clean and nicely prepared for our arrival. The kitchen was well equipped. The village of Afife is very lovely and authentic. Antonio was also helpful and had a lot of suggestions as to restaurants in neighbouring towns etc
pille
2015-04-18T00:00:00Z
Terrific flat. Enough space for a whole family. But we were only two persons, so we enjoyed it and as well the spectacular views at the sea. Antonio gave us a warm welcome and explained everthing with patience. Really kind. Afife is weeny and poetic village to stay there some days and enjoy the beach and countryside. Thanx
Danny
2016-06-11T00:00:00Z
Romtype
Helt hjem/leilighet
---
Eiendomstype
Leilighet
---
Plass til
6
---
Soverom
Afife, Viana do Castelo District, Portugal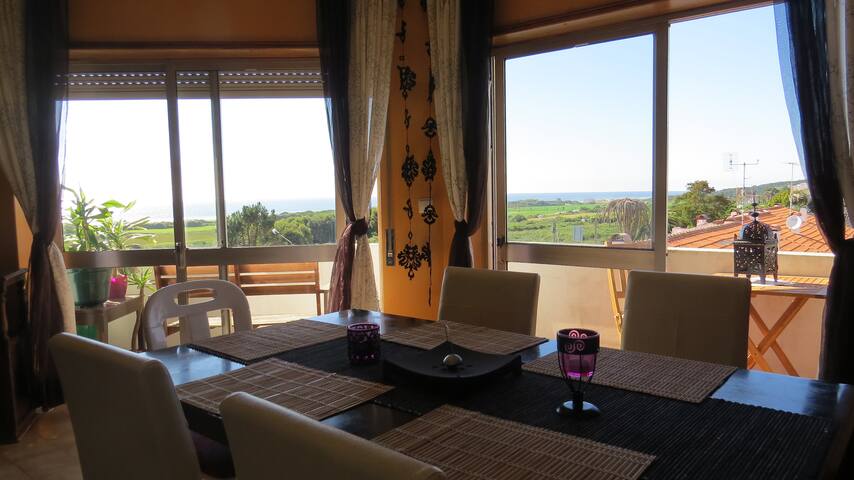 Dans une ancienne et rénovée ferme, un petit et charmant apartement avec 2 chambres, 1 salle de bain et une cuisine. Garage pour 1 voiture, piscine commune, terrasse, barbecue. 2.5kms de la plage. 2kms du centre-ville.
Charmant apartement dans une grande at ancienne ferme rénovée. Piscine commune. Table de ping-pong. Endroit calme. Excellent pour repos tout comme sports, sports d'été et tourisme. Très beau chemin romain pour accéder à la propriété. Eau de source continue (provenant d'une mine se trouvant dans la montage/forêt).
Très calme. Beaucoup de verdure. Excellents paysages. Accès à plage/océan/forêt/montagne/rivière avec eau cristaline, etc.
Très bon accueil à notre arrivée. Alberto et sa femme sont très gentils et disponibles en cas de besoin. Le logement est conforme aux descriptions. Les équipements extérieurs, piscine, jardin ont rendu les moments de détente sur place agréables. Du reste, Vila Praia de Ancora est sympa, avec sa grande plage et restaurants au bord de mer. Le Nord du Portugal a beaucoup de charme et de nombreux cites sont à découvrir. Un séjour en famille qui est passé trop vite ! A recommencer...
Betty
2016-08-15T00:00:00Z
Being perfectly honest about our stay, the house didn't really meet our hopes and expectations, and we chose to move on to another property before our booked week was up. Starting with the positives - the house was clean, the pool and gardens were attractive and we were given a warm welcome. However there were various problems including hard as nails lumpy pillows, no hot water for the first couple of mornings, a problematic oven, cutlery which fell apart in our mouths as we ate, the lack of any basics even down to salt and pepper to facilitate your stay...The owners did respond to us raising issues like the cold water which was appreciated although at times we were made to feel like it was somehow our fault. Admittedly the mediocre weather didn't help but we found the house dark and claustrophobic and it lacked the privacy we sought. Hey ho. Others who don't mind this might adore the place and it was certainly cheap. But we felt that it needed an injection of love and money to bring it up to what we would hope for on holiday.
Lucy
2015-06-29T00:00:00Z
Alberto and Luzia are the best host you can get. Extremely friendly and helpfull. We had a wonderful stay and their property is like a dream with characteristic old stone houses, a beautiful garden where you can enjoy appels, plums, pears, lemons and even passionfruits. Also the kids had a great time because they could go and run everywhere and may help with watering all the plants and flowers. Alberto and Luzia are also very child minded and brought us an extra childseat, bath and toys for them. We really felt at home and will definitely come back. Highly recommendable to other guests!
Stephanie
2015-08-04T00:00:00Z
Wir hatten eine wunderbare Zeit bei Alberto. Er und seine Frau waren sehr hilfsbereit und haben uns bei allen Anliegen geholfen. Die Anlage war sehr gepflegt und kinderfreundlich, in dem schönen Garten gibt es eine Schaukel für kleine und größere Kinder.
Kirstine
2016-07-24T00:00:00Z
Thankyou both for such a lovely time! Alberto and his wife are really kind and helpful people. I was really blown away by their wonderful farm. Since arriving back I have been sending the link to all my friends. My dad and I felt like we had discovered a little jewel. It was so tranquil and beautiful with so much nature to watch we felt totally relaxed. We will be back xx
Kathy
2015-06-17T00:00:00Z
Alberto and family made us feel very welcome in their lovely home and garden. The flat is self-contained but has access to their beautifully maintained garden, pool and ping-pong table that the children really enjoyed. There is a natural spring-fed pool outside and the whole place feel lush and green. The apartment itself is quite small and basic but this is made up for in the gorgeous surroundings, facilities and nearby access to the local village and amenities. The location is also stunning with views of the sea and the hills.
Mary
2016-08-20T00:00:00Z
We had a lovely stay in Vila Praia de Ancora. The gardens and pool were absolutely great - perfect for our two kids who spent most of their time in the pool. There were delicious plums in the orchard which our hosts kindly told us to help ourselves to. We found Alberto and his wife most helpful. The village itself is also very nice, situated right on the beach with plenty of restaurants. It is very close to the Spanish border so we went on a day trip, taking the ferry which was a great experience. We really enjoyed our stay.
Caroline
2015-07-04T00:00:00Z
Romtype
Helt hjem/leilighet
---
Eiendomstype
Leilighet
---
Plass til
4
---
Soverom
Vila Praia de Âncora, Viana do Castelo, Portugal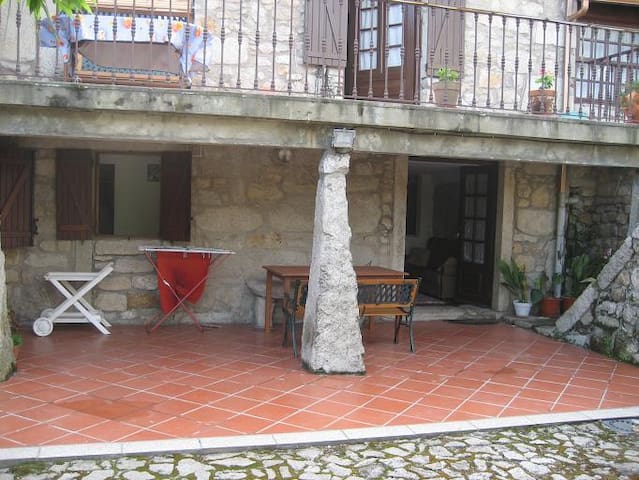 Dans cet appartement décoré avec style, vous pourrez savourer la douceur des rayons du soleil sur votre terrasse privée. C 'est un appartement traversant, terrasse coté chambres et balcon coté salon et cuisine. Le soleil est toujours présent. Du salon, on peut admirer les vagues de l'océan atlantique et profiter d'un verre au coucher du soleil. Cet appartement est très agréable et lumineux.
Un barbecue est à votre disposition sur la terrasse
C'est une ville balnéaire très agréable et la rue est commerçante sans être bruyante
Romtype
Helt hjem/leilighet
---
Eiendomstype
Leilighet
---
Plass til
4
---
Soverom
Vila Praia de Âncora, Viana do Castelo, Portugal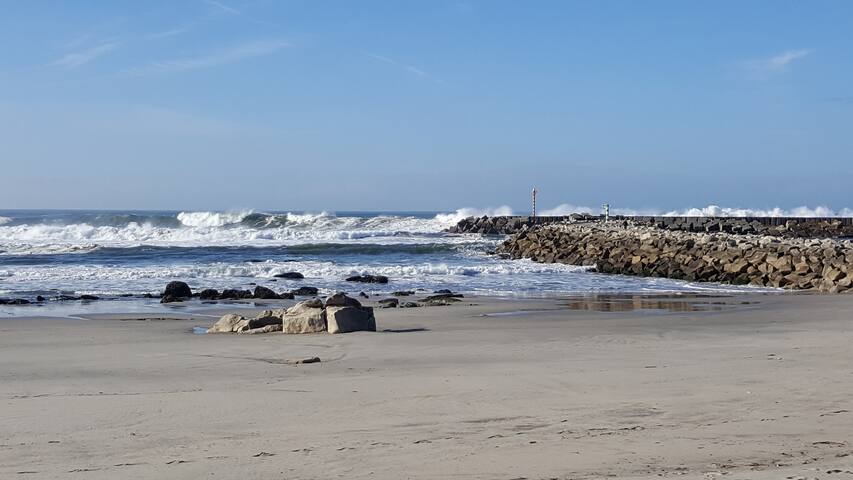 Rural tranquility in quiet garden with pool and sea view Non-smokers No traffic noise, no neighbours. We live in the main house and we rent the two bungalows across the garden. We respect your need for privacy but we are around if you need us.
Description of our house NOTE: First of all please note that in July and August the minimum stay is seven -7 - nights rest of the year four nights. If you stay for more than 10 nights we offer special discounts but due to Airbnb rules this can only be negotiated directly after you have paid Airbnb for the first 7 nights. Price per night E-75 but for second week E-60. Non-smokers only. Description: We live in an old peasant's house which used to have a wine making cellar where we now have our library/office. The house has remained the same on the outside but we have changed the inside . In the garden we have a barbecue area plus a 5x10M pool, a laundry room and barbecue "common room", plus a small WC and an outdoor shower. To let/guest apartments: in the garden we have two one bedroom fully equipped bungalows (twin side-by-side equal buildings) which we rent or use for visitors (non-simultaneous home exchangers or friends). Each bungalow has a bedroom with twin beds, a WC/shower, a living area with a couch, dining table, fridge/freezer, micro-wave and two hot plates to cook, etc. we provide clean bath, kitchen and bedroom linen and for longer stays (over 10 days) we might be able to organize a cleaning-lady for you for Euros-35 plus change of linens. We can drive you to and from Oporto or Vigo (Spain) airports for a petrol fee of Euro_60. And by arrangement and no extra fee we can drive you around here for short sightseeing or shopping trips! We usually give our guests a key for our winter room in the main house so they can can use their own laptop with wi-fi connection. We have pets (2 cats one too old to move out of her corner) but if you do not like pets we will get someone to take care of them should we be away during your stay. We have had guests who are allergic to cats and yet there was NO problem as the garden is large and they roam the neighborhood freely and can easily be kept at bay if need be! We are serious about you but informal,flexible, friendly, and welcome all honest suggestions or negotiations.
Paula's and Alda's garden bungalow is the perfect place for a relaxing holiday! We had the most wonderful time there and enjoyed the apartment as well as its lovely surroundings and the swimming pool. The hostesses are extremely nice and go above and beyond to make you feel welcome and comfortable.
Claudia
2015-07-15T00:00:00Z
Thank you for your warm welcome! Such a beautiful home and garden. We enjoyed exploring the local hills and beaches and made good use of the pool. Highly recommend and thank you again.
Susie
2015-07-25T00:00:00Z
We stayed in the Fantastic bungalow for one week and came back totally relaxed. The beautifull garden makes this place serene. The location is very central which gives you a lot of options; city, forest or beach. Lastly Paula and Alda are fully skilled in the art in making People feel at home.
Querijn
2015-08-02T00:00:00Z
Great place to stay, caring hosts, good pool with a view towards the ocean. Many nice walks available around Afife - ask the hosts.
Fraukje
2014-08-25T00:00:00Z
Paulas bungalow is one of the best places we stayed in Portugal. Paula took care of us and we enjoyed the "little paradise". The garden is lovely and we enjoyed the swimming pool because the sea is often windy. You will find everything in the bungalows. In addition, we could use all garden material (baby pool etc.) which was really great.
Maria
2014-08-16T00:00:00Z
My girlfriend and I spend a fantastic week at Paula and Aldas place in the summer of 2014. We stayed in one of the bungalows across from the hosts home, but it felt like we had the whole place to our selves. We had a rented car that we parked in the garage, and Afife turned out to be an exelent spot for exploring northen Portugal by car. When we weren't out traveling to Porto, Geres National Park or the Douro or Minho rivers, we relaxed by the pool and in the elustious garden. The beach is great though the water cool and waves high, we did manage to go swimming. The hosts are also awsome. When some idiot stole our lugage from our car in Nazare (aka the tourist hell hole) the sweet and helpfull host Alda who is also attorney at law took us to the police station and translated and guided us for 2 hours till we had the right info for our insurance. Thank you so much! We strongly recommend this place to anyone who want to experience Portugal that has much more to offer than just sandy beaches. Best from the Danes
Nicholas
2014-07-23T00:00:00Z
What a wonderfull place Paula and Alda have, a true haven of tranquility with a lush green garden and swimmingpool and a lovely few of the surrounding hills and in the distance the sea. My son (15) and I felt really at home, the bungalow is very spacious and well equipped, we were welcomed by Alda with some wine, bread and cheese which was very thoughtfull after our long trip. We very much enjoyed the quiteness, the stretchers at the swimmingpool and the swimmingpool itself of course, the BBQ and our hosts who are very nice and considerate of our needs, showing us trips to do in the neighbourhood, taking care of our laundry and helping is to start the fire in the BBQ. Very nice beaches are close by as well as very tipical Portuguese (fishing) villages as Viana do Castelo and Caminha an don't forget Porto which is at one hour drive distance. We very much enjoyed staying in Paula's place, one week was too short actually!
Katja
2014-08-10T00:00:00Z
Paula and Alda are wonderful hosts and make staying in this bungalow an absolute delight. The garden is so relaxing, the pool inviting and everything you need is there - super comfy beds, roomy shower, well appointed kitchenette, fab BBQ, enough privacy and they are great company. We wanted a relaxing break where we could read quietly, cook local food and run and play tennis conveniently close by. We achieved all of this and were fortunate enough to be introduced to some of P&As friends who were just as interesting warm and hospitable as our hosts. Jimmy the cat adopted us and we would happily have stayed another week or two longer - infact moving in would be a great option! Can't rate this highly enough.
Suzanne
2015-09-01T00:00:00Z
Romtype
Helt hjem/leilighet
---
Eiendomstype
Leilighet
---
Plass til
2
---
Soverom
Afife, Viana do Castelo District, Portugal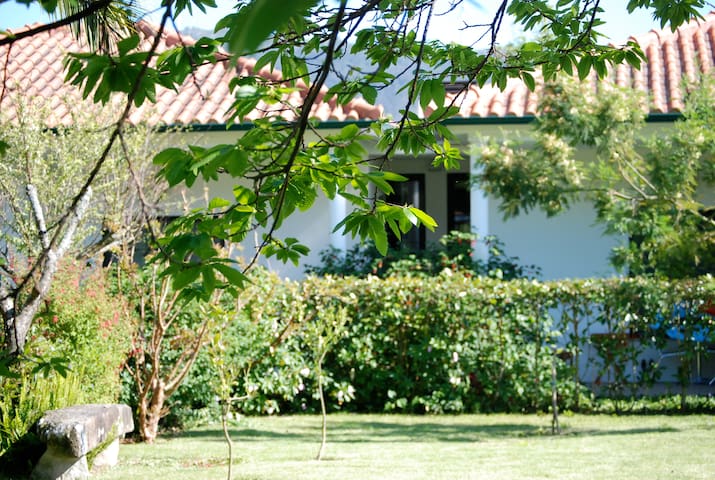 This 2 bedroom apartment is opposite the beach need only cross the road and your feet in the sand. It is a large apartment with 2quartos and bright, with balcony to catch some nice baths great sol.É either summer or winter, is 20 minutes from Viana do Castelo, a 1h from Porto airport, 1h from Vigo, 20 min from La Guardia.
It is only by the sight of sea and mountain, just need to take the towel to set foot in the sand, has the auction 100mts and the center of the village 50m.
Romtype
Helt hjem/leilighet
---
Eiendomstype
Leilighet
---
Plass til
6
---
Soverom
Vila Praia de Âncora, Viana do Castelo, Portugal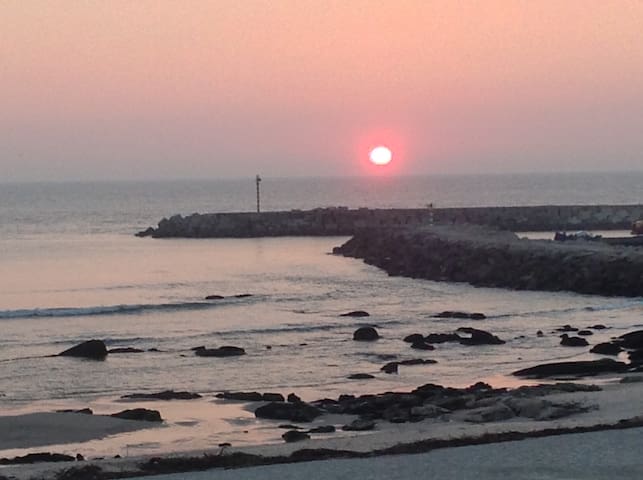 My space is close to the beach and restaurants and meals. You'll love my space because of the views, the location, the people and the environment. My space is good for couples, solo adventures, families (with children), large groups, eamigos furry (pets).
Romtype
Helt hjem/leilighet
---
Eiendomstype
Leilighet
---
Plass til
4
---
Soverom
Afife, Viana do Castelo, Portugal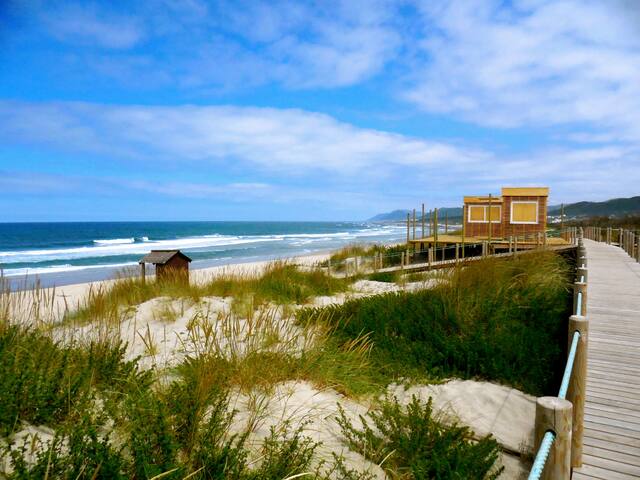 Apart 1st floor, lift, 5mn beach, kitchen, 2 bedrooms, balcony facing the sea, terrace with mountain view. Ideal for couple with 2 children. Private parking. 2 "vintage" bikes.
This property is located between sea and mountains can be accessed either by building or by outside.
The beach stretches for several kilometers of a diverse manner of shellfish through surfing. The walks in the mountains along small rivers that cascade, many markets in the very typical surrounding villages and the warm welcome of Portuguese. What I like especially in this region is that it has kept its charm. Do not miss Ponte de Lima, Guimarães, Braga and Porto ect .....
Romtype
Helt hjem/leilighet
---
Eiendomstype
Leilighet
---
Plass til
4
---
Soverom
Afife, Viana do Castelo District, Portugal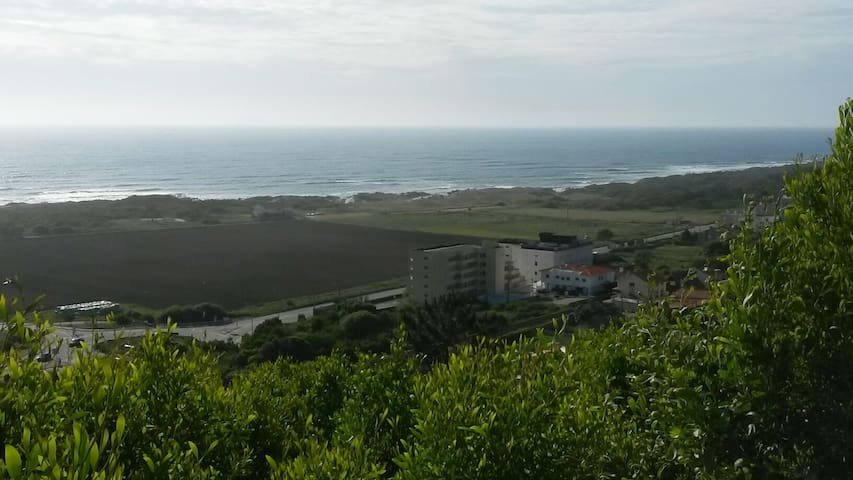 1

–

18

av

233 Leiligheter til leie
Oppgi datoer for å se fullstendige priser. Ekstra gebyrer gjelder. Skatter vil kunne tilføyes.