By the waters of the dam, the Aparts. Slate floor give you a stay in an idyllic spot where you can practice water sports, hiking through the mountains or just sit on the porch, listening to the chirping of birds.
Casa acogedora, una perfecta excusa para pasar unos días en paz y armonía con la naturaleza abrumadora que te rodea. Anfitriones generosos, respetuosos y atentos a demás de agradables, silencio total y el río una pasada. Muy recomendable. Lo único "malo", la lejanía de los pueblos de alrededor, supermercados etc.. en coche 10 minutos.
Pablo
2016-07-18T00:00:00Z
Nous avons passé un agréable séjour chez Roberto et sa femme. Hôtes agréables serviables. Si vous chercher le calme alors allez y sans aucune hésitation. Avons passé d'agréables moments au bord de la rivière et belles randonnées à faire. Malgré la barriere de la langue bon échange, Roberto à tout fait pour traduire nos conversations avec sa femme.
Patrice
2016-08-13T00:00:00Z
Roberto was a great host, warming and friendly. The house is exactly has depicted, even firewood was available. The surroundings are peaceful and beatiful and I even made friendship ... with the dogs the property had (and also a little wild bunny who was there also). Highly recommended if you want to just rest and relax in a breathtaking place.
Hugo
2016-05-04T00:00:00Z
Wonderful part of the world! Very nice house, comfy bed, and great view.
Agnieszka
2016-09-12T00:00:00Z
The place is located at the end of a country road in a remote part of Portugal on river Zezere. There are no services anywhere close by, and you need to bring all your food and supplies, including paper towels and condiments. We have not met Roberto, but his wife Thais was helpful in getting us settled in the downstairs apartment. After that we were on our own. The apt is rather small, and most suitable for one, maximum, two people. The kitchenette can only hold one person at time, and not really suitable for any serious cooking. It did not have a microwave. The place is clean, and cool even in a strong heat. The access to the river is by a dirt road and then by a narrow path thru the woods. Beach is rocky, but it may be one if just a few accessible points on this river. We enjoyed a swim in the heat of the day. Most villages didn't have any kind of access. Note that there are multiple dogs in the area and they bark at night when wild pigs pass by.
Kate
2016-07-25T00:00:00Z
Simpatia e disponibilidade imensuráveis, além de um enorme talento tanto do Roberto como da Tais. Local paradisíaco ideal para um fim de semana ou férias, tanto para nós como para as nossas cadelinhas. A casa prima pelo bom gosto e limpeza. Vamos com certeza voltar.
Sónia
2016-09-18T00:00:00Z
The host canceled this reservation 42 days before arrival. This is an automated posting.
Olga
2016-05-25T00:00:00Z
Séjourner chez Roberto et Tais est une étape incontournable !!!!
chantal
2016-10-02T00:00:00Z
Romtype
Helt hjem/leilighet
---
Eiendomstype
Leilighet
---
Plass til
4
---
Soverom
Santarém, Santarém, Portugal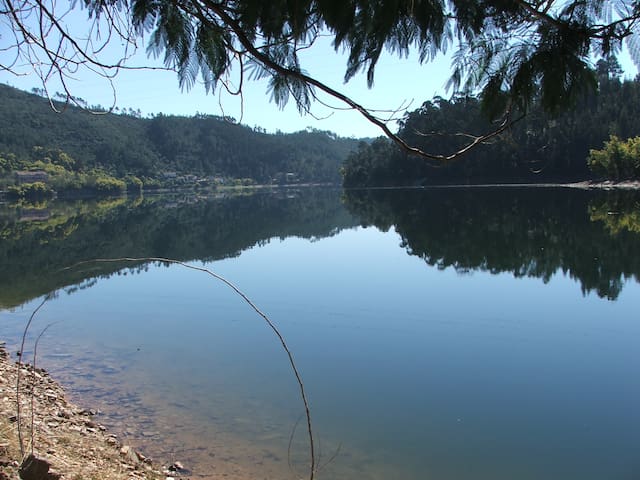 The host canceled this reservation 4 days before arrival. This is an automated posting.
Cristina
2016-08-16T00:00:00Z
Fomos muito bem recebidos, o facto de se poder levar animais é uma mais valia. A casa era bastante agradável e com uma vista fantástica sobre o rio. Dornes é um pouco isolada e sem grandes atractivos à noite mas óptimo para quem precisa de se retirar um pouco da agitação e isolar-se.
Sónia
2016-08-08T00:00:00Z
our host was very nice
Sara
2016-08-23T00:00:00Z
A estadia superou muito, a expectativa criada pelas imagens do anuncio. A vila de Dornes é um local mágico e único, que recomendo visitar. E a casa do Sr. Luis o local ideal para disfrutar, com uma vista mágnifica para o Rio Zezere, Santuário e Torre Templária. O Sr. Luis esteve sempre disponivel para ajudar no que fosse necessário. E a sua casa têm todas as condições para umas férias ou uma escapadela de fim-de-semana.
Rui
2016-08-21T00:00:00Z
Romtype
Helt hjem/leilighet
---
Eiendomstype
Leilighet
---
Plass til
4
---
Soverom
Nossa Senhora do Pranto, Santarém-distriktet, Portugal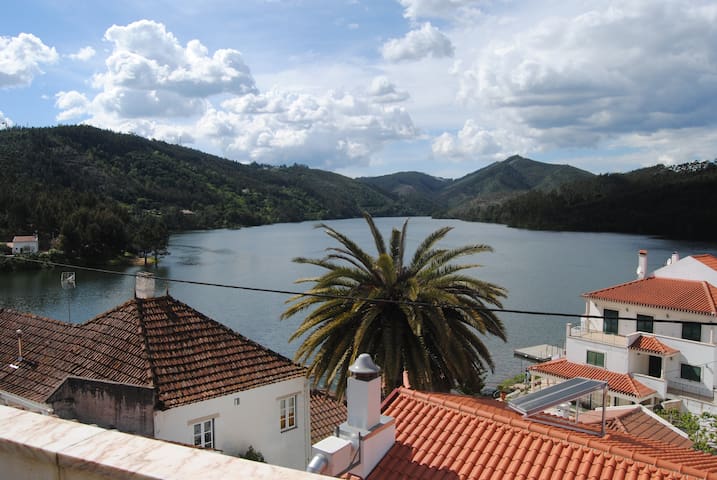 Junto às águas da Barragem, os Aparts. Chão da Lousa proporcionam-lhe uma estadia num local paradisíaco, onde poderá praticar desportos náuticos , passeios pela serra ou ficar simplesmente sentado na varanda, ouvindo o chilrear dos pássaros.
Os Apartamentos Chão da lousa localizam-se numa pequena quinta rural junto à Albufeira do Castelo do Bode.
Fomos muito bem recebidos em Rio Cimeiro. A casa é confortável e tem tudo o que é necessário para uma curta estadia, para além disso tem uma vista muito bonita para o rio.
Cidália
2016-01-02T00:00:00Z
First, the hosts. After about an hour I felt as if I was staying with old friends. Roberto & his wife Tais are warm and charming, and nothing is too much trouble for them. They are also very talented artists (Roberto sculpts in wood, Tais paints), and you can see examples of their work all around. And lets not forget the two fabulous dogs, Petrus and Zak (hint: bring some dog biscuits!). Now, the place. Extremely comfortable, and everything works. The orange juice grows on a tree at the back, lemons at the front. If there is any, try Tais' peach chutney, it's unbelievable. And there is nothing more relaxing that sitting on the veranda, staring out across the garden and over the lake, with the hills in the background. Pretty close to perfect, in my view. Its a staggeringly pretty area. In fact, I have decided to move here. If you want to relax amid spectacular scenery, this is the place. If you're want to know directions to the nearest disco or McDonalds, it isn't.
John
2016-05-17T00:00:00Z
Uma casa muito acolhedora e típica num local muito bonito e calmo. O Roberto é muito simpático e prestável.
Cristina
2016-08-21T00:00:00Z
Appartement propre et conforme aux photos la terrasse est bien agréable. Juste dommage que le lac soit pas accessible à plus d endroit.
olivier
2016-07-25T00:00:00Z
Foram dois dias muito bem passados. A vista da varanda é deslumbrante, a calma que o lugar emana é incrível. A casa corresponde muito bem às fotos e o Roberto foi muito simpático e atencioso. É sem dúvida um local a visitar novamente!
Pedro
2016-08-08T00:00:00Z
O local é excepcional com uma vista brutal e um 'silêncio' da natureza trás tranquilidade. A Laís é muito simpática o Roberto pelo que percebemos estava fora. Pena só termos ficado 1 noite. Querendo voltar com mais tempo. Vale mesmo a pena visitar a casa e a envolvente.
Sérgio
2016-09-11T00:00:00Z
Haven. Magical. There is not so much words to describe it. At first we didn't want to leave a good review, so we can keep this place just for ourselves but that's just too hard to do. We are very grateful to had the opportunity to stay at Roberto's. Both him and Tais are wonderful people with great energy and beautiful artists. Not to forget, their wonderful dogs. We got the rest that we needed and the only thing we regret is that we couldn't stay longer. Again, thank you.
Antoine and Leona
2016-08-06T00:00:00Z
Séjour trop court ( une nuit seulement) pour avoir pu profiter de toute la beauté du site .L' appartement est très chouette , un balcon avec une très belle vue sur le lac.Roberto vit à côté , il est venu nous chercher à Dornes car nous étions perdus .Son univers nous a beaucoup plu .Cet endroit est magique !
séverine
2016-08-09T00:00:00Z
Romtype
Helt hjem/leilighet
---
Eiendomstype
Leilighet
---
Plass til
4
---
Soverom
Dornes, Santarém, Portugal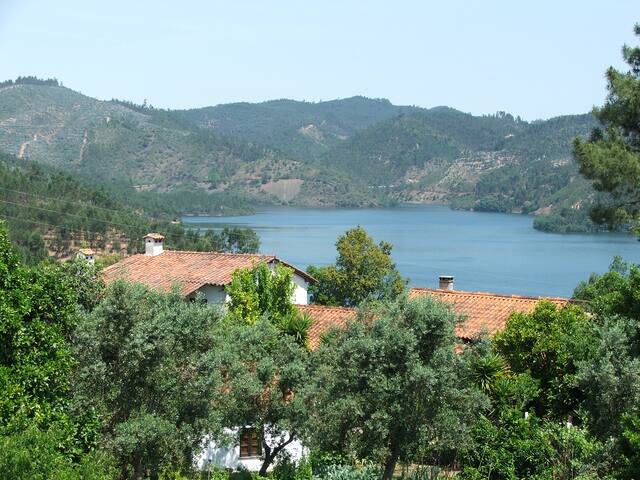 Santarém - Airbnb
:
Gjennomsnittlig

4.43

av

5

stjerner fra

30

gjesteanmeldelser