Manaia in Maori means guardian, protects against evil, balance between sky and sea. This light and sunny room has a private deck and bathroom. The sea views are magnificent, a delight to wake up to.
This room is within our family home. There is a separate lounge for guests if they prefer their own space.
Ahipara is renowned for it's surf spots and this is the main attraction in summer. It is also the gateway to the Ninety Mile Beach and Cape Reinga. We have a local cafe, bar restaurant and takeaway food shop. Also a local liquor outlet.
Spacious room, stunning view and very welcoming hosts. Beautiful spot previously unknown to us but we will be back.
julie
2015-02-28T00:00:00Z
We had a fantastic time at Cheryl and Bob's home. They made us feel so welcome, part of the family even. The house is lovely, the room was really comfortable and the situation of the house is quite incredible. It is a great spot to stay and visit Cape Rainga and 90 Mile Beach. I would definitely recommend staying there.
Elizabeth
2016-02-28T00:00:00Z
My stay at Sheryl and Bob's was amazing. They are a fantastic couple that make you feel really welcome. We had some great conversations; especially over dinner ! With that they're place turned into a BnD (Bed & Dinner) for me ;-) I found the view from the bedroom absolutely breathtaking. Hopefully they're still running the BnB when I return next year !
Paul
2015-12-04T00:00:00Z
Sheryl and Bob are wonderful hosts and the whole experience staying with them was great! The room is wonderfully spacious and there is even a private deck! Bathroom is great too, everything you need. Fantastic location right on the beach!!
Katie
2016-05-09T00:00:00Z
Sheryl and Bob are perfect hosts, we felt very welcomed and spent a great time up north! The room is comfortable and clean, the view is just beautiful. We enjoyed the chats and dinner very much, thank you!
Johanna
2015-10-27T00:00:00Z
Sheryl and Bob are great people. We felt right at home, eating dinner at their table, and watching the NZ nighttime news with them. Nice chats. Amazing view of the 90 mile beach fading off into the distance from our private balcony. Great vantage up on the hill- just wish we made it in early enough to catch the sunset! But sunrise was also still lovely there from the west coast. Sheryl even gave my partner some special medicine, which helped her sleep soundly for our adventures the next day :-)
Will
2015-08-25T00:00:00Z
Despite the later arrival Sheryl welcomed us to her home and showed us the room with an amazing view! It must be nice to go to sleep and wake up with this view every day.
Tim
2016-03-05T00:00:00Z
Sheryl and Bob were wonderful hosts - hugely friendly, welcoming and a real source of guidance on things to do and where to go. We thoroughly enjoyed our chats with them and would return in an instant. Their property is fantastic, a great base for exploring the area and a trip to the cape. The room was exactly as described, very private with a very comfortable bed and the most incredible views of 90 mile beach from the balcony. An added bonus was their lovely cat "Greypuss" who was adorable. We would heartily recommend staying with Sheryl and Bob who were a fine example of the benefits of the Airbnb system. Thank you both!! x
Gary and Julie
2016-02-03T00:00:00Z
Romtype
Privat rom
---
Eiendomstype
Hus
---
Plass til
2
---
Soverom
Ahipara, Northland, New Zealand
There is a simple kitchen, a fridge, confectionary oven and hot plates, teaser and kettle, pots and pans dishes, cutlery, bowls, all available. Breakfast is cereal, toast and fruit, with real coffee and home made jams,wifi is offered free.
5 km from a lake, 6 km from 90 miles of beach. An hour and half to the top of the north island. You can stay on 3 hectors of private land facing a small orchard, pick your fresh advocados off the tree, Enjoy total privacy in doors or out.
Fast Wifi.
W
2016-11-26T00:00:00Z
Jan was a beatiful host, she's a really kind person and she make us feel so comfortable in her house. The place is also a charming spot! the bathroom and the shower are a must-to-experiment thing =) we love you Jan! and thanks for all the veggies
Fernando
2015-02-25T00:00:00Z
Great place away from it all. Even with her remote and self-sustainable property, all the amenities are there (if you don't mind the awesome outdoor shower and toilet). Too cool IMO. Great experience. I wish I could've stayed longer!
Mason
2014-11-27T00:00:00Z
A nice and beautiful place to stay..Jan is lovely and very occupied for the welfare of the guest. I would have like to stay more.
Josefina
2014-06-17T00:00:00Z
A beautiful spot away from the crowds. Jan goes above & beyond with what she offers, & the accommodation is charming. I would stay here again.
David
2016-09-16T00:00:00Z
Lovely place. We only stayed one night, but we really enjoyed it. Jan was very carefull with all the details to make our stay pleasant, she even left us some fruits and other items for breakfast, which was great. We didn't have much time otherwise we have stayed longer.
Rita
2016-02-21T00:00:00Z
Jan have a lovely and quiet place, long way from everything. The place was better than in the description. It take me around 1 hour and 20 minutes to drive to Cape Reinga. Nearest restaurant is 8 minutes drive away, and they serve wonderful hamburgers. I will definitely recommend this place to anyone. Jan was also a very good host. With very good avocado in her garden.
Nicklas
2016-01-19T00:00:00Z
Lovely simple & comfortable cabin in a peaceful rural location. Loved sharing the space with the avocado trees. Basic amenities. Jan provides the makings for a good breakfast - loved the fruit. Jan is hospitable and respectful & is creating a beautiful garden & orchard. Had a relaxing stay.
marg
2014-05-14T00:00:00Z
Romtype
Helt hjem/leilighet
---
Eiendomstype
Hus
---
Plass til
3
---
Soverom
Waipapakauri, Northland, New Zealand
We invite you to share our home located at the end of a quiet cul-de-sac just 10 mins North of the CBD. Relax in your own private spaces while you plan the next part of your trip. We do enjoy interacting with our guests and you are welcome to join us with a shared meal or conversation however we will respect your privacy.
We are offering downstairs; one bedroom with queen bed and attached ensuite consisting of shower, toilet and basin. You also have a private lounge which and has a tv with sky channels, free wireless internet, a couch and fridge with free tea and coffee making facilities. In this room we also have a fold out sofa bed (double size). We supply a complimentary self catered continental breakfast consisting of cereal, fruit, yoghurt and/or toast with assorted jams. Just off your private bathroom there is a kitchenette with a microwave and an electric frying pan. There is also access to our inground swimming pool with BBQ area. Upstairs we have one room with two king single beds and one small room with a single bed for additional use by arrangement. These two rooms have access to the main bathroom with shower and bath and separate toilet which will be yours to use during your stay. We have our own bathroom so you do not have to share. You are welcome to share the kitchen, dining and living areas with us and you can also have access to the laundry with washing machine and dryer. We have off-street parking and enough room on the front lawn to park a large boat or trailer. We are situated at the end of a quiet cul-de-sac just 10 minutes drive North of the Whangarei CBD and only a 3 minute drive or 10 minute walk to Kamo Village which has a wonderful assortment of shops and cafes etc. It is only 4km to the Kamo Wildlife Sanctuary (currently closed). We are close to two beautiful golf courses with Northland Golf Club only 5 minutes away and Denby Golf Club just 7 minutes. Kensington Park, for hockey, netball and athletics is just 3kms or a 6 minute drive away and Okara Park which is the hub for local and international rugby games and Cobham Oval our new cricket grounds are approximately 15 minutes drive. Whether you are just passing through or want to use Whangarei as a base to explore the North there is plenty to see and do here. We are approximately 1 hour from Paihia and Kerikeri, 1 hour 45mins from Kaitaia, 1 hour from Dargaville and 1 hour from Matakohe Kauri Museum. A great base for you to explore all that Whangarei offers with our lovely beaches and great fishing and diving.
We live in a typical New Zealand suburb full of family homes and our neighbours are great people. Small local shopping area just a short walk away with a small supermarket, cafes and a variety of restaurants, including Thai, Indian and 2 pubs to choose from. You will also find typical takeaways including Subway, Chinese, McDonalds and a couple of Kiwi fish and chip shops. There is an excellent butchers shop to purchase a juicy steak for the BBQ and a choice of bakeries to purchase fresh bread. We also have a pharmacy and a local doctor if needed.
We had a great stay in Whangarei. Caroline and Peter were very hospitable and went out of their way to show us around the city. It was clear they enjoyed having people over and to give them tips on the area. Well worth a visit!
Jasper
2013-12-24T00:00:00Z
Everything was just perfect, we enjoyed staying there and talking to our lovely hosts. Whangarei Heads is our favourite so far.
Laszlo
2016-01-31T00:00:00Z
Everything exactly as advertised. Both Caroline and Peter went out of their way to make our stay excellent. Peter went fishing with us. The kids were put up in their separate rooms upstairs. We practically shared the house, were allowed the use of the kitchen, everything was laissez-faire. Thank you both for providing a "home away from home"!
Philip
2016-03-22T00:00:00Z
We were welcomed as soon as we arrived andcwere spoikt with some home baking which was delicious!
Paull
2016-09-01T00:00:00Z
A lovely place owned by lovely hosts. Even though it was for one night, everything was perfect. We had a lot of space and the house was more than comfortable. We had access to all the equipments and we didn't need to bring anything except the food. A real 5 stars experience ! Thanks again to Caroline and Peter.
Arnaud
2016-10-29T00:00:00Z
Peter & Caroline are friendly and we felt at home with them. It was a spacious room with own lounge, very comfortable indeed. And also well serviced, with a great breakfast provided. Thanks heaps.
Annie
2015-03-31T00:00:00Z
We felt immediately very welcome - there was a fully stocked fridge and breakfast offering's and although our hosts were not home when we arrived, they left detailed instructions on how to enter and make ourselves at home. We also felt as though they were our friends in every way - both socially and emotionally! It was a lovely stay and if we ever return to Whangerai, we would hope to stay with them again. They are invited to visit us anytime in Victoria, BC
Heidi
2015-02-08T00:00:00Z
Is a very good place ! You won't regret to stay here!
kyuen
2017-01-31T00:00:00Z
Romtype
Privat rom
---
Eiendomstype
Hus
---
Plass til
6
---
Soverom
Whangarei, Northland, New Zealand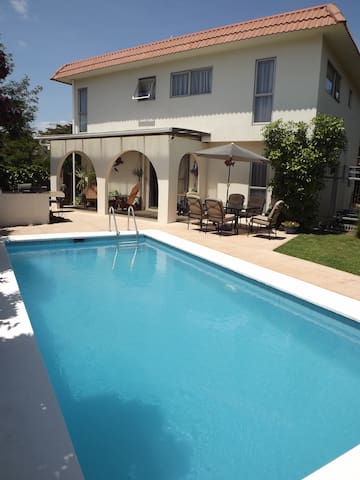 Homely, private, comfortable home . Double bed, shared bathroom, toilet, shower and kitchen. Enjoy a peaceful, relaxing stay with sea views, only 5 minutes drive from the Kerikeri township. A welcoming place to stay - perfect cottage away from home. * A 2nd bedroom with a double bed is available on enquiry.
Close to town, while offering a quiet, relaxing stay. Community tennis court nearby, with the water just a short walk down the road. A comfortable cottage with decks to relax on while enjoying the water or garden. The bedroom shares an open plan kitchen, dining & living area. There is a fridge (shelf for guests), microwave, toaster, kettle, benchtop oven and gas hob available. There is a second bedroom available for another 1 or 2 people. The extra room is not available except upon enquiry. Please get in touch to discuss this option further if you are interested in booking both rooms.
A quiet community in the rural seaside area of Kerikeri. Beautiful views out over the Bay of Islands (see the 'Hole in the Rock') just a short walk up the road. A convenient 5 minute drive to the Kerikeri shopping centre, restaurants, great cafes, theatre, entertainment centre and local historic places. Saturday mornings & Wednesday evenings the Packhouse Market is open with fresh produce, crafts, entertainment & so much more. A 'must to do' is to go over the road & enjoy sweet treats & drinks (or icecream!) from Makana Chocolate & Café. Sunday mornings the Farmers Market is open with fresh produce & music.
The house and the gardenare very nice and Veronique was kind with us
Andrea
2017-01-02T00:00:00Z
Thanks Veronica for a lovely stay in your home! From the second we stepped in, Veronica was welcoming and warm, making sure we had everything we needed to be comfortable before she stepped away to watch the rugby games at her parents' house. The bedroom is beautifully decorated with a nice bed, and there is a big backyard with delicious fruit trees. Veronica was even nice enough to cook us a meal on our last night, as we were flying out of New Zealand the next day. Her dog Lucky is sweet as can be! Overall, an absolutely wonderful stay - thanks again Veronica!
Yvonne
2015-10-27T00:00:00Z
We enjoyed our staying at Veronica's place. She made us feel very welcomed and we had lovely chat with her. The room was very clean and had everything we need. Her dog Lucky was so friendly with us.
Elia
2015-11-10T00:00:00Z
We had a nice couple of days in Veronicas home. The place is lovely and she also very communicative when we got to see her since she was working and we were quite busy as well.
Arne
2015-11-13T00:00:00Z
Such a great location! Lovely home. Very comfortable. Veronica was a perfect host!
Hilary
2017-03-30T00:00:00Z
All good very friendly sociable host. Relaxed and easy. Great room with everything wanted plus great dogs .
Tim
2016-10-13T00:00:00Z
We really loved Veronica and her dog Lucky. We were lucky to have another two dogs at her house. They were all so cute. Veronica gave us a lot of tips for sightseeing. The first day she learned us how to play phase 10. That was really fun. (We will definitely buy the game when we'll come back to Austria) The house is very clean and our room was lovely. There was really nothing to complain about. We really can recommend to stay at Veronicas. You will absolutely love her and her dog Lucky.
Sonja
2015-12-15T00:00:00Z
The view was amazing and the location was easy to find!
Jen
2016-10-22T00:00:00Z
Romtype
Privat rom
---
Eiendomstype
Hus
---
Plass til
2
---
Soverom
Kerikeri, Northland, New Zealand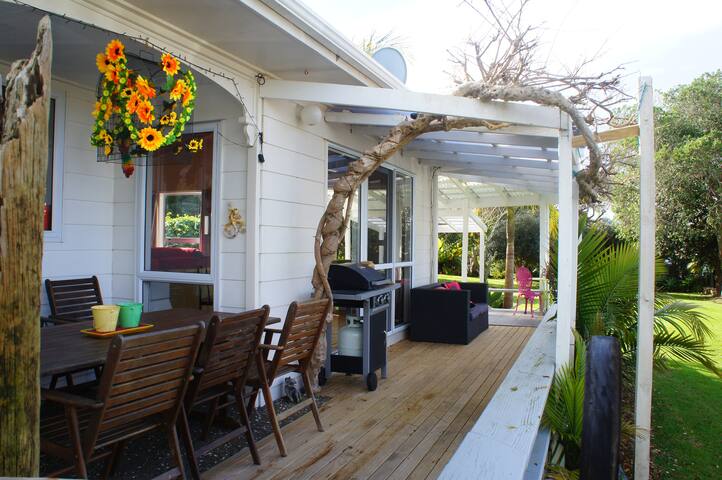 Need time out? Indulge yourself. Put a pause in time and discover the unique location. Imagine lying back in bed watching the sunrise. Laze on the spacious deck whilst taking in the spectacular ocean view.
Need a break to recharge your batteries?? Why not book a stay at Escape 2 90 Mile and sit back and watch the world go by while enjoying a chilled glass of wine and a stunning view of the magnificent 90 Mile beach! Idyllic 2 bedroom modern bach, fully self-contained, with awesome elevated views of Ahipara, Shipwreck Bay, Peaks surf break and world famous 90 Mile Beach! The ground floor is an open plan flowing out onto the large deck for afternoon wines & sunset BBQs. We offer complimentary tea, coffee, sugar. We can accept credit card payments 40+ MySKY channels, DVD/Blu-ray player, iPhone/iPad dock, "FREE Wireless Broadband" ! Please note: For your comfort the house is a non-smoking property, you are more than welcome to smoke outside. Parking for 2 cars and boat parking. 2 minutes walk to safe, sandy swimming beach and rock-pools. Ideal playground for all ages!! Ideal playground for quad-biking, 4WD, surfing, diving, fishing, blo-karting, kite-surfing and tramping. Fishing charters, quad-bike and Cape Reinga tours available, and can be arranged for you. So whether you are looking for an action packed adventure filled holiday or a relaxing retreat then this is the place for you! 5 mins drive to the historic gumfields, links golf-course, cafe, dairy, takeaways, liquor store, adventure centre/quad hire & horse treks. 15 mins drive to Kaitaia. Double-storeyed, 1 queen bed upstairs. 1 queen bed downstairs. 1 double airbed. Some of the feedback recieved: Owner very easy to liaise with.(URL HIDDEN) mattse(phone number hidden)(URL HIDDEN)[Star rating(URL HIDDEN)May 2013 This property was just ideal for our needs. Fantastic views overlooking the sea. Faciliities were superb, even down to having boogy boards my children enjoyed using. Very modern decor and my boys appreciated the wifi. Very relaxing and comfortable. Would definately recommend this property.(URL HIDDEN)vmeeke(phone number hidden)(URL HIDDEN)[Star rating(URL HIDDEN)Apr 2013 Absolutely amazing location and great little batch. We had a fantastic time :)(URL HIDDEN)ASalkel(URL HIDDEN)100%|2(URL HIDDEN)[Star rating(URL HIDDEN)Apr 2013 Fantastic spot! fantastic bach! So comfy... such a treat on opening the door :(URL HIDDEN)jon(phone number hidden)(URL HIDDEN)[Star rating(URL HIDDEN)Apr 2013 (URL HIDDEN)Well what can I say!? I'm 37 years old grown up in Auckland and had never been that far north before. So as a christmas present to my niece my fiance and I wanted to take her some place we hadn't seen before... This house is AMAZING with all the comforts of home and then some! while the beautiful back drop of Shipwrecks Bay and 90 mile beach put you in the right frame of mind to completely unwind and enjoy life. We will be back! HIGHLY RECOMMEND THIS HOUSE!!!!(URL HIDDEN)Rikki_Mc(URL HIDDEN)100%|1(URL HIDDEN)[Star rating(URL HIDDEN)Feb 2013 Rachel was very helpful and the house has a million dollar view. Loved the big tv. 4 guys stayed 2 good beds 1 in a hobbit hole and 1 on the sofa. But it was all good.(URL HIDDEN)markd(phone number hidden)(URL HIDDEN)[Star rating(URL HIDDEN)Feb 2013 The property was fantastic and the views were absolutley insane! I will definitely be back and definitely recommend this place. Lovely, bright and clean and amazing deck with the best views!(URL HIDDEN)MelisaF(URL HIDDEN)100%|1(URL HIDDEN)[Star rating(URL HIDDEN)Feb 2013 This was a small well appointed property / house, with everything you need for a carefree holiday.(URL HIDDEN)IanAlice(URL HIDDEN)100%|1(URL HIDDEN)[Star rating(URL HIDDEN)Dec 2012 This is our third stay at this property in the past 3 years. Escape to 90 Mile is a fantastic base to relax while enjoying what Ahipara (and Northland) has to offer. Great views from the deck, and well set up for a beach holiday. We'd love to come back...(URL HIDDEN)sonjer(phone number hidden)(URL HIDDEN)[Star rating(URL HIDDEN)Oct 2012 Great place to stay, nice and tidy with a friendly layout, would defiantely recommend(URL HIDDEN)bmcc(phone number hidden)(URL HIDDEN)[Star rating(URL HIDDEN)Sep 2012
Ideal playground for quad-biking, 4WD, surfing, diving, fishing, blo-karting, kite-surfing and tramping. Fishing charters, quad-bike and Cape Reinga tours available, and can be arranged for you. 5 mins drive to the historic gumfields, links golf-course, cafe, dairy, takeaways, liquor store, adventure centre/quad hire & horse treks. 15 mins drive to Kaitaia.
Escape 2 90 mile beach is amazing. The location is stunning, what a beautiful view from every window. The attention to detail within the house is just perfect. A massive TV to watch the rugby on and beautiful shower room. We only stayed 1 night but would love to return in the summer to make the most of the deck and bbq . This is the first airbnb we have used and I would do it again. Rachael was so helpful with directions and other information.
Sarah
2015-09-22T00:00:00Z
Awesome house great views very clean. Needed more time there! Rachel is very communicative and made things easy, would definitely come again!
Debbie
2016-07-01T00:00:00Z
Marvellous location with fantastic views for both sunrise and sunset. Home was clean and well appointed and we found it a very cool place to relax. Best part was enjoying a bottle of wine on the deck after a long day exploring the local area. Worst part, having to leave. Racheal was friendly and accommodating and we have already recommended this place to our friends. Now all we have to do is just make it back some day.
David
2016-05-02T00:00:00Z
Beautiful little house, wish could stay longer.
Yin
2015-09-29T00:00:00Z
A house with amazing views which is bliss in the sunshine. Quiet and clean - lovely bathroom and comfortable bed! Thanks so much - wish we could have stayed longer!
Alicia
2017-03-27T00:00:00Z
We had an awesome time, rachael was very welcoming and made sure our stay was hassle free. Everything was clean and tidy and set out exactly how its pictured on the listing.. highly recommend.
James
2015-08-17T00:00:00Z
When we arrived, there is a personalized blackboard with my name on it welcoming us. This level of thoughfulness is throughout the entire stay. The house is warm & sunny with amazing seaview. Highly recommended:)
Joyce
2016-08-24T00:00:00Z
Fantastic house, with amazing views. The feel of the house is very relaxing, spacious and clean. Would highly recommend and always book more than just one night, it deserves to be appreciated.
Gillian
2016-09-13T00:00:00Z
Romtype
Helt hjem/leilighet
---
Eiendomstype
Hus
---
Plass til
3
---
Soverom
Ahipara, New Zealand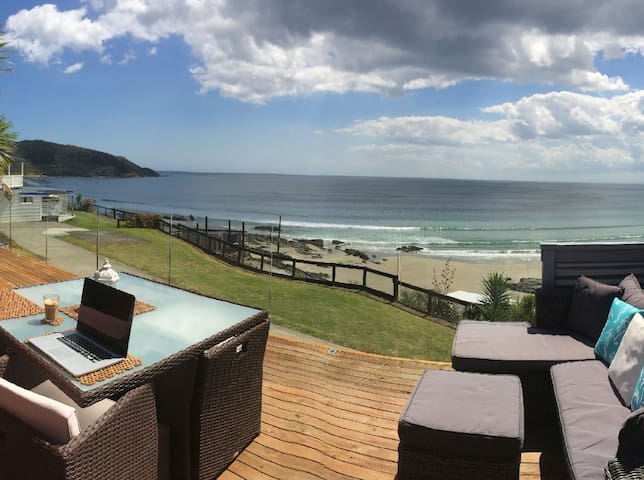 Watch the harbour activities and ever changing vista from the deck of our clean and comfortable homestay/backpackers. We are situated just above the car ferry on the Russell side of the Opua harbour. Backpacker accommodation in a kiwi family home. Please note - the house is shared with myself & my 17 year old son.
We have 2 rooms available. One has a double bed & a single bed in it. The Other has a double bed & a bunk set. All beds have linen.
Okiato Point, Russell was the very 1st Capital of NZ & is an ideal base to check out the historical sites around the Bay of Islands area. Go sailing, kayaking, fishing, hiking and swimming. You can cross the harbour by ferry & dine at the local cafes of Opua. The area offers diving, parasailing, swim with the dolphins and much much more.
Andrea is a lovely host. Felt immediately like home. Great view! Visit her!
Florian
2016-11-11T00:00:00Z
We really enjoyed our stay with Andrea. She was a great host, friendly, everything we needed was provided and the house was clean and very comfortable. Views and the town of Russell were gorgeous. Thank you for having us!!!
Kate
2016-10-14T00:00:00Z
Andrea's house is awesome. Everything was absolutely clean, the view was stunning and Andrea is so helpful and nice! It's was the most beautiful location so far on our journey. Maybe we'll come back one day. It's totally worth it!
Hannes
2016-10-10T00:00:00Z
Andrea was so warm and welcoming! The place is beautiful and has a magnificent panoramic view of the water and all the sail boats. The place was very clean and we would certainly recommend this place to our friends.
Dan
2016-09-28T00:00:00Z
Andrea was such a wonderful host, and Ferry Landing was such a great place to stay. She was so communicative and gave us such great directions before we arrived. During our trip, she was so warm and hospitable. The view is absolutely stunning, and the sun sets right over the water, so it's great for morning coffee and for evenings in. Andrea had so many great tips about what to see and do in the area. This was our first trip to the Bay of Islands, and we had such a wonderful time staying with her. I can't recommend Ferry Landing enough!
Jamie
2016-10-23T00:00:00Z
This was a lively friendly home stay. Andrea and her family made us feel very welcome. The views were amazing and it was an easy drive the 8k to Russell which is a pretty historic town. Thanks for opening your home to us Andrea.
Sarah
2016-08-11T00:00:00Z
Wonderful spot. Room and accommodations were most pleasant. Enjoyed a memorable sunset dinner on the veranda. The walking path to Russell is not to be missed.
Hans
2017-02-03T00:00:00Z
Andrea was very obliging, friendly and helpful. We felt very comfortable coming and going. Green tea on the deck in the morning, admiring the beautiful views was a highlight.
Wendy
2017-02-23T00:00:00Z
Romtype
Privat rom
---
Eiendomstype
Hus
---
Plass til
7
---
Soverom
Russell, Northland, New Zealand
Modern, cosy cottage with decks that enable you to sit in comfort, and enjoy the harbour and rural views. Lie in the super King bed enjoying peace and quiet with the ranch slider open, listening to sounds of nature, planning your day. Relax
The unique views of water, farmlands and natural areas as the cottage is placed high above surrounding areas. The location is accessed on the main highway, SH1. Approximately 50 km from Kaitaia, 60 kms to Cape Reinga, northern most tourist spot in NZ. We are surrounded by magnificent beaches, 5 mins to both east and west coasts, 90 Mile Beach, Rarawa Beach, Henderson Bay, renown for swimming, surfing, fishing and relaxing. The Cottage is well equipped and maintained, clean and tidy, with own kitchen, lounge,bathroom, laundry and new super king bed in the lovely bedroom. The cottage is set up for disabled with ramp, extensive decks, and open wheel chair showering area.
We live in a rural area, but only a short drive to the small village of Pukenui, with a café and several shops, and the northernmost hotel,only 1 1/2kms away. We have the best of both worlds, peace and quiet or social interaction close by.
Jenny and her place were absolutely fantastic. The cottage is clean, the bed is comfy, and Jenny's hospitality is perfect. The only bad thing about this place is not being able to stay long enough! I really hope we'll be back.
Teresa
2016-03-10T00:00:00Z
Showing us around, spoil us with cheese and sweets, giving information about her favorite places to go.
Rob
2015-11-24T00:00:00Z
Great place to stay. Everything is catered for in this cottage and it is so comfortable and clean with a great view! Jenny was a very welcoming host. Very relaxing stay and definitely hope to stay again!
Stephanie
2017-01-18T00:00:00Z
Jenny was extremely welcoming. The cottage has great views over the countryside and inlet. Rooms were spacious, clean well appointed. We love to cook for ourselves and the kitchen was well equipped. Jenny was helpful wth advice on the attractions of the area. We very much enjoyed our time,in the North.
Terry
2016-02-13T00:00:00Z
Jenny's flat is ideally located on the way to Cap Reinga. The place is very comfortable and quiet and the view itself is worth the trip. Thanks again Jenny for your nice welcome Mathilde
Mathilde
2015-10-24T00:00:00Z
Prefect living experience. Jenny is so nice to notice me every details before I go. The house is on the top of a little hill. View is so good. I can catch the bay's sunrise on the bed, take breakfast at terrace. The large house is readily available, and more luxury for me alone. Thank you Jenny. Hope to c u next time. GL
Xi
2016-11-05T00:00:00Z
Jenny far exceeded our expectations. We arrived later than expected to find it caused her to miss an important engagement yet she was beyond gracious. The location was inviting, comfortable and very accessible to local sights - which she had created a guidebook to ensure all could be experienced.....which we did!
Holly
2016-10-09T00:00:00Z
A must stay place during the trip to Far North. A view from terrace is worth a million plus silence combined with it. Apartment is actually a separate building, lot of space, well-equipped kitchen, big terrace. Jenny was absolutely lovely and we had some good conversation during our stay. Can warmly recommend this place to everyone
Mihkel
2017-03-02T00:00:00Z
Romtype
Helt hjem/leilighet
---
Eiendomstype
Hus
---
Plass til
3
---
Soverom
Houhora, Northland, New Zealand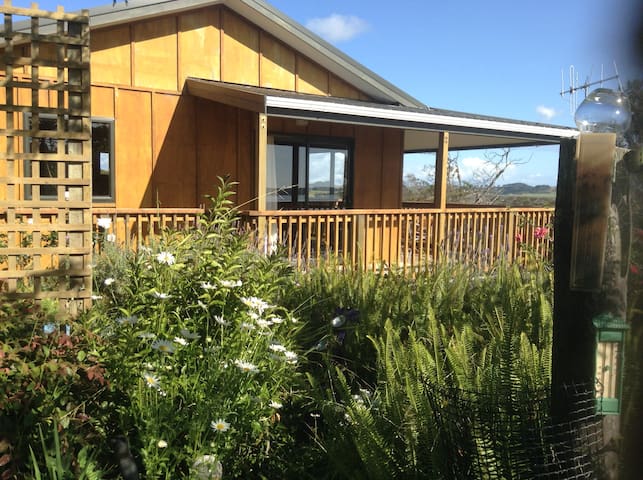 I Live together with a few friends from around the world who all share a love of traveling. Large house situated on top of the hill among the forest just 5 minutes bush walk to the Beach and bars.. Large living area with fireplace and a heated outdoor Spa Pool! Very social atmosphere and a chance to share in interesting activities around the bay! Suited to outgoing people aged 18-40ish (No Kids) who enjoy meeting new ppl and a laugh over a drink or two!
Big section and gardens backing onto nature reserve and multiple beaches. Sleeping arrangements will be in shared room which has one bunk bed and three single beds. Two lounge areas one dedicated to travel and conversation, the other to chill on couch/bean bags and watch movies in front of the fireplace or whatever. Heated Outdoor Spa Pool! (operating most nights) Also a large sunroom with dinning table and lazyboys overlooking Paihia township and the ocean through to Waitangi. In house there is a bath/shower room and a separate toilet room. Washing Machine and clothes line. Large under house storage room.
House is on a private driveway on top of the hill in the bush.. Very safe, neighbors cannot see into house and are seldom seen at all! There is a bush track that leads to beach/bars/hostels and the main street of Paihia all within 10 minutes walking. Lots of native trees and birds.
Great house! Amazing location ;) we were here just one night but would recommend
monica
2017-01-01T00:00:00Z
Friendly and easy going.
Holley
2017-01-08T00:00:00Z
Nice, friendly, no problems when we arrived late, no problems that we left early. It´s a lovely place to stay :)
Sonja
2016-06-25T00:00:00Z
Great experience! Hedge was a great host and staying at his flat was a unique experience. We visited Paihia in the winter time, so even though things were a bit slow, we still had a great time! Definitely recommend
Olivia
2016-06-14T00:00:00Z
The view from the house was amazing! Had a great time with Hedge. He's a welcoming and nice host! Had an amazing experience.
Anete
2016-07-25T00:00:00Z
Nice people, cosy house and really well treatment
PABLO
2016-06-20T00:00:00Z
We had a great time in Paihia with Hedge and his roommates. Everyone helps you out if you needed anything, and gives you advices on what to do. If you are interested in getting to hear some cool travel stories and get inside tips, definitely stay at Hedge's.
Svenja
2016-11-01T00:00:00Z
Hedge's place was wonderful in every way. Quiet but lively, close walk into town and down to the beach. Beautiful house, scenery, cozy rooms and beds, welcoming people all the time... Really couldn't say anything bad about it. Hedge was a a wonderful host and made us feel very welcome, went out of his way to show us around, and had many incredible stories to share. If you want a good time with some great people, this is the place to be.
Vita
2016-06-08T00:00:00Z
Romtype
Delt rom
---
Eiendomstype
Hus
---
Plass til
5
---
Soverom
Paihia, Northland, New Zealand
Luxurious, warm and bright house. Stunning clifftop walks. Private beach. 1500acre playground. Unique NZ farm/beach stay experience. Ride or run, beach or hills, Surf, play tennis or fish. Live music at the pub, cafes and golf. ...or solitude...
Long Term or Short Term, Whole House or Studio only. Hosted or independent stays. 1:15hr from Auckland International Airport. Private location that is not open to the public. The entire side of the house opens to the sun. The house is heated by 2 logwood fireplaces. Warm in winter and cool in summer. All Miele appliances. 4 luxurious queen beds in 4 bedrooms (2 huge master rooms with ensuite/walk-in wardrobe at either end of the house). All rooms with separate entrances from the patios. We have a peaceful outlook from every single window and room. Internally, top-end fittings and appliances, polished wooden floors and vaulted ceilings.
All ON the estate...you can explore the Miles and miles of walking and horse-riding tracks - the most stunning views along the cliff... ...Picnic on top of the mountain with 360degree views or swim at the beach in gentle surf.... There is abundant fishing off the beach - surf-casting or kon-tiki. There are offshore fishing charters from the boat ramp 5 minutes away.
Amazing spot
Daniel
2017-02-05T00:00:00Z
The most beautiful setting....waking up everyday to farm animals all around and the most incredible views ever. Our kids spent every morning visiting the farm animals and feeding the pigs.....and when they were done with that we would spend the rest of the morning running around on the beach, collecting shells or just running in and out of the waves. Afternoons spent walking around the farm or the coastal path or simply reading books on the most comfy bean bags ever. Evenings spent just relaxing with a glass of wine and enjoying the peace and quiet. We can't thank you enough for making our holiday so memorable....Luisa is a great host and we would certainly recommend her home to anyone.
Lucinda
2014-04-22T00:00:00Z
Es war einer inspirierendsten Plätze, an denen wir in Neuseeland waren. Die Landschaft war wundervoll, der Strand atemberaubend und die Sonnenuntergänge zum Weinen schön. Die Kinder waren vor lauter Pferde streicheln und Entdeckungsreisen kaum noch zu Hause. Vielen Dank für diese wunderschöne Zeit, die wir an diesem friedvollen, magischen Ort verbringen durften. Alles Gute Biber und Familie
Biber
2015-03-01T00:00:00Z
Luisa's home is stunning. It's so private and peaceful with amazing views of the farm. We had two little kids and they loved being able to roam around in the garden and trying to catch the lambs. They found the alpacas hilarious too. Everything in the home is beautiful, especially the beds! It's a 1km walk to the beach which was amazing. We weren't expecting the views across to Taranga island. There was plenty of sand to play on or rock pools and shell collecting. We explored the farm and if you like views from the top of hills this is the place for you! Chin (Luisa's dad) showed us around and made us feel very welcome and even brought some things for the girls to play with at the beach. We would have liked a few more days for more exploring but now we'll have to come back!
Jadd
2016-11-19T00:00:00Z
Where do I even begin? Luisa's home is truly heaven on earth! Our family spent 5 nights in Mangawhai and I wish it had been 5 weeks. The home is in a private farm enclave with direct access to a beautiful beach, nature walks, and farm animals a plenty. Each day we woke to the sound of sheep and sweeping views across the rolling hills. Our days consisted of kids feeding the pigs and horses, surfing Mangawhai heads, buying fruits and veggies from a local grower, wine tasting at Te Whai Bay vineyard, and eating the incredible delicacies at Bennett's Chocolate Shop and Cafe. This area of New Zealand has it all! You really need not look any further if considering a trip to Mangawhai, this place is one of a kind!
Melinda
2017-02-14T00:00:00Z
Just what we wanted! Our stay at Luisa's place was most pleasurable, the house was very well presented, new with quality furnishings and appliances in a stunning location. Luisa was very helpful making sure we had everything we needed. we had 4 small children, who all loved the place and activities around. Swimming every day in the sea was a highlight, and the coastal walk very scenic. So many cool things to do not once did we turn the TV on either! Sad to leave, and I recommend to others.
Nick
2015-04-08T00:00:00Z
We had an amazing, peaceful week on the farm! The hosts were communicative and beyond helpful. The house was uncluttered and had gorgeous views of the countryside from all rooms. It was a breeze to hop over to the beach and the cliff trails, and Mangawhai is just a few minutes by car for food and shops. We will always remember our stay here for the stunning surroundings and total calm. Thank you!
Jenny
2014-01-13T00:00:00Z
We had a lovely week at Luisa's house. The house is beautiful: comfortable and well-appointed, with high-quality appliances and furnishings. We were impressed by Luisa and her family's care and attention to detail in providing everything guests might need during their stay - including even binoculars, headlamps, glue, spare batteries, and children's toys and books. The kitchen is very well equipped, and the layout of the house is pleasant, with a large communal area surrounded by bedrooms that offer privacy. There are more windows than one could count, with spectacular views in every direction. Our visit coincided with lambing season, and there were countless sheep and lambs in the pastures just outside the yard, to the delight of our children. We enjoyed visiting the calves and ducks in the barn, as well as feeding the horses and alpacas in the field, and playing with the dogs. There are several nice walks just outside the house, taking you through beautiful forest and fields, and a spectacular oceanside cliff walk a 3-min drive away. My husband also enjoyed surf-casting on the beach. All five of us (including three small children) had a wonderful week. We loved the comfortable, spacious house, as well as the easy access to the outdoors and to the farm animals. Thank you, Luisa!
Sylvie
2015-09-26T00:00:00Z
Romtype
Helt hjem/leilighet
---
Eiendomstype
Hus
---
Plass til
8
---
Soverom
Langs Beach, Northland, New Zealand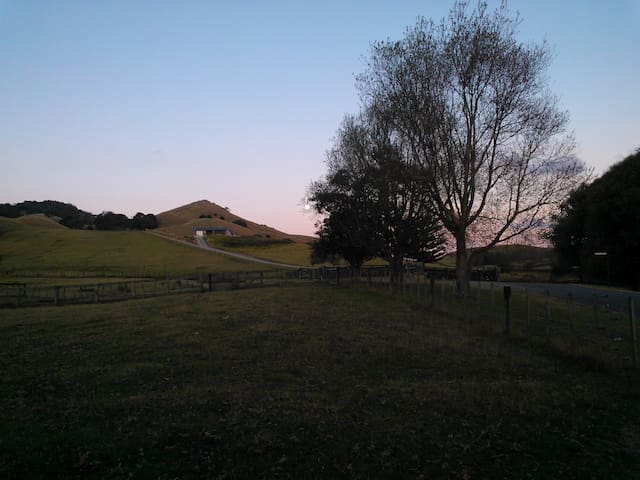 Quiet peacful delightful room nestled in a rural setting over looking a delightful garden cared for by Yarnick. 2 minuites from the beautiful Opua wharf, Marina and Cafe, also the very popular Coastal walk from Opua to Paihia. We have 2 rooms. Check out Serene Heights R2.
It is a very quiet peaceful place to stay after a busy day travelling. Enjoy the sounds of birdlife while you enjoy your morning coffee overlooking the garden.
It is a lovely quiet area and we have very pleasant neighbours.
Sharon and Yarn have been pleasant hosts. We had lots to talk about but they never pushed themselves. Very helpfull and knowledgable about the area. Rooms are spacious, clean and up to standard. I (we) would surely go back to them when in the nabourhood.
Willem
2015-12-22T00:00:00Z
The view is very beautiful and the room is very tidy and clean
Linxi
2016-12-18T00:00:00Z
A great 4 days were spent at Yarn and Sharon's. They made us very welcome and gave lots of friendly advice on things to do and see. The accommodation was excellent.
Miriam
2017-02-16T00:00:00Z
We had great time staying at Sharon and Yarn's place, they are very nice people, and the room is clean and tidy. We would highly recommend
Wang
2017-01-29T00:00:00Z
We booked a room with two beds; on arrival there was only one made up. The owners mistakenly thought we were a couple hence only one bed made up. Due to this misunderstanding we had to wait until 9:30pm until the other bed was provided. This was frustrating because we were both tired and wanted to go to bed early. We let our views be known to the owners. Otherwise we were happy with the room which was very clean and well proportioned.
David
2017-01-15T00:00:00Z
It was a real pleasure staying with Sharon & Yarn! The room was very comfortable and spacious, complete with small fridge, kettle, and private bathroom. Lovely warm and welcoming people - would highly recommend staying here!
Ruby
2017-03-30T00:00:00Z
Serene Heights is a lovely, restful B&B, away from Paihia, but only 6 mins drive. Perfect 2 unwind after a busy day on the water or exploring the Cape by plane! Sharon & Yarn r welcoming & generous hosts. Rgs Robyn & Edwina
Robyn
2016-12-05T00:00:00Z
Clean and tidy. Exactly as described
Ingegerd
2017-01-02T00:00:00Z
Romtype
Privat rom
---
Eiendomstype
Hus
---
Plass til
4
---
Soverom
Paihia, Northland, New Zealand
Our cottage offers a comfortable room which sleeps up to two persons, private bathroom, door opening out onto the deck with water views and shared kitchen. If travelling alone, please ask for a special discounted price before booking.
Please note that the room has a trundle bed which makes it suitable for sleeping one or two persons. I would be more than happy to offer a price reduction to those people who are travelling alone.
What makes our neighbourhood special is that it is the Birthplace of the Nation and the place where I was born and raised.
Alles war bestens
Alfred
2016-02-24T00:00:00Z
We stayed 2 nights with Audrey and everything was perfect. She is very friendly and helpful host and made us feel very comfortable.
Peter
2015-12-04T00:00:00Z
I can highly recommend Audrey's place. The room is cozy, quiet, clean and lovely decorated. Exactly as described. Audrey was really welcoming and helpful, made me feel like home.
Julia
2016-12-09T00:00:00Z
Twin room was too small for two people, no wardrobe or cupboards to store clothing. All bags and clothes had to get pushed under one bed that had space underneath. There was no milk or cho ie of cereals. We had to buy our own milk and cereals. We also didn't feel very welcome into the main part of the house and the room we stayed in was tiny and too hot. We had to check out two days early because our stay was not pleasant. Host was a lovely friendly woman, but the stay was not so pleasant for us unfortunately.
Joy
2017-02-28T00:00:00Z
Audrey is a perfect host, really kind and chilled out. The room is very comfortable and beautifully decorated, we slept really well here. The private bathroom is also nice with a good powerful shower. But by far the best thing about this place is the outside deck... the view is spectacular! It was great to have a morning brew out there, look at the view and gardens with the sound of wind chimes in the background... just heaven! I thoroughly recommend staying at Audrey's whilst you're in the Bay of Islands... Pahia is the gateway to the bay and Audrey's place is in a great location to access it all. P.S Popey is a great dog, keeps himself to himself but is really excited to greet you when you first arrive.
Richard
2017-02-13T00:00:00Z
This was a nice place to stay in PaIhia. It was just far enough away from the tourist crowds in town.
Jay
2017-01-14T00:00:00Z
Quiet, secluded place with lovely views. Friendly hostess, ably supported by Popey the dog.
Richard
2017-01-26T00:00:00Z
We could not have enjoyed ourselves anymore than we did! Audrey's place was wonderful, as were Audrey and Popey! Our room was adorable and the deck had unbelievable views!! We were able to use her kitchen to make breakfast & eat on the patio. We shared a drink and a chat one night and it was so lovely to get to know her. Can't recommend this stay enough!
Angela
2016-12-24T00:00:00Z
Romtype
Privat rom
---
Eiendomstype
Hus
---
Plass til
2
---
Soverom
Paihia, Northland, New Zealand
Large,rural house situated near SH10 on the Karikari Peninsular,24 K from Kaitaia. Accommodation in 2 large rooms both with ensuite toilet & shower,one has kitchenette. Large communal lounge, separate from owners area. (URL HIDDEN) sgl bedroom also.
Rural area with working farms & lifestyle properties Inland Road is access way to Tokerau Bch,Maitai Bay,Karikari Bch. etc Fishing generally good in the region.
The Rockhouse has an interesting and authentic atmosphere and an excellent location for reaching beautiful beaches and very easy to find from the main road. Ian is a great host who is very knowledgeable about the area and told us where to find some great beaches which we really enjoyed. He is kind and welcoming, Dad and I really enjoyed talking to him. The garden is gorgeous and full of beautiful flowers, the rockhouse's decorations are interesting and the place has a very relaxing, homey feel. Everything was clean and tidy. A delightful experience!
Vic
2016-12-16T00:00:00Z
It was great to stay at Ian's place. Quiet and lovely property. Comfy bed. Ivan was a perfect host!
Caroline
2016-03-03T00:00:00Z
Overall we had a good stay at the Rockhouse. We had the room with the small kitchen, and it had everything we needed to cook. He also provided us a space heater and plenty of warm blankets. If you arrive at night (like we did), you may want to use your car horn to let him know you're there, as we had a hard time getting in touch with him on our arrival. Once he did find us, he was very welcoming and pleasant to talk with.
Shashank
2016-07-16T00:00:00Z
Everything was perfect!
Eric
2016-10-06T00:00:00Z
Es war sehr nett bei Ian. Er war sehr freundlich und hat uns ein paar Tipps für die Region geben. Das Zimmer war sehr geräumig und das Haus mit sehr viel Liebe gestaltet. Alles war sehr unkompliziert und wir würden jederzeit wieder bei Ian übernachten.
Franziska
2016-02-22T00:00:00Z
Absolutely brilliant place and Ian is a great host. Highly recommended
Tony & Serene
2016-10-23T00:00:00Z
Very nice place to stay in the North, interesting looking house. Ian is a great host.
Marat
2016-05-04T00:00:00Z
Had a very comfortable stay with Ian. He made sure we had everything we needed for our brief stay and told us about the local area. Ensuite room had everything we needed, even a fridge!
Rían
2016-03-30T00:00:00Z
Romtype
Privat rom
---
Eiendomstype
Hus
---
Plass til
3
---
Soverom
Lake Ohia, Northland, New Zealand
Wharau Lodge is a privately owned 2 bedroom home which is available to be used as an idyllic holiday retreat offering panoramic views over the Bay of Islands. If we do not have people staying before or after you we offer flexible check in and check out. We charge a $75 cleaning fee. Also there is an optional $50 charge if you would like us to have the Hot Tub ready to use.
Wharau Lodge is a privately owned 2 bedroom home which is available to be used as an idyllic holiday retreat offering panoramic views over the Bay of Islands. Master bedroom has a Queen bed and 2nd Bedroom has option of King or 2 singles. Architecturally designed to create the perfect romantic hideaway and capture awe-inspiring views, Wharau Lodge comes complete with a spa pool set amid lush native landscaping. Just 10 minutes from Kerikeri with boat launching at the end of the road, the Lodge is the ultimate base to explore the best of Northland and the Bay of Islands No expense has been spared to maximize the unique rural and water panorama from enveloping timber decks, open plan lounge, kitchen, bedrooms and spacious double shower bathroom. The house has a clean crisp decor with a professional kitchen complete with normal appliances as well as a Nespresso coffee machine, juicer and even bread and yogurt makers. One trip to the Sunday morning farmers market is all you will need! In the lounge a wall mounted flat screen TV is the hub for the digital home entertainment center which features Bose surround sound, high speed internet, DVD player, Freeview TV and massive selection of preloaded music, movies and tv shows, board games and puzzles. There are large areas for boat parking and secure garage for storing kayaks and fishing gear. If you are looking for a getaway simply relax with a good book or sit in the hot tub on the back deck and gaze across the rural surroundings towards Russell and Tapeka point. Treat yourself to a Bay of Islands holiday!
We spent a week as a family exploring Kerikeri and the upper north island while based at Jon and Sarah's Airbnb. The house is well located to access a lot of northland by car. The house has everything you could possibly need to enjoy a week away. The kitchen is full of every gadget and appliance you need making cooking easy. We were there in the middle of winter ( must have been the one week of winter that Northland gets!) it was initially a little chilly in the house but Jon was extremely quick to remedy this for us with heaters, blankets and warm sheets. We were very toasty the rest of our stay, making it a lovely house to go to both winter and summer.
Nikki
2016-07-22T00:00:00Z
This is an idyllic spot to getaway from the world and enjoy some r and r! We had a few lazy days as well as some action packed ones, using the house as a base to explore the beautiful north. The house is out of town, which is an added bonus as you really get to appreciate the countryside. We would highly recommend a stay at Whauru Loadge!
Bruce
2016-11-25T00:00:00Z
Beautiful views from an absolutely stunning, isolated home. More than thrilled with our short stay there. We'll be back!
Clara
2016-08-05T00:00:00Z
Wonderful place, highly recommend!
Giulio
2017-01-06T00:00:00Z
What a wonderful spot! Highly recommend this great house for a northland getaway. We loved the spa, entertainment system, well equipped kitchen and the views were superb.
Sarah
2016-09-03T00:00:00Z
Fantastic spot with incredible views!! This was the perfect place to end our month long journey in New Zealand ️
Marie
2017-01-03T00:00:00Z
We had a really nice time there. Thank you for a very nice Weekend in the Bay of Islands. We would have loved to stay longer. Highly recommended.
Isabel
2016-11-05T00:00:00Z
This is an incredible gem with a stunning location. You feel like it's a secluded retreat. The house is wonderful . Modern, clean ,very well equipped and has amazing views all around. Plus a wonderful hot tub to relax in each eve. We explored all of the Bay of Islands from here just 30mins to Paihia to get boat trips etc. I would recommend this piece of paradise to all . Rebecca & Paul Keeley thank you so much perfect end to our dream Holiday in New Zealand
Paul
2017-03-22T00:00:00Z
Romtype
Helt hjem/leilighet
---
Eiendomstype
Hus
---
Plass til
4
---
Soverom
Kerikeri, Northland, New Zealand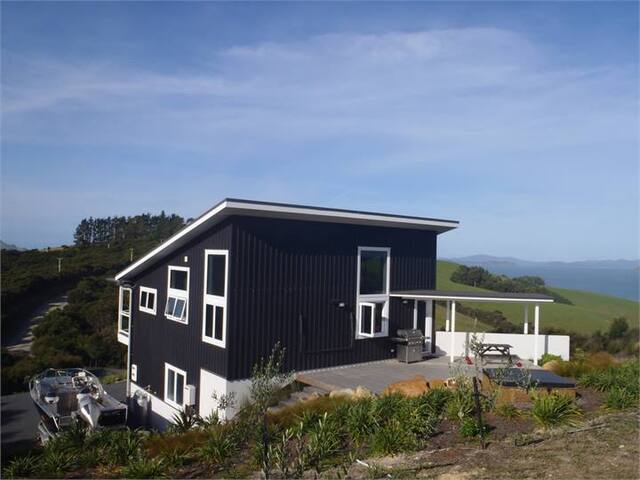 Paroa Retreat won the Supreme House of the Year Award in 2008. Located just 10km from Russell you are surrounded by views. Watch the sunset over the bush clad hills, the yachts sailing in the Bay of Islands or the abundant bird life on the lawn.
Paroa Retreat is finished to the highest standard in a minimalistic style, with little to detract from the enjoyment of the peaceful location. There is a large living area, designer kitchen and an open plan study for day time activities. The master bedroom has a walk-in wardrobe and ensuite. Two other bedrooms have access to the second bathroom and a separate toilet. There are two queen size beds, a double sofa bed and a day bed.
Watch the sunset over the bush clad hills, the yachts sailing in the Bay of Islands or the abundant bird life on the lawn. With 4 hectares of native bush on the property and some easy walking tracks in the area you are sure to appreciate this stunning location.
We can't recommend this property highly enough. It more than lives up to the images and the views from all the windows are simply stunning. Communication with Jeff was excellent and all instructions fully comprehensive. The house is very well equipped, containing everything needed for self catering. The kitchen equipment in particular is very comprehensive. The beds are very comfortable and the house is so private we felt able to sleep with the blinds open in order to admire the views as the sun came up. A fabulous house.
Sally
2017-02-20T00:00:00Z
We had a fantastic 5 night stay at Paroa Retreat. The house was everything we hoped it would be and provided lots of inspiration for the beach home we hope to build soon. The communication and responses from Jeff was always quick and clear, albeit with one small hiccup over the advertised departure time that was easily resolved. The location was perfect. I enjoyed the views of the bush covered hills as much as the view over the sea. Winery on your doorstep, Russell only 15 minutes away. It was perfect. I thoroughly recommend staying at Paroa Retreat. Some quick tips for nearby things to do: The Gables restaurant does brilliant fine dining. The Bay of Islands Swordfish Club in Russell is perfect for lunch - great harbourside views, great prices and no-one was in there. You have to sign in to be day member. Worth it for the scallop salad. And the Explore water taxi to Urupukapuka Island was a great day out. Great cafe over there and a perfect spot to lounge on the bean bags or go for a hike, swim or hire a canoe. We did all three! And our kids loved their jetski trip out to the Hole in the Rock. We were perfectly happy with the ferry!
Alastair
2016-01-13T00:00:00Z
Paroa retreat is simply gorgeous. The architecture is amazing, the view stunning and the natural light the house gets in the day is beautiful. The house is modern and comes with everything you'll need on a holiday vacation. The kitchen is super well-equipped. We felt at home instantly. The only thing... We wish we stayed longer.
Rebecca
2015-03-30T00:00:00Z
We really enjoyed our stay at Paroa Retreat. The views are nothing short of spectacular. Every little detail has been considered from the quality of the local bath products to the variety of kitchen gadgets available. Lisa who met us and showed us around was very friendly and lives nearby. Local chocolates and bubbly were left as a welcome gift. We really appreciated those extra touches. The building is a beautiful work of architecture which makes great use of the views. I loved the view of the winery from the bathtub. We even had a pair of weka birds trotting around the garden. Thanks so much for a lovely stay.
Janine
2016-02-05T00:00:00Z
An amazing house. Paroa Retreat exceeded our already high expectations. Beautifully constructed and fitted out, the house was a dream to stay in. From the kitchen with everything through to the cool furniture, the house was immaculate. Perched high above the Paroa Bay Winery valley with views to the Bay of Islands, we spent the days preparing meals and kicking back watching the stunning scenery and changing weather put on a show. Full marks to our hosts in providing everything we needed. We have never stayed at a house with a better equipped kitchen than this. We particularly appreciated the welcome pack of champagne and local Newport chocolates. Thanks also to Lisa for meeting and greeting us at the start of our stay.
Paul
2016-03-05T00:00:00Z
Beautiful home with spectacular views -- even better than the photos!! Our stay could not have been more comfortable. Jeff was great at communicating and we were very kindly greeted. Would definitely stay again if in the area!
Natasha
2015-03-14T00:00:00Z
Everything about this booking has been first class from start to finish. Jeff the host and his crew were very welcoming and made us feel like we were coming home. I cannot stress how professional and helpful the whole experience has been, and as a fellow hoster, pretty much sets the benchmark on how you should run things for your property. The place was immaculate, the location stunning. If you are going to the far north, look no further, this is the place. It would have been nice to stay longer!
James
2015-07-03T00:00:00Z
This is a fantastic property, it exceeded every expectation! The view from the house is a dream. The house is extremely well cared for and very well provisioned. Our only regret is not not staying longer, we hope to make a visit again.
John
2014-12-29T00:00:00Z
Romtype
Helt hjem/leilighet
---
Eiendomstype
Hus
---
Plass til
6
---
Soverom
Russell, Northland, New Zealand
In Tapeka Point with a short stroll to swimming beach and just a 5 minute drive to Russell with all its cafes restaurants and old world charm. Or stay at home and utilize the well appointed kitchen and bbq area. Choose to sit on the deck and watch the boats go by or enjoy the bush walks and local attractions nearby. We have a portable crib so families with babies are very welcome.
Sharon was a great host, the stay was wonderful! Thank you for providing a beautiful stay for my parents visit from the UK!
beth
2016-04-04T00:00:00Z
Une bouteille de Sauvignon blanc, des petits chocolats sur le lit, des petites attentions qui marquent. Sharon encore merci , vous et votre mari avaient une maison extraordinaire, placée à quelques kilomètres de Russell dans un endroit calme, paisible avec la plage de Takepa à 5O Mètres La vue sur la mer de la Maison est merveilleuse, et la pente pour atteindre le garage devient presque un Jeu !! C'est avec un réel plaisir que nous reviendrons lors de notre prochain sejour en NZ
Catherine
2016-02-19T00:00:00Z
We thoroughly enjoyed our stay in Russell. The accommodation was was lovely, very comfortable and the standard of all the facilities were excellent. The outside areas and views were beautiful. Sharon and Paul were great hosts and were very welcoming. We would thoroughly recommend Robin's Nest.
Ken
2016-02-05T00:00:00Z
Wonderful host, beautiful place, great neighborhood with gorgeous views!
Nancy
2016-05-22T00:00:00Z
Beautiful location & very close to central Russell. Sharon was very informative and the place had everything you could expect from a 5 star hotel. The towels on the end of the bed with a chocolate were a nice touch. It was nice to sit on the balcony and watch the stars. Highly recommend Robins Nest if your passing through Russell. Thanks for a comfortable stay Sharon.
Daniel
2016-06-11T00:00:00Z
We had a lovely time at Sharon's place. It's very clean and quiet with a beautiful seaview. We stayed for two nights, managed to have a barbeque meal one night on her Weber. Sharon was very very helpful, sorted out our friends stay nearby in the last minute for us which is hugely appreciated. We will definitely recommend Robin's place to anyone going to Russell. It's like staying at a five star hotel with a homely feel.
Min
2016-07-22T00:00:00Z
Sharon and her husband Paul were lovely hosts. Their place is absolutely gorgeous and has everything you need. Its situated a very short drive to the village center and is just minutes away from the beach. They were very accommodating to my boyfriend and I during our stay. We wished we stayed longer!
Bethel
2016-09-13T00:00:00Z
The hosts did make us feel welcome but the arrival was almost a comedy of errors when the host's husband attempted to drive our car down their very dangerous and challenging driveway. This is not a driveway any one should attempt as it's incredibly steep and dangerous. After our near miss accident we kept our car at the bottom of the drive and walked up each time.
Leanne
2016-06-01T00:00:00Z
Romtype
Helt hjem/leilighet
---
Eiendomstype
Hus
---
Plass til
4
---
Soverom
Russell, Northland, New Zealand
Better than beachfront - this is ON the beach! Modernized classic Kiwi beach house. Private location with stunning views. Furnished to a high standard with linen and cleaning included. Listen to the waves, swim, kayak, watch the boats, dine, relax, romance and rejuvenate. Close to historic Russell and the many Bay of Islands attractions
Beachfront is an understatement – this romantic escape is right ON the beach. Tapeka Beach Bach is nestled just above the sand and lapping waves. This iconic Kiwi beach house has a fresh contemporary decor furnished and equipped to a high standard. This is the perfect nest to escape, unwind and rejuvenate. Enjoy the unique vistas and attractions only the Bay of Islands can offer. Experience birdlife, dolphins frolicking and superb year round sunsets. You may even see a pod of passing Orca whales. Wander onto the beach hand in hand, explore secluded bays in a kayak – or just sit back and be entertained by the constant procession of passing boats. Situated at Tapeka Point, just two minutes from historic Russell village with boat trips, attractions, historic places, shops and restaurants. This is the perfect base to explore the rest of the Northland region. This cozy one bedroom beach house has a comfortable new queen bed with stunning sea views and the sound of the waves. If you really need to share, the living room has a queen fold out sofa bed and an ottoman that converts to a small single bed. Breathtaking unobstructed 270 degree views extend out into the Bay. There is no road between you and beach, no traffic noise and no tourists walking by. Relax on the covered surround verandah or outside in the sun. The outdoor dining table can be placed anywhere. Relax in deck chairs, bean bags or comfy Cape Cod chairs. Leave your towel behind as the all tide swimming beach and diving pontoon is only a few steps away. Rinse off under the additional hot water outdoor shower when you return. Lots of walking tracks including Kiwi habitats. Row boat, double and single Kayaks to explore the coastline. Tapeka Beach Bach has a fully equipped kitchen if you wish to self-cater, collect a take out or use the BBQ. Better still enjoy a romantic meal on the Russell waterfront, just two minutes away. Separate bathroom with shower. Facilities include Air Conditioning / Heat Pump, Nespresso machine, TV, DVD, Bluetooth sound system, free WiFi internet access and washing machine. Quality linen, towels and post stay cleaning is included in the nightly rate. Try your luck fishing from the beach, dinghy or nearby rocks. Boat ramp if you bring your own boat. This is not an apartment, cabin or basement flat. You will enjoy exclusive use of this stunning self contained beachfront property in total privacy with no shared facilities or on site owners. If you can only stay one night please ask. We may be able to assist for a small surcharge off peak and between bookings. The location, position, views and nearby attractions are unequalled - but don't take our word for it - please read the reviews and book your escape now!
Tapeka is a quiet small community of permanent residents and holiday homes. This historic peninsular has beaches either side and a walking track to the lookout at the top of the point. There is no through road or traffic noise. The area is very safe with friendly neighbours. Just two minutes over the hill is historic Russell village with shops, Island boat trips, ferry to Paihia, restaurants and historic places
Very fast and effective communication with Clive. This little house on the beach has a truly unique location - not as isolated as you might think, so you will hear the neighbors, but it pays to just concentrate on the beach - it is a wonderful spot, and we would have stayed for longer, if our plans had allowed us.
Gert
2016-01-17T00:00:00Z
Tapeka Bach was the perfect end to our Northland holiday. We didn't get much sun in the Bay of Islands but Tapeka Bach right on the beach with the crashing waves was a perfect mid-winter retreat. The bach itself was very comfortable and clean with everything we needed. Clive was a good communicator, even checking in from abroad and making sure there was a friendly NZ contact Amanda to sub in for him while he was away. The tv dish had been put out of action with a storm before we arrived but we didn't miss it neither the sound of the sea. It was only a few minutes drive to th Russell village and then a ferry away from Paihia and Waitangi. We had a couple of relaxing nights in and a couple of wonderful nights out in Russell. the local beaches were perfect for a rugged up and a little wild but still mild June walk. We 'd love to come back in a sunnier time but expect we would miss the peace and quiet as it is likely that such a special place as Tapeka will be popular in summer. Overall we found it hard to resist the charms of Tapeka bach.
Sarah
2016-06-11T00:00:00Z
The Tapeka bach is completely charming. We spent our days barefoot -- on the beach or on the verandah in the shade watching the boats go by. The owners have been generous in equipping the house with everything you might need for a beach holiday. We had an excellent, completely contented stay in this pretty location.
Lisa
2017-02-24T00:00:00Z
The perfect beach house getaway! Just meters from the sand, incredible views from every room and the sunsets from the deck were amazing. Has clean, stylish and modern amenities while still feeling like a true bach. Close to town by car or kayak, and the hot outdoor shower was a great way to finish a long day in the water. Will definitely be back!
Haley
2017-03-18T00:00:00Z
Best place we've ever stayed Ben & Elise
Ben
2017-03-08T00:00:00Z
The Tapeka Bach house was the perfect location for a restful stay at the end of a visit of several weeks heavy on driving around both islands. The house is lovely and comfortable, and the setting is even more breathtaking than I'd expected. Although it's tucked in among several neighboring beach houses, it is perfectly private. Clive was excellent in providing detailed arrival information, and even though he was out of the country, he responded quickly to any inquiries of mine. It's a great value in a location that should be on everyone's itinerary in a visit to New Zealand.
Mickey
2016-12-07T00:00:00Z
The Bach is perfectly located directly at the beach with a nice lawn in front of it. It has beautiful views over the bay. The house is equipped with everything you need. Best kitchen we have experienced during our whole trip. Clive was really welcoming and very helpful with little problems. We can only recommend a stay there.
Paul
2015-04-14T00:00:00Z
Clive was a perfect host. Pictures or words cannot do this place justice - it was simply perfect! Right on the water you hear the water lapping at night. To slow down for a few days was all we wanted and we got that too!!! Lounging in the sun, swimming and eating - was everything we wanted and more. Will hopefully get back there one day!
Gemma
2015-12-13T00:00:00Z
Romtype
Helt hjem/leilighet
---
Eiendomstype
Hus
---
Plass til
5
---
Soverom
Russell, Northland, New Zealand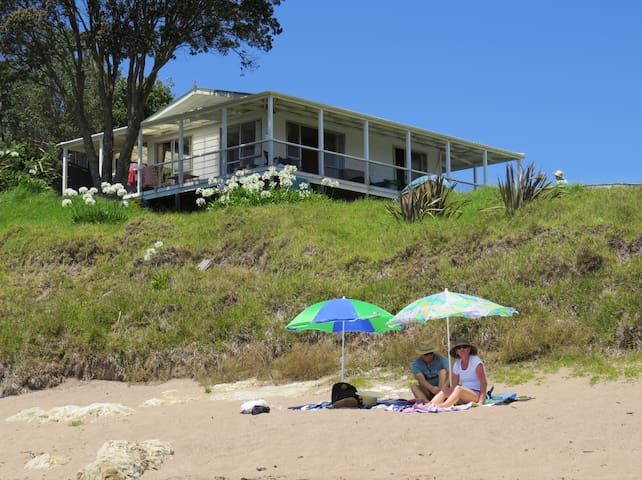 Located in Paroa Bay, a relaxing, peaceful and idyllic retreat close to historic Russell. Architecturally designed and built in 2013; luxurious, and modern, with wifi, skyTV, ipod docking station. Views over Paroa Bay vineyard to the Pacific Ocean.
Our chalets are located on 10 acres and our nearest neighbours (we don't have very many) are approximately 800 metres away. Our chalets are light filled and optimise the stunning scenery of the area. Our decks are unique in that they are mostly covered and surrounded on three sides by glass. They offer protection from any adverse weather yet create the feeling of being outside.
Close to Paroa Bay Vineyard, historic Russell, beaches and oyster farms
Claire and Richard emailed us before our arrival with useful tips how to get to their chalet. We had a great time there, the chalet was very spacious and clean with a fully furnished kitchen and a gas bbq on a patio with amazing views. It was only a short drive to Russel. Thank you.
Anna & Long
2015-05-21T00:00:00Z
We had a great stay at the chalets! Loved the layout of 2 separate quarters with a common kitchen/living room in the middle. The view is beautiful and the winery is right down the road. My husband and in-laws raved about the place!
Joanna
2016-03-06T00:00:00Z
Thank you for a lovely relaxing stay. The chalets are situated on a quiet hilltop overlooking Paroa Bay and winery. It's a 20 minute drive to Russell and about 15 to the car ferry. It was a perfect respite for my husband, daughter and me. The chalet is very clean, comfortable and just as described. We stayed in chalet 3, which I think has the best views. Claire was quite helpful in arranging a dolphin tour booking and providing local dining, swimming and hiking suggestions. There are beautiful walks right out the back door. She made booking and coordinating very easy. If we are back in the area, we would definitely stay here again.
allison
2015-02-12T00:00:00Z
Claire and Tess provided us with a great welcome and good local knowledge. The units are just as nice as shown on the photos and we were impressed by the quality/ natural light of the space and quality of the place. The spa was my personal favourite, and a real treat at the end of the day, although I did need to remind the neighbours children not to tramp grass in it. The area is very peaceful and as the photos show you are right next door to a commercial vineyard, which runs free tastings if you purchase a bottle, or 5 dollars if you don't. Unfortunately access to Paroa Bay is not permitted as it is over private property and the boat ramp access was down a private road, so the closest beach/ swimming point was a little further than anticipated - car essential. The chalets are circa 10 minutes away from the nearest shop a service station which sells everything including fishing rods. The units are 15 minutes drive to Russell or 20 minutes drive to Long Beach. Jacks Bay is good for a swim and is the closest beach approx. 10 minutes away via an unsealed road, but with a 10 minute walk over a track with no seal, this a little slippery so footwear recommended. Russell is a pretty town on the waterfront with lots to do/ charters islands to visit which I would highly recommend. However, it closes up at 9pm so definitely get in early Fantastic spot for yachtsmen/ boat owners.
Jeffrey
2016-01-17T00:00:00Z
Lovely chalets in a beautiful setting. The accommodation was well kitted out, and nice and comfortable. Claire was welcoming and a great host.
Jay
2015-10-13T00:00:00Z
A pleasant and peaceful spot. Our chalet was well equipped and comfortable. Thanks for having us :)
Brent
2014-11-30T00:00:00Z
The Paroa Bay Chalet was a delight to stay in! You could easily stay here for a week or longer as it is set up with all the amenities you would require. It is a new build and looks even better than the photos! There are 2 spacious double bedrooms with comfy beds and beautiful, panoramic views of the area complete with their own bathroom each. The showers were very spacious. The kitchen comes fully equipped with everything you need, complete with microwave, toaster, kettle, huge fridge, freezer, oven etc. Outside there is even a spacious barbecue to use! The living room is very comfy to relax in as you browse the internet using their wifi base station. There is also a tv, blue-ray player, hifi, DVDs and books to read. We made use of the washing machine and dishwasher and there is also a dryer if needs be. The hosts were great at communicating how to get to the chalet, as they were currently elsewhere. We would really recommend staying here if you're visiting Russell or nearby.
Andie&Emily
2014-04-08T00:00:00Z
Amazing experience: beautiful home, stunning location, and wonderful hosts. The home's modern, spacious home design was perfect. So nice to have two separate bedrooms (with great beds and bedding) and two full baths. The doors to the deck area opened all the way, enabling a full view of the mountains and sea while we cooked and grilled-- fantastic indoor/outdoor flow and connection. Incredibly comfortable home-- one that we wished we could have stayed in for several more days. Claire and Robert were very welcoming and helpful about places to visit and eat in the area. The home is in a great location-- close to several interesting and scenic attractions (gorgeous beaches, Russell town, Waitangi Treaty grounds), and then return back to the beautiful home-- to enjoy the hot tub/spa at night while gazing up at the milky way. Our family of four had a magical time. We highly recommend this place all around!
Ziyad
2015-04-18T00:00:00Z
Romtype
Helt hjem/leilighet
---
Eiendomstype
Hus
---
Plass til
4
---
Soverom
Russell, Northland, New Zealand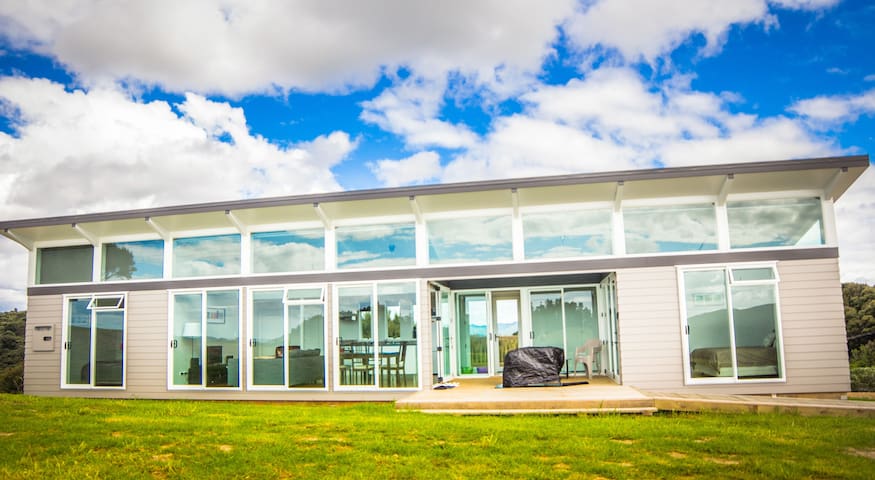 Situated in a beautiful garden and rural setting. Tranquil with only the sound of native birds around the garden as you enjoy your morning coffee. Start lovely bush and coastal walks within minutes. 2 minutes drive from Opua marina and Cafe and 6 minutes drive to Paihia Central.
It is a very quiet peaceful area to enjoy your holiday and break. We are very friendly hosts and can assist with all enquiries as we previously owned a local taxi and tour company. We have 2 rooms available with own Ensuite tea coffee. Own external entry's. Continental breakfast provided at an extra charge.
It is very quiet peaceful neighbourhood very considerate neighbours.
Perfect spot with a quick less than 5 minute drive into town, nice clean room with ensuite, fresh milk was appreciated! The hosts were lovely and very accommodating with lots of helpful info! Would highly recommend as well as stay there again!
Emily
2016-03-19T00:00:00Z
Sharon and Yarn were the perfect hosts! They were always super friendly and we have nothing to complain about. Without them we couldn't have seen the Northland like we did. Thanks for a home far away from home and we will definetly see you again.
Antonia
2015-12-02T00:00:00Z
Sharon und Yarn waren sehr nette, zuvorkommende Gastgeber. Trotz einer dem Jetlag zum Opfer gefallenen Verwirrung mit dem Datum der Buchung, haben die beiden sehr konkompliziert und verständnisvoll reagiert! Das Zimmer ist schön, sauber und erfüllt alle Wünsche die man für einen Aufenthalt dieser Art benötigt. Parken kann man direkt auf dem Grundstück ! Ich komme gerne wieder;) Danke Sharon & Yarn
Maik
2016-09-29T00:00:00Z
Sharon and Jan are living in a very beautiful and special place in New Zealand. We appreciated the stay in their room, cause we felt like at home. They're very very lovely, very very helpful and very very hospitable. We are thankful for the amazing conversation. We hope, we see us again. You have to join them!
Bartosz
2016-11-28T00:00:00Z
Sharon and Yarn are very friendly, great to chat with and advise for other things to do in New Zealand. The room is perfect size for a couple and immaculately clean. Close to Paihia and the beaches. They we also very accommodating when our trip was pushed back a day due to airline delays. Great place to stay!
Kristen
2017-03-05T00:00:00Z
My Girlfriend and I stayed for 3 nights and Sharon and Yarn were the perfect hosts. Very friendly and helpful! They gave us useful Informations about the Region,activities and Restaurants. The room was big, clean and the bed was very comfortable. Their house is in the middle of a green paradise. We had an amazing stay an would highly recommend to stay here.
Danny
2016-01-18T00:00:00Z
Our stay with Sharon and Yarn was short but sweet. Yarn greeted us when we arrived and made us feel right at home. The room is clean and private, and they live in such a beautiful, serene area. Perfect place to get away from the hustle and bustle of Paihia at the end of the day, but only about a 5 minute drive away. The milk, coffee and tea were much appreciated.
Sara
2016-11-19T00:00:00Z
Sharon and Yarn are perfect hosts. They are very friendly and helpful if you need tips for restaurants etc. The room was great: big and very clean. Their garden is a little paradise. We had an amazing stay. Thanks a lot!
Lea
2016-01-14T00:00:00Z
Romtype
Privat rom
---
Eiendomstype
Hus
---
Plass til
2
---
Soverom
Opua, Northland, New Zealand
Northland - Airbnb
:
Gjennomsnittlig

4.88

av

5

stjerner fra

1537

gjesteanmeldelser
1

–

18

av

300+ Utleiehjem
Oppgi datoer for å se fullstendige priser. Ekstra gebyrer gjelder. Skatter vil kunne tilføyes.