Large room with private bathroom. 2 twin beds. Cable-TV. Water, coffee and tea on the room. Breakfast. In a quiet neighbourhood between the historical cities Ghent and Bruges. Cycle to Ghent, Bruges, Knokke or Kortrijk on car-free routes along canals and rivers.
Large room with private bathroom. Two twin-beds. Cable-TV. Water, coffee and tea on the room.
Quiet green neighbourhood. Perfect for a walk along the river Lys (Leie) or a cycling tour along several rivers and canals.
Moment très sympathique. Couple accueillant, conseils intéressants sur les endroits à visiter ainsi que les spécialités locales. Chambre conforme aux photos, salle de bain très confortable. Je recommande!!
Alexis
2016-05-09T00:00:00Z
Highly recommended!!! Wouter is a very hospitable and 'gezellig' person, who gave us lots of helpful tips and recommendations what to see and how to move around; And about the house.... A perfect place for a peaceful and quiet stay just outside of the city of Gent is a definite recommendation! A very friendly host and definite high quality room! Although its more in the countryside the quiet location is a definite plus and easy to reach by car! Perfect for short stay visit as well as longer time. Much to see!
Jamie
2015-12-31T00:00:00Z
Mijn zoon en ik hebben drie nachten gelogeerd in het huis van Wouter en Wim. We hebben goed geslapen en elke ochtend genoten van het lekkere ontbijt met o.a. 3 soorten zelfgemaakte jam, gekookt eitje van de eigen kippen en vanaf de tweede ochtend ook pindakaas daarbij die Wouter speciaal voor ons had gekocht. Wouter is een erg attente en aardige gastheer die met ons mee at en ons van de nodige tips voor onze stedenbezoekjes (Gent, Brugge en Antwerpen) heeft voorzien. Laatste ochtend was ook Wim thuis en dat maakte het ontbijt nog eens zo gezellig. Hier logeren is zeker een aanrader voor wie één of meer van bovengenoemde steden wil gaan bezoeken! Vlak in de buurt van de woning zit bovendien restaurant Jeffrey's waar je heerlijk kunt eten!
annemiek
2016-11-05T00:00:00Z
We werden zeer vriendelijk ontvangen. Kamer ziet er zeer verzorgd uit en de eigen badkamer is ook zeer prettig en was zeer netjes en schoon. Het ontbijt was ook verrukkelijk.
Jan
2016-05-04T00:00:00Z
Een prachtig huis in een nieuwe wijk van Nevele. Mooie ruime kamer en een ook al ruime en van alle gemakken voorziene badkamer. Het pand is wel erg gehorig.
Ferd
2016-10-27T00:00:00Z
Zeer propere kamer en badkamer in een rustige buurt. Het ontbijt was lekker met vers brood. We kregen zelfs een speigeleitje.
Dorien
2016-06-06T00:00:00Z
Wouter a répondu rapidement et positivement à toutes mes questions. La photo correspond à la réalité. Le quartier est résidentiel, calme et moderne. La maison aussi est moderne, et lumineuse. Wouter s'est montré disponible et s'est adapté à nos horaires. Son accueil a été chaleureux, il nous a fait rire et a fait de son mieux pour rendre notre séjour agréable.
Danielle
2016-08-29T00:00:00Z
Prima kamer, ruime eigen badkamer en gelegen in een rustige buurt! Verzorgd en lekker ontbijt..deze bnb is zeker een aanrader!
Els
2016-08-21T00:00:00Z
Romtype
Privat rom
---
Eiendomstype
Hus
---
Plass til
2
---
Soverom
Nevele, Vlaanderen, Belgia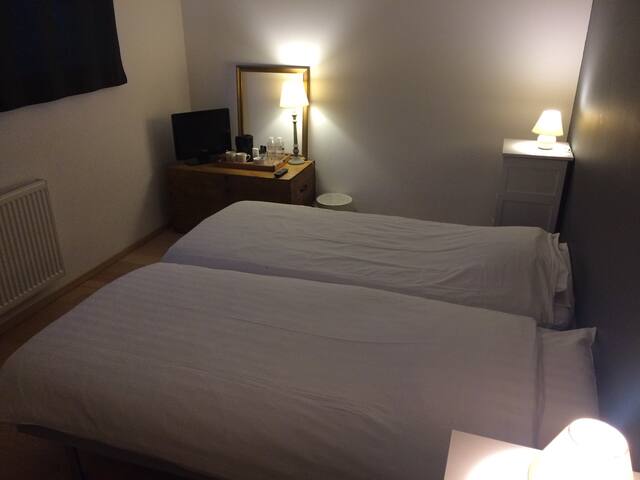 This is a cozy room in Nevele. My house is near the expressway so if you have a car, you are 10 minutes away from Brugge or Gent.
Veel natuur, mooi om te wandelen of te fietsen. Ik heb ook een (dames)fiets die gebruikt mag worden.
Heidi foi muito simpática e prestativa em toda minha estadia. Não tive problemas com nada. Ajudou em tudo que pedia ajuda. A casa e aconchegante. Os animais (cão e gato) são extremamente simpáticos. O local é tranquilo, longe do barulho. Há mercado (Carrefour) bem perto. Foi uma pena não ter ficado mais tempo, pois Heidi é uma anfitriã muito legal!
Erico
2016-10-24T00:00:00Z
Heidi is a very friendly and communicative host. We shared the common with pleasure. The house is clean and well equipped. It's located close to the highway in order to get quickly to Gent or Brugge.
Marcel
2016-10-30T00:00:00Z
Romtype
Privat rom
---
Eiendomstype
Hus
---
Plass til
3
---
Soverom
Nevele, Vlaanderen, Belgia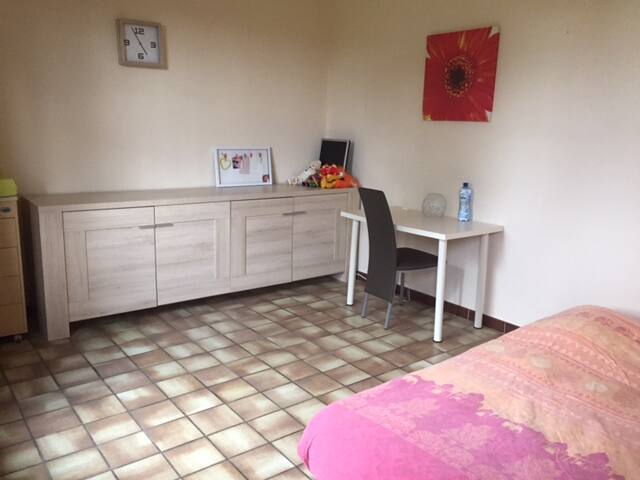 one large open space upstairs, one bathroom with bath, basic kitchen and small living room. Large garden. In village centre, walking distance from SPAR shop, bakery, farmacy, 12 km from Ghent, near railway and highway (E40).
Nous avons très bien dormi durant ces deux jours passés chez marjolein! Nous conseillons cette chambre sans hésitation. Marjolein etait a notre disposition. Mais il vaut mieux mettre muni d'une voiture et d'un gps pour trouver le lieu !
Anna
2015-05-25T00:00:00Z
Wij bleven 1 nacht bij Marjolein en werden goed ontvangen. Het huis is goed bereikbaar maar ligt toch in een stille en rustige omgeving. Er is ook een ruime tuin en 2 toffe katten.
Brecht
2015-05-10T00:00:00Z
Wir haben uns bei Marjolein wie zu Hause gefühlt. Das Haus liegt in einer ruhigen Wohngegend. Zum Spar (Einkaufen) sind es vielleicht 70m. Der Bäcker und Metzger befindet sich nur unwesentlich weiter. Dort kann man auch einen Ardennenschinken probieren. Achtung am Sonntag hat der Bäcker geschlossen! Durch Marjolein haben wir viel Interessantes und Informatives nicht nur über Belgien erfahren. Auch kostenlose zentru(SENSITIVE CONTENTS HIDDEN)ahe Parkplätze in Ghent etc. gehörten dazu. An alle Katzenliebhaber: Für diese ist die Übernachtung das absolute Highlight! Eine rote (scheue) und eine schwarze Katze (kuschelt gerne) sorgen für Kurzweile. Diese zwei sind nicht abgeneigt auch kulinarische Spezialitäten aus anderen Ländern zu kredenzen. Für Radfahrer wäre die Unterkunft auch ideal (gute Möglichkeiten mit dem Fahrrad auf kleinen Straßen gleich zu starten). Bruegge ist mit dem Auto schnell zu erreichen. Ein ruhiger, sonniger Garten kann mitbenutzt werden.
Ingbert
2015-05-03T00:00:00Z
Begin november 2014 was het nog vrij basic, maar we hebben een fijne tijd gehad. Mooi ligbad, overal planten, een heel huisje voor jezelf!
David
2014-11-10T00:00:00Z
ze heeft ons met open armen ontvangen en was zeer gastvrij
ada
2015-07-23T00:00:00Z
Marjolein ist eine sehr freundliche, hilfsbereite und liebevolle Gastgeberin. Wenn wir spät nach in die Wohnung zurück kamen, brannten gemütlich Kerzen, damit wir nicht im Dunkeln tappen. Das Haus hat einen wunderschönen und großen Garten. Der Aufenthalt war sehr schön. Das Zimmer war auch für zwei Personen ausreichend und schön. Die Nachbarschaft ist wunderschön, ländlich und ruhig, eine schöne flämische Gegend mit viel Natur. Trotzdem ist man in wenigen Minuten auf der Autobahn, in knapp 20 Minuten ist man schon mitten in Gent und auch nach Brügge ist es es nicht weit. Die Unterkunft ist perfekt für Tagesausflüge ins schöne Belgien.
Andy
2015-06-07T00:00:00Z
Mijn vriend en ik verbleven een nachtje bij Marjolein. Marjolein is erg gastvrij en weet er een gezellige sfeer van te maken. We hebben een fijne overnachting gehad en na een heerlijk ontbijt konden we onze reis vervolgen. Marjolein, bedankt voor je gastvrijheid!
Lindsay
2015-04-04T00:00:00Z
Marjolein heeft ons meteen verwelkomt met thee en een korte rondleiding door haar huis. Wij konden van alle faciliteiten gebruik maken en hebben genoten van onze brommerritjes waarbij de fietskaarten van Marjolein goed van pas zijn gekomen. Ook de tips over de streek en bier waren fijn. Merendree is 'n klein stadje met genoeg voorzieningen zoals supermarkt, bakker e.d..
Sanne
2015-05-17T00:00:00Z
Romtype
Privat rom
---
Eiendomstype
Hus
---
Plass til
2
---
Soverom
Nevele, Flandern, Belgia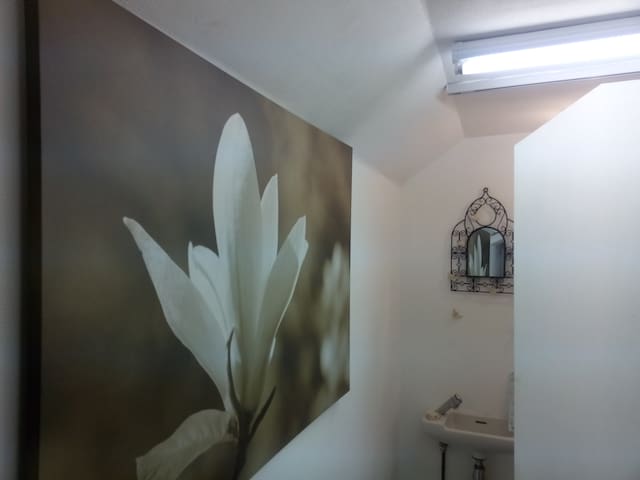 Mijn vriend en ik wonen in een gerenoveerd huis zeer dicht bij het centrum van Gent (15 minuten met de auto, 8 minuten met de trein). Als u besluit om bij ons blijven, zult u uw eigen kamer.
Al waren we Evi en Maxim's eerste gasten , we werden heel hartelijke onthaald. Hun huis was voor zes dagen onze thuis. En zo voelde het ook! Een echte aanrader !
hanne
2016-10-05T00:00:00Z
The second time and it felt like coming home. Ideal place to stay while we followed a Parelli Horsemanship clinic. Thanks for trusting us!
hanne
2017-02-12T00:00:00Z
Romtype
Privat rom
---
Eiendomstype
Hus
---
Plass til
3
---
Soverom
Nevele, Vlaams Gewest, Belgia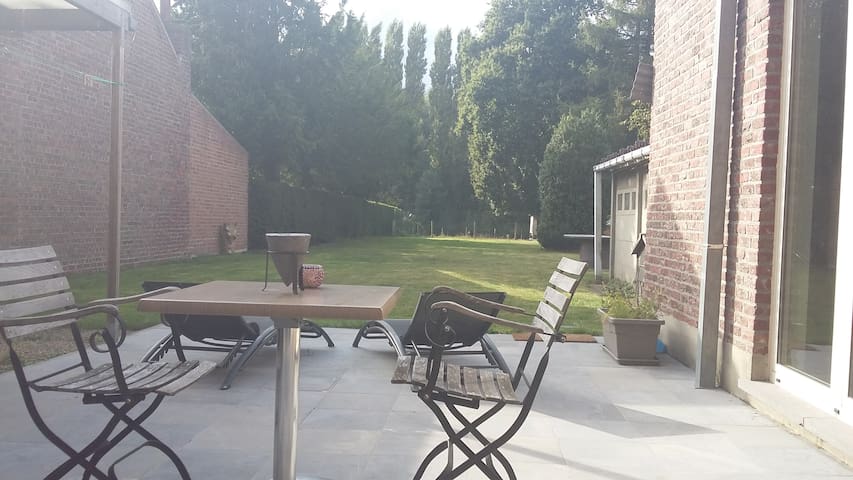 Coulter and Dale is a brand new apartment in the village of Landegem, 15 km from Ghent. From the beautifully decorated and comfortable home or from a you have a beautiful view of the valley of the two terraces "The Old Bald".
Thanks to Rik for a wonderful weekend in Nevele. The booking, meeting and departure went very smoothly. They went out of their way to meet our needs. Thank you! The house is truly gorgeous and the garden is show stopper. We were there for a weekend with friends and the children had a fantastic time running freely in the beautiful lawns. The open plan living space was so very beautiful and was perfect for catching up and relaxing. It was an extremely comfortable stay. The surrounding area has much to offer too. We will definitely return.
Susannah
2016-10-23T00:00:00Z
Rik was a wonderful host. Kouter en Dal is a beautiful property, well-situated between Ghent and Bruges. The walk to the train station is about 15 minutes with a 15 minute train trip to Ghent and a 30 minute trip to Bruges. We were very thankful for how well-suited the property was for our 5 young children. The home is updated with all of the modern amenities. The property grounds were beautiful and offered plenty of room for the children to explore and play. There is a grocer, butcher and bakery within a 5 minute walk. We look forward to returning.
Amanda
2016-12-29T00:00:00Z
We verbleven met een groep vrienden bij Rik om Gent te bezoeken. Dit is prima te bereiken met het nabijgelegen OV of met eigen auto. Het huisje is prachtig gerenoveerd en heeft een luxe uitstraling. Je kunt er zeer comfortabel verblijven, het huis is van alle gemakken voorzien. Rik was een fijne gastheer, goede communicatie en flexibel met de aankomst/vertrektijd. Al met al zeker een aanrader!
Oscar
2017-02-19T00:00:00Z
Het contact met de host was uitermate prettig. Bij aankomst een rondleiding gehad en twee heerlijke flessen bubbels! Het huis is van alle gemakken voorzien en bovengemiddeld luxe met hoog afwerkingsniveau. Wij hebben genoten met een groep 9 vrienden. Gent is op ca. 15 autominuten verwijderd of anders via het treinstation op loopafstand.
Mike
2017-04-02T00:00:00Z
Romtype
Helt hjem/leilighet
---
Eiendomstype
Hus
---
Plass til
10
---
Soverom
Nevele, Vlaanderen, Belgia
NEW! Colourful, clean and bright XLSuite as part of Flanders National Heritage (1730) offers the romantic rural joys near the medieval heart of Ghent (car 10' / bike 30') at the shores of an idyllic lake. Welcome!
Dear future guest, Are you looking for one of the most beautiful historic cities in Europe and want to combine it with a cultural heritage guesthouse at a unique location (easily and quickly accessible) then our XLSuite is your perfect match! We offer 1 BRAND NEW XL (or family) guestroom with stylish furnishings in an historic house built in 1730 (recognized as Flanders National Building Heritage), which was completely renovated in 2015. With the medieval heart of bustling, fairytale Gent only a stone's throw away (10 minute drive) at a prime location on the shores of the lively lake "Eendenmeer" (10 ha.) this is one of Flanders' most unique residences! Ghent enjoys a central location in Flanders and Europe: with Antwerp and Brussels at 50 km, famous Bruges at only 30 km and metropolis Amsterdam and Paris at resp. 200 (2hrs by train) and 300 km (3hrs). Clarification on the advertised price: The entire guestroom comes at variable rates per night (basic price 55 euros up to 70 depending in weekends and summer season). reakfast is not included in the advertised price. Every guest after the second one comes at an additional 20 euros/night. Kids up to three years come free! (a baby bed is available on request). Every reservation comes at an additional 20 euro cleaning fee. Do you wish a breakfast? No problem: just make the request. Breakfast comes at 10 euros per person. If the weather is nice you can enjoy a breakfast in our garden under the walnut tree or at the shores of the lake and/or we can arrange it at nearby "Prullenbos" which offers special breakfasts such as the 'late sleepers breakfast' or for the kids 'a squirrel breakfast'. Plenty of options... In the guest room you will find everything you need: sheets, towels, soap, coffee, tea, water. Important! It is not allowed to cook inside the room. Detailed description of the guestroom: it is one large, bright guestroom (50m2) which offers great views on the garden (there are no other guests present) having 3 separate bedrooms and 3 beds. The master bedroom has a lovely king size double bed (with one big mattress) with wardrobe and is located on the ground floor, separated from the living room by the bathroom. The other two are mezzanine bedrooms each with a single bed: particularly atmospheric, private and yet with an open feeling. The room has a separate entrance and hallway where there is a large fridge, water cooker, cutlery and plates etc. Please feel free to use any of these. In the fridge you'll find cold drinks and local beers to welcome you! Please note there is no kitchen available!
The leafy area is great for walking and cycling and mountain biking. Especially FOR the KIDS, there is a awesome family/theme PARK "HARRY MALTER" at just a two-minute walk along the shores of the lake. It offers large playgrounds (partially covered), a zoo as well a circus with regular shows. You can find more information on their website (URL HIDDEN) Another nice place for kids and parents is "Prullenbos", just a few minutes away. It has a nice play valley and offers special breakfasts (such as the parents "late sleepers breakfast" or the kids "squirrel breakfast"), snacks and local beers. In others words a place where kids can romp in nature and fully enjoy themselves. For more specific information see the Prullenbos website at (URL HIDDEN) Also the Castle of Laarne is only a few minutes away, (URL HIDDEN) For visits to Ghent, (URL HIDDEN)
We thoroughly enjoyed our stay with Tore and Annelies. They were the perfect host, and the accommodation was very comfortable and homely. I hope we will be returning before long!
Dijana
2016-12-26T00:00:00Z
Beautiful home and garden. Tore was very welcoming and friendly. Highly recommend hiring their bikes and riding around the area. Would have loved to stay longer :)
Nell
2016-07-08T00:00:00Z
De kamer overtrof alle verwachtingen en was in realiteit nog gezelliger en nog mooier dan op de foto's. Je kan moeilijk van een kamer spreken, het is eerder een mini-huisje met zithoek, 2 kamertjes in mezzanine en een ruime slaapruimte. Dit alles op een heel bijzondere, aparte en creatieve manier ingericht. Gastvrije ontvangst met veel extraatjes en toewijding. Toch hadden we nooit het gevoel dat we geen privacy hadden, integendeel. De omgeving brengt je helemaal tot rust: één en al groen rondom het huis, zelfs een groot meer met bijzondere vogeltjes.
Stefanie
2016-01-25T00:00:00Z
We hebben een heerlijk verblijf gehad in Destelbergen. De locatie is fantastisch en de gastheer en -vrouw zijn erg vriendelijk en behulpzaam. De ruimte zelf is modern ingericht en voldeed aan al onze wensen. We hebben erg genoten van het ontbijt (zorg dat je die er zeker bij boekt!) en de natuur rondom de hoeve. Een plek om heerlijk tot rust te komen. Verder sta je binnen mum van tijd sta je in hartje Gent. Niet twijfelen, maar boeken dus!
Dick
2016-09-18T00:00:00Z
We spent a very comfortable night at this amazing house and want to thank the owners for their warm welcome. Our every request was met with great understanding and the breakfast that was offered was healthy and delicious. For breakfast Tore even baked us an artisan loaf of bread! The surroundings are picturesque and we took a morning stroll around the lake. The hosts are very interesting people to talk to as well. On the whole, you wouldn't find a more pleasant experience. We can't say enough good things, thank you very much!
Nathan
2016-02-04T00:00:00Z
Perfect. A very warm welcome, an extremely nice place to stay and the best breakfast! It was very short for us, make sure you stay a little longer!
Angel
2016-04-18T00:00:00Z
Tore and Annelies were very welcoming. Both spoke very good English. The venue was beautiful and very peaceful. Good tea and coffee provided. The coveted barn was gorgeous. The kids loved their beds high up neat the ceiling. Recommended. (Just remember some mosquito repellent as the lake attracts them.)
Karl
2016-08-19T00:00:00Z
Perfect accommodation for the over-night stay my wife, 2 teenage daughters and I required on our road trip around the Low Countries. Our hosts, Tore and Annelies, were on hand to welcome us although we arrived late evening. Also most welcoming was the fridge stocked with beers and soft drinks, available for a small extra charge. The location was spectacular and the pre-dawn walk around the geese-laden lake an appetizer for the satisfying breakfast (also for a small extra charge) supplied by the hosts and kindly served in their own breakfast room to ensure the 4 of us had ample space to fully enjoy the delicacies, especially the warm home-baked bread!
Mike
2016-05-29T00:00:00Z
Romtype
Privat rom
---
Eiendomstype
Hus
---
Plass til
4
---
Soverom
Destelbergen, Vlaanderen, Belgia
Gezinswoning (4 slaapkamers) met grote stadstuin, nabij Gent. Gemeubeld te huur voor periode april - augustus 2016 wegens verblijf in het buitenland.
Ruime leefkeuken en zitplaats op benedenverdieping in één ruimte Grote stadstuin 2 slaapkamers + badkamer op eerste verdieping 2 slaapkamers op tweede verdieping
5 min fietsen van centrum, gent 5 min stappen van heel mooi park met S&R rozebroeken (sporthal en zwembad)
We met Sofie and her family and had a good feeling from the first moment. We had a wonderful stay in their beautiful house. Thanks a lot.
Lieve
2016-08-15T00:00:00Z
Romtype
Helt hjem/leilighet
---
Eiendomstype
Hus
---
Plass til
6
---
Soverom
Destelbergen, Vlaanderen, Belgia
Ma Campagne is a wonderful countryhouse. The large room is completely soundproof. Bed (1.80m) and sleepingcoach for 2 persons available in the room.
The room looks over the internal garden. Breakfast in the village.
Ma campagne ligt midden in de velden.
Op doorreis naar Frankrijk heerlijk geslapen in deze B&B. 's Avonds in het fantastische bad liggen ontspannen en daarna diep geslapen.
Eva
2016-09-23T00:00:00Z
A beautiful, peaceful setting. Clean, immaculate room. Good, clear communication - thank you!
Bibi
2016-05-17T00:00:00Z
Natasha gave us a warm welcome to her b&b complimenting the three rowers as very sexy (correct) and helping to show us the room, bathroom and facilities. We were also very kindly treated to a welcome drink and the opportunity to relax and sunbathe on the lawn. Thanks for a beautiful and easy stay.
Jon
2016-05-09T00:00:00Z
Romtype
Privat rom
---
Eiendomstype
Hus
---
Plass til
4
---
Soverom
Destelbergen, Vlaanderen, Belgia
Charming separate studio in our house within walking distance of the Sint-Pieters railway station. The studio has a large bedroom/living room, a separate bathroom, kitchenette and toilet. We live upstairs, a couple born and raised in Ghent with our two boys. Great neighbourhood.
The studio is located in a house built in 1956 close to the central railway station (500m). The studio consists of 3 different spaces. A large living/bed room, a separate room divided in a small bathroom (shower and sink) and a small kitchenette (fridge, microwave, 2 electric cooking plates and a sink) and a separate toilet. The complete space would be +/- 35 square metres.
We live in a beautiful, green residential neighbourhood and everything you need is within walking distance. The railway station neighbourhood has great shops. There is a beautiful park in the street and the Blaarmeersen (recreational domain) is really close. Ghent is not that big of a city, getting around is easy and the city and our neighbourhood are safe. We live close to the railway. The historical city center is easy to reach with trams, a bike. You could do it by foot (we do it every now and then, but at the end of the day you won't feel your legs anymore).
Super accueil! Stefan et sa famille sont adorables! Ils nous ont donné une foultitude d'infos pour visiter Gand le mieux possible, quant à la chambre, rien à dire: spacieux, lumineux et à l'étage du dessous, avec la salle de bain/toilettes privées. Merci mille fois!
Emilien
2016-03-09T00:00:00Z
Stefan and his wife were very welcoming and friendly during my whole stay. I felt like at home. He was very responsive over Airbnb chat and phone too. Getting precise navigation steps from Stefan helped me to find the right house. The room and surroundings were clean. I'd be happy to stay there next time when I'm in Gent! I wish him luck with his startup.
Radek
2016-02-02T00:00:00Z
Wij hebben een heel fijn verblijf gehad in de airbnb van Stefan. Het ontvangst was hartelijk en vriendelijk. Wij kregen een rondleiding en uitleg van de kamer, die er prima uitziet. Erg leuk was ook de mogelijkheid om een tramkaart te gebruiken die goedkoper is dan de normale toeristen kaartjes. Erg attent. De stad is goed bereikbaar vanaf de airbnb. Kortom: super!
Patou
2016-05-09T00:00:00Z
What a great place to stay. The studio is perfect for a short trip to Ghent. Stefan and Joke did everything to make our stay as easy and convenient as possible. The studio was clean and well equipped, and we were even provided with public transport passes (for cheaper fares) and a bike rental card. Stefan and Joke are awesome people and are great to have a chat to. The location is superb - a nice quiet neighbourhood yet only 5 min walk from the main train station, 7 min to the centre by tram or 25 min on foot. We highly recommend Stefan and Joke's studio for your trip to Ghent.
Matthew
2016-06-27T00:00:00Z
Our stay with Stefan was exactly what we were looking for. A calm, spacious place in a nice neighborhood not too far from the center. Very convenient traveling by car. Our stay was peaceful and quiet, even with the little ones at home. :-)
Adam
2016-09-07T00:00:00Z
Stefan and his family were very welcoming and the communication from their end was great. They made our time in the city and their place a good experience. They gave us information, suggestions and tips regarding the city that only a local there would know of and you wouldn't find on the internet. Their place is very cozy, well setup and nice. Enjoyed our stay with them!
Ananya
2016-09-16T00:00:00Z
I had a very short but lovely stay with Stefan and Joke. They were extremely accommodating and very helpful making recommendations for things to see in the city. The place was very clean and separate from the house allowing complete privacy. 5 minute walk from the train station and about 15 minutes walk into the city centre. I would highly recommend staying here :)
Keira
2016-02-06T00:00:00Z
VAste bezoeker en zeer tevreden
Johan
2016-03-25T00:00:00Z
Romtype
Privat rom
---
Eiendomstype
Hus
---
Plass til
2
---
Soverom
Gent, Vlaanderen, Belgia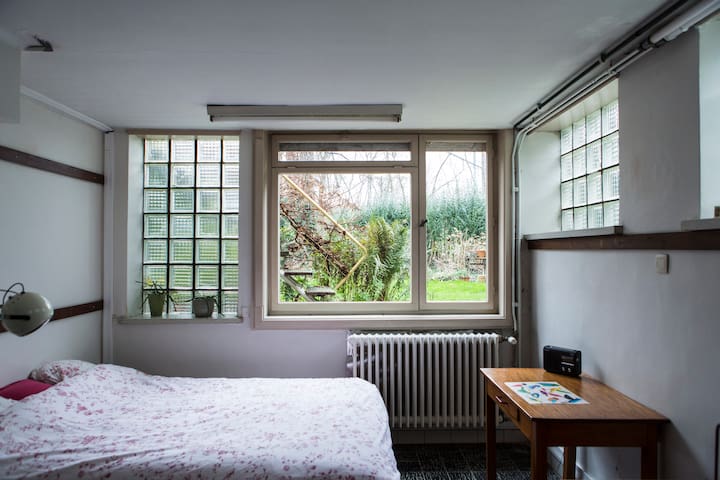 Vær velkommen i vårt kjølig og romslig Airbnb rom. Vi ligger i gangavstand fra sentrum av Gent. Offentlig transport alternativer som lokal buss og togstasjonen ligger innen 5 minutters gange. Du finner flere restauranter, supermarkeder, bakeri og parker rett rundt hjørnet. Rommet er utstyrt med en dobbeltseng, skrivebord og stol, bok utveksling, en person sofa og plass for oppbevaring av klær. Vi deler våre bad og kjøkken med deg, så vel som våre super koselige terras.
We only met Pieter and of course their dog, but he gave us great advises on what to see in Ghent and made our stay easy. Great host!
Elisabeth
2016-06-27T00:00:00Z
Ziggy en Pieter hebben een erg mooie bed & breakfast. De kamer is erg leuk ingericht en zo ook de badkamer. Alles was zo schoon als je zou verwachten in de betere hotels en alle voorzieningen werkten zoals omschreven was. Het leek af en toe wel alsof je in een hotel verbleef. De communicatie was ook erg goed: als je vragen had, waren ze direct bereikbaar via de app en bij binnenkomst werden we hartelijk ontvangen en kregen we uitgebreide info over de stad Gent. Kortom: een aanrader voor elke bezoeker van deze mooie stad.
Martijn
2016-07-15T00:00:00Z
I spent a great time at ziggy & pieter place. They have been very nice and careful for me to enjoy the house and make my time in gent really chilled-out and easy! The presence of their funny and expansive dog Bruce has been the "cherry on the cake" Really recommended!
Andrea
2016-09-12T00:00:00Z
Pieter and Ziggy were wonderful hosts. They made me feel welcome straight away and the house is beautiful. The room is also fantastic, with a very comfortable feel. Pieter and Ziggy were great to talk to, so kind and full of interesting stories about their travels around the world. Thanks for a wonderful stay guys!
Anya
2016-09-03T00:00:00Z
Very nice accomodation, Pieter was a wonderful host and the room was nice and clean.
Daniel
2016-08-02T00:00:00Z
Accueil chaleureux, hôtes avenants, logement encore mieux que sur les photos et très bien situé (à moins de 10 minutes de la gare de daampoort et environ 15 minutes du centre ville), tout pour passer un bon séjour à Gand Merci beaucoup à Pieter de nous avoir fourni toutes les informations nécessaires pour passer un bon séjour à Gand (plans, circuits touristiques, idées de restos et de visites à proximité de leur maison). Nous recommandons chaudement
Khadija
2016-10-12T00:00:00Z
Wonderful room and Pieter and Ziggy were excellent hosts. Sorry I didn't get to see you more. Walking to centre is fine and there are regular buses. All in all a terrific stay!
Peter
2016-10-20T00:00:00Z
Een hele fijne plek om te overnachten. Grote ruimten, schoon en super gastvriendelijk!
Ciska
2016-07-25T00:00:00Z
Romtype
Privat rom
---
Eiendomstype
Hus
---
Plass til
2
---
Soverom
Gent, Vlaanderen, Belgia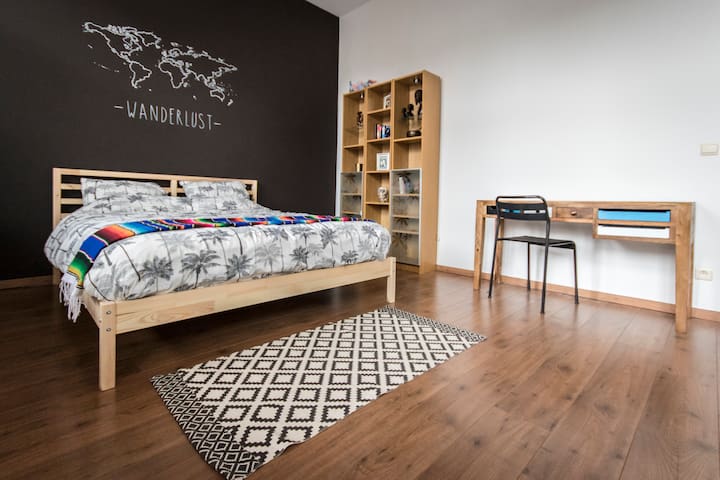 My room is right in the center , parks, arts and culture , restaurants and eateries. You 'll love my place because of the high ceilings, the conviviality , the kitchen, accessible to everyone. My room is suitable for couples , solo adventurers , families ( with children) , large groups and furry friends ( pets).
From wherever you are, here you are welcome no matter, we welcome you with a smile. What sets us apart is that we do it to give you the opportunity to travel cheaply and learn corpse. in our house you are at home, you feel at ease and every question you have will beat word. we take the time to give you an explanation of the most beautiful city in belgium gent course One great advantage is that I know myself town and can send you where you want, my friends, are you friends
The Prinsenhof is a historic neighborhood in Ghent, created by buildings around the former Court at Walle, the residence of the Viscount of Ghent. The Court at Walle was the birthplace of the Emperor Charles V (February 24, 1500) and was named from then Princes. Near Princes now (2012), mainly residential. The neighborhood extends from the Rabot to the Counts, the Virgin as natural eastern border and the Burg- and Rabotstraat as southern and western border. In Zilverhof connects the bridge of the Imperial Pleasures or Charles Bridge (designed by folk singer-sculptor Walter De Buck) near the center with the St. Anthony Kaai. Of this remarkable bridge over the Virgin Channel has a magnificent view on the Rabot and the Augustinian monastery. In Abrahamstraat is the 17th-century building 'Mountain of Mercy' (Mons Pietatis), which was housed until recently the Ghent Municipal Archives but moved last year to the 'Black Box' in Gentbrugge. Every year, in the first weekend of September, the Prinsenhof Festivities are taking place, a great event with the largest flea market in all of Ghent.
Clémentine est une hôte ADORABLE. Gentille, disponible, elle nous a donné de nombreux conseils pour visiter sa jolie ville. Son appartement est agréable et très bien placé (et le lit vraiment confortable !). On ne peut donc que la recommander. Merci encore pour ces deux jours passés chez toi. C'était vraiment bien.
Zoé
2017-03-19T00:00:00Z
The location is awesome! It is just a stone throw to main attractions like Gravensteen or shopping districts, basically everywhere you wanna go. Besides, Jeremy is very friendly and flexible to just let us leave our luggage in the house for breakfast before we left. The only con I would say is the odor in the house, which we are not used to it. However, there isnt any odor in the room that we stay.
Kim Huat
2016-10-18T00:00:00Z
Door ziekte gevraagd of ik het verblijf kon verzetten. Dit was geen enkel probleem. Contact verliep en verloopt nog steeds vlekkeloos. Top geregeld! Tot over 2 maandjes Clementine. :)
Roman
2016-11-06T00:00:00Z
Voor een bliksembezoek aan Gent hadden wij op korte termijn een locatie in het centrum nodig. Hoewel de communicatie in het begin wat warrig verliep, heeft Clémentine dit ruimschoots goed gemaakt door ons in de stromende regen te helpen met het vinden van een parkeerplaats, een warm welkom te heten en vele tips/prachtige (URL HIDDEN) over Gent met ons te delen. Het huis is van alle gemakken voorzien en binnen nog geen halve minuut sta je hartje centrum. Met de ontwapenende Clémentine als gastvrouw raden wij dit appartement zeker aan!
Dave
2016-11-18T00:00:00Z
Es empfiehlt sich für die Leute, die das Leben des Gents erleben und erfühlen wollen!)
Ksenia
2016-12-12T00:00:00Z
We stayed at this place for 1 night and it felt like a home away from home. Clémentine is a great host! She is really communicative and helpful. You can see, that she enjoys meeting new people. The house is located in a calm street, in the city center of Gent. All touristic places are in walking distance. The room and the bathroom were clean and equipped with everything you need. You could even use the kitchen and Clémentine offered us fruits and water for free. I would warmly recommend this place to everyone, who wants to have an unforgettable time in Gent!
Nina
2017-02-10T00:00:00Z
We were delighted to stay in Clementine's house. The house was just in the old town. She was really kind and attentive with us. She even recommended us a very nice place to have breakfast in Ghent. We are longing to come back to Belgium and maybe see her again. Thank you very much!!
Mel
2016-10-09T00:00:00Z
clemenyine es genial! nos recibio muy bien y estuvo siempre a disposicon para lo que precisaramos. Es una persona encantadora, y el lugar esta muy bien ubicado. Super recomendable alojarse!!
sebastian
2016-11-29T00:00:00Z
Romtype
Privat rom
---
Eiendomstype
Hus
---
Plass til
3
---
Soverom
Gent, Vlaanderen, Belgia
Private studio (12m2) located in annex building of the villa. All amenities at your disposal: induction, fridge, sink, toilet, shower, 2 double beds, wifi, smarttv, built in closets, eatcorner. You can use the outdoor jacuzzi of the villa. Walkingdistance of stop Melle Leeuw, from where you can take the tram to the centre of Ghent. Highly recommended for people who love to have private space but also want the comfort.
The room is very cosy and has all the comfort you need. Because the room is rather small, it is recommended for 2 persons. If you want to stay with 4, it is no problem because there are 2 double beds above each other.
Our place is recommended for base to go to Gent, Antwerp, Brussels, Bruges.
Een kort, maar zeer hartelijk verblijf!
Paul
2017-03-24T00:00:00Z
Sandy and Geert were great hosts. They informed us about everything important, were very friendly but at the same time gave us privacy. The studio is small but very warm and cosy and fully equipped with a little kitchen and bathroom. The decoration is just beautiful, everything is neat and very clean. We could use their jacuzzi which is part of the bigger house in a beautiful garden. Highly recommendable.
Felix
2017-03-28T00:00:00Z
Romtype
Helt hjem/leilighet
---
Eiendomstype
Hus
---
Plass til
2
---
Soverom
Melle, Vlaanderen, Belgia
Lascars' Guesthouse is situated in Ghent, close to Municipal Museum of Contemporary- and Fine Art and Botanical Garden. (15 min. walk) Bus stop in front of the door, tram at 500m walking distance. Both lead to the centre of historical Ghent. Bakery is our nice neighbour and several supermarkets available in walking distance. One parking available on site.
Lascars' Guesthouse is a little independant house of 60m² with a lot of character. A little terrace in front of the house.
We have a bakery next our door, different little supermarkets in our street where you can find all you need ! There is a very good little restaurant called 'Petit Grill', French and Thai kitchen (a french man married to a Thai :))
Prachtig huis met een heerlijk bad en fijn, erg groot bed. Alles wat je nodig hebt voor een relaxed weekend. Wij moesten in het UZ zijn en dat is op 5 minuten loopafstand dus perfect! Naar het centrum is iets verder maar goed te bereiken met het ov. Kris en haar man hebben ons uitgebreid geïnformeerd over leuke restaurantjes in de buurt en er stond een fles bubbels koud en eitjes en melk etc. Echt heel lief! We zijn heerlijk tot rust gekomen en hebben genoten van ons verblijf. Tot een volgende keer!
Eliza
2017-03-24T00:00:00Z
Onze eerste ervaring met Air B&B hebben wij beleefd in Lascars' Guesthouse. We werden hartelijk ontvangen door gastvrouw Claire, een zeer behulpzame warme persoon. Flesje Cava bij aankomst. Deze B&B gaf ons een echt thuis gevoel. De keuken is volledig uitgerust en het bed voorzag in een goede nachtrust. Waarlijk een pareltje. De communicatie tijdens het verblijf verliep zeer vlot en onze privacy werd keurig gerespecteerd. Wij hebben geen geluidsoverlast ervaren. De locatie is vlot bereikbaar met het openbaar vervoer. Verschillende supermarkten liggen op (URL HIDDEN) naast de b&b bevindt zich een lekkere warme bakker die reeds om 05u30 geopend is. Wij konden de flexibele aankomst / vertrekuren enorm appreciëren. We kunnen Lascars' Guesthouse dan ook ten volle aanraden!
Nicolas
2016-12-23T00:00:00Z
Emplacement calme, parking sur place, logement propre et agréable, nous recommandons cette adresse, allez y les yeux fermés...
Laurence
2017-02-17T00:00:00Z
We had a great stay at this house in Ghent. It's a cute little house with a nice kitchen. Kris and Claire were very nice and helpful throughout our trip. They even picked us up at the train station when we arrived! The house is a little far from the city center to walk, but there's a great bus right across the street that takes you into the center. You can't tell in the pictures, but there's no door on the bathroom. Overall great stay!!
Madelyn
2017-01-16T00:00:00Z
Een zeer aangename ervaring in een meer dan perfect verblijf. Ondanks het feit dat we elkaar maar even gezien hebben, voel je jezelf welkom in de manier waarop je hier als gast ontvangen wordt. De verhuurders hebben letterlijk aan alles gedacht! Waarvoor dank!
Jef
2017-03-29T00:00:00Z
Een heerlijke plek om te verblijven. Stijlvolle keuken en badkamer en een heerlijk bed! Een minpuntje vonden we de raamfolie waardoor je niet echt naar buiten kunt kijken maar qua privacy is dat wel erg fijn. Een goede bakker naast de deur en als je van wandelen houdt is alles prima beloopbaar maar ook het station is in de buurt en verschillende bus opstapplaatsen om de hoek. Zeker een aanrader! Als we de tijd hadden hadden we graag nog een nacht willen blijven :)
Esmee
2017-02-01T00:00:00Z
My partner and I and our new baby recently stayed in this lovely, newly refurbished house for one night over the weekend. The house is very comfortable, clean and looks exactly like in the pictures. The kitchen is well equipped for self catering and bedroom is very spacious with the most comfortable bed you could ask for! The hosts were great, very responsive and also extremely accommodating about check in and check out times. Would definitely choose to stay there in the future.
Oksana
2016-12-04T00:00:00Z
The place was fantastic. It is very spacious with a modern bathroom and a very very comfy bedroom! Claire and Chris were perfect hosts and very forthcoming regarding our check-in and check-out. The place has a good connection to the city center. There is a bus station close to the accomondation but you can also walk to the city center (20-30 min). We can definetly recommend to stay there for visiting Gent.
Nele
2017-01-01T00:00:00Z
Romtype
Helt hjem/leilighet
---
Eiendomstype
Hus
---
Plass til
2
---
Soverom
Gent, Vlaanderen, Belgia
Welcome to our guest room, Owlnest. A bright and spacious room situated right in the heart of the Leie valley. Only 7km away from authentic Ghent, a must-see! Easy accessible through the exits of Sint-Denijs-Westrem from the E40! * JULY 2017 - GHENT FESTIVAL * Ghent Festival is an open air music and theatre festival in the city of Ghent. The festival starts on Friday the 14th and ends Sunday the 23rd of July. Follow me on Instagram @owlnestghent
Welcome to our guest room, Owlnest! A bright and spacious room situated in a private park surrounded by water. Only 7km away from authentic Ghent, a must-see! The room is really quiet, intimate and surrounded by green. There is a nice double bed and a private bathroom! You can use the free high speed WiFi. The large windows generate an airy and bright touch. The apartment is situated at the ground floor, so it has easy acces. You can expect a comfortable stay in a very clean room, right in the heart of the Leie valley. During your stay you can rent two bicycles and/or 2 kajaks or a canoe! We have plenty of walking & hiking suggestions!
DISCOVER THE LEIE VALLEY Between Zulte and Ghent lies, at the banks of the Leie, one of the most stunning parts of Eastern-Flanders: the Leie-area! A true paradise for those who know how to appreciate serenity, art and the beauty of nature. Enjoy the simplicity of nature all the year around. The idyllic Leie River overflows with charm. No wonder that many generations of Flemish artists– including the world-famous Latemse School – found inspiration there. From Ghent you follow the river towards Deinze, past Afsnee and the cosy artistic village Sint-Martens-Latem or pretty Machelen with its Raveel Museum. Take a break and enjoy the peace and quiet, picturesque views and cosy eateries to the fullest!
Marie is een sympathieke dame en we hebben genoten van ons verblijf. Het domein is ideaal gelegen aan de Leie en heel rustig. Het ontbijt was voortreffelijk!
Rémy
2017-02-26T00:00:00Z
This is a wonderful and peaceful haven, with the loveliest hosts you could ask for. The surroundings are beautiful, if you like a middle-ground between nature and options to go into town. The room is super comfy and cosy and the care Marie & Matthieu put in the breakfast is definitely a main highlight, along with the beautiful pond, bike paths and simply calm atmosphere. A definite must :)
Hoda
2017-03-24T00:00:00Z
Marie is een jonge, moderne en spontane vrouw met gevoel voor smaak. Letterlijk en figuurlijk. De kamer en badkamer zijn met veel aandacht ingericht. Als je sfeer in een kamer belangrijk vind kan ik je deze plek aanraden. Ook voor het ontbijt. Zelfgemaakte granola en yoghurt (met melk van de boer). Alles weer met diezelfde aandacht en details. De plek was fijn, dichtbij Gent maar lekker in de natuur en vlakbij water. Je hoort schaapjes in de ochtend en de vogeltjes fluiten. Een weekend waarin je op en top tot rust kunt komen als je het mij vraagt!
Pauline
2017-03-26T00:00:00Z
The house lies a little bit outside of Ghent and can be easily reached by bus (20 min from Sint Pieters station) + a short walk through a beautiful forrest where you get into the mood for a really nice experience - imagine you are on the way to a nature-wonderland. You will find a sort of park, called #OwlNest, hidden between trees, directly at the Leie river. It is a very peaceful and quiet place and guess what, they have a canoe, a small boat, and they borrow it to guest for going paddling on the river. It was so much fun! The room is comfortable, and the bathroom was clean. We also recommend the breakfast, it is made with so much love and dedication, it looked beautiful and tasted good(Patricia). From my point of view (Utku), 'greatfast' may cause prospective disappointments in the future once your girlfriend/wife prepares you a breakfast. Because that 'greatfast' reaaaally increased my expectations regarding the meaning of the breakfast :))). Thank you a lot, we had a great time! Cheers, Utku&Patricia
Utku
2017-02-19T00:00:00Z
Prachtige ligging, correcte kamer, zeer mooi ontbijt, heel vriendelijke ontvangst!
Jo
2017-02-18T00:00:00Z
Romtype
Privat rom
---
Eiendomstype
Hus
---
Plass til
2
---
Soverom
Afsnee, Ghent , Flandern, Belgia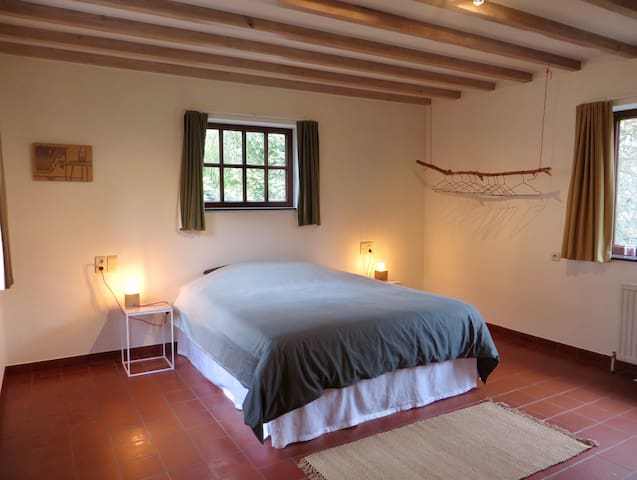 The room is approx. 20sqm, located on the second floor of the charming house; toilet and bathroom located at groundfloor and basementlevel. At a 12 minute walk distance to Gent-Dampoort trainstation, nearby bus stations. Less than 20 minutes walking and you are in the hart of the city Also ideal for businesstrip or as a base to make a daytrip to Bruges. The room & house is very clean, safe and peaceful. An outdoor parking space is available for (motor)bikes. Looking forward to host you :)
The hause was really beautiful and Firat is an excelent host. Área location was good too. The only negative aspect is that the room was in the 3rd floor and the bathroom in the basement.
Julia
2016-12-08T00:00:00Z
Firat made us feel really welcomed, the whole experience was very hotel-like; flat itself is cozy, warm and beautiful - especially now with all the christmas lights and everything. Would definitely recommend staying there.
Gašper
2016-12-17T00:00:00Z
we enjoyed staying at firat's place! firat was not in ghent during our stay, but his housemate jethro was very welcoming and thanks to his recommendation we had an amazing breakfast at clouds in my coffee, a cafe in the neighborhood. firat's description of the room is very accurate. the city center is in walking distance.
Nadja
2016-03-13T00:00:00Z
Firat è stato un ospite molto gentile. Nei giorni del nostro arrivo non era a Gand, ma siamo stati accolti molto bene da un suo inquilino e lui è sempre rimasto in contatto via email. Tutto perfetto quindi. Il centro di Gand è distante 20/30 minuti a piedi (cosa di cui Firat ci aveva correttamente avvisati).
Marco
2016-08-20T00:00:00Z
First of all, I have to say the room is really nice. Other than that, this has been the worst experience that I have had abroad. Firat is a very rude guy who had a bad attitude even before we arrived to Ghent. He was very upset cause I didn't reply his messages right away, ignoring the fact that we are in a trip. Two days prior to our arrival we answered him but surprisingly he was very upset. The room is half an hour by foot, and around 20 minutes to downtown, so I would not recommend it if you're not into walking. But the worst thing about our experience with Firat was this: the day of our check out, our train to the next city was at 6 pm, so we kindly asked him to leave our luggage in his place so we didn't have to carry it around. To our big surprise, he didn't let us do that, even when the lady that lives in the same house said she could do it. So he pretty much kicked us out with the worst of the attitudes, and ruined our last day in Ghent. Do not go there, ever!
Ezequiel
2016-11-08T00:00:00Z
Logement très agréable et proche du centre ville de Gand. Très belle accueil de la part de notre hôte, nous n'avons pas été déçu par le style particulier mais très agréable de l'appartement!
Maxime
2016-09-10T00:00:00Z
This was a nice room in a good location. It was very nice of the host to provide maps. We very much enjoyed our stay.
Charles
2016-05-25T00:00:00Z
La mia esperienza con Firat e' stata davvero soddisfacente. Firat e' stato attentissimo ad ogni nostra necessita' sia nel arrivare a casa sia durante la nostra permanenza nella sua bella casa.Al nostro arrivo in stanza era pronta dell'aqua calda per il the', caffe e deliziosi cioccolatini. Buona opzione per pernottare nella meravigliosa citta' di Gent. Consigliato
Francesco
2016-06-22T00:00:00Z
Romtype
Privat rom
---
Eiendomstype
Hus
---
Plass til
2
---
Soverom
Gent, Vlaanderen, Belgia
Experience medieval Ghent in one of our two charming guest rooms. This unique historical house from the 17th century is only a 5min walk from the city centre!
This spacious and light room easily fits two guests. We can accept one additional guest on a separate mattress.
The house is situated in 'Het Prinsenhof', a beautiful area in the historical city centre. The neighbourhood is charming and above all quiet and calm! The neighbourhood is five minutes away from the famous 'Gravensteen' castle and 'De Graslei'. There are plenty of nice coffee bars, bakeries, restaurants and supermarkets within walking distance.
Nathalie's place is great. The ancient and rustic house brings you to another era. Clean and cosy. It is so close to the historical center of Ghent. We highly recommend this place to whoever wants to travel around Belgium. In fact we went to Bruges and Antwerpen by train while staying at Nathalie's. Thanks for everything!!
Jose
2017-03-18T00:00:00Z
Wow this room is enormous and well decorated, it is like a bedroom, living room and dining room/office all in one! The house is clearly medieval which is so so cool, and it isn't lacking any modern comforts. There is all sorts of ancient art built right into the walls, really beautiful. Ghent is small and this location is really great, very close to the main central historic/night-life area. Also Nathalie provided a little booklet with lots of information about things to do in the local area.
Jonathan
2016-04-15T00:00:00Z
Fijne kamer, aanrader
Daan
2015-05-26T00:00:00Z
Viele Grüße von Eva
Eva
2016-08-14T00:00:00Z
Clean room, light, spacious and quaint. Beautiful location. Thanks!
Neil
2015-08-23T00:00:00Z
The room is really interesting and comfy! Fireplace warms up really fast! If you enjoy history this is the place to stay in town!
Xue
2016-03-23T00:00:00Z
Goede communicatie en een erg aardige gastvrouw. Van de medebewoners hebben we niets gemerkt en onze kamer was heerlijk rustig. Op loopafstand van het centrum. Het huis zelf is enorm sfeervol, echt een vakantiegevoel en erg tof ingericht. De badkamer was sterk verouderd, maar desalniettemin een prima douche en goed warm water.
Emma
2016-02-07T00:00:00Z
Excellent situation to arrive by train (tram very near the house and city center by walk) and lovely house! Also very easy organisation with Nathalie to arrive and to leave! Also a netbook with recommendations from Nathalie. That was very useful for us for us who didn't know Ghent! We see she is very used to host. Very simpatic his brother who lived in the house too. Thank you for everything!
Rocío
2016-05-23T00:00:00Z
Romtype
Privat rom
---
Eiendomstype
Hus
---
Plass til
3
---
Soverom
Ghent, Flandern, Belgia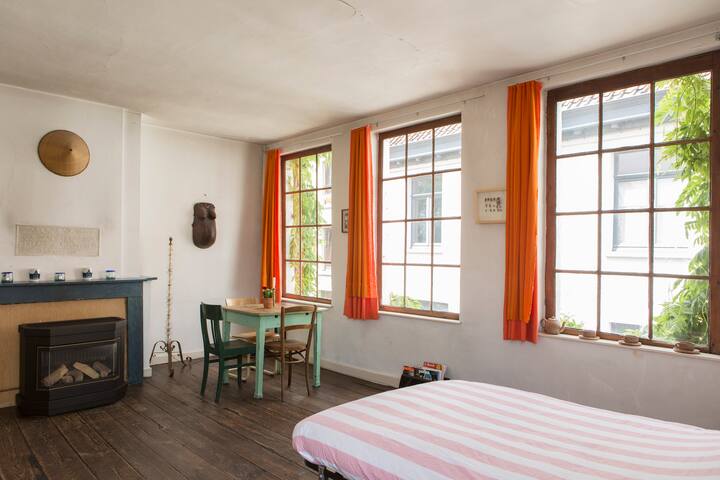 Deze studio situeert zich in een rustige omgeving met veel natuur. Dichtbij Halifax en Auberge du Pêcheur waar u gastronomisch kan vertoeven. Rijd 10 minuten verder en u bevindt zich in het historisch Gent.
Ideal for 4 people or a small family, it has a living area with a sofa and lounge chair. A fully equipped open-plan kitchen and a dining table sitting four. There are also stairs that lead to the bedroom area with double bed and a spacious wardrobe. The modern services include fast Wifi internet connection, TV, etc. The kitchen has a cooker, fridge, microwave and utensils. The bathroom is composed of a shower.
Cosy studio apartment located in a tranquil street, very close to restaurants such as Halifax and Auberge du Pêcheur . Gent, which is known for its historical monuments, is located 10 minutes by car.
Mooie en comfortabele studio. Zeer gezellig ingericht.
Kristof
2017-03-07T00:00:00Z
Couldn't recommend enough. We did the tour of Flanders and Marilyn was brilliant.
Alistair
2017-04-03T00:00:00Z
Romtype
Helt hjem/leilighet
---
Eiendomstype
Hus
---
Plass til
4
---
Soverom
Nazareth, Vlaanderen, Belgia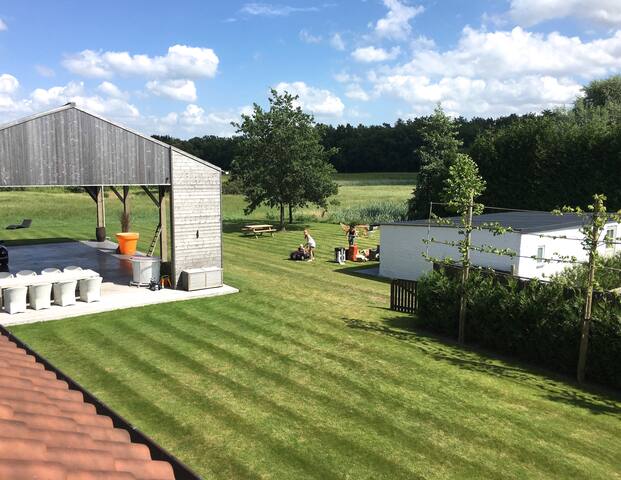 The room is situated in an old house of the early 20th century in a quiet neighbourhoud. It takes only 2 minutes walk to the main station of Ghent-Sint-Pieters.
The room spacious and bright, heigh ceilings and two windows. It has a warm, charming caracter because of the antique elements. There is a big double bed, a very good matrass, a corner to drink coffee or thee and a small frigidor. Wireless internet is provided. The bathroom (with toilet, shower and bath) is to share with me. I have a cat and three chickens in my garden, but they won't bother you In the garden, there is plac for your bikes. No cooking. If you have any more questions, please let me know! Hope to welcome you soon :)
Dům se nachází v klidné neighborhoud. To trvá jen 2 minuty chůze od hlavního nádraží v Gentu-Sint-Pieters. Tak, to je také ideálním místem pro krátký výlet do města Bruggy, Antverpy, Brusel.
Greet es una excelente persona y muy atenta a lo que necesites. La habitación es tal y como se muestran en las fotos. Está cerca de la estación de tren, caminando serán una 7 minutos. Muchas gracias por tu atención Greet y sin duda volvería a coger la habitación. =D
Ronald
2016-11-19T00:00:00Z
Ottima, il quartiere è tranquillo
Maria
2016-10-30T00:00:00Z
Greet is a very nice host! The room and the bed are fantastic! I have a very good time there.
Michael
2015-11-30T00:00:00Z
I simply loved my stay at Greet's! The house is only a 5 minute walk away from St Pieters Station, and very easy to find. The room was super cozy, with a fireplace, a TV on which you can watch a nice DVD from an available collection and a huge, very comfortable bed. Also, I was able to enjoy an original Belgian craft beer, which was amazing. Everything was very clean and I felt very welcome at Greet's house. She is a very lovely and cheerful host and made sure that I felt at home at her place. She was also very helpful with giving me directions for my journey. I basically slept like a baby, and it was very calm and silent in the night. I did not even meet the cat (unfortunately). Next time I'll visit Gent, I will definitely try to stay at her place again. I can definitely recommend this room, almost felt like home to me! :-)
Denise
2016-03-09T00:00:00Z
she was really kind and the room looked much better than the photo. Although it was a bit far from the center to walk, she borrowed her transportation card so we could take the tram to the center cheaply and got there conveniently.
jaeyun
2016-03-23T00:00:00Z
We had a very good time in Gent and in Greets house. She was very warm and helpful. We had an amzing room with a small fire place. It was so comfortable we didn't even want to leave the place (plus it was rainy and cold out). But we went into the city, the tram is right around the corner and it took us about 10 minutes to the inner city. She provided us with water, the possibility to make tea and coffee. She even gave us a bottle of beer from Gent (it was really good!). So we had a great stay and I would come back anytime (even if I wanted to visit Brussels of Bruges because its just some minutes away.)
Maike
2016-03-08T00:00:00Z
Everything was perfect. Greet met us although we arrived 01.30 at night. We had possibility to leave our luggage until 18.00 next day, use Greet's transport card to travel by public transport cheaper. Possibility to make tea and coffee at the room. Close to train station.
Mindaugas
2016-10-02T00:00:00Z
Very cute and cosy room, Greet made everything to made us feel like home. I definitively recommand everyone spending a few days in the beautiful city of Gent to contact her! The house is also very easy to reach, only 5 min from the train station.
Jules
2015-09-26T00:00:00Z
Romtype
Privat rom
---
Eiendomstype
Hus
---
Plass til
2
---
Soverom
Gent, Vlaams Gewest, Belgia