My house is located in the historic center of Genova, where you safely walk to visit every historical wonder of this city and Beyond, art and cultural are just a step away. The room where my guests are welcome in a peaceful and quiet
The accomodation is located on the second floor of a bulding of 1500 vintage rolls served with a lift. To move from one room to another where there are steps you climb and descend even to abdare in the bathroom, there are times and beams and a journey and a piano for those who had a desidere to play it. In addition to a hearty breakfast, you can enjoy the evening in the kitchen for anyone who wants to prepare dinner
Luisa has a wonderful room in a nice a cosy appartment, placed in the heart of the city and with all the amenities. She is a very hospitable person. We would really recommend Luisa's house!
Mireia
2016-12-31T00:00:00Z
All is perfect in the apartment, for 1 or 10 nights is really good quiet and in ultra center of Geneva.
Manuel
2017-01-03T00:00:00Z
tout était parfait chez Luisa.
Cecile et Yoann
2016-12-22T00:00:00Z
Lovely place very welcoming and in a great location!
Miss Kirby
2017-03-26T00:00:00Z
It was very comfortable stay in cosy room! Great location
tamara
2017-01-24T00:00:00Z
Luisa is a very hospitable person. The place is cozy and in the city center. She prepared breakfast for us and also recommended great places for dinning. Her English is very good and she helped with everything we needed.
Nure
2016-12-28T00:00:00Z
Non credo si possa chiedere di più da un soggiorno Airbnb: l'appartamento, all'interno di un bellissimo palazzo del '500, è in posizione perfetta, nel pieno centro di Genova, a pochi passi dalla maggior parte dei luoghi di interesse e a 15 min a piedi dalla stazione ferroviaria. La camera è accogliente, silenziosa e pulita, con un piccolo ma completissimo bagno privato. Infine, Luisa è un'ospite eccezionale: disponibile, simpatica e gentile, ci ha fatto sentire da subito a nostro agio e ci ha dato degli ottimi consigli sulla città; è stato davvero un piacere conoscerla e poter soggiornare nella sua splendida casa.
Francesco
2017-01-17T00:00:00Z
Super, immer wieder gerne. Alles sauber. Sehr bequem :) Nur zu empfehlen. Danke.
Nils
2017-04-04T00:00:00Z
Romtype
Privat rom
---
Eiendomstype
Leilighet
---
Plass til
2
---
Soverom
Genoa, Liguria, Italia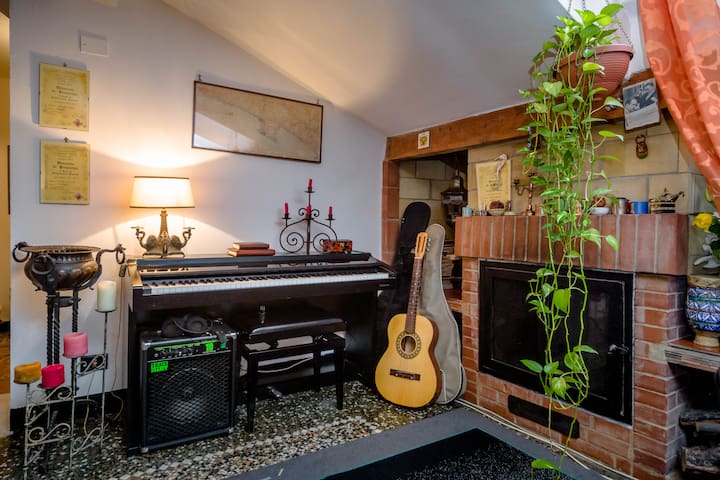 FREE PARK & TERRACE Newly renovated apartment with spacious terrace, in quite area close to the Old Harbor of Genoa (where there are a lot attractions), the Prince's Palace, and the famous historical center you can reach walking or by underground in 4 stops. Public transport in 50mt. Free parking in the area (depend on availability). For children: high chair and cot available on request.
The historical center is achievable by 3 underground stops. The apartment consists of an entrance hall, living room, kitchen, double bedroom and bathroom with shower. Perfect for 2 people. At 300 meters there is a metro station through which you can reach other places of interest. Train station Porta Principe 1 metro stop away. 3 underground stop - 1,5km from Darsena - Old Harbor and historical center. Provides linens and towels, shampoo, shower gel and body lotion. In the house you will find: air condition, Lcd tv, wifi, iron, Nespresso coffee machine and coffee maker, toaster, juicer, microwave, and many city guides.
The area is very convenient for exploring by walking beauties of Genoa, just 50 meters from the house there is a supermarket and a bus stop, 300 meters away is the metro station through which you can reach other places of interest. The Old Harbor where you will find the Aquarium of Genoa (two subway stops ), which is the largest aquarium in Italian, the second in Europe and the ninth in the world, but also the starting point for sightseeing tours by boat and Eataly , where you can taste all Italian culinary specialties. In the historical center you will explore the narrow streets of Genoa , the famous "caruggi" that reserve artistic and architectural beauty but also plenty of places to eat typical dishes of Genoa or a simple piece of "focaccia". Prince's Palace (1 km): wonderful Andrea Doria palace built in 1500. Palazzo Ducale (3 stops ), one of the main historical buildings and museums of Genoa , formerly the seat of the ancient Republic staved , home to major art exhibitions. Lanterna of Genova (old lighthouse of the city), symbol of the city where you can enjoy a great view of it, at 750metri.
Patrizia is a great host! She was very helpful and attentive. Her Apt. with the terrace was the best place to stay in Genova. Well located near the harbor and not far away from metro station. Always again!
Kristin
2014-09-18T00:00:00Z
Soggiorno indimenticabile, non avremmo potuto sperare di meglio L'appartamento é molto bello e ben tenuto (come si vede nelle foto), con tutto ciò che serve per una vacanza rilassante a Genova. É a 20 minuti a piedi dall'acquario, in una zona molto tranquilla e a pochi minuti dalla fermata Dinegro della metro. Patrizia ci ha viziati al nostro arrivo, ed é stata un host davvero ineccepibile. Io e la mia ragazza ci sentiamo di consigliarlo davvero a tutti!
Andrea
2016-02-18T00:00:00Z
Partizia and Enrica were friendly and welcoming. The apartment is modern, clean, comfortable, and fairly well-equipped. Contrary to the first impression, the neighborhood is safe and very quiet in the evenings. City centre is close by with shops, restaurants, museums and the old harbour. We walked everywhere. We enjoyed our time in Genova a lot!
Sylvia
2016-04-07T00:00:00Z
Al nostro arrivo la proprietaria ci ha accolto in maniera calorosa ed affabile, mostrandoci la casa, i servizi offerti, dando indicazioni sulle mete e gli itinerari più interessanti offerti dalla città e dintorni. Molto apprezzato il "dolce benvenuto" di Patrizia che per due golosi come noi fa sempre molto piacere ! L'appartamento è molto curato ed arredato con gusto. Sono presenti tutti i servizi elencati nell'inserzione e anche qualcosa in più ! Per quanto riguarda il quartiere, il rione è tranquillo (trafficato, ma dall'abitazione non si sente nulla) e soprattutto molto comodo, visto il parcheggio gratuito vicino che permette di evitare le multe (quasi tutti i parcheggi di Genova sono riservati ai residenti). Il Porto Antico ed il centro storico sono veramente a portata di...piedi ! Concludendo: simpatia, disponibilità e comodità ad un prezzo più che onesto.
Lorenzo
2016-11-05T00:00:00Z
El apartamento precioso, muy bien decorado y muy muy acogedor, tal y como aparece en las fotos. Patricia, una mujer encantadora, nos recibió hasta con una tarta de bienvenida! Amabilisima. Limpísimo todo. Estancia super acogedora. Terraza muy agradable. Super recomendable
ELENA
2015-10-27T00:00:00Z
The apartment has everything you could want for a short stay In Genoa and her tips for parking were great. Patrizia is absolutely charming and was very generous leaving a few local specialties for us to enjoy. The metro station is just a short walk away and makes for a quick and easy trip to the heart of the city. The apartment was spotless. We would not hesitate recommending this apartment to anyone who is traveling to Genoa.
karen
2017-01-12T00:00:00Z
Pulito, raffinato, comodissomo come posizione e confortevole. Ottima scelta per chi deve soggioranre qualche giorno a Genova! Arredato con cura e dotato divari confort l'appartamenro e' molto silenzioso e si dorme benissimo! Torneremo!
Caterina
2017-03-03T00:00:00Z
Patrizia incredibly hospitable owner , we were pleasantly surprised by the reception after a long journey . We come and feel at home , though far from there. Very romantic apartment with a convenient location to explore Genoa and Amalfi.
Valeria
2015-09-27T00:00:00Z
Romtype
Helt hjem/leilighet
---
Eiendomstype
Leilighet
---
Plass til
2
---
Soverom
Genoa, Liguria, Italia
Charming lodging, finely renovated, in a historic building, with views of Porta Soprana and the old Barbarossa walls (XII century). A few steps from Palazzo Ducale, all museum sites, the Cathedral, the Old Port and the Aquarium. Parking available on request (extra fee).
Fully equipped and comfortable lodging in the heart of Genoa, in front of Porta Soprana and Christopher Columbus' House, a few steps from Palazzo Ducale, Via Garibaldi Palaces (UNESCO World Heritage) Old Port, Aquarium, and the main shopping streets. Easily accessible from International Airport, Railway stations Brignole and Principe, Maritime Station. Metro and bus stops within walking distance. The apartment is in a typical XIII century building, on the second floor (no elevator but short and comfortable ramps), is very bright and has been recently renovated with great care and attention. It is located in a very lively district with many locals that sometimes make music at the weekend. Equipped with heating & air conditioning, TV Led, DVD player, HiFi with Bluetooth and USB connection, Free WiFi. Fully fitted kitchen with microwave, Nespresso coffee machine, washing machine, steam iron. Bathroom with Jacuzzi. Bed linen and towels provided.
The most lively district of Genoa, with trattorias, restaurants, typical shops. A few steps from the Carlo Felice Opera Theatre, cinemas.
Angela was an amazing host, from greeting us at the station to filling the apartment with fruit, juice and even a little bottle of fizz! She told us the best places to visit and they were just as beautiful as described. The apartment itself is beautiful and we didn't want to leave. We cannot reccomend this place enough- the location, the cleanliness, the style, everything is just wonderful. Genoa is a gorgeous city to visit too, packed with all sorts of amazing hidden gems!
Lucy
2016-06-23T00:00:00Z
Angela is a truly exceptional host -- she took a personal interest in us, not only giving us an overview of the Old Town sites and many restaurant recommendations, but finding a hardware store for us. She even helped us with train schedules for our next location! The apartment is very comfortable and attractive and the kitchen was very well stocked. The view of the old city gate out the windows is charming. We would definitely stay with Angela again whenever in Genova.
Alex
2016-05-09T00:00:00Z
Un séjour sur Gênes très agréable. L'appartement est très bien situé, en plein coeur du vieux Gênes. Tout est accessible à pied. Merci à Angela, c'était le Top.
muriel
2016-11-01T00:00:00Z
Excellent locstion,easily access to all scenic spots and restaurants, especially the pastry shop-Douce, Angela's house has provided all amenities like living in my home. Highly recommended!
Catherina
2015-12-28T00:00:00Z
Angela's flat is wonderful! All you need right in the heart of Genoa. You will stay behind Cristopher Columbus home here! Angela gave us suggestions for things to do and for places to eat upon our arrival, which was very helpful as we did not have a chance to do much research before our visit. Thank you Angela!
Pam
2017-03-30T00:00:00Z
Place is really central and walking distance for pretty much everything: cafès, pizzerias, restaurants, bars and shops. This one bedroom flat is nice, well decorated and with a lot of amenities: coffee machine, toaster, TV, a small hifi (with BT connection!), washing machine, a couple of audio guides of Genova and a LOT of books. That was great as I could find inspiration on what I wanted to see and plan ahead. Bed is really comfy and the view from the flat is great. Angela was really helpful and kind in showing the place and explaining the must-know about it. If you need any help, a file with the instructions of every appliance in the house will be your assistant. Definitely recommended if you're gonna be in Genova both for a short and long stay.
Francesco
2015-11-16T00:00:00Z
A very cosy space. Everything perfect. Thank you Angela.
Peter
2017-02-11T00:00:00Z
The apartment was delightful and greatly exceeded our expectations. Excellent use has been made of the available space and, with its high ceiling and attractive decor, there was plenty of room for two people plus luggage. The kitchen and fridge were generously stocked, not only with "essentials" but yoghurt, wine, fruit etc. We loved the neighbourhood, too, with such easy access to everywhere, and restaurants within easy walking distance. We tried two of Angela's recommendations, Tortuga and Rosmarino, and had very good meals in both. Angela is an excellent host, even meeting us at the bus stop when we arrived, and dropping by with a little "surprise" for my husband's birthday which we celebrated during our stay! I should add that we thought Genoa was a great city to which we would be happy to return, in which case we would very much hope to stay in Angela's apartment again.
Lavinia
2016-05-20T00:00:00Z
Romtype
Helt hjem/leilighet
---
Eiendomstype
Leilighet
---
Plass til
2
---
Soverom
Genoa, Liguria, Italia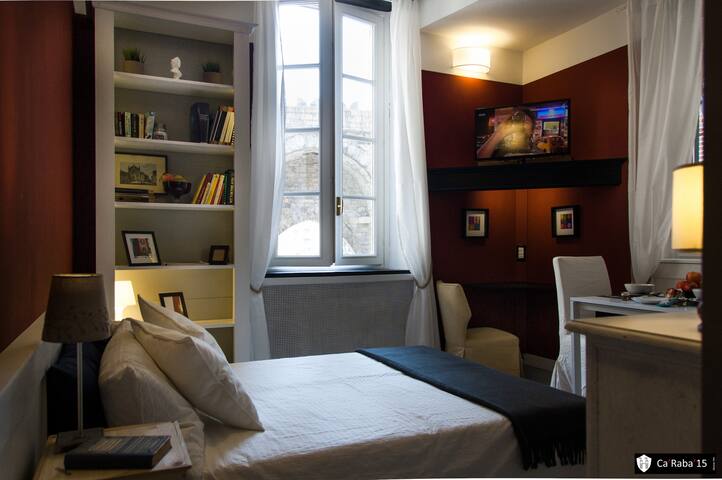 Superb flat furnished in a modern style,comfortable. There is: fridge, microwave, washing machine, (URL HIDDEN) located near Principe Station,the ferries,the aquarium,and it is 10min by bus' aeroporto.5 floor without elevator.
The thing that makes this apartment unique is its strategic location. It 'really close to the famous Old Town district and a few steps from the main attractions of Genoa, such as the aquarium and the old port, Piazza de Ferrari,ecc
Edith è una donna adorabile e la sua casa è accogliente, viva, colorata e soprattutto vicina al centro, alla stazione di Principe, all'acquario e al porto. Non c'è l'ascensore, ma quando si entra nell'appartamento si ha una bella anche se parziale vista sul porto. Edith è molto disponibile e noi ci siamo trovati bene, cucinino pratico, letto comodo. Speriamo di tornare al più presto!
Valeria Elena
2015-12-20T00:00:00Z
Edith's apartment was very close to the train station Genoa piazza principe. Relatively easy to find. The apartment is cosy and comfortable. It is quite high up in the building and there is no lift so it's quite tiring to get to if you have a lot of heavy suitcases. Edith was very lovely, she was very warm and welcoming and though she doesn't speak much English she tried her best to communicate with us through (SENSITIVE CONTENTS HIDDEN) translate. She's very responsive before and during our short time there. We didn't get to stay long in the end due to private reasons but we enjoyed the little time we spent there. As you may have read in other reviews, the street is quite intimidating but we didn't encounter any problems, though we were quite weary and alert.
Mahardika
2015-06-14T00:00:00Z
Edith est très chaleureuse et l'appartement est accueillant, spacieux et conforme aux photos. A 2 min de la gare piazza principe ce qui est très pratique !! Agréable séjour et grazie mille Edith !
Emilie
2016-08-19T00:00:00Z
I really enjoyed my stay at Edith's home. the space is well organized, comfortable, and clean. it is only a short walk to most of the attractions in town. Edith was very accommodating for check in and check out, highly recommended!
Ian
2016-07-19T00:00:00Z
Our experience with Edith, was wonderful! She is super sweet and very helpful, as well as quick to respond! The apartment is close to the central train station which is awesome, along with the port.
Catherine
2015-05-13T00:00:00Z
L'appartamento è in una posizione comodissima ed è esattamente come nelle foto, grazioso e funzionale, non ho incontrato Edith di persona ma il check in e out si è svolto senza problemi e mi ha telefonato per accertarsi che fosse tutto ok. Il quartiere è davvero multietnico ma non ho mai avuto nessun tipo di problema. L'appartamento è al settimo piano senza ascensore, ma per stare nei carrugi ne vale ampiamente la pena. Lascio questa indicazione per chi come me si è dovuto recare a Genova in macchina, la città è da visitare a piedi, la macchina l'ho lasciata in un garage a 500 m dall'appartamento (che è in zona pedonale), lasciate perdere quelli dei croceristi o dell'acquario, dietro piazza dell'Annunziata ci sono tutta una serie di garage prenotabili anche via internet, il mio si chiamava Olimpo.
Barbara
2015-08-21T00:00:00Z
Thank you Edith! We didn't get to stay very long, but our stay was pleasant at your place. The neighbourhood is multicultural but pretty calm. Next time we go to Genova, we'll stay at yours :)
Giulio
2015-02-16T00:00:00Z
We had a very short but pleasant stay with Edith in Genoa. Communication was done in Spanish since I saw from previous reviewers that it is her native language. We arranged to meet her at the apartment after we arrived by train to P. Principe station. The apartment is a 2 minute walk from the station but at night it could be a bit intimidating for solo travellers as access is via some small alleyways. We were very warmly greeted by Edith and her lovely son. The apartment is beautifully decorated and just as advertised, with the bathroom in the shared part of the house. She gave us maps and showed us where to find a restaurant for a late dinner. We were very happy with the apartment and Edith's hospitality. Solo travellers may prefer to meet at the station if possible.
Lindsay
2014-10-25T00:00:00Z
Romtype
Helt hjem/leilighet
---
Eiendomstype
Leilighet
---
Plass til
3
---
Soverom
Genoa, Liguria, Italia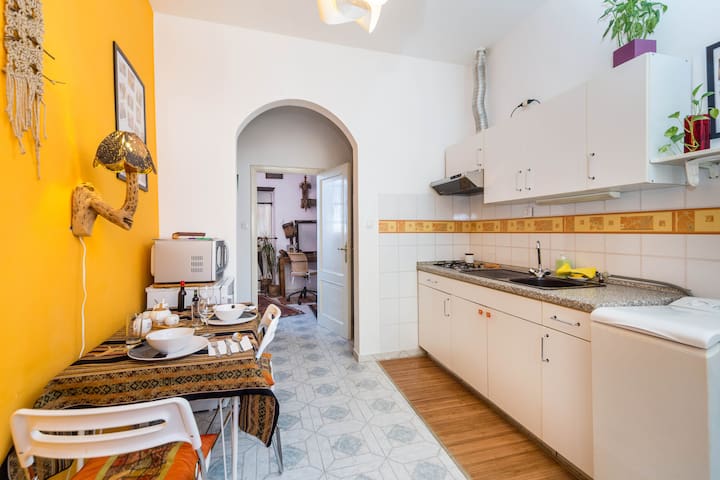 Carinissimo bilocale nel cuore di Porto Antico Nel cuore dell'antica Genova, di fronte l'Acquario di Genova (uno dei più grandi d'Europa), vicino a caratteristici locali, raffinate trattorie, a due passi dai musei di via Garibaldi (patrimonio dell'Unesco) e dalla Cattedrale di San Lorenzo. Proponiamo in palazzo storico un appartamento completamente ristrutturato con riscaldamento autonomo. L'appartamento è composto da camera da letto con letto oversize matrimoniale e cabina armadio, zona giorno con cucina abitabile accessoriata con divanoletto, TV LCD, e bagno con una grande cabina doccia. Biancheria da letto e da bagno fornite, phon, lavatrice, ferro e asse da stiro, free internet wireless. Comodo da raggiungere con tutti i mezzi (macchina,autobus e treno). L'appartamento si trova adiacente al porto antico e ai vicoli,perciò tutte le comodità tipo negozi, supermercati,ristoranti e locali, nonché tutti i servizi (battelli per Cinque terre, Camogli, ecc.) che offre il porto antico, sono raggiungibili a piedi. Sarà garantita una perfetta pulizia al vostro arrivo.
Cute one bedroom apartment in the heart of the Old Port In the heart of Genoa, in front of the Aquarium (one of the largest in Europe), near characteristic places, fine restaurants, a short walk from museums on via Garibaldi (UNESCO) and the Cathedral San Lorenzo. We offer an apartment in historic building completely renovated with independent heating. The apartment consists of a bedroom with double bed and oversized walk-in closet, living area with kitchen equipped with sofa bed, LCD TV, and a bathroom with a large walk-in shower. Bed linen and towels provided, hair dryer, washing machine, iron and ironing board, free wireless internet. Easy to reach by all means (car, bus and train). The apartment is located adjacent to the old harbor and narrow streets, so all amenities like shops, supermarkets, restaurants and bars, as well as all services (boats to the Cinque Terre, Camogli, etc..) That offers the old harbor, are within feet. Will be guaranteed a perfect cleaning upon arrival
Really beautiful, quite neighborhood!!!!
Esta muy bien n general.
Fernando
2017-02-26T00:00:00Z
The apartment is very close to the aquarium and Eataly, 15 min walk to the train station. The street is busy and there are lots of restaurants around. It is OK for a sleep & go type vacation. Elena wasn't in Genoa but she tried to help and do her best.
Bahadır
2015-10-18T00:00:00Z
Great location with easy access to everything. Elena is a great host and her place is perfect.
Linda
2015-03-24T00:00:00Z
My wife and i have stayed in Elena Apartment for 2 nights 27-29th of September 2014 and this was one of the best apartments we've stayed in during our 21 days trip .Location is unbeatable as it is just in front of the ferry harbor for days trip to Portofino. Moreover.Moreover,there is a lift which make our life very easy. You will also find a fully furnished kitchen with a fridge that had some food for our breakfast .A bottle of champagne as a welcome gift which was a very nice touch from Elena . All in all,you will not find better apartment in Genoa with same location/other advantage at this very competitive price. Elena's mother was very very kind and has been waiting for us exactly on time at 11.30 am to give us the keys with a brief on all facilities of apartment. I gave Elena nice apartment a rating 10/10 Thanks a lot to you Elena and to your very kind mother Mohamed and Nora From Egypt
(EMAIL HIDDEN)
2014-09-29T00:00:00Z
The apartment was in a great location to visit Genova, close to the port and the old city just out of the door. Elena was reachable all the time to help us out so that we didn´t have problems on arrival. Unfortunately the couch where 2 more people can sleep, was a bit uncomfortable. Coffee and some things for breakfast were provided.
Camilla
2016-10-24T00:00:00Z
Very nice apartment. One of the best localisation in my opinion.
Lukasz
2014-03-31T00:00:00Z
L'appartamento è piccolo ma dotato di ogni cosa di cui si possa aver bisogno: lavatrice, ferro e asse da stiro, phon, ventilatore, wifi, lenzuola e asciugamani in abbondanza. La posizione è ottima per chi deve recarsi al porto antico. Lo stabile è tranquillo. Gentilissime sia Elena, sia sua madre che ci ha consegnato le chiavi. Ritornerei volentieri in questo appartamento, arredato con gusto.
Laura
2014-06-17T00:00:00Z
We had a great time in the appartment - everything is there and it is located in the centre right next to the harbour. At first the area seemed a bit shady as it is often close to the harbour, but it turned out just fine and only a footstep from the beautiful historic centre. The appartment is clean and nice, euqipped with all that is needed - only difficulty is parking space. Thanks Elena and best wishes.
Rita
2014-07-30T00:00:00Z
Romtype
Helt hjem/leilighet
---
Eiendomstype
Leilighet
---
Plass til
3
---
Soverom
Genoa, Liguria, Italia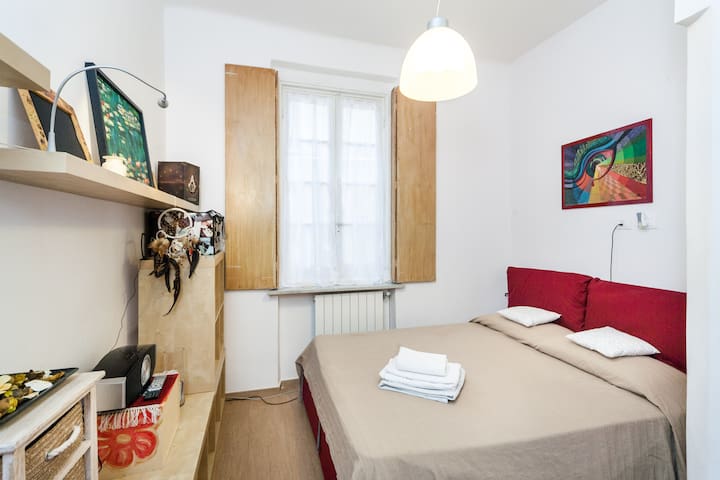 Top floor penthouse in the prestigious district of Castelletto. In one of the most prestigious districts of the city situated above the old town. Panoramic, terrace, parking.
Completo ordinato ampio ben atrezzato
Signorile Sicuramente una delle posizioni migliori come punto di partenza per una vacanza alla scoperta di Genova, servizi pubblici e negozi nelle immediate vicinanze
Maurizio est un hôte attentif et très ponctuel. La barrière de la langue (Maurizzio ne parle qu'italien) limite un peu les échanges ce qui est dommage. L'appartement est grand et propre. La terrasse superbe et la place de parking (qui ne conviendra pas aux voitures trop grosses et basses de caisse) sont des plus très appréciables. L'appartement est bien situé à quinze minutes à pied des principaux centres d'intérêt de Gênes.
laurent
2015-12-29T00:00:00Z
L'appartamento di Maurizio è perfetto: pulito, dotato di tutto il necessario, bellissimo e con una vista fantastica sulla città. La zona è tranquilla, comoda da raggiungere in auto (considerando che si è a Genova!) e ci si muove facilmente a piedi e con i mezzi pubblici (sia la fermata del bus che l'ascensore sono vicini). Molto comodi sono anche i due supermercati nelle vicinanze. La consigliamo vivamente!
giada
2016-04-26T00:00:00Z
Beautiful apartment, Maurizio was very friendly and very welcoming. Very spacious and clean. Great location with supermarkets very close. Other reviews say the elevator wad broken when I was there it was working fine, must have been fixed or replaced. Great place to stay, highly recommended.
Rex
2014-12-17T00:00:00Z
Great place and Maurizio was great as well. I would recommend to anyone staying in Genova.
Michael
2016-06-23T00:00:00Z
Abbiamo trascorso 2 gg a Genova per una visita della città e dell'acquario. L'appartamento è stato un'ottima soluzione per noi. Pulito, completo di tutto il necessario e soprattutto fornito di parcheggio, cosa rara e preziosa a Genova. La location è ottima, a 10 min a piedi dal centro storico e 15 dal porto. Grazie Maurizio anche per la guida della città messa a disposizione nell'appartamento.
Lucia
2015-12-31T00:00:00Z
We had a great time in this place! Good space in every room. Well located with a wonderfull view. We'll come back there and suggest this appartement to people coming to enjoy the city!
Émeline
2017-01-29T00:00:00Z
The apartment is really big, beautiful and completely equipped. It's located near to two supermarkets where you can find everything you will need during your stay. As Maurizio points in the description, the spianata panoramica is close to the apartment. The parking was perfect for us since we were traveling with our car. We definitely recommen this place!
Jose Luis
2014-07-05T00:00:00Z
Many thanks Maurizio for your welcoming and your kindness! We felt so good at your place, it was very clean and exactly like on the pictures. The place of the flat is great to visit the city by walk. We went to the aquarium, it was amazing! Thank you!
Astrid
2015-02-23T00:00:00Z
Romtype
Helt hjem/leilighet
---
Eiendomstype
Leilighet
---
Plass til
6
---
Soverom
Genoa, Liguria, Italia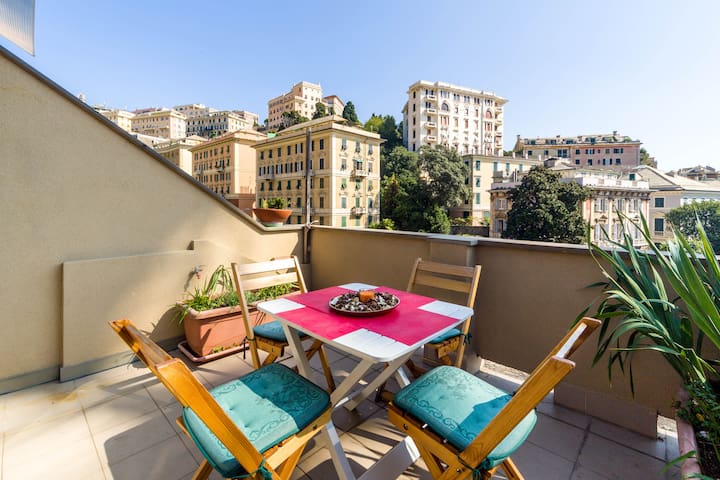 In palazzo ottocentesco fronte Porto, 5 minuti a piedi dalla Stazione Principe, Metrò e bus vicino alle Università, near ACQUARIO e battelli per Portofino e 5 Terre, bilocale nuovo con soggiorno, camera, servizi, posto auto prenotabile a 10€/day
€ 160 se prenoti 4 giorni dal 08.04.17 al 12.04.17 tutto incluso!!! Una buona occasione per conoscere Genova!!! L'appartamento è completamente ristrutturato, un confortevole bagno completo con doccia e bidet; la cucina full equipped con lavastoviglie pentole e piatti, ripostiglio con lavatrice, porta blindata. La zona notte è calma e tranquilla, mentre il soggiorno gode di una piacevole vista sul porto di Genova. Posto auto prenotabile €10/day
è un quartiere eterogeneo con varie attività commerciali, ma tranquillo, comodissimo per i mezzi pubblici e stazione ferroviaria, davanti all'accesso degli imbarchi portuali; sviluppato intorno alla Commenda di Prè da dove partivano i pellegrini per la Terra Santa e alla suggestiva e perfettamente conservata Chiesa Medioevale di San Giovanni.
Beautiful, clean and spacious apartment right near the main train station and walking distance from all Genoa has to offer. The apartment had a lovely living room for relaxing in, nice bathroom, a little laundry and comfortable bedroom. Wifi was extra but it's very cheap and a good connection. Our bus arrived 4 hours late (grrr!) and we had no wifi to communicate the delay with our host, Paolo. But he was very understanding and came to let us into the apartment as soon as we could tell him we'd arrived. 10 out of 10 for communication.
David
2017-03-31T00:00:00Z
The apartment is really well located (great if you have small kids and want easy access to the port and all the museums). It's really close to the train station as well which is a relief in the hot sun when you have a big case and rucksacks to carry - do note however that it is on the 3rd floor and there is no lift so get those lifting muscles trained up before the holiday! It's a really lovely little apartment and was well fitted out and very clean. The pull out bed in the sitting room is good and sturdy and the marble counter on the table is great. Our host left lots of lovely leaflets with info about the area under the tv and we were so happy to find a packet of pasta and sauce on our arrival to feed the hungry kids after a day's travelling. Couldn't recommend this place more - with being on the main road it is very noisy at night with the cars, ambulances and motorini going by all through the night! but that is the price you pay for being so close to the heart of the port and city centre and after a day or too you just get used to the noise and learn to live with it! we did anyway and we were very sad to leave when our week's stay was up.
Lindsay
2016-07-20T00:00:00Z
Nuestra estancia en Genova fue excelente. El apartamento de Paolo es hermoso y muy funcional, tiene todo lo necesario y una cama muy cómoda. Las instalaciones estaban en perfecto estado y sobre todo hay que destacar la limpieza. La zona es excelente para aquellos que buscan moverse a pie por toda la ciudad y lo recomiendo sobre todo si llegan a Genova en Bus ya que la parada esta literalmente al lado del apartamento. Paolo nos explico absolutamente todo lo necesario para movernos y se mostró muy predispuesto a ayudarnos. Lo único que se podría mejorar es la ducha pero no seria un motivo como para no volver a alojarnos allí.
Diego
2016-11-03T00:00:00Z
I highly recommend the apartment, it is very comfortable, well equipped and is situated very close to the Old Town and to the Old Port. Paolo was a great host and he was very helpful.
Wojciech
2015-06-10T00:00:00Z
paolo è stato semplicemente fantastico! disponibilissimo, gentilissimo e molto onesto!la casa è molto comoda per chi vuole visitare il porto antico e le sue strutture!voto per l'accoglienza 10/10!!!
Giacomo
2015-07-31T00:00:00Z
Paolo was a very friendly and helpful host! He took the time to write down all the restaurants he recommended and told us a bit about Genoa. The location is ideal for travel to and from the train station. It is also close to the water, Aquarium and Maritime Museum. The place was bright, with plenty of space in the bedroom, kitchen and living area. While the living room is noisier than other places we have stayed at, the bedroom was not noisy at all and was fine for sleeping.
Brenna
2016-04-28T00:00:00Z
La comunicazione con Paolo è stata rapida e precisa. L'appartamento si trova davanti al museo del mare ed è pulito, spazioso e ben organizzato.
Sara
2016-10-28T00:00:00Z
El apartamento es perfecto para una estadía de 2 personas. Muy bien equipado, muy limpio, buenos colchones, buena ducha aunque algo estrecha. Paolo es muy amable y explica todo lo necesario para moverse con comodidad. El barrio asusta un poco, el ambiente es de zona portuaria, no es un ambiente familiar, pero no tuvimos ningún inconveniente y uno se termina acostumbrando. Muy cerca la estación de tren y junto a la terminal de bus. Son 3 largos pisos por escalera y el WiFi se debe pagar extra
Estela
2016-10-01T00:00:00Z
Romtype
Helt hjem/leilighet
---
Eiendomstype
Leilighet
---
Plass til
4
---
Soverom
Genoa, Liguria, Italia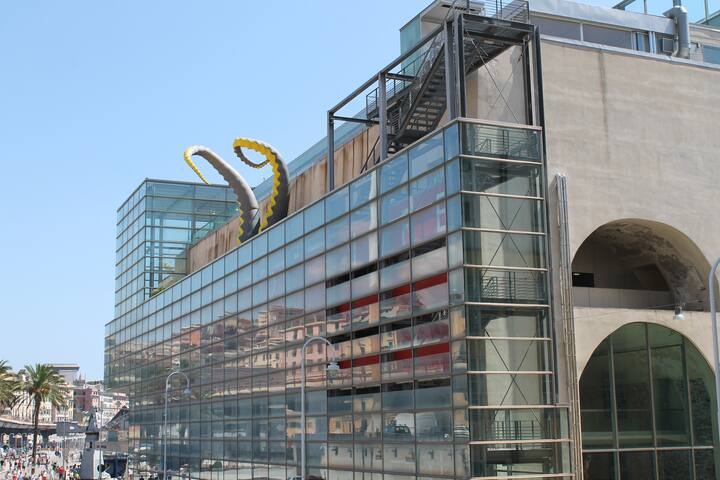 Accogliente appartamento trilocale con mattoni a vista e vero feeling "vecchia Genova". Può ospitare comodamente 3/4 persone (5 all'occorrenza). Cucina e bagno nuovi . In pochi minuti a piedi si raggiungono centro storico, Porto Antico e Acquario.
Accogliente appartamento trilocale con mattoni a vista e vero feeling "vecchia Genova". Può ospitare comodamente 3/4 persone (5 all'occorrenza). Cucina e bagno nuovi . In pochi minuti a piedi si raggiungono centro storico, Porto Antico e Acquario. Lo stile genovese Ad un piccolo appartamento che si presenta accogliente, caratteristico e riservato. Nella massima discrezione sono disponibile in caso di necessità. Il panorama, la vicinanza al centro cittadino, la tranquillità, gli esercizi commerciali (bar, gelaterie, ristoranti, altri) Ben collegato dai mezzi di trasporto (autobus, ascensori, funicolare, taxi )
Il panorama, la vicinanza al centro cittadino, la tranquillità, gli esercizi commerciali (bar, gelaterie, ristoranti, altri)
Die Wohnung liegt super zentral, alles ist innerhalb weniger Minuten zu Fuß zu erreichen. Federica ist eine wundervolle Vermieterin, gibt Tipps und man merkt ihr die Erfahrung im Umgang mit Gästen an. Wir (4 Erwachsene) fanden es evtl ein bisschen zu klein, aber für den Preis hatten wir auch nichts größeres erwartet, außerdem war das Bett etwas unbequem. Insgesamt aber eine absolut empfehlenswerte Ferienwohnung um Genua zu erkunden. Klare 5 Sterne.
Felix
2016-08-19T00:00:00Z
Federica is a great host and the appartement in the heart of Genova was a very good place to stay. Very well equipped, clean and the location was ideal. With Federica's help we were able to park just around the corner. I really highly recommend her place!
Jasmine
2017-03-19T00:00:00Z
Very nice apartment located in a great area of Genoa. Federica was extremely welcoming and provided us with some of the local food, Focaccia. Thank you very much!!
Michael
2016-05-22T00:00:00Z
It is really typical nice apartment in the center of Genoa. Federica is a pleasant woman. She helps us a lot to have a good time in Genoa!
Александр
2014-09-28T00:00:00Z
Bellissima esperienza in un appartamento affascinante e meravigliosamente situato, uno dei posti più belli di Genova, da cui si può godere uno splendido panorama ed essere al contempo a pochi passi dal centro storico. Ottima accoglienza.
Davide
2016-06-04T00:00:00Z
Federica è un'ottima ospite! La casa è come in foto, zona centrale e tranquilla. Buonissima anche la focaccia che ci ha fatto gustare. Spero di tornare presto nella bella Genova e a casa di Federica.
Antonio
2016-03-23T00:00:00Z
Devo ammettere che questa volta non ho fatto una ricerca accurata dell'appartamento, appena visto l'annuncio ho prenotato, senza esitare e senza nemmeno informarmi sulla posizione o sulle recensioni. È stata una piacevole sorpresa, l'appartamento è proprio bello, arredato con gusto, il valore aggiunto è sicuramente la posizione in un meraviglioso quartiere con la vista più bella di Genova.
Andrea
2016-04-25T00:00:00Z
Federica nous a réservé un accueil très chaleureux et était disponible pendant tout le séjour si nous avions besoin de quelque chose mais tout était parfait! Nous avons vraiment apprécié la Focaccia qui nous attendait à notre arrivée. L appartement est idéalement situé, très calme tout en étant dans un quartier vivant très sympathique. Nous recommandons vivement cette adresse.
Frédérique
2015-05-11T00:00:00Z
Romtype
Helt hjem/leilighet
---
Eiendomstype
Leilighet
---
Plass til
5
---
Soverom
Genoa, Liguria, Italia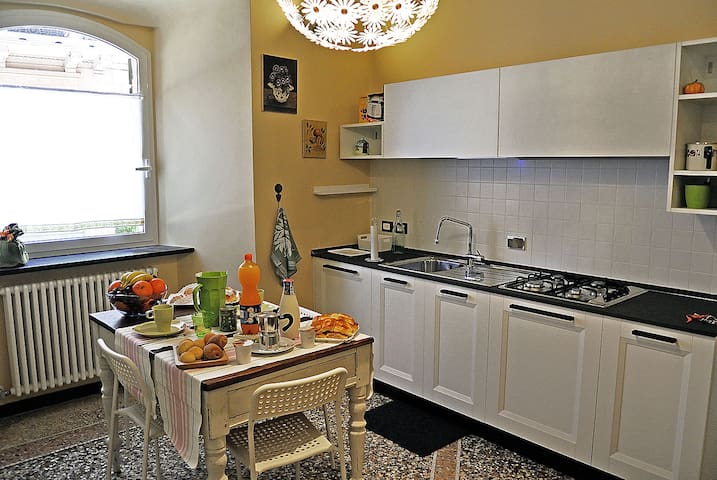 Typical home built before 1900 looking over the rooftops of the old town. A short walk to the ancient heart of the city. Light-filled room, 190x120 bed, shared bath, piano, internet, phone, no lift, near to the train station.
I'm not sure that this listing is unique but it is certainly a great opportunity at an affordable price.
A true neighborhood feeling. Close to the center, museums,historic palaces, the aquarium, the port, the train station, the tipical narrow streets that descend from the hills. And also the funicular that takes you up into the hills...
Flavia and Riccardo are excellent hosts! They were really helpful and gracious, even if we arrived very late in Genova. Conversation with them was also great, and Flavia prepared a delicious colazione for us in the morning. The apartment is gorgeous and comfortable, and has a fabulous view of Genova. It is also really close to the center, either walking or taking the elevator. Grazie mille Flavia e Riccardo.
Mariana
2015-05-03T00:00:00Z
Riccardo picked me up from the station and we walked back to the flat --- so I had no problem finding the address. The flat has a beatiful view across the east of genova and is nice and welcoming. The kitchen was designed by Riccardo and has some interesting features while being quite practical. Riccardo and Flavia are very friendly hosts and make a real effort to turn the stay into a nice experience.
erik
2014-10-18T00:00:00Z
"Flavia e Richi, due persone gentili, colte, con le quali è piacevole conversare, una casa arredata con gusto, accurata, dove ogni cosa ha una storia; un balcone con una vista panoramica che spazia dal porto alle case arrampicate sulle colline, una colazione raffinata, con buonissime marmellate preparate da Flavia e la compagnia di Richi e se capita anche di Giulia, decisamente una ospitalità da consigliare e da replicare! Grazie da Anna e Tonino" (Queste sono le parole dei miei genitori che hanno soggiornato qui)
Roberta
2015-05-17T00:00:00Z
I spent 2 wonderful nights with Flavia and her family, Giulia et Riccardo. Great people, great moments, great feeling.. Genova was nicer thank to them. Don't hesitate to contact them if you pass through Genova.
Andreea
2015-04-05T00:00:00Z
I have been using Airbnb in the US and Europe. And my stay with Flavia and Riccardo was the best stay I have ever had! Flavia picked me up near the train station and took me back home. The moment I entered their beautiful apartment I felt immediately home. They are both very warm and hospitable. Then I had lunch with Flavia and she gave all necessary information and important spots to visit in Genoa. The historical city center is two steps away. The view from the room is unbelievably stunning, just like a dream. At night Riccardo played piano while I was watching Flavia preparing dinner. If you are looking for a real Italian experience, you should definitely stay at their home. Grazie mille Flavia e Riccardo :) spero di vedervi presto!
Ali
2016-06-25T00:00:00Z
Flavia and Riccardo are very friendly and warm host!! The room they provide to me is also lovely and with wonderful view!
Te Hsiu
2016-02-09T00:00:00Z
I had a wonderful time in Genova ! Thanks to Flavia and her husband Riccardo ! The flat is very nice and perfectly located. They made me feel at home and gave great information on the city to me. We had very interesting talks during the breakfasts, the nice dinner that we shared, and during some walks through the city. The district is quiet and very well located, close to the train station and the beautiful via Garibaldi and its museums. A great experience with very nice people.
Joel
2016-05-28T00:00:00Z
Un grande grazie a Flavia e Riccardo per la loro accoglienza. Abbiamo avuto l'impressione di essere ricevuti da amici di vecchia data, tra chiacchere, buoni consigli e marmellate fatte in casa. La colazione sul balcone con vista sulla città potrebbe durare delle ore... Un indirizzo da non dimenticare!
Paolo
2016-08-04T00:00:00Z
Romtype
Privat rom
---
Eiendomstype
Leilighet
---
Plass til
2
---
Soverom
Genoa, Liguria, Italia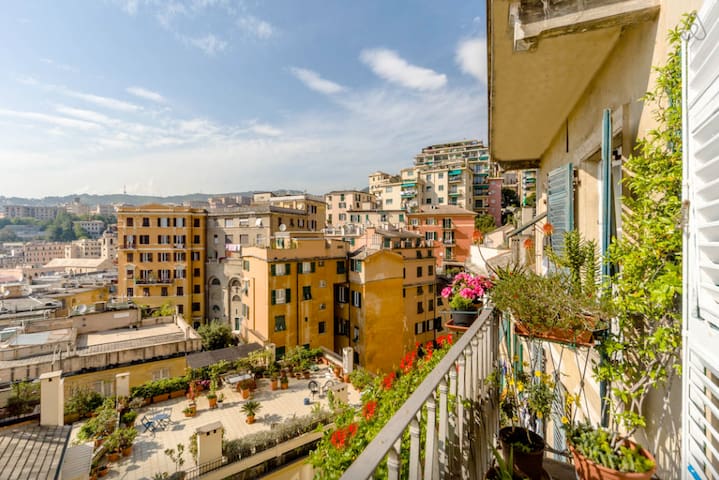 In the heart of the historic center, the room belongs to an apartment on the fifth floor of a medieval building with no elevator, in a pedestrian area. It is located a few steps from the San Lorenzo Cathedral and close to the most important touristic attractions such as the Expo area including the Aquarium, and Via Garibaldi with its Palazzi dei Rolli. The room is comfortable, quiet and functional. The bathroom is shared. Internet wi-fi is free and always available.
The room is provided provided with a small refrigerator. A continental breakfast can be served on request with an additional cost of 5,00 € per day.
Is' t super place and super host!
Dmitriy
2017-02-07T00:00:00Z
Posto in pieno centro ma anche tranquillo. Molto pulito. Chiara e' tranquilla anche e molto gentile!!
Elisabeth
2017-03-03T00:00:00Z
Casa muy bien ubicada. No estaba Chiara pero nos atendió su madre, muy amable. Nos invitó además a café y nos señaló lugares dónde comer y beber. A unos 10metros hay una cervecería artesanal muy aconsejable!!!
Tania
2017-01-23T00:00:00Z
Siamo stati nella stanza di Chiara 3 notti, la posizione è ottima nel centro di Genova a pochi passi dall'acquario. Abbiamo avuto il piacere di conoscere Chiara e la sua mamma entrambe gentilissime e disponibili. Consigliato!
Benedetta
2017-03-11T00:00:00Z
Chiara was very helpfull and friendly. Place was nice and clean in the center of city. Everything was just few steps away.
Karlis
2017-04-05T00:00:00Z
Extremely helpful and the place is in the center of old town, one of the best experience in Airbnb so far. Many thanks!
May
2017-01-31T00:00:00Z
La stanza è centralissima, ma -dando su una via poco frequentata- molto silenziosa. La consiglio a tutti anche per la cordialità di Chiara e sua mamma!
Mariapiera
2017-02-10T00:00:00Z
Chiara è stata davvero molto gentile e disponibile, la stanza era perfetta e l'accoglienza impeccabile. Veramente consigliato, alloggerò sicuramente da Chiara quando dovrò tornare a Genova.
Martina
2016-12-20T00:00:00Z
Romtype
Privat rom
---
Eiendomstype
Leilighet
---
Plass til
2
---
Soverom
Genoa, Liguria, Italia
This is our lovely attic , located on the sixth floor of an old apartment in the historic center , including workshops , banquets and every comfort. Lovely , bright, two-storey , soberly decorated , the apartment is extremely quiet during the night. Our small beautiful terrace overlooking the rooftops below and from here you can relax and watch the scenery. The alley below pulsates with life and contradictions . The neighborhood is old and charming , in the ancient heart of Genoa. Shops and typical restaurants , 4 steps from the Expo, a few steps from the beautiful Cathedral of San Lorenzo (200 mt. ) And the main square of Genoa ( Piazza De Ferrari) (300 mt. ) Walking the streets you can discover many ancient and characteristic piazzas and churches, but we are also just 5 minutes from the main shopping street ( Via XX Settembre) and our famous aquarium known throughout Europe . You can easily get to our house in ten minutes from the two main railway stations of the city by bus or subway. On request it is possible to use a parking space for car / bike , covered and closed . Being the pedestrian zone , the place is located about 1000 meters from home, but we will take our car to the house . THEREABOUT : Teatro Carlo Felice 265 Mt Cattedrale di San Lorenzo 273 Mt Ascensore di Castelletto 275 Mt Palazzo Ducale 282 Mt Piazza de Ferrari 327 Mt Acquario di Genova 397 Mt Museo Fabrizio De Andrè 437 Mt Piazza Corvetto 440 Mt La Nave dei Pirati 459 Mt Bigo 506 Mt Casa di Cristoforo Colombo 529 Mt Museo Emanuele Luzzati 675 Mt La città dei bambini 914 Mt Stazione Genova Piazza Principe 1 Km Stazione Genova Brignole 1 Km Piazza della Vittoria 1 Km Porto di Genova 1 Km Fiera Genova 2 Km Stadio Luigi Ferraris di Genova 2 Km Terminal Traghetti 2 Km Stazione Genova Sampierdarena 4 Km Aeroporto di Genova - Sestri 7 Km Museo Navale di Pegli 10 Km
Il quartiere e il vicolo sotto la casa è molto vivo e pieno di vita. La sera però è molto tranquillo. Sotto casa, a volte, potreste incontrare delle "signorine" che lavorano in strada. The neighborhood and the alley under the house is very much alive and full of life. But in the evening it is very quiet. Under the house, sometimes, you might meet the "young ladies" who work in the street.
The apartment is great - perfect location, not far away from the railway station and at the same time close to the city center. The room is very cosy, nice and clean. There is a fan, air conditioner and a wonderful terrace with view to the city. Mirko and Irina are great hosts, very nice, always ready to help and make your stay in Genova wonderful. The cats were also very cute and friendly, for those who love cats it will be a nice additional bonus to the whole picture. We spent a very good time and recommend this apartment for any one who visits Genova.
Dmitry
2015-08-31T00:00:00Z
Mirko è un ospite fantastico. E' stato molto premuroso nell' accoglierci. La casa è molto carina e confortevole e la piccola terrazza offre un panorama splendido sulla cittá. Situata in una zona strategica e vicina ai principali centri d'interesse. Grazie Mirko i tuoi consigli sono stati preziosi
Ombretta
2016-03-26T00:00:00Z
Abbiamo trascorso solo una notte da Mirko, Irina e Gaga ma ci siamo sentiti subito a casa. La terrazzina con vista sui tetti del centro storico è fantastica. Mirko è stato carinissimo sin dai giorni prima del nostro arrivo. Bagno in comune ma estremamente pulito. Le scale sono piuttosto impervie ma Mirko è gentilissimo ad aiutare con il bagaglio. E soprattutto, Gaga è il gatto più bello del mondo!! Prima esperienza Airbnb postiva.
Simona
2013-12-29T00:00:00Z
It was a great experience to meet and stay with Mirko and Irina. The hospitality was stellar and the location of the place is unbeatable. They were so helpful with travel questions, restaurant recommendations and sightseeing advice. Breakfast food is always available, the accommodations are clean and neat and the view from the terrace is a special treat.
Jim
2016-07-30T00:00:00Z
La nostra vacanza è andata benissimo . Mirko ci ha dato degli ottimi consigli e la casa nel cuore della città ci è piaciuta un sacco, come anche la loro terazza sul tetto e il loro bel gattone Gaga :) !
cristina
2014-04-14T00:00:00Z
Mirko was a great host. He did everything he could to make us feel welcome. The room was cosy, the neighborhood was quiet, central and interesting; very near to all the beautiful monuments, museums, things to see. The roof terrace was amazing. We could use it, whenever we wanted. The cats were lovely. Mirko gave us all kinds of information concerning where to eat, what to see, where to park. If we come back to Genova, we wouldn't hesitate to use Mirko's Airbnb. We recommend it to our friends.
Peter
2016-07-15T00:00:00Z
We had a great time staying in Mirko and Irina's apartment and also loved our first stay in Genoa. Mirko arranged to meet us somewhere we could find easily before taking us to his place, which is in a very characteristic part of the Old Town. The apartment is up six flights of stairs, which Mirko did warn us about, so it was good exercise. The weather was hot (about 28 degrees Celsius) during our stay, which meant the room we were staying in was pretty warm most of the time, but Mirko provided a fan which helped, we were out most of the time, and of course there was the lovely terrace to go up to. The bedroom is quite spacious for two people and the (shared) bathroom is very good too. Mirko was very helpful and talkative as a host and we enjoyed hanging out with the three cats too!
Daniel
2016-06-28T00:00:00Z
Couple très sympathique, très gentil et disponible. Apparemment au coeur de Gênes, avec une terrasse très agréable avec vue sur le centre historique.
Laura
2017-04-09T00:00:00Z
Romtype
Privat rom
---
Eiendomstype
Leilighet
---
Plass til
2
---
Soverom
Genoa, Liguria, Italia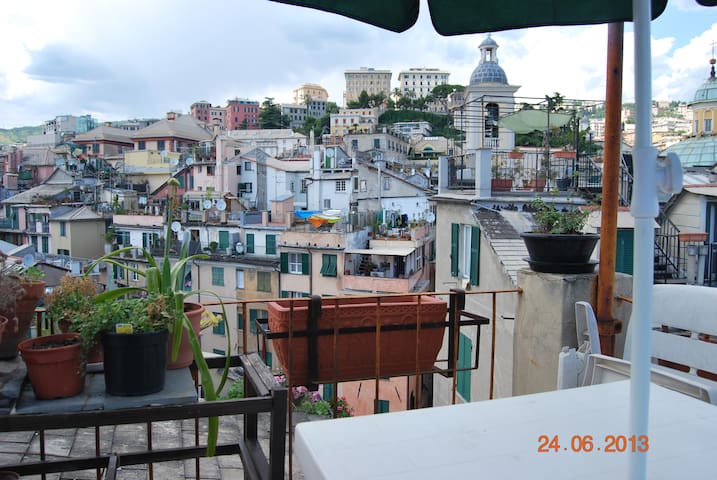 A Genova, Stanza con letto singolo armadio e scrivania, in posizione centrale nel cuore del centro storico Genovese a pochi passi dalla metro e a 10 minuti dalla stazione centrale.
Siamo esattamente nel cuore del centro storico di Genova, vicino a musei, ristoranti e negozi! Le distrazioni non vi mancheranno di sicuro e comunque chiedetemi informazioni e vi aiuterò per rendere il vostro soggiorno interessante e unico!
Francesca è gentilissima, mi ha aiutato nella ricerca della casa, le camere erano spaziose, ben organizzate e pulitissime, mi ha fornito il necessario per vivere lì (asciugamani, uso della cucina, phon, cartine della città). Inoltre è tutto raggiungibile a piedi ed eventualmente anche la fermata degli autobus è vicina. Qualora tornassi a Genova, sicuramente mi farebbe piacere essere nuovamente sua ospite.
Martina
2016-04-27T00:00:00Z
Francesca è stata molto disponibile negli orari, il B&B è situato all'8°piano di cui 6 si possono fare in ascensore. La camera molto spaziosa, purtroppo non c'era modo di chiuderla perché tutte le stanze non hanno chiavi, solo il bagno (distrattamente non avevo letto questa info prima di prenotare), per me la sicurezza e la riervatezza in una camera di B&B sono molto importanti. La mia camera era adiacente al bagno, dunque si sentivano tutti i rumori dall'acqua allo scarico ecc. dico questo perché gli altri ospiti sono rincasati tardi dunque ho notato di essermi svegliata per i rumori del bagno. Per il resto la camera era pulita ed accogliente.
maria rita
2016-04-13T00:00:00Z
The location of The room is just perfect in The center of the historical center. Francesca is a very Nice host with good advices about what to do around
Olivia
2016-04-30T00:00:00Z
I stayed only one night but enjoyed it, Francesca is lovely and very welcoming. The location is great, right in the city centre, and the apartment is nice, very clean and tidy. Good communication with Francesca as she speaks English, and she gives you the keys of the apartment which is very convenient.
Anne-Sophie
2016-06-25T00:00:00Z
Very nice host, helpful. Advised me on where to eat, what to see, how to get there. The apartment is located right in the centre of the old Genova a few steps from the cathedral and the old harbour. Great connections by public transport and within walking distance of many attractions. The apartment is on the 8th floor, two floors without lift, but absolutely no problem if you can walk a few steps. Bathroom and room clean. The room had no key but not a problem for me as I was staying just one night and I keep all my precious stuff always on me. Great place to stay if u need a cheap accommodation in the heart of Genova.
Valentina
2016-05-30T00:00:00Z
Francesca was a wonderful host! She was very welcoming and her apartment was in a really great location, right in the middle of the historic city centre. Walking distance to everything. Would definitely recommend to anyone traveling to Genoa!
Garrett
2016-07-24T00:00:00Z
Posso solo che confermare: ottima posizione, calorosa accoglienza di Francesca. Consigliatissimo.
Giulia
2016-12-18T00:00:00Z
Francesca é uma host otima e que encarna bem o espirito italiano na região! Te recebe de braços abertos e faz tudo para que sua estada seja otima. A localização do flat é perfeita, da pra fazer tudo a pé pela cidade, tem otimos restaurantes perto e supermercados também!
Leandro
2016-08-09T00:00:00Z
Romtype
Privat rom
---
Eiendomstype
Leilighet
---
Plass til
1
---
Soverom
Genoa, Liguria, Italia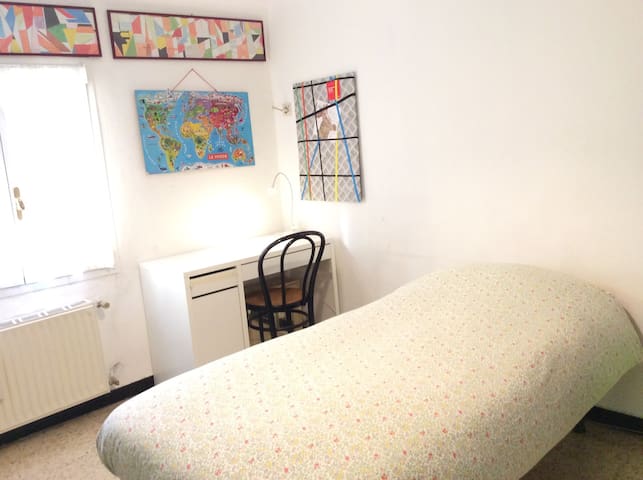 Nel cuore della città, a due passi da Via Garibaldi, dall'Acquario e Palazzo Ducale, un luminoso appartamento che guarda sui tetti della antica chiesa della Maddalena, vi regala la possibilità di vivere intensamente il centro storico della città.
Due grandi stanze matrimoniali, e volendo un letto aggiuntivo. Un'ampia cucina vivibile. Un grande bagno. Il tutto ideato con cura ed arredato con gusto per non sentirsi ospiti ma "genovesi".
Nel cuore dell'antica Genova cantata da De Andrè, Paoli ed altri cantautori Via della Maddalena e le vie circostanti erano il centro commerciale dei Genovesi, stretta tra le aree portuali e le zone residenziali. Ancora oggi offre le tracce del suo passato a chi sa alzare lo sguardo alle sue antiche costruzioni. E' una delle direttrici principali per raggiungere i punti focali di una visita alla città antica.
Marta e' stata molto gentile ed estremamente elastica riguardo al nostro orario di partenza e ci ha accolti con focaccia fresca. La casa e' grande, pulita e comoda, con una bella cucina e stanze molto luminose nonostante si trovi tra i vicoli genovesi. Il quartiere e' bellissimo ed estremamente genovese, molto comodo per visitare il centro storico. consiglio!
madda
2016-11-19T00:00:00Z
Grazie mille, Marta, we had a wonderful stay at your cozy and beatyful furnished Appartement! And thank you for your help and reccomandations! We would love to come back one day!
Nina Johanna
2017-01-08T00:00:00Z
casa molto bella, grande, pulita, adatta a famiglie con bambini.. in un quartiere caratteristico, che a noi è piaciuto tantissimo, vicina all'acquario e al porto.
elisa
2017-02-27T00:00:00Z
Bellissimo appartamento nel centro storico, ben arredato con pavimenti in mosaico, e perfetto in tutto soprattutto nella cura e pulizia. A cinque minuti dall'Acquario e vicinissimo ai mezzi di trasporto. Lo consiglio vivamente.
Imerio
2017-03-19T00:00:00Z
L'alloggio di Marta è un'affascinante casa del centro storico di Genova spaziosa e pulitissima, con mille comodità e una padrona di casa super ospitale che ti prende in carico al check in e ti segue per tutto il soggiorno. Davvero ottima esperienza!
Francesca
2017-04-02T00:00:00Z
We enjoyed that beautiful apartment a lot. Antique furnitures, everything you need to cook we found in the kitchen, space, amazing view and right in the middle of the centro storico of Genova. Marta was a very good host. She bought a brand new baby bed for our daughter and even prepared fruits and cookies on our arrival...Thank you!
Agnes Selma
2016-05-15T00:00:00Z
L'appartement est décoré avec gout, confortable et idéalement situé. Marta et son conjoint nous ont très bien reçus. Je recommande vivement car cet endroit a largement contribué à notre chaleureux séjour à Gênes.
coline
2016-01-17T00:00:00Z
Marta was very friendly and promptly replied to communication. She is an incredibly thoughtful host who clearly provided directions to her apartment, had fresh fruit and focaccia on the table upon arrival and even provided us with coffee at the shop outside of the apartment. It was a overall a wonderful welcome to the apartment. The apartment itself is a lovely space. The kitchen is absolutely beautiful and there is a washing machine available for use! Marta had all of the necessary kitchen supplies for us to be able to cook and there is a great fresh pasta shop just down the street. The only downside to this apartment is that it is in a very loud location. The neighborhood is quiet lively at night and large groups of men gathered on the corner just below the apartment each evening we stayed. There was significant street noise until 2 or 3am each night. This would not have been a problem had it been cool enough to sleep with the windows closed, but it was simply too hot!
Caitlin
2016-07-03T00:00:00Z
Romtype
Helt hjem/leilighet
---
Eiendomstype
Leilighet
---
Plass til
5
---
Soverom
Genoa, Liguria, Italia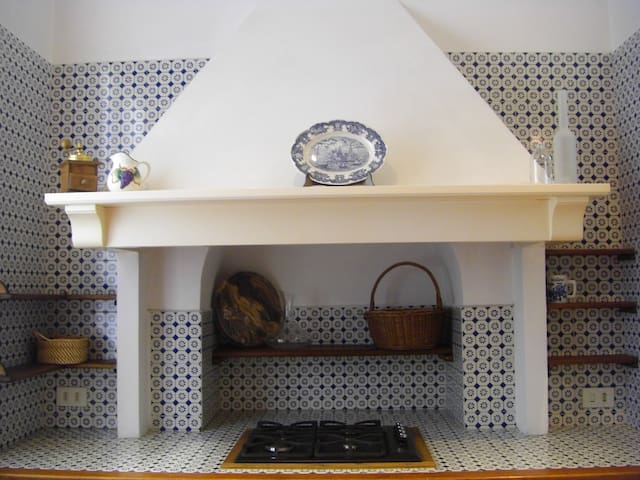 Casa Maddalena è situata nel cuore del centro storico, a piedi si possono raggiungere le principali attrazioni turistiche della città (Strade Nuove, Palazzi dei Rolli, Acquario, zona Expo). Ben servito dai mezzi pubblici (metro, bus, stazioni ferroviarie). Respirerai l'atmosfera della città vecchia proiettata verso una nuova dimensione multiculturale. Anche per famiglie con bambini. L'alloggio è distibuito su due livelli: ampia zona giorno da cui si sale ad una accogliente zona notte
L'appartamento, di 85 mq, è situato al primo piano. Attraversando un ampio ingresso si accede alla zona giorno con cucina, sala e bagno, quindi attraverso una scala interna si raggiungono due stanze da letto con soffitti bassi.
Marta and Filippo we're so kind, friendly and extremely helpful with everything. The Apartment looks like on the pictures and everything was clean. Its very close to the harbour. The only thing was, that shortly before we wanted to leave that there was no running water anymore, but i'm sure that they fixed it already. It was a pleasure to stay in Genua because of those two. Thank you again
Tamara
2016-09-15T00:00:00Z
L'accoglienza e stata gentile,host e disponibile. La casa è spaziosa però e un Po più adatta ai giovani,per la famiglia la televisione e uno relax dopo tutto il giorno in giro.,e questa mancha.Per il resto l'esperienza e stata positiva
katarzyna maria
2016-11-27T00:00:00Z
It is a spacious apartment in the center of the city. Easy to reach, but not easy to find. The host was helpful; it was easy to communicate and arrange the check-in. We had a pleasant stay.
Vitalijs
2017-02-24T00:00:00Z
It's superb spot to start explore Genua! The owners are very friendly and helpfull, while the appartments is suituated perfectly in the old centre. The appt is basic and really sufficient!
Dennis
2017-03-20T00:00:00Z
Alloggio nel cuore storico di Genova, la casa è essenziale e accogliente. Marta e Filippo sono ospiti estremamente disponibili. Consigliata per viaggiatori curiosi e non troppo esigenti, è perfetta per vivere la Genova più genuina
Pietro
2017-02-03T00:00:00Z
Host gentile e disponibile. Siamo arrivati in ritardo causa traffico, ma ci ha aspettato con un incredibile cordialità! La casa è abbastanza grande, e ci si dorme abbastanza bene! Il bagno è abbastanza spartano, ma comunque funzionale! Posizione ottima!
Nicola
2016-10-29T00:00:00Z
Bardzo dobry kontakt z gospodarzem, w razie potrzeby był do dyspozycji. Mieszkanie znajduje się właściwie w centrum miasta, blisko portu i metra. "Ciekawa" okolica.
Aleksandra
2016-10-10T00:00:00Z
Il nostro soggiorno a Casa Maddalena è andato bene. Filippo ci ha aspettato nonostante ci fossimo persi e ci ha accompagnato alla casa accogliendoci con un ottima focaccia. La casa è deliziosamente imperfetta, inserita in un vecchio edificio in una delle vie più antiche di Genova. La posizione è centrale e vicino a vari negozi. Abbiamo trovato anche utili giocattoli e dvd per i bimbi. L'asciugacapelli c'è. Nota negativa la scarsa pulizia.
Roberta
2016-10-31T00:00:00Z
Romtype
Helt hjem/leilighet
---
Eiendomstype
Leilighet
---
Plass til
4
---
Soverom
Genoa, Liguria, Italia
Genoa center: 3 minutes walk from Piazza De Ferrari, 5 minutes from the Aquarium, 15 minutes from the main railway stations. For rent for weekends, weeks or shorter periods. In a typical old Genoese palace apartment with double bed, kitchen, bathroom, TV. Electric heating. A historical curiosity: the apartment belonged to Tomasina, a young Genoese had a love affair with King Ludwig II of France passing through the city. This meeting gave its name to the square below: Piazza dell 'Amor perfect. Genoa -centre: In a traditional old city palace charming flat for rent. All furnished kitchen&bathroom, anatomical twin bed and tv DVB-T. 3 minutes by walk from Piazza De Ferrari and 5 minutes from Aquarium/Expo. Contact llaria. Swimming-pool at 5 minutes by walk in Expo area. Many good reataurant, pasticcerie, coffee bar, shops in the neighborhood. Easy public transport.
Centro storico medievale, tranquillo e silenzioso in notturna. Zona ricca di ristoranti e locali per drink e aperitivi.
IIaria was a great help. The airlines had lost one of our pieces of luggage and we did not have a cell phone during our vacation. While we were out site seeing IIaria went over and above to work with the airlines to get the suitcase delivered and placed inside room while we were out. We really appreciate it and she helped make our trip more enjoyable. The place was very nice and clean and has a lot of history and charm to it, and I would recommend to anyone staying in Genoa to stay with IIaria.
Jarod
2013-10-08T00:00:00Z
Très joli studio dans le vieux Gênes. Très bon contact avec Ilaria et bon accueil sur place.
anne
2014-05-01T00:00:00Z
LLaria à été une hote plus accueillante, elle nous à donné toutes les bonnes idées selon nos choix d'activité pour un weekend riche en découverte. L'appartement était propre, dans un immeuble impressionnant, les photos sont bien représentative, bien situé dans Gènes et convenait parfaitement. Un grand merci à Llaria, nous reviendrons avec plaisir
Nicolas
2014-07-22T00:00:00Z
Palazzo antico, dunque affascinante ma non comodo. Se cerchi una vacanza diversa, questa casa va bene, se cerchi un'alternativa economica a un hotel, lascia perdere.
Marco
2014-10-04T00:00:00Z
The reservation was canceled 3 days before arrival. This is an automated posting.
Martina
2014-12-03T00:00:00Z
Ilaria put the icing on the cake for our 5 day trip to Genova. She pieced together the various train and bus timetables from Milan; we were met in person by her friend Steffano and his dog, who walked us to the apartment, pointing out his favourite coffee houses and restaurants. In the thick of the medieval city where we were based, it was possible to walk within a few minutes to most of the sites that drew us to Genova. The apartment, opposite a beautiful church, was clean and well appointed; the bed a dream to sleep in. Ilaria also listed her own preferred cafes and restaurants all of which were reasonably priced and high in quality. The citys' maritime connection was picked up by the pictures on the apartment walls and it was a life saver to find the fridge well stocked with bottled water. We are certain of returning and would look first to Ilaria as our host.
Elaine
2016-04-19T00:00:00Z
Our reservation was changed at the last minute and we were given a completely different apartment, which we would not have chosen. However, the apartment was similarly located in good area to stay. Ilaria was very helpful and accommodating.
michael
2013-08-11T00:00:00Z
Nous n'avons pas rencontré Ilaria mais elle était toujours très disponible pour répondre à nos questions et nous a indiqué de très bonnes adresses pour manger. L'appartement est très bien placé dans le centre historique près du Duomo et se situe dans un bel immeuble historique. Seuls regrets, pas de wifi et appartement très petit et peu fonctionnel. Une chambre avec fenêtre et un petit salon sans fenêtre.
Cybia
2015-08-16T00:00:00Z
Romtype
Helt hjem/leilighet
---
Eiendomstype
Leilighet
---
Plass til
2
---
Soverom
Genoa, Liguria, Italia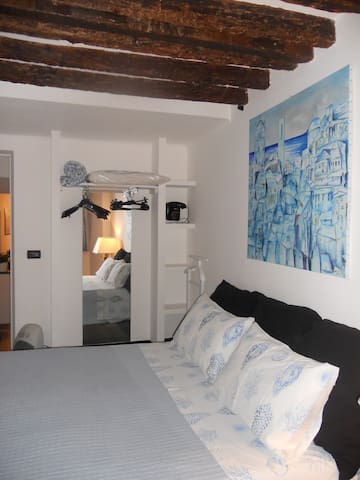 The apartment is furnished with taste and it's near to Genoa Aquarium. It has a king size bed and 2 single sofa beds. The kitchen is fully-equipped with Nespresso machine, cups for coffee. Large window view on Genoa city
The building is very elegant and it's located in a strategic area to reach the Aquarium , the Sea Museum and the highway . The train station is at 600 mt . I remind you that in Genoa there is the tourist tax which is € 1 per person per day . This fee must be added to the price of the stay .
Una stanza molto comoda e pulita; molto facile camminare dalla stazione ferroviaria, e anche da vedere i luoghi d'interesse di Genova. Bagno spazioso e una bella terrazza.
Maria
2017-02-14T00:00:00Z
Nice, and very clean place. This is actually a larger large studio that feels very much like a hotel suite. We had a great stay and can only recommend it.
LORENZ
2017-01-21T00:00:00Z
Super zentral gelegen, grosse Wohnung mit Balkon und Sicht auf Genua Internet sehr gut, obwohl auf Internetseite nicht erwähnt, Empfang durch Angelo schnell, er hat alles gut gezeigt Küche für Frühstück i.O. Parkplatz ist, obwohl privat, öffentlich zugänglich und das Quartier ist Hafengrossstadt, so wurde unser Auto auf dem Parkplatz aufgebrochen und wir mussten unseren Aufenthalt vorzeitig abbrechen. Laura war aber extrem kooperativ und hat uns noch die letzte Nacht zurück erstattet und sie war auch sonst extrem nett und hilfsbereit. Trotz allem DANKE Laura
Verena
2016-12-28T00:00:00Z
Удобное расположение, красивые и удобные апартаменты. На 1 этаже фантастический ресторан с морепродуктами. А главное, в квартире кондиционер и отопление. Всегда когда нужно тепло или холодно!
Ekaterina
2017-03-28T00:00:00Z
Ottima location, appartamento ben arredato e molto pulito. Consigliatissimo!
Stefano
2015-09-03T00:00:00Z
Appartamento molto bello, come da foto, anzi! molto più!! Spazioso,pulitissimo, insomma meglio di un albergo a 5 stelle!!! Tornerò presto
Antonella
2016-03-17T00:00:00Z
This apartment was lovely! Unfortunately we had terrible weather while staying here and could not use the windows in the balcony that looked over the city. The apartment itself is actually a very spacious studio apartment with a movable partition in the middle that could give you more privacy. It has a large walk in closet and the bathroom is also very roomy. We were able to cook dinner one night as well in the kitchen. We also were able to walk to nearby restaurants and walk around the historic city center. One of the days it rained so much that we enjoyed the nearby aquarium as well and were pleasantly surprised. The area itself was very quite and normally has a great view of the city. It's very close to the train station as well. On the way in we took a cab, but when we departed we just walked there and easily found a way that avoided stairs through the old city center. Laura was also very quick to respond to any questions. We loved staying here and would highly recommend this well stocked and well equiped apartment to anyone considering staying here.
Frank
2017-02-07T00:00:00Z
L'appartamento è situato in una posizione strategica che permette di visitare comodamente ogni angolo della città. Arredato con ogni confort, lo spazio è ben razionalizzato e permette un comodo soggiorno fino a 4 persone. Laura si è mostrata d una gentilezza rara, accogliendoci con tutte le informazioni necessarie al soggiorno e rendendosi sempre disponibile per ogni esigenza quotidiana. Esperienza eccellente, una delle migliori esperienze su airbnb
Pasquale
2015-08-07T00:00:00Z
Romtype
Helt hjem/leilighet
---
Eiendomstype
Leilighet
---
Plass til
4
---
Soverom
Genoa, Liguria, Italia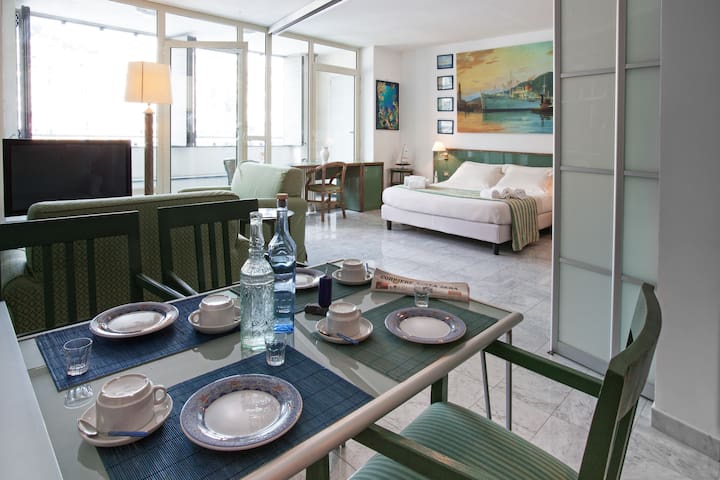 Monolocale situato nel complesso denominato "TORRI FARO" composto da ingresso, ampia zona giorno e zona notte con angolo cottura, bagno, balcone,dispensa e porta blindata. Accesso dalla strada o con l'ascensore direttamente dal posto auto coperto di proprietà nei fondi del condominio. 6 piano Splendida vista mare, situato a 200mt dall'uscita autostradale di Genova Ovest e in posizione centralissima molto comoda per il porto e per le principali attrazioni turistiche (acquario, centro storico ecc)
L'appartamento è situato al sesto piano del grattacielo "Torri Faro" costruito nel recente 2012, splendida vista e Posto auto coperto di proprietá nel fondo del palazzo con ascensore che porta direttamente al piano. Alloggio dotato di frigorifero e angolo cottura con fornelli classici e forno. La corsia dove è situato il posto auto è videosorvegliata così come l'ingresso pedonale al condominio, la porta di casa è blindata e potrete soggiornare nella massima sicurezza. È presente inoltre uno splendido e spazioso balcone che si affaccia in parte sul mare e sulla lanterna, oggetto simbolo della città.
Zona seppur molto centrale, molto silenziosa. massima comodità per raggiungere il terminal traghetti, la zona imbarchi del porto e le principali attrazioni turistiche della città.
Ottima esperienza! Mattia super disponibile e appartamento molto carino e pulito con una bella vista sul porto di Genova.
Andrea
2017-04-09T00:00:00Z
Tutto perfetto! Mi sono recato a Genova per un week-end di relax con la mia fidanzata. Mattia si è mostrato da subito molto disponibile telefonicamente per poi accoglierci con precisione e puntualità nel suo appartamento. La zona è centrale ma tranquilla (lontana dalla delinquenza del centro storico che inizialmente mi preoccupava) , l'appartamento è esattamente come nella descrizione con il posto auto coperto interno al palazzo e la vista soprattutto alla sera sul porto illuminato è splendida! Mattia ci ha dato precise indicazioni su come raggiungere l'acquario e ci ha indicato un ristorante ottimo dove siamo stati sabato sera. Lo consigliamo a tutti! grazie e alla prossima! Fede e fede
federico
2017-03-12T00:00:00Z
Nous avons aimé l'aménagement moderne et très pratique de l'appartement, la grande terrasse avec vue sur le port, mais surtout l'accueil chaleureux de notre hôte (un grand sourire, des chocolats, de la focaccia, du proseco), et ses conseils pour partir découvrir Gênes et les Cinq Terres (des horaires de train et un plan de Gênes et des cinq terres). Il était très agréable de pouvoir le joindre facilement (sms et (SENSITIVE CONTENTS HIDDEN)) si besoin. Pour rejoindre le centre ville, il faut compter 5min en bus, et 30min à pied (20min pour la gare à Piazza Principe).
Constance
2017-04-08T00:00:00Z
L'appartement de Mattia est très bien situé, face au port, avec une vue imprenable étant au 6eme étage. Son appartement très récent est très agréable et dispose de tout le confort nécessaire pour un séjour. Mattia est une personne agréable et très disponible, plein de bons conseils pour son séjour.
Adeline
2017-04-11T00:00:00Z
Romtype
Helt hjem/leilighet
---
Eiendomstype
Leilighet
---
Plass til
2
---
Soverom
Genoa, Liguria, Italia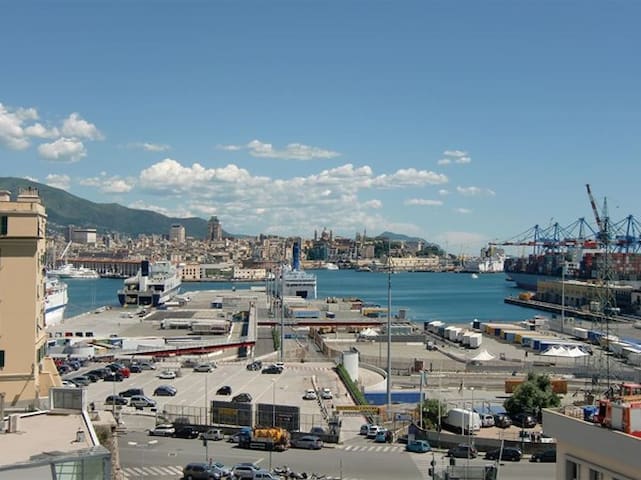 Nice flat in the heart of the historic center, totally renovated with love for design, between Cathedral and Aquarium. Look my page "CASA OREFICI IT " for more pictures of my 3 flats all at the same floor !!! All the comforts, brand new, sparkling clean, free wifi. In the flat you'll find all you need... and feel fine.. I will be happy to welcome you with many precious tips in Amazing Genova! Luisa
CHARMING APARTMENT IN THE HEART OF THE OLD GENOA, FRONT AQUARIUM, SITUATED IN VIA OREFICI (OREFICI STREET) JUST RENOVATED WITH LOVELY DECORATIONS SPLENDIDO APPARTAMENTO NEL CUORE DELCENTRO STORICO DI GENOVA, FRONTE AQUARIO, PRECISAMENTE IN VIA DEGLI OREFICI, RECENTEMENTE RINNOVATO CON GUSTO THE FLAT IS NICE, COMPOSED OF A LIVING ROOM WITH FULL EQUIPPED KITCHEN, A BEDROOM AND A BEAUTIFUL TILED BATHROOM WITH A BIG SHOWER. HOT WATER AS YOU WANT AT ANY TIME. INDIPENDENT HEATING. LA CASA E' DAVVERO GRAZIOSA… COMPOSTA DA ZONA GIORNO CON CUCINA COMPLETA DI TUTTO, UNA CAMERA DA LETTO E UN BAGNO MERAVIGLIOSAMENTE PIASTRELLATO CON UNA GRANDE DOCCIA. ACQUA CALDA A VOLONTA' E RISCALDAMENTO AUTONOMO CON TERMOSIFONI TRADIZIONALI. YOU WIIL FIND AT HOME ALL YOU NEED: WIFI, HAIRDRYER, REFRIGERATOR, TV FLAT 32 ", DVD PLAYER , IRON AND BOARD, TOASTER, MICROWAVE, ALL UTENSILS AND SOME BASIC GROCERY (OIL, SALT, TEA, SUGAR...) FREE INTERNET WIFI IN CASA TROVERETE TUTTO CIO' DI CUI AVETE BISOGNO: FRIGO, LAVATRICE, FERRO E ASSE DA STIRO, TV COLOR 32" , TOASTER, MICROONDE, TUTTI GLI UTENSILI E ALCUNI GENERI DI PRIMA NECESSITA' COME SALE OLIO, ZUCCHERO, ECC FREE WIFI TOWELS AND LINENS PROVIDED, EXCELLENT CLEANING AT YOUR ARRIVAL. ASCIUGAMENTI E BIANCHERIA DA LETTO PER TUTTO IL VS SOGGIORNO, PULIZIA IMPECCABILE AL VOSTRO ARRIVO! YOU CAN REACH FROM THE FLAT EVERY POINT OF INTEREST IN WALKING DISTANCE.... VIA GARIBALDI , THE AQUARIUM, SAN LORENZO CATHEDRAL ARE REALLY IN FEW STEPS!!! DA CASA POTRETE RAGGIUNGERE IN POCHI PASSI TUTTE LE PRINCIPALI ATTRAZIONI DELLA CITTA: VIA GARIBALDI, LA CATTEDRALE E L'ACQUARIO SONO A MENO DI 5 MINUTI A PIEDI. PEDESTRIAN, SAFE AND LIVELY AREA ... PLENTY OF SHOPS AND RESTAURANTS. AREA PEDONALE, SICURA E VIVACE ANCHE LA NOTTE. OGNI TIPO DI NEGOZIO E SERVZIO SOTTO CASA. TUBE, BUSES AND EMBARKEMENTS IN TWO MINUTES WALK. METROPOLITANA, BUS E IMBARCHI SONO VICINISSIMI. THE HOUSE CAN ACCOMODATE UP TO 4 PEOPLE. LA CASA PUO' ACCOGLIERE 4 PERSONE CHILDREN ARE WELCOME AND ADDITIONAL EQUIPMENTS CAN BE PROVIDED FOR FREE UPON REQUEST I BAMBINI SOO I BENVENUTI, LETTINO PIEGHEVOLE E SEGGIOLONE DISPONIBILI GRATUITAMENTE SU RICHIESTA. I USE TO WELCOME PERSONALLY MY GUESTS…. WITH ADVICES AND SUGGESTIONS ABOUT THE APARTMENT AND THE SURROUNDINGS. I ALWAYS TAKE CARE OF MY GUESTS, READ MY FANTASTIC REVIEWS PLEASE! DURING YOUR STAY WE ARE ALWAYS AVAILABLE FOR ANY QUESTION OR INCONVENIENCE OR SIMPLY FOR OTHERS TIPS! ACCOLGO SEMPRE PERSONALMENTE I MIEI OSPITI E ME NE PRENDO GRANDE CURA. SONO SEMPRE DISPONIBILE PER SUGGERIMENTI E CONSIGLI SULLA CITTA' E DINTORNI E PER OGNI ALTRA VOSTRA DOMANDA O NECESSITA'!! SIAMO SEMPRE PRESENTI IN CASO DI BISOGNO O PER CONSIGLI SUPPLEMENTARI!! I WILL BE HAPPY TO HELP YOU IN DISCOVERING AMAZING GENOVA..... DON'T EXITATE TO ASK ME FOR ANY QUESTION....... YOU ARE WELCOME!! SARO' FELICE DI AIUTARVI AD ESPLORARE E CONOSCERE LA MIA MERAVIGLIOSA CITT'A' CHE AMO DA SEMPRE!! BENVENUTI A GENOVA! JE PARLE AUSSI LE FRANCAIS! CONTACTEZ-MOI! LUISA The flat is regulary licenced by the REGIONE LIGURIA as A.A.U.T. (appartamento ammobiliato ad uso turistico) as the local law sleeping accomodation: 4 pax surface: 48 mq free internet wireless TV LCD 32" stereo with dock station local supermarket iron and board hairdryer microwave washing machine refrigerator no air conditioning (do not need)
The neighbourhood is very lively and safe, in the night too. Plenty of every kind or typical restaurants, bars, food shops. A really sense of history: all around so many beautiful buildings, ancient churches, medieval palaces… Enjoy so much beauty!! You can do all on foot, but howver for moving from the center bus and tube and taxi stations are very close to the flat. Il quartiere è vivace e sicuro, anche se uscite la sera. Ogni genere di negozio, ristorante e servizio sotto casa. Sarete pervasi da un grande senso di storia…. Meravigliosi palazzi superbamente decorati, antiche chiese, musei e piazzette dove prendere un aperitivo…. Gustatevi l'atmosfera….! Potete fare tutto a piedi ma se volete allontanarvi dal centro ci sono bus taxi e metropolitana a pochi passi da casa.
Luisa arrived at the arranged time and she was more beautiful than her photo , a real Genovese citizen, she was great and helpfull and really knows the city and surrounds, with lots of tips and checks to make sure we were ok. The flat was perfect for us and close to everything , and the best foccacias and pasta ever !! Old Genoa was a real surprise and buildings ,narrow streets and history is everywhere, we only went as our cruise left from there but we loved Genoa and the Cinque Terre and Portofino etc all easy to get to on the trains . Thank you Luisa and hope to see you again . G&M. Cahill . Australia
Graeme
2014-11-13T00:00:00Z
Louisa's apartment is absolutely beautiful with the most updated amenities. She is a wonderful host with helpful suggestions of where to visit in Genoa and surrounding areas in Liguria. I absolutely recommend her flat. My family had a great four nights in the orange apartment.
Soch
2014-05-18T00:00:00Z
The flat was in the heart of the old city center. It was very clean and exactly as described. The washing machince did not work. When we tried to wash in the other flat, it didnt spin so the clothes were left dripping. At this time, luisa was not responding to messages so we had to use the hair dryer well into the night to be able to pack our clothes! The flat is in the 2nd floor european standards (3rd floor in american standards) and without a lift. For those with heavy luggage like us, it was very difficult to reach the flat. Also Via Orefici is in a purely pedestrian part of the city. The taxi stop is around 5 minutes walk which could be inconvenient if you have heavy luggage.
Eugenia
2015-11-06T00:00:00Z
L'appartamento è molto comodo, perché centrale ma non ci si arriva in taxi. E' pratico, pulito e molto calmo. Non è molto luminoso.perché dà su un vicolo. Luisa è molto disponibile e dà un sacco di informazioni.
Loredana
2017-01-31T00:00:00Z
Luisa met us at the apartment. She spent lots of time with us to explain things and on what sites to see and where to eat in Genova. There was lots of information in the apartment also. Luisa was also very quick with messaging back when we had any questions. The place is perfect with a good kitchen and great shower. The bed was very comfortable and we had the best sleeps because it was so quiet at night. The location is great and close to everything we wanted to see. I highly recommend this apartment and would stay here again. Thanks Luisa!
Sabine
2016-03-10T00:00:00Z
Beaucoup de goût dans l'aménagement et la décoration, et de respect envers ses hôtes, en leur fournissant tout le confort souhaité, Luisa y ajoute son sourire et sa disponibilité . Nous avons passé grâce à elle un beau séjour en amoureux, et conseillons sans réserve son appartement pour la découverte de Gênes et de la Ligurie !
Patrick Et Annie
2014-09-14T00:00:00Z
The apartment is located very centrally as described by Luisa. It's nice and clean, too. It looks exactly like on the pictures. Luisa is a very nice and helpful person. You can always reach her when you have questions. I can definitely recommend this apartment to anybody who wants to visit Genoa!
Leyla
2016-05-21T00:00:00Z
Great communication and location! I will definitely stay at Luisa's place again!
Nick
2014-10-11T00:00:00Z
Romtype
Helt hjem/leilighet
---
Eiendomstype
Leilighet
---
Plass til
4
---
Soverom
Genoa, Liguria, Italia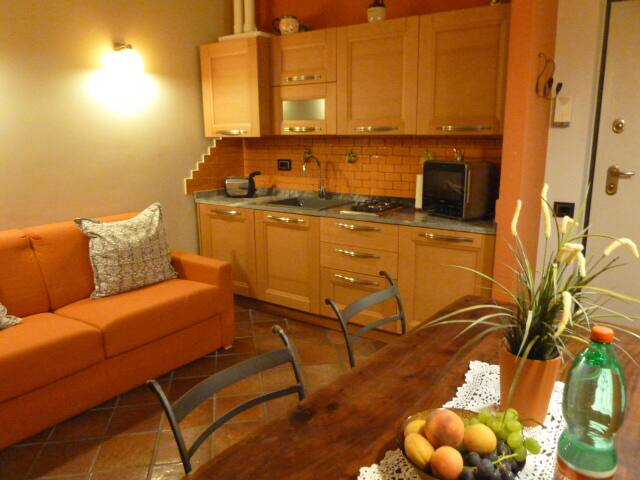 Manesseno - Airbnb
:
Gjennomsnittlig

4.74

av

5

stjerner fra

1889

gjesteanmeldelser