My accommodation is perfect for couples, solo travelers and business travelers.
Romtype
Helt hjem/leilighet
---
Eiendomstype
Leilighet
---
Plass til
3
---
Soverom
Māhina, Windward Islands, Fransk Polynesia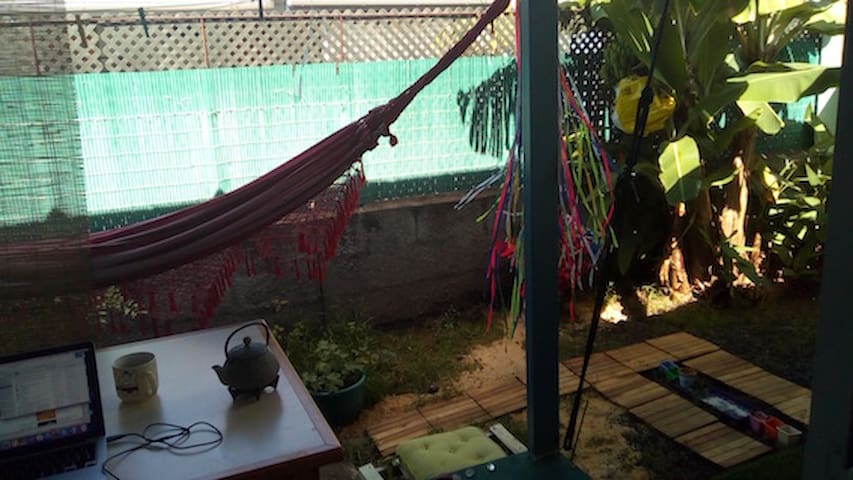 My apartment is a duplex with a beautiful view of the bay and the Lafayette beach, direct access to beach (elevator) in the Pearl beach resort (lagoon pool, spa ..) at the first level kitchen, living room, large terrace, Toilet , sofa the upper level room, terrace, large bathroom.
The host canceled this reservation 9 days before arrival. This is an automated posting.
Sylvaine
2017-03-19T00:00:00Z
Romtype
Helt hjem/leilighet
---
Eiendomstype
Leilighet
---
Plass til
4
---
Soverom
'Ārue, Windward Islands, Fransk Polynesia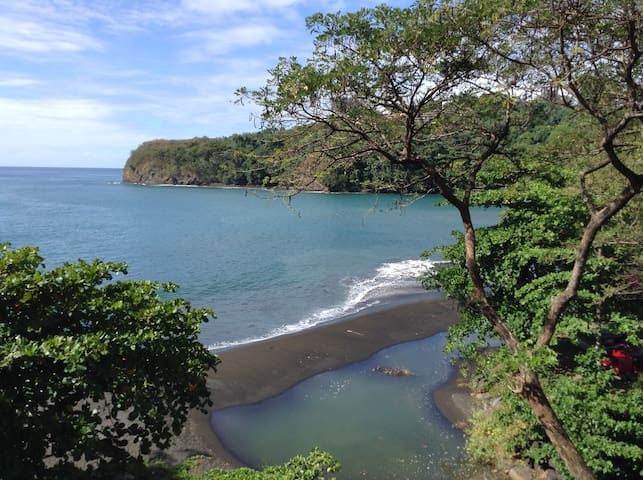 Full furnished studio with air conditioning, located close to the city and next to a beautiful parc, 10mins walk from downtown, few restaurant, 500m of a grocery store. Ideal for couples, honeymooners, solo or business travelers.
The studio is modern, safe and clean.
Quiet neighborhood
Excellent apartment located 10 minutes from downtown, clean, cozy and has everything you need. 100% recommendable
Carmen Gloria
2016-12-15T00:00:00Z
Tim's apartment is absolutely perfect for a stay in Papeete, whether you're just stopping overnight or staying to explore Tahiti for a few days. The apartment is spotlessly clean and modern with new fittings and good furnishings. The bed is incredibly comfortable with high-quality sheets, and the bathroom new and clean too. Very well-equipped kitchen if you want to cook at home, there really is everything you need. Great large windows with a view out to Moorea and for the sunset - it is near a busy road with some traffic noise but with the windows closed and air con on I barely noticed it. It actually felt very peaceful in the apartment, and it was a fantastic spot just a 10-15 min walk into central Papeete, especially nice to go along the promenade and marina. Also with a choice of grocery stores about a 5 min walk away. Very helpful hosts - Tim and her family ensured the apartment was clean, that I had everything I needed, and even came to pick me up at my previous location then take me to the airport when I left. 5* Airbnb experience - I'll definitely book this place when I return to Papeete.
Cordelia
2016-12-02T00:00:00Z
Notre hôte s est rendu disponible pour notre arrivée et notre installation. L appartement est bien placé très agréable et au calme. Place de parking au sous sol privé et sécurisé très appréciable sur Papeete. Le logement dispose de toutes les commodites . Nous avons passé un excellent séjour. Merci Tim
DIDIER ET PATRICIA
2016-12-24T00:00:00Z
Straight 5 star rating, since this studio apartment (which is actually quite big and has a "lofty" feel to it) offers more than many so called 4 star hotels! Everything is quite new, the air conditioning is a huge plus and theres even a great view from the 5th floor (you can see most of Moorea from here). Furthermore Tim is a caring host (she picked me up at the airport on Christmas Eve!) backed by her father Daniel, they are a great team for all your concerns and questions. Only downside: If you want to park your car in the underground parking, you better know your car well (which I didn't as I just rented one :-P) since it is very narrow (and I'm a Swiss guy used to narrow streets). But there's also some outside parking should you decide to bring your big shot BMW :-)
Daniel
2016-12-26T00:00:00Z
The apartment is centrally located in Papeete on the top floor in quiet building with elevator. It's very clean and has everything you need, including a kitchen. We were met at the airport and transported back to the airport after our stay. The communication with the host were very good. The service was excellent and friendly. I strongly recommend this flat and it's host.
Rolf Tore
2016-12-31T00:00:00Z
Excellent accueil de Tim, appartement confortable calme dans un quartier animé
antoine
2017-04-01T00:00:00Z
Tim has a very beautiful studio apartment with everything you need, a comfy king size bed and a huge Samsung TV. It is perfectly located and only minutes away from the center of Papeete. The rooms were much bigger than expected, clean and cozy. Unfortunately we didn't meet Tim but the communication was great. Her sweet dad Daniel picked us up free of charge from the airport and dropped us at the port 2 days later when we took the ferry to Moorea. Our plane was delayed and it was very late when we arrived, he patiently waited for us with two flower leis as welcome present. He was such a sweetheart, showed us the places to be in Papeete, like market, park, cheap restaurants and local food tracks. All was reachable by walking distance from the apartment. At the studio he explained us everything and gave us a lot of tips about the island. Daniel has definitely stolen our hearts. :) I can highly recommend Tim's place and we would be happy to stay there again. Thank you so much Tim & Daniel! :)
Gina
2017-03-29T00:00:00Z
Tim's apartment is central, well-furnished and has a great view. Tim's dad, Daniel picked us up and dropped us back at the airport and was very welcoming. We enjoyed our sty very much!
Michael and Emilie
2017-04-04T00:00:00Z
Romtype
Helt hjem/leilighet
---
Eiendomstype
Leilighet
---
Plass til
2
---
Soverom
Papeete, Îles du Vent, Fransk Polynesia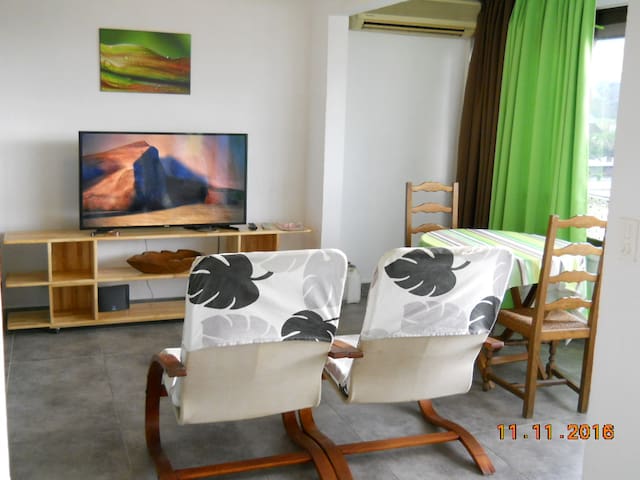 Nous vous invitons à vivre au Cœur de Papeete , à quelques minutes du port , dans un appartement penthouse avec vue sur l'île de Moorea. La résidence est équipée avec une piscine sur le toit. La chambre est équipée de tout le confort .
Situé au cœur de Papeete , il est doté de deux terrasse de 70 m2 et 30 m2. La résidence bénéficie d'une piscine sur le toit. L'accès à la ville peut se faire à pied .
Au cœur de la ville
Great place to stay! We were here for 2 nights before heading to rangiroa. Our plan was to sit by the pool and see a little of Papeete. This was the the perfect place for that. Close to the city center for walking around the shops, restaurants, promenade, and food truck area. Leila was a great host and was very helpful in setting up transportation to and from the airport. We would definitely stay here again!
Jenni
2017-03-19T00:00:00Z
Leila and her Husband were great hosts. She picked us up at ferry terminal when we arrived and he dropped us off at the airport in the early morning. We became friends so after we talked to each other. Leila gave us information of places to go. Their apartment is upscale with great views. I would highly recommend it to anyone who happened to visit Tahiti.
Hung
2017-03-25T00:00:00Z
Super accueil, des hôtes charmants à votre écoute et qui savent se montrer très discrets, belle chambre et belle salle de bain, très proche du centre ville et du marché, et des roulottes à pied. Parfait
Brigitte
2017-04-02T00:00:00Z
Excellent accueil Leila est très disponible aide précieuse pour peaufiner notre séjour
NAndre
2016-09-17T00:00:00Z
it was absolutely comfortable and cozy home Leila arranged my car when i arrived at midnight and explained facilites well.. she drop me of to next accmodation it is about 10mins to the downtown by walk there are many local restaurants and shop around.. room and bathroom were very clean it was the great experience and nice host you will not regret when you stay at Leila house i wish to go agian next time thanks a lot agagin
Kyukwon
2016-10-15T00:00:00Z
Leila est venue nous accueillir à l'aéroport. Elle est très chaleureuse et nous a mis de suite très à l'aise. Nous étions comme à la maison. Ses nombreux conseils nous ont été utiles. La chambre est très propre, confortable, parfaite... L'appartement se situe à 10 minutes environ du centre ville (marché, roulottes....). Ce passage chez Leila a été une très belle introduction pour notre voyage en Polynésie.
Laure
2016-07-20T00:00:00Z
We stayed two nights prior to boarding our cruise on a Windstar ship. Leila and Patrice are perfect hosts. The room was clean with nice bedding and towels, and the air conditioning was really nice for the first two nights in the tropics coming from Canada. My French is really weak, but thankfully they spoke English very well and there was never any communications issues. The walk to downtown was short, Leila and Patrice gave us some great advice on eating out, and seeing the sites. After our cruise we stayed at a very expensive resort, (The Intercontinental), and both my wife and I felt we probably would have enjoyed staying here more. Even though it wasn't a water front resort, it was so personal and friendly that it really made the first days of our trip go well, and we enjoyed being able to walk everywhere rather than being captive at a resort without a car. Highly recommended.
Mark
2016-11-25T00:00:00Z
Early morning arrival so Leila organised her friend Tina to collect us in her taxi....a lovely lady. Warm welcome by Leila, and everything just as we expected. Easy 15 minute walk to downtown, supermarket 5 mins away, rooftop pool was great. Leila was very helpful with information and took us to the port and collected us on return for our cruise on Aranui 5.
Denise
2016-07-18T00:00:00Z
Romtype
Privat rom
---
Eiendomstype
Leilighet
---
Plass til
2
---
Soverom
Papeete, Tahiti, Fransk Polynesia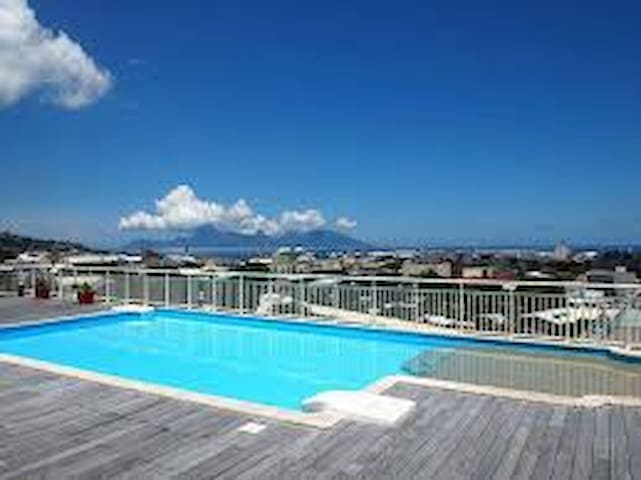 Papeete dans rayon de 350m marché resto dancing quai des ferry cathedrale beau studio avec terrasse vue mer moorea belle piscine sur le toit -vue panoramique montagne tout confort frigo gaziniere microonde machine à laver salle d'eau spacieuse Wifi
situé en ville acces a tous les commerces a pied parking securisé en sous sol le studio est au dernier etage calme piscine avec solarium et vie panoramique sur montagne et mooréa bpc de verdure la terrasse est ensoleillée toute l'après-midi
la proximité et les avantages de la ville commerces restau ciné dancing etc tout en beneficiant dune belle piscine , du calme dans un studio confortable
Paul was the most amazing and gracious host. The studio is in a perfect location in the centre of town. Very clean with lots of aide and light and very comfortable at night; not too hot. He even got up at the crack of dawn to take us to the airport and picked me up early when I arrived a day early. The pool at the top is wonderful and clean and has beautiful views. A perfect stop over. Thank you Paul!
Chloe
2015-12-27T00:00:00Z
Nous avons été très bien accueilli par Paul. quelqu'un de tres gentil et serviable. le studio est très bien situe proche du centre dans un endroit calme
Florent
2014-11-04T00:00:00Z
Paul was an incredibly nice and welcoming host! Communication before and during our stay was quick and easy. The rooftop pool was fantastic and this apartment is just a 5 minute walk to the harbor, food trucks, and the center of town. We were in Papeete for a few days before a cruise--I forgot a pair of shoes in the apartment and Paul set time aside from his busy schedule to meet the boat when we returned to Papeete--and he arranged our transportation back to the airport! Super nice guy and he made our stay memorable. Merci beaucoup, Paul!
John
2016-01-24T00:00:00Z
I booked the place with Paul for my 70 year old parents who went on a world tour. As promised, Paul was waiting at the airport to pick them up. Unfortunately, they couldn't stay for an emergency back home. They were extremely grateful how Paul helped them in a friendly and uncomplicated manner to sort out the continuation of their trip in a stressful moment.
Antina
2016-02-18T00:00:00Z
Très bon séjour chez Paul, avec un super accueil à l'aéroport, jus de fruit à l'appartement. Il est bien situé proche du centre et des food trucks. La piscine sur les toits est très agréable avec une belle vue sur Papeete
Alexandre
2016-12-25T00:00:00Z
Nous avons apprécié l'accueil de Paul qui est venu nous chercher à l'aéroport à 6 heures du matin, l'emplacement du studio proche du centre ville à 5 min à pied, la piscine sur le toit de l'immeuble et la place de parking au sous-sol. une superbe vue sur la baie de Papeete. A recommander chaudement même si les installations sont un peu trop basiques à mon goût...
Anne
2017-02-02T00:00:00Z
Reserve con Paul la noche que precede al vuelo de regreso por la mañana a Los Angeles, alquile un cuarto y me encontré con un estudio o suite totalmente equipada en el quinto piso con balcon, con vista, cocineta, lavadora, baño amplio, y Paul e Aunque no habla inglés y yo no hablo francés, trato de hacer mi estancia lo mejor posible, la ubicacion excelelente, a unas 4 cuadras de la marina, las famosas roulottes para cenar, el ferry que sale a Moorea y de les 3 brassieurs, lugar de buena musica y ambiente. Seguramente algun dia regresare.
belia
2017-01-06T00:00:00Z
Paul is undoubtedly a great and friendly host. He even picked us up from the airport and drove us back early in the morning and late in the evening, respectively. The flat is perfectly situated near the cuty center snd you can go there by foot in 10 minutes. Paul helped us finding the city center and gave us helpful tips for restaurants and trips. Two things one shouldn't miss visiting Pape'ete is the neighbour island of Moorea and the roulottes (food stands) at Pape'etes port side. Thanks very much Paul for your great French hospitality. We'd come back anytime (which we'll actually do soon). Sunny regards, Bettina and Lauri
Bettina
2016-05-31T00:00:00Z
Romtype
Helt hjem/leilighet
---
Eiendomstype
Leilighet
---
Plass til
2
---
Soverom
Pape'ete, Îles du Vent, Fransk Polynesia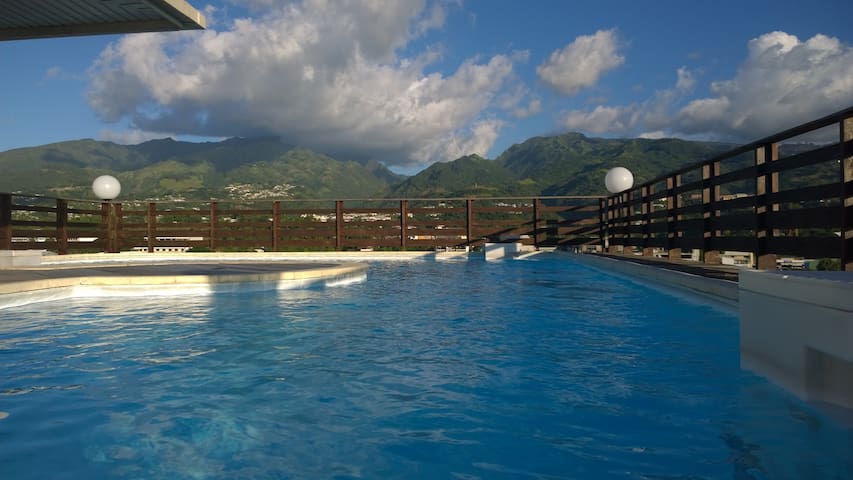 Ce grand studio de 44 m2 , sol en parquet,est situé dans une résidence sécurisée à 800 m de la gare maritime, Papeete et hôpital du Taaone. Tout équipé et wifi( environ 300 mega/jour) avec une gde terrasse et un rdj de 50 m2. Résidence avec piscine, salle de muscu et gardien
Amazing place to stay! Only a 15 minute walk to the town and the harbor
Emily
2017-03-22T00:00:00Z
Très bon séjour, Merci Nathalie
Magalie
2017-01-17T00:00:00Z
Logement très agréable, propre, fonctionnel. Proche de la ville, 20min à pieds. Résidence très calme Rien à dire!
Sonia
2016-12-26T00:00:00Z
logement propre et adéquat Propriétaire disponible et accueillante
Kenza
2016-11-18T00:00:00Z
Logement très propre et fonctionnel, très agréable. Super accueil par Nathalie. Quartier calme, un peu éloigné du centre de Papeete mais tout se fait très bien à pieds.
KarelleSchaan
2016-05-06T00:00:00Z
Romtype
Helt hjem/leilighet
---
Eiendomstype
Leilighet
---
Plass til
2
---
Soverom
Papeete, Îles du Vent, Fransk Polynesia
WIFI a Internet disponible en la habitación
42 m² apartamento estudio frente al mar en alquiler Vistas al mar y la piscina, con una perspectiva abierta, sol perfecta, acceso directo a la playa Totalmente amueblado, cocina equipada, 1 cama king size, baño, lavadora, horno eléctrico, microondas, frigorífico-congelador, vajilla, cafetera, televisores, aire acondicionado, ascensor Internet WIFI Ropa de cama incluida: sábanas, toallas, paños de cocina Restaurante, bar y tiendas. 24H servicio de guardia de seguridad / 24 Superficie 42 metros cuadrados 1 aparcamiento interior privado Capacidad máxima: 2 personas Paquete Pass Hotel (incluido): - El acceso a la piscina y jacuzzi - El acceso al gimnasio 24H / 24, 7/7 - El acceso a la sauna - El acceso a los baños turcos
It was wonderful!
Sandra
2017-01-06T00:00:00Z
I had a good time at this location. Nice vacation apartment
Nick
2017-02-04T00:00:00Z
Jimmy nous a accueillit avec une ponctualité irréprochable et nous a donné toutes les informations utiles pour que nous soyons bien pendant notre séjour.Son logement peut être classé dans la catégorie des appart hôtel de luxe .En effet on y retrouve le confort ,le coté pratique d'un appartement tout en ayant l'impression d'être dans un hôtel 5 (URL HIDDEN) nous devons revenir en Polynésie ,nous reviendront très certainement chez Jimmy.Merci encore et franchement quel standing!!! :)
Jean-marc
2016-05-22T00:00:00Z
The hosts are very friendly! The Appartement has a perfect size! We would definitely recommend staying there than in the hotel! The wifi sadly didn't worked but they try to fix it! There is not much around this place so we rented a car to drive around the island which was beautiful.
Franzi
2015-12-02T00:00:00Z
Jimmy was very helpful and easy to work with. His place is very clean and nice looking with modern finishes. The kitchen is full with lots of things you need. We rented a car for some of the time and the parking space was handy. Free Wifi was nice to get things sorted out during our stay. City center is really busy, loud, and dirty so being out here was nice clean & quiet. There is a nice hike just up the hill from the place with great viewpoints. Beach was not swimble because of the huge waves but that was just because of the season. There are a few grocery stores nearby and some local fruit stands just 20 minutes walking.
Brittney
2017-01-26T00:00:00Z
Jimmy est présent et assure avec beaucoup de sympathie l'accueil de ses hôtes. Je le recommande vivement. L'endroit est parfait aux portes de la ville et au calme avec une magnifique plage de sable noir.
FRANCOIS
2017-04-02T00:00:00Z
Great place to stay! I can't wait to come back again. I appreciated the air conditioning, being able to use the beautiful pool and the fitness center. Jimmy is a very good host, I appreciated the tour of the resort.
cherie
2017-02-18T00:00:00Z
The location and apartment were so wonderful. Jimmy was flexible and convenient in terms of exchanging the keys and information about the apartment. The hotel site had a couple of challenges. The hotel must contract with various cruise ships because there were days were there were an additional 100+ people utilizing the hotel amenities. On theses days it was difficult to find a place to sit, eat at the restaurant and use the facilities. We ordered a side of french fries that took an hour and forty five minutes to arrive. Also the hotel does not provide beach/pool towels so it would have been great to have a set in the apartment. Overall, we would have gladly stayed here again. Just think the hotel needs to better accommodate and plan for large cruise ship guests staying for the day!
Caitlin
2016-04-16T00:00:00Z
Romtype
Helt hjem/leilighet
---
Eiendomstype
Leilighet
---
Plass til
2
---
Soverom
'Ārue, Windward Islands, Fransk Polynesia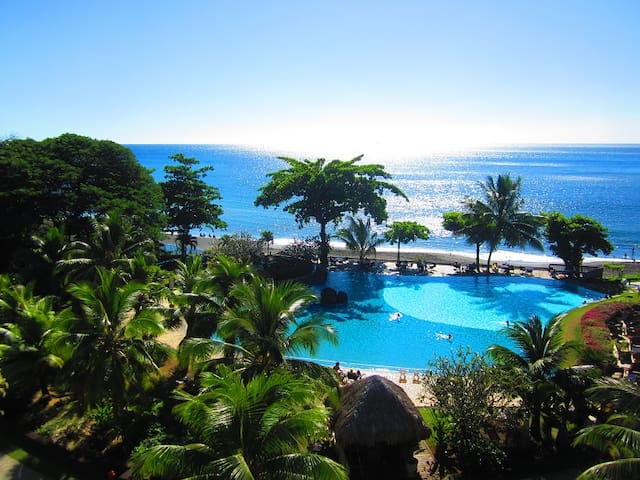 Appartment located in a quiet residence with swimming pool , 7 min from the papeete center by car Big living room (45 m2) decorated with a zen and modern style. Well equiped ( air conditionning, dishwasher, washing machine, airdryer, TV, internet)
Big appartment with a large space (90 m2) decorated with a zen and modern style. Well equiped ( air conditionning, dishwasher, washing machine, airdryer, TV, internet)
The appartment is in a quiet residence with a viexw on the papeete Harbour 7 min by car from the center of Papeete or 30 min walk
Appartement très calme propre et bien équipé. Très bon séjour. Je recommande cette adresse
Nicolas
2016-11-13T00:00:00Z
Bon appartement, bien situé a 5 minutes de voiture de Papeete ou de l'aéroport. La climatisation fait vraiment plaisir sur cette île pleine de chaleur :)
Philippe
2016-05-15T00:00:00Z
Hassle free. The apartment was nicely equipped and extremely cozy. Médérick sent a detailed email regarding the location. I would definitely book again with him.
Maui
2016-09-05T00:00:00Z
Appartement parfait pour un séjour d'affaires ou en famille dans un quartier calme en plein nature, à cinq minutes en voiture du centre ville.
Yves
2017-02-15T00:00:00Z
Mederick was fantastic host. He was easy to communicate with and every time helpful. Apartment was spacious and exactly as described in ad. Neighbourhood was nice and friendly neighbors. Great experience. :)
Veli-Veikko
2016-06-04T00:00:00Z
le logement était bien décrit, l'accueil bien organisé (clés, informations...), hôte très arrangeant et disponible :-)
Solène
2016-06-21T00:00:00Z
We were hoping to meet our host, but it didn't happen. Nevertheless, we enjoyed our stay. The apartment was clean, spacious - for 4 adults it was more than enough. Location could be better, car is a must.
Elzbieta
2016-08-28T00:00:00Z
Nous avons passé trois très bonnes nuits dans un appartement très confortable et bien équipé. Petit plus pour la piscine qui permet de se rafraîchir le matin ou le soir.
Alan
2016-05-18T00:00:00Z
Romtype
Helt hjem/leilighet
---
Eiendomstype
Leilighet
---
Plass til
4
---
Soverom
Papeete, Tahiti, Fransk Polynesia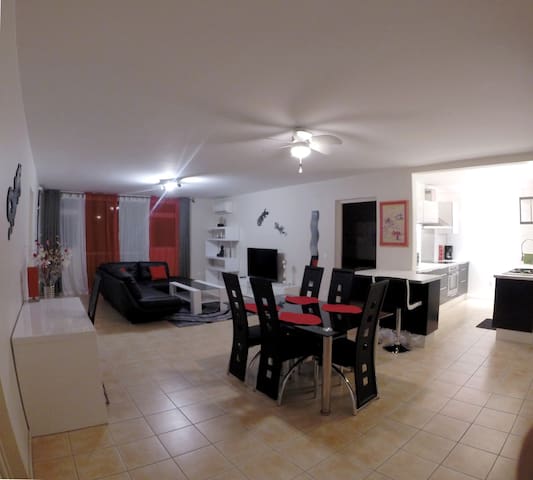 Sans frais cachés (taxe de séjour, clim, edf, internet), louez en toute confiance ce joli studio où tout est inclus : Électricité, Internet illimité Wifi, Clim, Télé avec TNT et Netflix, parking.
Ia orana e maeva ("Bonjour, bienvenue" en tahitien) dans mon joli studio pour votre séjour en Polynésie. Ce studio de 36 m2 + 14m2 de terrasse est mis en location saisonnière depuis mars 2016. Au premier étage d'une résidence de standing, calme et réputée, vous profiterez j'espère au mieux de votre séjour sur notre ile. Le studio est composé d'une grande pièce chambre/salon, d'un coin cuisine complet, d'une salle de bain (douche) et d'une agréable terrasse. Le logement est équipé d'un lit queen size (160 cm) couchage ferme. Il y a aussi un lit parapluie pour bébé disponible. Il est donc plutôt destiné à un couple + éventuellement un enfant en bas age. Les meubles (en teck) sont neufs (achetés en mars 2016). La clim est neuve (juin 2016), silencieuse et saine ! L'appartement est équipé de: lave-linge, sèche cheveux, pèse-personne, fer à repasser, TV connectée, abonnement Netflix offert (des centaines de films et séries), lecteur DVD/Blu-Ray avec une trentaine de DVD, internet illimité avec Wifi, climatiseur, ventilateur, four électrique, plaques de cuisson, réfrigérateur, micro-ondes, cafetière filtre, Nespresso, bouilloire, grille pain, marmite à riz. Bien entendu de la vaisselle est disponible (casseroles, poêles, assiettes, couverts, verres...) Vous disposez d'un parking privé. Les draps et linges de salle de bain sont fournis. Pour les séjours supérieurs à 10 jours, 2 jeux de draps et de serviettes sont fournis. Sur la terrasse extérieure, une table, 4 chaises et un transat-hamac. La vue donne sur la végétation. Le ménage est réalisé gratuitement après le séjour. Pas de frais cachés ! Les produits essentiels sont fournis: Papier toilette (paquet neuf), savons, liquide vaisselle, lessive, sopalin, adoucissant etc. S'ils ne suffisaient pas pour la totalité de votre séjour, vous vous chargerez de les compléter. Un petit kit d'accueil vous est gracieusement offert: eau fraiche, thés, cafés, sucres, capsules Nespresso etc. ainsi que quelques fruits de saison. Soyez les bienvenus et profitez pleinement de votre séjour à Tahiti ! Vous voulez plus d'informations, de détails, contactez-moi, je vous répondrai avec plaisir ! ATTENTION: La résidence dispose d'une piscine et d'une salle de sport. Malheureusement des travaux de rénovation y interdisent l'accès. Ceci depuis le 22.12.2016 jusqu'à une date non encore définie. Vous n'aurez donc pas accès à la piscine et à la salle de sport durant votre séjour. Ce message sera retiré dès que ces infrastructures seront remise en état et rouvertes.
La résidence est accessible en voiture (conseillé) ou à pieds depuis Papeete: un accès privé permet de rejoindre Papeete à pied en moins de 10 min par un sentier. Cet accès n'est pas adapté aux personnes à mobilité réduite ou aux personnes qui auraient des difficultés à se déplacer. Car il y a un escalier de 3/4 marches rudes et le sentier est pentu. Un centre commercial Carrefour (+ pharmacie...) est accessible non loin. En voiture ou bien à pied . 10 min en voiture, 25 à 30 min à pieds. Je conseille donc fortement de disposer d'un véhicule. De façon générale c'est bien plus simple pour profiter de tout Tahiti.
The best host and space in papeete. I and my wife really liked the place and it was amazingly comfortable room for a week stay. Sylvain was fabulous host and have got everything we need at his room. I would recommend to anyone come to papeete. The only disadvantage is that it is on the hill. But it will be no matter if you have a car. I and my wife didnt hire car but we took the uphill walking as exercising.
Jeon
2017-03-11T00:00:00Z
Un appartement bien équipé avec une terrasse très utile, au calme dans une résidence agréable, sans vis à vis au milieu de la verdure. Très appréciable à Papeete. Prévoir un véhicule, même s'il y a un petit chemin (pentu et pas très pratique) pour arriver à pied en ville.
Marie-Laure
2017-04-09T00:00:00Z
Sylvain is the perfect host. He picked my up from the airport around midnight because my flight was a bit late. Then I was allowed to leave some luggage with him, while flying to another island. He brought me to the airport and picked me up again, gave me back my stuff and drove me to my next Airbnb because his was occupied. I owe him big time! The place is wonderful, clean and well equipped with a great terrace. Also the location is good, 5min up a hill and 15min from the center of Papeete. Would love to stay there again and highly recommend to everyone!
Roland
2017-03-19T00:00:00Z
Sylvain à vraiment pensé à tout ! Gel douche, eau, jus de fruits, produit vaisselle, lessive, riz, pâtes, café, thé... Logement propre et joliement aménagé, bien situé entre l'aéroport et papeete.
Isabelle
2016-09-30T00:00:00Z
Toujours très attentionné, sylvain vous accueillera avec une grande gentillesse. L'appartement est fonctionnel, agréable et très propre. D'un excellent rapport qualité-prix, il est également bien situé pour se déplacer à et autour de Papeete par un accès rapide sur la R.D.O.
david
2017-04-03T00:00:00Z
l'appartement est super, très propre, très bien équipé et très calme. L'immeuble est très bien entretenu et Sylvain est un hote charmant, attentif aux différents besoin et disponible quand on a besoin. je recommande très sincèrement ce logement
HELENE
2016-12-08T00:00:00Z
C'était parfait, merci pour tout! L'appartement est superbe et très bien équipé. La piscine sur le toit est aussi vraiment très sympa! Sylvain était un très bon hôte, très accueillant sympathique. Je reviendrais!
Margot
2016-09-11T00:00:00Z
Accueil extrêmement chaleureux de Sylvain. Le studio est conforme à la description sur le site. Très bonne adresse car proche de centre ville et du marché de Papeete. La residence est calme et bien entretenue. La piscine sur le toit de l immeuble est agréable et offre une belle vue sur le front de mer et le port. . Nous avions passé un magnifique séjour sur Tahiti. Je recommande fortement ce logement.
Anaël et Anthony
2016-07-14T00:00:00Z
Romtype
Helt hjem/leilighet
---
Eiendomstype
Leilighet
---
Plass til
2
---
Soverom
Pape'ete, Windward Islands, Fransk Polynesia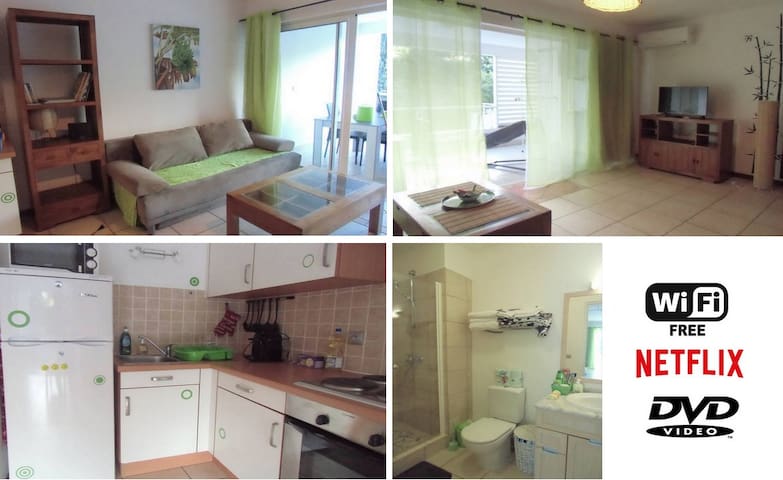 Situado en las colinas de la isla de Tahití Arue, este apartamento es el primer piso de la casa del propietario. Usted tendrá una habitación para dos personas con una cama matrimonial, otra con dos camas pequeñas, salón, cuarto de baño con artículos de aseo, pequeña cocina con micro horno y lavadora, piscina privada y terraza. Podrá disfrutar de la maravillosa vista de 180 ° de la isla hermana de Moorea a atolón del Marlon Brando: Tetiaroa! Todo esto en una calle muy tranquila. Incluido en el precio: televisor de pantalla plana, reproductor de DVD con una colección de DVD, juegos de WII, reproductor de CD y radio con conexión para Iphone o Ipad, barbacoa, plancha, kayak, dardos y tenis de mesa. Bienvenido zumo de frutas o una cerveza local de Tahití serán ofrecidos a usted! Será un placer para nosotros ayudarle a visitar nuestra isla de Tahití. Como un instructor de buceo y ex surfista voy a mostrar puntos de surf y buenos centros de buceo. tarifa especial para la hora de entrada o registro de salida. Espero verte pronto Iaorana y buen viaje!
Muy tranquilo, zona residencial con vistas panorámicas.
Logement avec un excellent rapport qualité prix et trés propre. La vue est magnifique et l'accueil à la hauteur. Appartement avec tout ce qui est nécessaire pour un voyageur (fer repasser, machine laver,micro onde, tv, internet etc...). Ne pas hésitez à louer voiture pour bien visiter l'île.
Thomas
2015-01-21T00:00:00Z
Partie de la France pour vivre une véritable expérience, j'ai eu la chance de tombé sur une famille accueillante, charmante, agréable et disponible. Une maison sublime avec une vue magnifique, un plaisir pour les yeux. Un appartement très bien équipé, on y est bien et on ce sent en sécurité c'est grâce aussi à Rex qui est de très bonne compagnie. Je recommande cette location pour la qualité et le prix. Vous ne serez pas déçu.
Charlotte
2013-10-05T00:00:00Z
Beautiful view. Clean, safe and well-stocked. (Eric even left us something to drink in the fridge!) Eric's easy to communicate with and speaks English very well. There was no problem finding the place
Suzy
2016-04-04T00:00:00Z
The location was wonderful, amazing view, quiet. Was there only for a short stay, but is a place you could stay longer!
Sebastiaan
2013-12-17T00:00:00Z
Appartement dont la situation était ideale! Il nous a quand même semblé que le tarif était élevé au regard des prestations. Même si nous nous sommes peu croisés, Éric est très sympathique!
Sarah
2014-12-07T00:00:00Z
Eric is a wonderful host so generous with his time and knowledge. He met us at the car rental place and picked up our luggage. He provided some lovely food for us and very useful information about the area. he and his wife are expecting a baby - best wishes for all that.
sally
2016-01-28T00:00:00Z
Très bon accueil. Les conseils de Eric pour la découverte de la région ont été un grand plus. L'appartement est trés bien situé et correspond tout à fait à la description et la vue est juste fantastique. Ce fut un séjour vraiment génial. Calme et sérénité pendant une semaine. Merci
Isabel
2016-07-24T00:00:00Z
Eric is a nice and friendly host. His friendly dogs did welcome me every morning. I had a great time, although it was raining 4 of 7 days. This is a really good place to relax and to forget the stress of everyday life.
Robert
2016-03-03T00:00:00Z
Romtype
Helt hjem/leilighet
---
Eiendomstype
Leilighet
---
Plass til
6
---
Soverom
'Ārue, Windward Islands, Fransk Polynesia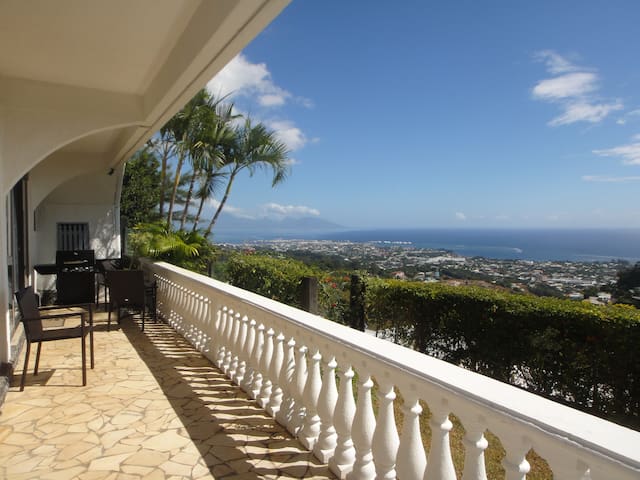 Die Vairea Perle Duplex ist in der Stadt Arue an der Ostküste von Tahiti gelegen, nur zehn Minuten von der Innenstadt Papeete, die Hauptstadt Stadt in einer sehr sicheren und in einer luch umliegenden Residenz.
Die Ferienwohnung liegt im Tahiti Pearl Beach Resort. Diese am Strand gelegene Maisonette-Wohnung ist in der obersten Etage, mit Aufzug. Es besteht aus einem komfortablen Lounge zusammengesetzt, eine voll ausgestattete Küche und eine große Terrasse. Das Schlafzimmer hat ein eigenes Bad mit Dusche und Badewanne sowie einen Balkon einen unglaublichen Panoramablick auf die Matavai-Bucht und die unglaubliche Lafayette schwarzen Sandstrand der oberen Etage. Genießen Sie die herrliche Aussicht auf das Meer von der Wohnung Terrasse und schaffen unvergessliche Erinnerungen, die atemberaubende Sonnenuntergänge beobachten, während Cocktails trinken oder zu Abend zu essen. Diese Selbstversorger-Unterkünfte bietet Ihnen zwei Ausweise alle Einrichtungen in der Residenz des Resorts zu genießen, den Zugang zum Schwimmbecken, das Fitnesscenter, das Hamam und Sauna im Wellnesscenter. Es verfügt über einen kostenlosen und unbegrenzten WIFI Internet-Anschluss, einen Fernseher und einen privaten Parkplatz gedeckt. Während Ihres Aufenthaltes genießen Sie ein schönes Abendessen im Ozean Restaurant oder einen Cocktail am Pool bei Sonnenuntergang. Am Wochenende endet das Resort lokale Bands und / oder polynesischen Tanz-Shows für die Freude unserer internationalen Reisenden begrüßt.
Viarea was a wonderful host and the apartment was comfortable for 3 people. The Pearl resort is a bit tired and staff service average.
Eddie
2017-04-01T00:00:00Z
Romtype
Helt hjem/leilighet
---
Eiendomstype
Leilighet
---
Plass til
3
---
Soverom
'Ārue, Windward Islands, Fransk Polynesia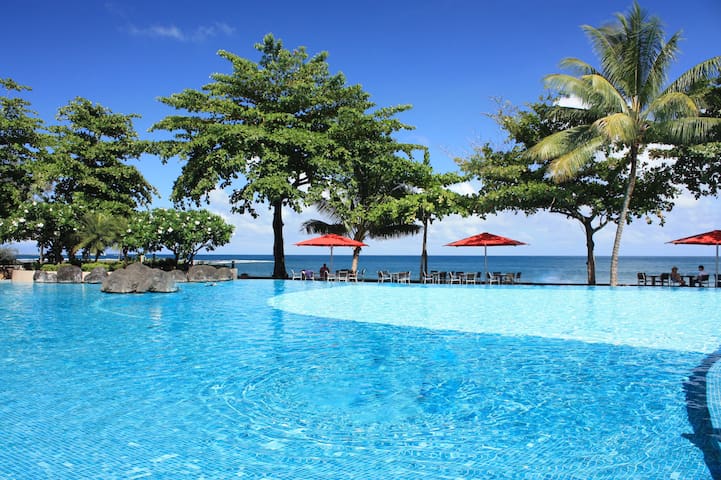 Appartement au cœur de la ville. Chambre & salle d'eau privée peut accueillir deux personnes, vrai lit Dans une rue calme, près du marché, des bus, des taxis, du shopping, du port & jardin Paofai Cuisine équipée, wifi, télévision, machine à laver.
The accommodation is situated in the heart of the city of Papeete. The room has a small terrace, a small screen for watching movies. A bathroom with own shower room with toilet. A bike, for athletes.
The market of Papeete is located on the same street of flowers side. Near the waterfront street, along the harbor, the nearby garden Paofai. Sightseeing tour of the city. Make Shopping "Vaima Center".
Mon père a passé 2 semaines chez Brigitte et le séjour c est très bien passé. Nous recommandons!
Régis
2015-09-14T00:00:00Z
Thank you for the lovely stay Brigitte! Brigitte was very welcoming and accomodating. The room was large, clean and comfortable in a very central location. Brigitte made a delicious breakfast each morning on the balcony. She is a very friendly and helpful host. Thanks!
Kate
2016-01-16T00:00:00Z
Absolutamente todo fue maravilloso. Brigitte es una anfitriona excepcional en todo sentido. Hace que uno se sienta en su casa desde el minuto uno El lugar céntrico muy bien ubicado. A dos cuadras del ferry para recorrer Moorea El alojamiento muy comodo
Eugenia
2016-05-23T00:00:00Z
Totally recommend in here Brigitte are so kindness and huge hospitality person I travel here by myself and she help a lot a lot always late night flight in Tahiti Not easy to manage but i am lucky to find this place with her hospitality House are very cozy with artistic her taste and so comfortable Breakfast are so precious moment that she serve for me Great feeling to start morning I really recommend here ❤️
Takayo
2015-11-23T00:00:00Z
Brigitte a été très accueillante. C'était tout simplement parfait. Le petit déjeuner pris sur la terrasse était copieux et très bon. Elle a de très bons conseils et on recommande vivement un petit tour dans sa boutique. Logement hautement recommandé, vous pouvez y aller les yeux fermés. Alex et Gérald.
Gérald
2015-04-18T00:00:00Z
Bonjour Brigitte, nous te remercions pour ton accueil et ta gentillesse. Nous avons beaucoup apprécié notre séjour. Le logement était impeccable. On se sentait presque comme dans une chambre d'hôtel avec la salle d'eau et les toilettes privés, la petite terrasse privative, une jolie déco et surtout une literie propre. Le marché était situé juste en face, on était proche de toutes commodités et on pouvait facilement visiter la ville à pied, accéder aux roulottes le soir et faire les magasins, exactement ce que nous voulions. Et le petit déjeuner servi tous les matins sur la terrasse, c'était un vrai régal !!! Merci encore à toi, nous reviendrons avec plaisir !
Erena
2015-10-26T00:00:00Z
Brigitte was a wonderful host! She picked me up from the airport and made me feel right at home. Breakfast was delicious and the room was spacious and comfortable. Thank you for the most wonderful experience.
Amber
2015-08-30T00:00:00Z
Alles klappte sehr gut. Brigitte kam, als wir gerade eintrafen, und wies uns ein. Das Zimmer war hell, freundlich und sauber - eine Oase mitten im quirligen Papeete. Wir bekamen ein liebevoll zubereitetes Frühstück von einer sehr netten Gastgeberin. Die Unterkunft ist zu empfehlen!
Henning
2015-10-15T00:00:00Z
Romtype
Privat rom
---
Eiendomstype
Leilighet
---
Plass til
2
---
Soverom
Papeete, Îles du Vent, Fransk Polynesia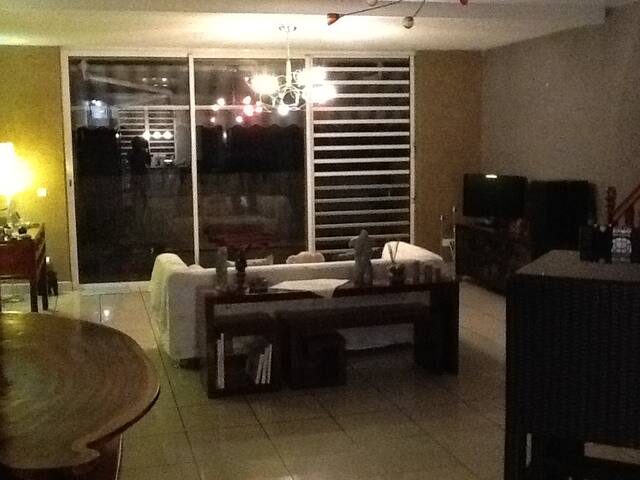 Studio fully furnished and equipped, air conditioned, included (Electricity, Water, Wifi) for 1 or 2 persons, on the heights of Erima (Arue - Tahiti), 6 km from Papeete. Adjoining the owner's house. The bottom of the sofa bed (the main picture) was replaced with a bed 2 places.
Since the studio is located high on Erima (2km climb), it is best to have a car because the place is not little or bus links.
Appartement pratique, à 15 min du centre ville. Intimité préservée.
Julie
2016-12-01T00:00:00Z
the place is so perfect, there is a very big space and with all necessary! also the persons that hosted me are very hospitality! ! i couldn't feel more better! i recommend it!!
Simone
2016-09-03T00:00:00Z
Studio très agréable, proche du centre ville de Papeete, voiture néanmoins indispensable! Nathalie et ses enfants sont très accueillant, toujours près à rendre service, merci à eux pour leurs conseils et leur accueil
maude
2016-09-12T00:00:00Z
Tout
maite
2017-01-22T00:00:00Z
Très bon rapport qualité prix. Accueil chaleureux en famille, et très arrangeante sur tout les points.
Ludovic
2017-02-05T00:00:00Z
The host canceled this reservation 36 days before arrival. This is an automated posting.
roland
2017-02-15T00:00:00Z
Nous avons passé quelques jours chez Nathalie. Très bon séjour! Le rapport qualité-prix impecable! Aucune mauvaise surprise! Le logement est bien situé...en hauteur et dans un quartier tranquil. Pas de soucis pour garer la voiture. Nathalie et sa famille sont très gentils. Je recommande!
Erica
2016-12-29T00:00:00Z
Un studio très sympa qui a un super rapport qualité/prix. Merci Nathalie.
Thierry
2016-12-22T00:00:00Z
Romtype
Helt hjem/leilighet
---
Eiendomstype
Leilighet
---
Plass til
2
---
Soverom
Arue, Îles du Vent, Fransk Polynesia
My accommodation is perfect for couples, solo travelers and business travelers.
Joli endroit avec une superbe vue sur Mahina. Le plus: les petits plats de J.-P. :-)
Guillaume
2016-11-14T00:00:00Z
Romtype
Helt hjem/leilighet
---
Eiendomstype
Leilighet
---
Plass til
2
---
Soverom
Îles du Vent, Îles du Vent, Fransk Polynesia
My property is close to downtown Papeete while in the sea. There are also supermarkets nearby. Enjoy my home for its view, location and comfort.
Romtype
Helt hjem/leilighet
---
Eiendomstype
Leilighet
---
Plass til
3
---
Soverom
Arue, Îles du Vent, Fransk Polynesia
Located Arue, 5km north of Papeete, in the garden of the Hotel Pearl Beach Resort, the apartment Toupidek-Plage (44m2) consists of a main room with a kitchen, a bedroom with a king bed size bed, a bathroom. The terrace allows for dining above the beach, facing the Pacific Ocean.
Located above the beach Lafayette slightly away from the hotel: you will get all the benefits, plus the quiet and the shade of tropical trees. The studio offers a magnificent view of the Pacific Ocean is ideally situated to the east: the terrace is especially nice for the evening aperitif. The apartment is air conditioned. It includes a wardrobe, closets, and a private safe deposit box. It can accommodate 2-3 people. Internet is free (Wifi). A baby bed can be made available.
Immediately when you pull up to the Resort/Apartment you are overwhelmed by the beauty & ambiance of Tahiti. The pictures DO NOT do this location enough justice, Toupidek is GORGEOUS!! My fiancé and I could hardly control our excitement as we unlocked the keys in the safe box :) Once you enter the apartment you immediately feel "at home." It's cozy, clean & updated. Once you open the electric patio door you are greeted by a fantastic ocean breeze & the sounds of the ocean quite literally put us to sleep every night :) There were even snacks, juice, bottled water, milk & fresh bread and jam waiting for us! We spent most of our evenings out on the terrace & lounged on the couch & sipped cold drinks. The bathroom is a good size & you have all the amenities of home. We had fresh bath towels, toilet paper, even shampoo/conditioner in the shower. The shower has good temperatures and is plenty of room for two people! ;-) The a/c in the apartment works fantastic too! We always made sure to turn it off each time we left the apartment as to not waste energy. You feel like you are at the perfect beach house & will have difficulty saying goodbye at the end of your vacation. Dominique was an EXCELLENT host & is super fast to respond & gives you a sense of tenderness & love in her emails! :) THANK YOU DOMINIQUE & TOUPIDEK for making our vacation together perfection! We will surely be back one day! xoxo
Adriana & Henry
2016-11-05T00:00:00Z
The host canceled this reservation 40 days before arrival. This is an automated posting.
Blanka
2015-10-03T00:00:00Z
The host canceled this reservation 197 days before arrival. This is an automated posting.
Natalie
2016-11-30T00:00:00Z
Super séjour de 2 nuits dans l'appartement de Dominique! Il est super bien situé, très bien agencé et équipé. Le lieu est calme et la vue superbe ! De plus on peut profiter des avantages de l'hôtel! Au niveau relationnel rien à dire j'ai toujours eu réponses à mes questions , Dominique est très arrangeante . Nous avons juste eu un petit pb pour le wifi car nous n'avions pas le code d'accès à notre arrivée mais quelqu'un est vite venu ns aider . Bref un super séjour qualité /prix sur Tahiti! Je recommande +++ ! Cordialement, Amandine.
Amandine
2016-07-02T00:00:00Z
Appartement propre et agréable face a laplage ou vous êtes autonome grâce à la cuisine et en même temps profiter des installations de l'hôtel (resto, piscine, sauna, salle de sport ...). Dominique m'a accueilli de façon très naturelle et charmante.
Hervé
2016-08-26T00:00:00Z
logement agréable et confortable et accueil très chaleureux de Dominique. Nous recommandons favorablement cet hébergement
jacques
2016-09-12T00:00:00Z
Where to start with this review! The studio was amazing and Dominique was an incredible host! This was our first Airbnb experience and she has set the bar high! She greeted us at the studio after we arrived to Papeete via cruise ship. She gave us a thorough and quick tour and was gracious to assist us with any needs that occurred during our month long stay. She lent us a pay as you go local phone to use if needed, assisted us with some paperwork printing and offered to help in a multitude of ways. The studio had excellent amenities and is located in the residence side of the Tahiti Pearl Beach Resort (former Radisson). It overlooks a beautiful black sand beach with great snorkeling and beautiful sunsets. Passes for the hotel pool and gym are also included with the studio reservation but we spent the majority of our time at the beach. The sound of the waves are loud and relaxing and the outdoor kitchenette/patio provides endless hours of relaxation overlooking the sand. One of our favorite perks was hearing the live Tahitian music in our room that was playing from the hotel bar. Watching it at the bar was also enjoyable. The studio is centrally located in Arue outside of Papeete. There is a local fish market just down the road and a large supermarket for all needs close by. "Le Truck" aka the city bus stops right outside of the property grounds if you don't have a rental car. The hotel also offers a free shuttle to the Papeete town center twice daily ((PHONE NUMBER HIDDEN) with a 1730 return time). Our stay here was wonderful and we would not change a thing. We definitely recommend Dominique and her Studio Toupidek Sur la plage as an excellent choice for your stay in Tahiti. We will definitely book again when we return. Thank you Dominique!! Our stay was perfect in every way!
Kelly
2015-06-02T00:00:00Z
After a very long and tiresome journey, we arrived at Dominique's apartment only to find it quite unpleasant (dirty toilet/grubby windows/ grimy floor/ dust everywhere/ messy fridge etc) and spent the first hour or so of our wedding/honeymoon cleaning! Fortunately we got a cleaning refund but it shouldn't have been this way. Also the safe was out of battery and this took a few days to be fixed which was annoying as we had all our important wedding documents etc However there was a Christmas tree in our room which was a nice touch! Dominique wasn't there to greet us which we were sad about as we read reviews on how she was such a good host - instead her friend popped by briefly and didn't know most of the answers to our questions Throughout our stay when contacting Dominique about various things such as the technology in the apartment, she hinted that we shouldn't need Internet or tv as we are in Tahiti - (we were there for a month and the hotel got very repetitive and boring at night time with the same show once a week but that's it, and I work from home so needed the Internet for work, and of course to (SENSITIVE CONTENTS HIDDEN) families after the wedding!!) it just felt like we were a nuisance to her and she repeatedly spelt my name wrong which shows lack of knowing her guests! We asked about mosquito nets (HUGE problem in Tahiti) and she told us that previous guests have never asked for them and we were told that mosquitos were not a problem in Tahiti. Additionally we were told that an insect repeller was installed in the room, which it wasn't! We must say that the whole area is riddled with mosquitoes, sandflies and cockroaches at night! Location is great and the view from the balcony is beautiful! It's great that we could use the hotel facilities but they were in a bad state of repair- my wife cut her foot open on a broken pool tile and the steam room is dirty. You will definitely need a car for Tahiti as public transport is terrible. The shower had a bad smell coming from the drain but it is a nice bathroom! Bed is rock hard but the air con works well Overall a pretty average apartment, but the views were gorgeous and the black sand beach was beautiful!!
Frederick
2016-01-14T00:00:00Z
Romtype
Helt hjem/leilighet
---
Eiendomstype
Leilighet
---
Plass til
3
---
Soverom
'Ārue, Windward Islands, Fransk Polynesia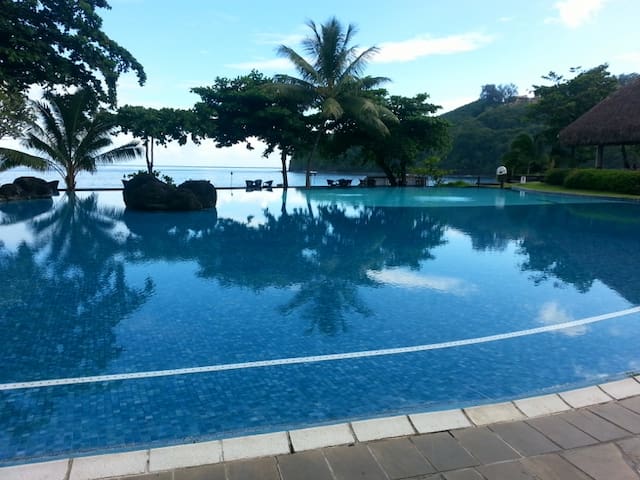 Bel F1 for 1-2 people, with spacious room, in quiet, secure residence in the lagoon, 5 minutes from Papeete. Close proximity to commodités.Kayak disposaiton
40m2 studio ideal with stunning views of the lagoon Wonderful sunrises and sunsets Located in a quiet and secure residence on the top floor near Papeete trailers stadium Yacht Club in the hospital crossroads restaurants bus stop in front
The host canceled this reservation 71 days before arrival. This is an automated posting.
jean pierre
2016-11-24T00:00:00Z
Annie et sa maman sont des hôtes géniales!! Toujours prêtes à rendre ton séjour le plus agréable possible. Des voisins et un gardien superbes, qui t'aide à te sentir "comme à la maison". La résidence est bien située, tout est à proximité. Le cadre est vraiment agréable, une agréable vue du matin au soir, et une orientation permettant d'être au frais la nuit. Je suis restée deux mois dans l'appartement, un endroit parfait pour m'acclimater à la vie polynésienne =)
Charlie
2016-08-03T00:00:00Z
Annie est très accueillante et la résidence est chaleureuse, les voisins souriants. On se sent vraiment les bienvenus quand on vient nous apporter des fruits fraîchement cueillis. Il y a une belle vue depuis l'appartement et le jardin, on profite des couchers de soleil sur l'océan et, en étant attentifs, on peut voir parfois passer des petits pointes noires à quelques mètres du rivage. L'appartement est clair et fonctionnel, proche des commerces, du yacht club... Papeete est à 15 min à vélo. Nous sommes restés sept semaines chez Annie et le cadre offert a contribué à rendre cette parenthèse polynésienne très agréable.
Boris
2016-06-25T00:00:00Z
Annie et sa famille m'ont accueilli à bras ouverts et m'ont permis de découvrir Tahiti, sa population, sa culture et sa cuisine. Tout au long de mon séjour ils ont été présents et disponibles, que ce soit pour résoudre un problème ou simplement pour discuter ou prendre un café. Concernant l'appartement, j'y ai passé trois mois et j'en suis très satisfait. Il est à l'extérieur de la ville mais pas trop loin. A proximité se trouvent deux plages accessibles à pied, idéales pour faire bronzette, pour nager ou faire du snorkeling. Pour manger, il y a un supermarché tout près et ouvert même le dimanche, deux marchés, quelques restaurants et le soir quelques très bonnes roulottes. Le voisinage est discret et très sympathique. Ça vaut le coup de faire connaissance avec les voisins et le gardien de la résidence. Petit détail qui a rendu mon séjour parfait : j'ai pu emprunter un kayak pour aller me balader sur le lagon directement depuis le jardin de la résidence !
François
2015-12-18T00:00:00Z
Annie est une hôte extraordinaire, il va de même pour sa famille avec qui j'ai pu découvrir l'île, passer de bons moments et qui ont su se rendre disponible pour que je me sente bien. Toujours là pour aider si un problème survient. Les voisins sont très sympathiques. Le logement est propre et fidèle aux photos et au descriptif. On s'y sent bien, avec tout l'équipement qu'il faut. Le quartier est pratique car proche de tout, Carrefour, Banque, Poste, Pharmacie... La vue sur le lagon est très belle et relaxante. Je suis restée un mois dans le logement et j'en suis très satisfaite. Je le recommande vivement.
Angélique
2016-03-27T00:00:00Z
Romtype
Helt hjem/leilighet
---
Eiendomstype
Leilighet
---
Plass til
2
---
Soverom
Arue, Tahiti, Fransk Polynesia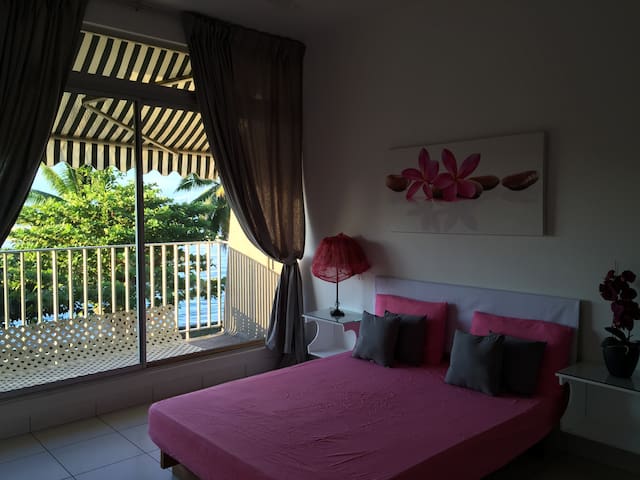 F1 in hotel residence including a large welcoming room, air conditioning, TV, wireless internet, bathroom, kitchen with large windows. View over pool and beach.
Its location and its exceptional setting
Simone est une hôte adorable. Le logement était PARFAIT, fidèle à la description. Il est très bien équipé. La propreté y est irréprochable. Merci Simone!
Caroline
2016-09-01T00:00:00Z
Our host was lovely, it took us longer than we anticipated so we were late but she was there to meet us. Great venue and lovely host would highly reccommend. Maururu
Kb
2016-08-02T00:00:00Z
Appartement parfait pour un couple. Accès à la piscine de l'hôtel et à une plage de sable noir magnifique. Simone est très attentionnée pour ses locataires. Situé à une quinzaine de minutes du centre ville de Papeete en voiture. Parfait!
Gérard
2017-04-08T00:00:00Z
Un accueil merveilleux, une hôte très disponible et très gentille. Un appartement fonctionnel, agréable, très calme, très bien isolé avec un cadre merveilleux. Que demander d'autre ? Merci beaucoup pour ce merveilleux séjour, Simone ! Nous reviendrons :-)
Christophe
2016-01-01T00:00:00Z
Tres bon accueil de la part de Simone l appartement est idéal pour passer un séjour à tahiti
Tony
2016-06-15T00:00:00Z
Excellent séjour, appartement très agréable avec vue sur la piscine et sur la mer. Accueil très chaleureux de Simone.
Jean-Christophe
2016-05-21T00:00:00Z
Perfect place, great view, nice swimming pool and a very good host - Enjoy French Polynesia ! Endroit ideal, vue panoramique, jolie piscine et une hote tres attentionnee - Tout le plaisir de la Polynesie !
Philip
2017-01-23T00:00:00Z
Romtype
Helt hjem/leilighet
---
Eiendomstype
Leilighet
---
Plass til
2
---
Soverom
Arue, Îles du Vent, Fransk Polynesia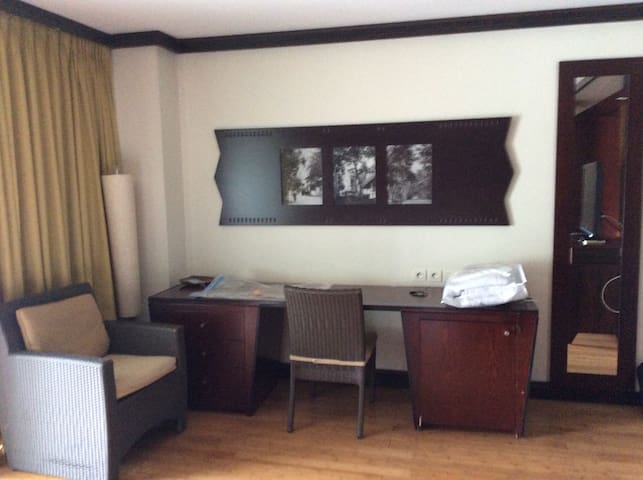 Māhina - Airbnb
:
Gjennomsnittlig

4.72

av

5

stjerner fra

365

gjesteanmeldelser
1

–

18

av

67 Leiligheter til leie
Oppgi datoer for å se fullstendige priser. Ekstra gebyrer gjelder. Skatter vil kunne tilføyes.