Licht, comfortabel appartement in Lostwithiel Cornwall. Rustige ligging, parking, eigen tuin, wifi, geschikt voor 2 personen. * Welkom belemmeren en Cornish cream tea bij aankomst. Beddengoed, handdoeken, strand handdoeken. Winkels, pubs, restaurants op loopafstand. Treinstation van Lostwithiel. Dichtstbijzijnde strand 15 minuten rijden. Attracties: Eden Project. Lost Gardens of Heligan, Lanhydrock landgoed, Wenford en Bodmin stoomtrein.
Driftwood appartement is perfect voor koppels en een goede uitvalsbasis om de kust van Noord- en Zuid-Cornish verkennen. Het is op een rustige locatie, maar toch op loopafstand van de plaatselijke winkels, cafés, restaurants. Er zijn mooie wandelingen direct vanaf uw doorstep.The Eden Project, vissershavens, tuinen, Bodmin Moor zijn allemaal op korte rijafstand.
Lostwithiel is een historische marktplaats. Er is een interessant museum gerund door de lokale bevolking. Middeleeuwse brug over de rivier de Fowey. Restormel Castle een korte loopafstand en Hertogdom Palace ligt in de stad. Veel antieke winkels in de stad. Trewithen restaurant is een grote favoriet van ons. We houden ook de Globe Pub en de Royal Oak pub (geweldig voor de lunch op zondag!)
We had a good five day stay at the comfortable and well-equipped Driftwood Apartment in Lostwithiel. We were able to walk from the apartment into the historic town and visit the post office, shops, and restaurants. Lostwithiel is centrally located in Cornwall, so we were able to visit Mount St. Michael, historic homes, castles, and a war museum.
Jean
2016-05-13T00:00:00Z
Driftwood is a bright, airy, spotlessly clean apartment. It is very well-appointed with the highest quality furnishings. The bedding and linens are first-rate. The welcoming basket (hamper) if food and drink was very thoughtful and plentifull. Jan and her husband, Steve, were very welcoming and helpful personally as well. They were available to offer any assistance but we're not in any way intrusive. In short, we had a wonderful experience! Driftwood gives eloquent evidence of the pride Jan and Steve take in being hosts. We would recommend Driftwood to everyone travelling to Cornwall.
Debbie
2016-09-18T00:00:00Z
Driftwood was beautiful. Such a lovely place to stay after a long day of sightseeing. On arrival there was a hamper waiting for us, full of essentials, a bottle of wine and some delicious freshly baked scones, clotted cream and jam. A perfect welcome! The apartment had everything we could possibly need. From beach towels to mixing bowls. And it was very nice of Jan to make the room up as two single beds for me and my friend. Lostwithiel is perfectly positioned to explore some of the surrounding stunning coastlines of Cornwall. We had a great time and we would definitely recommend staying at Driftwood. We didn't want to leave!
Amy
2016-09-01T00:00:00Z
Jan met me on arriva, welcomed me to her home. The welcome pack with bread; milk; all the essentials brought a smile to my face
Daniel Doherty
2016-10-08T00:00:00Z
This property is great. We were welcomed by Jan on arrival and the property was exactly as described. Nice and cool in the summer. The property is at the top of a hill, but there is a nice seat half way up, where you can have a rest if needed :) Local food is good, there is a fish and chips shop in Lostwithiel and Chinese (which delivers). Very close to some of the regions attractions - Eden, Lost Gardens of Heligan are worth a visit, as well as a trip to Fowey (which rhymes with Joy). Only dissapointment was that we couldnt stay longer.
Andrew
2016-07-23T00:00:00Z
driftwood cottage is a gem set up the hill from the village centre of Lostwithiel. We were able to explore much of Cornwall and we were always pleased to return to warm haven of the cottage. A beautiful welcome basket was provided by our hosts, the generosity of which was really appreciated. We will certainly recommend to friends and family.
Brenda
2017-03-22T00:00:00Z
Romtype
Helt hjem/leilighet
---
Eiendomstype
Leilighet
---
Plass til
2
---
Soverom
Lostwithiel, Storbritannia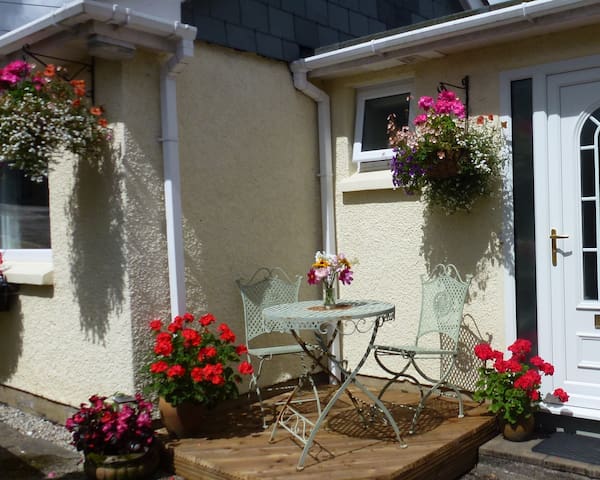 Lovely place. Very clean. Near town but nice and peaceful. Sophie left us to our own devices which was great. But was there if we needed anything. Beautiful woodland walk down the road. Will defiantly stay again. Thank you.
Kirstie
2016-04-14T00:00:00Z
Lovely little Studio, we only had the chance to stay one night as we made a flying visit to Cornwall for a friends wedding the next day, would have liked to have stayed longer and the room was just what we needed! Comfy bed, modern shower, pretty views! Would come back!
Hannah
2016-09-15T00:00:00Z
A fantastic room, very cozy and fully stocked with local food and tea's etc... A proper shower, comfy bed in a private & separate space to the rest of the house. Sophie was a dream host, left us to ourselves and was there if we needed anything with a big smile on her face. We would highly recommend the room for a Cornish getaway, Lostwithiel also proved a beautiful town to explore... 10/10
alex
2015-07-13T00:00:00Z
Lynwood retreat was a great place to stay, wish we had more time to explore the beautiful surroundings. Sophie was a great host and was kind enough to lend us her umbrella and offer us a lift due to the foul weather. Thanks so much
garth
2016-05-23T00:00:00Z
We stayed here for 1 night and had a lovely stay. The room is very comfortable with tea and coffee facilities as well as a fridge and microwave. We liked the fact the room is separate to the house so we were able to come and go as we pleased. Sophie is an excellent host and would definitely stay here again.
Laura
2016-01-25T00:00:00Z
We really enjoyed our short stay - great location a few minutes walk from the town centre, spotless, and exactly as described. Would happily stay here again.
Thomas
2015-12-06T00:00:00Z
Spent a really nice couple of days at Lynwood Retreat. The property was lovely, well equipped and in a beautiful location. Will be looking to stay again next time I am in Lostwithiel.
Josh
2016-04-24T00:00:00Z
The host canceled this reservation 23 days before arrival. This is an automated posting.
Victor
2015-10-22T00:00:00Z
Romtype
Helt hjem/leilighet
---
Eiendomstype
Leilighet
---
Plass til
2
---
Soverom
Lostwithiel, Cornwall, Storbritannia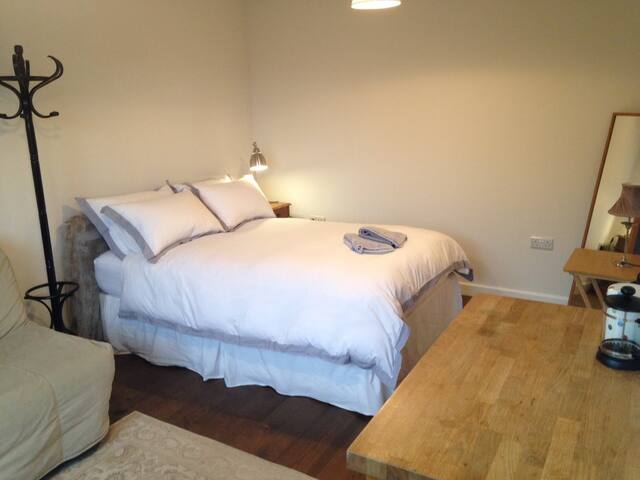 Un moderno y elegante apartamento de 1 dormitorio en planta baja con estacionamiento, patio y jardines impresionantes. Un aspecto orientado al sur disfruta de la puesta de sol sol y por la noche en el río Fowey. Lostwithiel, anteriormente la antigua capital de Cornualles, el hogar de los normandos. Una gran variedad de lugares para comer y beber. Lostwithiel goza de una línea ferroviaria principal que da acceso fácil a este refugio desde donde quiera que se encuentren. La situación geográfica, la red de carreteras y ferrocarriles hacen una base perfecta para la exploración de Cornwall.
Romtype
Helt hjem/leilighet
---
Eiendomstype
Leilighet
---
Plass til
2
---
Soverom
Lostwithiel, England, Storbritannia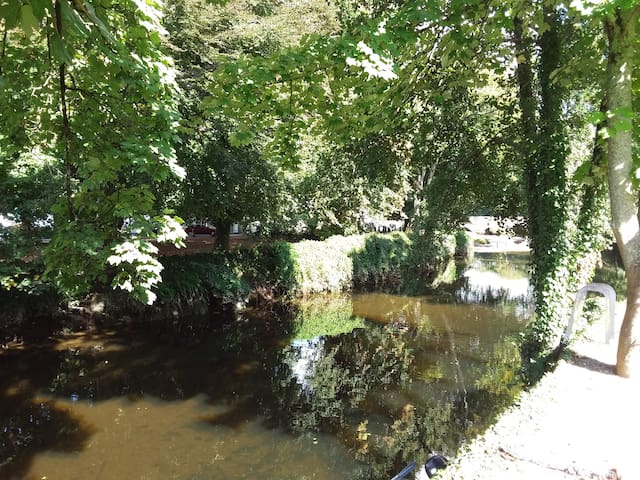 Mandara Apartment - Fully equipped, all season, one bedroom apartment hidden away in the small village of Par (between Fowey & Charlestown). 5 mins drive from the Eden Project 20 mins drive from the Lost Gardens Of Heligan 10 mins drive from Fowey
Although our sat/nav isn't that good it took us right there. Excellent cause it was around 7pm. Its a gorgeous brand new apartment with all mod. cons and very peaceful. WiFi and TV all great. Had a lovely relaxing stay... Just like home. Would recommend.
Delyse
2016-08-19T00:00:00Z
The host was very nice and approachable, couldn't do more to make us feel welcome. But at the same time left us to ourselves, and a few steps from the front door for any problems, lovely stay!
Jonathan
2016-11-28T00:00:00Z
Had a wonderful stay Charlotte's apartment for a long weekend in May. Great recommendations/tips from the host before coming and warmly greeted on arrival. The house was spotless and has all the amenities you need, even provided with a couple of treats for breakfast and snacks. Perfectly located to explore the surroundings; around 10 minute drive to the Eden Project, Charlestown Harbour and Fowey. Par Sands is a nice, relatively quiet beach which isn't too far a walk. Wouldn't hesitate to stay again and would definitely recommend!!
Ryan
2016-05-16T00:00:00Z
Great apartment and immaculate. Very cosy. The wifi didn't work at all which was disappointing. However every other aspect of our stay was great and we were warmly welcomed. The bacon, eggs, milk and cream tea was a lovely touch. Many thanks
Vincent
2017-02-14T00:00:00Z
A beautiful apartment in a really convenient location. The train station and Tesco were 5 mins drive away and Charlotte left us some goodies on arrival which were much appreciated! Clean and comfortable and exactly like the listings photos. Highly recommend.
Donna
2016-08-12T00:00:00Z
Lovely modern and comfortable flat ! Shower is fantastic and the modern kitchen easy to use ! We arrived to a cream tea, milk, eggs and bacon stocked in the fridge . Charlotte showed us around and left us to it, total privacy but on hand if we needed anything . The flat was warm and cosy . Location , easy enough to get to the main roads in Cornwall and the Eden project just down the road . Enjoyed our long weekend !! Would recommend!
Allison
2016-10-24T00:00:00Z
Spent a couple of days at Charlotte's lovely flat. Flat was spotless on arrival and had everything we needed; really excellent place to stay and explore the local area.
Nikzad
2016-12-19T00:00:00Z
The flat was beautiful.All shiny and new .Very clean.Charlotte was away but the lady we had contact with was very helpful.Could not find the place to begin with as I did not realise it was part of a private house (flat over garage) up a steep lane.However it was very private and quiet.Supermarket just round the corner.Beach 20 min walk.Would recommend.
Diane
2016-07-16T00:00:00Z
Romtype
Helt hjem/leilighet
---
Eiendomstype
Leilighet
---
Plass til
2
---
Soverom
Par, Cornwall, Storbritannia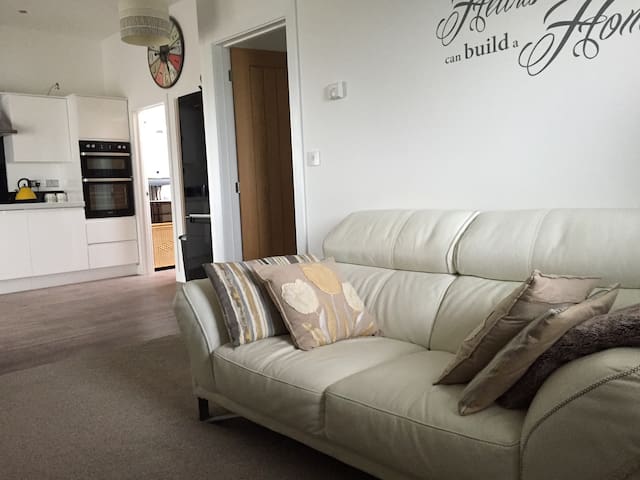 Romtype
Helt hjem/leilighet
---
Eiendomstype
Leilighet
---
Plass til
2
---
Soverom
Golant, England, GB, Cornwall, Storbritannia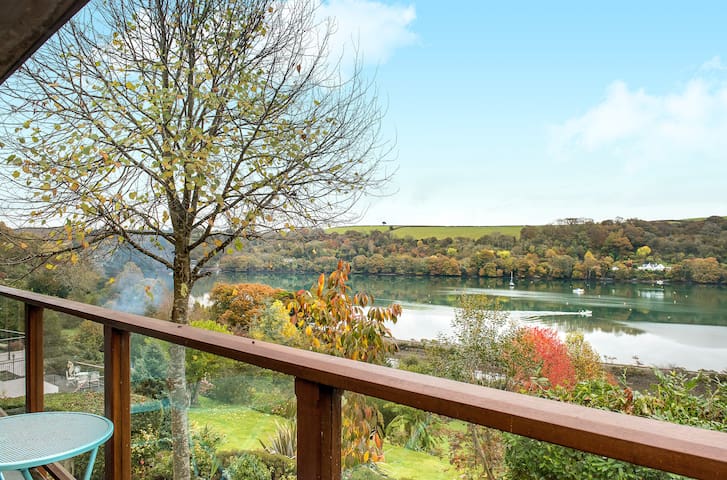 Come and enjoy River Views in Fowey, a relaxing and peaceful home from home, perfect for a holiday with family or friends, or for a romantic break for two. The wonderful views in this stylish apartment draw visitors back time and again.
River Views has amazing views of the River Fowey to the village of Bodinnick
The centre of Fowey has hardly changed for generations with its quirky narrow streets and mix of independent shops
We had a lovely stay. Fantastic view of the river and very close to the shops. Very comfortable, good sized bedrooms. The owner was very helpful with good communication. We would definitely stay again.
Louise
2017-02-12T00:00:00Z
A lovely place! We enjoyed reading and watching boats on the river from the living room, wandering into Fowey for morning pastries from the Quay bakery and for a fantastic dinner at Q just down the lane. A great base, really handy for the town, the ferries and some beautiful walks. Highly recommend!
Jen
2016-11-01T00:00:00Z
Fowey was lovely. We enjoyed the view from the living room. The holiday was absolutly relaxing. We recommend this location very much. Regards iris
Iris
2016-07-31T00:00:00Z
Super clean and cosy apartment in a charming little Fowey. Sarah and her husband Neal took care of our family, were helpful with tips for restaurants, trips and walks around. We loved the atmosphere of "attic" mood of the apartment with a terrific river view. So sorry to leave:)
Marta
2016-02-03T00:00:00Z
The apartment and the view over the estuary were superb. I would thoroughly recommend it to anyone.
Philip
2016-05-14T00:00:00Z
We had a truly lovely time in Fowey. Sarah gave us very good directions and we found the flat warm and clean when we arrived and exactly as it was described. The recommendations for dinner were great and we had 2 beautiful sunny days to walk the coastal path which was stunning. It was a very sweet flat which had absolutely everything we needed and a lovely view over the estuary.
Judy
2016-11-14T00:00:00Z
We had a great time at River Views. Sarah was very helpful and there was a really useful information pack in the property. It was very clean and we made good use of the travel cot and stairgate. The property was well baby-proofed so ideal for families with young children. Thank you!
Debbie
2016-02-24T00:00:00Z
Sarah's place was absolutely fabulous and perfect to explore Fowey. She was so very easy to communicate with and was extremely friendly. Place was exactly as described.
Cliff
2016-11-25T00:00:00Z
Romtype
Helt hjem/leilighet
---
Eiendomstype
Leilighet
---
Plass til
4
---
Soverom
Fowey, Storbritannia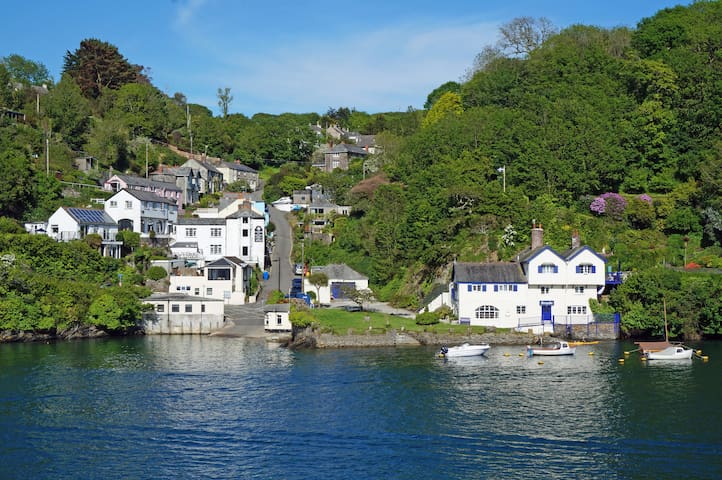 "Serendipity" ist ein modernes, gemütliches Appartement ca. 5 Minuten vom nächsten Strand entfernt und ca. 3 Meilen vom Eden Project. Im Herzen eines Cornish Stadt, direkt an der Haupt A390 durch Cornwall, es ist ein großartiger Ort für für Paare, Solo-Abenteurer, Geschäftsreisende und Familien (mit Kindern). Eine große Basis an der Südküste von Cornwall, perfekt für diese atemberaubende Region zu erkunden.
Dies ist ein modernes Apartment mit zwei Schlafzimmern im Herzen einer belebten Cornish Gemeinde. Sie geben von der Haustür direkt in den Wohnraum, der ein Sofa, Beistelltisch enthält, kompakte Ess-Set und natürlich, einen Fernseher! Die offene 'Galeere' Küche führt aus dem Wohnzimmer, mit überraschend viel Platz für alles, was Sie brauchen! Es enthält einen unter der Theke Kühlschrank und Gefrierschrank, sowie eine Spülmaschine und Waschmaschine / Trockner. Es ist auch mit einem Wasserkocher, Toaster, Mikrowelle und Geschirr / Besteck voll ausgestattete etc. Es gibt eine Grundversorgung mit Töpfen, Pfannen und Geschirr - alles, was man für normale, alltägliche Kochen braucht. Das komplett geflieste Dusche ist überraschend geräumig, mit einem eingebauten in Duschkabine eine Mira Dusche enthält. Es verfügt über eine Standard-Waschbecken und Toilette, einen beheizten Handtuchhalter und ist mit Shampoo, Conditioner und Seife bestückte sowie Handtücher. Das Doppelzimmer ist gemütlich, aber sehr gut angelegt. Es enthält ein Standard-Doppelbett, Nachttische und einen kleinen Kleiderschrank. Ein Haartrockner ist vorhanden und das Bügelbrett und Bügeleisen sind in den Schrank versteckt! Das vierte Bett für die Wohnung (ein komfortables Klapp 'Z-Bett') unter dem Doppelbett gelagert werden je nach Bedarf herausgezogen. Das Einzelzimmer verfügt über ein Einzelbett und Nachttisch. Es enthält auch eine Ecke Schreibtisch und komfortabel "Büro" Stuhl, perfekt für die Arbeit von zu Hause weg, oder das Surfen nur das Netz! Dies ist eine kleine Wohnung mit wenig Stau - es ist nicht für Kinderwagen geeignet ist, Fahrräder usw., da es keine Platz im Freien überhaupt und nirgendwo große Gegenstände im Inneren zu speichern - sorry!
Dies ist besonders günstige Lage mit vielen Annehmlichkeiten vor Ort. Es gibt einen Geld fast gegenüber der Wohnung und der lokalen Fisch und Chip-Shop ist nur so nah! Die nächste Kneipe dauert nur ca. 2-3 Minuten zu Fuß und es gibt einen Laden und eine Post gleich um die Ecke. Es gibt einen kleinen Supermarkt (Co-op) etwa eine halbe Meile entfernt und andere größere Supermärkte in Richtung St Austell, etwa 4 Meilen entfernt.
Vicki's place is great. We travelled four hours from Hampshire for a concert nearby. When we arrived at the house the check-in process was simple and easy; the house was SO clean! Vicki had popped the heating on and left a lamp on incase we arrived in the dark, so kind of her! We also had what we needed to make a cup of tea or coffee. The space was just right for our stay and what we needed. And we thoroughly enjoyed dipping our toes in the sea on the way home! Highly recommend.
Charlie
2017-01-15T00:00:00Z
Vicky's place is lovely, just as clean as in the photos and everything is new and works well. We were close to lovely beaches and the Lost Gardens of Heligan. Would definitely stay here again.
Catherine
2017-02-19T00:00:00Z
Hi Vicki's place was fab! We would have stayed longer but it was already booked Could not have asked for anything more thanks Vicki
Peka
2017-03-03T00:00:00Z
Vicki has been a great host; quick to reply and informative. The apartment is well equipped and easy to find. The Eden project, the Lost Gardens of Heligan and the coast are all within easy reach. The chip shop nearby is also worth a visit!
Kelly
2017-01-20T00:00:00Z
Lovely place, great location, easy travel from St. Blazey to pretty much anywhere in Cornwall. Fully equipped kitchen, spotless and clean flat, very nice!
Fix IT
2016-11-21T00:00:00Z
This place is great. Modern, clean and a nice powerful shower. Literally a few minutes from the Eden Project and nice and a quiet area. The bedrooms are nice and clean and the kitchen has everything you need for a good break. Thoroughly recommend this place.
James
2017-03-05T00:00:00Z
Serendipity was great. It was super clean and extremely well presented. Vicki obviously puts a lot of effort into maintaining her lovely flat and although I didn't get to meet Vicki she left helpful instructions which made check in and orientating myself with the local area really simple. Thanks Vicki.
Amy
2016-10-01T00:00:00Z
Vicki is a very nice host, she is very accomodating. The place is just as described and perfectly clean. Vicki let a book inside the apartment to help us find everything we needed. We would absolutely recommend this airbnb.
Elodie
2016-11-11T00:00:00Z
Romtype
Helt hjem/leilighet
---
Eiendomstype
Leilighet
---
Plass til
4
---
Soverom
Saint Blazey, England, Storbritannia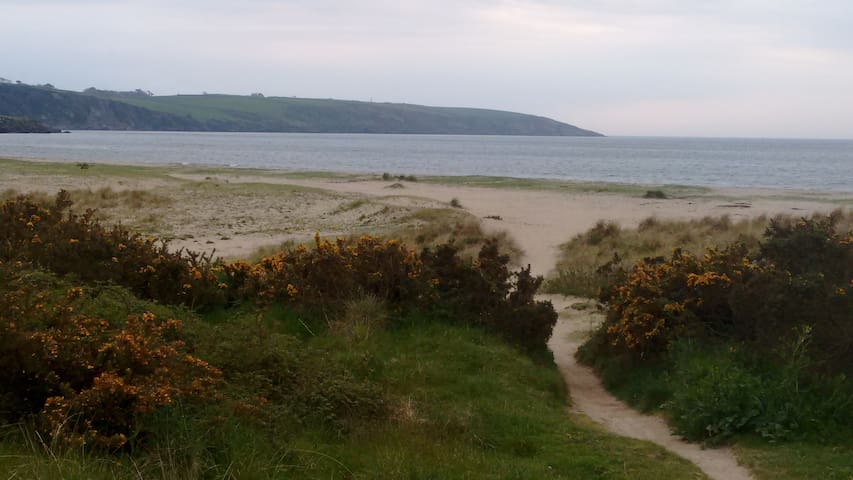 My place is close to explore all of Cornwall, good restaurants, beaches on either coast, the country side, cycle trails, walks,national trust property of Lanhydrock. Or just enjoy the cosy Shepherds hut , the view on the raised decked area or soaking in your hot tub.. My place is good for couples.
The shepherds hut was lovely, as shown in the photos, with everything we could need for a peaceful weekend. The hot tub was a delight. Jeremy and Kay were great hosts - perfect level of communication (availability vs space). Thank you!
Hayley
2016-08-26T00:00:00Z
Jeremy and Kay helped us with the directions, and came out to meet us. They had some good suggestions of where to visit and were lovely to talk to. The hut was very warm and cozy with the fire and plenty of blankets. There was enough kitchen equipment to make a simple meal, and there are loads of nice pubs in driving distance. We loved the coastal path walks.
Ellen
2016-10-25T00:00:00Z
Beautiful hut in an idyllic location. We wanted a weekend break that would take us away from the madness of London and we couldn't have picked a better place. Plus the hot tub is a great added bonus for sipping bubbly and star gazing! Highly recommended!
Ashlea
2016-10-04T00:00:00Z
Jeremy and Kay are the greatest hosts . Hub was perfect . If you enjoy silence and country life , then you'll love their place . Wish to go back there another time . Many Thanks .
Serkan
2016-12-27T00:00:00Z
A little piece of heaven for stressed couples, in a brilliant location in South Cornwall... We're a professional gay couple in our 30s and 40s who needed a weekend away from London stress and we fancied something a bit quirky and back to basics. We were one of the first paying couples to stay here and we couldn't have chosen a better place - it's magical. Jeremy and Kay are lovely people who made us feel so welcome. They clearly enjoy sharing their beautiful organic farm with guests and this is obviously much more than just a business to them. Small details abound everywhere: a cream tea waiting on arrival; a fully equipped kitchen with everything from champagne glasses to a full set of sharp knifes; decent towels and a proper power shower. Jeremy and Kay built the Shepherd's Hut themselves, using many upcycled and recycled materials that give it a unique, romantic charm that remains very functional and absolutely spotless. Highlights: Sitting in the hot tub in the rain with a gin and tonic, taking in the spectacular view over the Fowey valley, chatting about nothing in particular, late into the night. Photographs just don't do that view justice - it's breathtaking! Falling asleep next to the crackling log burner in crisp white cotton sheets on a comfy mattress. Meg the scruffy sheepdog who comes over for cuddles in the morning. Breakfast outside on the deck, watching the cows and the sheep in the field below. One of the best meals we've ever had in Asquiths in nearby Lostwithiel. Lots of happy memories The Eden Project, The Lost Gardens of Heligan and Lanhydrock House all make brilliant days out and are less than 20 minutes away by car. Try it - we hope you love it as much as we did!
Howard
2016-07-11T00:00:00Z
Kay & Jeremy were great hosts! Really helpful even before we set off and very welcoming when we arrived. There were scones waiting fir us when we got there and they were delicious, some of the best we ate during our stay.....and we ate a lot! The place itself was amazing, it felt strange at first not having a TV or WiFi but it was just what we needed. We explored the near by villages but spent most of the stay cosies up in the Hut with the log fire on or in the hot tub listening to our neighbours....the cows and sheep! We have a truly amazing stay and we would definitly come back :-) thank you Lucy & Mike.
Lucy
2016-10-09T00:00:00Z
Jeremy and Kay are absolutely brilliant hosts who are so friendly with a beautiful property. Everything you need for a countryside escape, fantastic location and all the luxuries you need including sheep, cows and a hot tub with a stunning view. Couldn't recommend more highly and will definitely visit again in the future.
David
2016-07-19T00:00:00Z
We had a wonderful stay, Jeremy and Kay's Shepherds Hut is an idyllic getaway. Looking across the Fowey valley from a hot tub is hard to beat.
James
2016-09-27T00:00:00Z
Romtype
Helt hjem/leilighet
---
Eiendomstype
Leilighet
---
Plass til
2
---
Soverom
Waterlake, Storbritannia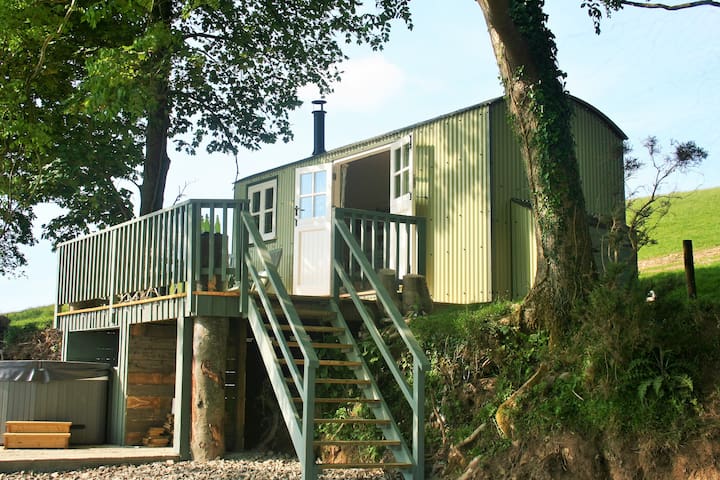 If you like the idea of open plan loft living then Stargazer's 35 ft long studio apartment offers ample room to relax, in Polruan with great views of Cornwall's sailing town of Fowey and the river on one side, and the English Channel on the other.
The apartment offers bright, clean and spacious accommodation ideal for a couple, with an additional daybed for one extra guest. We accept bookings for any length of stay. Stargazer is at the top of School Lane in Polruan with the entrance off St Saviour's Hill. The apartment is within 20 steps of the South West Coast Path to Polperro and a few minutes walk from the Polruan quay where you can take the ferry to Fowey. Through the gate you enter a quiet courtyard with steps up to the balcony and entrance door. The courtyard is yours to make use of during your stay and the balcony is a south facing sun trap ideal for watching the ships go by. Once inside you will find a fully fitted bathroom, there is a bath with shower over, hand basin and heated towel rail. On the same floor is the kitchen/diner with electric cooker, microwave, kettle, fridge and everything you need to cater for yourselves. Both rooms have beautiful uninterrupted sea views and catch the sun all day. Upstairs you will find the loft studio with double bed with a new orthopaedic mattress for 2015, daybed, comfortable lounge seating and a study area with desk. There is a TV with freeview channels. The five roof skylights bring in plenty of light and offer 360 degree views. On a clear night Stargazer earns the name as you can study the star-filled sky stretching far out to sea.
We live on the South West Coast path in a designated Area of Outstanding Natural Beauty and our village has beautiful walks through the woods and along the coast. The sailing town of Fowey is a 5 minute ferry ride away with lovely shops and restaurants. The most beautiful beach at Lantic Bay is about an hour's walk away, or a short boat ride, and you can continue on to picturesque Polperro and Looe - both also reachable by car or boat. Bodmin Moor is a drive away offering fantastic walks and wild scenery. Polruan is a friendly village and an ideal place from which to explore all aspects of life in Cornwall, walking, sailing, fishing, surfing, lounging on the beach, eating great local food and clotted cream teas.
The loft is fantastic and wonderfully unique. On one side of the loft you have a view over Polruan and across the river to Fowey and on the other the cliff edge overlooking the sea. My girlfriend and I had a lovely time in Polruan, even though the weather was against us. Sonia was very welcoming and left us to ourselves, but was always very accommodating whenever we did ask her any questions. I cannot overstate how great our weekend was. We really can't wait to visit again. Many thanks and all the best, Stuart & Patricia
Stuart
2015-05-05T00:00:00Z
Lovely flat in a great location, already looking forward to our next visit!
Eoghan
2016-07-19T00:00:00Z
Sonia and Tony's loft looked just like it does in the photos! The views on both sides and the close access to the walking paths was amazing!
Sophie
2016-05-26T00:00:00Z
Wir hatten einen seh schönen Aufenthalt mit tollem Ausblick auf den Hafen und das Meer. Wir würden wieder kommen.
Dominic
2016-07-12T00:00:00Z
We were made most welcome to their wonderful loft conversion. The area we know well. The views for the place are stunning
Steve
2015-08-09T00:00:00Z
The loft is amazing, really well thought out use of space. Great for a short break, maybe not for longer but only a problem if you want to cook as the kitchen facilities might prove a little limited. Location is very good, and the walk up and down the hills certainly helps those leg muscles! The ferry to and from Fowey is great, really easy. Lots if restaurants in Fowey worth trying. A great area for walking or simply relaxing. The panoramic view from the loft is amazing, even when the weather not so good.
Angie
2016-09-22T00:00:00Z
Sonia's communication was excellent and it was perfect especially being our first air BnB experience . The loft was gorgeous , spotless and spacious . The views were breathtaking . Polruan is such a cute place and we loved eating at the pub called the Lugger .
Rachel
2015-07-03T00:00:00Z
My boyfriend and I had a wonderful whistle stop stay at the beautiful Stargazer. We stayed for two nights and really enjoyed the loft's wonderful views both of Fowey and of the open sea. Being so close to the coastal path was really great - I would especially recommend the walk to Lantic Bay, which on a sunny day makes it hard to believe you are still in England! Sonia was a very warm and welcoming host and the accommodation itself was lovely and private and very clean. We would definitely stay again. Vicki and Jack
Vicki
2015-06-25T00:00:00Z
Romtype
Helt hjem/leilighet
---
Eiendomstype
Leilighet
---
Plass til
3
---
Soverom
Polruan nr Fowey, Cornwall, Storbritannia
Small but cosy and comfortable apartment in the centre of Fowey with parking outside of front door. Seconds from pubs, cafes, restaurants and the harbour. Outside deck area with BBQ. Pets welcome. Coastal walks and beach a short walk away.
The host made us feel very welcome and gave us infromation before we arrived.
Christine
2016-09-11T00:00:00Z
We had a great stay at this beautiful apartment. Everything was perfect! It has a well equipped kitchen, lovely patio area and it is in a brilliant location, right in the middle of fowey. We realised while we were there that we were really lucky to have a parking space too. Our dog was also made to feel very welcome as there was a bed, blanket and bowls which was really thoughtful. We had a fantastic time here. The area has loads to offer, including gorgeous coastal walks, boat trips and the Eden project is nearby too, which was amazing. We will definitely be back!
Majella
2016-08-07T00:00:00Z
Cosy little apartment right in the centre of Fowey. We had a great long weekend exploring Cornwall.
Richard
2017-02-26T00:00:00Z
Great location, Cosy clean apartment. We had a great stay would recommended highly!
Rachel
2017-02-17T00:00:00Z
Great location & with parking which is a major bonus. The apartment was beautifully decorated with everything you would need for your time there. The outside space was perfect for relaxing & provided great people watching opportunities! Good suggestions for places to eat & great shops. Overall a perfect place for a relaxing holiday. Thank you Sarah
Debbie
2016-08-13T00:00:00Z
The apartment is clean, fresh and bright. The location is brilliant and a real bonus having a parking space in the centre of Fowey. Lovely apartment for a perfect break - restaurants and shops on your doorstop and amazing walks along the stunning coastline.
Lesley
2017-02-20T00:00:00Z
Lovely apartment slap bang in the middle of this beautiful town, with a very private balcony. We had a wonderful week
Martin
2016-09-18T00:00:00Z
The little apartment was spotlessly clean, well decorated and very light and airy. It is right in the centre of the bustling village but we were never disturbed by any noise. The terrace overlooks one of the main streets (mainly pedestrians) and had a large gas barbecue. The bedroom is at the back and so very quiet. The bed itself was very comfortable. Having its own private off-road parking is a real plus in Fowey - we watched many other holidaymakers trekking up and down the steep streets with luggage from the (expensive) public car-parks. Manouvering in and out could be a bit awkward if you have a large car though. There are numerous pubs, bars and restaurants within a few hundred yards, as well as nice bakeries and pasty shops. It made an ideal base for the two of us to explore the village and nearby attractions (Eden Project and Lost Gardens of Heligan to name a couple). Our most enjoyable days started with a lazy breakfast on the terrace (eating fresh bread from the bakery across the road) followed by spending time just wandering round the village or taking the little ferry over to Polruan to stroll around that side. The day would be broken by stopping at one of the numerous places to have a coffee or beer and just sitting and watching the world in general (and people and boats in particular) go by. Although not listed on the amenities, there was very good wifi. We would stay here again without hesitation and would certainly recommend the property to anyone else.
Bernard
2016-08-28T00:00:00Z
Romtype
Helt hjem/leilighet
---
Eiendomstype
Leilighet
---
Plass til
2
---
Soverom
Fowey, Storbritannia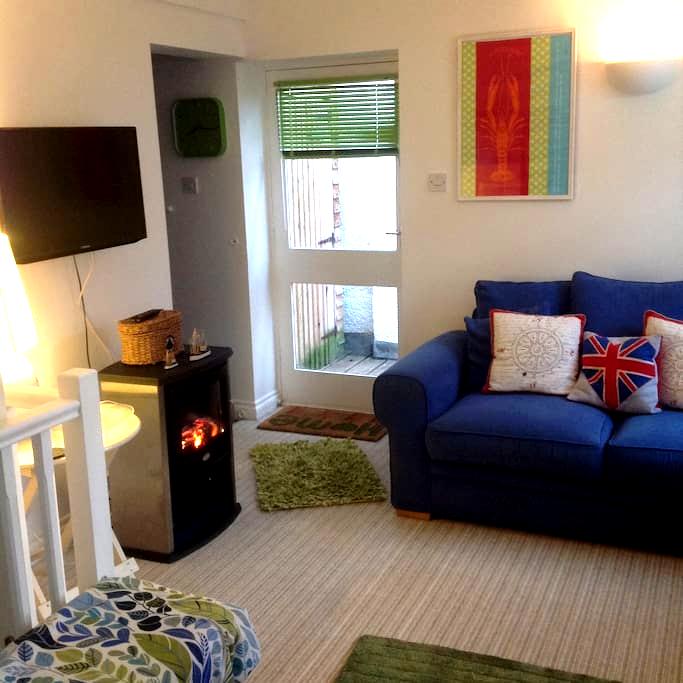 Walkers paradise! A characterful, arty space minutes from eateries, pubs, clifftops, a castle and beaches, (garaged parking included). You get a bedroom in my flat Shared bathroom and an open plan, shared living room/diner/kitchen There's ground coffee and tea to hand, hair dryer and towels provided and a TV in your room. Basic breakfast of muesli and crusty bread and jam with tea and coffee (or bring your own breakfast to cook) This is a clean, but lived in (permanently) home.
A little flat in an old barn conversion, in the conservation area of Fowey. It's away from the main street and it's noise, but tucked away and still very close to the quay. It's very rare to get garaged parking this close to the town centre and the car parks can be very expensive. The main living area is open plan with a high, unusually shaped ceiling in the eaves of the building. The bedroom (your bedroom) is cosy with a sloping roof and a skylight (limited head room because of the ceiling) - it's quirky. It has paintings by my Grandfather on the wall and some carvings by the other are in there too. It's not a second home or a holiday home, it's my home and the decor reflects that, it's lived in, not immaculate but quirky and cute in a great location. No view but you are so close to the sea, it doesn't really matter. I'm quite an eclectic, nature loving artist and you will probably sense that if you stay here. There are photos of your room in my photo gallery. This isn't a hotel like experience, it is a homestay experience for independent, laid back beings. You will be sharing the bathroom and living area with me and Benny the cat (but nobody else). The parking space is in a vast garage with electric double doors, the spaces in it belong to locals and I own one of them which you can use. There is one other flat in the building, it's next to me, not above or below me.
Gosh... the neighbourhood, where do I begin? Well, it's simply an incredibly beautiful spot, surrounded by land which is mostly owned by The National Trust. Look in my gallery - I've put pictures of the town and most of it's eating spots on there. Towards the end of the gallery are pictures of the flat itself. If you love the outdoors, like I do, you can hike, run, cycle, hire kayaks and boats in Fowey, or at close by Polkerris (A two and a half hour, gorgeous cliff walk, or a short drive away) you can hire all sorts of watersports equipment to use from a hire centre on Polkerris beach. The walk from here to Polkerris is stunning in spring. Meadows of flowers, woods full of white, wild garlic flowers. There is a pub and a restaurant literally on the beach at Polkerris too. You can catch a ferry to Mevagissey from Fowey and walk to The Lost Gardens of Heligan. Or get a ferry to Polruan or Bodinnick to do the beautiful Hall walk (about an hour and a half) It's a circular walk. If you are fit enough you can try 'The Roller Coaster' which is the nickname for the walk from Fowey to Polperro (super cute harbour side village). It might take about 4 hours, but it ends in a very cosy old pub called The Blue Peter and you can always get a cab back to Fowey if you can't face walking back again. You can catch a bus to the Eden project (or drive, it's literally ten minutes away). There are stunning, huge, historical ships used in so many films at Charlestown harbour. Poldark anyone? I can't even begin to list all the gardens around Fowey to visit. You can play golf locally too. Eating - again... phew, where to begin... if you book in with me, I'll send you links to eateries. It's always lovely in summer to go to the Fowey hotel balcony for a drink and for beautiful views over the sea. You don't have to be a guest there to eat or drink there. You can have cocktails in the cocktail bar above Sam's burger and seafood diner while you wait for a table or there are many other wonderful spots that you can book and eat in (although you can't book to eat in Sam's). The shops are great for gifts and treats too. So it's nice to potter in Fowey and Lostwithiel (the next town along - I think you can go on boat trips to Lostwithiel at some times of year from Fowey Quay) is well known for it's antique shops. OH, and in the summer months - if you go to Carlyon bay, which is very close to Fowey, there are usually pop up food and drink bars that set up on the beach with fire pits if you want to forget you are in the UK. See! I'm really beginning to ramble here, so I think the best thing to do is... come and see for yourself how beautiful it is here.
Fabulous host, very concerned about me getting there safely, went above and beyond with kindness and generosity of spirit. Lovely apartment, very comfortable bed, very central, beautiful town. Highly recommend staying at Tracey's. Thank you for everything. xo
laura
2017-04-06T00:00:00Z
An absolute gem! Tracey and Benny (the cat) are delightful. Tracey goes out of her way to make sure your stay in her beautiful flat is a pleasure from start to finish. Very handy garaged parking space, with key safe allowing independence. The room is charming with everything you need and the flat is beautiful, it is literally a 5 minute pretty walk into the town and we enjoyed a great night of cocktails and seafood at Sam's Restaurant. Tracey was very friendly and helpful, without being intrusive. She laid out a gorgeous continental breakfast for us in the morning and we felt very at home. We will definitely be back - highly recommended. Thanks T and Benny :-)
Kate
2017-03-05T00:00:00Z
A lovely place for a couple to stay to enjoy the beauty of Fowey. Well appointed and beautifully finished flat in a good location. Shops/restaurants a couple of minutes' walk away. Having the use a a parking space was very useful. Tracey couldn't have been more helpful or accommodating and made our stay a real pleasure! She even popped to the bakery in the morning to fetch us freshly baked croissants and gave advice on walks and places to eat. Lovely stay!
Allotment42
2017-02-19T00:00:00Z
Great place to stay - so near the centre and convenient for exploring Fowey. Added bonus of car parking availability. The host was really great and we loved our stay.
Justin
2017-02-26T00:00:00Z
Romtype
Privat rom
---
Eiendomstype
Leilighet
---
Plass til
2
---
Soverom
Fowey, England, Storbritannia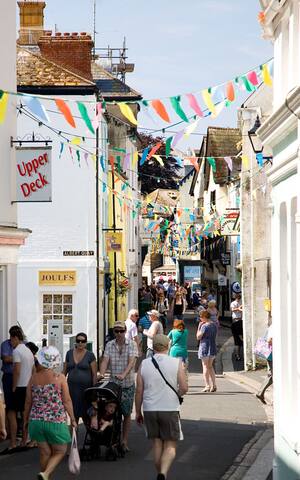 2 bed flat in popular Cornish town of Fowey. Amazing view of river and sea, in a converted 19th century coach house. Parking included & spacious balcony. 5 mins town, 2 mins beach. Babysitters available.
You won't find a view like this anywhere else in Fowey! There is one en-suite double room and one twin room, with spacious and comfortable kitchen/diner area.
Fowey is a very special Cornish town, bustling with shops, pubs and restaurants but with spectacular coastal walks and beaches You are three miles from the world famous Eden Project
Lovely place with great views, only a short walk into town and to the beach, highly recommend!
Nora
2017-02-05T00:00:00Z
Lovely warm place with unsurpassable views, we had breakfast on the balcony in February the weather was so good.
Emma
2017-02-10T00:00:00Z
A great area of town with stunning views. Easy walk to shops and restaurants. A perfect size flat for our family of 4. It was tidy and true to the photos.
Alana
2016-12-24T00:00:00Z
Great views, host was very friendly and welcoming and I would definitely stay again.
Joanna & Lawrence
2017-01-18T00:00:00Z
Had a lovely stay at the apartment. Very peaceful and good access to the town. Views are fantastic and totally outweighed the weather (predominantly rain!) Thank you.
Anna
2017-03-08T00:00:00Z
We had a fantastic time in this perfect apartment. The views are outstanding and its in a great position for both town centre and the beach. The rooms are all very clean and we had plenty of space... I would recommend and will be returning...
Annette
2016-07-22T00:00:00Z
Fabulous apartment, spacious, clean, modern with a view over Fowey Estuary and the Harbour mouth to die for! We spent 3 nights here and loved every moment of it. Can't recommend this place highly enough.
Richard
2017-01-23T00:00:00Z
My OH and I spent an amazing long weekend in Fowey in early December. Directions received in advance by Sinead were perfect and allowed us to reach the place with no problem. The 2-storey flat is perfectly located to reach the main areas in Fowey with just a short walk. The apartment was spotless and clean. There is space for 4 in two separate bedrooms and in the living/diner - there is also a separate loo at ground floor. The kitchen is fully equipped and functional. The apartment is very cozy: due to the temperature we didn't make full use of the balcony with a stunning view, but the interior was warm and welcoming. Excellent location to explore other destinations in Cornwall - Eden Project and St Ives for us. Absolutely recommended.
Fab
2016-12-04T00:00:00Z
Romtype
Helt hjem/leilighet
---
Eiendomstype
Leilighet
---
Plass til
6
---
Soverom
Fowey, Cornwall, Storbritannia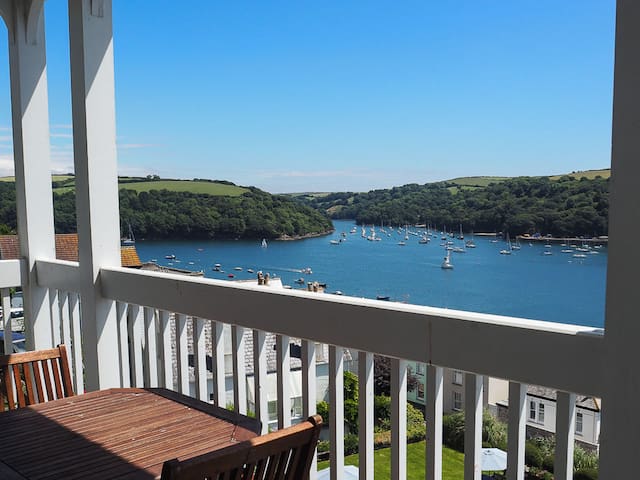 Castle est un célèbre historique Mansion House situé au milieu d'une vallée verdoyante et de beaux arbres. Il était le palais d'été du roi Marc de Cornouailles et est idéalement situé à proximité du Centre Antiques de Lostwithiel (une ancienne capitale de la Cornouaille), et à proximité de la célèbre ville de la voile de Fowey. Notre maison offre à ses clients un merveilleux nuit de sommeil et tous les éléments de déstresser. Nous sommes à une courte distance à tous les points d'intérêt et des commodités.
My daughter found this apartment on Airbnb... It was perfect; a great place to base oneself to explore Cornwall and South Devon. The apartment was clean, comfortable and well equipped. We would like to visit again as a family of four. Thank you
Naomi
2016-10-29T00:00:00Z
We were made very welcome. The accommodation was lovely, bright, warm and spacious, with plenty of parking on site. The property was steeped in history and had some lovely original features. The location was beautiful, tucked away but within easy reach of places we wanted to visit.
Theresa
2016-10-23T00:00:00Z
This was a great place to spend a weekend. The apartment was lovely and spacious, and the hosts were lovely and greeted us on arrival and made sure we had everything we needed. They even left fresh coffee, tea, milk, bread, butter and eggs for our breakfast! The manor house, garden and apartment were beautiful. There was lots of birds chirping, and even a pheasant roaming the gardens. The apartment is very private and peaceful. The kitchen has everything you need to prepare a meal, and there is a lovely open fireplace in the lounge that you can use. The house is a little chilly at times, just due to its age and single glazing, but the hosts provided extra heaters, and when the fire was lit, we were toasty. Also the wifi was patchy at times- so it was ok if you just wanted to check out something quickly, but wouldn't be suitable if you plan to stream a lot of telly. Overall this place was really great value, and I wouldn't hesitate in recommending to anyone.
Mel
2017-03-06T00:00:00Z
Romtype
Helt hjem/leilighet
---
Eiendomstype
Leilighet
---
Plass til
2
---
Soverom
Cornwall, England, Storbritannia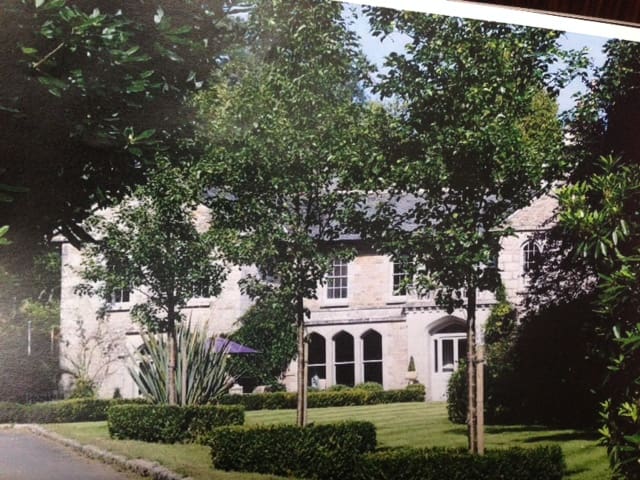 Reed's of Fowey is a sunny, waterside studio apartment set in the heart of Fowey above Reed's shop. Fowey is special, and Reed's has been welcoming guests from the UK and worldwide for some twelve years. A direct waterside location gives guests a never ending changing view, and the chance to sit back and relax in the heart of the town. Reed's comprises of a Bed/Sitting Room, Kitchen Diner, Bathroom and separate Loo, completely self contained with own lockable door. Suitable for adults only.
There is a boat you can hire to explore the estuary or go fishing. During the day Reed's shop and terrace are open to customers but guests are welcome to use the terrace with the hosts at all times. Guests may use the host's private balcony and have a reserved table.
Fowey is a special place, its buildings, Inns, restaurants and shops, but it also hosts special occasions. Details about the Christmas Market, Cider Festival, Royal Regatta, visiting Cruise Ships, Fowey harbour open days, can all be found on the internet, (SENSITIVE CONTENTS HIDDEN), and from our Tourist Information Shop. Please feel free to email me for any further information.
Romtype
Helt hjem/leilighet
---
Eiendomstype
Leilighet
---
Plass til
2
---
Soverom
Fowey, England, Storbritannia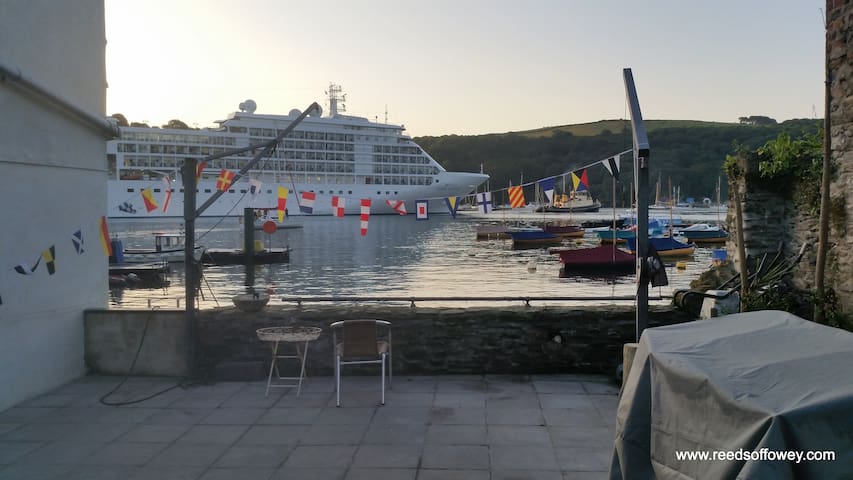 Das alte Pfarrhaus befindet sich in einem ruhigen Dorf und bietet einen großen Raum zum Entspannen, mit geräumigen Apartments, einen beheizten Außenpool im Sommer, ein Spielzimmer, preisgekrönten Gärten und Kinderspielplatz. Epphaven hat ein Doppelbett und zwei Einzelzimmer, suiting Paare und Familien. Looe und Polperro sind leicht zu erreichen, wie auch die Eden-Projekt, Heligan Gärten und eine Vielzahl von National Trust und der South West Coast Path.
Romtype
Helt hjem/leilighet
---
Eiendomstype
Leilighet
---
Plass til
4
---
Soverom
Lanreath, England, Storbritannia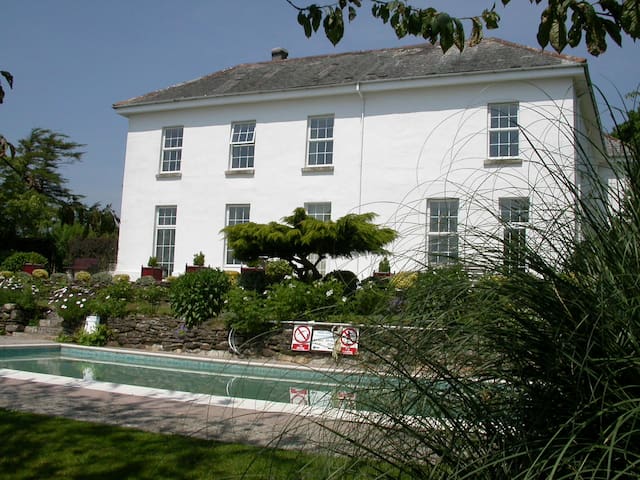 We are located a short walk from 2 beaches and mainline railway station. The Eden Project and lovely fishing harbour of Fowey are approx 3 miles away. Charlestown with it's tall ships, frequently used for filming (most recently Poldark) is also 3 miles away. This is a great location for exploring further afield in Cornwall due to it's central location. The beautiful coastline of North Cornwall is approximately 45 mins away. The village has several pubs and next door to us is a beauty salon.
The Annexe is on the ground floor at the rear of our village shop with a private entrance via the driveway. The accommodation comprises a double bedroom, lounge with pull out double sofa bed, kitchen and shower room. Babies are welcome but we are unable to provide cot etc. We provide Amazon Fire tv in the lounge and free view in the bedroom.
Romtype
Helt hjem/leilighet
---
Eiendomstype
Leilighet
---
Plass til
4
---
Soverom
Par, England, Storbritannia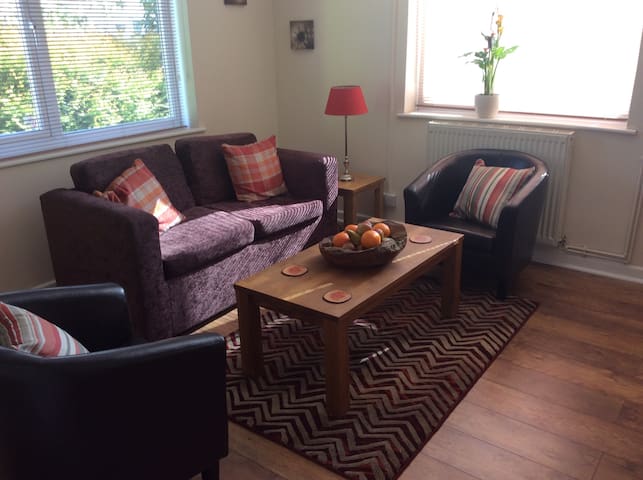 Seascapes est le trou de boulon parfait pour deux, idéalement placé pour accéder aux chemins de falaise côtière, mais toujours à distance de marche de pub !!
Vous avez trois des qualités recherchées les vacanciers ont besoin d'une escapade de Cornouailles .... superbe vue sur la mer, terrasse pour se reposer et profiter de la vue (avec un verre de Fizz) et un espace de stationnement juste devant votre porte d'entrée. Cette spacieuse propriété rez de chaussée est facilement repérable que vous entrez dans le village, tirer vers le haut devant la porte. L'entrée est dans la cuisine / salon / salle à manger avec portes-fenêtres ouvrant sur l'espace extérieur avec jardin devant et la belle vue sur la mer. Le salon est équipé d'une télévision à puce, des livres et des jeux pour votre plaisir. La cuisine est bien équipée d'une salle de côté pour l'équipement de marche utile ou porter à l'extérieur. La chambre est située au large de la surface habitable. La chambre dispose de grandes placards avec le lit positionné de sorte que vous pouvez vous asseoir avec votre journal du matin et profiter de la vue sur la mer. Les draps et les serviettes sont inclus. A côté de la chambre il y a une salle d'eau avec douche en coin, WC, lavabo et porte-serviettes. Seascapes est à distance de marche du village où il y a un magasin de village bien approvisionné, deux pubs, une boulangerie, salon de thé et bureau de poste. Aussi à côté du quai est un chantier naval de travail et le ferry vous emmène à travers Fowey où il y a plus de magasins et de restaurants. Wifi est disponible et le chauffage central. Il y a un four électrique et plaques de cuisson. de l'All Inclusive supplémentaire (pour rendre votre séjour que peu plus spécial) linge Crisp et serviettes douces Se félicitant Plateau thé avec biscuits Cornish Lavage des mains Sèche-cheveux 2 rouleaux de papier toilette
Polruan est un petit village pittoresque basé sur la côte sud de Cornwall sur la rivière Fowey. Le village n'a qu'une seule route ou en dehors, la rue principale traverse le centre du village, et se termine sur le quai du village, où vous trouverez le lougre Inn et notre bureau! Comme la plupart des maisons du village a sa propre histoire intéressante. Bien que Polruan est un petit village, il y a cependant deux pubs dans le village, The Russell Inn et The Lugger Inn. Les deux pubs offrent une excellente gamme de produits alimentaires à des prix très raisonnables. Sur le quai, vous trouverez deux plages de marée plage avant et arrière des plages idéales pour les jeunes enfants. Russell Inn a été prise par une famille locale (novembre 2016) sa été donné un nip tuck prêt pour un été bien rempli 2017. Menu TBC Le Lugger Inn sur le quai réserver une table conseillé, vous ne voulez pas passer à côté de là-bas moules! Ils ont un système de réservation de table avec des notes avec le temps la table est réservée et les prochains invités sont dus. Vous êtes en mesure de vous asseoir et prendre un verre à une table réservée, mais aurait besoin de se déplacer si la prochaine réservation peut y prendre des sièges. Beaucoup des plus occupés pubs de la région ont le système en place pour faire face au nombre élevé de réservations. Le dossier de bienvenue dans le chalet a des détails et des numéros de téléphone pour les deux pubs, magasin, boulangerie, café local et crémier. Le magasin du village et de la boulangerie peuvent être commandés et livrés à la maison de vacances.
Romtype
Helt hjem/leilighet
---
Eiendomstype
Leilighet
---
Plass til
2
---
Soverom
Polruan, England, Storbritannia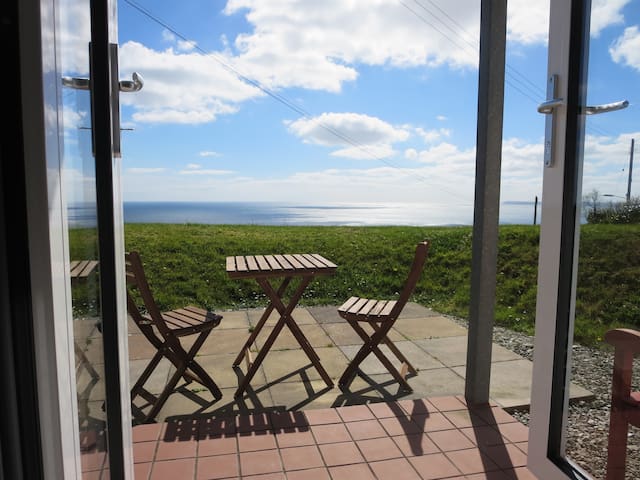 1

–

18

av

37 Leiligheter til leie
Oppgi datoer for å se fullstendige priser. Ekstra gebyrer gjelder. Skatter vil kunne tilføyes.