casa irlandesa amistoso, frente al hermoso bosque aparcar Dun Na Ri y junto al castillo de Cabra un hermoso lugar para wedding.Kingscourt está situado en las fronteras .Por Co Meath. Louth. Cavan. Y minutos Monaghan .10 minutos Nuremore Hotel.20 Kells.
El precio enumerado es por habitación. habitaciones de huéspedes están arriba con acceso a su propio cuarto de baño. También hay un aseo planta baja para uso de los huéspedes. Hay dos habitaciones dobles y una habitación doble. Los huéspedes pueden hacer uso de la cocina y salas de estar y nos piden que poner en orden después de su uso.
Los paseos en minutos Dun na Ri.beside Cabra Castle.10 a Carrickmacross donde los autobuses se ejecutan casi en cada hora de Dublín y alrededores pueblos y ciudades. Belfast 1 hora .Drogheda media hora .Navan y Kells 20 minutos.
Great place with a lovely host
Chris
2016-10-30T00:00:00Z
Josephine was a great host. She immediately made us feel welcome and even drove us to the wedding we were attending, so we didn't have to take our car. The house is lovely, our room was great and spotlessly clean. The breakfast was great too, with fresh fruit, yoghurt, bread and croissants. Josephine is very friendly and helpful. I would highly recommend the accommodation.
Cindy
2016-08-20T00:00:00Z
Lovely house with a friendly host who made me feel very welcome and relaxed.
Brendan
2015-08-23T00:00:00Z
Josephine is the perfect host, welcoming and most helpful. She has a beautiful house and home situated just outside the grounds of Cabra Castle.
Michael
2017-03-04T00:00:00Z
Josephine was a fantastic host with a beautiful home. We had a short stay but were made to feel very welcome.
Barry
2015-09-07T00:00:00Z
A wonderful experience. Firstly, Jospehine is a complete star and made us feel incredibly welcome. And the room and house are lovely. We stayed here as we were at a wedding in Cabra castle. This house is perfectly located for visiting the castle - but much better value. Is we are back in the area we will definitely be staying here again.
Conor
2016-05-23T00:00:00Z
Lovely home, gracious host, helpful solving problems..near beautiful Dun a ri forest park.
John
2016-04-21T00:00:00Z
Josephine was an excellent host, and very welcoming and helpful. A perfect place to stay for a wedding we attended at Cabra Castle
James
2017-03-18T00:00:00Z
Romtype
Privat rom
---
Eiendomstype
Hus
---
Plass til
2
---
Soverom
Kingscourt, Cavan, Irland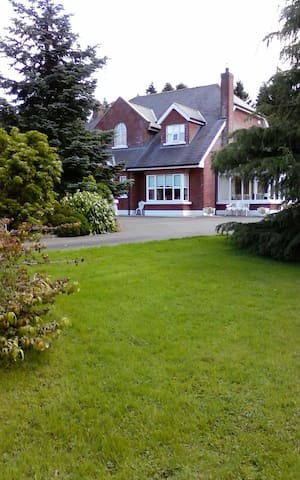 casa irlandesa amistoso, frente al hermoso bosque aparcar Dun Na Ri y junto al castillo de Cabra un hermoso lugar para wedding.Kingscourt está situado en las fronteras .Por Co Meath. Louth. Cavan. Y minutos Monaghan .10 minutos Nuremore Hotel.20 Kells.
This property stands in absolute stunning grounds. Jo was lovely on arrival and when she was asked if bags could be dropped in it was no problem. The bed was so comfortable that it was hard to get out of. We would highly recommend anyone to stay here. A stunning house and great value.
Zara
2016-10-21T00:00:00Z
Josephine was AMAZING!!! We booked really late due to another booking falling through. Our host was so friendly and accommodating - she made us a cup of tea with biscuits on arrival and cooked a delightful breakfast both mornings. Our room was beautiful and afforded a stunning view of her extensive gardens. She made us feel right at home and allowed us use of her kitchen- Josephine also allowed us to use her wifi. Cannot fault this lovely stay at all. Thank you :)
Gareth
2016-07-11T00:00:00Z
Jo was so awesome. She was really flexible and available. We got in late to check in and late from the wedding. She made us a lovely breakfast and then even went out of her way to drop us off at the castle. We really appreciated everything. We definitely recommend Jo's house, it is really close to Cabra and cheaper then the surrounding B&Bs that we saw.
Gregory
2016-05-08T00:00:00Z
Delighted with our stay here. Lovely and spacious room. Great views and a wonderful host. Josephine was extremely helpful and generous. Great location. Close to all local attractions. Can't recommend highly enough.
Mark
2016-04-30T00:00:00Z
The host was very friendly and extremely helpful. The accommodation was lovely and very clean. Would definitely recommend.
Michelle
2016-07-30T00:00:00Z
Extremely enjoyable stay. We arrived late but our host was beyond amenable. Breakfast was excellent and we are looking for an excuse to stay again.
Nicola
2016-11-11T00:00:00Z
Lovely home with a fabulous garden. Very peaceful and relaxing area. Excellent breakfast and a very pleasant host.
anne
2016-10-02T00:00:00Z
Romtype
Privat rom
---
Eiendomstype
Hus
---
Plass til
2
---
Soverom
Kingscourt, Cavan, Irland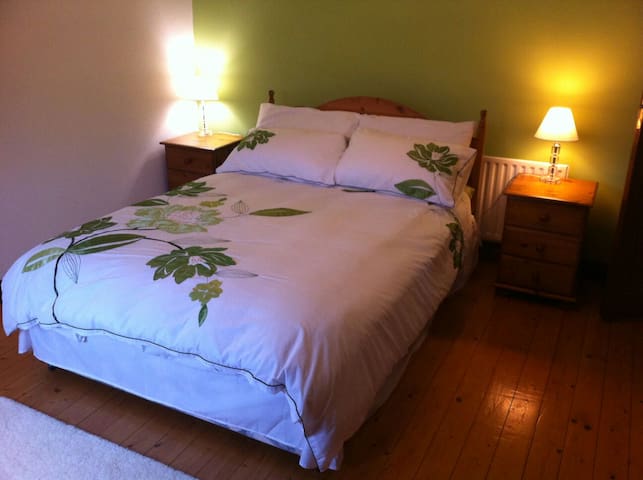 An ideal summer destination for a family looking to escape the 'hustle and bustle' and secure their own private paradise. With 500 acres at your disposal, our farm offers insights into everyday farm life that you simply can't buy! Activities are available on request; horse-riding, fishing, archery, forest adventures, as well as farm animals galore. Children will be able to help with farm tasks, such as feeding and grooming animals. Clay pigeon shooting and 4x4 is available for parents.
You walk into a galley style country kitchen with adjoining dining area (can sit 6). There is a staircase taking you to the second level where you enter the sitting room area that is connected to the shared bathroom.
Close to Newgrange, The Hill of Tara, and Dun na Ri Forest Park and Cabra Castle.
Brian is a fantastic host. Really friendly, warm and welcoming. He was also extremely accommodating to our three dogs who loved being in the country side! I would definitely recommend a visit.
Gillian
2017-02-26T00:00:00Z
Brian is a great host. Always ready to help and to have a chat with us. Very kind and warm. The children were absolutely delighted with the horses and dogs. Great experience.
Juan Antonio
2016-07-31T00:00:00Z
Romtype
Helt hjem/leilighet
---
Eiendomstype
Hus
---
Plass til
5
---
Soverom
Kilmainhamwood, Meath, Irland
Mein Platz ist zu Cabra Castle befindet sich nahe. , Tolle Aussicht, Parks. Sie werden meinen Platz wegen der bequemen Bett, die Küche und die Gemütlichkeit lieben. Mein Platz ist gut für Paare, Solo-Abenteurer, Geschäftsreisende und Familien (mit Kindern).
Host was fine, no complaints. Location the same. Kitchen & bathroom facilities are top-notch. Bedroom was a bit bland but overall it was great value. Would stay here again.
Barry
2016-09-05T00:00:00Z
Very nice house, well located. Great Wi-Fi, well equipped kitchen
Clément
2017-02-10T00:00:00Z
The house is well located next to the Main street in Kingscourt, very handy for shops, pubs and restaurants. Paulo was friendly and helpful and the Wifi works well. Our room was quite basic but we could use the kitchen if required. A shared bathroom can be problem but it was fine for us and en-suite facilities can't expected at this price. Noise was a bit of a problem for us but that was due to some thoughtless guests and not the fault of the host. We would be happy to stay again as a stop over.
Rick
2016-09-24T00:00:00Z
Although I never met the host, I was delighted with the property: clean, spacious and a great kitchen/lounge area. Location-wise A1 - you couldn't be closer to the town centre, yet a very quiet location. Kingscourt is a charming town unspoilt by Celtic Tiger brashness. Dun A Ri forest Park is fabulous.
Andrew
2016-09-11T00:00:00Z
Verry nice people, beautifull place.
Patrycjusz
2017-03-20T00:00:00Z
Good place to stay.
Con
2017-03-31T00:00:00Z
Romtype
Privat rom
---
Eiendomstype
Hus
---
Plass til
3
---
Soverom
Cavan, Cavan, Irland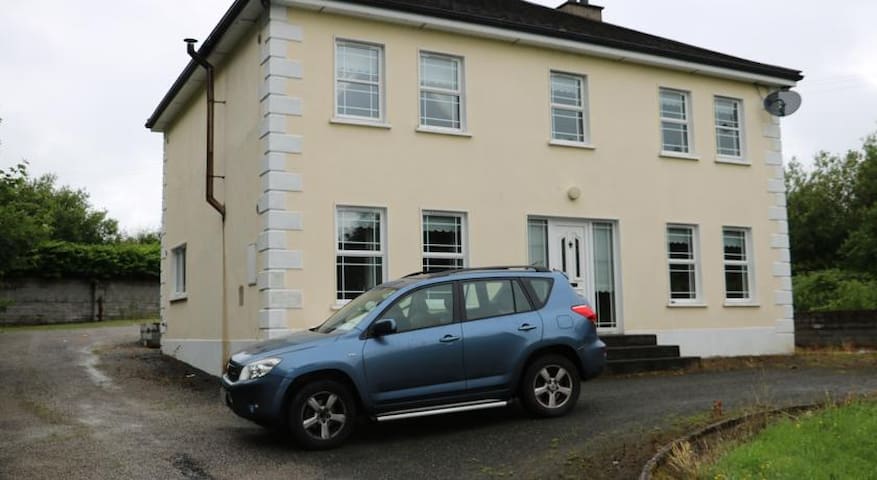 Freundlich Irish Hause, gegenüber dem schönen Waldpark Dún ná RI- und neben Cabra Castle ist ein schöner Ort für wedding.Kingscourt liegt an den Grenzen .of Co Meath. Louth. Cavan. Und Monaghan .10 Minuten Nuremore Hotel.20 Minuten Kells.
We were made very welcome and would be pleased to stay again.
John
2016-08-22T00:00:00Z
Great stay. Excellent host. Thoroughly enjoyed the experience
Eoin
2016-09-02T00:00:00Z
Had a great stay, very comfortable and close to the Castle.
Colm
2016-12-29T00:00:00Z
A fantastic host that went above and beyond what was expected in a lovely house in an incredible location. We really enjoyed our brief stay and would most certainly go again.
Alex
2016-05-29T00:00:00Z
This Airbnb in Cabra was an absolute delight. I stayed in the twin room with my Gran and it totally suited us for our visiting purpose. As we were only guests in the house, we had the communal bathroom to ourselves. Josephine was attentive and a pleasure to talk to. She even sat with us one morning as we had our delicious breakfast. The gardens are beautiful as too is Lucky the dog who caused absolutely no bother during our stay! Thank you again Josephine! x
Emily
2016-09-11T00:00:00Z
Romtype
Privat rom
---
Eiendomstype
Hus
---
Plass til
2
---
Soverom
Kingscourt, Cavan, Irland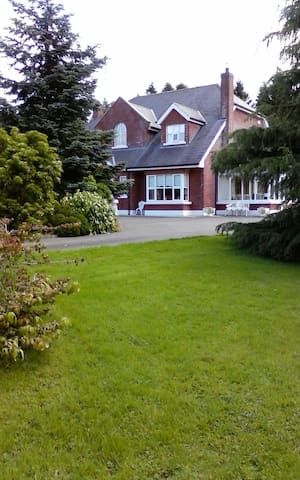 Oppgi datoer for å se fullstendige priser. Ekstra gebyrer gjelder. Skatter vil kunne tilføyes.