The Bernard Schwartz House is Frank Lloyd Wright's built version of his Life Magazine "Dream House" design from 1938. Frank Lloyd Wright named the home Still Bend for the site on a slow bend in the river as it flows into Lake Michigan. Frank Lloyd Wright wrote in Life Magazine about the plan, "American...family life is unlike any other in the world and I think this plan recognizes it for pretty much what it is — a little private club — with special privacies, ultra conveniences and style all"
The 4 bedrooms 2 1/2 bath LIFE Magazine Dream house is yours to live in as if it were your own. Whether it's two days or two weeks, you will experience the genius of Frank Lloyd Wright in a way that a typical tour cannot provide. Imagine waking up in this magical space and watching the sun project an amazing light show on the red brick walls and red tidewater Cypress interior through the Wright designed clerestory windows. Perhaps itting in the the 63 foot long living room and reading a classic novel pulled from the shelves in the library or going down to the dock on the river to watch a sand hill crane land with a splash. Every turn will reveal a new detail that will reaffirm Wright's genius. Spend a quite evening around one of three fireplaces and marvel at thought that you are living in one of Frank Lloyd Wright's masterpieces! Imagine watching the sun rising over the marsh, ushering in the morning light show as the clerestory patterns are projected onto the interior brick and cypress walls. Experience Frank Lloyd Wright's vision for how the average American Family could live. Relax, slow down and let Wright's genius unfold before you in a manner that is not possible on a typical house tour. The brilliance of Frank Lloyd Wright's vision can only be experienced fully by living in one of his creations. There is something magical almost spiritual about being in a Wright space that leaves one transformed. Two Rivers is a Historic American fishing town where you can still go to the fish store and get fresh caught Lake Michigan White fish. enjoy a band in the town square band shell or visit one of the many museums in town. Two Rivers is the Quintessential Small town America where the clerk will actually measure your foot before selling you shoes in the 120 year old department store downtown. Come back in time and rest your mind and body. Experience brilliant architecture as well as how Americans lived in 1939. This is the Schwartz House and Two Rivers. Winter at the Schwartz House is amazing with Two Fireplaces in the main living area you can snuggle up with a book, enjoy one of the many dvds about Frank Lloyd Wright or watch the the wildlife outside as the bird feeders become the social gathering place for the birds of the neighborhood. The House has been featured on the Travel channel's Amazing Vacation Homes, The Fine Living Channel's Around the World in 80 Homes, The Wall Street Journal, The New York Times, Dwell Magazine, Town and Country and about 20 other National and regional Magazines. Occupancy Limit: The standard rate is for 6 people. The maximum occupancy is 8 people. Each additional person over 6 is $50 per person per night to a maximum of 8 people. All listed rates include state and local lodging taxes. You must be at least 25 years old to rent the house unless arrangements have been made. Amenities: Bed and bath linens are provided, as well as a full line of kitchen cookware, miscellaneous cooking oils and seasonings, coffee, tea, sugar, flour, cooking and baking utensils, laundry soap, dishwasher soap etc... Simply pack you bags! Other Amenities: • Wireless Internet. • The house is on a large lawn with many yard games. • There are many games and books. • A private dock to bird watch or fish from. • Basically everything you would expect in a well stocked vacation home.
Two Rivers is a small vacation town located on the shore of Lake Michigan and, like the house, provides an experience of going back in time to a simpler way of life and living. There is a beach about a mile from the house that has been voted best beach in Wisconsin, a fish shop that offer freshly caught White fish in season, a 125 year old department store, a numerous museums in the area. Two Rivers is filled with delights and offers an experience of quintessential small town America. There are vintage Wisconsin supper clubs, a small town bowling alley, and on any given summer day a band playing in the town square bandshell.
This was our second stay at this beautiful property, and it was just as lovely as the first. The house, all of the great 'period' details inside of it and the property foster fun and relaxation. We'll return and would wholeheartedly recommend it to anyone.
Rosalie
2015-07-05T00:00:00Z
Michael is a great host. Being welcomed into the home, answering all questions, providing local information, providing complete privacy and touching base to ensure we were satisfied are just a few examples of his genuine concern for us. Staying at the Schwartz home was amazing! There are no words or photos that can completely capture the creative genius and beauty FLW built into this (now 77 year old) house. Enjoying how the sunlight cast shadows throughout the home was both relaxing and breathtaking. Interacting with the natural surroundings (river, cranes, deer, wind and dusting of snow) added to the total experience. I also will admit, the heated floors were one of my favorite things. Having the home fully decorated with priceless treasures was an unexpected bonus. Each meal we cooked was served on different dishes and each beverage (including water) was enjoyed from one of the fantastic vintage glasses. In each room, there were special items (clocks, vases, pillows, books, art pieces) that added to the home's charm. This experience exceeded our expectations and we hope to return for another stay.
Mary
2016-11-21T00:00:00Z
Michael and the house were both perfect! Had a lovely stay. Couldn't have asked for anything more
Shuang
2016-11-15T00:00:00Z
Obviously the house is truly amazing. Awe-inspiring. The rich smell of an oft-used fireplace hits you immediately upon arrival and you're immediately taken back in time. Amazing space, well-kept landscape, completely stocked with cookware and dishware for enjoying meals.
Kevin and Holly
2015-07-02T00:00:00Z
Such a beautiful space. We barely wanted to leave the house. Michael was a great host and I will likely be back.
Jason
2015-03-02T00:00:00Z
The house is even more beautiful than the photos and our hosts very helpful and responsive. Highly recommend!
Karen
2012-11-12T00:00:00Z
We thoroughly enjoyed our Frank Lloyd Wright weekend. The house is spacious, comfortable and well-appointed. If it had been warmer, we would have spent more time on the patio. As it was, we poured over the library of FLW design books and have a new found appreciation of his work. It was unforgettable to be able to live in one of his designs, even if it was only for two days! Thank you for the experience!
Amy
2015-04-26T00:00:00Z
We were so grateful for the opportunity to stay in this historic home. We found ourselves walking through this property admiring the angles, the play of light, the flow throughout. Truly an amazing experience!
Jean
2015-07-15T00:00:00Z
Romtype
Helt hjem/leilighet
---
Eiendomstype
Hus
---
Plass til
8
---
Soverom
Two Rivers, Wisconsin, USA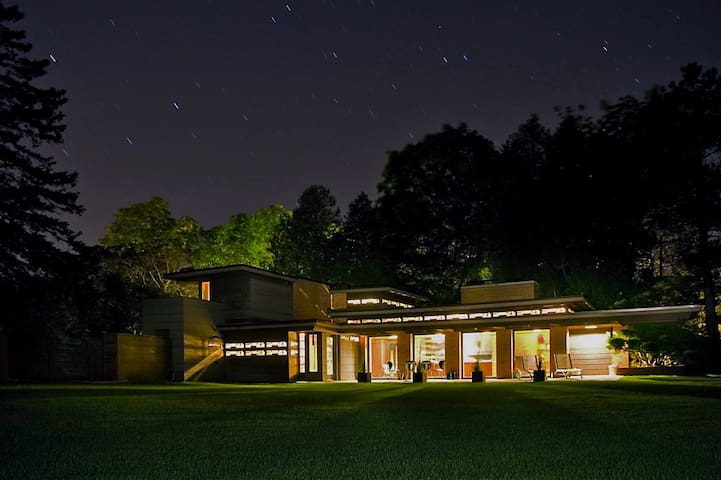 Floyd Gompf's cottage in Lakeside. A well equipped clean and comfortable cottage furnished with Floyd's famous furniture. Has a wood stove and really nice wrap around screen porch. There's plenty of parking. A short walk or ride to Lake Michigan Pier Ave. Beach. Warren Dunes is close by too. The house is bright and sunny and is surrounded by lots of mature trees and is located on a quaint and quiet dirt road. Two bedrooms,one has a queensize bed the other has a double. One bath with a Jaccuzzi bathtub. A clean simple well equipped kitchen, brand new stove and refrigerator. Farmers markets in Union Pier and Three Oaks on weekends. Greenbush Brewery in Sawyer. The cottage is close to many quaint small towns. Three Oaks, approximately six miles from the cabin offers antique shopping, galleries, a distillery, movie theater and several restaurants. Sawyer is home to Greenbush Brewery, and Soe, a restaurant which features home grown fare, a grocery store, a clothing store in a former fire station and Sawyer Garden Shop, featuring, fresh produce, a great wine selection and gourmet foods.
Floyd's Cottage is a great find! It's spacious, airy, and beautifully decorated. It's also only a short drive from Chicago, making it totally do-able for a weekend getaway. When we arrived, we were greeted warmly by Floyd himself, who made us feel welcome but also gave us plenty of privacy. Highlights included: a fire built and ready to light in the wood-burning stove and the wrap-around porch, where I enjoyed my morning coffee while soaking up the fall colors. The beach is only a short walk away and the nearby forest preserve is absolutely breath-taking this time of year. We loved our stay! I'm a first time Airbnb-er and couldn't be more pleased with my maiden voyage.
Meghan
2014-10-28T00:00:00Z
i have been thinking about how to not sound like a commercial reviewing this place. first of all linda and floyd do absolutely everything they can to make your stay comfortable- they are extremely gracious and available. they also happen to know what is important in life- green living, food, art, teaching, parenting. the amenities include: jacuzzi bathtub, dishes and linens, washer/dryer, vintage wood burning fireplace, stocked bbq grill, and nearly tuscan light. *if you are an artistic person, you will LOVE this place. there is little pond with frogs, deer and wild turkeys wander past your windows, close proximity to the beach and charming little food places. we will be back again and again.
tedda
2012-06-07T00:00:00Z
Loved this place and will be back! Stayed for a long weekend for a friends wedding at Lakeside. The ascetic, which is well represented in the pics, made our stay feel enchanting. Loved the working wood fire stove and despite the damp chill of a rainy October evening felt super comfortable with the great furnace. the whole atmosphere of the area and the many things to discover (like near by Sawyer MI, with breweries, and an organic apple orchard about 20 mins north east of the cabin with an idyllic drive..) were also fantastic. WIFI worked great, easy to plug in devices or use cds for music. Big bathroom, and one huge bedroom and one modest one, each with i think queen size beds.
Tina
2014-10-14T00:00:00Z
Our small family (husband, baby, Pomeranian, and myself) along w our two close friends stayed here for a weekend getaway from the city life. My husband was skeptical and wasn't sure he'll enjoy staying at a 'cabin in the woods'...he ended up loving it more than everyone else. The cabin was well kept and provided us w all the cooking essentials. There was even a charcoal grill, grilling tools, and charcoal for us to use. We definitely put it to good use! It was so peaceful and quiet. We listened to cicadas all night while playing board games in the screened porch, making s'mores by the bonfire, checking out the stars...we spent majority of our time in the screened porch. Best thing ever! I think it would be even better during the fall when you can see all the beautiful colors .... Took us less than 5 min to drive to the beach. It was such a beautiful beach. I was impressed that there was not a single piece of trash on sight! Floyd was very accommodating and helpful. Brought us firewood when he noticed that we were almost out. Linda dropped by and greeted us. The wifi was spotty at night...but it wasn't an issue for us. I highly recommend this place for anyone who wants to just get away from busy city life. Oh did I mention that this place is pet friendly?!?! Our Pomeranian loved it!
Minnie
2016-09-06T00:00:00Z
Linda and Floyd were wonderful hosts. We were looking for a place to spend Memorial Day weekend with friends and this was the perfect place to do so. The cottage exceeded our expectations and the location made it easy to access the best restaurants and shops in Harbor County. The porch and wood burning stove made the experience even more enjoyable. Floyd was kind enough to give us a tour of his studio and Linda made sure everything was perfect upon our arrival. We highly recommend visiting Lakeside, Michigan and staying at Floyd's Cottage. We hope to be back!
Joshua
2015-05-26T00:00:00Z
Beautiful setting and quiet neighborhood. Lots of space and seating to accommodate many conversations. Comfortable napping spots on the porch! The kitchen has everything you need to prepare a meal. Open, airy, artsy, comfortable! Loved it!
Cherie
2015-08-08T00:00:00Z
Floyd's Cottage was lovely! It felt very quiet and private yet was really close to quick access to great beaches, state parks, and nice restaurants. The place is much bigger than it looks in pictures and has some great fun spaces to get away from the group if you have some introverts in your party that need their alone time during the stay. It was so fun to watch the mama deer and her fawns wander through the property every day. Floyd and Linda were great hosts.
Becky
2016-08-15T00:00:00Z
Floyd's Cottage was perfect for our weekend getaway from the city. The cottage was so unique and charming. We loved exploring all the furniture and details throughout the cottage. It was exactly what we needed. We are excited about staying at the cottage in the summer so we can take advantage of the amazing screened in porch! Cottage was also very close to the Warren Dunes State Park where we did a lot of hiking. Overall this was a great place to stay!
Ashley
2015-01-12T00:00:00Z
Romtype
Helt hjem/leilighet
---
Eiendomstype
Hus
---
Plass til
4
---
Soverom
Lakeside, Michigan, USA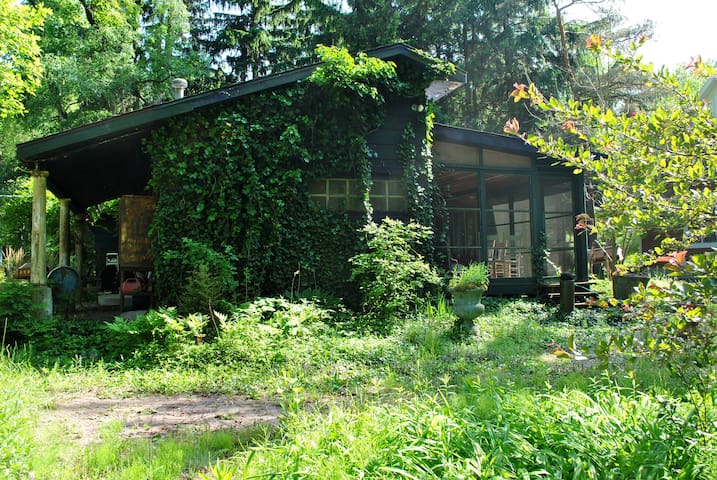 Contemporary urban Milwaukee living in fully furnished 900sf Open Studio in Walker's Point. Located on dynamic and busy National Avenue, the place is minutes away from Downtown & 3rd Ward and 2 blocks to I-94/I-43. Amenities include Wifi, Cable TV, Gas Range, Microwave, Fridge, Washer/Dryer, Front Porch, Back Yard, 2 Car Garage.
I bought this house as a long term investment in Milwaukee and to exercise my architectural ideas in full scale. Over the past 5 years I have completely rebuilt the house from the inside out, gutting what was a 3 bedroom single-family house and making it one open space. The south facing opening is the largest to allow in the most light. The long sides have small windows again to allow light in from above and provide security and privacy on busy dynamic National Avenue. The exterior front side is cedar, warm and inviting. The long sides are corrugated metal panel, to convey strength and security. Over the long term a second story might get built. It has taken on a life of its own. Currently on exhibit is my work and design spanning the last 20+ years: Architectural Models, drawings, and pottery. Stay tuned for future artists.
The house is located in Walker's Point. It is a diverse and growing neighborhood. Known for its multitude of authentic Mexican restaurants and Antique Stores, the neighborhood is now also becoming the Foodie part of Milwaukee. The trendy Iron Horse Hotel and Harley Davidson Museum are a short walk away. The third Ward and Downtown Milwaukee are just beyond. The Summerfest grounds, Marquette, Potawatomi Casino, Miller Park are all reachable within 15 minutes, by car or public transit..
Jacob was extremely communicative and thoughtful. We had a wonderful time in his beautiful space. I love the Walker's Point neighborhood and so did my friends who had not been to Milwaukee before. We especially enjoyed sitting on the porch drinking coffee in the morning. Thanks Jacob!
Caitlin
2015-12-06T00:00:00Z
This is a great place to stay in Milwaukee! I've traveled to the city many times over the last 10 years and have always stayed in a hotel. I thought this year that giving airbnb a try would be a good option and I was pleasantly surprised! Jacob has a great place in an up & coming neighborhood. The accommodations were cozy and clean. He really has created something special that is worth exploring. Just before our visit, he sent a detailed description of what we would expect upon arrival - clean sheets & towels; coffee, tea, and popcorn; wifi & cable television; and an open/airy gallery that he has made into a beautiful retreat. Although this is about 1 1/2 miles from the Third Ward and other "downtown" attractions, the walk was pleasant in the morning. After a long day, Bublr bikes (a bike share system that only costs $3) made the trip back quick & easy. Late at night, Uber rides were less than $5 and we had door to door service in under 10 minutes without the hassle of waiting for a taxi. Our last morning, we walked 2 blocks away for a fantastic breakfast at The National (839 W. National Avenue) - another gem in this eclectic neighborhood. Kudos to Jacob for opening his home to out-of-towners for a retreat like none other in Milwaukee. We will definitely be staying here again in the future!
Eric
2015-07-22T00:00:00Z
Jacob's simple, clean, and creatively redesigned little house is awesome! Bertha was very attentive and super nice! We loved our few days there.
Kelly
2015-07-11T00:00:00Z
Jacob was quick to respond to messages and helped my wife and I on short notice. We loved his place and it's proximity to the Milwaukee's Historic Third Ward. We would be happy to stay again.
Dan
2015-01-21T00:00:00Z
I had an excellent stay in Jacob's space. It was large, clean and had all the amenities of home (and a few others, besides!). Jacob provided excellent service, detailing all the things I would need to know to make it to his place and have a great stay in Milwaukee!
Matthew
2016-05-16T00:00:00Z
Jacob's place is awesome and confortable. The check in/out process was straightforward.
yiwen
2016-05-21T00:00:00Z
Great experience! Really lovely place, beautiful accommodations and great helpful service!
Krista
2015-04-19T00:00:00Z
What a perfect little house for a Bridal party to get ready in! We got married at the Domes (about 1-2 miles down the road), and there is nowhere to get dressed at the venue. Jacob's house was just perfect! The brick outer walls made for stunning, dramatic photos of my dress, and there was plenty of room for everyone to get dressed and pose for photos. The bathroom is extra large and easily accommodates a fluffy dress and 2 bridesmaids also! ;-) There was a great selection of stocked teas, and we really enjoyed our brief visit there. Thank you so much, Jacob!
Jenn
2016-09-04T00:00:00Z
Romtype
Helt hjem/leilighet
---
Eiendomstype
Hus
---
Plass til
4
---
Soverom
Milwaukee, Wisconsin, USA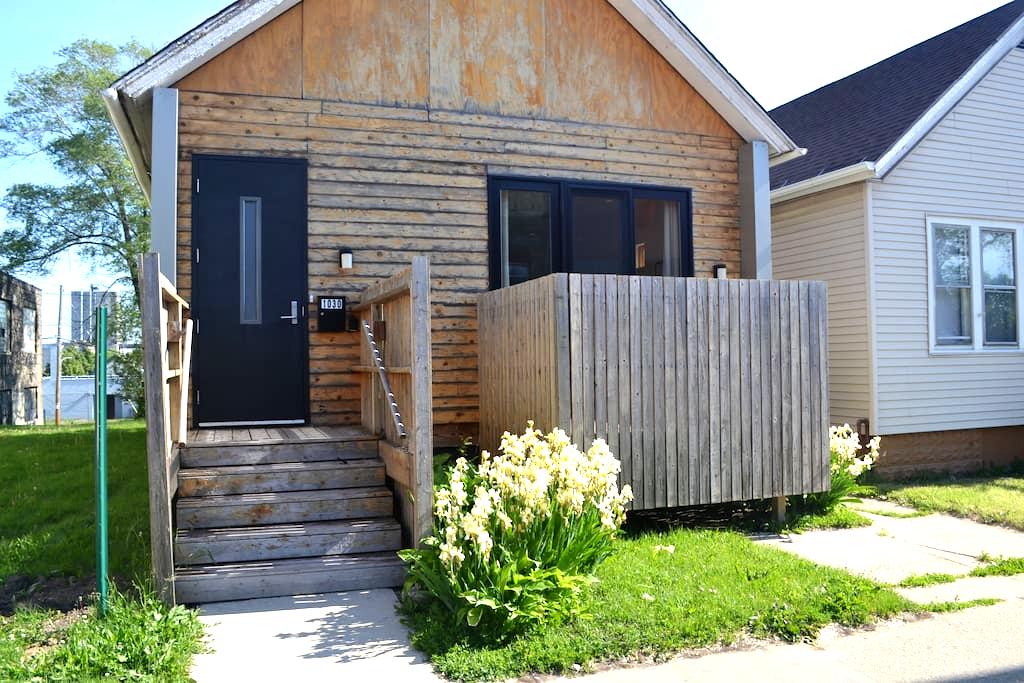 A 1900's farmhouse fully updated with modern amenities. Centrally located near quaint towns, beaches, wineries and hiking. Described as a great gathering spot in any season with a kitchen and outdoor space ready to entertain family and friends.
This is a modern house in an old frame, all of the modern amenities with the character of a 100 year old farmstead. Home includes a chefs kitchen, front load washer and dryer, a sauna with a rain shower, radiant floor heat, high speed internet with wifi and three bedrooms with queen beds and private bathrooms. Very peaceful, quiet and private. Fully equipped kitchen includes convection oven, gas cooktop with downdraft, subzero fridgerator/freezer, dishwasher, two stainless steel sinks and all items to create a meal for family and friends. Three bedrooms include queen beds and full baths, main floor bath includes a sauna shower, master bath includes a claw foot tub, third bath has a euro style shower. High thread count white cotton sheets are included in each room. White hotel towels are provided in each bathroom. Two heavy white hotel style bath robes are available in each second floor room. Lower level entertainment room includes comfy seating, a flat screen television, DVD player and an Apple TV. Outdoor living includes vegetable gardens, free range chickens, outdoor kitchen, farm table dining with seating for 12, outdoor fireplace, a hammock under the large chestnut tree behind the house and a view of the islands from the crest of the hill. Check out a recent review of the house at DesignTripper. Local attractions include beaches with incredibly clear water and three marinas with 5 miles. Restaurants nearby including the Happy Hour less than a mile away, quaint small towns including historic Fishtown in Leland. Enjoy days at local wineries, award winning cheese makers, farm markets, beaches, boating, fishing, and much more. The house is yours during your stay, enjoy and relax. Text and AirBnB messaging is preferred. Instagram, hashtag your photos to modernfarmhaus
A 7 minute drive from downtown Suttons Bay took us to an absolutely amazing destination for our week's vacation. The property was peaceful and extremely well maintained, overlooking cherry orchards and Lake Michigan in the background. The home itself was remarkable. The kitchen was well appointed and made for a fun, open gathering spot. The living room was very comfortable and relaxing. The bedrooms and baths were very clean and well decorated. The owner obviously went to great detail to ensure his guests were comfortable and happy, and we were that and more! Thanks for our wonderful accommodations, we will definitely be back!!
Frank
2016-06-28T00:00:00Z
This farmhouse is a dream! This was our second visit -- the first in the summer (when we could take advantage of the fantastic outdoor area and fire pit) and this time in the fall. In every direction, there are rolling hills, farms, fields -- all different, all beautiful, so many amazing fall colors. We love the big cooking kitchen, the chickens that roam the property (and lay fresh eggs!), and the cozy, modern interiors. Thanks, Sean! We'll be back!
Meghan
2012-10-15T00:00:00Z
We had a great vacation. The property is as described - secluded, 5-star modernized farm. When was the last time you stayed in a vacation house with Sonos installed? Sean responds quickly. Looking forward to our next vacation in the property.
Itzhak
2016-06-04T00:00:00Z
After staying in Sean's other property just a few weeks prior and not thinking I could stay somewhere I've loved more, the modern farmhaus made choosing really tough. I headed north with a group of friends to celebrate a best friends bachelor party in the great north. A lot can be said about this place. Incredible pretty much sums it up though. Perfectly curated and cozy furniture. An outdoor area with lighting and fire pit that makes you never want to leave. A charming property that gives you ridiculous views of the big lake once you climb the hill a bit. We ate every meal at the massive farm table outside, it was just begging for it. The house had every single creature comfort we needed and more, and couldn't have been more perfect for our trip. Sean was a perfect host. Always attentive and quick to answer questions. The house was left in amazing shape and with anything and everything we needed, and the booking process couldn't have been simpler. I'll definitely be looking forward to returning here again with my family.
Jesse
2015-05-17T00:00:00Z
Sean was very accommodating. He made suggestions about where to eat and responded to all inquiries quickly. The house far exceeded my expectations. The photos don't do it justice. There was literally a postcard view from every window. I found myself standing in the kitchen looking at a hill that backs to the house. I was just so peaceful and quiet. Nothing pretentious here but all amenities were first rate. This is that rare combination where every detail has been considered and yet it looks like it all just fell together. If you are looking for a place where you can kick back and feel the stress melting away, this is it. This is one of the best reasons that i have found for patronizing AirBNB.
Jeffrey
2016-05-08T00:00:00Z
Sean's beautiful Modern Farmhouse exceeded our expectations! We had the most amazing time and felt very comfortable and cared for.....every detail was just perfect. As amazing as the place looks in the pictures, elevate that 10 fold in real life.....perfect setting and views....charming and rustic yet, every amenity you could think of....sauna, soaking tub, woodburning stove the kicks some heat! A kitchen you just have to cook in with everything you need! Honestly, we were thrilled!! Already planning our next visit. As first time Airbnb folks, I am afraid Sean as ruined us for any other properties.....thank you!
Neil
2015-12-20T00:00:00Z
Our family enjoyed a wonderful week at the modern farmhouse. It was everything it was advertised to be and we could not have asked for anything more! Beautful, comfortable home in a very peaceful setting! Loved visiting the winery's, beaches and towns...all within a short drive.
Bonnie
2015-09-05T00:00:00Z
The farmhouse was simply beautiful, with the perfect combination of rustic charm and modern amenities and furnishings. The location is perfect for some wine tasting and exploring the area, with easy access to downtown Northport and Sutton's Bay for cute shops and dining. Sean has everything very organized and makes you feel right at home. Great place to stay in the winter or summer. Had a great time, would definitely stay again!
Gemma
2017-01-22T00:00:00Z
Romtype
Helt hjem/leilighet
---
Eiendomstype
Hus
---
Plass til
6
---
Soverom
Northport, Michigan, USA
Lovely 2-bedroom cottage with gorgeous views. Enormous windows, full kitchen and a huge fireplace make for an excellent retreat where you can recharge your batteries. Heaven for cyclists and kayakers. Pets welcome!
Welcome to our cottage, where our family spent many happy summer vacations. We loved Door County so much that we decided to live here full time. We now live next door: close enough for us to be available should you need anything, but far enough away so you can enjoy a private retreat. We're both private consultants that work with communities all around the country on matters concerning zoning, city planning, tourism and economic development. We're well-traveled--all seven continents--and love talking to people, but we'll also respect your right to be left alone. If you come during the summer there may be fresh tomatoes from the garden. You can relax by the lake and toast marshmallows by the fire pit. If you like to kayak or canoe, you can cast off from your private beach. The cottage is close to state parks if you enjoy hiking or biking. Door County features many quaint small towns with nice shopping districts, including numerous art galleries and antique stores. It's pretty easy to get tickets to the many professional theatre companies that mount performances every night. Many of our bars and restaurants offer free music. Lighthouses that are open to the public abound; we have more than any other county in the country. The details: It's a private 2 BR/ 1BA cottage on Door County's Green Bay side, south of Sturgeon Bay. There's a fireplace, fully equipped kitchen, WIFI, land line, and washer/dryer. You can rearrange the furniture to orient the seating areas towards either the fireplace (we have plenty of hardwood) or the water. Bedroom 1 features a queen-sized bed with a regular mattress and box spring. Bedroom 2 comes equipped with a queen-sized platform bed holding a regular mattress. Both bedrooms have sliding doors facing the water and leading to small decks. Air mattresses are available if you need them set up in the living room. All in all, it's: a terrific getaway. Come enjoy the summer season, fall foliage, fishing tournaments, hunting weekends, or snowmobiling . Pets welcome!
The cottage is located in a neighborhood that characterized by .50-1 acre wooded lots with seasonal residences. People love walking and biking around our loop road which has intermittent views of Riley's Bay and Sand Bay. There are a few small resorts and one campground in the vicinity, but it's primarily single family homes. The closest restaurant, Sunset Grill, is on the other side of Riley's Bay.
This charming lakeside cottage provided excellent accommodation for three adults. The furnishings were comfortable and attractive. Large windows facing the lake provided a lovely view and dinner in the garden watching the sunset was memorable. The cottage was well equipped and the host provided breakfast things such as juice and muffins, bacon and eggs. We were at ease and comfortable and felt the cottage was a welcome escape from the Labor Day madness which was taking place throughout Door County: we were untouched. On any return visit to Door County we would hope to find this cottage available.
Judith
2015-09-07T00:00:00Z
My wife and I were looking for a simple getaway for our anniversary. This beautiful cottage did not disappoint. We will definitely be looking at booking here again in the future.
Nathaniel
2015-04-03T00:00:00Z
Host was very accommodating and even allowed us to shift our stay earlier by one day with very little notice in order to take advantage of some good weather. The house was perfect for our 2 small children, wife and dog. The neighborhood is secluded and residential so there were no distractions, noise or disturbances to deal with. Water access is a rocky beach but there are sand options within close driving proximity. Host provided some breakfast essentials as well so we wouldn't have to deal with a grocery trip upon arrival. No cell service but land line and WiFi are available.
Bryan
2015-08-20T00:00:00Z
Beautiful, peaceful place. Very clean and well stocked. If you're interested in a quiet get-away, this is a sweet little spot! We'd sure like to go back again soon - 3 days passed too quickly!
Valerie
2012-08-22T00:00:00Z
Great cabin on the lake. The photos do not do it justice!!! Stayed in the winter- which had great views of the lake and sunrise. I plan to return in the spring/summer to enjoy the water access! The breakfast items provided for us was a wonderful perk!!!
Jennifer
2015-01-10T00:00:00Z
Lovely house with great view of the lake and waterfowl. Quiet and serene. Great fireplace and outdoor fire pit, with plenty of wood available. Kitchen was equipped for cooking, with a fridge well stocked for breakfast. Elaine and Wayne were friendly and very helpful.
Bruce
2015-04-30T00:00:00Z
The cottage was furnished with everything and more to make a pleasant visit. The description of the cottage is very accurate. Surroundings are very private........ Very relaxing.
Daniel
2016-07-01T00:00:00Z
We loved this beautiful setting, wonderful and hospitable hosts, and a super-clean, freshly-stocked cabin! Could not ask for a better experience! Thanks, Elaine and Lane. :)
Gail & Geof
2012-06-25T00:00:00Z
Romtype
Helt hjem/leilighet
---
Eiendomstype
Hus
---
Plass til
4
---
Soverom
Sturgeon Bay, Wisconsin, USA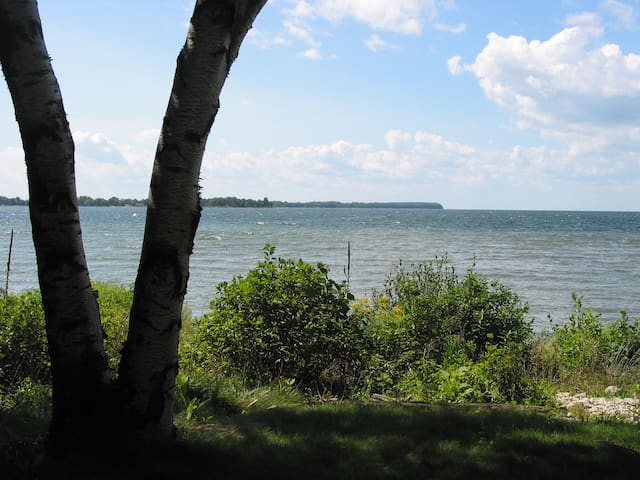 Booking now for Summer Weeks, they go fast! Sunday to Sunday. Come enjoy Northern MI with friends and family at "The Cabin." Log cabin on Grand Traverse Bay in beautiful Suttons Bay, Michigan. Private beach. Super kid and dog friendly. Grill, swim, relax, read, cook, walk, hike, bike, wine taste and more...
Beautiful, fully-equipped beachfront log cabin on West Grand Traverse Bay. Lee Point is the place to be! Sleeps at least 8 (max 12) across 3 floors with 3 full bathrooms, washer/dryer, full kitchen, decorative fireplace, etc. The Beach: 150' of private West Bay beachfront for your use. Water is shallow (great for little swimmers/dogs) for a ways out. Beach toys, a few chairs and towels provided. We suggest aqua socks for little children given our own experience! There is a fire pit on the small bluff overlooking the water, guests provide their own wood. The house: This is a traditional log cabin that is fully outfitted and furnished for comfort and a Northern Michigan vacation-style. 3 floors of space to sprawl, relax and enjoy. There's a very private deck off the back of the home. Linens and towels provided. Lower level bathroom completely remodeled and updated in December 2016. The indoor fireplace is only decorative. (please note!) The upstairs jacuzzi is permanently retired and not in use. Neither of these features are advertised as perks at the cabin, so please don't be disappointed that they are not available! Both are for the safety of our guests! December 2016 the lower level bath was completed gutted and remodeled with standup tile shower and all new everything! *We are unable to accommodate weddings or special events due to insurance liability and facility requirements.
Location: located half mile off M-22, Lee Point is a quiet street made up of beaches, houses and local neighbors & vacationers. It's friendly, private and beautiful. It's a short trip into the charming village of Suttons Bay, and very close to the hustle and bustle of Traverse City and all it has to offer. We're a stone's throw from Black Star Farms as well! The house is located directly across from the private beach. Lee Point Road is generally very calm, but does pick up in the summer due to tourists and cherry season, so it is advised that children have an adult to cross over to the beach.
We loved our stay in the log cabin! The home was cozy and decorated great. We had plenty of room for everyone and had an excellent time! The best part was the view!
Carolyn
2014-11-30T00:00:00Z
My new husband and I went to the cabin for our honeymoon! It is a beautiful home without anything lacking. It has beautiful decorations and kitchen is fully stocked. It is comfortable and peaceful--just what we needed! Colleen, Sharon and Steve were great to work with. We are grateful for our time in Traverse City!
Gaia
2015-02-23T00:00:00Z
The house was great! It was very clean and the booklets had a ton of info on the area. We did a wine tour of the area and there was plenty within a short drive. Can't wait to visit again! The views are beautiful and so is the home.
Katie
2015-10-11T00:00:00Z
Colleen was awesome! She answered all of our questions right away. The house was even better than the photos. Everything was clean and where she said it would be. You can tell that a lot of love went into her place.
Ashley
2016-04-10T00:00:00Z
The cabin was perfect for our trip up to Suttons Bay. We had 8 people and the house had plenty of room for us. Colleen was wonderful to work with and left tons of information about the cabin for our stay. I would highly recommend staying here and I look forward to renting it again in the future!
Jacqueline
2016-05-23T00:00:00Z
We loved the cabin, it is clean, comfortable and with beautiful views. Colleen is a great host as she was responsive to all our needs and made an effort for my baby girl to be comfort and have toys and books, which we appreciated. The region is really special, we loved the wineries and Traverse city-nice vibe! It really felt like a home from home, will definitely like to stay at Colleen's cabin again.
Claire
2016-02-21T00:00:00Z
Awesome cabin! It had everything we needed and more! Super spacious and very accommodating. Highly recommended :)
Carly
2016-06-13T00:00:00Z
Beautiful property. It has everything you'd want. Next time, we'll choose to stay two weeks! Highly recommended. Colleen was helpful and great with communication!
Sachi
2015-10-09T00:00:00Z
Romtype
Helt hjem/leilighet
---
Eiendomstype
Hus
---
Plass til
8
---
Soverom
Suttons Bay, Michigan, USA
Scandinavian modern home within a wooded setting, convenient to the towns of Leland, Suttons Bay, Northport, and Lake Leelanau. Walk to lake access, hike the cherry orchards, explore local wineries, distilleries and farm markets.
The house comfortably sleeps 6 people, there are two queen beds and two twin beds. The living room couch also pulls out for additional sleeping as needed. There are two full baths and a powder room. The master bath has the soaking tub while the second floor bath has a large shower. The simple euro style kitchen is well equipped for cooking and serving, complete with convection oven, gas cooktop, drawer dishwasher, and refridgerator/freezer. The windows and location gives the feeling of being in a very comfortable treehouse.
The Wayfarer is located between the neighboring home, a wooded area and cherry orchards. Within a short walk there is a very nice public access to Lake Leelanau, a great spot for daily swimming and sunsets. The public access even has a boat dock for meeting up with boating friends.
Everything was great! Beautiful space. And lots to do near by.
Devon
2015-09-29T00:00:00Z
Sean was very accommodating and the house was great! We really enjoyed our time in the UP and would absolutely stay there again. The house is about 30 minutes from downtown Traverse City so important to keep that in mind. That being said, we were right across from Lake Leelanau, which was beautiful.
Amanda
2016-05-09T00:00:00Z
Great stay for the whole family at the Wayfarer Treehouse! House was perfectly equipped and in a peaceful location. We had everything we needed for a great stay!
Heidi
2015-08-07T00:00:00Z
Everything at the treehouse was more than we could have hoped for! The house is immaculate and in the perfect location. We would have been content never leaving the home. We will definitely be returning soon.
Murphy
2015-11-01T00:00:00Z
Beautiful house in the woods right across from the lake. Such a peaceful and quiet getaway surrounded by nature. House is cool and modern, very clean. The big windows and glass doors looking out to the woods are amazing during the day, a little creepy at night since there's no shades (I watch too many scary movies). Also was happy to find that it's right in the middle of a ton of wineries! Overall had a great stay :)
Michelle
2017-01-02T00:00:00Z
Wayfarer Treehouse was a dream! We needed a little r&r away from the city and this place provided just that in a beautifully designed space. This place had everything you needed and more - we cooked, dined and relaxed - didn't want to leave. Bed was super comfy and linens were excellent. I was a little unsure of temp control being deep winter, but the Treehouse was warm and cozy! Sean really thought of everything in this smart, well designed home. Heavenly year round!
Lindsay
2017-02-15T00:00:00Z
We had an excellent experience at the Wayfarer Treehouse! The house was beautifully efficient and made for the perfect back drop for our girls weekend. A great location in terms of accessibility to activities, giving our guests the real Leelanau experience. Sean was easy to contact and the house was not only easy to access, but had everything we needed. Sean was available if we had an issue and updated us on check in and check out times. Very pleasant host!
Whitney
2015-06-28T00:00:00Z
The overall experience was wonderful. The minute we arrived we all decided not to leave the cabin the whole time we were there. It's such a beautiful place, we wanted all of our time spent there. We brought plenty of food for brunch and dinner and utilized the kitchen each day we were there. I have nothing negative to say, it was all perfect. I would recommend it to anyone, and I definitely plan on going back myself.
Katie
2015-03-07T00:00:00Z
Romtype
Helt hjem/leilighet
---
Eiendomstype
Hus
---
Plass til
6
---
Soverom
Lake Leelanau, Michigan, USA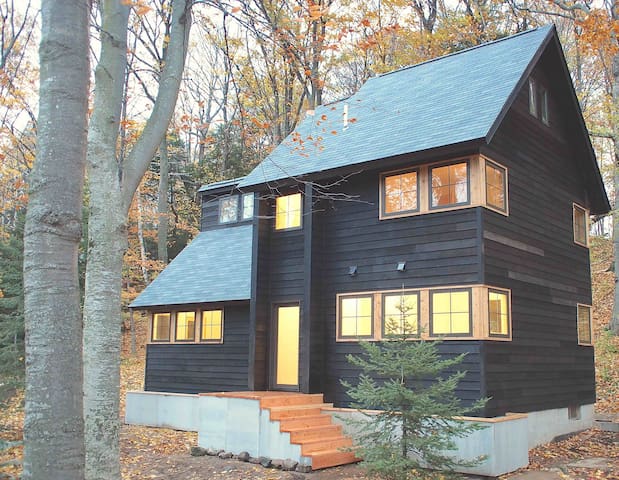 Sweet cottage on private Indian Lake 10 mi. from downtown Traverse City. (It is a cottage, not the Grand Traverse Resort.) The cottage is set off the road with a house on one side with a tall privacy fence, and nature on the other side of the cottage. The lake is great for viewing waterfowl, fishing, canoeing, and sitting out at the campfire and looking at the natural beauty of the setting. (It is not a swimming lake.)
Happy Bright Cottage located 10 miles from downtown Traverse City, in East Bay Township, Grand Traverse County, MI Wooded area with many small inland lakes has an "Up North" feel. Restful cottage surrounded by scented pines and overlooking private and quiet Indian Lake. Paddle the canoe, watch the birds on the lake, the deer walking by, and the fish jumping out of the water. The fully equipped vintage style eat-in kitchen has an electric stove and oven. Coffee press and Coffee maker. Microwave. The cheerful living room overlooks the lake with french doors leading out front. There are neighbors on one side and nature on the other side. There is a full size futon in the living room for an extra sleeping option. The bedroom has a queen size bed with a pillow top mattress. The bathroom has a ceramic shower and a single sink. Bedding and Towels provided. There is a No Pets and a No visiting Pets policy please.
This is a very "up north" area with forests, rivers, and lakes. Trails for hiking and biking are nearby.
Had a great time at the cottage. Would definitely stay again.
Erica
2016-06-22T00:00:00Z
The cottage at Indian Lake was everything that we had hoped for. It was a very nice, quiet and serene location for my wife and I to spend our honeymoon. Joyce was a gracious host, with excellent communication. With Traverse City only 15 minutes away, the cottage made for a peaceful respite after day trips into town. We would HIGHLY recommend this place for a weekend getaway, or an extended stay. Thanks again Joyce!
Spencer
2014-08-10T00:00:00Z
The cottage was just as it was described and shown on airbnb. It was very clean and just adorable. It does sit behind another house but, once inside the cottage it's as if there is no one else around... just nature... There is everything you need at the cottage for a wonderful time. Joyce stays in good communication, so if you need anything she is there. We really enjoyed our stay and would recommend the Indian Lake Cottage to everyone! There is sooo much to see in this area. Even though you feel as if you're in the middle of nowhere, Traverse City is just a few minutes away. Sleeping Bear Dunes is just a short drive away too. This is such a beautiful area of Michigan. Lake Michigan is just gorgeous and so clean. Make sure you go out on Old Mission Peninsula. The houses are absolutely gorgeous, the drive is great and the wineries are fun and wonderful. Don't miss the view at Two Lads winery. It is amazing!
Debi
2014-09-20T00:00:00Z
Cute house and lovely view of the lake. Would definitely recommend this place.
amy
2014-09-08T00:00:00Z
The reservation was canceled 163 days before arrival. This is an automated posting.
Hans-Joerg
2015-01-30T00:00:00Z
This is a really nice and clean little cottage that was perfect for a relaxing vacation. There's a lake right outside the back door with a canoe ready for action. It's quiet and secluded but only about 15 minutes from downtown Traverse City. Joyce is ready to answer any questions and is just a call/text away while you're at the cottage. We would totally stay here again if we're ever in the area.
Charlie
2012-08-23T00:00:00Z
We had a great stay at the cottage! It's close enough to TC that you can enjoy everything it has to offer, but far enough away that you feel like you're away from it all when you're at the cottage. The cottage is right on Indian Lake, and we had a great time sitting outside eating breakfast while watching all of the wildlife. The kitchen is stocked with coffee and other essentials and there's a grill for cooking out. We would definitely recommend it!
Mark
2014-07-18T00:00:00Z
Our experience at the Indian Lake Cottage was wonderful! Joyce provided sufficient information prior to the trip and provided contact information if problems were to arise. The descriptions of the cottage were completely accurate and all the essentials were provided. The cottage is very quaint and is a perfect central location to many different areas. While we didn't spend much time at the cottage, other than to sleep, there were many activities available to enjoy ( such as canoeing and having a bonfire). The cottage felt very clean and is clearly maintained well. Would definitely recommend!
Abby
2016-09-25T00:00:00Z
Romtype
Helt hjem/leilighet
---
Eiendomstype
Hus
---
Plass til
4
---
Soverom
Traverse City, Michigan, USA
The Grand Mere Coach House is in an eclectic neighborhood surrounded by Lake Michigan, small lakes, and sand dunes. Grand Mere Park is a year around beautiful place for walking, cross country skiing, and sledding. The family room and kitchen face Lake Michigan with lots of windows. The house has a queen bedroom, queen pullout in family room, and laundry. A bird feeder adds to the charm. There is also a HOT TUB located on the back patio directly on Lake Michigan, behind the main house.
The coach house is on the Lake with a view of Lake Michigan and normally a beach. It has a full kitchen a living room with a queen pullout and a queen bedroom and bath. Grand Mere State Park is very close containing 600 acres of dunes, trails and several thousand feet of beach. Note: Lake Michigan is currently at very high levels and we have to access the beach from the public beach 100' to the south. The beach is still walkable all of the way to the south into the state park.
Grand Mere is an eclectic neighborhood in between Lake Michigan and 2 inland lakes. Grand Mere State Park containing 600 acres of lakes and dunes is next (website hidden). Joseph, New Buffalo, and wine country are within 15 minutes.
Nice view of the lake, very clean, John was excellent host.
Sharon
2016-10-07T00:00:00Z
John was out of town, but we were greeted by his assistant, Sandy, shortly after we arrived. She showed us around and explained how everything worked. We really enjoyed our two-night stay at the Coach House and took advantage of all its features, including the hot tub and Netflix on the TV. We would recommend the place to couples wanting a romantic getaway in a lovely setting. We visited Greenbush Brewery, Dablon Winery, Round Barn Public House Brewery, Grand Mere State Park, and Warren Dunes State Park, all of which were within a short drive.
Alan
2016-01-16T00:00:00Z
The coach house was a quiet, simple and clean place. The surrounding is beautiful; tranquil nature, easy access to the beach, and fire pit in the backyard make this location tempting and cozy. Great place to relax and a friendly, helpful, host.
Dragana
2015-10-18T00:00:00Z
John was so welcoming and accommodating. We loved staying in the coach house for a quick getaway from the city. The view of the lake was gorgeous, and the coach house was so nice and very comfortable. The location is phenomenonal. We enjoyed hiking in nearby grand mere park, as well as easy access to nearby wineries. I'd say this was an awesome first airbnb experience!
Kerilyn
2015-10-10T00:00:00Z
Great location. John is a great host. Everything as posted. You should definitely choose to stay with John.
Brett
2015-11-01T00:00:00Z
John was great! He came right out to greet us. Had extra towels for us as well as 'every imaginable convenience' as my wife kept saying over and again. The kitchen was 'lovely' amazingly stocked with very nice appliances and cooking utensils. Very nice bed. Nice and roomy cottage with skylights that made it seem enjoyably bright. The view and access to the beach was great. And the dunes right there. We very much appreciated that John was quite aware of how our kids were enjoying themselves and them to experience the dunes and other attractions in the area. Just a great host and great accommodations! We will like to return to the cottage in the future for the location and because John made it so enjoyable.
Will
2015-10-07T00:00:00Z
Lovely stay on Lake Michigan! I was passing through with my kids and we only stayed a day at John's coach house, but we wish we could have stayed longer. The private beach was a few feet away, the accommodations were pristine & there were movies there for us to use. It was located in a very quiet area & John offered many area recommendations including the Swiss Bakery which was AMAZING! I would recommend this place and hope we can come back & stay longer next time!
Melissa
2015-08-12T00:00:00Z
This was my first Airbnb experience and I couldn't be happier. My wife and I stayed at John's wonderful place this past weekend for her birthday. I didn't have the pleasure of meeting John but he was always available by text and left very easy-to-follow and helpful instructions. The house itself is great. And the location is hard to beat. Any closer to the water and we'd be wet! There's a cool beach town a few minutes north called St. Josephs but try to be home for sunset which is more beautiful if you're sitting in the jacuzzi. We visited a lot of places on Johns guidebook including the Round Barn Winery. It's a great time if you enjoy drinking a glass of wine while sitting in the grass listening to live music. We also had dinner at Timothy's. The atmosphere wasn't amazing but the food was! We did as much as we could in the 24 hours we were there. Still, on the way back to Chicago my wife says to me, "I wish we would have spent more time at the house." lol. Thanks for hosting us John. And thanks for accepting a first time reservation. Because of this experience, I can't wait to use Airbnb again.
Derrick
2016-05-23T00:00:00Z
Romtype
Helt hjem/leilighet
---
Eiendomstype
Hus
---
Plass til
6
---
Soverom
Stevensville, Michigan, USA
A newly remodeled garden level space with modern amenities & lots of natural light. Centrally located only 1 mile to Downtown TC, Grand Traverse Commons, beaches, hiking spots & more. Bikes included! A great crashing spot for lovers, friends, business travelers & well-behaved pets. Your private space includes a kitchenette, full bathroom, brand new Casper King bed, futon, laundry, indoor gym, parking & a fenced-in wooded backyard. Seriously, the bed is amazing!
Welcome to the SoFo Place. My home and your home away from home: midcentury minimalism with all the cozy, essentials you need. The bedroom includes a brand new Casper King bed... Did I mention how much I love it!? The kitchenette includes an apartment sized fridge, microwave, toaster, and coffee pot. There is also a full set of dinner/glassware and basic kitchen essentials. The bathroom is fully updated and has a deep tub - great for soaking! All linens you could need are prepped for you, too: bedding, bath towels, beach towels, kitchen towels, pillows, and blankets. The living space includes a comfy/firm futon, stacks of books and games, and extra seating. The tv includes Amazon Fire TV Stick with access to Netflix, Amazon Prime Shows and more. It does not have cable or local tv. The gym has a new treadmill, free weights, bench and space for yoga. The garage is stocked with bikes & locks, helmets, sporting equipment, coolers, beach chairs, basic tools and anything else you could need to enjoy your time in Northern Michigan.
Our neighborhood is called, "SoFo" because it is the area in town Traverse City south of 14th Street. It is a quiet, residential area with a grocery store, ice cream shop, whiskey distillery tasting room, a brewery, bagel shop, party store and some simple take out places: sushi, pizza, Chinese and sandwiches. We're only 4 blocks to Old Town and 1 mile to Downtown Traverse City.
Great location. Clean and cozy. Loved how organized everything was from board games to kitchen supplies. Also loved the wall art! Highly recommend!!
Jean
2016-12-30T00:00:00Z
We absolutely loved our stay at Marta's. The apartment was very cute and homey with games, a tea tray and a tv hooked up to Apple TV. The bed was extremely comfortable and we felt right at home. She is also very convientley placed! We loved our time and would definitely go again!
Mallory
2017-01-04T00:00:00Z
Un très chouette séjour! appartement tout confort et très propre !! Sans avoir vu Marta, elle a su répondre rapidement à toutes nos interrogations... allez-y sans hésiter!
Marie-julie
2017-03-28T00:00:00Z
A wonderful location in a wonderful city. Great house, great host, and exactly what we were looking for.
Madison
2016-12-19T00:00:00Z
Was a very nice stay on short notice...Warm and Cozy
Ray
2017-01-17T00:00:00Z
Marta did a nice job communicating with me ahead of the check-in. The place was very well kept and very clean. On our visit we had some noisy neighbors with noisy kids upstairs, but that was relatively minor. We appreciated the recommendations for breakfast (Harvest was awesome!). The location was great for getting around the TC area.
Brenna
2017-03-31T00:00:00Z
We really enjoyed staying at Marta's place. It was affordable, unique, pet friendly, and super convenient. We will for sure stay there again next time we're in TC!
Amanda
2016-12-17T00:00:00Z
Marta recommended many coffee shops, wineries, and dining to go in Traverse City, which was helpful since we are from out of town. The unit was clean, cute, and cozy. It was not difficult to get from downtown. It is a 5 minute cab ride which costed us $6 (at Cherry Capital Cab, which Marta recommended to us). We plan on staying here in the future!
Laura
2017-01-05T00:00:00Z
Romtype
Helt hjem/leilighet
---
Eiendomstype
Hus
---
Plass til
4
---
Soverom
Traverse City, Michigan, USA
This private studio suite acquires the best area of our 100+ year old house. A modified parlor and sunroom with traditional glass windows overlook historic Heritage Hill. Minutes from downtown, you'll be able to experience the best of Grand Rapids!
Our private studio suite is located within what we jokingly call the "East Wing" of our 100+ year old home. It has its own front door and is locked off from the rest of the house, so you'll be able to rest at ease knowing that you won't be sharing with others. Traditional glass windows wrap around the sunroom, creating a perfect place to drink coffee in the morning and sit on the couch while the sun sets. The suite offers a full kitchen and bathroom with a queen size bed.
Our neighborhood is part of the historical Heritage Hill district of Grand Rapids. Home owners in this area go to great lengths to keep up to code to preserve the aesthetics of this old neighborhood. A half block away is the Meyer May House designed by Frank Llyod Wright and is considered Michigan's Prairie masterpiece.
This is truly a rad studio in an absolutely stunning neighborhood of Grand Rapids! Check-in/check-out was simple, Cody was very responsive and the studio had everything that we needed! We definitely plan on staying here again in the future!
Brittany
2016-07-02T00:00:00Z
Cody was an excellent host and has an amazing space. The sun room area was comfortable and relaxing. The neighborhood is so beautiful that is was great to spend time here. He really put thought into the little extras that would make our stay comfortable. This place was a great way for us to experience Grand Rapids. We highly recommend it!
Bianca
2016-09-12T00:00:00Z
Cody's place was a great little casita that was perfect for our weekend stay in Grand Rapids
Patrick
2017-02-25T00:00:00Z
A great spot close to everything in GR.
Brad
2017-01-07T00:00:00Z
As others have mentioned, Cody's place is nothing short of outstanding. It was my first airbnb experience, and I'm not sure if any future stay will be able to top this one. Tranquil, private, and hassle-free. I know exactly where to stay next time I'm in Grand Rapids.
Maxwell
2016-10-20T00:00:00Z
We had a great weekend in Grand Rapids with Cody's place as our home base. It was an unseasonably warm winter weekend and we took full advantage; we walked to Brewery Vivant for dinner and beers, and to Marie Catrib's for brunch. The houses along the way are beautiful! We loved being walking distance to some of our favorite spots in GR. The sun porch was a lovely place to sit with coffee in the morning as we planned our days. The apartment is at the front of the house on a pretty busy street, so it was a little noisy with traffic sometimes. It wasn't too bad, just noisier at night than I'm used to. Cody was great with getting back to me quickly with the couple questions I had. We'd definitely stay here again!
Laura
2016-02-22T00:00:00Z
My trip was short but it was a nice stay at Cody's studio. Cody was so easy to work with and answered all my questions very quickly. The place was very clean and just as described. The bed was soooo comfortable! Thanks for the great stay!
Karen
2015-11-06T00:00:00Z
Very comfortable spot though we didn't use it off street parking was available. Very quiet in the residence and neighborhood. Walking distance to restaurants and cultural spots.
Rob
2016-01-11T00:00:00Z
Romtype
Helt hjem/leilighet
---
Eiendomstype
Hus
---
Plass til
2
---
Soverom
Grand Rapids, Michigan, USA
Dette 4 soverom, 4 bad hytte ligger rett ved Lake Macatawa. Trinn av 80 'dock og du kan ta båten rett gjennom kanalen og inn i Lake Michigan. Det er plass til hele familien pluss gjester i denne romslige hjem.
Velkommen til vår Macatawa Lake Side nederlandsk ren hytte. Det ligger i Holland State Park ferieby, hvor du kan nyte aktiviteter som fotturer, løping, sykling, soling, lage sandslott, bading, båtliv eller leie jet ski. Kjør til inngangen til parken, som er mindre enn en mil unna, og du kan båt watch langs Holland State Park kanal og gå den vakre hvite sandstranden for miles!
Hytta ligger mindre enn en mil fra Holland State Park. Det er fantastiske sykkel / gangstier hele veien til stranden. Sentrum Holland er også en opplevelse som du må besøke når du er her. Gå til (URL HIDDEN)
Harriet's house was fantastic! The pictures are exactly what the house looks like and the place is clean and beautiful! Location can't be beat!
Lauren
2016-04-24T00:00:00Z
We loved being able to gather here with friends from all over. We had plenty of sleeping space and even used the back enclosed porch during our stay in January.
Shelby
2017-01-29T00:00:00Z
Harriet was incredibly accommodating, making our last minute trip a reality! Her lakeside cottage was steps from the water and had every available amenity you could need during your stay. We were only there for a night but have already talked about returning in warmer weather with a group!
Sara
2016-03-07T00:00:00Z
What an amazing cottage! It is huge, lakefront, extremely well equipped and clean. The morning coffee at sunrise and the white wine at sunset on the dock...we couldn't ask for more. A few minutes drive from Lake Michigan, Holland downtown (try JP's Coffee & Expresso Bar) and a massive grocery store (D&W Fresh Markets). The communication with Harriet as well as the check-in/out were very efficient. It was by far the best we could have to start our road trip to California. Thank you again, Harriet. We will keep this one in mind for sure!
Frederic
2016-10-19T00:00:00Z
A great location and a wonderful house. I will definitely go back.
Amruta
2016-06-03T00:00:00Z
We felt welcomed and the house and location were everything described and more. Thank you!
Jason
2016-10-21T00:00:00Z
Everything was ready for us as stater in description on line.
Jim
2016-10-01T00:00:00Z
Harriet was very quick to response to any questions we had. The location was fantastic - very close to Holland State Park. We had a great time on our sisters'/sister-in-laws' overnight. We spent most of our time on the back deck overlooking beautiful Lake Macatawa. It was a perfect place and the only thing lacking was no air conditioning on the second floor.
Delores
2016-09-08T00:00:00Z
Romtype
Helt hjem/leilighet
---
Eiendomstype
Hus
---
Plass til
13
---
Soverom
Holland, Michigan, USA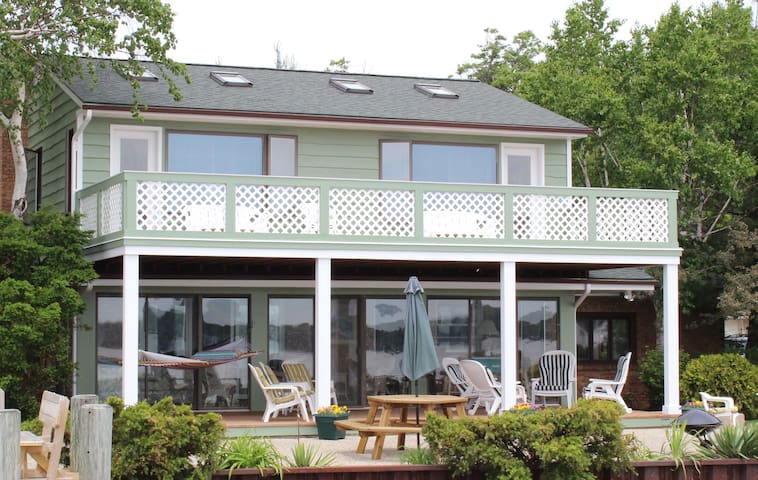 You will love your stay in our adorable, cozy Beachhouse! This two bedroom, one bath house with wrap around porch is a 20 minute walk to the beautiful New Buffalo Beach, local bars, shops & restaurants! This house is small pet & kid friendly.
This adorable house offers two bedrooms and one bath. Bedroom one has an amazingly comfortable queen bed, Bedroom two has bunk beds (full bottom and twin top) and living room has comfy futon and couch. We allow our guests to use our bikes, beach toys, wagon. Our house is your house!
This is a vacation town. Everyone is walking and taking it slow! Very relaxing. Walk to all downtown shops, beach, bars & grocery store!
We (2 adults and 2 kids) stayed at the house for a winter break from Chicago, and it was perfect. The house was very comfy, roomy, and well equipped - also cozy on a very snowy day. The town and area is great, even in winter - we had several good meals in town, and some good winter walks. We also enjoyed cooking meals at home, and playing in the garden. Monica was very friendly and responsive to the couple of questions we had. We all hope to return. A real home from home.
Nick
2015-12-31T00:00:00Z
We spent the weekend in New Buffalo with our two kids (3 & 9). Monica's house was exactly what we wanted. There were games and toys for the kids, swings in the backyard, and the bunkbeds were perfect. We spent one day exploring New Buffalo and the next day at the Warren Dunes which are a quick 15 minute drive. We would definitely recommend Monica's cottage for a weekend away.
Jessica
2016-04-25T00:00:00Z
Monica was great and very responsive. The house was adorable and the kitchen well equipped for our small Thanksgiving getaway. We walked to shopping and the beach. Beds were comfortable. It was chilly outside, but heat was never an issue. Very comfortable! Would recommend and would stay again!
Mara Monserrat
2015-11-28T00:00:00Z
The house was very comfortable and had everything and more to have a good time with the family. The downtown area was very nice and close by. 5 minute walk to the stores. 10 minute walk to the sand. The beds were comfy and plenty of them to accommodate a family of 5 very easily. Neighbors were very nice and kids enjoyed the swings in the back. Wife was very impressed with the décor and amenities there in the house and kitchen for cooking. Good time had by all will definitely be back!
BRad
2015-09-08T00:00:00Z
Monica's house was wonderful!!! My friends and I had such a great time! Walking distance from yummy restaurants that Monica recommended!
kathryn
2016-09-12T00:00:00Z
This house, and its host Monica, were fantastic. This is such a warm and inviting place where you feel right at home. Monica was extremely helpful and supportive right from booking, through check-in, during midstay requests and including checkout. Any concerns that were raised were resolved immediately by Monica, and I never felt like I was on my own. With regards to the neighbourhood, all amenities are close-by and even within walking distance, the neighbourhood is very quiet and the backyard is a nice place to relax away the afternoon, laying in the hammock or hanging out by the fire. This house was a dream and I would recommend staying here to anyone looking to spend some time in the New Buffalo area.
Nathan
2014-10-21T00:00:00Z
We absolutely loved Monica's beach house and New Buffalo (first time staying in both). Monica was very responsive with questions and provided us with great suggestions for restaurants and things to do. The house, porch, backyard, etc. were all great. It was the perfect place to spend a relaxing weekend outside of the city (Chicago). Would highly recommend and will definitely be back!
Travis
2015-05-26T00:00:00Z
Monica's beach house in New Buffalo was perfect! I went with my family and we loved it. The location can't be beat and the home itself is perfect for families with children. There are toys, towels, and a big backyard. We also took advantage of the fire pit out back on our last night.
Michelle
2015-07-12T00:00:00Z
Romtype
Helt hjem/leilighet
---
Eiendomstype
Hus
---
Plass til
6
---
Soverom
New Buffalo, Michigan, USA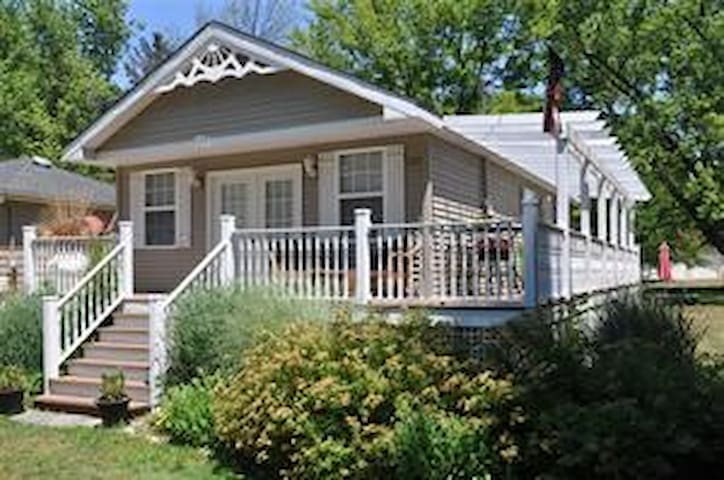 Across the street from CTA train. Runs every 6-10 minutes most of the day, 8-14 minutes late night, best way to get around. Now another reason to stay here: Lagunitas Brewery and Taproom, opened June 2014. If you like beer, it's heaven. Seriously.
We are very sorry about our current president . He has embarrassed our great nation and we hope visitors from abroad can forgive us. He is a complete idiot and we can't condemn him enough . If you find him acceptable we would rather you stay somewhere else . We travel a lot, we know what people need. We've been doing this a while, we know what people want. Simply put, we do it right. The reviews speak for themselves. You can rent an entirely furnished, really cool, comfortable apartment designed for travelers, for a great price. It's a really nice, really big place for one person, big enough for 7 persons (but ONLY one bathroom). Nobody lives in the apartment, it's used solely for vacation rental guests, so it's not full of other people's stuff that you have to deal with. There is always someone upstairs (well not Always, we go out during the day a lot) if you need anything or have any problems, questions, etc. We should warn you, we watch the house very protectively: unauthorized overnight guests will be charged $50 per person per night. The house was built in 1893. That's old in Chicago. It's a large, clean apartment in a large, old house, across the street from a CTA pink line train, so close you can set your watch by it. Takes 15-20 minutes to get downtown on the train, closer than Wrigleyville, Lincoln Park, Logan Square and many more neighborhoods. Kathleen, Craig, Aaron the cat and Mr.Sanchez the female dog, all live on the top floor in a separate apartment, and are always willing to help you out with anything at all. We don't double book the apartment, it is all yours, with a separate entrance and a separate key to come and go as you want. The apartment has new central heating and air conditioning. The apartment has super-fast wireless Internet and cable television. It's a train lover's paradise! Watch the Amtrak, Metra and the freight trains roll through on the north side from the 6' tall windows, or watch the city's CTA trains come and go from the front porch or the yard on the south side! Yes, they make some noise. 16-19 minutes from the city center on the CTA train. Three bikes available if you're adventurous. Fully functional and equipped kitchen in the apartment if you want to cook your own meals. Large supermarket nearby. 1/2 block to Douglas Park. 3 blocks to the brand new Lagunitas Brewery and taproom. Very good Mexican restaurants super-close, the great Italian restaurants in the heart of the Chicago neighborhood are five minutes away with the bikes, less than 20 minutes on foot. If you have any questions, don't hesitate to ask. Cheers, Craig and Kathleen
We had an great time at Craig and Kathleens. It's a huge place, it was very clean, and they had some breakfast items such as pastries and bagels. It was our first time using AirBnB and it was definitely a win.
Chris
2010-02-13T00:00:00Z
Craig and Kathleen were great hosts. They got us 2 bags of bagels and fresh fruit for our stay. Everything was clean and fresh. Craig even brought out a fourth mattress for us to use. The location is right next to the L train and only 20 minutes from the Loop. I highly recommend them. I just hope they aren't booked up the next time I go to Chicago.
Richard
2011-06-30T00:00:00Z
craig and kathleen's downstairs apartment was a wonderful base for our chicago explorations. bright, lovely, and well-appointed. we wanted to take their dog home with us--what a sweetheart! they left us food and coffee for our breakfasts in the apartment, and there were lots of maps and guides available in the house in case we needed a little help. of course, craig himself was the best resource, and often pointed us to interesting places and had conversations with us about what we planned to do that day. the train couldn't have been more convenient, and the new a/c unit worked like a charm (though we only had to run it one day, since the rest of the time the weather was perfectly cool.) craig's photography made us even more thankful that we were staying in a home rather than a hotel--it was such a unique perspective on the city we were diving into every day. i highly recommend craig and kathleen's place to anyone wanting an affordable, individual stay. thanks so much guys!
Jessi
2010-07-02T00:00:00Z
Excellent time in Chicago and Craig & Kathleen were fantastic in making sure everything was fine for us during out stay. Convenient location to downtown Chicago if you're either driving or taking public transportation. It was great having a garage to park our car in and not have to worry about cleaning off snow during our stay. We'll definitely be back on a return trip to Chicago! Thanks!
Edgar
2010-02-07T00:00:00Z
It's cozy place and easy commute to city. Craig was a great host. The apartment has everything we need. We would definitely stay there again.
chun
2016-06-06T00:00:00Z
Me and my friends had a wonderful time in Craig and Kathleen's house; it's a huge and clean apartment and evrything inside works good! They are very kind person and Craig is also a very good photographer! We enjoined our vacation in Chicago, that is a beautiful city!
marco
2010-03-12T00:00:00Z
Great place, even better people. The apartment has everything you could need, and is in walking distance to anything you might. They're very personable and intelligent, and brilliant artists. It's a literal stone's throw from the Pink Line, and about a 12 minute ride to get downtown. Wouldn't stay any other place on a trip to Chicago; 5 stars, highly reccomended, tell all your friends etc. Also, their pets are as cool as they are.
Bianca
2009-05-22T00:00:00Z
We had a great stay at Craig and Kathleen's last weekend! Craig was headed towards the airport just as we were arriving, but took the time to give us some helpful information on getting around the city (and a short cut to the airport). While we spent most of our time away from the apt, seeing the sights of the city, it was definitely a great place to come back to and get ready for our next day of adventures. (The fresh fruit, OJ, and coffee cake were also a nice treat!) If we get the chance to visit the city again, we most certainly would try to stay here again!
Amanda
2011-10-18T00:00:00Z
Romtype
Helt hjem/leilighet
---
Eiendomstype
Hus
---
Plass til
7
---
Soverom
Chicago, Illinois, USA
Your vacation home is located in Chicago's best neighborhood on a quiet, tree-lined street. Two blocks from Lincoln Park & Zoo, there is much to do locally and it is easy to venture further. When the day is over, relax in your private, clean oasis.
Your home away from home is on a gorgeous tree-lined street and completely remodeled in 2012 (originally built in 1892!). Upon entering, you'll find a living area with relaxing seating, large granite desk, satellite TV, Wi-Fi, fridge, microwave, and seating for up to six. The bathroom has a marble double-vanity with a separate area for bath/toilet. And there is a third room with an inviting queen size bed and ample closet space. All decorated with your comfort and relaxation in mind. In addition, you'll have a balcony with table & chairs to enjoy the outdoors. Feature list: • 3 room apartment with private entrance (living room, bedroom, bathroom) • 46" Sony LCD with DIRECTV (including HBO, Cinemax, etc) • Wi-Fi • Refrigerator, microwave, Keurig coffee maker, toaster, dishes, flatware (Please note that there is NO KITCHEN) • Bathroom has double-vanity with separate bath/toilet room • Hair dryer • Iron & ironing board • Full control over heating/cooling • Queen bed includes pillow mattress topper • Soothing sounds/white noise alarm clock • Extra sleeping via queen air mattress available • Balcony with table & chairs • Check-in after 2pm & check-out by noon (let's discuss in advance if an exception is needed) • Visitor maps and local restaurants/attractions provided
Your vacation home is located in the best neighborhood in Chicago. Old Town Triangle is the historic area between Lincoln Park and Old Town neighborhoods. Located at Armitage Avenue & Hudson Avenue, you can enjoy a 2 block walk east to the expansive Lincoln Park (including free zoo & farm) and the lakefront. In all other directions, you will be surrounded by the best that Old Town/Lincoln Park has to offer including numerous restaurant, shopping and nightlife options. Here are a few and check out the Guidebook for a few more: • Lincoln Park Zoo & Farm – 2 blocks east • Lincoln Park Conservatory – 4 blocks northeast • Lake Michigan beaches & lakefront jogging/biking path – 4 blocks east • Oz Park w/ tennis courts - 4 blocks northwest • Armitage/Halsted shopping area – 5 blocks west • Magnificent Mile Michigan Avenue shopping - 1.5 miles southeast • Museum of Contemporary Art – 2.1 miles southeast • Downtown Loop – 2.3 miles south • Wrigley Field – 2.4 miles north • Navy Pier – 2.7 miles southeast • Art Institute of Chicago - 3.0 miles southeast • The Field Museum – 4.4 miles southeast • Shedd Aquarium – 4.5 miles southeast • O'Hare Airport - 16 miles northwest • Midway Airport - 13 miles southwest
Thanks again! Great place in a lovely neighborhood.
Mary Ellen
2016-10-02T00:00:00Z
Karen was a wonderful host and everything was well organized. The place was beautiful, clean, modern, and cozy. It has a really pretty little patio too. The neighborhood is very pretty and it is easy to walk everywhere. We will be very happy to return soon.
margit
2015-08-07T00:00:00Z
Loved this place and the location was fantastic!
Lisa
2016-09-30T00:00:00Z
Karen & Brett were fantastic hosts. The way we were teken care of and through the interior of the place we did feel like home straight from the beginning. Thanks for a few wonderful days.
Stephan
2014-01-09T00:00:00Z
Our request to stay was answered almost immediately and plans fell into place quickly. Karen and Brett were prompt with directions and details. The place is perfect: one bedroom, large bath, and sitting room with amenities. Access and parking couldn't have been easier. We were within walking range of food, bars, and entertainment. We will definitely be looking to stay here again. Highly recommended. Wish all airbnb's were this easy and cozy.
Steven
2014-04-16T00:00:00Z
I didn't get to meet my hosts in person, but the communication between us was all that was needed. Easy to follow and I did appreciate the ability to come and go as I pleased. It rained while I was there so I did ask for an umbrella from their nanny. The bed was very comfortable, pillows where feather soft, the bathroom was spotless and well stocked, it was good to make myself a coffee and watch TV, the internet worked seamlessly. There is a flight of stairs to get to the apartment (good to know for those with heavy suitcases), and it is connected to the main house, so I did hear their dog bark and their child crying.. but to be honest that's family life, and they are a family. The location of the home is a lovely quiet street, and everything was either walking distance or a short Uber ride away.
Dez
2016-03-26T00:00:00Z
We had a wonderful stay in Brett and Karen't apartment. They were the perfect hosts with clear communication clear and quick responses to all queries. We couldn't ask for more. The apartment is immaculate and in the most fantastic neighbourhood - there are great transport links to all places and you can easy walk to places of interest.
Tina
2015-09-06T00:00:00Z
Everything about our stay at Brett and Karen's was perfect! The apartment itself was spotless and adorable. The guidebook and suggestions were very helpful! The best part was meeting them and knowing that their goal is to make your stay as good as it can be! We highly recommend this place!!
Leora
2016-05-04T00:00:00Z
Romtype
Helt hjem/leilighet
---
Eiendomstype
Hus
---
Plass til
3
---
Soverom
Chicago, Illinois, USA
A beautiful newly renovated historic estate. The 2,200 sf Carriage House has 4BR 2BA, private patio, pool, beach, dock, and fire pits. Enjoy a peaceful retreat or a place for family fun. Close to wine tasting, Lake Michigan, shopping, and dining out.
Our property is one-of-a-kind with a rich history. Both the Manor House and Carriage House were built in the early 1900's, and have ties to Chicago legend, Al Capone, as well as to one of the winery families in Michigan, Warner Vineyards. Both homes have been lovingly restored within the last two years so everything is fresh and HGTV worthy! We know you will enjoy the charm and comforts of the Carriage House and delight in relaxing by the pool and the waterfront. This property is perfect for hosting weddings, family reunions, business retreats, and girlfriend getaways! Please contact us with inquires about event bookings.
Our lake community is very relaxed. In addition to the year-round residents, people from 3 different states own summer homes here and enjoy the "chill" atmosphere. The area is rich with vineyards and orchards. Come and pick your own blueberries, strawberries, cherries and peaches, and/or enjoy wine tasting at 17 different wineries within a 7-35 minute drive. Farmers markets, flea markets, and antique shops are dotted throughout the area. And the beauty of Lake Michigan is just 25 minutes away.
Jan was absolutely lovely, warm and welcoming. Her home is beautiful and perfect for a visit with friends and family. There is a bedroom that decorated in a way that is a great "club house" for kids, and plenty of games to play, a gorgeous lawn, right near the lake. The pool is by the manor house and is wonderful too, with a great view of the lake. Everything was pristine. We had a great time. Thanks so much Jan!!
Karen
2015-09-14T00:00:00Z
Jan and Dale were the perfect hosts! We had a great time at the house and would definitely recommend this place to others!
Eli
2015-11-09T00:00:00Z
I can hardly believe how fortunate we are to have found this outstanding vacation property! Jan and Dale were on site in the Manor house while we rented the Carriage house. They have remodeled and decorated the Carriage house into a wonderful place to stay, picture perfect yet so very comfortable and welcoming. They anticipate your every need, and are ready to do any task that makes your stay even better. Dale set a bonfire and camp chairs one evening and helped two of the ladies uncover and cover the hot tub ... just two examples of their exceptional hosting! Everyone in our group wants to come back again, and are already thinking of having another summer or holiday reunion there. My only concern that this gem will get so popular that we will have trouble booking it!
Audrey
2016-07-06T00:00:00Z
We loved it. Absolutely perfect. We were getting married the following weekend so we wanted to get away with a few friends to just chill and relax and that is just what we did. In fact we loved it so much we hope to do it again next year in the same place. Perfect driving distance from Chicago, we stopped at Journeyman's Distillery for lunch. The house had everything we need, it was really well stocked. They even had smores supplies for us. All the towels. We forgot to bring a coffee grinder and they brought one right over. We cooked breakfast every morning and they had everything we needed. The decor is lovely. The layout was great for all ten of us to sit around and talk. We ate dinner most nights outside by the grill (which we used). Both fire pits were used. My friend learned out to fish off the dock. Another friend had coffee by the lake every morning. Jan and Dave were such lovely hosts. I would highly recommend renting this place, we will be renting it again.
Kate
2016-06-01T00:00:00Z
Jan and Dale are the perfect hosts, ever since we booked the house they were in contact with us, providing all the information we needed about the activities to do at the area and answered all our questions in order to make our stay the best possible. They were accessible the whole time and made us feel welcome and at home. Their house is exactly as described, lovely and cozy, perfect for a large group like ours. They provided us with more than enough towels and extra blankets. They have a huge garden and the campfires and hot tub were great. However, wifi was not working and the signal was limited. We also recommend guests to buy bottled water for their stay.
Begoña
2015-10-19T00:00:00Z
We had a lovely stay at Water & Vine! We were a group of 8 women in town for the weekend to do some relaxing and wine tasting, and this house was perfect for our needs. It is spacious, bright, tastefully decorated, and has an interesting history. Everything was so clean and brand new, and Jan and Dale were exceptional hosts. Unfortunately, when we arrived we learned that the hot tub wasn't working, which was disappointing because we were really looking forward to using it (especially since it ended up raining both nights). The pool however was a great amenity. I would definitely come back!
Bethany
2015-07-20T00:00:00Z
THESE GUYS ARE AMAZING!!!! I would say to anyone looking at their place to book with them. Their property is straight out of a HGTV Catalog! It's seriously gorgeous, we got married in their back yard on 9/4/16! They are such great hosts! I was 12-15 minutes away from their house after driving an hour and I got a flat tire. These guys dropped what they were doing to come rescue me and change my flat tire! What amazing people you will find when you meet them:) Definately definitely definitely book with them ❤️
Jourden
2016-09-06T00:00:00Z
Jan and Dale's vacation property exceeded every expectation we might have had coming to Paw Paw. Not only was the Carriage house perfect for our family's needs, we could not rave more about this place and Jan and Dale as hosts. The kitchen was well stocked with every kitchen appliance and utensil, the bedrooms were adorable and so comfortable, the pool had so many toys and float devices to choose from, the hot tub was absolutely delightful, the beach deck and fire pits were the perfect way to end a summer night and there was so much space for our two year old nephew and family to run around. Dale and Jan were so attentive with anything we might need. Dale set out chairs and made a fire for us two nights we were there, there were s'more fixings and stokers as well! Our family is still raving about our vacation in Paw Paw, I have no doubt we'll be back.
Kelsey
2016-07-21T00:00:00Z
Romtype
Helt hjem/leilighet
---
Eiendomstype
Hus
---
Plass til
10
---
Soverom
Paw Paw, Michigan, USA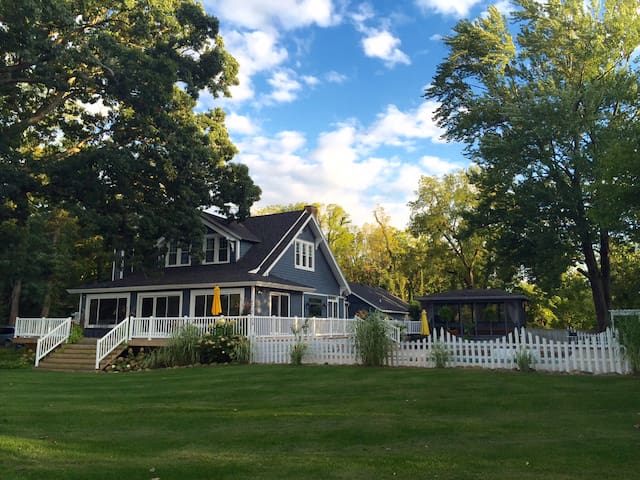 Gorgeous flat of 1903 Historic Milwaukee Brick Duplex w/ three bedrooms. One bedroom with queen size bed, one bedroom Full Bed, one bedroom with Full bed. Fully remodeled unit w/ in Unit Laundry and classic Victorian bathroom. 1600 sq ft equipped with every thing your stay requires! 4 additional air mattress available as well for larger groups. We also allow you host events in this unit, unit is professionally maintained and managed exclusively for Air bnb guests.
Space is used only for Air BNB guests only. Unit is fully furnished with 3 beds, 4 air mattress for sleeping. Washer & Dryer, Dishwasher, Fridge and stove in Unit. All cooking utensils and silverware is in unit as well. Lower Flat of a duplex. Super quiet tenant/manager in upper flat. Utilities included. Please only consider this rental if you don't mind being 5 minutes outside of downtown. You are also 4 minutes from Miller Park, Harley Davidson, Miller/Coors, Mitchell Domes and many other tourist attractions.
Washington Heights, a neighborhood that advertises itself as, "In the City — Out of the Ordinary!" lies along Milwaukee's western border. While the neighborhood is now only minutes from downtown and close urban amenities, this area was once considered remote.
Ryan's friend John lives right above and both went out of their way to make us feel welcome during the weeks stayed there. The place is great and has a very homely feel, it is a brand new update 100y old typical Milwaukee house. WE had a couple of request e.g. a humidifier which they were happy to fulfill.
Marc
2016-02-06T00:00:00Z
There were four of us staying in this large 3 bedroom place. It's close to everything in Milwaukee!
Omar
2016-10-09T00:00:00Z
The peace and quiet was exactly what we needed. Perfect week. Thanks guys!
Sara
2016-09-03T00:00:00Z
Great house. Just out of down town but easy to access. Great inside and made it very welcoming for us to enjoy the weekend
Jake
2016-08-23T00:00:00Z
Ryan had a lovely flat that was very close to the Miller factory and Miller Park. The city is very easy to access by car (we didn't use mass transit while in town), and the house had great access to the highway. The flat was clean, and checking in was remarkably easy and painless. Ryan was great at communicating, which made the stay seamless.
Tim
2016-09-25T00:00:00Z
Ryan and John are very nice and go out of their way to make sure you're comfortable and enjoying your stay.
Krissy
2016-06-06T00:00:00Z
The stay at Ryan's place was great. The place was very spacious. There were 9 of us so we used all of the beds, the couch, and we brought a queen air mattress. John, who lives upstairs, was able to help us with anything that we needed. The beds were very hard. This didn't bother us, but could be problem for someone with a bad back.
Elana
2016-06-27T00:00:00Z
The house was clean, spacious and Ryan was incredibly thorough, flexible and was in touch throughout our stay! We were there for all family events so I can't speak to the location, but it seemed central to everywhere we were. Would definitely recommend!
Jenna
2016-03-06T00:00:00Z
Romtype
Helt hjem/leilighet
---
Eiendomstype
Hus
---
Plass til
12
---
Soverom
Milwaukee, Wisconsin, USA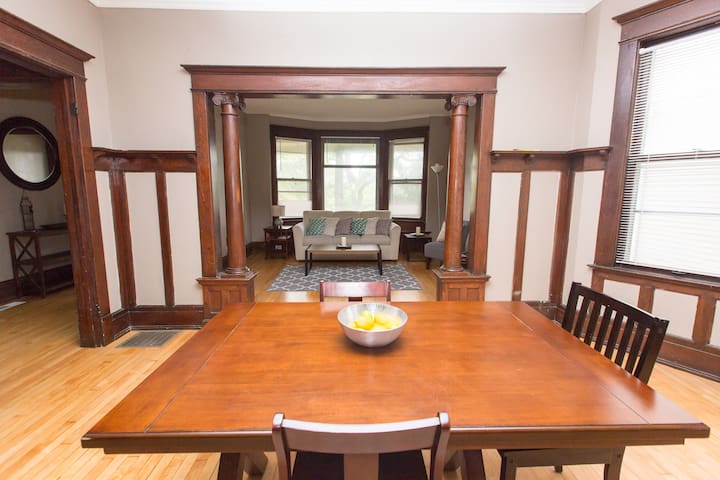 Once a butcher shop, this storefront is now an artist run studio space with a full bathroom (no kitchen). Sleeps 2 normally, can handle 4-5 (air mattress available). CTA Pink Line is across the street - bars, cafes, restaurants close by.
The storefront has one real bed for 2 people and we can easily accommodate another 2 or 3 if necessary (full air mattress + couch). You'll have a bathroom and studio style live/sleep area. There is a mini-fridge and stereo system as well. We try to be as accommodating as possible with check-in/out times. We provide plenty of literature about the neighborhood and events happening in the area, as well as treats and necessities to make your stay more fun and comfortable.
The CTA's Pink Line is across the street and gets you downtown in 15 minutes. We're also a close walk to great bars, restaurants, cafes, galleries and venues. Pilsen is full of cool spots, here are a few to note: Nitecap Cafe FREE---National Museum of Mexican Art Bow Truss Honky Tonk Prospectus Gallery Dusek's Thalia Hall Skylark Jumping Bean Cafe Plus so much more; including late night taco spots, some of the best karaoke in town and house shows (just ask if you're into that sort of thing).
This place was!! Miranda was a great host! Her place was very warm and comfortable with lots of great art everywhere. Miranda was very gracious and was always quick to respond if we had any questions. The neighborhood was really awesome!! Pilsen was an area of the city we never would have visited and it has so many great things to offer. I can't wait to come back.
Jordan
2016-03-19T00:00:00Z
Miranda and Bart were wonderful hosts. Their property was well-kept and full of characters (and artworks!) and they are very thoughtful leaving info booklets for the guest. They also checked in with us making sure we had everything we needed (eg. heater). Everything we needed were provided, such as toiletries and towels. We had to go a few blocks away for free parking; parking on street in front of the store is $2/hr from 8am-10pm Mon-Sat. However the pink line is literally 200ft away from the house (and not noisy). Because the property is right on the street so you can hear traffic during busy hours. But it didn't bother us too much. The neighborhood is very hispanic and I really loved it. We got in late and was able to still have delicious Mexican food at Nuevo Leon Restaurant and got pastries at Nuevo Leon bakery next morning. We'd definitely come back again.
Jamie
2015-10-06T00:00:00Z
This place is really awesome. My husband and I came to Chicago for a weekend of shows at Thalia Hall, and we were able to walk there every night. There's a cool coffee shop right across the street, too! The place itself is really creative and comfortable. The binder with all the info on the neighborhood was so helpful. There is a shower but no kitchen which worked great for us, seeing as we wanted ALL the Mexican food in the neighborhood!! :) We loved our stay and hope to return to this apartment on our next trip to Chicago!
Alisha
2016-03-15T00:00:00Z
I really enjoyed staying at this apartment. I did not personally meet with Miranda but the process of arriving and leaving the AirBnB was seamless! The place itself was clean and as advertised in the pictures. My girlfriend and I had a great time at this place and would highly recommend it to anyone who doesn't mind taking transit or ride sharing services to Downtown (Uber & Lyft were only ~$5-6 to go Downtown). The storefront light was a bit bright at night but it wasn't a problem once we unplugged it. For those who are sensitive to sound at night when sleeping, be aware it is a storefront so you may occasionally hear cars and people coming by. I would definitely come back here to stay again in Chicago!
Daniel
2016-11-27T00:00:00Z
Miranda was always available for questions by texts. She left very helpful/informative instructions in the studio (where to find all light switches, how to prepare the hot water in the shower, where to leave keys when departing etc.). The listing itself is super gorgeous, like sleeping in a little dream of vintage and art deco. Miranda has really put in a lot of work into keeping a beautiful, peaceful space for guests. There's a stereo to plug in your phone for music, plenty of books to browse through, and lovely art on the walls for ambiance. The location is awesome, a specialty coffee shop down the block, mexican bakeries and restaurants very nearby, the train station almost literally across the street. Commuting is incredibly easy in Chicago in general, but the location of this apartment is surely ideal for getting around the city and all of its neighborhoods. There's slight street noise because of the studio being on the ground floor, but nothing so major it keeps you from sleeping or abruptly wakes you up. There is no kitchen but that hardly matters in such a lovely food city like Chicago! I had a fantastic time at this place.
Briseida
2016-03-02T00:00:00Z
This apartment is an absolute treasure trove. I honestly didn't want to go out during my stay as there was so much to look at or read in the apartment. But venture out I did. The area is up & coming and there are a couple of great coffee shops very close by. It's also super handy for the pink line. Miranda was an incredibly kind host who made sure I had everything I needed and let me know when cool things were happening locally, like the Good Friday procession! I'll definitely stay again next time I'm in Chicago.
Stephanie
2016-03-29T00:00:00Z
Unique and fascinating little place. I live in the Chicagoland area and it was fun to explore Pilsen and the area by staying here. As many other reviews mentioned, extremely close to public transportation and plentiful shops. I'd recommend a quick stop at the National Museum of Mexican Art, it's free and the permanent collection is more of a gallery so it doesn't need to be a long trip. Extenuating circumstances for Miranda led to a bit of a miscommunication during our stay but everything was sorted out and our host was very apologetic. I'd definitely recommend a stay!
Eric
2016-03-06T00:00:00Z
One of my favorite places I've ever stayed. Super cozy, unique spot full of art, books and cool furniture. Lots of great food and coffee shops are in walking distance, and the El is literally across the street. So easy to get around town from this location. Miranda was super friendly and attentive. Tea, candy and a few toiletry items you might have forgotten to bring are all there when you arrive too. Would absolutely recommend and will be coming back.
Alan
2016-02-16T00:00:00Z
Romtype
Helt hjem/leilighet
---
Eiendomstype
Hus
---
Plass til
2
---
Soverom
Chicago, Illinois, USA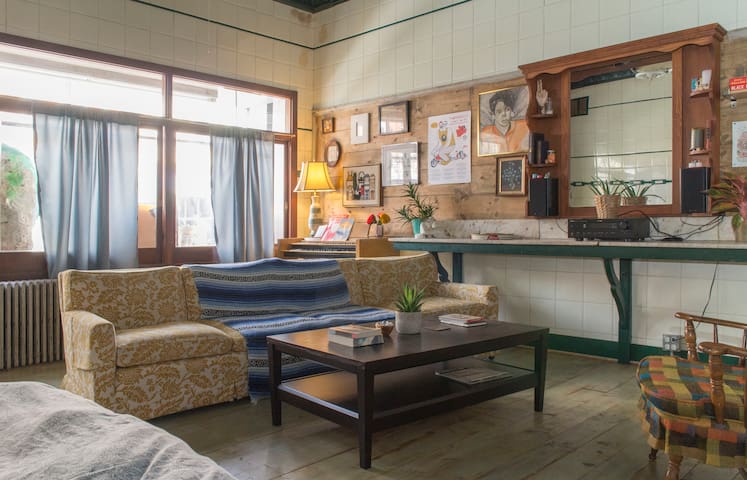 Lake Michigan - Airbnb
:
Gjennomsnittlig

4.94

av

5

stjerner fra

2988

gjesteanmeldelser
1

–

18

av

300+ Utleiehjem
Oppgi datoer for å se fullstendige priser. Ekstra gebyrer gjelder. Skatter vil kunne tilføyes.