Right on the lake in Central Queenstown sits this newly renovated three bedroom penthouse with sweeping 180 degree views of Lake Wakitipu and the Remarkable Mountains! 6 minute walk to the center of town. Perfect for a luxury escape to the mountains!
It is a newly renovated 3 bedroom penthouse positioned right on the lake in Queenstown. It's conveniently located and just a 6 minute from walk from the centre of town. The apartment is on a single level and is only available to lease as a WHOLE apartment rental. We do not lease this apartment by individual rooms. There are three bedrooms: Master Bedroom with a King sized bed and Ensuite. Second Bedroom with Queen bed and shared main bathroom. Third Bedroom with two Single beds and shared main bathroom. LED SMART TV, NETFLIX and Wireless WiFi are included. The apartment accommodates a maximum of six guests. We love kids and this apartment is definitely child safe and friendly! Guest Access Guest will have access to the whole apartment and can come and go as they please. This is not shared accommodation. The apartment has a dedicated under cover car park on the lower level of the building. Please note there is no elevator and there is access only to the apartment via stairs. We are three stories up. Interaction with Guests There may be someone to greet you on your arrival, however you will have the whole apartment to yourselves for the length of your stay. Getting Around ADELAIDE VIEWS is a six minute walk from town. It is almost at lake level so very little hill climbing!
What a view! Nothing more to be said really. You could sit there for hours and take in the stunning vista. The hosts were great and got back to us really quickly when we needed. It is only a short walk into town, so a great location. Thank you for a fantastic stay in Queenstown - we will be back!
Toby
2016-04-06T00:00:00Z
This apartment is in a great location, with an awesome view. It is nice and close to town, but still relatively quiet. And the apartment itself is very comfortable and modern. The garage was very handy as there were quite a few cars on the street (which is also quite steep).
Paul
2016-04-27T00:00:00Z
Lovely place and perfect location
Troy
2016-04-30T00:00:00Z
Great property in an excellent location with outstanding views of lake and mountains. Walk into town is approx 10 minutes so not too far away from the centre of town and all the bars and restaurants etc. The apartment was quiet and tranquil and well equiped with all necessary amenities. Highly recommend and would definitely stay there again.
Judith
2016-09-25T00:00:00Z
It was an absolute pleasure to stay at Lucky#8 Penthouse. The place is exactly as the photographs and the views are as breathtaking. The area is very close to the center, so you can walk there if necessary. It is also close to the lake so we can go for a nice leisurely walk every morning. An absolute gem!
Katherine
2016-04-23T00:00:00Z
When my wife and I first walked into this place, we took one look around and asked "what are the squatters rights in this country?" Seriously, we cannot say enough great things about this place. Not only is the apartment spacious, well-appointed and in a great area to explore much of Queenstown, but the views are incredible. You can walk just up the road (or take the more scenic walk along Lake Wakatipu) to the downtown area to explore the local shops, bars and restaurants and pick up some supplies at the local grocery store; or, if you are seeking a quieter day, there is always the option of enjoying some local wine out on the large balcony in peace and quiet, soaking up the absolutely breathtaking landscape. Rob and Charles were excellent and gracious hosts, being both friendly and responsive. Because my wife and I were traveling on our honeymoon, we arrived to a very kind note congratulating us and a lovely bottle of wine. In person, we communicated with Rob and Charles' friend Benn, who was very welcoming, attentive and hilarious. We cannot say enough nice things about our hosts, or recommend this place enough.
Joel
2015-11-19T00:00:00Z
Robert and Charles' place was amazing. Not just the beautiful views but the impeccable decor! I just loved all the artwork and items they chose to brighten up their place. It was ideally located -- just a 10 minute walk into the town center. We didn't discover til the penultimate day of our stay that we could actually take a walking path from the condo through Queenstown Gardens into town! No need to even walk along the main streets. There are walking paths galore, actually. The condo's kitchen was fully stocked, which was great because we bought items to prepare breakfast everyday. The condo itself was warm and cozy on the winter nights, heated by the gas fireplace and bathroom heaters. The bed heaters really came in handy as well. We loved Queenstown so much, we vowed to come back one day. When that day comes, we hope Lucky #8 will be around for us!
Emilia
2016-06-18T00:00:00Z
Everything was great! Communication from the hosts was excellent from the time of booking till after our stay. The apartment was beautiful, exactly like the images and the view was even better! Would highly recommend this listing and will definitely be staying here next time we're in Queenstown!
Shari
2016-04-01T00:00:00Z
Romtype
Helt hjem/leilighet
---
Eiendomstype
Leilighet
---
Plass til
6
---
Soverom
Queenstown, Otago, New Zealand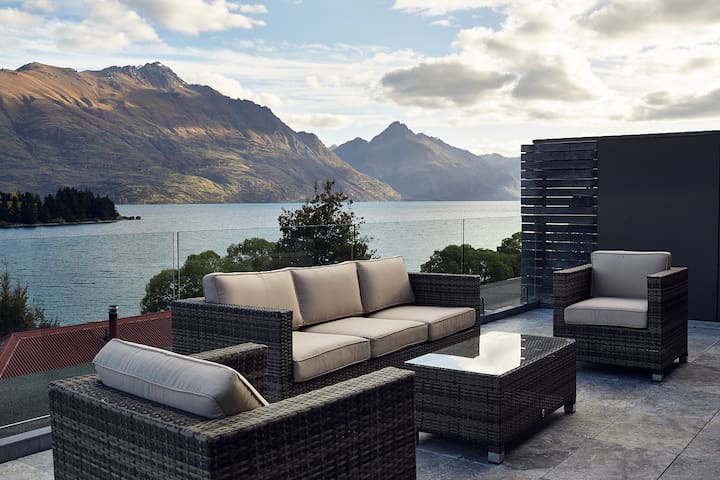 Spacious warm studio room with comfy king size bed, leading onto large lakefront patio with spectacular views. Modern en-suite with mini kitchenette, Storage wardrobe/closet, relaxing chairs, TV, coin operated laundry, and close to local amenities.
You have your own private apartment with your own private balcony! Our location is perfect for the upcoming snow season with NZ Ski transport pick up and drop off just a stones throw away on the main road :) There is a mini kitchenette area complete with mini fridge, washing up liquid, dining ware, microwave, sink and kettle. There is unlimited wifi and Netflix that can be viewed. If staying with us for 3 nights or more let us know what wine you lean more towards (red or white) and we'll have a bottle waiting to greet you while you take in the breath taking view.
We are located right on the Frankton track between Queenstown & Frankton, beautiful and scenic easy walk to or from town right beside Lake Wakatipu. If you walk up towards Frankton on the walking track you'll be at the very tip of the Frankton Bay which is has a beautiful park over looking the lake, great for stunning sunset pics! Our favourite healthy place to eat is Rehab which is located in the heart of Queenstown. Fresh juice, expertly blended smoothies (all dairy free), amazing breakfast bowls, healthy lunches with vegan and meat eaters options. Queenstown may be small but you are spoiled for choice from all the restaurants and bars. I am a Remedial Massage Therapist with my own clinic in Queenstown. During your stay if you have any aches or pains or just want a bit of relaxation, let me know and I can book an appointment in for you! Whether you're here in Winter or Summer (or anything in between) there are loads of things to choose to fill your day. From walking trails, to jet boating, to sky diving or a bungee and wineries, we'll list all those kind of things in our handy dandy guide book.
Megan was great with communication, and her place was sooo comfy and clean!! Unfortunately, we encountered some very cold, wet weather when we arrived to Queenstown - so her Netflix on the Tv was perfect to watch when we weren't checking out the cozy pubs in town!!! Would highly recommend!! Our view of the lake was stunning!!!
Jess
2016-05-14T00:00:00Z
Fantastic place to stay. Lovely view and very comfortable. Great advice provided by host as well. Would definitely stay again!
Jessica
2016-05-15T00:00:00Z
We instantly fell in love with this apartment. It's beautiful, ultra clean (this coming from a total neat freak) and very spacious. The heater in the bedroom is brilliant, especially in chilly spring time when we were there, and it regulates the temperature you set. The king size bed is absolute heaven, the comfiest we've ever slept in with extra snuggly bedding. Pair that with the stunning view of the lake and mountains and you'll understand why we didn't want to get out of bed every day. You have your very own large balcony and there is nothing between you and the lake, it's a perfect view - the photos don't do it justice. There's a table and chairs to sit on out there which we used as a desk for working on our laptops. The shower is huge and water pressure is excellent, and there's lots of space to put toiletries in the bathroom which was so useful. There's also a heater in the bathroom so you don't freeze when getting out of the shower. The wifi speed was pretty good though understandably slower on the balcony. Having Netflix was a huge bonus and a luxury we really enjoyed. The apartment is only 15-20 mins bus ride from the airport (no. 11, $8.50 each) and about 10 mins from the centre of town ($5.50 each). You can buy tickets easily on the bus and the bus drivers are very helpful. The bus stop is directly outside the apartment complex so very convenient but it is quite a steep climb up the hill to get to the main road and even more challenging with 20kg of luggage so may not be suitable for those less able to walk. The Frankton track is right outside the apartment front door so very handy for a scenic walk round the lake to the centre of town, but it's not quick so be prepared to walk anything from 45-60 minutes. We didn't meet Megan but she was a great host and were blown away by the cleanliness and styling of the apartment that she maintains. We had trouble logging into wifi at first and then issues receiving messages from Megan to resolve it, but once she realised this she promptly contacted us to make sure we had everything we needed. It's hard to put into words just how amazing this apartment is. Literally the only thing that could improve what is already a wonderful place is a slightly bigger kitchen, as there's not much worktop space to play with (and using the microwave was slightly challenging because it's on a high shelf) but it's enough to make tea and coffee (which Megan kindly provides) and simple snacks. We would without doubt book to stay here again if and when we return to Queenstown.
Siew Lee
2016-10-16T00:00:00Z
Excellent place in a quiet part of outer Queenstown. Walkable to the central city or just over 5 minutes drive in the car. Very comfortable bed, easy check in arrangements & outstanding balcony space. Would definitely stay there again - thank you.
Ben
2016-12-28T00:00:00Z
The apartment is very clean, and Megan has everything sorted with a guide book prepared. The view from the balcony is spectacular. As advised by Megan, do keep the windows closed or keep any light off at night. I totally understand that the next morning when I woke up seeing insect bodies on the balcony. Glad I read the guidebook! The bed is very comfortable and I like how the shower room has constant hot water. That's a plus! Location wise, it's just within 10 mins drive to Queenstown Town Center.
Peony
2016-02-15T00:00:00Z
The view at Megan's is wonderful and in a great location. But perhaps what I liked most was how organized and helpful she was. Megan provided tons of helpful information prior to my arrival that I greatly appreciated. Then once you are there she has a folder full of other helpful bits and bobs. There were two beers in the fridge and a bag of popcorn that were most welcome since by the time I got back from my Milford Sound tour, I had zero energy to leave the apartment for food. Staying at this place felt like staying in a hotel room at a 5 star hotel without the hassle and annoyances of a hotel. The morning of my departure I was able to take some photos from the balcony that were some of the best pictures from my New Zealand road trip. I also ended up with beautiful pics of a double rainbow over the lake. Doesn't get much better than that!
Ashleigh
2016-05-12T00:00:00Z
The property was a stunning view and very comfortable and cozy. A plethora of information was provided for things to do and although Megan was not there my experience was fantastic!
Damon
2015-10-25T00:00:00Z
Megan's place was so awesome - a warm and comfortable space, lovely bed, and amazing views! The little touches to the place were much appreciated, from the lovely scent used, through to some breakfast foods and milk. The location was great as it was only a short drive into town, and it was also a really quiet environment.
Heather
2015-11-05T00:00:00Z
Romtype
Helt hjem/leilighet
---
Eiendomstype
Leilighet
---
Plass til
2
---
Soverom
Queenstown, Otago, New Zealand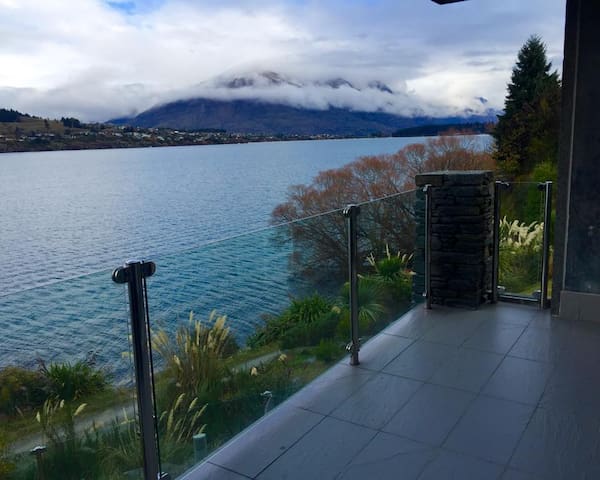 Centrally located in Queenstown, Million Dollar Views is a 2-bedroom apartment with magnificent lake and mountain views. Conveniently located, we are within walking distance to shops and restaurants. Located in a quiet part of town, we are pleasantly set apart from the bustle and rush that Queenstown can sometimes experience. The apartment is fully self-contained with a full kitchen. A washing machine and dryer are also provided. The bedding in the apartment consists of one Queen bed and two singles. Best suited for a couple or a family with up to 3 children. If you are arriving in Queenstown by car, covered parking is provided for your convenience. Whether you are a ski bunny visiting Queenstown in winter to take advantage of our amazing slopes, or an adrenaline junkie looking for your next thrill, or simply want to enjoy the scenery, Million Dollar Views is the perfect place to base yourself. Amenities and Inclusions: * TV * Air Conditioning * Kitchen * Covered Parking * Family and Child Friendly * Washer * Dryer
Great unit in an even better location. Collection of keys and directions hassle free. Views are just as you see from the pictures. Very well set up for a couple or small family. A long weekend stay is possible for four adults too. We loved staying here and will definitely not hesitate in rebooking Million Dollar Views if we return to Queenstown.
Emily
2014-08-05T00:00:00Z
The apartment was great and the view is indeed GORGEOUS. Would be good to know that the house is on a rather steep hill, if you aren't driving that would mean a legit hike up back. Other than that, it was a pleasant 4-day stay. Would definitely be back :) Thanks Brian & Lynece!
Sharifah
2014-04-19T00:00:00Z
The room has an amazing view - though it is a steep climb from town. Kitchen is well equipped, and heating works really well. Parking is a little awkward, but thats common in such a hilly area. Close proximity to town. Arrangements with land lord for keys etc were easy. Very good value, and I would reccomend it to friends.
(EMAIL HIDDEN)
2014-10-01T00:00:00Z
房子离湖不远,处在临湖的坡上,景观还可以。房内设施齐全,侧门外还有一个观景台。适合驾车者居住。
若安
2015-03-31T00:00:00Z
Thank you Brian for a most incredible holiday experience!! We loved your cosy and comfortable house and could not get enough of those spectacular views! Easy walk to town and to everything we needed to get up to the ski slopes each day. Fantastic communication and information from Brian and local contact Lynece. We felt very much 'at home' and hope to come back soon!
Stephanie
2015-07-06T00:00:00Z
Great place in prime location! Clean tidy apartment with all the essentials for a good holiday! Short walk to centre of Queenstown. Quiet area and the apartment has breathtaking views, would highly recommend! Thanks for letting us stay!
Jordan
2015-08-20T00:00:00Z
Nice place, close to town center, equipped with everything we want, beautiful view.
Xinyue
2016-10-14T00:00:00Z
Amazing. The pictures in the listing don't do it justice. Great views, very comfortable apartment, and very conveniently located to the heart of Queenstown. Area was very quiet at night, which you can't say about all of Queenstown. Communication with Brian was direct and to the point. Support was there as well if we ran into trouble, which we didn't. Key pickup and drop off were convenient. Overall, a great experience that was the high point of our trip in New Zealand!
James
2013-11-16T00:00:00Z
Romtype
Helt hjem/leilighet
---
Eiendomstype
Leilighet
---
Plass til
4
---
Soverom
Queenstown, Otago, New Zealand
Our one - bedroom apartment has a king size bed in the bedroom and 2 single beds in the lounge. There is also a flat-screen television. Full kitchen facilities are available along with a dining area. A washing machine and Free WiFi are also available for your convenience. The apartment also features lake views from all rooms. Our warm, comfortable apartment has an air conditioner along with a heat pump for those cooler months. Conveniently located, the apartment is only a 5 minute drive from the centre of Queenstown and is within walking distance of the lake (there is a lovely lakeside trail to walk, run or cycle on). Public transport (bus) passes our street quite regularly (every 15 minutes during the day, and about every 30 minutes in the evening). We look forward to meeting you soon. Amenities and Inclusions:- * TV * Wireless Internet * Air Conditioning * Heating * Kitchen * Parking Included * Washer
Excellent! Highly recommend the personal and friend touch!
Holly
2015-07-12T00:00:00Z
Quiet and peaceful. Excellent beds so slept really well. A great way to arrive in Queenstown and wind down for the holiday ahead.
Nigel
2015-02-09T00:00:00Z
I love the Welcome Note stuck on the door. It was really a nice gesture. The view was amazing but the awesomeness extends beyond just the lovely scenery we enjoyed. The apartment is well kept and maintained; we love the juice, eggs and bread (it is so nice to have breakfast before heading out for sightseeing). There is nothing more we could have asked. On a personal note, the fantastic heating system nursed me back to health as I caught a cold during a chilly stay in Te Anau. We have taken a business card and we will definitely recommend the apartment to anyone who wants accommodation in Queenstown. I forgo a stay in Hilton to live here for a couple of days and all I can say, definitely the best choice ever.
Ivy Victoria
2015-05-01T00:00:00Z
We loved staying at Chris and Leslie b&b. it was very cozy, spacious and very clean! The views from the apartment was breath taking and Chris was really friendly, funny and helpful since the moment we walked to his door. Also the breakfasts provided was excellent so we fully recommend this B&B for anyone going to queenstown and we will defiantly go back.
Felipe
2013-06-25T00:00:00Z
It is lovely place.
YUNYA
2017-01-12T00:00:00Z
Lesley and Chris went out of their way to make us feel really welcome at the apartment - breakfast supplies, everything clean and tidy and an info sheet to get us going. We only stayed at the apartment for 2 days but loved it - it's a 5 minute drive into the centre of Queenstown and has a stunning view of the lake too. Recommended!
Tom
2015-06-22T00:00:00Z
The pictures taken did not do this place justice. It was even better than expected. After being in the plane for 10 hours, with a 14 month old baby on tow, it was lovely to be at home. Facing an amazing view, with all the basic necessities and more provided, I wish that I will be staying at Lesley and Chris's place again. Unfortunately, I have booked another place towards the end of our trip. It was very nice of them to provide a breakfast starter pack - milk, juice, eggs, bread etc... & with a baby... an equipped kitchenette and a laundry washer came in very handy. She had also given us a map... very thoughtful indeed. My son was very happy to crawl over the place and I have no qualms about it as it was very clean and tidy. All heaters and wifi were working well. We had no trouble finding the place as the directions provided were clear. Lesley took the trouble to greet us even though the weather was not favourable. Replies were prompt. I highly recommend their place to both families and couples. Would love to stay there again.
Ann Jee
2016-10-28T00:00:00Z
We didn't have a lot of time in Queenstown but Lesley was a wealth of information and readily helped us figure out a game plan for our night on the town. The apartment was clean and spacious. Wonderful view! Wish we could have spent more time there.
Emily
2016-01-23T00:00:00Z
Romtype
Helt hjem/leilighet
---
Eiendomstype
Leilighet
---
Plass til
4
---
Soverom
Queenstown, Otago, New Zealand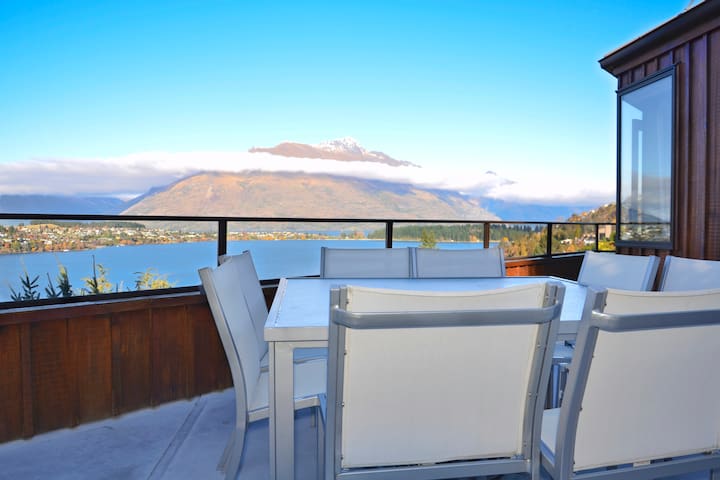 A modern and small home available near central QT. Suit couple looking for a weekend getaway or travellers who would like their own private space. 15 - 20min walk to the centre. Large balcony which is the perfect spot to gaze out over the lake and mountain ranges.
Petite and modern. This home has everything you need to make it your home away from home. The main bedroom has a queen bed and the 2nd room now has a new double bed. There is a heat pump for cooler nights and winter times. The views from the living room and bedrooms are sensational - it's like having your own private look-out! Free view TV and WIFI is available. The house is fully kitted out with all kitchenware and there is also a laundry room with washer and dryer. There is also storage under the stairs for skis. It's about a 15-20min walk into town or a 5min drive/cab ride. Its a 10min cab ride from the airport. A bus into town is available at the bottom of the hill. The property is on a private road which means there is very little traffic. There is a parking space at the house for guests. There is a walking track at the bottom of the property, which takes you around the lake or there is a walking track up the hill behind the property for those who like a good hike. The house is non-smoking. Smoking on the balcony is acceptable provided the butt pot is used. Check in is at 2pm. Check out is 11 am. All linen is provided.
15-20 minutes walk to the centre of QT. 10min cab ride from the airport. There is a walking track at the bottom of the property, which takes you around the lake or there is a walking track up the hill behind the property for those who like a good hike. The property is on a private road which means there is very little traffic. Parking space is available to park in.
Nina was very responsive and the house was comfortable and well stocked with helpful items. True to the pictures-Amazing views of the lake from the balcony and bedroom!
Sue Lyn
2016-04-16T00:00:00Z
The view of this cottage is great. However, we had some unpleasant experience with the landlord. If you would like to try your luck, my suggestion would be: 1) keep all the correspondence in written; 2) upon your arrival, do a thorough inspection on the house and advise the landlord all the deficiencies in written.
catherine
2016-02-15T00:00:00Z
Amazing Lake view! Our family had a great time here. Nina was also easy to reach. Enough condiments on the cabinet made it convenient for us to cook. I also loved that there were extra hot water packs!!
Sae A
2016-08-02T00:00:00Z
Such a beautiful and well appointed home away from home. View was amazing. We wanted for nothing, and lots of lovely touches including fresh flowers
Jacquie
2015-04-14T00:00:00Z
Fabulous home!! Such amazing views and equipped with anything you could want or need! The beds were amazingly comfortable and very cozy. The house was very clean and all directions were very clear when getting to the house. There was even a little book that could answer any of your questions you may have that rests on the coffee table. Nina was very helpful and I would recommend her place to anyone! Definitely will have to have another stay there! :D
Rachel
2015-07-28T00:00:00Z
Nina's place was amazing. It was exactly as pictured and I couldn't of asked for a better experience. The views were incredible, the apartment was clean and very comfortable. It was in a great location - you could either walk into town during the day or take a relatively inexpensive taxi, or rent a car. Will definitely recommend Nina's place to others.
Katherine
2015-09-08T00:00:00Z
We loved our stay, perfect location for exploring Queenstown and the views from the balcony are definitely amazing. Also a great base for day trips. The unit was very well presented and comfortable place to relax. I couldn't recommend staying here any higher.
Dean
2015-02-22T00:00:00Z
Very comfortable accommodations overlooking the mountains and river! We were able to walk down to the bus stop for our excursion. All conveniences of home were available. A nice drive to town and the grocery store. Great WIFI and information provided for activities.
Susan
2016-05-04T00:00:00Z
Romtype
Helt hjem/leilighet
---
Eiendomstype
Hus
---
Plass til
4
---
Soverom
Queenstown, Otago, New Zealand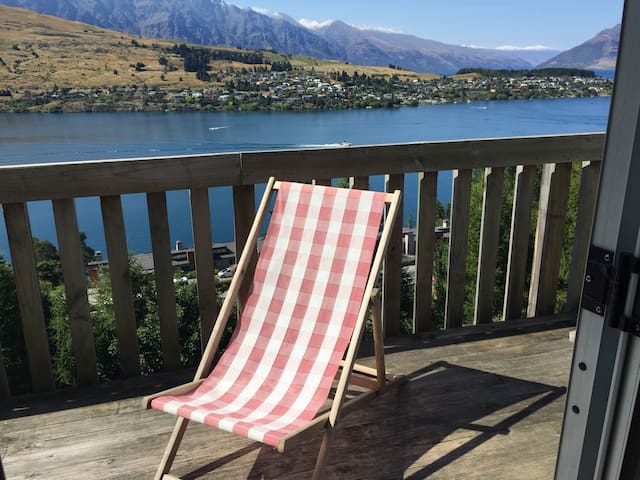 Peninsula Road cottage (crib) is the perfect relaxing holiday spot in summer and winter. From the moment you walk in, you will feel relaxed.
A character crib modernised and contemporised, it has all the comforts and yet still retains the simplicity of a traditional holiday house that you remember from your own childhood holidays. Basking in all day sun with expansive water views, this crib is the perfect base for your holiday. In summer you can practically spend all day on the sunny deck- morning coffee and papers, al fresco lunch and then to enjoy the long Central Otago evenings with drinks and BBQ dinner until it gets dark well after 10pm in summer. In winter you can enjoy the sunshine streaming in the windows and the log burner whilst you take in the views of the calm lake and snowy mountain tops. It's so warm and cosy in winter that a relaxing dinner at home and local pinot noir after skiing will be very appealing. The crib was one of the earliest on Kelvin Heights and has been built in several stages and now recently refurbished. The two queen bedrooms are connected internally or can be accessed independently through French doors off the large deck; There is plenty of off-street parking. The garden is in constant bloom for most of the year so you can enjoy fresh flowers during your stay.
Sunny cottage sits in the most perfect little garden which is terraced by stone walls. Sitting outside breathing the clean New Zealand air was the best part of our experience. The kitchen is very well equipped to cater for all your cooking needs, the beds are comfy and the neighbourhood quiet with well maintained homes and gardens. This is the perfect place to relax and enjoy a few days. Fiona was very easy to communicate with which is the best quality a host can have.
jo
2016-11-29T00:00:00Z
We stayed 5days at Fiona's place and we had a wonderful time with our 6 month old baby. The time we spent at the spacious sun deck was fantastic and her well maintained garden was so beautiful. Strongly recommend this house.
Marcus
2017-02-15T00:00:00Z
We had a great time stay in Fiona's place. The view is absolutely beautiful. The house is clean and hve everything we need. Fiona is very helpful and gave us lots of tips of Queenstown about where to go and where to eat. Thumbs up!
Kitty
2016-01-22T00:00:00Z
We had a absolute great time in this old cottage. Fiona was able to bring it back in the modern time and it looks absolute fantastic with very tasteful colors and exactly the right amount of interior. It was very hard for us to leave the great view from the terrace over the sea day by day. Perhaps this is the only bad thing to say about this place as it would be shame not do explore the interesting and adventures surrounding. The adrenalin capital of the world. Many thanks for a nice time. Would be nice if we could come back one day.
Jörg
2013-12-27T00:00:00Z
It is a magnificent abode in a magnificent surrounding. The property is large, very clean and very comfortable. There are splendid views from the living room and the deck. One just feels like spending more time soaking up the beauty of the lake and the surrounding mountains. Some of the best pictures of our trip were taken from the deck of the house. The house is well equipped with all kitchen amenities and we actually cooked on many occasions. The bedrooms are spacious and beds very comfortable. The property is at a 10 minute drive to the city centre and we did not have any difficulty getting there as we had a rented car with us. The bedrooms may feel a bit cold initially but it gets alright once the heat pumps are turned on. Fiona is a very gracious host. She was extremely welcoming from the day we booked her property. She gave us some very useful suggestions about sight seeing on our way to Queenstown. She is easily accessible on phone and always willing to lend a supporting hand. I would highly recommend Fiona's house for those who want to have a memorable stay in Queenstown.
Manu
2015-09-30T00:00:00Z
Great apartment! looks exactly as the picture shows. Fully equipped with everything you need.
June
2016-03-15T00:00:00Z
Such a cosy little cottage with ample space for a family of four. It was within a short driving distance to town and easy access to Queenstown surrounds. It can be a bit tricky to find at night but you'll get used to it. The house was clean and well stocked with the essentials. It had two heat pumps which was enough to keep the place warm at night. The view was what you expected as shown in the photos. Fiona was very helpful and easy to communicate with. She gave clear instructions and we didn't have any issues during our 3 days stay. We had a lovely time staying at this cottage with spectacular views.
Marc
2016-09-19T00:00:00Z
Fiona was such a joy. She was a host and a tour guide. She helped us navigate food and wine throughout New Zealand. Her house was beautiful. The views are memorable. Thank you for an amazing honeymoon!
Kristyn
2015-05-21T00:00:00Z
Romtype
Helt hjem/leilighet
---
Eiendomstype
Hus
---
Plass til
4
---
Soverom
Queenstown, Otago, New Zealand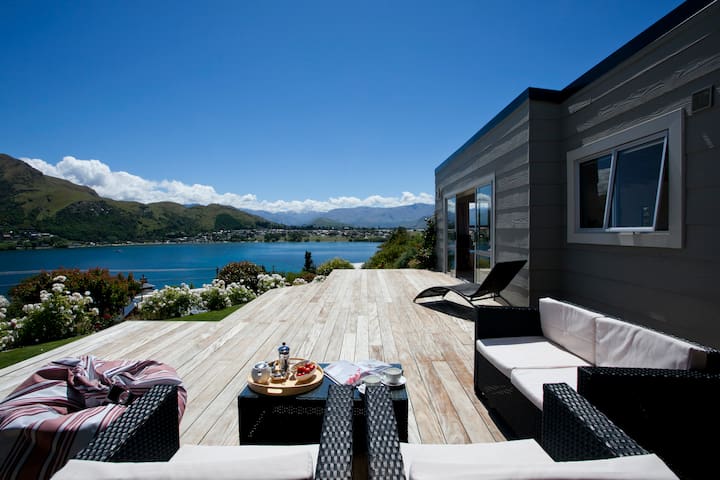 The Extended Boathouse is only 25 minutes away from the Remarkables ski fields and only 40 minutes to Queenstown. We're also on the way to Te Anau and Milford / Doubtful Sounds. Beautifully located outside the hustle of Queenstown while still being accessible. We have great views all around and are only 80 meters away from Lake Wakatipu. Perfect for couples, solo adventurers, and business travelers - this newly designed extension to our Kingston Boathouse is stylish, comfy and well equipped.
We're so excited to be able to share the extended addition of the Kingston Boathouse with you. We've recently built this extension and styled it ourselves to match the mid century vibe of the original Boathouse. From digging the foundations to custom built desks, we've put our heart into this design which draws on the best of the Queenstown Lakes region. The space offers a number of very comfy, very cool features: - the bedroom has an amazing view over the lake and a great ensuite with a huge shower and lovely refurbished vanity. - the raised mezzanine has a gorgeous and fun swinging chair, a working desk and a library. - the lower lounge has a fantastic view towards the lake and surrounding mountains as well as instant access to the deck. - the kitchen is loaded with all you'll need for a foodies holiday and if it ain't there, just ask. - the garden outside has around 99 edible things growing depending on the season and we'd like you to help yourself to anything from fresh herbs to quince.
Kingston is a lovely quiet village by the lake with scenic walks, a nine hole links golf course and super friendly people. Perfect for getting away and relaxing by the lake, There's only a small cafe and shop up the road so make sure you get all your supplies before heading down to Kingston.
We stayed 4 nights at Emma-Kate's and Patrick's place and loved it! After weeks of travelling we were looking for a nice and quiet place where we could enjoy some days off. The boathouse is nicely decorated and very comfortable. The kitchen is fully equipped and the hosts where so nice to offer us to use their wonderful herb and vegetable garden. The setting is stunning with great views of the lake. I would definitely recommend!
Karin
2017-01-28T00:00:00Z
Patrick and Emma-Kate are the most welcoming people you will ever met and every detail was intricately considered for my comfort and wellbeing during my two night stay. They truly are the most wonderful hosts. I did not want to leave this property, and I can still feel the warmth of the sun pouring through the windows as I looked out onto Lake Wakatipu and the surrounding Mountains from the lounge area or the mezzanine bedroom. They lit a fire for me in the evenings simply to keep the home warm as the sun left for the day. The kitchen is equipped with all I could need and more to cater for myself. The bed was comfortable and the bathroom had a great shower. This is a place you want to stop and retreat to. I was happy just to be in Kingston and enjoy the beach front and surrounding walks, however it was so easy to get to Queenstown, a stunning 30 - 40 min drive along the lake. I would recommend this place to anyone if they just need to retreat for time out or are looking for a beautiful place to come and go from in the Queenstown area. I will definitely be heading back there myself for more...
Kim
2016-09-19T00:00:00Z
Wow! We had a fantastic stay. The place is beautiful and so well kept. We felt right at home instantly, and were greeted by Patrick and Emma-Kate, who are both clearly very passionate about what they do. We were shown around the place, and were told to help ourselves to anything (which we did, and created an awesome home grown dinner with!). Communication was perfect and it was a pleasure to stay. Thanks so much for giving us such a lovely spot to stay! It was great meeting you both :)
Kurtis
2017-03-26T00:00:00Z
Great place to stay in a quiet part of NZ. Beautiful home and a scenic view of the lake outfront
Nubar
2016-11-17T00:00:00Z
We had the perfect 8 days stay at Patrick and Emma-Kate's boathouse! All we have are good words. Patrick and Emma-Kate are such nice people, welcoming and accommodating. They leave you to your own privacy yet are always available whenever you need them. From the beginning, they respond to enquiries very fast and are always contactable. Check-in details and all other information (for wifi, laundry, fireplace, etc.) were provided clearly. The house is well-equipped, very clean and they grow their own spices in the garden! All you need for cooking, and basically everything else to make your stay feel like home, are readily available. The town itself was peaceful and serene, and the view of the stunning lake wakatipu, with the surrounding mountains, from the house was a bonus (a double rainbow greeted us upon arrival!). On a clear night, we got to see the stars lighting up the dark sky and the moon shining brightly over the lake, all from the porch of the boathouse! The boathouse is a short drive to The Remarkables and Queenstown, and it is along the way to Milford Sound. What you see in pictures are exactly what you'll get. We definitely recommend the boathouse for couples seeking a safe, private and romantic stay.
Fizzi and Fauzana
2016-12-16T00:00:00Z
Emma-Kate and Patrick were extremely welcoming hosts, lending us their bikes, allowing free rein of their vegetable patch, and giving us some delicious homemade granola. The property is stunning, the decor is beautiful, with lots of homely touches. The location is extremely peaceful, with lovely views over the lake and scenic walks/cycle trails nearby. We would recommend this property for anyone looking for a peaceful lakeside retreat. The property is also a handy base for trips to Queenstown/Milford Sound.
Andy
2016-12-23T00:00:00Z
Oh my goodness. The view, the apartment, the hosts. We spent one night here as a stop on our two week drive around the South Island. Wish we could have stayed longer! The apartment is immaculate and beautifully designed. We were invited to harvest some veggies from their well-stocked veggie patch and gosh are we glad that we did. A fresh garden salad, roasted veggies and some incredible slow cooked short beef ribs from Patrick made for the best dinner we have had in a long time. With the fire roaring and 180 degree views it made it quite difficult to leave. Thank you so much for an incredible stay – your hospitality is like none other.
Jade
2017-03-07T00:00:00Z
The extended boathouse was beautiful. A great spot in Kingston with easy access to the lake and also to Milford sound and surrounds. Patrick and Emma-Kate couldn't have been more accomodating. A lovely stay and highly recommended!
Des
2016-11-16T00:00:00Z
Romtype
Helt hjem/leilighet
---
Eiendomstype
Hus
---
Plass til
2
---
Soverom
Kingston, Otago, New Zealand
Looking for a great place to stay near the lake, fully equipped with a great kitchen, super warm fireplace, comfy leather couches and a great queen-sized bed. You've found the place. Located just 30 minutes from the airport and Remarkables ski field on the road to Te Anau and the Milford Sound.
We invite you to stay in our sunny, warm, and modern home. Rest and relax here in beautiful Kingston whilst enjoying all that the region has to offer. Located just 30 minutes from the airport and Remarkables ski field on the road to Te Anau and the Milford Sound. The house is well equipped for a relaxing break, double glazed, well-insulated, wood burning stove and polished concrete floors that soak up the daytime sun and keep the house warm throughout the evening. Our north facing home has great views of the surrounding mountains and the lake is just 2 minutes walk away. We are creating a native garden around the property and we hope you will enjoy sitting on the patio soaking in the surroundings.
Kingston is a small village with very little noise or traffic. Most people wander down to the lake to go fishing, or up the mountain (Shirt Tail Track) for a bit of exercise and a great view. Their's a lovely little links golf course just 2 minutes from our home as well.
What a beautiful property! The view from the lounge room was beautiful. It was nice to stay out of busy Queenstown. The house is well laid out and has a great sized kitchen. The fireplace was a great added bonus as well. Patrick was great throughout our stay. If we needed anything he was too happy to help. The house has everything you need to feel like a home away from home. We would stay there again.
Pamela
2016-08-14T00:00:00Z
The place is great for rest, Kingston it's really quiet and nothing is heard from the street. We loved the house and the lake it's only 5 minutes walk. Definitely we'll stay again in our next trip to NZ.
Alex
2017-03-11T00:00:00Z
Beautiful modern home steps from the lake and hiking trails in the mountain and about 30 min away from Queenstown on the windy, scenic road. Highly recommended!
Catherine Phoebe
2017-02-04T00:00:00Z
A perfect stay in Kingston...This modern, spacious place had an awesome fire place. It gave away a comfy warmth and was very calming especially in conjuction with the lake view. Everything was clean and very quite, exactly as Patrick described it. We would stay again in a heartbeat.
Dominik
2017-03-13T00:00:00Z
Amazing house in a lovely setting. I would highly recommend to anyone.
Perry
2017-02-14T00:00:00Z
We really enjoyed our stay at this wonderful eco-house. Kingston is just a little town with not much to do, but it was wonderful to stay in such a lovely home, where we could relax and enjoy the surroundings. The house is perfect for two, and we appreciated such a big kitchen. Cannot recommend this highly enough.
Solveig Marie
2017-02-09T00:00:00Z
Fantastic! A very modern, clean perfect house. Great kitchen well stocked and a beautiful yard and garden. It is a block from the beach and small park on the lake, in a small village with a bike trail. There is a coffee shop and restaurant a couple blocks up. Quaint quiet peaceful, and very comfortable. We loved it.
Rachel
2017-02-12T00:00:00Z
Absolutely loved the place! Such a beautiful location and community. Would highly recommend staying here and will definitely visit again.
Erosha
2016-08-10T00:00:00Z
Romtype
Helt hjem/leilighet
---
Eiendomstype
Hus
---
Plass til
2
---
Soverom
Kingston, Otago, New Zealand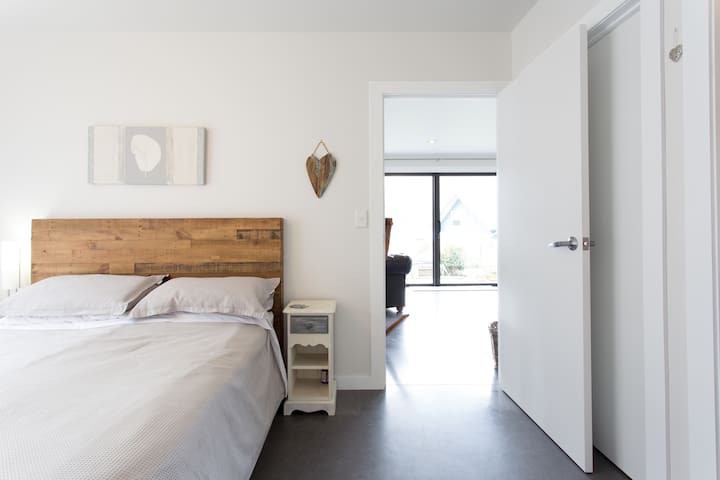 A new three bedroom home. All double glazed, fully insulated and with heated tile floors. Designed to capture maximum sun and all of Kingston's awesome unobstructed views. With great indoor-outdoor flow onto the wrap around deck. Reviews: This house is our favorite place in NZ, the amazing view of lake and beautiful stars at night. Highly recommend. Wish we could stay more days. / Can't describe accurately enough what a stunning house in a stunning location this is... it is utterly beautiful
You have the use of the whole house. The laundry is located in a small room outside by the back door.
Adjacent to the house is the bike trail. Also just up the road is a 9 hole golf course. And down the road is the lake - it is always ready for you to swim in. Across the road from our house is a children's play park.
It was a wonderful experience staying at Paul's place. It elevated my whole trip to another level. The place is tidy and clean, got everything you need for a getaway. Most importantly the view is breathtaking.
cindy
2016-10-18T00:00:00Z
The house at Kingston had the most fabulous views. I loved that we could see the mountains and lake right from the lounge room. It's a fairly modern place with lovely extras like a brand new bathroom complete with heated floor! And lovely new carpet. Kitchen was a little dated but who cares! Had an excellent gas cook top which we used many times. Thanks Paul for letting us use your fantastic home for a week. Kingston is perfect when you consider it's only 35 mins from Queenstown. We loved the serenity.
Rachael
2016-03-02T00:00:00Z
very good house near to golf club. highly recommend in kingston.
feng
2016-07-23T00:00:00Z
Great place! Great view! Super spacious. Will def stay here again if I get the chance.
Simon
2016-03-14T00:00:00Z
房子在湖邊第一排~景觀非常漂亮!整體環境也維護得很好!夜晚的星空令人嘆為觀止! This house is our favorite place in New Zealand, the amazing view of lake and beautiful star at night. highly recommend. wish we could stay more days here.
Wa
2016-09-21T00:00:00Z
Un endroit reposant, tranquille et adaptê à ce que nous voulions. Queenstown n'est qu'à une demi heure, aucun souci pour la route. Des balades sympathiques et une vue incroyable belle !
Maeva
2016-07-19T00:00:00Z
Stunning views of the lake. Peaceful quiet neighbourhood. Accommodation comfortable and suitable for our needs.
Elaine
2016-10-18T00:00:00Z
Beautiful views of the lake and mountains. Quiet, family-friendly neighbourhood.
Melody
2016-12-29T00:00:00Z
Romtype
Helt hjem/leilighet
---
Eiendomstype
Hus
---
Plass til
5
---
Soverom
Kingston, Otago, New Zealand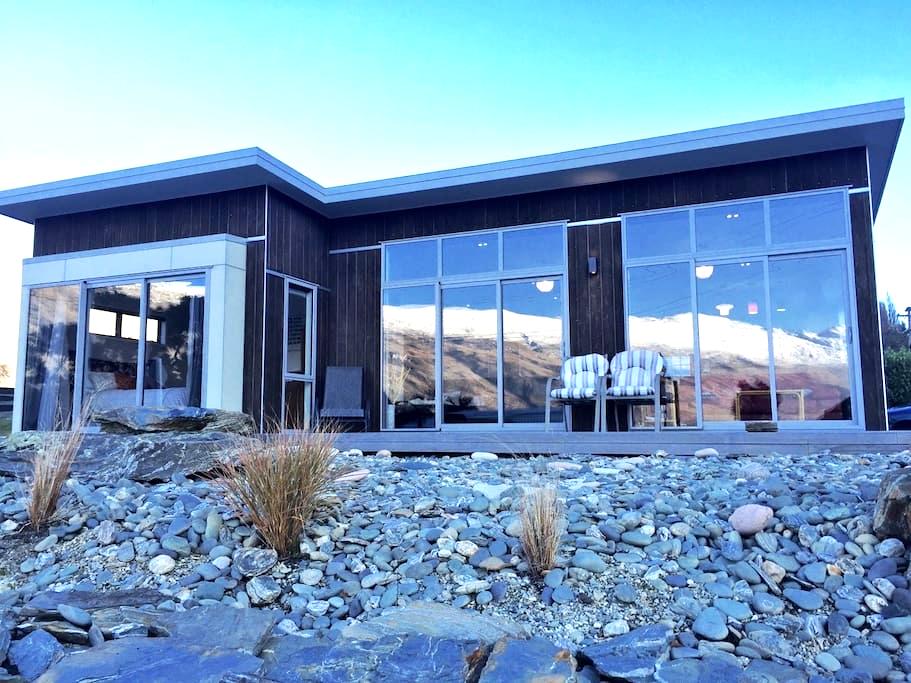 Lake's End Lodge is beautiful old Villa packed with character on the banks of Lake Wakatipu. Surrounded in mountains and farmland, in the cute wee village of Kingston. We offer free breakfast, & have loads of facilities you can use like kayaks, spa, sauna & bikes.
The room on offer is a sunny room with lovely garden views. There are bunk beds which have been custom built out of beautiful Recycled Rimu. There are up to 4 spaces in the room on offer, as well as loads of storage space, individual cubby holes, a light, and curtain for each bunk. It's $30 per night per person. While there is no en suite, there are 3 showers and 4 toilets, so you'll never have to wait. The BnB is in a beautifully renovated 100 year old villa. Great fully stocked kitchen, shared living area, big open fire and high ceilings. We've also got a great big games room in our garage with table tennis, a pool table & other garden games. There is a BBQ/kitchen area, and extensive gardens to enjoy. Also for your enjoyment: Bikes, kayaks, tennis racquets, golf clubs, ski/snowboard equipment, sauna, spa/hot tub, cinema room, library, arcade machine, xbox, big comfy lounge suite for chilling out.
Kingston is a small village at the very end of Lake Wakatipu, just 30 minutes from the airprt, and 40 minutes to Queenstown. A very friendly community, and a relaxing place to live, and come on holiday. We've got Lake Wakatipu right there, where you can enjoy boating, water sports, fishing, kayaking, and swimming (if you dare!) There are a couple of cool walks you can do in the area, as well as the Around the Mountains cycle trail which either starts or ends in Kingston. Kingston is also great for rock climbing, and there are tennis courts, golf and lawn bowls. We're en route to Milford Sound, and can happily help you organise your trip there, or suggest other places like Queenstown, Arrowtown, or the Gibbston Valley for wine tasting. The Remarkables Ski Field is 25 minutes drive, and we do regular trips there in the winter (which you're welcome to join us on.)
Kimmy and John are awesome hosts! From a cinema room, gym, sauna etc. they have it all. The bunk room what I booked was very clean and the bed comfortable too! They are also very helpful, told me some things to see for my day trip and the tips was at the end great. We will see us definitly again at my next stay in NZ! :)
Daniel
2016-10-27T00:00:00Z
The listing was very accurate. It was a wonderful experience. The hosts really make you feel welcome, and provide so much more than other accomodation places I have stayed. I would gladly visit there again, it was fantastic.
Johann
2016-04-09T00:00:00Z
Highly recommended - a mix between homestay and hostel this place has the best of both worlds! Atmosphere was great, beds were very private and comfortable, the hosts Kimberly and John were super friendly and helpful and the overall vibe was very welcoming. There are heaps of activities provided from mountain biking to arcade gaming. You can also join in with the highly recommended family dinners! Overall a great place to stay.
Cydne
2016-03-25T00:00:00Z
Kimberly and John are simply amazing! They are really friendly and funny and helpful... perfect hosters!! I can only have good words. The house is beautiful and big and cosy and you'll find all facilities and whatever you need. I can't imagine a better place to stay close to Queenstown. Thank you guys!
Inés
2015-12-30T00:00:00Z
Very pleasant house with a friendly family. You can share moments with them as best friends as you can relax and take time for yourself.
Nadine
2016-04-06T00:00:00Z
Kimberley & John have put together an amazing lodge. The lodge itself is beautiful with some exceptional handiwork done by John in the restoration of the place, who is himself an incredibly affable guy. The surrounding mountains and lake make for an incredible location, and K & J have everything you need from table tennis and bikes for you to enjoy your stay. My friends and I enjoyed the community atmosphere and freshly baked bread in the morning. Will definitely stay again next time I'm in the area.
Chris
2016-02-12T00:00:00Z
Brilliant spots, a beautiful location and incredible house. One of the nicest places I've stayed in, and despite it being a shared room, it feels incredibly private as you're bed is surrounded by walls three sides and a blackout curtain on the other one. amazing house, and serves some bad ass coleslaw
Michael
2016-11-07T00:00:00Z
We stayed in the bunk room and it was very comfortable, plenty of room for all six of us! They have all sorts of things to do at the house and are super friendly and helpful! Yummy fresh baked bread in the mornings. Loved it, would recommend to anyone!
Breann
2016-12-23T00:00:00Z
Romtype
Delt rom
---
Eiendomstype
Bed & Breakfast
---
Plass til
6
---
Soverom
Kingston, Otago, New Zealand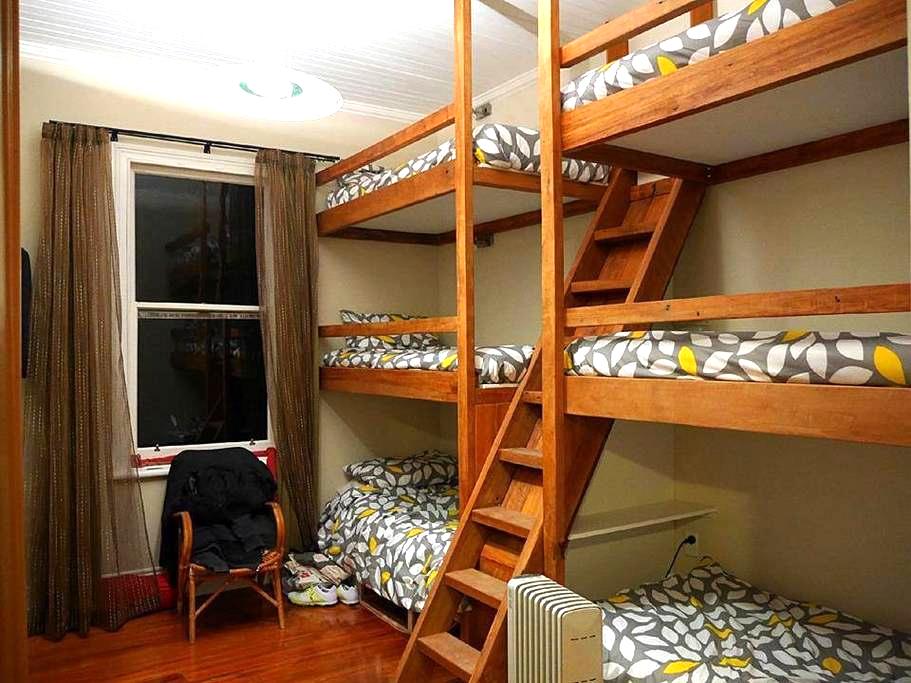 Our place is located in sunny Arthurs Point, less than 5 minutes' drive to the Coronet Peak Access Road, and less than 10 minutes drive to downtown Queenstown. Your room is located in our four bedroom house and has a comfy Kingsize bed and large wardrobe making it ideal for stays of all lengths. Enjoy the best of both worlds...experience the more laid back side of Queenstown while still being less than 10 minutes away from all the hustle and bustle of central Queenstown.
You will have access to your own private bedroom and a large bathroom shared with a max. of 2 other people from our other Air BnB room. There is also access to a shared lounge/dining area to relax and unwind in after your days exploring Queenstown with a Smart TV with Netflix. If you fancy some breakfast in the mornings we'll have some cereals to fill up before your day's adventure! Free to help yourself to coffees and teas...milk is in the fridge :) Our house is on a large section with mature plantings, fruit trees (help yourself in summer!), flat wide lawns and BBQ area. There is also a store room for you to secure all your snow gear / mountain bikes in over night. If that's not enough, the wonderful position - in our opinion :) provides superb privacy.
We are located just 3 minutes drive from the Coronet Peak turn off making this a great base for Mountain Bikers and Snow sport enthusiasts alike. Throw in some great hiking trials and the Shotover River into the mix and you have oodles of activities at your doorstep! There are also a couple of cafes/restaurants within a 5 or 10 minutes walk from our house, plus there are also many take aways in central Queenstown to cater for all culinary tastes! The neighbourhood itself is a very chilled out part of town, family friendly, and community orientated. A lot of 'locals' have chosen to make Arthurs Point their home.
Quite location just after the Shot over river. Dog provided a warm welcome. Cats are fluffy and one is friendly. Parking was off site and safe. We never met the hosts sadly. Bed comfy. Good cupboard space. Nice size bathroom. Warm gown provided.
Natalie
2016-12-14T00:00:00Z
Nina and Matt were awesome from the beginning. We had some last minute changes in our plans and they were great about helping us out without blinking. The location is about a 5 minutes drive from downtown Queenstown and is in a great spot away from the busier areas in a beautiful, quiet suburb. The room was very comfortable and had everything we needed. The rest of the house was great as well as it is separate from the main house but is set up like a little B&B. We would definitely stay again!
Michelle
2017-01-05T00:00:00Z
Awesome. Sweet place to stay. Cool for relaxation, doing trips in Queenstown, ... Nina was very lovely and a great host.
Camillo
2017-02-23T00:00:00Z
Nina's place was amazing!!! Very comfortable and clean. Her cute dogs and cat made the stay extra enjoyable as you would wake up with her cat meowing and stroking its head on you. Her place is very private and quiet and suitable for those who need a place to sleep. Also, Nina was very approachable and welcoming. Defs was a great stay to allow us to explore the last days at Queenstown.
Kathy
2017-01-28T00:00:00Z
amazoning place, and Nina is a very friendly host, can't expect more:)
Zack
2017-01-18T00:00:00Z
Nina, is a very good host. The place is very New and Clean.
Marlene
2017-01-31T00:00:00Z
Nina's place was lovely, it was easy to find and Nina was very nice and helpful. We even got a little bottle of champagne for New Year! The bedroom is well decorated and clean ans above all we loved the cat :)
Jennifer & Raphaël
2016-12-31T00:00:00Z
Great place close to Queenstown!
Nico
2017-01-01T00:00:00Z
Romtype
Privat rom
---
Eiendomstype
Hus
---
Plass til
2
---
Soverom
Arthurs Point, Otago, New Zealand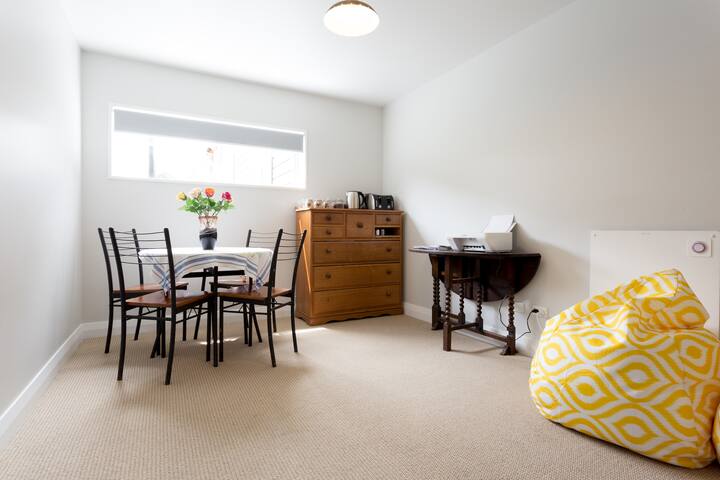 Make this your base camp for great walks, Remarkable skiing, fishing... where scenery meets serenity. Situated at the southern end of Lake Wakitipu. Relax and unwind in this beautiful place surrounded by mountains, a short stroll to the lake shore.
We are only 30 minutes from Frankton Airport and the Remarkables ski field, 40 minutes from Queenstown and an hour and a half to Te Anau on Route 6. But why not stay a while and explore the local area and all it has to offer. Our lovely little base camp has an open plan living, dining and kitchen space with the basics to make a good meal and relax a couple hundred meters from the lake. There's a spacious bedroom with a sumptuous queen bed and large ensuite bathroom. The space is well designed and comfortable with a beautiful wood burner to keep you toasty in winter.
Other activities in and around Kingston include local walks to the historic wharf and nature reserve. Fishing in the lake or the local rivers. The Kingston Golf course or Jack's Point and Skiing in the Winter at the Remarkables field.
This is a great spot to relax. Enjoy the fireplace, views and good hospitality. Bed was comfortable, place was clean and tidy. Thanks Patrick!
Ryan
2016-11-18T00:00:00Z
So quiet, really comfortable and the best sleep on our trip. Cooked up some NZ green lipped mussels in a Mediterranean source and life doesn't get any better.
Dianne
2017-03-09T00:00:00Z
This place is super cute! Like a modern log cabin in a winters paradise. All the amenities are there, the fireplace was lit and toasty warm when we arrived, so we sat in front of it with a bottle of wine with no worries in the world. Patrick (host) was very helpful and hospitable especially when we got lost trying to find the place! Lol We also had our 3yr old son with us aswell which was not an issue whatsoever :) Thanks so much! We hope to return again for a longer stay! Josh, Jocelyn and Baxter
Josh
2016-10-12T00:00:00Z
The apartment was very cosy and clean. I particularly enjoyed the fire and the tasty breakfast. Just what I needed. Thank you!
Jono
2016-01-10T00:00:00Z
On our travel from Twizel to Te Anao, we stayed with Lynne. When we arrived, she welcomed us with a smile. With music on the stereo and fire in the fireplace, we enjoyed our evening. We give our best recommendations to those who have in mind to visit this place! Best Regards Steffen Isgreen
Steffen
2016-01-07T00:00:00Z
Thank you Lynne for the warm welcome! The flat is very clean and specious. Everything one might need is provided. The kitchen is equiped for a short and also for a long term stay. The bathroom is big and totaly new. The area is very quiet and its just a two minute walk to the lake. We definitly would recommend to stay with Lynne.
Brigitte
2016-01-11T00:00:00Z
We had three wonderful nights in this house. You got everything in it. Kingston is a small community, suitable for people who seek serenity.
Ted
2017-02-07T00:00:00Z
Lovely and quiet! Patrick is very caring and professional
Bridgid
2016-11-24T00:00:00Z
Romtype
Helt hjem/leilighet
---
Eiendomstype
Hus
---
Plass til
2
---
Soverom
Kingston, Otago, New Zealand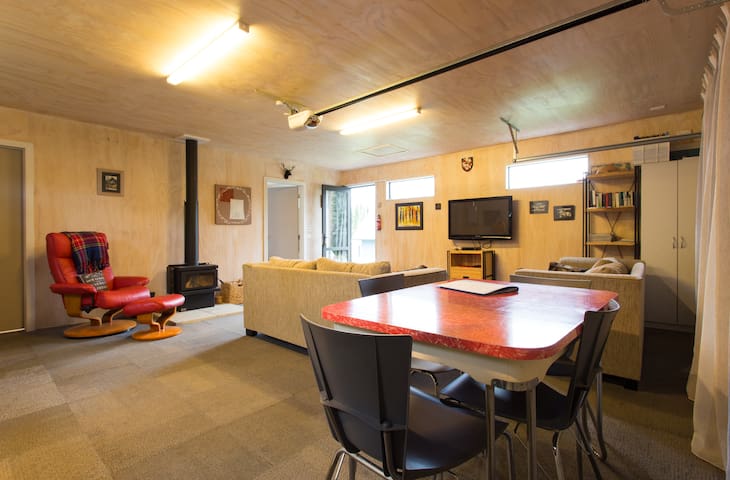 Lake's End Lodge is beautiful Villa packed with character on the banks of Lake Wakatipu. Surrounded in mountains and farmland, in the cute village of Kingston, we're your home away from home. The main house has dorm and BnB rooms, while this space is a quirky converted bus nestled in the lush garden. You'll have complete privacy, while still being able to access the main house. Toilet is inside. We offer free breakfast, & have loads of facilities such as kayaks, hot tub, sauna, cinema & bikes.
Gus the Bus has a comfy double bed, camping toilet, hammock, dining area and sink. It's away from the main lodge, tucked into the tree's, but is still a stone's throw from all the facilities inside the main house. You can also check out our other lisitings if you'd prefer a room inside: Rimu Room: https://www.airbnb.co.nz/rooms/9513927 The Container Cabin: https://www.airbnb.co.nz/rooms/13941756 Lake Side Suite: https://www.airbnb.co.nz/rooms/9577958
Kingston is a small village right on the lakes edge. We have one shop, cafe, pub, post office (all in one) so best to do your shopping in Frankton before arriving. Here in Kingston we have a golf course, lawn bowls, tennis, Around the Mountains Cycle trail, hikes, kayaking, fishing and more! You'll find the locals to be super friendly too. We're away from the hustle and bustle of Queenstown, while still being close enough to enjoy it!
Very nice place, well taken care of by the host. We ended up staying in the room and it was great! Would recommand to stay here on the way to Milford ;)
Julien
2017-01-24T00:00:00Z
Staying in Gus the Bus was my first 'glamping' experience. The idea of sleeping in a renovated bus sounds cool but perhaps uncomfortable. I was surprised at how COMFORTABLE and well designed the bus was. (It rrally got us to thinking about how cool it would br to renovate a bus like Gus...) We had a really great night's rest in there. I also want to comment on the absolutely awesome atmosphere in the host's house. They are SO welcoming and happy to share a chat. They also have a lot of cool facilities for hanging out: movie room, ping pong tables, large backyard, hot tub... so many options! Location is peaceful, bed is comfy, breakfast bread is tasty and atmosphere is friendly. Great stay! Thanks, guys!
Will
2017-02-09T00:00:00Z
The bus was really fun to stay in. The lodge has numerous activities to keep you entertained - our personal favourites being the spa and table tennis. Kimberley and John are really nice and put a lot of effort into making sure you enjoy your stay!
Anika
2017-02-18T00:00:00Z
Very cool bus in a very nice place with many facilities. Friendly and helpful hosts.
Erica
2017-03-22T00:00:00Z
Awesome friendly accommodation. Heaps of activities within the house and surrounds. Staying in the bus was fun
Genevieve
2017-01-22T00:00:00Z
One of the best Airbnb's i've ever stayed at! Our only regret is that we didn't have more time to spend in Kingston. Located right across the street from the lake. Kayaks and mountain bikes are available for use as well as a hottub, game room, hammocks, large gated yard with gardens, etc. Very clean, good wifi, super modern and fun appearance. And beautiful view of the sunrise through the huge windows if you rent the Rimu Room (highly recommend)! The homemade bread in the morning was a huge bonus as well. Absolutely fantastic!
Car
2017-03-13T00:00:00Z
This is the best Airbnb experience my partner and I ever had! This is more than just a comfortable bed to stay the night, this is a hub for entertainment and adventures within and outside the premises. We enjoyed the hot tub, the sauna, the BBQ, the equipped kitchen, the bicycles, the games room, the beautiful lake, the hikes and most of all- the vibes and the company of our lovely host. John and his partner (literally) built a little world that holds their values of hospitality, exploration & relaxation. I would highly recommend it to anyone!
Osnat
2017-03-17T00:00:00Z
The host canceled this reservation 32 days before arrival. This is an automated posting.
roman
2016-12-03T00:00:00Z
Romtype
Privat rom
---
Eiendomstype
Bed & Breakfast
---
Plass til
2
---
Soverom
Kingston, Otago, New Zealand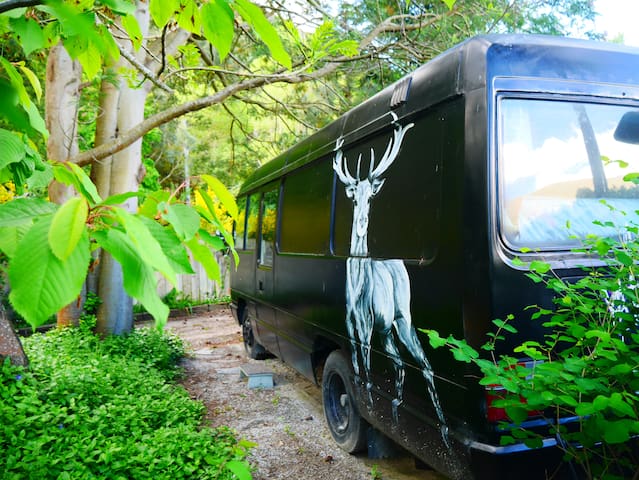 A lovely renovated home with a great kitchen, gorgeous gardens, 100 meters from the lakefront and 25 minutes from the Remarkables Ski Fields, 40 minutes to Queenstown and perfectly situated for outings to Milford or Doubtful Sound. Fantastic views of the lake and mountains with easy access to biking & hiking trails, fishing and kayaking. Warm, inviting, relaxing.
This lovely restored '70s home has been freshly redesigned to create a wonderful weekend or week away by the lake. Nestled in the southern tip of Lake Wakatipu, the Boathouse is ideally placed to give you stunning views of both mountains and lake. The old Rimu wood floor and fireplace creates a warm atmosphere surrounded by a new kitchen and bathroom. The kitchen is well equipped for cooking on a large 90cm gas cooker with three distinct ovens (the owner is a chef), accompanied by plenty of bench top space to prepare your meal by the water. The bathroom is newly refurbished with a large shower and a lovely vanity, well lit and ventilated. The dining room suits 4 people and the living supports a restive afternoon reading by the lake or chatting with friends. The bedroom looks out over the lake and grounds where our garden is also at your disposal to eat whatever's growing at the time. With a short 100 meter walk to the lake, you can fish for trout and salmon (fishing license required) or take your kayak for a spin. We supply bikes for 2 if you want to venture into the newly designed bike track from Kingston to the south or you could venture up the Shirt Tale Track for stunning views over the lake. If you want to head into Queenstown or Arrowtown, you're only 40 minutes by car or 30 minutes to the Remarkables Snow fields or Frankton's shopping centre. This home is ideal for a romantic getaway or a solitary creative weekend of writing or just reading a great book in peace and quiet. Patrick & Emma-Kate live next door in a newly built extension but are committed to your privacy and peace in every way.
A quiet lakeside neighborhood with friendly people all around.
impeccable organisation- everything was done electronically via the BnB site and email. Directions = spot on. Place = perfect. Even went for a trail run for an hour in the morning. It is a fantastic place to chill out- sadly we could only stay one night but it is a place you'll want to book for longer if you can. The scenic drive from QT ( approx 45 mins) is all part of the experience and we fell in love with the place and the location. Place = spotless and very thoughtful note greeted us and lovely touches throughout. Do Dont delay- book it if you can!
Simon
2015-02-22T00:00:00Z
Patrick and Emma-Kate have such a lovely home! They were extremely quick to communicate and their fantastic instructions made it so easy for us to stay in their beautiful boathouse. The kitchen was amazing to use and it was so lovely to warm our bones by the fire, every aspect of the home is amazing and we had the most relaxing time during our stay. We only wish we had booked it for longer...
Isaac
2015-08-05T00:00:00Z
FIVE STARS! We are sooooo thankful we stayed here instead of in Queenstown. It was peaceful, quiet, comfortable and it was a pleasure to have a proper kitchen with kick-ass equipment to make a few awesome meals. Very luxurious stay that was absolutely brilliant. Patrick and Emma were awesome, they stayed around to meet us when we arrived, showed us around, and checked in on us to make sure everything was perfect, which it was. They offered us to enjoy the fruits (and veg) from their garden their quail eggs (YUM!) and had a brilliant array of spices that you just don't get from most AirBnB's This may have very well been our favorite place we stayed in our 7 weeks in NZ. If you do stay here and enjoy hiking, you really should check out the Shirttail Track... Just walk over to the boat launch parking lot from the house and go up! Quite the climb and ends with an 'on all fours' scramble to a lookout point mid-way up the mountain... WOW! The views, the bush and the waterfalls were absolutely amazing. Highly recommend this place if you like quiet, comfortable settings.
Melanie and Miles
2015-02-09T00:00:00Z
My husband and I LOVED staying at the Boathouse. The location is ideal, right near the lake. The garden is beautiful. The interior of the house is so perfectly decorated and cozy and WOW the kitchen is incredible. Patrick and Emma-Kate were very friendly in their communications and were very easy to get a hold of when needed. We definitely recommend staying in their lovely home and would not hesitate to stay again if we are in the area in the future.
Whitney
2016-02-03T00:00:00Z
Great house with stylish decoration. Good location with quiet neighborhood; friendly host.
Wilson
2016-11-13T00:00:00Z
What a gorgeous place! Perfect for some downtime, reading by the fire, sleeping - with just a few walks and a spot of fishing. An absolute joy to have a chef's kitchen to work with - we ate like royalty. Patrick and Emma-Kate were very generous hosts - the house was immaculately presented and chock full of fresh herbs and firewood. Hope to come back soon!
Will
2016-07-24T00:00:00Z
We absolutely loved staying at the Boathouse. Our only comment was that we wish we could have stayed longer! Patrick and Emma Kate have created an absolutely gorgeous home- full of great books, things to look at, a garden full of beautiful things (in our case, raspberries and gooseberries ready to eat!), not to mention the best equipped kitchen we've ever seen in a holiday abode! We also loved the walks so close by- the Shirtfront trail is well worth the effort. More time and we would have definitely cruised around on the bikes provided. This time we were just happy to enjoy the space. We are so happy we ventured from our usual stays in Queenstown and Wanaka, and saw this not so visited but just as beautiful end of Lake Wakatipu! Patrick and Emma Kate were very easy to deal with- always quick to respond to any of our messages. We will definitely be back!
Maddy
2016-01-22T00:00:00Z
The boat house is such a special place, we instantly fell in love with it. Emma-kate and Patrick have done a great job at ensuring you have everything you need. The gardens are beautiful and so is the little town of kingston. We would highly recommend this listing to anyone, and hope we get the chance to stay again.
Katherine & Jake
2015-12-09T00:00:00Z
Romtype
Helt hjem/leilighet
---
Eiendomstype
Hus
---
Plass til
2
---
Soverom
Kingston, Otago, New Zealand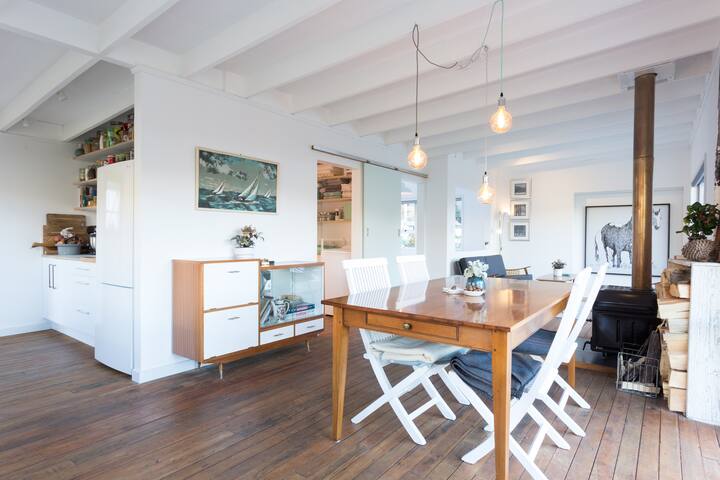 Lake's End Lodge is beautiful Villa packed with character on the banks of Lake Wakatipu. Surrounded in mountains and farmland, in the cute village of Kingston, we're your home away from home. The main house has dorm and BnB rooms, while this space is a quirky converted shipping container with your own ensuite, private courtyard and kitchenette. You'll still have access to the main house. We offer free breakfast, & have loads of free facilities such as kayaks, hot tub, sauna, cinema & bikes.
The Container Cabin is your own private cosy sanctuary separate from the main lodge. En suite bathroom, small kitchenette (kettle, toaster, wok, bbq), private courtyard and epic views while still having full access to all the facilities within the house. This can fit 3 people if required.
Kimberley and John's place is an incredible guest house, with all the equipment you can dream of and more (I hope I could have stayed longer to enjoy all of them!). They were very friendly, welcoming, and respectful of our privacy at the same time. Thank you!
Spinogirl
2016-11-03T00:00:00Z
Every thing it was advertised as .Great hosts and a very good set up with plenty to do in your spare time.
Justine
2017-02-18T00:00:00Z
Great spot, friendly hosts. Thank you
Iri
2017-02-05T00:00:00Z
Very welcoming people, fun place to stay about 30 mins from Queenstown. Quiet and secluded with a large amount of activities to keep you more then busy. Great free range eggs and bread baked to perfection. Will definitely be staying here again in the future.!! Thanks!!
Tom
2017-02-10T00:00:00Z
Kimberley and John are two of the coolest people you get to meet in your lifetime. The place is impeccable and you will fall in love with the peace and quite Kingston has to offer. Highly recommended.
Mandy
2016-11-28T00:00:00Z
John and Kimberley were great hosts! They are two very friendly people and willing to share any information they had about NZ. I highly recommend a stay here!
Alyssa
2017-02-09T00:00:00Z
This is the best air b and b ive ever stayed in. Fantastic amenities, borrow their bikes, kayaks etc. Games room, cool attic cinema. Very funky accommodation
Alana
2017-02-20T00:00:00Z
Great place to enjoy the area. Wonderful amenities. John and Kimberly have paid attention to every detail in providing a comfortable space. A home away from home. Loved the separate accommodations in the uniquely outfitted storage container.
Maxine
2016-11-16T00:00:00Z
Romtype
Privat rom
---
Eiendomstype
Bed & Breakfast
---
Plass til
2
---
Soverom
Kingston, Otago, New Zealand
If you are looking for a relaxing, quiet place to stay, you will love here. Stunning lake view from the living room and balcony in the room with bird song.
If you are looking for a relaxing, quiet place to stay, you will love here. Stunning lake view from the living room and huge deck, or from the window and balcony in the room with bird singing. We have a little farm and a green house in the big garden. You would love here if your like organic and simple life style. This is an Eco-friendly place. Some enjoyed it as home. There are also a few self-sufficient elements in this concept if you are interested. It is one little Eco-system to invite like-minded people and exchange of your experiences. The hot tub only available on request. Please let us know when you send the reservation request if you are willing to use it. A surcharge applies.
It is a peaceful, quiet and relaxing place. Here is where people to live and to relax without too much commercial activities.
Mei has been helpful since the beginning. Her home is the perfect getaway from the buzz of Queenstown and is situated at a convenient location to head to Milford. Weeks before we arrived she provided helpful websites to check the weather and road status to Milford. I was also pleasantly surprised when I discovered she had prepared firewood so we could keep warm in the cold winter nights. The house was exactly as it was shown in the pictures, if not better. The living room was spacious and was very cosy when the fireplace is lit. We were also able to cook our dinner there everyday because of the kitchen facilities provided. Everything was clean and tidy. There were many quirky items decorating the house and makes the house have its own personality. The bedroom was our favourite as it was on the second floor, we could see the lake and the sky at night. It was quite a view to wake up to every morning! If you look around Kingston, this A shaped house the rather unique and has very interesting things surrounding it, such as a garden, a green house and a BBQ pit. It must be a great place to stay in the summer as well. We really enjoyed staying here and it felt like it was our own house. We look forward to staying here again!
Wye Huong
2016-08-11T00:00:00Z
The stay at Mei's was delightful, the location was very scenic and the starry nights were a real plus. Mei herself (and her partner) were lovely and were very welcoming (she offered to help us with our bags.). She was also very knowledgeable about activities to do, and the general area. The only negative I would say was that we weren't exactly clear how to lock up the place as we weren't shown what key locked which door. However, that is the only negative feedback I have - and I would recommend this location to anyone else.
Joshua
2016-02-06T00:00:00Z
Mei was a very helpful and responsive host. The house was beautiful and comfortable. The view from the bedroom was stunning. Kingston is quiet and relaxing town that was a great place for exploring Queenstown. We loved our time at this special home.
Daniel
2016-08-02T00:00:00Z
A nice quiet location, good communication from the host.
Gary & Amy
2015-12-28T00:00:00Z
This place has amazing views, is perfectly situated between Queenstown, Te Anau (Milford Sound) etc. The house is quiet and comfortable. Mei was very communicative and helpful - let us have late checkout when I only gave 12 hours notice which was nice. I have to mention that Kingston is not connected to mains water so you need to take care on water consumption. Read house rules ahead of booking. If there are no photos (eg, kitchen) it is because these parts are a little old looking, but it's all comfortable enough Overall, a good place
john
2017-03-10T00:00:00Z
Kingston is a lovely, quiet and attractive place to visit at the end of the lake. (Buy your groceries in Frankton before coming) Mei and Sandy offer a good value in this charming A-frame home in lovely gardens, with deck, hammock and hot tub. We were not able to arrange a meeting with them but they were very attentive by email. All their instructions were thorough and their advise generous. They are very interesting, well intended people.
Rebecca
2016-02-26T00:00:00Z
Mei's place is adorable and in a stunning setting - Kingston is a much better option than Queenstown if you're looking for a bit of serenity. Mei was a helpful and accommodating host. Highly recommended.
Vikki
2017-01-25T00:00:00Z
The place is lovely! Quiet, secluded, comfortable, in a small town surrounded by mountains and very close to lake Wakatipu. The deck on the back of the house has a great view and even has a hot tub. It was just what we needed. I contacted Mei in advance and asked about where to hike, and she provided me with a long list of recommended hikes and descriptions. Super helpful! They were also very responsive during the trip when we had questions about the house. I would highly highly recommend!
Rachel
2016-03-08T00:00:00Z
Romtype
Helt hjem/leilighet
---
Eiendomstype
Hus
---
Plass til
2
---
Soverom
Kingston, Otago, New Zealand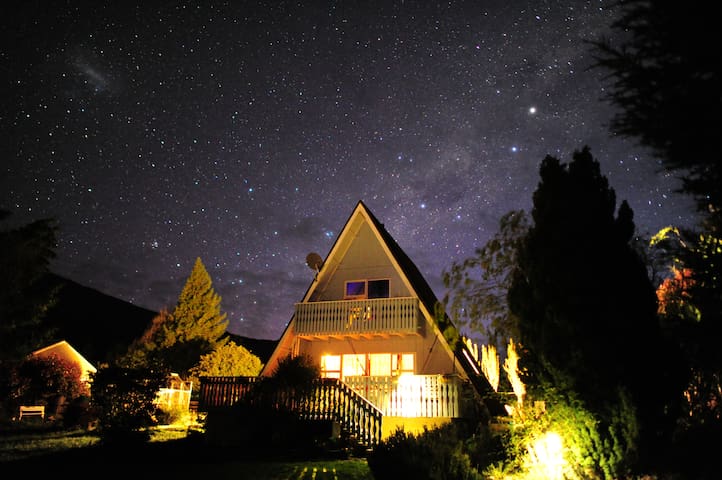 Sunny and secluded yet right on the lakefront at Kingston this 1970s holiday home is a great place to relax. Open plan and tastefully decorated in mid century modern furniture no need to go further than the beach and your private pad - enjoy.
Situated on half an acre of landscaped native trees this house and garden has been designed for relaxation. The house is comfortable and unpretentious. Open plan studio like living this house is ideal for a couple, or small family. Or for friends who are willing to share the spare futons. New wood burner and heat pump.
Friendly neighbors. Safe and quiet. A great way to experience old Wakatipu without the chaos of Queenstown. Ideal for nature lovers or people who prefer to chill out.
Great place by the lake for some peace and quiet. Would recommend for others looking to relax.
Chris
2016-11-13T00:00:00Z
Its very quiet and lovely spot in a great location, just 45 min drive to Queenstown. I was fascinated by viewing a small creek passing from backyard of the house. For me backyard was the highlight of the house. Views are outstanding. And the house itself really clean from inside. Very well maintained. Thanks Parth
Parth
2016-01-05T00:00:00Z
We had a beautiful time in this adorable cabin. The place is really nicely set up and super comfortable. We spent hours chilling out in the garden which is just magical. The kitchen is fine for cooking - be prepared to cook as it is a bit of a drive from town and the local cafe was pretty terrible and over priced. The lake is stunning and we had some lovely swims. The water tank ran out of water which was a bit annoying but Philipa did everything she could to help and it worked out fine in the end. Big thank you!! We can't wait to come back....
Nadia
2016-02-17T00:00:00Z
The house is a cozy place with a beautiful garden. We found everything that was descripted. Fantastic place to relax and enjoy the nature.
Francesco
2015-12-31T00:00:00Z
Nice secluded place, good location for road tripping from. Loved the wood burner.
Terris
2015-11-27T00:00:00Z
It is a little nice house with a beautiful landscape around. i have enjoyed the quiet place. The communication with Philippa is very good.
Stefan
2017-02-07T00:00:00Z
Nous n'avons pas eu l'occasion de rencontrer Philippa mais la communication par e-mail s'est très bien passée et nous avons réponse à toutes nos interrogations très rapidement. Logement atypique mais plein de charme, le jardin est très sympa et le beau temps nous a permi de profiter de la terrasse et du BBQ. Logement pas très vaste mais suffisant pour une famille (4 personnes). Deco sympa avec plein d'objets vintage. Couchage à même le sol sur des futons mais au final plutôt confortable (il ne faut cependant pas être allergique aux acariens car moquette au sol). Le sol n'est pas horizontale, tout dépend de sa sensibilité mais ça peut être dérangeant. Etape calme au bord du lac, a l'écart de l'effervescence de Queenstown. Compter 45min de route pour s'y rendre. Une étape très agréable bien qu'un peu onéreuse (nous étions pour le 31 décembre) en regard des prestations (logement pas immense).
Vincent
2016-01-03T00:00:00Z
Lalapanzi is s hidden treat, tucked away on the southern tip of Lake Wakitipu. It was lovely to sit and enjoy the wood fire on a very cold night, in such a quiet location. The house is situated in a secluded garden, only a stone's throw from the water. It's eclectic decor affords it a comfortable, homely feel, ideal for a break in a journey.
Andrew
2015-06-28T00:00:00Z
Romtype
Helt hjem/leilighet
---
Eiendomstype
Hus
---
Plass til
4
---
Soverom
Kingston, Otago, New Zealand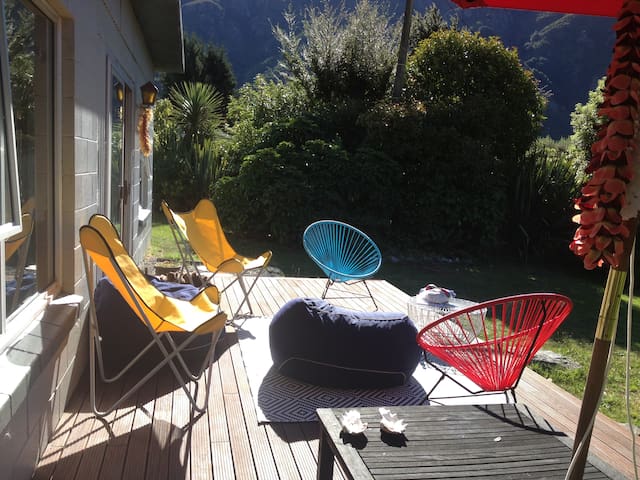 Until recently a long term rental flat, adjoined to our residence, time for a change. Very quiet back section with spectacular mountain views. Backs onto the Kingston Golf course, and a short stroll to the Kingston Bowling Green.
A VERY sunny, cosy one bedroom self-contained unit attached to my residence. A woodburner in the Lounge heats the entire flat. (also underfloor insulation for those Winter months.) Flatscreen TV and SKY. A sunny bright Kitchenette/dining area is very well equipped with everything you'll need for your stay. (We can supply you with our own free range eggs on your arrival. Any produce from my garden, vegetables/herbs/flowers, available for your stay.) The main Bathroom has been refurbished and is well lit, ventilated and has heating. The second Bathroom has the Laundary facilities. The sunny Bedroom is bright and has a VERY comfy Queen Bed. A small study nook is good use of the small hallway if you must check your emails or do a spot of work. You have your own private seating area over looking the Golf Course, or you are most welcome to use the front deck, accessed through the flat bedroom.
The picturesque Kingston 9 hole Golf course is accessed through our back gate as is the Kingston Bowling Green. The "Around the Mountains Cycle Trail" is a short ride away or take a hike up to Shirt Tail Lookout. We are just a short stroll from Lake Wakatipu. At your request we are able to book you a local farm tour or a fishing guide. (Salmon and Trout can be caught off the beach or the Jetty.) The Remarkables Shopping Centre at Frankton, Queenstown, has a Supermarkets for your supplies and numerous shops for a "bit" of retail therapy! Kingston has a Cafe/Bar which has a restaurant open all day and the early evenings.
Jayne was a wonderful host and truly went the extra mile to make our stay a home away from home.
John
2016-12-31T00:00:00Z
Bloody marvellous!!! An absolute peach of a place. Jayne, the host is a lovely warm, genuine & friendly (URL HIDDEN) too are the pet sheep; the chickens; the cat and the dog. The fully self contained place is very, very spacious, clean and stocked with everything you could need...especially in the kitchen. Which is very handy if you're skint/fed up from eating out all the while. I was a little surprised how much stuff had gone up in NZ...but what price for holiday heaven eh? A proper log burner which kicks out HUGE amounts of heat - great for us Brits who don't like the cold . Seriously though, it was our fist time with an Airbnb and having been here I can't recommend Jayne's place enough...you can. You can book this knowing you WILL NOT be disappointed. Thank you Jayne, hope to come stay with you again sooner rather than later. x
mark
2017-01-04T00:00:00Z
Had a great time. The place is amazing and the view spectacular. Well beyond our expectations. Thank you for everything. U all are excellent airbnb host.
Sang Soo
2016-11-21T00:00:00Z
We really enjoyed our stay in Jayne's place. It was clean and tidy and had everything we needed. She had lots of blankets in there and a fire place, which was good because we weren't used to the cold (even in summer). Jayne was really lovely on arrival she showed us around the flat and let us know if we needed anything that we could message her. She was quite happy to leave us be for the duration of our stay. I would definitely recommend staying here, plus she has a very cute cat!
Jacquie
2017-01-07T00:00:00Z
Wonderful place, super nice owner, love to be here again
禾康
2016-12-28T00:00:00Z
The flat is very cozy and it has got everything you need: big couch, cozy fireplace, huge shower, very well equipped kitchen - Jayne even provides you with fresh eggs from her own chickens as well as honey and milk. Jayne is super nice and very uncomplicated - she will do her best to make your stay perfect. The flat is located only 5 walking minutes from the beautiful lake and within 30 minutes by car you're in the middle of Queenstown. We highly recommend to stay at Janye's place!!!!
Carmen
2016-11-17T00:00:00Z
Romtype
Helt hjem/leilighet
---
Eiendomstype
Leilighet
---
Plass til
2
---
Soverom
Kingston, Otago, New Zealand
Oppgi datoer for å se fullstendige priser. Ekstra gebyrer gjelder. Skatter vil kunne tilføyes.