Αυτό το ευρύχωρο, άνετο επίπεδο μπορεί να υπερηφανεύεται για ένα εκπληκτικό πανόραμα, απέχει πέντε λεπτά από την προκυμαία, τα εστιατόρια και τη θάλασσα. Αν ψάχνετε για ένα ήσυχο και ήρεμο μέρος κοντά στην Κωνσταντινούπολη, αυτή είναι η διεύθυνσή σας. Ένα δεύτερο υπνοδωμάτιο είναι διαθέσιμη κατόπιν αιτήματος. Μπορείτε να πάρετε όλες τις ανέσεις που χρειάζεστε, συμπεριλαμβανομένου ενός μουσικού συνόλου και τηλεόραση με ευρωπαϊκά κανάλια. Μόλις έρθει και να απολαύσετε τη διαμονή σας.
Ev sahibi Nedim Bey son derece nazik, ilgili ve samimi biri. Ev fotoğraftakilerden daha güzel ve çok zevkli döşenmiş :) Burgaz'ın sakinliği ile birleştiğinde ev sizi adanın yerlisi gibi hissettiriyor. Evdeki müzik sistemi ve koleksiyonu denenmeli.
Esra
2016-10-09T00:00:00Z
The apartment is spacious, very tastefully furnished and has a beautiful view. The view alone is so enjoyable that one is tempted to stay put by the panoramic windows in the living room or on the lovely balcony and watch the boats pass by. Burgaz, however, has also more to offer, such as strolls and climbs around the island, a visit to the recently renovated Sait Faik Abasıyanık Museum and tea or breakfast in a seaside café. The location of the apartment building is optimal, as it is within an easy walk from the pier, yet also somewhat secluded. Both Nedim Bey and Ulrike Hanım were very pleasant and easy to communicate with in preparation for our arrival and also available for tips and suggestions. This is a lovely place to spend time away from the hustle and bustle of Istanbul. Our group of three hopes to return…..
Suzan
2016-10-31T00:00:00Z
Nedim beyin evi gerçekten çok zevkli döşenmiş, özellikle Grundig Audiorama 9000 hi fi dillere destan, vakit geçirmesi çok keyifli , manzarası muhteşem ve konum olarak iskeleye çok yakın. Nedim bey konuklarıyla çok ilgili ve nazik bir beyefendi, bu olağanüstü evi bizimle paylaştığı için kendisine çok teşekkür ederiz. Kesinlikle tekrar geleceğiz.
Alper
2016-10-23T00:00:00Z
harika bir ev sahibi
Berkant Ali
2017-03-25T00:00:00Z
We spent two unforgettable days in Nedim and Ulli's place. If you want to stay both tranquil and also central house in Burgaz, you should definitely book it. Nedim is a well-organized, friendly and always reachable host, even he isn't in Burgaz.
Nefes
2017-01-22T00:00:00Z
Burgazadası, şehrin kalabalığından uzakta, stresli ve yogun gecen sehir hayatından kaçmak için, İstanbul'a yakınlığını da göz önünde bulundurunca, çok güzel bir yer. Nedim Bey gerçekten çok canayakın ve yardımcı. Nedim Bey'in evi çok zevkli döşenmis ve gerek manzarasıyla gerek salon düzeniyle, keyifli vakit geçirmek için birebir. Not: Kış aylarında giderseniz, Nedim Bey'in kaloriferleri bir gün öncesinden açtırmasını isteyebilirsiniz, ev buyuklugu sebebiyle soğuk olabiliyor. Eminim Nedim Bey anlayışla karşılayacaktır ve yardimci olacaktir :)
Ozan
2017-02-05T00:00:00Z
We had a lovely stay at Nedim and Ulli's beautiful home. They were very helpful. Thank you!
Flora
2016-11-20T00:00:00Z
Alles war bestens vorbereitet. Obwohl es vom Gastgeber unverschuldete Stromprobleme gab, wurde alles perfekt geregelt. Nachbarn und Freunde waren immer hilfsbereit. Räumlichkeiten schöner als auf Fotos. Besonders gefallen hat uns die geschmackvolle Einrichtung und die gute Ausstattung, nicht wie in einer Ferienwohnung, eher wie im eigenen Haushalt.
Sophie
2017-01-06T00:00:00Z
Romtype
Helt hjem/leilighet
---
Eiendomstype
Leilighet
---
Plass til
4
---
Soverom
Adalar, İstanbul, Tyrkia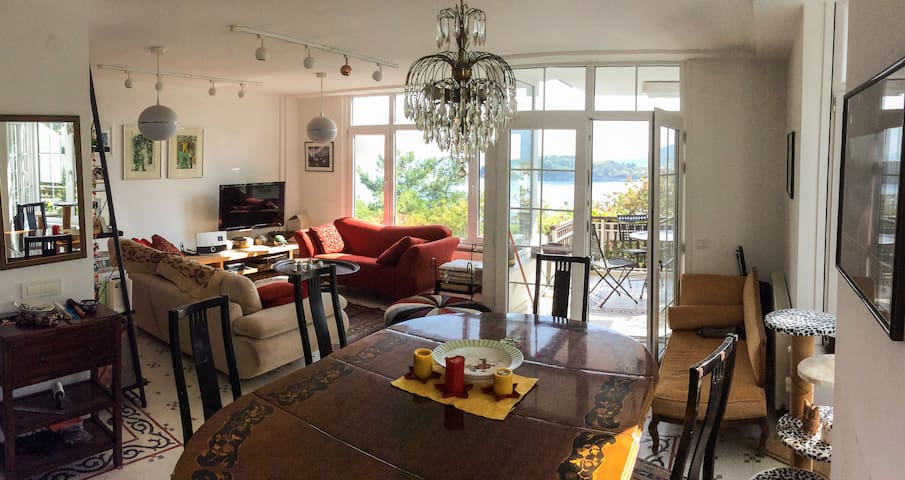 A great location on the island Burgaz with a direct view of İstanbul and the sea. Only coaches are allowed, a good boat connection to both the european side alsauch on the Anatolian side. On request we also offer breakfast or dinner on our terrace.
Is on one of the Princess Islands with sea views to İstanbul and very quiet without traffic. Breakfast and dinner is served on request.
To explore the island beach, church, park and trails
Gülsen was an extraordinary host. She made us feel at home. She was also very professional and made this whole experience a very pleasant one in many ways. Her amazing house combined with her hospitality and professionality made us decide that we are definitely coming back!
Asli
2015-08-30T00:00:00Z
Romtype
Privat rom
---
Eiendomstype
Leilighet
---
Plass til
2
---
Soverom
Burgazada, İstanbul, Tyrkia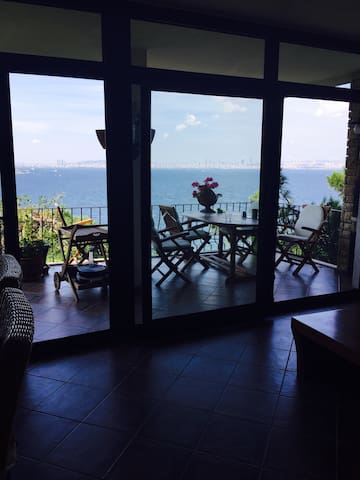 Yanki was a great host, responds very quickly to all your enquiries and does not hesitate to help you whatever you need. Burgazada is a very small and peaceful island and Yanki's house was one of the (positively) isolated however central, close to all cafes, market, grocery, beach and ferry quay. The house is just like its fotos but the bedrooms are bigger than they look and the small bedroom have 2 beds. The balcony will be your whole world when finding peace, nature and island life.
Mine
2016-06-20T00:00:00Z
Taner was a great host, he was friendly and very helpful. He also guided us perfectly. The house was just like in the pictures. It was spacious, clean, with a really cute balcony to hang out, just by the nature. I strongly recommend his place. Thank you for everything Taner! We sure will come back!
Eren
2016-11-13T00:00:00Z
Taner çok iyi bir ev sahibi. Ev sahip olmadığı hiç bir şeyin sözünü vermiyor. Kışın şöminede marshmallow yapabileceğiniz bir kış evi, yazın da tam bir yazlık belli ki. Bizim zamanımızda film izlemek için evde projeksiyon ve ses sistemi ve çok uygun bir ortam vardı ama kalıcı mı bilmiyorum. Ada vapuruna bindiğinizde bütün vapurun turist dolu olduğunu görebilirsiniz ama ada ve evin bulunduğu yer çok sakin, ev merkeze, marketlere, iskeleye 5 dk olmasına rağmen çok izole. Yürüyüş yapmak isterseniz orman hemen yanı başınızda.
Emre
2016-12-18T00:00:00Z
Tanerin evi müthiş keyifli. Özellikle kış aylarında şömine sıcağı harika. Dingin bir yer arayan herkese tavsiye ederim
Dilara
2017-01-29T00:00:00Z
Romtype
Privat rom
---
Eiendomstype
Leilighet
---
Plass til
4
---
Soverom
adalar , İstanbul, Tyrkia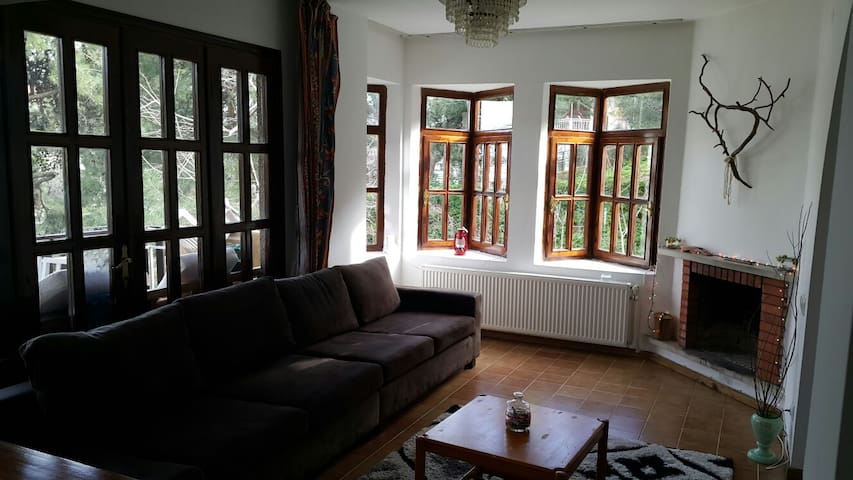 Yeşillikler ve tipik ada evleri arasında yürüyüş yapmak, bisiklete binmek, yüzmek, S.F.Abasıyanık Müzesini gezmek, İstanbul un en güzel gün batımına şahit Kalpazankaya da yemek yemek, baharda mimoza toplamak, Marta yı anlamak koyunda yüzerken
bahçe diğer 3 daire ile ortak ve sulama yapabilirseniz iyi olur
Adanın bir çok sahilinden denize girmek mümkün, en uzağı 20 dak. en yakını 2-3 dak. yürüme mesafesinde. Akşamları sahildeki içkili lokantalar, gündüz mütevazı çay bahçeleri, dondurmacı adayı renkli kılıyor. 24 saat 112 acil servis ve 2 eczanemiz mevcut.
Eser hanım harika bir ev sahibi.. Çok ilgili. Evinin yeri de harika. 3 kişi oldukça keyifli zaman geçirdik. Bizim için havlularımıza kadar her şeyi düşündü. Kendisine tekrar tekrar teşekkürler ve çok sevgiler..
Ayşegül
2016-04-10T00:00:00Z
Eser Hanım, bize evi teslim ederken her ayrıntıyı açıkladı ve çok yardımcı oldu. Evin konumu çarşıya 3-4 dakika. Herşey çok güzeldi. Balkonda kahvaltı gerçekten çok (URL HIDDEN) evde 2 çift kaldık. Yatak odasındaki yatakta hiçbir sorun yoktu fakat salondaki çekyatta kalan arkadaşlar,çekyatın eğiminden dolayı pek rahat uyuyamadıklarını söylediler. Eser hanım ilerde çekyatı değiştirmeyi düşünebilir.Onun haricinde herkese tavsiye ederim.
Emre
2016-04-25T00:00:00Z
Eser Hanım gayet misafir perver, ev fotoğraflarda görüldüğü gibi, küçük bir ada tatili için kesinlikle konaklanılabilir, Teşekkürler Eser Hanım...
Murat
2017-03-05T00:00:00Z
Adanın güzel bir köşesinde, yeşillikler içinde bir ev. İhtiyacınız olan her şeyi bulacaksınız. Balkonda oturmak da ayrıca keyifli. Eser Hanım çok yardımsever ve iyi bir ev sahibi.
Zeynep
2017-04-03T00:00:00Z
Konum olarak çok uygun bir yerde. Ev temiz ve (URL HIDDEN) 2 çift kaldık bize kurada çekyat düştü :) çok rahat olmasada pek sorun olmadı.Ev sahibi de her konuda çok yardımcı. (Bu arada ağaçtan da bir kaç tane erik yedik :) )
erdinç
2016-05-02T00:00:00Z
Eser Hanım, çok hoş, duyarlı ve düşünceli biri. Evinin zevkle döşenmiş olduğunu ve lokasyonun da hem sakinlik hem de merkezi olma açısından avantajını belirtmek isterim.
gokcen
2016-05-24T00:00:00Z
Burgazadaya ilk defa gitmiştim ve sanirim şansliydim eser hanim çok ince zarif nezaketi ile bizimle çok ilgilendi birde ev çok hoş keyifliydi , tatil keyfi yaşamak için burgazada ve esere misafir olmak harikaydi sadece evde bir eksik vardi internet yoktu ama diblenmeye gelenler için internetsiz dünya daha güzel oluyormuş
A Uygur
2016-05-12T00:00:00Z
The host canceled this reservation 74 days before arrival. This is an automated posting.
Elif
2016-04-22T00:00:00Z
Romtype
Helt hjem/leilighet
---
Eiendomstype
Leilighet
---
Plass til
4
---
Soverom
TR, Tyrkia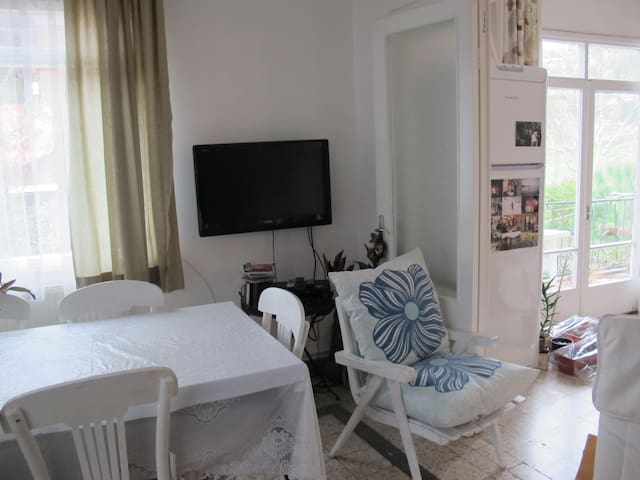 Küçük daire sakin ve huzurlu, panoramik manzaralı mükemmel bir dinlenme nokta yapar. bebekler ve çocuklar ile aileleri için uygundur.
Adada bir sakin bir noktada panoramik manzaralı rahat düz. Gerçek gevşeme ...
Burgazada at, bir at, köpek, kedi vs. gibi akdeniz flora ve ada hayvanlarla doğada yaşayan, uzak masif İstanbul itip hissediyor
Sema's place delivers what she promises. The view is real! Best for a single person or a young couple.
Emre
2016-06-02T00:00:00Z
Sema hanim is a thoughtful, compassionate host. Her hospitality and flexibility has made our stay even more comfortable. The place is furnished with taste and the view from the balcony is amazing. One easily feels at home. It is very suitable for young couples as well as families.
Elif Melis
2016-07-17T00:00:00Z
Having very nice sea view and next to the forest, her flat is a good place to stay for a quiet and relaxing vacation.
Yasin
2015-11-22T00:00:00Z
Sema as always is a super understanding and great host! Definitely recommended!
Aslı
2016-08-31T00:00:00Z
Sema is a very relaxed and flexible host who helped us get the best out of our holiday in Istanbul. Her house is very cosy, well-equipped, beautifully decorated, and has an amazing view in Burgazada -a hidden gem of Istanbul. We're already looking to our next stay in her apartment.
Ali
2015-12-18T00:00:00Z
Mükemmel manzara, sıcacık dekorasyon, gördüğüm en tatlı ev sahibesi. Kesinlikle önerilir!
Aslı
2016-04-10T00:00:00Z
Perfect! Sema was great to meet and her flat perfectly feeted our need.
Aliénor
2016-07-23T00:00:00Z
What a special place! (Beautiful location/view; flat is very individual and kind of atmospheric bijou) What a kind host! (Quick reactions; flexible, patient with all my questions (thanx!! ;-), open-minded, helpful, friendly welcome!, knows a lot about surrounding and gives good tips)
Helga
2014-06-22T00:00:00Z
Romtype
Helt hjem/leilighet
---
Eiendomstype
Leilighet
---
Plass til
2
---
Soverom
Princes' Islands, İstanbul, Tyrkia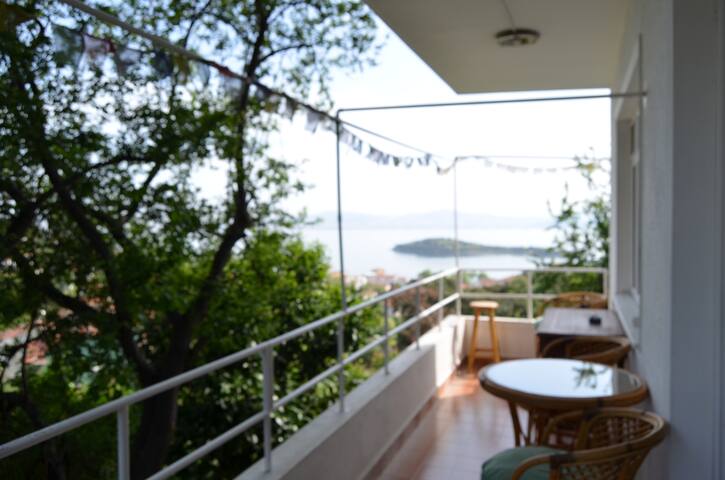 In the most beautiful corner of Heybeliada in Doğan Un, Garden 6-dwelling small apartment on the top floor apartment, 2 + 1 open kitchen surrounded completely zeroed new sea and forest, balcony, kombili Anatolian side of Istanbul within 30 minutes to 1 hour to the European side
Surrounded by forest near the sea, apartment in a building of 6 app.dans a large garden
Her seyin kusursuzca bulundugu, insana kendini evinde hissettiren, orman ve denizle ic ice sahane bir evdi. Ayfer Hanim cok nazik ve harika bir ev sahibi, bize gercekten cok yardimci oldu. Cocukla ya da yalniz her sekilde kalinabilecek, iskeleden eve faytonsuz da ulasilabilecek adanin en guzel koselerinden birinde evleri. Yeniden gidip kalacagimiza hic suphem yok!
ayşegül
2016-05-09T00:00:00Z
Herşey çok güzeldi, geçirdiğimiz 2 günde çok keyif aldık. Teşekkür ederiz
Ebru
2017-02-19T00:00:00Z
Evin orman alanına ve denize yakınlığı çok hoşumuza gitti. Beklediğimiz gibi, İstanbul'dan uzaklaşmadan dinlenebildik. Teşekkürler Ayfer Hanım :)
Perit
2016-07-10T00:00:00Z
Herşeyden önce stressiz,dingin,huzurlu ve bol oksijenli Heybeliada ziyaretçileri için eşsiz bir konum ve tecrübe.Ayfer hanımın yardımseverliği ve evin içerik olarak tüm beklentileri fazlasıyla karşılaması bizi çok memnun etti. Şiddetle tavsiye ediyoruz.
Vesile
2017-02-12T00:00:00Z
Doğanın içinde yaşıyorsunuz, tek kelime ile muhteşemdi ! Kafa dinlemek, evde zaman geçirmek için çok uygun. Çok güzel bir haftasonu geçirdik. Çok Teşekkürler.
afife
2017-03-05T00:00:00Z
The host canceled this reservation the day before arrival. This is an automated posting.
Beril
2017-03-07T00:00:00Z
Cok güzel ve huzurlu bir haftasonu oldu Ayfer Hanım cok yardımsever bir insan her şey icin teşekkürler adaya tekrar gelirsek ilk adresimiz kesinlikle burası olacak :)
Burak
2017-03-13T00:00:00Z
We had an amazing weekend thank to Ms. Ayfer:) She was very kind and helpful and we really loved her beautiful apartment. The apartment is in a little forest and you wake up with sounds of the seagulls and breathing in the fresh smell of the trees. It is located 10-15 minutes walk from the center and has everything you need in a house. We loved the beautiful balcony overlooking the trees. We really felt like home and we're looking forward to coming back to this magical place again! Thank you for hosting us Ms. Ayfer!!
Eda
2017-02-26T00:00:00Z
Romtype
Helt hjem/leilighet
---
Eiendomstype
Leilighet
---
Plass til
5
---
Soverom
Adalar, İstanbul, Tyrkia
The apartment (85m2) with 2 bedrooms 1 living room located close distance to the main street where all shops,restaurant and beaches located. Its 5 minutes to the port of the island by walk. Its a family house on the second floor in the quite area.
The main criteria is the location of the apartment. Its located in the heart of the island. Easy to get there. It is a large and bright place 5 people easily can fit and enjoy. There are 2 queen size beds, 1 single size and 1 foldable bed. Its furnished on the second floor without lift but there is just 30 steps to reach. 2 bedroom and 1 living room. A bathroom with a shower. Kitchen is equipped with a fridge and washing machine and kettle. It has also glasswares, plates, fork and knifes, storage boxes etc. Its cozy and well taken care of with the trees reaching up on its front balcony where guest can have a coffee or breakfast or relax.
Take tour on foot around the island. If you come in the summer bring your flip- flops, shorts and bikini, if you are chubbier bring your one piece. Don't bring fancy clothing. Be comfortable. You will love it guys. Its the place that embraces the people from all religion and ethics. Visit churches, synagogue, mosque, museum at the same time because your apartment will be in the middle of them. Go to the beaches, and discover them. I give you goggles and snorkel so you dive and have fun. When u need to rest come sit at a traditional tea shop on the main street order a tea for 2 tl and watch the people there. Or drink your ice cold beer! There is also a specialty coffee shop that roasts their own coffee. If you are hungry never hesitate to step in one of the restaurants as all of them clean and carry the same menu with same prices. The more info when ı see you:)
Romtype
Helt hjem/leilighet
---
Eiendomstype
Leilighet
---
Plass til
4
---
Soverom
İstanbul, Tyrkia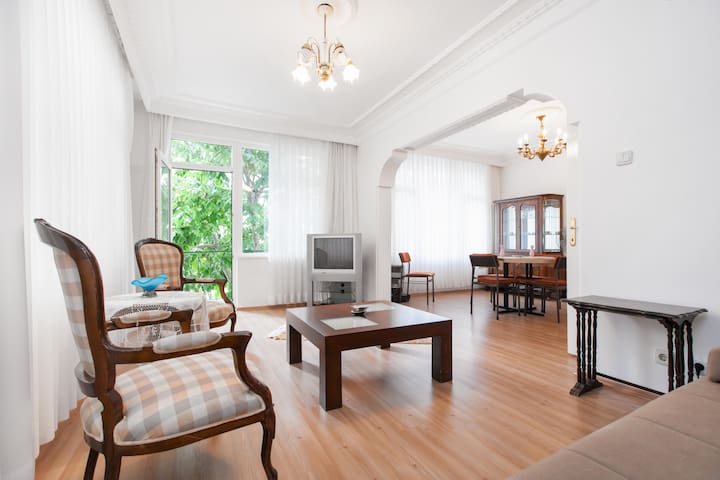 The flat is a tricky place; It is very simply but very cleverly decorated so there is EVERYTHING you need with so less things. The balcony has a panaromic view and The garden has red, purple, orange,pink many flowers and a plump tree. Very charming
The flat has a unique location, lies on top of a hill which leads to the forest of the Island. The flat is 100 steps far from the forest and still only 7-8 minutes to the sea side. It also has the panaromic view from the living room and the balcony views both the town centre of the island, some part of the forest and the sea and the other islands which makes the view unique. Plus what you will find on the island is free and fresh fruits and nuts directly from the trees, fresh air, opportunity to swim in a fresh and cool sea the absence of the cars and any kind of pollution. The neighborhood is very quiet and peaceful. So i am looking for guests who will enjoy the silence. For crazy parties i can direct you to a friend's place who lives not so far from my house :) A washing machine, towels, wifi, all the kitchen equipments, fridge, oven filter coffee cooker, a huge wardrope, hair dryer, a tv, a night lamp, hot water, a reading lamp and a parasole at the balcony is available. All in their proper places :)) The flat is available for short time rent or rent a room and become my flatmate for the winter
Ev 2 max 3 kişinin konaklaması için uygun. Derli toplu bir ev, muhteşem bir manzarası var. Eve giden yol biraz yorucu. Karen kolay ve rahat iletişim kurulabilen bir ev sahibi.
tugba
2016-09-15T00:00:00Z
Ev gerçekten çok temizdi. Yokuş korkutmasın, sonuçta kısa bir mesafe, çıkıyorsunuz bitiyor:) Evin çok güzel bir manzarası var. Küçük, şirin bir ev, tavsiye ederim.
ayşe
2016-08-28T00:00:00Z
Beautiful location, with a pleasant balcony that looks out over the water, other islands, and further off, Istanbul! Just far enough from town so as to avoid the tourist bustle, but close enough to be short walk to restaurants and the pier. A bit hard to find, so be sure to get good directions before you go. It's a great place if you are looking for a quiet retreat surrounded by nature and local culture; not recommended if you are looking to party or for lots of privacy, as there are families living next door.
Hannah
2016-06-27T00:00:00Z
Karen was very nice and warm as a host. We had no difficulties getting in touch or any other arrangements regarding the flat. The place is quite clean and includes anything you may need in a standard house. We just fell in love with the balcony and the view. The location was also very enjoyable and just 5 minutes walk to pier, following a leafy and beautiful road, through lovely houses. The only thing was the flat was quite close to the neighbour's, so you need to keep it calm and while in balcony be ready to say hello them once they step out of their flat to the open area :) they were just nice people anyway.
Melisa
2016-07-05T00:00:00Z
The view is perfect, like in the pictures. Karen was very helpful and discret. I recommand.
Geoffrey
2016-09-30T00:00:00Z
Karen was a wonderful host and went to great efforts to help us with anything needed. The apartment is small but very functional, and it is located in a nice and quiet neighborhood with a beautiful view - highly recommendable!
Martin
2016-06-22T00:00:00Z
Ev gayet güzel ve tüm ihtiyaçları karşılar nitelikte. Balkonun manzarası mükemmeldi. Sessiz, sakin, gürültüden uzak 2-3 günlük bir tatil için ideal bir yer. Son olarak Karen' in misafirperverliğine değinmeden geçmek istemedim. Evle ilgili hiçbir sıkıntımız olmadı ancak kendisi gerçekten her an her şeye yardımcı olacağı hissini veriyor. Eve de ev sahibine de 1 puan :)
Aytaç
2016-08-02T00:00:00Z
Genel anlamda hicbir sorun yasamadik, ev cok sirin ve gorsellerde oldugu gibi. Sadece eve ulasmak icin yokuslara hazirlikli olmak lazim :) ama yolun sonunda harika bir manzara ile karsi karsiya kaliyorsunuz.
Fatma Funda
2016-08-15T00:00:00Z
Romtype
Helt hjem/leilighet
---
Eiendomstype
Leilighet
---
Plass til
2
---
Soverom
İstanbul, İstanbul, Tyrkia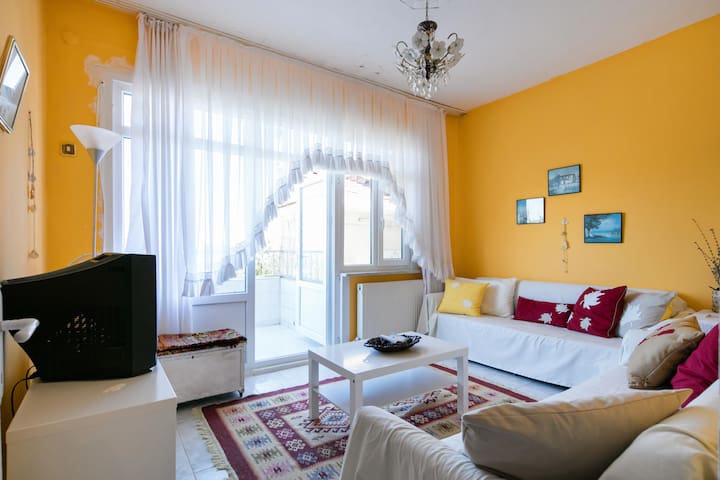 No cars are active on the Island. The animals (dogs and cats) have a great character and are very friendly. The locals are wonderful and are very approachable. There is a great walking trailer which allows you to reach the top of the Island. The beaches around the Island are beautiful and clean. You will be completely surrounded by nature while enjoying the location of Istanbul. Istanbul is located approximately 1 hour by ferry from Burgazada.Fully equipped kitchen with dishwasher + washing machine. Not luxury but very comfortable and useful apartment. Wifi ok. Very useful and large balcony.
Romtype
Privat rom
---
Eiendomstype
Leilighet
---
Plass til
1
---
Soverom
Adalar, İstanbul, Tyrkia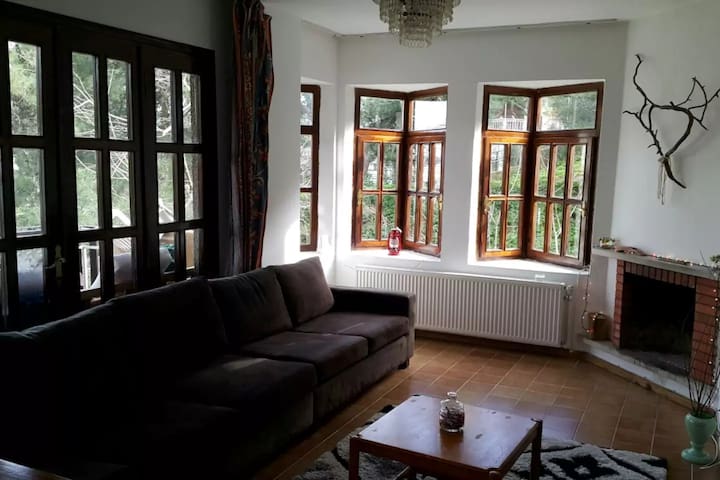 In der Nähe der Wälder. Hat schöne Aussicht vor allem in den Nächten! Der Garten ist ideal zum Entspannen, Essen und Grill zu essen. In 5 Minuten zu Fuß Sie zu den schönen Wäldern der Insel. In 7 Minuten sind Sie im Zentrum. In 20 Minuten sind Sie am Strand.
The host canceled this reservation 2 days before arrival. This is an automated posting.
Ibtissem
2016-09-27T00:00:00Z
Manzarası, sakinliği harika! Kafa dinlemek, evde zaman geçirmek için çok uygun. Çok güzel bir haftasonu geçirdik. Teşekkürler.
Eylem
2016-08-23T00:00:00Z
Romtype
Helt hjem/leilighet
---
Eiendomstype
Leilighet
---
Plass til
4
---
Soverom
Adalar, İstanbul, Tyrkia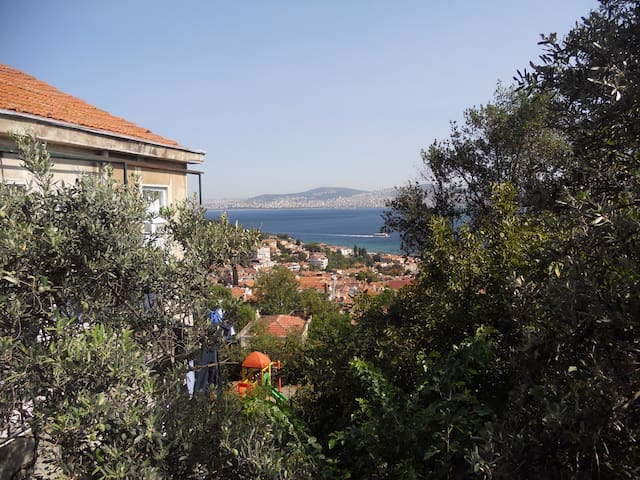 lovely and friendly single room tek kişilik oda, tek kişilik yatak , evin diğer alanları ortak kullanım alanıdır.
Romtype
Privat rom
---
Eiendomstype
Leilighet
---
Plass til
1
---
Soverom
Heybeliada Mahallesi, İstanbul, Tyrkia
2 oda 1 salon 1 mutfak olan sahile yakın olan evimde maximum 4 kişi konaklayabilmektedir. Evin konumu sahile, çarşıya çok yakındır.
Romtype
Helt hjem/leilighet
---
Eiendomstype
Leilighet
---
Plass til
3
---
Soverom
Heybeliada, İstanbul, Tyrkia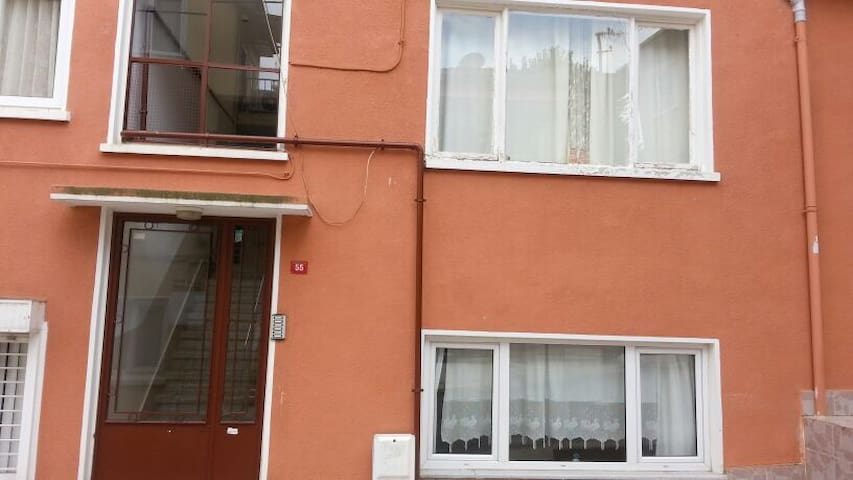 Siz heybeliada da mehtabi gördünüz mü? demis şair...
Mustakil bahceli 4kisi rahatlıkla kalabilir gurultuden uzak internet televizyon olmadan sadece kus sesleriyle huzur bulabilirsiniz. evimizin cardaginda barbekü keyfi yapılabilir. Meditasyon yoga yapmak isterseniz bahcemiz musait Arzu eden misafirlerimize ada turu ,deniz turu,fayton turu, kültür turu yapabiliriz :))
Dört tarafi sularla cevrili bir adadanin olmazsa olmazi plajlaridir.balik tutmak isteyenler icin ideal bir yer .restaurantlarimiz ozellikle halki restaurant mezeleriyle ve taze baliklariyla meşhurdur .Fotoğraf cekmek isteyenlere eşsiz doğa deniz mehtap manzaralari eslik eder ...ormanimizda yürüyüş yapma ve koruma altına alinan eşsiz deniz kuslarimizi gorme fırsatı :)
The host was nice and pick us at the boat, and even wait for us to each a quick lunch. After that there was not much help, since she do not speak english. The most disappointing was that she 2 times confirmed that there is a 5 minute walk to the beach before we booked (she use (SENSITIVE CONTENTS HIDDEN) translate). The fact is that there are only rocky and quite dirty beaches on the island, and the walking to the closest beach is 20 minutes. There is a boatride to a beach club that cost 50 TRY per person to get in, and this is quite bad also, including bad service. After one day we had no internet in the rented place, and the host promised to get it fixed quickly. Nothing happened though, and we had no internet in 2 out of 3 days at this host.
Peter
2016-07-09T00:00:00Z
Nilay Hanım'ın misafirperverliği , ev temizliği ve lokasyon gayet iyiydi.
Esat
2015-07-12T00:00:00Z
Heybeli adanın keyfini çıkartmak için son derece güzel, sakin ve huzurlu bir ev. Özellikle Nilay Hanım'ın sıcakkanlı ev sahipliğinden çok memnun kaldık. Bahçenin keyfini çıkartmak için sıcak havalarda gitmenizi tavsiye ederim.
Çağrı
2016-03-07T00:00:00Z
The time I had in Nilay's apartment was exhilarating. They really embodied the whole AirBnB's philosophy in, not only providing a home to share, but creating a community sense with us. I felt like I was visiting my home as they enthused what families do. We sat in their communal space and the food and conversation arose as the night transpired. Preparation for the trip: before I set out, I contacted Nilay to let her know we were on the way to the Island and she asked that I inform her when I am on the Ada Vapur (ships that connect to the three islands – there is a timetable) as she getting ready to collect me from the docks. I arrived and she gave me a quick tour during the walk towards the house which is 2-3 minutes uphill. When I arrived in the home, she explained all the essentials were there and to ask if need be any questions. As promised, the towels, shampoo, slippers and etc. were provided. Also, another noteworthy subject is there is a smoking area outside with comfortable seats. During the day, I visited the beach and exhausted a small chunk of the activities tourists usually do, however, the night I had with Nilay was a traditional, Turkish experience, whereby we sat and exchanged stories with laughter in the air. The time was not a worrying element as the enjoyment of the moment was more significant. Then I and the family were so comfortable and another important element was her free time due to cultural celebration, she offered to show me around the historical places within Istanbul, consisting of Aya Sofya, Top Kapi Sarayi, Hurem, the sultan's graveyard and so many more… to only come home to a welcomed barbeque her family arranged. By the end of it, I can say a union has been established and will definitely return… PS: The shower is very good.
Adem
2015-09-28T00:00:00Z
Nilay hanım oldukça misafirperver ve güler yüzlü bir ev sahibesi.Ada hakkında bilgiler verip,gün içinde geçirdiğiniz vakti de önemsiyor.Ev sahile gayet yakın,temiz ve bahçeli.Açıkçası tekrardan adaya gelsem yine kendisini tercih ederim:)
Ece
2016-01-17T00:00:00Z
Ev sahibimiz bizi ada sokaklarında güler yüzüyle karşılayarak hemen sıcak bir bağ kurmamızı sağladı. Nilay Hanım dünya tatlısı, sevecen ve sıcak sohbetiyle hiçbir ihtiyacımız kalmayacak şekilde bizi ağırladı. Ev tam da adaya yakışır bir şekilde küçük ve dolu doluydu. Hiçbir eksiğimiz olmadan çok güzel bir gün geçirmemizi sağladı. Dilerseniz evin bahçesinde mangal yapabilme şansınız, bahçede oturup güneşlenme şansınız bile (URL HIDDEN) Nilay Hanım'ın önerisiyle sahilde bir restoranda akşam yemeğimizi yiyerek kahvelerimizi de evin bahçesinde içmeyi tercih ettik. 1 gün de olsa "bir daha!" dedirten bir tatil geçirmemize olanak sağladı. Bundan sonra Heybeliada'ya ziyaretimde nereye gideceğimi biliyorum. Nilay Hanım'a yeniden misafirperverliği ve mükemmel damla sakızlı kahvesi için teşekkür ediyorum :) (dipnot: yanlışlıkla radyonun fişini prize takın, deli gibi dans edin)
Yasemin
2016-05-16T00:00:00Z
Adaşım olan ev sahibimizden gayet memnun kaldık 4 arkadaş gittiğimiz tatilde rahat ve huzurlu bir konaklama imkanı bulduk çok teşekkürler Nilay hanım Kahveler içinde teşekkür ederiz :)
Nilay
2016-06-20T00:00:00Z
It is a must to visit Heybeliada in the fall. Nilay's apartment can be reached in just 3 minutes from the boat. It's a small but cozy 2 bedroom house and we had everything we needed. We are very content with Nilay's Turkish hospitality. Sure you will sleep peacefully after a busy day in Istanbul. The immediate area is full of small shops and eateries. You can reach on foot and by bike to explore the island easily. And the people show interest in you. It was very pleasant to talk to the locals, either in English or with hands and gestures. We recommend the apartment and visiting Heybeliada in the fall definitely. Long live the car-free island :)) Thanks Nilay and until our next visit.
mo
2015-11-04T00:00:00Z
Romtype
Helt hjem/leilighet
---
Eiendomstype
Leilighet
---
Plass til
4
---
Soverom
Heybeliada, istanbul adalar, Tyrkia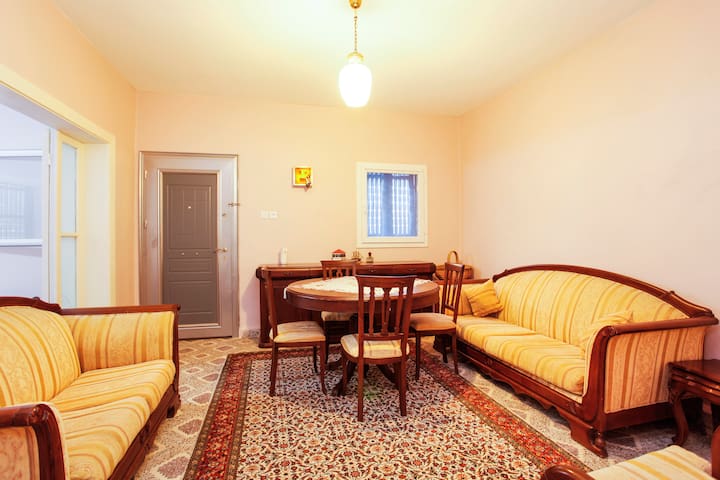 Souhaiteriez-vous vous sentir comme un prince ou une princesse dans la plus belle des îles aux Princes? Un séjour dans cet appartement de merveille à la fois si près et si loin d'Istanbul vous permettra de vous déconnecter du monde entier...
Le logement est décoré avec goût pour ceux qui aiment les objets décoratifs. Il est idéal pour s'éloigner de la foule d'Istanbul en été dans la nature, près de la forêt et des plages. C'est un appartement de 75 m2 avec un salon, une cuisine américaine dans le salon, deux chambres (c'est un duplex une chambre en bas et une autre en haut) et une salle de bain. Toute la magie de l'appartement se cache dans son petit balcon d'où il y a une vue époustouflante sur les toits des maisons de l'île et sur Istanbul. Le paysage change à chaque heure de la journée et on peut sûrement passer 5 heures dans le balcon sans remarquer que le temps passe. Dernièrement, Il est possible qu'un quatrième voyageur reste dans l'appartement car le lit de la chambre d'en bas contient un lit avec un matelas qu'on peut tirer en dessous.
J'aime les animaux (surtout les chats et les chiens) dans les rues, le calme, les voisins chaleureux, l'ambiance conviviale et l'effet reposant de l'île. Je conseille aux voyageurs de faire un pique-nique dans la forêt, de manger dans un restaurant du port la nuit avec la musique en direct, de se balader sur l'île en vélo, d'aller se baigner dans les différentes plages de l'île, de faire un tour de calèche pour découvrir l'intégralité de l'île et d'aller visiter Büyükada (la quatrième île très jolie et touristique après Heybeliada).
Romtype
Helt hjem/leilighet
---
Eiendomstype
Leilighet
---
Plass til
3
---
Soverom
Heybeliada, Istanbul, Tyrkia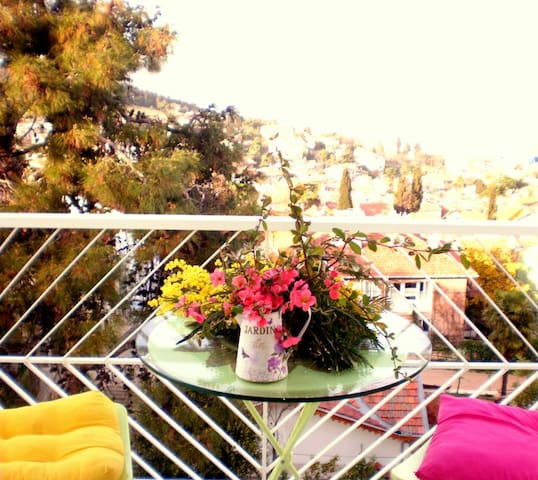 Best seaview from balcony & room. A step to Bostanci ferry & seabus, to Bağdat street (The most famous street with famous shops), to beach, to Starbucks. Nice seafood restaurants on surrounding. Very safe area. Always clean flat. The beach, restaurants & dining, family-friendly activities. You'll love my place because of the ambiance, private & clean room, free wifi & TV, elite & safe, easy transportation. My place is good for business travelers, couples, solo adventurers & families (with kids)
The marmara sea, city and Prince ( Princes ) islands and harbour view is incredible as you can see on photos, you can have your beverages and make a taste of the prince island view from your private room, balcony or saloon. Rooms are warm in the winter and summer times with good natural gas and air conditioning heating & cooling systems in the flat. We are a nice family with our 3 years old daughter. Your room (s) will be private with television including any worldwide digital channels over Bein (Digiturk) and Turksat. Wifi connection is always on. You are free to accompany us or you can stay privately without any interaction on your private room (s). We are easygoing people. The doorkeeper comes and asks for market needs every day in the morning and noon (2 times a day)
Our home is just one step close to Bağdat street which is so famous for shopping and enjoying with good restaurants. We are just one step to the sea and the sport facilities near the see. Our balcony view is Princes ( Prince ) islands view, you can go to those islands by ferry taking off in each 15 minutes just infront of our apartment. From Bostancı ferry ( Seabus ) station you can reach to Kadıköy in 15 minutes and to Yenikapı and Bakırköy in 45 minutes. You can easily reach to Kadiköy city center by yellow dolmuş minibuses in 25 minutes (Thats active 24 hours and cheap) You can reach to Taksim Square in 45 - 60 minutes with those Dolmuş busses too. Our home is quiet with only the sound of seagulls flying around the sea coast (They dont disturb, actually nothing at home disturbs you during your stay). There are nice fish and kebab restaurants like Cunda Balık and Özasmaaltı kebap just a step ahead of us. You can reach any market or kebap restaurant in 1 minute. The air is very fresh with sea water smell of Marmara sea and nature smell of beautiful authentic İstanbul city.
Romtype
Privat rom
---
Eiendomstype
Leilighet
---
Plass til
3
---
Soverom
Kadıköy, İstanbul, Tyrkia
Istanbul to spend your holiday in the pearl of the most beautiful islands in the prince istemezmisiz come on then ...
A delightful place with four side bahceli cardag of a beautiful :)) is a common garden areas.
Istanbul Do dinleyebileceg head away from the city noise in a quiet hour distance nature recreation opportunities in spectacular views of the sea accompanied by ...
Nilay Hanımın sıcak misafirperverliği, evin temiz ve rahat oluşu, bizim güven içinde güzel ve huzurlu bir haftasonu geçirmemizi sağladı. Evdeki herşey çalışır durumdaydı ve sıcak bir ortamdı... Çok teşekkürler herşey için
Ümit
2017-04-03T00:00:00Z
Nilay Hanım bizi çok içten ve sıcak bir şekilde karşıladı. Ev de resimlerde göründüğü gibi ve temizdi. 1 gece kalmış olduğumuz için çok tadını çıkaracak vaktimiz olmadı. Ama kaldığımız süre boyunca herşey gayet güzeldi :) yine adaya yolumuz düşerse kesinlikle tercih ederiz.
Özge
2016-12-25T00:00:00Z
Öncelikle Nilay Hanıma dürüstlüğü iletişimi için teşekkür ederim.Herşey gösterildiği ve anlatıldığı gibiydi.Ev tamamen ada'nın tarihine uygun bir yer.Ahşap zemin,modern mutfağı,bahçesi ve olanaklarıyla gayet nezih ve güzel sevimli bir ev.Tek eksi yanı (gerçi ada'nın yerleşim planını göz önüne alırsak pek eksi değil) biraz yokuş çıkmanız :) Ee boşuna denmemiş her gülün bir dikeni var.Ev sahibinden ve evden çok hoşnut ve güzel anılarla ayrıldık kız arkadaşımla.Bundan sonra adaya gittiğimizde bir kapımız daha olduğunu düşünüyorum.
Receb Senih
2016-10-23T00:00:00Z
We were super welcomed. Our host Nilay was open to help on any subject. The apartment was clean and very quiet indeed. 10 min walk from the ferry.
Ali
2016-08-29T00:00:00Z
Staying at Mrs. Aylin's place was a great experience and a real pleasure for my family. As a host she is very attentive, helpful and friendly. Her apartment was beautiful, comfortable, clean and tidy. You can find everything you need. And location is also very good, it takes you few mins to walk to the central square. I would certainly recommend everyone to visit this beautiful Island and meet with her.
Orcun
2016-07-01T00:00:00Z
Nilay Hanım bize her türlü kolaylığı sağladı ve çok yardımcı oldu. Ev Heybeliada'nın dik yokuşlarından birinin tepesinde. İstanbul'un adalarından birine gidip de farklı bir şey beklemek adil olmaz zaten. Evdeki eşyalar göründüğünden biraz eski ama bunun bize çok etkisi olmadı açıkçası. Son derece sessiz ve huzurlu bir ortamda keyifli bir haftasonu geçirdik diyebilirim.
Özgür
2016-09-25T00:00:00Z
Herşey Mükemmeldi
Jemshit
2016-09-13T00:00:00Z
Sonbaharda mavi panjurlu bir evde konaklama şansı oldukça klasik durmakta, teşekkürler. :)
Yekta yiğit
2016-10-20T00:00:00Z
Romtype
Helt hjem/leilighet
---
Eiendomstype
Leilighet
---
Plass til
2
---
Soverom
Istanbul, heybeliada, Tyrkia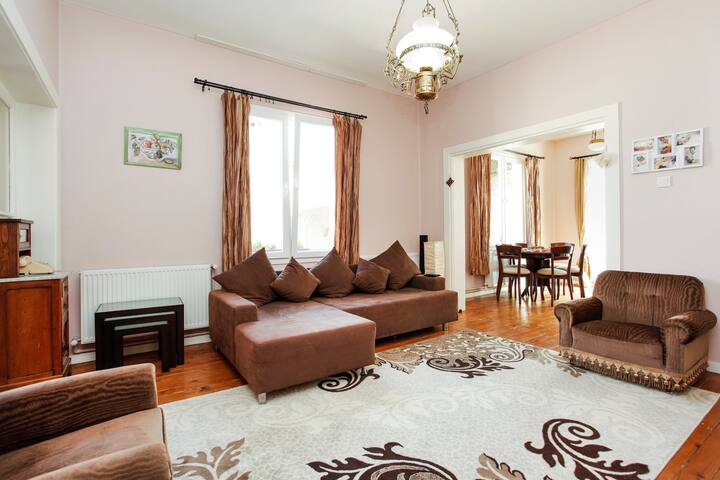 This's a central, open kitchen flat and I've a seperate room with a couch that could be a 2 people superhero bed when you open. The street is both silent and very close to all transportation possibilities within Asian side and to European side.
You'll have the full flat with 2 rooms. One is like a guest room with a wardrobe and the other is much more like a bedroom with a wardrobe and a nighttable. You have the whole flat so the living room, which is my favorite, is totally yours.
As one of the best neighbourhood of Asian side in Istanbul, Bostanci is a humanistic, animal friendly place and adorable because of its closeness to all public transports. The location is very well connected to all business centers of Anatolian side like Atasehir, Kozyatagi, Sancaktepe, Kadikoy etc. Public transport alternatives are quite numerous and well. Direct bus to Sabiha Gokcen Airport is available from the place just after 4 mins walking. Ataturk Airport is just a 40 mins ferry + taxi (for around 6 €) after 7 mins walking from my place. So business travels are not an issue. The flat is at the beginning of Bagdad Street - the most luxurious boulevard of Istanbul full of cafes, restaurant, shops and greenish to walk- neighbourhood. There're many stores and various sized markets, bakeries, pubs around. The closest market place is in 3 mins walking distance. As there's a special pub area at the down street, all shops are open till late hours which allows you to order anything to your flat from out even at midnight.
The host canceled this reservation 2 days before arrival. This is an automated posting.
Essam
2016-01-30T00:00:00Z
great host; always and fast available for any kind of helps. great place; far from the crowded part of the city but close to shops, restaurants, beautiful coast line and transportation to other parts of the city.
Azimberdy
2015-12-05T00:00:00Z
Burcu is a good host. She is friendly and open minded. I experienced a great amount of freedom in her house. The location is everything that I expected from it. It's in a safe and calm neighborhood. If you want to stay in Bostanci than I definedly advice it to others. If you don't like cats, this isn't the place for you. Her cat (Hardal) is a hand full. It also has an influence on the hygiene a bit. All and all I think you get great value for the price she's asking. I had a pleasant stay!
Maarten
2016-08-17T00:00:00Z
I had a pleasant stay at Burcu's place. The apartment was conveniently located close to public transport, Burcu is very helpful and always responded promptly to my questions. I would recommend this place if you want to stay near the Bostanci , Atasehir area .
Vikas
2016-01-24T00:00:00Z
I had the whole flat for me so I did nothing more than sleeping in the Guest's room - of course I did have enough space, even in the fridge etc. I can't say how it is when the owner is at home, but the living room is big enough so this should not be a problem. The flat was not clean. People who don't have a lot of experience with cats might not be able to deal with the cat when the owner is not in the house. It acts unpredictably and is constantly searching attention, so it's hard to spend time in the same room. Since living room and kitchen are not separated, it was not easy to have a relaxed lunch or similar. Burcu managed the stay properly; e. g. there were no problems with getting the keys in advance which were also taken by a neighbour afterwards.
Matthias
2015-09-07T00:00:00Z
Burcu is a super friendly host with a cat who has a special (sweet but crazy) character. If you are lucky Burcu can make you her special coffee.... Burcu's cosy appartment is located in a very cosy neighbourhood, also close to the boulevard, with plenty of fishshops, restaurants, etc. There is wifi internet, cable television and a great kitchen! The cat (a ginger male cat of 5,5 kg's!) is keeping you company all the time and is really funny. The room is next to the entry of the appartment block, and has a bed couch which is fine (but the matras is quite firm...). We spend two nights here, and we can totally recommend you to go and stay there!
MeinGul
2015-02-19T00:00:00Z
Romtype
Helt hjem/leilighet
---
Eiendomstype
Leilighet
---
Plass til
2
---
Soverom
İstanbul, İstanbul, Tyrkia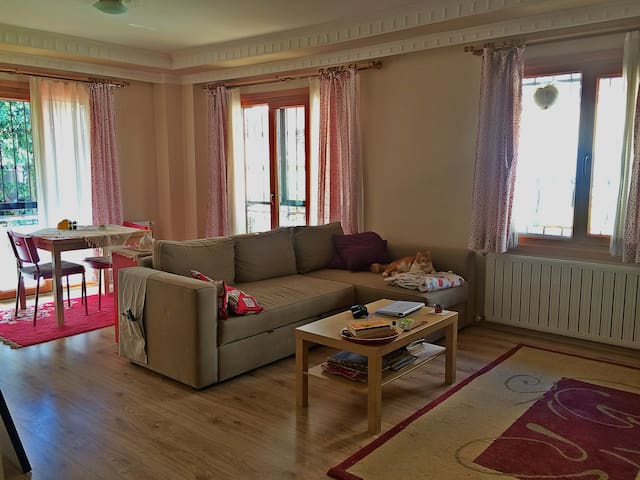 1

–

18

av

300+Utleieleiligheter
Oppgi datoer for å se fullstendige priser. Ekstra gebyrer gjelder. Skatter vil kunne tilføyes.