Includes VIP BREAKFAST for 2! Located in the historical Alexander Hamilton building, our luxury lofts feature 14' ceilings, original 100 year old hardwood floors, all-original architecture, an entire wall of windows, stainless steel appliances, oversized jetted Jacuzzi tubs, and frameless glass showers. Located in the heart of Rochester's Neighborhood of the Arts, surrounded by Rochester's finest dining, entertainment and cultural attractions. Includes WiFi & premium (Showtime) cable!
Stay in a working television studio! Much of School 31 is devoted to the filming stages of a national television Sit-Com! Don't worry, you have your very own private apartment nicely tucked away from the action, but you just may run into one of our guest stars who commonly stay in the building while filming! The lofts also feature props from the show as well as artifacts from Rochester film making history!
School 31 is located in the very heart of Rochester's fashionable Neighborhood of the Arts. The world-famous Memorial Art Gallery is directly across the street and the George Eastman Museum, Village Gate, Art Walk, the Auditorium Theater, the Rochester Museum and Science Center, the Planetarium and so much more are all steps away!
Stevens place was great. The loft is up to date and beautiful, and the old school that it is located in is really cool. What impressed me the most was his staff!! They were extremely helpful, and had great personalities. Amet, the chef that lives on site made us several, outstanding meals(URL HIDDEN)The only things that I didn't like was that there was no stove, and the cupboards were completely bare until I texted to have dishes and glasses brought up. Steven had said that there wasn't an oven, so I assumed that there were burners installed in the countertop and went shopping, that wasn't the case. Their wasn't a stove, period. Since this was the case, we had to utilize his chef, and at the end of our stay we were sent a bill for $80. Thankfully the food was well worth the price. Just a warning, incase someone else ends up in the same situation ( the city was closed for the two days that we were there due to a horrible storm, couldn't have anything delivered, or eat out) All and all, I will certainly be staying again once they have a stove installed. The location couldn't of been better! It was across the street from the art gallery, and close to the shops on Monroe and park avenue. Oh, P.S., the suite is located on the third floor and there is no elevator, if your disabled, or don't handle stairs well, you will have issues staying here.
Matthew
2017-03-15T00:00:00Z
What a great place! The studio was a perfect mix of old and new - upscale/modern bath and kitchen, huge windows facing North Goodman, and the charm of an old school room (complete with black chalk boards). I will be back!
Jack
2017-04-05T00:00:00Z
AMAZING place. Steven was so accommodating and prompt.
Ellen
2017-03-19T00:00:00Z
If I am ever in Rochester again, I will hope to stay at this same location. I most enjoyed the unique architecture, quality decor, an incredibly comfortable bed, and most importantly the jacuzzi tub. Steven was a fantastic host, and provided me with everything I needed, from advice on the local food, to whatever questions I had about the space. If your in Rochester do yourself a favor and stay here
Stephen
2017-03-27T00:00:00Z
Lovely loft space and amenities. Central location and excellent value. Communication was great and would definitely stay here again
Dorothy
2017-03-30T00:00:00Z
We absolutely adored our stay. The loft is exquisite. The views out of the gorgeous wall of windows overlooking the Memorial Art Gallery are stunning, the king sized bed is beyond cozy, and the jacuzzi is divine! The room service menu is truly delicious and made with great care. But above all, the customer service is absolutely outstanding. I highly recommend and cannot wait to return. Thank you so much!
Mariel
2017-03-31T00:00:00Z
Romtype
Helt hjem/leilighet
---
Eiendomstype
Loft
---
Plass til
2
---
Soverom
Rochester, New York, USA
My place is close to restaurants and dining, family-friendly activities, public transport, and nightlife. You'll love my place because of the neighborhood, the comfy bed, and the ambiance. My place is good for couples, solo adventurers, business travelers, and families (with kids). and big groups (we have FOUR completely independent rooms with all amenities each). Think of a mini Hotel thats complete self serve like Yotel NYC.
Our place is quite unique in that we are in a great location and the spaces are easy to access, easy to get out and about and enjoy Rochester's food, art and entertainment scene all while being close to the heart of downtown. I can say with certainty that our approach to the Airbnb experience is unique and we think you're gonna love it!
We are right in the middle of the very best of Rochester, walking distance from the major museums, arts and entertainment, the convention center in a five min drive, East Ave is beautiful to walk, ride or bike, the Neighborhood of the Arts is right here and we have the best of the food experience with dozens of great places to choose from and most are walking distance.
Was great, perfect for our need, will use again....
Michael
2016-12-26T00:00:00Z
Great location, perfect room. Lots of privacy. It was exactly what I was looking for.
Seth
2016-10-16T00:00:00Z
A great little unit! Perfect location near my favorite coffee shop in Rochester called Ugly Duck and the Little Theater. Very helpful host. He even notified me to make sure I was aware of the parade the morning of my stay so that I would not have any problems. Would definitely recommend and stay again!
Brandon
2016-09-05T00:00:00Z
We had an excellent stay at Rest. John made it very easy to access the apartment, ideal after our long drive from NYC. The room is very clean and comfy (my husband loved the memory foam pillows) and was the perfect place to lay our head between stops. John was very communicative and sent us some great restaurant recommendations.
Mary
2016-10-02T00:00:00Z
John was a great host. He was helpful and always ready to be so. The place was very comfortable, clean and quiet.
Bernardo
2016-08-27T00:00:00Z
Great location, great place, great communication. Fantastic value and close to everything downtown.
Clair
2016-09-30T00:00:00Z
Johns place was nothing but perfect! The room was new, fresh and clean and exceeded my expectations!
Daniel
2016-08-17T00:00:00Z
Rest could not have been more perfect. I would 100% pick staying here over staying at one of the hotels in the area, which we visited while here for a wedding. The East Avenue location is in the coolest neighborhood in Rochester and central to everything. There are several restaurants, bars, etc, walking distance, but i was fortunate that we were about a block away from them when I saw how busy they got at night - it was nice to have a little separation from it! The unit itself was exactly as pictured. Meticulously clean with everything you need (your own private bathroom, kitchenette, etc), with premium furnishings and linens. I actually checked the brand on both the towels and bed pillows because I loved them so much and want to buy them for my home. John was incredibly accommodating- from letting us check in early to get ready for the wedding, to quick text answers on questions we had about brunch recommendations, wifi, etc. You would be paying top hotel prices to stay at a place like this anywhere else.
Micaela
2016-09-04T00:00:00Z
Romtype
Privat rom
---
Eiendomstype
Andre
---
Plass til
2
---
Soverom
Rochester, New York, USA
Our place is great for couples, solo adventurers, business travelers, and families (with kids). It is over 1000 square feet, in an Historic House. We are seasoned airbnb hosts (check out our other listing APT #1), with great reviews. This is a huge spacious apt great for visiting the U of R (with our without family). It is on the second floor, so there is a staircase. You are free to enjoy the backyard and front porch.
This freshly renovated apartment is sunny and HUGE! It has a separate living room and an adorable kitchen. The bedroom has a queen size bed along with a walk in closet. The hardwood floors are gleaming. The living room has a trundle bed (2 twins). There is also a large desk if you need to do some work. The kitchen is fully stocked with utensils as well as a Keurig (Coffee, Tea and Hot Cocoa included), Microwave, Sink and Oven. The bathroom shower and tub is brand new.
Our home borders the University of Rochester and the South Wedge, we are also steps from the Mt. Hope Cemetery (stop by and pay your respects to Susan B. Anthony and Frederick Douglass). Collegetown is within walking distance.
We stayed at the property over the Christmas holidays while in town visiting our family. The apartment is a really nice size and while it's located on a busy street, there is plenty of off-street parking. Our host we're very good with communication and very friendly (they even invited us to attend a party they were having during our stay). We weren't able to attend, but the party guests were respectful of our space and we did experience any problems with noise. We did hit one problem while staying at the property, but our host stayed in communication with us and bent over backwards to solve the issue. Over all, if you are looking for a reasonably-priced place to stay while visiting Rochester, this is a good option.
Michelle
2016-12-27T00:00:00Z
Super cute, comfortable space very centrally located! Laura was communicative and patient (especially since I'm inexperienced with app jaja). Thanks for everything! :)
Brooke
2017-01-29T00:00:00Z
Photos don't do it justice. Beautiful historic house on busy road, but apartment is secluded in back and quiet and lovely. Bed very comfortable, lots of nice touches, waking distance to UofR. Hosts lovely. We would definitely stay there again.
Karen
2017-02-22T00:00:00Z
We visited our daughter who is studying in the U of R during Chinese New Year (Chunjie). It is true this aparment is quite near to U of R within walking distance if weather is good. We have booked twice and left for Toronto, Canada during the weekend. Mike and Laura are quite helpful that we can leave some stuff while we gone. We are sure that we will stay in their apartment again for our next visit.
Qing
2017-02-07T00:00:00Z
Very nice place to stay in Rochester! Super clean,bright,comfortable.
Sergey
2017-04-02T00:00:00Z
Great location, amazing house, clean and responsive!
Thomas
2017-01-07T00:00:00Z
Beautiful home with lots of space for parking. Close to Mt Hope Cemetary, the river trail, and the U or R. We loved the character of the home. Michael and Laura provided nice touches to make us feel at home and welcome.
Jason
2017-02-19T00:00:00Z
Michael and Laura accommodated us last minute and we're amazing! The apartment is gorgeous and is in a great location. Thank you so much!!
Amanda
2016-12-21T00:00:00Z
Romtype
Helt hjem/leilighet
---
Eiendomstype
Leilighet
---
Plass til
4
---
Soverom
Rochester, New York, USA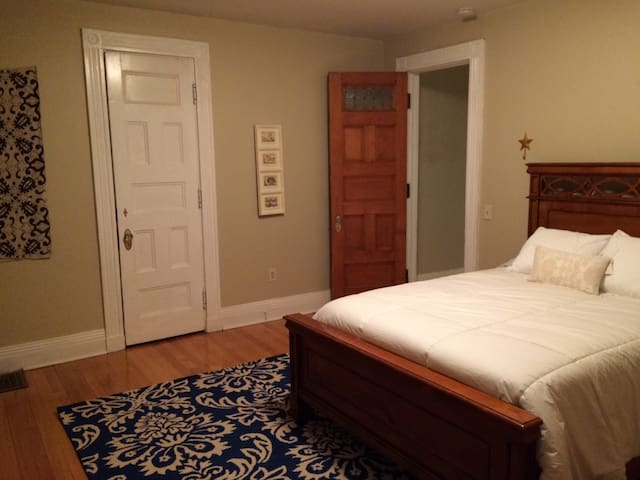 Stay in the vibrant urban village and walk to get the best Sunday sauce in town at Tony D's. Grab a glass of wine at Flight Wine bar or take a scenic stroll along the Genesee River. Right off 490, this apartment is close to the airport, city center, University of Rochester, Strong Memorial Hospital, Highland Hospital, College Town, and South Wedge. Walk to downtown attractions such as Blue Cross Arena and Frontier Field.
Beautiful, clean, quiet, 2nd floor studio apartment in the back portion of 1860's Victorian Villa nicknamed by the neighbors as "The Taj."
Welcome to the oldest residential neighborhood in Rochester, NY. This historic neighborhood sits on the banks of Genesee River and is full of tree lined streets and beautiful Victorian homes. It is home to the biggest summer festival in Rochester, Corn Hill Arts Festival, which takes place July 8th and 9th in 2017.
Romtype
Helt hjem/leilighet
---
Eiendomstype
Leilighet
---
Plass til
2
---
Soverom
Rochester, New York, USA
Located in the heart of Park Ave this space has everything you will need in your room and in your surroundings.
The room itself is a great size and has space to move. The full sized bed is unbelievably comfortable and is facing a flat screen TV with DVDs. In the room is also a small kitchen island with a coffee maker, coffee grounds, creamer, plate ware and silverware. The room will have everything you need to feel comfortable and relaxed. There are also 2 big windows with great natural light. We have a twin sized blow up mattress that is available for an extra person.
Park Ave is a place you can easily fall in love with. From our house you walk on to Park Ave in about 60 seconds. There are amazing local restaurants as well as festivals all summer long. Only 5 minutes from the public market (which also has the Food Truck Rodeo ) (yes, its as awesome as it sounds!), as well as 4 minutes away from Downtown where you can find your clubs, bars and pubs. We are literally the most central you can get to all of Rochester.
Nice room, great location, friendly hosts!
Michael
2016-06-07T00:00:00Z
We enjoyed our stay at Bethany's place. The room is exactly as pictured, and very thoughtfully laid out. As mentioned in the description, it literally has everything one can need and then some extra entertainment! It is located in a neat neighborhood and within walking distance of good dining options. Bethany is friendly and responsive through Airbnb and in person. Great stay and I highly recommend!
Cheryl
2015-07-10T00:00:00Z
Bethany and Jonny made everything super easy. Their place is in a great spot with lots of places to walk to. They were helpful with directions and suggestions and really friendly and of course their dog Marvin was super cute and so well behaved. If I'm back in Rochester I would stay again. Thanks!
Peggy
2015-06-09T00:00:00Z
Bethany was great! Her home is very comfortable and welcoming. We loved the little room - complete with a fridge. Perfect location for exploring park ave and quite street with easy parking. She and her partner we friendly and hospitable. I would stay there again anytime!
Jenny
2015-05-20T00:00:00Z
Bethany and her husband were warm and accommodating. The room was everything it was billed to be and the neighborhood had everything I needed.
DAVID
2016-02-06T00:00:00Z
The room was very nice and the host made you feel like you was at home especially their nice dog Marvin. The neighborhood where the house is located at was a very nice area. Will definitely stay here again when I come back to Rochester to visit.
Monroe
2016-04-05T00:00:00Z
Bethany's room is very spacious , bright and very cozy. The bathroom has all you need and it's clean. I was greeted upon my arrival by her dog Marvin which is adorable. I managed to see Bethany and Johnny later on and they turned out to be very kind and friendly and made me feel at home. Their place is in walking distance to the George Eastman Museum and to many restaurants and all cool things in Rochester. I will definitely stay with them in the future.
mirko
2016-10-09T00:00:00Z
We had a few questions about the pickup time and parking. Even though the host was not at home, she was very quick to respond even at late night. The house is very well maintained close to downtown Rochester. There are places nearby to grab stuff to eat. It was a very convenient location. The bedroom and bathroom were clean.
Shashank
2016-05-31T00:00:00Z
Romtype
Privat rom
---
Eiendomstype
Hus
---
Plass til
3
---
Soverom
Rochester, New York, USA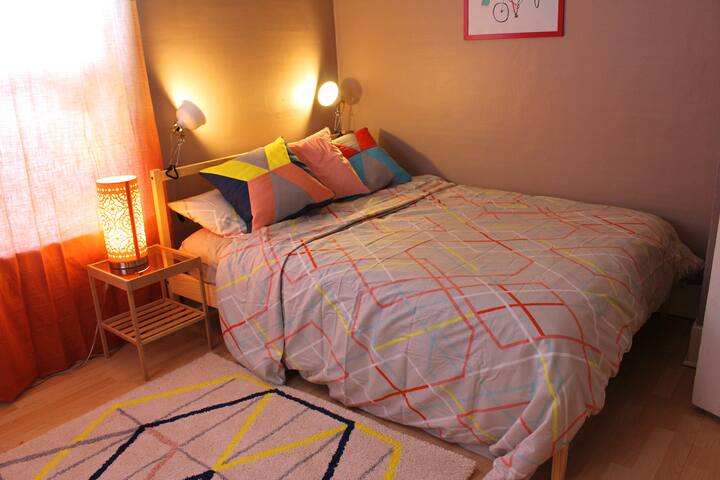 My place is close to Airport, downtown, public transport, restaurants and dining. You'll love my place because of Quiet area. My place is good for solo adventurers and business travelers.
A well build 2 generation family home in the famous 19th ward of Rochester. Close to both airport and downtown.
Bob is a great host he always offering help and he worked on to make my stay very comfortable and easy his place is very clean and near to every thing you need if u need a place for long or short stay u will find bob place a suitable for that
Hossam
2017-04-01T00:00:00Z
Robert was very friendly and a wonderful host. He was accommodating without being overbearing. The house location was very suitable for my needs.
Aaron
2016-12-03T00:00:00Z
Bob was great! I arrived much earlier than expected and Bob rushed back to show me the place and let me in. I would definitely stay there again. Some other reviewers mentioned the internet was an issue. I wasn't able to connect to it, but I didn't really need it so I didn't bother bob with it (Im sure it would have been resolved if I asked). Another mention was the airplane sound. his place is close to the airport, so that should be expected. That being said, it was barely noticeable and I slept very well and was not disturbed at all. Lastly, I removed a star for cleanliness due to the bathroom. There was shaved hair around the sink and the trim. It didn't bother me so I didn't say anything but it may bother others. Overall, I had a great stay and would definitely come back!
Jimmy
2016-12-19T00:00:00Z
Rob was very nice host. I checked in early and my room was ready. There were little samples in my room like shampoo, bodywash, toothbrush etc. Also fresh fruit was waiting for me which was really great because I was hungry when I arrived. This place is highly recommended!
melike
2016-12-15T00:00:00Z
Good space for the price. Room was clean and well-furnished. Host was very friendly and helpful with check-in and check-out process.
Mirza
2017-04-02T00:00:00Z
Great cozy place for a 1 person stay. Would definitely stay again.
Zachary
2016-12-04T00:00:00Z
Bob is a great host.
Sai
2016-11-14T00:00:00Z
Rob is a great host. He was very helpful during my stay at his place and even bought me a meal when I got there really late and hungry. His place is close to the bus stop too for those without cars.
Hamdia
2016-11-11T00:00:00Z
Romtype
Privat rom
---
Eiendomstype
Hus
---
Plass til
1
---
Soverom
Rochester, New York, USA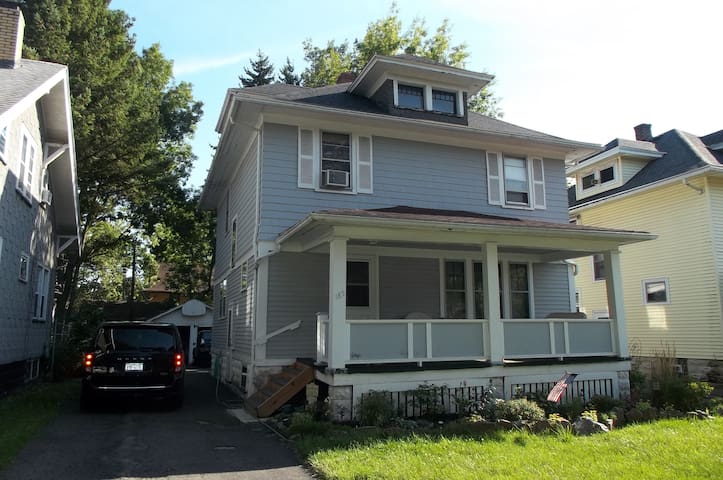 Welcome to the house of Sato Family, a couple of an artist and musician. Cozy and large size one bedroom apartment! It is a beautiful private unit. Enjoy arts through out rooms-there are for sale, too. You occupy the entire first floor. It has a private entrance, kitchen and bathroom. The queen size bed is very comfy. A large living room with a working desk. We know many good restaurants, bars, fun places in Rochester.
There are a microwave, coffee maker, water filter, silverware, dishes, cups, glasses, Iron press, pressboard, hair dryer, hangers, fan, full size refrigerator, electric stove, hand towel, bath towel, toilet paper, clean seats and blanket cover, extra blanket,
Beechwood is an up-coming neighborhood, very diverse, close to downtown, park ave, Winton Village, Public Market, neighborhood of arts, Irondequoit bay, Ontario beach. It is an old Rochester neighborhood and there are a lot of hidden great res1taurants, bars and arts- take a look our guidebook on Airbnb or ask me! By Bus 18 minutes to Eastman School of Music 20 minutes to Downtown Bus Station By Car 8 minutes to downtown 10 minutes to Eastman School of Music 5 minutes to Visual Art Workshop 6 minutes to Eastman House 4 minutes to Auditorium theater 10 minutes to Wegmans 20 minutes to University of Rochester 25 minutes to Rochester Institution of Technology
The place was clean and as advertised. Ken left out coffee for me, which was wonderful!
Nicole
2016-10-23T00:00:00Z
Loved this little apartment! It was close to all of our destinations. Very private. It was very simple but in the best way, we had everything we needed! Ken even helped us out when we arrived a little early for check in. If you're looking for a simple, private apartment in a good location, this is for you
Kaeli
2016-10-14T00:00:00Z
The neighborhood was lovely and the space was warm and comfortable.
Rebecca
2016-10-16T00:00:00Z
Ken was great host the place ws clean spacious & comfortable will stay & again
Phil
2017-03-07T00:00:00Z
Ken was very prompt and detailed with apartment details and checkin information. Very basic apartment. Great for a quick overnight visit. Minutes from Downtown Rochester. Perfect for the business professional looking for a private place to stay away from work.
Garrett
2016-11-30T00:00:00Z
The host was flexible on check-in and the keypads on the doors make it super easy to come and go. Street parking wasn't difficult as the flip happens at 7pm at night. The house was very clean and simple. The bathroom was a very nice size. We had an excellent experience and would definitely book again.
David
2017-02-19T00:00:00Z
Very responsive host and easy to communicate with prior to arrival. Apartment is conveniently located to the city.
Nicholas
2016-10-26T00:00:00Z
Ken communicated very well from when we booked. Everything was clear and set for us when we arrived. Although our stay was short, we really enjoyed the cute a parent and Ken's hospitality.
Hannah
2017-03-19T00:00:00Z
Romtype
Helt hjem/leilighet
---
Eiendomstype
Leilighet
---
Plass til
2
---
Soverom
Rochester, New York, USA
Escape to the center of all Rochester has to offer! This private 1-BR in-law suite is close to U of R, RIT, and the airport, yet feels like a woodland getaway. Have a true B&B experience with optional professional licensed massage services & hot tub access! Both Bruce and Ama have been practicing massage therapy for over 20 years. Bruce specializes in injury rehab, and Ama specialize in relaxation.
This private in-law suite makes the perfect home away from home for visiting Rochester on business or pleasure. The natural beauty of Upstate New York is on display at this clean, quiet, cozy home that's centrally located and convenient to all the area's major attractions. Every nook of the suite – over the garage of the owners' charming home -- is full of character. The eat-in kitchen has a small fridge and a microwave for your convenience, and there's plenty of storage space for snack foods. You'll have access to wifi for getting work done or streaming your favorite shows, and there's a 32" TV with Roku that you're welcome to use. The full bath is equipped with both a bath and a shower, and you'll find that all essentials are provided. The bedroom features a comfy queen bed. A deluxe AeroBed Pillow top twin-size air mattress maximizes space in the living room while keeping a third guest comfortable. For groups of four, or a third guest concerned about comfort, a queen size airbed can be set up before you arrive. This 22" high bed with lift frame feels just like a normal bed, but it does impact use of the living room. There's also a crib available to provide a snug, safe sleep space for a child up to 2 years of age. Let us know your ideal sleeping configuration, and we'll make it happen! The private, tree-lined yard, carefully tended gardens, and outdoor fireplace will make you enjoy the outdoor spaces as much as the inside of this cozy hideaway. If you sit quietly, you can catch a glimpse of birds, turkeys, and other wildlife in the yard. Pets are not permitted at this time.
You can expect privacy and solitude in this home tucked away on a quiet country road. Aside from being less than 3 miles from the U of R, RIT, and Monroe Community College, this rental is convenient to Rochester's historic and vibrant South Wedge neighborhood, as well as the town of Brighton (and its year-round farmers markets). You're just 5 miles from the center of Rochester's vibrant arts and entertainment scene, exciting new restaurants, and world-famous festivals. If you're looking to escape the city, it's just a 3-mile drive to the Marketplace Mall and an array of movie theaters, restaurants, and shops.
I truly wish there was a way to give 6 stars!!!! I did quite a bit of research as my fiance and I were looking to "run away from home" for a weekend together. Lol! I came across Bruce and Ama's home and THANKFULLY looked no further! Not only was their home, and the suite absolutely beautiful, but the peacefulness and serenity were way more than we ever expected both inside and outside!! I don't want to ruin any of the "surprises" that are in store for future guests, but I will say that they have paid attention to every detail to ensure an experience like no other! Bruce and Ama were so kind and inviting and when we did see them we definitely had fun and some great laughs!! We also loved their dog Bella!!!! She is so well behaved, gentle, and just so sweet and loveable! The only complaint we have is that we had to say our goodbyes and leave! Lol! Thank you again SO MUCH for everything Bruce and Ama!! :) We are already looking so forward to coming back! See you soon!!
Julie
2017-02-19T00:00:00Z
Bruce met me when I arrived with his friendly dog Bella, showed me around and made me feel very comfortable. The comforts and special amenities when above and beyond my expectations, have a plate of yummy treats, coffees, teas and even half and half in the fridge to my delight! The apartment was wonderfully cozy with a super comfy bed! I would stay here again!
Nancy
2016-11-06T00:00:00Z
I've stayed at a lot of Airbnb locations, and this was one of my best experiences. They went over the top in making us feel at home with all sorts of goodies and thoughtful touches. Real groovy decor and backyard. Very convenient for visiting the colleges nearby.
Andrew
2016-10-10T00:00:00Z
Unfortunately, I did not get to stay at Ama's and Bruce's place due to a family emergency. however, I cannot say enough for how understanding, thoughtful, and accommodating they were even with my last-minute cancellation. They even ensured I got a full refund! This says a lot about a host! I will definitely be re-booking and then will post a full review! Thanks for everything!
Dr Jason
2016-11-20T00:00:00Z
This is a very hard review to write. The reason being is that I can't be the person that takes away from all of the ooooo's and aaaahhhh's you'll have when you first arrive and start settling in. An Airbnb like no other! The friendliness and willingness to help were above and beyond all expectations. My wife and I stayed with our daughter and her friend. Plenty of room to do the 4-person option as we did if you're looking to have this as your stay away from home to attend events. Not so much of a place for four for a long term stay. But if my wife and I were to want to do a weekend getaway to do nothing and have a place with privacy, quiet, A HOT TUB (it was amazing!!! 22 degrees F outside, 103F in the pool!!), and the amazing ambiance of a peaceful and serene place, you must consider this place before all other. The difficulty in writing this review is that I could go on and on about what it is they have for you and their presentation and and and... ugh!! Seriously! I don't want to ruin it for you. Some people may think I'm playing this up. Nope. The place is very downplayed in the listing. The rules are long, but necessary. If you don't like them, then don't go. But they're so easy. It's pretty easy common sense. But "common" doesn't necessarily fit everyone, so it's really just a "CYA." No "BFD" (-Haha, Ama!!) Ama and Bruce are amazing people. Our tight schedule did not allow us to get to know them as much as we had hope and they had hoped we would. It was unexpected to have hosts that would have such an interest in our lives. We were not able to reciprocate even half of the effort that they put in for us. We were there for our son's volleyball tournament... and if any of you know how THOSE are.... omg! The Cozy Hideaway with the Lobsta Lagoon (just you wait!) is, by far, the best Airbnb experience I've ever had. Don't let it be one you DON'T have.
Paul
2017-01-15T00:00:00Z
Lovely place, lovely stay! Very accommodating and wonderful hosts!
Daralynne
2017-03-12T00:00:00Z
Cozy place, comfortable bed, great hosts, and relaxing hot tub! Close to the city but far enough you don't feel caught up in all the craziness. A must stay!
Megan
2017-03-05T00:00:00Z
Ama and Bruce were very attentive and gracious hosts. This is a great little spot if you're looking for a good value in a quiet area.
Gillian
2016-10-16T00:00:00Z
Romtype
Helt hjem/leilighet
---
Eiendomstype
Leilighet
---
Plass til
4
---
Soverom
Rochester, New York, USA
200 sq feet private luxury room with Free Breakfast provided! Walk to U of Rochester river campus in 10 mins 5 mins walk to URMC , college town and Costco. Less than 10 mins drive to RIT, MCC, downtown and airport. Clean sheets, towels, shampoo, conditioner and soap provided. Free water, coke, coffee provided.
200 sq feet private room. Walk to Uof Rochester river campus in 10 mins or URMC,college town in 5 mins. 10 mins drive to RIT, MCC, downtown. We have a sweet Pomeranian living with us and she is very friendly. Clean sheets, towels, shampoo, conditioner and soap provided. The room has a twin bed with a new matress. The bathroom is shared but as we work mostly nights so there is no line for it in the morning. LIGHT COOKING ALLOWED; YOU CAN ALSO USE MICROWAVE TO HEAT YOUR FOOD, USE KETTLE TO BOIL WATER FOR TEA OR INSTANT COFFEE. Washer and dryer are provided. I know Rochester and it's surrounding areas very well and will be happy to help you move around or find fun things to see and do. A PICTURE ID IS REQUIRED UPON ARRIVAL
位于罗切斯特大学旁最安全的白大褂区。 周围住户大部分是医生与罗切斯特大学学生。
My stay at Xupin's was very comfortable.
Mark
2016-10-12T00:00:00Z
It was really nice staying. Xupin was really nice. I would highly recommend to stay at this place.
Chanjong
2017-02-26T00:00:00Z
主人很热情,帮忙拿行李,床品毛巾很干净,厨房可用,早餐提供牛奶面包。都说中文,很亲切。
Lily
2016-07-29T00:00:00Z
Did not end up staying at Xupin's place, but he had done a great job of communicating with us before our intended arrival.
Devin
2017-03-12T00:00:00Z
Nice large room for 2. Don't expect the host to talk to you.
Isonray
2017-03-18T00:00:00Z
Basic room, fine for a place to crash for an evening.
Allain
2017-04-06T00:00:00Z
Great location. Large room.
Kimberly
2017-04-08T00:00:00Z
The house made me feel like home right away. They r the nicest people I can ask for.
zhaoqi
2017-01-16T00:00:00Z
Romtype
Privat rom
---
Eiendomstype
Hus
---
Plass til
4
---
Soverom
Rochester, New York, USA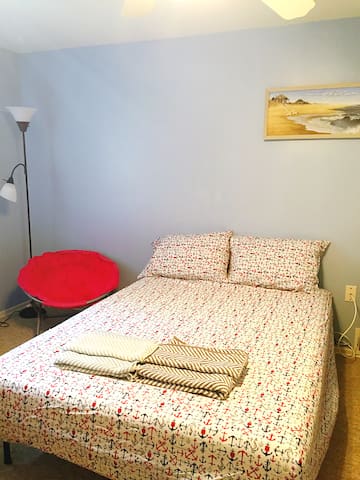 quiet, clean and safe. Convinent to Supermarket and library, post office, University of rochester is nearby. High speed internet, free parking, bus stop
Clean, Quiet, Safe and good district
It is a quiet, safe good neighbour place, near to library, university of rochester, walmart, wegmens, pittsford village and plaze. culture is obivous comfortable.
Hosts were kind and accommodating, waited up for me when I arrived later than anticipated.
Thomas
2017-03-20T00:00:00Z
Romtype
Privat rom
---
Eiendomstype
Rekkehus
---
Plass til
2
---
Soverom
Rochester, New York, USA
This newly renovated apartment is located blocks from the trendy South Wedge neighborhood with bars, a brewery, restaurants and a theater. In the other direction is the Erie Canal, Collegetown, Mt Hope Cemetery and the U of R.
Newly renovated, spacious yet cozy downstairs apartment with a beautiful backyard. For those not used to apartment living the sounds from the second floor can be loud.
This neighborhood is safe, eclectic and cool. It borders the historic Mt. Hope cemetery where Susan B Anthony and Frederick Douglas lie. It is across from our beautiful and once working, Genessee River/Erie Canal. It's a mile from the U of R campus and Collegetown, across the river from Corn Hill and just blocks from restaurants and bars on South Ave. The neighborhood also offers two yoga studios and a concert hall at the German House.
Great place :)
Asia
2017-03-04T00:00:00Z
Loved staying at Elizabeth's place. The neighborhood was nice and walking distance from a good local brewery! Elizabeth was helpful and hospitable. Even provided some local beer in the fridge for our enjoyment! Liked the self check in! Great Airbnb experience!
Brandon
2016-08-13T00:00:00Z
This listing looks exactly as promised by the pictures and the host is very reachable! Great bang for the buck and very comfortable. Beautifully decorated. The unit also had many little touches that made our stay easy, like tea, hair dryers, etc. SUPER clean. Great parking and very central location. We were a quick drive away from everything we needed.
Victoria
2016-10-24T00:00:00Z
This is a nice comfortable place, near U of R. Also, a short walk from some nice restaurants and other night life. Clean and comfortable place!
Bob
2016-11-06T00:00:00Z
Great place. Clean, modern, and well appointed. There is a great intro manual for small details as well as recommended local attractions.
John
2016-08-09T00:00:00Z
The apartment is larger than it appears. Nice stay!
Erica
2016-10-12T00:00:00Z
This was my first Airbnb experience and it was wonderful. I was in Rochester for a wedding and am so glad that I chose to stay here as opposed to a hotel. The apartment was cute, clean, well-equipped and exactly as described. The location was great and walking distance from restaurants and attractions. Throughout the booking process and my stay, Elizabeth was very responsive and helpful. I would definitely stay here again!
Lauren
2016-10-11T00:00:00Z
The unit is neat, clean, and modern. The refrigerator was stocked with treats and essentials, and the linen closet had everything I needed. The bed in the master bedroom was very firm but felt like memory foam. It was extremely comfortable. The thermostats were easily adjustable to keep the temperature cozy even in the Rochestet winter. The wifi was easy to use and Elizabeth even has her own yoga channel. The coffee and tea were the best. Thanks! I would gladly stay here again.
Lori
2016-12-31T00:00:00Z
Romtype
Helt hjem/leilighet
---
Eiendomstype
Leilighet
---
Plass til
4
---
Soverom
Rochester, New York, USA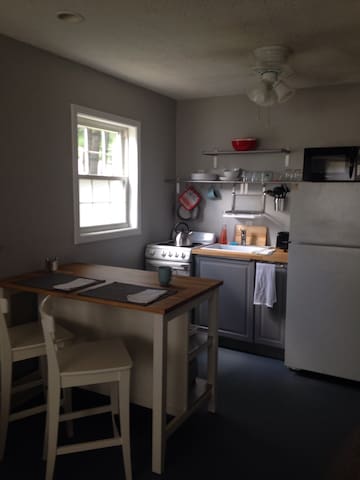 My mother stays here when she's visiting. It's got space to work or relax. The full bed fits two and if you're on a budget, there's a couch for a third.
Zach and Tanzy were very nice and helpful. The neighborhood was very nice, safe and a 10min walk to Rochester University. The house and bathroom were however very dusty, which I hoped it would have been improved since there were relevant comments from previous guests. Additionally, I didn't know that I would be staying with various other people and not the family. The one guest made noises throughout the night coming in and out of his room, and the house has absolutely no soundproofing. The other guests were also University interviewees, which made it a bit difficult in the morning because we had one shower and all three the same scheduled appointment. In general, it was certainly cheaper from staying in a hotel, but you could also see what you were missing because of that.
Mariana
2016-11-18T00:00:00Z
Very close to UR medical center and about a ten minute drive to downtown.
Molly
2016-11-22T00:00:00Z
This place is great! The room was spacious and the bed was very comfortable. The neighborhood is quiet and close to everything you might need. Do not hesitate to stay here!
Chris
2017-02-18T00:00:00Z
Let me start by saying Tanzy was extremely courteous. Replying to emails and phone calls on a timely manner. Upon arrival Tanzy meet us at the house and gave us a tour. The room was very quaint and comfortable. The only negative was the room was a bit dusty and drove my allergies crazy. If you are in Rochester and need a place to stay, give Tanzy a call. The price and location are both perfect.
Jason
2016-10-15T00:00:00Z
Romtype
Privat rom
---
Eiendomstype
Hus
---
Plass til
3
---
Soverom
Rochester, New York, USA
A lovely, sunny room in a great city neighborhood and easy access to parks, restaurants, U of R, Strong and Highland Hospitals, and expressway. Room includes a twin bed (with another twin trundle) and a full-sized futon (linens provided as needed).
Room is setup for perfectly for sleep, desk work, or lounging in front of the TV (smartTV that is set up to access Netflix, Hulu and other entertainment apps, as well as broadcast/network channels, and xbox).
Located just steps from Highland Park (home of the world famous Lilac Festival), Highland Hospital, and the many vibrant, unique SouthWedge neighborhood restaurants and businesses (URL HIDDEN) Also very close to the U of R, Strong Hospital, and the newly constructed "College Town" for shopping and your pick of cuisine.
Great Great Great! :)
Urvil James
2017-03-26T00:00:00Z
I stayed here for 10 weeks while completing a clinical in Rochester. The accommodations were great, and Laura was an excellent host, always very friendly and welcoming with good suggestions about what to do and where to go in Rochester. Everything was exactly how it is described and pictured. The room was great. The house is within walking distance to a lot of restaurants, coffee shops and bars in south wedge. It is a great place to stay!
Jane
2017-03-11T00:00:00Z
Great host, great place, great location, great value, I hope to teturn
Ned
2016-09-23T00:00:00Z
It was fantastic! Laura made our first Airbnb experience a great one. She was very welcoming, her home was incredibly clean, and the coffee was great. Would definitely recommend.
Alanna
2016-10-09T00:00:00Z
I stayed with Laura for three months over the summer. She made me feel welcome from the moment I came to the day I left and was very accommodating throughout my whole stay. The room is exactly as the pictures show (even a little bigger than I had expected) and very clean. I had privacy when I wanted, but was also welcome to use the main rooms in the house. The house is in a central location and within a five minute drive to downtown Rochester and Highland hospital. I also loved the neighborhood and felt safe walking or jogging in the evenings. I thoroughly enjoyed my stay and will definitely stay again if I find myself in the Rochester area.
Becky
2016-08-16T00:00:00Z
We had a very short stay at Laura's place , but she was extremely accomodating with our late checkin.Infact she even met us when we reached her place late in the night.Her home is very warm, cosy and has a very welcoming feel to it.I would definetly reccomend this place for stopovers or long stays!And her arrival information was very detailed and well timed.Thanks Laura !
Anjana
2016-09-05T00:00:00Z
Wonderful!!
Johanna
2017-04-07T00:00:00Z
Laura is a very nice girl, and she was very helpful during my stay.
Lyle
2016-12-02T00:00:00Z
Romtype
Privat rom
---
Eiendomstype
Hus
---
Plass til
3
---
Soverom
Rochester, New York, USA
Your next temporary home awaits :) Located extremely close to public transportation and great night life. Our residence is close to the airport, parks, art and culture, and the city center. You'll love our place because of the neighborhood and the ambiance. We can accommodate couples, solo adventurers, and business travelers. Many guests stay due to the proximity to the University of Rochester.
Greeted us and gave us a tour of the house, provided us with anything we needed and the dog, Penny, was extremely friendly and lovable.
Trent
2016-09-18T00:00:00Z
My second week here.... Everything awesome. First week review They are very nice host, we feel really good while we where there. Attentions were pretty good and They were so helpful to us. The house is very nice and clean, the beds and pillows are really comfortable and the living room and kitchen are pretty nice. The locations is good, closer to downtown and with a very good variety of restaurants around. So I can say, I totally recommended this house to people looking for place to stay in Rochester.
Guenadie
2016-08-25T00:00:00Z
We checked in late but he received our messages and responded nicely on time and we met joe in the morning nice person . Specially to say there is a dog in the house . Very nice one . Very friendly .
Ratna
2016-09-04T00:00:00Z
Staying at Joe's place was an awesome experience. I was definitely a non traditional guest- I was waiting to enter an apartment, and I had 2 car loads of stuff, but only one car. He was completely willing to work with me, and that saved me a huge amount of stress. His location is absolutely excellent - beautiful near forest in the backyard, close to the college and many great restaurants, quiet neighborhood, and a wonderful house. I would absolutely stay again, and will be recommending him to friends and family when they visit.
Ethan
2016-08-31T00:00:00Z
Joe was very nice and accommodating to our late arrival. The house was clean and comfortable and as it appears in photos. Location was perfect for us. Overall great experience.
Maggie
2016-09-25T00:00:00Z
They are very nice host, we feel really good while we where there. Attentions were pretty good and They were so helpful to us. The house is very nice and clean, the beds and pillows are really comfortable and the living room and kitchen are pretty nice. The locations is good, closer to downtown and with a very good variety of restaurants around. So I can say, I totally recommended this house to people looking for place to stay in Rochester.
Guenadie
2016-08-21T00:00:00Z
Smooth check-in, very friendly and responsive hosts, everything was as described. Would stay here again!
Michael
2016-10-17T00:00:00Z
房东还是很nice,住家附近有好吃的中餐,离得不远,离Eastman有近8分钟的士车程。家里虽然有琴,但是比较破旧不能练习。隔壁住了一个小哥也很好!
文英
2017-02-18T00:00:00Z
Romtype
Privat rom
---
Eiendomstype
Hus
---
Plass til
2
---
Soverom
Rochester, New York, USA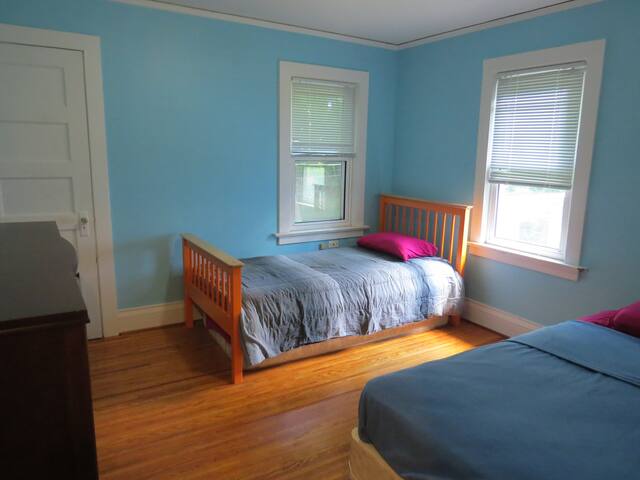 We are easygoing hosts and welcome everyone. Quiet and park-like nested home has been a stopover for circus artists, swing dancers, jugglers, and other performers as well as sedate folks. Situated a couple of blocks from the highway, thus it is easy to get anywhere in the Rochester area within a 15 minute drive. The place is good for solo adventurers and business travelers. Please note this is a deaf friendly home (I am deaf and my husband is hearing).
We are happy to offer a pleasant, functional furnished room on the second floor in our large 5-bedroom house located on a quiet street corner in a family-friendly suburban neighborhood. The guest bedroom has a single bed with a comfortable mattress, a closet, six-drawer dresser, and desk. The bathroom has a bathtub/shower and is sometimes shared with other residents. You are welcome to use the large, updated, and well-equipped vegetarian kitchen. Breakfast options are organic cereal (gluten-free and/or dairy-free upon request) and/or fresh home-bread with organic butter/cream cheese. Wireless internet is included. Off-street parking is available in our driveway. We are easy- going hosts—happy to chat or to leave you to be. Please send inquiry if you have any questions.
Our house is situated in a family-friendly neighborhood.
Quiet home with pleasant hosts!
Dominic
2017-01-29T00:00:00Z
Once again, it was quiet, clean and welcoming.
Elana
2017-04-05T00:00:00Z
As hosts Brian and Diana were completely warm, friendly, and helpful; their home was the perfect base for my 10-day stay in Rochester. The house was immaculate and the room was cosy and private. I would absolutely recommend the listing.
Stevan
2017-03-21T00:00:00Z
The hosts are warm and welcoming, and accommodated my quirky schedule. It was a quiet and comfortable place to stay. I would definitely book with them again, and can recommend them without hesitation.
wendy
2016-11-22T00:00:00Z
a great place to stay for 1 person. I was here for an exam and literally needed a room to sleep in for 2 nights. Diana was a wonderful host and was very understanding. One interesting thing I found was that there were no locks on any door. WiFi, refrigerator, parking and coffee maker was made available. I will definitely suggest this place for someone travelling with a budget.
jaswinder
2016-12-30T00:00:00Z
A super clean, comfortable and quiet place to spend the night. Diana and Brian were very welcoming and willing to help.
Elana
2017-01-25T00:00:00Z
Diana's place was easy to find, in a safe neighborhood, and close to everything. Diana was pleasant and quick to show me around as I only had a few minutes upon arriving before I had to head out again to set up for a show I was doing for the whole weekend. I found the home to be quite quiet, essentially had the bathroom to myself, and was always a comfortable temperature. I did get a chance to chat with her husband the last night I was there, and he's a very interesting, educated, artistic guy with whom I'm glad to have had the opportunity to form an acquaintanceship. That said, I feel that their place is quite the ideal if you need to stay in the Rochester area.
Chris
2017-03-27T00:00:00Z
This is a fantastic place to stay. The room is clean and well-kept, and the hosts are very kind. It's a great location from which one can access all of Rochester very quickly. I will definitely stay here next time I visit the city.
Stuart
2017-04-06T00:00:00Z
Romtype
Privat rom
---
Eiendomstype
Hus
---
Plass til
1
---
Soverom
Rochester, New York, USA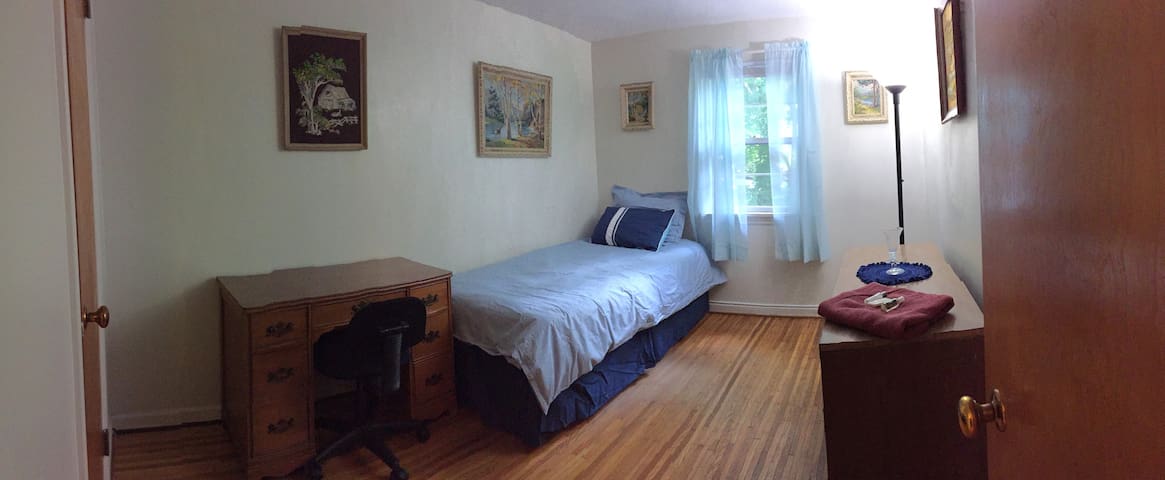 Located in the Winton Village area. Stand alone newly remodeled loft house in perfect condition. One bedroom loft, one bathroom on the first floor, full bath on second floor. Sleeps two comfortably, sleeps up to 4 with blow up queen size mattress. .
Open floor plan, kitchen and living area are perfect for (small) entertaining and perfect for people that enjoy cooking and/or have kids. Full size modern kitchen and cabinetry, new appliances, refrigerator, and dishwasher. Dishes, glassware, place setting to serve 6 available. Full access to pots, pans, basic cookware, toaster, coffee machine, and blender. Upon request/deposit access to additional small electronic kitchen expenses available Uniquely furnished with full-size dining room table, couch, and bar-stools for seating. Two HD tvs, one on the first floor and one in bedroom, both with local channels and Roku access to Netflix, HBO now and plenty of free TV Apps.
Winton Village
Courtney was great about communicating with me about her place. The week before my arrival, Rochester had hurricane force winds that tore off part of her roof, a power outage that knocked our her furnace, and freezing temperatures which forced her to empty her hot tub lest the pipes burst. She handled it all with aplomb and grace, keeping me well informed. Ultimately, she was forced to cancel my reservation -- but I will book again with her on my next visit.
Matthew
2017-03-16T00:00:00Z
Courtney was a wonderful host! She continued to follow up with me throughout my visit ensuring that i didn't need anything. She also offered suggestions of places to go in the area to ensure that I had a wonderful time and was attentive to any unperceived needs such as plowing the driveway during snow fall. Such a wonderful visit !
Aaron
2016-12-18T00:00:00Z
It was a great space! We planned a last minute trip and courtney was very accommodating and nice! We were celebrating a birthday and she bought beer for us. Would absolutely stay again.
Lauren
2017-01-14T00:00:00Z
Despite us being late, Courtney was very understanding and very friendly. The house is the perfect size for two people! Everything was clean, she set out towels for us, and provided us with wifi and netflix. Couldn't have had a better stay! Hope we can come back soon!!
Kassondra
2017-03-04T00:00:00Z
Perfect host. Lovely house. Great location. Happy to recommend!
Marc
2017-03-19T00:00:00Z
Courtney was a delightful host, and provided excellent communication to ensure our arrival was seamless. Her house was the perfect size for my girlfriend and I, and was clean and well appointed. Paying a little extra for the hot tub was totally worth it! It was such a nice amenity after a day of snowboarding at Bristol Mountain. Would definitely stay here again if I was in the Rochester area. Thanks Courtney!
Keil
2017-02-11T00:00:00Z
Courtney's place is yet another reason to prefer airbnb over hotels. While all of my friends were having issues with their hotels, my husband and I were enjoying Courtney's cozy space. Everything was clean and sparkly, her decor is lovely, and she has giant bath towels which were especially pleasing to me. The location can't be beat - it took us no more than 15 mins to get anywhere we needed to be. We'd definitely recommend Courtney's place to others.
Becky
2017-04-02T00:00:00Z
Courtney was great! Her house is beautiful, you can tell it is well-loved and she has chosen every gorgeous detail herself. We managed to stay during a lake-effect snow storm but still tried the hot tub and it was like being in a warm magical snow-globe! Definitely spring for the added cost of using the hot tub! The house was very clean, she gave us fresh linens and towels, and was easy to contact regarding arrival and departure plans. She even left us a bottle of wine when I told her we were celebrating a special occasion! So thoughtful down to every detail. I definitely recommend her place to other AirBnB renters!
Courteney
2016-12-30T00:00:00Z
Romtype
Helt hjem/leilighet
---
Eiendomstype
Hus
---
Plass til
2
---
Soverom
Rochester, New York, USA
This home & location is ideal to business travelers, students, and concert goers. It is in close proximity to the Geva Theatre, The Bluecross Arena, Airport, downtown, Eastman School of Music, U of R, RIT, the bus/train station, and much more. *This room can fit up to 4 people. Its actually 2 rooms connected to one another with a private entrance. There's a futon (fits two), a sofa (fits one), and an air mattress (fits one.)
The space is clean, spacious, private, quiet, and warm. There's a nice size room adjacent to the bedroom to store your belongings. As well as your own separate entrance.
The "South Wedge Neighborhood" is one of the best neighborhoods in Rochester, NY. This home is located on a quiet street. Enjoy the arts, cafés, theatres, restaurants, boutique shops, and much more. -Memorial Art Gallery -Boulder Coffee -Tap & Mallet (restaurant/bar) -Cinema Theatre (movies) -Threads (cool clothing store & accessories) -Banzai Sushi & Cocktail
I actually rented the place for my aunt and she was very happy with how she was treated upon her arrival as well as throughout her stay. Although there is not much to do where the house is located, it is very close to the city center as well as to downtown and some nice avenues with coffeeshops and restaurants.
Adriana
2015-11-09T00:00:00Z
The host always replies messages instantly, and he really made sure that my friend and I were comfortable staying there. He was very helpful and welcoming. The house itself is also great. It's close to downtown area and not too far from the university of Rochester. I enjoyed the experience a lot.
Janice
2016-07-19T00:00:00Z
Was very quick responding to our last minute request to book a room, which was very helpful as we were biking across country and needed a place to stay on very short notice. House was very clean and nice, and was a nice relief from being on bikes for 5 days.
Jack
2015-10-26T00:00:00Z
The house is in walking distance from east Ave, park Ave, and downtown. Barrington was awesome from day one. The first night we went to a nice art gallery and chilled cigar lounge. Friday and Saturday night was so much fun because he introduced me some great bars and night clubs. He is so friendly and a fun host. My room was perfect. It had its own entrance, small desk, and a nice couch. Showers were amazing and nights are nice and quiet. I would definitely stay here again.
Hannah
2016-06-11T00:00:00Z
Barrington was very helpful with our stay. He checked in with us on our comfort, made some changes to help in our comfort, drove us to our first rehearsal when we realized we had timed the walk incorrectly and most of all, came to see us DANCE!!!
gina
2016-06-27T00:00:00Z
I stayed there for another 7 days. And it was just great!
Armen
2015-08-17T00:00:00Z
Barrington was super easy to book with and was a great host. He gave us lots of recommendations for places to go nearby and we really enjoyed Lux bar. Would've been great if there was wifi at the house so we could look up some other things to do in Rochester but the cafe nearby has wifi so we went there!
katie and willsy
2015-04-05T00:00:00Z
J. Barrington was a wonderful host. He was knowledgeable of the area, made sure everything was going well with the stay, and was pro-active about dealing with any potential issues. The location is close to some nice restaurants, a grocery store, and the Strong Museum of Play. I would definitely stay here again.
Benjamin
2016-07-17T00:00:00Z
Romtype
Privat rom
---
Eiendomstype
Hus
---
Plass til
4
---
Soverom
Rochester, New York, USA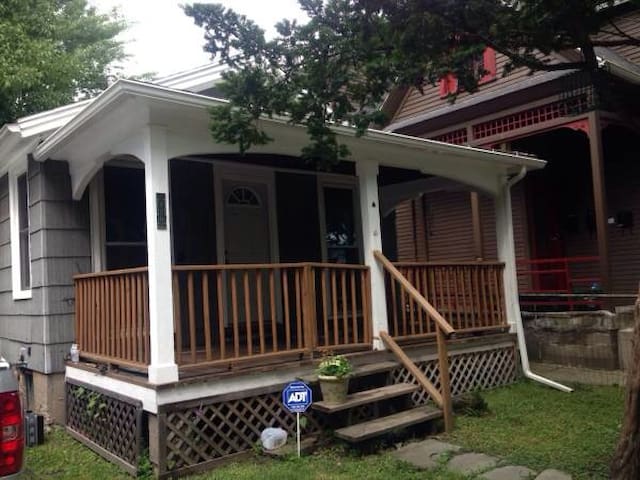 We're now hosting a private suite! We live on a quiet (safe), dead-end street very central to everything. You will have tons of space: Private Suite: Bedroom, living room, full bathroom Shared: Kitchen, 2 laundry rooms, deck, 1 acre lawn with fire pit.
The private suite has a bedroom, living room and full bath. Included in private area is a coffee station, TV with Roku (Amazon prime), pull out couch (as secondary bed if needed), huge closet etc. Our shared spaces are the kitchen, deck, 2 laundry rooms and 1 acre lot with fire pit.
A quiet dead-end street surrounded by Genesee Valley Park, a golf course and woods. Central to most everything, especially the UofR. Because we are across the river our crime rate is also very low.
I really enjoyed my stay at Alan's place. I was in town to check out a few of the schools and could have walked to the University of Rochester and biked to Rochester Institute of Tech. The place is really close to everything. As for the room (rooms actually), they couldn't have been better. It was more like having an apartment because you have a semi-private entrance, a living room, bedroom and your own bathroom with shower/tub. Wifi was good and very fast and Alan was quick to respond. Would stay again and would highly recommend to others.
Teague
2016-05-09T00:00:00Z
Alan and Kelly were great hosts. They were very friendly and helpful. Their place is very clean and comfortable. We were visiting for the RIT family weekend. We were very close to the campus.
Susan
2016-10-17T00:00:00Z
We really enjoyed our stay at Alan's. The yard and surrounding areas are like being in a park..I'm not kidding! The bed was comfy. We had our own private living room and bathroom with wonderfully interesting furnishings and books. Plenty of fresh linens. Alan was a warm and gracious host even offering use of the laundry. Alan is fun to talk too..if you have the time. He's had lots of adventures in his travels. If you are looking for a nice place, to watch the morning dawn or evening dusk or sleep with the window open and no light pollution around, I would highly recommend Alan's place.
Bob and Glenda
2016-07-18T00:00:00Z
Alan was very welcoming. His place is beautiful. I highly recommend staying here.
Kent
2016-07-24T00:00:00Z
As in my previous review, the place and hosts are great, highly recommend. I booked consecutive nights but in different bookings so AirB&B wants multiple reviews.
Melissa
2016-08-07T00:00:00Z
Great place, central location and really great hosts.
Michael
2017-01-21T00:00:00Z
As in my previous review, the place and hosts are great, highly recommend. I booked consecutive nights but in different bookings so AirB&B wants multiple reviews.
Melissa
2016-08-06T00:00:00Z
Alan and Kelly are fantastic host undoubtedly! They are extremely warm, helpful and hospitable. Also, their place is wonderful. A 100% private and cozy suite with basically everything. This is definitely one of the best AirBnB I've stayed with over my trip. I strongly recommend it to everyone who will visit Rochester region.
Trudy
2016-10-05T00:00:00Z
Romtype
Privat rom
---
Eiendomstype
Hus
---
Plass til
3
---
Soverom
Rochester, New York, USA