Spacious, oceanfront apartment on pristine St. Margaret's Bay, NS. Located in an upscale, country setting, next door to St. Margaret's Sailing Club with a private beach and floating dock. Near Peggy's Cove and only 25 mins from Halifax.
The apartment is over 1000 sq. feet opening to large yard leading to the beach which boasts incredible marine life and is warm for swimming in summer and fall. If you are a sailor this is a dream location. We have lovely landscaped yard with fishpond, herb garden, grapevine, and a deep water dock for fishing, diving, power boating, kayaking, snorkeling etc. The apartment is quiet and clean with 2 bedrooms, eat-in kitchen, living room with bar, storage closets, 3 piece bath and laundry room. We are child and family friendly. Your first level apartment has a secure and separate entrance from the main home. All windows face south to the ocean with two double patio doors opening onto a large private patio with a hammock and an incredible view of the Bay.
We enjoy the security of a private but friendly neighbourhood on a cul-de-sac on an ocean peninsula. We live next to the St. Margaret's Sailing Club which is a respected junior sailing club with a Marina. There are hiking and biking trails nearby, kayaking and canoeing from the property and every convenience is only a 10 minute drive away. World famous Peggy's Cove is only 15 minutes down the road.
Really nice place in a beautiful and peaceful location. We enjoyed very much our three nights spent in Glen Haven. The appartment is spacious, nice and cozy with everything you may need. We recomend this place.
Christopher
2017-03-21T00:00:00Z
it is very nice and cozy house! it has everything inside the house. very pretty near the peggys cove.
令茹
2017-02-09T00:00:00Z
clean, cozy, nice host, but very thin walls. For me it is hard to deal with the American way of sound and heat insulation.
Kornél
2017-02-26T00:00:00Z
beautiful place
Jen
2017-02-15T00:00:00Z
Lovely area!!! Great view!!! Liked suggestions given for sights and eating places.
Wini
2016-09-29T00:00:00Z
Diane Marie and her family reminded me yet again why I am so enthusiastic about Airbnb. I can only reiterate what people who visited her bnb before me. Diane is a warm, hospitable and caring person whom I hope to visit again soon as our last visit was too short. Very much look forward to see you again. Thanks from all of us (Sabrina, Saari and Jacques)
Jacques
2013-11-04T00:00:00Z
This is really a beautifully decorated very specious place with a picture perfect view. Micheal had been very helpful host. We will look forward to be there again to spend longer time.
Satish
2014-06-28T00:00:00Z
Our family with two adult sons had a wonderful stay in Mariner's Haven. We enjoyed the beautiful and nicely furnished apartment with direct access to the water, and the beautiful view from the dining table. Our boys enjoyed lying in the hammack while we relaxed on the terrasse. The location was perfect. Close to Peggy's Cove and Halifax. Everything was clean and working well. Diane Marie and Michael are very nice hosts. We would absolutely recommend this place.
Ina
2014-07-29T00:00:00Z
Romtype
Helt hjem/leilighet
---
Eiendomstype
Leilighet
---
Plass til
4
---
Soverom
Glen Haven, Nova Scotia, Canada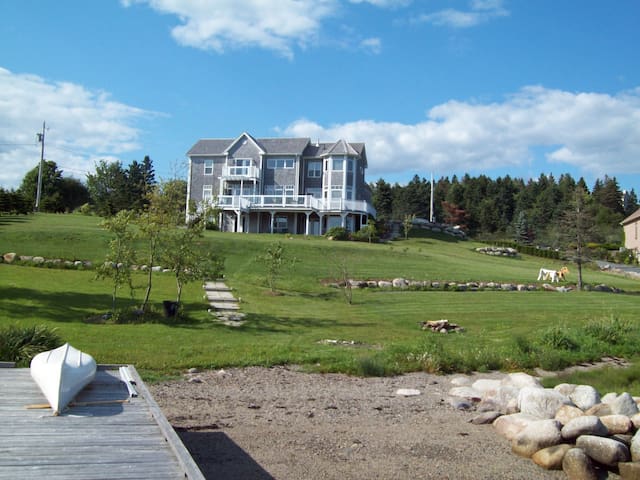 Private loft style studio apartment, located in scenic St. Margaret's Bay, overlooking the sheltered Long Cove. Stunning ocean views can be seen from all windows as well as the elevated wrap around deck facing the ocean. Walk down to the beach area
Private loft style studio apartment, located in scenic St. Margaret's Bay, overlooking the sheltered Long Cove. Stunning ocean views can be seen from all windows as well as the elevated wrap around deck facing the ocean. Walk down to the beach area and take a dip in the ocean or have a nice barbecue on the deck, while listening to the call of the loon and chirping of other seabirds. Wake up to the sun streaming above your head through the skylight or look up and watch the moon and the stars while relaxing in the queen size bed. The loft is fully equipped with all of the amenities of home. Queen size bed, fully equipped kitchen; full fridge, oven, microwave, barbecue, water cooler and coffee maker. Cable and VCR. Three piece bathroom. Located 30 minutes from Metro Halifax, 10 minutes to Peggy's Cove, 45 minutes to the Halifax International Airport. We are on the Lighthouse Route, and the highways to Chester, Mahone Bay, the historic town of Lunenburg and the Annapolis Valley are all quickly and easily accessible from this location. Walking tours along the ocean, superb restaurants, canoeing, kayaking, deep sea fishing, whale watching and puffin tours all await you. Five minutes down the road is the sailing club, golf courses are aplenty, including the world renowned Glen Arbor Golf Course located about 35 minutes away. Deep Water Anchorage - Large Wharf.
Beautiful scenery, wildlife, magnificent sunsets, close to all amenities yet still in a country setting. Bicycle rentals nearby - beautiful bike trails within 15 minutes of the property. Kayak and Zodiac rentals nearby. Some of the best sailing waters in the world.
The host was ready to receive us when we arrived, she was easily accessible and very responsive to texts and calls. She welcomed us when we got there and showed us the property and made us feel at home. The studio is beautiful, located right on a lake, great view and only a few minutes away from Peggy's cove.
Romina
2016-07-03T00:00:00Z
An excellent location to tour Nova Scotia from Halifax down! Wonderful hosts made us feel right at home. The "loft" met our needs perfectly!
Lou
2015-08-31T00:00:00Z
Our stay at Sandra's was wonderful! The apartment was beautiful and had everything we needed and setting was spectacular. The location was ideal, 15 minutes to beautiful Peggy's Cove and about a half hour to Halifax. We would definitely stay here again, thank you Sandra!
Lianna
2016-10-15T00:00:00Z
We loved the homey feeling while we stayed at Sandra's. The location was perfect as well to visit Peggy's Cove and Halifax. I was clean and and the bed was so comfy! Definitely recommend :)
Mel
2015-07-24T00:00:00Z
Our stay at Sandra's Seaside Loft was wonderful. The space was clean, spacious and well supplied. The quiet back yard was a perfect view while waking up with a morning coffee on the private deck. Sandra and her husband Kevin are charming and were the perfect hosts.
Warren
2016-07-17T00:00:00Z
The host canceled this reservation 109 days before arrival. This is an automated posting.
Eva
2017-03-15T00:00:00Z
We have stayed at about 40 airbnb places around the world and this was one of our favorites. After a long day of traveling via motorcycle, we pulled into this quaint area with an absolutely stunning view. I wish we could have stayed for at least one more night just to enjoy the area and to enjoy another night on the deck. Sandra gave us a warm welcome and the apartment is wonderful. Great light, clean and the kitchen has everything you need to cook your own meals. If you stop at the Pacific Superstore before you turn down Peggys Cove Road, you won't have to drive back to pick something up like we did. We bought some meat and fish then cooked on the new grill and ate while the sun set. There is also a great little stereo that you can hook your phone to in order to enjoy some of your favorite tunes while you cook up a storm and take in the sunset. Bottom line is, I'd go out of my way to stay here again. You should too.
Kim
2015-07-13T00:00:00Z
Sandi was extremely accommodating when our arrival at her home was greatly delayed. The home was lovely and our suite was very charming with all of the amenities we could have hope for. The accommodations made for a picture perfect stay!
susan
2015-07-08T00:00:00Z
Romtype
Helt hjem/leilighet
---
Eiendomstype
Leilighet
---
Plass til
2
---
Soverom
Glen Margaret, Nova Scotia, Canada
On the ocean. Two bedroom, two level, large bathroom ( 21" deep soaker tub, double vanity, glass shower and double flush toilet) open concept kitchen/dining/living room (stainless steel, double sink, dishwasher, fridge/freezer, oven stove) island, 150 sq' roof top deck. Protected 21 acre accessible island/beach across the road. Use of private outdoor tennis courts and canoe. 25 minute drive to Peggy's Cove 25 minute drive to Urban Halifax. All amenities 12 min drive.
25 minutes from Urban Halifax. 25 minutes from Peggy's Cove. Overlooks beautiful St. Margaret's Bay. Canoe/paddles/life jackets available along with use of private outdoor tennis courts seasonal (15 min walk). Micou's Island with a large beach is across the road.
Highly sought after scenic area convenient to all amenities. The ocean is 140' from the accommodations. A protected island with beautiful beach is across the road. Use of private tennis courts included.
It was the perfect home away from home. Comfortable bedrooms and living area, fully equipped kitchen with new appliances, and a beautiful spa-like bathroom! My husband and I loved the location and we enjoyed the scenic drive every time we traveled in/out of the area. Tucked away at the end of the peninsula, it gave us the secluded retreat we were looking for, yet we had the convenience of a 10 minute drive to the closest grocery store / plaza to pick up anything that we needed. Almost every morning, we would see quite a few deer standing under the trees right outside the house! Or we would find them casually walking across the road during the day or night. It was great being right by the ocean and watching the tide go in and out at different times during the day. During low tide, we were able to walk across to Micou's Island and explore. Our host, Robert, was very friendly and helpful. We had some questions prior to our arrival and he answered them in great detail. He welcomed us upon our arrival to show us around the house. We could see that he really took great care in providing everything that we would need during our stay and it really made us feel at home! We would love to stay here again if we ever return to NS and would definitely recommend this location to family and friends.
Linda
2016-07-04T00:00:00Z
Very comfortable home right at the waterfront in a very remote location. Appartement ist fully equipped and the sun deck is superb. You can sit there and relax in the sun or dine outside. Halifax, Peggys Cove, Mahoney Bay all nearby so an ideal location to explore everything.
Yvonne
2016-09-20T00:00:00Z
Un très bel endroit calme et reposant avec vue sur la mer. Une plage à proximité sur une petite île. À faible distance de sites touristiques. À recommander pour ceux et celles qui veulent découvrir la région tout en ayant un beau pied à terre et avoir la chance de se connecter avec la nature.
Gaetane
2016-08-22T00:00:00Z
Robert greeted us upon our arrival to get us settled in and ensure we knew where to find everything. He gave us space as if we were there on our own, but he was there if we needed him (we left our interior lights on and needed our car boosted a couple times and he was happy to help) The space exceeded our expectations and was even better in person than in the photographs! it suited our family well. There was plenty of space to play, sleep, and eat while we were inside, and a natural playground for all ages just across the road with the sea and a land bridge (accessible at low tide) to a wonderful island of adventure with trails, beaches, and sea creatures galore! Some of our highlights from this stay were the daily beachcombing, the canoe ride (in the canoe which Robert provided with life jackets), walks to the island beach, and of course - the spa like bathroom with a large tub to soak away all the worries in! The location was perfect for a relaxing vacation. It was far enough away from the hustle and bustle. But a close enough drive to see sights, get groceries, and complete any errands We had. Robert was always willing to help with anything we needed support with! And his daughter is just adorable! We are so happy we chose this location. If you're looking for a gorgeous natural home away from home with a splash of modern in just the right places to stay, relax, and get away from the bigger city but close enough to get to everything you'll need, and close enough to see all there is to see in the area, this is your spot!
Amie
2016-10-09T00:00:00Z
The location was perfect for my wife and I as shopping for everything we required for the 10 day stay was within a ten minute drive. The lodging was spacious, comfortable and all the amenities were new. The location is scenic, quiet and great for day tripping to other historic locations. Robert is quite knowledgeable about the area and was helpful in our planning day trips. Our routine was to breakfast at the house, day trip to different locations like Lunenburg, Wolfville, and Halifax for a great late noon meal and a light dinner back at the house. The house is plenty large for a small family. Roberts two year old daughter - Taegen would love to play with other children. We highly recommend this lodging and will hopefully be able to rent it again if we vacation in Nova Scotia in the future.
Thomas
2016-06-10T00:00:00Z
Romtype
Helt hjem/leilighet
---
Eiendomstype
Leilighet
---
Plass til
4
---
Soverom
Glen Haven, Nova Scotia, Canada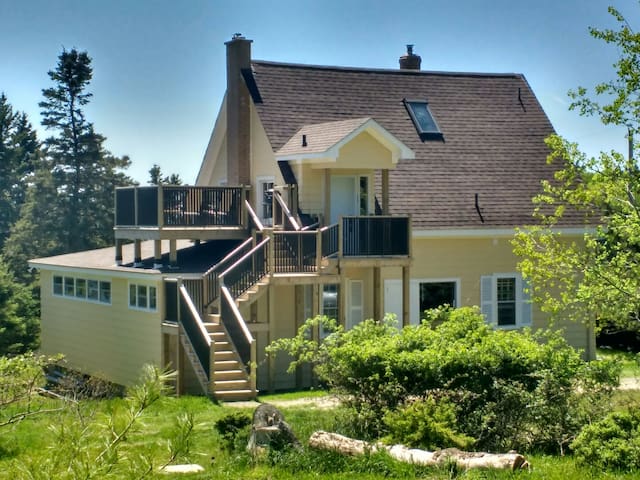 Located easy 15 min. drive to Halifax, mostly on 4 lane hwy. This spacious flat is part of an executive lakeside home. Set on nearly 10 acres of land, with south west frontage on a medium sized lake, facing undeveloped land. Unit has large private use deck off the kitchen, with exclusive use barbecue and outdoor furnishings. Use of gazebo and canoe/kayak/paddle boat on the property. Parking for 2 vehicles. Ideal for 2 couples or couple with teenaged/adult children.
This is a flat in a large lakefront home. Owner reserves space for self to assist in maintenance of property and changeovers, but does not reside on site full time. Owner requests that shoes not be worn inside the home.
This property is within a subdivision, which has a park as well as access to the Trans Canada trail. Bikes can be rented at next exit down the highway which also abuts the TransCanada trail. Entrance to the Bluff trail is only 2 kms. away; that is a serious hiker's endeavour. There is fishing in the lake that abuts this property, best found at stream entrances to lake. Located 20 kms. from peninsula of Halifax by hwy 103; and subdivision exits off Lighthouse Route, which is hwy 3 leading to Lunenburg, Mahone Bay, Chester.
Jean was very accommodating and flexible. The property was awesome and the views of the lake were phenomenal!
Tisha
2016-08-30T00:00:00Z
Romtype
Helt hjem/leilighet
---
Eiendomstype
Leilighet
---
Plass til
4
---
Soverom
Hubley, Nova Scotia, Canada
Our property is a beautiful 4 acre piece of land with 100' of oceanfront in Boutilier's Point. Beside our house is a detached double car garage with a loft above. The loft is set up for one or two people with its own small kitchen and bathroom. The kitchen includes a 2 burner stove, microwave & small fridge. The popular St. Margaret's Bay Trail runs through our driveway making it perfect for walking or biking. Inside pictures coming soon. Will be ready for the May long weekend.
Romtype
Helt hjem/leilighet
---
Eiendomstype
Leilighet
---
Plass til
2
---
Soverom
Boutiliers Point, Nova Scotia, Canada
我的地方是靠近家庭友好的活动,夜生活,公共交通,城市中心..你一定会喜欢,因为舒适,现代的公寓非常安静的我的地方,从杂货店2分钟,从科尔尼湖有5分钟的路程。我的地方是好夫妻,独奏冒险家和商务旅客。
靠近购物和杂货店。
My stay was wonderful, Natalia showed me everything I needed to know about her condo. The location of this place is amazing, not to far away from downtown and everything you need is very close by, and yet so peaceful at night. I highly recommend staying here, to anyone looking to stay in the area !
Carter
2016-08-29T00:00:00Z
Natalia's place is more classy than ever expected. She has put a well thought out touch in her condo. The area is a nice quiet spot with wildlife hanging outside the balcony (6 deer to be exact). And near by stores of all types for the basic needs. Definitely, a place to re-visit!
Lewis
2017-03-20T00:00:00Z
The apartment was exactly as advertised. It is a lovely, spacious and relaxing space. The balcony looks onto a wooded space and is a nice place to sit down and relax. The apartment was farther from downtown Halifax than we expected but has many amenities nearby. We thoroughly enjoyed our stay here.
Kerry
2016-08-01T00:00:00Z
It was a nice place to stay. It's a beautiful, spacious, clean and quiet place. And is very close to stores, restaurants and banks. Also not too far way from the downtown. I was really impressed by the interior of the apartment. This is the place which will give you the homey feeling when you're away from your own house. staying at this place, makes my trip more comfortable and enjoyable in Halifax. I will highly recommed this place.
Ashu
2017-04-03T00:00:00Z
Romtype
Helt hjem/leilighet
---
Eiendomstype
Leilighet
---
Plass til
2
---
Soverom
Halifax, Nova Scotia, Canada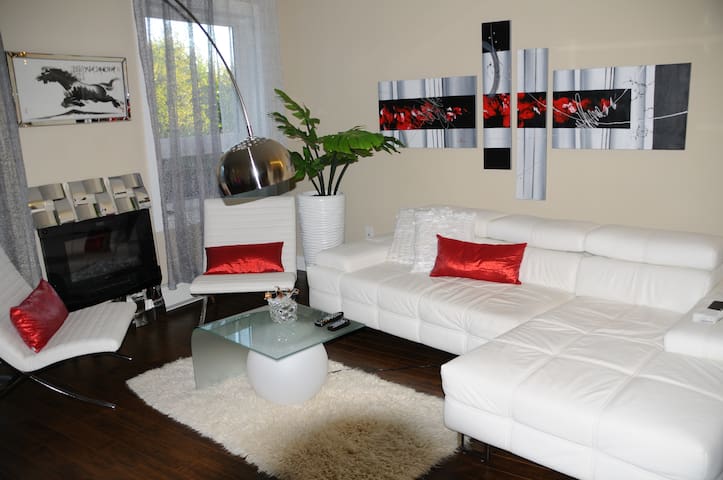 Brand new 3 bedroom town house located in the Larry Uteck develoment of Halifax Regional Municipality. 200 m walking distance of restaurants, pharmacy, grocery, gas stations, gym & banking institutions. Seeking professionals or mature tenants.
This townhouse is absolutely impeccable. Close to everything you need. The is fabulous, very gracious and is very accessible to answer any questions. Would highly recommend this AIRBNB This is our 2nd time here and if the host would have us again, we would come back again.
Marion
2016-08-26T00:00:00Z
Great place to stay. easy to get to the highway, grocery store and Tim Hortons! Courtney was very helpful and accommodating during our stay. I would definitely stay there again.
Justin
2016-08-22T00:00:00Z
She met us in her home, we felt very comfortable I. Her home. She was friendly and helpful The house was spotless, bedding and linens fresh and clean. Would recommend to anyone staying in the Halifax area Although in Bedford, the commute to Halifax waterfront was a breeze, loved our stay
Marion
2016-08-14T00:00:00Z
Had a wonderful stay at courtneys townhouse. Great restaurants near by. Extremely clean. Close to downtown halifax. Excellent communication from host. Would definitely recommend staying here. Thanks again courtney!
Carter
2016-09-18T00:00:00Z
What a great place to stay! Courtney is a fantastic host. The home is immaculate and in a great location. Highly recommend. Easy to find and close to restaurants, and anything I needed. Courtney was very accommodating and answered all of my questions during the booking process. She met me on arrival and made sure I was set. Thanks Courtney for making this such an easy process! Will look to book again next time I'm in town. 5 stars+.
Scott
2017-02-06T00:00:00Z
Courtney was a great host. She was at the location to show us around and asked if we had any questions. The house was exceptional! Clean and was more than we could have expected! There was a burger place and drug store within walking distance. We felt very safe in the neighborhood. I would highly recommend if you ever have the opportunity to stay near Halifax this would be my first choice! A+
Larry
2016-09-07T00:00:00Z
Awesome place to stay, would definitely stay there again!
Jeff
2016-09-02T00:00:00Z
This was a great stopping place on a recent trip of ours. Courtney's place is comfortable, sparkling clean, and conveniently located. Communicating was easy. We highly recommend.
Michael
2016-09-03T00:00:00Z
Romtype
Helt hjem/leilighet
---
Eiendomstype
Leilighet
---
Plass til
2
---
Soverom
Bedford, Nova Scotia, Canada
large 1 bedroom flat. bright. private entrance. hottub access. washer/dryer. parking. very clean. easy access to highway 102.
Romtype
Helt hjem/leilighet
---
Eiendomstype
Leilighet
---
Plass til
2
---
Soverom
Bedford, Nova Scotia, Canada
Un moderno condominio ubicado en el piso 12, con vistas panorámicas de la Cuenca de Bedford. Un lugar luminoso, limpio y agradable para llamar a casa durante su estancia en Halifax!
La ubicación es una unidad de 12 minutos, o 25 minutos en autobús (ruta directa) en el centro de Halifax. Convenientemente ubicado en el camino a la ciudad desde el Aeropuerto Internacional de Halifax (YHZ), a 20 minutos en coche por la autopista 102.
Had a nice stay at Renaud's place, very clean and tidy. Great communication, had no problems checking in or out. Would recommend to anyone visiting Halifax
Niaz
2017-04-07T00:00:00Z
Fantastic location! Quiet, clean and comfortable. Perfect for a biz traveller. Jack
Jack
2017-04-03T00:00:00Z
Renaud and his girlfriend were very helpful and hospitable! When I arrived at Halifax International Airport, Renaud picked me up. The room was very clean and comfortable. And by bus it isn't very far to downtown Halifax. Also I liked the view over the container terminal of Halifax. The time by Renaud was very nice!
Fabian
2017-03-22T00:00:00Z
Romtype
Privat rom
---
Eiendomstype
Leilighet
---
Plass til
2
---
Soverom
Halifax, Nova Scotia, Canada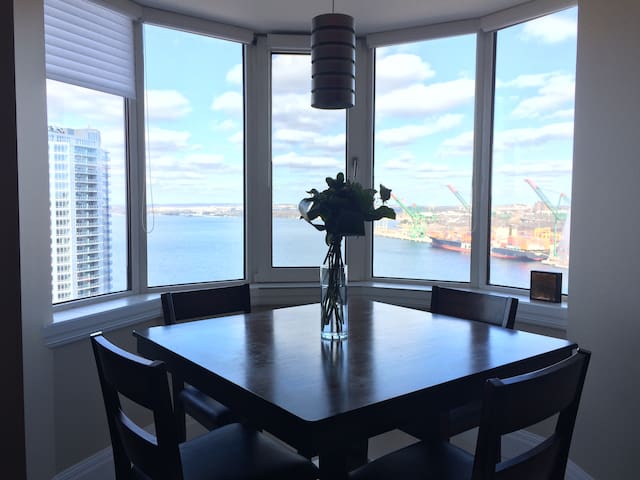 Your hosts, Jim & Sheila, welcome you to our urban oasis. Apt is great for a couple looking for a base from which to explore NS. Located in scenic Bedford, we're within an hour's drive to the Annapolis Valley (vineyards, world's highest tides, hikes, Canada's first settlement) or the South Shore (Peggy's Cove, Mahone Bay, Lunenburg), and only 20 minutes from DT Halifax. Enjoy our gardens, previously on Halifax's Garden Tour, with a view of the basin. Hosts live on premises in separate unit.
Unit has kitchen with convection oven, induction cooktop, microwave, fridge, and Keurig. Stand-up shower in bathroom. Queen-sized bed. Flat-screen TV with cable and Netflix. Private entrance facing gardens with water view. On-site parking. Private patio and BBQ.
Quiet established residential neighbourhood, close to shopping and a short drive to downtown Halifax. Walking distance to the Bedford waterfront.
Romtype
Helt hjem/leilighet
---
Eiendomstype
Leilighet
---
Plass til
2
---
Soverom
Bedford, Nova Scotia, Canada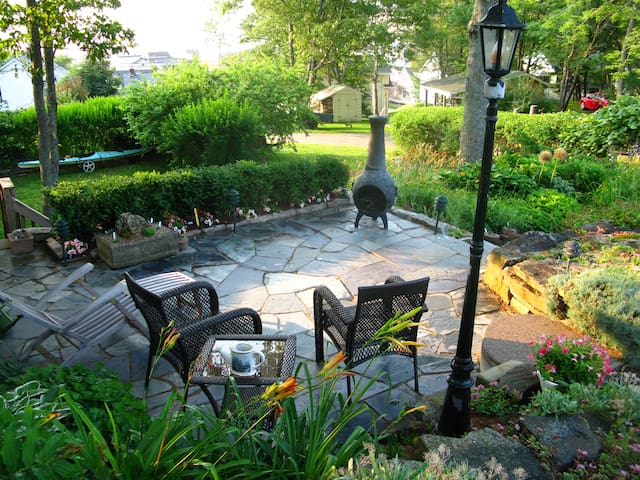 Möchten Sie einen Urlaub an einem See? Warum nicht unsere attraktiven Lage am See Wohnung in unserem Haus mieten. Wir leben im Obergeschoss, haben Sie die Treppe hinunter, halb House! Tiefes Wasser schwimmen das Dock, Paddel rund um den See in Kajaks ab. Eigener Eingang, Ihr eigenes Deck, Grill, Küche, Schlafzimmer- neue Queen-Bett, ein großes Wohnzimmer mit Essecke kombiniert, einen Billardtisch. Schöne Aussicht auf den See und Sonnenuntergänge von deinem Deck oder dem Dock. Netflix, die auf Flachbildschirm. Keine regelmäßige TV / Kabel.
Wenn Sie Billard oder Dart spielen, helfen Sie sich selbst! Es gibt viel an einem regnerischen Tag zu tun.
Wir leben in einer Gemeindezentrum / Turnhalle, die für eine geringe Gebühr in der Turnhalle Rückgang der Besuche erlaubt.
Wonderful, wonderful, wonderful! That just about sums it up! Marilyn and Ron were fabulous hosts. They were very welcoming and took time to show us through their basement flat and made sure we didn't have any initial questions. They then provided us with contact numbers should we need to get a hold of them and then left us to our solitude. The flat had everything we possibly needed. Outside, they provided everything needed for a great little fire and marshmallows along with kayaks and floaties for enjoying the water. We could not have asked for a better experience! Marilyn and Ron are long time residents and could answer any questions we had about the area from food to where to hear a good ghost story. In summary, our only question to our hosts would be: With a property such as you have, where on earth could you possibly go for a vacation?
Jennifer
2016-07-20T00:00:00Z
The setting was idyllic, the location ideal, the apartment was outfitted with every possible comfort, the gardens were picture-perfect, and the hostess was extremely warm and friendly. Couldn't have been better!
Amanda
2016-09-18T00:00:00Z
Ron and Marilyn were great hosts. The accommodation was very clean and tidy when we got there and they were extremely welcoming. They left us keys to the shed if we wanted to take out the kayaks and had the firepit ready if we wanted to use it, although the weather didn't really hold out for us. The apartment was a perfect size and very cozy with the pellet stove, and we were able to play pool and darts as much as we liked! Great place and a nice location if you want to stay out of the city a bit. Convenient for heading out to Peggy's Cove or further.
Kevin
2015-11-14T00:00:00Z
Ron and Marilyn were such gracious host, warm and genuinely hospitable. The view from the bedroom is amazing and the lakeside deck (with swing) is so romantic and relaxing. The place has all the amenities you'll need plus some added bonus like the dart and billiard games. Ron even spoiled us with a lit fire pit after a hectic day. Also, appreciate the fact that they are environmentally conscious. Did I say the location is perfect? A drive away from everything but still quiet and serene.
Gary
2016-07-29T00:00:00Z
Marilyn and Ron are very nice. Really easy people to deal with. I was there during winter and it was really nice I can imagine during summer time how beautiful it can be by the lake. Very nice place !
Lyne
2016-12-21T00:00:00Z
Great place by the lake. We spent 3 nights and enjoy every moment. It's on a deep side of the lake, which has a clean and warm water. It's close to a busy road, but on the opposite side of the house, you can not hear cars at all. Ron and Marilyn are wonderful host, we've received a very warm reception. We found the people of Nova Scotians are very kind people and general. Thank you Rob and Marilyn for letting us feel like at home or even better. We used kayaks to paddle around the lake and found that particular cottage has the best dock where you can swim or simply sit back and enjoy the view. It's close to Halifax and touristic places such as Peggy's cove which we found to be overwhelmed by tourists. But there is a great hiking 1km east, which has absolutely stunning landscape.
Vladimir
2016-08-18T00:00:00Z
Ron was out of town but Marilyn was a fantastic host - very warm and gracious. The apartment was charming and huge. There is an exterior entrance and our view was out to the lake, just as the pictures showed. There were no disappointments here! We would definitely stay here again. Lynda
Joseph
2016-09-30T00:00:00Z
Marilyn and Ron were very warm and welcoming. They recommended amenities close by and made sure we had a comfortable stay. The grounds are beautiful and relaxing. We had a wonderful stay.
Jessica
2016-08-28T00:00:00Z
Romtype
Helt hjem/leilighet
---
Eiendomstype
Leilighet
---
Plass til
2
---
Soverom
Hatchet Lake, Nova Scotia, Canada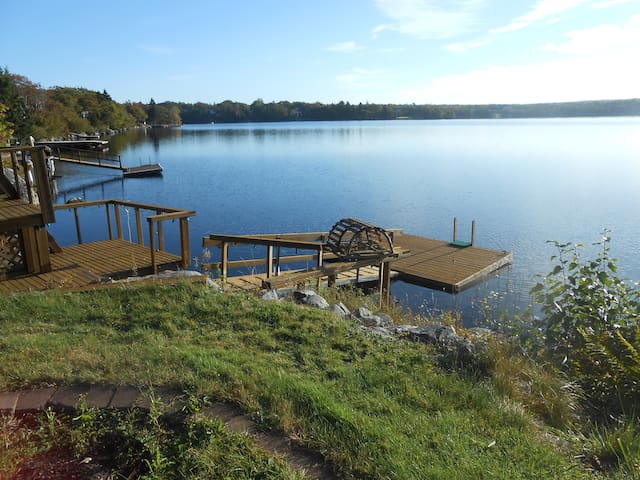 The host canceled this reservation 8 days before arrival. This is an automated posting.
Brian
2017-04-06T00:00:00Z
Romtype
Helt hjem/leilighet
---
Eiendomstype
Leilighet
---
Plass til
2
---
Soverom
Halifax, Nova Scotia, Canada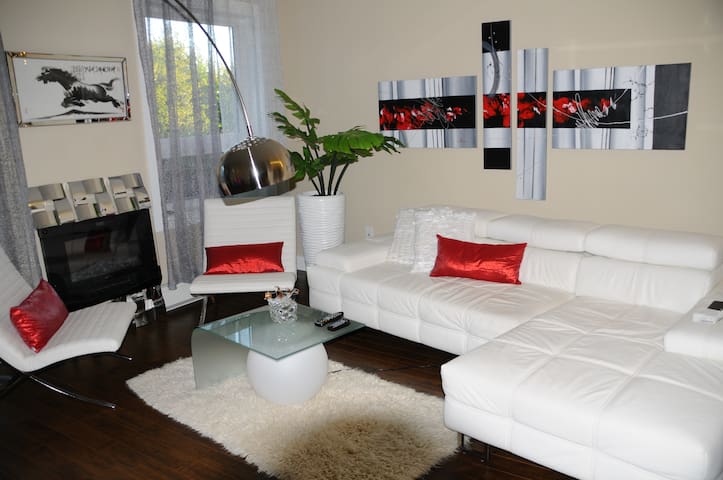 The location is excellent as it overlooks the Bedford Basin. Minutes away from necessities. Well connected to all major highways and bus routes. The room is private. All amenities included. The space is clean, beautiful and has plenty of character.
Romtype
Privat rom
---
Eiendomstype
Leilighet
---
Plass til
2
---
Soverom
Bedford, Nova Scotia, Canada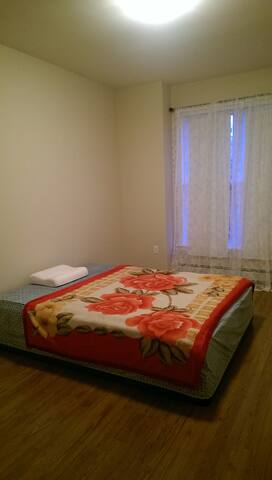 Vistas de Bedford Cuenca y arbolado, Dartmouth rural dan la sensación de una casa de campo, sin embargo, el autobús en la puerta, estacionamiento designado, suite privada, cocina de granito y baños, cuarto de lavandería suite y ventanas grandes y soleados en cada habitación dime que vivir en el lujo urbano.
We really enjoyed our stay at Gwen's. The condo was very comfortable for my Dad and I. The beds were very comfortable and we would stay here again if visiting Halifax!
karla
2016-04-22T00:00:00Z
Had a great stay at Gwen's for two weeks over the Christmas holidays. This apartment is spacious, clean, well furnished, and has very comfortable beds. Gwen's friend, Joanne, met us on check-in day...everything was ready and in order. We enjoyed the well equipped kitchen, and the spectacular views. Can easily recommend Gwen's if you are looking for a lovely place to stay in the Halifax area that is close to stores, cafes, and many other useful amenities. Karen
Karen
2016-01-02T00:00:00Z
This is the second time we've used Gwen's place. Accommodations are great, better than advertised and very convenient location. Gwen herself is lovely to deal with, works with her clients to accommodate needs. Her helper-host is wonderful too. Recommend!
Angela
2015-12-17T00:00:00Z
Gwen's apartment is located in a very convenient, easy to access part of Halifax/Bedford. There is a bus stop across the street and a grocery store within a 15 minute walk. The apartment itself is very clean and appealing. My room in particular was very cute, with lots of colourful pillows and a stunning view of the Bedford Basin. Gwen herself was very hospitable, as she offered make me coffee or tea as soon as I arrived. She was also kind enough to take me grocery shopping the afternoon of my arrival. I stayed with Gwen while working in the Bedford/Sackville area, and found it to be the perfect place for me to relax after work. The spacious kitchen filled with every kitchen gadget imaginable made it easy for me to prepare my own meals, and thus save money on food for the duration of my trip. I would not hesitate to stay with Gwen again, due to both the location of her apartment and the kind hospitality I experienced over my stay.
Rachel
2015-09-28T00:00:00Z
Gwen and her hostess-helper were wonderful to deal with. Very flexible and responsive to our inquiries. The space is awesome - clean, spacious, bright and in a great location. We would definitaly look to Gwen for future accommodation requirements and would recommend.
Angela
2015-11-29T00:00:00Z
Romtype
Helt hjem/leilighet
---
Eiendomstype
Leilighet
---
Plass til
3
---
Soverom
Halifax, Nova Scotia, Canada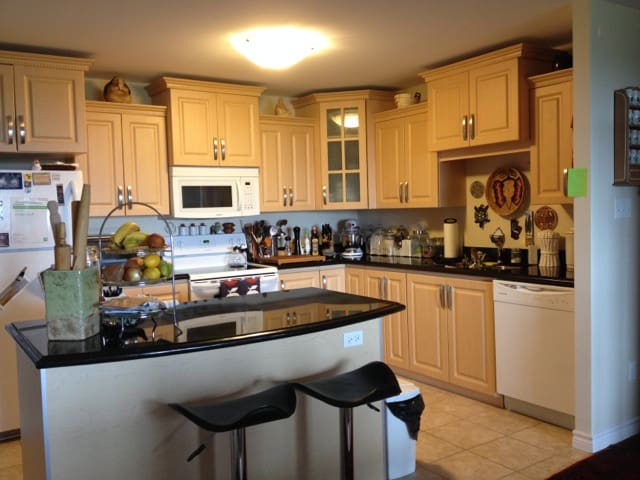 Family home in friendly neighbor hood
Romtype
Helt hjem/leilighet
---
Eiendomstype
Leilighet
---
Plass til
4
---
Soverom
Middle Sackville, Nova Scotia, Canada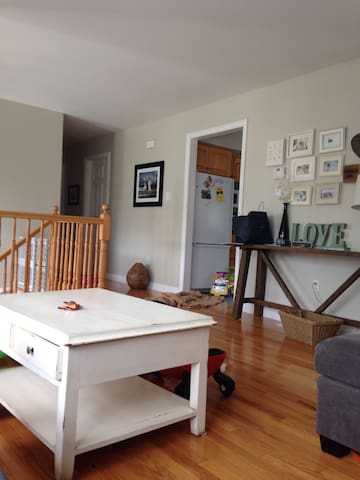 Denne fuldt udstyrede, centralt beliggende ejendom giver de bekvemmeligheder i hjemmet, mens du nyder Peggy Cove / Lunenburg / Halifax-regionen ... dagstur; svømme; kajak; vandretur; cykel, osv. alle aktiviteter mulige. Vær så optaget eller så roligt som du foretrækker!
Reaching Judy and meet upon arrival was easy. Staying in touch the same. The house was spacious and comfortable. Very pleasant.
Edwin
2015-10-08T00:00:00Z
Judy met us at the house and spent time answering all our questions about the house and the area. The house was spacious and we'll equipped. We had a wonderful time.
Gil
2016-08-31T00:00:00Z
Romtype
Helt hjem/leilighet
---
Eiendomstype
Leilighet
---
Plass til
5
---
Soverom
Indian Harbour, Nova Scotia, Canada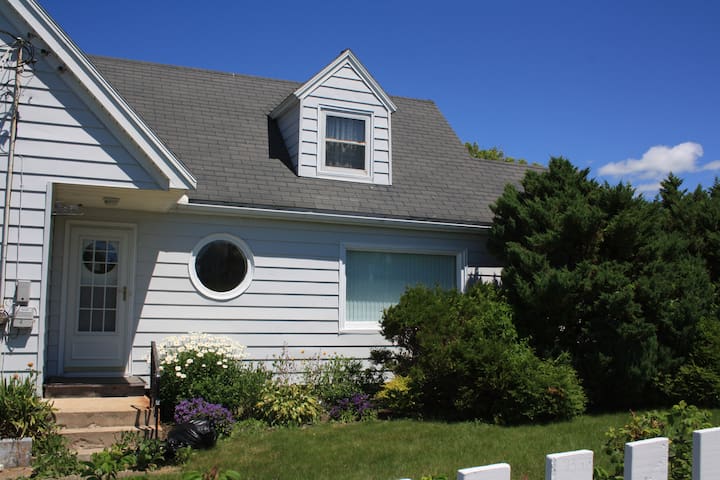 1 غرفة خاصة في 2 غرفة نوم وبصرف النظر المتاحة، مع واي فاي مجانا، والماء الساخن، سخان والكهرباء المدرجة. مطبخ كامل وحدات هو متاح أيضا.
Romtype
Privat rom
---
Eiendomstype
Leilighet
---
Plass til
1
---
Soverom
Halifax, Nova Scotia, Canada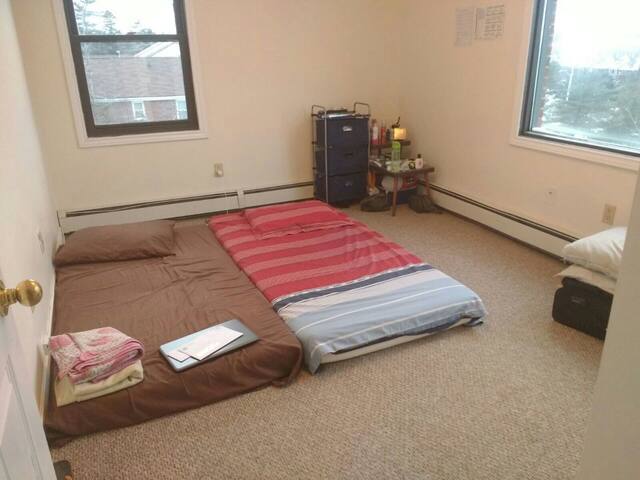 Head of Saint Margarets Bay - Airbnb
:
Gjennomsnittlig

4.56

av

5

stjerner fra

118

gjesteanmeldelser
1

–

18

av

300+Utleieleiligheter
Oppgi datoer for å se fullstendige priser. Ekstra gebyrer gjelder. Skatter vil kunne tilføyes.