This home, located right next door to my residence, is the third Detroit home I've taken on as a renovation. It still has a few more details to hammer out, but due to the huge demand for accommodations, I decided to list it early at a discount rate. It is adjacent and connected to my urban duck farm!
I'm not going to lie, since the housing crash, many people left this neighborhood, so there is blight, empty houses, and empty lots where houses used to be. But the good news is, it is considered one of the more stable neighborhoods in the city. In the entire three years I have been renting on airbnb, over 100 rentals per year, we have not experienced a single crime incident. We are also located blocks from Grosse Pointe, one of the safest suburbs in the area, where there is shopping, groceries, coffee shops, restaurants, and most other amenities.
Très jolie petite maison dans un quartier très calme. C' est pas toute près du centre ville mais quand on a une voiture c'est parfait ! Merci Suzanne, nous avons adoré Détroit, c'est une ville qui mérite d'être connue et mise en valeur.
Juliette
2016-02-29T00:00:00Z
Very comfy house with a considerate owner! Light sleepers beware – it can be a little loud with ducks in the backyard and curtains separating sleeping areas.
Matthew
2016-07-05T00:00:00Z
Wonderful spot to stay when visiting Detroit. Lots of room, beautiful china, and a newly remodeled bathroom! And check it was so easy! Will definitely be back on my next visit to the area.
Madeline
2017-02-27T00:00:00Z
Suzanne was wonderful. She made sure that we had everything that we needed. We felt safe and were able to walk to the shops and restaurants. The house had all of the amenities that were required for a comfortable stay. We would stay here again. Thank you Suzanne.
Sean
2016-04-01T00:00:00Z
Suzanne was a great host! The house was exactly as described. It was comfortable and charming and had everything you need. Being near grosse pointe was convenient. It had all the shops and restaurants you need and is a beautiful neighbourhood. Overall great trip!
Bri
2016-07-26T00:00:00Z
The host was great. We needed very little but when we had a question or concern, she resolved the issue immediately. The neighborhood looked a little rough, however we did not feel uneasy. the neighbors were friendly. It was a diamond in the rough.
Lynna
2016-08-25T00:00:00Z
Suzanne's place was great for business travel. I highly recommend this place.
Stefan
2016-04-21T00:00:00Z
This was our first AirBNB experience and we are very happy about the experience. Susan is a great host. We booked with her just a couple days before our trip and she responded almost immediately to all of my messages. Her place is as described. Getting into the home was easy. The kitchen has pots, pans, a small fridge and dishes -- which is really convenient. The bathroom comes with towels, but we bought our own. Susan provided a shampoo/body wash in the shower. The neighborhood seems a bit rough, but we had no problems at all.
Panhia
2016-10-21T00:00:00Z
Romtype
Helt hjem/leilighet
---
Eiendomstype
Leilighet
---
Plass til
5
---
Soverom
Detroit, Michigan, USA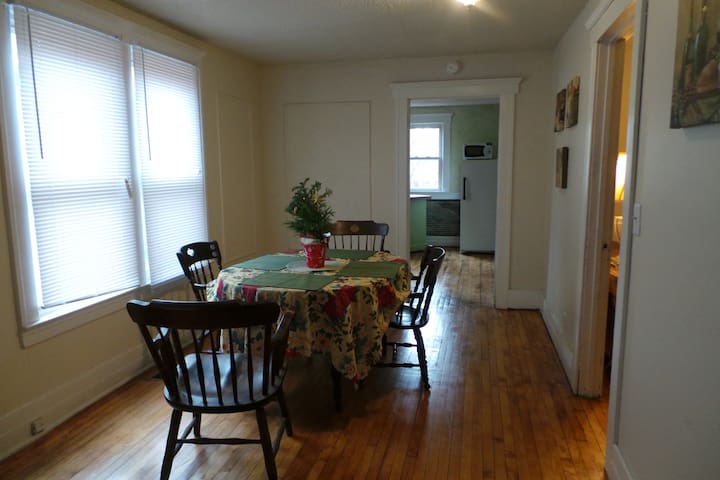 LOCATED RIGHT ACROSS THE AMAZING CITY OF GROSSE POINTE, CLOSE TO BEAUTIFUL PARKS, BELLE ISLE AND THE WATERFRONT, OUR PROPERTY IS LOCATED IN ONE OF DETROIT SAFEST NEIGHBORHOOD, IN A CLEAN AND QUIET STREET. OUR PLACE IS COZY AND FULL OF NATURAL LIGHT. WE BELIEVE THERE IS BEAUTY IN DECAY AND WE ARE HAPPY TO SHARE WITH YOU SOME OF DETROIT'S RICH HERITAGE THROUGH OUR COLLECTION OF OLD BUILDING PICTURES AND OLD FURNITURES. WELCOME TO MOTORCITY!
ON TOP OF BEING SAFE AND QUIET, OUR STREET IS FULL OF BEAUTIFUL TREES. NO DOUBT YOU WILL ENJOY TAKE A WALK OR A JOG TO THE WATERFRONT THROUGH GROSSE POINTE GORGEOUS MANSIONS
Great place!
Steven
2017-02-05T00:00:00Z
Though Sam is very good with communication the house description lacks a few details. Detroit is a very challenged, difficult place with alot of unsafe areas. Most travelers may not know the unsafe areas but driving to this house you soon learn the area is very unsafe. With garbage all around the neighborhood, boarded up and burned down houses, closed businesses, you learn very quickly this isn't a very safe area. Just a heads up....
Jason
2016-12-26T00:00:00Z
I came to Detroit for a quick business trip and stayed at Sam's place for one night only. The property is exactly as listed on airbnb. Sam sent me very detailed  instructions one day prior my arrival date: Checking was very easy and super convenient with keys waiting for me in a lockbox. The neighborhood is very quiet and safe, and the house is easily accessible from downtown Detroit where i had my business meetings. Parking was easy and free right in front of the house. The flat was clean, well organized and super stylish. The old vintage pieces of furnitures and pics are very cool! i was dead tired after a long day of work and was happy to find a super comfy memory foam mattress waiting for me! Overall, great spot, great price, i will definitely be back again!
Rodolphe
2016-10-26T00:00:00Z
Great little house in a cute neighborhood near the city limits. Only thing I missed was WiFi but that's no big deal. Would stay again!!
Joseph
2016-10-16T00:00:00Z
Sam was super responsive and provided wonderful check instructions for the apartment and even better recommendations for things to do around Detroit. The apartment is fairly minimal so be prepared for no tv, no wifi, no speakers (there was a record player but I think it was only for decoration) and no bed frames (mattresses resting on crates on the floor). With that said, the place seemed safe, was quite and clean. It was perfect for dropping our bags and going.
Adam
2017-03-19T00:00:00Z
the host cancelled our reservation three days before our trip. I am still waiting for my refund. dealing with airbnb on this has been an absolute nightmare. first and last time I ever book with this service.
Rita
2017-03-26T00:00:00Z
great with communication and a nice little house!
Colin
2017-02-20T00:00:00Z
Romtype
Helt hjem/leilighet
---
Eiendomstype
Leilighet
---
Plass til
6
---
Soverom
Detroit, Michigan, USA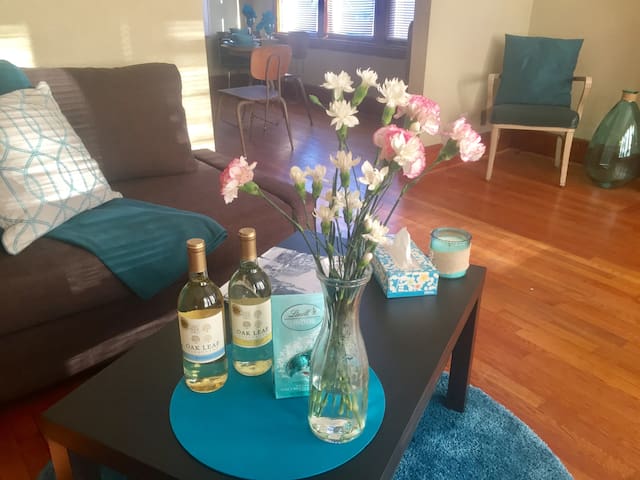 A quelques minutes à pied des restaurants et des magasins dans le village de Grosse Pointe ou un lecteur rapide au centre-ville de Detroit, notre charmant endroit est idéal pour les couples, les aventuriers en solo, en famille ou en voyage d'affaires. Vous pourrez profiter des dernières rénovations avec touches d'époque.
L'unité comprend une cuisine et bar récemment rénové et bien équipé, qui ouvre sur une salle à manger et une large entrée salon qui regarde vers notre patio avant et la rue bordée d'arbres. Le milieu de l'unité dispose de deux chambres de chaque côté d'une salle de bain complète. La chambre principale (URL HIDDEN) d'un grand espace de bureau avec une deuxième télévision à écran plat et des portes doubles sortir du grand pont arrière. Un système audio Sonos est disponible dans toute l'unité.
La ville de Grosse Pointe est une communauté nichée sur les rives du lac Sainte-Claire ... un lieu où de belles maisons embellissent rues bordées d'arbres. Les résidents bénéficient d'un parc riverain pittoresque avec deux piscines extérieures et une marina privée. situé au centre du quartier de la petite entreprise de la ville appelée The Village est populaire pour ses nombreux magasins spécialisés et boutiques pittoresques, des salons, des galeries d'art, boutiques de café, et son assortiment de restaurants intéressants. Nous sommes deux bloc court à pied du Village, le centre-ville de Grosse Pointe.
It was a pleasure staying at Robert's home. He was very responsive every step of the way and provided all the information needed to make for a relaxing stay. The home is exactly as pictured - newly renovated and well decorated for comfort. The bed was especially comfortable for a good night's sleep. The location is convenient for walking to the main village area for restaurants and shops. I'd be happy to stay again. Thanks, Robert!
Sandy
2016-11-04T00:00:00Z
Upsides: The location is ideal; exactly what is needed in this area - for those in the know, this is a very underserved spot for accomodations. The flat is really absolutely lovely...well decorated, very welcoming and quite roomy. The master bedroom bed was comfortable. Plenty of hot water (not always the case for the Pointes). Nicely appointed kitchen. Owner very responsive and an excellent communicator, which was most appreciated. On street parking was always available. Downsides: Regrets, we have a few... Owner, in his defence, had just moved in (???) / been remodeling so while I will honestly review, I think it fair to cut him a bit of slack here... Firstly, this is a classic old Pointes 2 flat, built when privacy was not as important a (URL HIDDEN) it's noisy. Owner was very clear about need to be considerate of upstairs tenant; just wish tenant had been asked to be equally considerate of guests below! We'd been out nearly every evening, and so it was not until our night in that this issue came up. Could clearly hear upstairs tenant's conversation during our night in - just thought he was a loud talker. Nope. Next morning - Monday, to be precise - we were awakened before 5.30a by the sound of his mobile phone wake up alarm going off; we actually thought it was one of our mobile alarms/phones ringing, that's how loud and clear it was! This was followed by another round of alarm sounds at about 6.00a (just as we were dropping back off to sleep) followed by walking about, loo, etc. Suggestion: Don't sleep in the master if you are wanting a lie in on the weekdays... Secondly, we had some issues with amenities. No hanging space, very little unpacking space alloted for guests, period; had to resort to using front bedroom bed to take things out of our cases. When asked about an iron - not a listed amenity, but when hiring a private home, any reasonable guest expects this appliance available, - owner was not sure where it was, and asked us to hunt for it, which was super awkward. Never found one - though did find ironing board - so I had no choice but to nip out and purchase one. Spout to bathroom soap dispenser came off on first use - clearly this has been an established problem after investigating repair - causing soap to spurt all over my clothing and sink/toilet area, thereby necessitating both bathroom clean up and a wardrobe change. Washing machine smelt horribly of mold/mildew, even after running it 2x on hot water cycle with cleaning product, so using it was completely out of the question. Overall, the downsides are issues that we have every confidence Owner can/will resolve satisfactorily, and we'd certainly consider staying again if we were assured that they were.
Tiffany
2016-10-25T00:00:00Z
We totally enjoyed our stay. The home is beautiful, relaxing and offers everything you might need. The neighborhood is clean, safe, friendly and in just 2 minutes you can walk to the lovely downtown area of Grosse Pointe, MI where there are plenty of restaurants and other interesting shops. We would recommend this home to anyone.
Thomas
2016-10-17T00:00:00Z
This is a lovely private residence with all amenities. It exceeds the requirements for a hotel. Clean, secure, comfortable and expansive. The location was ideal for me. Bedside phone chargers, good lighting in the bathroom. Big fluffy towels. Window shades. Coffee. Fireplace. All the comforts of home, or better. Modern, beautiful kitchen. Responsive host. The neighborhood is quiet and peaceful. I highly recommend this residence to visitors of Grosse Pointe.
Renee
2017-01-30T00:00:00Z
Robert's place is beautifully appointed, super comfortable, and in a great location for hanging in GP or going into Detroit. Very convenient to walk to the Village. Walking in GP is the best...sidewalks everywhere. Robert was the best host. Always responded within minutes and super organized. Highly recommend Robert's place...good sized LR, DR, 2 BR, Office and kitchen...would love to come back in the summer to enjoy GP as I did as a kid...Thanks, Robert
Sara
2017-04-09T00:00:00Z
Robert's place is beautifully and comfortably furnished. We enjoyed watching basketball on the big screen TV, slept well in his very comfortable bed, and found absolutely everything we needed in the kitchen. He has great taste - his place is as lovely as it is comfortable. Robert kept in touch with us before and during our stay, and anticipated our needs when a late-season snowstorm arrived. We would definitely stay here again.
Anne
2017-03-17T00:00:00Z
I really had a great New Years here. Everything was set out perfectly . All my friends where happy and my family from Michigan were very impressed with this home.
Lerin
2017-01-02T00:00:00Z
Great apartment and great location.
James
2017-01-26T00:00:00Z
Romtype
Helt hjem/leilighet
---
Eiendomstype
Leilighet
---
Plass til
4
---
Soverom
Grosse Pointe, Michigan, USA
Sunny and bright, walk-up 2 bedroom flat. Nice sized living, dining, and kitchen, 9' ceilings, outdoor porch. Newly remodeled and furnished with quality original mid-century, classic DWR and only 2 Ikea pieces. Premium Stearns & Foster mattresses. Completely equipped kitchen, linens, towels. Quiet location 1.5 blocks from restaurants and services. Midtown Detroit 15 minutes by car, 30 minutes by bike. Discount: Weekly (25% 7 nights). Monthly (50% 30 nights). Complimentary bikes available.
MCM furnishings including, Eames, Herman Miller, Emeco, Lane, Broyhill. CENTRAL air conditioning and gas forced air heat. Brand new kitchen remodel with gas range. Brand new stainless steel refrigerator, dishwasher, microwave hood. New bathroom sink, vanity, and toilet. Original wood flooring throughout. Outdoor porch. 50" HDTV + 32" Combo HDTV in kitchen.
If you're relocating to the metro Detroit area or on a consulting, academic, medical residency, or project management assignment, consider the Grosse Pointe area for your stay. Quiet and convenient location in Grosse Pointe Park that is close to neighborhood shopping and services.
David's place was perfect for us. Well-furnished, comfortable and in a great location. Everything we needed was walkable - and David was kind enough to lend us bicycles so what wasn't walkable was still accessible by bike. The local parks are amazing - especially in the summer and especially with kids. As a host, David was incredibly accommodating and welcoming. We had our two young kids with us who wake up very early and I was nervous about them pounding the floor above our host. David took my anxiety about them being a nuisance away. It was a big help in letting us enjoy our time there. We had a blast!
Kaya
2016-08-02T00:00:00Z
Yes to all!
Elizabeth
2016-09-05T00:00:00Z
We were in town with our two teenaged boys for a family event, and David's place was a wonderful refuge for us. It has a modern functional kitchen, a separate living room for privacy and two very comfortable bedrooms. It is well located on a quiet street which is close to shops and is a perfect jumping off point for both Grosse Pointe and Detroit. David was very responsive to a few last minute questions that I had, and we really appreciated his hospitality. We will definitely be back!
Elizabeth
2016-09-19T00:00:00Z
Very clean! Had everything that we needed, and a little extra. David was easy to communicate with for questions about location, check-in, and household item location. Would recommend!
Eric
2017-03-05T00:00:00Z
Apartment was tastefully decorated and extemely comfortable.
Cindy
2015-08-23T00:00:00Z
David was a great host, very helpful and friendly. The place is nice and spacious, spans the whole 2nd floor. Calm street and immediate surrounding neighborhood. We had a great time and felt at home
Arjen
2015-08-20T00:00:00Z
David was an awesome host and he's got a great apartment that we fully enjoyed. If we could have stayed there longer, we definitely would have. His place is always booked because people who have stayed there before want to stay there again. It's in a very safe area and the neighbours are great. We highly recommend David's place!!
Viva
2016-05-29T00:00:00Z
This was a great location for out of town guests visiting family in Grosse Pointe Park. Apartment was really clean and comfortable. A word of caution for less steady guests - steps to unit are a bit steep. Great location for GPP!
Nicole
2016-12-26T00:00:00Z
Romtype
Helt hjem/leilighet
---
Eiendomstype
Leilighet
---
Plass til
4
---
Soverom
Grosse Pointe Park, Michigan, USA
My house is very spacious, clean and has classic modern feel to it. I do have a cat, incase you do not like animals or if you're allergic. There is no smoking within the house, but you're more than welcome to smoke outside. The room that you would be residing in, is a little under-furnished, but is quiet and comfy.
The house is open for you to use. There is a washer and dryer in the basement and the fridge is stocked with good food.
The neighorhood is friendly and there are many local bars and restaurants within a short walking distance.
Romtype
Privat rom
---
Eiendomstype
Leilighet
---
Plass til
1
---
Soverom
Grosse Pointe Park, Michigan, USA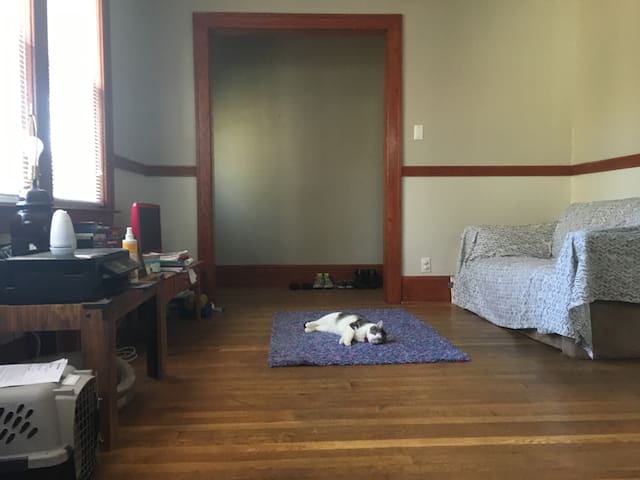 Located In the Cozy, Vibrant Commercial District of Grosse Pointe Park. With Walkable Restaurants & Bars. Re-Emerging Detroit Is Just A Short Drive Away. Great For Out Of Town Wedding Guests.
No Other Rentable Space In All The Grosse Pointes
The host canceled this reservation 5 days before arrival. This is an automated posting.
Angela
2016-09-07T00:00:00Z
Romtype
Helt hjem/leilighet
---
Eiendomstype
Leilighet
---
Plass til
8
---
Soverom
Grosse Pointe Park, Michigan, USA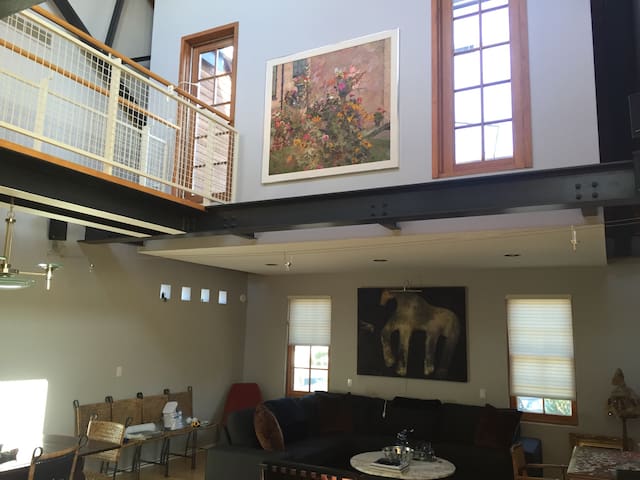 Nice 2 bedroom condominium , walking distance to Lake Saint Clair, community pool, public library, 40th district court, city hall, CVS pharmacy, Nino Salvaggio supermarket, easy access to I-94 and 696 highways, boating, fishing, restaurants and bars. Saint Clair Shores is part of metro Detroit area, 13 miles to downtown.
Cozy, clean and comfortable apartment with everything you need to enjoy your stay.
Beautiful streets full of trees that makes your evening walks a pleasure during summer and fall.
Ultimate recommendation! Clean and cozy. Sandy is nice and sweet! If you are in town this is a perfect place to stay for the amount . Also a perfect place close to anything you need in a beautiful city. Thank you Sandy !
Kleibert
2016-12-10T00:00:00Z
My family and I had a good time staying in Sandy's condo. The neighbors were a little noisy, but, other than that, everything went smoothly and as expected. Lots of convenient storage. If you look at it on a map, it's near a main road -- but we never heard the road once (and I'm a very light sleeper). Quick access to the highway. Very child-friendly. Quick walk to a library with a children's section, too.
Cole
2016-10-15T00:00:00Z
Sandy's place was great! Very clean living space and comfortable. Definitely would recommend to a friend.
Matthew
2016-10-10T00:00:00Z
We couldn't be happier with our stay at Sandys place...everything is just like she said. Quiet lovely condo, would recommend to anyone, we stayed almost 2months and wish we could stay longer...don't hesitate this place books up
David
2017-02-25T00:00:00Z
Perfect for a family vacation. Easy access to a variety of venues.
KAREN
2017-01-02T00:00:00Z
Sandy was very easy to communicate with. Her place is clean, safe, quiet and convenient!
Rick
2016-11-03T00:00:00Z
The condo was lived up and exceeded our expectations. It was a great venue for our family to stay for a couple of weeks while relocating back into the Detroit area. It is in a great neighborhood with easy access to the local freeways with most of the metro Detroit area reachable within 30 minutes. Sandy is a wonderful host. A must stay for any couple or small family visiting Detroit.
Steven
2016-10-31T00:00:00Z
Romtype
Helt hjem/leilighet
---
Eiendomstype
Leilighet
---
Plass til
4
---
Soverom
Saint Clair Shores, Michigan, USA
Harper Woods - Airbnb
:
Gjennomsnittlig

4.61

av

5

stjerner fra

140

gjesteanmeldelser
1

–

7

av

7 Leiligheter til leie
Oppgi datoer for å se fullstendige priser. Ekstra gebyrer gjelder. Skatter vil kunne tilføyes.