Oppgi datoer for å se fullstendige priser. Ekstra gebyrer gjelder. Skatter vil kunne tilføyes.
13 Utleiesteder
· Hamilton
13 Utleiesteder
· Hamilton
My place is close to a Canadian/US port of entry, great prairie vistas, the Pembina Hills, rural-country life, and more. There's lots to discover in the region - on both sides of the border. It's located 75 minutes south of Winnipeg and 75 minutes north of Grand Forks. You'll love my place because of the cosiness, the views, the people, the location. There's a kid-friendly backyard with organic vegetable and herb gardens. My place is good for couples, solo adventurers, and families (with kids).
Romtype
Privat rom
---
Eiendomstype
Hus
---
Plass til
1
---
Soverom
1
Gretna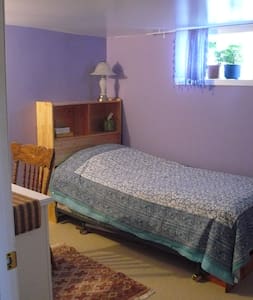 Please park on the street. Your room includes a new high quality futon bed. The desk has a cloud printer. The backyard third level has stairs that take you to the river You will have access to the health and sun room.
Romtype
Privat rom
---
Eiendomstype
Hus
---
Plass til
2
---
Soverom
1
Hallock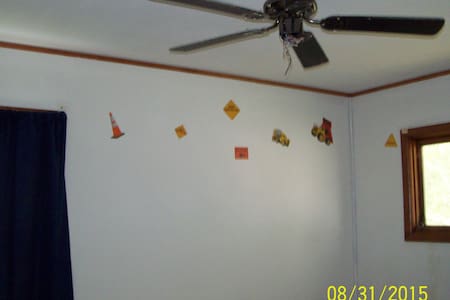 Built in 1903 and nestled on the banks of the Roseau River, this historic home and yard is a great place to relax for a weekend with family and friends.
Welcome to 163 O'Brien! This home was built at the turn of the century and is as charming as ever. Located on a 5 acre peninsula and backing onto the Roseau River, it is a summer paradise with river access for great fishing and canoeing a fire pit, and plenty of room to explore. It is walking distance to downtown and to the local swimming pool. With a screen porch and large patio, it's a great location to enjoy warm summer evenings. Guests can expect to have an enjoyable and relaxed stay. Access to the full house, internet, canoe, fishing supplies.
June and Alfred are extremely kind and gracious hosts. Our time in Dominion City was very special for our family because of them. Their home and their property are incredible and allowed our daughter to experience the outdoors and play. Thanks to the whole family for our stay!
Megan
August 2016
Romtype
Helt hjem/leilighet
---
Eiendomstype
Hus
---
Plass til
7
---
Soverom
4
Dominion City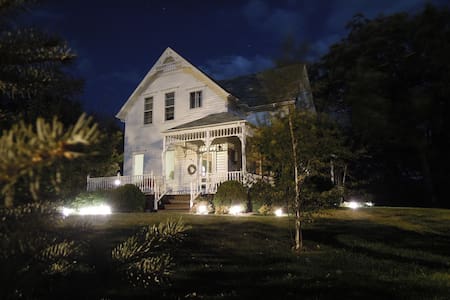 This beautiful new apartment is located in Winker, Manitoba. We are less than one block from the Salem Home and the Winkler Golf Course. We are also only a few minutes walk from the Winkler Park and Harvest Festival Fair Grounds and downtown.
Welcome to your home away from home. As you enter the open living space you will see a cozy and comfortable living area with fire place, TV and a sleeper sofa. A pretty kitchen with an island, and dining area as well as an office space complete the open space. The spacious bedroom has a queen sized bed and headboard. A large closet gives you plenty of room to hang clothes or store your luggage. We trust that you will enjoy your stay at our home. Our guests will have access to a private fully furnished apartment along with laundry facilities. Should they require maid service an additional fee of 10.00/day will be charged. Guests are welcome to ask questions, let us know if they need anything. We want our guests to know that we will respect their privacy.
We live in a very quiet and friendly neighborhood with very little traffic. Beautiful large trees line the street and birdsong fills the air in spring and summer. Guest parking is available. Walking/bike paths are just down the street. We are a five minute walk from two restaurants and a cafe. Downtown Winkler is only a two minute drive or a 10 minute walk if you prefer. Stairs take you to this apartment which is on the lower level of our home and has a completely separate entrance.
Katherine provided us with a wonderful room and was able to help my co worker and I arriving at a really late hour in the evening and had amazing beds and clean sheets with an immaculate bathroom. She was extremely helpful to us in our hour of need. She gave us our own personalized code to get into our room. Would recommend anytime!
Zakk
October 2015
Great place, great host, comfy stay.
Tyler
September 2016
We felt very welcome. Katherine made our stay very easy. The location was easy to find and close to highways coming into the city. The Apt was as described, the bedding was lovely, it was a quiet neighborhood and we would not hesitate to stay again. Very nicely decorated and cozy place to spend time.
Debbie
September 2015
Loved the décor, spotless, great bed to sleep on, lots of sq footage, would definitely recommend
Jo-Ann
January 2017
Amazing clean and comfy place. Even the pull out couch is super comfy if you need it. Katherine and Kelly are super nice hosts. I had an excellent stay.
Mark
March 2017
This was our second time staying here. It's a lovely place, very cozy and clean. Katherine and her husband are great. I would definitely recommend and will likely be staying again in the future!
Stephanie
February 2017
Katherine's home was a home away for us. It was clean,quiet,easily accessible and very comfortable. Our stay lasted five nights. I would stay here again and would definitely recommend it to anybody.
Dorothy
February 2016
Exactly as shown in pictures. Very clean. Felt like home!
Kelby
December 2016
Romtype
Helt hjem/leilighet
---
Eiendomstype
Leilighet
---
Plass til
4
---
Soverom
1
Winkler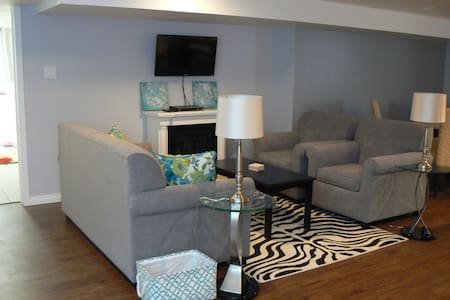 My place is close to everything because it is located right in the heart of Morden. You'll love my place because of the history, comfy and homey feeling, unique stone wall in the room, balcony and great breakfast. My place is good for couples, solo adventurers, business travellers, families (with kids), big groups, and furry friends (pets).
Lilly's place - Bella's Castle was a beautiful B&B. We were very graciously welcomed into her 1902 home furnished in very fine, exquisite antiques. There were 2 other couples staying, and we were not given the stone walled room, but ours was beautiful. The shared washroom was very fine. Breakfast was delicious. I would recommend this B&B to anyone wishing to feel like Royalty.
Sharon
October 2016
Romtype
Privat rom
---
Eiendomstype
Slott
---
Plass til
2
---
Soverom
1
Morden
Open concept loft style with that cabin feeling. 22 foot wall of glass to view our beautiful prairies. Located on the Red River approx. 7.5 acres. Large open country kitchen for the one that loves to cook. Unique custom designed features with roof top deck.
It is furnished with unique sculptures from Bali and custom made furniture. It is very open and gives you that cozy homey feeling. It is the expression of an artist that loves to build. A front and back deck also a roof top deck off the master bedroom. Downstairs with a jacuzzi tub and fireplace in the bathroom. If not booked for an extra fee a separate private queen size bed and cedar walk in shower with locked door. Over looks swimming pond with 2 patio doors to private deck and fire pit. Common area avail with notice in a cabin with wood stove to use.
It is quiet and has the best sunrises and sunsets with the sky lighting up at night with the bright stars. The water off the river glistens. Beautiful view of the prairies. Need a vehicle. Closest town with groceries, gas and restaurants is a 7 min drive There may be other guests on the property and please respect their privacy.
Romtype
Helt hjem/leilighet
---
Eiendomstype
Hus
---
Plass til
4
---
Soverom
3
Aubigny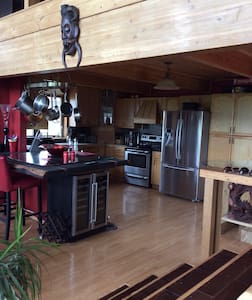 Bed, blankets, pillows, use everything in the house including laundry, kitchen, and tv room. Very nice place beats a hotel !
Everything was like promoted.
Esther
October 2016
Good place to stay. Really convenient.
Esther
November 2016
It is a really good place to stay. I had access to all the amenities.
Esther
September 2016
Overall good place to stay, would recommend
Dean
August 2016
Romtype
Privat rom
---
Eiendomstype
Hus
---
Plass til
1
---
Soverom
1
Winkler
We are located at the South side of Winkler, walking distance to stores, banks, and restaurants. TV with satellite and Netflix available for use. Newly renovated basement, finished out this year, quite spacious and comfortable.
Basement washroom Laundry TV Kitchen
Great host and accommodating. The house was beautiful and cozy. I would highly recommend others to stay here.
Kent
October 2016
Quiet, beautiful home. Easy to find. Very welcoming, if you're coming to winkler, you should stay here!
Morgan
March 2017
Romtype
Privat rom
---
Eiendomstype
Hus
---
Plass til
2
---
Soverom
1
Winkler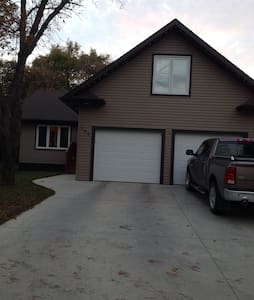 Business or Pleasure ~ Relax in your private, fully equipped suite.
Escape from the business of your life with a peaceful, country setting with a view of the rolling Pembina hills in southern Manitoba. Everything you need is already at our B & B, but if you wish, drive your car to two nearby small cities. We offer home cooking served to you for a small fee; also "Sweet Spirit Spa" treatments by your Hostess; ask for a list of options. An extensive movie and music collection is at your disposal. Indoors or out you will have a sweet time. Come and relax in our three acre country property with a beautiful view of the Pembina Hills in Southern Manitoba, Canada. We have a spacious Bi-level home with a fully equipped basement suite where you can rest. There is an authentic aboriginal tipi in our garden with lovely cozy carpets where you can enjoy a fire year round. We also have a two story barn where our two gentle Arabian Horses live and two darling Wolf Dogs. Your room has a comfortable double sized bed and a private bathroom with tub and shower. There is a washer and dryer you can use, a kitchen and a fully equipped exercise room with a bo flex weight resistance machine as well as a cross trainer and ab master. There is a television with netflix movies and many other movies in our collection. We also have highspeed wireless internet service. The hostess is a gourmet cook and will offer you a selection of meals for reasonable prices cooked and served to you. There is a spacious sun-room on the main floor which you can arrange to use at mutually agreeable times. The hostess couple lives upstairs and you will have the use of the basement suite. A rental car will be useful for you. Two small cities are within ten minutes drive and the main city of Manitoba is one and half hours away. There is a lovely lake and beach six miles away. Hiking trails and cross country ski trails border the property as well as a creek. Guests have the use of our full basement suite; and can enjoy our sun-room upstairs with time arrangement; if you love animals our dogs and horses are close at hand; guests can enjoy our tipi with a fire, marsh-mellow roast or bannock and tea, and much more. As little or as much as they desire. We will respect your privacy. Large 3 acre country yards border a creek and bush full of lovely trees and trails to walk in summer and to cross country ski in in winter. Our property is completely fenced for privacy. We have more than 200 trees planted on our spacious yard. There are 6 apple trees and grape vines to enjoy in the fall. Tinker Creek is located six miles south of a small city called, Morden, Manitoba in Canada. You will need your own car to get around. We can pick you up from Morden or Winkler and return you to that point if you wish. Please check detailed written driving directions under the google map on this site; the google map is not accurate. We are #95 Tinker Creek Rd which is off 28W. 28W connects to the highway #201 west at our corner. The guest room is also known as The Blue Room; you can choose to have it set up with a romantic theme or with a plain theme as you wish. A "Romantic Theme" includes an over-bed sheer netting, two floor sized candelabra, and a fruit basket with wine glasses. Our own "Apples of Gold" wine is available for $10 per bottle. We also have two army cots and a double sponge available for extra guests in other basement areas. Guests will have the full use of the basement suite privately; the owner couple lives upstairs and guests can have the use of the sun-room; and the spa space upon time arrangements with the hostess. Outdoors, guests can access the spacious country property; use the fire pit and picnic table; enjoy the ti-pi and also walk or ski the area trails depending on the weather and season of the year. The hostess will be available for your needs during your stay. Meals and spa treatments can be paid for on site.
Tinker Creek is a rural setting with a creek which runs the border of the bush properties. This creek falls from the nearby Pembina escarpment which can be enjoyed both for its view and to access by foot or car. This community was started in the early 1980's by locals who all "tinkered" at something such as bee-keeping, canoe building; aircraft building, and a variety of local arts. We are located in the rural municipality of Stanley which is very close to Morden, Manitoba. Morden has many artists, and interesting venues but a small city feel. Winkler is also within a few minutes drive and boasts all the expected big businesses of any city in Canada. Our location is a six mile or six minute drive from the small city of Morden. Guests will need their own car or if needed, can be picked up by the hostess couple from either Morden or Winkler. If travelers are flying into Winnipeg, it is a one and a half hour drive from the airport with car rental conveniently available at the airport including GPS. In the spring-time it is a good idea to bring water proof boots for trails; also during the summer guests may need sun-screen or mosquito spray at certain times of the day; in the winter time, bring appropriate cold weather outdoor clothing for any desired outdoor activities.
Pamela and John are gracious hosts. Their home is in a peaceful country setting, and we enjoyed their hospitality. Pamela is a collector of treasures so the house, including the guest room, is full of interesting things which could potentially feel too cluttered for some people. They had excellent recommendations about things to do in the area and were very accommodating whether we needed a power strip in the sunroom for our computers or a top sheet for the bed. Our toddler enjoyed the dog and being able to explore the big yard, and the fresh apple cider was yummy.
Kami
September 2014
Pamela was nothing but cheerful, helpful, and accommodating for our entire stay in Morden. Not only was the room itself very comfortable and clean, but Pamela was always looking for a way to make our stay more enjoyable. She cooked us delicious food and was eager to show us the attractions both her rural home and the surrounding city had to offer. Although we only met Pamela's husband briefly at the end of our trip, he was equally as friendly and hospitable. While we initially looked for a place to stay closer to our ultimate destination (Winnipeg, MB), I am so glad we decided to stay with Pamela. I have nothing but positive things to say about our experience.
Ellen
June 2015
It was a nice stay to be at Pamela and John s place, they are a lovely couple and would make you discover very authentic things, be very helpful and sharing, I would recommend them as host
Morales
September 2014
They made us feel very welcome and were great hosts. The meals Pamela made for us were very good. We made a lot of use of their sun room which has a great view of the area. It was raining during most of our stay so we weren't able to make use of the hiking trails in the area. The bedroom and bathroom in the basement were very nice. A nice place to sit and relax and enjoy a good book, and the city of Morden is just a few minutes away. Thanks for the hospitality!
Andrew
September 2016
Pamela was warm and welcoming; giving us tour of her land, introduing us to her animals and sharing her plans for her land. Breakfast was great and the conversation was intriguing. The sleeping space was comfy The setting, at the base of the Agassiz Escarpement is home to me, so that was also a big plus.
Jodie
June 2016
I could not ask for more. Pam and John are great people to be around and they do everything to make us feel at home. The house is very cosy and stay a few miles from the city which is perfect to enjoy the quiet life out on the country. I recommend to anyone passing by or like me staying for two weeks. They treated me like their son. Love it.
Daniel
December 2014
The host canceled this reservation 31 days before arrival. This is an automated posting.
Fabiola
Pamela and John are warm and welcoming. Lovely place to stay and wonderful hosts to meet and chat with. They went out of their way to make me feel home. highly recommend her homemade dishes (delicious, healthy with a reasonable price). Thank you very much for everything!
Alireza
July 2016
Romtype
Privat rom
---
Eiendomstype
Hus
---
Plass til
2
---
Soverom
1
Morden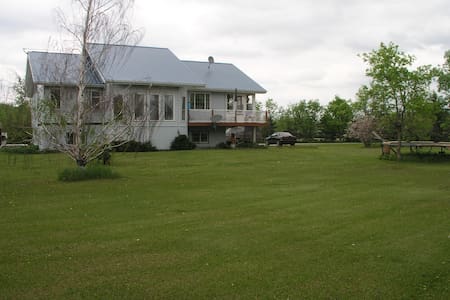 My place is close to everything in Morden, because it is right in heart of Morden. You'll love my place because of the history, proximity to shopping street in Morden, tasteful decor, amazing breakfast. My place is good for couples, solo adventurers, business travellers, families (with kids), big groups, and furry friends (pets).
Romtype
Privat rom
---
Eiendomstype
Slott
---
Plass til
2
---
Soverom
1
Morden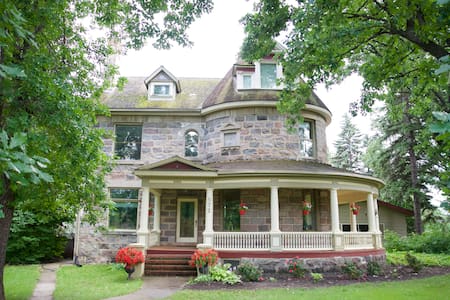 My place is close to everything because it is in the heart of Morden. You'll love my place because of of the heritage and history, the tasteful decor, jacuzzi, friendly people and amazing breakfast. My place is good for couples, solo adventurers, business travellers, families (with kids), big groups, and furry friends (pets).
We had a lovely stay at Lily's B & B. It was very clean and quiet. There aren't TVs in the rooms, so come prepared with devices. There is a little room by the bathroom with a sink, microwave and bar fridge that would have come in handy for a longer stay. Lily was a very kind and gracious host and made our breakfast earlier so that we could hit the ski hills nice and early!
Justine
February 2017
The Castle has a lot of charm and character and I enjoyed my stay at the house. Lily and Chris were very generous in their hospitality and made my stay very comfortable.
Reba
September 2016
Romtype
Privat rom
---
Eiendomstype
Slott
---
Plass til
2
---
Soverom
1
Morden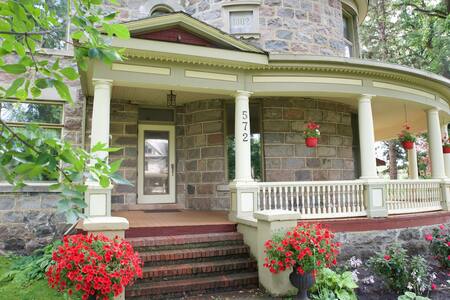 Furnished Rooms for Rent in a residential house in beautiful Morden. Kitchen, indoor and outdoor living areas and WiFi. Off street parking. Absolutely NON-Smokers and NO Pets!
They came outside and greeted us as we arrived. They were so friendly and welcoming! She made a wonderful [I mean, REALLY wonderful!] breakfast that was tailored to my Type 2 Diabetes issues. The bed was so comfortable. The stairs up to the room are very steep, but they had told us in advance so we know what to expect. There is a main floor room, but it was not available for this night. I would not hesitate to stay there again!
Diana
August 2016
Romtype
Privat rom
---
Eiendomstype
Hus
---
Plass til
2
---
Soverom
1
Morden
My place is close to everything because it is in downtown Morden. You'll love my place because of beautiful house, heritage, comfortable and tasteful decor, jacuzzi and amazing breakfast. My place is good for couples, solo adventurers, business travellers, families (with kids), big groups, and furry friends (pets).
Lily and her boyfriend were SO accommodating, they had all the bases covered. We were so lucky to have been able to stay at Bella's Castle! Highly recommended!
Britt
August 2016
Romtype
Privat rom
---
Eiendomstype
Slott
---
Plass til
3
---
Soverom
1
Morden