My wife and I stayed here on one of our quarterly "unplug" weekends and were extremely happy with the experience. Wendell and Patsy were extremely accommodating and helpful. Their directions proved invaluable when we arrived later than expected, and they went above and beyond to make us feel welcome with little flourishes. The cabin is quiet, secluded, clean, and is surrounded by beautiful wetlands and fields. If you are looking to get away, we strongly recommend staying here. We will be returning.
George
2016-11-20T00:00:00Z
I originally book the cabin for seven days, but was enjoying it so much I extended my stay a couple more days. The place is just so comfortable, I found it hard to leave. Wendel and Patsy are excellent hosts, they made me feel like family more than a guest. I certainly will make this place my first choice to stay next time I make a trip to the area.
Matt
2016-02-03T00:00:00Z
The cabin is charming and comfortable. Our every need was anticipated. The property is gorgeous. Lots of wildlife. We were serenaded by the birds each morning. Great communication with Patsy. And thank you for the homemade treats.
Mary
2016-04-14T00:00:00Z
What a lovely stay! The cabin is sweet and cozy, with lots of light and full kitchen -- a perfect spot for a retreat/ getaway. Everything was just as described. The historic ranch was beautiful. The whole place feels held with care and love, and the generous touches throughout the cottage (banana bread!) made us feel welcome and at home. We also enjoyed Sacramento Delta area.
Sarah
2016-09-14T00:00:00Z
Amazing time. Great horse show, BBQ, and many critters we saw. River otter, egrets, blue heron, birds talking early in the morning, and cool breeze.
michele
2016-06-13T00:00:00Z
I LOVED this place. It was exactly as on the posting, or even better. Galt is not exactly as exciting as Yosemite or San Francisco, but this cabin is amazing and very worth the trip to Galt. The Cosumner River Preserve, 6 min away from the Ranch, is listed as one of the top USA "beautiful places" according to Fox News - another reason to visit! One drawback, but this is a personal opinion: I always love to meet the host(s). It gives a personal touch to the experience, which is part of the reason we are doing airbnb. However, the personal touch of Patsy and Wendel was present in the welcome card on the table, the home-baked banana bread, and the text messages. We did feel very welcome!
Danny
2016-08-16T00:00:00Z
The tiny cabin was adorable, peaceful and quiet in a completely private setting. It was even better than the description. It is perfect for a couple or a single traveler. Everything was there that you might need plus extras like homemade banana bread and a chocolate on the pillow. The Sandhills cranes were exquisite, as well as the rest of the wildlife. I will definitely be back!
Lorin
2016-10-29T00:00:00Z
This is the third or fourth time I've stayed in the little cabin and it's been great every time! Patsy and Wendel are wonderful hosts, the cabin is always neat as a pin, And the wildlife never fails to provide great entertainment!
Matt
2016-10-25T00:00:00Z
Romtype
Helt hjem/leilighet
---
Eiendomstype
Hytte
---
Plass til
2
---
Soverom
Galt, California, USA
The host canceled this reservation the day before arrival. This is an automated posting.
Doug
2016-03-31T00:00:00Z
The host canceled this reservation 2 days before arrival. This is an automated posting.
Kevin
2016-05-26T00:00:00Z
Romtype
Privat rom
---
Eiendomstype
Hus
---
Plass til
2
---
Soverom
Galt, California, USA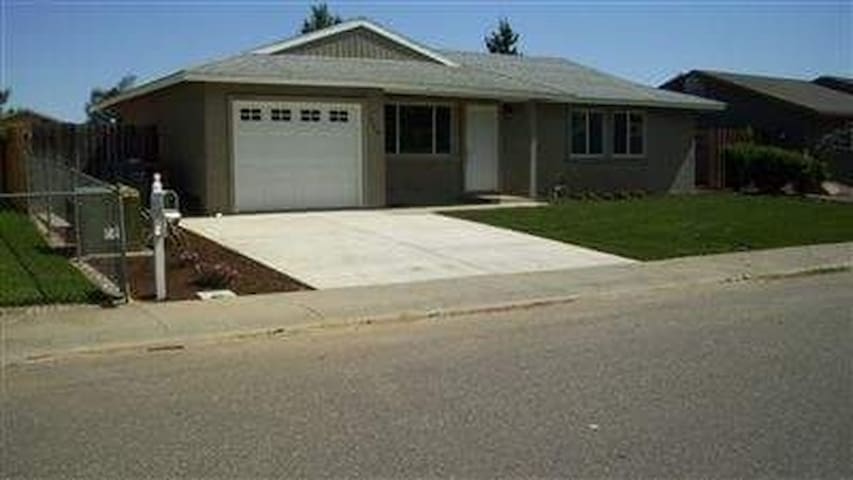 We call this "SliceO'Heaven Ranch" for a very good reason! If you want to leave the city life behind and immerse yourself in complete country living, this is your destination.. if you're headed to anywhere in the greater Sacramento area, ( including Elk Grove, Wilton, Galt Lodi, & Rancho Murieta), we're about 35 miles south of the capitol, in the rural town of Herald... but well worth the commute if you're in town on business or pleasure. We offer a large room with private bath and separate entrance off of a sun deck. THIS IS A WORKING RANCH with all the "charm" that goes with it. We have horses and goats, dogs and cats. OVERNIGHT HORSE BOARDING available! You should be an animal enthusiast to take full advantage of this wonderful 8 - acre property. Plenty of places to walk, sit, meditate and participate. Riding lessons available! Seasonal swimming pool, BBQ, lounge chairs, and baby goats born in the spring! Breakfast (fresh ranch eggs!) included with arrangements available for all meals. (10 miles to the closest restaurant.. but you won't want to leave!!) We accommodate vegetarians and vegans. World renowned, award-winning smoothies! ;-) This ranch is best suited for people who love nature and the outdoors... and with all the fresh air and hard work around here.. we generally wind down somewhat early in the evening. (There's no TV in the room, sorry) Please contact us with any questions.. we'd love to hear from you! Shelley Nearby towns: Sacramento, Stockton, Lodi, Galt, Wilton, Rancho Murieta Equestrian Center, Walnut Grove, Laguna, Davis, Roseville, Granite Bay, and Ione.
My mother, daughter, and I had a wonderful weekend at Slice of Heaven. Spending some time out in "the country", taking in the bucolic scenery, and enjoying a taste of ranch life was just what we needed. If Shelley offers you food, definitely take her up on it! She is an excellent cook and many of the ingredients come fresh from the ranch (plus, there aren't any good restaurants close by... just some fast food places about 10 min away). Her husband, Dennis, let my daughter tag along as he tended to the animals. We took a horseback riding lesson (taught by Shelley & her daughter) that was a lot of fun and very reasonably priced. My daughter has asked "when we can go back to the ranch?" at least 20 times in the last 5 days. Warning: there are A LOT of animals at Slice of Heaven! I'm a huge animal lover, so it seems weird for me to be "warning" anyone about the presence of animals... especially ones as friendly and adorable as these! However, if you are not an animal lover, you will probably not like it here. If you have allergies, bring plenty of meds! If you want a nightlife that involves anything more exciting than stargazing, go somewhere else. But... if you are looking for a mellow rural getaway with all the comforts of home, you've found it! :)
Naomi
2015-04-11T00:00:00Z
We stayed at Shelley's place early April, and the weather was absolutely gorgeous for a trip around the farm. Shelley was a great host, and even introduced us to their two day old baby goats! Our dog, Minnesota, came along and she loved exploring the ranch. Many thanks for a great experience!
michelle
2017-04-02T00:00:00Z
We booked this trip last minute to get out of the city. Our stay was amazing. Shelley and Dennis are the kindest and most down-to-earth hosts. Shelley made us breakfast every morning with fresh duck and chicken eggs (my boyfriend had sausage with his) complimented with fresh squeezed orange juice, The property itself was majestic. Lots of life around the farm - dogs, cats, horses, goats, chickens, ducks and even a steer! Shelley was really good about showing us around and introducing us to the farm-animals. We even got horse back riding lessons from Shelley! When we left, Shelley even offered us oranges and lemons from her trees in the backyard. We highly recommend this place! It's such a quiet gem - totally accessible from the city.
Meng
2017-02-26T00:00:00Z
Shelley and Dennis were wonderful hosts. They also do great work with all of the dog and cat rescue work that they do. The bedroom was very nicely appointed with a very comfortable bed and lots of privacy considering it was attached to the house. I had my own separate entrance. They were extremely dog friendly so my pup got lots of play time and loved chasing cats. The property was so peaceful. Birds chirping and chickens crowing. It was the relaxing vacation I was looking for.
Cara
2015-04-05T00:00:00Z
Shelley and Dennis are the perfect hosts! From the warm smiles to fresh-squeezed juice to the sliced fruit and home-made goat yogurt with honey to the many wagging tails of their wonderfully diverse, well-trained dogs, we felt we had stepped into a warm, welcoming world. They look after their menagerie of animals like loving parents. The farm is very well looked after. The room is comfortable. We strongly recommend staying for Shelley's home-cooked dinner, enjoying a bottle of wine on the farm, and asking Shelley and Dennis to recount their experiences. They both are wonderful human beings, full of sincere warmth and love for each other, for their guests, and for their animals.
Debra
2016-04-05T00:00:00Z
It was a perfect week-end thanks to Shelley and Denis ! This ranch is fabulous, peace and quiet. We loved the atmosphere, the beautiful garden and all the animals : cats, dogs, goats, ducks, chickens, horses... I strongly recommend, we will come back as often as we can !
Agathe
2014-04-21T00:00:00Z
Shelley is amazing host and her property is divine. I booked one night and decided to stay a second day because I loved the area and her ranch. The ranch is located in a really cool town and I'd never heard of and realized it was actually really well positioned to SF, Sacramento and heading out to Tahoe. This is a working ranch with 12 horses, 12 dogs, chickens, cats and goats and a host of other awesome awesome animals. Since I ride horses, I took a lesson with Shelley, helped with chores, played with cats and simply enjoyed the quiet. Shelley made excellent gluten free/dairy free breakfast for me, as well as dinner. All the items consumers came from her own farm. It didn't get much better than that! The beef was raised here, the eggs laid that morning and whatever was found in the garden could be eaten. Lastly, she let me bring my two dogs and there was no issue with them. My little one was scared at first but the other fell in love with her dog Piper and that was it. I'd recommend this place in a heartbeat if you need time to "pause" and think.
Macala
2015-06-23T00:00:00Z
Shelley is an exceptional host. She greeted us, even with a quite late arrival on a Sat night, and showed us the space. In the morning, she had fresh brewed coffee ready for me, and cooked a lovely breakfast for my son and I. The ranch is beautiful! Exactly as the name says - A Slice of Heaven! Shelley and her husband were kind enough to tour my son and I around their property, showing him all of the different animals and letting him help pick up duck eggs, which later became a part of our breakfast! They are very kind, and connected to animals and nature in a lovely, natural and non obtrusive way. We thoroughly enjoyed our time and look forward to returning! I highly recommend a stay here.
Anita
2015-05-31T00:00:00Z
Romtype
Privat rom
---
Eiendomstype
Hus
---
Plass til
2
---
Soverom
Herald, California, USA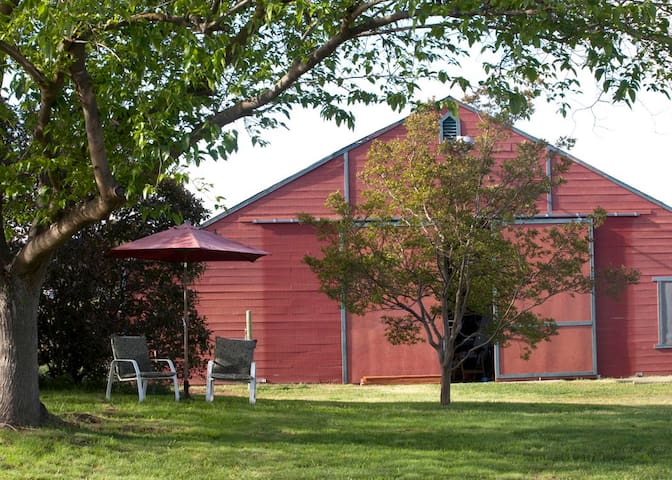 Beautifully remodeled apartment, surrounded by vineyards in the heart of Lodi wine country. Beautifully landscaped. Relaxing areas include koi fish pond, seating by backyard pool or front area under fruit trees. All your needs are 2 miles away- you have both worlds at your door: with Downtown Lodi and Woodbridge. Restaurants, wineries, shopping, Mokolumne river & airport all within a couple of miles. Come, enjoy what Lodi has to offer- the river, skydiving, wine, food and relaxation.
1 bedroom, 1 bath with full kitchen amenities. Pool access available upon request- closed in winter. Washer/ Dryer upon request. La maison set behind the main house ,on 5 acres ,private gate , private entrance, private driveway, private barbecue ,when you come a la maison don't come up on the driveway where is the white fence ,go around the White fence , make a left You will see a big gate , next is a small gate , that your private gate , we want you to relax ,enjoying your time à la maison Marie
Peaceful and quiet in country setting
We loved this space. Everything was perfect and there is such great attention to detail in all the decor. So beautiful. next time we plan to stay longer and enjoy the space. Clean, quite, romantic, loved the charming unique french decor thank you again!
Diane
2017-01-22T00:00:00Z
This was the cutest house! It's super cozy inside and the extra touches like having muffins and fresh squeezed orange juice were so sweet! We really appreciated the bottle of wine as well, it was such a great way to begin our vacation! We will definitely be back!
Korine
2017-02-20T00:00:00Z
Marie was very accommodating and friendly. Her property is clean with a large yard that's good for grilling. It's only about 10 minutes away from Lodi and is as advertised. I would suggest staying here to family and friends.
Dan
2016-09-24T00:00:00Z
What a great place to rest and relax! Quiet peaceful and a super comfortable bed! I'll definitely be looking to stay here again
Matt
2017-02-18T00:00:00Z
Marie has the place decorated with some beautiful items and it feels like an authentic French farm house. It was a nice treat to have a full kitchen inside for our use. Really liked the layout and setting. Thank you again.
Natasha
2016-11-11T00:00:00Z
This place is amazing. What a wonderful ambience. The property is beautiful. The home is private and absolutely awesome. The hosts are super cool people and we feel blessed to have stayed a few nights on their property.
Jamie
2017-01-24T00:00:00Z
Really great hosts. Nice place to stay. Thoroughly enjoyed it.
Jessie
2016-10-30T00:00:00Z
Rustic small apartment was exactly as pictured - cozy and shady in the middle of a wonderfully green lot, but clean and well-maintained. Marie and Bruce were very friendly, hooking us up with some tasty homemade French breakfast munchies and fresh fruit grown on premises! It's a very short drive to Lodi, an excellent location for that area or day trips north to Murphy's.
Michael
2016-09-05T00:00:00Z
Romtype
Helt hjem/leilighet
---
Eiendomstype
Leilighet
---
Plass til
2
---
Soverom
Acampo, California, USA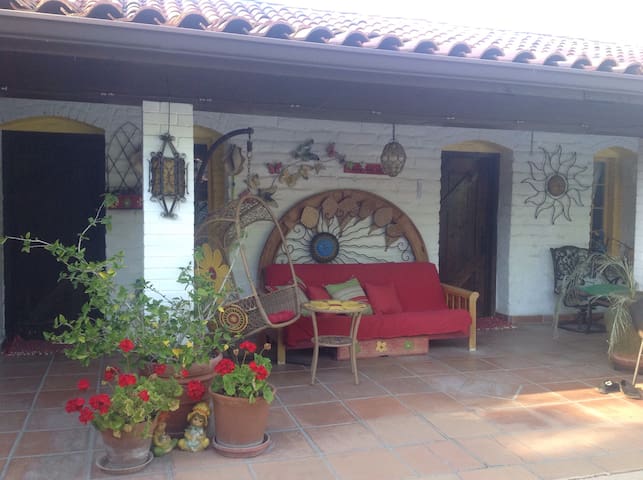 Enjoy your own private 1800 sq. foot residence on a half acre in the heart of Lodi's wine country. Steps from Lodi Lake where you can enjoy kayaking, paddle boarding, fishing, biking, hiking and camping. There are plenty of wineries nearby, tasting rooms in beautiful downtown Lodi, and fine dining options to enjoy.
This residence is above a detached garage and is accessed by a stairway located in the backyard of the property. There is ample parking for multiple vehicles. The residence has separate keys, an alarm, central heating and air, wifi and Roku TV. The residence has a private bedroom with a bathroom (toilet, sink, shower) and a small kitchenette type space that includes a full refrigerator, microwave, toaster oven, bar, and Keurig coffee maker. The residence also has a full game room that includes a pool table, ping pong table, air hockey, darts and basketball. The bedroom has a queen size bed, TV, couch dresser and chest of drawers. The common area has a full sized memory foam sleeper sofa and there is plenty of room for multiple inflatable mattresses. A queen sized memory foam inflatable mattress is available if desired.
The property sits directly across the street from Lodi lake. The views are beautiful and you are close by many of Lodi's wineries and tasting rooms.
Great place and nice people. Next time in Lodi I'd go back!
Don
2017-02-18T00:00:00Z
Sierra's place was awesome. There was everything there we needed. The place was spacious and clean, gameroom amazing. So many little thoughtful extras really made us feel at home (snacks, extra toothbrushes, etc.) This is a lovely place -- only wish we had a little more time to enjoy it.
Patty
2017-04-02T00:00:00Z
We visited for the Lodi Wine & Chocolate Festival. Sierra and his family made us feel so welcome, and their hospitality was truly 5-star! In fact, we cannot wait to go back and stay for Zin Fest!!!
Alisyn
2017-02-12T00:00:00Z
Owner was very welcoming and accommodating. Upon arrival we were greeted with a warm smile and felt at ease to be at his home. The guest was clean and well furnished with pool table, air hockey and other games for both children and adults alike. We took advantage of them and had a great time. Place was very clean and goodies like coffee, water and other light snacks were provided. We look forward to returning again!
Arcelia
2017-03-11T00:00:00Z
This place is a true gem! My husband and I came for a birthday weekend of wine tasting. The house you stay in is very spacious, with up to date, state of the art equipment. They have a large area full of multiple games to play, and a stereo, that keeps you busy for hours on end. The décor is cute and the bed they provide for you is very comfortable with soft sheets and a plush mattress. Sierra and his wife are very accommodating and even leave food and drinks in the kitchen for you. When we were leaving, Sierra came out and gave me a bottle of wine as a birthday gift! These little touches made the stay very convenient, inviting and more than enjoyable. All around we loved our stay here, highly recommend this place and would stay here again. On a side not - their sweet bulldog Abbie made the trip so much better, she has the best demeanor and kept us company. She was such a treat and brought a smile to our face every time she came to greet us.
kendall
2017-02-26T00:00:00Z
The Location was amazing right across from Lodi lake. The host was very nice and helpful. I would book here again in the future
Gina
2017-04-08T00:00:00Z
Sierra and his family were excellent hosts. Their place is spacious, clean, so well decorated and kept. They were so kind in providing snacks and beverages too! Sierra maintained great communication and was very helpful. Highly recommend this place!
Joyce
2017-03-05T00:00:00Z
Romtype
Helt hjem/leilighet
---
Eiendomstype
Gjestehus
---
Plass til
4
---
Soverom
Lodi, California, USA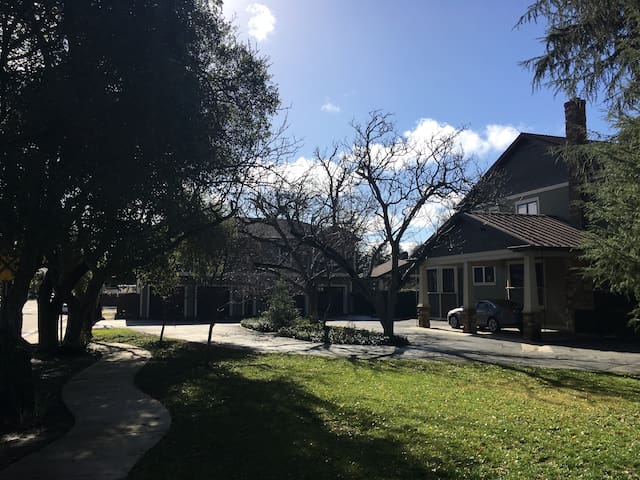 Large, quiet country home nestled in lush vineyards. No neighbors, easy access to hwy. 99. First bedroom: queen bed w/memory foam topper, walk-in-closet, smart TV, mini fridge, microwave, Keurig coffee maker & sliding door to patio & jacuzzi. Second bedroom: queen bed, closet & smart TV. Private full bathroom w/large shower & separate tub. Both bedrooms share a single bathroom. Centrally located. An easy drive to San Francisco, Yosemite, Santa Cruz, Lake Tahoe, Napa & Sacramento. Come enjoy!
We're within a couple hours of Lake Tahoe, Sacramento, Santa Cruz, Napa Valley, San Francisco, Yosemite National Park and many other great travel destinations. Not to mention our beautiful Lodi area's many fine wine tasting tours just a short 10 minute drive away! Come enjoy!
We live on 2 acres with no nearby neighbors and beautiful vineyard views on 3 sides. Lovely & relaxing.
Debbie and Rich were extremely welcoming and accommodating. We fell in love with their Goldendoodle dog, Boston. Debbie and Rich's house is beautiful with very personal touches in the decor. It was a wonderful experience in Lodi wine country. The private wing of their house is perfect for 2 couples to stay comfortably. The private section is just off of the main entrance to the house, and is separated by a pocket door. Our bed in the "master bedroom" was (URL HIDDEN) foam mattress. The room was generously stocked with waters, juice, yogurt, fresh fruit and snacks. They also provided lots of great info about Lodi (maps, lists of restaurants/wineries, etc.) They also let us use their kitchen to make breakfast on saturday morning. When you arrive, please note that the door next to the garage IS NOT the front door. The front door to farther to the left side of the house. Rich came out to greet us as we were looking for the right door to enter :P We would definitely stay here again if we find ourselves back in the Lodi area.
Katie
2016-10-10T00:00:00Z
This was a return visit for us at Rich and Debbie's beautiful home. They saw to every detail to make our stay comfortable and restful. We love the snacks provided in the room as well as coffee, bottled wate, and juice. Big beautiful bathroom and comfortable bed and "tv watching chairs" make for a delightful experience.
Janet
2017-03-27T00:00:00Z
This was our second time staying with Rich & Debbie and it was just as great as the first time. They are so welcoming and fun to talk with, yet respectful of our privacy, too. The space is clean, spacious, well-appointed, and so comfortable. Boston the dog is the icing on the cake of this great home.
Jody
2016-12-31T00:00:00Z
Wonderful stay! Shared home, but with your own bedroom, bathroom, tv, and Keurig!! Great for travelers such as myself, couples with or without kids! In the end, it was as if Rich and Debbie didn't want me to leave! ;-) Would consider again!
David
2017-02-09T00:00:00Z
Rich and Debbie were warm and welcoming hosts and their home was so well appointed. Everything was exactly how we would hoped it would be, from the comfortable bed with luxurious sheets and blankets, to the spacious and immaculate bathroom. There were snacks, fresh fruit, and beverages waiting for us in the kitchenette area. There was a kuerig , microwave, and small refrigerator for our use as well as a TV with Direct TV and wifi and internet access. This is a place we would definitely like to visit again!
Janet
2016-12-11T00:00:00Z
Rich and Debbie gave us a warm welcome. They were very accommodating esp. when we had to change our arrival time a few times! We love that the rooms were spacious, homey, clean and beautifully decorated. There were all kinds of amenities including flat screen TVs, Keurig coffee maker with a variety of coffee pods and generous breakfast choices. The AirBnB rooms were on one side of the house which gave us a little bit more privacy.
Esmie
2016-10-23T00:00:00Z
Overall a great experience and we totally enjoyed staying there.
Alfred
2016-12-28T00:00:00Z
Wonderful hosts! Large, well appointed room, well stocked, all the amenities you can ask for. Rich & Debbie went out of their way to make me feel at home and comfortable during a difficult time. Boston the dog was kind and gentle, super cute.
Beverly
2016-10-30T00:00:00Z
Romtype
Privat rom
---
Eiendomstype
Hus
---
Plass til
6
---
Soverom
Acampo, California, USA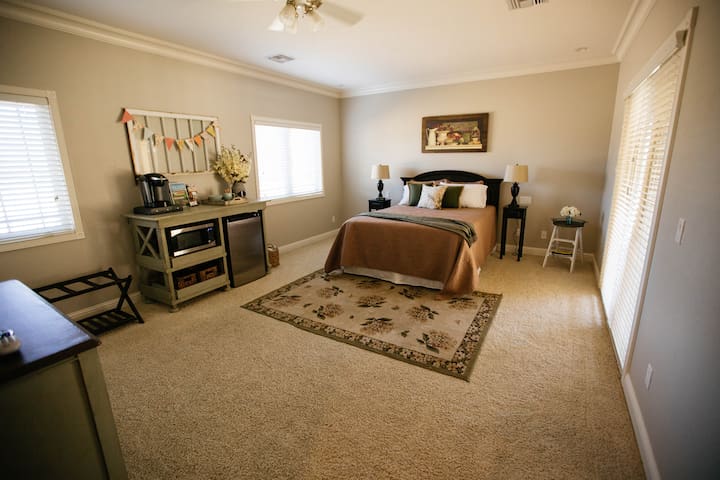 Our simple bedroom will be comfortable whether you are staying in Lodi for business, wine tasting, skydiving, bird watching, a wedding, a school reunion, fishing, paddle boarding, bicycle riding, on the way to Yosemite, or whatever! Cheers!
This is for a room with a shared bathroom. The door to this room is kept closed so that our cats do not enter throughout the year. The inside of the home is more contemporary than country style, it is a laid back, quiet home with local professionals. The bed is a Full size Sealy Posturepedic with a plush pillow top. We will consider travelers with pets on a case by case basis. We can accept some same day requests, so contact us to see if we can make that arrangement for you, thanks.
From our house to the happenings downtown is approximately 1.6 miles (7 minutes by car). We are conveniently located off of Highway 99 and Kettleman Lane in an 12 year old home, it is in a KB home community. If you think you might want to be closer to downtown, other locations may suit you better. Please contact us with any questions about our location if it is a consideration for you before booking, thank you. For a small town, Lodi has a lot to offer: over 75 Wineries, ZinFest Wine Festival Saturday, May, 2016 12 noon – 5:00 pmLodi Lake Park, 2016 Sandhill Crane Festival Join us November, 2016 for the Annual Sandhill Crane Festival, The Parachute Center for skydiving, The Valentines Day Wine & Chocolate Event The Lodi Spring Wine Show, Explore Stand Up Paddle Company, The Headwaters Kayak Shop, Two nice bicycle shops, rides on Saturday mornings at 7:00 a.m. Blue Grass at the Lake Saturday, Aug 1:00p Lodi Lake Park Featured are Joe and Hattie Craven, Snap Jackson & the Knock on Wood Players, Bean Creek, The David Thom Band and Harmony Grits. Lodi has also hosted Amgen Tour of California in 2015! Wineries with tasting rooms that we recommend: Berghold Vineyards & Winery Bokisch Vineyards Dancing Fox Winery Durst Winery Fields Family Wines Harmony Wynelands Harney Lane Winery Heritage Oak Winery Jessie's Grove Winery Klinker Brick Winery LangeTwins Winery Lodi Wine & Visitor Center The Lucas Winery M2 Wines Macchia McCay Cellars Michael-David Winery Oak Farm Vineyards Oak Ridge Winery Omega Cellars Ripken Vineyards Sorelle Winery St. Jorge Winery Stama Winery Toasted Toad Cellars Upstream Watts Winery Van Ruiten Family Winery Vicarmont Vineyards & Winery Vino Piazza, The Winery Plaza Weibel Family Vineyards & Winery Woodbridge by Robert Mondavi Woodbridge Uncorked
Dons home had the feel of a 4 star hotel. I cant wait to go back
Nicholas
2016-06-22T00:00:00Z
We stayed here during the Lodi Chocolate and Wine festival. It was a great stay. The house is easily accessible to downtown and a short trip to the vineyards in the country. The hosts made sure that our stay was very comfortable and Donald was always quick to respond. The bed was very nice and house was clean. Things like water bottles in the room was a nice touch. We enjoyed the cats too! Will stay again when in Lodi :)
Megan
2016-02-14T00:00:00Z
I cannot say enough about the hospitality and overall comfortable stay that Donald provided. I came to Lodi to skydive for eight days, and Donald's comfortable room and inviting household was the perfect retreat after a long day in the sun. I would recommend this place to anyone looking to take in all that the Lodi has to offer. I will definitely stay here again next time I'm in town. Thank you Don and Raquel for a truly memorable stay!!
Scotty
2016-07-31T00:00:00Z
We had a good time at Donald's place. It's close to my relatives that I was visiting. Neighborhood is very safe, residential and quiet. I was there with my 2 year old and use of kitchen was very beneficial. Bathroom is clean and bed (tempur pedic top layer) was comfortable. It was good to have a use of a laundry. We will definitely come back.
Stanley & Nena
2014-10-27T00:00:00Z
The listing was exactly as advertised, the location is top notch (convenient but out of the way). The room was clean, super modern (awesome decor), and outfitted with everything you could possibly want (there was even a cat to pet). First choice next time I'm in town.
Martin
2016-09-29T00:00:00Z
Beautiful home and comfortable bed!
Colleen
2016-07-12T00:00:00Z
A brief stopover in Lodi in the pouring rain was made all the better for the comfortable room and lovely home that Don has. Highly recommended.
Luke
2016-04-11T00:00:00Z
All was perfect. Donald is very welcoming and charming. Everything was as advertised and very clean. The room was quiet and beautiful. Thank you for a pleasant, albeit short, stay
Carol
2016-11-02T00:00:00Z
Romtype
Privat rom
---
Eiendomstype
Hus
---
Plass til
2
---
Soverom
Lodi, California, USA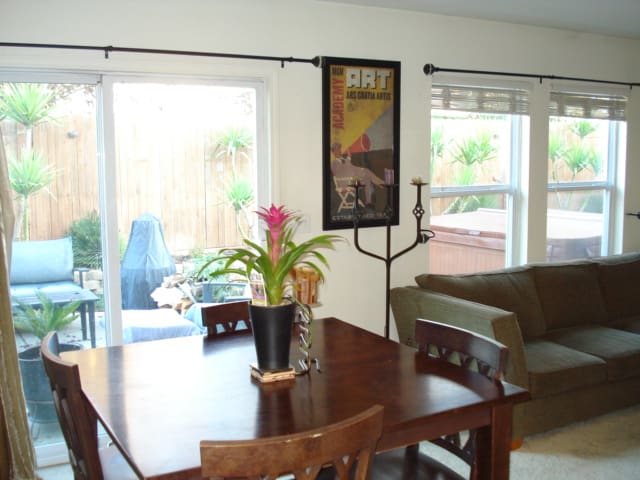 My 1950's 3 bedroom home has been remodeled & is super cute & cozy. Its centrally located on a quiet street. Just 10-40 min. to the wine regions, Lodi, Amador, Shenandoah. Close to hwy 99, 15 minutes from downtown Sacramento, the new Golden 1 center, home of the Sacramento Kings. Hwy50 & I-80 are about 10-20 north of my location. South shore Lake Tahoe is 2 hrs away. Snow skiiing is just over an hour away. House can sleep 6 comfortably. Please excuse the family room,fireplace being renovated.
Great stay. So well appointed, just a perfect home away from home.
Shawn
2016-12-16T00:00:00Z
Corina's place is really nice. Clean, cozy and convenient. We had a great time here while playing USTA district matches. We had very good rest at this place and won all the matches! It's a great experience.
Henry
2017-02-26T00:00:00Z
My experience with Corina's home was amazing! It was very beautifully designed and warmed welcoming. Accepting my request allowed me to be able to spend the holidays with my family, which conveniently lived 5 minutes away. It was my first time with Airbnb so i was a little hesitate but I can say I was very comfortable and welcomed to this home.
Arumi
2016-12-26T00:00:00Z
Another great stay, thanks!
Shawn
2017-01-06T00:00:00Z
非常好
Claudia
2017-01-29T00:00:00Z
Lovely home. Corina was very gracious and accommodating.
Lisa
2017-03-26T00:00:00Z
Great as before. Immaculate house, so perfectly appointed for a comfortable stay.
Shawn
2016-12-08T00:00:00Z
Beautiful home in a safe location. Communication with the host is great! Definitely recommend.
Ariana
2017-03-19T00:00:00Z
Romtype
Helt hjem/leilighet
---
Eiendomstype
Hus
---
Plass til
6
---
Soverom
Elk Grove, California, USA
Cute, Clean and Cozy Condo near Woodbridge. You'll love my place because the location is walking distance to Lodi Lake, Wine and Roses Hotel and the quaint little town of Woodbridge. My place is good for couples, wine enthusiasts, solo adventurers, and business travelers.
Clean and cozy get away
Close to Lodi Lake, Wine and Roses and the quaint little town of Woodbridge. Short drive to downtown Lodi, lots of wineries in the area.
Stephanie's place was a great find! I travel for business and get tired of being in hotel rooms. Her place is easy to find, decorated nicely, has good energy, in a good neighborhood, clean and has a comfortable bed. It's on the ground level with street parking which was great because I didn't have to haul my bags up and down stairs. There is a very nice back patio that you can sit at and unwind after a long day. Found a great sushi restaurant not too far from her place (short drive). Stephanie had water and snacks available and very clear directions on how to use things. Stephanie was great about checking in with me to make sure that I was good and didn't need anything. I knew when she said that she was a phone call away, that she meant it. I plan on coming back when I'm in the area next time.
Kristy
2017-03-22T00:00:00Z
Stephanie is an amazing host. She left me a bottle of wine as a welcome gift! Place was clean, bed was super comfortable, and Stephanie had everything I could have needed available.
John
2017-03-26T00:00:00Z
Stephanie was an amazing host! Very easy and flexible to work with. She even left us a bottle of wine at check in! Her place is in a great location, close to the lake for walking or picnics, even walking distance from some wineries, close to downtown, east parking. I had no complaints at all and hope to be able to come back again!
Anika
2017-04-04T00:00:00Z
Romtype
Helt hjem/leilighet
---
Eiendomstype
Selveierleilighet
---
Plass til
2
---
Soverom
Lodi, California, USA
Sitting on 2 quiet tree filled acres we are only 2 miles from shopping & restaurants. "Loveable" Lodi is 40 min S. of Sacramento, 1.5 hrs E of San Francisco & 2.5 hrs W of Lake Tahoe. It is known for its fine Wineries & wine tasting, bike tours, kayaking, paddle boating & skydiving! Enjoy a relaxing swim in the pool & fresh coffee in am. Your room includes private bathroom, AC/Heat, ample closet space, dresser & desk. FREE prkng. Safe/quiet neighborhd. Private/Keyless entry. Small dogs Welcome!
We offer the best of both worlds: the peace and quiet of country yet only a few miles from shopping/activities/downtown/wineries etc.... You are welcome to lounge by the pool, relax with a book under the trees or in the hammock, and use the barbeque as you wish. You will also enjoy the privacy of your room. You will have a private keyless entry and your own bathroom located in your private area. We have also provided your own coffee bar for your morning brew. We have 2 dogs and 1 cat, but they will never be in your area as your private room and bathroom are in another wing of the house separated by a solid door. Small dogs are welcome for short stays on a case by case basis, we just ask that at night they have their own bed/crate and during the day are under your supervision. We are approx. 5 mins from either I-5 or Highway 99.
The neighborhood is peaceful and quiet and only a few miles from shopping etc...
We loved staying at your place. It was meticulously clean, the towels were soft, and the bed was perfect for a good night sleep. I enjoyed meeting your greeters (the pups) and your fantastic hospitality. Thank you for opening your home to us.
Ashley
2017-03-27T00:00:00Z
Lisbets place was so comfy, clean & cute! I love the way she decorated it & enjoyed our conversation. Very private & surrounded by beautiful vineyards. I wish I could have stayed longer! I will stay there again next time I'm in the area.
Lori
2017-03-29T00:00:00Z
Lovely decor and very kind welcome
Jennifer
2017-04-09T00:00:00Z
I needed to get a room last minute. The host responded and confirmed my request within minutes. Place was nice and host were very friendly. I would stay here again.
Gie
2017-04-07T00:00:00Z
We were only the second guests in this new AirBnB and Lisbet will quickly become a Superhost. One of the best stays I've had; great communication, beautiful accommodations in a scenic setting, (the MOST comfortable bed ever), friendliness and fun. Husband and 20 yr old daughter also made us feel like family; the daughter running outside in her pj's in the morning to hug us goodbye! Everything as described and better; Lisbet poured me a glass of delicious Lodi-grown wine as soon as I arrived from a hectic trip there. This will be our go-to place the next time we are in the area to hear a favorite band play at the Garlic Brothers Restaurant in Stockton (yummy food too). Thank you for an impeccable house and hospitality!
Laurie
2017-03-05T00:00:00Z
We had an amazing stay at Lisbet's place! She and her family are incredibly warm and friendly, and they made us feel right at home during our stay. You can tell that Lisbet really enjoys going the extra mile for her guests. She provided a lot of "extras" like a coffee bar, snacks (fruit, cookies), and even a lovely bottle of wine in our room! The bed was incredibly comfortable, and the towels were soft and fluffy. Toiletries are provided, and everything is very clean and looks beautiful. The room is extremely private, sort of in its own "wing" of the house. Because of the room's location, you doesn't have to worry about disturbing the family if you come in later, and we were able to have conversations without needing to whisper. We had access to the kitchen and were welcome to use it (she also allowed us to use her pans, utensils, etc.). We could choose whether we wanted to cook our own food and/or interact with the family. That said, you can tell that Lisbet and her husband George really enjoy getting to know their guests! We were invited to join them for coffee in the morning, and I also spent some time chatting with them while I was decorating a cake for my step-daughter's wedding (the purpose of our stay in Lodi). Their dogs are adorable, they have the friendliest cat ever, and we loved staying with them! Thank you Lisbet!
Heather
2017-03-25T00:00:00Z
Our stay at this quaint home was lovely. The decor was charming and the hospitality from our host was superb. We enjoyed a comfortable room with all the amenities we needed. It was great to experience an "out in the country" feel, surrounded by beautiful vineyards, while still being only minutes from town. We would highly recommend a stay here!
Erica
2017-02-19T00:00:00Z
This is one of the best AirBnB's I've ever stayed at! Perfect country location, private room with a comfortable bed & private bathroom, and the entire family was incredibly kind, giving, and gracious. A true gem.
Nevill
2017-03-26T00:00:00Z
Romtype
Privat rom
---
Eiendomstype
Hus
---
Plass til
2
---
Soverom
Lodi, California, USA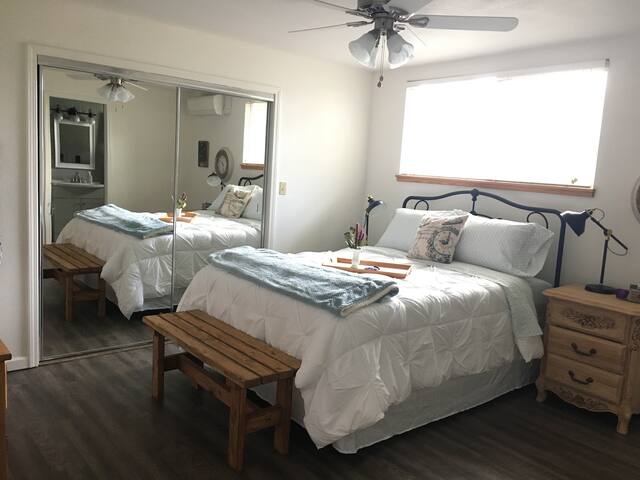 Welcome to Lodi Wine Country! Relax in our beautifully redesigned bedroom, swim in the pool, enjoy the patio with breakfast, and walk to 2 wineries at your leisure.
We are so excited to share our lovely wine country home with you! I am a retired school teacher and my husband works part time from home doing construction analysis. We are empty nesters with a love of people and travel. Our home is warm and welcoming, clean, and a great place to relax and get a good nights sleep.
Be sure to take in all that Lodi's Wine Country has to offer. We are within walking distance to 2 wineries and within a 5 mile drive to another 75. Take a walk around Lodi lake or simply enjoy walking the country roads that surround our home. Lodi's downtown area boosts a number of great places to eat, as well as a movie theatre. We are a great stopping point for a trip up to Lake Tahoe (2.5 hours) the Bay Area (1.5 hours) or Sonoma County (2 hours).
They were so thoughtful and paid special attention to the small details that made a world of difference. The house was so clean and tidy, yet homey. We were walking distance to 2 wineries, but the ambiance at the home kept us close to "home".
Raylis
2016-09-11T00:00:00Z
Cinda and Steve could not have been more gracious. They welcomed us with open arms and provided a perfect stay. I know we asked a lot of questions about the area, but they answered them all. Their home was beautiful, and our area was very comfortable and not wanting for a thing. Sitting by the pool and visiting the Winery was a highlight of our trip.
Randall
2016-09-29T00:00:00Z
Cinda & Steve are probably the most hospitable Airbnb hosts I've encountered and I've encountered many! From the beginning of our arrival to the end, Cinda & Steve truly made us feel right at home. They even let my friends stay in their second room so we could each have more privacy which was so thoughtful. Location: Lodi wine country for sure. We went to Viaggio like Cinda suggested and wow, you won't be disappointed! They're near about 86 wineries. They're also a short 25 minutes away from downtown Sacramento too. Cleanliness: Practically immaculate. By far the cleanest Airbnb I've been to The room: As if you were staying in a real Airbnb/resort. The bed and pillows were soooo comfy. Breakfast?!! I have only come across one other host who has provided breakfast, but Cinda went all out each day to get us fresh breakfast and some delicious French press coffee. Long story short, why have you not booked your stay with Cinda and Steve yet?! =] Thanks again, we are so grateful!
Erika
2016-10-24T00:00:00Z
We had a wonderful stay. The home is lovely, as are the hosts. We were greeted at the door and welcomed as though we had been friends for a long time. The home is beautiful, and location is close but far enough away from downtown. Breakfast is great, and the local fruit is amazing. There are no negatives about Steve and Cinda's place. They go above and beyond any expectations. Highly recommend to anyone who want some peace and quiet.
Teddy
2016-09-03T00:00:00Z
a beautiful home among a most beautiful surrounding. Vineyards and tranquility and the sweetest of hosts. Everything was wonderful: the bed, the home, the breakfasts! Highly recommend. Would come and stay again as the hosts made us feel so welcome and like family.
evelyn
2017-03-11T00:00:00Z
Everything was as described.
Sandy
2017-01-01T00:00:00Z
These hosts are exceptional. If you are nearby for anything, business or pleasure... consider this listing since the hosts are truly exceptional.
Adam
2016-11-29T00:00:00Z
We felt at home the moment we walked through the front door. The house is large, decorated beautifully and warm and welcoming. The hosts are so loving and helpful with whatever you may need. They open their home as well as hearts for their guests. Amazing food was shared and information about the area. Bed was comfy and soft and everything we needed was supplied. We cannot wait to return one day.
Bobbie
2017-02-13T00:00:00Z
Romtype
Privat rom
---
Eiendomstype
Hus
---
Plass til
4
---
Soverom
Acampo, California, USA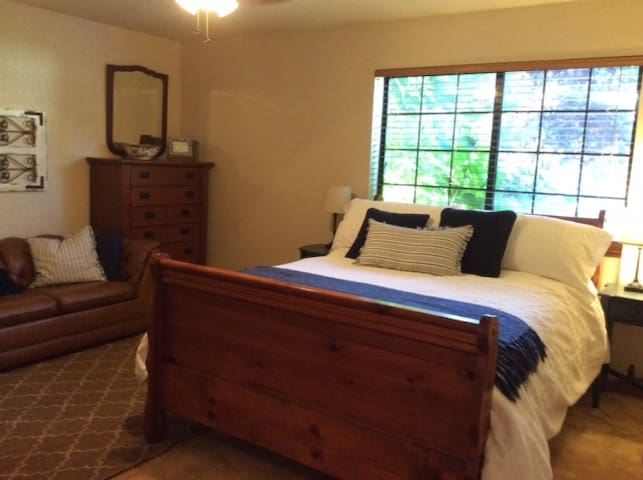 When is the last time you got to stay overnight in a 3-story water tower built in 1910? It will be a fantastic weekend get-away! Perfect for one couple or small family looking for a quaint retreat in wine country. A one of a kind experience!
The Copper Rooster (named after the Copper Rooster Weather Vane sitting atop the water tower), nestled in the midst of lush grape vineyards of the Lodi Wine Appellation, features the three story water tower built in 1910. Guests will find a granite topped bar with mini fridge and mircrowave, a small coffee maker and assorted teas. There is a small AC unit on the second floor in addition to flat screen TV which when angled correctly, can even be watched from outside on the balcony. Evenings provide a fantastic delta breeze, cooling off the tower nicely, usually 66 degrees F. The small AC unit really only cools the 1st and 2nd floor only. PLEASE NOTE: Each floor is 10 feet x 10 feet and this listing is for the water tower only - not the main house. Guests are welcome and encouraged to use the large patio, lounge chairs, fire pit and bar-b-cue! Relax and enjoy a glass of wine from the local vintners from the private second floor balcony while watching sky divers from the local jump site less than a mile away. Guests will retire for the evening on a full size bed with memory foam. There is one small pull out bed on the 2nd floor which will accommodate a child or small adult. The bathroom is outdoors and just 10 feet from the front door under the tower balcony. It's fully enclosed with toilet, shower, plenty of bath towels & wash cloths, soaps, lotions, etx; It's a fun and unique structure with all of the comforts of home! (photos included) Enjoy S'mores on the patio terrace at the outdoor firepit under marketplace lights during the evening. Come and ENJOY!
We live in the country so it's a beautiful view from any angle. Many wineries within 1 to 2 mile drive and the area is VERY bike friendly.
The host canceled this reservation the day before arrival. This is an automated posting.
Kelly
2016-05-23T00:00:00Z
We had a wonderful stay at the Copper Rooster! Beautiful property in a great setting. Terri anticipated our every need, and proactively reached out to ensure nothing was missed. We will definitely come stay again in the future!
Kirsten
2015-06-07T00:00:00Z
Terri is a wonderful host and the property is a really unique place. It's a converted watertower and is in a great location to visit all the wineries around Lodi. I'd highly recommend this spot.
Nick
2015-01-18T00:00:00Z
I can't discribe, how beautiful this stay was. Such a lovely family!!! Everything was very clean and cosy. Terry and her mum gave us so many tips for the rest of our journey. We got S'more at the fireplace outside and cold beer. The dogs are so nice and cute. We will come againe and stay longer than one night.
Louisa
2015-09-28T00:00:00Z
Terri is a fantastic host! Even though she was out of town with family and guests she made sure to call me and give me all the info I needed for a great stay. She was also super responsive to texts and emails. I felt that I would be in great hands staying at her place. Unfortunately, I didn't get a chance to try the accommodations because my sister visiting from Denmark, my other two sisters and I ended up traveling about and making other arrangements in the Bay Area. Terri had made sure the extra bed was set up for us and I know we would have had a fantastic stay in her place. Growing up in the area, I know the nights on the patio would have been fantastic.
Karin
2014-09-08T00:00:00Z
Very cute spot!! Terri has put a lot of effort in to making it a great little hideaway!
Nicole
2015-12-20T00:00:00Z
What a wonderful stay! Terri was the perfect host, being welcoming, friendly and helpful. The Tower was without doubt, the cutest and coziest Airbnb we've stayed in yet. We came for the wildlife viewing in the area, but are going to be back to explore the local wineries and more!
Mike
2016-01-24T00:00:00Z
Terri, Jay, and their dog Kipper were so welcome and thoughtful, anticipating our every need and leaving us without a care in the world for our weekend getaway. We thoroughly enjoyed our stay and hope to be able to come back one day! Terri and Kipper were there to greet us warmly when we arrived and gave us a tour of the three-story Copper Rooster Water Tower, including showing us how to operate the unique reclaimed pipe shower in the ourdoor bathroom (so comfy and clean!). The bathroom even included towels of assorted sizes, shampoo, conditioner, body wash, a bathrobe, and a hairdryer for our convenience! Terri generously welcomed us to the bounty of fruits in her yard (tangy grapes and refreshing peaches!). We loved picking them and refrigerated them overnight to continue enjoying the next morning. During the afternoon, we explored Lodi Lake and downtown Lodi to find enjoyment in the simplest of things as wading in the lake, treasure hunting in vintage stores, and snacking at the Farmers' Market that is every Thursday. Terri kept in touch with us and texted us helpful recommendations throughout, such as the Dancing Fox, which we loved dining at. When we returned at night, Terri and Jay had already started the firepit and treated us to roasted marshmallows and vanilla wafers. The fairy lights were lit and my girlfriends and I talked late into the night enjoying the atmospheric patio area. The space itself in the Copper Rooster Water Tower is well-designed and homey, with rustic decor and modern luxuries (TV, air conditioning, the works). Everything is also rooster-themed. We had a fun time making a game out of counting how many roosters we could find. Though small, we loved being able to talk to each other no matter which floor we are on. We created some unforgetable memories from staying at this cozy home away from home. Thank you for everything Terri & Co!
Joyce
2015-07-24T00:00:00Z
Romtype
Helt hjem/leilighet
---
Eiendomstype
Andre
---
Plass til
3
---
Soverom
Acampo, California, USA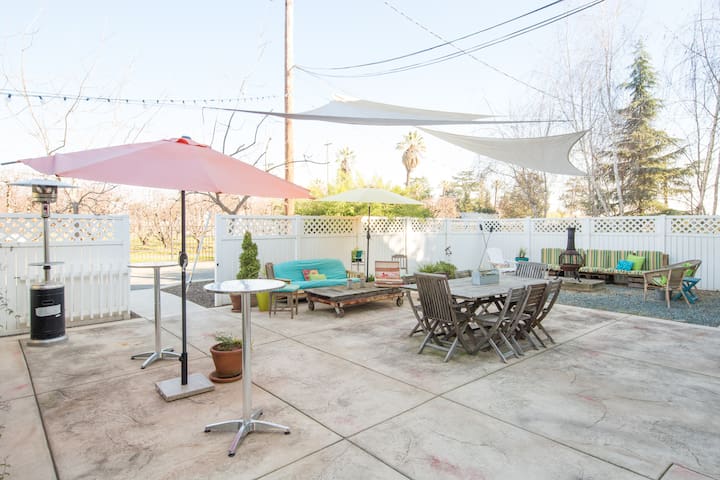 This 1940's duplex is so cute and full of character. Located in the heart of Downtown Lodi. Only a 5 minute walk to local wine tasting, delicious restaurants and shopping! Please enjoy our little patio out front, BBQ or go on a bike ride too!
Quaint cottage that had all the amenities we needed and very clean. The cottage was a 5 minute walk to downtown, but in a quiet neighborhood. Highly recommend it.
John
2016-10-03T00:00:00Z
We came to Lodi for a wedding in the neighboring town of Valley Springs. The cottage was so lovely and charming, and the attention to detail made our stay that much more comfortable! Everything was clean, beds were very comfortable, and photos were accurate. It's in a really cute part of town as well! Thank you so much Chris and Monique!
Danielle
2016-06-06T00:00:00Z
Chris and Monique's home was so beautiful as pictured! They made the home as welcoming as possible with all types of amenities ranging from shampoo and conditioner to toothbrushes. It was such a lovely experience staying here as it was our first time in Lodi for a friend's wedding. We would love to come back sometime! Thank you!
Cathy
2016-10-17T00:00:00Z
This Lovely cottage is a must! If you are traveling, enjoying all that No. CA has to offer, then you must stay at the Lee Ave Cottage in Lodi. Hosts Mo and Chris are beautiful, genuine people who have put their heart and soul into this house and it shows. The cottage is extremely clean and beautifully decorated. It has all the comforts of home and then some. In fact, it felt more to me like a spa then a cottage. Mo has left nothing to be desired, aromatherapy candles, wine, gourmet snacks and cooking oils and a nice fluffy white robe to wear to wind down in. The proximity of the cottage is amazing. Walk to town, bike to the lake, go antiquing. Farmers Markets and of course there are more wineries then you could possibly visit. The locals are more than happy to chat it up, offer a tidbit or two, and brag on their beautiful little town. My time here was magical and healing. I am forever grateful to Mo and Chris for their generous hospitality and for making me feel more like family then a guest. Cheers!
Susan
2016-05-23T00:00:00Z
Cottage was great. Location in wonderfully charming neighborhood and two blocks from downtown. Very clean home with all the ammenities you could need!
andrea
2016-05-30T00:00:00Z
CHRIS AND MONIQUE HAVE TURNED THIS SWEET COTTAGE INTO A PERFECT LITTLE HOME AWAY FROM HOME. THEY HAVE THOUGHT OF EVERYTHING TO MAKE YOUR STAY PERFECT. JUST WANTED TO STAY LONGER. I WILL BE BACK. SO CLEAN, COMFORTABLE, AND PERFECTLY APPOINTED. MONIQUE MADE SURE I HAD A FRECH PRESS AND A NUTRI-BULLET. THANK YOU YOU TWO. RICK AND DENNY
DENISE
2016-11-29T00:00:00Z
Perfect place for a romantic getaway. Great location! Chris and Monique thought of everything! Can't wait for our next stay!
Katelyn
2017-01-29T00:00:00Z
Chris and Monique make visitors feel "right at home." We met them both while they were working around the adjacent second unit. They were quick to ask for suggestions, but we were at a loss to think of anything they had missed. It is evident they treat the cottage like they would if they lived there themselves. A great location to walk downtown and a charming neighborhood. We look forward to our next visit to the cottage.
Terri
2017-04-09T00:00:00Z
Romtype
Helt hjem/leilighet
---
Eiendomstype
Hus
---
Plass til
4
---
Soverom
Lodi, California, USA
Beautiful, spacious studio with lots of privacy. The poolhouse is close to great views, restaurants and dining, wine country, and it's surrounded by vineyards.. You'll love the area because of the outdoor space. The poolhouse is good for couples, solo adventurers, and business travelers. It is a large private studio (600 sq ft) with its own entrance, restroom, kitchen, microwave, mini fridge, queen bed, leather reclining loveseat and 70" TV for Netflix and WiFi programming.
My home is between Stockton and Lodi, right in the middle of wine country. Open the windows at night to feel the cool San Joaquin Delta breeze. The poolhouse is a spacious studio with private entrance, bathroom, and kitchen. It has a brand new comfortable queen bed,a reclining leather love seat, and a new 70" TV that is wifi enabled for Netflix and online content (No cable or satellite at this time). There are chairs to relax in and a shuffleboard table to
The house is in the country and only 1 1/2 miles from Stockton or Lodi, the best of both worlds! `
This was my second time staying in the pool house. Dennis wasn't feeling so I didn't get to see him when I arrived, but he was very quick to respond. He also checked in on us to make sure we had everything we need. He also left us two boxes of oven bake pizzas in the freezer (demolished one box) and some popcorn in the cabinet. The shuffle board never gets old to play :) one reason why I love coming back here and to compare to other Airbnb's that I've rented is that the studio is very Spacious. You have your own private area equipped with everything you really need and you can park your car right out front the entrance. And not only that, Dennis is so awesome. He goes above and beyond for his guest. Thank you again Dennis for the hospitality! Happy Holidays :)
Pearl
2016-12-11T00:00:00Z
Dennis is awesome! Quick at responding, he was genuinely concern about our needs and he was friendly. The studio was everything I expected. Looks exactly as the pictures posted, very cozy and spacious, had our own private entry and the shuffle board was fun to play with! Definitely booking another weekend here :) Thanks Dennis!
Pearl
2016-11-06T00:00:00Z
This was a great location. A few minor issues like bathroom electrical and water pressure but Dennis was extremely friendly and met us at check in and checkout.
Ashley
2017-02-26T00:00:00Z
Dennis was a fantastic host. His studio is very comfortable and well-equipped for guests, and it's nestled among grapevines for a true wine country-feel. Dennis was very kind and accommodating to our travel plans (including a late arrival). He also knows the area very well, and can serve as a great guide to Lodi. Would definitely recommend!
Dmitri
2016-11-20T00:00:00Z
My boyfriend and I had a wonderful experience with Dennis. The pool house is perfect for a little getaway, complete with a comfy pullout bed, kitchen, bathroom, TV/computer/wifi, and even shuffleboard. Very spacious and private. Dennis is a fantastic host! He made check-in flexible and easy, and even gifted us some freshly picked grapes on the morning we left. Although he's new to Airbnb, his demeanor and accommodations make him seem like a pro!
Simone
2016-09-04T00:00:00Z
A great place to stay while wine tasting in Lodi. Close to dining, shops and and a multitude of wineries, yet very private. Dennis was a great host.
David
2017-03-06T00:00:00Z
Dennis was a gracious host! He welcomed us in to the house and was open and flexible on our arrival time (since we showed up a little late). He went above and beyond by even adding extra blinds to the room, to ensure my wife felt extremely safe and comfortable. He accommodated and anticipated all our needs, which made it even more enjoyable to stay with him. His upbeat, friendly attitude was very welcoming, and if ever in Lodi, I would not hesitate to stay with him again!
Chris
2016-08-28T00:00:00Z
Thanks to Dennis for showing us around the pool house when we arrived. The rural neighborhood is peaceful and close to local wineries. We used Lyft to go out at night, and the rates to get to/from downtown were great.
Heather
2017-01-01T00:00:00Z
Romtype
Helt hjem/leilighet
---
Eiendomstype
Gjestehus
---
Plass til
2
---
Soverom
Lodi, California, USA
A very well appointed home, a mid-century, island style tudor you won't find elsewhere. Close to parks, art and viticulture, restaurants. Lodi Lake is right around the corner. The patio has ample seating with shade and a bbque. Couples, solo adventurers, business travelers and families. Bdrm 1 Cal King, 1 twin Bdrm 2- 1 Euro King Bdrm 3 -2 doubles Internet U-Verse T.V. Well stocked pantry Printer/copier small doggie door
I hope you find my home a warm and relaxing space to share with your families and friends. I love the feel and decor of the house, I enjoy my space very much and take pride in its beauty as well as the functionality of the space. A king size bed is located in the outside courtyard bedroom adjacent to the house. There is also a twin bed in the courtyard room. The house has two double beds upstairs and one King downstairs. (something to consider when booking my home if you have small children, stairs!) All of the beds are plush with feather comforters and 4" memory foam. Lots of new comfortable pillows as well. A good nights sleep is so important to me and I know it is to everyone else also! The upstairs bedroom has its own air conditioner/heater (professional grade) , so it can be adjusted independently for your comfort, have it just the way you like it! The kitchen is stocked with organic spices. The vitamix blender is fantastic~ There's one and one half baths (2 toilets) in the house. The shower is in a tub, not a walk in. Soap, shampoo and a hair dryer are provided. Also q-tips and extras in case you forget something. SMALL (10 lbs max) potty trained dogs are welcome, Im not set up for large dogs or active large puppies that require attention. Digging and chewing are prohibited! Downtown is just down the street a few blocks. There are lots of Lodi Wineries that have pouring rooms on and around School Street. Lodi has 89 wineries and I provide lots of info and maps so you can find them. Downtown is filled with fun shops and many that are open on Sunday. Check out is 3:00p.m. so you have time to go play a bit more around town or have breakfast/lunch out. The Avenue Grill makes a great breakfast that you can pick up and bring home if you can't get it together :) Lodi Lake is a mile and a half down Turner Road. Rent paddle boards or kayaks, even try fishing! The Mokelumne River feeds Lodi Lake and is accessible around the back of the lake. Bring your bike and choose from the many great routes Lodi has, check out the maps and info on BIKELODI I hope you enjoy everything about your stay and come back again. If you have any requests please be sure and let me know.
The house is located 1 minute from downtown and 5 minutes from the lake. The Wine and Visitors Center is close by on Turner road. School street, as well as the side streets are filled with lots of vintage thrifty, eclectic shops. So many good dining options also! Wine bars are everywhere of course and brew pubs too. Stop at the cheese shop to sample and pick up cheese for the evening to enjoy with your wine (URL HIDDEN)
Absolutely amazing stay at Brodie's lovely home. Her home really made our stay in Lodi so much better!
Dominic
2016-08-21T00:00:00Z
Brodie, was an excellent hostess. We felt very welcome in her home through out out stay. Prior to arrival she provided suggestions on places to visit and eat that were close by. She also took notice that we were celebrating a special event and went an extra step. This really made a great impression. The courtyard outside is amazing. It made the trip extremely relaxing. I think I will miss morning coffee outside in this oasis. The location to downtown and wineries was very central. We even found Corner Scone and Bakery that made the cake for out special event and it was 2mins from the house. Really worthwhile visiting Corner Scone and Bakery. We are already discussing future vacations here.
Scott
2016-10-10T00:00:00Z
This was the perfect home for two families with a group of 4 adults and two kids. Brodie is the perfect host! She left a nice note in the kitchen with a bottle of wine and the kitchen was well stocked with everything we needed for our stay. Her home was absolutely charming and comfortable, including the beds. The back patio area with outdoor fireplace was our favorite part of the house and where we spent most of our time, including meals. Brodie's home was warm and inviting in every detail, from the beautiful front entrance and porch to immaculate landscaping to the scent of candles when you walk through the door. We hope to come back to this beautiful place the next time we visit the Sacramento Delta area.
John
2016-09-05T00:00:00Z
This was the best Airbnb experience I've ever had! The house was amazing! Pics did not do it justice! The set up was perfect for our girls trip. The beds were so comfortable it felt like we were sleeping on marshmallows! The host Brodie was a text message away if we needed anything! She made sure we had everything we needed! Even dog food :-)
Melissa
2016-11-13T00:00:00Z
Amazing, amazing, amazing home! The house is everything we needed for our stay this past weekend, we were able to accommodate all of our family members, 8 adults to be exact. The living room and dinning area were ideal to gather with the entire family and the kitchen- was absolutely prefect! As well, the backyard and outside fireplace was an ideal place to gather. Brodie was an amazing host and very informative and responsive. As an added bonus, they left us an amazing wine bottle from a local winery for us to enjoy during our stay and it was truly wonderful. Can't wait to come back.
Diana
2016-09-25T00:00:00Z
The house is wonderful, everything that you could possibly ask for is there for you, we thoroughly enjoyed the outdoor space. We had little knowledge of Lodi and found it to be a charming little town, our teens enjoyed Lake Lodi and we had a nice time in Lodi, we would certainly stay again sometime.
Matt
2016-08-08T00:00:00Z
Brodie was such a pleasure to communicate with! Always very quick to respond, helpful and informative. The home was a perfect weekend retreat. Comfortable beds, clean, great patio space and has everything you could need in the kitchen. Brodie even left a birthday card and a bottle of wine! Very thoughtful. The home is a 5 minute drive to downtown Lodi where there are lots of restaurants and wine tastings. A short drive to tons of other wineries. This home was perfect. I can not rate it highly enough! I would love to stay in Brodie's home again for another fantastic wine weekend!
Alyssa
2017-01-22T00:00:00Z
Where can I even begin... This place was absolutely wonderful and Brodie could not have been a better host. It is close to everything in town including wineries, and the house itself is great. The beds are incredibly comfortable and the common areas, both inside and in the backyard, are great spaces to hang out. They provided duraflame logs for the fireplace outside, left us a bottle of wine, fruits and more snacks to enjoy during our stay. They also let us have access to spices, things in the fridge and more in their very stocked kitchen. They were very responsive with everything we needed but stayed away from the property, allowing us to feel like it was our home for the weekend. Their house was also stocked with plenty of games and a binder with a ton of recommendations, menus and more (with their personal notes). They even allowed us to check out quite late on Sunday! If you're looking for a place to the Lodi area, I highly recommend this place!
Shelly
2017-03-12T00:00:00Z
Romtype
Helt hjem/leilighet
---
Eiendomstype
Hus
---
Plass til
9
---
Soverom
Lodi, California, USA
Great for single or married couple. Very cozy with separate entrance door very private. *full size bed*full bathroom set including shampoo & conditioner*wifi* cable flat screen tv*dvd*player*iron*chest with draws*hairdryer*microwave*small freezer*
Very safe neighborhood. 25 minutes away from the airport
Nobody bothers no one.
As advertise and also very nice and cozy. Good host and very accommodating. Would stay again.
Tu
2016-11-30T00:00:00Z
We felt welcomed upon entering the room because Devi had placed roses on the desk along with a fruit basket. The room description was 100% accurate and the neighborhood was great. It's a five minute Uber ride from many restaurants and shopping stores. I highly recommend this cozy Elk Grove room and would stay here again.
Zuberi
2016-11-13T00:00:00Z
The listing discription was accurate. Devi was very nice and hospitable. The room was private and comfortable. Private entrance and nice neighborhood.
Wesam
2016-12-20T00:00:00Z
Great stay! Great location, and great host. Would stay here again....
Craig
2017-03-28T00:00:00Z
Excellent value and the room was as pictures show. Devi was so kind and accommodating. Excellent host.
Daniel
2017-03-04T00:00:00Z
My husband and I had a wonderful stay with Devi! The room was just like it was in the photos! It had everything we needed; King Size bed, fridge, microwave, clean/bathroom, walk-in closet, extra linen sheets & towels! We love the private entrance on the side. Also, the location was perfect! I can't say anything wrong about her place. We enjoyed the space along with Devi! She was great with communication with our arrival and check-out! This has to be the best Airbnb in Elk Grove! We can't wait to stay with Devi for our next trip!
Bianca
2017-02-12T00:00:00Z
Devi is a great host! She is responsive with her communication and provides a decorated and cozy room complete with a mini fridge and microwave. The king size bed was very comfortable, and I had enough space in the closet for my belongings. The room and bathroom are blocked off from the rest of the house so I had a great deal of privacy. I have two guest tips (because I couldn't figure these things out :P) 1) To switch the water flow to the shower head, pull down on the gold circle under the tub faucet. 2) The entry into the patio door takes a little getting used to. Don't close the door too tight, otherwise the lock will not latch.
Amy
2017-03-19T00:00:00Z
Great place. Stay here many times.
Tu
2016-12-29T00:00:00Z
Romtype
Privat rom
---
Eiendomstype
Hus
---
Plass til
2
---
Soverom
Elk Grove, California, USA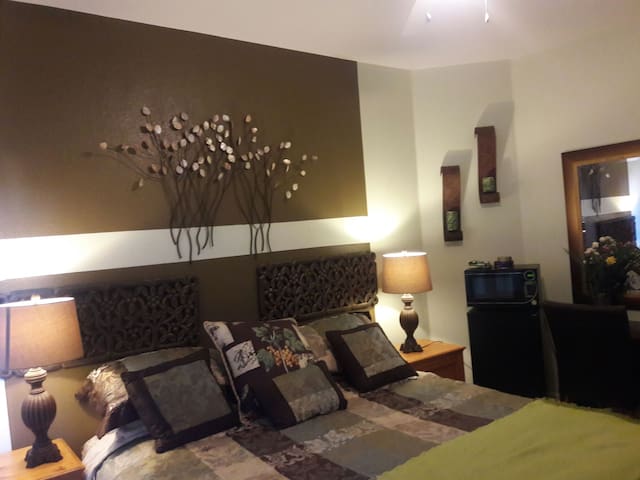 The Locust Street Suite is a newly remodled apartment located two blocks from downtown Lodi, which includes great dining, lots of antiquing and shops, as well as the movie theater. The kitchen is stocked with snacks and coffee and tea as well as organic spices and cooking basics. Both bedrooms offer memory foam mattresses and televisions. We welcome you to our home and our sweet little town. You can also find us on social media to view a video of the suite.
This small, quaint space has all that you need for short and comfy stays.
We could not have been happier with Calyn's listing! The place was absolutely stunning and less than a 5 minute walk into the heart of downtown. Calyn was incredibly sweet and so quick to respond to any questions and was super helpful if you're looking for tips for places to go. The neighborhood is very quiet/private and with such a short walk to downtown it's very easy to pass the time in cute boutique shops. Highly recommend this listing over and over again!
Lainie
2016-09-26T00:00:00Z
The place is lovely and clean. Calyn was very quick to reply to all enquiries and as there is a key lock box, it was easy to just show up and let ourselves in. A bottle of bubbly in the fridge was a welcoming touch. Also nice assortment of amenities in the bathroom and snacks in the cupboards. The beds are incredibly comfortable however they are very high off the ground so if you have any kind of mobility or physical problems it may be difficult to get on/off the beds. My 69 year old mother in law is only 4' 11" and almost fell off the bed in the morning because she forgot she was so high off the ground. The view into the back alley overlooking the police parking area wasn't spectacular but we felt safe! :) The little balcony overlooks the main house's back yard which was nicer. We weren't there for the views anyway so not a problem with us. The place is located within walking distance to downtown Lodi and many restaurants and tasting rooms. Be warned that it is sleepy during the week (we were there on a Wed) and some tasting rooms closed earlier than some publications suggest. I might suggest contacting the tasting rooms directly to confirm closing times if you're there during the week. The wifi connection wasn't great and had difficultly connecting in the evening but was a bit better in the morning. Not sure if that is because it's a shared router? The visitor center was great and I highly recommend a stop there. All in all a good experience and I would recommend this place if you're a wine lover and want to enjoy/explore the area. Thanks Calyn
danielle
2016-09-08T00:00:00Z
Our visit to Lodi was nothing short of lovely, largely due to the kind hospitality of Calyn. The apartment is comfy, clean and very tastefully decorated. The location is perfect for catching the wine shuttle or grabbing a bite to eat in the downtown area. Calyn was a considerate and gracious host. The attention to detail with all the bonus goodies was much appreciated.
lindsay
2016-08-08T00:00:00Z
I can't say enough about how awesome it was to stay at Calyn's place! The suite was immaculate, quiet, very tastefully decorated, amazingly comfortable beds and as cozy as can be! An easy walk downtown to restaurants, wine tasting, etc. My only complaint is... that I wasn't able to stay longer! I'll be back Calyn, thanks for the wonderful experience!
Sonny
2016-08-15T00:00:00Z
Calyn was very responsive since the very beginning, very pleased with the overall experience. The place is nice, just like in the pictures - loved the decor!
Anastasia
2016-08-28T00:00:00Z
The neighborhood was quiet. Before I got to the location Calyn made me feel at peace.
Valerie
2016-09-05T00:00:00Z
Romtype
Helt hjem/leilighet
---
Eiendomstype
Leilighet
---
Plass til
4
---
Soverom
Lodi, California, USA
1

–

18

av

69 Utleiesteder
Oppgi datoer for å se fullstendige priser. Ekstra gebyrer gjelder. Skatter vil kunne tilføyes.