My place is close to Miravalles Volcano. You'll love my place because of the amazing views of the Miravalles Volcano and all the nature around it. My place is good for couples, solo adventurers, and families (with kids). The house has two bedrooms and 2 full bathrooms. One of the bedrooms has a private bathroom.
The house was built last year, so everything about the house is in top condition. The house has hot water and ceiling fans in the bedrooms and leaving room.
Romtype
Helt hjem/leilighet
---
Eiendomstype
Hus
---
Plass til
6
---
Soverom
Fortuna, Provincia de Guanacaste, Costa Rica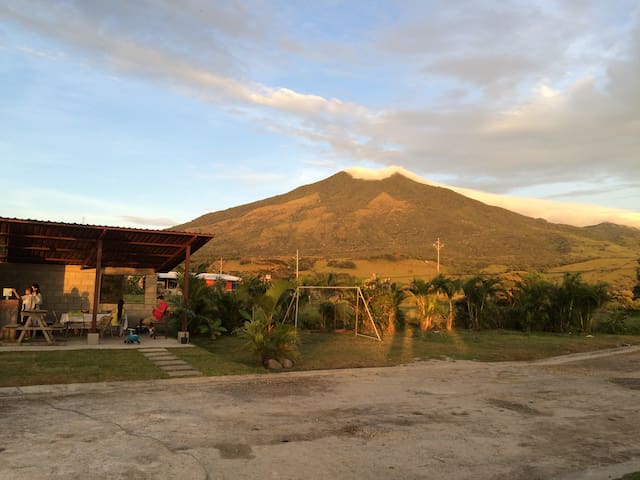 We are on 250-acres close to zip-lines, hot springs, and white-water rafting. We have horseback-riding, a Kawasaki Mule and ATVs available and trails through our orchards and old-growth forest. Howler monkeys, toucans, parrots all enjoy the fruits in the orchards.
Note: Our prices include the Costa Rican %13 general sales tax. We designed the villas to be the kind of place we would want to stay. The rooms are large and comfortable. There are multiple air conditioners, so guests can sleep at a temperature they like. The refrigerator has a built-in ice maker and is full size. The villas have hot water.
All roads from Liberia airport to the farm are paved and well-maintained. We are surrounded by other farms. We're near the town of Guayabo (about 1.5 miles) at an altitude of 2000 ft. The temperature on the farm is normally around 80° F, usually 15° F cooler than Liberia. You can use the villas as your base and visit the hot-springs, river-rafting and zip-lines in the area.
This property is immaculate. The views, the farm, and the villas are breathtaking. Daniel, the farm manager, is a true delight. He was very nice upon check in and checked in on us a couple of times during our short stay on the property. He offered up great information regarding the area. Joel was also very nice and showed us to our villa when we checked in. The property is filled with citrus trees, which you can help yourself to. Daniel was also nice enough to provide us with some apples, juice, water, coffee and beer. Our entire experience was nothing short of exceptional. Daniel should be considered a super host! We were sad to leave the property, but will most definitely be back.
Georgia
2017-02-27T00:00:00Z
Romtype
Helt hjem/leilighet
---
Eiendomstype
Hus
---
Plass til
4
---
Soverom
Guayabo, Guanacaste, Costa Rica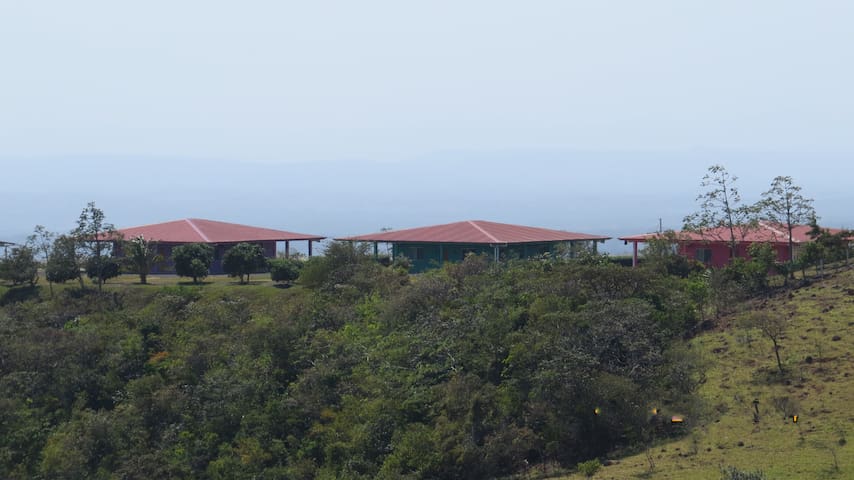 It is a family own b&b style lodge with a spacious front yard, hammocks and plenty of siting space. clean welcoming rooms either private or shared with spacious kitchen. Is a beautiful house where you can see many birds while having breakfast.
Vous pouvez avoir entièrement confiance en l'accueil d'Islény et de Kevin, et en la qualité de leurs conseils et orientations. Très jolie chambre avec une excellente literie.
Isabelle
2017-03-10T00:00:00Z
Best hosts ever, always engaging and offering without pestering, just genuinely nice and generous. The whole family made us feel immediately at home.
Dan
2016-06-13T00:00:00Z
This place was absolutely perfect. The best we had in one week in Costa Rica! We felt welcome from the moment we entered the house. We really felt at home (but with the chance to practice our spanish :p) . Very well located near Rio Celeste and Tenorio. Lovely room. In the morning, coffee is serve as well as bread and local jams. There is a kitchen that everybody can use. It is a very quiet place. Je recommande vraiment cet endroit à tous! Yo recomando a todos este lugar. La hospitalidad estaba muy bien. Nos sentimos como en casa.
Hugo
2017-01-15T00:00:00Z
Súper rico el lugar. Bien ubicado y toda la familia súper amables! Muchísimas gracias por abrirnos las puertas de sus casas. En cualquier parte de Costa Rica procuren andar durante el día. Anoche temprano entre 5 y 6. Excelente el consejo directo para ir a tours Nocturno en frogs paradise. Nos encantó la calidez conque nos recibieron y el apoyo de esperar despiertos a recibirnos al haber llegado tarde por el incidente que tuvimos.
Kiep
2017-01-03T00:00:00Z
Was a great hostel and their family was extremely helpful! Thanks again!
Katherine
2017-01-27T00:00:00Z
The family was incredibly wonderful and helpful to me and my friend who stayed for one night before moving onto another lodging. We ended up using the husband, Will, for a drive to Rio Celeste and he went above and beyond a taxi and actually got us out of the car to find frogs and sloths. Not luxury by any means, but a nice clean bed and some coffee & bread in the morning.
Carson + Erica
2017-01-02T00:00:00Z
Nous avons été très bien accueillis par Isleny et sa famille. Maison style Auberge de Jeunesse où l'on rencontre d'autres voyageurs dans la cuisine commune et sur la grande terrasse. Super le double hamac ! Merci pour le pain frais et le café à disposition le matin. Chambre simple mais propre. Bonne adresse
jacques
2016-04-21T00:00:00Z
Host was awesome and very friendly. Drove us to the bus stop and national park in the morning and even showed us some wildlife! Very accommodating and went out of the way to make sure our stay was great.
Micaela
2016-08-14T00:00:00Z
Romtype
Privat rom
---
Eiendomstype
Hus
---
Plass til
2
---
Soverom
Bijagua, Alajuela, Costa Rica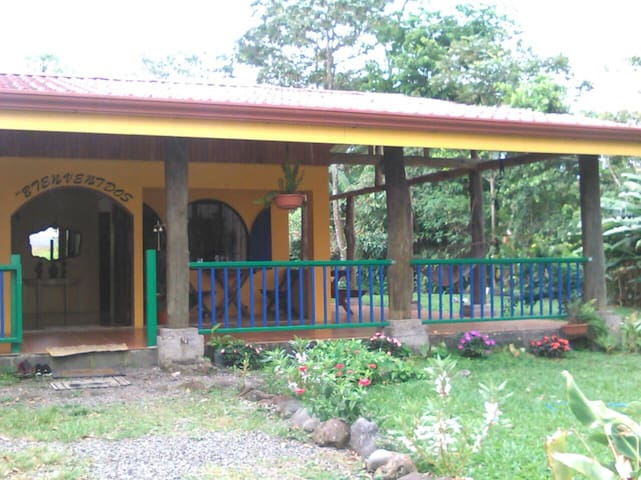 133m2 de construcción, area verdes de 134m2. cochera 24m2,corredor15m2,sala22m2, comedor7.5m2, cosina7.5m2, cuarto de pilas12m2, dormitorio con baño integrado 21m2, dos dormitorios con baño compartido 25m2 A una hora de las mas lindas playas del pacífico de Guanacaste. Centros turísticos cercanos : Termomanía, Yoko, El Guayacán, Lomas del miravalles, todas con aguas termales, clima relativamente fresco.
Romtype
Privat rom
---
Eiendomstype
Hus
---
Plass til
12
---
Soverom
Guayabo, Guanacaste, Costa Rica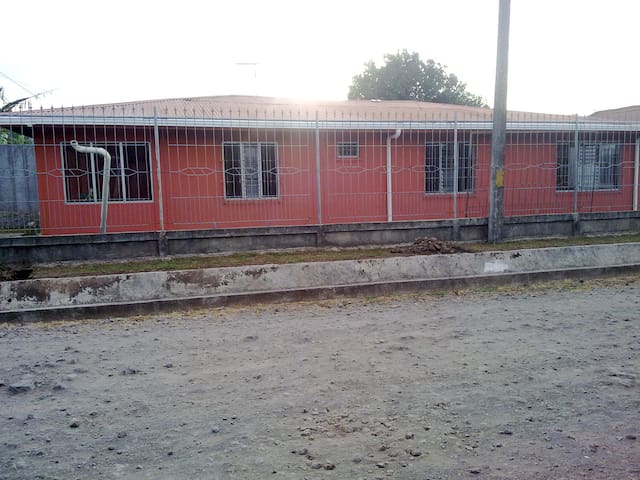 Located in the foothills of Tenorio, road to Rio Celeste. Facing national highway. Kitchen, dining room, two bedrooms and two bathrooms. Large green area. Totally equiped Room 1: double bed Room 2: two single beds
Romtype
Helt hjem/leilighet
---
Eiendomstype
Hus
---
Plass til
5
---
Soverom
Bijagua, Alajuela, Costa Rica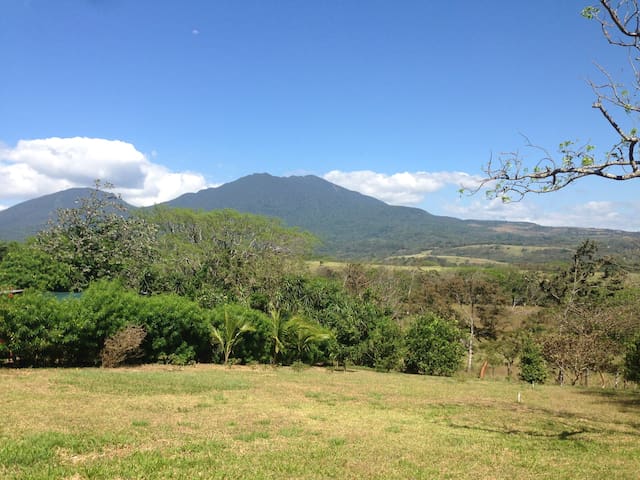 ''pyjama'' home in a private property. Right next live hosts in a house below ... á located 2 kms from the main road from Bijagua á .. security, peaceful location, with terrace stunning views of Tenorio ..
House of two bedrooms, a bathroom and a kitchen in a beautiful property with a splendid view of the Tenorio Volcano ... Quiet place, resting for nature lovers, close to the village (5 kms) ... place ideal of peace to relax ... secure location because inside the property of two and a half hectares which is fenced and closed ... Very well located for visiting the charming corners of Costa Rica: suspension bridges to Heliconia, the famous Rio Celeste in half an hour (turquoise water cascade), thermal waters with jacuzzi pools and clay mud ... the caño negro: boat trip on a canal with views of many animals also ... on channel at Palo Verde ... the Pacific beaches ... the pretty fall Cortes .. very rich in bio-diversity area .... About the amenities of the place: wifi ... and Carole Jacques, the owners, live a few meters from the house for rent ... Are available to help you make your stay goes well ... Have three cats and a shepherd dog alllemand incredibly kind ... of love !! The two bedrooms each have a large bed ... the bathroom is shared ... About 35 kilometers from Cañas ... and an hour 1/4 of the city of Liberia ...
pure countryside ... one road that climbs the mountain side ... dwellings professional officiating Cañas á á or Liberia ...
The host canceled this reservation 47 days before arrival. This is an automated posting.
Evelyne
2016-12-30T00:00:00Z
The photos don't do this place justice! Our stay here was magical. Carole & her husband, Jacques, are fantastic, kind-hearted humans. I'd recommend this place in a heartbeat & would definitely stay here again on our next trip to Bijagua.
LeeAnn
2017-03-25T00:00:00Z
Carole and her husband were extremely welcoming and friendly, we were blown away by the beauty of their property (best view EVER!). The pictures don't do it justice! The accomidation is really well built and thought out with a wonderfully large outdoor patio space. We traveled as two couples and found the separate bedrooms perfectly private and comfortable. The beds are very comfortable and we had the best nights rest of our whole trip. The kitchen was fully stocked with fresh eggs, fruit, bread, jam and butter which we really appreciated :) Lots of opportunities to bird watch, we saw a bunch of colourful toucans! The fields of sheep and roaming chickens were a delight. This is the perfect homebase to check out the beautiful Rio Celeste which is about 11 km away. Fabulous private location!
Sarah
2016-03-12T00:00:00Z
Carole and Jacques were very friendly and accommodating. The place itself is set on a beautiful hillside location with a panoramic view that the pictures don't even do justice. Farm fresh eggs and bananas picked from their property were provided for breakfast, as well as a kitchen, pots/pans/utensils. The location is very close to the road to Rio Celeste (which itself is a rough, bumpy road), and the town of Bijagua (supermarkets, a few restaurants, a bank). Some things to be aware of: the road to the property can be a little rough and hilly - 4-wheel drive might be a good idea (our little Jimny had no trouble); there is no A/C, but there is a lovely mountain breeze; there are no bug screens on the windows in the guest house - as such, keeping bugs out and the temperature comfortable was a balancing act. Finally, the location is a little rural, and may not be as posh as some would expect. It all depends on what you are looking for!
James
2016-07-07T00:00:00Z
Los anfitriones son muy amables y le hacen sentir en casa desde el primer momento de llegar a la finca. El lugar es muy agradable y tranquilo. Apto para meditar y descansar. En lo personal nos sirvió como medio para "desconectarnos" del ajetreo de la ciudad y reecontrarnos con la paz y el descanso. La vista del pueblo de Bijagua y los volcanes (Tenorio y Miravalles) es preciosa y relajante. Tuvimos la oportunidad de ver una noche completamente llena de estrellas, cosa que es muy dificil de en la ciudad. Los chicos se divirtieron mucho con las gallinas y las ovejas.
Gustavo
2015-12-29T00:00:00Z
We enjoyed our stay with Carole and Jacques. The guest house is sort of a shotgun arrangement, with each room opening out onto a covered porch. From the porch, you have a beautiful view to enjoy with your breakfast or evening wine. The rooms are simple but comfortable. Hot water in the shower was plentiful. The well-stocked kitchen was great - Carole provided coffee, fresh eggs from her kitchen, good bread, and plates of cut fruit. A feast! Be sure to get detailed directions before you go. The house is not difficult to find from the landmarks Carole provided, but you want to arrive in daylight the first time. The road up to the house is in rough shape, but once you get to the paved road you're close to the town and Tenorio National Park.
Deborah
2017-03-05T00:00:00Z
Romtype
Helt hjem/leilighet
---
Eiendomstype
Hus
---
Plass til
4
---
Soverom
Bijagua, Alajuela, Costa Rica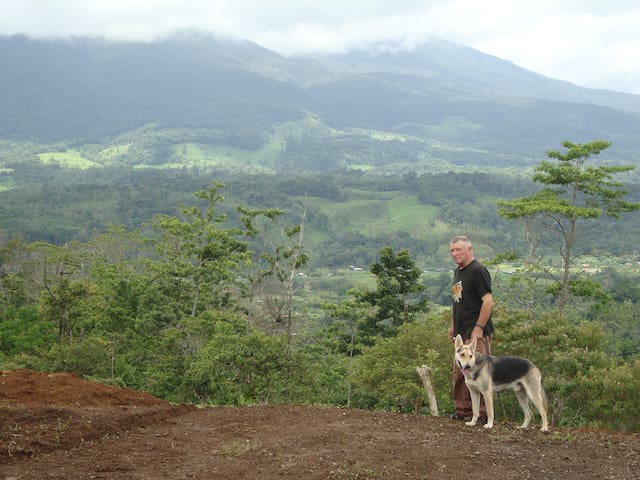 Llano Cortex Cataract 10 minutes Africa mine 15 minutes hot springs 20 minutes Sanctuary of pumas 20 minutes Rio lost 25 minutes Miravalles Volcano 25 minutes Liberia 25 minutes International Airport 30 minutes Coco Beach 40 minutes
Near Falls, Hot Springs, Beaches and Volcanoes
Adrian was very attentive to our needs and kep in communication with us in case we needed anything else. He help us get a lady to help us get authentic food, home made. The neighborhood looks old, but all of them were very nice, always willing to help us. They made us feel at home and provided us with an unforgettable experience. This house, we think, is in the middle of the best area of Costa Rica, near volcanos, waterfalls, etc.
cecilia
2016-08-29T00:00:00Z
Let me start by saying Adrian is a great guy; when we finally made it to his house he took us to a beautiful waterfall and we went swimming there. He also escorted us to a restaurant for dinner. However, we made a big mistake by booking this home. It appeared Adrian did not feel comfortable leaving the security gate opener with us or staying at his home without supervision. We did not know he was going to stay in a room at the house during our stay. Although he tried to remain to himself, it still made us feel awkward and uncomfortable. Communication was an issue from the start: Adrian only speaks Spanish and our group can barely get by. He was unable to provide GPS coordinates for the house and that what is listed on the website is no where close to the actual house. We actually had to to call him and he then met us at a prominent landmark in town and we then followed him to his home. You can imagine how frustrating this process was. The ladies described the home as a "batchlor pad". It was dirty, bugs were present, and it was in ill repair. We could handle the number of bunk beds and no A/C, but hot water was not available and yet we felt lucky to get enough water pressure for the shower head to just trickle! The ladies all fell through the sun faded lawn chairs at the pool. We actually found this funny since one of them only weighs 105 pounds. However this turned sour quickly when one of the ladies fell on her back and hurt herself when the hammock cord snapped. It was very fortunate she did not need medical attention! We all wanted to leave early the next morning, and did. We booked this house to be fairly close to LIR airport and avoid a long early drive that morning. Yet I can not recommend staying here until Adrian makes serious and necassary corrections to the house. Not to mention it was the most expensive and least for the value of the 4 homes during our 12 day stay in Costa Rica.
Erich
2016-03-10T00:00:00Z
Romtype
Helt hjem/leilighet
---
Eiendomstype
Hus
---
Plass til
15
---
Soverom
Bagaces , Guanacaste, Costa Rica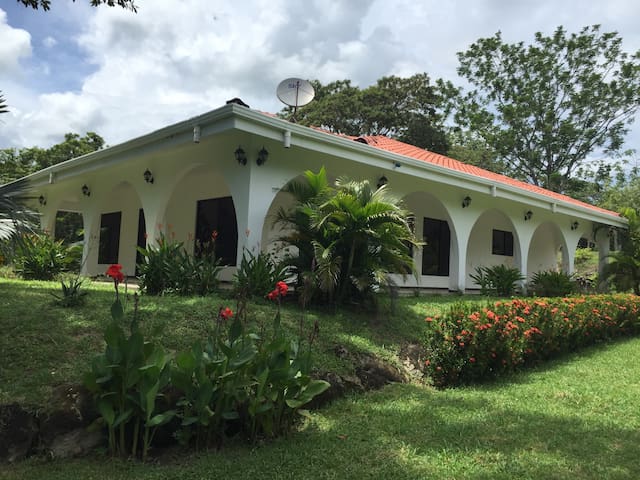 beautiful little house on 5000 square meters of land with a private garden and creek in a beautiful valley between 2 volcanos, great for nature walks and close proximity to tenorio national park and rio celeste hot springs. ideal climate!
a small but beautiful and clean house on a 5000 square meters in a super safe quiet and beautiful small town in the mountains, ideal climate, green and lush all year, several clean rivers nearby, all tap water is from a natural spring, there is a creek that can be swum in on the property. Very close to Rio celeste (about 15 kms) which is one of the most beautiful places to visit in costa rica, also close to Heliconias hanging bridges park (8 kms). the house is pretty much technology free, no tv, phone, or internet...however if you have to use a phone you can borrow my cel phone...there is an internet place in bijagua and some places with free wifi. You can use my computer and or phone for a quick email check if needed (I can use my phone data as hotspot) . I have some speakers to plug in an ipod or other musical device... and there are lots of good books to read... I have a chill out spot outdoors under a roof and a fire pit as well so fires are cool, there is lots of fire wood...
Zapote de bijagua is a very small neighbourhood (about 50 inhabitants) near the bigger small town of Bijagua (4.5 kms), in a lush valley which is a biological corridor between 2 volcanoes, tenorio and miravalles. everyone in town is friendly and the town is virtually crime free...we are also in close proximity to many beautiful places to hike and swim...
Un lugar precioso, único y auténtico. A unos cuatro km por pista desde Bijagua, pero vale la pena.
Beatriz
2016-08-10T00:00:00Z
Valerie was not home when we stayed at her house. She was very quick to respond to the airbnb text which was a plus. Her property was pretty and it is int he very small town of Zapoate. The mountains and rivers were amazing. The best part of the experience there were the people I befriended while staying there. The Howler monkeys were an alarm clock and what a great way to start the day! The cons- the bed and ALL the linens smelt like mildew. It is pet friendly but with that came flea bites- ugh! Additionally there was no room in the fridge for ur foods- it appeared as though someone was living in the unit and not prepped for guest arrival. All in all if you are looking for very simple accommodations and want to be close to Celeste Falls I recommend this place. It was nice to not have drive a distance to get to our next adventure.
Lasya
2016-07-16T00:00:00Z
The location is in a stunning farming village. The town Zopate is a population of 50 people. Everyone was incredibly friendly and we feel we have made lasting friendships. Valerie wasn't present while we stayed at her place but she was super helpful with all of our questions. Her directions are spot on so just trust them. Marce was who hosted us. She was sweet and made us feel comfortable and at home. If you are looking for affordable stay in Costa Rician country side, this is the best! Getting away from technology is so refreshing as well (but if you need it it is easy to get in town)
Jocelyn
2016-05-06T00:00:00Z
Nous avons adoré notre séjour à zapote ,le lieu est authentique , accueil chaleureux ,nous nous sommes sentis comme chez nous .Nous n étions pas véhiculés mais ça ne nous a pas posé de problème .Avec des enfants c est parfait si vous recherchez le calme et une nature omniprésente .
helene
2017-03-26T00:00:00Z
This host was incredibly friendly, the place was clean, and we highly recommend if you can drive there.
Simon
2016-03-18T00:00:00Z
The host canceled this reservation 7 days before arrival. This is an automated posting.
David
2016-12-22T00:00:00Z
Romtype
Privat rom
---
Eiendomstype
Hus
---
Plass til
4
---
Soverom
Bijagua, Provincia de Alajuela, Costa Rica
House Natural View Rental offers all the comforts for your holiday, it is 1.5 km from the center of Bijagua 10 km from Tenorio Volcano National Park, the house has 3 bedrooms, a full kitchen (Microwave, Coffe Marker, Fridge, Stove gas), dining table for 6 people, has a lounge, sofa, table games, corridor overlooking the volcano Miravalles, gardens with a variety of flowers that attract butterflies, hummingbirds, surrounded by nature and scenic beauty.
The House Natural View features rustic wood finishes, with very unique features, has a corridor / balcony that allows you to enjoy and experience nature (Butterflies, Birds, Frogs) has 5 sofas to rest, hammock a dining table, doors spacious, fans and main tranquility and sounds of nature.
The house is surrounded by family farms mainly agro-ecological activities such as agriculture and dairy farming as natural areas such as secondary forests, so the place is very safe and quiet without the noise and crowds of people.
Romtype
Helt hjem/leilighet
---
Eiendomstype
Hus
---
Plass til
7
---
Soverom
Bijagua, Alajuela, Costa Rica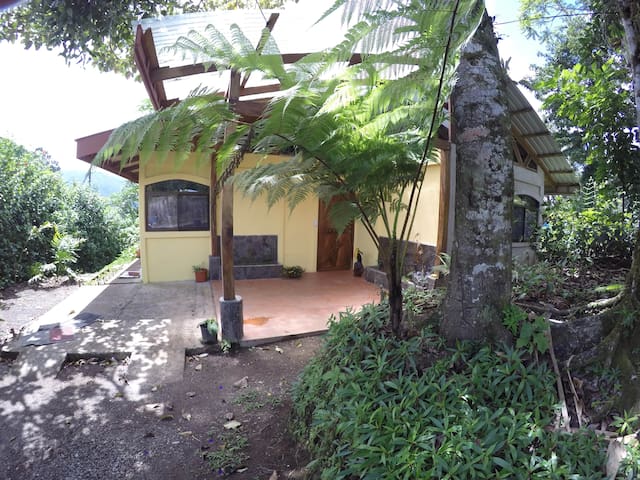 Excellent stay! Everything perfect and clean! The family is lovely and truly receives you like part of their family!
Paulo
2016-12-30T00:00:00Z
We had a great experience staying in this small family hostel! The family who runs it is incredibly welcoming, friendly and generous and they went above and beyond to make sure we were comfortable and felt at home - including offering and bringing us coffee while we relaxed in the hammock! There is a supermarket nearby with very fresh food, and it was easy to make our own meals in the communal kitchen. Kevin is a super sweet bilingual tourism guide and he's very knowledgeable and helpful about travel, wildlife, waterfalls, transportation, etc. - both there and in the rest of Costa Rica. Highly recommended as a simple, rustic accommodation and a wonderful homestay in a small Costa Rican village.
Joe & Jill
2017-03-15T00:00:00Z
Nous avons passé trois jours au rio céleste, tout était parfait. Nous nous sentons rapidement à l'aise grace à cette charmante famille qui prenne soin de leurs invités comme s'ils etaient leurs amis. Les lieux étaient très propres et bien aménagés. Les hôtes s'informent de notre itinéraire à tous les jours afin de pouvoir bien nous diriger et nous conseiller. Nous recommendons ce logis ++++++ un véritable coup de coeur!
Michael
2017-01-18T00:00:00Z
Le village de Bijagua, entouré de montagnes est l'endroit parfait pour être en contact avec la culture typique du Costa Rica. Nous avons beaucoup apprécié notre séjour dans la famille d'Isleny et "Willy": toute la famille nous a réservé un accueil des plus chaleureux. Mon fils a joué au soccer avec le jeune ado de la maison et ses amis Ils se sont tous montrés créatifs pour communiquer er avec lui qui ne parle que le français. Bref un séjour grandement enrichi par toutes les petites attentions de nos hôtes. Bons conseils sur des choses (gratuites pu pas) à faire et à voir dans les alentours. Nous sommes restés 4 nuits sur un voyage de 2 semaines ça été le coup de coeur de notre voyage!
Paule
2017-01-06T00:00:00Z
Isleny and her family are the sweetest people in the world, they were absolutely lovely to stay with. I took the public bus to and from RCB; If you're doing the same, remember to find out what stop to get off at in Bijagua (I believe it's the first one, which is very close to their house). I speak only the most stilted, elementary Spanish but Isleny's daughter speaks great English and her husband spoke enough for us to get by with. Isleny doesn't speak English but one night when it was just us left at the house we had a lovely evening trying to chat. Again, they are just super-friendly, generous people. You can walk into town from RCB to pick up groceries or get dinner at the various restaurants. It's around 10k to the Rio Celeste park entrance. I caught a ride with some other guests there in the morning (you can take a taxi if you don't have a car). If you have the time and energy (and an umbrella) the walk back is gorgeous.
Renée
2016-10-20T00:00:00Z
Best host we had so far in Costa Rica. The family is extremely welcoming, helpful and will make sure you have the best of times. Offering us drinks, breakfast and and they have frogs to see at night. It will defenately be your best location to visit rio celeste. They also were very helpful to help us get there even if we arrived a day late.
Lisa
2016-06-06T00:00:00Z
Perfect place to stay to visit Rio Celeste. The hosts went above and beyond in every way. Muchas Gracias!
Matthew
2016-11-20T00:00:00Z
Mon copain et moi n'avons passez qu'une nuit au Rio Céleste BP, mais nous avons trouvé la famille d'Isleny vraiment charmante. La chambre était bien aérée, très propre. La maison en entier est très bien entrenue. Il s'agit d'un gîte de style B&B chez l'habitant, avec accès à la terasse, cuisine, salon et sdb. La chambre se ferme à clef. Si j'ai bien compris, il y a 3 chambres en locations sur place mais nous étions seul le soir où nous y étions. Nous sommes arrivée vers 21h à Bijagua et avec la noirceur nous n'y voyions rien, nous avons écrit pour dire que nous ne trouvions pas l'endroit et en 15 minutes, on venait nous chercher. Je dois dire que c'était un soulagement! À ce sujet, notez que la maison est sur la rue principale, à droite, environ 500 m avant d'arriver au centre du village si vous arrivez de Cañas. Il y a bien un écriteau qui indique Rio Céleste Backpackers. Super service, Isleny est au petit oignon pour que nous nous sentions confortables. Il est le seul de la famille à se débrouiller en anglais, mais tous sont sympathiques. Le petit déjeuner était délicieux. Je recommande chaudement.
Jasmine
2016-08-12T00:00:00Z
Romtype
Privat rom
---
Eiendomstype
Hus
---
Plass til
2
---
Soverom
Bijagua, Alajuela, Costa Rica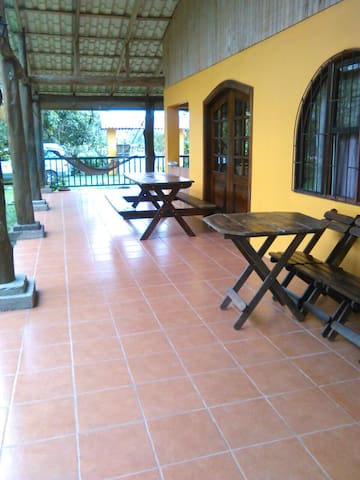 2 miles outside the hubub of central Bagaces. Very quiet, security-fenced, view of the ranch land from back yard, guarded entry at night, parking for numerous cars, large rooms, outside roofed patio and secured car port .
Open floor plan with galley kitchen, offset by a small utility room with lots of shelving for a longer stay!
It's quiet and private, yet close to the small community of Bagaces; i.e., restaurants, local activities, supermarket. Central location for various points of interest in Guanacase; i.e., national parks and reserves, waterfall, thermal waters, beaches, and Liberia and its Daniel O'Duber International Airport.
Romtype
Helt hjem/leilighet
---
Eiendomstype
Hus
---
Plass til
5
---
Soverom
Liberia/Bagaces, Guanacaste, Costa Rica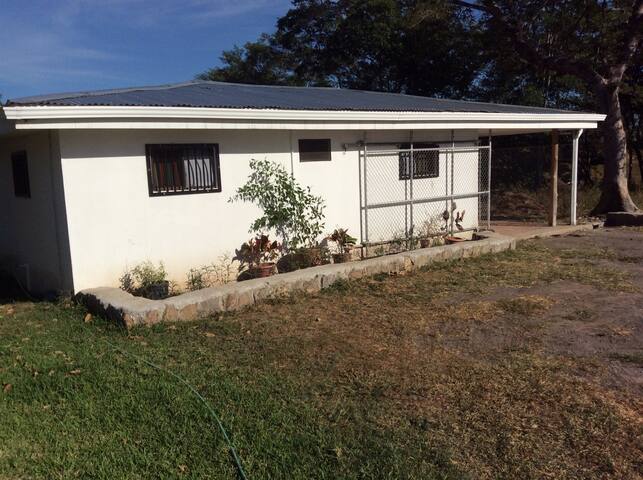 Our location in the quiet rural village of Rio Piedras, also known as Guadalajara on some maps, offers a opportunity to experience the peaceful and friendliness of a traditional Costa Rica village. You will have the opportunity to get to know Costa Rica on a one to one basis.
My place is close to restaurants and dining, parks, great views, and art and culture. You'll love my place because of the neighborhood, the light, the kitchen, the coziness, and the comfy bed. My place is good for couples, business travelers, and families (with kids).
Romtype
Helt hjem/leilighet
---
Eiendomstype
Hus
---
Plass til
6
---
Soverom
Tilaran, Guanacaste, Costa Rica
Our home is big and confortable, with a large living room and an outdoor and indoor patio. We are accustomed of taking visitors. We are located 400 mts from Enrique Baltodano Briceño Hospital, 5 min away from downtown Liberia by car, 15 min from airport and 45 min from the beaches. We have an available room, if the visitors have an infant we can accommodate an extra bed in the room or even a baby playard (see images).
Our house is spacious and comfortable, you will find it has a friendly atmosphere. We are hospitable and it is our desire to help our visitors in their visit to Guanacaste and share all our knowledge of this beautiful spot if you need some recommendations, as long as your travel plan permits of course.
Our home is only 400 mts (0,2 miles) away from Liberia's Stadium. Downtown is 5 minutes away in car. There is a small grocery store at 200 mts and another a little bigger at 1km (1,6 miles).
This place was amazing! Alberto and his son picked my friend and I up from The airport and waited when I couldn't find my friend! They showed us a bit around Liberia and were super sweet and patient with my poor Spanish!
Sarah
2016-06-15T00:00:00Z
Totalmente recomendado. Alberto y Luz fueron muy amables, la habitacion y la casa muy limpias. Excelente desayuno!
Diego
2017-03-25T00:00:00Z
Alberto and Luz are very welcoming people, the arranged our airport pickup and drove us around town to do errands.
Calvin and Simoné
2016-12-20T00:00:00Z
We had a lovely short stay at Alberto & Luz's place. We had a late flight coming into Liberia so it was nice to stay at an Airbnb within a 30 minute drive from the airport. We were greeted by friendly couple Alberto & Luz and the room had all the basic amenities, a comfy bed & bathroom. The next morning we had a delicious traditional costa rican breakfast with eggs, rice & beans, fresh juice and coffee. We even got a tour from Alberto of their beautiful jardin (garden)! Thank you!!
Amanda
2016-12-16T00:00:00Z
It was a short stay, I arrived late and left early but Alberto and Luz were very accommodating, and they made sure i had everything I needed.
Aoibheann
2017-01-19T00:00:00Z
Alberto was so kind and accommodating, we instantly felt at home. The house is tucked away from downtown, but still very close and accessible (we were able to walk to restaurants). He even cooked me breakfast at 5am before my flight! Would definitely stay here again.
Savannah
2017-03-18T00:00:00Z
Very easy to find and the host greeted me with fresh mango papaya and pineapple juice. I was beat from my trip and they respected my hibernation mode. Great value and if you rent a car you can park it in their garage!
Matthew
2016-12-08T00:00:00Z
Alberto y Luz son muy acogedores. Su casa y el patio son muy agradables. La cama es bien confortable. Compartieron tiempo con nosotros para hacernos compartir un poco de la cultura costarricense.
julien
2017-02-10T00:00:00Z
Romtype
Privat rom
---
Eiendomstype
Hus
---
Plass til
2
---
Soverom
Liberia, Guanacaste, Costa Rica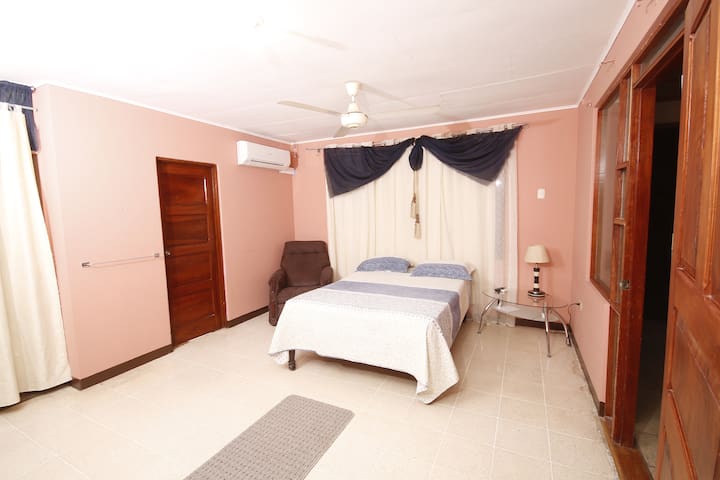 Cozy bedroom! Breakfast is included only on the FIRST morning The house is located 5 min away from downtown Liberia in car or 15-20 min walking. How to get here: on G00gle Maps: Look for "Marlene's House" in Liberia and it will take you directly to my place. 40 min away from the beaches and 1hr away from Volcan Rincon de la Vieja.
Realy calm neighborhood 5 min away from Liberia Downtown by car 15-20 min walking
We stayed at Marlene's place on our last night in Costa Rica. She was extremely welcoming, making us freshly made juice when we arrived. She recommended to we make a quick day trip to one of the local waterfalls which turned out to be a breathtaking experience. The room was simple but clean and comfortable. The best part of our stay was in the last few hours before we left when we hung out with Marlene and her neighbor eating freshly picked fruit in the backyard. I would highly recommend staying here.
Sean
2016-06-04T00:00:00Z
Marlene was very welcoming and a great first stop on our Costa Rica adventure. We had trouble finding it because we were not used to driving without addresses. Marlene had her cousin lead her to her place on his bike so eventually we made it! For anyone driving here in the future we would recommend putting the college she mentions in her directions into maps and having that be your starting point. It is called Colegio Tecnico Artistico Felipe Perez Perez. Our room was clean and comfortable, and we loved the access to her balcony for the sunset. It was noisy outside our room in the morning because it was dia de los ninos. Marlene made us an amazing traditional breakfast before we left, fresh tamarindo juice, and two of the best cups of coffee. She is a great host and despite the language barrier gave us lots of reccomendations! Thanks Marlene!!!
Brittany
2016-09-10T00:00:00Z
Marlene was so amazing! Her charisma and charm are what makes staying there feel like home. She always gave us recommendations and told us exactly where to go and places eat. By the way, The Patio, is a great cheap place to eat and super delish! We walked al the way from the bus station to her house which i totally don't recommend. Take a taxi. Anyways we absolutely loved loved loved the stay with Marlene and seriously cannot wait to come back! I can't wait to see fray and micha again as well! Thank you so so much Marlene! We love you! ❤️
Valerie
2016-08-04T00:00:00Z
We only stayed one night with Marlene, came in on a late flight. But still a great start to our stay in Costa Rica! Marlene left us with a very nice breakfast and answered all our questions about our trip. Cute place and great host! :)
Michaela
2016-08-16T00:00:00Z
Marlene is great I am so happy to have met her. I arrived to Costa Rica with no set itinerary and she went above and beyond to help me plan my first few days. I also ended up going to Nicaragua thanks to all her help and tips. I def recommend staying with her especially if you have any questions about the area. Room is nice and spacious. Great stay!!!
Irasel
2016-07-05T00:00:00Z
I really do not know where to begin to "describe my experience". This was my first trip out of the country alone so I was quite nervous. But Marlene and her home helped ground me pretty quick. When I arrived two girls that were staying there opened up for me. Shortly after Marlene arrived from the market. Slowly but surely I become more and more acquainted with Marlene. She really looked out for me and the girls staying there. From her calling her friend who drives taxis to take us around,to her taking us to her favorite spot to eat. She made me feel more comfortable than I ever expected to feel. She was warm and was like a mother away from home. We had some great conversation about life multiple times. Her kind and loving spirit left me no choice but to open up to her. I guess it really helped that I speak fluent Spanish. Her brother was visiting from San Jose and he was just like her, a pleasure to speak to. One of the last nights I was there he bought some wine for us and we talked some more for a couple hours. I will forever be grateful to Marlene and the hospitality she showed me. If I ever come back to Costa Rica I will without a doubt visit Marlene.
Daniel
2016-06-09T00:00:00Z
Marlene is the most fantastic host and a truly amazing woman! I stayed here two nights and had the most fun with Marlene. She made me a delicious breakfast, let me wash my clothes and was so friendly and helpful. We laughed a lot together! Her house is so clean and beautifully decorated. I would definitely recommend staying with Marlene!
Rhona
2016-02-20T00:00:00Z
We had some problems connecting with Marlene when we first got to Liberia due to some communication problems, which was quite frustrating. The room was adequate, but very warm (there's no air conditioning), and the bathroom wasn't the cleanest. Having said all that, it was a totally reasonable place to stay for a night if you're flying through the Liberia airport, and Marlene was very friendly and warm!!
Morag
2016-02-14T00:00:00Z
Romtype
Privat rom
---
Eiendomstype
Hus
---
Plass til
2
---
Soverom
Liberia, Gte, Costa Rica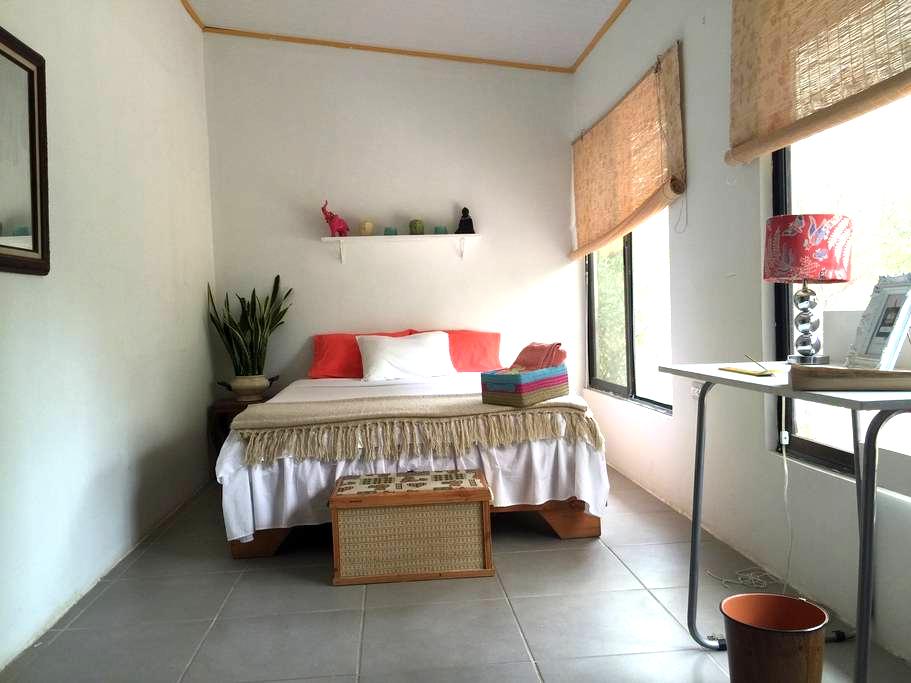 It is private house 15 minutes from the beaches of Brasilito conchal is within a farm is very fresh and full of trees
La casa está ubicada dentro de una finca rodeada de árboles muy fresca cuenta con todos los servicios y está a 15 minutos de las playas .Completamente equipada que cualquier familia que la rente la pasara placenteramente
Me gusta por ser un lugar privado lejos de ruidos y contaminación sonó a
The host canceled this reservation 23 days before arrival. This is an automated posting.
Negar
2017-03-21T00:00:00Z
Romtype
Helt hjem/leilighet
---
Eiendomstype
Hus
---
Plass til
10
---
Soverom
Santa Cruz Cartagena , Guanacaste Province, Costa Rica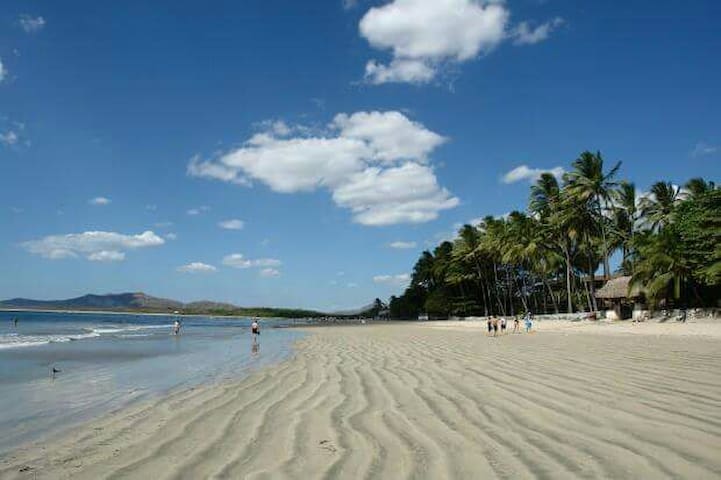 Cozy bedroom! The house is located 5 min away from downtown Liberia by car (20 min if you walk). Beaches: 40 min away from the beaches and 1hr away from Rincon de la Vieja Volcano. Breakfast is included for the FIRST morning, so you feel at home after a long trip! How to get here: on G00gle Maps: Look for "Marlene's House" in Liberia and it will take you directly to my place. Welcome to Costa Rica!
Ist sehr nahe an der Aiport, Liberia, können .Sie zu Hause fühlen.
Es ist ruhig und sehr sicher
Marlene fue un encanto y estuvo disponible en todo momento, ofreciendo deliciosa fruta y batidos, un desayuno excelente y muy buen descanso! Si queréis veniros desde la estación de buses son 30 min andando 5 en taxi, merece la pena en taxi desde el centro pero no desde el aeropuerto de liberia
osane
2016-10-30T00:00:00Z
I loved staying at Marlene's house. She gave me exact directions, so it was easy to get a taxi to drop me off when I arrived at 11 pm. She was waiting and was ever so friendly. We had great conversations in Spanish and English. Bedroom, bathroom and house was just as pictured, cute and sufficient. She cooked me a fabulous breakfast with fresh juice and we just had a great time chatting and laughing while waiting for the driver she arranged to pick me up. I only stayed over night, but would certainly try and stay longer next time
Shelly
2016-02-09T00:00:00Z
Marlene was the best host I could have asked for. She was incredibly helpful when I asked for directions and tips for places to see near Liberia. She always made sure I was safe and called a taxi whenever I needed. She also made breakfast for me every morning and it was great chatting with her to get to know her. I stayed at her place twice when I first arrived in Liberia and when I left - it literally felt like I was coming home from all my travels and it was a great end to my experiences in Costa Rica because of Marlene!
Felicia
2016-08-19T00:00:00Z
Marlene was wonderful, I had a great time staying with her. She was helpful, welcoming and we had very nice conversations. Any questions I had were answered and she really cares about helping you out. If I ever visited Liberia again I would definitely stay with Marlene. Highly recommended!
Sunne
2016-04-15T00:00:00Z
Marleen totally deserves her super host status. The place was clean and comfortable and she was very hospitable directing my cab driver to her house, preparing an awesome breakfast, and helping me find my bus the next day. This is what Airbnb should always be!
Matthew
2016-08-04T00:00:00Z
Marlene was a great host! I only stayed the one night but she made my stay feel very at home. The house is very nice and clean and in a good neighborhood. She even got out of her way to make me some tea to help with my stomach problems. Would definitely recommend staying at Marlene's place!
Janick
2016-03-25T00:00:00Z
Simplemente excelente, se llega facilmente en taxi, y la señora Marlen pasó por mí al pueblo. La cama es comoda, todo está muy limpio y ordenado, el desayuno fue fantástico y la anfritriona es maravillosa, amable y muy atenta, lo recomiendo mil veces. The place is excellent, is very easy to find, Marlene go for me to the central park of Liberia. The house and the room is very clean and confortable, and the best part was the wonderfull breakfast knowing the nice and kind Marlen!, Love this place! very recommend!
Raisa
2016-05-29T00:00:00Z
Marlene was a fantastic hostess! She did everything she could to make me feel at home, and she gave great advice on things to do and see around Guanacaste. She also helped me practice my Spanish and I helped her practice English, which was really great since I had to communicate with people to get around every day. I would definitely stay with Marlene again if I go back to Liberia!!
Kyrene
2016-05-04T00:00:00Z
Romtype
Privat rom
---
Eiendomstype
Hus
---
Plass til
1
---
Soverom
Liberia, Gte, Costa Rica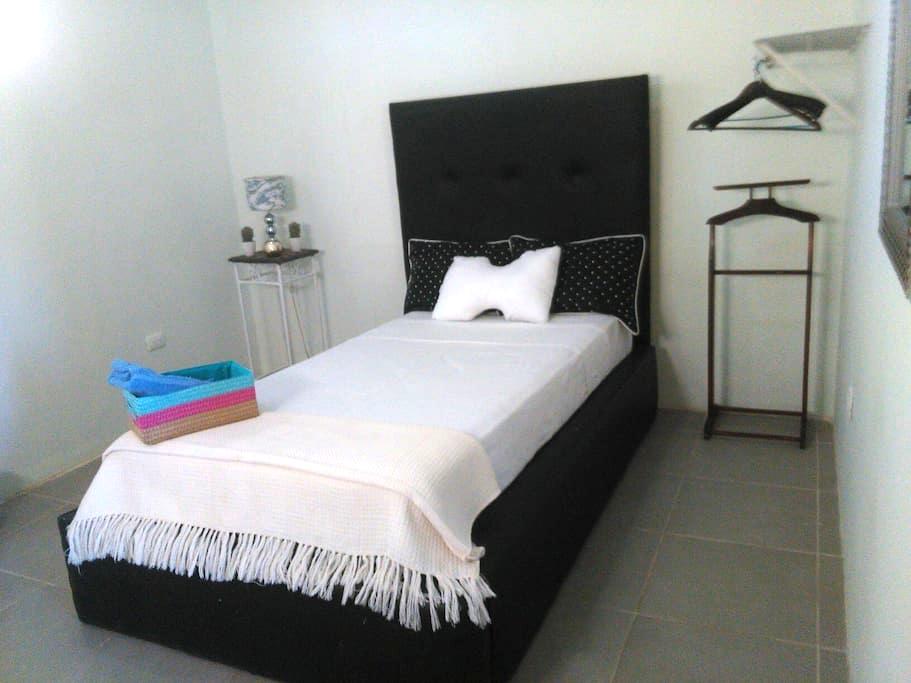 Es solo una bella casa o villa ecológica, remodelada en setiembre 2016, rodeada por 8 hectáreas de terreno con muchos árboles y fauna silvestre, Internet WIFI, cocina equipada (refigerador, cocina eléctrica, horno microndas, utensilios varios, etc.), TV satelital, cancha de futbol, piscina con meat roaster coal, cuenta con río totalmente limpio proveniente del volcán. El Parque Volcán Rincón de la Vieja se ubica a 9 kilómetros de la villa.
Casa con estacionamiento, TV vía satélite (SKY), piscina (4 x 9 metros y 120 cm. De profundidad.) Con rancho y parrilla de la barbacoa, campo de fútbol, senderos para el río (agua sulfurosa), dos habitaciones con aire acondicionado, microondas, congelador, refrigerador grande, olla arrocera eléctrica, cocina eléctrica con horno 4 discos, utensilios de cocina. equipado con cocina, internet, áreas verdes, árboles frutales, bosques, pájaros, mariposas, 8 hectáreas de tierra para disfrutar.
A 500 metros en el centro del pueblo de Curubandé se ubica un pequeño supermercado.
Jorge was very friendly. We only had a quick stop in Liberia for one night but he was very accommodating. It's a very efficient home with good air conditioning, tv's, and clean blankets.
Stanton
2017-03-20T00:00:00Z
We stayed at Los Encinos for two nights during our costa rica vacation. The outdoors are great with good sized swimming pool and grill. Rooms are a tad small with bunk beds in both. Air-conditioning worked very well. Nothing fancy, but we had a very pleasant stay location is great for Rincon de la Vieja national park.
Yoav
2015-01-07T00:00:00Z
Jorge is a blast and the house is exactly as described. Jorge met us at the gate and immediately gave us a very friendly greeting. After showing us the casita, he invited us to his front porch and immediately served up some cold beers. We talked a bit about his farming and our backgrounds, and then he took us on a tour of the farm, showing us his limon and mango trees, the river gorge that runs through his property, his dogs, chickens, ducks, geese, and everything else. It was a great tour. The next morning, my dad walked over to Jorge's house to ask a question, and Jorge and his wife immediately sat him down and started feeding him breakfast! Overall, Jorge and his wife were very friendly, fun, and generous hosts. I'm glad we met them. The casita is exactly as described in the airbnb listing. The pool was a pleasure in the heat of the day, and the front porch was a great spot to relax. The second bedroom (not shown) also has a bunk bed, but has an extra bed off to the side, which makes it a bit more cramped, but that wasn't a problem for us. Both rooms had AC, but we didn't need them due to the cool weather. Jorge will do whatever it takes to fix any problem you are having. For example, the hot water in one of the showers didn't work when we arrived, but Jorge flipped a breaker switch and got it working. We also had problems with the wifi in the casita, so Jorge let us use the the network in his house. If you have any problem here, just ask Jorge. He will make it right. Oh: for directions to the place, just (SENSITIVE CONTENTS HIDDEN) "villa los encinos curubande de liberia".
Rob
2016-01-21T00:00:00Z
Jorge was an amazing host. He was there waiting for us the moment we arrived ensuring we had everything. He told us where to buy our food, what was close by, how to get to different places. Everything we needed he was able to provide immediately. The place was nice, the location was great, the property was beautiful and the pool was terrific. Unfortunately we had terrible winds that made it almost impossible to keep anything clean of dust. The weather just didn't cooperate, but we enjoyed our stay just the same.
Lucy
2016-02-13T00:00:00Z
The home in this listing isn't in Liberia, but in Curubandé. It's close to the volcano Rincon. The outdoors are gorgeous, the pool is clean. The home is simple. It's ok if you have a car.
ERIKA
2013-12-06T00:00:00Z
Nous avons séjourné 3 nuits à la Villa Encinos avec nos trois enfants et nous avons été très bien reçus. Nous avons été accueillis chaleureusement et tout a été fait pour faciliter notre séjour. La maison est située sur un terrain magnifique que nous a fait découvrir avec passion notre hôte, Jorge. Nous avons profité pleinement de la piscine. Le fait que la maison soit située dans les collines assure des nuits plus fraiches et un bon sommeil. Tout était à la hauteur de nos attentes. La maison est située près d'un petit village à proximité du parc Rincon de la Vieja et à 15-20 minutes de Liberia, ce qui représente un avantage puisqu'on a pu y trouver des restaurants et y faire des courses. La proximité de l'aéroport est aussi un autre avantage.
Francois
2016-01-11T00:00:00Z
We had an amazing two night here. The house sits in 8ha of land just next to the National park so you have plenty of birds around and some small mammals over night. A swimming pool and a local river nearby makes it great if you fancy to stay home. The location is perfect just 40 mins away from the beach and next to amazing hikes in Rincon de la Vieja. Definitely a place to stay. The house comes with antimosquito lights which makes it great during the evening. The host Jorge was very good and attentive.
Carlos
2017-01-06T00:00:00Z
The house is Little with very uncomfortable bunk bed in each room. The outdoors are beautiful with with a nice clean pool, close to the volcano.
marjorie
2016-12-31T00:00:00Z
Romtype
Helt hjem/leilighet
---
Eiendomstype
Hus
---
Plass til
5
---
Soverom
Liberia, Guanacaste, Costa Rica
Mi alojamiento es bueno para parejas y aventureros.
We actually did not spend the night at margoth. The room were not what we expected from a "ranch". This is actually kind of a small hostel in a small family house. It might be ok if you are looking for a cheap place to sleep close to rio celeste or if you want to meet locals. Margoth seemed very nice and welcoming. But we were looking for a cosy room for a couple to stay and that was not it. The double room is also too expansive for what it is (~30-35$ that night), compared to other airbnb experience we had in costa rica for the same range of price.
Adrien
2016-09-14T00:00:00Z
Romtype
Privat rom
---
Eiendomstype
Hus
---
Plass til
2
---
Soverom
Alajuela, Alajuela, Costa Rica
Fortuna - Airbnb
:
Gjennomsnittlig

4.87

av

5

stjerner fra

295

gjesteanmeldelser
1

–

18

av

78 Hjem til leie
Oppgi datoer for å se fullstendige priser. Ekstra gebyrer gjelder. Skatter vil kunne tilføyes.