Wonoka Hütte, ein Outback Miete für mehr als 20 Jahren. Nur 15 Kilometer nördlich von Hawker, South Australia, Wonoka Cottage ist das perfekte Ziel zu suchen, Abenteuer, Natur erleben und zu erfreuen in der herrlichen Umgebung des Zentral Flinders Ranges. Reichlich Wanderwege, Radwege (die Heysen & Mawson Pfade kreuzen die Eigenschaft) mit einer reichen und vielfältigen Flora und Fauna und den Flinders Ranges an der Haustür. Wonoka Cottage ist gut für Paare, Solo-Abenteurer und Familien (mit Kindern).
Das Hotel liegt nur 15 Kilometer nördlich von Hawker, South Australia, ist Wonoka Cottage das ideale Reiseziel Abenteuer, Natur erleben, zu suchen und in der herrlichen von der Zentralen Flinders Ranges umgibt zu erfreuen. Mit dem Ältestenrat Bereich als Kulisse, ist Wonoka Cottage Teil Wonoka Station, einer 20.000 Acre Schafe und Rinder-Eigenschaft, die eine reiche Geschichte und Kulturerbe hat. Für die Abenteurer: reichlich Wanderwege, Radwege (die Heysen & Mawson Pfade kreuzen die Eigenschaft) Rundfahrten, lokale historische Bereiche von Interesse bedeutende Aborigines Kulturstätten sind vor der Haustür. Rich & abwechslungsreiche Tierwelt ist reich auf dem Grundstück und die Flinders Ranges National Park ist leicht zu erreichen-so, wenn Sie ein begeisterter Naturforscher, Fotografen, Künstler sind, oder Astronom, oder Sie suchen die Ruhe und Entspannung nur ein Bereich eines solchen majestätischen natürliche Pracht kann bieten ... Wonoka Cottage erwartet.
Sind weit weg
Amazing place, you can see more stuff in there than in the National Park. Super clean and super friendly host.
Simona
2017-01-02T00:00:00Z
Wonoka cottage è stato il miglior modo di incontrare i Flinders Range. Tutti noi siamo rimasti completamente soddisfatti da tutta la struttura, dai servizi offerti e dalla posizione insuperabile. E non parliamo dei nostri ospiti: persone meravigliose, contente di incontrarci e di poterci ospitare a casa loro.
Franco
2017-04-02T00:00:00Z
We enjoyed the rustic and rugged environment with views of Rawnsley Bluff. Accommodation was basic but clean and comfortable with friendly hosts.
Alexander (Sandy)
2017-04-04T00:00:00Z
Excellent base for exploring the Flinders Ranges and getting away from it all. Cheryl and Peter are great hosts, highly recommended!
Johannes
2017-03-27T00:00:00Z
My three friends and I stayed here for two night and it was such an experience that we all loved! The place it's self was fairly basic and simple, a living/dining room and then two bed rooms and a bathroom that you had to go outside for. But the property and surrounds were amazing and Cheryl and Peter were really helpful, generous hosts. If you stay, I recommend walking to the top of the hill, behind Cheryl and Peter's house to watch the sunset
charlotte
2017-02-08T00:00:00Z
Stunning setting. Not for the faint hearted! Tricky with small children. We look forward to trying again when the kids are older.
Hannah
2017-03-16T00:00:00Z
Wonoka Cottage was a great place to stay for the Flinders Ranges. The cottage was nice and secluded and it gave us a good look into the Australian outback.
Hunter
2017-03-13T00:00:00Z
The communication from Peter and Cheryl before our stay was great, and Peter came to meet us on arrival despite it being after dark. The cottage has a slightly quirky layout, none of the rooms are connected internally, meaning you have to go outside to get to the bedroom, kitchen, toilet, bathroom. The Air-conditioning in the main bedroom is not yet connected, which could be uncomfortable in the hotter summer months. Overall the cottage is clean and comfortable, the hosts are very friendly and we enjoyed our stay.
Alan
2016-10-30T00:00:00Z
Romtype
Helt hjem/leilighet
---
Eiendomstype
Hus
---
Plass til
7
---
Soverom
Hawker, South Australia, Australia
Spectacular night out! Fly in a helicopter past Rawnsley Bluff, then head for Chace Range where your swags for the night will be set up for you. Have Chace all to yourselves for the night! Simple dinner and breakfast provided. Pick up next morning. $515pp per night. Minimum 2guests per flight. Maximum guests overnighting is 4.
Sleep 792m above sea level on this jagged beauty. 2 quality double sleeping bag and swag will keep you warm (maximum 4 guests).Outdoor toilet provided.
No loud neighbours to deal with!
Romtype
Helt hjem/leilighet
---
Eiendomstype
Telt
---
Plass til
2
---
Soverom
Flinders Ranges, South Australia, Australia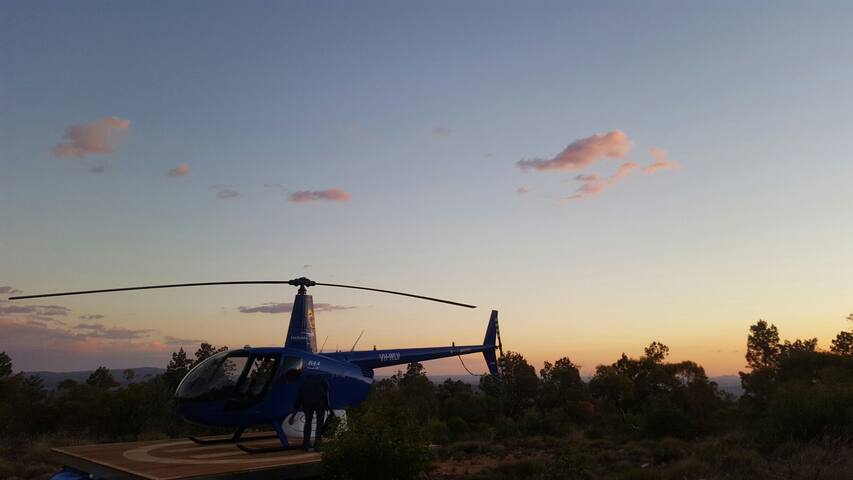 당신의 플린 더스 기억에 남는 편안한 하나를 도망 범위합니다. 정착 및 원시 돌과 흰 벽 인테리어, 고급스럽게 마무리 욕실, 개방형 거실과 야외 엔터테인먼트 영역을 초대로 변환 된 교회의 매력에 의해 영감을. 현대적인 가구와 독특한 아웃백 스타일로 완성.
원래 1900 년대 초기에 건설, "교회는"시간이 지남에 따라 변화하고있다. 이 제안에 오늘 개인 주택으로 마무리 거주 아트 갤러리에서 예술가에 이르기까지 기념 교회로 사용을 시작하고있다. 호커에서 "교회는"새로 높은 기준에 개조 된 모든 멋진 기능을 제공하고 멀리 가정에서 가정에서 기대할 수있는 편안합니다. 가정 요리에 대한 현대적인 스테인레스 스틸 가전 갖추고 있습니다. 레인 샤워 헤드와 세탁기와 대형 샤워 실. 두 퀸 사이즈 침실. 개방형 거실과 재활용 벽돌 섬 벤치, 나무 화재, 플라즈마 TV 라운지와 식당 공간. 대형 접이식 문은 부엌에서 새로 덮여 엔터테인먼트 영역에서 구축 밖으로지도한다. 오븐 또는 새로운 스테인레스 스틸 지하 퍼 골라 나무 발사 한 피자 오븐과 야외 엔터테인먼트 영역으로 나무 해고 피자를 사용합니다. 새로운 스테인리스 BBQ 아웃 도어 식사와 전체가 설정합니다. 늦은 도착 또는 이른 아침 태양 상승 편리 커피와 차와 함께 자신의 피자베이스와 피자 오븐을 활용하는 방법에 대한 성분 및 지침 제공됩니다.
호커는 아웃백 마을에서 기대할 수있는 모든 필수품을 제공합니다. 이 완벽하게 수리 할 수있는 차고, 제공하는 연료 및 수리, 20 미터 숙박 시설에서 모퉁이 주변 관광 정보 센터가 있습니다. 세계 유명한 파노라마 아트 갤러리 맞은 편에 위치한 호커 일반 상점은 당신의 터커 상자에 대한 모든 필수 용품을 제공합니다. 사용자의 편의를 위해 식사와 시원한 맥주를 주 7 일을 제공하는 지역의 술집 거리를 걷자.
The chapel was lovely.The beds were wonderfully warm and comfortable.The chapel is well equipped for a stay close to the Flinders Ranges.Thanks Barney
Heather
2016-05-14T00:00:00Z
We had a beautiful time in this accommodation. The people were very friendly and helpful. It was definitely a home away from home.
Hans
2016-11-01T00:00:00Z
Barney was an extremely friendly, welcoming and easy/timely to communicate with host. The accommodation was gorgeous and presented as expected, with the exception of some relatively minor fixes needed. We were VERY keen to use the pizza oven and pleasantly surprised to learn that dough making supplies, a recipe, and instructions for the pizza oven were included. One piece of advice for future travellers wanting to use the pizza oven - unless you are a master fire started, I would recommend budgeting more than 1-hour to get it really heated and going with an excellent cooking-capable fire. It is definitely worth the experience to try to oven out! The electric blankets on the beds were extremely appreciated as it was very cold during our stay. The wood stove was lovely to use, and did a great job of heating the main room. We ran into a plumbing issue that would not have been anticipatable by the host, and he was excellent to deal with through the issue.
Laura
2016-06-14T00:00:00Z
Great place to stay, great spot in hawker and so close to the flinders rangers national park. Lots of wildlife to see
lachlan
2016-05-04T00:00:00Z
The church was great with awesome scenery just up the road. It can be hot during the summer months, however the fans provide some comfort. We would definitely stay again. Barney was very responsive.
Doug
2016-12-28T00:00:00Z
The Church is a beautifully renovated building with some unique touches, close to Wilpena Pound and great walks to discover. Lovely and quiet spot, enough space for 2 couples to sleep , the pizza oven and fire place were a lovely touch . Needs a few finishing touches , We enjoyed it and would recommend as a nice getaway. Hawker has one pub which serves pub meals and pizzas on Friday nights , a good out back town experience.
Sue & Stephen
2016-04-11T00:00:00Z
A great base for exploring the Flinders Ranges and it was handy to be in town and close to the shops of Hawker. Great value for that amount of space and with the change (from what the resorts would have cost) we took a great flight out over Lake Eyre.
Linda
2016-09-22T00:00:00Z
What a cool place to stay! Comfy beds, lovely fixtures. Great jumping off point to Wilpena Pound. We enjoyed making our first wood-fired pizza too. Would happily stay again.
Jason and Eleanor
2016-05-17T00:00:00Z
Romtype
Helt hjem/leilighet
---
Eiendomstype
Andre
---
Plass til
4
---
Soverom
Hawker, South Australia, Australia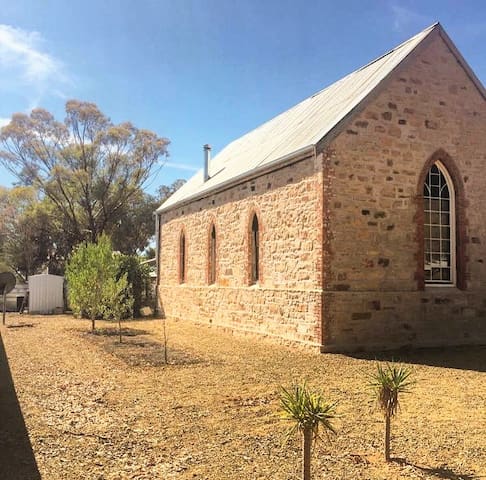 Con capacidad para 2 personas, nuestra tienda de campaña Eco es un marco de acero, tienda de lona aislados con baja eco cubierta. Se proporciona una cama de matrimonio, incluyendo ropa, una pequeña cocina y muebles de exterior de calidad. Completar con un baño adjunto con agua caliente solar - sin guión para un bloque de baño compartido en el medio de la noche! Situado en un lugar aislado para su tranquilidad y la privacidad y las impresionantes vistas panorámicas en todas las direcciones, la Tienda Eco es impresionante para una escapada romántica!
Loved this place. couldn't recommend it more! beautiful view and wild life everywhere.
Bryan
2017-03-12T00:00:00Z
Romtype
Helt hjem/leilighet
---
Eiendomstype
Telt
---
Plass til
2
---
Soverom
Hawker, South Australia, Australia
Oppgi datoer for å se fullstendige priser. Ekstra gebyrer gjelder. Skatter vil kunne tilføyes.