Perfect apartment for visiting Venice and the Brenta Riviera. Great for couples and for those who want tranquility. Newly refurbished, centrally-located apartment in a cool neighborhood. There is a direct bus to Venice.
Convenient to public transportation. Bus stop directly in front of apartment.
historical Venetian villas and fantastic seafood restaurants all within walking distance
Ein sehr schöne kleine Stadt, Mira - die Wohnung liegt direkt an der Bushaltestelle. Damit konnten wir schnell nach Venedig fahren. Unser Gastgeber war sehr freundlich und zuvorkommend. Man konnte ihm jeder Zeit schreiben und er kam und half immer sofort. Er hat sich sehr liebevoll um uns gekümmert und gab wertvolle Tipps. Die Wohnung war überraschend gross. Modern eingerichtet, hell und sehr bequem. Es wurde sogar eine Kaffeemaschine mit Kapseln zur verfügung gestellt, das war uns eine riesen Freude. Wir werden ihn gerne wieder besuchen und können ihn jedem mit ganzen herzen empfehlen!
Annika
2016-11-01T00:00:00Z
Tres beau sejour chez Andrea, tres joli appartement et tres propre. Le quartier est tranquil, a 35 mins de Venise. Je recommande vivement. Merci Andrea
Chaymaa
2016-08-15T00:00:00Z
The host was very nice and helpful, he helped us with every problems we had on our trip :) The apartment was also great, it was even better than we expected :)
Bartosz
2016-08-29T00:00:00Z
Logement idéale pour visiter Venise : arrêt de bus et ticket en vente juste devant la maison, à 30min de Venise en bus. Appartement très agréable, bien équipé, présence d'air-conditionné, etc. Notre hôte, très sympathique et disponible, nous a donné de nombreuses informations utiles pour visiter Venise. A recommander !
Gilles
2016-07-23T00:00:00Z
NICE HOST NICE HOME, THANKS TO ANDREA WE HAVE A VERY GOOD TRIP
Delphine
2016-11-19T00:00:00Z
Le logement était très agréable situé à 2 pas du bus qui mène directement à Venise (en 40 mins). Andrea a été très sympathique et nous a donné de précieux conseils.
Christopher
2016-09-09T00:00:00Z
Andrea's place is fantastic! My best Airbnb experience yet. The apartment is lovely and is stocked with anything you could possibly need. Food markets, restaurants, and transit is all around the apartment. The bus to Venice is literally across the street and comes frequently. Andrea was reachable on a moments notice and was a fantastic host. Stay here if you can!!
Jason
2016-08-01T00:00:00Z
Andrea welcomed us very nicely. There was a flooding in the apartment when we arrived so he paid us a b&b very close to the place. But it all went very fine, he gave us very good advices! Our advice: get to Venice by train from Mira Mirano train station. It's 2.5€ per person and 20 minutes to get there! Don't go there with your car :)
Nicolas
2016-09-19T00:00:00Z
Romtype
Helt hjem/leilighet
---
Eiendomstype
Leilighet
---
Plass til
2
---
Soverom
Mira, Veneto, Italia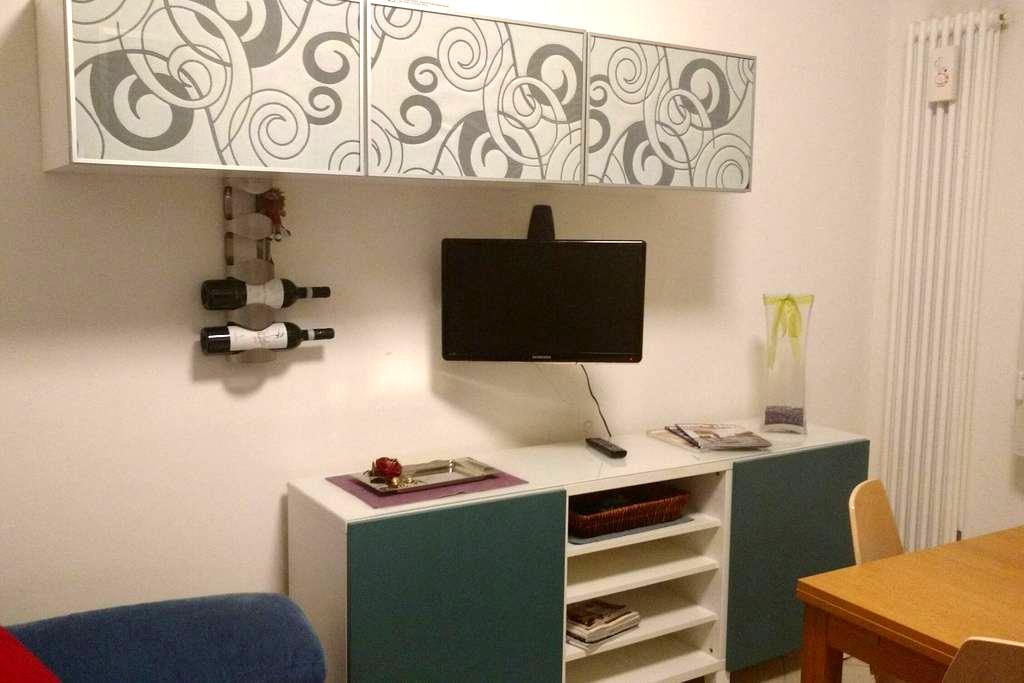 Diese Duplex von 107 m2 befindet sich in einem Turm 16. historischen venezianischen Villa, vor der berühmten Riviera del Brenta. Das Hotel liegt im Zentrum von MIRA, einem typisch venezianischen Dorf der Côte d'Azur, hat diese Wohnung unverwechselbaren Charakter, chic und Lifestyle, sowohl klassische als auch zeitgenössische.
Die Duplex verfügt über 107 m2, mit einer unabhängigen Außeneingang auf der Terrasse 12 m2, direkt an der Riviera del Brenta zu sehen, mit 2 Master Schlafzimmer, 2 Badezimmer, 1 Küche. Der geräumige Wohnraum ist auf 1er Etage, Blick auf Riviera del Brenta, mit einer Terrasse, völlig offen auf der Küche, mit komfortablen Layout, Plasma 55 'und Ethanol Kamin. Ein kleines technisches Büro ist erreichbar mit Waschmaschine / Trockner Maschine. Ein komfortables Badezimmer 23 m2 belegt dieses Niveau, mit Dusche Stein, Stein Waschbecken, WC und Bidet. Die Zwischenstufe, Blick auf den Garten, sehr entspannend, wird durch die SUITE 01, mit typischen 16eme Holzrahmen, Öffnung auf Garten besetzt, sehr ruhig, mit einem persönlichen Kleiderschrank, Büro Konsole und Smart TV 55 '. Kingsize-Bett 180 * 200 Der zweite Plan offen auf der Suite / Badezimmer 2, 32 m2, unter typischen Holzbalken aus dem 16., sehr ruhig, beleuchtet durch drei Dachfenster (elektronische Verdunkelungsrollo), mit einem persönlichen Kleiderschrank. Kingsize-Bett 180 * 200, möglicherweise getrennt. Das komfortable Badezimmer ist auf dem Zimmer direkt geöffnet, mit einem wunderschönen Badewanne, 1 Stein Waschbecken, WC und Bidet. AUSRÜSTUNG 3 SMART TV 55 '(2 Suite und Living) Satelliten-Kanal, Französisch TNT-Kanal (35 Französisch Channel) Kaffeemaschine NESPRESSO (Kapseln auf Anfrage in Extras) Kaffeemaschine DELONGHI (Italian Cafe am Platz) Backofen und Mikrowelle Qualitätsgeschirr Geschirrspüler mit einer Kapsel am Tag Bio Olivenöl und Essig, Zucker, Salz und Pfeffer Luxus, ökologische und gemacht in Italien, Kingsize-Bett, (PHONE NUMBER HIDDEN) Jahreszeiten Antiallergikum Bettwäsche Luxus-Bad-Tuch Luxus 4 Antiallergikum und komfortable Kissen von Bett Matratzen und Kissen mit Schutzabdeckung.
Das Hotel liegt eine 12 km vom Meer und Eingang Brücke Venedig, ist Mira eine kleine und historische Stadt, durchzogen von der Riviera del Brenta. Zwischen dem 16. und 16. Jahrhundert durch die romantische Landschaft verführt, die Ruhe der Riviera del Brenta, die Venitian Adel, auf dem berühmten Fluss gebaut, prächtige Villen und Palast von größten Architekten: Palladio PRETI, Scamozzi und Frigimelica. In Mira findet man die größte Konzentration von Villas. Unter den berühmten Bewohner der Riviera del Brenta, Könige von Frankreich und Russland, Napoleon, Casanova, Byron, dem Dogen von Venedig. Einige sind noch bewohnt, andere können besichtigt werden, für die Öffentlichkeit zugänglich. Mit einer solchen Geschichte, ist es nicht verwunderlich, dass so viele Menschen lange, um zu kreuzen die Riviera del Brenta nach unten auf einem der antiken Burchiello ist, ein typisches Flussboot, der die Städte Padua und Venedig zu verbinden verwendet.
Maison magnifique , Angela est vraiment symphatique . Un sejour sans faute ! Un grand merci
Coralie
2017-02-17T00:00:00Z
L'appartamento è assolutamente perfetto!si trova in una splendida posizione panoramica, a pochi km di distanza sia da Venezia che da Padova, comodo ai mezzi pubblici ed ai servizi. Tutti gli ambienti della casa sono confortevoli, arredati con gusto e coerenza; la cucina perfettamente attrezzata e la pulizia è impeccabile. Angela è un host molto cordiale; gentile e disponibile per ogni richiesta. Assolutamente consigliato!
ilaria
2017-01-21T00:00:00Z
What an amazing place!!! Truly a stunning architecture work, where one can enjoy the culture of living in the town of Mira with style and comfort. Enjoyed our time, visiting Padua and Venice- both 20km away- anice ride away, checking out some of the Pallladian villas of the Veneto. Riviera del Brenta has a cute little farmers market going on and of course great cafe and pastry at local bars. Il fascino dell'Italia!!! Angela was spot on with all the info. The flat was neat and tidy with all the modern features and charming details. Love it!!
Grega
2017-01-01T00:00:00Z
This apartment is stunning! We had a wonderful time here and are still fascinated by the interior design. The apartment is very clean and has everywhere little gadgets which are super handy, such as the USB slots next to the bed. The apartment is located next to a river and it's really quite. The train station of Mira is 5 minutes by car. And a bus station is directly on the opposite site of the street where the villa is located. The villa offers a parking lot, wifi, a sound bar and 3 flat screens. To get to Venice the train is super convenient and very cheap compared to parking lots. Our host Angela is not only an incredible architect she also responses within minutes with super accurate and helpful information. We had a wonderful time in Angela's apartment and the only thing we can honestly say is a big huge thank you for that wonderful experience!
Jascha
2017-02-26T00:00:00Z
The house is absolutely beautiful and I would definitely recommend it. The area is strategically located for a variety of interesting tours.
Edward
2016-12-18T00:00:00Z
Angela's place was fantastic! Gorgeously updated, spacious, and with everything you might need and more. If youre planning on going to Venice by car is 20 something minutes away , but if you would rather go by bus the stop is right accross the street. Out of all 4 places we stayed in while in Italy this was absolutely hands down the best one.
Leandro
2017-03-25T00:00:00Z
The place is very convenient for a car. The house is exactly like in the picture and even better in the real place. The Neighborhood is peaceful and quite, really good for relaxing. The house has everything you will need and perfect for a baking lover because the host provided you everything. There are two bathrooms and two comfy bedrooms with lovely bed sheets. Despite the fantastic decoration, the house is really clean and neat. We really enjoy staying in Angela's place and hope to go back soon. Angela's place is the best Airbnb we ever went in Italy.
Juthamas
2017-03-29T00:00:00Z
A truly beautiful and comfortable home.
Edward
2017-01-07T00:00:00Z
Romtype
Helt hjem/leilighet
---
Eiendomstype
Leilighet
---
Plass til
4
---
Soverom
Mira, Veneto, Italia
We are 20 minutes from Venice and 30 minutes from Padua by public transport which stops in front of the house, the Venice Airport is 45 minutes away by car, the city of Mira center is a 10-minute walk, c 'it is a shopping center 5 minutes, restaurant bar tobacconist and tickets for bus in front of the house .. My accommodation is suitable for couples, business travelers and families (with a child).
Coming from Milan A4 motorway exit Dolo. A Mira to Venice Coming from Trieste take statele SS11 direction Padova. .
Quiet with all facilities.
Logement trés agréable en banlieue de Venise ! Trés bon accueil de nicola et son épouse ! Je recommande ce logement ! Merci encore à eux deux !
nicolas
2017-01-03T00:00:00Z
The stay at nicola's place was really cozy. The house is beautiful and very comfortable. The house is in Mestre but there is no problem to go to Venice as the bus stop is just in front of the house. Nicola and his wife were really sweet and kind. I would surely stay with them the next time i plan to go to Venice.
taran
2017-02-22T00:00:00Z
Nicola's place was easy to find, right next to a direct bus to Venice and had safe parking as a bonus. There's a clock nearby that chimes but you can barely hear it. We would go back again!
Naomi
2017-04-13T00:00:00Z
The nice appartment, it looks smaller then on photos but still very comfortable and even more cozy than we expected. Also there was a tiny Narnia and plenty of strange funny things. We felt us as we were playing in the "escape room".
Yulia
2017-02-28T00:00:00Z
A casa está bem situada, com transporte para Veneza e Pádua mesmo à porta, num bairro calmo e bem servido a nível comercial ( o supermercado era do outro lado da rua, com uma frutaria e um café ao lado, assim como restaurantes). A casa tinha o essencial e não se ouviam barulhos da rua. Recomendo vivamente.
Sara
2017-04-11T00:00:00Z
Die Wohnung ist sehr gut, es hat alles, was man braucht - Seife, Handtücher, Fön. Die Küche ist sehr gut ausgestattet. Die Beschreibung ist ziemlich genau. Bushaltestelle nach Venedig liegt in der Nähe des Gebäudes. Nikola ist sehr höflich.
Ivelina
2016-11-01T00:00:00Z
La casa è molto comoda ai mezzi da e per Venezia/Padova e ai servizi. Casa grande spaziosa e accogliente. Nicola e sua moglie persone splendide che rispondono ad ogni esigenza. Lo consiglio vivamente.
Laura
2016-10-28T00:00:00Z
Romtype
Helt hjem/leilighet
---
Eiendomstype
Leilighet
---
Plass til
3
---
Soverom
Mira, Veneto, Italia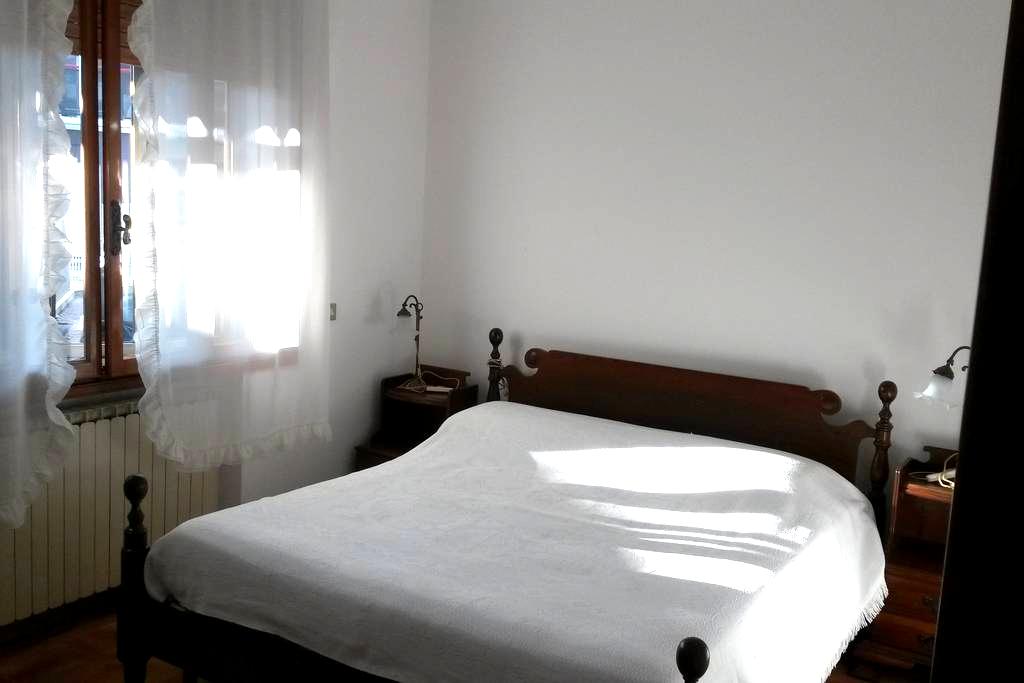 In der Nähe der Autobahn A4 und der Bushaltestelle in weniger als 30 Minuten nach Venedig und Padua gehen. In der Mitte, hell, einfach und elegant. Mit Blick auf den Fluss mit schöner Aussicht. Es ausgestattet mit allem Komfort, kostenloses Wi-Fi, Smart-TV, Mikrowelle, Kühlschrank, Nespresso-Kaffeemaschine, Klimaanlage, Waschmaschine / Trockner, Safe. freien Zugang zu einem Sportzentrum, in unmittelbarer Nähe, mit Tennisplätzen, Sommer Swimmingpool und ein Restaurant für unsere Gäste.
Das Riverside Suite ist mit viel Liebe zum Detail gelegen, so bemessen, für maximal 4 Personen. Wir haben versucht, es funktionsfähig zu machen, und zur gleichen Zeit, liefern sie in einem nüchternen und einladendes Design. Alle Geräte sind in der Klasse A oder einer höheren Kategorie. Die schallisolierten Fenster sorgen für einen angenehmen Ruhe garantieren. Hergestellt mit natürlichen Materialien und Farben, damit der Schutz der Umwelt und macht es mehr Spaß, Ihren Aufenthalt. Sie werden wirklich im The Riverside Suite zu Hause fühlen.
Mira ist eine angenehme Stadt, das Flaggschiff der Riviera del Brenta. Die zahlreichen Villen und nicht weit von Venedig, Padua und Treviso (alle erreichbar in weniger als 30 min.), Legen Sie es in einer strategischen Position, um einen ruhigen Urlaub zu genießen, weit weg von der Hektik der Stadt. Ein kurzer Spaziergang von The Riverside Suite, finden Sie: Supermarkt, Geschäfte zum Einkaufen, Cafés und vielen Restaurants mit Spezialitäten aus der Region Veneto, bekannt und berühmt in ganz Italien. Direkt unter dem Haus gibt es eine Eisdiele, zwei Restaurants und einen Supermarkt zu Fuß erreichbar mit vorgefertigten Köstlichkeiten. Die Bushaltestelle nach Venedig und Padua ist 200 mt. Der Bahnhof ist 3 km, mit kostenlosen Parkplätzen.
vera and andrea were amazing hosts and the appartment is everything you would want. aircon works really well and the modern decor is lovely. location of the appartment is good with venice in 20 min traintime. verona 1h drive padova 30min. all and all we loved it.
Margot
2016-08-17T00:00:00Z
Il soggiorno al Riverside Suite di Andrea e Vera è stato impeccabile: dall'arrivo, alla sistemazione fino alla partenza l'host ha fornito tutto il supporto possibile rendendo l'esperienza assolutamente consigliata sopratutto a famiglie con bambini come la nostra!
Alberto
2016-07-31T00:00:00Z
Andrea , Vera and Littly Giovanni will be missed. What an Amazing experience. Something words cannot describe. When we left their place we started missing it. Their Apt is so beautiful that i felt i want a home like that. Anyways Andrea had been in touch with me since i booked their apt 3 weeks before. Our Communication was seamless. Everything was great about this trip. Wonderful ..... Amazing .........Fantastical. I wish Andrea has holiday apt's everywhere in Europe so that we can visit.
NIVANT
2016-07-12T00:00:00Z
Prachtige ervaring meegemaakt mede dankzij de perfecte ligging van het appartement. Station 5 min rijden. Prachtige zwembad ook 5 min rijden. Het appartement voelt en ruikt als nieuw. Alle voorzieningen zijn perfect. Andrea en Vera super leuke en sociale mensen die bereidt zijn in alles bij te staan. Dank dat wij hier mochten verbljjven. Zeker aan te raden!
Soker
2016-08-11T00:00:00Z
Alles so vorgefunden wie beschrieben... keine Kritikpunkte. Wir waren sehr zufrieden.
Gerlinda
2017-02-24T00:00:00Z
Nous avons été très bien reçu par Andréa et Véra, ce sont des personnes charmantes et chaleureuses qui ont tout fait pour que nous passions un agréable séjour. L'appartement est neuf, confortable et fonctionnel. Il est décoré avec goût et avec des matériaux de qualité. Il est facile et pas cher de se rendre à Venise par le train (5 euros aller-retour par personne, 25 minutes de trajet). La gare est située à 3 minutes en voiture (parking gratuit). L'accès à la piscine est très appréciable en cas de chaleur, elle est située à 3 minutes en voiture. Ce fût un plaisir de rencontrer ces hôtes et nous vous conseillons vivement d'en faire autant !
Elhadj
2016-07-20T00:00:00Z
thank you for a great stay! wonderful appartment for our family of 4 (2 small kids) and Excellent help and hospitality!
Elske
2016-08-03T00:00:00Z
The apartment was just amazing! So nicely decorated and cozy! Extremely clean! The hosts were so kind and helpfull with apsolutely everything! My best experience with air bnb so far! I highly reccomend. Location is quite convinient - 20 minutes to Venice and Padova with train (2,5€ ticket). Thanks Vera & Andrea for everything!
Tamara
2016-10-16T00:00:00Z
Romtype
Helt hjem/leilighet
---
Eiendomstype
Leilighet
---
Plass til
4
---
Soverom
Mira, Veneto, Italia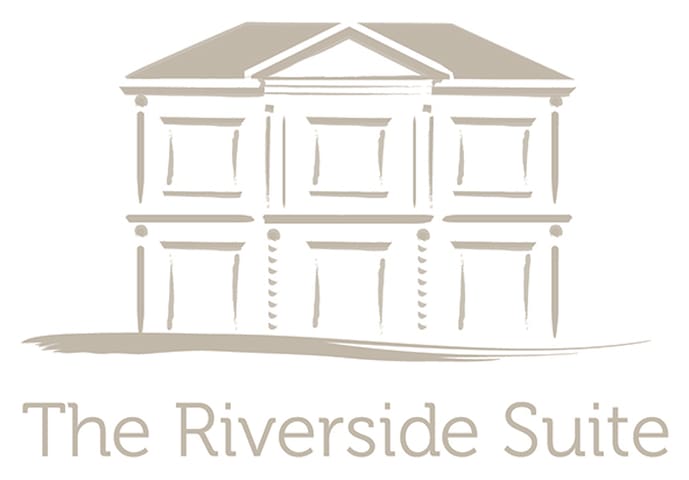 El apartamento se compone de un vestíbulo, una sala de estar-comedor con cocina americana, dos dormitorios y un baño. La zona de la cocina tiene una nevera, vitrocerámica, horno y una mesa extensible que se encuentra 6 personas. También se completa con utensilios de vajilla, cubiertos y cocina que se pueden encontrar en los armarios. Una habitación doble (con una cama doble) Una habitación doble (con dos camas individuales) Una cocina / sala de estar con mesa de comedor Un cuarto de baño con bañera, lavabo y bidé El apartamento está totalmente climatizado a
El apartamento se compone de un vestíbulo, una sala de estar-comedor con cocina americana, dos dormitorios y un baño. La zona de la cocina tiene una nevera, vitrocerámica, horno y una mesa extensible que se encuentra 6 personas. También se completa con utensilios de vajilla, cubiertos y cocina que se pueden encontrar en los armarios. Una habitación doble (con una cama doble) Una habitación doble (con dos camas individuales) Una cocina / sala de estar con mesa de comedor Un cuarto de baño con bañera, lavabo y bidé El apartamento está totalmente climatizado y tiene una lavadora y conexión a internet de alta velocidad ilimitada a través de wifi. Estacionamiento gratis Los locales están situados a 20 minutos de Venecia y son fácilmente accesibles en un autobús directo (parada de autobús justo fuera de la puerta) y los autobuses pasan del Residenza Ginevra cada 20 minutos. Fácilmente accesible en coche: 10 minutos de la salida de la autopista A57 "Mira / Oriago". Con el tren en Mira (VE) La estación de tren de Padua o Venecia. (transferencias disponibles) Unos 20 km del aeropuerto Marco Polo (transferencias disponible) A unos 20 km del aeropuerto de Treviso (transferencias disponible) Aproximadamente 15 km de Padua en autobús (parada de autobús justo fuera de la puerta) Aproximadamente a 20 km de Venecia en autobús (parada de autobús justo fuera de la puerta) Aproximadamente 100 km de Verona (La famosa ciudad de las artes) Aproximadamente 100 km de Cortina (En el corazón de las montañas Dolomitas) Unos 40 km de Jesolo (una popular playa) Un lugar ideal para familias con niños: cunas y cunas, tronas y juegos disponibles en calidad de préstamo. Un lugar ideal para los ciclistas: A lo largo del río Brenta, hay muchas rutas en bicicleta por el cual el área se puede analizarse mejor. Incluso tenemos dos bicicletas disponibles para prestar. Una breve descripción de la zona La Riviera del Brenta es una zona de importancia estratégica, ya que está a sólo unos minutos de Padua y Venecia. El río es atravesado por el canal del Brenta que comienza en Stra, pasa a través de Fiesso d'Artico, Dolo y Mira antes de fluir a Fusina, que se encuentra en la orilla de la laguna de Venecia. Hoy en día, el canal del Brenta sólo se utiliza para embarcaciones turísticas y de ocio. La fiesta más importante de la zona es Carnevale, que se celebra cada mes de febrero.
La céntrica ubicación de tiendas, farmacias, restaurante italiano y pizzería en la casa, carril bici hacia el centro de la ciudad, una vista impresionante del río
Very nice appartment. Room enough for the two of us. The kitchen is sufficient to cook simple meals. The bathroom was clean and there was a bathtub. Nice. Ideal place to stay if you want to visit Venice or Padua. Giuliana provided us with al the nessecery info, thanks!
Taco
2015-09-09T00:00:00Z
We enjoyed our stay in Mira. House is clean and spotless. Bus stop is 1 min away but ride is 30 mins to Venice. We didn't mind as the hotels in Venice were a lot pricier and we can't take car to Venice anyways. There is a grocery store 10 mins away. Bathroom was clean and the parking spot for car was good. The host oriented us well even though they don't speak much English, it was not tough to get accustomed to the city rather quickly. Would stay here again.
ambreen
2015-08-22T00:00:00Z
Rocco's apartment is lovely. The bus stop is literally at your doorstep. Also, Rocco offered to bring us around the neighbourhood, and bought us some gelato! Awesome stay at Rocco's, and I will definitely stay here again if I were to visit Venice.
Tan
2012-09-20T00:00:00Z
Rocco was so nice! He help us with everything what we need and he was available to help us. He gave us a lot of advances. His flat is really nice and cozy. Only one thing and that was noise. It was not possible to sleep with an open windows because of noise from street. I recommend this flat for all travelers! It is about 35 minutes to Venice.
Denisa
2012-09-30T00:00:00Z
Giuliana's apartment was a nice place to stay while exploring Venice. It was clean, and the right size for a family of four. We arrived by car, but it was very convenient to take the bus into Venice with the bus stop right outside the apartment. Giuliana was a great host who met us on time and offered us useful information. I would recommend families to stay here!
Heather
2016-04-14T00:00:00Z
Rocco was so nice and picked us up from the train station in Mestre (about 20 mins away from this actual location). If you are looking for a quieter area to stay in and to do a day trip to Venice, this is the place for you. The bus stop across the street was very convenient and was only 3 euros for a trip to Venice (about 45 minutes on the bus, but it flies by!). Everything we needed in the kitchen was there to make dinner and a nice view from the balcony was appreciated. Very secure location and it is next door to a lovely restaurant. He gave us access to two bikes which was great to explore the city and to get groceries from the store about 15 minutes away or so. Despite a slight language barrier, Rocco was so helpful and accommodating. We locked the keys in the apartment by accident and he was there within 45 minutes to come and let us in. There are maps and bus schedules at the apartment which was helpful to plan our day trip. Just a side note that the buses are not always on time and to wait outside early when you are planning your day trip to Venice! Overall great host and great stay!
Natalia
2012-09-14T00:00:00Z
The location of Rocco's place is very convenient for a visit to Venice and surrounding areas. It only takes 30 mins to get to Venice by bus. The apartment is very spacious and clean, with fully equipped kitchen. Rocco has done a lot to make our stay comfortable. Thank you for everything. Greeting from Pascal and Hong.
Hong
2012-11-22T00:00:00Z
We loved our short stay here! The place is very clean and the perfect size to accommodate 4 travelers. Although the place is in Mira, a 30-40 minute bus ride to Venice with no transfers, it is still very convenient. The host is also extremely welcoming and kind- even came back to give us gelato! Definitely recommend staying here!
Chrissy
2015-06-30T00:00:00Z
Romtype
Helt hjem/leilighet
---
Eiendomstype
Leilighet
---
Plass til
4
---
Soverom
Mira, Veneto, Italia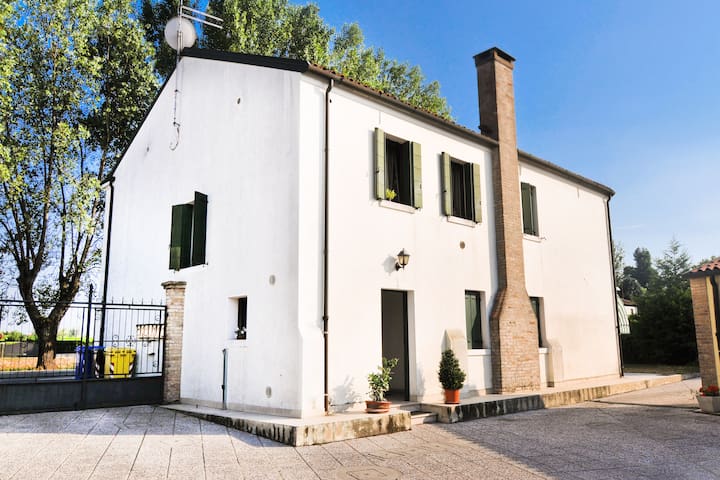 Krásná Dvoupokojový apartmán se čtyřmi / pět lůžek. Ložnice s manželskou postelí a samostatným lůžkem v tepaného železa. V obývacím pokoji / kuchyni pohodlná pohovka single / dvojlůžko. Starý stily Kuchyň je nová a vybavena vším: mikrovlnná trouba, Nespresso, kávovar, atd .. Koupelna s shower.The byt se nachází v sídle obklopeném na velké zahradě. Náš sloupoví je na zahradě. Klimatizované a wifii zdarma. Vlastní vchod a parkování zdarma. Autobus zastavil je 250 m od nás.
Byt je dobře zařízen: klimatizace pěkná, nová kuchyňská linka s coffe kávovarem Nespresso, macrowave a velkou lednici.
Místo je tak blízko Benátek, Padovy a Trevisa taky. Další místa k návštěvě asi 1 hodinu autem jsou: Garda jezero a Gardaland, Verona (Romeo a Giuliet dům) a Jesolo moře a tak dále. Ideální místo pro ty, kteří přijedou s vlastní dopravou
It was a great location and not far from venice. The apartment was clean and beautiful. Hostess was very kind about our late arrival. There was also a great espresso pod machine :) . Staying here instead of Venice was a good choice for us.
Wendy
2015-08-02T00:00:00Z
Хозяин был гостеприимным, район был хорошим, квартира соответствовала описанию.
Andrey
2015-08-11T00:00:00Z
Great host! Great apartment! I had some trouble with a forgotten document in the Dolomites and christina was invaluable to arranging it back. She was also super nice with my kids, offering ideas for touring etc. We just felt really at home. This place is a perfect proximity to Venice - without the ridiculous pricing of Venice!!! Very clean, large space, overall a great find!!
Tamar
2016-08-25T00:00:00Z
We were in late, but Cristiana was so kind with us, she was very understanding. The apartment was beautiful, there wasn't any difference between reality and the photos, we are very sattisfied.. The surroundigs is very quiet, it is possible parking with a car abaut 25 metres far from the flat. Everything is same as the description of apartment. Cristia left a bottle of vine in the fridge because, she knew , that my girlfried had birthfday, Itt vas a very kind and sympathic gesture. I offer this place for everybody!!
András
2015-09-21T00:00:00Z
Cristiana was the best host you could wish for! She was extremely helpful and welcoming. She arranged transport from the airport to the center and back from the center to the house. The house was really lovely. To bad we were on a short trip, so we only stayed there for just one night (next time we will definitely stay longer!). I recommend everyone this place! Many thanks for all the help and the warm welcome!! We had a really good time :) All the best,
Mimi
2015-09-30T00:00:00Z
Mira est un lieu de villégiature charmant, qui permet un accès à Venise très facile, merci pour l'accueil chaleureux :)
Thelma
2016-08-16T00:00:00Z
Dario and Cristiana waited for us and welcomed us to their lovely apartment. Their flat is located a bus journey (20 min) from Venice. They were very accommodating and helpful. Both of them went above and beyond when prepared and printed for us the bus timetable for the Venice airport and brought it to us next morning. Something we didn't need to worry about that day. We could then explore the beauty of Venice without strain. Thank you again!
Michal
2015-09-05T00:00:00Z
Dario and Cristiana were great hosts. They picked us up from the airport and even took us to the supermarket and waited while we shopped. The apartment and the outside area are perfect for children and the trip to Venice is very easy with the bus which takes about 30 min. All in all we had a great time in Venice and were very happy with our stay.
James
2016-05-30T00:00:00Z
Romtype
Helt hjem/leilighet
---
Eiendomstype
Leilighet
---
Plass til
4
---
Soverom
Mira, Veneto, Italia
Conveniently and new semi-detached it offers two double bedrooms plus bathroom! The house has internet access! It is supplied with towels sheets! X Convenient to reach Venice (30 minutes by bus) and X convenient to Padua (30 minutes by bus) 4 minutes of bus stops! The price 40 € refers to single room! Then if you want both rooms are € 70!
It is a new recently-renovated! And convenient to Venice X; Padua, strategic and X visit the Riviera del Brenta
The neighborhoods and convenient .... There is a supermarket pharmacy pizza bar!
Romtype
Privat rom
---
Eiendomstype
Leilighet
---
Plass til
2
---
Soverom
Mira, Veneto, Italia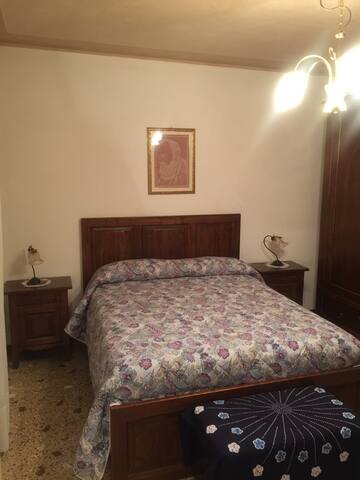 Bell apartament de dues habitacions amb quatre / cinc llits. Un dormitori amb un llit doble i un llit individual en ferro forjat. A la sala d'estar / cuina amb un còmode sofà llit individual / doble. L'antiga cuina stily és nou i equipat amb tot: microones, Nespresso, màquina de cafè, etc .. Bany amb ducha.El apartament es troba en una residència envoltada d'un gran jardí. El nostre pòrtic és al jardí. Aire condicionat i wifii lliure. Entrada privada i aparcament gratuït. transferències possibilitat.
El meu allotjament és adequat per a les parelles, aventurers solitaris, viatgers de negocis i famílies (amb nens).
A prop de l'apartament es troben: bar, botigues, bancs i ATM, quiosc Newpaper, autobús es va aturar per Venècia o Pàdua i moltes botigues. El supermercat està a 400 metres de nosaltres. Venècia es troba a 12 km de nosaltres, de Pàdua és a 15 km. Altres ciutats estan tan a prop: Treviso 18 km, Chioggia de 30 km, Vicenza 60 km, Verona (Romeu i Julet) 105 quilòmetres i Ferrara 80 km. isalands Venècia (Murano, Burano i Torcello etc ...) són de 12 km de nosaltres. Llac de Garda és a prop de Verona amb 110 quilòmetres Gardaland per als nens. Pujols Euganeas són a 35 km. El mar és tan a prop de: Lido de Venècia 12 km, 30 km Sottomarina i Jesolo a 40 quilòmetres. L'aeroport de Venècia és a 25 km, l'aeroport de Treviso és a 35 km. L'estació de tren més propera és la de Mira-Mirano 2 km de nosaltres. Aparcament gratuït. Detingut bus 150 mt. Ferry per Venècia o Vencie Isalnds està en Fusina vaixell de l'estació (5 km). Alta manera A4 sortida Dolo.
Veramente un bel appartamento, in un contesto residenziale immerso nel verde! Comodo ai servizi, molto pulito. Host perfetta!! Consigliatissimo!!
dario
2017-03-01T00:00:00Z
Cristiana fue muy amable conmigo y mi familia, incluso nos vino a recoger a la estación de tren y nos buscó transporte el ultimo dia para ir al aeropuerto. Muy educada y buen trato, sin duda para repetir
Manuel
2017-04-11T00:00:00Z
Romtype
Helt hjem/leilighet
---
Eiendomstype
Leilighet
---
Plass til
5
---
Soverom
Mira, Veneto, Italia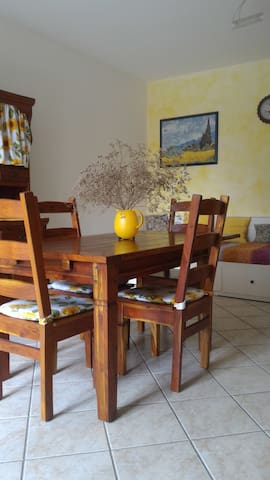 Our exclusive apartment, romantic and elegant with stunning view.design furniture strategically located :10 km from Padua and 10 from Venice. Handy bus services, in quaint historic building
Beautiful location adjacent to the pedestrian zone in one of the loveliest corners of the famous Riviera del Brenta. At 100 meters from the bus stop leading to Padua and Venice The apartment is located in an exclusive district of this ancient and characteristic of the Brenta Riviera town: sit on a bench to enjoy one of the best ice cream you'll eat or consume a great breakfast sitting outdoors in one of the numerous and characteristic downtown cafe, is an opportunity you can not miss The apartment, convenient to services is 30 minutes by bus from either Venice or Padua and is immersed in the splendid setting of the eighteenth-century villas of the Brenta Riviera which you can also visit with a picturesque boat trip The apartment is located in an exclusive district of this ancient and characteristic of the Brenta Riviera town: sit on a bench to enjoy one of the best ice cream you'll eat or consume a great breakfast sitting outdoors in one of the numerous and characteristic downtown cafe, is an opportunity you can not miss The apartment, convenient to services is 30 minutes by bus from either Venice or Padua and is immersed in the splendid setting of the eighteenth-century villas of the Brenta Riviera which you can also visit with a picturesque boat trip: The apartment is located in an exclusive district of this ancient and characteristic of the Brenta Riviera town: sit on a bench to enjoy one of the best ice cream you'll eat or consume a great breakfast sitting outdoors in one of the numerous and characteristic downtown cafe, is an opportunity you can not miss The apartment, convenient to services is 30 minutes by bus from either Venice or Padua and is immersed in the splendid setting of the eighteenth-century villas of the Brenta Riviera which you can also visit with a picturesque boat trip:
The apartment is located in an exclusive district of this ancient and characteristic of the Brenta Riviera town: sit on a bench to enjoy one of the best ice cream you'll eat or consume a great breakfast sitting outdoors in one of the numerous and characteristic downtown cafe, is an opportunity you can not miss
Home is beautifully decorated. It is very clean and well equipped with everything you need, including the best Wi-Fi we had on our trip. Our stay coincided with the heat wave and this home provided the best air conditioning of the entire trip. We stayed here because we did not want to stay in Venice. Dolo is such a charming and safe town. There is a bus into Venice that takes a little more than a half hour. Best of all, Alessandro is a truly wonderful, generous, and responsive host thinking of and accommodating our every need. The fridge was stocked with goodies, including libations just for us. He also provided breakfast coupons to a lovely café a few steps away.
Paul
2015-06-13T00:00:00Z
What more can be said about Alessandro's flat that hasn't already been said? It is a lovely and beautifully decorated flat with large windows looking out over the village of Dolo. Upon our arrival Alessandro ensured the fridge was stocked with items such as Beer, Prosecco, Mike, Juice, Strawberries, Apples... there were Cookies, Cereal and Breakfast Buns in the cupboard as well as an offer to visit the Bakery around the corner for coffee and pastry, courtesy of Alessandro. Two minutes and you are by the riverside where there are shops and restaurants to serve you. The Bus Stop is also there, as well as the little shop where you can purchase your bus tickets. It is about a 40 minute bus ride into Venice. We did not get to meet Alessandro personally as he was away working - we were introduced to the apartment by his friend Sara, she was very nice and pleasant. During our time Alessandro created a (SENSITIVE CONTENTS HIDDEN) Chat Group, so that he could be available for any questions or concerns during our time there. All in all, it was a very nice and well maintained location and I would highly advise those visiting the Venice area and looking for a home base on the main land, to stay here.
Carla
2016-05-27T00:00:00Z
Alessandro was an excellent host and a very friendly person. My partner and I were greeted at the airport by him, where he drove us back to his place in Dolo. This saved us the inconvenience of catching a bus and the expenses of a taxi. When we arrived at his apartment we fell in love immediately. It was incredibly clean and tidy and very modern. Looks even better than the photos. We had a pleasant surprise when opening the fridge to find that Alessandro had kindly left us bottles of wine, beers and plenty of food for breakfast. Alessandro showed us around Dolo, which is a very beautiful town 20 minutes from Venice. He pointed out all the nice places to eat and visit, including where to catch the bus from, which is just a walk away from his place. This was extremely helpful to us. Out of all the Air bnb places I have stayed at, Alessandro's place would be by far the best. I would definitely stay here again and would highly recommend this place to anyone. Thanks again Alessandro for an excellent experience in Venice! :) - Richard and Carley
Richard
2014-08-19T00:00:00Z
A wonderful stay at Alessandro's. Apartment is excellent. plenty of space and fully equipped for self catering if you want. Alessandro met us to show us the apartment along with the supplies he had left. He checked in to make sure all was going well. he also advised that our breakfasts were paid for at the handy coffee shop a few doors up. Dolo is a nice little town with handy bus service to Venice. if visiting this area stay with Alessandro. no question.
Jason
2016-09-14T00:00:00Z
Alessandro was an amazing host! My two cousins and I were arriving at the train station in Venice and he offered to pick us up which was great considering we were traveling all day and were exhausted. His home was exactly as shown in pictures, if not even better and he was very helpful with eating suggestions and how to get around. The bus stop is about 2 min from his home so getting to venice was a piece of cake. Depending at what time you take the bus is should usually take you about 30 min to get to Venice. Overall, he was great and very easy to get a hold of. Thanks Alessandro!
Grecia
2015-05-15T00:00:00Z
This flat was an amazing place to stay! A very clean, comfortable place in a lovely old neighbourhood bursting with old world ambiance. Alessandro's generosity & attention to detail was outstanding. You will miss out on a amazing experience if you don't stay here!
Karen
2015-05-12T00:00:00Z
Il posto mi è piaciuto veramente molto: zona tranquilla, a 2 passi dal centro storico. Alessandro è stato molto disponibile e ha fatto il possibile per darmi una mano. l'appartamento è bello e pulito.
Stefano
2014-09-01T00:00:00Z
In one word: unique! The flat is beautiful! It's located in the city center that is a small island. The house is clean and fully equipped. It's like a 5 stars suite! Alessandro gave me all the useful information...Venice is very close from the flat and I suggest to take the bus as it's a panoramic tour on the riverside! The host is really one of the best!
Flavio
2015-12-30T00:00:00Z
Romtype
Helt hjem/leilighet
---
Eiendomstype
Leilighet
---
Plass til
3
---
Soverom
Dolo, Veneto, Italia
Die Wohnung besteht aus einer Eingangshalle, ein Wohnzimmer Speisesaal mit Küche, zwei Schlafzimmer und ein Badezimmer. Die Küche hat einen Kühlschrank, Herd, Backofen und einen ausziehbaren Tisch, die 6 Personen sitzt. Es ist auch komplett mit Geschirr, Besteck und Küchenutensilien, die in den Schränken zu finden sind. Ein Doppelzimmer (mit Doppelbett) Ein Doppelzimmer (mit zwei Einzelbetten) Eine Küche / Wohnzimmer mit Esstisch Ein Badezimmer mit Badewanne, Waschbecken und Bidet
Dear Giuliana, many thanks! We had a really nice time in Giuliana's apartment. It's really clean and beautiful, view for water and really easy to go to Venice by bus. Recomendamos com certeza! Muito obrigada!
Briana
2017-04-02T00:00:00Z
Romtype
Helt hjem/leilighet
---
Eiendomstype
Leilighet
---
Plass til
4
---
Soverom
Mira, Veneto, Italia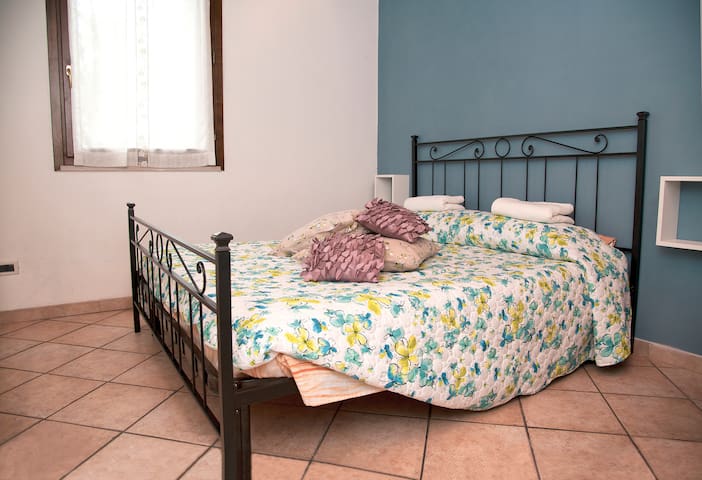 Leiligheten ligger i Riviera del Brenta, som stiger majestetisk de vakre villaer, inkludert "Villa Pisani". Bare 25 minutter fra Venezia, er leiligheten fullt møblert i venetiansk stil, sover det 8 personer
Andre etasje leilighet på 132 kvm., På to nivåer, med tre soverom og to bad. Bygningen har ca 10 år heis for enkel tilgang til leiligheten.
Leiligheten er omgitt av grøntområder i Riviera del Brenta. Det er en rolig nabolag, avslappende, behagelig og godt betjent av offentlig transport og tjenester generelt.
The home is beautiful and host ( Obi/Elsa) was very understanding and supportive for late checkin around mid night. Communication ( Italian language) is a key challenge for us ...and Elsa would help by being the messenger/translator for all our TAXI booking and directions needs She was also very helpful and supportive on multiple other things such as 1. helping us carry our bags into the home/out of the home 2. daily booking of taxi 3. guidance on how to commute between Galta and Venice including via Padova to keep over all transport cost low.
Manoj
2015-07-24T00:00:00Z
La casa esta en perfectas condiciones y corresponde exactamente con las fotos y en lo anunciado en airbnb, nos encantó!!(URL HIDDEN)La señorita Elena muy amable y todo lo que nos recomendó fue exelente!!!! También muy amable la señora de la limpieza!!(URL HIDDEN)Muchas grácias por todo!!!!
Maria Rosa
2015-09-04T00:00:00Z
We had a very pleasant stay at Helena's flat. It is well located to visit Venecia and the flat is very comfortable for 6 people. Parking is just underneath the flat and easy. Helena was very kind and helpful to us: best way to go to Venecia, free parking tickets, a cool bottle of champagne in the refrigerator... We highly recommend the place and Helena
marc
2016-08-14T00:00:00Z
beautiful apartment and services bellissimo appartamento e servizi
Domagoj
2016-04-11T00:00:00Z
Casa molto bella ed accogliente in contesto molto tranquillo. La host è stata molto gentile, simpatica e disponibile in tutto . Sicuramente il tutto da consigliare! Grazie ancora!
Davide
2015-10-27T00:00:00Z
Cette location est parfaite ! Tout d'abord le contact avec Elena est très sympa, elle donne de bons conseils pour visiter la région sans difficulté. Padoue, Venise sont vraiment très facile d'accès en voiture. Nous avons beaucoup apprécié ses délicates intentions. L'appartement est grand, bien équipé, très propre et il est situé dans un secteur très calme. Sans hésiter, je recommande cet appartement et j'y retournerai très volontiers
olivier
2016-04-18T00:00:00Z
Elena stayed very flexible with our arrival time because we had experienced some car trouble. She was so kind and welcoming, and showed us how everything worked when she introduced us to the apartment, then she drove and led us to a nearby town where we could get some late dinner, however the restaurant was closed, so she then led us to another place, even going in to check to see if they were still serving. Where we ate was one of our favorite meals during our two weeks in Italy. The next morning, she again drove and led us to the train station to go to Venice, and gave us excellent directions and suggestions for our day trip there. The apartment was absolutely spotlessly clean and very modern and quiet. Although not in Venice, the train was simple and it was nice to stay away from the crowded city. We fell in love with Elena and her family!
Marla
2015-06-07T00:00:00Z
Grand appartement. Il manquait la machine à laver le linge. Et l équipement ménager est vraiment limité. Pas de cafetière ( nous avons dû en réclamer) . Machine à café avec capsules de café à vendre (0.5€ pièce) Pas de bouilloire ni de théière. Connexion internet trés mauvaise
Vi
2016-08-06T00:00:00Z
Romtype
Helt hjem/leilighet
---
Eiendomstype
Leilighet
---
Plass til
8
---
Soverom
Galta, Veneto, Italia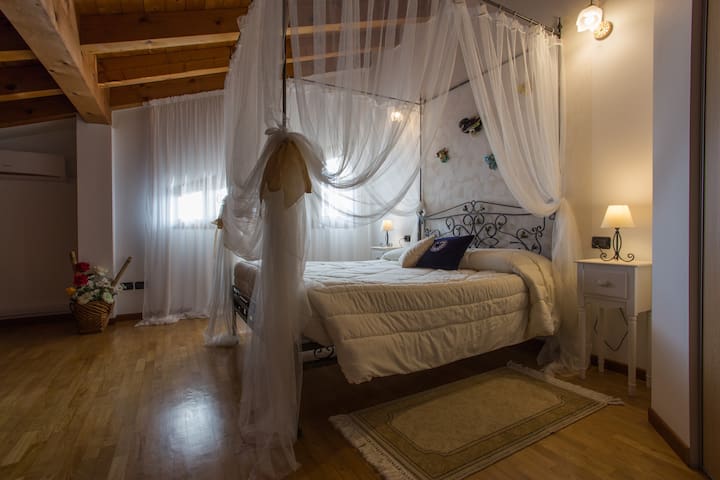 V blízkosti Benátek (a levnější) Nabízím řadový pokoj s vlastním vchodem a vlastní vaně pokoji. Neexistuje žádná kuchyň a ne mikrovlnná trouba! Snídaně není zahrnuta, ale tu konvice pro přípravu kávy a čaje. To lze snadno acomodate 2 osoby a v případě potřeby 3. lůžku jediný a komfortní nafukovací matrace je zajištěno. Všimněte si, že v závislosti na období, které žádost o rezervaci "pouze na jednu noc" Mohl bych vám položit navíc 10 euro platit v hotovosti při příjezdu. WIFI připojení není nejrychlejší na světě, ale je to zdarma, TV a chladnička. Ústřední topení (v zimě) a ventilátor (v létě), ve skutečnosti není nutný žádný A / C ačkoliv to. Budete mít své vlastní klíče. Parkovací plocha není problém vůbec. Lokálně: V blízkosti se nachází vše, co potřebujete; veřejná doprava, italská restaurace, čínská restaurace, lékárna, kavárna, bar, pekárna, kebab nebo pizza odnést jen za 4 €. Tipy: při návštěvě Venice pokusu návštěvu Padově (dokonce na půl dne) získat Padově kartu, pokud máte v plánu navštívit Kaple Scrovegni, takže můžete mít veřejná doprava zdarma + volný vstup do Bapistry (úžasné), Palazzo delle Ragione, atd Doprava z Padova do Benátek Místním vlakem trvá 35 minut, běží až do roku 23,30, poplatek vstupenka € 4,05 Všimněte si, že dne 1. května (den pracuje ") a 25. DEC místní dopravy je velice omezená. Kontaktujte mě, pokud máte pochybnosti, nebo chcete získat více informací. Španělsky, anglicky a italsky.
Jedná se o rezidenční oblast, kde bydlím. Plently parkovacích míst, bezpečné a klidné.
Stille og rolig overnattingsted i utkanten av Padova. Vi ble tatt godt i mot av Roberto som var meget imøtekommende og service innstilt. Det var rent og pent, og i et stille og rolig bolig strøk. Muligheteten for å få skyss fra Roberto's far inn til Padova, var veldig praktisk. For oss ble dette et perfekt utgangspunkt for å oppleve Padova og kort vei til Venezia på dagstur.
Hilde
2015-04-05T00:00:00Z
Excellent host and great place. Highly recommended
sophie
2012-04-05T00:00:00Z
Roberto è una persona davvero gentilissima, si è dimostrata molto disponibile. La camera era davvero perfetta, pulitissima e molto accogliente. La zona è davvero tranquilla, 10 minuti fuori dal centro di Padova, non si sentiva volare una mosca. Poi se ci aggiungiamo che il letto è davvero comodo, la combo è completa.
Donald
2015-11-02T00:00:00Z
We had a superb time in Italy and Robertos place was in perfect location. It was very clean and cosy. Roberto was very kind and helpful with everything. Hi even provided us with the maps for Venice and Verona and also all information for geting around. We definitely can recomend him, you will not regret your stay in Robertos place. We hope to be back soon. Thanks for everything Roberto.
Sandijs
2014-05-28T00:00:00Z
The room was exactly same with photo. Spacious and clean. Roberto was very kind and polite host. He gave information about Padova and Venezia. Private Gate and bathroom was really nice. But the bus that goes to city center doesn't come frequently so you must check the timetable. If you visit Venezia go to Roberto's BnB !
Yunji
2014-07-14T00:00:00Z
Loved the place it was just like the picture! :) Roberto was very helpful and had lots of good information on how to get to Venice.
Elisa
2012-04-14T00:00:00Z
The room was clean modern and tidy. An ideal place to explore Venice and the surrounds. Unfortunately we did not get to meet Roberto aa he was on holidays but his parents were very obliging and did our washing for us. We are happy to recommend this place for a short stay any longer would probably require a kitchen. There is a pleasant outdoor area attached to the unit as well.
Peter
2014-08-26T00:00:00Z
Despite short staying, me and my husband really enjoyed !! Roberto is great host - organized and super-friendly! The apartment just perfect - privet and very comfortable! No doubt, if someone looking for apt. in Padua - only Roberto place!!
Ekaterina
2015-04-24T00:00:00Z
Romtype
Privat rom
---
Eiendomstype
Leilighet
---
Plass til
3
---
Soverom
Padua, Veneto, Italia
Ampio e luminoso appartamento con terrazzo che si affaccia sul giardino in zona tranquilla, nella splendida cornice della Riviera del Brenta e a pochi chilometri da Venezia e Padova. L'ideale per rilassarsi.
Appartamento luminoso e silenzioso con cucina super attrezzata, salotto con divano letto a due posti e uno ad un posto, una camera matrimoniale, terrazza e giardino. Vicino alla fermata del bus per Padova e Venezia. Molti supermercati,negozi,pasticcerie e ristoranti nella zona.
L'appartamento é situato in un quartiere tranquillo e signorile.
Liana è stata fin da subito gentile e disponibile, venendo incontro ad ogni nostra esigenza. La casa è molto spaziosa e dotata di ogni optional. Davvero confortevole. La location è eccellente, a pochi minuti dalla splendida Villa Pisani. Inoltre dista pochi km da Padova, da cui si può raggiungere Venezia comodamente. E' stato un soggiorno molto piacevole, immerso nella tranquillità. Vivamente consigliato.
Marco
2016-10-23T00:00:00Z
Romtype
Helt hjem/leilighet
---
Eiendomstype
Leilighet
---
Plass til
3
---
Soverom
Stra, Veneto, Italia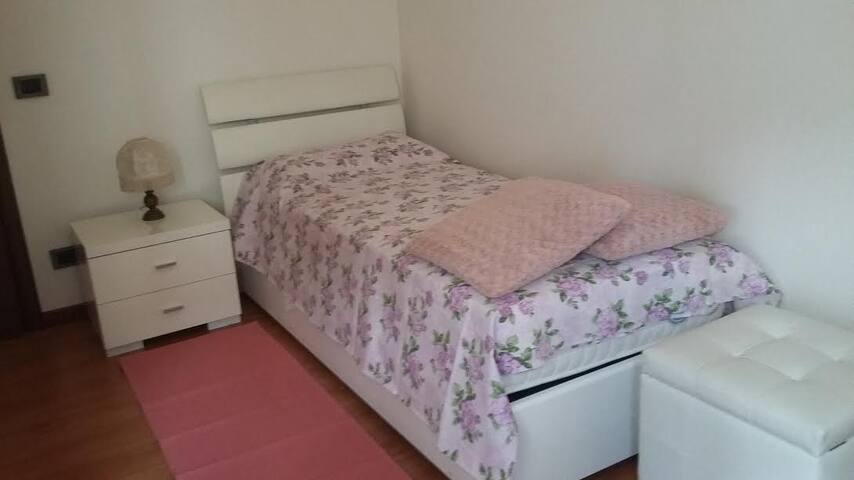 Our flat is 40 square meters and it is located in Dolo, little village in the Brenta Riviera , half way from Venice and the beautiful town of Padova . The flat is perfectly located to explore the area of the Veneto region . The flat is ok up to 4 people!Perfect for a family. Just few minutes walking in VIA GARIBALDI, you will find bakeries, restaurants, the pharmacist/chemist, bars, and a a little supermarket just behing our flat .
You have your own flat at the third floor of the building that you can easily reach by the lift. It has got a Nice view on the park and it is Colse to the centre of Dolo 8 minutes walking. You have free parking Mansarda al terzo piano con ascensore e parcheggio gratuito . 8 minuti a piedi dal centro
The flat is very close to the centre where you can find bar shops and supermarkets but also restaurants and pizzerias in Via Garibaldi or at the Centro Viking in Dolo Nice reasturant at Molini del Dolo where you can find tipycal food L' appartamento si trova vicino al centro . Nella vicina via Garibaldi troverete vari negozi , caffè e ristoranti
Hôte disponible au telephone et compréhensive à nos besoins (malgré la langue différente entre elle et nous)
GERMINAL
2016-10-30T00:00:00Z
It was nice to leave in dolo but it's very far from venice. The neighborhood is kind. You have to walk 20 mins ti bus stop.
Gloria
2016-11-06T00:00:00Z
L'appartamento è carino, pulito, silenzioso, accogliente, ospitale e si affaccia su una bella zona verde. Chiara è stata molto disponibile. Con il treno si raggiunge Venezia Santa Lucia in circa 30 minuti, una gita che i bimbi hanno davvero apprezzato. Siamo stati bene.
Chiara
2016-10-02T00:00:00Z
La casa di Chiara è un amore, pulitissima e accessoriata. Ottima per chi vuole visitare Venezia perché vicina ai mezzi pubblici, ma lontana dal caos della città e al contempo a due passi da Isola Bassa, il luogo più caratteristico di Dolo. Chiara è disponibile e facile da rintracciare. Ci ritornerei!
alessandra
2016-10-07T00:00:00Z
Romtype
Helt hjem/leilighet
---
Eiendomstype
Leilighet
---
Plass til
4
---
Soverom
Dolo, Veneto, Italia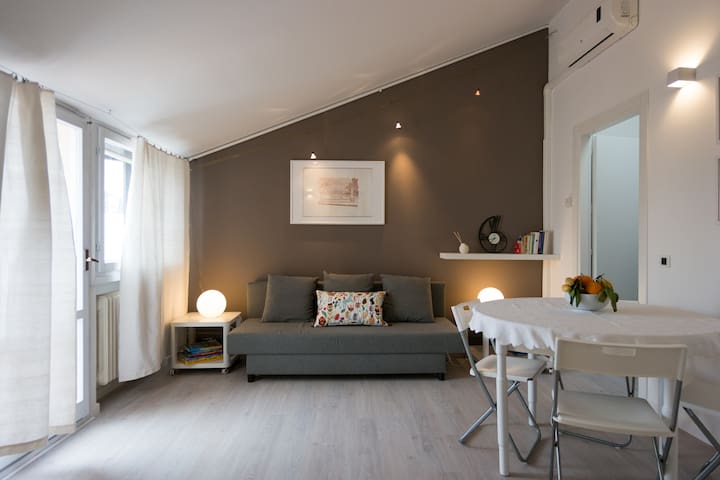 Ca 'Fontana Vecchia is located in Mira, along the banks of the River Brenta between lush gardens and the architecture of magnificent Venetian Villas of the' 700. A few kilometers either from Venice or Padova
The apartment of 70 square meters is located on the second and last floor of a stable result of a careful restoration industry, our windows overlook the river and so you can enjoy a magnificent view. The lower part of the house has a spacious and bright room with kitchenette and sofa bed, the attic floor houses is open space in which is placed a double bed (1.60 x 2.00) and a corner dedicated to reading and relaxation. There are two bathrooms, one upstairs has a shower.
A few kilometers either from Venice or Padova, our accommodation combines the convenience of proximity to these two magnificent cities with the tranquility of a location away from the hustle and mass tourism
We were welcomed by Elisabetta in her beautiful apartment. Perfectly located between Venice and Padova, we visited both places by bus. Elisabetta and Angelo had plenty of information in the apartment, even the bus timetable. It was our pleasure and HIGHLIGHT of 3 weeks travelling through Europe with our 15 month old daughter to be at this beautiful place!
Jacob
2016-06-19T00:00:00Z
We had a wonderful time in Mira. The apartment is beautiful and has a perfect location. Elisabetta and Angelo were very kind, helpful, generous and provided us with all the necessary information. We recommend everyone to visit this place.
Eszter
2016-10-14T00:00:00Z
Nous avons passé un excellent moment chez Elisabetta et Angelo. Accueil excellent, chaleureux, très nombreuses indications pour faciliter notre séjour. L'appartement est spacieux, confortable, agencé avec goût. Nous recommandons vivement!
Floriane
2015-08-07T00:00:00Z
Wir hatten wundervolle Tage, nicht zuletzt dank dertop-modernen und von Elisabetta und Angelo liebevoll eingerichteten Wohnung. Die direkte Busverbindung zwischen Padua und Venedig entlang der Brenta macht es möglich viele der einzigartigen Villen auch ohne eigenes Auto ohne Mühe zu besichtigen. Vielen Dank an die Gastgeber auch für die Prospektunterlagen und Tipps die wir vorgefunden haben. Gaby und Dave
Gaby
2015-09-15T00:00:00Z
Siccome abitiamo all'estero, io e mio marito abbiamo scelto Ca' Fontana Vecchia per passare il Natale vicini alle nostre famiglie. Elisabetta ed Angelo sono stati cordiali e disponibili dai primi scambi via mail, al momento del check-in quando ci siamo incontrati, fino alla nostra partenza. L'appartamento è assolutamente come presentato dalle foto: curato, pulito, spazioso, completo di tutto il necessario (addirittura per la colazione)... assolutamente delizioso, insomma! In ogni piccolo dettaglio, Ca' Fontana Vecchia mostra quanto Elisabetta ed Angelo amino accogliere al meglio i loro ospiti. Essendo del posto e restando solo pochi giorni non abbiamo approfittato delle attrazioni offerte dai dintorni di Ca' Fontana Vecchia, ma i proprietari mettono a disposizione degli ospiti una serie di biglietti da visita che offrono spunti turistici e gastronomici interessanti per godersi al meglio la zona della Riviera e non solo. Il nostro Natale è stato davvero magico, a Ca' Fontana Vecchia e sicuramente ci ritorneremo al nostro prossimo soggiorno in Italia!
Eva
2015-12-27T00:00:00Z
Tout était parfait, Elisabeth et Angelo nous ont bien reçu. Appartement très propre et fonctionnel, mieux que les photos, situé à 30 min de VENISE, en bus. Bel endroit, belle vue sur le fleuve, nous avons passé une belle semaine à MIRA et VENISE. A notre prochaine venue à VENISE nous reviendrons chez Elisabeth et Angelo. MERCI POUR TOUT.
André
2016-10-22T00:00:00Z
Accoglienza calda e perfetta. Host veramente molto gentile e amichevole. L'appartamento è semplicemente favoloso, ideale per chiunque cerchi un po' di tranquillità tra Padova e Venezia.
Stefano
2016-01-31T00:00:00Z
Elisabetta's home is quite lovely and well equipped with both dishes and basic supplies to cook.The house was as pictured in the posting. Bed was also comfortable. We were grateful her son picked up up from the train station. Travel into Venice was at least 50 minutes each way no matter what time of day. If that's not an issue its a great home and very roomy.
Sherry
2016-05-29T00:00:00Z
Romtype
Helt hjem/leilighet
---
Eiendomstype
Leilighet
---
Plass til
4
---
Soverom
Mira Vecchia, VE, Italia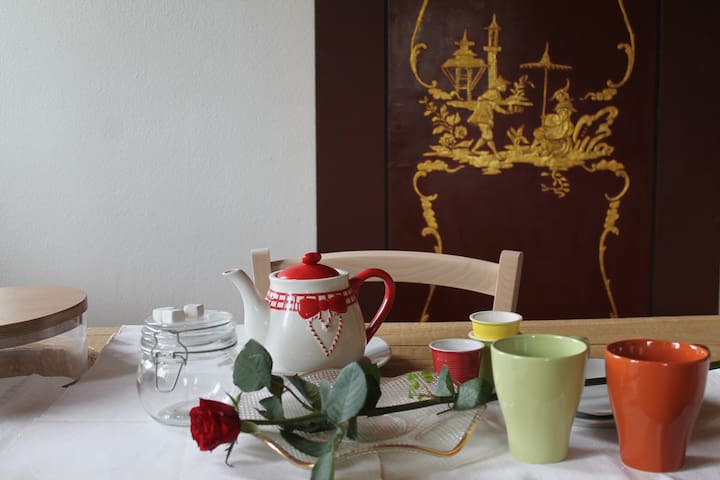 Finely furnished and newly decorated 2 bedroom, 2 bathroom flat, overlooking the Brenta River. 250 metres from bus stop for direct buses to Venice, 30 min from Venice. Underground locked garage. Private garden. Air con. Free wi-fi. Wheelchair accessible.
NEW HOUSE RULES: FOR BOOKINGS MADE AFTER 19 JANUARY 2017 CLEANING AND ESSENTIALS ARE INCLUDED IN THE PRICE PAID THROUGH AIRBNB. P.S.: In Mira you don't have to pay Tourist tax! 2 minutes (250 metres) from bus stop for direct buses to Venice and Padua. Finely furnished and newly decorated 2 bedroom, 2 bathroom flat surrounded by historical Venetian Villas, overlooking the Brenta River (the Doge's weekend retreat). Underground locked garage. 25 minutes from Venice, 40 minutes from Padua, 200 metres from historical, 16th century Villa Venier - From the living room you can see the Villa's chapel and entrance. You can also eat "al fresco" in the private garden. Foot path/cycle lane on your doorstep for the centre of town (8 minutes on foot). About 200 metres from: in-Villa restaurants (with very reasonable lunch deals), pizzerias, disco pub, bakery (also selling other groceries), tobacconist and breakfast bar. In the town centre you'll find pubs, restaurants, large supermarkets, banks, a post office, chemists, etc. (and a pub where Lord Byron used to stay!) After your booking is confirmed I will send you my guidebook with an interactive map and lots of tourist info! For more info please contact me, I will be pleased to answer any questions you may have. Ps: I'm a well-known gluten free blogger in Italy and my gluten free tourist mini-guides are published by a popular Italian magazine. For an extra charge I can organize your "gluten-free trip to Venice" in every detail! I can book the restaurants and phone up my favourite gluten free bars so you can have a great and safe gluten free aperitif overlooking the Venice lagoon. I could also organize visits to museums, churches, etc. just drop me a line :)
The apartment is located in Mira Vecchia (Old town) and it overlooks the Brenta River. The building where the apartment is located is a beautifully restored former candle factory. You will find detailed tourist information on Mira and on the Riviera del Brenta in a blue folder in the living room and I will send you lots more info, including an interactive map of the area that I have created. I hope you'll find it useful :)
La casa es muy comoda, Micchia (check inn girl) fue muy correcta, la casa esta ubicada sobre una avenida de facil acceso pero muy ruidosa, dista a cuarenta minutos en bus del centro de Venecia.
Fanny
2016-02-19T00:00:00Z
Sonia was extremely helpful with all her communications before our trip. However we were only told about the extra €60-70 cleaning after booking and for 3 nights we though that was very expensive. We think it would be more sensible to factor that cost into the rent so there are no surprises. The apartment was very clean with extremely comfortable beds. Tge aircon wirked rwally well and was much aoreciated in July!! However, there was only a small amount of coffee, no oilive oil, pepper so we had to buy for our 3 day stay. Mira was a very small town snd the lical shop was closed for our stay and the supermarket iver half an hour walk away (we didn't have a car). This clearly is no faukt of Sonia's but you might beed to think about this for your own trips. There were 2 bikes but the main road was very busy so we didn't try them (no problem noise wuse though as the windiws of the apartment were very thick). The location and bus to venice was prefect for us we just wush there had akso been a local town centre or publuc pool to use, again no fault of Sonia. We certainly would recommend if the additional cleaning fee is rectified, thank you
Emma
2016-07-30T00:00:00Z
Excelent place to stay, very close to the Bus stop for Venice or Padova, nice restaurants near to the place . excelente lugar, muy cerca de la parada de autobús para ir a Venecia o Padova
Cesar
2016-02-07T00:00:00Z
This is a convenient and clean place to stay! We loved to stay here!
Nick
2017-02-28T00:00:00Z
My stay in Sonia's apartment was incredible! She is hands down one of the best hosts, while I wasn't able to connect with her face to face, she was very prompt with her emails and really went out of her way to make sure everything ran smoothly for my stay.
Hannah
2016-11-07T00:00:00Z
Enjoyed our stay. Good location to visit Venice. Nice clean apartment, we were a family of 6 and enough space for us. Timely, good communication from Sonia. Thank you for a nice stay.
Beneace
2016-07-05T00:00:00Z
We had a lovely time at Sonia's. The apartment at the ground floor, very suitable for my parents who don't like stairs, and come with a locked private parking, which is important for us that was doing a road trip around Italy. The bus stop is about 80 metres away from the apartment, and goes direct to Venice bus station, it take us about half an hour ride. The house was complete with modern facilities, and a nice home for a visit around Venezia area. Sonia had prepared an interactive guide to help you navigate the area, the things to do and see around the apartment area, and all the information to get to Venice which was very helpful. She is a very reliable host, despite not physically, the communication was intact, and the housekeeper was explaining to us all we need to know about the house adequately.
Adli
2016-04-04T00:00:00Z
Nous avons passé une semaine tres agréable dans l'appartement conforme aux photos, situé au rez de chaussé d'un petit immeuble avec une petite cour fermée . La bonne surprise a été de trouver un parking privé pour garer notre voiture. Chiarra la dame qui nous a accueillie pour le check in et out était au rendez vous à l'heure convenue et a répondu a toute nos attentes. L'appartement est situé à 300m d'un arrêt de bus qui nous a emmené directement à Venise. Chiarra nous a expliqué qu'il fallait acheter les billets chez les marchands de tabacs . Sonia avait déjà répondu à de nombreuses questions avant notre départ . Le seul bémol est la circulation sur la route nationale qui passe devant l'appartement.
Frédéric
2016-04-14T00:00:00Z
Romtype
Helt hjem/leilighet
---
Eiendomstype
Leilighet
---
Plass til
6
---
Soverom
Mira Vecchia, VE, Italia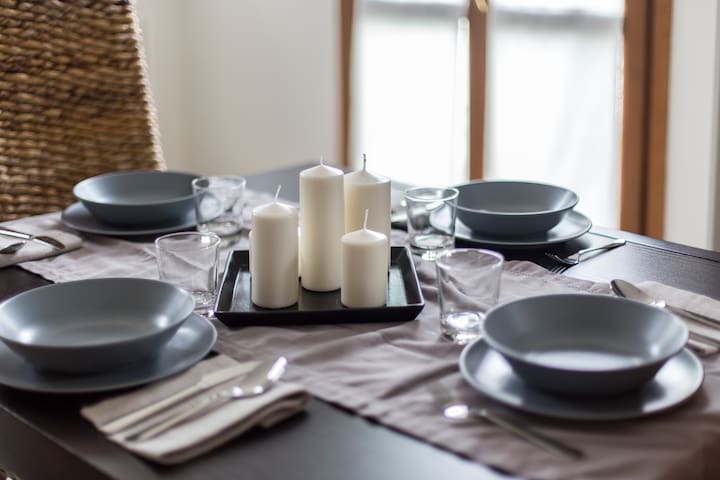 A peculiar way to visit Venice. In a newly renovated cottage, located in a peaceful countryside area, only 30' from Venice by train. Train station of Dolo is only 1.3 km distant, with transportation to Venice available every 30 minutes. The fact that a main intersection is only 500 m away makes it also a strategic location for destinations such as Riviera del Brenta, Padova and Treviso.
The apartment is on the first floor of a six-apartment complex. Right underneath lies the accomodation of Mrs. Tania, who can guide you through a visit of the residence whenever you wish. Fruit trees, vineyards and corn plants are currently being tilled in the property's farmland. The original block was part of the Austrian territory of 1838 and on the maps it can be seen that at the time there was no train connection. The members of family used to live and work in the house as day laborers, until my grandfather acquired it in 1921 and built what we have always called "the new wing" in 1926. I lived there until 1956, when my grandfather decided to rent the whole place. In 2006, me and my cousin Luigi decided to buy all our relatives' shares and to renovate the complex. Now the tenure has reborn and appears more beautiful than it has ever been. We have decided to offer it on Airbnb and we are certain that its visitors will be very satisfied. The lawn is ideal to organize parties in the evening as the garden is well lighted 24 hours a day.
The San Silvestro holding in is Vetrego, a small fraction of Mirano, a dynamic town with relevant history and traditions (it was the domicile of the painter Tiziano for some time). Very close to Dolo sul Brenta, which is famous for its Riviera, Vetrego is small but has a trattoria/inn and a pizzeria/pub.
Ottima disponibilità e cortesia
FEDRO
2017-04-12T00:00:00Z
Guido ist ein toller Gastgeber. Trotz unserer verspäteten Anreise hat er uns herzlich willkommen geheißen und gemeinsam mit uns am ersten Tag eine Tour durch die Umgebung gemacht. Auch für ein kleines Frühstück war gesorgt. Die Unterkunft ist sehr sauber und sehr gut ausgestattet. Der nächste Bahnhof ist ca. 10 Minuten zu Fuß entfernt. Von dort ist man in 30 Minuten in Venedig und Padua. Ich kann diese Unterkunft absolut weiterempfehlen!
Stefanie
2016-11-01T00:00:00Z
Il nostro breve soggiorno nella residenza di Guido è stato delizioso. L'appartamento è esattamente come presentato nell'annuncio e il contesto si rivela anche migliore! La tenuta è immersa nel verde, ben curata e appena ristrutturata, offre tutto ciò che serve per sentirsi a casa. L'accoglienza di Guido poi, rende tutto ancora più piacevole: una presenza discreta ma disponibile, sempre pronto ad offrire la sua assistenza. Consigliatissimo, quindi, questo carinissimo appartamento. Per noi sarà di certo un punto di riferimento per le prossime visite alle nostre famiglie!
Eva
2016-10-09T00:00:00Z
Our staying in Tenuta was very comfortable! The apartments looked like even better then on photo! Guido is a very sociable, helpfull and responsible man. He had met us in the airport and drove us to the apartments, that was very nice. In the apartments we found everything that we need. Even fruits, coffe, toasts and sweets for breakfast! Thankful for cosy staying in the apartments!
Andrii
2016-10-23T00:00:00Z
Appartement confortable, très soigné et stratégiquement placé pour visiter Venise et Padoue sans se tracasser avec la voiture. En train, en une demie-heure on peut rejoindre les deux villes. Guido a été très réactife pour nous répondre et bien nous conseiller. On sent à travers différentes petites attentions un vrai plaisir de recevoir. Bref, une bonne adresse !
bruno
2016-09-19T00:00:00Z
we stayed here for 2 nights and Guido was an excellent host. we were late for check-in and Guido was patient and recieved us with a warm smile. The place is a huge bungalow, rooms are spacious and clean, kitchen and toilets are equipped with everything you need. The place just far enough to avoid the hustel of the city, and walkable distance from the railway station. I recommend this place for families and couples..
Nithin
2016-10-02T00:00:00Z
Romtype
Helt hjem/leilighet
---
Eiendomstype
Leilighet
---
Plass til
4
---
Soverom
Mirano, Veneto, Italia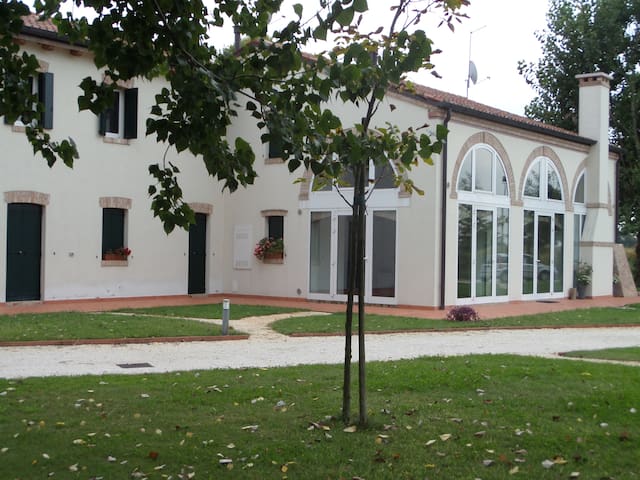 Stunning, fully refurbished and furnished double-floor flat (of 100 mq) situated at 10 mins to Padua Exhibition and 25 mins drive from Venice, this accommodation is the ideal solution if you are looking for a quiet and peaceful place close to Padua city, surrounded by beautiful villas and gardens.
The first floor of the flat includes: - a fully equipped kitchen with dishwasher, double door refrigerator, Nespresso coffee machine and electrical oven - an open space living room with smart TV and a big sofa - 1 bathroom with shower The second floor offers: - an open-space living room with sofa bed and another TV - a bathroom with shower and washing machine - a double bedroom. The flat also includes a big garage for car/bicycles, 2 balconies, air conditioning and free wiFi Internet connection.
You can benefit from excellent amenities right on your doorstep: a supermarket just opposite the building, 2 bakeries, several bars, pubs and restaurants, a postal office and a pharmacy which can all be reached by a short walk.
Michela is a wonderful host with a wonderful property. I will recommend it to anyone looking to travel around veneto area with a car.
Markos
2017-03-19T00:00:00Z
En un mot, SUPER. Je pense que cela résume bien l'appartement que j'ai loué. Il est beau, très bien aménagé, et très confortable. Il est juste à côté d'un supermarché et du coup très pratique. On est à 5/10 min de Padoue (Padova) et très proche de l'accès autoroute. Padoue est une très belle ville, il y a beaucoup de choses à visiter. A 25 minutes de Venise en train (c'est le plus simple et le plus pratique) pas de parking à chercher, directement en pleine ville. Michela est très gentille et qui donne beaucoup d'informations sur les lieux ou adresses des environs. En quatre mots, je reviendrai sans hésitation.
Sébastien
2016-11-01T00:00:00Z
Romtype
Helt hjem/leilighet
---
Eiendomstype
Leilighet
---
Plass til
4
---
Soverom
noventa padovana, Veneto, Italia