Oppgi datoer for å se fullstendige priser. Ekstra gebyrer gjelder. Skatter vil kunne tilføyes.
2 Utleiesteder
· Falfurrias
2 Utleiesteder
· Falfurrias
Enjoy the smell of mesquite wood burning in the outdoor fireplace while you enjoy the south Texas ranch lifestyle. 3 bedroom, 2 bath ranch trailer set up to host up to 12 people. No roughing it because all modern amenities like ac and dtv are included. Very well maintained.
Romtype
Helt hjem/leilighet
---
Eiendomstype
Hytte
---
Plass til
12
---
Soverom
3
Realitos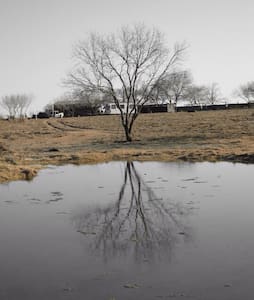 Our 3 bedroom 1 bath home is large and accommodating on a corner street 1 block from TX A&M Univ - Kingsville (Go Hogs!) Enjoy easy access to historic downtown area, local hunting/fishing, beaches and shopping in Mexican border towns (2 hrs).
You will be staying in a house built on the famous King Ranch and later moved into Kingsville, TX. Hard wood floors and numerous windows that allow beautiful light into the house. Home of the Fighting Javelinas -- TAMUK, the famous Awrootie Patootie from Young's Pizza, King Ranch Saddle shop for some fine shopping and take a walk down our historic downtown Kingsville. We have lovingly prepared our home for the exclusive and private use of the guest traveler coming to visit Kingsville, TX and all of the wonderful things we have to offer.
The neighborhood is located in a quiet family and student orientated area. The streets are shaded by large oak trees.
House was so welcoming, almost like we were at home. Especially since we live in a 75yr old home - a lot of the features were very similar to our home.
Laura
February 2016
It was a perfect place for my husband and I and 3 kids. Had enough beds for all kids and ended up with an extra bedroom. My kids loved the feel of home so much that they didn't want to leave. We cooked breakfast and we had all the pot pans and everything we needed. Thank you.
Jesus & Sylvia
January 2017
Everything above our expectations and we really enjoyed our stay! The house is spacious, clean and tidy. We are a family of 5 and everybody liked it. You can find everything you need in the kitchen which is a big plus. Before we arrive I asked Elia & Jesse if they have everything we might need for cooking and they even bought a new wok for us to use. Also whenever you have questions they will reply you in a few minutes with all the details you need. If you plan to visit C.C and South Padre Island but don't want to stay at different places, this place is best from Airbnb! Clean and quiet college city with everything you may need, we went to the nearby H.E.B many times. Will definitely come back next time when visiting south Texas! 非常满意!强烈推荐!
Xiyu
January 2016
It was wonderful to have this rental available in the town of Kingsville. We were traveling with our three young kids, and staying in a small hotel room can be super hard! This house was very well located and very comfortable. It is clearly not a brand new house, but Kingsville is not a brand new town! I think a few things could be improved - some new towels, a few more dish sets. These are things that could be improved over time, however, and didn't impact our stay in a meaningful way. As for communication, Elia and Jesse were SUPER fast getting back to me whenever I had a question. We will likely stay here again the next time we come to visit! Thanks!
Brenna
March 2016
We arrived at Kingsville in the evening and looked spontaniously for an airbnb. So we did not have great expectations, but this old family home was very nice to stay at, clean, spacious and very well equiped.
Marina
January 2017
Yes, remotely. Unfortunately, the pictures on the airbnb entry are pretty much false advertising. The portions pictured are in fair to good shape but it ends there. We found the kitchen unusable from many prospectives including not adequately clean. Our plans to have our meals there were squashed. From the time we entered my wife coughed and experienced respiratory tightness that cleared partially after leaving. The toiled ran all night flushing every 4 or 5 minutes. In part due to this noise, we slept poorly the first night and then spent the rest of our time in Kingsville at a motel. Much nicer. This site might work for a group coming into town for a football game or the like and not planning to eat there.
Donald
February 2016
We really enjoyed our stay, with a family of six, our options for affordable lodging is pretty limited. This was a perfect option for us, providing the room and amenities we needed. A little further from the beach than I anticipated, but for the value it made the drive worthwhile. Linens and towels were available and clean, everything you need for a stay. Thanks guys!
Roy
August 2015
Very convenient location, we were in town for a wedding and have 3 kids, so much easier than staying at hotel, owners are very nice and quick to communicate.
Katie
October 2016
Romtype
Helt hjem/leilighet
---
Eiendomstype
Hus
---
Plass til
6
---
Soverom
3
Kingsville